---
IN CASE YOU MISSED IT: Jennifer Hudson & Tamar Braxton RIP The 2014 BET Honors Stage [VIDEOS]
Posted: 25 Feb 2014 07:55 AM PST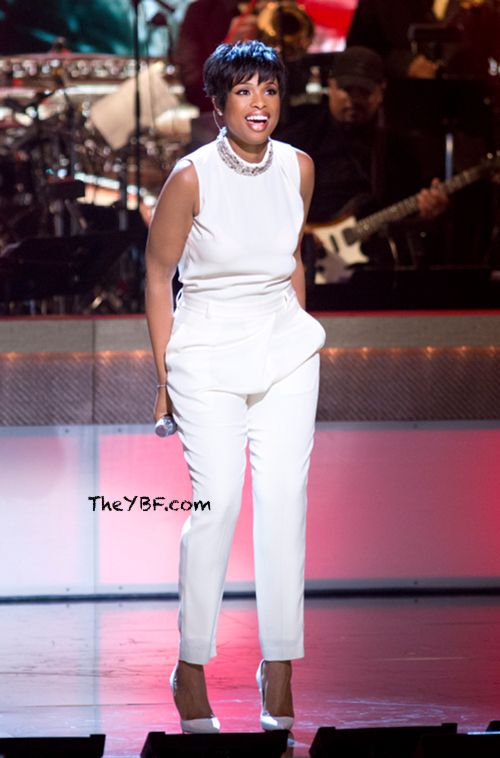 Last night, the 2014 Bet Honors aired and Jennifer Hudson and Tamar Braxton (along with Aretha, Smokey Robinson and others) were the highlights of the night. Check out the YBF Chicks' performances below in case you missed 'em....
We served up the pics from the 2014 BET Honors taping last month. And after last night's airing from D.C.'s Warner Theater, you can check out the performances from a couple of our fave fab chicks.
Jennifer Hudson showed why she was the perfect choice to tribute honoree Aretha Franklin. She killed the performance. You can check it above.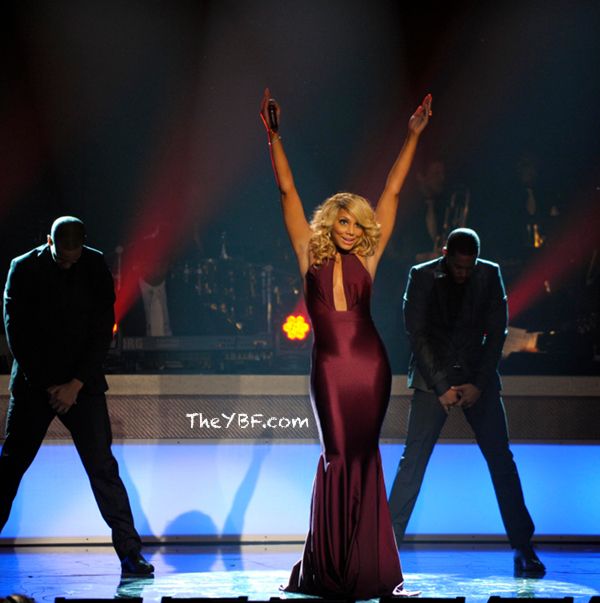 And while giving a big tribute to honoree Berry Gordy, Tamar Braxton "fully got her life" by channeling Diana Ross with a performance of "Upside Down", "Theme from Mahogany" and more. And she did so fabulously. Check it out below:
Check out the rest of the performances from the playlist under each video.
Photos via Aaron J. / RedCarpetImages.net
'NON-STOP' HOT: Lupita Nyong'o DAZZLES In Lanvin + Draya & Orlando, Floyd Mayweather & More At Hollywood Premiere
Posted: 25 Feb 2014 07:07 AM PST
Actress Lupita Nyong'o, Nate Parker, Floyd Mayweather and Draya and her man Orlando Scandrick were among the celebs at the LA premiere of Non-Stop. See photos inside.....
Academy Award nominee Lupita N'yong'o walked the red carpet for Non-Stop, her second feature film, last night at Regency Village Theatre in Westwood, California. And chick went for the gold!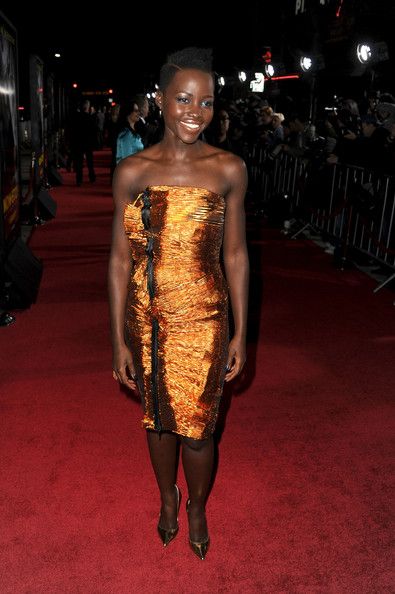 The fashion darling turned heads in a shiny yellow gold dress from Lanvin's Spring 2014 collection, Sergio Rossi shoes, and a Rauwolf clutch. She accessorized her envious bod and skin with bold makeup, a Solange Azagury-Partridge ring, and Janis Savitt earrings.
Everybody loves Lupita! She was warmly embraced by her co-star Liam Neeson.
Lupia, who plays a flight attendant, also posed alongside her other co-stars Nate Parker, Michelle Dockery, producer Joel Silver, Julianne Moore, director Jaume Collet-Serra and actor Scoot McNairy. This movie looks intense and amazing by the way. Like, Taken in the sky. Ha!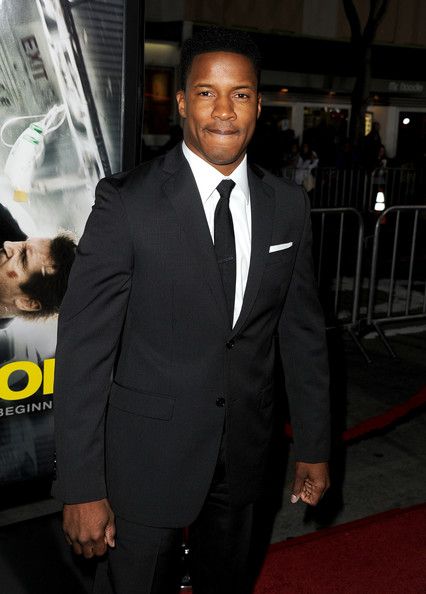 Red Tails star Nate Parker appears in the film with Lupita. He flew solo without his wife on the carpet.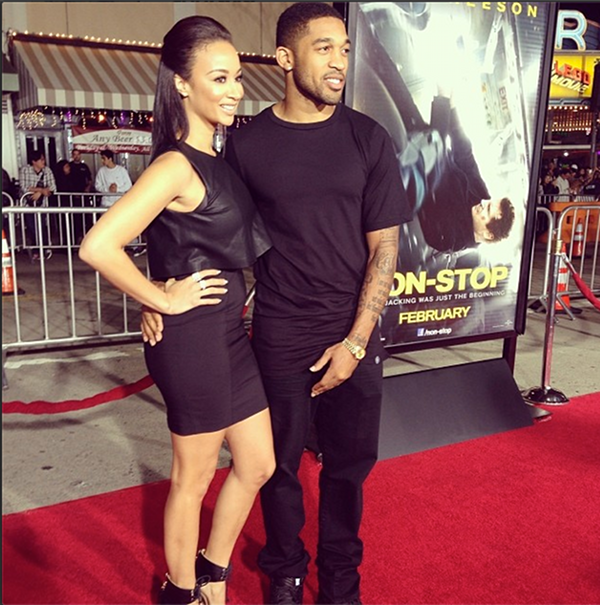 "BBW LA" star Draya Michelle attended with boyfriend Orlando Scandrick while a new episode of her show aired last night.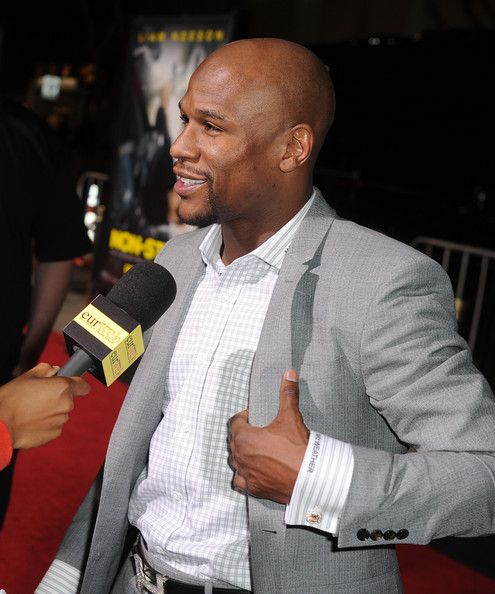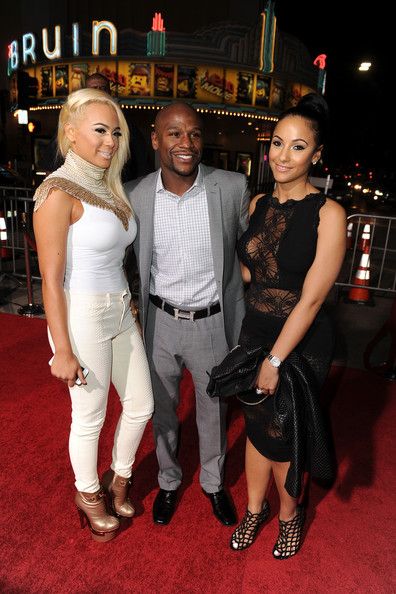 Floyd "Money" Mayweather Jr. attended with two of his ladies, Doralie Medina and Jessica Lee. This guy...
And speaking of Floyd, the WBC Welterweight World Champion will face the WBA Welterweight World Champion Marcos "El Chino" Maidana on Saturday, May 3, live on SHOWTIME PPV. Another way to beef up his bank account....
Check out the trailer below:
Photos via Wireimage/Draya's Instagram

ACTION! Kerry Washington On The "Scandal" Set + LaLa Anthony Rocks A Mink Stole While Cameras Roll In New York
Posted: 24 Feb 2014 05:05 PM PST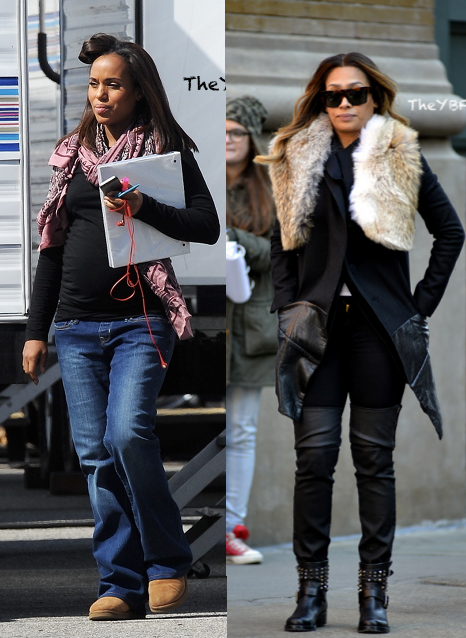 Kerry Washington and LaLa Anthony were both spotted by the paps yesterday doing the work they're known for. Find out what they were up to inside.....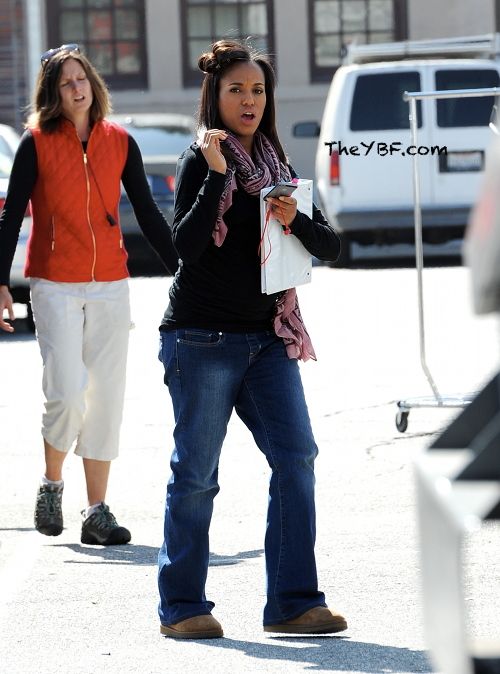 Kerry Washington was spotted on the set of "Scandal" in Pasadena, California yesterday. And the expectant mom had a very busy weekend.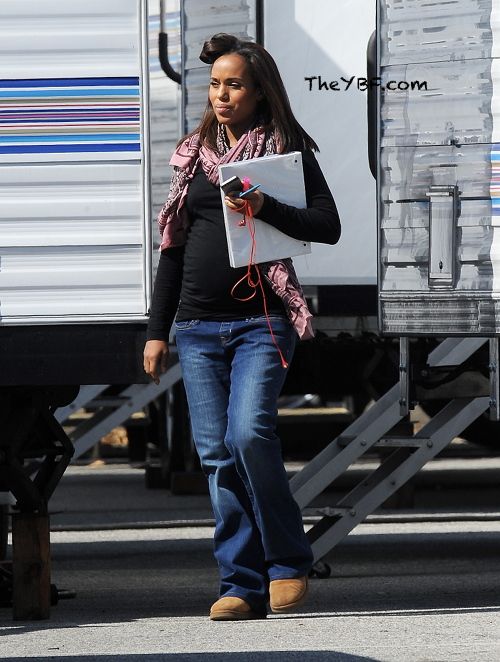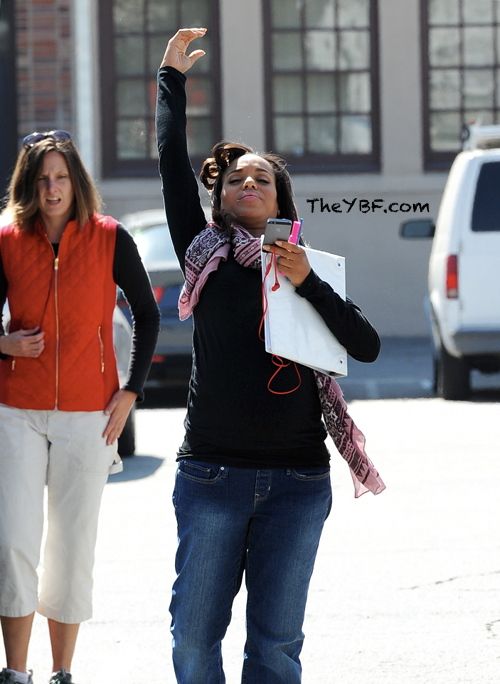 Kerry (who looked like she was stretching before waving to fans) received Best Actress honors at the NAACP Image Awards on Saturday and was given a celeb-studded baby shower on Sunday. Looking cute and comfy Kerry.
And across the coast in NYC:
Reality tv star LaLa Anthony was spotted on the streets of NYC yesterday.
She was rocking a mink stole and a stylish leather look while being followed by a tv film crew. We're pretty sure it's for one of her many reality ventures.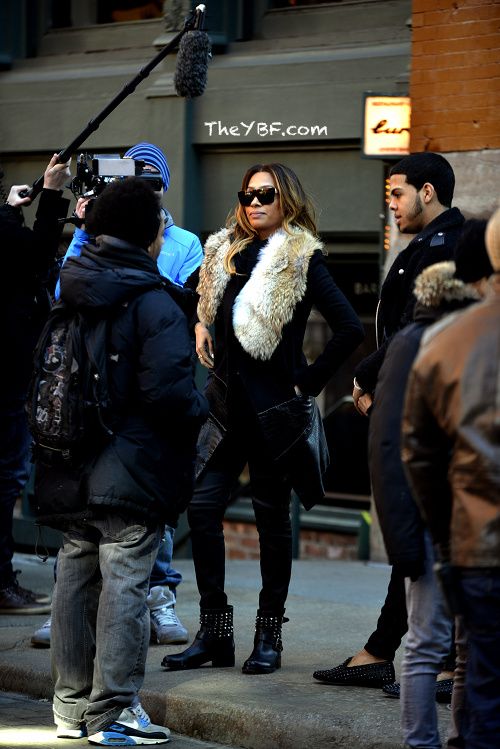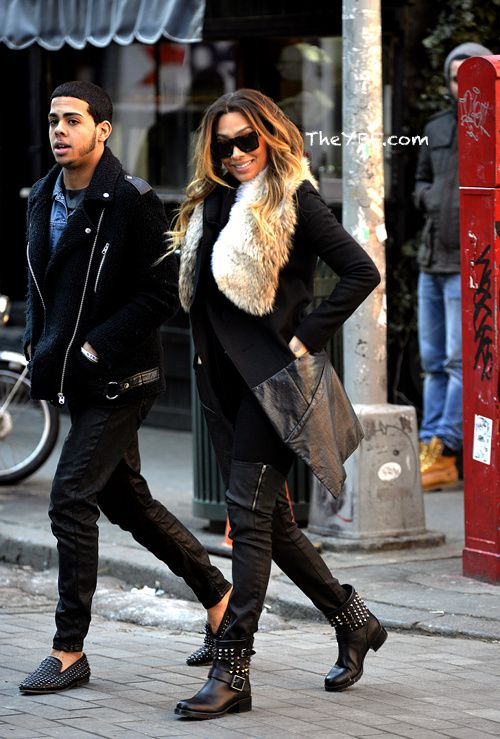 LaLa's advice book, The Love Playbook, recently debuted atop the NY Times Bestsellers list. She's looking cute!
Photos via Curtis Means/ACE/INFphoto.com/Cousart/JFXimages/WENN.com
John Legend & Chrissy Teigen Nab The Cover Of Martha Stewart Weddings Magazine + Terrell Owens OFFICIALLY Files For Divorce From His "Wife"
Posted: 24 Feb 2014 04:12 PM PST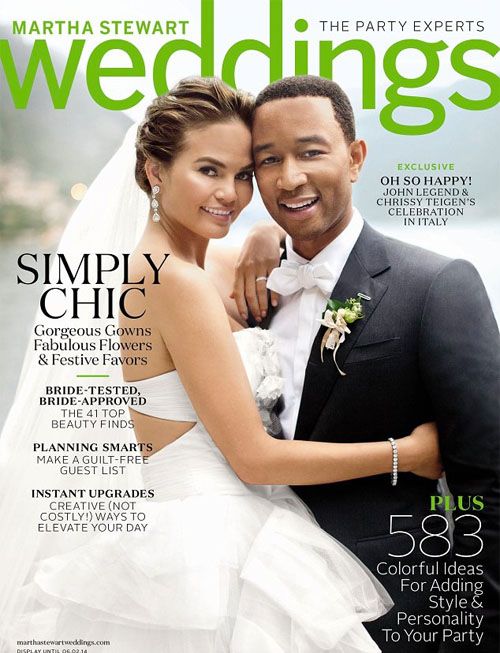 R&B crooner John Legend and his supermodel wife Chrissy Teigen nabbed the cover of Martha Stewart Weddings magazine while former NFL player Terrell Owens officially files for divorce to get out of his 3 day marriage to his "wife." Get the deets inside…
35-year-old "All of Me" singer John Legend and his 28-year-old wife Chrissy Teigen will be gracing the cover of Martha Stewart Weddings Spring issue, which will hit newsstands on March 3rd.
The Sports Illustrated Swimsuit Issue cover girl revealed the cover on her Instagram with the caption, "Covered my butt this time." There were a few informal pictures released of the couples wedding, but this cover gives us a clear picture of her stunning wedding dress.
The couple wed back in September 2013 with an intimate ceremony at Villa Pizzo in Lake Como with A-List wedding guests such as Kanye West and Stevie Wonder.
Chrissy selected three Vera Wang dresses for her special day, opting to don a different garment for the nuptials, reception and after party. During the actual wedding ceremony, she wore an ivory strapless open back, V-neck "Karen" Vera Wang gown from the Spring 2013 Bridal Collection.
Cute couple.
And in not-so-happy-couple news…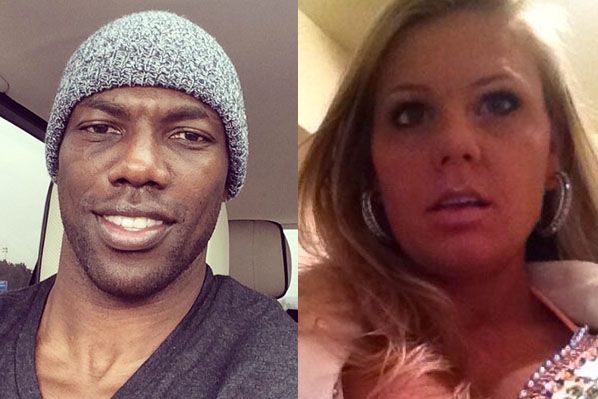 Former NFL player Terrell Owens is officially filing for divorce from his estranged wife Rachel Snider. And he filed his divorce docs on Valentine's Day! Just weeks after saying "I do"
We told you earlier this month Rachel had planned on filing for divorce from T.O. after she left him and moved out of Cali. She believed T.O. was using her to secure a $2 million loan.
According to TMZ, T.O. acknowledges they were married on January 23rd but decided to SPLIT just 3 days in on January 26th.
Snider insists the two were married for a full 2 weeks before she decided to leave him -- and claims they had a secret 5-year relationship before that. Days after they split, Snider was hospitalized for an apparent suicide attempt.

Interesting note -- T.O. filed the divorce documents "In pro per" ... which means he's acting as his own lawyer.

Snider tells TMZ Sports ... "How nice of him to run to the courthouse when I was in the hospital – and on Valentine's Day no less. If money isn't an issue – why doesn't he have an attorney?"
Rachel reportedly tried to commit suicide, so that's probably what she is referring to above.
Rachel also seems to be posting subliminals on her Twitter page:
Before you embark on a journey of revenge, dig two graves.

— Rachel/Snider/Owens (@rachel24Q) February 24, 2014
We're assuming this was directed at T.O. This whole marriage fiasco with these two is nothing short of weird.
The Randomness:
1. "Pretty Little Liars" star Troian Bellisario got engaged to her actor boyfriend of three years, Patrick J. Adams. STORY
Photos: Martha Stewart Magazine/Rachel's Twitter/T.O. Instagram
Gabby Union Reveals She Sued Former Employee PAYLESS After Rape Incident + Lupita Nyong'o Refuses To Dish On Her Oscar Dress
Posted: 24 Feb 2014 03:31 PM PST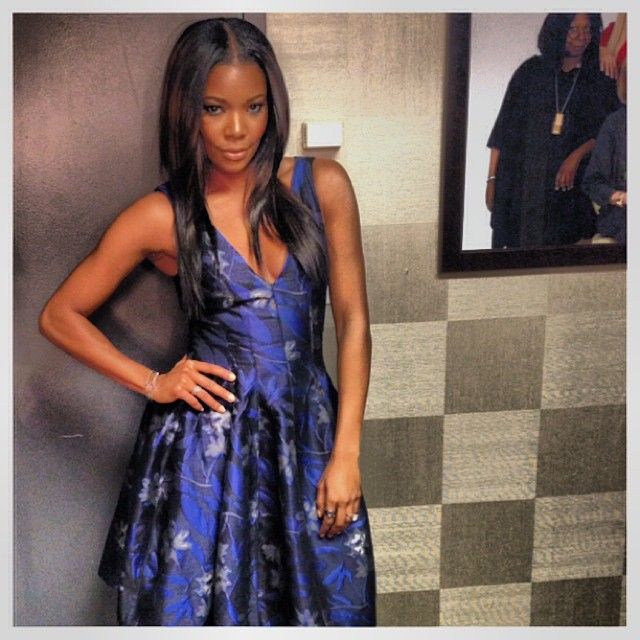 Gabrielle Union was pretty in blue today as she hit up "The View" to promote tomorrow night's big season finale of "Being Mary Jane". And she opened up about her lawsuit against her former employer after a horrific rape incident, plus why she hates being "the victim."
Check it inside, plus Lupita Nyong'o keeping it gorgeous--yet mum about her Oscar dress--on "GMA" this AM....
While chatting up the ladies of "The View" today, and after showing off her massive rock of an engagement ring, Dwyane Wade's fiancee showed why she's a strong survivor.
Gabrielle Union revealed that after being raped at gunpoint at the age of 19 while at work, she took action afterwards that made her feel like she had taken the power back.
She sued Payless, her then-employer, for being negligent in providing a safe environment. Gabby also urged parents to take an active interest in the type of establishment their teens and young adults are working at, often late at night as well.
And she spoke some powerful words about not being a victim after the incident, even though everyone wanted to treat her as such:
"I got sick of people letting me off the hook. Being a victim is so comfortable. People give you attention, people are nurturing, they're basically what you've wanted your whole life without something bad happening. So, when something catastrophic happens, everyone rallies around you. You're getting all the attention, love and support you've always wanted. But it's not for something positive. I hated that. I hated feeling like a victim. I hated the cloak of victimhood."
She continued:
"They were going to allow me to be a victim and not success and not achieve any of my goals and not step outside the box. I want to embrace being a survivor. Because that's who I am. I wasn't raised to be coddled. I was raised to be an independent woman, standing on my own two feet."
Check out video below:
The 2-hour finale of "Being Mary Jane" goes down Tuesday night on BET at 9pm.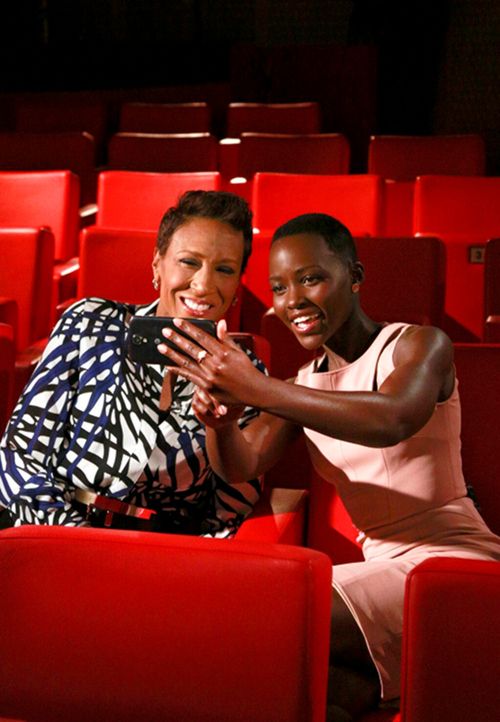 Also looking gorgeous on morning television: Lupita Nyong'o on "GMA".
The 12 Years A Slave star chopped it up with Robin Roberts about being curious & ready about her future, not scared, and no one could squeeze out a hint about who the red carpet darling will be donning at the Oscars this Sunday.
Peep the video below:
BONUS: Speaking of tv ish, VH1's new RockDoc "The Tanning of America" premieres tonight and runs for 4 consecutive nights at 11pm ET/PT. Get a sneak peek below:
HAT BATTLE! Usher Comes For Pharrell's Hefty Hat Throne
Posted: 24 Feb 2014 02:41 PM PST
Pharrell's gotten all types of attention lately for his Vivienne Westwood "Mountain Hat" wardrobe. And it seems Usher is coming for his hat throne. Check out the hat battle inside.....
P was potted in Paris today shopping at Colette, and he was rocking the emerald green version of the Vivienne Westwood hat that's recently blown up the internets.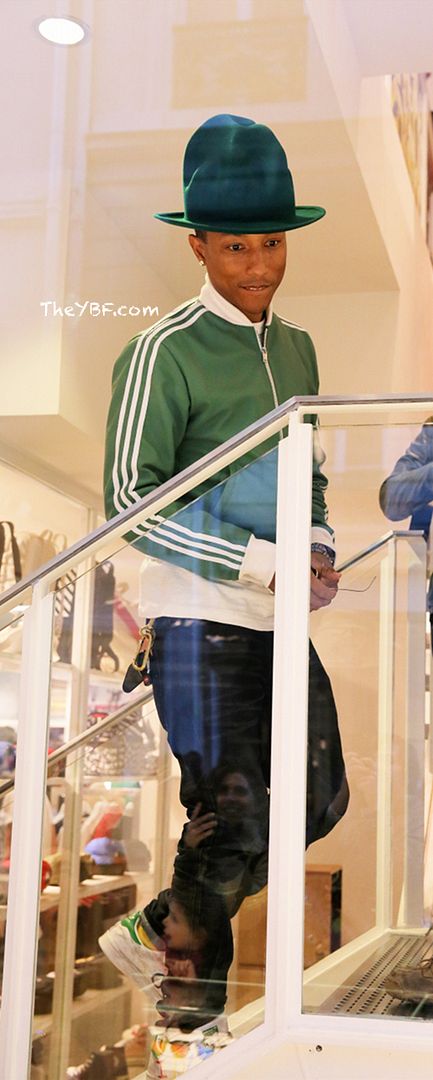 And now that Pharrell has spawned "Pharrell's Hat" twitter accounts, funny beef with Arby's and is currently auctioning off a similar hat he wore to the Grammy Awards on Ebay (Current bid: $14,300!), Usher seems to want to get in on the attention.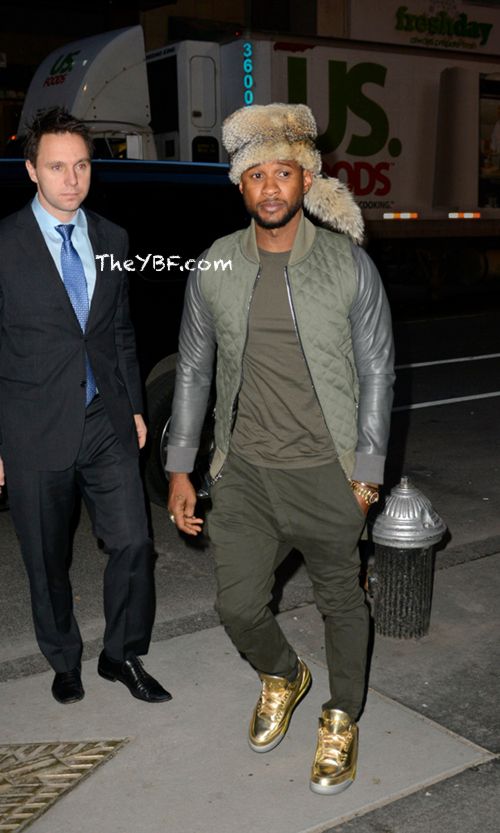 "The Voice" judge was spotted rocking a big furry raccoon fur hat while hitting up "The Today Show" early this morning. And along with his gold sneakers, Usher seems to want people to pay more attention to his fashion game as well.
Over the weekend, he was also spotted rocking the same hat over the weekend. So, either it's just his new fave. Or he's trying to pull a Pharrell.
You feelin' it?
Photos: Splash
OH SNAP! Paula Patton & Robin Thicke Announce SPLIT!
Posted: 24 Feb 2014 01:03 PM PST
Splitsville Lane just got 2 new surprising residents. Paula Patton & Robin Thicke just announced they are ending their close to 10-year-marriage. The shocking deets inside....
Well, here's some tea we weren't expecting on this Monday afternoon. "Blurred Lines" singer Robin Thicke and About Last Night star Paula Patton are DUNZO!
Despite seeming so drunk in love every time they hit a red carpet, which they did as recently as last month at Clive Davis' Pre-Grammy party, it appears it was all (or in part) a major front.
The couple, who married in 2005, put out the usual standard joint statement to People magazine today saying:
"We will always love each other and be best friends, however, we have mutually decided to separate at this time."
So what could have happened to a couple made up of two people concurrently on a meteoric Hollywood rise? There have been plenty of rumors of cheating (remember those pics with Robin and that girl in the Parisian club a couple months ago), drugs and more. Even Robin has admitted in interviews to some wrongdoings. And there was a brief period of time over the last year where they seemed to not be together as much at each other's events.
Interestingly, Robin cancelled two of his concerts this weekend. One was this past Friday in Atlanta, and another on Saturday in Orlando. He claimed it was because of "voice problems".
But oddly, he was just spotted at Disneyland in California with his and Paula's son Julian.
Paula and Robin were high school sweethearts and one of those staple Hollywood couples who many thought would be in it for the long haul.
Photo: Getty/FAME
REALLY FAB?!: Fabolous Tries To Be Sneaky On Instagram Telling Model To "Hit Me"
Posted: 24 Feb 2014 11:39 AM PST
Lately, rapper Fabolous and long time girlfriend, former "Love & Hip Hop" star Emily B have been displaying their love publicly by popping up in pictures together left and right. But that hasn't stopped Fab from hitting up model chicks on Instagram. Check out Fab's pimp game inside…
Fabolous and Emily B just celebrated Fab's 36th birthday back in November with a "Great Gatsby" themed party at Jazz Room at The General in New York City. The couple also celebrated Em's birthday earlier this month at PYNK Magazine's NYFW dinner.
But NOW, Fab is using his free time to brush up on his pimp game. The rapper was caught commenting under model (we're using that term loosely), Alyssa Sorto's Instagram photo telling her to "hit me" after she tagged his Instagram handle under her picture. And after she called him "Smooth".
Really Fab? SMH...
Emily B. hasn't said anything about Fab hitting up this chick and neither has he. We wonder if she even knows he's doing this. Well, she does now. What do you think Fab was telling Alyssa to hit him up for?
Questions that need answers...
By the way, we perused her pics and noticed she's a true selfie-lover. But by time of publication, she changed her IG account to private. Looks like someone possibly re-thought some things...
Photos: @alyssaso/@myfabolouslife
IN CASE YOU MISSED IT (OR CARE): Former "Smallville" Star Sam Jones III Allegedly Goes The Sex Tape Route For Checks [NSFW]
Posted: 24 Feb 2014 10:49 AM PST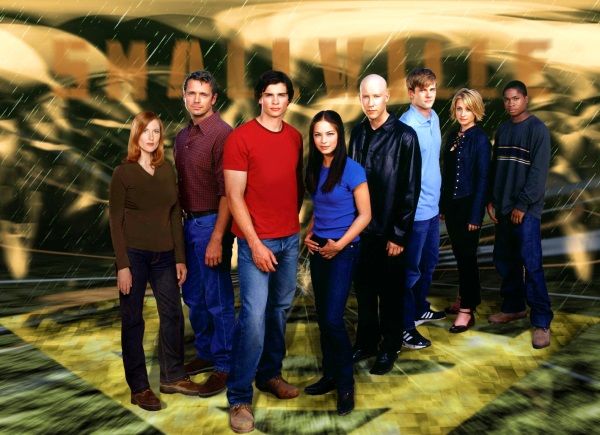 [NSFW] Do you remember "Smallville" star Sam Jones III? If not, you'll remember the Large-ville package he seems to have possibly put on display in the XXX tapes we ran across. See how Sam allegedly kept the money flowing once mainstream Hollywood stopped calling....
Former "Smallville" and "ER" star Sam Jones III hasn't had many mainstream Hollywood gigs since 2010 (he spent 10-months in prison for conspiracy to sell 10,000 pills of Oxycodone), but that doesn't mean he's been absent from the screen (or the internet).
This is what NOT to do when the checks stop coming in kids.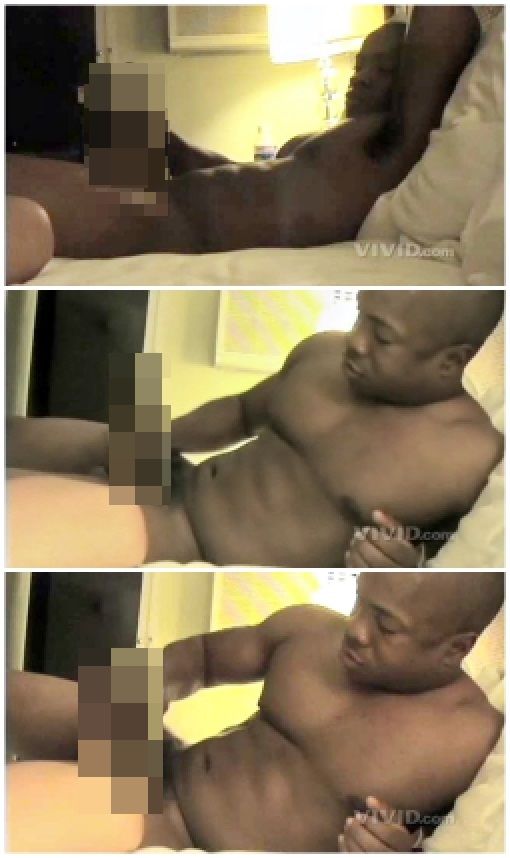 We were recently tipped off about two celebrity sex tapes (which are apparently not all that new but it's just starting to pick up steam on the net) that are alleged to feature Sam and his former girlfriend/Playmate Karissa Shannon. He hasn't necessairly fessed up to the tapes, but, you can use you eyes and put 2 and 2 together.
And since adult entertainment company VIVID got their hands on at least one, we've now been informed that--"if" this is him, he's a far cry from "Small". But that's neither here nor there.
We understand that dude has bills to pay and you have to keep the checks coming....but seriously? If you've already got Hollywood credits to your name, why go down the porn route?
Outside of allegedly taping himself (awkwardly) giving up the goods, Sam uses his Instagram account to promote his clothing line The Miracle Entertainment Group, along with the obligatory inspirational quotes like:
"Reach out and stretch your mind, to comprehend UNLIMITED thought , UNLIMITED supply. There is NO LIMIT on what Mind can do. Stick to YOUR BELIEF until your goal is WON in spite of all the sneers and ridicule of the haters and the " It-can't-be-doners's " Don't be satisfied with any normal success! Keep ON and ON and ON! You have LIMITLESS POTENTIAL!-King"
Oddly, he posts tons of pics hanging out with rapper The Game.
The XXX pics and videos are splashed around the net, if you care....
ARE WE HERE FOR THIS?: Spike Lee CONFIRMS "School Daze" Sequel, Script Completed
Posted: 24 Feb 2014 09:53 AM PST
Spike Lee's 1988 classic musical-drama "School Daze" was released 25 years ago, and now there are talks of a sequel. Find out what Spike said about it all inside...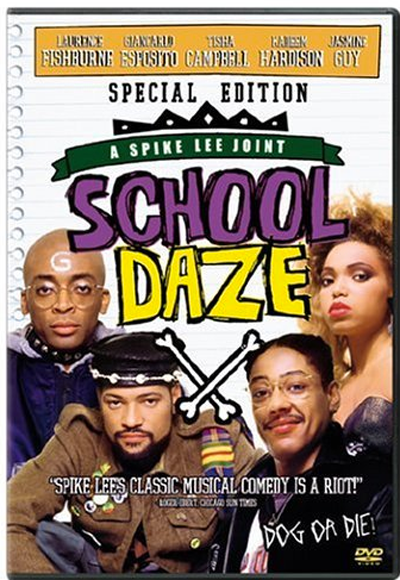 After 25 years , director/writer Spike Lee has confirmed that a script for the sequel to "School Daze" has been completed. "School Daze" was loosely based on Spike Lee's experiences at Atlanta's Morehouse College, Spelman College and Clark Atlanta University. And it set the landscape for what every one who watched the movie expected to experience once they got to college.
The story follows a clash between fraternity and sorority members at a historically black college during homecoming weekend. The movie also touched on issues within the African-American community, such as intra-racism related to skin tone and hair quality.
Spike Lee revealed to Black&Sexy TV:
"I had the script for 'School Daze. But, what people have to understand is that it's a contemporary version. So it's the same school, Mission College, 25 years later," explained Lee. "Hopefully I can get Laurence Fishburne to play Dap. He'll be the president now of the school. And we would deal with issues around Historically Black Colleges today."
Spike says the sequel will examine the same issues young college students faced in the late 80s and will also touch on new issues students face in college today, such as homophia and pledging a fraternity/sorority.
We are only here for this if they keep it REAL for the most part about college like they did in the first one. But...your thoughts?
Photo: @sheltonjlee/IMBD
KERRY'S BABY GETS SHOWERED: Shonda Rhimes Hosts Kerry Washington's FABULOUS Baby Shower With Tracee Ellis Ross, Diahann Carroll, Jane Fonda & More
Posted: 24 Feb 2014 09:08 AM PST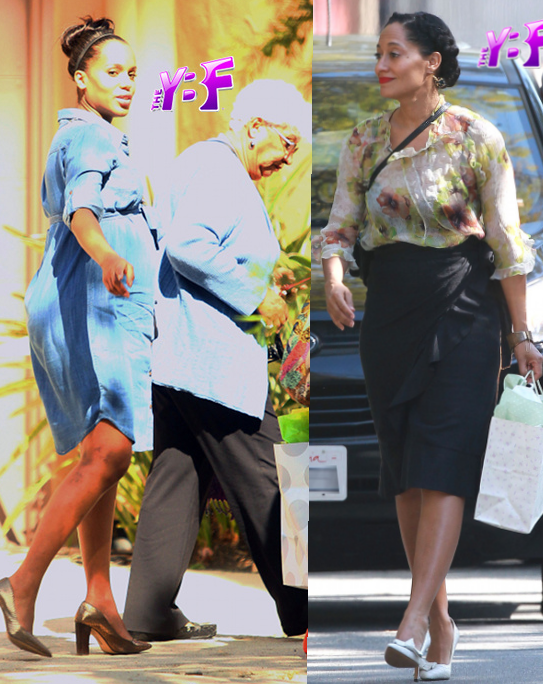 "Scandal" creator Shonda Rhimes threw Kerry Washington a baby shower at her own home on Sunday. See the cute photos and get deets about the fabulous celebration inside...
On the heels of her stunning appearance at the 45th Annual NAACP Image Awards this weekend, (where she picked up the award for Outstanding Actress in a Drama Series for "Scandal"), the glowing Kerry Washington was feted with a glamorous baby shower at Shonda Rhimes' Hancock Park home on Sunday.
You already know Shonda had it decked out with all the best for the woman who's helped Shonda have one of the biggest hits of her career.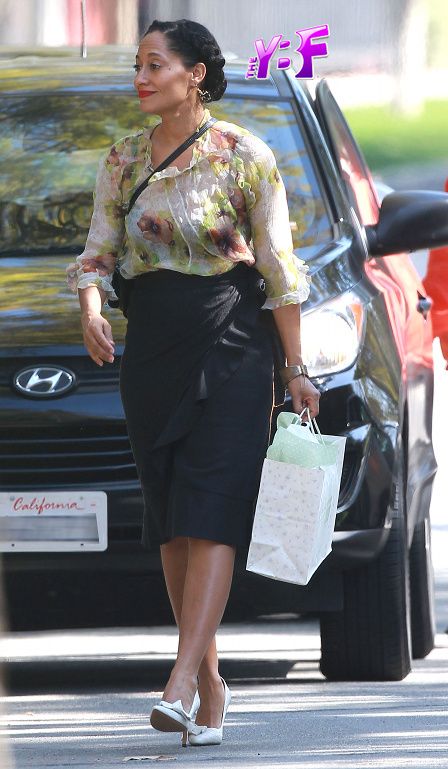 Tracee showed up with gifts for her girl and looked Sunday-brunch-slash-tea-slash-baby shower ready.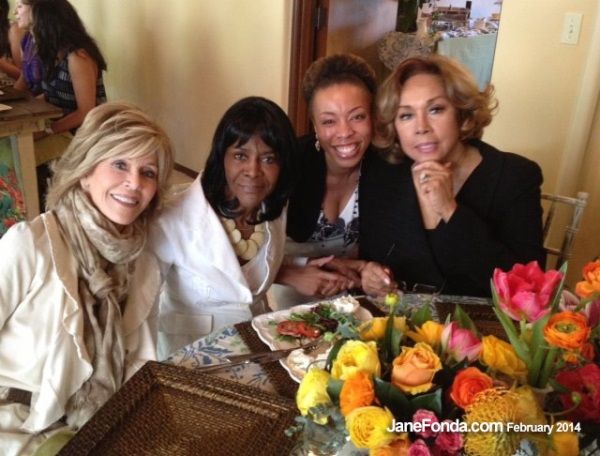 Hollywood legends Cicely Tyson, Diahann Carroll and Jane Fonda were also among the guests.
Tracee Ellis Ross, Kerry's mom Valerie Washington, Kerry's sister-in-law Udo Asomugha (in red), Kerry's mother-in-law, Dr. Lilian Asomugha and Kerry's 'Scandal' co-star Darby Stanchfield were also there. An eyewitness spoke about Kerry's arrival to E! News saying,
"She looked beautiful and had very little makeup on...She was with her mom Valerie and was met by several family members inside."
The party began around 11am and ended around 3pm, with the eyewitness revealing,
"Kerry looked ecstatic to be surrounded by so many family members and friends. She loved mixing her work friends with her family and having everyone get to know each other. Shonda was very gracious to host everyone and Kerry was very appreciative. She felt so loved she didn't want the day to end...She gave Shonda a huge hug and kiss before thanking her and leaving with her mom."
Oscar-winning actress Jana Fonda blogged about the baby shower and shared an intimate moment with Kerry and her mom.
"It was a wonderful party with guests being asked to go into a photo booth and take 6 different poses that were then mounted on a black paper where we could write a message; signing a diaper (I wrote "I hope everything comes out alright!"), putting signed thumb prints onto a drawing of a tree—I had no idea there could be so many nice ways to commemorate the up-coming event and leave loving memories for mom and baby.

I hadn't seen Kerry since she was pregnant and as soon as I saw her with her gorgeous belly I starting crying. Then Kerry's mother spoke, giving words of wisdom to Kerry and the rest of us about how to raise a baby to be a happy, fully realized, person. I started crying again (and it wasn't because I wanted to go back and do my own raising of my own kids all over again with more wisdom, though that did press in on me) . . . it was because her words moved me."
Congrats again to Kerry and Nnamdi!
The Randomness:
1. Tamron Hall was just named as the official co-host of the 3rd hour of "The Today Show". She's the first black female anchor on the NBC morning show. STORY
Photos via Janefonda.com/Rocstar/CPR/FAMEFLYNET PICTURES