---
Will Smith (& The Evolution Of Hip-Hop Dance), Tracy Morgan & More Hit Jimmy Fallon's "Tonight Show" Premiere!
Posted: 18 Feb 2014 08:19 AM PST
Will Smith welcomed Jimmy Fallon to his first night as host of "The Tonight Show" last night. And to prove not everything is changing on Jimmy's show, the twosome gave us "The Evolution of Hip-Hop Dance". Check it inside and who else showed up as "The Tonight Show" made its way back to NYC...
Jimmy and Will Smith took us through the history of hip-hop dances like Jimmy usually does with his History of rap segments. So while his house band The Roots assisted, Jimmy & Will served up the "Evolution of Hip-Hop Dancing". From the Stanky Legg to The Carlton...check it.
In addition to Lady Gaga, Stephen Colbert, U2 and more, some of Jimmy's other good friends stopped by:
Tracy Morgan hit the show and was spotted backstage with Seth Rogen and Kim Kardashian.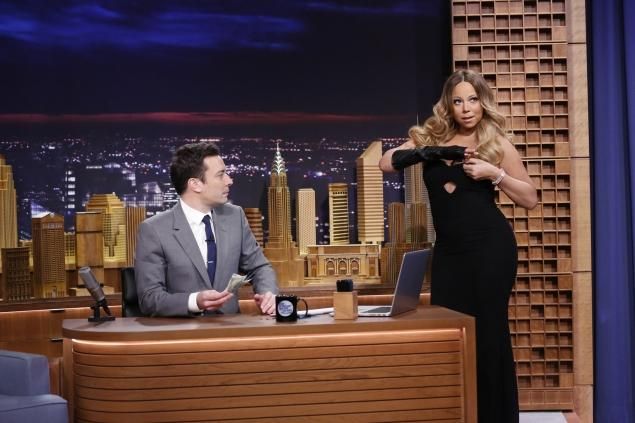 Mariah Carey came out in a slinky black dress to give Jimmy a money-worthy welcome.
@KimKanyeKimyeFC's Twitter, @CharlieBerens' Twitter, NBC/Lloyd Bishop

PHOTOSHOOT FRESH: "Mistresses" Star Rochelle Aytes Gets FAB For XEX Magazine
Posted: 18 Feb 2014 06:42 AM PST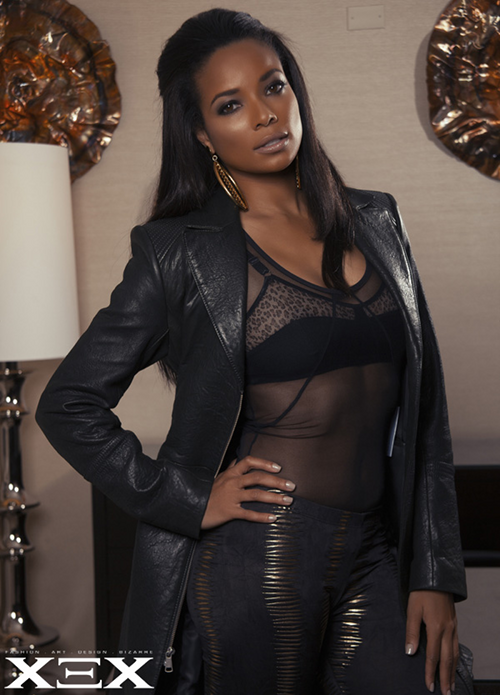 We weren't too sure if we were going to like ABC's show "Mistresses" this past summer. But we kinda loved it. And part of the reason is because of Rochelle Aytes.
Check out the actress' brand new spread for XEX mag inside...
She's a face we don't see too often, but she's a fab chick nonetheless.
In a new editorial for fashion publication XEX Magazine's Rebel Edition, Rochelle keeps it sexy in sheer blouses, leather skirts, and embellished cropped jackets.
The shoot was done by Adolphus Amissah in the Presidential Suite in The Sheraton Times Square. And the 37-year-old hottie, who's gone from Tyler Perry films to network tv shows, is rocking looks from Andrew Marc, Larucci, Yves St. Laurent, Cesare Paciotti and more.
Check out more sexy pics below: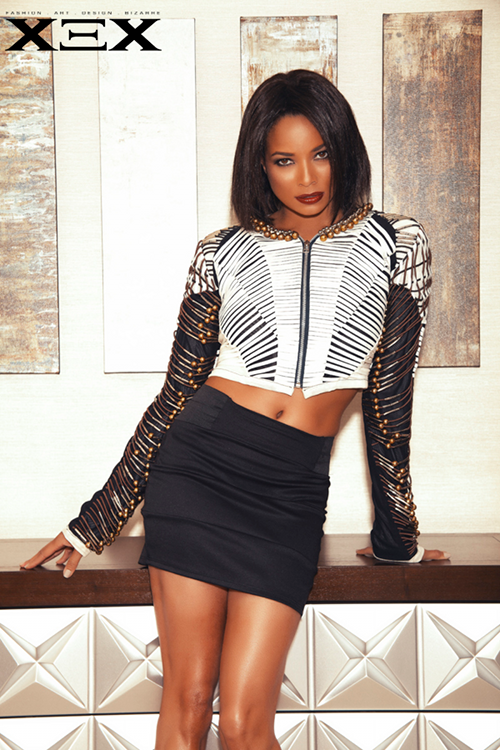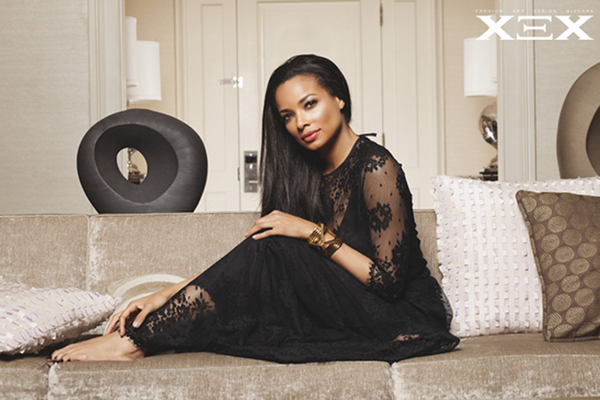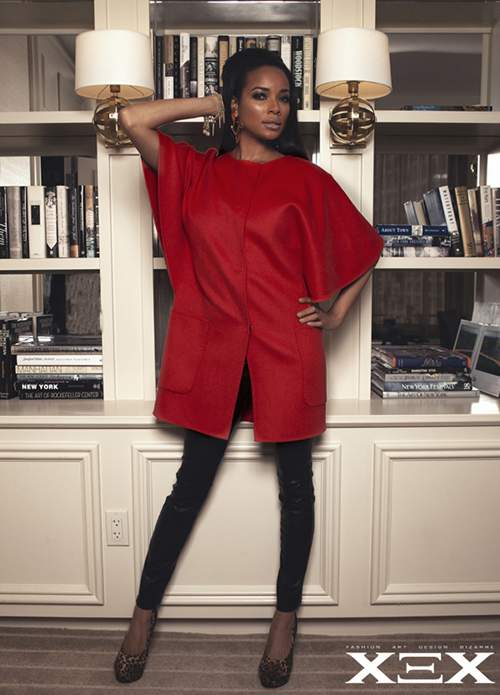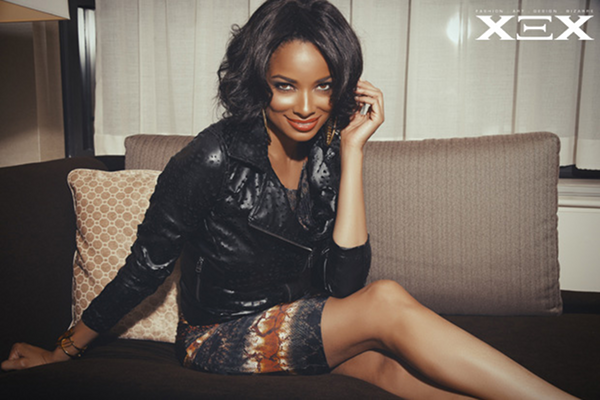 The issue is on newsstands and the XEX site now. Check out the BTS footage below:
Here's to hoping "Mistresses" gets another season to keep us entertained next summer...
Photos: XEX Magazine
EVENING SEXY: Trey Songz Shows His Package In His Calvin Klein Skivies
Posted: 17 Feb 2014 04:55 PM PST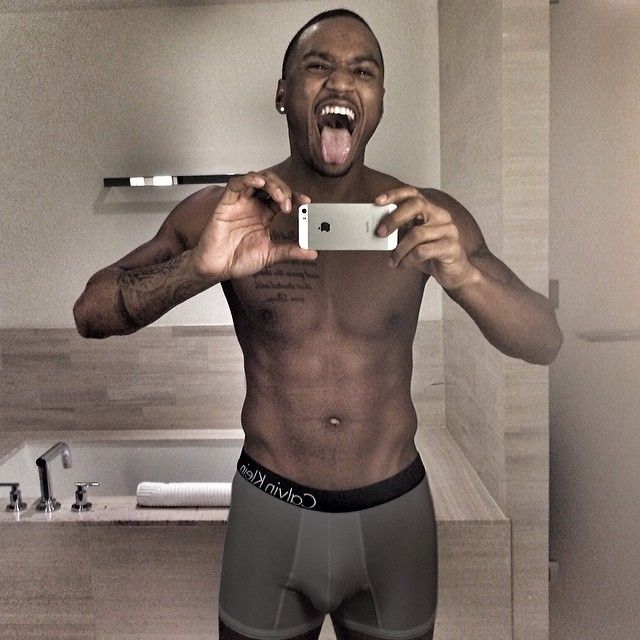 Oh, heeeey Trey. The folks over at Calvin Klein sent Trey Songz a gift that turned out to be a gift for the rest of us! Watch Trey "fill out" his new Calvins inside....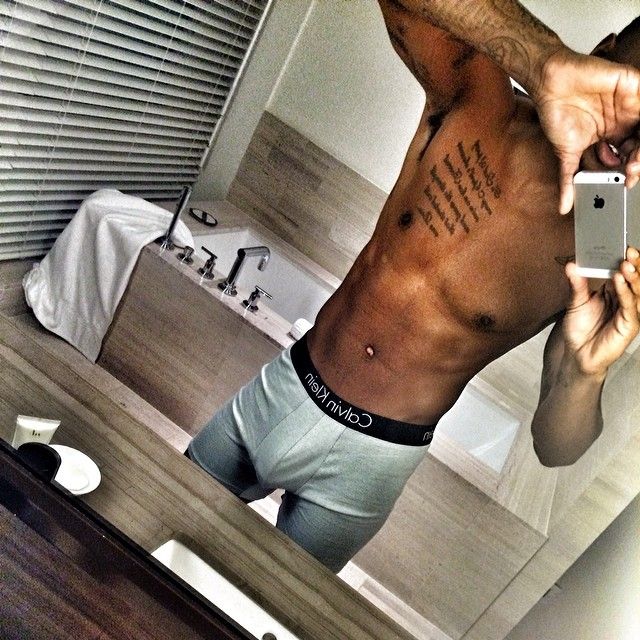 Calvin Klein sent Trey Songz a pair of boxer briefs that nicely package his...umm...package. He tweeted, "I like these too! #MyCalvins ; Thanks Calvin Klein for the delivery #MyCalvins." Yes....THANK YOU Calvin Klein for the delivery!
Seems like dude is putting in some work to nab a Calvin Klein model deal.
In other news about Mr. Songz, Trey is featured as Mariah Carey's love interest in her "You're Mine (Eternal)" video, and wrote a response track to Nicki Minaj's "Lookin A$$ N*ggas".

Photos via Trey Songz Instagram
REALITY ISH: NeNe Leakes & Peter Thomas FACE OFF (Plus MaMa Joyce & Carmon) + Torrei Hart Launches SKIMPY MIXERS Low Calorie Drink Line
Posted: 17 Feb 2014 02:10 PM PST
The ish hit the fan last night on "Real Housewives of Atlanta". Check out the drama with NeNe & Peter and Todd & Camron vs. Mama Joyce inside. Plus, Torrei Hart is already launching her own businesses before her new reality show even begins...
Last night, Nene was in her feelings, as usual, and caused quite the stir with her friend Peter Thomas. At Kenya's disastrous charity gala, NeNe snatched the mic and gave the most awkward speech in front of all attendees. Peter wasn't feeling that ish, and he read chick for points. And, obviously, NeNe wasn't having THAT either.
Meanwhile, Todd and Camron have finally given Kandi an ultimatum about her meddling ass mama. After Mama Joyce left the messiest voicemail for Carmon, Todd and Carmon tell Kandi she needs to handle that....or else.
Check out the clips below and discuss all the foolery. Did they handle their "situations' appropriately?
In other reality news:
Torrei Hart, who's set to star on the upcoming reality show "Atlanta Exes," just launched her own line of low-calorie drinks. It's called SKIMPY MIXERS, not to be confused with fellow reality chick Bethenny Frankel's Skinny Girl, and it just hit the shelves in Wal Mart.
She's already launching businesses before her reality show even kicks off. Nice. She said:
Hard work pays off. I am officially on shelves in Wal Mart. Go grab my @skimpymixers #cherrylimeade today. Thank you Jesus. #walmart #blessed #mogul #gogetter #torreihart #diet #lowcalorie #alcohol
Looks like her ex Kevin Hart isn't the only one making major moves. Congrats Torrei!
Photos: Torrie's IG/Bravo
Ashanti's Sister Shia Douglas LAUNCHES "Presidential Dymes" + Melyssa Ford, Ariane David, Charlamange AT "The Blood Sweat & Heels" Viewing Party
Posted: 17 Feb 2014 10:15 AM PST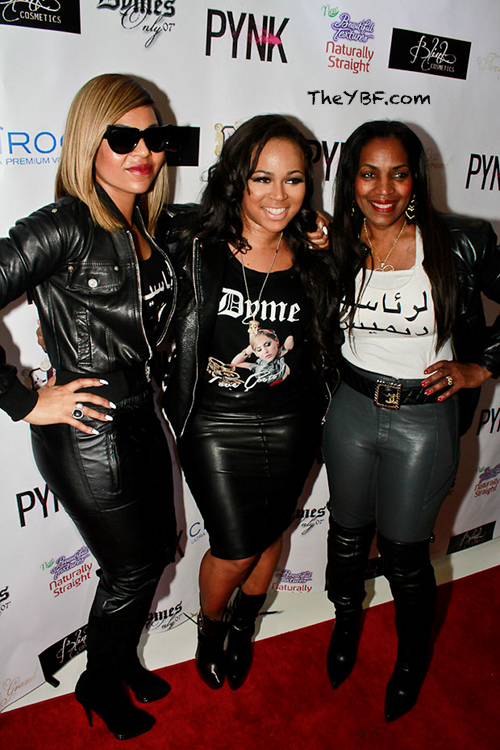 "Braveheart" singer Ashanti was spotted at the launch of her sister Shia's "Presidential Dymes" clothing line. Find out more about the launch inside and see pics from Melyssa Ford's "Blood Sweat And Heels" viewing party....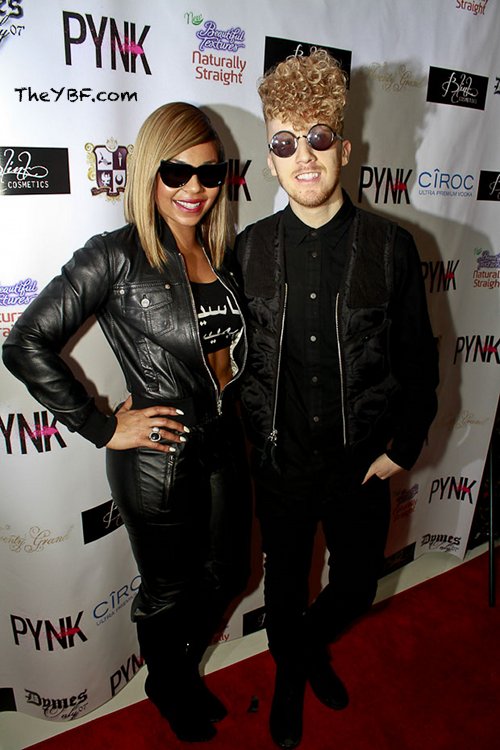 Singer and actress Ashanti, who'll release her Braveheart album on March 4th, was spotted at the "Presidential Dymes" launch last night. She walked the red carpet with recording artist Daley.
The "Presidential Dymes" clothing line is the brainchild of Ashanti's younger sister Shia (shown atop with her mom Tina). The "Dymes Only" collection is comprised of tees, sweats and a number of trendy pieces.
The event was sponsored by Beautiful Textures, Blink Cosmetics, Twenty Grand Vodka and Ciroc Vodka and curated by Mecca Moore & Meeka Claxton of Pynk Magazine and Tola Lawal of SixOne7Creative.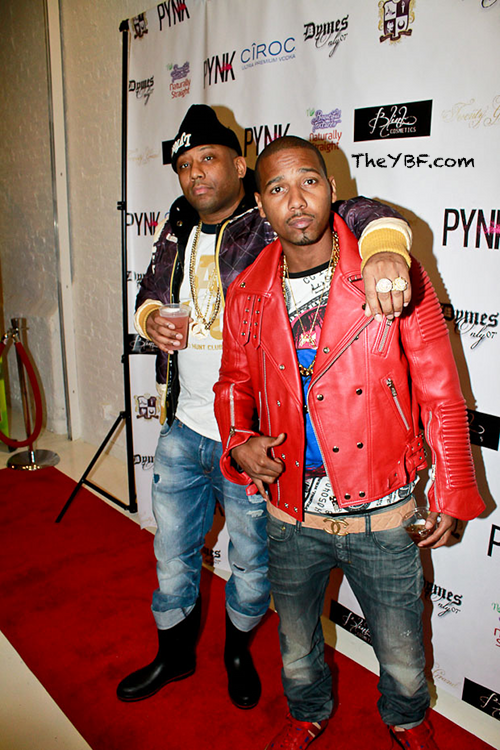 Maino & Juelz Santana were also there.
Shia Douglas (CEO of DYMES) posed with Slow (Slowbucks).
Project runway star Samantha Black posed for the camera.
Interesting.....
Also......
Last night, "Blood Sweat & Heels" star Melyssa Ford headed over to Suite 36 to host a viewing party for her hit show.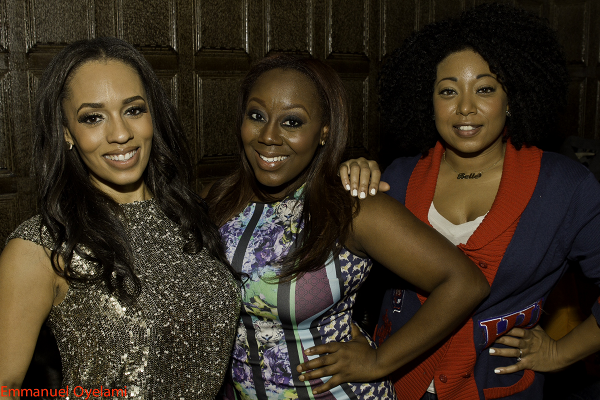 Her co-stars Geneva S. Thomas and Demetria Lucas were also there.
"LAHH ATL" star Ariane Davis came out to support Melyssa.
"Blood Sweat & Heels" cast member Mica Hughes posed with "LAHH" star Tara Wallace.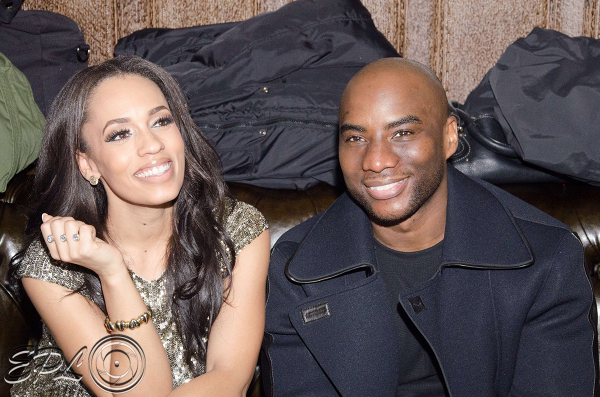 Radio host Charlamagne posed with Melyssa. And probably tried to get those digits.
BONUS: Melyssa, Demetria & Geneva made their way to the Bravo clubhouse for "WWHL" last night. Check out a few vids below of the ladies talking about co-star Mica's obvious drinking problem, and Melyssa claiming to be the Queen of No in the past:
Photos via EPL/Emmanuel Oyelemi and Ernest Pierre-Louis
CELEBS GIVE BACK: The Game & Khloe Kardashian At The Robin Hood Project Celebrity Bowling Event
Posted: 17 Feb 2014 09:51 AM PST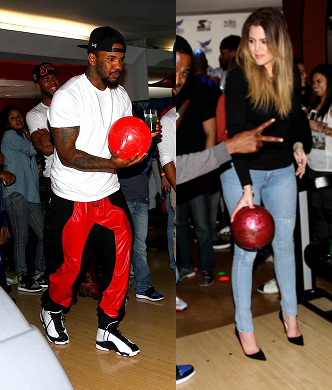 The Game and Khloe Kardashian spent the weekend together....doing charity work. See what the two were up to inside.....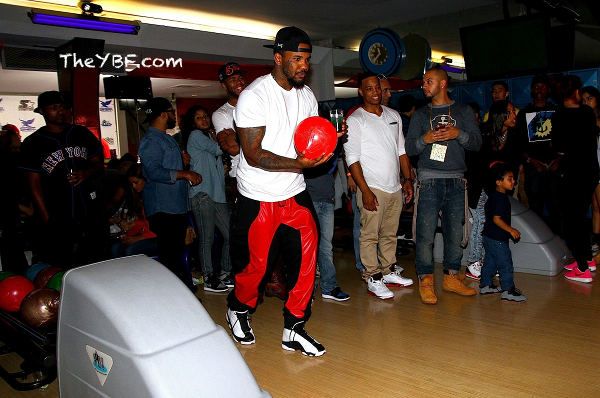 Over the weekend, The Game's charity "The Robin Hood Project" hosted a celebrity bowling tournament at Pinz Bowling Alley in Studio City, CA. You'll recall that Jayceon started "The Robin Hood Project" to donate $1,000,000 to worthy causes around the world.
In terms of fundraising, he often calls on his celebrity friends to chip in and lend their support.
Khloe Kardashian is a constant supporter of his foundation, so it's not just a cuddle-up-to-The-Game situation like their club outing was the other night. She participated in the foundation's previous bowling tournament with her bestie Malika Haqq and her sister Kylie.

Photos via Winston Burris/WENN.com