---
YBF Celebs Kelly Rowland, A$AP & Chanel And More GET FAB For The 2014 amfAR Gala...While Grace Jones Dances On Tables
Posted: 06 Feb 2014 07:59 AM PST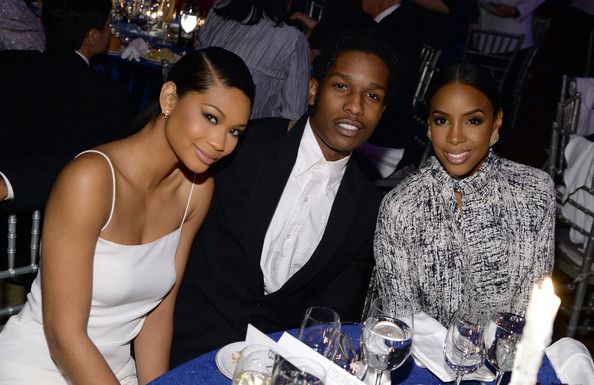 The 2014 amfAR New York Gala brought out the YBF folks who love a good high brow event. Check out who rolled to Cipriani Wall Street last night for a fabulous cause...
The amfAR New York Gala is the official kickoff to New York Fashion Week and serves as the Foundation's signature annual benefit in New York City. Celebsa nd socialites are on hand for the highly anticipated black-tie gala every year to see the organization present their Award of Courage to individuals who have made exceptionally important contributions to amfAR and the fight against AIDS. This year's honorees were Peter Lindbergh, Vanessa Redgrave, and Joely Richardson.
Before she chopped it p at a table with rapper A$AP Rocky and his model girlfriend Chanel Iman, the gorgeous Kelly Rowland kept it fresh faced and perfect on the red carpet last night at the 2014 amfAR Gala: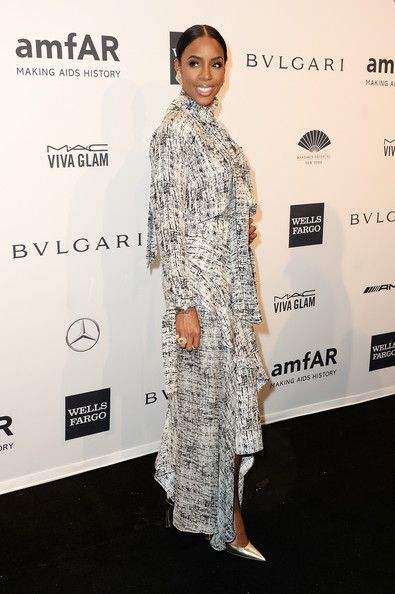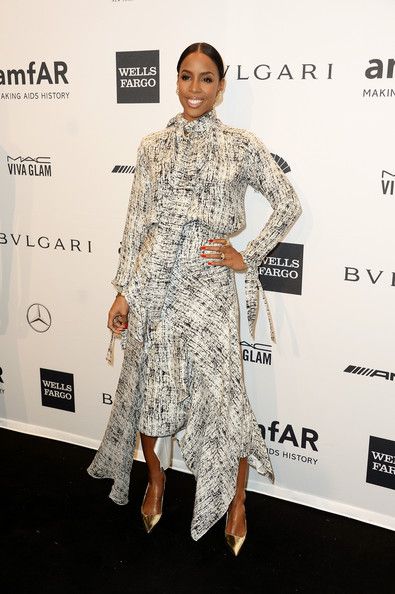 She kept it chic in a black and white ruffle hem Juan Carlos Obando Resort 2014 dress for the occasion. And she tossed on her metallic pumps and statement jewelry to complete her look.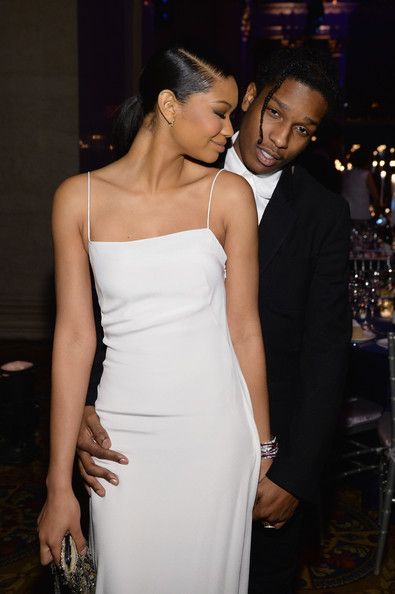 Meanwhile, Chanel Iman and A$AP cuddled up on the carpet and inside. We must admit, we're kinda surprised these two are still going strong: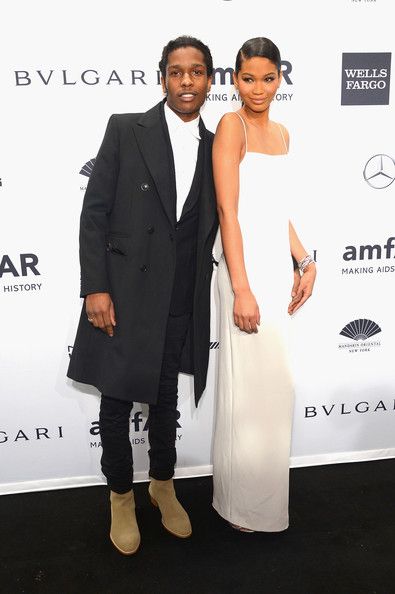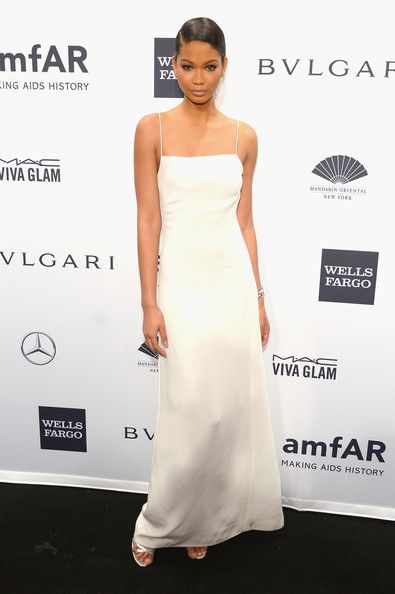 Chick knows how to rock a simple slip dress.
Selita Ebanks showed off her curvy yet modeleque bod in a Gabriela Cadena white gown on the carpet.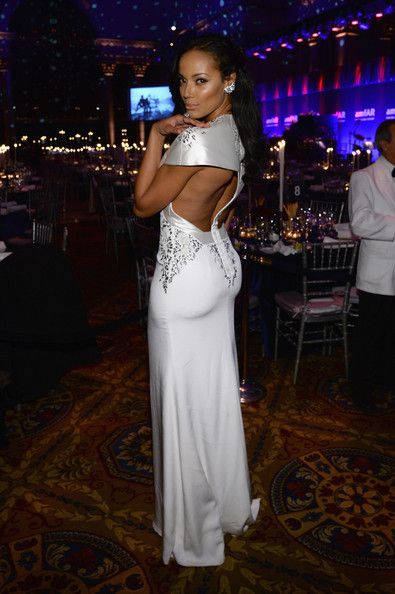 Very pretty look for her. But where's that reality show she filmed a while ago? Never seeing the light of day?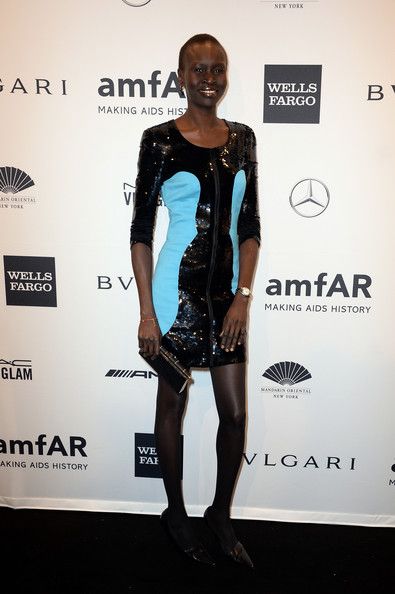 And the night was full of models as Alek Wek made her way to the carpet with a striking look.
Ms. Grace Jones took over the night with her performance: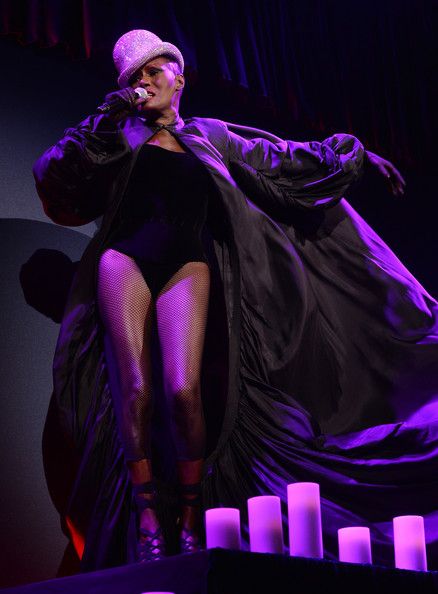 She hopped up on people's tables, sashayed perfectly in sky high heels, and all around SERVED like only she can. Work.
By the way, she's 65 and in the process of writing her memoirs.
Photos: Getty
WHAT BRAWL? Benzino DENIES His New Chick Thi Thi & Karlie Redd BATTLED At Bar Opening + Karlie Redd LAUNCHES "Sins And Forgiveness" Cosmetics Line
Posted: 06 Feb 2014 07:07 AM PST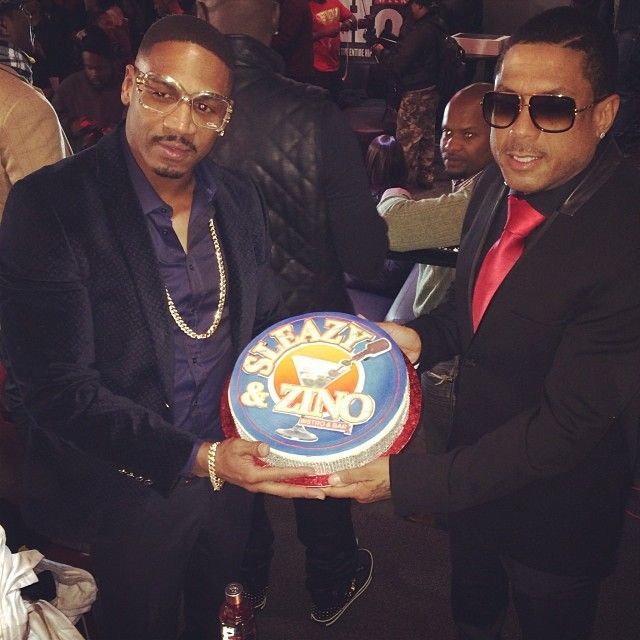 Benzino and Stevie J hosted the grand opening of their bar last night, and despite reports, he claims there was NO brawl. Get the alleged deets about the supposed brawl inside and see Karlie Redd's new cosmetics line.
It apparently WENT DOWN in Atlanta last night at the grand opening of Sleazy & Zino in Atlanta. As "LAHH ATL" cameras rolled, there were several reported fights amongst castmembers. While details are sketchy (and heavily guarded), it's being alleged that Benzino's new girlfriend Thi Thi (shown here) had a shouting match with Benzino's ex-Karlie Redd and Lil' Scrappy's baby momma Erica Dixon.
Our heads hurt already...
It's also alleged that Thi Thi got into it with Momma Dee and Shay. You know how this goes, all the parties involved are contracted and signed to non-disclosure agreements...so we won't know what REALLY happened until next season airs on Ratchet TV, i.e. VH1.
But if any of this is true, Miss Thi Thi is gunning to become the breakout star of the new season. We're not mad at the "Ghetto Love" singer's hustle. You gotta push those records....it worked for K. Michelle.
Over on Instagram, Benzino sorta kinda hinted at some-ish going down when he called out Karlie Redd for coming to the event and insinuating that he didn't love his new chick. So how does a hood dude show love? Marriage? Nope. He gets a tattoo. First he tweeted, "Since @iamkarlieredd wanted to come to MY event to question MY love for MY QUEEN, id thought I clear things up."
Then he followed that with "What brawl? Dont believe the hype, OUR EVENT WAS AMAZING!!!"
Sigh.....aren't all the castmembers approaching their 40s at this point? When does the fighting stop?
In other Karlie Redd news.....
The rapper/reality star has launched her own cosmetic line called the Sins and Forgiveness Collection. The collection came through her partnership with Colour U Cosmetics, of which Karen Stallings is the Owner and CEO of the Atlanta based cosmetic company. To aide with the launch, the reality star and her team have brought on Lydia Pierre, "Ur Beauty Liaison", as the Brand Manager.
Congrats to Karlie for attempting to turn herself into a cosmetics brand. Because we don't see thing music thing happening for her....
Photos via Benzino's Instagram/Karlie Redd/Funky Dineva
SNEAK PEEK?! Rihanna Goes Rogue For March 2014 VOGUE Cover & Spread
Posted: 06 Feb 2014 06:15 AM PST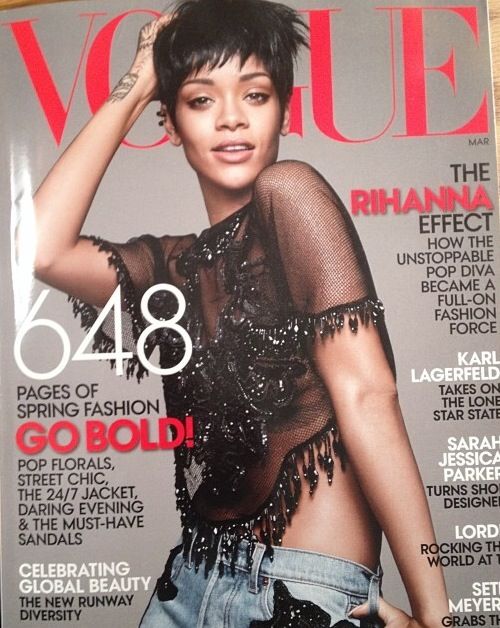 Well, this is a surprise. Rihanna is the newest cover girl for the brand new March 2014 issue of VOGUE. Check out the sneak peeks that were kept under wraps until now inside....
Calling all Navy members! Your fearless leader just popped up in a new cover and spread for VOGUE magazine...her third one in four years by the way.
After getting mermaid sexy in 2011 and radiant in red in 2012, Robyn 'Rihanna' Fenty is back on top of the fashion bible just in time to kick off NYFW.
The first pics of the spread have already leaked online, and according to the cover, it looks to be US VOGUE. She reportedly shot for VOGUE Brazil a few weeks ago, so it's very possible she has BOTH on the way.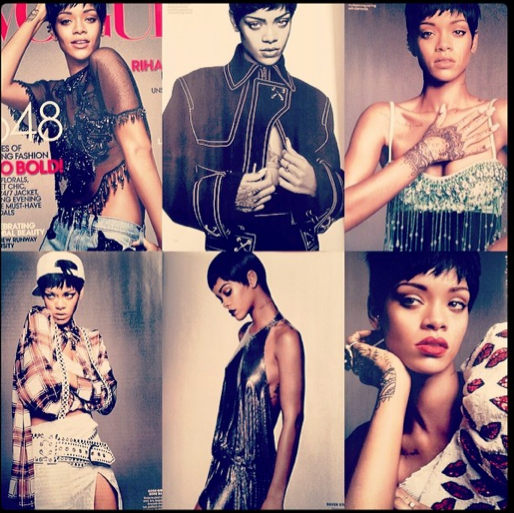 Looks like the "Can't Remember To Forget You" singer rocked her short black coif, much like the 2012 cover.
From the sexy metallic nip-popping dress tot he tomboyish 90's vibe she's serving, Rih is looking perfectly modelicious in the spread. Loves it.
BONUS:
Check out the new BTS footage for Rihanna's new MAC Viva Glam campaign. She's talking AIDS relief, why AIDS is an issue for young people, and her first hot memory of MAC Viva Glam.
Photos: RihannaDaily.com
MODELICIOUS: Lupita Nyong'o Gets GLAM For GLAMOUR Mag + Eddie Murphy's Daughters Are Now Lingerie Models
Posted: 05 Feb 2014 05:54 PM PST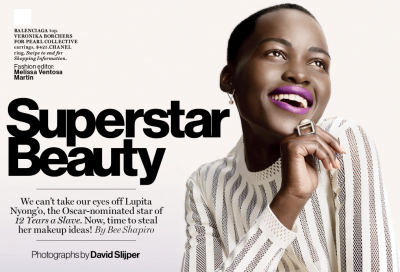 Because she's pretty much perfect, every major magazine is after Lupita Nyong'o. And her latest spread for GLAMOUR Magazine's March 2014 issue is gorge. Check it inside, plus Eddie Murphy's daughters assed out....for their new lingerie modeing gig....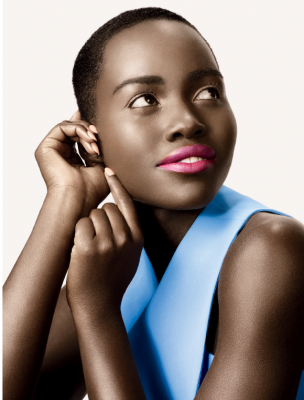 Pretty gal Lupita is showing off bold makeup looks in the new issue of GLAMOUR mag. And it's giving us the guts to go try out those hot pinks and deep purples and aqua shadow. Or...maybe not. We'll leave all that to the Oscar nominee.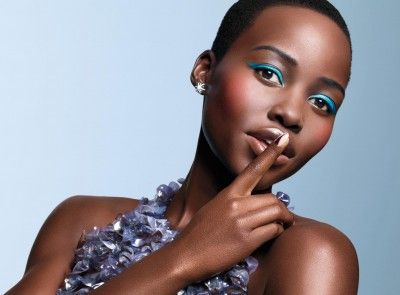 Also, the Thursday before the Oscars, ESSENCE magazine will host their annual Black Women In Hollywood luncheon. And this year's honoree is none other than the 12 Years A Slave star herself. Nice!
And speaking of getting modelicious, 24-year-old Bria Murphy (above) and her 19-year-old sis Shayne Murphy are the newest lingerie models for...somebody. It's not like anyone will care for who, just that the girls are taking a page out of their mom Nicole Murphy's model playbook and looking mad sexy.
UPDATE: According to reports, the shoot was actually done in Nicole and fiance Michael Strahan's new bedroom...and they're test shots the girls are sending to Victoria's Secret since they would like to become V.S. models.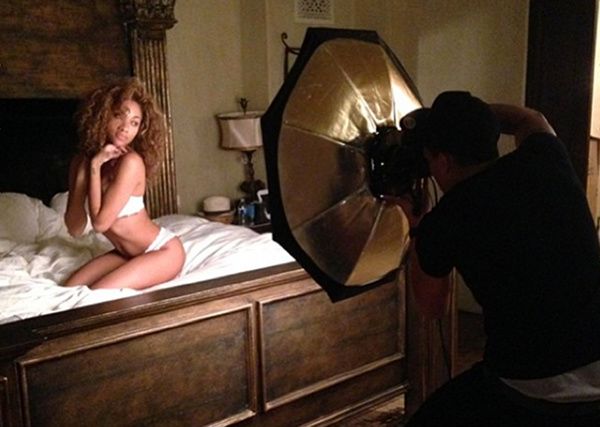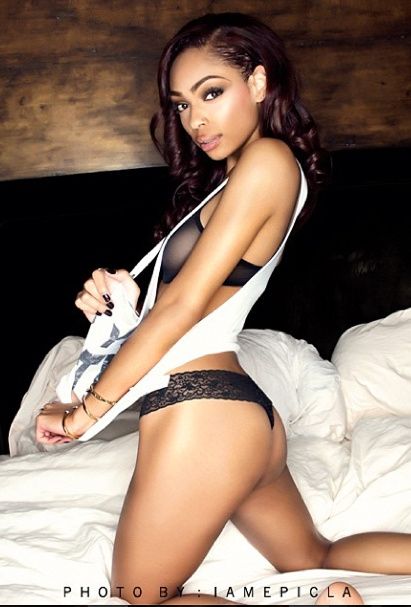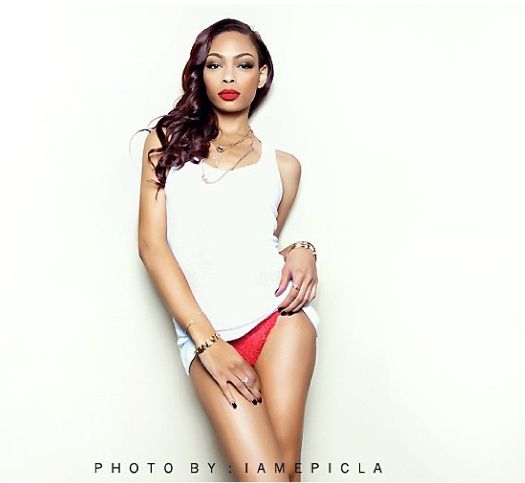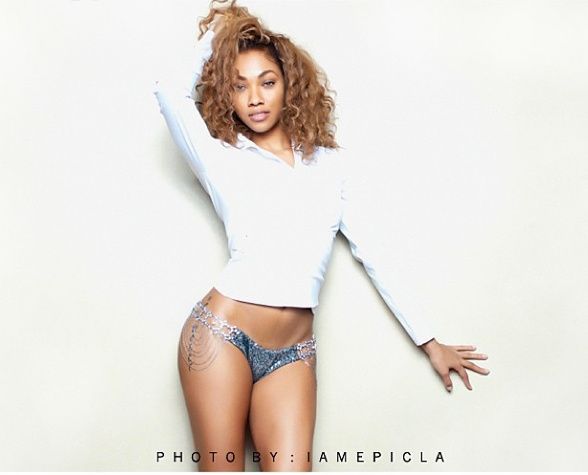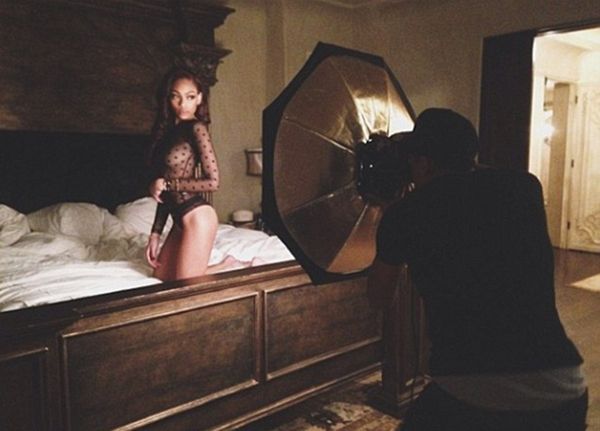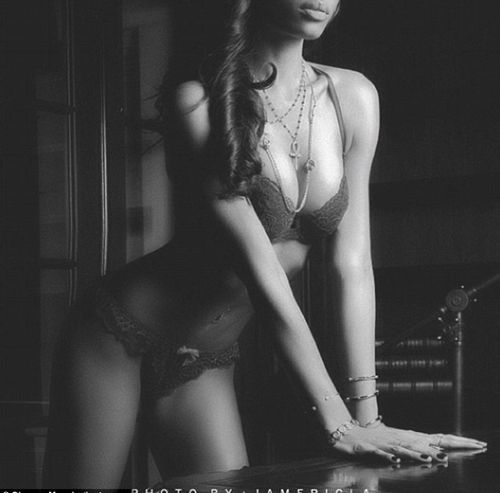 The photos were shot by North Hollywood-based photographer iamEpic and feature embellished and lacy bras and panties.
Photos: Glamour, IAMEPIC's IG, Bria's IG, Shayne's IG
Remember Felicia From "Friday"?! Her Son Is A STAR QB...And Just Committed To University Of Miami!
Posted: 05 Feb 2014 05:25 PM PST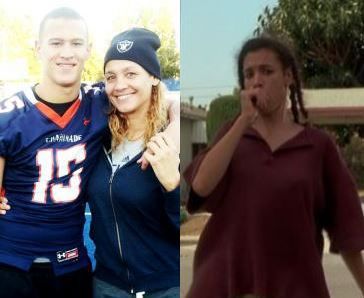 Remember "Felicia" from Friday? Well, she's Angela Means-Kaaya and she's extra grown with a football star of a son now. Check out his major accomplishment inside and what the proud mom looks like now...
After appearing in classic flicks like Friday & House Party 3, Angela has been mom to Brad Kaaya. And her baby boy became the West Hills Chaminade California High School star quarterback. And now, he's making big news for committing to play for the Miami Hurricanes next season.
Looks like Brad is getting set up for a hot NFL career in a few years. According to The Big Lead, Miami recruited him hard to join their school and team (even Uncle Luke came out to take pics with him and his mom and almost got the school in trouble). And being a star QB at a big name school will pretty much secure that NFL career his family has been grooming him to get.
Angela spoke to Canes In Sight about her "baby boy"--who's actually 6'4 and 220 pounds--and revealed she was actually pregnant with him while promoting Friday on the red carpets back in the day. And he sounds like an amazing, intelligent kid:
"It was surreal and it was like 'see Brad, this is what hard work does'. I'm sure you've heard it a thousand times, but I knew this was coming. I didn't know that it would be Miami right out of the gate, but it was pride and then to see him walk with half a step more swag and confidence, and then he went right into Elite 11 and his ranking went up. It was so much pride and joy because we put so much into this kid. That's my little baby. I see him and he's 12-years-old to me and sometimes I see him as my 6-year-old. He's my little baby. I cook for him every single day and we do everything that we're supposed to do with him."

"This is supposed to happen. He's 6-4, 220-pounds, a 4.0 student, a student of the game, never been in a dispute, everyone loves him. You look at his picture, and that's who he is. We're proud, but this is supposed to happen. This is what he wants and he's one of those people who when he wants something, he makes it happen."

"I remember being on the playground with him when he was in the third-grade and he would stay after school when there wasn't football practice. I would bring food for all the kids there and just watch them play and I remember these two boys just ran up to him and they we're like 'Brad! He took the ball from me.' And he was just so subtle, telling them to do this and that, and they said, 'Thanks, Brad!' When he was in fifth-grade, all of the kids in his grade had to be mentors and they would get one first-grader. They gave Brad two kids to mentor. He just has some inherent goodness about him that no human being cannot see. It's something so special," said his mother.
She said she grromed him from birth for this:
"I remember his father telling me a few dates in – and I'm a sports person, I've done everything and I even blew my knees out in high school – that if we had a kid, we'd probably have a quarterback. He told me that while we were dating and I imagined in Scooby Doo's voice saying, "quarterback?" Eight months later, I was pregnant and I knew he would be an athlete. I set out to do everything right in my pregnancy. I ate right, didn't get into one dispute. I had a thing for hot dogs, Dr. Pepper, and nectarine every now and then, but I did everything else. I walked constantly and when he came out he was perfect. We did everything we were supposed to do so we're not shocked at any of this. It was supposed to happen."

"Bradley is a student of a game and his football IQ is ridiculous. When he was like 7, they gave him a playbook and it had like a hundred plays in it and they came back on Monday and the coach said 'alright now let's talk about the plays' and he said, 'which one, I learned them all.' This kid knew every one of them. Bradley is an 'A' student; I taught him how to read when he was three. I did the Mozart and all this stuff to connect the highways in his brain to build his capacity. I nursed him for 9 months, all his food was just fresh and I pureed everything. He's been bred for this. As soon as he touched a football, it was a wrap. I put him in everything. He was in swimming and I even had him in ballet. I tried everything and he was good at everything. I took him to piano when he was three and kept calling the teacher to please see him and she said she wouldn't because they didn't take three-year-olds. Then 15 minutes after meeting him, she was like 'alright, he's undeniable'."
As for Brad's dad, she revealed they aren't together, but do co-parent:
"Me and his father aren't together, but we've been so good to one another that God is only going to bless us. We decided we would love this kid. Brad wasn't an accident, we planned him. We wanted him in our lives. Relationships in Hollywood do dissolve but we're always going to love him more than any conflict we had and we stuck to that."
Check out the full interview HERE. And as for mom Angela, here's what she looks like these days: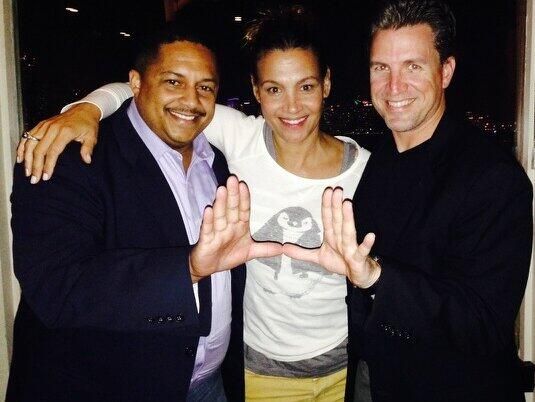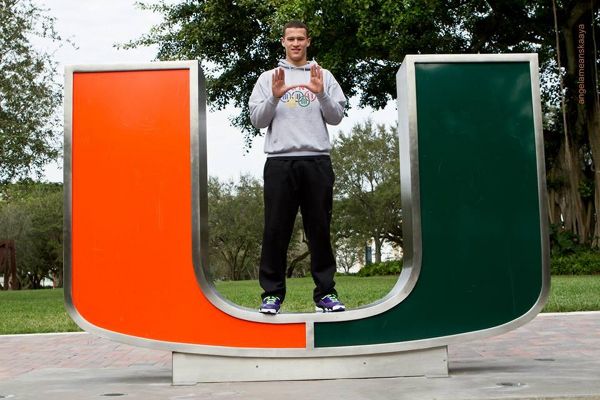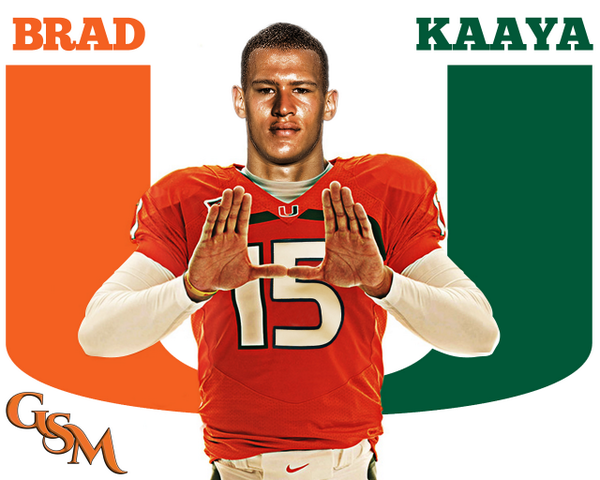 Congrats to Brad!
Photos: Angela's Twitter
Beyonce -- My Sexy GRAMMY Performance Gave "Drunk In Love" A MAJOR Billboard Boost!
Posted: 05 Feb 2014 03:21 PM PST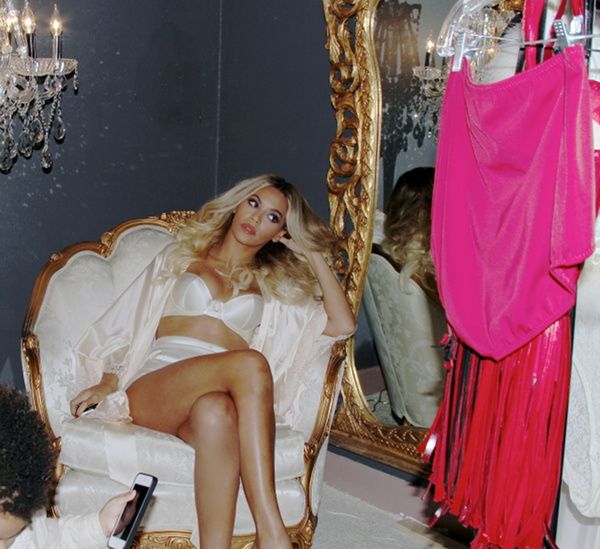 While some were criticizing her GRAMMY performance for being "too overtly sexy" and "whorish"--yeah, some newspapers actually used the W word--Beyonce's getting the last laugh. Deets inside about how she burst into the BILLBOARD's Hot 100 recently, and more fabulous pics from Mrs. C's arsenal just because..
Billboard reported today that following her controversial GRAMMY performance of "Drunk In Love" with husband Jay Z, Mrs. Carter broke into the Hot 100's top 10. She's #2, while Katy Perry's "Dark Horse" took the #1 spot.
While "DIL" has taken over plenty of other charts since its release, the Hot 100 chart--one of the most respected--can now be added to her list as 'conquered'.
This week, she also crossed the 15 million albums sold mark as a solo artist, and she can thank her hot Beyonce visual album for helping her reach that number in 2014.
Looks like the hate is only fueling more reasons to Bow Down.
Check out the brand new images 'Yonce showed off from her personal stash-o-pics. Baby Blue makes a cameo, as always: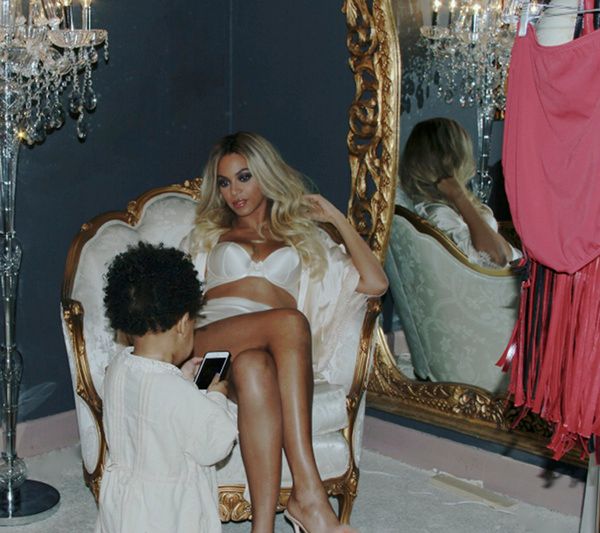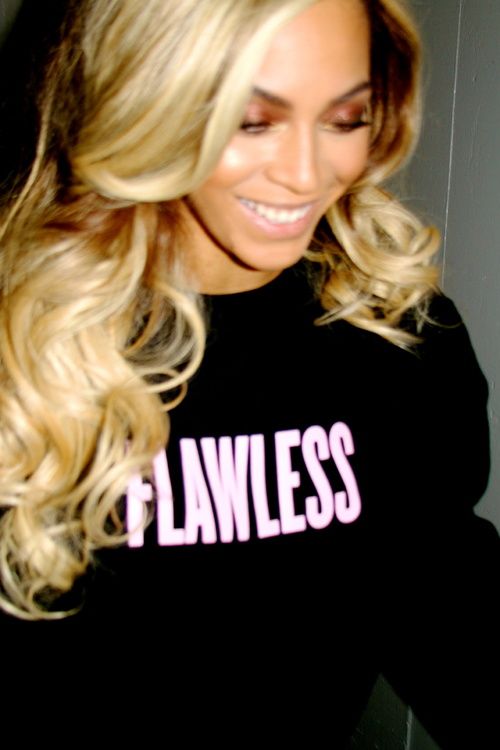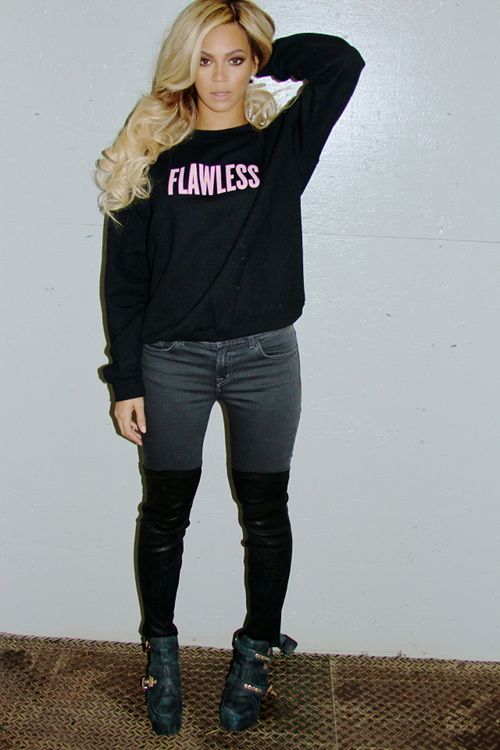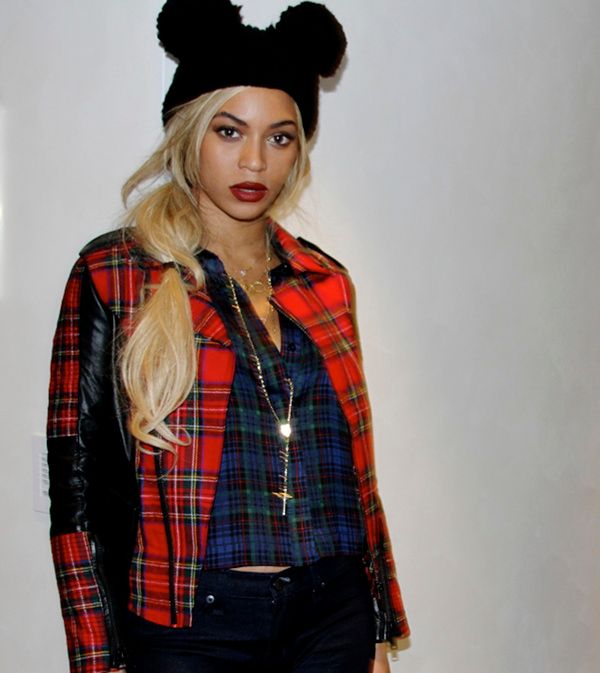 Photos: Bey's Tumblr
Al Sharpton RESPONDS To Controversial George Zimmerman/DMX Boxing Match, DMX SAYS It's NOT Confirmed
Posted: 05 Feb 2014 02:51 PM PST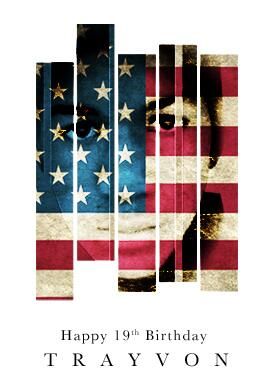 Rev. Al Sharpton has weighed in on the proposed "celebrity" boxing match between DMX and George Zimmerman. See what he said inside and get the latest on the upcoming fiasco....
Earlier this morning we told you about a proposed celebrity boxing match between DMX and George Zimmerman which has sparked a ball of controversy. MSNBC host Al Sharpton isn't feeling this "match" either. So he weighed in, cautioning people about glorifying George Zimmerman as a "celebrity."
"We must be very careful not to glorify or in any way sidestep the implications of making someone whose only claim to fame was killing an unarmed young man named Trayvon Martin into a cultural celebrity or hero,

"It is perfectly legal for him to exploit his fame but we should never forget what he is famous for and not behave like he is a celebrity based on gifts or talent or contributions to society."
Since the news went viral, DMX's spokesman, Domenick Nati, released a statement saying the match HAS NOT been confirmed and his client would need to see the paperwork (i.e. $$$) before a deal is sealed. (George claims, according to MSNBC, he will donate his cut to an animal rescue charity, but he refuses to name which one as to not bring unwarranted attention to them. Mmmhmm.)
"The boxing match between George Zimmerman and DMX is not officially confirmed. DMX has promised to "beat his ass", but no contract or paperwork has been signed or agreed to yet. DMX will release an official statement if and when an agreement is made."
A Change.org petition has also been created to stop the fight. Sign it here.
Photo via Sybrina Fuller's Twitter

Jill Scott Joins Usher As A Mentor On "The Voice" + Nick Cannon & VH1 ANNOUNCE ""Drumline: A New Beat" Sequel
Posted: 05 Feb 2014 12:15 PM PST
Jill Scott will be teaming with Usher on the upcoming season of "The Voice." Find out about her new role inside and get the deets on Nick Cannon's new "Drumline" project with VH1.
When Usher returns to "The Voice", he'll be bringing along a special friend....Jill Scott. EXTRA revealed that the show's February 24th return will feature Jilly From Philly as a mentor for team Usher. Usher told "Extra's" Renee Bargh, "That's my secret weapon, incredible, as a writer, as a musician, as an actress, all those elements really help to prepare artists."
Jill added, "When Usher calls, you take the call."
What's her advice to contestants? "Listen to your gut, follow your heart and it will lead you somewhere special."
Watch the season premiere of "The Voice" at 8 PM Monday, Feb. 24 on NBC. Loves her!
In new movies.....
A few months ago, we hinted at a Drumline sequel, but now we know that Nick Cannon and VH1 has trashed the idea of a sequel and written a new chapter in "Drumline" series featuring all new characters. In a press release from VH1, the synopsis reads:
"Drumline: A New Beat" will eschew a sequel format, instead focusing on a new set of characters at a fictional New Orleans university. The story follows Danielle (Dani) Bolton, an upper class Brooklyn girl who defies her parents in order to attend a college in Louisiana so she can join – and revitalize – their once-prominent drumline. Dani's quest to become the first female section leader of the drumline in the school's history will be hampered by upperclassmen (including her cousin, Tyree), her feelings for fellow band mate and rival, Jayven, and the school's crosstown rivals."
Nick said,
"DRUMLINE was not just a successful film; it was a cultural happening. Even though it was released over a decade ago, I am constantly approached by people on the street who tell me how much of an impact it made on them. As a producer, my thought was, 'How do we create an updated version that would translate to today's audience and still feel fresh and original?' Adding a female lead character really makes sense and VH1 is the perfect network to partner with on this modernized take on what is considered a unique and classic film experience. "
The movie is produced by VH1 in partnership with Fox Television Studios and set for a Fall 2014 premiere. You here for this?

Watch the announcement here:
Photo via Nick Cannon's IG/The Voice
TV FAB: Tamar Braxton Dishes On Towanda & Kordell, SHUTS Down Her Haters Saying "I'm BEAT For The Gods"
Posted: 05 Feb 2014 09:49 AM PST
Tamar Braxton brought her sass and swagger to "WWHL" last night where she dished on Towanda dating Kordell Stewart and had a message for people who "snubbed" her Soul Train Awards outfit. Watch the clips inside....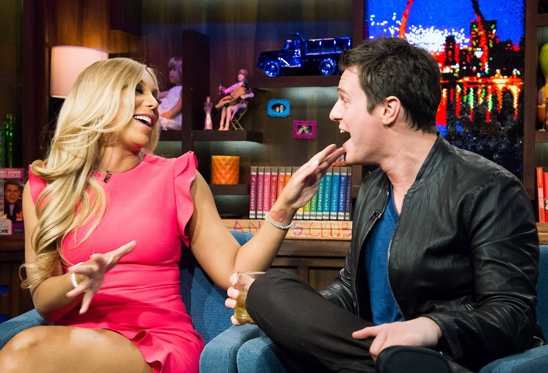 Tamar Braxton (shown above with "Looking" star Jonathan Groff) chatted it up with Andy Cohen on "WWHL" where she spilled the tea on Towanda Braxton and Kordell Stewart, "I ain't never met Kordell and last time I checked, my sister was married." There you have it!
In true Tamar fashion (she wore an Emilio Pucci dress and Christian Louboutin shoes speaking of fashion), she had message for people who didn't like her outfit from the Soul Train Awards. You have to watch it for yourself...
Tamar's message to people hating on her Soul Train Awards outfit:
Tamar on her relationship with Towanda:
On Towanda and Kordell:
BONUS: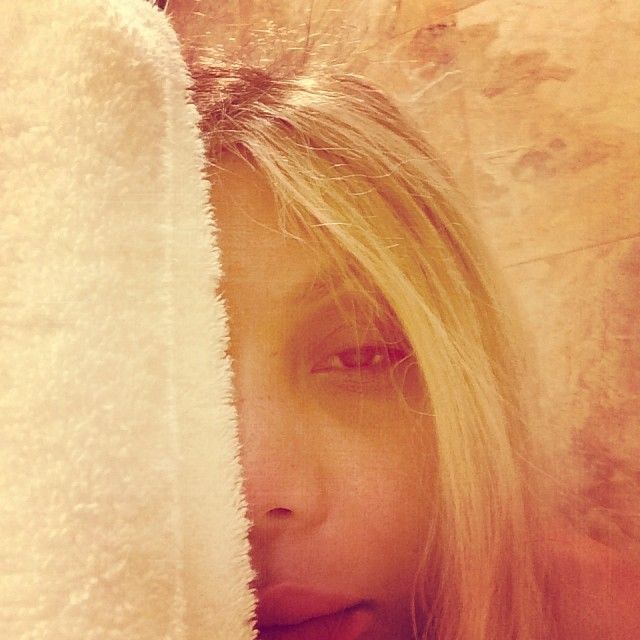 Tamar may have had too many cocktails at the clubhouse. "I woke up like dis....thanks @bravoandy for another wwhl #Epic night!"

Photos via BRAVO TV