---
Master P CELEBRATES 44th Birthday With His Kids In Beverly Hills + Mariah Carey & Nick Cannon CELEBRATE 6-Year Anniversary & "Dem Babies'" 3rd Birthday
Posted: 01 May 2014 07:39 AM PDT
It's a celebration! Master P brought in his 44th birthday with a dinner date with his kids. Plus, Mariah Carey & Nick Cannon celebrated their twins' 3rd birthday. See the cute family pics inside…
No Limit Forever Records CEO Master P turned 44-years-old on Tuesday and he and his children hit up Mr. Chow in Beverly Hills.
P's kids Lil Romeo, Cymphonique Miller, Tytyana Miller, Hercy Miller, Vercy Miller (Young V), Veno Miller, Italy Miller, Inty Miller and Mercy Miller came out to celebrate with their pops.

P went all out with a custom handmade Versace cake (which we hear cost $10,000) dripping in edible gold. The cake featured a Versace gold and diamond medallion, a gold and diamond Versace ring and an iced out diamond encrusted Versace Medallion Center piece. Check it:
Nice.
On a not so happy note, P is currently battling with his estranged wife Sonya Miller, after she made claims the rapper kidnapped their kids and filed an emergency custody order against him.
In another attempt to blast her husband, she also made claims that she was forced to get on public assistance to get by because P stopped giving her money.
The record company CEO had enough of his estranged wife's antics and posted videos of him talking to his children about his wife's drug and alcohol problems. He revealed that if she would just get herself clean and be a good mother to his children, she can have anything she wants.
In other family celebrations...

On yesterday, Mariah Carey, Nick Cannon and "Dem Babies" Monroe & Moroccan celebrated two monumental occasions. Monroe and Moroccan turned 3-years-old and Mariah & Nick celebrated 6-years of wedded bliss.
Last year, the Cannons renewed their vows on their anniversary with a storybook wedding at Disneyland and also celebrated the twins' 2nd birthday at the Happiest Place on Earth.
Looks like this year they are keeping it low-key, enjoying intimate family time in their home.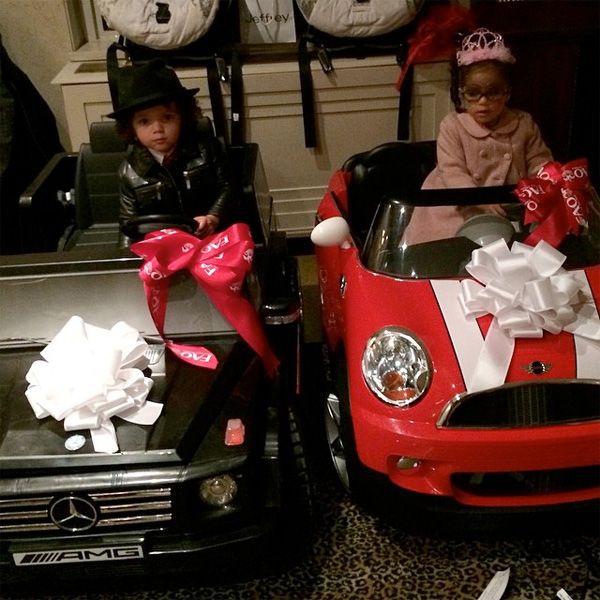 Dem Babies riding clean in their new luxury rides.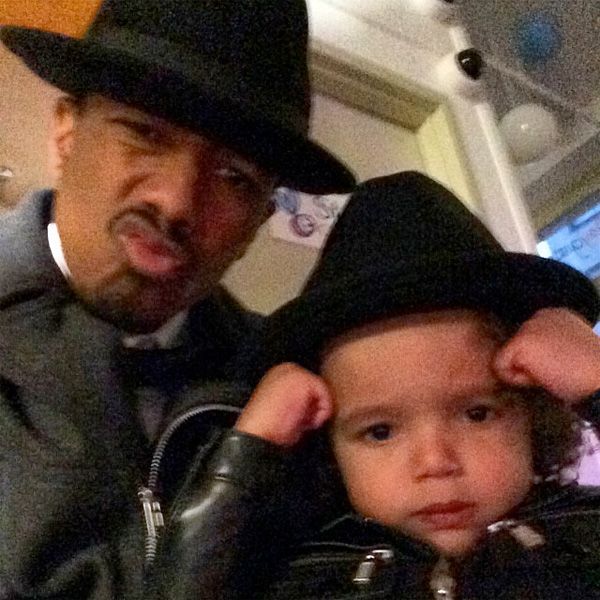 Nick captioned, "He's Run and I'm DMC!"
Too cute.
Photos: INF/Splash News/Nick's IG
IS THAT A RING?! Tae Heckard & Brandon Jennings Rumored To Be ENGAGED
Posted: 01 May 2014 07:03 AM PDT
Things seem to be heating up rather quickly between Tae Heckard and her new boo Brandon Jennings. Tae has been sporting a huge rock on her wedding ring finger. Are they getting married? Deets inside…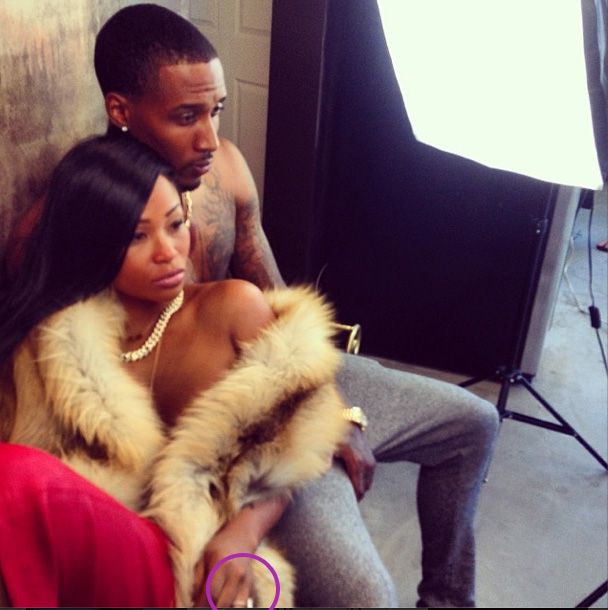 Since going public with their relationship, model/actress Tae Heckard and her NBA baller boyfriend Brandon Jennings may have taken their relationship to the next level.
The two were spotted partying hard at ToXic Day Party in Hollywood a few weeks ago and you could clearly see Tae did NOT have a huge rock on her left ring finger. Since then, Brandon has been posting a slew of pics of Tae on his Instagram page and now a big diamond ring is sitting pretty on her wedding ring finger.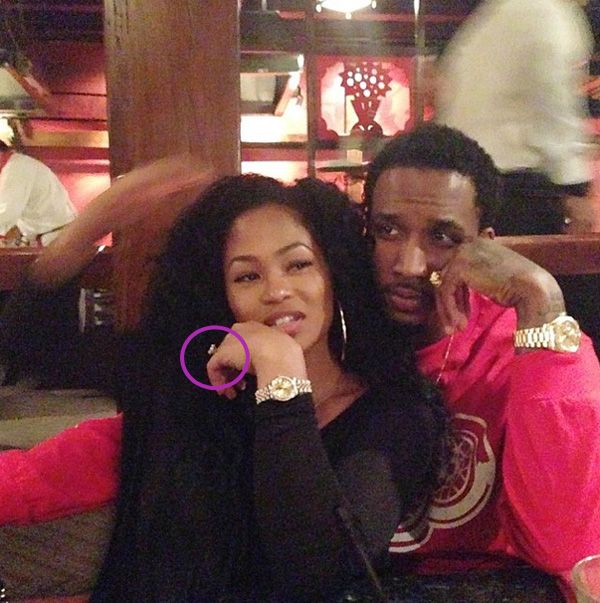 Although Tae and Brandon were in some weird "love square" with Nelly and Ashanti, they are happily pursuing their relationship, not caring what anyone has to say about it. Brandon posted the pic above with the caption, "We don't care. What you think!!!"
Hmm...kinda sucks to be Teyana Taylor right now. She was once engaged to Brandon and she and Tae were friends. We're not sure if the two ladies are still friends, but it would probably be kinda awkward being around your "friend" after she allegedly got engaged to her ex-fiancé.
And it looks like they will make their official engagement announcement in a photoshoot for Frontrow Couture. The couple both posted BTS pics of their shoot with Tae saying, "@ifrontrow FW14 coming soon"
We shall see….
Photos: Tae's IG/Brandon's IG

SHOCKING REVELATION! Floyd Mayweather BLASTS Ex-Fiancee Shantel Jackson For Having An Abortion, POSTS Sonogram And SAYS "She Killed Our Twin Babies"
Posted: 01 May 2014 06:38 AM PDT
Boxing champ Floyd Mayweather Jr. blasted his ex-fiancee Shantel Jackson on Facebook, exposing that they broke up because she aborted their twins! See his post and a pic of the sonogram inside....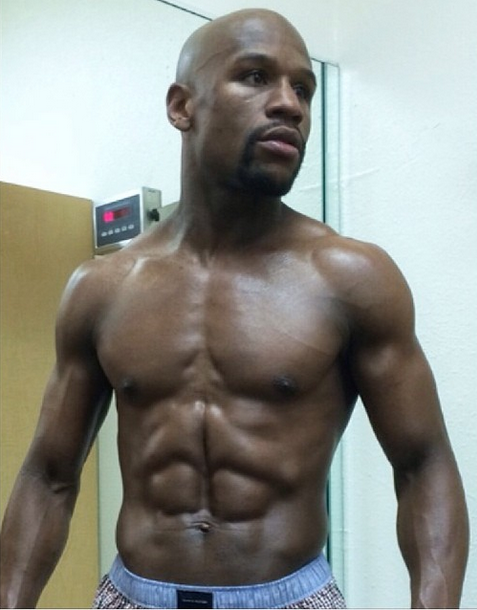 Although Floyd Mayweather has a highly-anticipated fight against Marcos Maidana scheduled for Saturday, it appears that he's already throwing blows....but they're hitting his ex-fiancee Shantel Jackson! On Facebook a post (that he quickly deleted), he revealed that he broke up with Shantel because she aborted their twins!

But he didn't stop there.....
He posted an actual sonogram! Now....we don't know if Floyd is being vindictive or just really up in his feelings, but something about this just seems dead wrong.
Over on Shantel's social media outlets, she has not addressed Floyd's accusations, but she did post a pic of her new Instagram boo Nelly.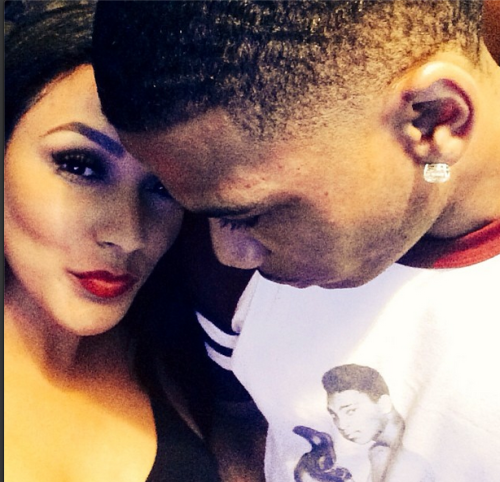 She captioned, "Look up MO say cheese... Lol You encourage me to smile and laugh through all my BS. Thank You. #Realfriend P.S You are truly a comedian. LMAO... !!!"
SMH.....Nelly may have a hard time helping Shantel laugh through Floyd's latest outburst.
UPDATE: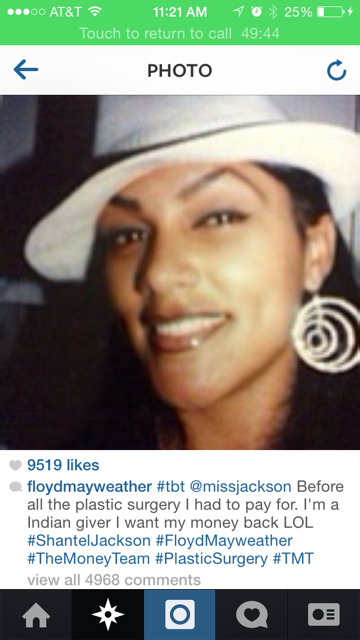 Floyd is still jabbing Shantel online. He just posted a #tbt pic of Shantel pre-surgery. SMH......
Photo via Shantel's Instagram/Floyd's Instagram/Getty/HowardStern.com
MUSIC FAB: Mariah Carey UNVEILS Album Title & Cover Art + Lil' Wayne RELEASES Cover Art & BTS Video For Drake Collaboration "Believe Me"
Posted: 01 May 2014 05:50 AM PDT
Mariah Carey has revealed the title of her forthcoming album. See the disc's cover art and title inside and watch Lil Wayne in the studio with Drake for their "Believe Me" single.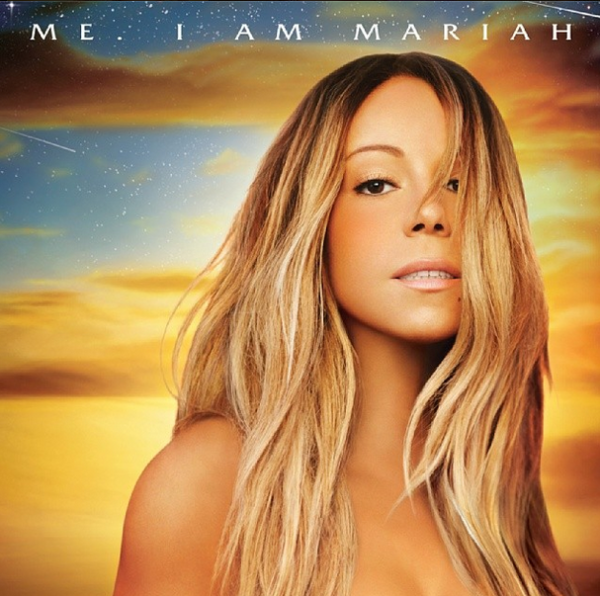 Attention lambily, Mariah Carey has announced the title of her 14th studio album ("Me. I Am Mariah… The Elusive Chanteuse"), revealed the release date (May 27th) and unveiled the disc's cover art (she looks amazing!) and tracklisting.
On a personal message she posted on her YouTube channel, Mimi revealed that the album's title was inspired by a self-portrait she drew when was three years old.
"Please don't judge me for such a simplistic title. Come on, I was only three-and-a-half...It was a creative visualization of how I saw myself with the purity of a child's heart before it was ever broken...This album is a reflection of some of the peaks and valleys that have made me who I am today I've decided to share it with those of you who actually care and have been here for me through it all. 'Been through a lot but Ive always known me. I am Mariah.'
Me. I Am Mariah… The Elusive Chanteuse Tracklisting:
1. "Cry."
2. "Faded"
3. "Dedicated" (feat. Nas)
4. "#Beautiful" (feat. Miguel)
5. "Thirsty"
6. "Make It Look Good"
7. "You're Mine (Eternal)"
8. "You Don't Know What to Do" (feat. Wale)
9. "Supernatural"
10. "Meteorite"
11. "Camouflage"
12. "Money ($ * / …)" [feat. Fabolous]
13. "One More Try"
14. "Heavenly (No Ways Tired/Can't Give Up Now)"
15. "Me. I Am Mariah…The Elusive Chanteuse"
Deluxe
16. "It's a Wrap" (feat. Mary J. Blige)
17. "Betcha Gon' Know" (feat. R. Kelly)
18. "The Art of Letting Go"
Listen to Mariah's message here:

In other upcoming releases...
Lil' Wayne revealed the cover art and title of his upcoming Drake collaboration, "Believe Me." The song will appear on Tha Carter V and was produced by Boi-1da and Vinylz. Weezy also uploaded a snippet of the song with BTS footage of his studio session with Drake.
See Weezy and Drake in the studio here:
Photos via Mariah Carey's IG
YBF CELEBS WANT THE CLIPPERS: Oprah, Diddy, Rick Ross, Floyd Mayweather Jr. & More Want To Place Bid To Own The L.A. Clippers
Posted: 30 Apr 2014 04:46 PM PDT
Since Donald Sterling has been banned from the NBA for life and urged to sell the L.A. Clippers, a few YBF celebs have publicly placed their bid on the NBA team. Find out what they said inside…
Los Angeles Clippers' owner Donald Sterling can longer show his face at any NBA event, meeting, game etc. for life and has come under pressure to sell the team. Many YBF celebs have announced they would be interested in placing a bid to become the new owner(s) of the NBA team.
Leading the pack, Oprah Winfrey. The media queen has teamed up with a few of her billionaire buddies, David Geffen and Larry Ellison to put in a bid if the squad goes up for grabs.
A spokesperson spoke to ESPN on Oprah's behalf saying, "Oprah Winfrey is in discussions with David Geffen and Larry Ellison to make a bid for the Clippers should the team become available."
Although, Lady O wants a piece of the team, she has no interest in running the team.
Mr. Geffen told ESPN,
"Oprah is not interested in running the team," Geffen said, but notes, "She thinks it would be a great thing for an important black American to own [another] franchise."
He added,
"The team deserves a better group of owners who want to win. Larry would sooner die than fail. I would sooner die than fail. Larry's a sportsman. We've talked about this for a long time. Between the three of us, we have a good shot."
But Lady O isn't the only one looking to place a bid…

Diddy, Dr. Dre, Rick Ross, Magic Johnson, Nick Cannon and Floyd Mayweather Jr. also want in.
Hip Hop mogul Diddy hit up Twitter confirming he will always be a Knicks fan but expressed his interest in the Clippers tweeting:
I will always be a Knicks fan, but I am a business man. #DiddyBuyTheClippers #NameYourPrice

— Diddy (@iamdiddy) April 29, 2014
Maybach Music rapper Rick Ross placed a bid on the NBA team, also adding he would like to put a Wings Stop in every major arena tweeting:
I'd be interested investing in @LAclippers !!!! Make It #WingstopArena @WingstopCEO Lets Goooo !!!

— Mastermind (@rickyrozay) April 29, 2014
Lets put @wingstop in every Major Arena --> pic.twitter.com/hHFRxxRXYr

— Mastermind (@rickyrozay) April 29, 2014
Former Lakers' standout Magic Johnson is interested in owning the Clippers with financial backing from Guggenheim, a global financial services firm. Magic and his Guggenheim partners already own the L.A. Dodgers and NBA Commissioner Adam Silver welcomed Magic as team owner saying, "Magic Johnson knows he's always welcome as an owner in this league. He's been a part owner in the past of the Los Angeles Lakers and is always welcome and a close friend of the NBA family."
Nick Cannon wants to bring the Clippers to his hometown of San Diego:
I think I'm about to buy The Clippers! Heard I can get them for the Low Low! http://t.co/2WPdHXkUYm

— Nick Cannon (@NickCannon) April 26, 2014
Boxing champ Floyd Mayweather Jr. (who attends many Clippers & Lakers games) told EPSN he's very interested in placing a bid for the Clippers saying, "I called Al today about that to see if me, Leonard and Al, and hopefully Richard and a couple of other guys, a couple other of my billionaire guys, we can come together and see what we can come up with. Hopefully, we can do it, and it's not just talk."
And Beats by Dre founder Dr. Dre revealed he's interested in placing a bid for the team telling TMZ, I'm thinking about it … absolutely."
Check it:
Let the races begin...
Photos: Getty
NOT SO HAPPY COUPLE: Eva Marcille AWARDED Full Custody Of Baby Marley After Alleged Physical Altercation With Kevin McCall
Posted: 30 Apr 2014 03:48 PM PDT
Although they made a slight attempt to save face after it was reported Eva Marcille had filed a restraining order on her boyfriend Kevin McCall, it's now being reported Eva filed for custody of their daughter. And she won. Deets inside…
It looked as if Eva Marcille and Kevin McCall were the perfect couple from the outside looking in, but we found out they had a few skeletons in their closet after Eva filed a restraining order against Kevin.
Last month, the "Top Model" made claims that Kevin kicked down doors and attempted to snatch their daughter, Marley Rae, from her arms during a heated argument. But days after their alleged altercation, Eva posted a family pic of the three of them smiling (above) with the caption, "#familyfirst @marleyraemccall14 @kevinmccall"
NOW… it's being reported Eva filed for custody of their daughter and a judge granted her motion. Unfortunately for Kevin, he has been denied visitation until their next court hearing. Meaning, he won't be able to see Marley Rae until then.
A rep for Eva spoke to TMZ saying, "It is unfortunate that life has thrown a curve Into Eva's life but as a responsible parent and adult she's taking steps to ensure the safety and well-being of their child and herself."
Eva has been busy posting subliminals via her Instagram:
But now it seems she has found peace:
She captioned, "#peace be still... Took a minute but finally I'm at PEACE. #god is good"
Kevin has remained mum on the situation; mostly posting pictures of an older daughter he has from a previous relationship named Jenesis:
Cute.
Hope these two can work it out for the sake of baby Marley…or not...if Kevin is actually found guilty of those domestic violence claims...
Photos: Eva's IG/Kevin's IG
Lil Mo Brings The FOOLERY In "Breakfast Club Interview," Talks CHEATING On Her Husband, Having An Abortion, THREESOMES & More!
Posted: 30 Apr 2014 01:16 PM PDT
Lil Mo, along with her new boo Karl "Dynamite" Dargan, made a stop by The Breakfast Club and in true Mo style, she bought plenty of foolery to the interview. Find out what she said about getting an abortion last year, cheating on her husband, threesomes, Christianity and more inside…
Yesterday, "R&B Divas: LA" star Lil Mo and her professional boxer boyfriend from Philly Karl "Dynamite" Dargan (pictured above in NYC recently) hit up Power 105 with The Breakfast Club and Mo kept it all the way "hood."
The "R&B Diva" dished on her estranged husband Philip Bryant (she's done!), her new boo Dynamite and his kids (he has 3), cheating on her husband (she knew it was over so she cheated), on getting an abortion after getting pregnant by her estranged husband (gasp), participating in threesomes and so much more.
Here are the highlights:
On her break-up with estranged husband Philip Bryant:
Philip Bryant texted her in December saying he was going to send her the divorce papers but sent it to the wrong residence. Mo said she was ready to get her last name back so she filed herself.

On being celibate after being separated from her husband:
"I was dry!"

On Dynamites kids:
He has 3 kids so that makes 7 kids total between the two.

On how they met:
Mo & Dynamite have known each other since 2003 (when he was just 18 years old) when Dynamite was hanging out with Philly rapper Beanie Sigel.

On cheating on her husband:
Mo admitted to cheating on her husband Philip because she knew it was over between them. She said her woman's intuition told her Philip was cheating so she did her. She also admitted she and her husband would have threesomes with other women and during one of their sessions she realized Philip was cheating on her.

On aborting her husband's baby:
"My situation has been dead since last May. On May 5th I had to get an abortion. I was pregnant again. He just kept on trying to get me pregnant and do dumb stuff."

On Foxy Brown getting Mo & Kelly Price back cool again:
Foxy called up Mo and told her they needed to squash their beef and be Christian women and make amends. Mo called Kelly up and apologized and now they're cool.

On this season of "R&B Divas: L.A.":
We won't see Dynamite on the new season but we will get to see Mo with her kids.

On "LAHH ATL" star Mimi Faust:
"She's crazy. Once you show your coochie, you're done."
Check out the foolery below:
"R&B Divas: L.A." premieres on July 10th at 10/9c on TV One.
Photo: The Breakfast Club
WHO GON CHECK ME BOO? Sheree Whitfield PREPPING For A RUMORED "RHOA" COMEBACK?!
Posted: 30 Apr 2014 12:32 PM PDT
Will Sheree Whitfield find herself holding a peach again? Get the deets on Sheree's possible "RHOA" comeback inside....
It's time for a comeback! Miss Lawrence, star of BRAVO's "Fashion Queens" and one of Kenya Moore's besties posted a pic of Instagram with Sheree Whitfield and it has PEACHTREE St. buzzing! He captioned "Dont Gag! The real REUNION last night at the wedding was of me and @shereewhitfield stay tuned! #funtimes #show #leeegandary."
Apparently, Sheree Whitfield was spotted filming scenes with Miss Lawrence and Derek J for part of Kandi Burruss's BRAVO wedding special. In addition to Kandi's spinoff, the streets, according to Funky Dineva, are also saying we can expect to see Sheree REINTRODUCED on "RHOA." We reached out to RHOA producers and we're told they could not confirm nor deny.
All we can say is Kenya....Nene....Porsha....Cynthia....Phaedra...
THE ORIGINAL IS BACK!
Photo via Sheree Whitfield Instagram
SPOTTED: Serena Williams & Kim K. Lunch In Paris
Posted: 30 Apr 2014 11:24 AM PDT
Friends Serena Williams and Kim Kardashian decided to grab lunch today in Paris. And if rumors are true that Kim & Kanye are getting married this week (the legal courthouse ceremony), that may be why Kimmy is in Paris today.
See their candids inside…
After winning her 7th Sony Open last month, Serena Williams caught up with friend Kim Kardashian in Paris for a lunch date at L'Avenue restaurant today.
Dressed in a denim shirt and skin-tight jeans Kim K and Serena, dressed in all black, walked side-by-side as they made their way to the Parisian restaurant to wine and dine, since Kim is reportedly prepping to marry fiancé Kanye West. It's rumored the two will wed this week in an official courthouse-like ceremony, and will have a full blowout bash next month. They've already filed heir marriage licenses.

The tennis champ has been living it up since her Sony Open win, flaunting her toned bikini bod and natural "ass"ets in Miami recently.
Serena's dad Richard Williams is gearing up to release his new book "Black and White: The Way I See It," revealing he will never return to Indian Wells Tennis Garden in California, after he and his family were booed and subjected to racial slurs during a tennis match. Venus and Serena have boycotted Indian Wells since the incident in 2001.
Serena did enter the 2014 Indian Wells tennis tournament but later withdrew due to a back injury sustained in the Australian Open. Although her dad vowed he would never go back, he says it's up to Serena whether she would ever play there again and he would support her decision no matter what.
"I would never go back. She [Serena] was taught to make terrific decisions. Any decision she makes, I would be behind, 1,000 percent," said Richard.
His book is reported to be released on May 6th.
Photos: FAMEFLYNET/KCS Presse / Splash News

Lil Kim Goes UNDERCOVER On "Celebrities Undercover" + KeKe Wyatt Releases New Single "Fall In Love"
Posted: 30 Apr 2014 10:29 AM PDT
Lil Kim played a trick on her fans, to find out how hardcore they really are. Meanwhile, Keke Wyatt has a new digital single "Fall In Love." See Kimmy in disguise and check out Keke's new music when you go inside…
Lil Kim wanted to find out what her fans really thought of her and to see just hardcore they really are, so she dressed up in disguise for Oxygen's "Celebrities Undercover," season finale, hosted by Wendy Williams.
In last night's episode, Kimmy Blanco got made up as a pregnant Indian woman by the name of Jamilla, then stood in the VIP line amongst her fans. Fans in line thought they were attending a private listening party but little did they know, the Queen Bee was standing right next to them, listening to every word they said.
Of course there was an accomplice to rile up the crowd in which her fans almost got into a heated argument over young kids listening to Kim's lyrics. Once the accomplice was snatched up by security, Kimmy starts to act like she's going into labor, rolling on the ground and screaming for help before revealing her true identity.
Check out Kimmy in action below:
Ha!
And in music news…
"R&B Divas: Atlanta" star Keke Wyatt is hitting the music scene with a new single, "Fall In Love" and a new self-titled digital EP, which is scheduled to drop on May 6th.
After being absent from the R&B world for awhile, Keke is now ready to deliver new music she believes will show people "the real Keke Wyatt."
"My team and I are really excited about the release of my new single and EP," says Keke.
Keke believes her new EP will show a reflection of who she is today and also the things she has experienced in her past through music. She's looking to appeal to her core fan base but also broaden her reach to appeal to a bigger audience by venturing into different musical styles.
Listen to "Fall In Love" below:

You can purchase the single "Fall In Love" on iTunes here and her new self-titled EP Ke' Ke' drops May 6th.
BONUS:
Grammy Award winning singer Fantasia also went undercover for the Oxygen show, but Fanny's fans weren't as "hardcore" as Kim's fans.
Fanny was hit with brutal honesty when some fans voiced their opinions on if her success came from her raw talent or her sympathetic story. One fan said the only reason she gained notoriety on "American Idol" was because of her sob story about growing up.
Check the clip:
Photos: OXYGEN
HOT TICKETS: Pharrell ROCKS Webster Hall (And A Mickey Mouse Band-Aid) With EJ Johnson & Chanel Iman + Frank Ocean & Gayle King At The TIME 100 Gala
Posted: 30 Apr 2014 09:35 AM PDT
Pharrell was a man about town yesterday, hitting two high profile events in New York City. See him make a "Mickey Mouse Band-Aid" look trendy inside and see EJ Jonson, Frank Ocean and others...
Last night, Pharrell and his wife Helen Lasichanh attended the TIME 100 Gala for TIME's 100 most influential people in the world issue at Jazz at Lincoln Center.
Pharrell (rocking a trendy Mickey Mouse Band-Aid) was chosen as one of the TIME 100 (which features Beyonce on the cover).
Frank Ocean was among the guests. Next Monday, Frank will perform at the Met Gala.
"Orange Is The New Black" star Laverne Cox looked amazing in her copper-colored dress.
TV personality Alicia Quarles was there.
CBS This Morning anchor Gayle King was there.
Across town.......
Pharrell left the TIME 100 event to head down to Webster Hall for Sprint Sound Sessions where he performed "Happy" and other hits.
Chanel Iman was there.
Alek Wek showed off her gorgeous legs.
EJ Johnson rocked a fur, a veil, and a red lip.
Mel B attended.
Actress Kat Graham gave a few sexy looks for the paparazzi.
Photos via Ben Gabbe/Ben Barritt/Ilya S. Savenok/Getty Images North America

FOOLYWANG MATERIAL: Jameis Winston BUSTED For Stealing CRAB LEGS From A Store
Posted: 30 Apr 2014 08:30 AM PDT
In today's edition of "When Ballers Do DUMB Things" we have Heisman Trophy winner Jameis Winston getting caught stealing. But guess what he stole? CRAB LEGS! We're not making this up. Read the deets inside…
Florida State quarterback Jameis Winston has some serious explaining to do. He has been on a career high after being awarded the Heisman Trophy and winning the BCS championship; BUT, now he's caught up in yet another legal issue. The star quarterback was busted in Florida last night at a local grocery store for allegedly stealing…crab legs!
Was he really that hungry he had to steal seafood? Apparently so. A citation was issued to Jameis after sources say he stole some crab legs as he left from Publix Super Market.
A source close to the Tallahassee Police department revealed to Tomahawk Nation, "He got an adult civil citation. If he completes the sanctions it will never show up on his record. They commonly give them to juveniles on first criminal offenses. They are now doing it for minor misdemeanors for adults to lower crime rate."
You may have heard about Jameis' other run in with the law.....he was accused of raping a woman but was later found not guilty.
Sighs…
Photos: Getty