---
DO WE LOVE IT?!: Jazmine Sullivan's "Dumb" Featuring Meek Mill
Posted: 12 May 2014 08:22 AM PDT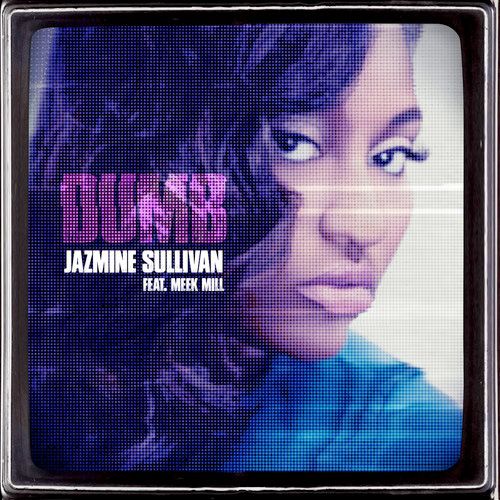 After calling it quits from the music industry back in 2011, Jazmine Sullivan is officially back and she's starting off the week with brand new music featuring fellow Philly native Meek Mill. Decide if we love it inside…
Philly songstress Jazmine Sullivan is officially on the comeback trail to return to the music scene and she's bringing the heat with her new track "Dumb" featuring MMG rapper Meek Mill.
Last month, Jazmine made the announcement that she would be returning to the industry during a sold-out show at KOKO London Theater. And she made good on her promise, dropping the first single from her upcoming album titled, Reality Show.
Jaz is back to belting out lyrics about a failed relationship, singing about a man who tries to get over on her by lying......of course she catches him every time!
Check it below:
And if you're looking to hear Jazmine sing live, she will be performing at Essence Fest on July 3rd, along with Nas, K. Michelle and Trey Songz.
So….
DO WE LOVE IT?!

COURTROOM UPDATES: Shonda Rhimes CALLS Plagiarism Claims Frivolous + Mike Epps ORDERED To Attend "Peace" Keeping Classes
Posted: 12 May 2014 07:43 AM PDT
Shonda Rhimes is shooting down claims that she ripped off a writer's idea for a tv show while Mike Epps has avoided charges for allegedly assaulting comedienne Simone Shepherd. More inside....
"Scandal" creator Shonda Rhimes is under fire for allegedly stealing an idea for a tv show. In a new lawsuit, writer Debra Feldman claims Shonda "lifted" her manuscript, "The Red Tattoo," and used it to created "Off the Map" (a failed tv show about U.S. doctors working in a remote South American village). The dueling writers have not battled in court yet, but Shonda's rep told TMZ, "It is our policy not to comment on frivolous claims."
In other cases.....
Last month we found out that Mike Epps was investigated for allegedly smacking comedienne Simone Shepherd and now there's an update! It turns out that Mike, according to TMZ, will not face criminal charges for the alleged fight but he will have to attended some court-ordered classes.
Mike has been ordered to attend a City Attorney hearing where he'll be lectured on the law and about keeping the peace. And here's the kicker....Simone has to attended one of the classes too!
Well.....at least now they'll know how to "keep the peace" in public.
Photos via Getty
UPDATE: Master P TWEETS 14-Year-Old Daughter Itali's SAFE RETURN HOME
Posted: 12 May 2014 07:17 AM PDT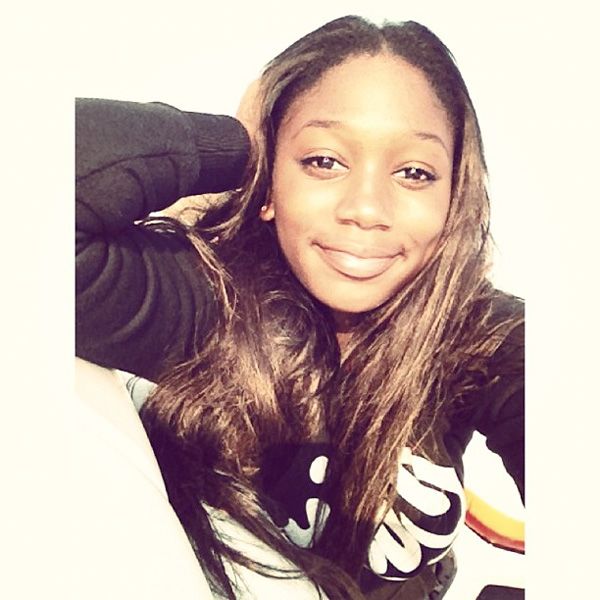 Master P's teenage daughter Itali Miller went missing on Sunday. Thankfully, she's back home safely. Find out what happened inside…
The drama in the Miller household escalated on Sunday after Master P sent out a tweet for help to find his missing 14-year-old daughter Itali Miller.
We told you earlier about the YouTube videos Master P released in an attempt to clear his name after his wife, Sonya Miller, claimed he had abducted their children.
In the videos, he talked to each of his children about their mother's erratic behavior and alleged drug and alcohol abuse. P asked each child individually if they would rather move in with him or stay with their mother. All of his children chose to live with him, except Itali. You'll recall she was the one who traveled out of town with a boy (with Sonya's alleged consent) and also was allowed to throw a party that Sonya allegedly hosted and allowed drugs.
Last night, P took to his Twitter in a plea for help to find his "missing" daughter Itali who was last seen in Calabasas, California.
He tweeted:

A little backstory.....Itali allegedly moved in with her mother and older brother Romeo after their mother made claims that P wasn't helping her financially. P claimed if their mother would just clean herself up and go back to being a good mother to their children, she could have whatever her heart desires.
Fortunately, Itali has now returned safe and sound. P tweeted a thank you to all of his fans and the Calabasas police department for finding his daughter: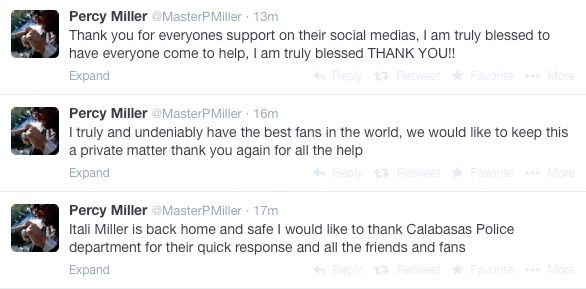 Glad she's safe. Hope they can work all of this out for the sake of their nine children...
Photos: Master P's Twitter
PARTY PEOPLE: French Montana & Khloe Kardashian Hit Up Atlanta Nightclub
Posted: 12 May 2014 06:40 AM PDT
French Montana and Khloe Kardashian found love in the club and now they can't seem to stay out of one! See their party pics inside…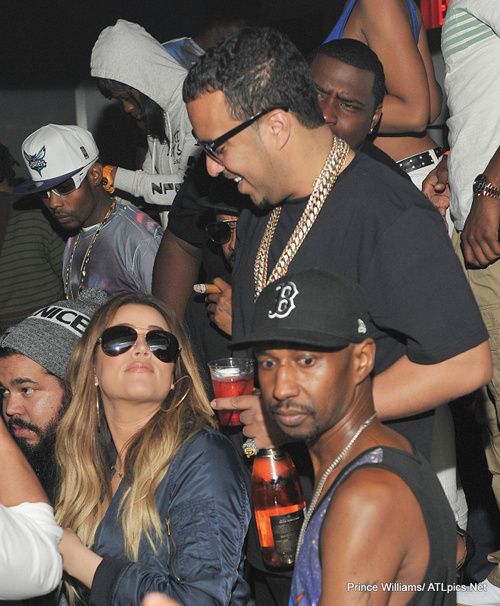 After attending her big sister's bridal shower in Beverly Hills on Saturday, Khloe Kardashian flew to Atlanta to party with her rumored boo French Montana.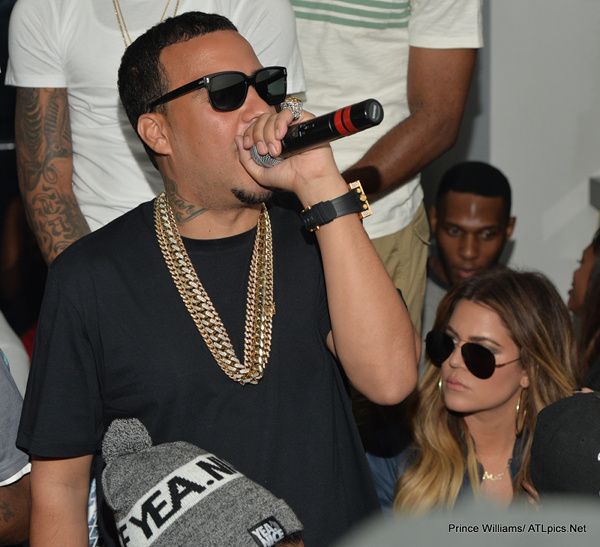 French and Khloe hit up Compound nightclub in ATL where French was scheduled to perform. And when he wasn't rocking the mic, he kept his attention on Khloe. Hmm...it looks like a different atmosphere for Khloe as she looked a bit uncomfortable, hiding behind a pair of aviator shades.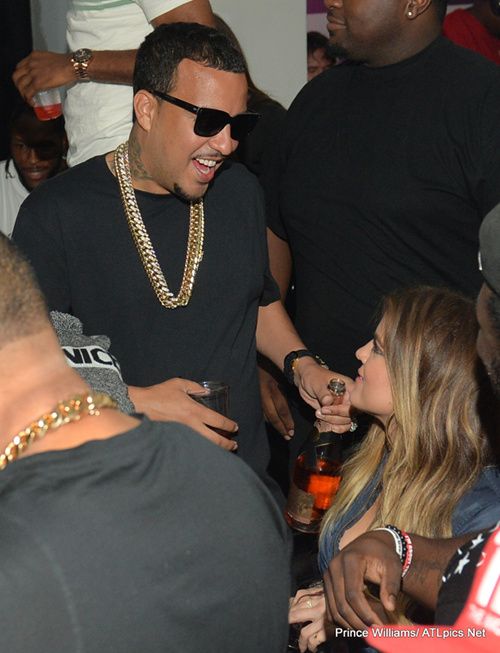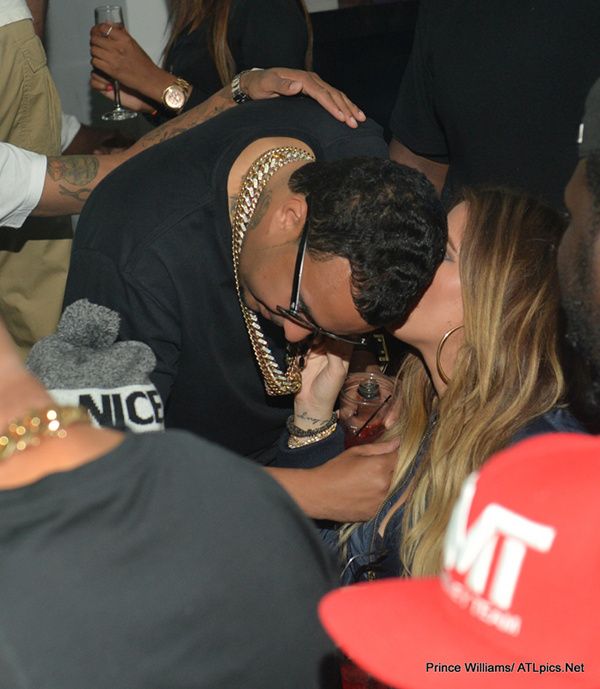 But we're sure none of that matters since she's around her "man" whom she won't claim…for now.
And look who else came to party: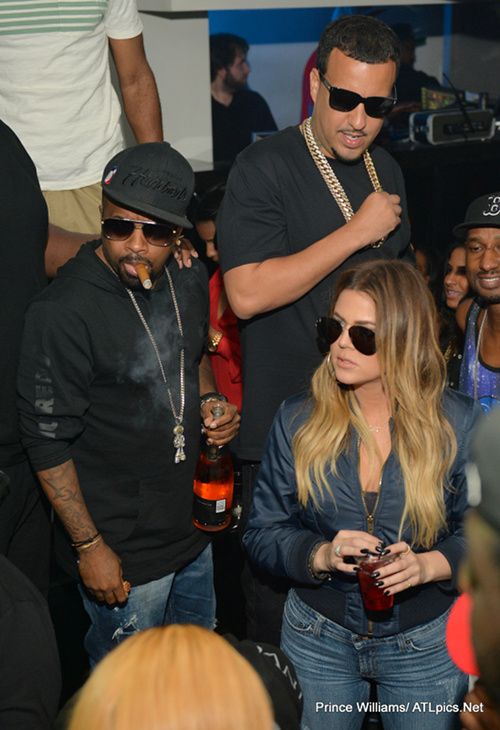 Jermaine Dupri partied with the rumored couple, popping bottles and puffing on his cigar.
Fun times.
Photos: ATLpics.net
THAT'S YOUR APOLOGY? Donald Sterling TELLS CNN, "If I Said Anything Wrong, I'm Sorry...I'm Not A Racist", SAYS Magic Johnson IS NOT A Good Role Model
Posted: 12 May 2014 06:28 AM PDT
Donald Sterling sat down with CNN's Anderson Cooper to offer an "apology" that came across as disingenuous and insulting to Magic Johnson. Watch it inside....
It's been a few weeks since Donald Sterlings' infamous "tapes" were leaked to the media and now he's offering an apology for his remarks. During a interview with Anderson Cooper, Donald offered some "perspective" about his comments and weirdly threw a few jabs at Magic Johnson. Here are the highlights:
On the tape and his remarks:

'I'm asking for forgiveness. When I listen to that tape, I don't even know how I can say words like that. ... I don't know why the girl had me say those things...I mean, that's not the way I talk. I don't talk about people for one thing, ever. I talk about ideas and other things. I don't talk about people."

Says he's not a racist:

"I'm not a racist...I made a terrible, terrible mistake. And I'm here with you today to apologize and to ask for forgiveness for all the people that I've hurt."


On his "mistake":

"I'm a good member who made a mistake and I'm apologizing and I'm asking for forgiveness...Am I entitled to one mistake, am I after 35 years? I mean, I love my league, I love my partners. Am I entitled to one mistake? It's a terrible mistake, and I'll never do it again."


On his comments about Magic Johnson:

"If I said anything wrong, I'm sorry...He's a good person. I mean, what am I going to say? Has he done everything he can do to help minorities? I don't think so. But I'll say it, he's great. But I don't think he's a good example for the children of Los Angeles."
Watch the "apology" here:
Watch the entire interview tonight at 8pm ET on Anderson Cooper 360°.

Photos via AP/Getty
HER STORY: Kenya Moore SAYS The "ATTACKEE" Shouldn't Apologize, FEELS NeNe Is THREATENED By Her, Blames BRAVO For Making Her The "Enemy"
Posted: 12 May 2014 05:47 AM PDT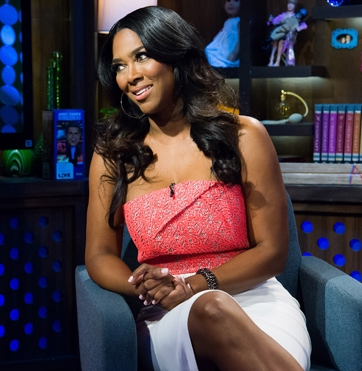 Kenya Moore appeared on "WWHL" last night where she explained why the audience "turned" on her, says Porsha Williams is not a victim and that NeNe Leakes is threatened by her position on the show. More inside....
Kenya Moore (wearing a Roland Mouret dress, Christian Louboutin shoes) finally had her chance to speak about what's likely become the most watched fight in reality tv history.
While defending her character, Kenya told "WWHL" host Andy Cohen that she WILL NOT be offering any apologies to Porsha Williams (her attacker). She asked, would you let an abusive husband off the hook because he blamed his wife for provoking him?
She also took BRAVO to task for "stacking the cards" against her as they showed flashbacks of her attacking Porsha without leveling the playing field (Porsha had her own aggressive moments). She also told Andy that NeNe's "Queen Bee" status has been put in jeopardy since she arrived on the show and that threatens her.
Kenya blames BRAVO and her co-stars for stacking the cards against her:
Kenya says she will not apologize for being attacked:
Kenya explains why NeNe Leakes is threatened by her, says she's the reason for the high ratings:
BONUS:
The "RHOA" fellas call out Apollo for "checking out" Kenya Moore.
Photos via Bravo
OH: Bisexual Rapper Angel Haze & Her Boo Thang Ireland Baldwin Kiss & Cuddle On Instagram, Grab Breakfast In L.A.
Posted: 12 May 2014 04:11 AM PDT
Rapper Angel Haze (remember her from the Azealia Banks drama last year?) has been pretty open about her bisexuality for the last year or so. And she's now dating Hollywood royalty, Ireland Baldwin.
Check out the two getting frisky on Instagram over the weekend and out and about inside...
Rapper Angel Haze has been trying to "get on" for a while now, and these days she's tappin' the daughter of Alec Baldwin and Kim Basinger, Ireland Baldwin. That's sure to get her noticed.
Ireland is also besties with Willow & Jaden Smith and the Jenner girls, by the way. Angel and blondie Ireland were spotted over the weekend heading to lunch in L.A.: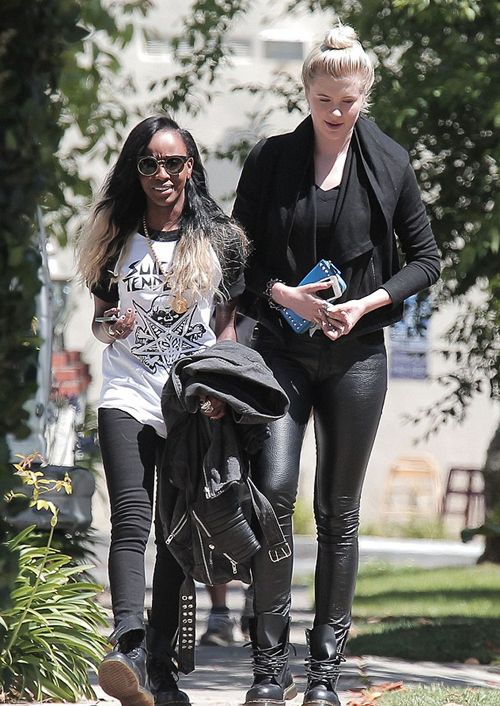 And then they took it to the Gram to show off their kissing and cuddling last week: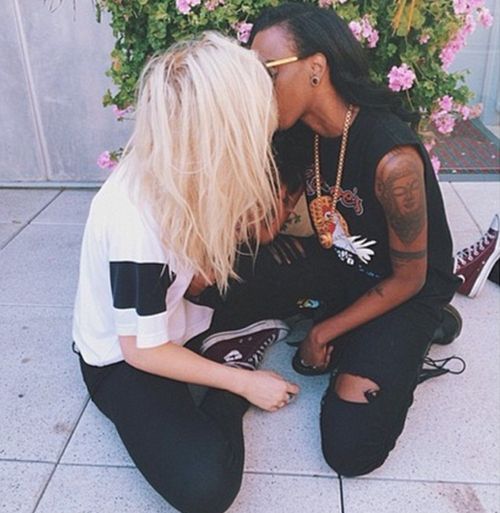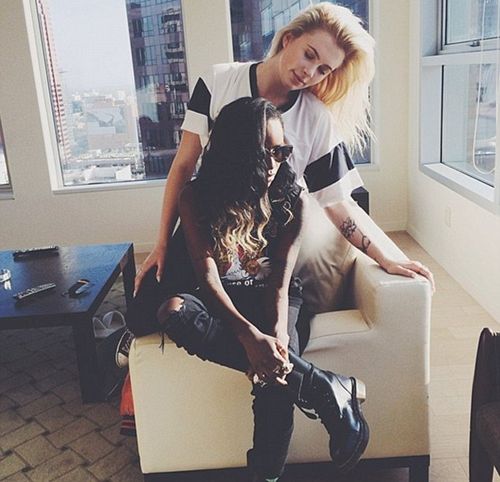 And Angel, who calls herself a rapper, singer and GLBT activist, isn't shy about professing her love for model chick Ireland:
Well isn't that special.
The twosome have been posting eyebrow raising pics since last month. And Angel has a new single out called "Battlecry", if you care.
Photos: Pacific Coast News/Angel Haze's IG/Ireland Baldwin's IG
THEYBF.COM SALUTES YBF Mothers All Over The World
Posted: 11 May 2014 08:46 AM PDT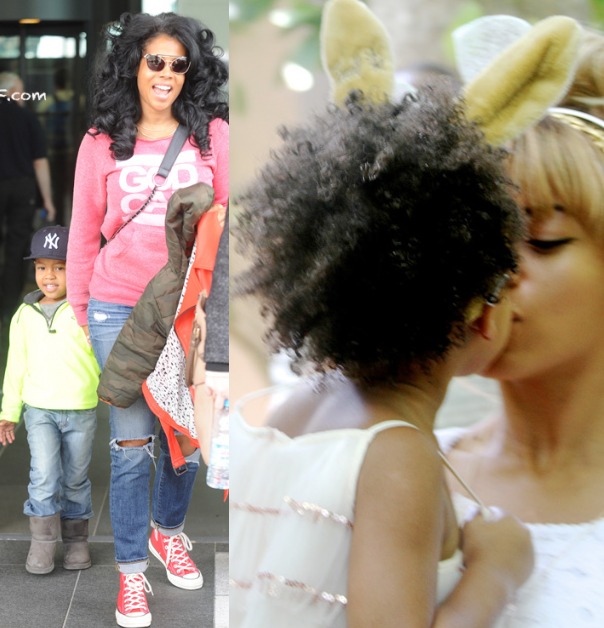 It's Mother's Day and we're wishing all of our fabulous YBF mothers a Happy Mother's Day. Go shopping, go to the spa, go to church, go to brunch.....just made sure you make it a celebration. You deserve it. We've gathered a selection of some of our favorite YBF "mommy" moments featuring a wide range of YBF moms. Come in and enjoy....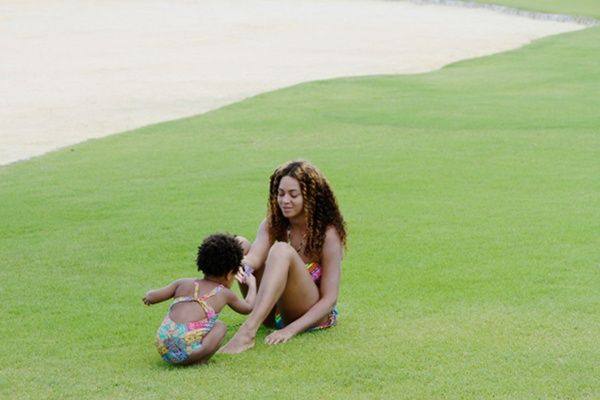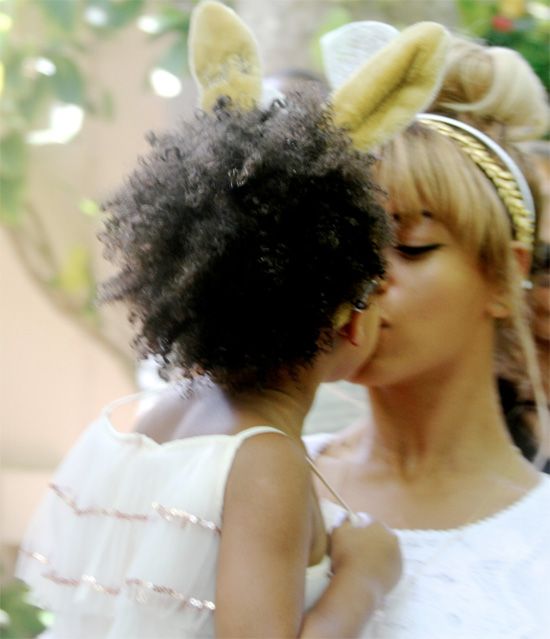 Mrs. Carter provided some of our favorite mommy moments over the past year. We admired her dual committment to music and her role as a mom. While trekking around the world for sold-out shows with The Mrs. Carter World Tour and dropping the Beyonce album (along with a lush collection of videos) she still managed to make Blue Ivy a priority. Blue Ivy hit the road with her mom (and dad), even popped up one of her videos and met the Obamas. Beyonce proves that working moms can have it all.
Mariah Carey and Dem Babies are always fun to watch on social media. It's amazing how much the two tots take on the personalities of their larger than life parents Nick and Mimi. Monroe is clearly diva in training who takes after her mom will Moroccan is a jokester like his dad. Maybe we'll hear Dem Babies will make a surprise appearance on Mimi's new cd "Me. I Am Mariah… The Elusive Chanteuse?" (May 27th).
First Lady Michelle Obama introduced Sasha and Malia Obama on the world stage in a big way this year. From China to Germany, Sasha and Malia have stood by the FLOTUS alongside world leaders, powers of state and leaders of the industry. As a mom, Michelle Obama is to epitome of beauty, intelligence, poise and role modeling for her girls.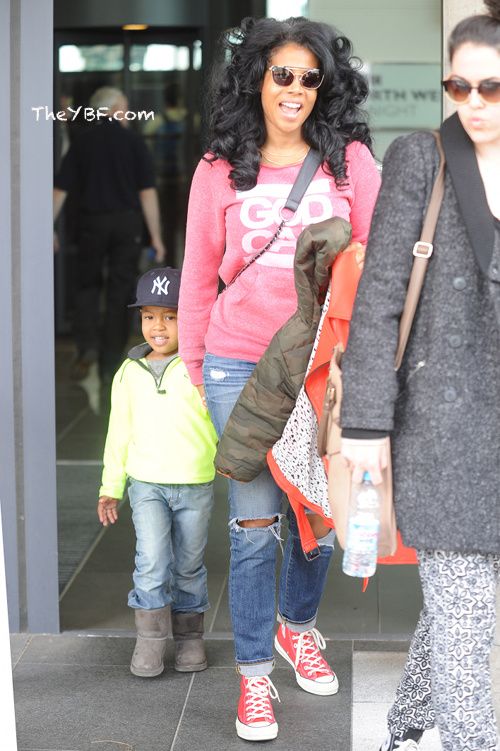 Kelis and her son Knight provided a few adorable moments over the past year too. Knight (much like Blue Ivy) made his vocal debut on his mom's lasted music project, FOOD. We've also seen Kelis taking her son on ritzy Beverly Hills shopping trips (creating a little fashionista), mending fences with ex-husband and co-parent Nas and even popping up during promotional appearances. Kelis shows that being a good mother is about passing on your talents, creating a healthy family unit and looking fabulous while doing it.
BONUS:
A few of Atlantic Records artists (Diggy, K. Michelle, Tank, Trevor Jackson, Sevyn Streeter) appear in a moving Mother's Day video where they share the lessons learned from their moms. Enjoy....
Look through the gallery and see our favorite YBF celebrities in mommy mode....
Photos vi Getty/Pacific Coast News/ WEEN/Instagram
BRING ON THE GIFTS: Lil Kim CELEBRATES Baby Girl With ROYAL Baby Shower In NYC + Ciara Attends Kim K's Bridal Shower In Beverly Hills
Posted: 11 May 2014 07:49 AM PDT
Showers galore! Celebrity wedding planner David Tutera threw a lavish baby shower for Lil Kim and her new baby girl. Plus, Ciara bumped her way to Kim Kardashian's bridal shower in Beverly Hills. See the shower pics inside…
Yesterday was Lil Kim's big day before the arrival of her baby girl. Celebrity wedding planner and WeTV's "My Fair Wedding" host David Tutera threw a royal baby shower fit for a queen and her princess in NYC. And you know it was a big deal, complete with a decked out honey comb cake, royal trumpet fanfare and glowing purple decor.
Friends Lisa Raye, Pepa (from Salt-n-Pepa), former "LAHH NY" star Kimbella and her boyfriend/rapper Juelz Sanatana, her baby daddy Mr. Papers, celebrity hair stylist Troy Turner and others all came out to celebrate Kimmy's new addition.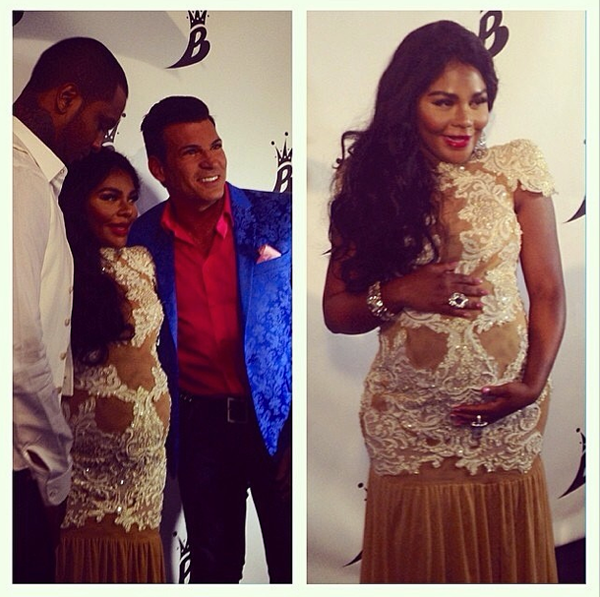 Last month, Kim announced to the world that she was having a girl and revealed her super luxe baby shower was approaching soon. The Queen Bee filmed the swanky shower for David Tutera's WeTV "CELEBrations," premiering on August 1st at 9pm.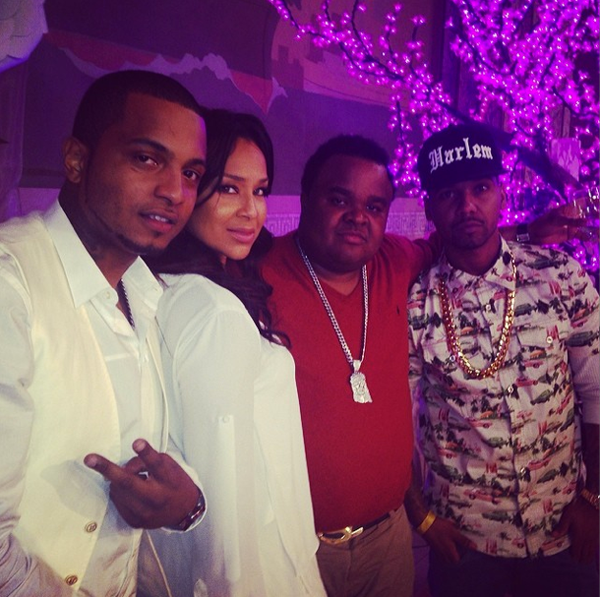 Mr. Papers, Lisa Raye, rapper Fred the Godson and Juelz Santana were posted up during the shower.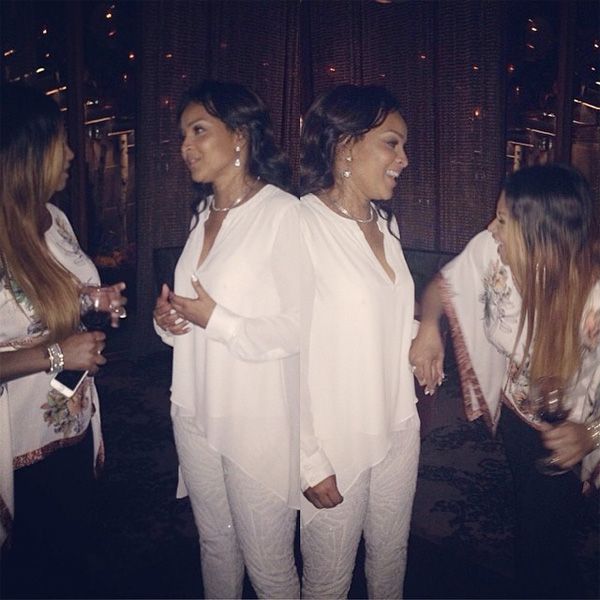 Lisa Raye and Pepa shared a laugh during Kimmy's royal shower.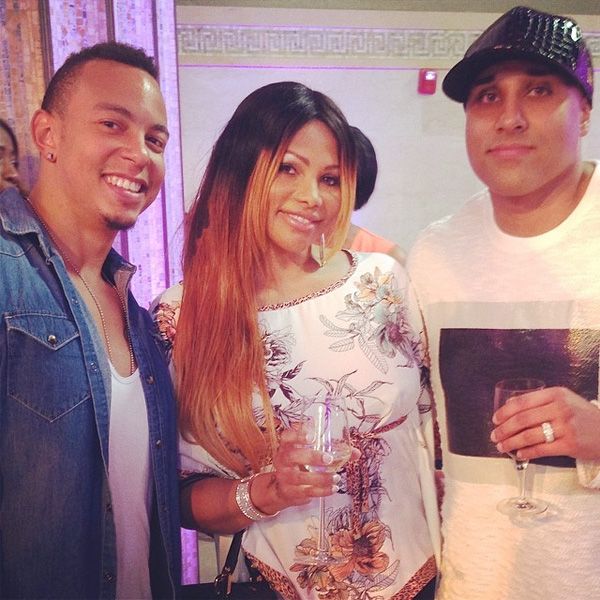 Pepa posed for a pic with Kimmy's hair stylist Troy Turner (left) and her husband (right).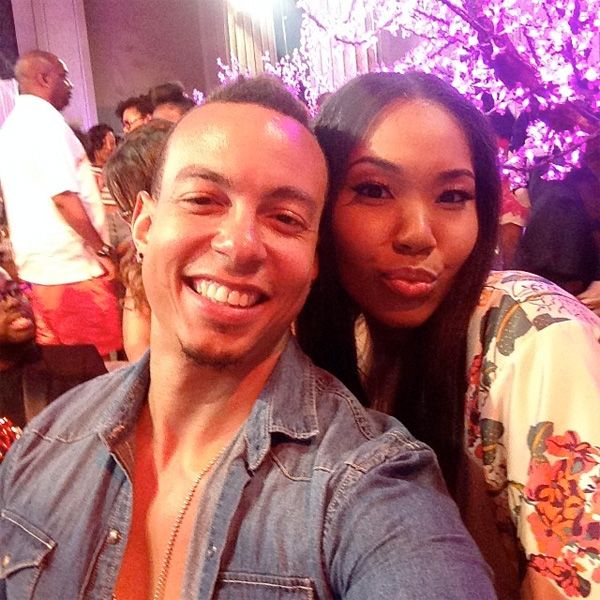 Lisa Raye's daughter Kai Morae served face with Troy.
And here's a look at the royal purple affair.
Check out Kimmy hitting the carpet for her shower:
And her grand entrance:
Fab times.
And at another shower...
Ciara bumped her way to the Peninsula Hotel in Beverly Hills on Saturday for bestie Kim Kardashian's bridal shower.
CiCi glowed like a goddess in a flowy white Rachel Pally maxi dress, comfortable flat shoes and of course her best accessory yet, her baby bump.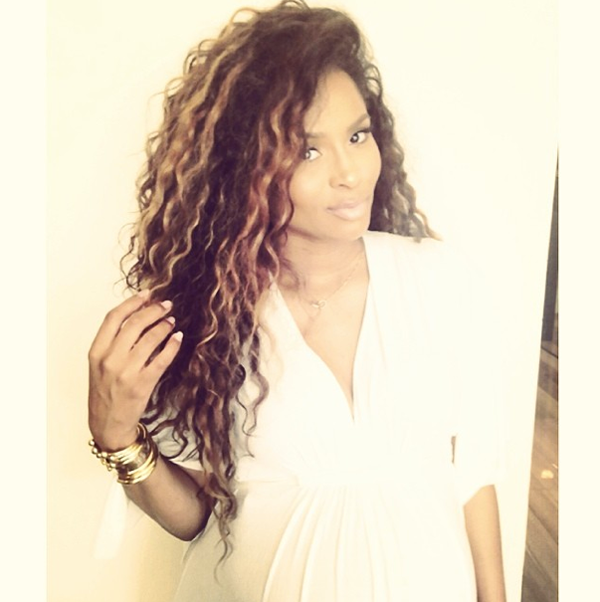 Beautiful.
During the shower, Kim gathered her guests for photo booth shots. CiCi captioned her pic with Kim, "CC and Kimmie. #BridalShowerFun. Exciting Times!! #Love"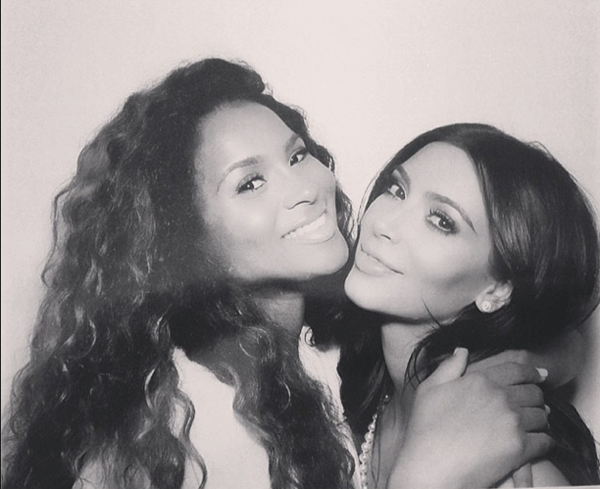 And CiCi also grabbed a shot with Kim's mother, Kris Jenner: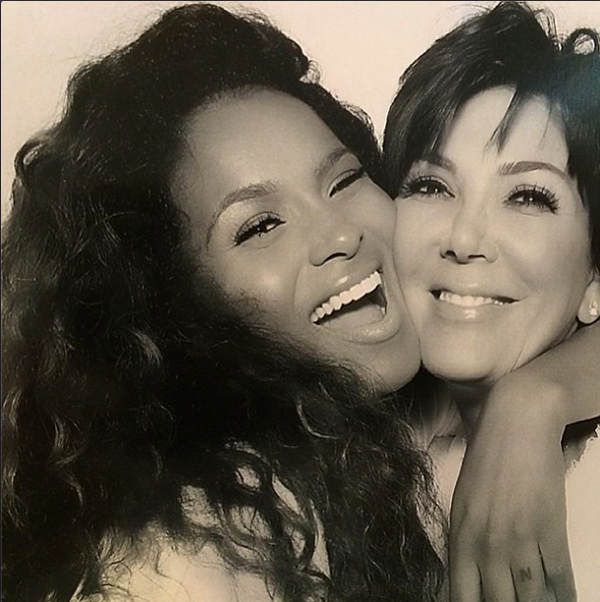 Fun times.
Wonder when Ciara's little bundle of joy will make his arrival? Happy Mother's Day CiCi!
Photos: WeTV's IG/Troy Turner's IG/David Tutera's IG/Ciara's IG/Fred the Godson's IG/@queenbee_lilkim96/@blackerykakane