---
Kim & Kanye's Wedding ARRIVALS: Wedding Party & Guests Make Their Way To Ceremony
Posted: 24 May 2014 08:56 AM PDT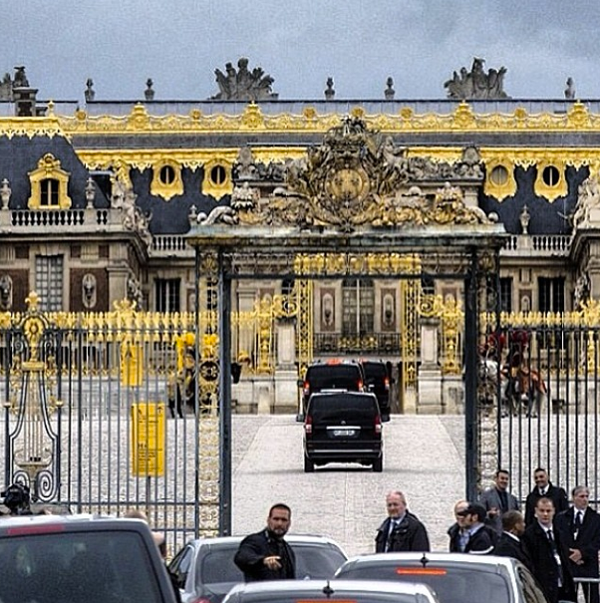 The jets have landed. Everyone's dressed. And now it's time for the big ceremony. Deets & pics inside…
Kanye West and Kim Kardashian's "wedding of the century" is now underway and we have the pics of their wedding party and guests making their way to the lavish ceremony. Attendees were flown in on private jets to their final wedding destination in Florence, Italy.
Kris Jenner posted the entrance of the wedding's venue (above) with the caption, "Uh huh Honey.....#herecomesthebride" Ha!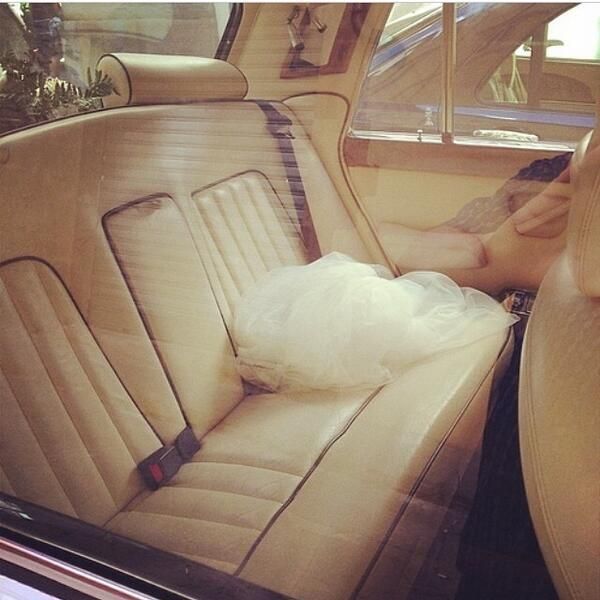 Here's a shot of Kim's veil being transported to the venue.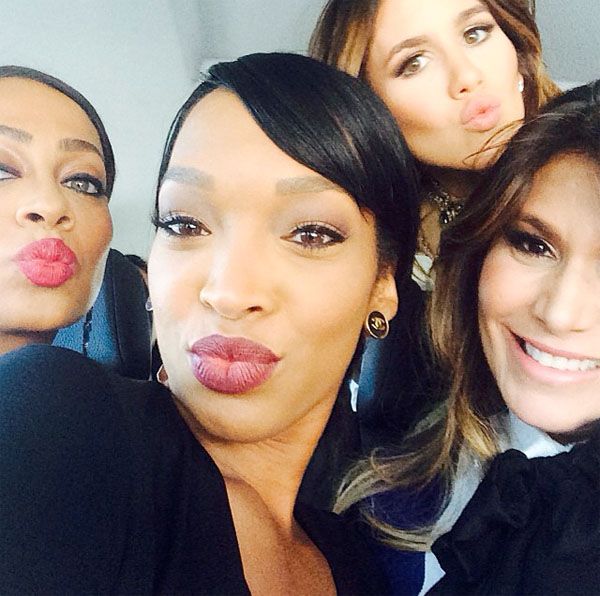 Kim's girlfriends LaLa, Malika Haqq, Loren Ridinger and Loren's daughter Amber served face before heading inside the ceremony.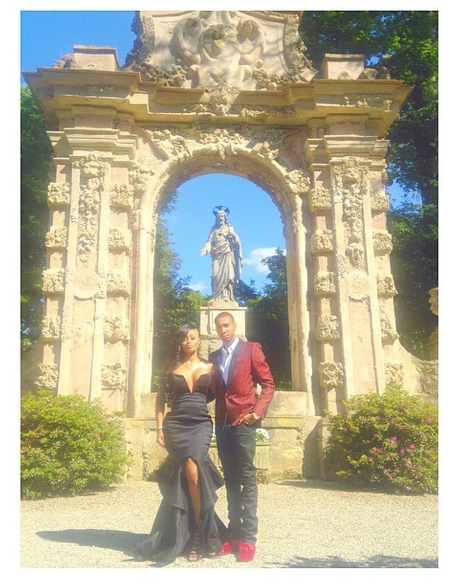 Looks like Tyga and Blac Chyna stole their looks straight from Kanye and Kim's closet. The couple got their sexy as on they posed it up in front of an elegant arch sculpture.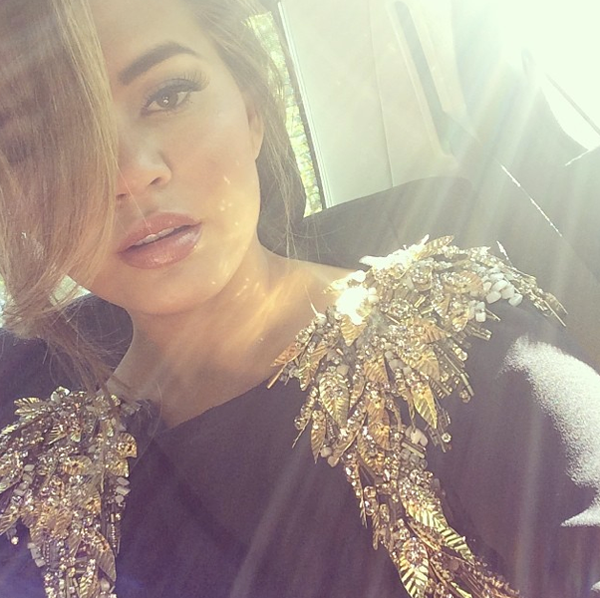 Chrissy Teign gives us a glimpse of what she's wearing to the ceremony.
And Scottie Pippen and his wife Larsa were spotted as they arrived to the wedding ceremony:
**KEEP your eyes locked to this page as we will continuously refresh and update you with the WEDDING Arrivals!**
Photos/Videos: @eonlinebrasil/Loren's IG/Tyga's IG/Kris' IG

Nicki Minaj KICKS Off Memorial Day Weekend In Las Vegas--Previews "Pills N Potions" Video + Beyonce Shares Memorial Day Mix
Posted: 24 May 2014 08:19 AM PDT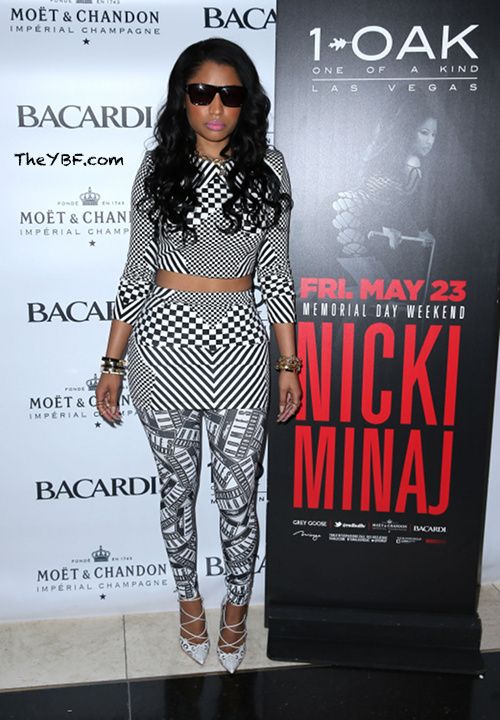 Nicki Minaj was spotted in Vegas to kick off her Memorial Day weekend and she shared a quick preview of her new video for "Pills N Potions." Also, Beyonce shared her personalized Memorial Day mix. Peep her pics & video clips, plus Bey's mix inside…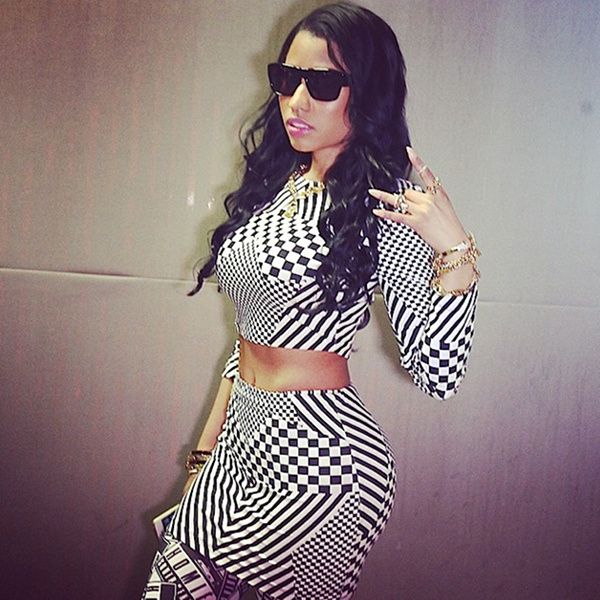 As she gears up to release her third studio album The Pink Print, Nicki Minaj made her way to 1Oak nightclub to kick off "Memorial Day Weekend" in Las Vegas.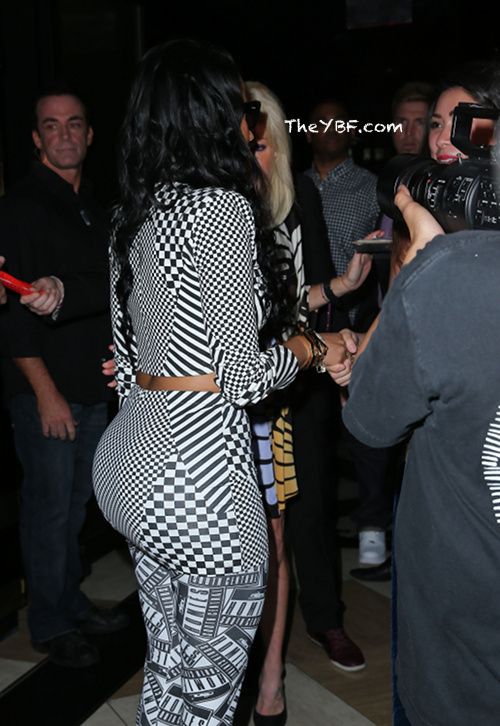 The head barb hit the carpet in a black and white multi-printed crop top and skirt paired with funky printed leggings. Later, Nicki hit the stage to perform some of her hits in front of a packed audience.
After dropping her latest single "Pills N Potions," the YMCMB raptress shared a few sneak peeks of her video for the Dr. Luke-produced track.
In an interview with Rap-Up TV, the new subdued Nicki said this about the ballad,
("Pills N Potions") "It feels very uplifting and it feels very soulful. It's a great, I feel, indicator of what The Pink Print will feel like in terms of the storyline of that song."
Peep the sneak peeks of Nicki's Pills N Potions:
And in other music news...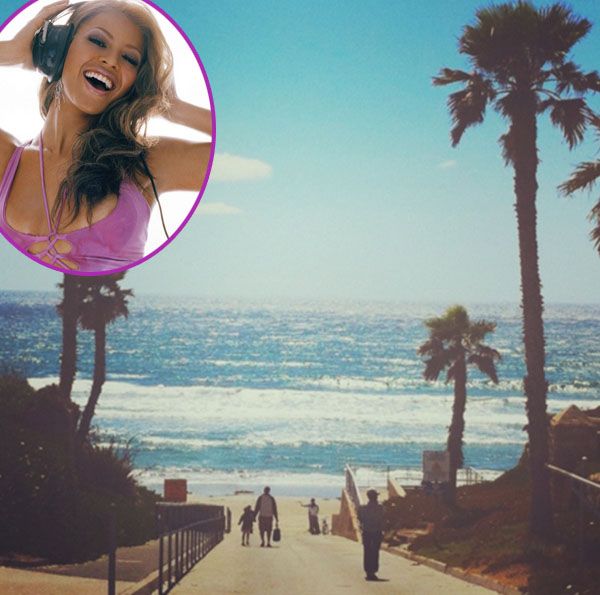 Beyonce has shared the classics she will be rocking out to this Memorial Day weekend to kick off the summer.
Bey posted a mix of tracks from legendary artists including Earth, Wind & Fire, Aaliyah, Michael Jackson, Marvin Gaye and many others of what will be blaring through her speakers.
Check it:
Earth Wind and Fire- September

Frankie Beverly and Maze- Joy and pain

Mtume- Juicy Fruit

Michael Jackson- Rock With You

Aretha Franklin- Chain of Fools

Marvin Gaye- Got to Give it Up

Stevie Wonder- Superstitious

A Tribe Called Quest- Bonita AppleBum

Aaliyah- Back and Forth

Total- Can't You See

Solange- Losing You

Too $hort- Blow the Whistle

Juvenile- Nolia Clap

Kanye West- We Major

Nice.
Photos: Judy Eddy/WENN.com/Nicki's IG/Judson Baker

Kanye West & Kim Kardashian's Wedding Day DETAILS (Wedding Party JETS OUT Of Paris)
Posted: 24 May 2014 05:53 AM PDT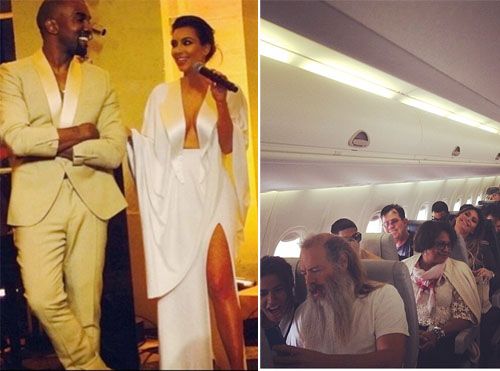 Today is the big day! Kanye West and Kim Kardashian are headed down the aisle to say their "I Dos." Peep the details from their destination wedding inside…
After spending the entire week parading around Paris shopping for last minute items and last minute fittings, looks like Mr. & Mrs. West and crew are headed to a different location for their big wedding ceremony.
Kim celebrated her last night as a single woman in Paris with a dinner surrounded by her closest girlfriends, which she dubbed "The Last Supper." Yesterday, Kim and Kanye enjoyed a lavish pre-wedding brunch hosted by designer Valentino Garavani inside of his French castle.
Today, the wedding party and guests are trekking it from Paris to Florence, Italy in private jets to witness the couple's luxe ceremony. Here's who we've spotted arriving for the festivities so far: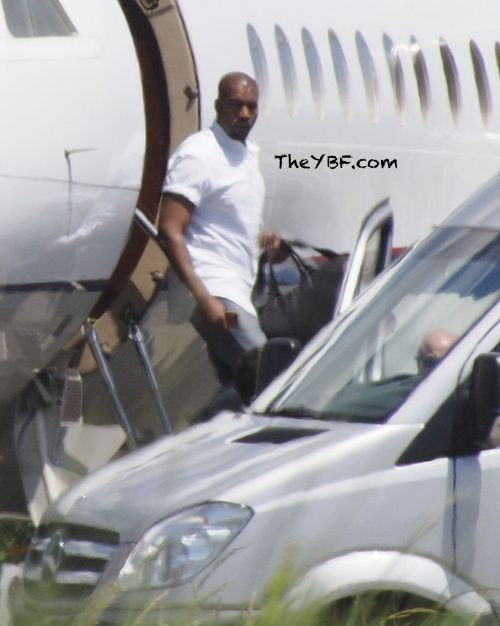 The groom-to-be was spotted walking off of his jet this morning at Fort Belvedere in Florence.
Kim K and her mom Kris Jenner were spotted arriving in Florence ahead of her wedding party and guests.
LaLa made her way through the paparazzi madness as she arrived in Florence.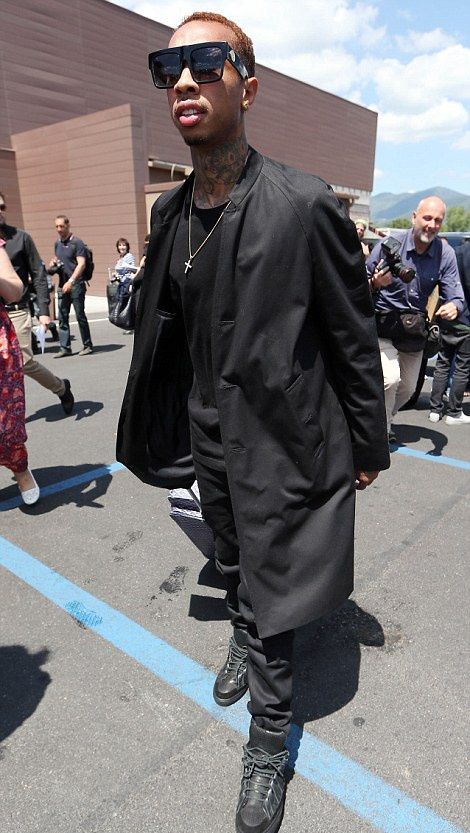 Rapper Tyga and Kim's new bestie Blac Chyna were spotted arriving at Florence airport this morning.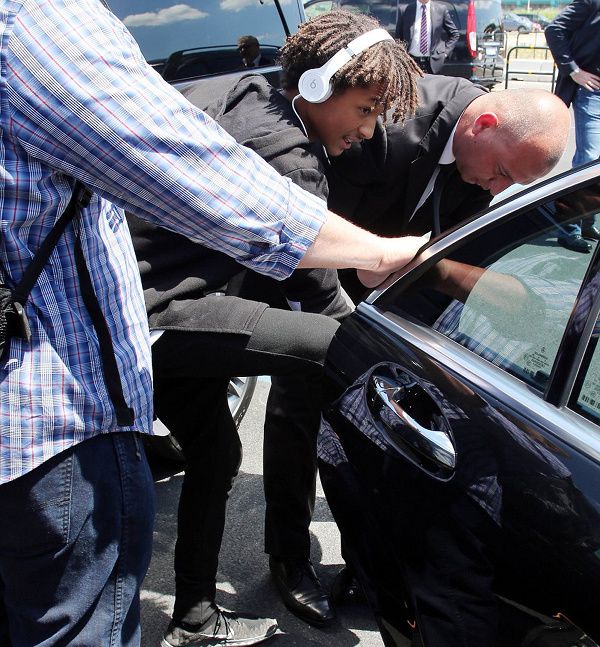 Jaden Smith and Kylie Jenner have been spotted out together quite a bit lately, so it's no surprise he's there to see his friend's big sister tie the knot.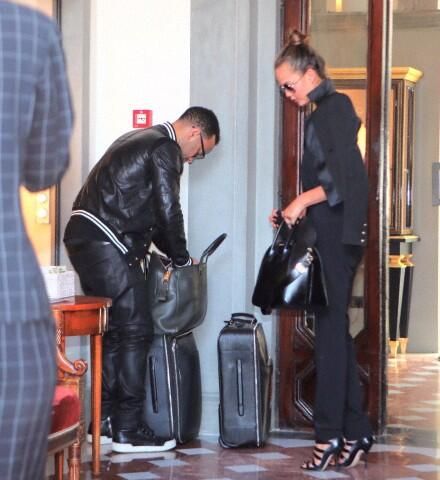 John Legend and his wife Chrissy Teigen made their way inside a Florence hotel.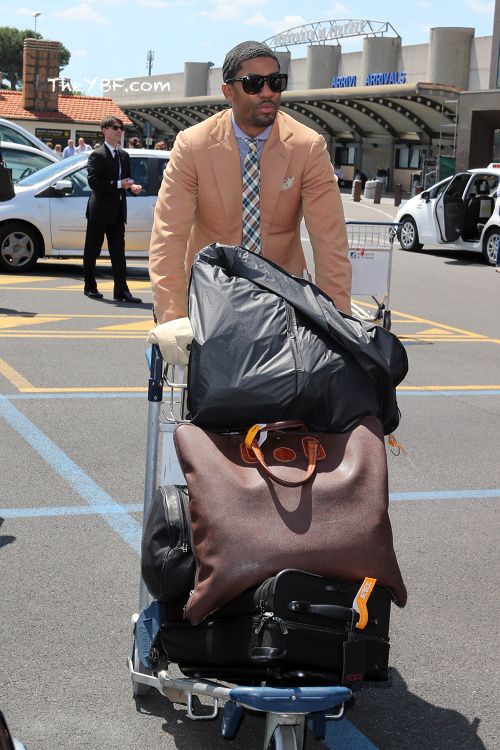 Kanye's pal Fonzworth Bentley pushed his luggage along after he touched down in Florence.
Music-industry veteran and brand-marketing innovator Steve Stoute made his way to his hotel in Florence.
Kim's longtime friend Malika Haqq and Scottie Pippen's wife Larsa snapped an "us-ie" on the jet.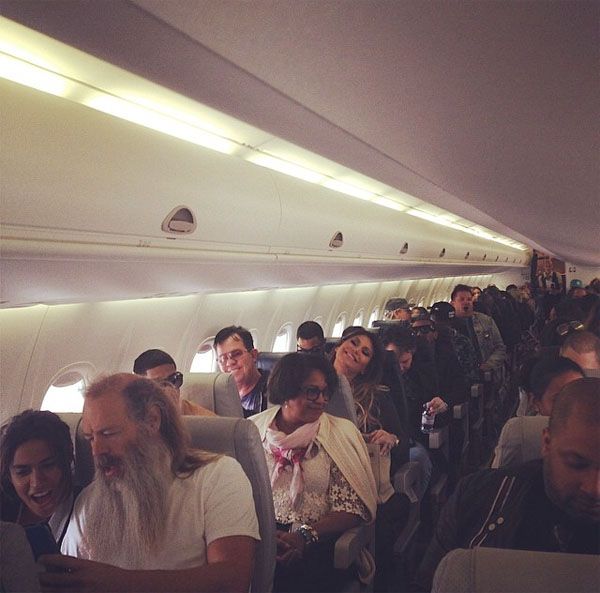 We spy Def Jam founder Rick Ruben on the plane with other wedding guests. And sitting two rows behind Rick, Co-founder of MarketAmerica.com and Sr. VP of SHOP.COM Loren Ridinger and her husband JR Ridinger (Kim's besties) were all smiles.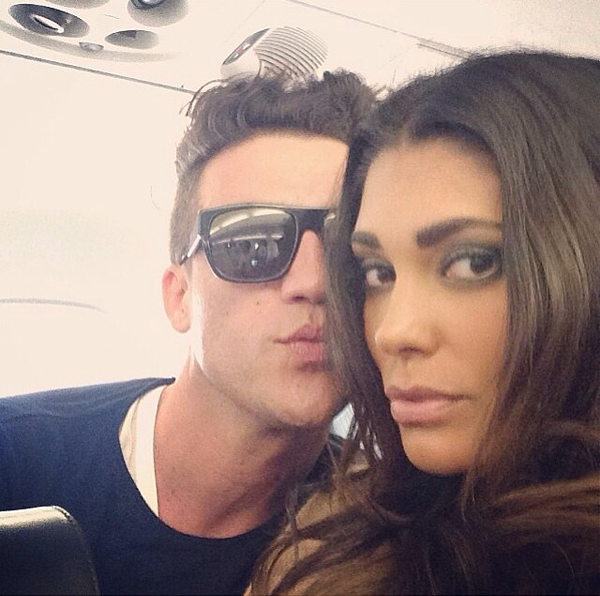 Kim K's other bestie Rachel Roy took to her Instagram sharing a photo of herself on the plane with the caption, "Airbus w @michaelsilvahair #weddingwkend"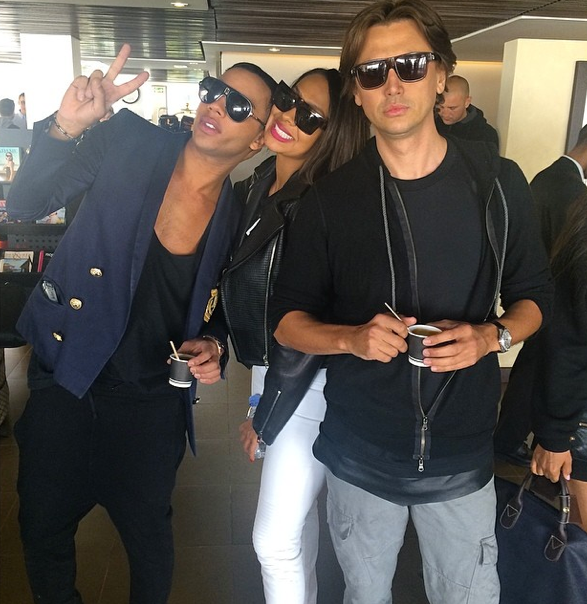 And it looks like Lala along with Kim's friend Jonathan Cheban and Balmain creative director Olivier Rousteing are in a holding location. Cute shades La!
**KEEP your eyes locked to this page as we will continuously refresh and update you with the WEDDING DETAILS!**
Photos: Splash/Rachel Roy's IG/Jonathan Cheban's IG/Larsa Pippen's IG/Malika's IG/@kardashianpedia
IT'S OVER: "BBW LA" Star Malaysia Pargo Files For DIVORCE From Husband Jannero Pargo
Posted: 24 May 2014 05:24 AM PDT
Looks like it's officially over between Malaysia Pargo and her husband Jannero Pargo. Find out why they're headed down splitsville lane inside...
Rumors about Malaysia and her NBA husband splitting have been going around for quite some time and now... it's officially over.
"BBW LA" star Malaysia Pargo (real name Laquisha Pargo…yes Laquisha) filed for divorce from her husband, Charlotte Bobcats player Jannero Pargo in L.A. County County Superior Court, citing irreconcilable differences.
You'll recall during the reunion show, when asked about the current status of her relationship with her husband she admitted they had been having their issues, but would not go into detail. However, she was still rocking her ring during the taping. According to the documents obtained by TMZ, they were married back in 2006 but were officially separated on December 27, 2012. That explains why they were rarely, if ever, seen together the last couple of years.
Malaysia is seeking full physical custody and sole legal custody of their 3 children, a 7-year-old and 3-year-old twins. She's also asking for spousal support and for Jannero to foot the bill for her lawyer fees.

Are we shocked by this...or did we see this coming?
Photo: Paras Griffin
Call Her DR. VIOLA DAVIS -- Honorary Doctorate From JULLIARD!
Posted: 23 May 2014 05:38 PM PDT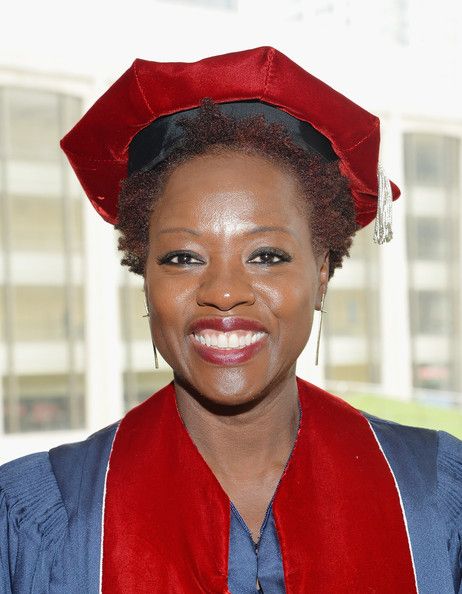 She is a Graduate of The Julliard School (where she also met her husband). Now, one of tv and film's successful leading ladies has received an Honorary Doctorate from the prestigious school. Check out Viola Davis keeping it regal inside...
48-Year-Old Oscar nominee Viola Davis is back at her alma mater--The Julliard School. The mom of one participated in Friday's graduation for the Class of 2014 at Alice Truly Hall in NYC, and she was awarded an Honorary Doctor of Fine Arts degree!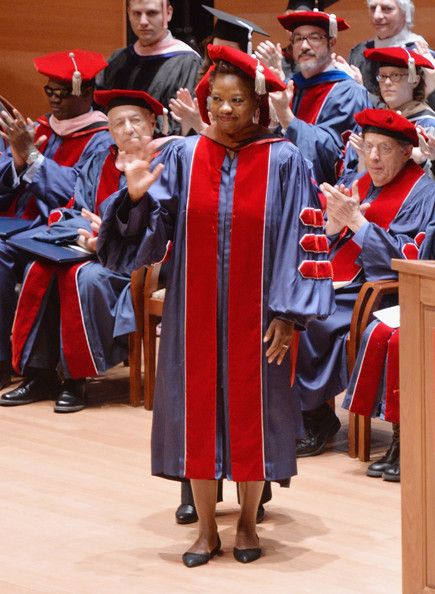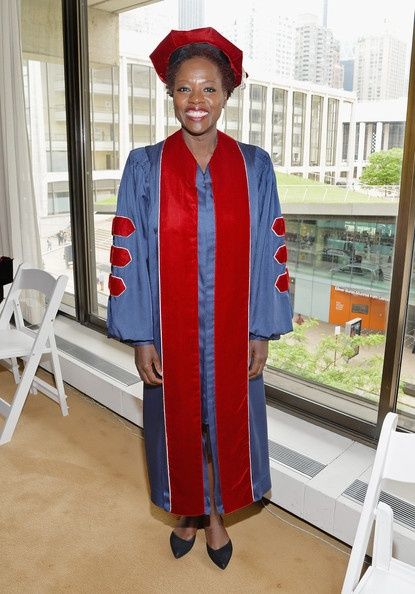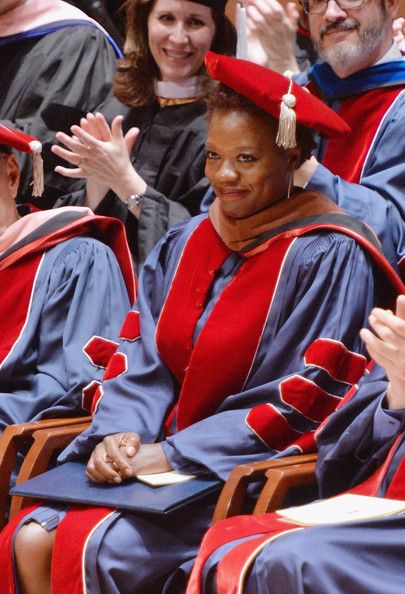 Love this! An elevator full of talent! :) RT @JoyceDiDonato So, this happened.... pic.twitter.com/vHQMlsvZMc

— The Juilliard School (@JuilliardSchool) May 23, 2014
Loves it! Dr. Davis is starring in Shonda Rhimes' upcoming show "How To Get Away With Murder" starting this fall on ABC. And it looks damn good.
We're loving all the examples of YBF excellence this graduation season!
Photos: Wire/@JulliardSchool
Ray Rice & His Wife Issue Joint APOLOGY Over Domestic Violence Incident + Pharrell On The Jailed Iranian Dancers Who Made "Happy" Video
Posted: 23 May 2014 04:44 PM PDT
Ray Rice and his wife Janay Palmer are issuing apologies for their domestic violence situation. Also, Pharrell has shared how sadden he is over the Iranian teens who were arrested after creating their rendition of "Happy." Deets inside…
After pleading not guilty and striking a deal with prosecutors to enter a pretrial intervention program, Baltimore Ravens running back Ray Rice and his now wife Janay Rice addressed the media to issue their apologies over their domestic violence brawl.
Back in February, Ray got into a physical altercation with his then girlfriend at the Revel Casino and Hotel in Atlantic City, N.J., where he allegedly knocked her unconscious. There was video footage obtained showing the NFL star dragging his then girlfriend out of an elevator. Ray and Janay were both charged with assault, but her charges were dropped. And she insisted she didn't want to press charge against him.
Soon after the video was released, the couple conveniently got married (possibly to keep Janay from having to testify) and she was right by his side during his court hearings.
In a live press conference today, Ray and his wife sat before the media to issue a joint apology of their roles in the incident, apologizing to their families, friends and fans.
"I just want to first off apologize to (owner) Steve Bisciotti, Ozzie Newsome and Coach Harbaugh, and I also want to apologize to my fans, to the kids, everyone who was affected by this situation that me and my wife were in," said Rice.
He added,
"I do deeply regret the role that I played in the incident that night. But I can tell say that I am happy that we continue to work through it together, and we are continuing to strengthen our relationship and our marriage … and working to being better parents for Ravyn and continuing to be role models."
Janay issued her own apology saying:
"Thanks to all of those that have supported us throughout the situation. I love Ray, and I know he will continue to prove himself to not only you all (the media) but the community."
The couple did not take any questions on the advice of his attorneys and the NFL Players Association since his case is still pending.
Peep their joint apology below:
Thoughts?
And in other news…
Pharrell has shared how saddened he is after hearing about the arrest of a handful of Iranian dancers who made their own rendition to P's hit single, "Happy"
Six people (three men & three women) were arrested by Iranian authorities after what they believe was an "obscene video clip that offended the public morals and was released in cyberspace." They were forced to repent on state TV and thrown in jail.
P took to his Facebook once he heard the news and said, "It is beyond sad that these kids were arrested for trying to spread happiness."
So far, all of the dancers have been released from jail, except the director. No word on when or if he will be released.
See their "Happy" video below:
Sad. Glad they were released. And glad P is standing up for his fans across the globe.
Photos: Rob Carr/Kevin Winter/Getty
The Randomness:
1. Dr. Dre and Jimmy Iovine are being sued by the "founder of Beats Headphones" Steven Lamar for breach of contract and wants his money! STORY
PRE-WEDDING JITTERS? Kanye West & Kim Hit The Palace of Versailles For Rehearsal Dinner + Other Pre-Wedding Behavior
Posted: 23 May 2014 03:22 PM PDT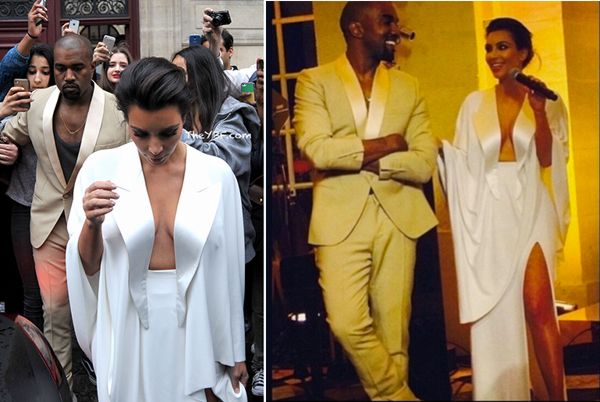 The clock is ticking and we are hours away from the biggest wedding of the century (at least that's what we know Yeezus...and only Yeezus...is calling it). See Kim and Kanye heading to their rehearsal dinner inside and all their pre-wedding festivities...
It's a madhouse of flashing lights outside of The Palace of Versailles as the paparazzi await the arrival of KimYe and their guests for the couple's rehearsal dinner. Just how they like it....despite them acting like they don't.
The couple was swarmed by photographers as they left their swanky hotel, heading to the Palace.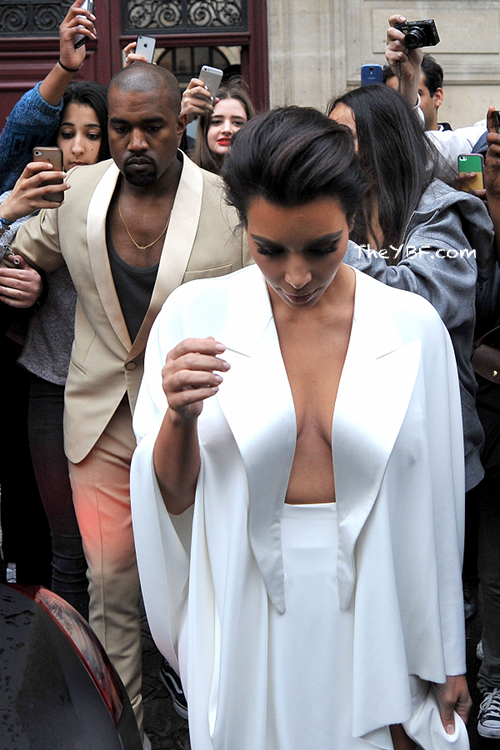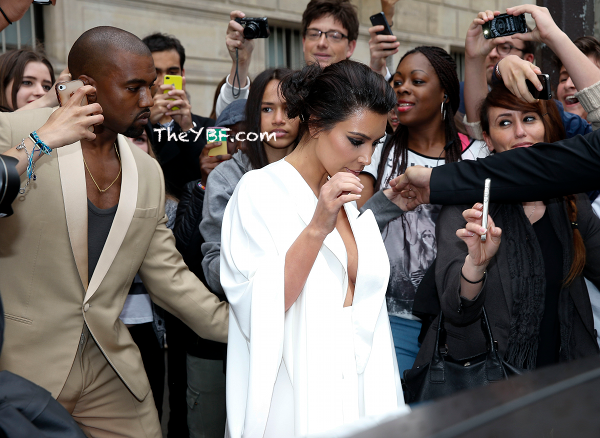 Though they both looked "unhappy" while navigating the paps...we know they are loving every minute of the attention. Kanye was actually NICE to the paparazzi. Maybe marriage will do him good....
By the way, Lana Del Ray, one of Kim's fave artists, performed.
During their rehearsal dinner, Kanye stood before their guests sharing stories about his love as they awaited Lana Del Ray's arrival.
A source told Us Magazine,
"Kanye kept making the cutest remarks to her. He said, 'It's amazing to look around this room, there are so many talented people,'" the source continued.
"Then Kim said, 'And beautiful people.' Kanye replied, 'Yeah, but Kim's way more beautiful than I am talented.' It was so sweet -- he said a couple adorable things like that. They seemed so happy."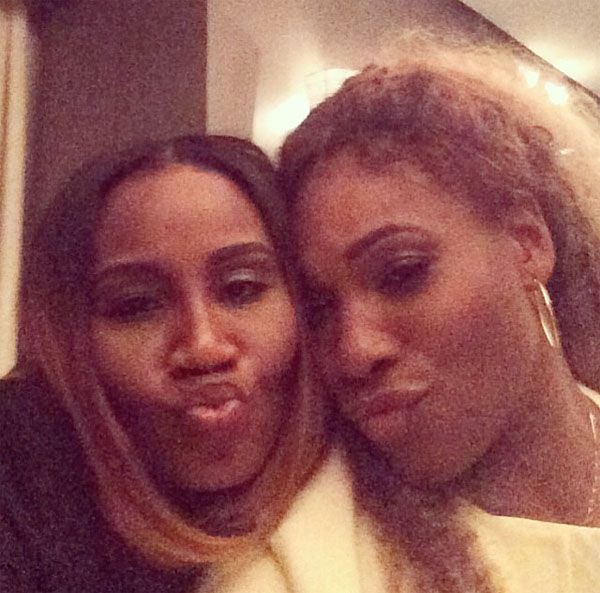 And look who else hopped a plane to Paris...Serena Wiliams!
**KEEP your eyes locked to this page as we will continuously refresh and update you with the PRE-WEDDING News!**
BONUS:
Earlier today, Kim, Kanye, daughter North West and more celebrated their upcoming nuptials with a lavish brunch hosted by designer Valentino Garavani. The intimate affair was held at Valentino's French home. According to E! Kim's friends Jonathan Cheban, Simon Huck, André Leon Talley and a few members of Kanye's family were also in attendance.
Photos via KCS Presse / Splash News / Giancarlo Giammeti's IG / KardashianColombia's IG/florenceh's IG

Naomi Campbell's HAIR-RAISING Harper's Bazaar Vietnam June 2014 Cover + Trina & Towanda Braxton, Rasheeda And Toya Wright At The "I Pledge To Hustle" T-Shirt Fashion Show
Posted: 23 May 2014 12:38 PM PDT
Naomi Campbell celebrated her 44th brithday this week and landed on the cover of the June 2014 issue of Harper's Bazaar Vietnam. See the cover inside and see Bambi, Rasheeda, Toya Wright and Reginae Carter at Freddy-O's "I Pledge To Hustle" event. ....
For the June 2014 issue of Harper's Bazaar Vietnam, supermodel Naomi Campbell stars in a pictorial named "Le Look Du Jour." In addition to landing the cover, Naomi celebrated her 44th birthday yesterday. Marie Claire UK did a wonderful tribute to Na Na by publishing some of her most memorable quotes. Here are our faves:
1. 'Am I bossy? Absolutely. I don't like to lose, and if I'm told 'no,' then I find another way to get my 'yes.' But I'm a loyal person.'

2. 'It's a new challenge to see how people can change your look. I like words like transformation, reinvention, and chameleon. Because one word I don't like is predictable.'

3. 'Check your lipstick before you come and talk to me.'

4. 'I work very hard and I'm worth every cent.'

5. 'If I was so difficult, why would I be working with the same people I have worked with since I was 16?'

6. 'I never diet. I smoke. I drink now and then. I never work out.'

7. 'There is only going to be one Kate Moss. Kate is an icon.'

8. 'Feeling passionate about something doesn't mean you have to be angry.'

9. 'I feel very responsible for young models of colour. They come to me and tell me they're not getting jobs, and I do what I can to speak up for them.'

10. 'After Versace was murdered, the first person to call me was Mandela.'

11. 'I would ask my mother to show me how to walk - and she did show me. That's why I think it's funny when people say, "Did so-and-so teach you how to walk?" And I always say, 'You must be talking about my mother, because it was my mother who taught me how to walk.'

12. 'I've cracked a lot of my boyfriends' emotions but it was good for them.'

13. 'I don't think I was born beautiful. I just think I was born me.'

14. 'I like to control everything, and you cannot control everything. You have to at some point say, "I let go and I'm going to let the cards fall where they fall..." For a control freak, it's hard.'

15. 'I don't like 'yes' people. I don't want 'yes' people around me; I think they're extremely dangerous. I like people who are honest with me and tell me the truth. I can take it.'

16. 'Think diva. Think strong. Think dramatic. Words of wisdom for this challenge and for life in general, don't you think?'

Forty four never looked so good.....
In Atlanta.....
Trina & Towanda Braxton were among the Atlanta residents who came out to support Freddy-O's "I Pledge To Hustle" T-shirt fashion show.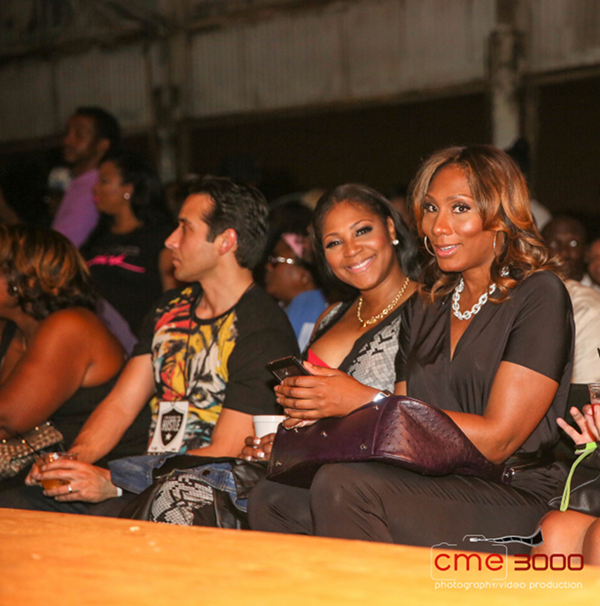 In a statement on his website, Freddy-O's said "I Pledge to Hustle is a movement to unite fellow entrepreneurs and business men and women alike to pledge to their "hustle". This Pledge is for Healthier Living, Understanding things better, Surviving through the bad, Taking time, Loving who you are, & Educating yourself."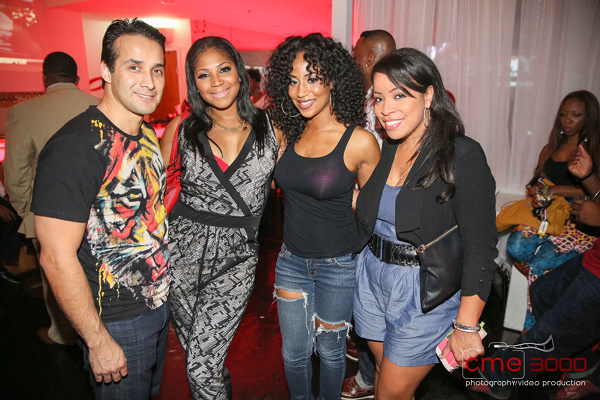 It looks like Trina and Gabe NEVER actually split up.
Iit looks like Bambi and Lil' Scrappy are still friends. She attended the event with him and his daughter Emani. We were sorry to learn about her miscarriage.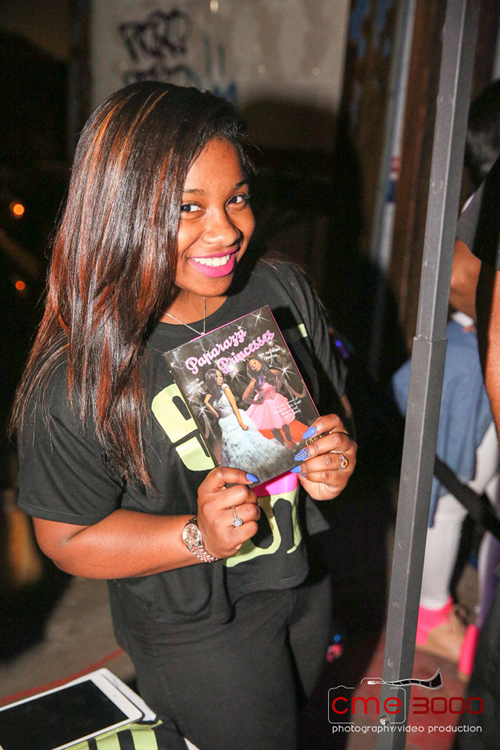 Toya Wright and her daughter Reginae Carter were there. They posed with Trina Braxton and Reginae reminded us that she wrote a book!
"LAHH ATL" star Rasheeda posed with her good friend Toya.
LaLA Anthony's cousin Dice posed with a friend.
Shout out to all the entrepreneurs and people on their H.U.S.T.L.E.
See video here:
Photos: Le/CME 3000
Master P RESPONDS To Wendy Williams Over Reality Show Comments — Says "The Miller Dynasty" Will NOT Be "Ratchet Negativity"
Posted: 23 May 2014 11:10 AM PDT
Master P has penned an open letter to TV host Wendy Williams over comments she made about his possible upcoming reality show. See what he said to his "friend" and the deets on his new show inside…
Someone's feelings are hurt...and he's making it known he doesn't appreciate it.
Master P penned an open letter to television host Wendy Williams after Wendy went on a rant about P bringing his family issues to his own reality show.
Lately, P has been airing his dirty laundry (for free) about his nasty divorce to his estranged wife Sonya, her alleged drug abuse and welfare claims and one of his daughters reportedly going missing. Also, there were rumors that all of these things were fabricated for a juicy storyline.
In the letter, P said he thought Wendy was a friend of his and that although he understands her role to entertain gossip, she should have called him up and asked him directly about what's going on in his family. He wrote,
"First of all, I thought Wendy Williams was my friend. I understand that her job is to entertain gossip but how could she keep picking up TMZ gossip as if it was real news when she should have contacted me directly if she was really concerned about my family, or me like she claims. If anyone understands being in the media and having to deal with celebrity personal family gossip and betrayal, she should know because of her own situation. If she wants to know the truth, as my friend, she should call me directly to get the facts and the truth rather than joining the media circus and talking trash. It's funny how all of my philanthropy efforts for the past 20 years have never received this type of attention, not that I'm looking for any recognition, but it amazes me how Hollywood glorifies negativity. "
P then went on to talk about his reality show in detail, with the working title "The Miller Dynasty." He said his show will not highlight "ratchet negativity" and that it will be about him being a newly single father and being a business man in the music industry.
"Well I guess I'm going to change the reality tv world the way that I've changed the music industry because the show that I'm doing is not ratchet negativity, it's about fatherhood, standing up for something that you believe in and family business in the music industry from a positive perspective while still entertainment for tv."

He added,
"After 24 years of keeping our family personal life private, we are ready to share with the world our life experiences, the trials, tribulations and accomplishments that come with being a successful family of musicians and entertainers. As a music mogul and being one of the most successful music entrepreneurs in the business, I was forced to deal with the harsh reality of going through a divorce, while being a father to my kids even as a single parent. It's challenging as a public figure because of the gossip, false accusations and negative media. Due to the need of media outlets to sell headlines and news stories, celebrities are labeled guilty until proven innocent. I feel like our private lives have been invaded and with all of this technology, social media and TMZ, our lives are more open to scrutiny. Our reality show will expose the truth."
And to close his letter, he went on to say his family is just like every other family with issues and that they are not perfect.
"The Miller Dynasty is founded on integrity and family values. We are not perfect by any means; we go through similar struggles like any family. There are constant battles that we fight especially with having money and fame but with our faith and belief in God we are able to overcome any obstacle. Our family has come a long way from poverty in the ghetto and to be able to share our story from rags to riches, the good, the bad, and the ugly that come with success. Our goal and our purpose is for this reality show to be educational and entertainment for all families."
Peep what Wendy said about P and his family at the 4:00 minute mark below:
No family is without issues…but do you have to air out your dirty laundry for the world to see? Even if it's intertwined with "positivie" storylines? You have kept your personal life private for this long…why start airing ish out now?
Photos: INF/Splash