---
DO WE BELIEVE IT? Sherri Shepherd REPORTEDLY Separates From Husband Sal
Posted: 08 May 2014 09:40 AM PDT
Word on the curb is that "The View" co-host Sherri Shepherd is splitting from her husband of three years, Lamar Sally. But she stayed mum about the reports today. Deets inside...
A new report from Page Six says Sherri Shepherd is on the road to splitsville with husband Sal. After three years, Sherri is reportedly telling friends they are separating.
The comedian, actress and host of "The View" is telling friends that her three-year marriage to TV writer Sally is in trouble and they are separating. Reps for Shepherd, as well as her manager Darris Hatch, did not comment last night despite numerous requests from Page Six.
Sherri welcomed the world into her courtship and wedding with Sal through the stories she told on "The View" from the time they met...and her wedding special that aired on the Style Network in September 2011.
We hope all is well with these two (especially for her son Jeffery), but Sherri surely stayed extra mum about the reports during today's episode of "The View". Even with Pastor Rick Warren and his wife on the stage today talking about people being too quick to give up on marriage.
Awkward...
So, do we believe it?!
Photos: Pacific Coast News
TOUCHY TOPICS: Tasha Smith Speaks On Cosmetic Surgery, Abortion & Homophobia In The Church
Posted: 08 May 2014 08:30 AM PDT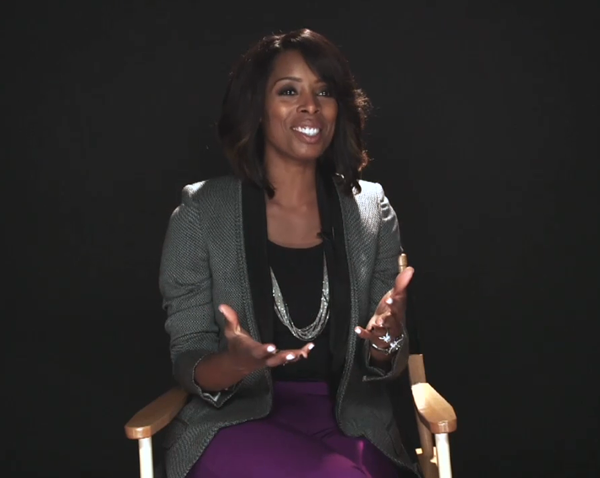 Actress Tasha Smith is speaking out on how she feels about certain hot topics including cosmetic surgery, abortion and how people in the church mistreat homosexuals. Find out her views on such topics inside…
Planned Parenthood celebrity ambassador Tasha Smith sat down with BET to speak on a few touchy topics such as plastic surgery, abortions and homophobia in the church.
For years, there has been criticism surrounding Planned Parenthood providing abortions for women. Tasha (who doesn't believe in abortions) believes Planned Parenthood is a great organization for women who don't have access to health care and wants people to understand that they're MORE than just an abortion clinic.
"Abortion is not what I believe in. I believe in prevention…and that's something else that Planned Parenthood preaches and empowers women to prevent unwanted pregnancies although each woman has a right to choose."
The "For Better Or Worse" actress also talked about plastic surgery, admitting she has had liposuction but will wait until she's older before she thinks about doing anything to her face.
"Some of these women are really messing up their faces. It's like come on, do you have to do that at 30? At least wait until you're 50 or 60. I mean one day I might get a little botox but right now a little makeup and concealer will do the job. I mean liposuction, I've had it…and I'll get it again if I wanted to. Some of these women are so caught up with that, that they're messing up their faces."
She ended the interview talking about a young man who had to be admitted to the hospital and none of his family members were there for support. He hadn't talked to his family in 10 years after revealing to them that he was gay.
"Personally I think that is so wrong. Any Christian who does that to their child, they need to have another 'come to Jesus' meeting."
Check it:
Thoughts?
Photos: BET
NEW VIDEOS: 2 Chainz "Trap Back" + Diggy "My Girl" Featuring Trevor Jackson + Rich Homie Quan TWEETS An Update
Posted: 08 May 2014 07:47 AM PDT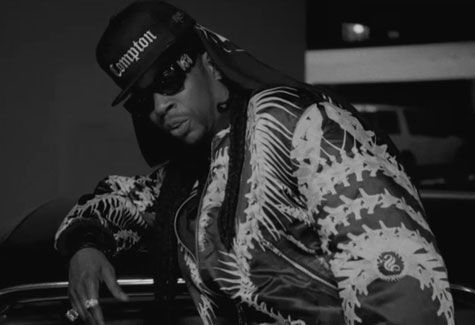 In new music videos, 2 Chainz released "Trap Back" while Diggy and Trevor Jackson teamed up for "My Girl." Watch both inside....
In a new black-and-white visual directed by Alex Nazari, 2 Chainz rides around Crenshaw on a bicycle (while rocking slippers and socks!). The Street Symphony and 808xElite-produced track appears on his new Freebase EP (which dropped on Monday).
Watch "Trap Back"
In other new videos...
Diggy Simmons (who was a part of XXL Magazine's Freshman class a few years ago) proves that he's ready to graduate in "My Girl" featuring cutie Trevor Jackson. The brothers put on their "suit and tie" in the D'Mile-produced song off Diggy's upcoming sophomore album. In other Diggy news, he'll star in the new scripted BET-series "The Start Up" with Teyana Taylor and Bria Murphy.
EXTRAS:
Speaking of XXL Magazine's Freshman class, 2014 Freshman Rich Homie Quan has tweeted an update for concerned fans who heard about his double seizure. He said,

Photos via Rich Homie Quan Twitter
Jada Pinkett Smith Sets The Record STRAIGHT On Willow's Controversial Pic, "You're Acting Like Covert Pedophiles"
Posted: 08 May 2014 06:57 AM PDT
Will Smith and Jada Pinkett Smith came under fire after a controversial pic of their daughter Willow made it's way around social media of her laying in bed with a shirtless young man. Find out what Willow's mom had to say about the pic inside…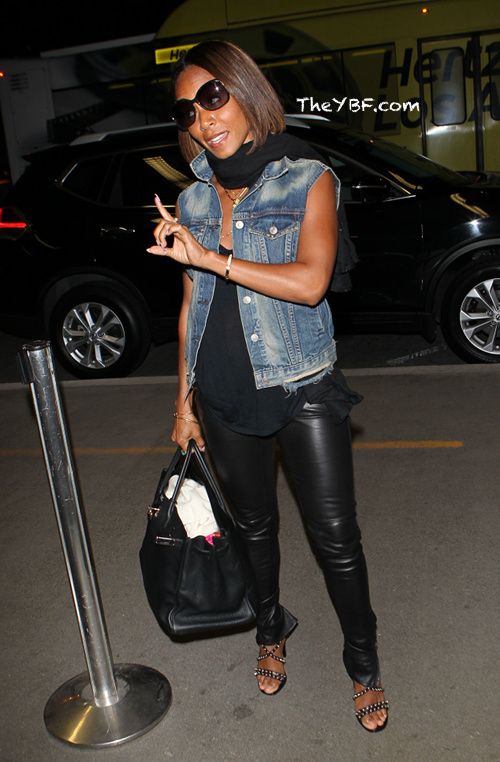 A few eyebrows were raised when a picture of 13-year-old Willow Smith surfaced online of her laying in bed with 20-year-old Disney actor Moises Arias. Some critics thought the picture was inappropriate…saying a 13-year-old child should not be laying in bed with a 20-year-old man, let alone, with no shirt on! Others felt, the picture was totally harmless…just two friends hanging out, watching television.
Willow's mother Jada Pinkett Smith arrived at LAX yesterday to catch a flight to NYC and of course, the paparazzi grilled her about the controversial photo. SIDEBAR: Doesn't she look great?
The Gotham actress seemed really upset that people would even fathom the thought of something sexual going on in that picture and that if you did think of the sort, you're an undercover pedophile. Her words…not ours.
She told the TMZ photog,
"Here's the deal. There was nothing sexual about that picture or that situation. You guys are projecting your trash on to it and you're acting like covert pedophiles"

Check it:
Well...there you have it.
Photos: WENN
HOT TUB HOTTIE: Ashanti's NEW Las Vegas Bikini Pics
Posted: 08 May 2014 06:31 AM PDT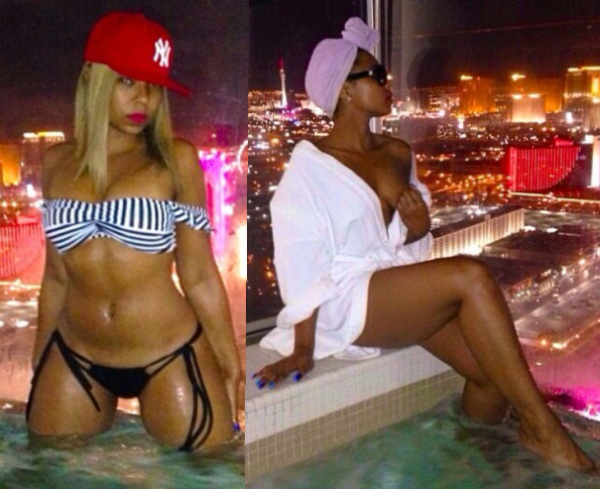 Ashanti got some R&R in Las Vegas last weekend for the Mayweather fight and her trip included a sexy Instagram photoshoot in the jacuzzi! And all we can say is.... SHEESH! See Ashanti's sizzling pics inside...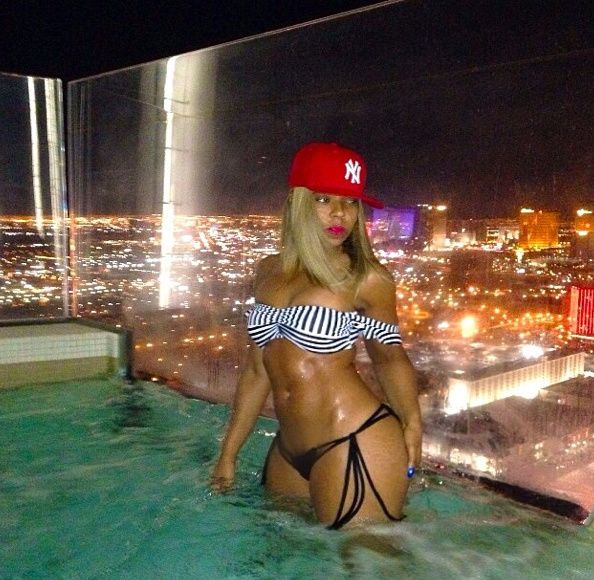 "Braveheart" singer Ashanti spent the weekend in Las Vegas where she watched Floyd Mayweather defeat Marcos Maidana. And spent her time afterwards making EVERYONE do double takes.

During her downtime, Ashanti hit the jacuzzi and showed off her bikini bod (which we've seen alot of over the past few months). The sizzling swimsuit is from the latest Keva J swimwear collection.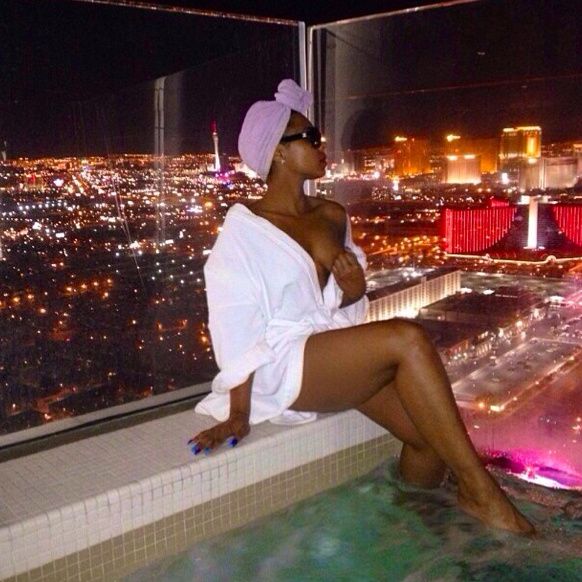 She captioned "Every once in a while ya come across 1 of the good ones... #rarebreed #braveheart"
She also shared some fight night pics (she sat next to Lil' Wayne during the fight). She captioned #ikeptsqueezinghisarmwhenitgotcrazydurringthefight
Her baby sis Shia was also in attendance. Looking good ladies!
Photos via Ashanti's Instagram
RUMOR CONTROL: Shonda Rhimes SHUTS DOWN "Harrison" RECASTING Rumors - IT AIN'T EVER GONNA HAPPEN!
Posted: 08 May 2014 05:51 AM PDT
HELL HATH NO FURY like Shonda Rhimes on her Twitter feed. Watch the "Scandal" creator slice and dice rumors that she's recasting Columbus Short's role inside...
If you've been following the Columbus Short scandal, you know that he WILL NOT be returning to "Scandal" next season. Fact. What we're not sure about is that fate of his "Scandal" character Harrison Wright (who may OR may not have been killed off).
The "Scandal" cliffhanger had several media outlets reporting that Columbus character who be "replaced" by an actor named Eric West ("Hawaii Five-0", "Hey Girl").
Hmm....we've never heard of Eric but he does certainly "replace" Columbus Short's sexy factor. Once news about the recasting reached Shonda Rhimes (who's known for a good Twitter rant), she shut all the rumors down...COMPLETELY.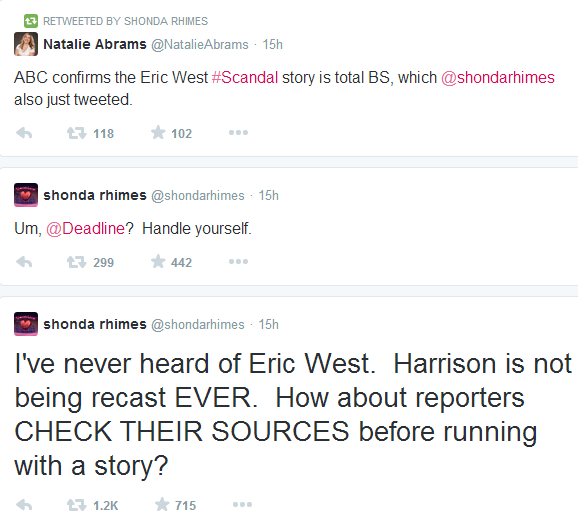 If you don't know...now you know. It ain't gonna happen.
Photos via Eric West Twitter/Shonda Rhimes Twitter/Getty
HOTTIES: Rihanna Gets Sassy At DIOR Cruise 2015 Show + Nicki Minaj Flashes Those ASSets On MYX Moscato Commercial Set
Posted: 07 May 2014 08:04 PM PDT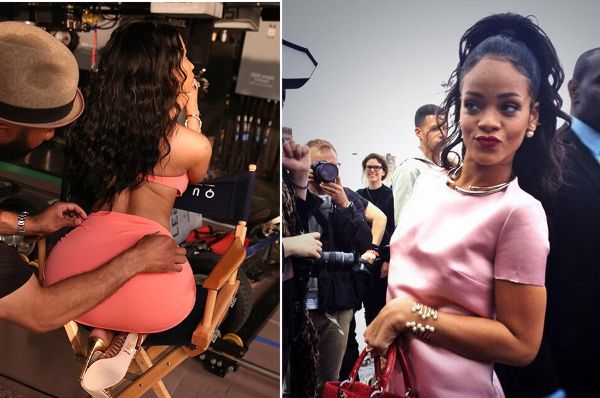 Hotties Rihanna and Nicki Minaj are doing what they do best...flossing on sets and shows. Check out Nicki shooting her new Myx Moscato commercial in a bikini, plus Rihanna hitting the Dior Cruise 2015 show inside...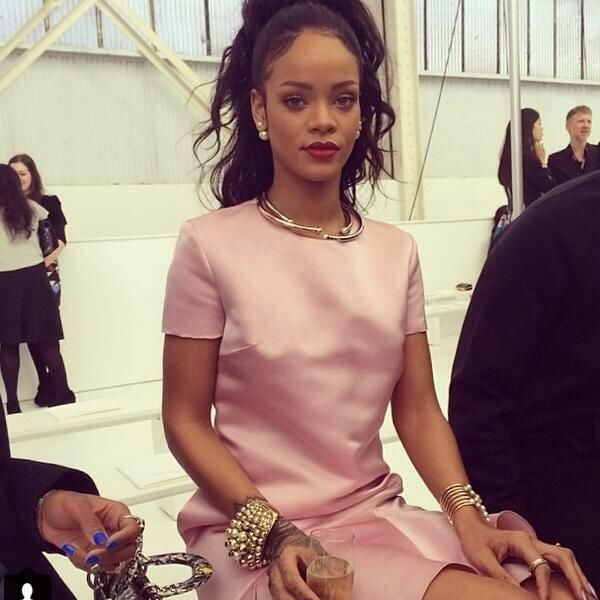 RiRi was on her best behavior at Wednesday's 2015 DIOR Cruise Collection in NYC. Just one day after the MET Ball, Rihanna donned a sexy pink satin dress by the designer and plenty of Dior jewelry as she took her seat front row: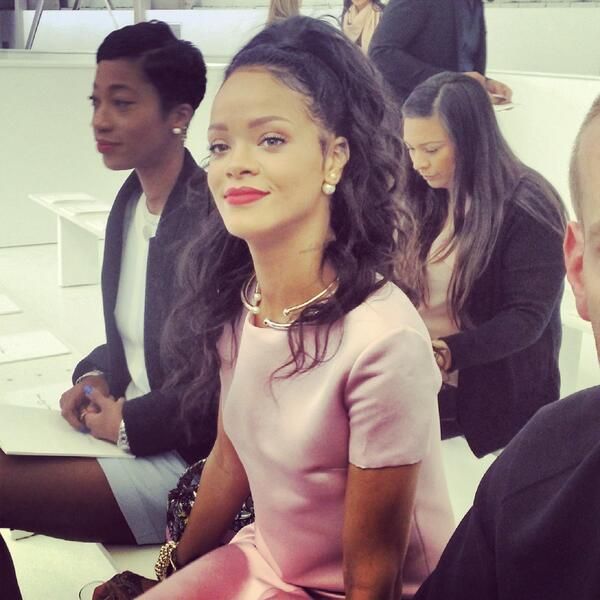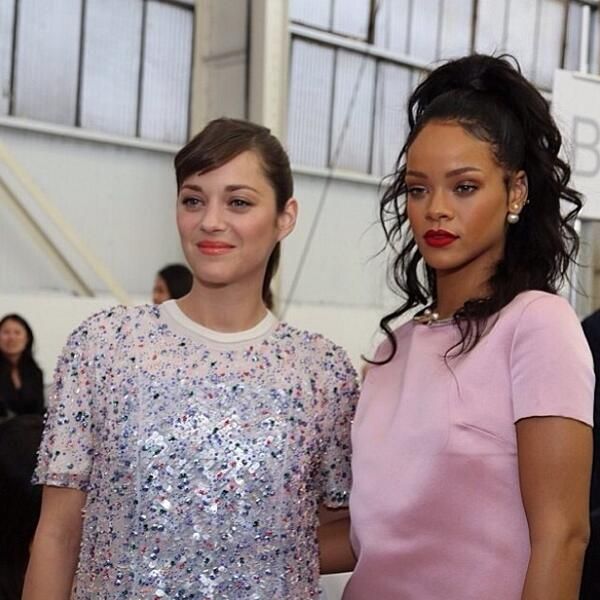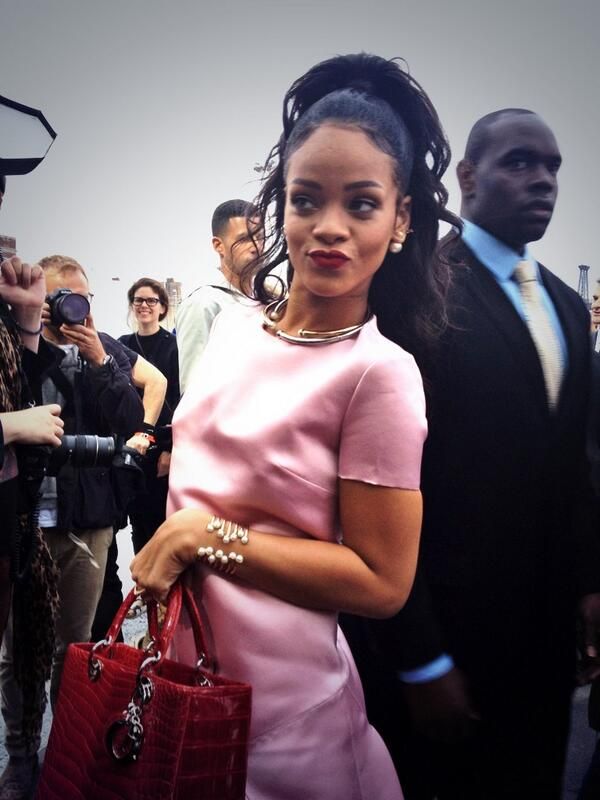 She looks like she's back to her good girl days in these pics. But we all know the deal....
Meanwhile, Nicki Minaj was on her bad girl behavior: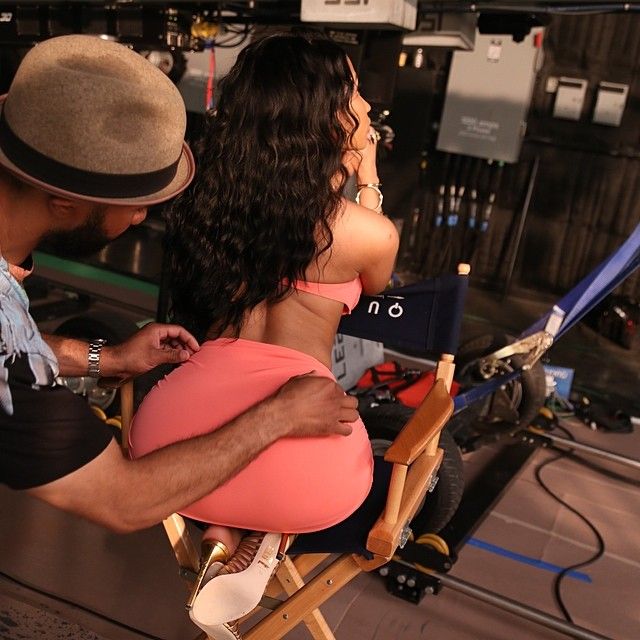 While on the set of her new Myx Moscata commercial, Nicki kept it tropical in a peach Norma Kamali two piece bikini and gold Gucci heels. And got a little touch up around her nonexistent waist: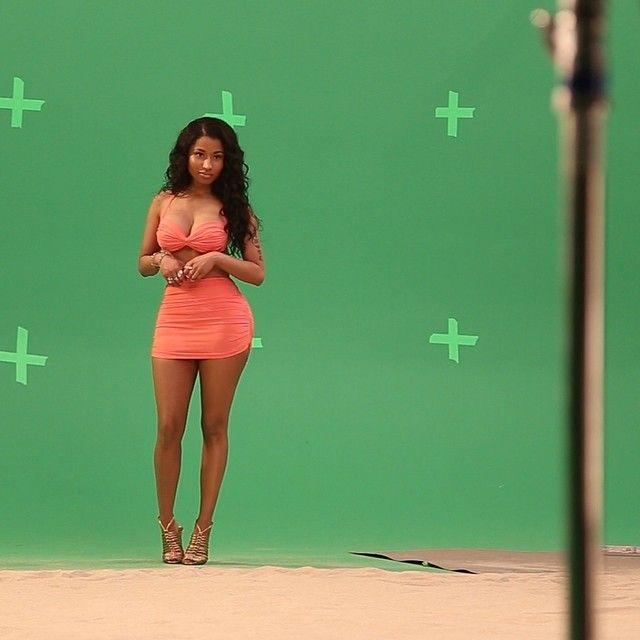 After starring in The Other Woman, rapper Nicki has been focusing on her music and her business moves like Myx. Catch her "Yasss Bish" track HERE in case you missed it.
Photos: @Fashionista_com's Twitter/@Susiebubble's Twitter/@MolestMeRihanna's Twitter/@RihannaDiva's Twitter/Nicki's IG

APOLLO NIDA On "Snitch" Plea Deal -- "It's Standard Language!"
Posted: 07 May 2014 06:59 PM PDT
Apollo Nida is speaking out about his new plea agreement which, in part, calls for him to go undercover to snitch on other possible convicts. Check out what Mr. Smarty Pants had to say inside...
When the report surfaced today that Apollo Nida made a plea deal with the Feds that involved him essentially becoming a "snitch" to catch other convicts in his same lane...it pissed Phaedra's hubby all the way off.
So what does this guy do? Take it to Twitter. And that's where he ran his mouth about "agreeing to undercover operations" being "standard language" in a plea agreement.
@garytmz ur dumb as fuck its standard language in a federal plea agreement Michael Vicks TI's plea It's the same language different charge

— APOLLO NIDA RHOA (@apollonida03) May 7, 2014
@TEXASBLIMP if 1 knows about the federal system it's standard language in a plea agreement 1 must b put on notice if that applies to them

— APOLLO NIDA RHOA (@apollonida03) May 7, 2014
Well, if anyone can teach us what goes down inside a federal plea agreement, it's Apollo. He's had more experience than most of us.
Meanwhile, Apollo plead guilty to fraud charges yesterday, which was all part of the plea deal in question.

And y'all know Wendy Williams is not staying quiet about all this. She hit up "Huff Post Live" today and told Marc Lamont Hill how she REALLY feels about it all. And even mentioned that everyone on "RHOA" needs to be fired. Can't say we don't agree there.
Check it:
Photo: Apollo's IG
LADY O's: Oprah Shows What 60 Looks Like At Every Angle + FLOTUS Michelle Obama -- #BringBackOurGirls
Posted: 07 May 2014 05:22 PM PDT
Oprah Winfrey is 60....and she wants you to know ALL about it. From every angle. Check out Lady O serving up some inspiration for women everywhere, plus how the other Lady O, FLOTUS Michelle Obama, is taking a stand for the kidnapped Nigerian girls....
For the latest issue of O Magazine,Oprah is posing it up for the June issue in a red hot dress, and inspiring us to "Age Brilliantly". And whatever Lady O says, we pledge to do. Especially when she lets us know this is how 60 looks: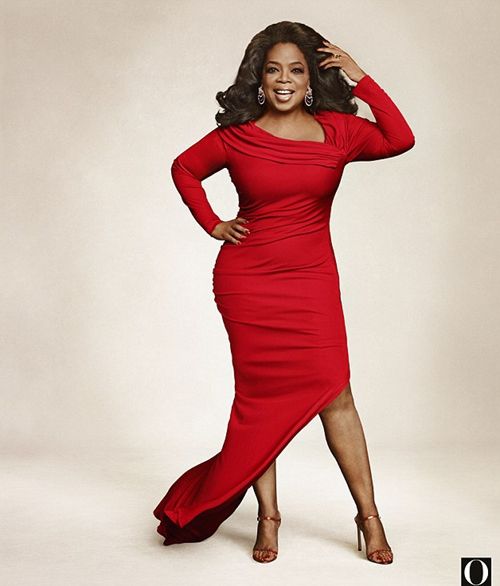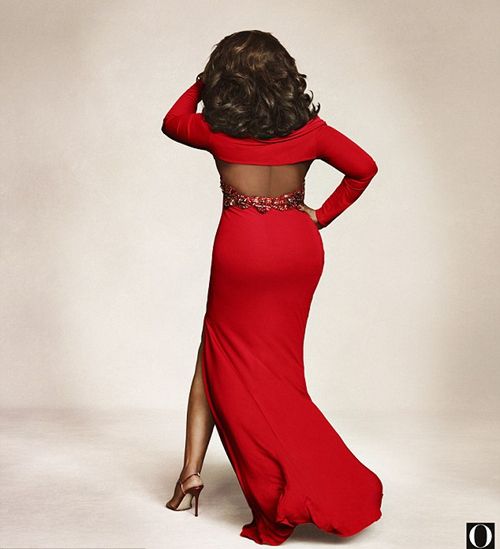 Get it! Rocking a sheer back Badgley Mischka dress and Sarah Jessica Parker heels, O is looking smashing on both the front and the back covers of the issue, which hits stands May 13th.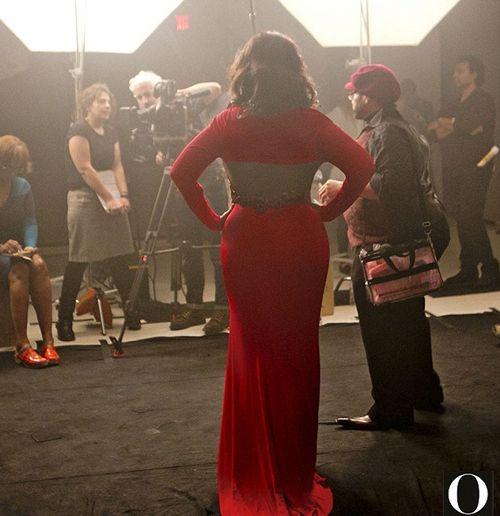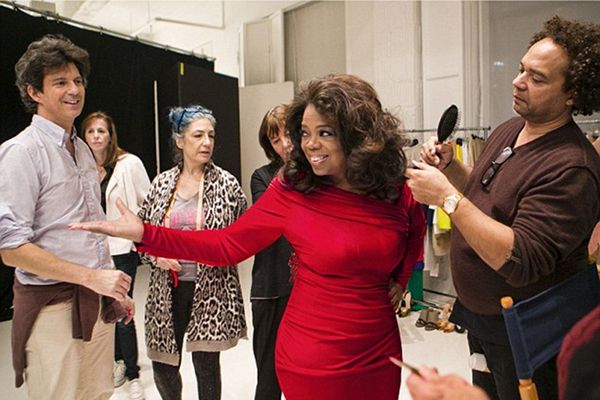 On the fear of aging:
Call me crazy, but I've never really understood our culture's fear of getting older. The way I see it, every year can be a brand new journey.
'Think about it: You get one chance to be 25…38…44…61…and every age before and between. Why wouldn't you want to experience all the wonder in each step on your path?

'If you're blessed to enough to grow older, there's so much wisdom to be gained from celebrating the process with vibrancy and vigour and grace.'
On finally accepting her body:
'One day I literally woke up and thought ''My god, these knees have been with me for 60 years. Wow! I've had these elbows for 60 years. My heart has been beating for 60 years. The feet I stand on have carried me for 60 years.'' And when you think about it that way, you can be nothing but grateful.'
And to celebrate where she is in her life now, she posted her original 1983 audition tape foe the "Oprah Winfrey Show". Get into it:
And speaking powerful lady O's, FLOTUS Michelle Obama has taken a stand for the almost 300 missing Nigerian girls who were kidnapped from their school dorms by terrorist Boko Haram almost 6 weeks ago. Haram, who reportedly has ties to al Qaeda, said in a disturbing videotape this week that he has taken the girls to "sell" them: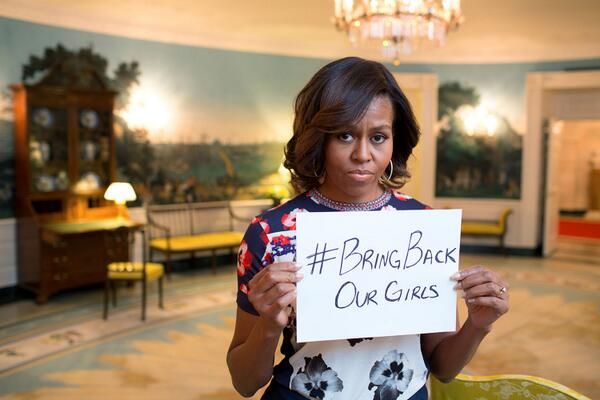 Mrs. O posted the pic on Twitter, along with the viral hashtag for the cause, saying: "Our prayers are with the missing Nigerian girls and their families. It's time to #BringBackOurGirls. -mo"
Check out CNN's The Freedom Project to get the six reasons why you should care. Informative and equally saddening.
Tyrese BLASTS Reality Shows & Media For Negative Impact On Black Marriage + Steve Francis Gets "DRUNK In Love", Pouring Champagne Over His Head In The Club
Posted: 07 May 2014 04:22 PM PDT
Tyrese is sharing his personal opinions on how reality TV shows and the media are negatively impacting black women and black marriages. Plus, Steve Francis was caught pouring champagne over his head as he partied to Beyonce's "Drunk In Love" in the club. Get the deets inside…
Tell 'em why you mad Black Ty!
"Fast & Furious" actor and R&B singer Tyrese is speaking out on the negative impact reality TV shows, such as "RHOA," has on black women and how it's affecting black marriages. And of course, he gave his take on negativity in the media.
In a YouTube video, Tyrese slammed reality TV shows making claims that such shows influence our own reality. He believes consuming negative content is what causes so many issues in our lives and relationships and he even went as far as labeling the media as "devils."
"This is another form of the devil's work. Blogs and websites, press and media, they have a job to do. They do. But unfortunately, a lot of married couples don't end up on the covers of some of our favorite magazines until they file for divorce, which makes getting a divorce more popular than the marriages that actually work."
Ty feels there should be more media attention around husbands and wives who are happily functioning and the press should highlight on things such as love and beauty.
He added,
"You're at home and you're looking at shows like The Housewives or all of these different reality TV shows and in your mind, this reality becomes your reality. You find yourself arguing and having issues at your house and in your marriage and in your family that are directly influenced from the sh*t that you're seeing on TV. You don't even know it."

"You as a woman you're sitting there watching TV in which women complain and have issues and conflicts in their marriages that are filmed on a reality show. And they're directly influencing issues and conflicts that are being created in your house. That is not your f*cking marriage. Those are not your issues!"
Hear his rant below:
Do you agree?
And in foolish activities news….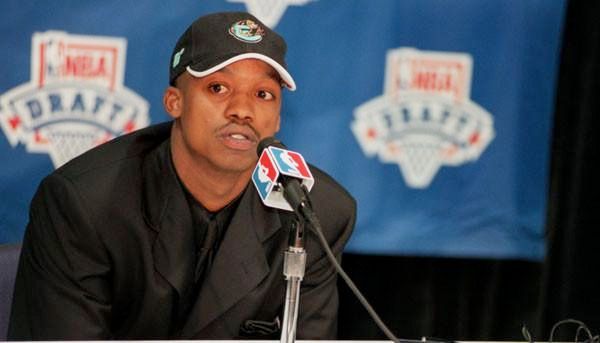 Former NBA point guard Steve Francis was partying in Miami recently and it seems he was having a little too much fun.
The former Houston Rockets baller, hiding behind a pair of dark shades, was living it up in the club, dancing and singing to Beyonce's "Drunk In Love." He was so "drunk" on…well…we're not sure what he was on, but he got so into the song he started pouring champagne over his head as he rocked to the beat.
Unbeknownst to him, someone filmed the entire thing and they also caught him grabbing a water bottle, pouring it down his throat and then…he fell. Goodnight Steve.
Check it:
Hopefully vids like this will force him to get some type of help....
Photos: Getty/Baltimore Sun
W Magazine Publishes Pharrell Williams INSPIRED Art Work + Alicia Keys Tapped As New "Parfums Givenchy" Spokeswoman
Posted: 07 May 2014 02:12 PM PDT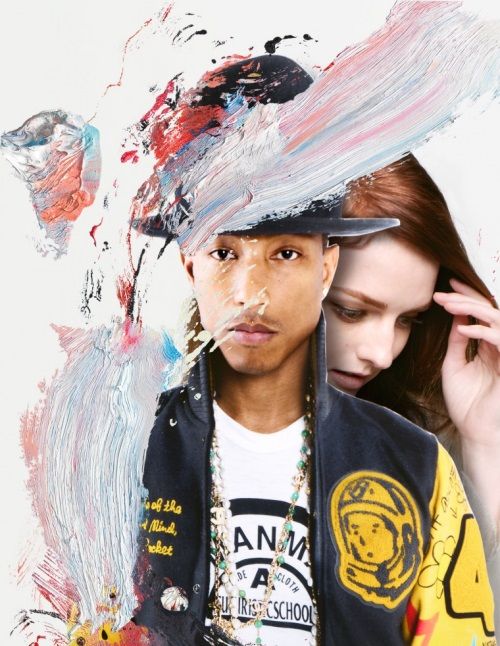 In the latest issue of W Magazine, Pharrell Williams stars in an art-themed pictorial while commenting on the power of women. See the pics inside and find out about Alicia Keys new role with Givenchy.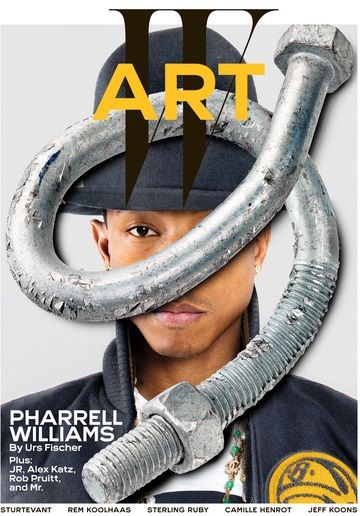 In W Magazine, Grammy-winning producer Pharrell talks about his breakout success ("Blurred Lines", "Happy", "Get Lucky") and opens up about his new album G I R L and how he came to appreciate women and their power. He told the mag,
"I fully realize the power of women. If women wanted to put up their hands and say, 'No more children,' they could stop the world. We have to acknowledge their power: There is no person on the planet who didn't benefit from a woman saying yes twice—yes to make you and yes to have you. And every human being came through the golden doors of a woman's body. I'm not against the male species, but let's make things equal. Other than the hat, I'm getting to be known for putting my hands together in a prayer of thanks. My mood these days is grateful. I am so, so grateful."
In the accompanying piece, writer Lynn Hirschberg truly shows how art and music intersect in Pharrell's life and drive his talent. When she asked what it felt like to be the magazine's subject for an "art"-inspired pictorial, he said,
"I like the idea of being a character in someone else's story. It sounds odd, but I've always considered myself to be one of the characters in a Wes Anderson movie. For a while, I would dress like one of his people—I would wear Wallabees and tan suits. And, like Jason Schwartzman in Rushmore, in my head I thought I was responsible for all the culture in my school, in Virginia Beach. When Bill Murray takes off running for no reason in that film, that feeling is absolutely true to my life. I see myself in that run."

In addition to his clothing line, a planned fragrance and a series of limited-edition "Happy" t-shirts, Pharrell said he has no plans to slow down and will continue to be a "creator."
"Music will always be my first love. But the one thing I've learned is that this life is a movie and I am a cocreator. It's a big movie, and there's a lot of creativity going on." Williams unconsciously patted the hat. "As long as I play my part, it won't be over for quite a while."
For "The Art Of Pharrell" W Magazine tapped 5 artists and told them to tap into the essence of Pharrell. Here's what they came up with: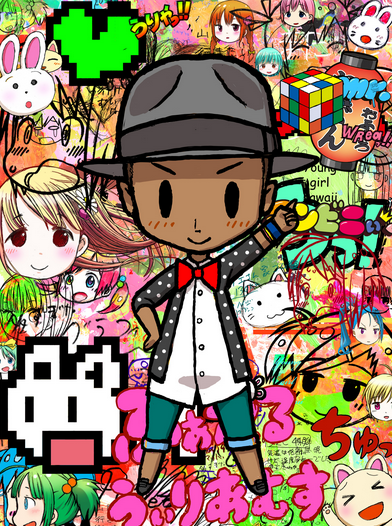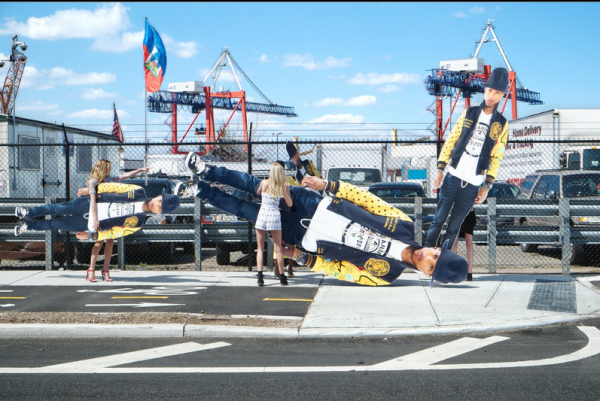 In new fragrance deals...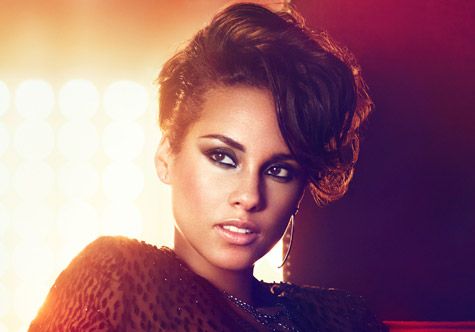 Alicia Keys is still a Girl On Fire. The New York-bred beauty has been tapped as a spokeswoman for Givenchy Parfums. The announcement was made in a recent WWD article about her contract signing. Alicia will begin appearing in advertisements for the brand's latest fragrance in September.
She said, "I'm honored to introduce the world to the newest scent by Givenchy...Givenchy has long been one of the world's most iconic luxury fashion houses, and a personal favorite of mine."
Alicia also tweeted her excitement...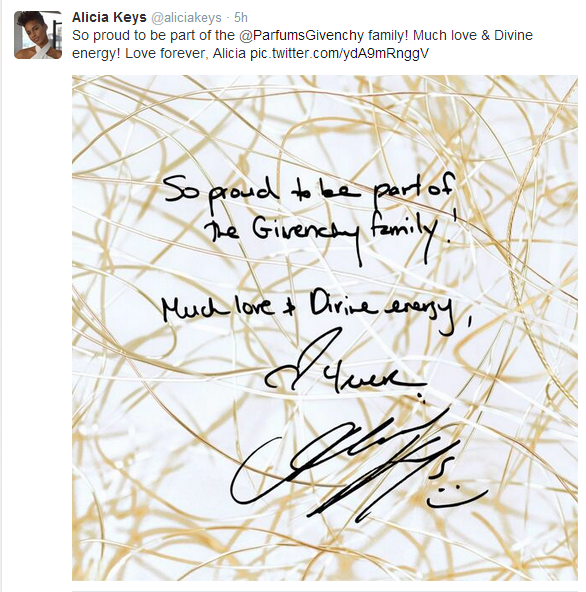 Alicia joins designer Riccardo Tisci and a growing list of brown-skinned beauties who've served as muses for the House of Givenchy including Ciara and Erykah Badu.
Photos from Various Artists via W Magazine/Alicia Keys Instagram/Twitter
TAKE THAT TAKE THAT: Diddy's Son Christian Combs Rolls Into His First Prom In A Maybach + Richard Sherman Becomes HIGHEST Paid Cornerback In The NFL
Posted: 07 May 2014 12:57 PM PDT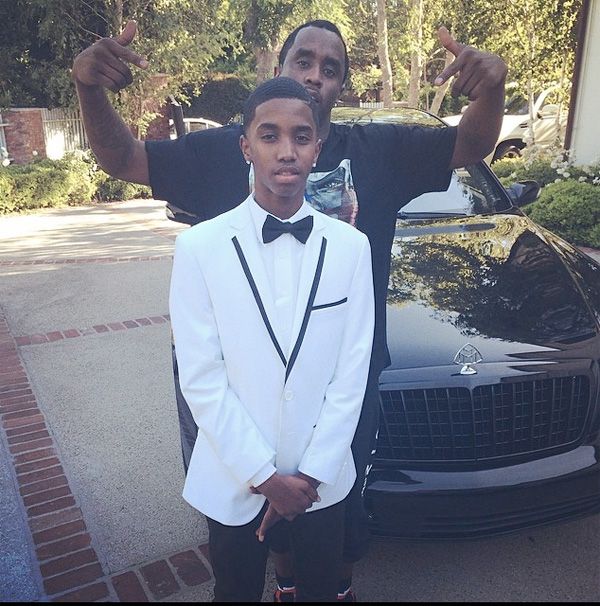 Diddy's son Christian Combs is growing up before our very eyes and now he's headed to his first prom. See his pics and find out deets on Richard Sherman's record contract extension inside….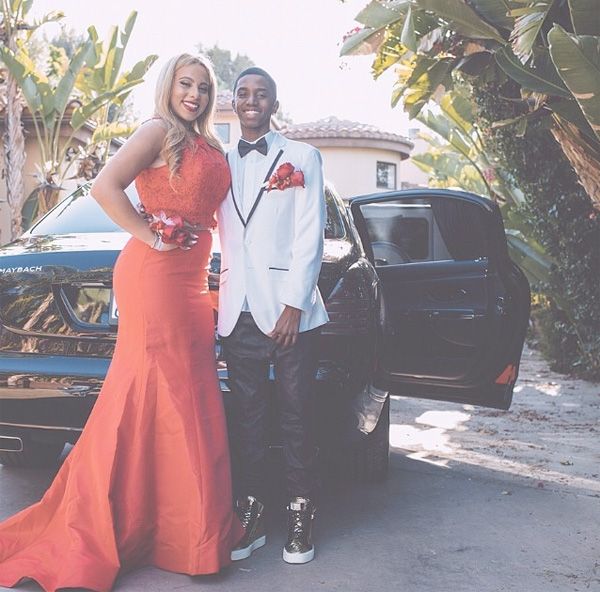 After rocking out at his "SWERVIN' 16" birthday bash, Christian Combs is celebrating another milestone in his life. He recently went to his first prom and of course, Diddy made sure his son pulled up in style, rolling up in a Maybach. Sheesh!
The 16-year-old sophomore was dapper in a white blazer trimmed in black with black slacks. And, as kids nowadays do, paired his suit with a shiny pair of silver high-tops.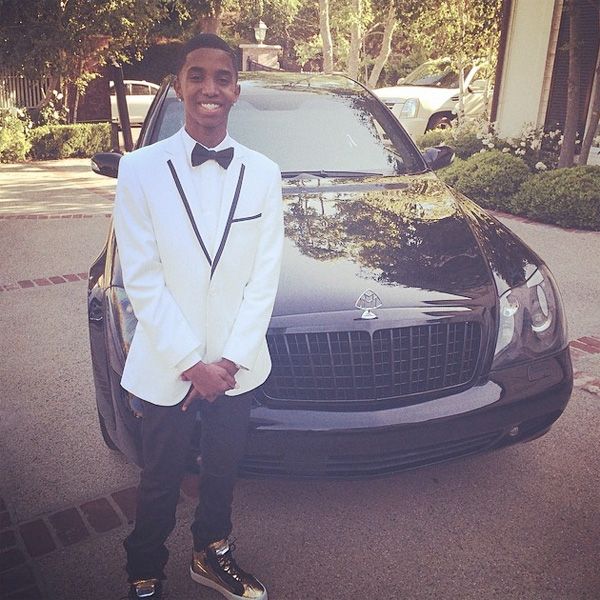 Diddy was a proud dad captioning the moment, "My son who is a sophomore going to his first senior prom. Man life is moving faster than a muthafucka! Have fun tonight @kingcombs and don't do anything I would do! Lol Love you king!! #CombsFamily #KingCombs"
Cute.
And in sports news...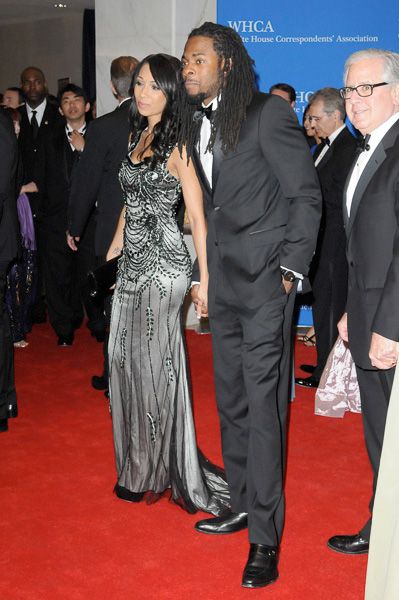 Seattle Seahawks cornerback Richard Sherman (above with his girlfriend at the White House Correspondents' Dinner) is successfully clapping back at all the haters he gained after his infamous rant against 49ers wide receiver Michael Crabtree.
Richard just became the highest paid cornerback in the NFL after inking a four-year-contract extension for $57.4 million, with $40 million guaranteed. This averages out to about $14 million a year, topping the $12 million New England Patriots cornerback Darrelle Revis is receiving.
"The goal has always been to stay in Seattle and continue to play for the Seahawks," he wrote on his blog. "With this chapter closed, I can continue to focus on what is important -- defending our Super Bowl Championship and being the best cornerback in the NFL."
He added,
"This is a great moment for my family, foundations and the people who supported me to this point. Hard work and execution got me to this moment, the Seattle Seahawks have backed up that respect with this contract. The terms of my deal are 4 years for a total of $57.4M with $40M guaranteed. There is no other city or team that I would want to play football for."
Congrats Richard!

Photos: Getty/Diddy's IG
Kenya Moore References CRIMINALS On Twitter After Apollo Nida's Guilty Plea + "RHOA" Reunion Part 3 Ratings EXCEED Parts 1 & 2!
Posted: 07 May 2014 12:28 PM PDT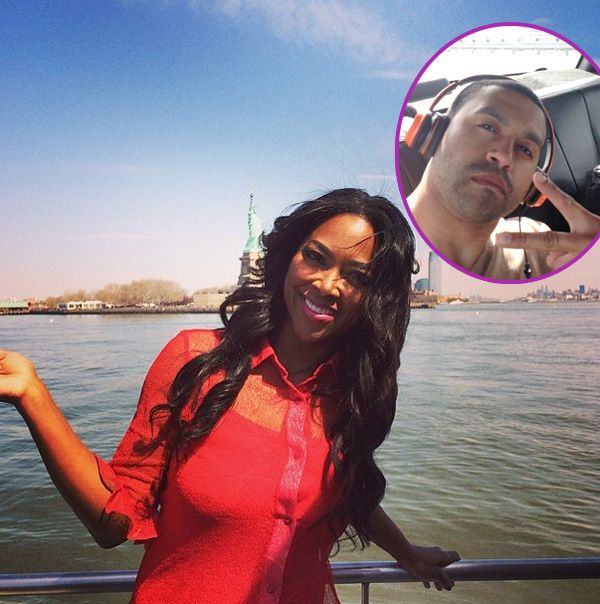 Kenya Moore made a few comments about criminals on Twitter not long after reports revealed her co-star Apollo Nida had pleaded guilty to fraud. Find out what Ms. Twirl had to say....and then what she took back....when you go inside…
We were shocked to learn "RHOA" husband Apollo Nida pleaded guilty on charges of mail, wire and bank fraud to "sustain a lifestyle" for his wife, Phaedra Parks. Apollo admitted he made many dumb decisions and will face a judge over his bad choices on July 8th for his sentencing.
And of course, their enemy Kenya Moore (who Phaedra "read" like no other during the reunion) had something to say.
Ms. Twirl took to her Twitter soon after Apollo's guilty plea and happily tweeted:

Then the former Ms.USA tried to backtrack: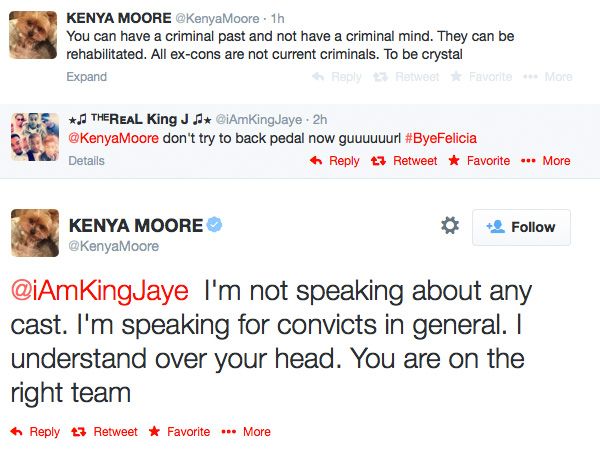 Nice try Kenya.
And in other "RHOA" news...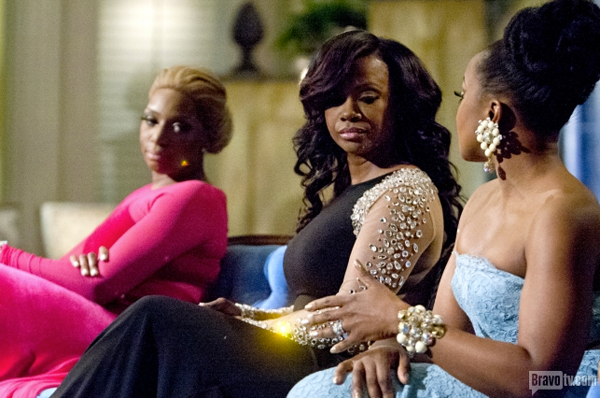 For the 10th time this season, over 4 million viewers have viewed "Real Housewives of Atlanta."
Sunday's Part 3 reunion episode topped ratings for both Part 1 & Part 2 of the reunion with 4.28 million viewers. All three parts gathered more than 4 million viewers as well. "RHOA" ratings continue to climb the charts while the other Housewives' ratings have slightly declined.
And there's more...
Next week, Kenya Moore is expected to sit down with Andy Cohen for a special episode of "Watch What Happens Live", much like Porsha's 1-on-1 this past Sunday. Also, on May18th, another special episode is scheduled to air titled, "Husbands Revealed".
One husband already has been revealed…

Photos: Kenya's IG/Apollo's IG/BRAVO
TVOne ANNOUNCES New Reality Show "Hollywood Divas" With Countess Vaughn, Golden Brooks & More + LAHH ATL'S Season 3 SCORES 3.8M Viewers
Posted: 07 May 2014 12:22 PM PDT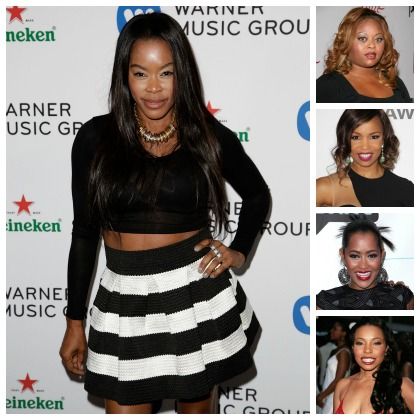 Lisa Wu, Golden Brooks and Countess Vaughn are among the women tapped to star in "Hollywood Divas." Get show deets inside and find out about the "LAHH ATL" ratings victory inside...
TvOne plans to expand their highly successful "Divas" franchise to Hollywood. Earlier today, D'Angela Proctor, SVP Programming and Production, at TV One announced that "Hollywood Divas" is currently in production in LA and follows actresses Elise Neal (The Hughleys), Golden Brooks (Girlfriends), Paula Jai Parker (Hustle and Flow), Countess Vaughn (The Parkers) and Lisa Wu (Real Housewives of Atlanta) as they navigate life attempting to stay relevant in the unpredictable entertainment industry.
Well look at Lisa Wu finding her way to another check after life on "RHOA".
"TV One's audience has a passion for programming that reveals the private stories behind the public lives of Black artists. The Hollywood Divas' willingness to share their, experiences with inequality and obstacles when it comes to the Hollywood merry-go-round is the foundation of this series. How these women are personally affected by this phenomenon and how they individually handle the pressure, is where the Hollywood Diva stories begins."
The series is helmed by executive producers Carlos King ("RHOA") and Todd Tucker (yes.....that one). Carlos and Todd released a joint statement saying, "We are excited to be a part of the TV One family on this groundbreaking series about the lives of Black Actresses in Hollywood. Our goal is to continue the success of capturing compelling stories about women from all walks of life."
Here are the ladies bios:

Elise Neal
Known for her starring roles in the television series KVille, Ant Farm, The Cape, The Hughleys, All of Us and TV One's Belles, Elise Neal made her film debut in John Singleton's Rosewood. Her other film credits include Scream 2, Money Talks and Love Ranch. Neal shines in her work in indie features including Restaurant, 1982, The Undershepherd, an ABFF best picture winner, and of course the powerhouse Oscar nominated Hustle and Flow, which also won the Sundance Audience Award.

Golden Brooks
Golden Brooks is best known for her portrayal of the character Maya Wilkes on the sitcom Girlfriends. She also directed an episode titled "Hustle & Dough," and wrote a 2007 episode titled "Snap Back," which featured guest star Erykah Badu. Brooks won the Black Reel Awards for the film Motives and also starred in Beauty Shop, Something New and the independent film The Inheritance. Most recently Brooks appeared on the CW series, Hart of Dixie.

Paula Jai Parker
Comedian Paula Jai Parker began her career on the FOX comedy program The Apollo Comedy Hour, filmed live at the legendary Apollo Theater. She left the show after one year to pursue a film career, taking memorable roles in the F. Gary Gray urban comedy Friday and earned a Cable ACE Award for her role in the HBO anthology presentation, Cosmic Slop. Parker returned to television for the WB television series The Wayans Bros. opposite Shawn and Marlon Wayans. Throughout the 1990s, she appeared in several short-lived shows, including The Weird Al Show and David E. Kelley's Snoops. Between television projects, she appeared in a number of films, including the Million Man March docudrama Get on the Bus, Sprung, Why Do Fools Fall in Love, 30 Years to Life and She Hate Me. She has also voiced characters on the popular animated series The Proud Family.

Countess Vaughn
Countess Vaughn began her performing career at the age of three singing at church. At age nine, she sang "I'll Be There" to win the Star Search junior vocalist champion and overall junior champion. Vaughn started her acting career on 227, followed by roles in Thea, Hangin' with Mr. Cooper and Roc. Outside of television, she performed in the off-Broadway musical Mama and I Want to Sing! Part 3. In 1998, Vaughn was honored with an NAACP Image Award for Outstanding Supporting Actress in a Comedy Series for her performance in Moesha. In 1992, Vaughn released her first album, Countess, featuring a variety of songs, including dance music and R&B. The album's lead single, a cover of James Brown's "It's A Man's, Man's, Man's World," charted in the top-100 of the Billboard R&B/Hip-Hop Songs chart. She starred in (and also sang the theme song for) the UPN sitcom, The Parkers, from 1999 until the show ended in 2004. In 2011, Vaughn made her return to television on the BET sitcom Let's Stay Together.

Lisa Wu
Lisa Wu shot to fame with her role on Bravo's The Real Housewives of Atlanta. She owns her own real estate firm, Hartwell & Associates, a jewelry line called Wu Girls, a baby clothing line, Hart 2 Hart Baby, and juggles a budding acting, modeling and writing career. She recently wrapped production on First Impression, a film also starring Lamman Rucker and Lisa Arrindell Anderson, and is currently working on Atlanta Undercover.
The series will premiere later this year on TVOne. Looks like direct competition for TvOne's other hit "R&B Divas".
Also on television.....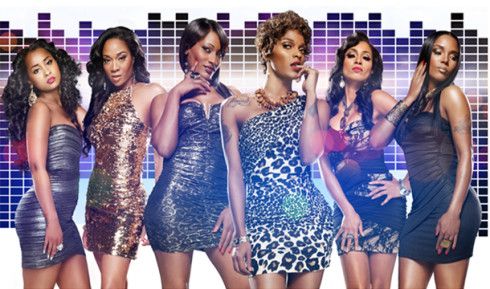 How many people tuned in to watch Mimi and Nikko "learn" about their sex tape leak? According to newly released numbers, the season 4 debut of LAHH ATL grabbed over 3.8 million total viewers. Combined with the 9:30 PM ET/ PT encore, 5.6 million total viewers tuned in to watch the action unfold. The numbers made VH1 #1 rated cable network at 8:00 PM among adult women.
The season 3 premiere also yielded a total of 33 trends on Twitter and produced a total of 1.66 million tweets. We can guess what majority of those tweets said....and we bet it was about the horrible acting jobs the cast did. But foolery will (almost) always be entertaining. Staged or not.
Photos via WENN
SHE'S BACK: Maxine Jones (Formerly Of En Vouge) Launches Solo Career and New Single "Didn't I"
Posted: 07 May 2014 12:18 PM PDT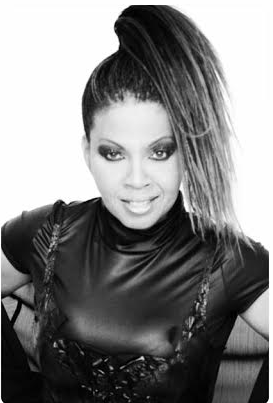 Former En Vogue member Maxine Jones is preparing to launch her debut project, lead by the single "Didn't I." Listen to the song inside...
Maxine Jones, the powerhouse vocalist who helped launch En Vogue is striking out on her own after many years of failed reunions and comebacks staged by her group's former members (including R&B Divas LA member Dawn Robinson).
In a statement that accompanies her debut single "Didn't I" she says,
"I am ready to show fans my vocal range and ability. I was somewhat limited with En Vogue, but now I am ready to try new styles and sounds. The right producer will get in the studio with me and challenge me vocally and allow me to be me."
Maxine jumpstarts life after En Vogue with her new single "Didn't I" OFFICIALLY out on May 15th. And she's reuniting with Dawn Robinson on June 29th to rock the stage at Yoshi's in Oakland.
Are you here for another En Vogue member hitting the scene solo?