---
DO WE LOVE IT?! Dwyane Wade Dons White Button Up & OVERALLS At Heat vs. Nets Playoff Game 3
Posted: 11 May 2014 06:17 AM PDT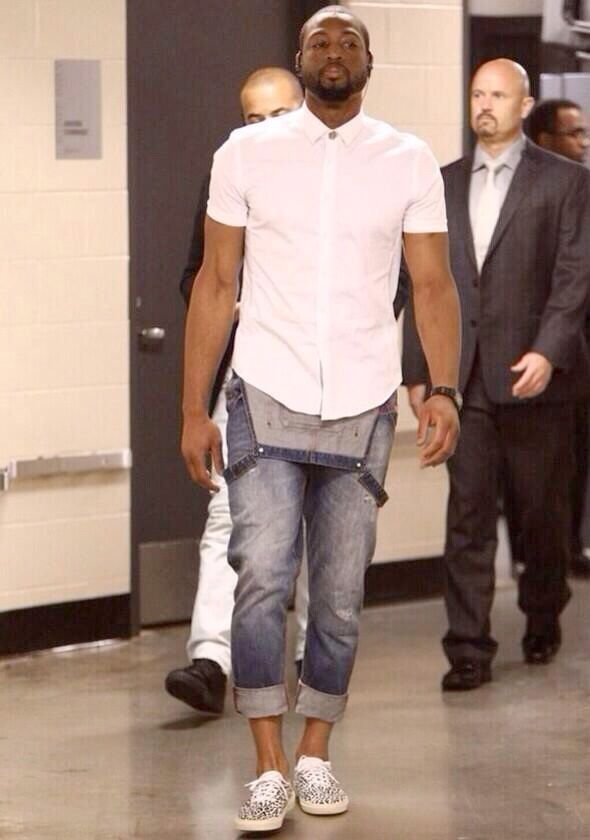 Last night, Dwyane Wade hit up Game 3 playoff game between the Miami Heat and the Brooklyn Nets in a rather interesting outfit complete with a white button up and a pair of denim overalls. Decide if we love it inside...
Fashion can be a hit or miss when it comes to athletes and their chosen ensembles. Miami Heat point guard Dwyane Wade made a bold fashion statement Saturday night after he was spotted arriving at the Barclays Center for playoff Game 3 against the Brooklyn Nets.
D. Wade waked in donning a white button up shirt, denim overalls cuffed at his ankles and a pair of cheetah print sneakers as he made his way to the locker room to suit for the big game.
Detroit Pistons point guard Brandon Jennings approved of D. Wade's look tweeting:
Whoever thought of this fit, I need in!!!! Swaggggg pic.twitter.com/BVV7weY88R

— BRANDON JENNINGS (@BrandonJennings) May 11, 2014
Unfortunately for the Heat, the Nets defeated them 104-90.
So…about D.Wade and these overalls…
DO WE LOVE IT?!

Photos: Nate Jones' Twitter
DO GOODERS: Jay Ellis, Malaysia Pargo, Robinne Lee & Robert Christopher Riley Go To YALE...For Day Of Service
Posted: 11 May 2014 05:41 AM PDT
Yesterday, Jay Ellis, Malaysia Pargo, Robinne Lee and Robert Christopher Riley spent their time giving back to the community for a day of service at Yale University. Find out how they touched the lives of others inside…
It's always good to give back and a few celebs took some time out of their busy schedules to pay it forward.
BET's "The Game" actor Jay Ellis, "BBW LA" star Malaysia Pargo, "Being Mary Jane" star Robinne Lee and "Hit The Floor" star Robert Christopher Riley attended the 2014 Yale University Day of Service for their Success! Workshop. This workshop was created to help empower young women to become game changers in our society and to help build their self-esteem.
The celeb panel talked about issues such as self-confidence and the importance of education in front of a packed room of students.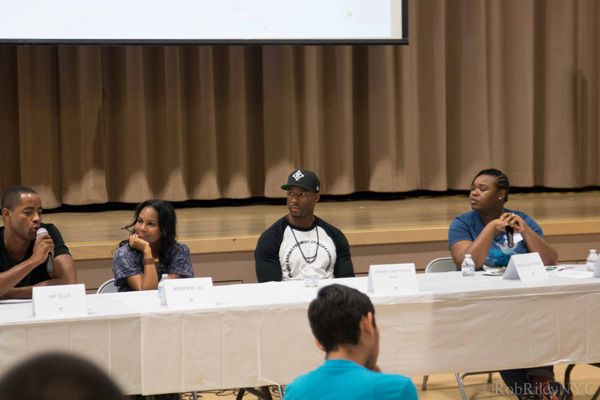 After their panel discussion, they each spent one-on-one time with the students who had additional questions, signed autographs and stopped for photo-ops.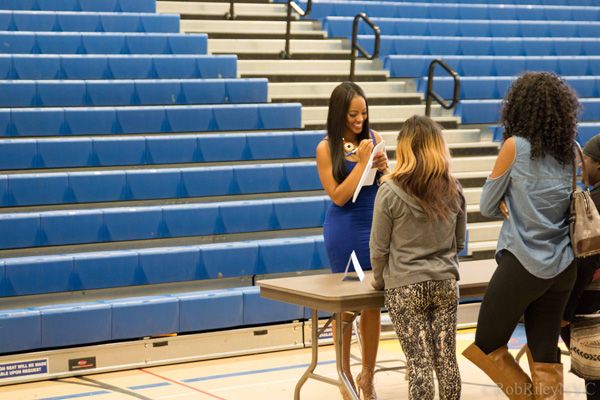 Malaysia got to work, signing autographs.
And Robert Christopher Riley snapped a pic with a cute little girl.
Nice.
Photos: RobRileyNYC
IN CASE YOU MISSED: Michael Sam Becomes FIRST Openly Gay Player Drafted In The NFL, Shares Emotional Kiss With Boyfriend
Posted: 11 May 2014 05:24 AM PDT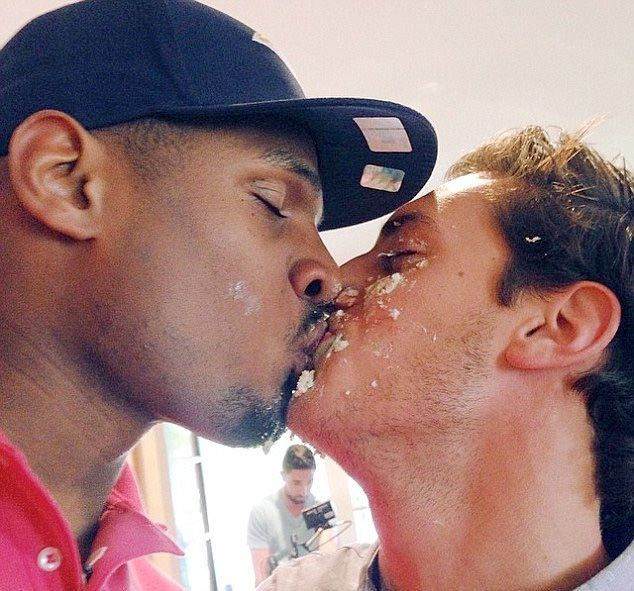 Times are changing and last night proved to be one to go down in the history books. The St. Louis Rams drafted openly gay college football star Michael Sam into the National Football League. He is the first openly gay man ever to be drafted in the league. Get the deets and check out the pics of him sharing his monumental moment with his boyfriend inside….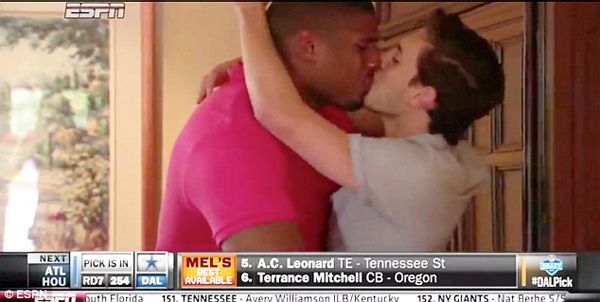 History was made last night after University of Missouri defensive end Michael Sam was drafted into the NFL by the St. Louis Rams. Michael is the very first openly gay football player to be drafted into the league.
The All-American defensive end was picked up in the 7th round, making him the 249th overall pick. After the college standout found out the good news, he shared a very emotional kiss with his boyfriend Vito Cammisano.
Check it:
The two kissed and embraced after Michael was given the news and then Michael happily smashed cake in his beau's face which aired on national television.
Michael was ecstatic to be drafted into the NFL tweeting,
'Thank you to the St. Louis Rams and the whole city of St. Louis. I'm using every once of this to achieve greatness!!'
President Obama even congratulated Michael on being the first openly gay player in the NFL. He said in a statement,
"From the playing field to the corporate boardroom, LGBT Americans prove everyday that you should be judged by what you do and not who you are," Obama said.
Nice.
The new St. Louis Ram has plenty to celebrate. Not only is he now in the NFL but he also inked an endorsement deal with VISA, starring in their newest commercial.
"We felt that Michael's story was a perfect fit for our 'everywhere' campaign, which is meant to inspire people to reach their own personal goals and aspirations," Visa's Chief Marketing Officer Kevin Burke said in a statement. "We wish Michael the best on and off the field as he embarks on the next chapter of his life."
Check it:

Congrats Michael!
Photos: ESPN/Vito's Twitter
Beyonce Keeps It Chic At The NETS Game With Jay Z & Jake Gyllenhaal
Posted: 11 May 2014 04:28 AM PDT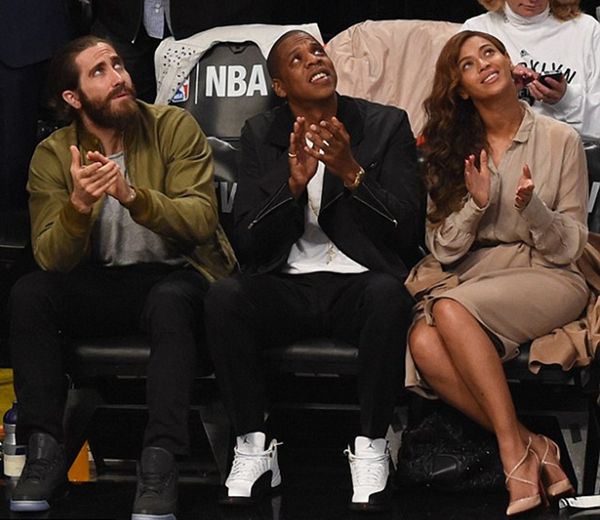 The Carters were front and center at the Brooklyn Nets game last night as the team took on the Miami Heat at the Barclays Center. Check out Beyonce's chic nude look inside as the two chopped it up with the A Listers...
The Nets finally won a game in the playoff series against the Heat. And former part-owner Jay was right there to cheer on his beloved Nets...and to watch his homie LeBron play too.
The Carters sat next to actor Jake Gyllenhaal and had some laughs. And we're feelin' the all nude look--a button down and a chic skirt with a pair of Louboutins--from Mrs. C.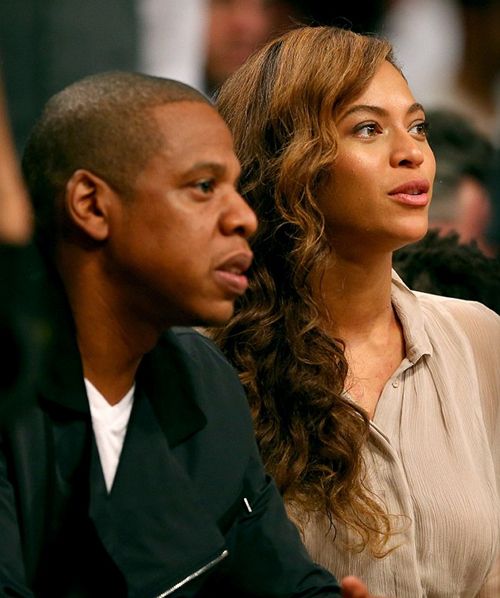 Subdued and cute.
Photos: Getty