---
STILL TOGETHER: "LAHH NY" Peter Gunz & Amina Butterfly SPOTTED In New Orleans ... To Visit Other Baby Mama & Kids?!
Posted: 23 May 2014 09:00 AM PDT
If you thought Amina Butterfly was bluffing during the "LAHH NY" reunion show about being pregnant, apparently she wasn't! And remember when Peter Gunz said he was DONE with Amina? Yeah well..looks like they're still together. Mr. & Mrs. Gunz were spotted in New Orleans yesterday, showing off that baby bump of hers. And they likely went to visit another one of his baby mamas in N.O. Get the deets inside…
Well look what we have here. "Love & Hip Hop: NY" star Peter Gunz and his now wife (who started off as his side chick) Amina Butterfly posing it up with a fan, showing off her ever growing baby bump.
Now, if you watched "LAHH NY" last season, you saw the crazy love triangle between Peter Gunz (aka Stebbie 2.0), his baby mother Tara Wallace (whom he had been with for about 13 years) and the German singer he managed Amina Butterfly.
In the beginning of the season, Tara and Peter were living together with their two children and basically she was his "ride or die" chick up until he started a sexual relationship with his "artist" Amina. She found pictures of them posted on Instagram getting a little too close and she called him out on it. Of course, he denied it. And kept denying it for as long as he could until Tara got fed up and bounced.
But the kicker came after he MARRIED Amina and got her pregnant! Amina revealed she was pregnant with Peter's baby on the "LAHH NY" reunion show, pulling out a positive pregnancy test. The rapper turned manager was pissed, saying he didn't want anything to do with her OR her baby.
Guess he had a change of heart because the married couple was spotted out in New Orleans yesterday (atop). You'll recall, Peter has children (at least two) with another woman; a lawyer who lives in New Orleans (whom he cheated on with Tara) and was probably introducing Amina to his other children.

Amina seems to be happy with her situation, posting numerous pics of her baby bump on Instagram: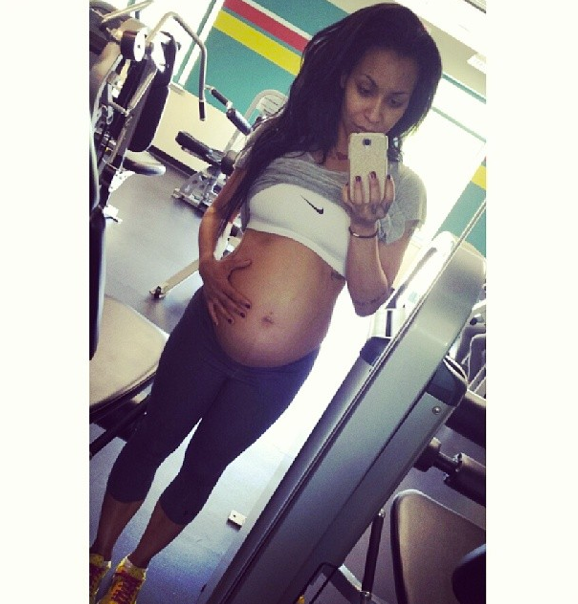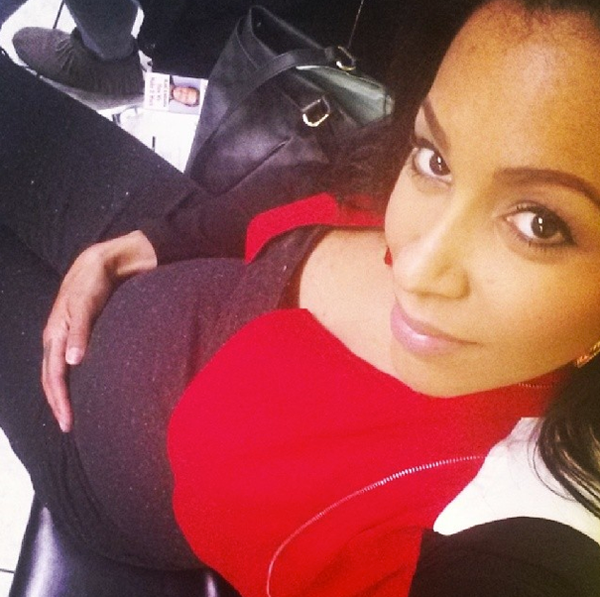 Guess she doesn't mind being baby mama #3.
Check out Amina dropping the pregnancy bomb below:
Peter Gunz breaks down over pregnancy news:
They say...the way you get him will be the way you keep him.
The Randomness:
1. Donald Sterling is now handing over the Clippers...to his wife Shelly. STORY
Photos: Daneana Nena Mitchell/Amina's IG

STRIKE A POSE: Bria Murphy Puts Hollywood On Notice In New Swimsuit Photoshoot
Posted: 23 May 2014 07:20 AM PDT
Hollywood royalty Bria Murphy is stepping up her efforts to follow in the footsteps of her famous parents with a new swimsuit photoshoot. See pics of Bria showing off her hot bod inside....
Some rich kids of Hollywood might be content to sit around and spend their trust funds, but Bria Murphy is clearly not one of those. Well, not totally.
The sexy daughter of award-winner film star Eddie and gorgeous reality vixen Nicole is serious about getting noticed in Hollywood.
We can't fathom why some national brand hasn't given the Murphy sisters (don't count out sister Shayne) a shot a stardom like certain other youngins in certain families. But we admire their persistence. Check out more 'RAW' pics from photog IAmEpicLA: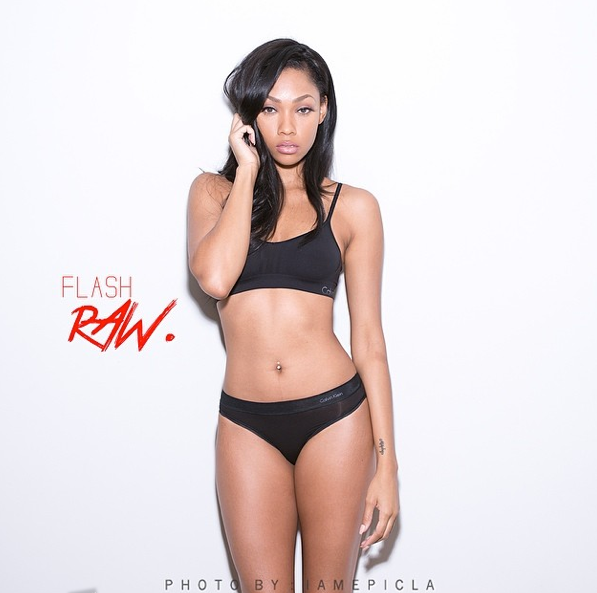 Now that she's been given a larger role on Nicole's show "Hollywood Exes" and she's set to star with Teyana Taylor and Diggy Simmons in "The Start Up" this season. So Bria may get her chance. She's been waiting....
Photos by Iamepicla/Bria's Instagram
ASSORTED FLAVORS: "Hollywood Divas" Star Elise Neal Shocks Co-Stars Lisa Wu & Paula Jai Parker With SIZZLING Burlesque Show
Posted: 23 May 2014 06:35 AM PDT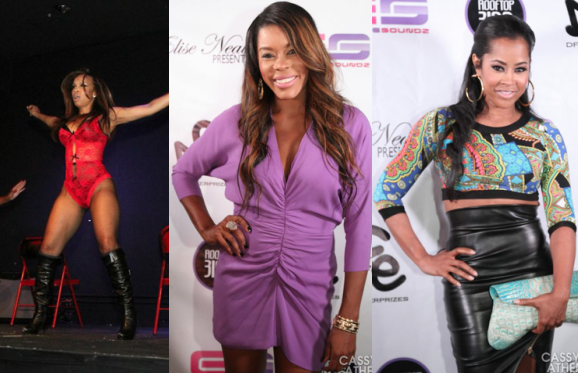 "Hollywood Divas" co-stars Lisa Wu, Countess Vaughn, Golden Brooks and Paula Jai Parker came out to support Elise Neal's reunion with her "Assorted Flavors" burlesque troop last night. See event pics inside....
Actress Elise Neal hosted a special event in Hollywood last night that reunited her with burlesque troop "Assorted Flavors."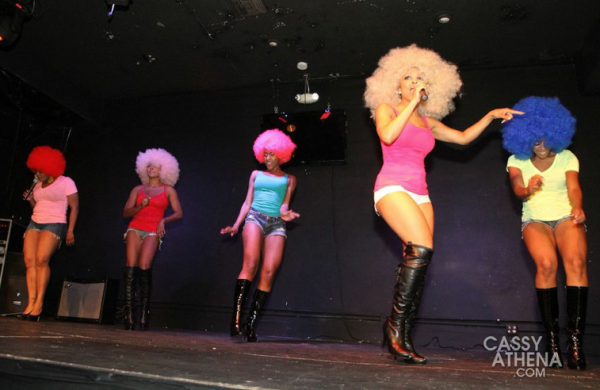 In between acting gigs on "Scandal" and "The Soul Man", Elise managed to write a screenplay about the dance troop titled "Timeless."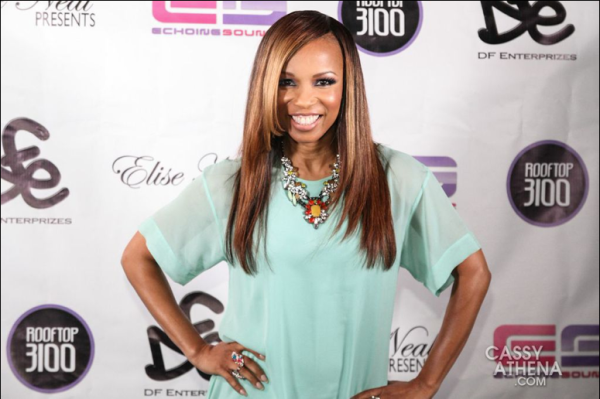 The reunion was filmed for the first season of the newly revealed TvOne series "Hollywood Divas" from producers Carlos King and Todd Tucker.
On the red carpet, Elise posed with co-star Golden Brooks and "Real Strippers" Virgin Records artist Mike Jay.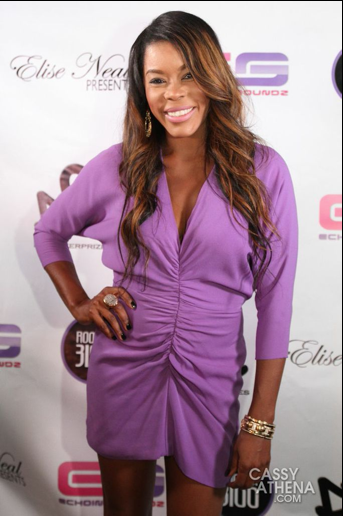 Hey Golden!
Former "RHOA" star Lisa Wu will return to reality tv with a starring role on the new series. Cute look for her.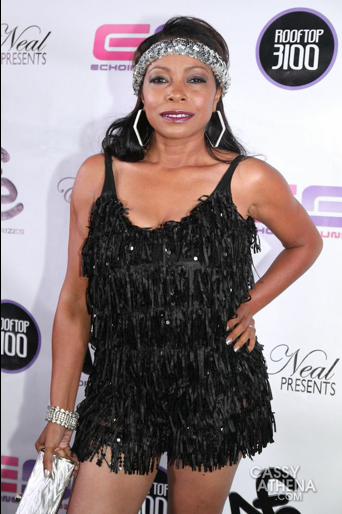 44-year-old Paula Jai Parker is also a member of the cast.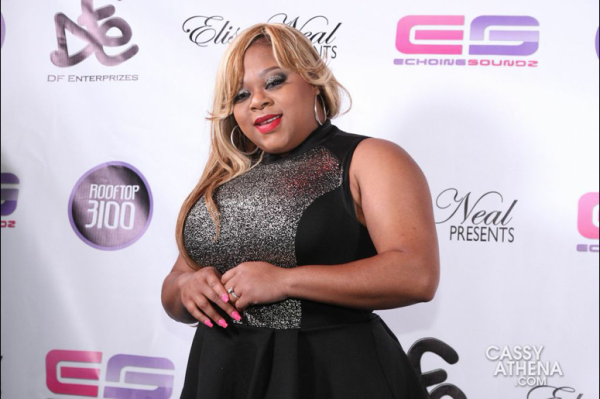 Countess Vaughn, who shared her "lace front" horror story on national television, will also be on the show. We hope last night's wig was properly attached....
EXTRAS:
1. 'Shield' actor Michael Jace was officially charged with his wife's murder. Story.
Photos via CassyAthena.com
LaLa Anthony & Rachel Roy Hit Kim K.'s Parisian Bachelorette Party + Kanye Keeping Wedding Details A Secret From KIM?!
Posted: 23 May 2014 05:59 AM PDT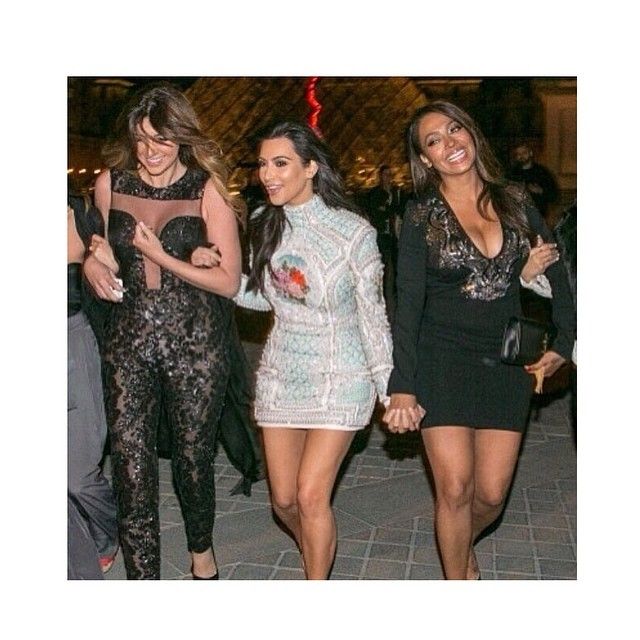 With Kanye West's & Kim Kardashian's wedding quickly approaching (which is now being confirmed by multiple sources that it will take place at the Palace of Versailles), LaLa Anthony & Rachel Roy were on hand for the bachelorette festivities last night in Paris.
Pics inside...
In what Kim called the "Last Supper" and LaLa called "Project Wifey", the girls hit the town in Paris last night to celebrate Kim's last few days as unmarried woman (for the third time).
La posted pics of the girls holding hands and running through the city, with Kim wearing a Balmain Couture mini dress and Giuseppe Zanotti heels, just like any regular Bachelorette party....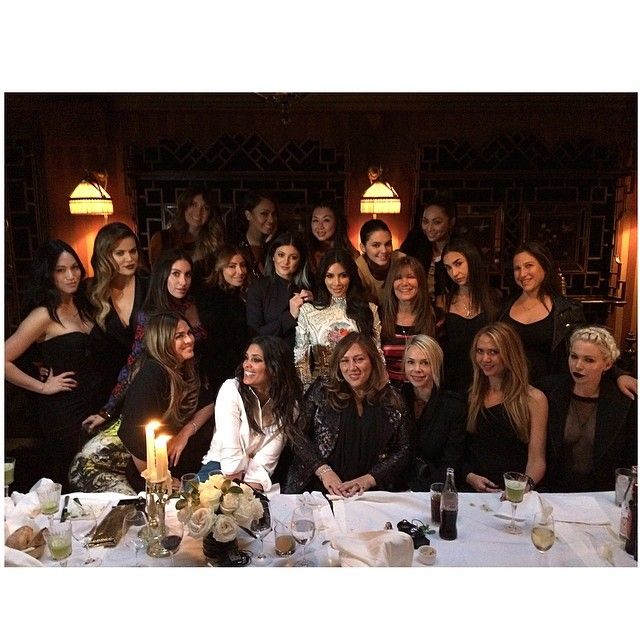 Rachel Roy and Larsa Pippen were there too celebrate. And all the usual friends Brittny Gastineau, Joyce Bonelli, Lorraine Schwartz, Shelli Azoff and sisters Kendall, Kylie & Khloe were all there to share in the fun.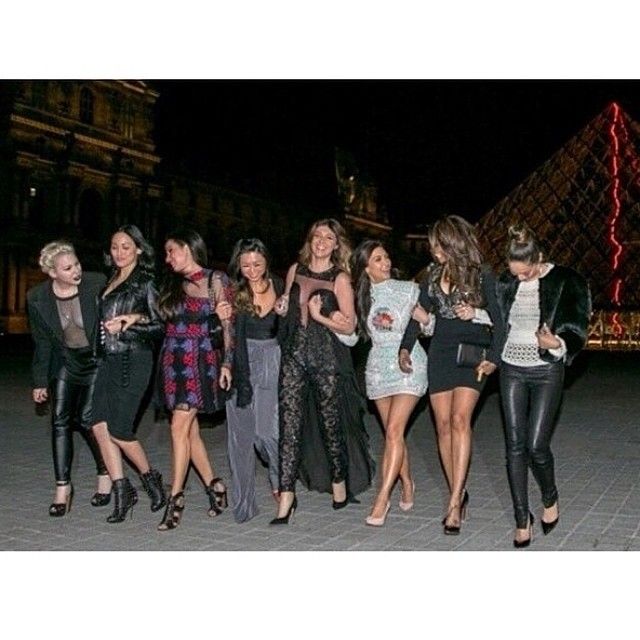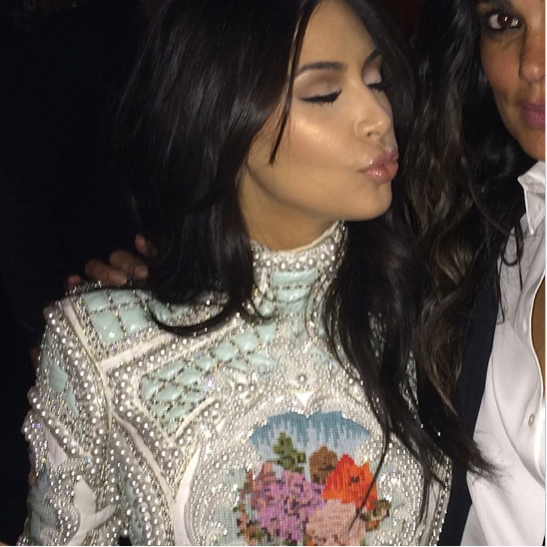 Noticeably missing was Kim's other brown friends--newlywed Kelly Rowland, newest bestie & former stripper Blac Chyna, new mommy Ciara (who likely won't be able to travel this early), and tennis pro Serena Williams. How interesting. But Chyna posted a pic last night saying she was on her way to Paris.
Interestingly, a new report claims Kanye is keeping his own wife-to-be in the dark about the entire wedding. It's unclear if it's because he doesn't trust her attention loving self to keep a secret (he reportedly is controlling how much she checks her phone and internet), or if he just wants to surprise her.
TMZ says they have some deets about the wedding, even if Kim doesn't. And they're changing their story about the actual wedding going down in Florence.
-- Kim and Kanye will exchange "I do's" at Versailles
-- Part of the post-wedding celebration will take place at a 16th century fort in Florence
-- The guests have NOT been told specifics about Florence, including where they're staying Saturday night.
-- The guests don't even know how they're getting from Paris to Florence ... assuming private jet.
-- There is a big second event in Florence, which Kanye is keeping top secret.
We'll be providing necessary details all weekend about Kanye's first wedding, as much as you can stomach.
Photos: La's Instagram/Kim's IG/Rachel's IG
Kenya Moore On The Rumors -- Says She Won't Discuss Porsha + She's A Size 4...Not A 6
Posted: 23 May 2014 05:14 AM PDT
Kenya Moore is speaking on the rumors surrounding her return to "RHOA" (kinda), and avoided talking about major rumors by saying stop calling her a size 6. She's a 4.
Check out the Twirl Queen on the "L.A. Hair" premiere red carpet inside...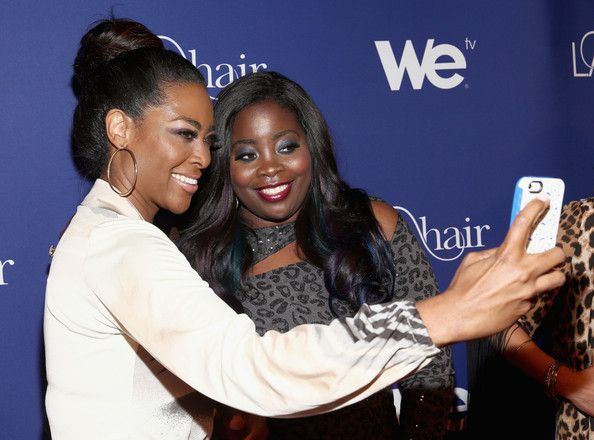 At this week's premiere of Kim Kimble's "L.A. Hair" in Santa Monica, "RHOA" star Kenya Moore hit the carpet with her long time friend and then chatted it up about some things.
When asked about the biggest rumor out here about herself, Kenya coyly answered, "Ummm that I wear a size 6, but I actually wear a 4." She laughed and joked, "That's the worst thing you could say about me!"
We have a feeling she was semi-serious about that hough.
She only named Cynthia and Kandi as the co-stars she likes working with. But when she was asked if she would ever kiss and makeup with Porsha Williams, she shut it down. "I will not answer that question."
Check out her clips below:
Photos: Getty
Angela Bassett Set To DIRECT Whitney Houston Biopic Coming To 'LIFETIME' + Kendrick Lamar, Rita Ora & More Performing At 'Made In America' Festival In L.A.
Posted: 22 May 2014 03:21 PM PDT
A new biopic is in the works for one of our favorite singers of all time, Whitney Houston. And Angela Bassett will be directing it. Also, the L.A. line-up for the Made In America festival has just been revealed. Get the deets on the new Whitney film and the roster of who will be performing in L.A. inside...
Just two years after her untimely death, iconic singer Whitney Houston's life will be chronicled in a new Lifetime original movie with the working title, Whitney Houston.
Directed by Golden Globe Award winning actress Angela Bassett (who co-starred in "Waiting To Exhale" with Whitney), the film is scheduled to premiere in 2015.
The Lifetime movie will follow the turbulent relationship between the legendary singer/actress with her singer/songwriter ex-husband Bobby Brown. The film will highlight their relationship from the time they met up and how they dealt with the overwhelming rewards and consequences of fame and fortune.
Now...who's playing Bobby? And who's on YOUR short list to play Whitney?
We all saw how their tumultuous relationship play out in the media, so we're interested to see how the movie will shed light on their relationship behind closed doors. We KNOW y'all remember that sit-down interview Whitney did with Oprah back in 2009, going into detail about how crazy Bobby was.
This movie will be Angela's directorial debut. She said about the feat:
"I have such regard for both Whitney's and Bobby's amazing talents and accomplishments; and I feel a responsibility in the telling of their story," said Bassett. "Their humanity and bond fascinates us all. I'm beyond excited to have this opportunity to go behind the camera and into their world."
Although this will be Angela's first time behind the camera, she starred in a Lifetime film last year in an original movie titled Betty & Coretta, which also starred singer Mary J. Blige.
We are definitely going to catch this when it premieres.
And in concert news….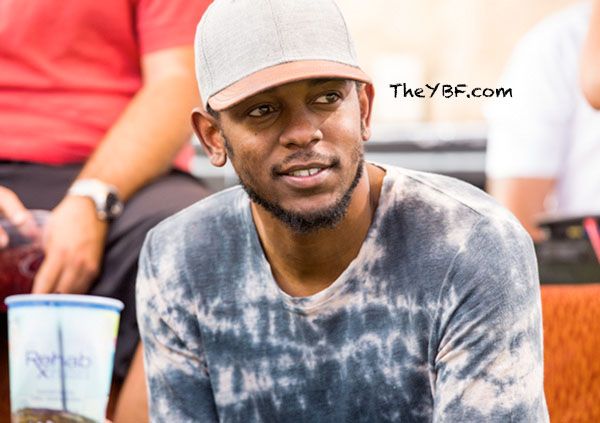 West Coast fans get hyphy! Or whatever goes down in Cali. We told you earlier that Kanye West would be headlining the Made In America festival in Philly (with performances from Pharrell and J. Cole), and now, the L.A. line-up has just been released as well.
Kendrick Lamar, Rita Ora, YG, Chance the Rapper and Nipsey Hussle will be bringing their talents to the west coast Fest this Labor Day weekend.
This will be a history-making weekend with the first American festival to take place simultaneously on two coasts. If you are feelin' this line-up (or the Philly roster), tickets are on sale now for both cities at MadeInAmericaFest.com.
Photos: Getty/ Erik Kabik Photography
Mos Def BARRED From Entering The United States, CANCELS Planned Tour?! + LA REID Named in Discrimination And Unpaid Wages Lawsuit
Posted: 22 May 2014 02:39 PM PDT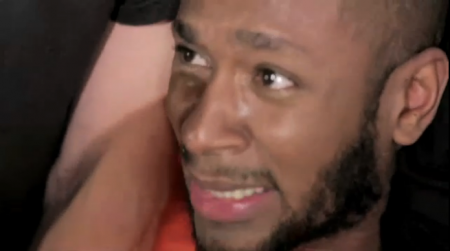 Don't expect to throw your hands up at a Mos Def concert anytime soon...he's been banned from the USA. Find out why he can't cross the border inside and get the deets on LA Reid's lawsuit.
We've just learned from a credible report that Mos Def has been banned from the USA! Details are sketchy, but the ish hit the fan once concert promoters in Boston found out he wasn't allowed back in the country. Said promoters released a statement saying,
We regret to inform you that due to immigration / legal issues Yasiin Bey is unable to enter back into the United States and his upcoming U.S. tour has been canceled, including May 15th, Together Boston's show at The Wilbur Theatre. Individual ticket refunds for this show are available at point of sale.
No one knows what the "issues" are, but Mos Def has gone on record trashing policies of the USA. Remember the video he shot where he called out the government for their horrible treatment of the detainees at Guantanamo Bay? Also, in March, he told Rolling Stone that he feels more comfortable in South Africa than Brooklyn.
"Sure, [Cape Town is] a beautiful place, you got the ocean, the mountain, the botanical garden, the beautiful people, the history, the culture, the struggle and everything — maaan, let me tell you something, for a guy like me, who had five or six generations not just in America but in one town in America to leave America, things gotta be not so good with America."
Well.....we guess someone in Homeland Security decided he could keep his ass over in South Africa. Note to celebs-don't (publicly) trash the USA while on vacation.
In other news.....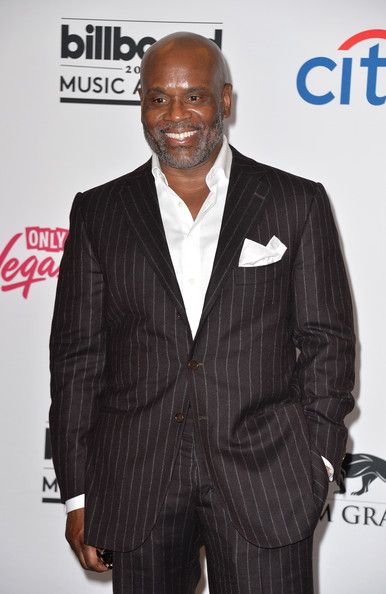 Epic Records CEO L.A. Reid, along with MyMuze, Inc., MyMuze LLC, and ThnTck LLC, is being sued in New York District Court by a former employee who claims she was unfairly terminated because she was a pregnant. She's claiming pregnancy discrimination and is suing for unpaid wages, overtime pay and damages.
Shola says she initially worked for MyMuze in 2009 (where she was categorized as an intern but also categorized elsewhere as an employee). She was transitioned to ThnTck in 2011, where she was under the management of L.A. Reid.
The lengthy document that we have in our possession contains several 'WTF moments', including the allegation that plantiff Shola Smith-Kirnon sometimes worked 70/hrs wk between September 2009 and October 2011 with NO COMPENSATION! Why? We don't understand....but Shola got hip to the game and now she wants her coin!
She goes onto claim that after she finally did get a check (for a few months salary) it was only for $2K a month. She claims to have still worked the long hours and she never got overtime. She also claims she was unfairly let go after she became pregnant.
We spoke to Shola's attorney, Russell Adler, who had no comment at this time.
So far....LA Reid (who is one of several defendants) has not responded to the lawsuit. If he does, we'll let you know.
Photos via Getty
RIHANNA VS. CHARLIE SHEEN: "Queen" Fight Pops Off On Twitter And Beyond!
Posted: 22 May 2014 01:19 PM PDT
Rihanna is a funny gal. She tweeted the above pic after a back and forth Twitter fight with Charlie Sheen this afternoon. Check the deets inside...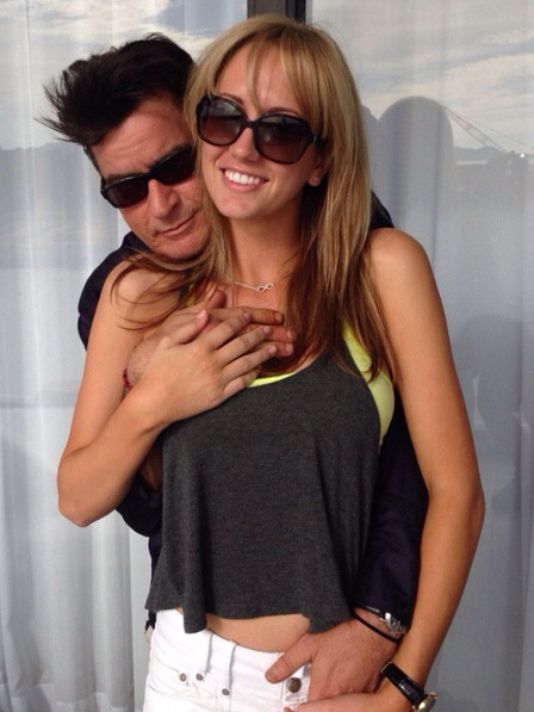 Well, this was unexpected. Charlie Sheen, the veteran actor known for not holding his tongue, has joined the reading committee when it comes to popping off on celebs he has an issue with.
Charlie Sheen wrote a long message to Rihanna earlier today via Twitter. And it seems someone taught him how to 'read' a bit. But as we all know, Rihanna is the social media Queen. And when you come for her, she'll come for you with a bigger punch with less effort. Yet, Charlie tried her anyway.
He recapped a failed run-in with the "Talk That Talk" chick that resulted in his (former?) porn star fiancee, Scottine (formerly Brett Rossi), getting her feelings hurt on her birthday. And he went OFF. Charlie said:
so,
I took my gal out to dinner
last night with her best
friends for her Bday.
we heard Rihanna was present as well.
I sent a request over to her table to introduce my fiancé
Scotty to her, as she is a
huge fan.

(personally I couldn't pick her out of a line-up at gunpoint)

well, the word we received back was that there were too
many paps outside and it just wasn't possible at this time.

At this time? AT THIS TIME??
lemme guess, we're to reschedule another random
11 million to 1 encounter
with her some other night...?

no biggie for me; it would have been 84 interminable seconds of chugging Draino and
"please kill me now"
that I'd never get back.

My Gal, however,
was NOT OK with it.
Nice impression you
left behind, Bday or not.
Sorry we're not KOOL enough
to warrant a blessing from
the Princess.
(or in this case
the Village idiot)

you see THIS is the reason
that I ALWAYS take the time.
THIS is why I'm in this thing
31 awesome years.
Good will and
common courtesy, carefully
established over time to exist radically in concert
with a code of gratitude!

I guess "Talk That Talk"
was just a big ol lie from
a big ol liar.

oh and Riahnna,
Halloween isn't for a while.
but good on you for testing out your costume in public.
it's close; a more muted pink might be the answer,
as in:
none.

See ya on the way down,
(we always do)
and actually,
it was a pleasure NOT
meeting you.
clearly we have NOTHING
in common when it comes
to respect for those who've
gone before you.
I'm guessing you needed those precious 84 seconds
to situate that bad wig
before you left the restaurant.

Here's a tip from a real vet
of this terrain;
If ya don't wanna get bothered
DONT LEAVE YOUR HOUSE!
and if this "Prison of Fame"
is soooooooo unnerving and
difficult, then QUIT, junior!
c
#Hamateur
Rihanna's response:
Goooorrrrrrlllllll......

— Rihanna (@rihanna) May 22, 2014
If that old queen don't get ha diapers out of a bunch...

— Rihanna (@rihanna) May 22, 2014
"Goooorrrrrrlllllll......If that old queen don't get ha diapers out of a bunch..."

Teeheee. But then Charlie came back with a message in the form of a statement:
"Dear Ms. Rihan-
oh wait, no last name,
Okay, Dear R -
clearly English is NOT
your primary language.

Firstly I want to thank you for recognizing me as Royalty. I'm flattered.
And secondly;
do the good Queen a favor and go tend to the dungeon in my Castle.
But beware of the
rats and the snakes.
They stir with folly
awaiting your tepid advance,
in the shadows..."

later Doosh!
cs"
Lordt...
Photos: Rihanna's Twitter/Charlie's Twitter

Kanye West & Pharrell PERFORMING In Philly For 'Made In America' Festival + Future GUSHES On Ciara & Infant Son Future Zahir Wilburn!
Posted: 22 May 2014 12:24 PM PDT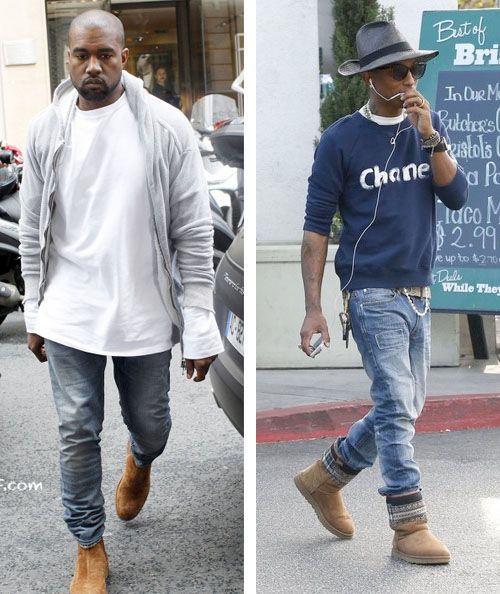 Kanye West and Pharrell will be rocking the stage in Philly for the Made In America festival this Labor Day weekend. Also, proud dad Future dished on how Ciara is doing as a brand new mom and the meaning behind their son's name. Get all the deets inside…
Get excited!
After Jay Z made the huge announcement that the Budweiser's Made In America festival would be going down in both Philly AND L.A. simultaneously this Labor Day weekend, the Philadelphia line-up of performances have just been revealed.
Kanye West will be headlining the two-day music festival in Philly scheduled on August 30th & 31st. Superproducer & Oscar nominee Pharrell Williams and J. Cole will also take the stage to perform a few of their hits as well.
The Made In America festival is doing it big this year as it will be the first American music festival to take place simultaneously on two coasts – with artists performing in BOTH Philadelphia and Los Angeles. There will be 60 Performances, 6 Stages, two cities, one weekend. And tickets are on sale now for both cities at MadeInAmericaFest.com.
Stay tuned for the L.A. line-up.
And in baby news…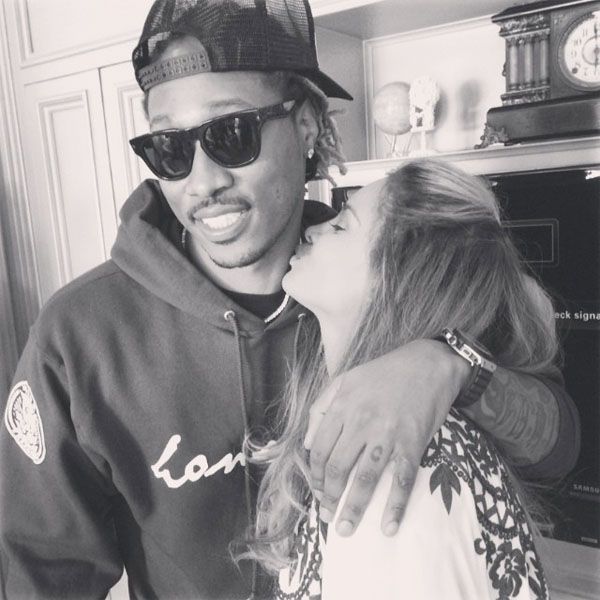 Just days after Ciara gave birth to their new bundle of joy, proud dad Future is simply smitten with his son Future Zahir Wilburn, calling his new addition "a blessing."
In an interview with US Weekly, the "Move That Dope" rapper revealed Ciara and baby are doing great and although he's traveling around the country to promote his new album Honest, he's constantly checking in to make sure the two are doing well in their home in L.A.
He dished,
"She's with our son right now [in L.A.]," the rapper-producer added. "I just texted her when I got off the airplane, and I'm going to get on the phone with her to see how everything is going. She'll be a great mom. She's working at it every day and over time, I think she'll be the best."
Future explained the meaning behind little Future Jr.'s name saying his name is a "mixture of both" the "Body Party" singer and himself.
"I want him to be better than me. I would encourage him in anything he wants to do," Future said. "I want to be behind him, of course."
So…will Future be getting his hands dirty changing diapers?
"You have to say you did it," he told Us. "I'll make sure I change a few diapers—a hands-on Dad!"

Nice.
Photos: Pacific Coast News/FameFlynet/Ciara's IG
The Randomness:
1. Sherri Shepherd's estranged husband Lamar Sally WARNS Sherri she better NOT miss their unborn child's birth…or else! STORY

LAYING THE PINK PRINT: Nicki Minaj Shrugs Off Iggy Azalea Comparisons, WANTS To Inspire Other Female Rappers
Posted: 22 May 2014 11:26 AM PDT
While promoting The Pink Print and her new single "Pills N Potions", Nicki Minaj addressed the controversial Iggy Azalea FORBES article and explained how she hopes female rappers will be inspired by the platform she's built.
Nicki Minaj is back on her hustle. Having already dropped "Yassss B*tch" "Chi-Raq" and "Pills N Portions", Nicki Minaj is ready to change the game again with her upcoming disc The Pink Print. While on her press tour, which included several radio interviews, Nicki spoke about FORBES Magazine and the Iggy Azalea "runs" hip hop article, talks about the lack of female rappers in the game (but she surely isn't here for those Iggy articles), and shares why she hopes her success will inspire other females. Here are the highlights:
On females in the rap game:

"I feel like I have opened the door for that in the industry. I think that there are women who do their thing and for whatever reason, they don't get the recognition...It takes a lot of work. It doesn't just happen overnight. It's not a female-friendly business. Hip-hop is not female-friendly at all."

On hearing that FORBES said hip-hop was "run by a white, blonde, Australian woman" (Iggy Azalea)

"OK, I'm reloaded....All Forbes needs to worry about is my finances and when I'm gonna be selling Myx Fusions for $250 million. We rely on hip-hop connoisseurs and blogs for that kinda information, so we appreciate that, but no thank you."

On The Pink Print:

"I'm very proud of it. This is a meaningful body of work, and I'm tired of labeling it. I'm not gonna ever label my music again,

On her new stripped down image:

You can either continue doing costumes or you can just say, 'Hey, guess what? This will shock them even more. Doing absolutely nothing will shock them even more.'"

On her Jay Z obsession (Her Pink Print is a play off of The Blue Print) and inspiring the next generation of rappers:

I think everybody knows how obsessed I am with Jay Z. He's always been my favorite rapper, him and Wayne, and he did such a great job of creating this Blueprint brand for male rappers.

I studied a lot of his Blueprint, in terms of being a mogul, I wanted to do that. I wanted to be like Jay Z. I felt like with what I'm doing, I want female rappers to be able to pattern themselves with what I've done one day. I think the album is so classic. It's gonna feel so good and I think it will probably be something that female rappers look to as a Pink Print for years to come.

Check out Nicki on her press tour here:
Nicki on wanting to work with Remy Ma:
Photos via Nicki Minaj
YBF KIDS: Quvenzhané Wallis Named NEW Face Of Armani Junior
Posted: 22 May 2014 10:51 AM PDT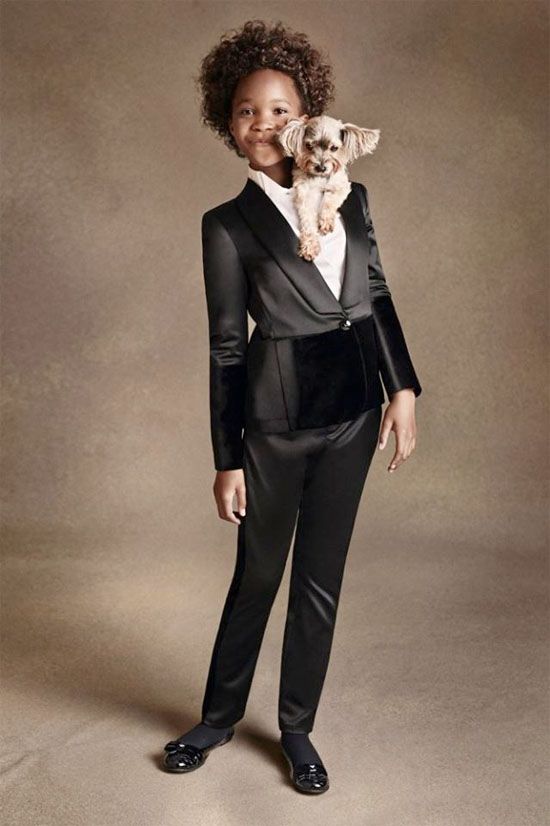 Quvenzhané Wallis is truly young, black and fabulous. She is now the newest face of luxury brand Armani Junior, making her the first major child celebrity to represent the brand! Get the deets and her first pic inside…
10-year-old Oscar nominated actress Quvenzhané Wallis is making major moves since she hit the movie scene in Beasts of the Southern Wild. Giorgio Armani tapped the young actress to be the face of his Armani Junior line for children and teens, making her the first major child celebrity to be the face of the brand.
Photographed by Stefano Azario, the star of the upcoming Annie remake (scheduled to premiere this Christmas) posed it up in a gorgeous black tuxedo with a cute little puppy, showing off her beautiful smile lovely curls. And we all know her love for puppies. She carried a "puppy bag" to almost every red carpet event during her Oscar run.
The young starlet is simply thrilled to be named as the Armani Junior ambassador. She gushed to the Hollywood Reporter,
"I'm so happy to be chosen by Mr. Armani to be his ambassador for Armani Junior. I felt the same excitement when I got cast for a major film. Me? Wow! I was honored to wear his custom gown to the Oscars. It made me feel like a princess. When I saw Mr. Armani's Prive' show in New York, the dresses were so pretty . . . I had too many favorites. Afterwards when I met him, I realized Mr. Armani is such a nice man. I liked that that he was so thoughtful. It's fun to wear Armani Junior since I really like the clothes. It's young. It's cool. My friends are going to want to borrow all my clothes."
In a statement released by Giorgio Armani, he explains why he chose the rising star to be the face of his brand saying,
"Quvenzhané is so talented, despite her young age. Her kindness, curiosity and openness towards others really struck me, as they are all traits I admire. It is for this very reason that I wanted her to be the face of Armani Junior. With her insatiable energy, Quvenzhane made the clothing come alive, interpreting it in her own singular way."

The poised young starlet is also tapped to star in a lead role as a 12-year-old genius in an adaptation of bestseller "Counting by 7s."
Work! Congrats Q!
Photo: Stefano Azario
NOT SO FAST: Tae Heckard & Brandon Jennings CAN'T Get Married Until…She ENDS Domestic Partnership With Former Girlfriend!
Posted: 22 May 2014 09:50 AM PDT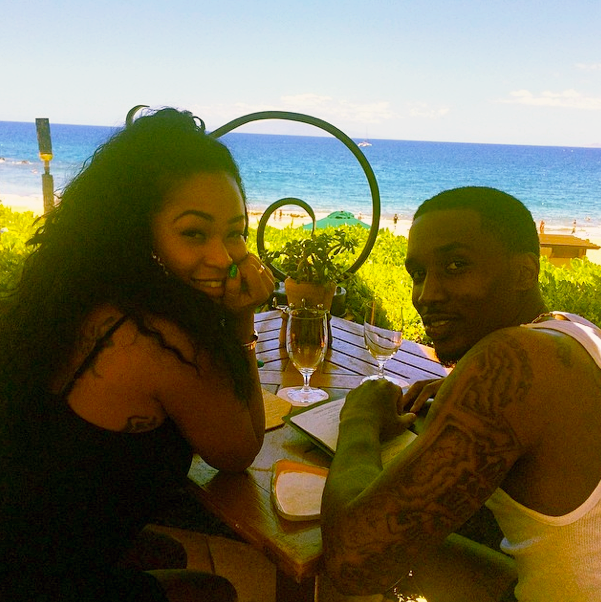 Well here's a new twist. Tae Heckard and Brandon Jennings won't be walking down the aisle until Tae ends her domestic partnership with her former girlfriend. Deets inside…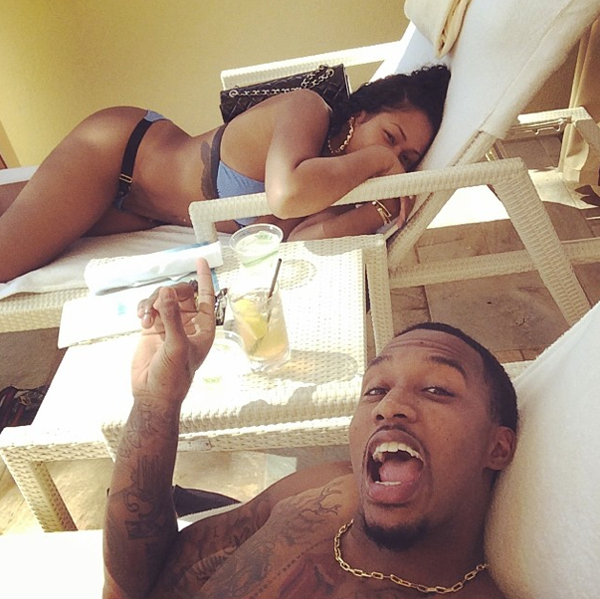 Video vixen/actress Tae Heckard and her Detroit Pistons baller boo Brandon Jennings (seen above vacationing in Maui a few days ago) have a new hoop to jump through before they can legally tie the knot. Ms. Heckard has to end her domestic partnership with her former lover… a woman named Monique Blanton.
We knew Tae had a thing for women (and was in a relationship with a woman at some point), but we didn't know she was actually married! Seems she and Monique made it official back in 2008. And now that she has conveniently jumped over to men again, she wants out.
And guess what? Tae even took this woman's last name and now she's trying everything she can to get out of her "situation" filing for separation in L.A. County Superior Court. TMZ got a hold of the legal documents and according to them, Tae and Monique began calling it quits in 2011, citing irreconcilable differences. Now Tae wants her last name back so she can soon become the new Mrs. Jennings. We're sure Teyana Taylor is somewhere shaking her head.
Good luck with all of that.
Photos: Brandon's IG

Kyla Pratt, Draya Michele, Garcelle Beauvais & More Get "So Sexy" In L.A. With OK! Magazine
Posted: 22 May 2014 09:12 AM PDT
The sexy people of L.A. headed to LURE last night to party it up at OK Magazine's 'So Sexy' Event. Check out who was invited inside...
Former "Basketball Wives: LA" star Laura Govan and actress Garcelle Beauvais posed it up with "Shahs of Sunset" star 'GG', "Real Housewives of Beverly Hills" star Joanna Krupa, and current and former "Real Housewives of O.C." stars Gretchen Rossi and Lizzie Rovsek last night for the "So Sexy" event.
Kyla Pratt was also there rocking a print-on-print look with a little cleavage: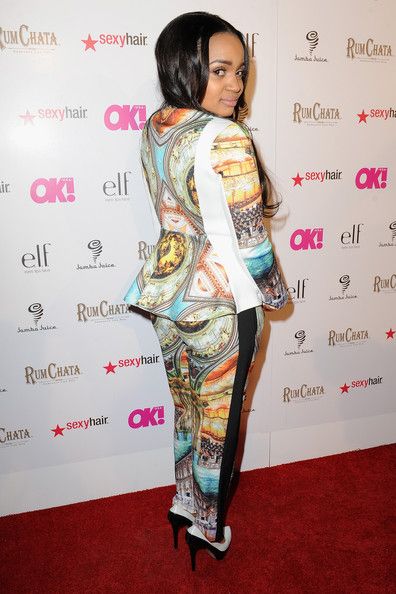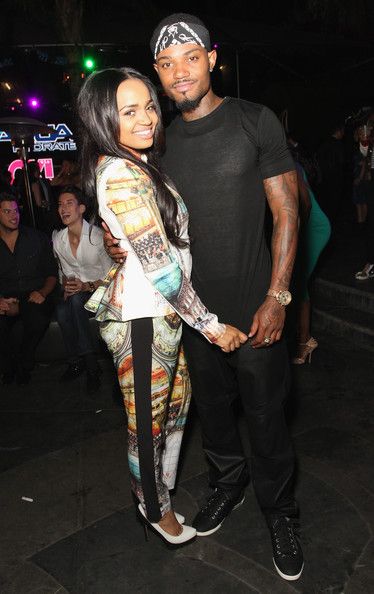 And the mom of two made sure to bring her boo Compton along.
Draya Michelle kept it classy and chic in this white suit and barely-there black lace top. Yeah, we slightly shocked ourselves witht hat one too.
Draya's "Basketball Wives: LA" frenemy Sundy Carter was there in her head wrap. Barely recognized her.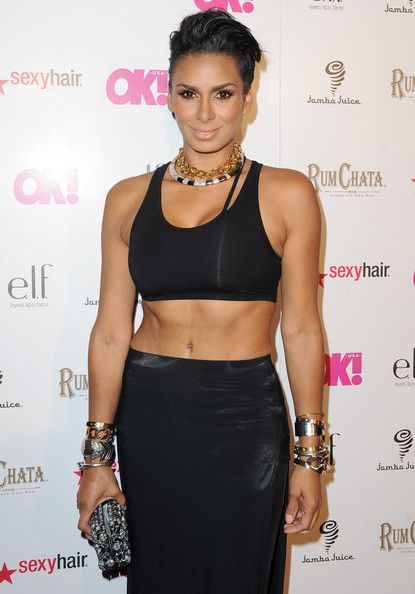 Laura tapped into her Janet Jackson vibe to show off those abs.
"Basketball Wives" star Tami Roman showed off her slim and trim new bod.
And the ladies of "Hit The Floor" showed up like this: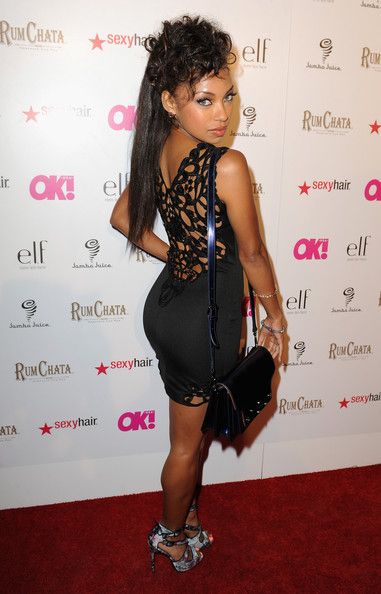 Logan Browning is def one of our faves...but this hair chile....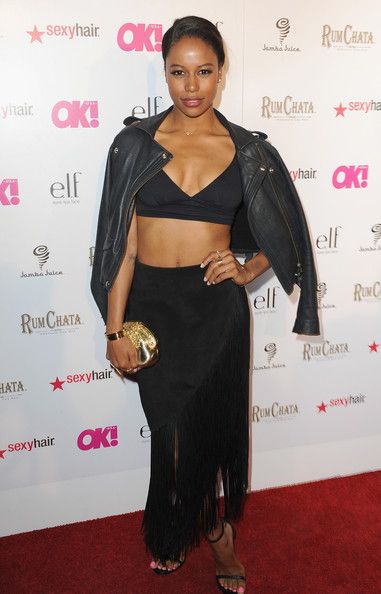 And Taylour Paige kept it cool in all black.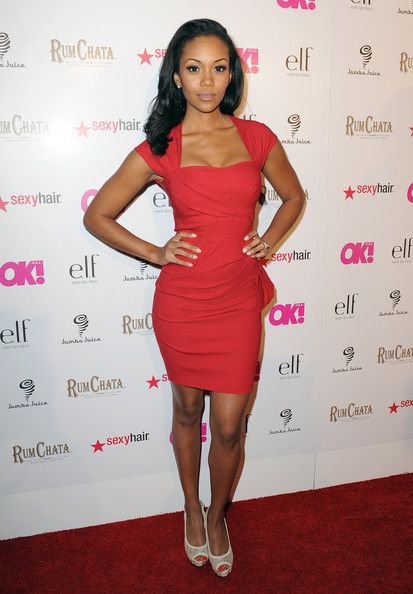 "Young & The Restless" newcomer Mishael Morgan kept it sexy on the carpet.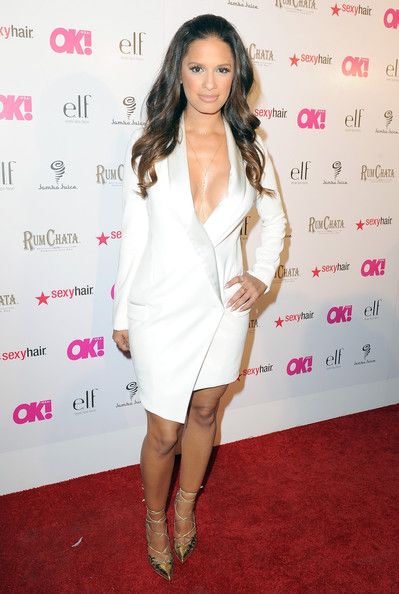 And Rocsi Diaz rocked a sexy white asymmetrical coat-dress. Fabulous look for her.
Photos: Getty/Draya's IG