---
BUY MY ISH: Toni Braxton Hits The Town With Sister Towanda To Promote New Book
Posted: 28 May 2014 08:59 AM PDT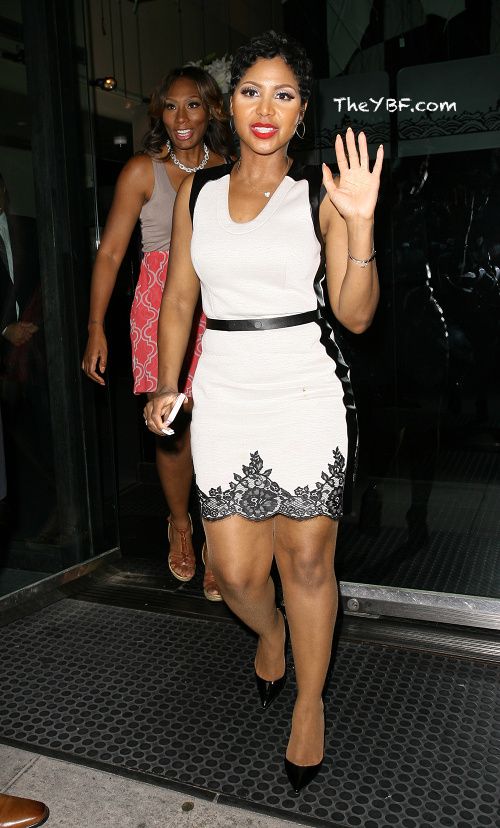 Toni Braxton and her eye makeup mishap hit the town with sister Towanda last night to promote Toni's new book. Get the pics inside...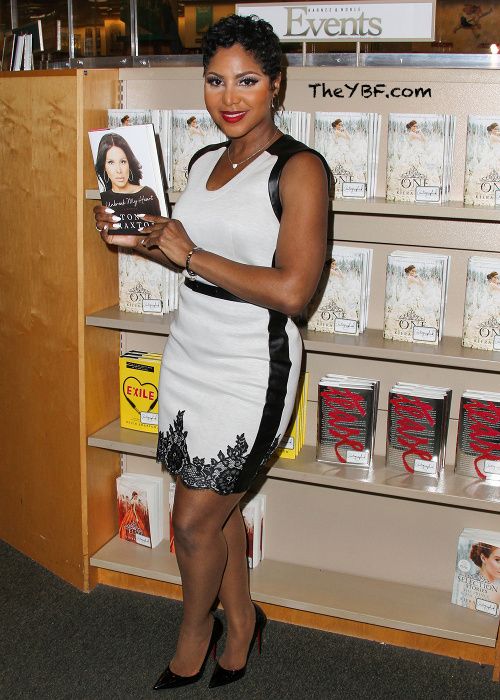 Well, that's unfortunate. The reverse raccoon effect has taken over Toni Braxton's face. Last night, she hit up the Barnes & Noble Bookstore at The Grove in L.A. for her 'Unbreak My Heart' memoir signing. And it looks like she overcompensated for those dark circles.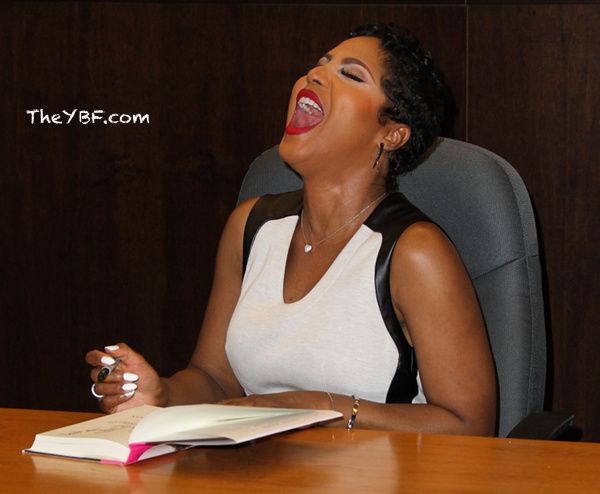 Yet and still, she kept it fab with her black & white dress and Louboutins as she made her way around town. Toni recently starred int he Broadway show "After Midnight" and is set to co-star with her sisters in the upcoming fourth season of WeTV's "Braxton Family Values".
We'll be watching.
Photos: Splash News
POOLSIDE FAB: Christina Milian FLAUNTS Her Bikini Bod At A Vegas Pool Party
Posted: 28 May 2014 08:31 AM PDT
Christina Milian laid out poolside with friends in Vegas this past weekend. See her toned bikini bod flicks from inside…
Christina Milian was also partying in Vegas this Memorial Day weekend, flaunting her curves poolside in a Mary Grace Swim floral bikini and tropical Topshop cover-up.
The mother of one linked up with her Twerk Team partner Lexy Panterra and others to soak up some sun as she puffed on her Platinum E Hookah. of course.
But as always, the singer kept it super cute. We can't help but like this chick.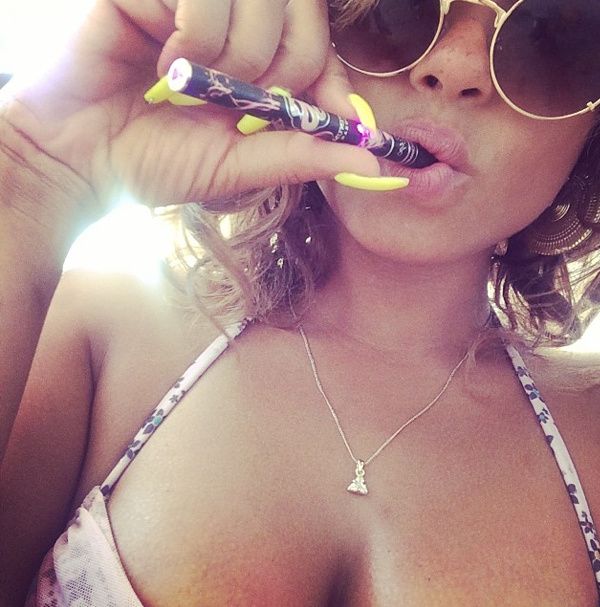 The bride-to-be has been getting her party on quite a bit lately. Earlier this month, C. Millie enjoyed a girls' night out with her bestie Karrueche and Cassie at club LURE in L.A.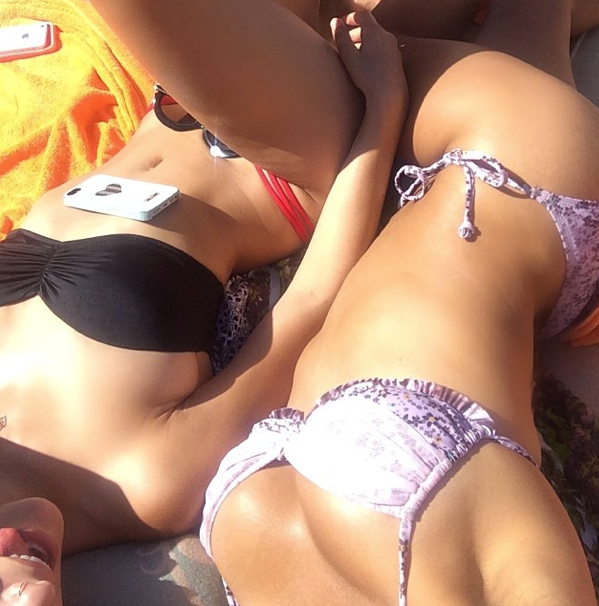 And after the pool party, the Baggage Claim actress threw on some cut-up shorts and a yellow crop top for a night out on the town.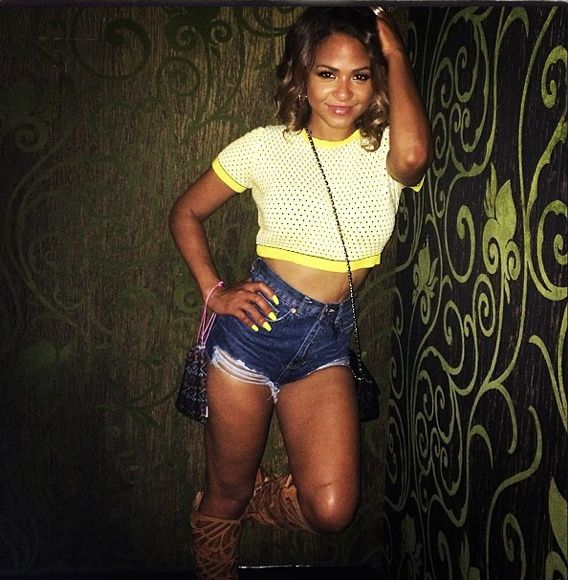 The blushing bride dished on her upcoming wedding to music exec Jas Prince recently, saying it will be a huge soiree but plans to keep it practical.
"He has a big family, a really big family so I think it's going to be big but I'm still like okay, we got a house, we got bills to pay, the life we like to live so I want it to be fun but I really just want to have people around that love us and understand us."
Nice.
Peep the party vids below:
Fun times!
Photos: Christina Milian's IG
50 Cent Appears UNBOTHERED By Shaniqua Tompkins' Abuse Allegations, Throws (Terrible) First Pitch At Mets Game
Posted: 28 May 2014 07:59 AM PDT
50 Cent was spotted at the NY Mets game yesterday, seemingly unfazed by abuse allegations made by Shaniqua Thompkins, the mother of his teenage son Marquise. See pics inside....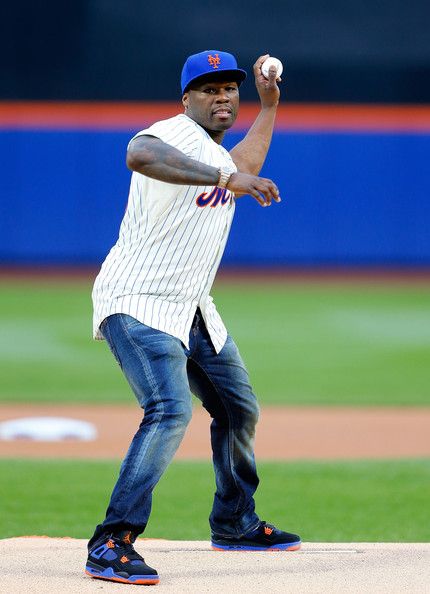 "Irregular Heartbeat" rapper 50 Cent threw out the ceremonial first pitch at the New York Mets vs. Pittsburgh Pirates game at Citi Field in Queens, NY last night.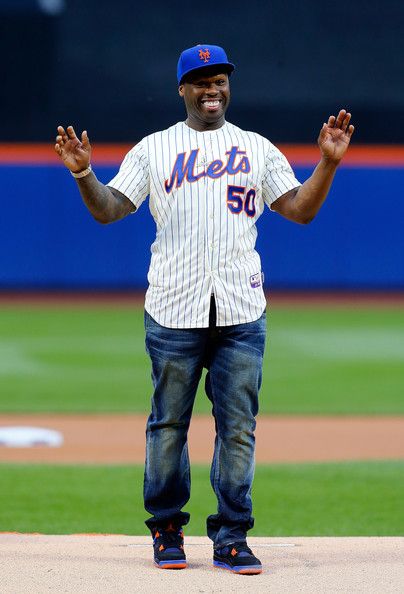 While the outspoken rapper usually has a lot to say about other rappers and their baby momma problems, he didn't have anything to say about Shaniqua Thompkins V-103 interview this week where she accused him of striking her in front of their kids. Nor has he spoken out about disowning his son via social media.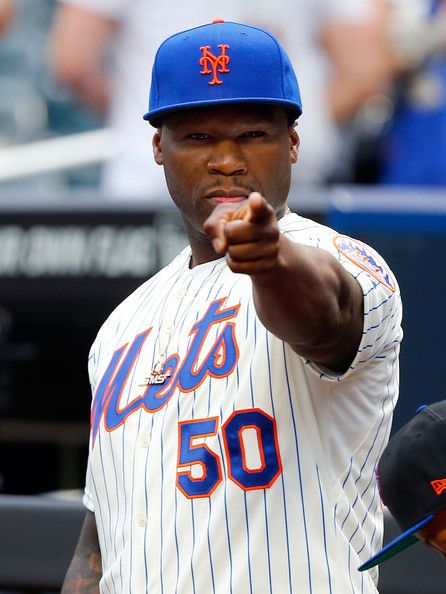 Instead, Curtis has been busy promoting the premiere of his new Starz series "Power"and upcoming album Animal Ambition (June 3rd).
Check out his (failed) first pitch at the Mets game last night:
Photos via Getty
R.I.P.: Dr. Maya Angelou Dies At 86
Posted: 28 May 2014 07:09 AM PDT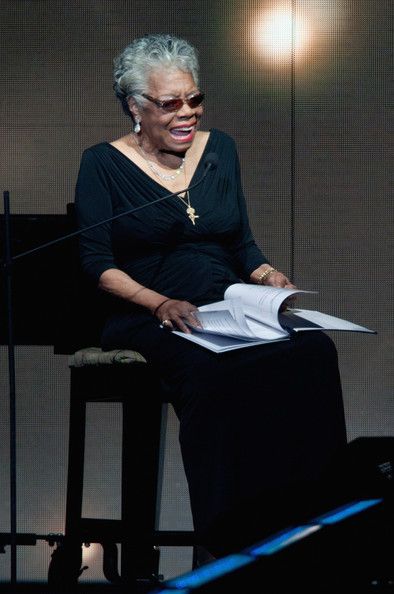 The legend, icon and woman of the most eloquent words we have heard in our lifetime, has died. Dr. Maya Angelou has passed away at 86, as confirmed by the mayor of her home Winston-Salem, NC and her publicist.
More inside.
Dr. Maya Angelou, who has reportedly battled health problems recently, has died.
The Winston-Salem Journal reports that a hearse with a police escort pulled away from her North Carolina home about 9 a.m. this morning. The city's mayor, Allen Joines, and her publicist both confirmed that Dr. Angelou was found by her caretaker early this morning.
She had to cancel her appearance at the 2014 MLB Beacon Awards Luncheon in Houston that was scheduled for this past Friday, where she was receiving an award.
The legendary poet, activist, civil rights leader, film director, teacher, and former singer & dancer has an 18-room house in Winston-Salem, as well as two town houses in Harlem. She was most recently serving as the Reynolds Professor of American Studies at Wake Forest University.
The story of Dr. Angelou will always be a grand and legendary one.
The Phenomenal Woman was born Marguerite Annie Johnson on April 4, 1928. As for how she came to Maya Angelou: Her older brother Bailey gave her the nickname Maya. She adopted the last name of Angelou during the early 1950s when she began performing as a dancer and singer. The name was a variation on her first husband's, Tosh Angelos', surname.
We would be here for weeks if we listed the accomplishments of Dr. Angelou. But some noteworthy notations: She has 50 honorary degrees, a Pulitzer Prize nomination, a Presidential Medal of Freedom, several Tony Award nominations, a Grammy Award for Spoken Word, admiration from our world leaders and several other accolades during her lifetime.
The author of I Know Why The Caged Bird Sings and Phenomenal Woman, as well as spoken word artist of Sojourner Truth's Aint I A Woman, spoke for human beings, especially black women, in a way no one could ever replicate. Our global icons such as First Lady Michelle Obama and Oprah Winfrey have continuously shown their overwhelming admiration for the poet, who instilled a sense of pride and empowerment in those who listened to her words.
We thank Dr. Angelou for being our voice of truth, for making US feel beautiful while the world tells us (and even told her) we are not, and for staying strong in the struggle & triumphs of race and gender equality with the utmost grace.
Her contributions were the epitome of necessary, and will undoubtedly live on as she has made an undeniable imprint on our culture.
R.I.P. Dr. Angelou.
Listen to yourself and in that quietude you might hear the voice of God.

— Maya Angelou (@DrMayaAngelou) May 23, 2014
UPDATE:
Statement from Dr. Maya Angelou's Family from her official Facebook Page:
Dr. Maya Angelou passed quietly in her home before 8:00 a.m. EST. Her family is extremely grateful that her ascension was not belabored by a loss of acuity or comprehension. She lived a life as a teacher, activist, artist and human being. She was a warrior for equality, tolerance and peace. The family is extremely appreciative of the time we had with her and we know that she is looking down upon us with love.
Guy B. Johnson
Photos: Getty
CAUGHT ON TAPE: T.I. Was Pissed At Security, Had Shoving Match BEFORE Mayweather Brawl At Nicki Minaj's Party + Benzino CURSES Out Flight Attendant, BOOTED Off Plane!
Posted: 28 May 2014 06:30 AM PDT
Hours before his Fatburger brawl with Floyd Mayweather, "Family Hustle" star T.I. was involved in a shoving match with hotel security at the ARIA. Watch the video inside...
Now we know why T.I. was possibly already "amped" up when he bumped into Floyd Mayweather at Fatburger. A newly released tape shows that T.I. got into a shoving match outside of Nicki Minaj's pool party at Liquid moments before the Mayweather brawl. So it seems he was already amped before the Mayweather foolery.
TMZ reports that the conflict with ARIA security was a "misunderstanding" because the doormen didn't recognize Tip. But....once he was "recognized", he went into the party.
We can't fathom or why security couldn't recognize Tip. During the entire altercation, you hear fans screaming things like, "What they doing to him?", "Always fighting T.I." and "That's my man!"
Y'all know how the masses do. But clearly, the dude must be TIP!
Dude has been fighting A LOT lately. What's really going on?
In other Vegas related fight clips.....
"LAHH ATL" star Benzino, who recently partied at the strip club with Floyd Mayweather before departing Las Vegas, was booted off his Atlanta-bound flight after a profanity-laced tirade.
According to reports, a confrontation popped off after a flight attendant questioned Benzino about his seat during a stopover in Chicago. On the tape, you hear Benzino yelling something about being in "first class" and calling someone on the plan (either the pilot or a flight attendant) "a racist mofo" before he threatens a lawsuit. While off camera, you hear him demanding the names of all of the flight crew.
TMZ says police were not called to the scene. In the meantime, Benzino has been quiet about the incident on social media. Surprisingly.

Everybody needs a chill pill.
Photo: Nicki's IG
Tiny REFUTES Rumors About Releasing A Statement To Blogs Regarding TI/Floyd Mayweather BRAWL + Rick Ross INKS "Rich Forever" On His FACE + Texas Police INVESTIGATING Wiz Khalifa's Jail Selfie
Posted: 27 May 2014 02:57 PM PDT
Tiny Harris posted a statement about the fight between Tip and Floyd Mayweather Jr. Read it inside and get the latest on Rick Ross' face tattoo and Wiz Khalifa's jail selfie.
Tiny Harris is speaking out about the fight her husband T.I. had with boxer Floyd Mayweather in her own special way. If you're one of Tiny's IG followers, you know she's a big fan of posting Tweegrams to communicate her thoughts. She usually uses this method of communication when there's an issue between her and Tip. Today she posted one that clearly dealt with the weekend fight and its aftermath.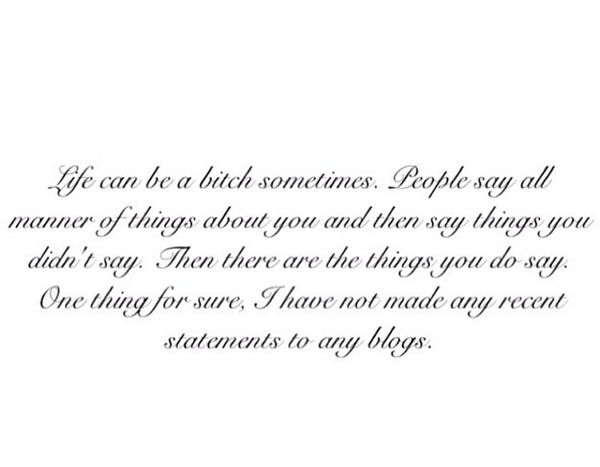 For the record, we've yet to hear Tiny's version of the weekend. We'll keep you posted as the tweegrams come....
Over the weekend, Rick Ross joined Gucci Mane, Lil' Wayne and Birdman in the face tattoo club. The "Aston Martin Music" rapper carved "Rich Forever" inside his beard and underneath his bottom lip. SMH.....was this a hit or miss?
In other rap foolery....
Police in El Paso, Texas have opened an investigation into Wiz Khalifa and the selfie-he posted while in lockup for weed possession. Cops want to know if Wiz snapped the pic himself or if one of the on-duty officers took the pic. Either way, the picture violates the rule that inmates are NOT allowed to take pics in the jail with their phones.
Stay tuned......
Photos via Tiny's IG/Rick Ross's IG/Wiz Khalifa's Twitter
KEEPIN' IT 100: Damon Dash WEIGHS IN On CARTERGATE Elevator Scandal, "I Thought That Sh*t Was Funny"
Posted: 27 May 2014 01:57 PM PDT
Damon Dash is giving his take on the elevator incident involving Beyonce's little sister Solange and his former business partner Jay Z at the Met Ball afterparty. Find out what Dame had to say about CARTERGATE inside…
Everyone's tongue was wagging when video leaked of Solange going "third ward" on Jay Z in an elevator at the 2014 Met Ball afterparty. Rumors sparked that Solo was acting out after an altercation with fashion designer Rachel Roy.
Jay Z's former business partner Damon Dash wasted NO time to reveal he was Team Solange, with an Instagram post of the "Losing You" singer with the caption, "I am actually impressed with her independent spirit... She seems like a fighter #festivallife"
Chilling out in a kitchen in Malibu, Dame (looking a little rugged) went into detail about CARTERGATE in an interview with Hip Hop Motivation. Dame said he thought the whole elevator incident was funny and that Jay should actually be laughing about the altercation. He also referred to his ex-wife Rachel Roy as his WIFE and that if Jay was actually trying to holla at her, then "that's kinda f*cked up."
Here are the highlights:
On why he thought it was funny:
"I thought it was funny cause Jay is the kinda guy you don't see him move like that that much. And when he does move, if it's not that cool looking, then it's going to be kicks. Also I feel like nobody teases Jay but me for some reason. It's just the first time I've seen people freely expressing themselves. What I'm really happy about is when they were bombing on me about saying I was broke and all that that there wasn't any Instagram cause I'm sure people would have had mad funny jokes. But I would have been getting back at n*ggas. I like to snap."

On if he should be mad about the situation:
"I don't think he should mad about it. I think he should be laughing. That sh*t was funny. Everybody fights. Girls done spit on me before but I be a little more 'You better chill out.' The shit is funny.' Jay has to worry about perception because corporately people pay him. He really has to play that game. I thought what was ironic about it was people got to see how he played sh*t off. And how something crazy can happen and four seconds later when it's cameras on they act like nothing is going on. I thought that was interesting to see that and how good he is at it. If people don't like what he's doing, he won't get that corporate check."

On if he thinks Jay is embarrassed about CARTERGATE:
" I think if he cares then he's probably embarrassed. If he doesn't care then he should be enjoying it. Me, I wouldn't care. I know how it feels to be bombed on. That n*gga bombed on me for five years straight, I just laughed at it. You saw how I handled it. Being that I went through it, I can be like that…I can say what I'm saying.
And Jay likes to play. He snaps."

On if Jay was trying to holla at Rachel Roy:
"If he was tryna holla at my wife though, that's kinda f*cked up. [laughs] But I don't think he was doing that. That would be bad. That would be dark. That means he really has some resentment but I would hope that that wouldn't be the case."
Not sure why Dame is referring to Rachel Roy as his wife being that she filed for divorce from him back in 2009 after 4 years of marriage. But if you follow him on IG, you'll notice he stays posting pics of her and pics of when he's over her house in L.A. Mmmhmm….
Check Dame's full interview below:
Dame also talked about dysfunction in the black community and his beef with Steve Stoute:
This guy...
Photos: Hip Hop Motivation
Beyonce & Jay Z Skip Kanye & Kim's Wedding For A Bike Ride In The Hamptons + Director CONFIRMS "RUN" Trailer Is For "Part II (On The Run)" Video
Posted: 27 May 2014 12:59 PM PDT
Some thought Beyonce and Jay Z would attend Kanye West's wedding over the weekend but the power couple decided to hit the Hamptons for a bike ride instead. Also, former Beyonce creative director Melina Matsoukas revealed the couple's "RUN" trailer is actually for a music video and NOT a movie. Deets inside…
Ahhh…the life of the rich & famous! Our favorite couple Beyonce (with her extra long box braids) and Jay Z were spotted (for the first time since Kanye & Kim were married) hopping out of their private helicopter on Monday, as they returned to New York City from The Hamptons. Not sure if Blue Ivy was with her parents, but the owl backpack held by an assistant hints that Blue was likely with them over the Memorial Day weekend.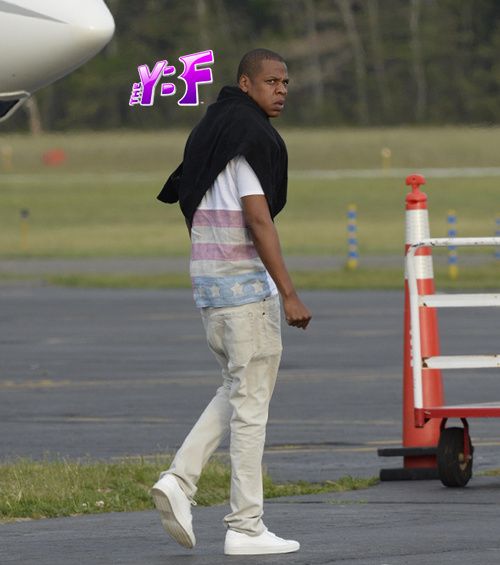 Smile Hov!
Although the power couple skipped out on Kanye & Kim's lavish over-the-top Italian wedding in Florence, Mrs. Carter did congratulate Mr. & Mrs. West with a personal message, wishing them a lifetime of unconditional love and God's blessing on their family.
Rather than fight the madness in Paris & Italy, Mr. & Mrs. Carter chose to bring in their Memorial Day with a quiet afternoon bike ride around The Hamptons:
Beyoncé and Jay Z riding bikes in the Hamptons earlier today pic.twitter.com/Y2y8LDhekA

— Beyoncé Info. (@Beyonce_Info) May 25, 2014
You know the Carters love their bikes.
Bey shared a pic of her extra-long blonde vacation box braids (above) and showed off her "Queen" manicured nails on Instagram (below).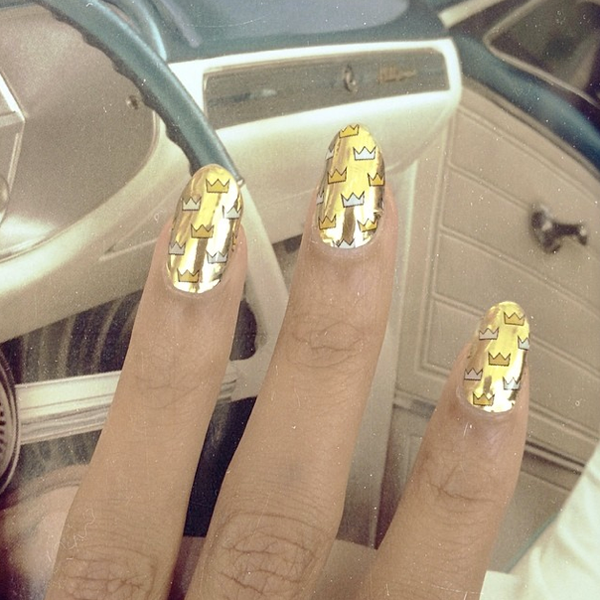 Nice.
And in other Bey/Jay news...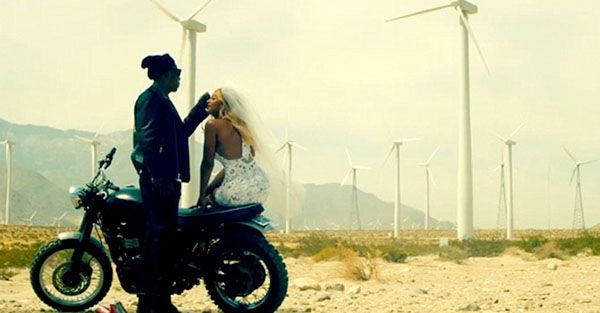 After shocking us all with a surprise fake star studded movie trailer, former Beyoncé creative director and Grammy-winning music video director Melina Matsoukas has confirmed that Beyonce & Jay Z's "RUN" trailer is not for a real movie but actually for their "Part II (On The Run)" video.
In an interview with ELLE, the prominent music director talked about longing to work with Jay Z for years and how the fake star-studded trailer came about.
Here are the highlights:
This "Run" video was straight-up epic. Take me through the process of how it came to life.
Obviously I've worked with Beyoncé quite a bit; I know Jay through the years. We've been trying to work together for a couple of his albums and it just never came to fruition. I'd been dying to work with him and I love working with her so it just felt like the perfect combination. With this song, it's actually a music video — I know everyone's calling it a trailer, which I guess it is as well. But it's a music video for his song "Part II (On The Run)." I feel like in Jay's career he doesn't want to just do a normal music video. So we were trying to come up with a way to visualize the song that wasn't something that we've seen before. So I came up with this whole movie trailer idea and it just kind of progressed from there. We were talking about trying to hide the fact that it was a music video and the idea was to release this trailer for this blockbuster that you'll never see.

It sounds like the idea was largely yours. How did Bey and Jay feel about it when initially pitched on it?
Beyoncé was definitely really excited. Jay was a bit skeptical but we were able to kind of force him into it. He's always interested in doing something different so I think that part was exciting to him. I think he was hesitant about 'Oh, now I have to be an actor.' I was like 'If it works, great. If not, then we'll cut around it and make it a more typical video.'

When did you shoot this?

We were supposed to shoot in January, but he was on tour. We cancelled [that] shoot the day before because it was just too much. It came back up last month because the tour [together] was starting and they really wanted a visual for the song. I was excited because I loved the idea and wanted the chance to visualize it. We started shooting and all those cameos came last minute. Once we got one then we got everybody.

You're being modest. You landed Sean Penn!

That was phenomenal. That was totally Jay. We were working on all these cameos and obviously there were a bunch of people on our list but some people I just thought would never do it. Jay put in a call for Sean Penn. It was the end of us shooting the first day. One of Jay's creatives came up me and she's like 'OK, we need to call Sean Penn now. He's coming tomorrow.' And I'm 'What? OK.' So I'm driving back through the desert and my phone's not working and it didn't work that night and I wake up the next morning to a text from Sean Penn. So I talked to him about the project and what were thinking of doing with him. And he's like 'I can be there at 3.' I'm like 'I kind of need you there in an hour.' And he went home and got dressed and came camera-ready. It was all improv so it was kind of perfect. [Jay and him] discussed where their characters were at that point in our faux-film. He came up with his own dialogue. That's actually one of my favorite scenes.

I take it Bey and Jay were pleased with how it turned out?

They loved it. Once I sent the edit out they were sending me all kinds of emails of encouragement. They went crazy for it. So I was really excited in the end. It was all worth it. It was definitely a challenging ride.

Let's just put this to rest: so we're definitely not getting a full-length feature film from this project?

It's coming never! Sorry guys! Unless Beyoncé and Jay Z decide to change that.
Check the full interview here.
The Carters go "On The Run" this summer starting June 25th in Miami.
Photos: Hampton Pix / Splash News/Beyonce's IG/Beyonce.com

Posted: 27 May 2014 11:57 AM PDT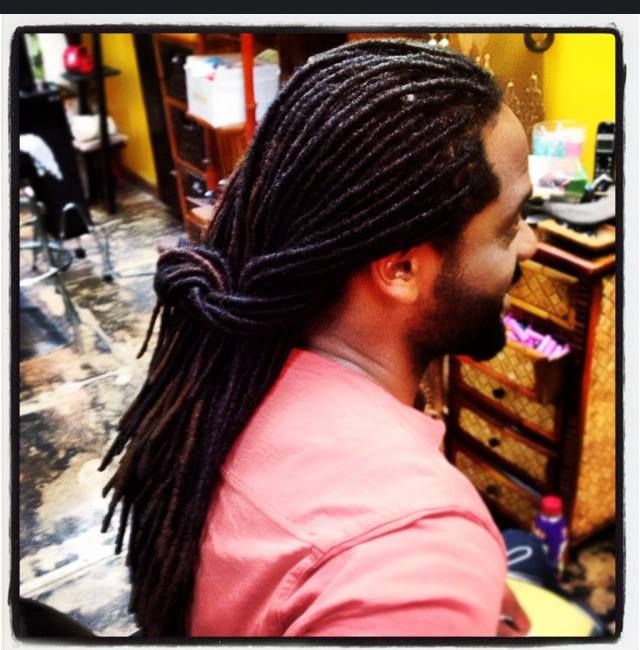 Guess which YBF heartthrob will be rocking dreds for his leading role in Shakespeare's Othello? Find out inside......
Our mystery celeb has been a household name since his starring role on the hit 80s series "LA Law." He'd go on to have memorable roles on "Sex and the City" and "Dirty Sexy Money." Who is he?
Wait for it...



Wait for it...



Wait for it...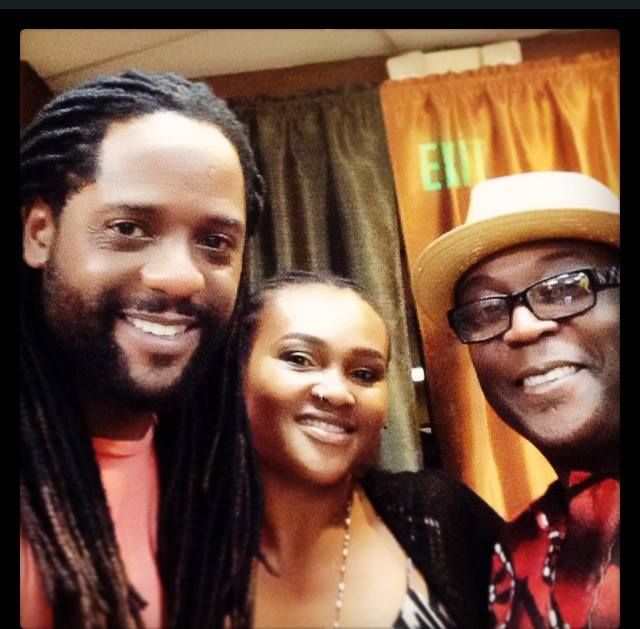 Blair Underwood has gone under a Dredsformation. He posted his new locks on Facebook with information about his new role as Othello.
INSTANT LOCKS! I sat down this weekend with Chikodi Deming and eight hours later I had a full head of locks for my latest project; Shakespeare's #Othello, onstage at the Old Globe Theatre. She's a magician. LOL. Pictured here with Master hairstylist Sterfon Deming; her husband, as well. Thank you guys for making it happen!
Photos via Blair's Facebook Page
RUMOR CONTROL: Tina Turner's Reps DENY Stroke Claims, "Tina Enjoys Excellent Health" + Whitney Houston's ESTATE Furious OVER Angela Bassett's UPCOMING "Whitney" BIOPIC
Posted: 27 May 2014 11:08 AM PDT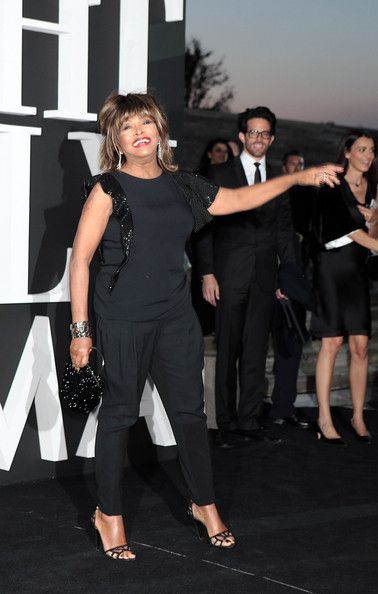 Tina Turner's representatives are shooting down rumors that the icon suffered a mild stoke. Read their statement inside and get deets on the fight brewing between The Whitney Houston Estate and Angela Bassett.
Representatives for iconic "Proud Mary" singer Tina Turner have dismissed international reports about the singer's health. In a new statement, Tina spokesperson denies reports that she suffered a mild stroke. "The fact is that Tina enjoys excellent health."
The DailyMail went on to say Tina was reportedly spotted last Thursday at the launch of her new album in Zurich......looking healthy.
In other news...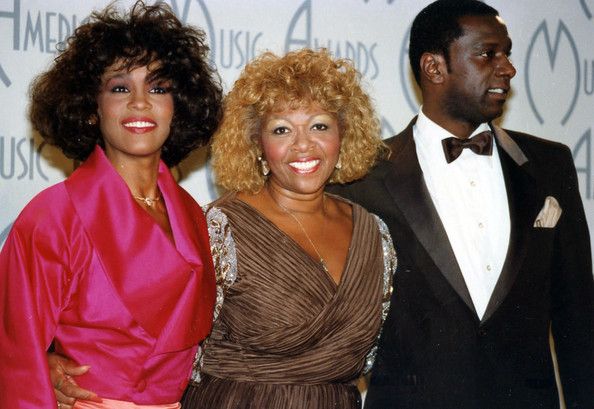 The Whitney Houston Estate is reportedly livid over Angela Bassett's plans to direct a LIFETIME biopic about the life of Whitney Houston. When contacted by TMZ, Pat Houston said, "Whitney is certainly worthy of more than a television movie. If Whitney were here today, this would not be happening."
The film, which will premiere in 2015, will be based on the marriage of Whitney Houston and Bobby Brown. In a statement released by Lifetime, Angela spoke about the biopic saying,
"I have such regard for both Whitney's and Bobby's amazing talents and accomplishments; and I feel a responsibility in the telling of their story. Their humanity and bond fascinates us all. I'm beyond excited to have this opportunity to go behind the camera and into their world."
But going into "their" world is exactly what Pat Houston wants to avoid. Sources say the Houston estate is considering a lawsuit to block production and have made it clear they weren't on board with a TV movie. They'd prefer something on the silver screen.....
Photos via FameFlynet/Getty Images