---
SHOCKING Video Footage Of Columbus Short's Wife Tanee McCall FIGHTING A Woman In Their Home!
Posted: 03 May 2014 08:28 AM PDT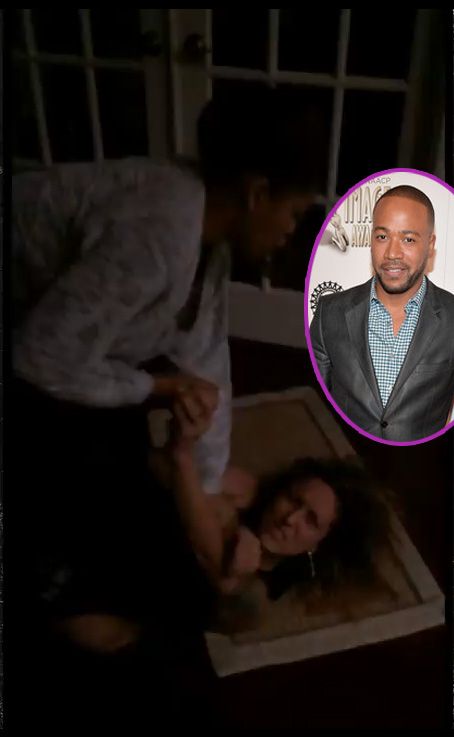 A shocking video of Columbus Short's wife Tanee McCall beating down another woman gladiator style has surfaced. See the brawl and find out the deets behind the footage inside…
After making claims that her husband Columbus Short ransacked their home, a new video has surfaced of Tanee McCall getting violently physical with another female.
In an attempt to show his estranged wife is the violent one in their relationship after his wife filed a restraining order against him, Columbus shared video of a physical altercation that went down in the couple's home after he was arrested for domestic violence back in February.
According to TMZ, once Columbus was bailed out of jail for a domestic dispute in Febuary , he called up a friend named Tilly Key to pick him up from his house. For whatever reason, Tanee was enraged the woman was at her house and attacked the woman, punching and spitting on her as Columbus recorded the entire brawl.
Tilly made claims that she suffered a slew of injuries including a concussion, multiple contusions, a cervical sprain and a lumbar sprain.
You'll recall, Tanee filed for divorce and filed a restraining order against her husband after he allegedly threaten to kill her and take his own life. The "Gave Ya" singer was recently kicked out of the home he shared with his wife and resigned from the hit TV series "Scandal."

Check out Tanee laying the smack down below:
Columbus likely didn't stop the fight in fear that Tanee would somehow flip it and say he hit her. These two…
Photos/Video: Getty/TMZ
NEW MUSIC: Nicki Minaj's "Yasss Bish" + Lil Wayne & Drake "Believe Me"
Posted: 03 May 2014 07:51 AM PDT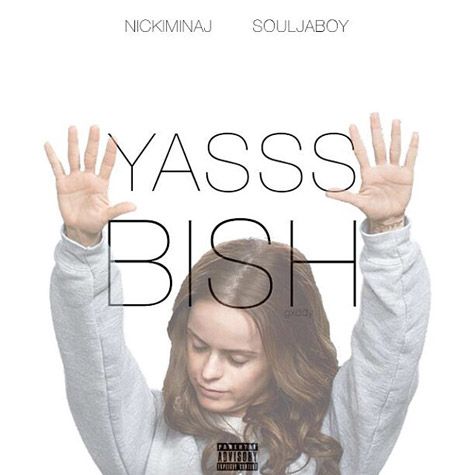 In new releases, Nicki Minaj teamed with Soulja Boy for "Yasss Bish" while Lil Wayne tapped Drake for "Believe Me." Listen inside...
While we await Nicki Minaj's next full length album, she enlists the production skills of Soulja Boy on "Yasss Bish!!", her latest viral single. In the track, she addresses Donald Sterling controversy ("I don't fuck with you ni**as, I own the Clippers"), and shows Will and Jada some love ("Look up to Jada, I love her and Will / Bitches my sons, but they not in my will").
Listen to "Yasss Bish"
In new music...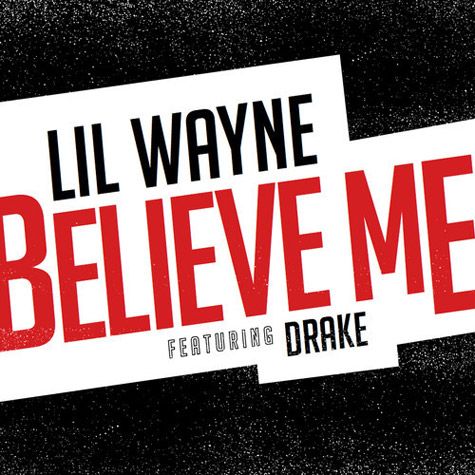 A few days ago, we told you about Lil Wayne and Drake hooking up in the studio and now we have the full track, "Believe Me." The track appears on Tha Carter V and was produced by Boi-1da and Vinylz.
SPOTTED: Lupita Nyong'o Arrives In D.C. For White House Correspondents Dinner Festivities + Terrance J & Tatyana Ali Meet President Obama At The White House
Posted: 03 May 2014 07:03 AM PDT
Academy Award winning actress Lupita Nyong'o was spotted arriving at Union Station in Washington, D.C. See this year's most beautiful person make her way through the train station and other YBF celebs hanging out in D.C. inside…
Yesterday, Lancôme's newest face Lupita Nyong'o made her way through Union Station in Washington, D.C. for the White House Correspondents Dinner festivities.
The 31-year-old actress was all smiles as she trekked through the train station with her head covered and dark shades.
The White House Correspondents Dinner (also known as the "Nerd Prom") is one of the few events where politicians, celebrities and media elite can let their hair down and have a little fun, enjoying good eats and funny partisan jokes. Lupita, along with will.i.am and Questlove, will attend the prestigious event tonight at the White House.
And before the big event on Saturday, there are plenty of pre-dinner parties to hit up.

The fairest of them all got uber glam and hit the red carpet for the Google/Netflix White House Correspondent's weekend party at the United States Institute of Peace. She shimmered in a pearly white and metallic dress paired with sparkly pointed heels. Loves it!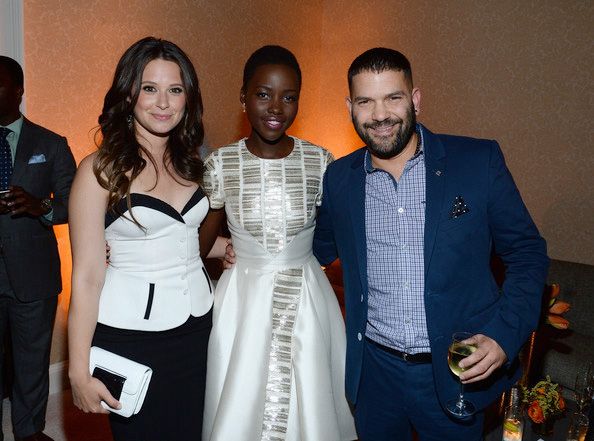 And then she hung out the "Scandal" cast at the People/TIME WHCD cocktail party at St Regis Hotel. She was all smiles as she posed with "Scandal" stars Katie Lowes and Guillermo Díaz.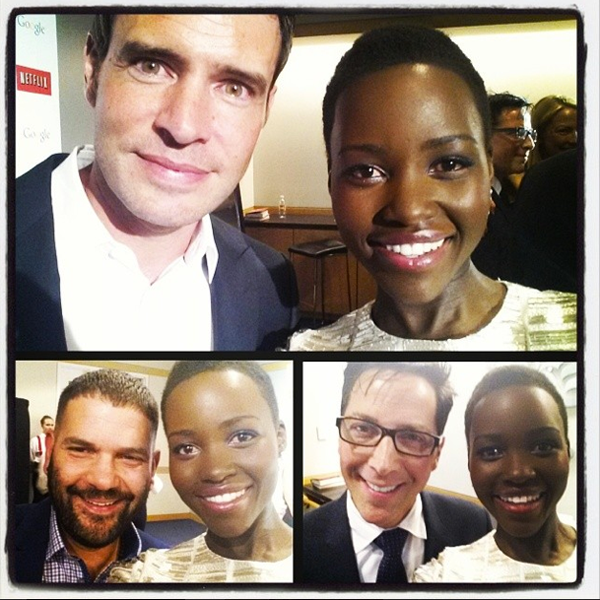 And you know the Kenyan beauty loves her selfies. She posted a few to her IG with the gladiators captioning, "#WHCD = #ScandalTour continued. With #ScottFoley #GuillermoDíaz #DanBucatinsky. #Scandal #GladiatorsInTheWhiteHouse"
Nice!
Other YBF celebs in D.C.: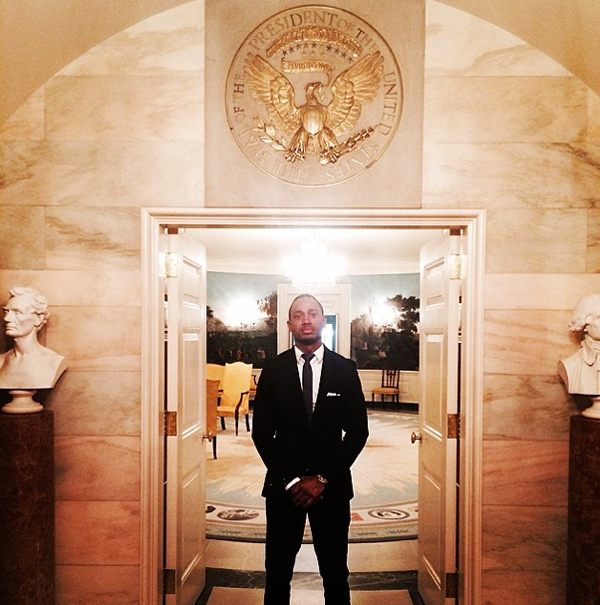 Not to be outdone by Lupita, Terrance J caught two notable selfies during his visit to the White House.
Terrance lucked up with a selfie of President Obama and Michelle Obama at the White House.
And he also caught a selfie with Vice President Joe Biden with the caption, "But first, let me take a selfie. | #UncleJoelovesme #VP #JoeBiden #WhiteHouse #Goodtimes #securityclearance #whyamismilingsohard"
Actress Tatyana Ali was also at the White House yesterday celebrating the success of the Affordable Care Act. She got a chance to speak with President Obama and First Lady Michelle briefly. Due to be overly excited, she said she forgot to say all the things she wanted to say but was amazed at how far the country has come and promised to save this pic to show off to her grandchildren one day.
Nice!
Photos: Getty/Terrance J IG/Tatyana's IG
CLASS OF 2014: LL Cool J RECEIVES Honorary Doctorate From Northeastern University + Phaedra Parks Completes Funeral Directors School
Posted: 03 May 2014 06:48 AM PDT
LL Cool J and Phaedra Parks both received degrees this week. Find out about their graduations inside...
LL Cool J pulled double duty during Northeastern University's graduation as proud parent AND graduate. First, his daughter Italia Smith graduated with honors and then the university presented him with an honorary Doctor of Arts degree. "For them to recognize my body of work and my contributions to the world of art is an amazing feeling," he said.
Down in Alabama...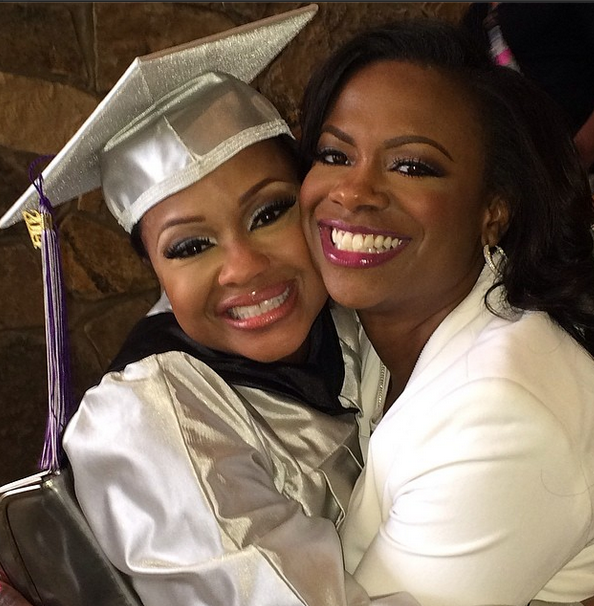 Phaedra Parks is now a licensed funeral director. Her good friend Kandi Burruss traveled to Alabama to watch her graduate. She captioned,
"Took a road trip to Alabama to see @phaedraparks graduate today! She didn't know I was coming. I am so proud of her!!! She inspires me. For her to be a mother of two, a wife, run her own law firm, write books, make DVDs, be on a tv show, etc.... Yet still go back to school & get her degree in Funeral Service Education is incredible! She commits herself wholeheartedly to everything she does. She's a true BOSS! Everybody send @phaedraparks love today!"
Congrats Phaedra!
Photos via Kandi's Instagram/AP/WBZ
Donald Sterling's "Silly Rabbit" Says He's Not A Racist, But Should Apologize + Donald Regrets Not Paying V. Stiviano Off
Posted: 03 May 2014 06:15 AM PDT
V. Stiviano appeared on 20/20 last night where she told Barbara Walters that Donald Sterling is not a racist but he should apologize. Watch the clip inside and read about Donald's regrets.
V. Stiviano (who's been dreaming of this moment all of her life) appeared on 20/20 last night where she was interview by Barbara Walters. Now that all of Donald Sterling's dirty laundry has been aired, V. has her own thoughts about his next steps and what should happen to him. Here are the highlights:
Should he apologize:
"Yes. Absolutely. I think he's highly more traumatized and hurt by the things that he said himself. I think he can't even believe or understand sometimes the thing he says, and I think he's hurt by it. He's hurting right now."
Does Donald speak negatively about minorities:
"There's been a number of occasions where Mr. Sterling and I had conversations just like this one. This was one of very many. Part of what the world heard was only 15 minutes. There's a number of other hours that the world doesn't know."
Is Donald a racist:
"I think Mr. Sterling is from a different generation than I am. I think he was brought up to believe these things … segregation, whites and blacks," Stiviano said. "But through his actions he's shown that he's not a racist. He's shown to be a very generous and kind man."
SIDEBAR: V. Stiviano told Barbabra Walters she calls herself Don's "silly rabbit."
Donald Sterling admits his regrets....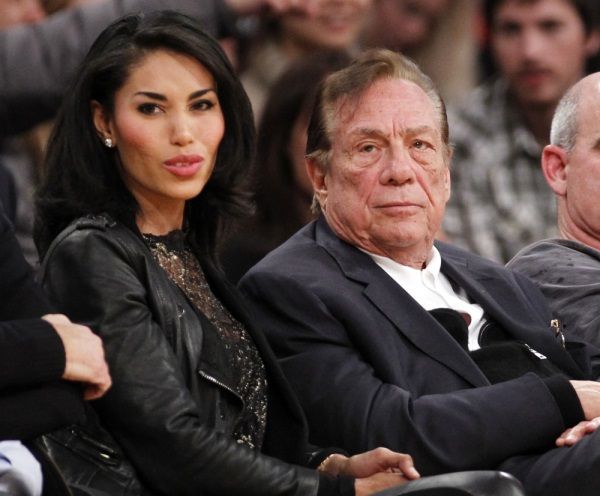 Amid his lifetime ban from the NBA, Donald Sterling spoke to DuJour Magazine about the "tapes" and V. Stiviano saying, "I wish I had just paid her off." For now...that's all we'll get from Don who told DuJour that he's limiting himself to interviews with the NBA and Barbara Walters.
Photos via AP
Beyonce, Jay Z & Drake LAUGH It Up Courtside At the Nets vs. Raptors Playoff Game
Posted: 03 May 2014 05:13 AM PDT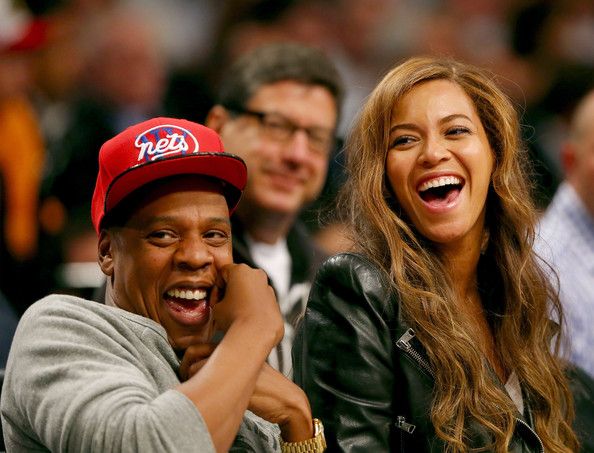 Game 6 of the Eastern Conference playoffs between the Brooklyn Nets and the Toronto Raptors went down last night. We spotted our fave Hip Hop couple and Drizzy sitting courtside. See their candids inside….
As The Carters gear up for their "On The Run" tour, Beyonce and Jay Z made their way to the Barclays Center to cheer on the Brooklyn Nets as they defeated the Toronto Raptors 97-83 last night.
Sitting next to the Nets bench, The Carters were spotted all smiles as they watched Game 6 of the Eastern Conference playoffs. Bey was casually cute in a black leather jacket, jeans and nude sandals while Jay was swagged out in a Sportiqe Brooklyn Nets nautical butler sweatshirt, distressed denim and a pair of Timbs.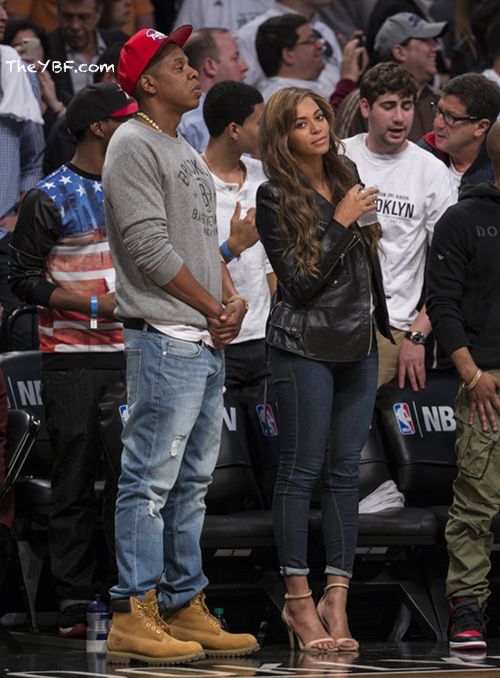 Jay showed some love to his team, dapping up Kevin Garnett during the game.
Drake was also spotted courtside getting extra emotional as he cheered on his beloved Raptors.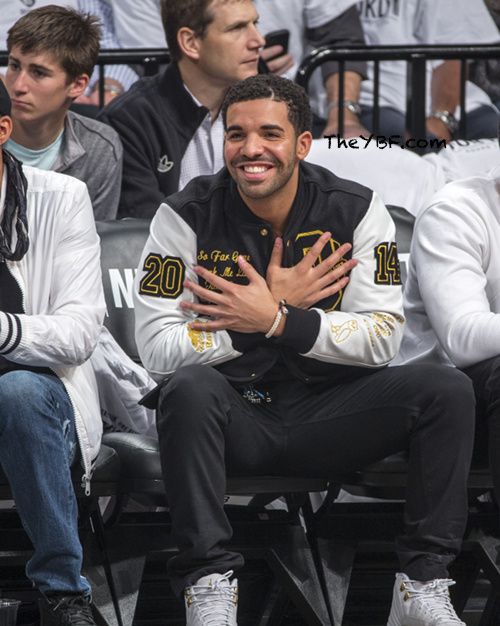 Drizzy still hasn't responded to Jay's latest diss about the YMCMB rapper being soft as a lacrosse team. But the Nets poked fun at Drake during the game, dressing him in a computerized Nets jersey displayed on the Jumbotron as Jay's "PSA" played in the background.
Check it:
Ha!
And rapper Fabolous was also in attendance as he introduced the Brooklyn Nets starting line-up:
Fun times!
Photos: Anthony J. Causi / Splash News

TWITTER WAR: Mike Epps Calls Kevin Hart OVERRATED, Kevin FIRES BACK! + Keyshawn Johnson NOT Prosecuted In Domestic Violence Case
Posted: 02 May 2014 04:18 PM PDT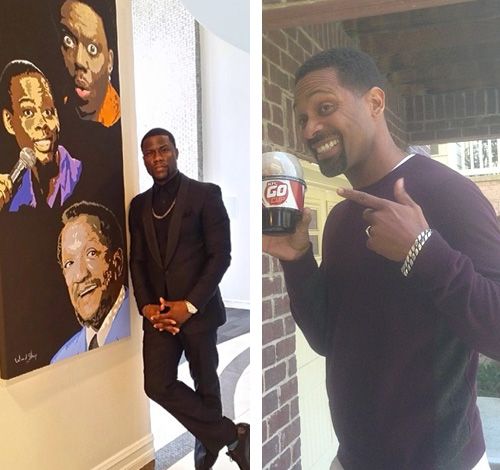 Kevin Hart and Mike Epps are going IN on one another on Twitter after Mike called Kevin overrated. Meanwhile, Keyshawn Johnson has avoided jail time after allegedly striking his girlfriend. Deets inside…
Comedians Kevin Hart and Mike Epps are BLASTING each other on Twitter after Mike called Kevin overrated during an interview this morning. This isn't the first time these two have gotten into a Twitter spat. Last year, Mike got at Kevin and then the Laugh At My Pain comedian unloaded a slew of tweets firing back at Mike.
Earlier today, Mike called into K104's Dede in the Morning Show and when he was asked to name one overrated comedian, Mike chose Kevin Hart. He said, "In this business right here, sometimes marketing can be bigger than talent. This business is not about being funny."
Kevin got wind of Mike's recent comments and went…IN!
Check the tweets (read from the bottom up):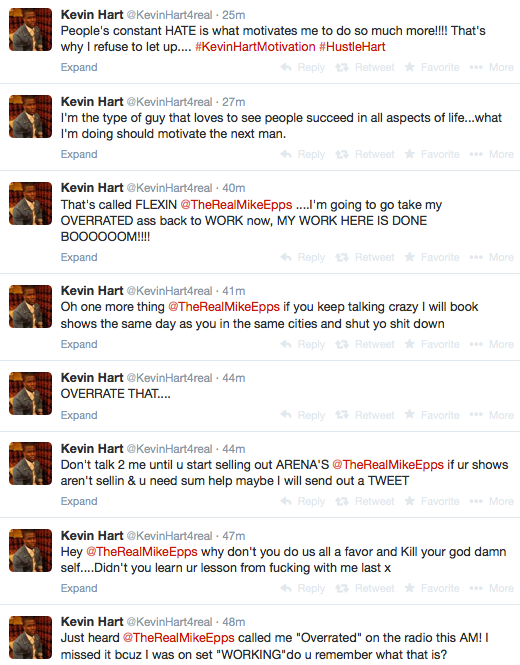 Damn Kev!
Mike then responded:
Listen to Mike calling Kevin overrated below:
These two...
And in other news...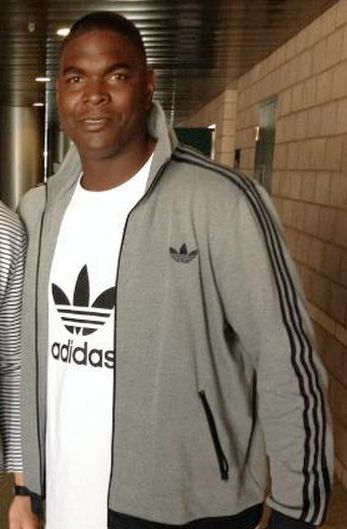 Former NFL baller Keyshawn Johnson can thank his lucky stars after his domestic violence case was rejected.
Last month, Keyshawn was arrested after a dispute between him and his ex-girlfriend turned physical in Calabasas, CA.
Law enforcement said Keyshawn smashed his ex's phone and caused a gash on her hand. Keyshawn was arrested for misdemeanor domestic battery after the alleged assault and released after he posted bail for 20K.
After his case was rejected, Keyshawn issued a statement saying,
"I am pleased that law enforcement acted quickly and that this matter has been fairly resolved."

"The quick decision results from the fact that I should not have been arrested because no crime was committed. I did not and would not touch, grab or strike a woman -- any woman."

"Though Jennifer and I are both pleased that this matter is over, we very much resent the fact that I was ever arrested in the first place. I apologize to my friends, family, fans and colleagues for this matter."
We guess...
Photos: Kevin's IG/Mike's IG/Keyshawn Twitter

NOT IN THE CIRCLE: Nelly SLAMS Floyd Mayweather, Says We're NOT Friends, POST Apology TO ALL The Men He's Even Intimidated + Floyd Says Shantel DESERVED To Be Publically Shamed
Posted: 02 May 2014 03:08 PM PDT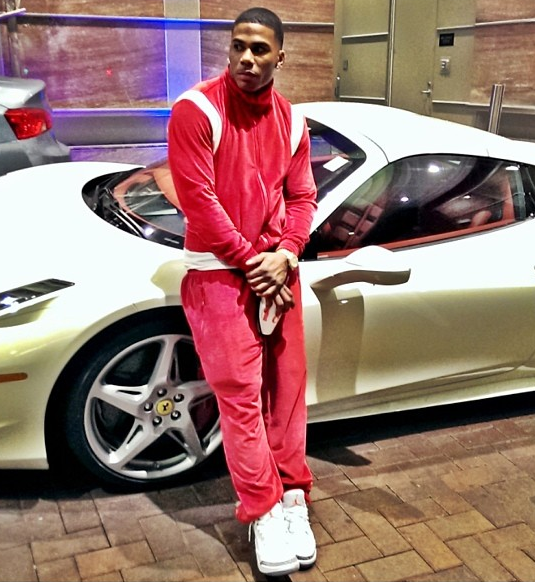 Nelly's got jokes, swag and a lot of confidence. He challenged Floyd Mayweather over Instagram about being in his "feeling"s and posted a hilarious message to all the men around the world who find him intimidating. Read it inside and hear Floyd's defense for exposing Shantel's abortion.
Instead of being completely zoned into his fight tomorrow, Floyd Mayweather has been up in his feelings ever since his ex-fiancee Shantel Jackson posted pics with rapper Nelly.
This DID NOT escape Nelly's attention and he delivered a heap of shade in two INSTAGRAM posts aimed at Floyd. In the first post, he says he and Floyd have never been friends so he's confused about Floyd feeling some kind of way about Shantel. Then, he throws in a little jab and reveals that Floyd personally flew Ashanti out to Michigan (and didn't invite him!).
The next post was also aimed at Floyd, taunting the boxer's insecurities. Nelly also "apologizes" to all of the men who feel intimidated by him.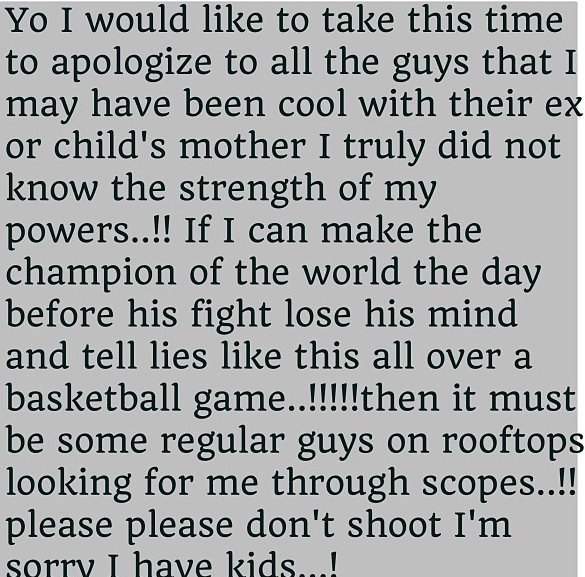 CLASSIC SHADE.
Meanwhile....Floyd is STILL talking trash about Shantel....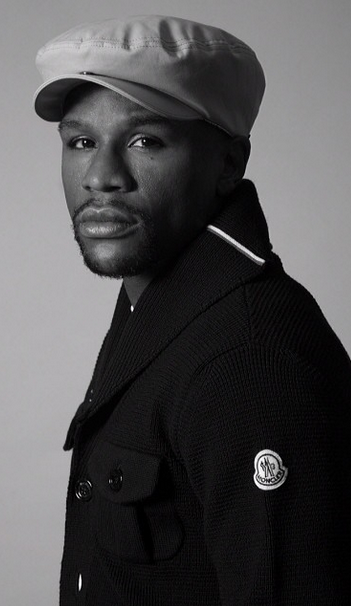 He spoke to Big Tigger on V103 where he explained that Shantel is selfish and insecure. He also said Shantel told him she had a miscarriage but he found out from a member of his reality tv film crew that she'd actually had an abortion! MESSY. He added that she didn't want to have a baby and mess up her body (the one he paid for). SHADE.
Listen to the audio here:
BONUS: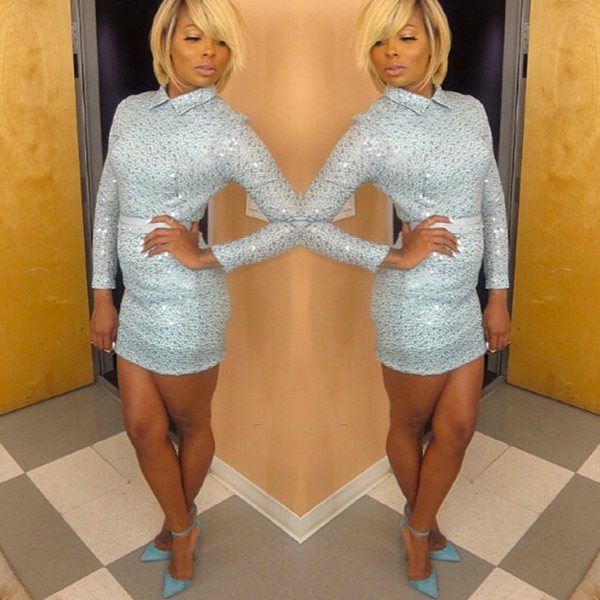 In other crazy relationships, Eva Marcille will appear on Fashion Police tonight. She captioned,
"It's the countdown!!! Catch me tonight on E! as I guest host #fashionpolice and a special thanks to @BROOKLYNPR_LA and @LIZAVASSELL_ , for this adorable @THE2NDSKINCO dress and these fabulous @LESILLA pumps. @ashleyseanthomas and @terrellmullin you've done it again!!
We're happy for Eva. She seems unfazed by the turmoil baby daddy Kevin McCall has been causing and she's going forward as a mom and tv personality. Good luck Eva!
The Randomness:
1. Actress Tamala Jones splits with Ngeuma Obiang Mangue after he's linked to RHOA star Porsha Williams. Story
Photo via Nelly's IG/Eva's IG/Floyd's IG
IT'S A GIRL: Kerry Washington & Nnamdi Asomugha WELCOMED Baby Girl Isabelle Amarachi Asomugha…TWO Weeks Ago!
Posted: 02 May 2014 02:02 PM PDT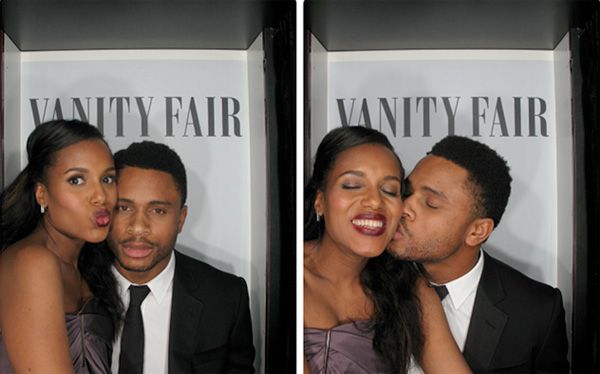 Kerry Washington and her hubby Nnamdi Asomugha secretly had their baby…two weeks ago. And it's a girl! Read the deets inside…
"Scandal" star Kerry Washington and her retired NFL husband Nnamdi Asomugha are clearly dedicated to keeping their personal life private because they welcomed their new baby into the world and no one suspected a thing.
According to TMZ, Kerry gave birth to their daughter under the radar, welcoming their bundle of joy named Isabelle Amarachi Asomugha…two weeks ago. Isabelle was reportedly born on April 21st at Cedars-Sinai Medical Center in L.A. This is the couple's first child.

Kerry & Nnamdi are known for keeping their personal life really private and out of the limelight. They quietly got married in Idaho last June without anyone knowing and Kerry also tried to keep her pregnancy a secret for as long as she could (although we spotted that baby bump 2 months before the official announcement). And they've only been spotted in pictures together on very few occasions (the first posted pic together at the Vanity Fair Oscar party above). It seems to be working for them.
Congrats to the happy couple!
Photos: Vanity Fair

NEWS BITS: Naya Rivera DROPPED From Columbia Records + Donald Sterling MAY Sue NBA To Halt Clippers Sale
Posted: 02 May 2014 12:41 PM PDT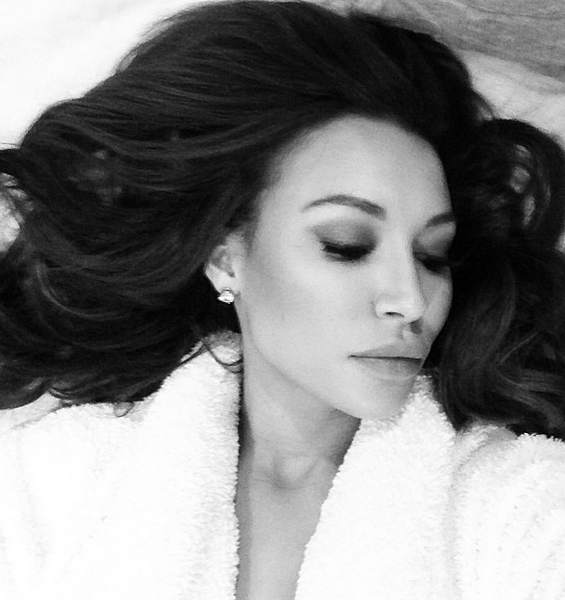 More bad news for Naya Rivera - she's been dropped from her record label. Get the deets inside and find out about Donald Sterling's possible NBA lawsuit.
Naya Rivera has obviously hit a bump in the road. Her engagement to rapper Big Sean is off, she was possibly fired off Glee and now she's been dropped by Columbia Records. Earlier, Billboard Magazine confirmed reports that Naya is no longer on the Columbia Records roster. Meanwhile, Naya's Instagram account continues to document her weird Kim Kardashian-like transistion. The Kim-styled selfies are getting redundant!
SMH....good luck Naya.
In sports.....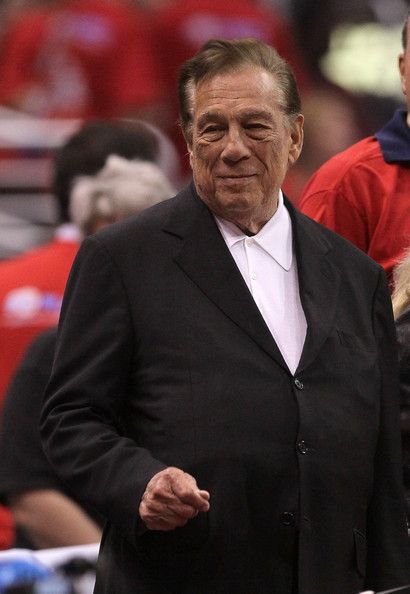 An article published by the New York Daily News reports Donald Sterling plans to sue the NBA to stop the sale of the LA Clippers. An NBA executive with close ties to Don said, "He is not going to sell the team. He'll sue and it'll take years to settle." How might this happen? The exec explained that Don may sue the NBA and base his case on language in the NBA constitution that deals with conduct that constitutes "willful acts." The term can be difficult to interpret and enforce and may takes years of legal wrangling.
On the flip side, Arsenio Hall would have more time to raise enough money to make a bid for the team.
Photo via Naya Rivera's Instagram/Getty Images
RUMOR CONTROL: Robin Thicke THREATENS To Sue Over "Three-Way" Relationship Rumor + Supperclub Issues Statement After The Game & T.I.'s LAPD Standoff
Posted: 02 May 2014 10:55 AM PDT
Robin Thicke is lawyered up and prepared to hand-out lawsuits after rumors circulated that he and his wife decided to split after a "three-way" relationship with their masseuse went wrong. Also, Supperclub L.A. has issued a statement regarding the standoff between the LAPD and rappers T.I. & The Game. More inside…
Recent questionable reports made claims that the reason Robin Thicke and his estranged wife Paula Patton had called it quits was because Paula allegedly caught Robin in the act with their masseuse named Jasmine.
It was reported Robin & Paula were involved in a consensual relationship with their masseuse and participated in threesomes. The report made claims that Paula allegedly walked in on Robin & Jasmine and that's what led to their decision to end their almost 10-year marriage.
We held off on posting because the story just seemed a bit off and we needed more receipts.
But now, the R&B singer is fighting back threatening to slap the media outlets who ran the story with a lawsuit for defamation. Robin's lawyer Howard E. King fired off a warning to the media outlets in question of possible legal action for punitive damages and vehemently denied any truth to the story.
The statement read:
"On behalf of Mr. Thicke, as well as [the alleged masseuse], we categorically deny every assertion of fact posited in your email [asking for comment] and are certain there can be no reliable, trustworthy source of any such story, given its gross deviation from the truth. Any purported source of such a story is lying."

"Publication of this blatantly false story absent a failure to fully investigate the truth combined with reliance on what has to be a flimsy source, will support a finding that the story is published in wanton and reckless disregard of the truth, leading to a finding of malice and the imposition of actual and punitive damages."
You'll recall Robin & Paula headed down Splitsville Lane earlier this year, issuing a statement that the two had decided to mutually separate. Soon after, Robin tried his damnedest to swoon Paula in an attempt to get her back, dedicating love songs to her during shows while on tour.
Robin's serenading could have possibly worked because according to friends of the couple, Paula is open to giving Robin another chance.
We shall see…
Meanwhile...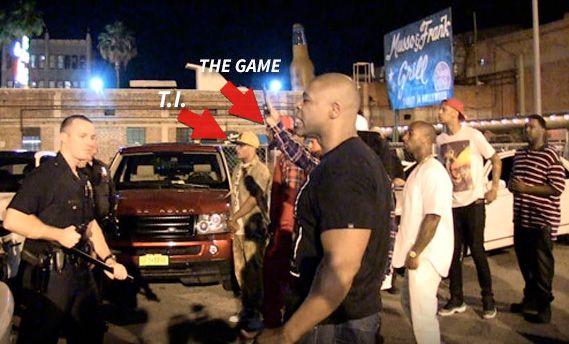 In the aftermath of an intensified standoff outside Supperclub L.A. between T.I. & The Game against the LAPD (which was caught on tape), the Hollywood hot spot has issued a statement regarding the incident.
You'll recall T.I. & The Game were involved in a nasty verbal confrontation with the LAPD after members of their entourages were denied entry into the club. Things got physical between the denied club goers and the club's security, which lead to the cops being called.
Supperclub L.A. has issued a statement on the incident saying:
The events that happened in the parking lot behind Supperclub Los Angeles in the early hours of Wednesday morning are severely disheartening, leaving our company and organization frustrated, and our Hollywood neighbors saddened.

An unfortunate escalation between an angry on-¬‐looker who was denied entry to Supperclub, and a rogue security officer who took matters too far, led to an untenable altercation which represented the worst in all of us.

Although T.I. and The Game were in the parking lot during this time, they were not directly involved with this incident. Community leader "Big U", of Developing Options, was in fact, not arrested, contrary to false reports, and had no part in this altercation. The third party security company that was hired for this outside promotional event, is not a part of Supperclub Los Angeles, and will never be booked by Supperclub, or the venue's outside promotional vendors again.

The owners, management and family of Supperclub vehemently condemn this act, and any act of violence, as it directly contradicts its core philosophies of celebration of the arts, food and culture.
Although T.I.'s probation ended in 2012, he surely doesn't need to get into any more trouble.
Photos: Getty/TMZ

Arsenio Hall KICK STARTS Fund To Buy The LA Clippers, Gets $1600 From Katt Williams
Posted: 02 May 2014 09:58 AM PDT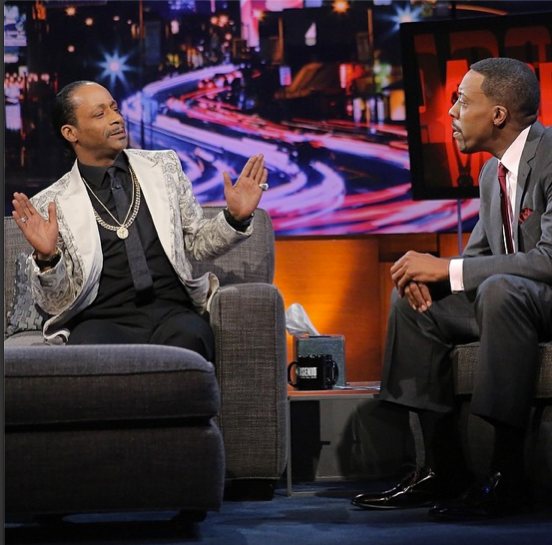 Talk show host Arsenio Hall has added himself to the list of potential owners vying for the LA Clippers....no...seriously! Find out how you can help Arsenio buy the LA Clippers inside...
Move over Oprah and Magic Johnson. Arsenio Hall wants to play in the big leagues too. The funnyman and "Celebrity Apprentice" winner announced plans to buy the LA Clippers...once he raises the money.
Arsenio said, "I'm Arsenio Hall, and I'm going to buy the Los Angeles Clippers…The Clippers deserve a better owner. They deserve an owner who will represent everybody. There's only one little problem… I ain't got one billion dollars."

He's so serious that he went and made a #hashtag! And guess what....he's got money in the bank. Exactly $1,600. Thanks to Katt Williams.
Watch Arsenio get his first donation:
WILL YOU JOIN THE MOVEMENT?
The Randomness:
1. So...Donald Sterling only gave $5000 to the NAACP in 2010 and some b-ball game tix to ome inner city kids...and nothing else after that. Yet, he still was up for a Lifetime Achievement Award? No wonder NAACP's LA Branch President Leon Jenkins resigned! STORY
2. Floyd Mayweather and Justin Bieber have a pre-fight spa day...and Instagram it. Justin will be walking out with Floyd at tomorrow's night's match up...again.
Photo: Arsenio's IG
Rihanna & Her Bantu Knots Win Big At The IHeartRadio Awards + Diddy, Pharrell & J.Lo
Posted: 02 May 2014 08:38 AM PDT
Celebs made their way to the 2014 iHeartRadio Music Awards at The Shrine Auditorium Thursday night in Los Angeles. And Rihanna made a DOUBLE statement by winning a big award...and rocking bantu knots with her totally couture Givenchy look.
Check the pics of RiRi, Diddy, Pharrell, J.Lo and more inside...
With metallic green lipstick and her hair in bantu knots, Rihanna made a bold fashion statement as she took home 4 IHeartMusic Awards last night, including artist and song of the year.. It was the first annual IHeartMusic Awards...and they were broadcast live on NBC last night and aired on over 150 iHeart radio stations across the country.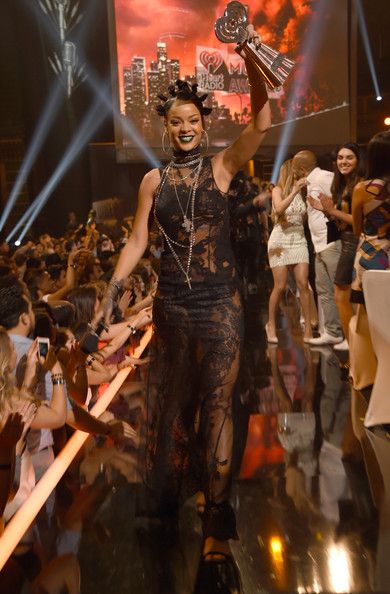 Rih showed off her slim curves in a Givenchy Couture sheer black embroidered dress with very tiny lingerie covering just the essentials underneath. And she was spotted leaving the stage a few times showing off that hair, and offering up hugs to Ryan Seacrest and Jennifer Lopez.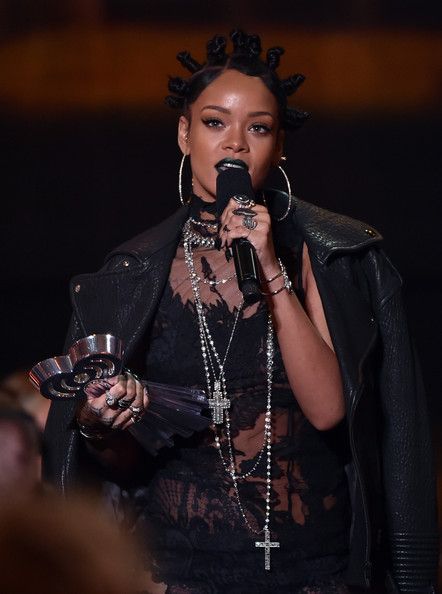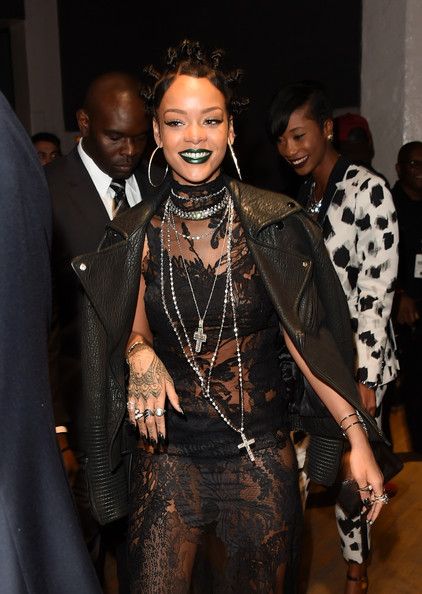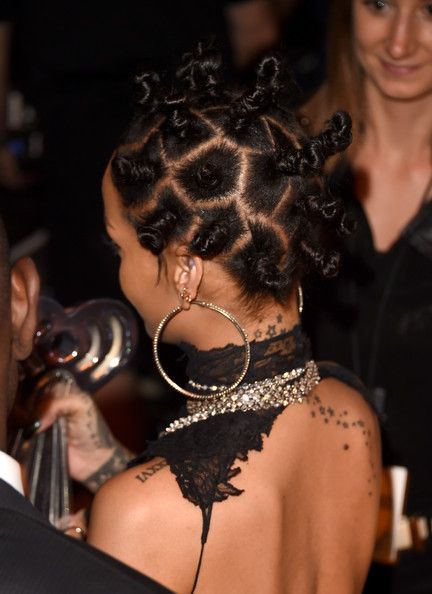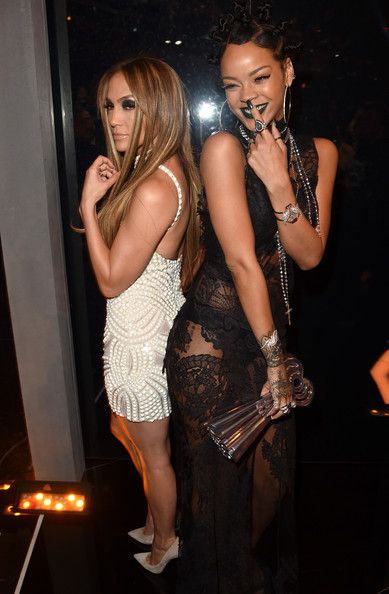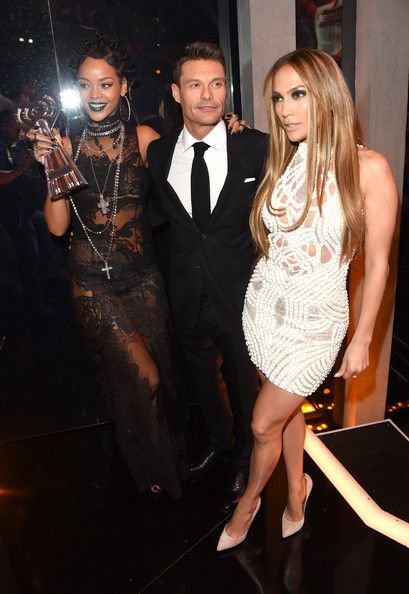 Jenny's looking hot as usual.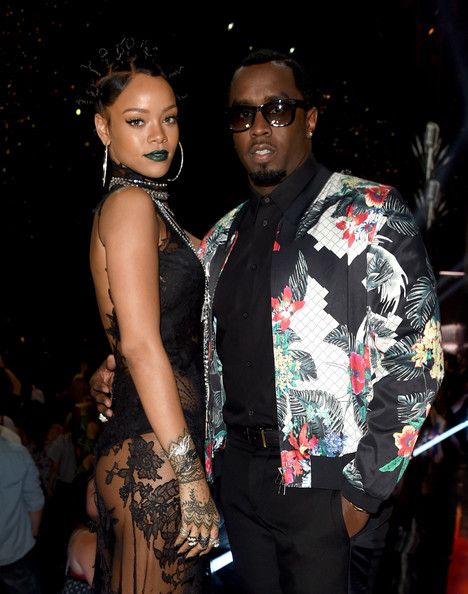 And Jenny's ex Diddy was there in a floral jacket.
Rih also snapped a pic with Ariana Grande.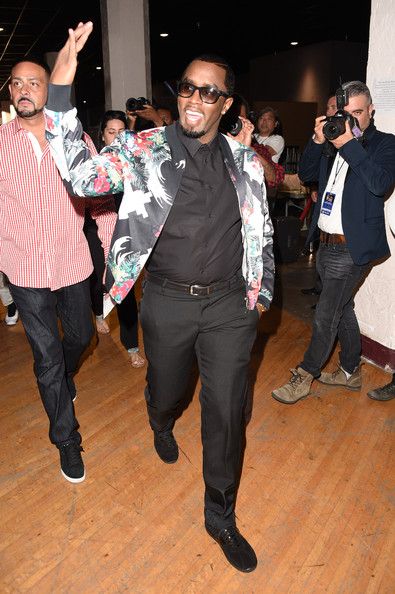 Pharrell Williams received the iHeart Radio's innovator award and rocked a brand new hat y'all! This one is his own Adidas creation that he collabo'd with the company to make, a carbon fiber creation.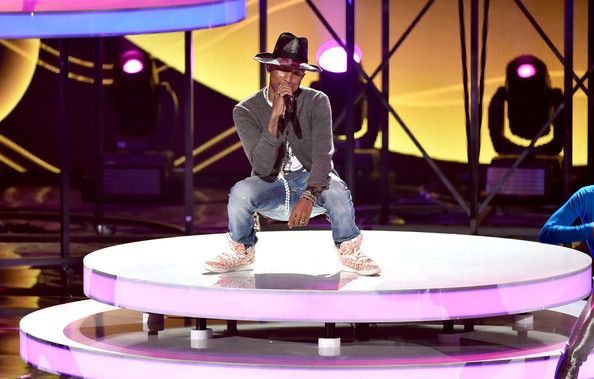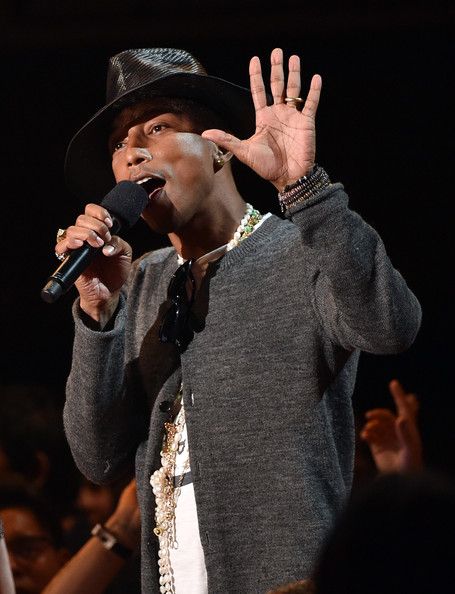 Nice!
Lil Jon kicked it backstage with radio host Nessa from "Girl Code".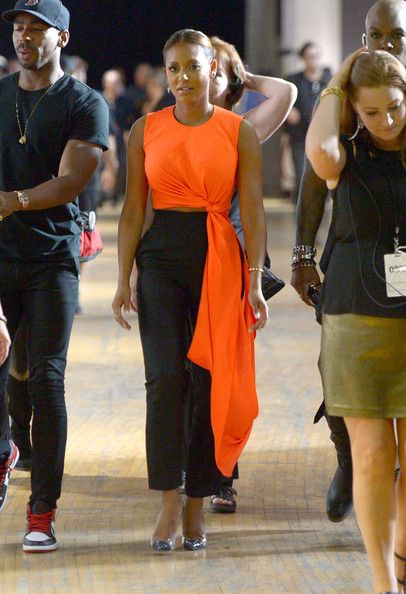 And Mel B was there looking ready for summer.
Photos: Getty