---
Serena Williams GETS SOME RETAIL THERAPY AT The Louis Vuitton Store In Madrid + HILARIOUS "SNL" Skit On Why You Don't BAD MOUTH Beyonce!
Posted: 04 May 2014 08:14 AM PDT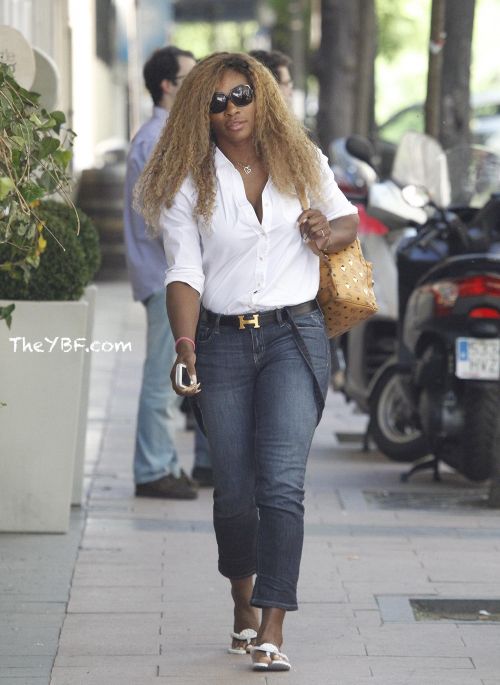 WTA defending champion Serena Williams was spotting shopping in Madrid prior to hitting the court to defend her title. Find out where she went and get deets on her upcoming game inside and watch a laugh-out-loud Beyonce skit on "SNL"...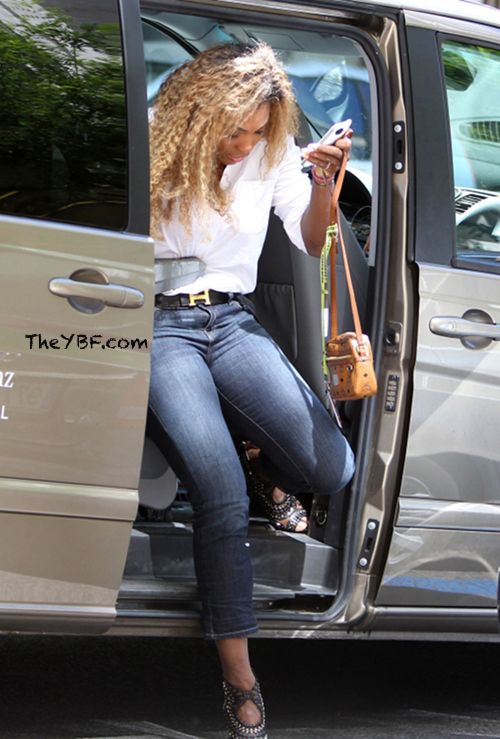 Serena Williams was spotted hopping out of a chauffeured SUV in Madrid yesterday. Ranked number one in the world, Serena is in Madrid to compete for her third consecutive title, beginning with a match later today against Swiss teenager Belinda Bencic on Manolo Santana court.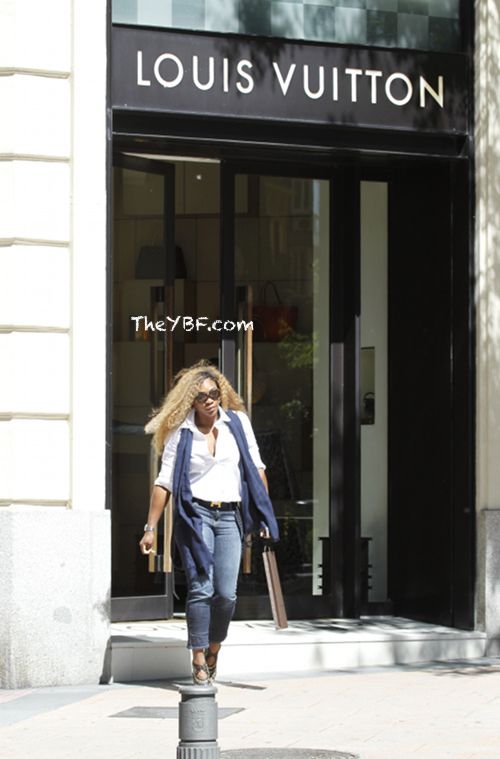 To relax her nerves before the big game, Serena enjoyed a day of shopping at Louis Vuitton.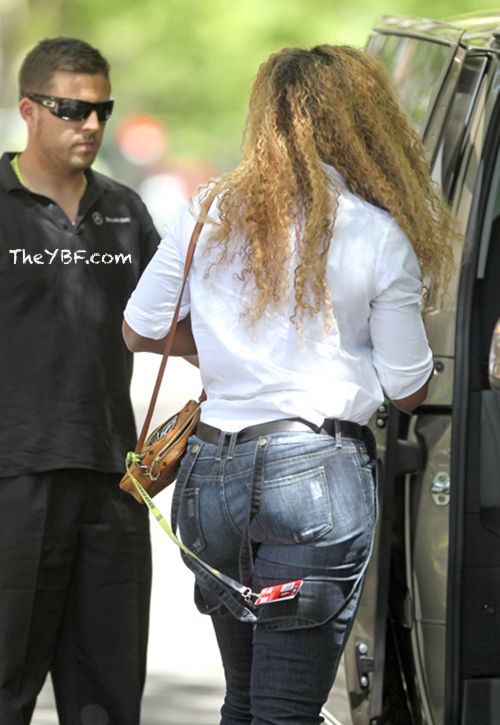 Serena, who won titles in Madird in 2012 and 2013, explained to Tennis World USA why she enjoys playing in Madrid,
"I love Madrid. I just love coming here. It's the reason why I come back every year. I mostly love the city - it's just so pretty. And the food is great, so I love the food, obviously...I just love playing here. I hate leaving, I guess. I just don't want to leave. I want to stay. I also love the tournament directors and people who run it - they do a really good job."
On "SNL"....
Last night, "SNL" aired "The Beygency" - a hilarious spin on what happens when you dare to say negative things about Beyonce.
"In a world where everyone loves Beyoncé, Daniel (Andrew Garfield) learns the hard way that you don't say a word against Queen B without retaliation from The Beygency. Not even Jack Bauer (Kiefer Sutherland) and Chloe O'Brian (Mary Lynn Rajskub) are safe."
It's so funny.....and so true.
Photos via FAME/INF
President Obama Delivers HILARIOUS Speech At The White House Correspondents' Dinner + Celebs Hit The Red Carpet
Posted: 04 May 2014 06:24 AM PDT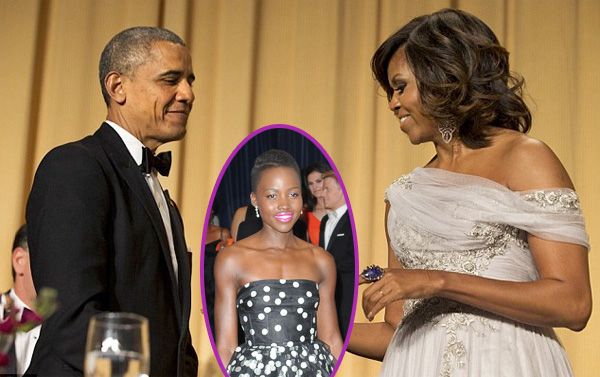 It was a night of many laughs at the 100th anniversary of the White House Correspondents' Association dinner in Washington, D.C. The Washington Hilton ballroom was filled with politicians, celebrities and media elite for Obama's humorous speech and special guest comedian Joel McHale.
Pics of our President, FLOTUS and celebs such as Lupita Nyong'o, Kevin Hart & more inside…
First Lady Michelle Obama was effortlessly gorgeous in a white drop-shoulder tulle ball gown by Marchesa. Our fashionable First Lady was simply elegant in her beautiful embroidered gown as she enjoyed the laughs of the night.
Thumbs up for the First Lady!
President Obama was hilarious during his speech, cracking jokes on media outlets such as FOX News & CNN, the government shut down, and even mentioned Donald Sterling and The Clippers.
Here are the highlights:
On Obamacare: "Of course, we rolled out HealthCare.gov. That could've gone better. In 2008 my slogan was 'Yes, We Can.' In 2013, my slogan was 'Control, Alt, Delete.'"

On CNN's exhaustive coverage of Malaysia Flight 370: "I'm a little jet-lagged from my trip to Malaysia. The lengths we have to go to for CNN coverage these days. I think they're still searching for their table."

On MSNBC: "They're a little over-whelmed. They've never seen an audience this big before."

On Donald Trump's birth certificate investigation: "An American won the Boston Marathon for the first time in 40 years, which was inspiring and only fair since a Kenyan has been President for the past six."

On Fox News: "Let's face it, Fox. You'll miss me when I'm gone. It'll be harder to convince the American people that Hillary [Clinton] was born in Kenya."

On John Boehner's skin color: "I'm feeling sorry, believe it or not, for the speaker of the House, as well. These days the House Republicans give John Boehner a harder time than they do me. Which means orange really is the new black."

On the government shutdown: "One thing we've been unable to agree on is unemployment insurance. Republicans refuse to extend it. I'm beginning to think they have a point. If you want to get paid while not working, you should have to run for Congress just like everybody else.

On critics of Obamacare: "How well does ObamaCare have to work before people don't want to repeal it. What if everyone's cholesterol drops to 120? What if your yearly check up came with tickets to a Clippers game? Not the old Don Sterling Clippers, the new Oprah Clippers! Would that be good enough? What if it gave Mitch McConnell a pulse?"

On Cliven Bundy: "As a general rule, things don't end well if the sentence starts with, 'Let me tell you something about the Negro,'" Obama said. "You don't really need to know the rest of it, just a tip for you."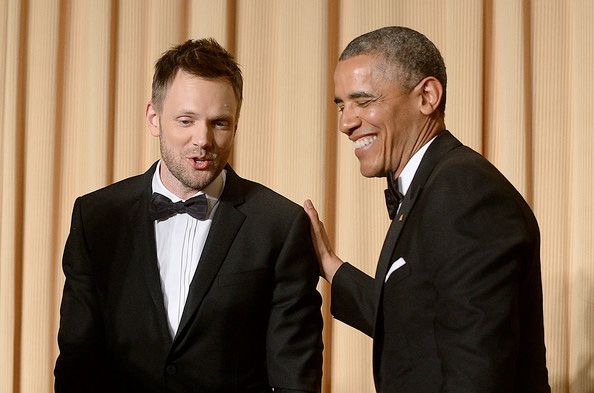 Special guest "The Soup" host Joel McHale stumbled through his routine of poorly executed jokes, which left the audience groaning more than laughing. Must have been the nerves.
Gotta love him.
Celebs on the red carpet at the "Nerd Prom":
Oscar winning "IT" girl Lupita Nyong'o did not disappoint on the red carpet. She stunned in a black polka dot tulle peplum Oscar de la Renta gown with matching clutch and a pink lip.
Gorgeous!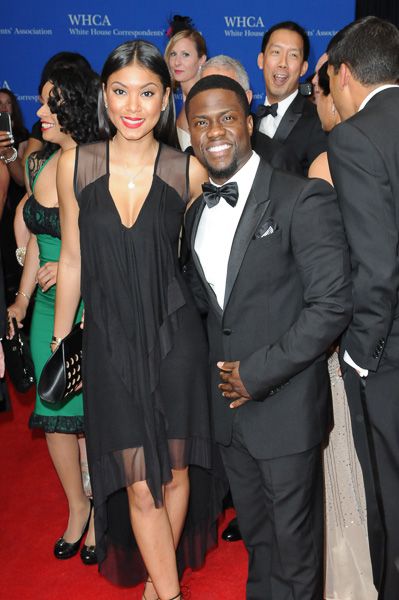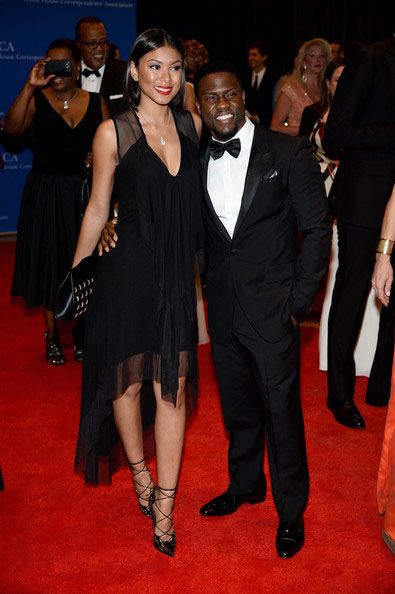 After roasting Mike Epps on Twitter a few days ago, comedian Kevin Hart and his girlfriend Eniko cleaned up nice for the red carpet.
Super Bowl champ Russell Wilson filed for divorce from his wife recently, so he hit the red carpet with his mother, Tammy.
Russell's teammate Richard Sherman also hit the carpet alongside his girlfriend, Ashley Lillian.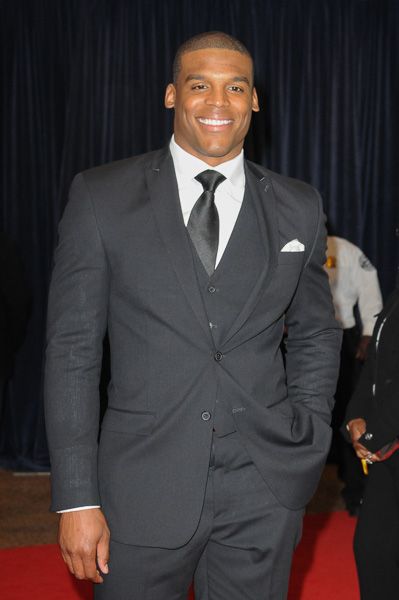 Despite his foot being wrapped in a boot, Carolina Panthers quarterback Cam Newton was all smiles on the red carpet. He is currently recovering from ankle surgery but is expected to play this season.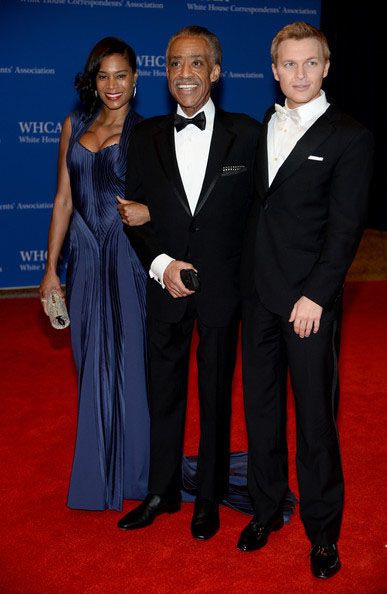 Rev. Al Sharpton hit the red carpet with his girlfriend Aisha McShaw along with MSNBC host Ronan Farrow.
And Al also posed it up with Senator John McCain.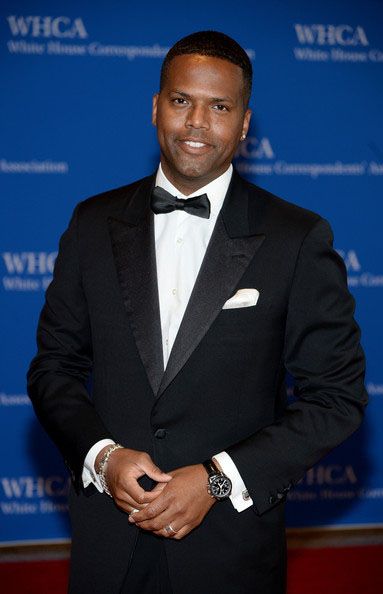 "EXTRA" correspondent A.J. Calloway looked dapper on the carpet.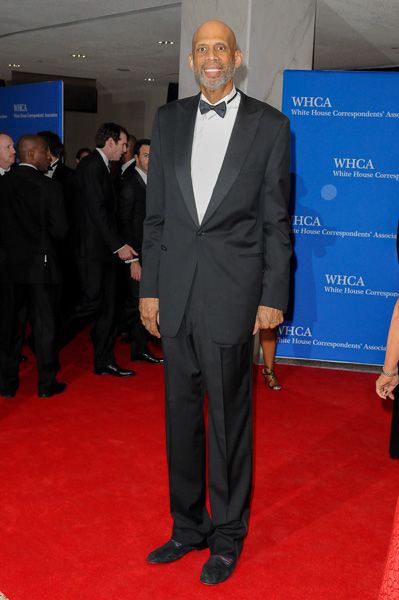 NBA legend Kareem Abdul-Jabbar was all smiles on the carpet.
And E! News correspondent Alicia Quarles looked beautiful in a purple Ziad Nakad gown and Alejandro Ingelmo shoes.
Check out the Obamas entering the room and the President's full speech below.
Obamas entering the room:
Obama's full speech:
Photos: Getty/Reuters/ Aaron J. / RedCarpetImages.net
BEYOND ROLE MODELS: Misty Copeland, Ashley Murphy & Ebony Williams STRIKE A POSE For "POINTE" Magazine
Posted: 04 May 2014 06:14 AM PDT
The June/July 2014 issue of POINTE Magazine features elite ballerinas Ashley Murphy, Ebony Williams and Misty Copeland in a groundbreaking profile. More inside....
POINTE Magazine (an elite publication in the world of dance) created a groundbreaking cover for their June/July 2014 issue by tapping Ashley Murphy (Dance Theatre of Halem), Ebony Williams (Cedar Lake) and Misty Copeland (American Ballet Theatre).

With the headline "Beyond Role Models", the accompanying article highlights the lack of diversity in the world of elite ballet and offers "straight talk" from the ladies about some of the challenges they've faced as they perfect their craft and climb the ranks. Also, Misty (who we've seen in Italian VOGUE) opens up about her diversity initiative "Project Plié" which she and the American Ballet Theatre have launched to find more black ballerinas.
Congrats to the ladies and check out browngirlsdoballet (on Instagram) to see other Black ballerinas living their dream.
BONUS:
A few days ago, ABC News' Dan Harris did a wonderful profile on Misty Copeland and her rise through the ranks in the elite world of ballet. Enjoy...
Photo via Misty Copeland's Facebook
STAGE DEBUT: Porsha Williams PERFORMS "Flatline" For the FIRST TIME EVER...In NYC!
Posted: 04 May 2014 05:11 AM PDT
"RHOA" star Porsha Williams made her stage debut this weekend, gracing New York City with the first live performance of her "Flatline" single. Watch the video inside....
Seemingly unfazed by the RHOA reunion brawl, "RHOA" star Porsha Williams (wearing a dress by Just Dramatik) put her music first and hit NYC over the weekend for her first live performance of her single "Flatline."
The Naked Hair spokeswoman took the stage for a sold-out show at NYC hotspot El Morocco where she sang a special dance remix of the ballad.
Mind you....this was Porsha's FIRST live performance (not counting Kandi Burruss' stage play "A Mother's Love") so we will definitely give her an "A" for effort. She looked amazing and the crowd was very happy to see her. At the end of the song, she showed the crowd why BRAVO voted her the "Best Twerk" with an impromptu twerk session.
Porsha also announced that the "Flatline" video with debut on VEVO later today and you can catch her one-on-one with Andy Cohen following the third installemnt of the RHOA Reunion tonight at 7/8CT on BRAVO.
Watch Porsha's first performance of "Flatline" here:
BONUS:
See Porsha posing on the red carpet here:
Watch Porsha's "Flatline" rehearsal video here:
She captioned, "Learning from the best thank you @dnaybisme for coming out!! I'm so pumped for tonight at #ElMorocco #NYC @joeyakajharris (CreativeDirector) #Rehearsal #Amazing #MrsCartersDancers #Beyonce #lovejonesnyc #teamporsha #Flatline"
Photo via EventBrice/True Exclusives