---
French Montana & Khloe Kardashian PARTY IT UP With Diddy, Meek Mill & Kendrick Lamar In Las Vegas
Posted: 05 May 2014 09:15 AM PDT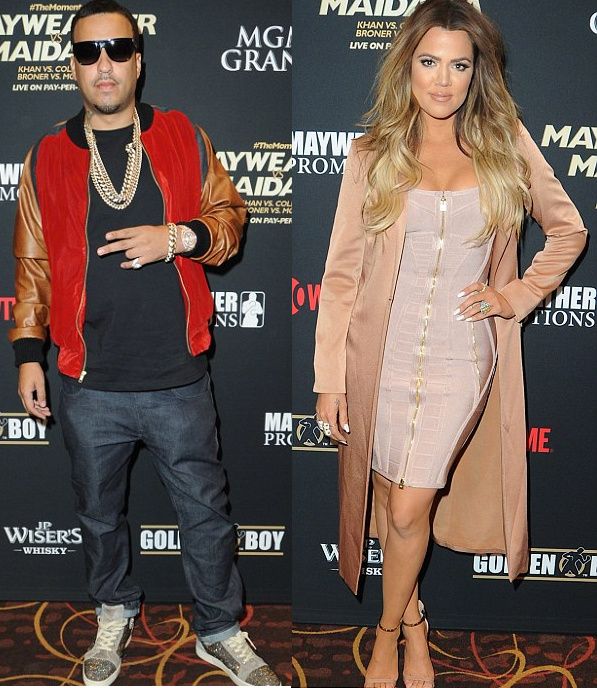 French Montana and Khloe Kardashain are keeping the rumor mill churning after the unconfirmed couple was spotted in Las Vegas, partying with Diddy, Meek Mill and Kendrick Lamar. See their party pics inside…
After boxing champ Floyd Mayweather defeated Marcos Maidana, rapper French Montana and his rumored boo Khloe Kardashian hit up Diddy's fight after party at The Joint inside the Hard Rock Hotel and Casino on Saturday.
Before making their way to the after party, the couple met up with Khloe's little sister Kylie Jenner (who has been partying with Justin Bieber in Vegas this weekend) along with Meek Mill for a late dinner at 35 Steaks + Martinis steakhouse.

French, Khloe and Meek then trekked to Diddy's after party for a night of drinks and laughs as they celebrated Floyd's win: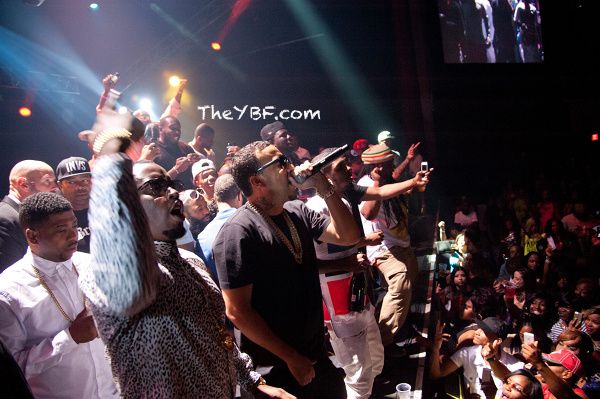 French took the stage alongside Diddy and a slew of others to get the crowd turnt up.
And the Hip-Hop mogul cleaned up nice as he posed on the carpet for his event:
Diddy recently announced he would be interested in owning the Los Angeles Clippers if Donald Sterling is forced to sell the team. He tweeted, "I will always be a Knicks fan, but I am a business man. #DiddyBuyTheClippers #NameYourPrice"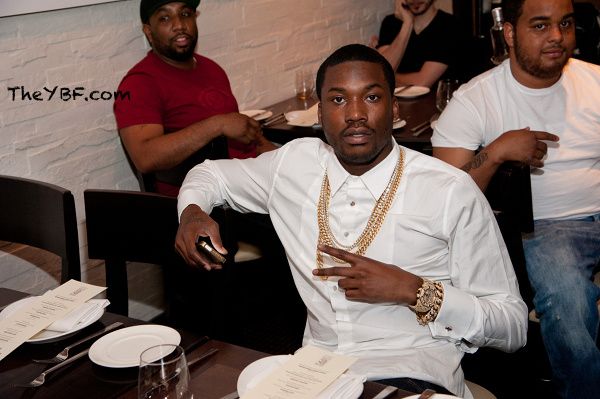 Meek recently lost a civil suit against the Philadelphia Police Department. The Dreamchasers rapper and his entourage were placed in handcuffs after a police officer claimed he smelled marijuana during a traffic stop. Meek and his crew were held for 10 hours causing him to miss his flight to his debut album's release party back in 2012.
And Kendrick Lamar (looking a bit rugged) was also in attendance for the celebration:
Fun times!
Photos: Erik Kabik / Erik Kabik Photography/ @KidrauhBelieved
IN CONCERT: Keyshia Cole SURPRISES Iggy Azalea On Stage + R&B Divas Stars Meelah Williams PERFORMS "Get It Together" & "Steelo"
Posted: 05 May 2014 08:59 AM PDT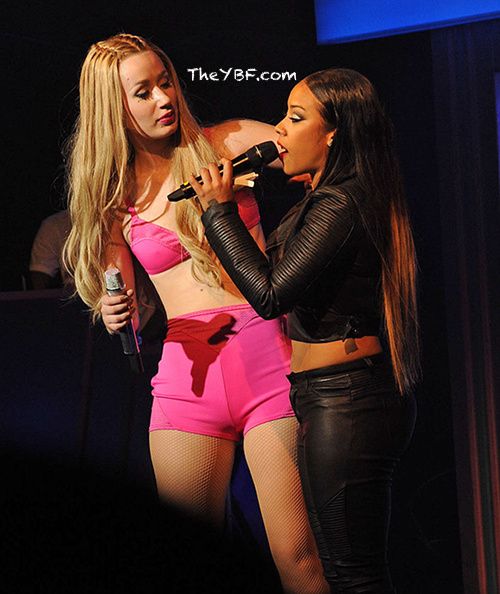 Keshia Cole surprised Iggy Azalea during her NYC concert while R&B Divas star Meelah Williams performed at SOBs. See clips and pics inside....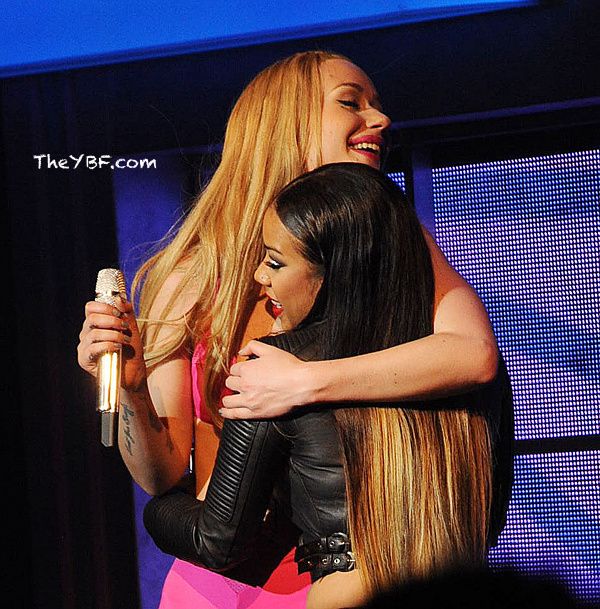 Iggy Azalea performed at the Music Hall of Williamsburg in NYC for the Hotel Iggy Tour over the weekend. During the show, "Rick James" singer Keyshia Cole made a surprise appearance on stage where she and Iggy performed "I'm Coming Out" (which appears on The Other Woman soundtrack).
Watch "I'm Coming Out" here:
Also in NYC.....
"R&B Divas Atlanta" star Meelah Williams took the stage at last night's RnB Spotlight showcase at NYC's SOB's to perform an extended version of 702's hit single "Get It Together." She ended the performance with a classic Patti Labelle move; flapping her wings (arms) and sitting gracefully on the floor of the stage.
Meelah also performed "Steelo"
Photos via Demis Maryannakis / Splash News

SPOTTED: Lupita Nyong'o & Gabrielle Union Outside Their NYC Hotels....Prepping For The MET Ball?
Posted: 05 May 2014 08:39 AM PDT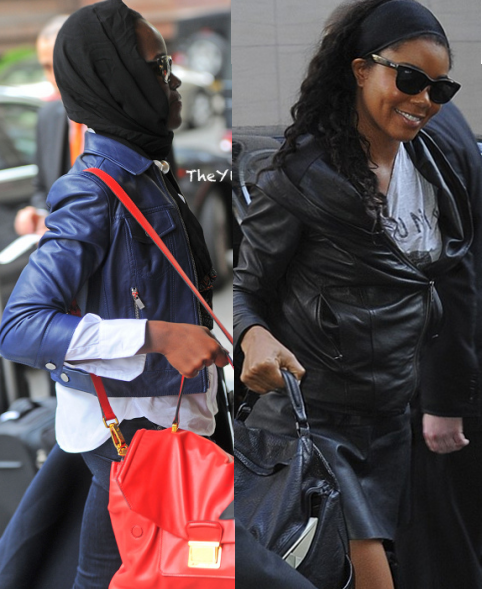 Both Lupita Nyong'o and Gabrielle Union were spotted in New York City walking into their hotels. Find out what the ladies are up to inside....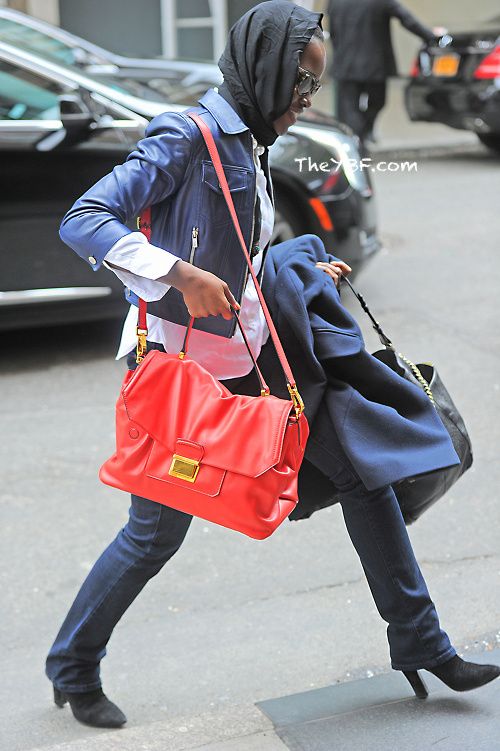 Academy award winner Lupita Nyong'o was spotted walking into her hotel in New York City yesterday.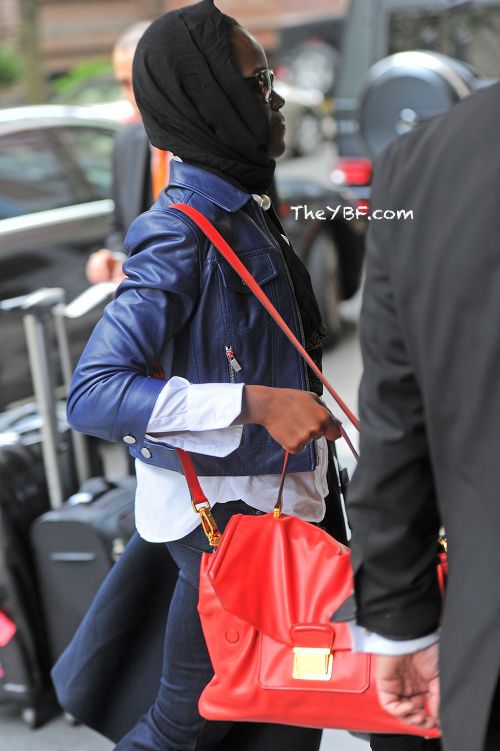 We're sure Lupita is in town to attend the 2014 Met Ball tonight (which focuses on the work of British-born designer Charles James). We can't wait to see what she wears as she surely has her pick of the top designers in the world!
Also in NYC....
"Being Mary Jane" star Gabrielle Union was also spotted walking into her hotel yesterday.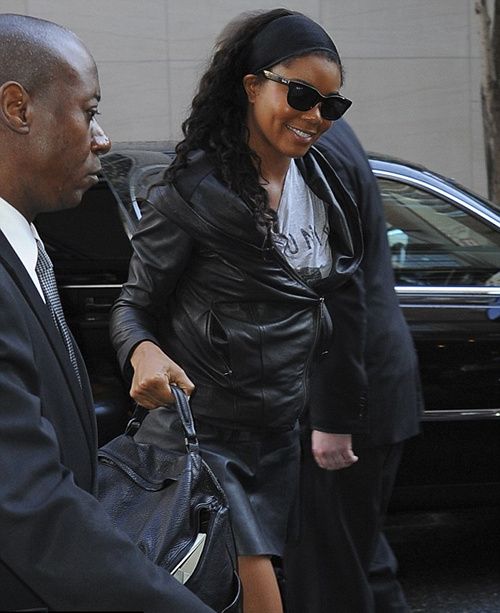 In the May/June 2014 issue of Vegas magazine, Gabby (wearing a leather hoodie and skirt) dished on her upcoming wedding to Dwyane Wade while promoting Think Like A Man Too.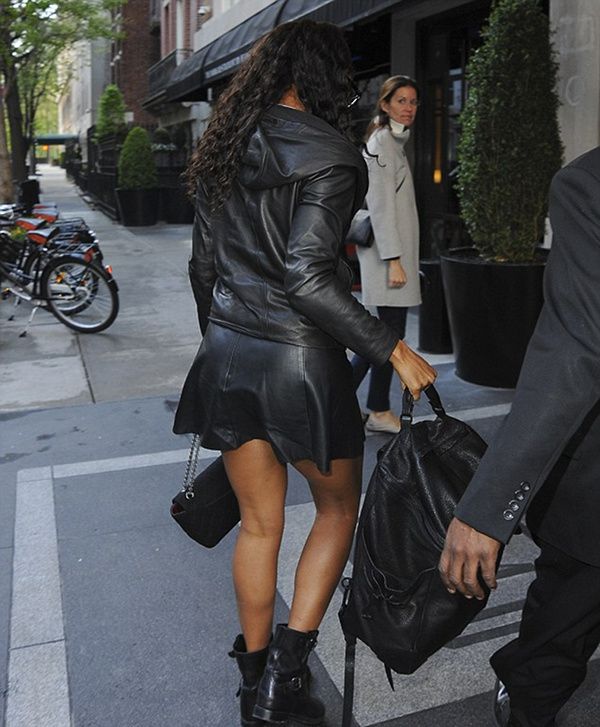 She told the mag, "Well, it will be smaller than the one in the movie, but it's definitely not toned down, per the wishes of my groomzilla. D's very involved in every detail. My dude is having a princess moment. Me? I did the wine tasting, and I've said yes to the dress. In fact, I've said yes to a few of them. That's the joy of getting married to a man who loves clothes and wardrobe changes: You can have more than one dress."
We hope to see D Wade on Gabby's arm tonight at the Met Ball....stay tuned.
Photos via RGK/Pacific Coast News/North Woods / Splash News
WHAT'S BEEF?! Tamar Braxton & K. Michelle's SHADE Throwing SHOWDOWN
Posted: 05 May 2014 07:56 AM PDT
Just when we thought all was well between R&B singers Tamar Braxton and K. Michelle, all hell breaks loose…again. Last night, Tamar & K. Michelle took their beef to social media with Kermit the Frog insults and who's REALLY singing when they perform. Read their social media shade throwing battle inside…
R&B singers Tamar Braxton and K. Michelle are back at throwing epic shade and insults via their social media accounts. We're not exactly sure how this new "Twitter Beef" came about but it led to an evening full of insults and a war of words.
You'll recall these two have never really gotten along. The ladies had seemingly called a truce when they both dropped their studio albums. But things went left again when Tamar hit up "The Arsenio Hall Show" making a comment about K. Michelle and Kmart, which ignited yet another social media spat between the two divas.

Last night, K first took her Twitter account and posted a tweet about making music and not war:


Now, we all know Tamar is currently touring the States on her Love & War tour but K's comment could have still left room for one to think she could have possibly been referring to something else…that is until she posted this to her Instagram: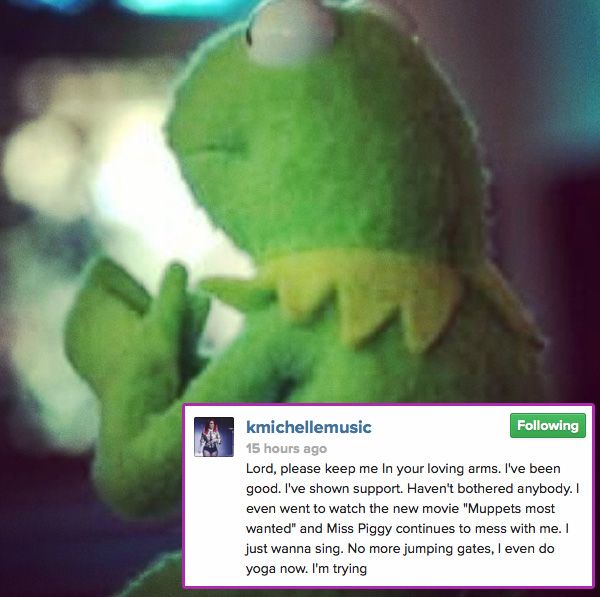 She captioned, "Lord, please keep me In your loving arms. I've been good. I've shown support. Haven't bothered anybody. I even went to watch the new movie "Muppets most wanted" and Miss Piggy continues to mess with me. I just wanna sing. No more jumping gates, I even do yoga now. I'm trying"
Of course, Tamar and her "Tamartians" had plenty to say about K:
These two...
Photos: Tamar's IG/K. Michelle's IG
WHERE ARE THEY NOW?: Lark Voorhies RESURFACES In Hollywood With EXTRA Powdery Makeup
Posted: 05 May 2014 07:30 AM PDT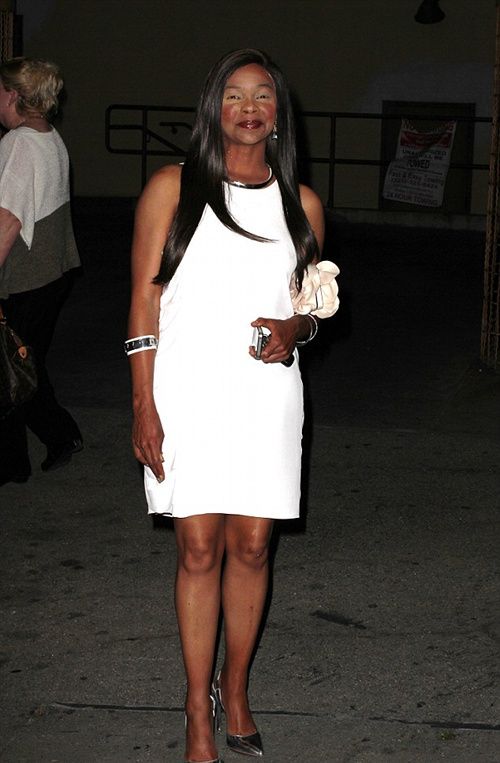 Lark Voorhies should seriously consider firing the makeup artist who did this to her. Or if she did this to herself, she should probably lay off on the concealer. The former child star was spotted in a rare appearance out in Hollywood recently and all we can focus on is that extra powdery bleach-like makeup. See the former "Black IT Girl" candids inside…
Ahh…the good old days. Remember Lisa Turtle from "Saved By The Bell?" She was the chick we all wanted to be like back in the day. Nowadays…not so much.
We don't see Ms. Turtle much, but over the weekend, "Saved By The Bell" alum Lark Voorhies made a rare appearance in Hollywood to hit up the Where We Started movie premiere.
The 40-year-old actress was all smiles as she strolled the streets of Hollywood but we can't help but notice this awful makeup. This isn't the first time we've spotted Lark with a questionable face beat. She did an interview a few years ago that had us confused about WHY her make-up looked so horrid and why she seemed to be so spacey and out of it.

Soon after, Lark's mother revealed the child star was diagnosed with bipolar disease. Not sure if it's the disease talking or what, but Lark made claims she isn't suffering from anything.
Former WWE Superstar Shad Gaspard (above) didn't seem to mind as he posed it up alongside Lark outside of the venue.
He also posted a pic of them on his IG with the caption, "Last night at the premiere of "Where we started" on a nice outing with Lark Voorhies aka Lisa Turtle on #SavedByTheBell She looks great and is staying in shape for some big things."
No word on if these two are a couple or not. But if they do decide to start hooking up, we hope he keeps it 100 with her about this heavy, extra powdery makeup.
Photos: Sonia Hall/Splash News/Shad's IG
"RHOA" REUNION HIGHLIGHTS: Phaedra BLASTS Kenya's Sperm Bank Trips, Apollo Wants Kenya To Place Money On His "Books" + Porsha Alleges Kordell ABUSED Her On "WWHL"
Posted: 05 May 2014 07:01 AM PDT
The three part RHOA Reunion concluded last night with a nasty standoff between Kenya Moore and Phaedra Parks and Apollo Nida. Also, Porsha Williams appeared on "WWHL" where she told Andy Cohen she'd apologized to Kenya...if she received one as well.
The explosive RHOA reunion went out with a bang last night with Phaedra Parks confronting Kenya Moore about her "unwanted" friendship with her husband Apollo Nida (which included one of the nastiest "reads" in RHOA history). Also, Apollo blew off Andy's questios about his legal woes while NeNe and Kandi engaged in a shouting match over some nasty coments NeNe aimed at Mama Joyce.
Phaedra Parks checks Kenya Moore:
Apollo addresses his identity theft charges and says Kenya needs him for a storyline:
Kandi calls out NeNe for saying something negative about Mama Joyce:
On "WWHL".....
Porsha Williams (wearing a Roland Mouret dress and Christian Louboutin shoes) got booted from the RHOA Reunion after her fight with Kenya Moore, but Andy Cohen invited her back on "WWHL" to have her say.
During the interesting chat Porsha promoted "Flatline" (which she performed in NYC over the weekend) and alleged that Kordel abused her and said the Kenya fight escalted because of the props. She also said she'd be willing to offer Kenya an apology...if she received one as well.
Porsha on abuse:
Porsha on Kenya's props:
Porsha on an apology:
Photos via BRAVO
New Music: Usher's "Good Kisser" + Mase's "Nothing" Featuring Eric Bellinger + J. Lo's "A.K.A." COVER ART
Posted: 05 May 2014 06:10 AM PDT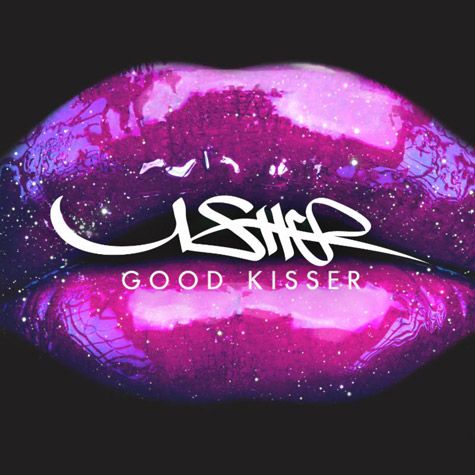 In new music releases, Usher proves he's a "Good Kisser" while Mase has written a track for all the independent women, "Nothing". Listen to both inside and see J. Lo's new album cover for A.K.A.
"The Voice" judge Usher returns to the music scene with "Good Kisser" a track he co-wrote with Andrew "Pop" Wansel, Ronald "Flip" Colson, Jameel Roberts, Terry "Tru" Sneed, and Warren "Oak" Felder.
"Good Kisser" was produced by Pop, Flip, JProof, Terry "Tru" Sneed, Natural, and Oak and will appear on his new album due in September 2014.
Listen to "Good Kisser"
More new music...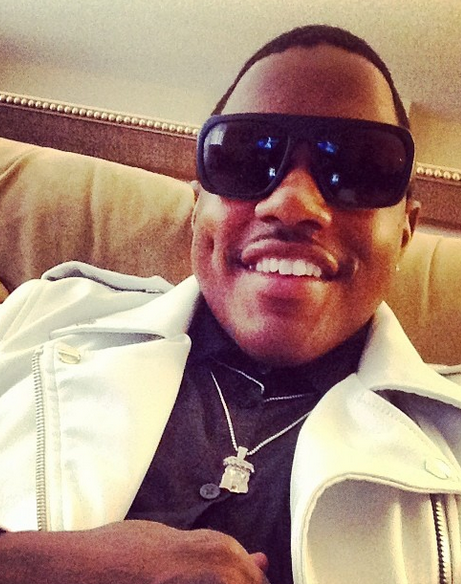 As he preps for his comeback album, Now We Even, Ma$e hope to run the club with "Nothing", a track he penned for independent women who don't need a man to by them "nothing." The soon-to-be-divorced minister tapped singer Eric Bellinger for the hook.
Listen to "Nothing"
In new albums art ...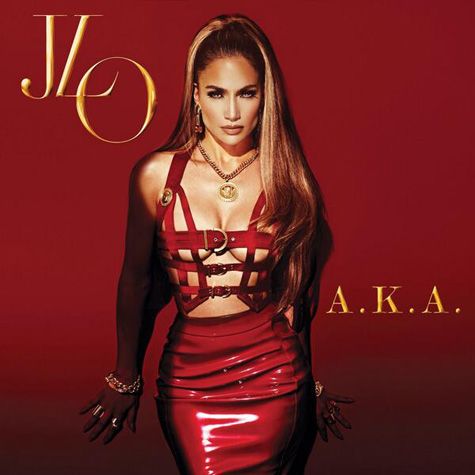 Jennifer Lopez has revealed the cover art for her 10th album A.K.A., (Also Known As). When Jimmy Kimmel asked about the title, she said, "I feel like I've been given so many monikers, and I do a lot of different things," said J.Lo.
The album features "I Luh Ya Papi" featuring French Montana and will included collaborations with Chris Brown ("Emotions"), Robin Thicke and Wiz Khalifa ("Loveline"), Maxwell ("I Wanna Love"), Nas ("Trouble"), Rick Ross ("No Worries"), and Pitbull ("Big Booty").
A.K.A. drops on June 17th.
VIDEO FAB: Porsha Williams' "Flatline" Video
Posted: 04 May 2014 02:43 PM PDT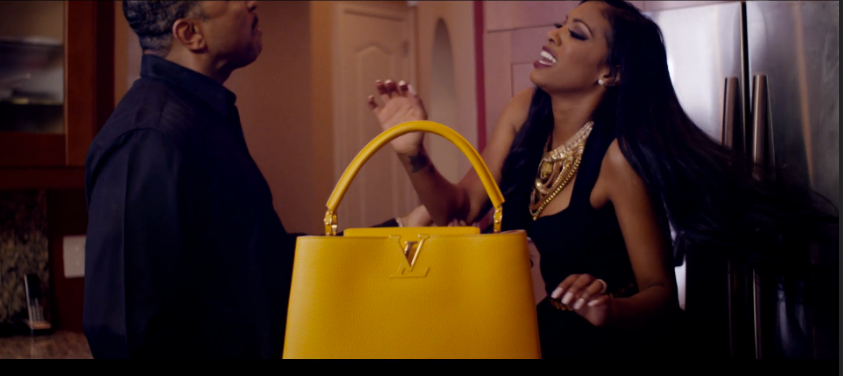 Porsha Williams is still trying to pursue her singing career. And she seems to be making art imitate life in her brand new video for her single "Flatline". Go down memory lane with an abusive relationship that seemed like the "picture perfect life"...
In Porsha Williams' new "Flatline" video, directed by Christian Strickland, the "RHOA" star is channeling something that seems quite familiar--a relationship with an older man that went from glittery gold and riches to abusiveness.
In the video, her leading man is ironically named Cordell Moore. And she relives how the twosome met and how great their relationship was in the beginning--nice cars, a mansion and more. And then it quickly went left with physical abuse and more.
Check it below.
Porsha perfromed this track for the first time in NYC on Friday. Check it.
DERBY DAY: Angela Bassett, Nicole Murphy, Boyz II Men & Other Celebs Hit Up The Races
Posted: 04 May 2014 10:31 AM PDT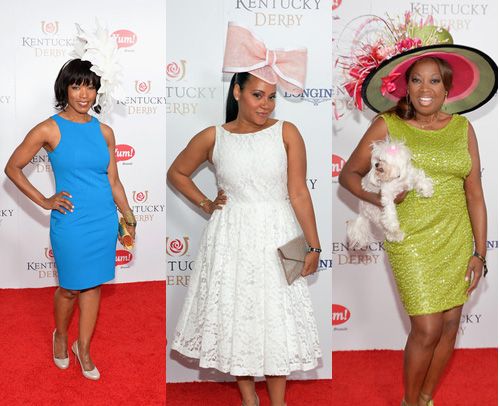 Yesterday, celebs pulled out their festive Derby hats for the 140th Kentucky Derby at Churchill Downs. See their large decorated hats and red carpet pics inside…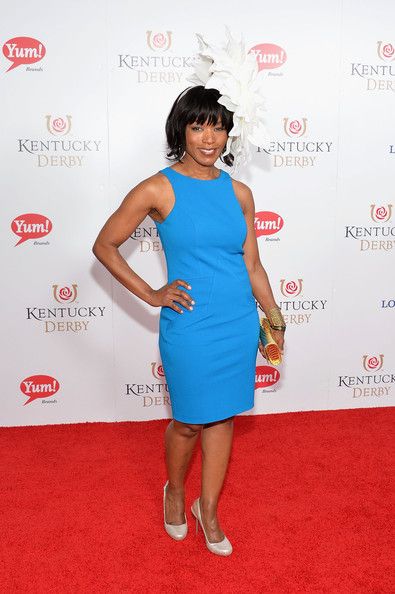 Actress Angela Bassett slipped in a blue dress styled with her dramatic white flower hat on the red carpet at the Grey Goose Lounge.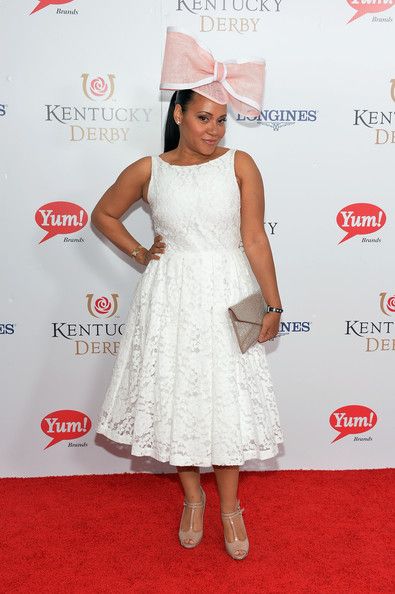 Cheryl James (aka Salt from rap duo Salt and Pepa) was a true southern belle rocking huge pink bow hat with her white laced dress.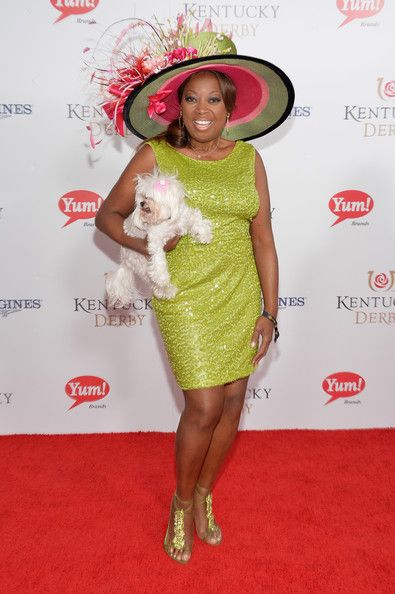 Former "The View" co-host Star Jones lit up the carpet, with her dog Pinky in tow, in a lime green dress and her wide-brimmed festive hat.
Detroit Pistons guard Chauncey Billups and his wife Piper came dressed to impress.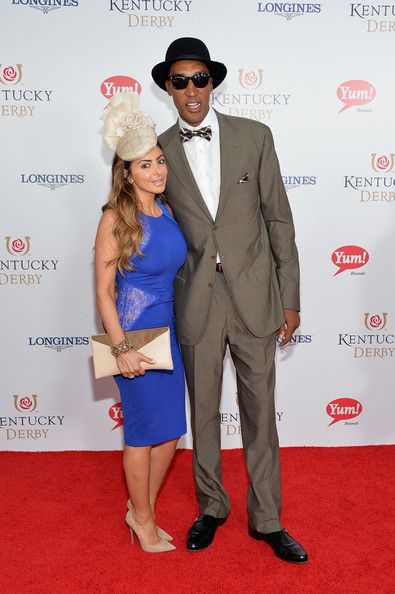 Retired NBA baller Scottie Pippen and his wife Larsa were stylish on the red carpet.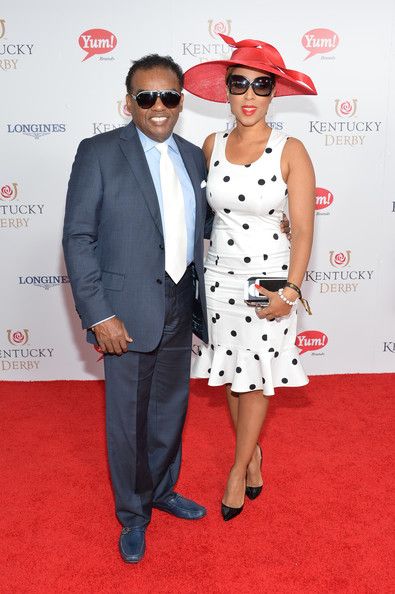 After hitting up the 2014 UNCF 'Evening With The Stars' event last month, Ronald Isley stepped out with his wife Kandy.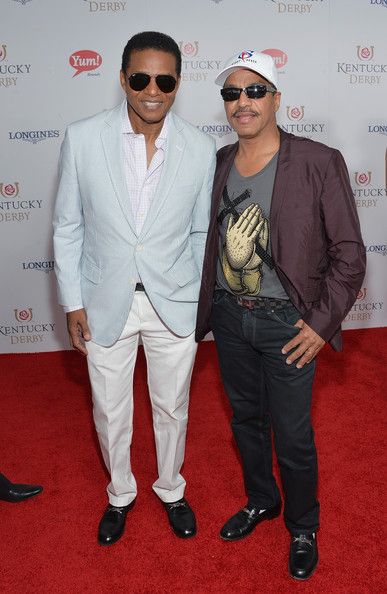 Jackson brothers Marlon and Jackie came out for the races.
Free agent safety Kerry Rhodes was solo on the carpet. He is still pursuing playing in the NFL after he was allegedly involved in a same-sex relationship with his former assistant" Russell "Hollywood" Simpson.
And then celebs made a toast with Moet & Chandon champagne: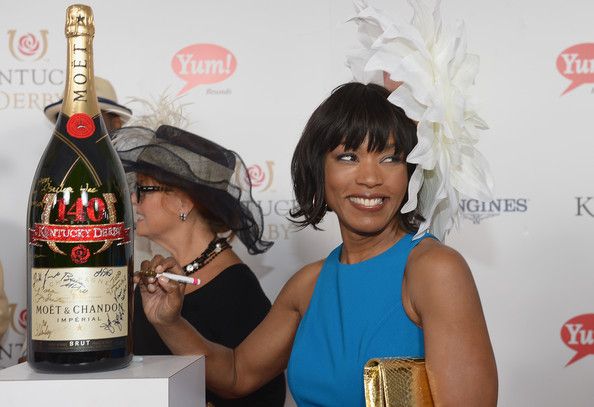 Angela Bassett flashed a smile as she signed the champagne bottle.
Nicole Murphy showed off her curves as she signed the Moet & Chandon bottle.
Salt made a toast as she signed her name.
Star Jones posed it up next to the luxury champagne bottle.
Retired NFL wide receiver Donald Driver and his wife Betina Driver were there for the toast.
Nicole Murphy as she looked down on the races: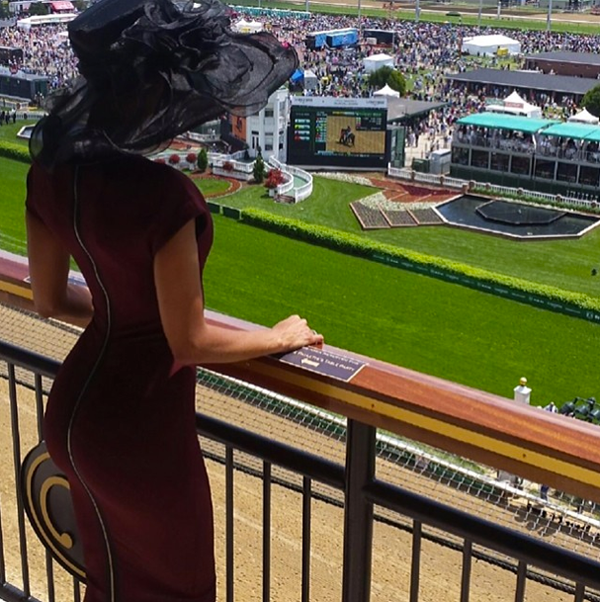 And after the races: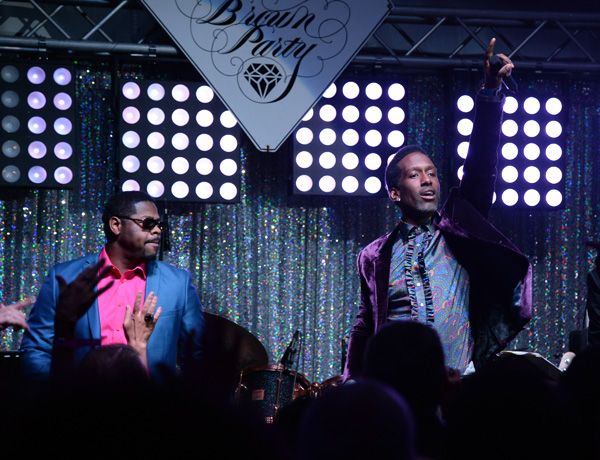 Boyz II Men hopped on stage for an impromptu performance at the Barnstable Brown Gala.
Fun times!
Photos: Getty/Theo Wargo/Nicole's IG

FIGHT NIGHT: Lil Wayne, Rick Ross, 2 Chainz & MORE Watch Floyd Mayweather DEFEAT Marcos Maidana In CLOSE Fight
Posted: 04 May 2014 08:41 AM PDT
It was a close one but Pretty Boy Floyd still remains undefeated after beating Marcos Maidana in a majority decision. Floyd Mayweather Jr. brought the circus to the ring as he made his grand entrance into the MGM Grand in Las Vegas.
See Lil Wayne, Rick Ross, 2 Chainz and other celebs cheer on Floyd inside…
Floyd Mayweather Jr., along with Money Team members Justin Bieber and Lil Wayne, trekked to the ring as Weezy performed his new single, "Believe Me" for the first time. "Believe Me" is said to be the lead single off of Weezy's Tha Carter V album (which he claims will be his final album).
It was a spectacle of an entrance as clowns, jugglers, dancers and more entered the arena before the Money Team made their way to the boxing ring.
Floyd defeated Marcos after landing 54% of his total punches thrown. Marcos threw half as many punches, landing 26% of punches thrown.
Marcos felt he was robbed saying, "I definitely think I won this fight," said Maidana. "Floyd did not fight like the man I expected him to. He made me change the gloves. I had bigger gloves and everything and I still gave him a fight."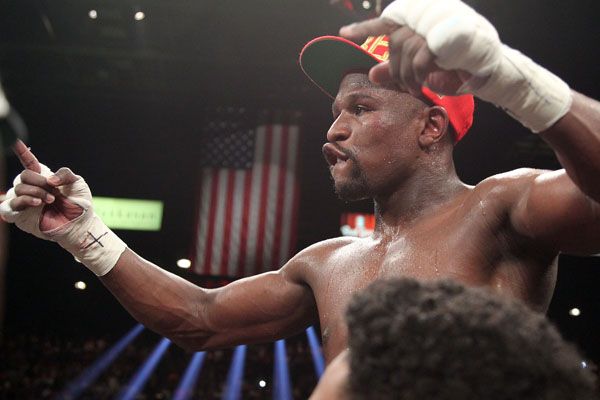 "It was a tough, competitive fight," Mayweather said. "I gave the fans what the fans wanted to see. Normally, I box and move. Finally, I was in a tough, competitive fight. Tonight, I wanted to stand there and fight and give the fans their money's worth."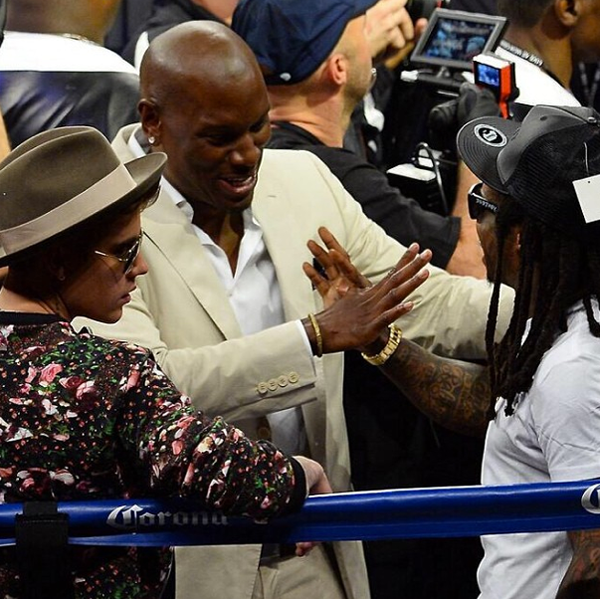 Tyrese was there to cheer on Floyd as he dapped up Lil Wayne in the ring.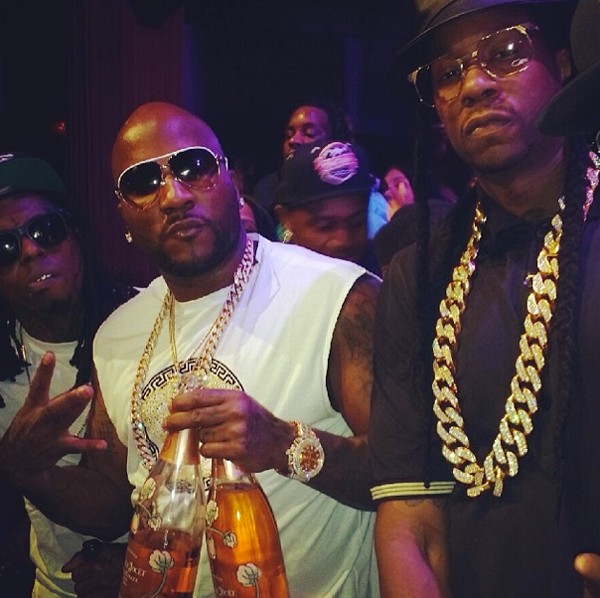 Young Jeezy was ready to catch the fight, popping bottles with 2 Chainz and Weezy.
Tiny and her homegirl Shekinah Jo were running late and almost missed the fight. But they made it just in time.
Adrian Broner was victorious last night defeating Carlos Molina with a unanimous decision. But it was what he said after the fight that had everyone up in arms.
Talking to Showtime's Jim Gray after his win, Adrian made the ridiculous comment, "I've beaten Africans and I just beat the f--- out of a Mexican"
Check it:
This guy...
And during the weigh-in on Friday night, Floyd got Rick Ross and 2 Chainz to walk him in.
Floyd Mayweather's MGM entrance:
Adrian Broner's entrance to Rick Ross' "Box Chevy":
Rick Ross, 2 Chainz and Floyd Mayweather entrance to the weigh-in:
Photos/Videos: Tom Casino / Esther Lin / SHOWTIME/Justin Bieber's IG/Tyese's IG/Young Jeezy's IG/ Elliot Wilson's IG/Tim Burke Vine