---
THAT WAS QUICK: "Hollywood Exes" Star Andrea Kelly GETS DIVORCED...After 2 Months Of Marriage & An "Inappropriate Relationship"!
Posted: 17 May 2014 08:06 AM PDT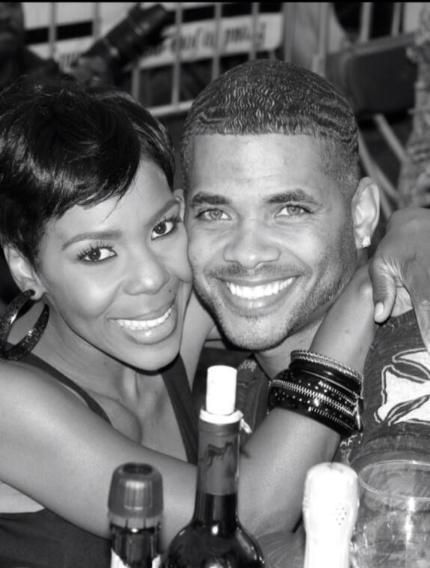 Just as surprised as her friends--and the viewers--were when Andrea (Drea) Kelly announced she got engaged (then married) to barber Brian McKee back on March 6th, we're all in for another surprise. They're already divorced!
Peep the juicy reason why inside....
She was married to R.Kelly for ALL THESE YEARS (many of which they were estranged), and chick hops into another marriage at the blink of an eye with a man none of her "on screen friends" had eever met?
Well, that's a recipe for disaster....and disaster has come.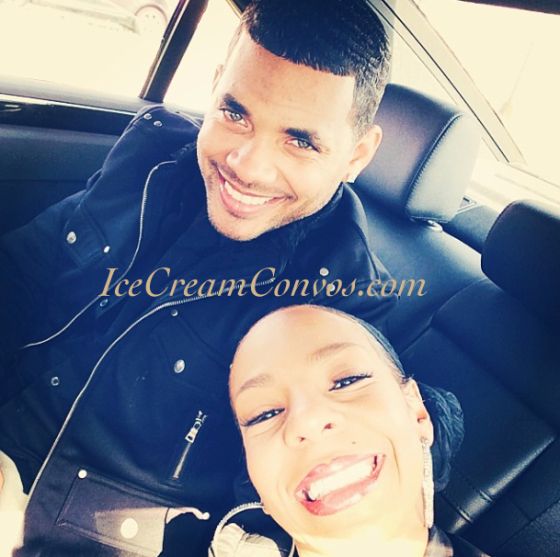 On the season 2 premiere of "Hollywood Exes" a few weeks ago, we all learned Drea Kelly had randomly gotten engaged. She and Brian McKee (above) got married on May 6th, in case yu missed that memo, but it's already over.
What could have possibly gone wrong with an engagement that happens in less than six months and a marriage that happens soon after?
S2S reports, with Drea confirming, that Brian had an ongoing "inappropriate relationship" with another woman. And he was asking said woman for money.
Rumors about trouble in their brief marriage started to swirl shortly after season 3 of "Hollywood Exes" premiered. Apparently, women who Brian was currently or had previously dated began sending Drea info about her hubby via social media.

According to text messages, Brian had allegedly hit one woman up asking for financial support, listing his the reasons why he needed money.

"I just got 3000 a month in bills with no job, car pmnt, student loans etc cell," read the text allegedly sent by Brian.

Jaylynn Umbleby and Drea exchanged Twitter messages on May 12 and Drea thanked Jaylynn for sharing the truth about Brian.

"I read you're email and I want the world to know I FORGIVE YOU! And you stepped up like a WOMEN," Drea wrote. "I'M PROUD OF YOU!"
No job and all these bills...and you're asking a woman other than your wife for money? We're not calling him a con artist but...
Drea RT'd the story and said, "thank u for your support. I'm proud 2b a living example of #girlpower and #forgiveness at its finest XOXO".
Well, we like Drea. So hopefully she keeps her head up and carries on after all of this....
Flashback to Drea and Brian surprising her friends about the engagement on episode 1 of the new season of "Hollywood Exes" that aired this month:
Photos: Twitter
Danity Kane Becomes 3...Aundrea Leaves To Get Married & Have A Family
Posted: 17 May 2014 07:29 AM PDT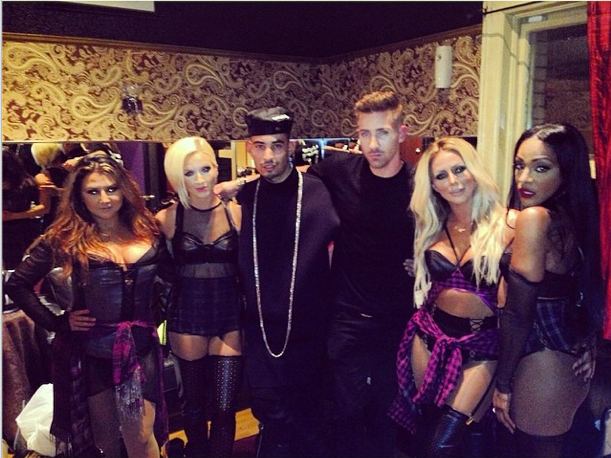 From 5...to 4...to 3. It looks like Aundrea Fimbres is leaving Danity Kane afterall. But not totally. Check out the big announcement at last night's show in San Francisco about Aundrea leaving the group to have a family inside...
In the middle of their San Francisco show (pictured above backstage) at the Fillmore during their No Filter comeback tour, Danity Kane made a big announcement. This week, rumors spun that Aundrea was leaving the group. But Aubrey O'Day seemed to squash the rumors by posting rehearsal pics with Aundrea included.
Now, it's all been explained. Aundrea took the stage last night to reveal she's engaged, and leaving the group to pursue her other dream of having a family. We've learned she'll be staying on the tour to perform the old songs, not the new ones.
She brought her soon-to-be stepdaughter on stage to help her make an announcement.
"It's been two dreams of mine for me to be a singer, and to have a family. And I'm going to have both in a couple months."
She ended by saying she's going to let Shannon, Dawn and Aubrey take over while she goes to have some babies. Many took that as she's CURRENTLY pregnant, especially with what looks like a protruding baby bump hiding underneath that bustier. However, a fan site claims she actually isn't, based on her mother denying the rumors.
In her speech Aundrea never said she was pregnant but starting a family. And apparently her mother confirmed that she is NOT pregnant.

— Danity Kane France (@DanityKaneFR) May 17, 2014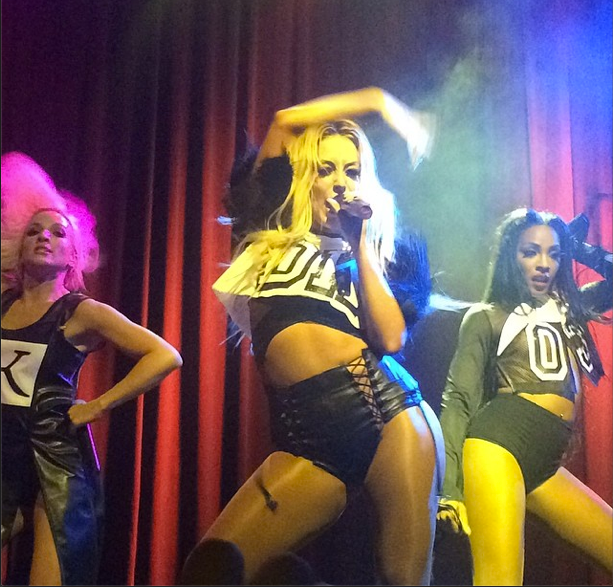 Check out video of the new DK 3 performing their new songs "Lemonade" and "Rage", and performances--with Aundrea-- of "Damaged" and more:
Photos: BobbyNewberry's IG/BrooklynGabbana's IG

CONGRATS DR. JILL SCOTT -- Jilly's Inspirational Speech & Honorary Doctorate Crowning At Alma Mater Temple University [PICS & VIDEO]
Posted: 16 May 2014 11:02 PM PDT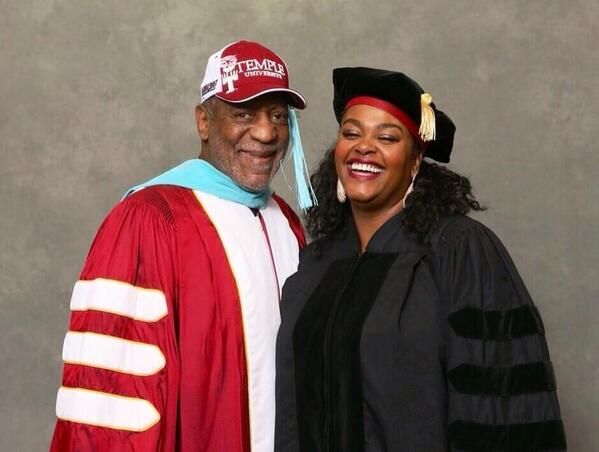 They call her J-I-L-L...and with "Doctor" in front now. Check out Jill Scott copping her honorary Doctorate degree from her alma mater of Temple University inside...
We're super proud of this YBF chick! As a Philly native and a Temple University grad, 42-year-old Jill Scott stood on stage during today's commencement exercises at her alma mater to receive her honorary doctorate for her charitable contributions in the art and music field. Much deserved!
The Blues Babe founder was "hooded" by fellow Temple University alum Bill Cosby and they snapped a pic above together before the ceremony: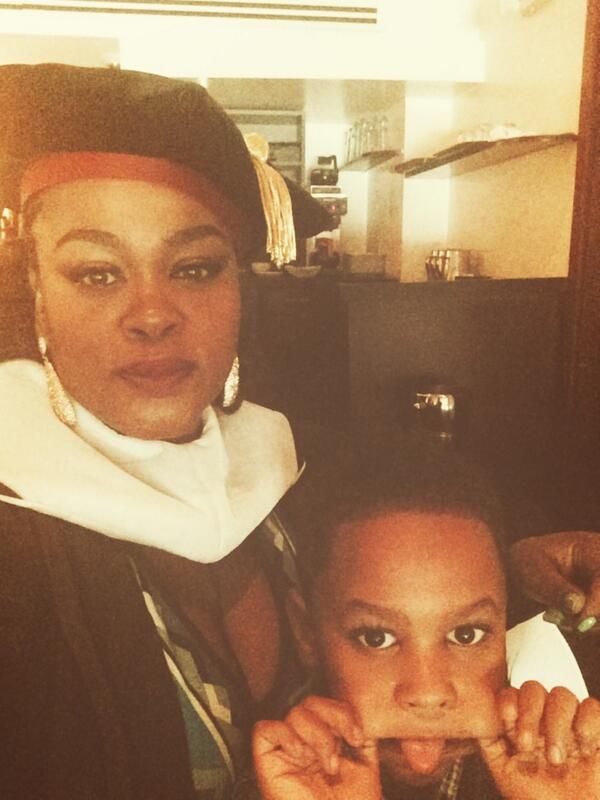 In her inspirational speech, the "Golden" gal said this moment was on of the "things" on her list, as a kid, of feats she always wanted to accomplish. And now that day has come.
She told the crowd at the podium, "My son (pictured above), that I was told I would never have, is in this room watching me get an honorary degree today."
And while staying smiley and super cheerful throughout the moment, Jill told the story of how she worked two jobs while keeping a full courseload of work while she was a student.
Check out her speech in full below.

Photos: Urban Cusp's Twitter/Jill's Twitter
Ciara -- 'I'm About To POP...But I'm Still Crip Walking!'
Posted: 16 May 2014 04:34 PM PDT
Ciara is having some fun with her baby bump in the last days of her pregnancy. It's not everyday you see a pregnant woman crip walking. Check it inside...
Seems like Ciara is ready for this baby to drop! She was headed out (likely for her daily walk) and decided to pause for a minute to drop that crip walk on 'em. Check the cute little video above.
Meanwhile, CiCi is giving little peaks inside expectant motherhood posting her fave life savers (like the big snake pillow) and a sneak peek of her all-white nursery: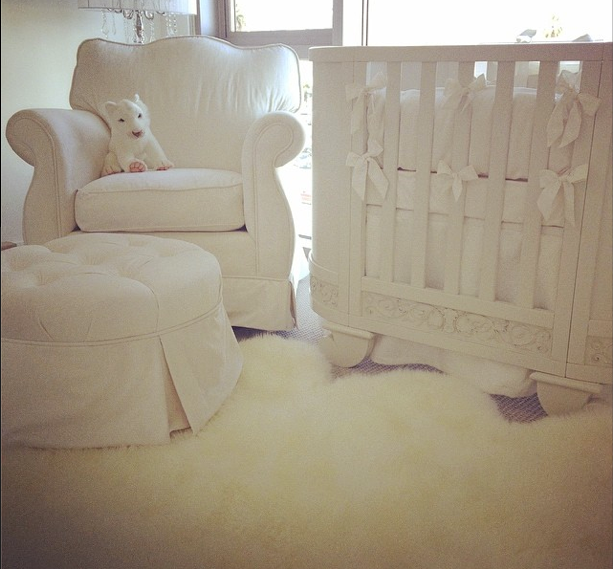 She said, "In Love With My @angelsonghome Gliding Chair, and My @BrattDecor Baby Crib For My Little Prince. This Is All Surreal. Everything About This Time And Process...Wow!!:)"
And she revealed she walks every day to keep in shape. Check it below:
She revealed, "I Walk 2-3 Miles A Day. It Feels So Good!! It's Good For Your Body and Mind! This Is One Of My Most Fun Times Of The Day. Don't Let Pregnancy Slow You Down! Stay Active!:) P.S. Get Those 64oz Of H2o In Too! XO".
Nice! Looks like any day now a baby Future or baby Ciara will be born...
Photos: Ciara's IG
The Randomness:
1. Newly drafted St. Louis Rams player Michael Sam (who is the first openly gay player to be drafted into the NFL) is getting a reality show on the OWN Network that will follow his journey into the league. http://profootballtalk.nbcsports.com/2014/05/14/michael-sam-gets-a-reali... ">STORY
2. That Michael Jackson hologram performance you may have been looking forward to during the Billboard Awards may not happen. The owner of the hologram technology is suing MJ's estate to keep them from showing the performance using his technology because he had plans for a similar high-profile performance. STORY

SHOTS FIRED: Tyler The Creator SHADES Iggy Azalea On "106 & Park," Says She STINKS & A Has A Fake Booty
Posted: 16 May 2014 02:53 PM PDT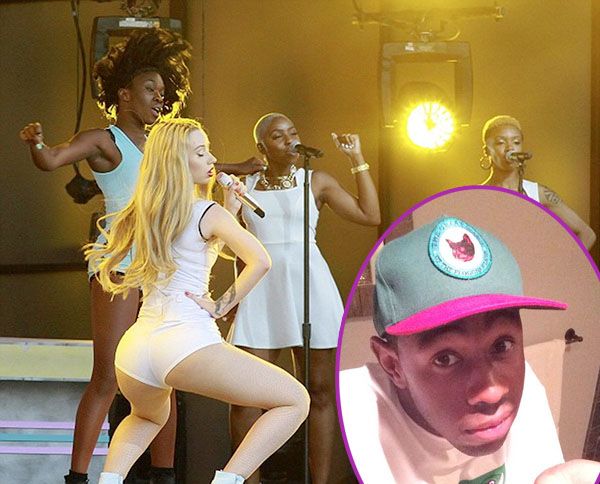 Tyler the Creator threw some major shade at rapper Iggy Azalea during an interview with "106 & Park." Find out what he said that has Iggy's panties in a bunch inside…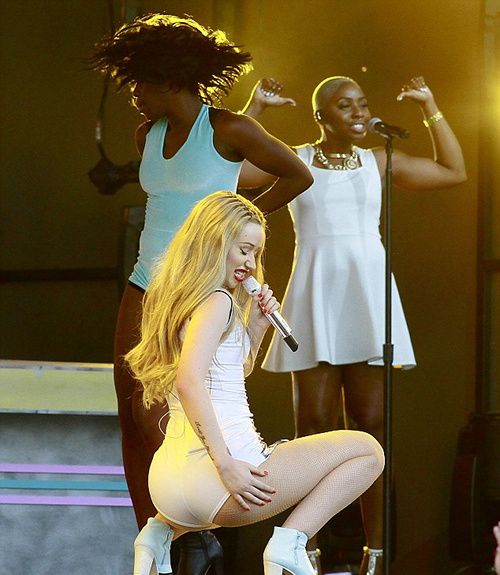 Rap group Odd Future hit up BET's "106 & Park" yesterday and during their interview, they were asked to play a game where they had to choose between three female singers that they would marry, kiss or diss.
So the first line up of possible chicks were pop princesses: Rita Ora, Iggy Azalea (above performing on "Jimmy Kimmel Live" this week) and M.I.A.
When it was Tyler the Creator's turn to make his choice, he said,
"I don't want Iggy cause she stink. She got shots in her thump. I want real booty, ya feel me. Aye, y'all agree right?"
Damn!
Then the next line up was of female reality stars: Kim Kardashian, Mimi Faust and Paris Hilton.
Clearly not up-to-date on reality TV chicks, one of the guys asked, "Who is Mimi?" Then another answered…"Hey, wasn't she born in the 50s?!"
Ha!
Iggy got word of what Tyler said about her and took to her Twitter to respond to his antics tweeting:
Tyler the creator is beyond immature. I've always believed you had something more to offer the world, Shame to see you be so rude.

— IGGY AZALEA (@IGGYAZALEA) May 16, 2014
People that make enemies and talk shit about ppl they've never even said hi to trip me out. I see it all the time... Strange world.

— IGGY AZALEA (@IGGYAZALEA) May 16, 2014
IGGY I DIDNT MEAN TO HURT YOUR FEELINGS

— Tyler, The Creator (@fucktyler) May 16, 2014
@fucktyler Do ya thing, get your promo no skin off my back. the energy you put out is what you eventually get back...doesn't effect me.

— IGGY AZALEA (@IGGYAZALEA) May 16, 2014
I've never met saying I stink on national television. Go home, grow up. Move on.

— IGGY AZALEA (@IGGYAZALEA) May 16, 2014
Ha! So silly.
Check out Odd Future's wild interview below:
These guys…
Photos: Pacific Coast News/Tyler's Twitter
IN CASE YOU MISSED IT: Oprah, Tamron Hall, Gayle King & Tons More Salute Barbara Walters On Her Final Day In (Daily) TV
Posted: 16 May 2014 01:50 PM PDT
If you missed today's episode of "The View", you missed an epic episode. Check out Oprah Winfrey and more who all saluted Barbara Walters on her retirement and her final day of daily TV....
Since Barbara Walters is a pioneer in the media who knocked down doors for women in news and media (the first woman ever to co-anchor a nightly news program), it's only right almost every iconic (and icons in the making) woman in media showed up on Babs' last day on "The View".
Oprah Winfrey was front and center to congratulate her long time friend in the media and eventually, competitor, for an emotional salute. And amongst tons of media women who surprised Babs on her last day after 17 years on "The View", YBF ladies Tamron Hall, Gayle King, Deborah Roberts, Robin Roberts, as well as co-hosts Whoopi Goldberg and Sherri Shepherd were there to celebrate. And it was definitely inspirational to see all the girl power from several different backgrounds.
Check out the video below:
Also on this episode, Hillary Clinton and more stopped by to surprise Barbara. And yesterday, Star Jones and all 11 co-hosts of "The View" reunited to salute the creator.
Congrats to Barbara Walters, one of the most impactful women in the game, on 50 years in media!
The Randomness:
1. Divorce docs reveal Sherri Shepherd would pay ex-husband Sal about $60K, and she's worth about $10 million. STORY
Solange's FIRST Public Appearance Since CARTERGATE, Gets Comforted By Boyfriend Alan Ferguson In New Orleans
Posted: 16 May 2014 09:42 AM PDT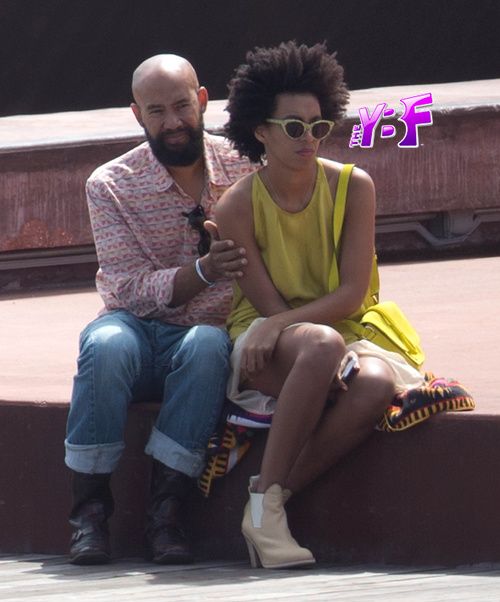 On yesterday, Solange was spotted in New Orleans (where she resides) with her boyfriend Alan Ferguson for her first public appearance since the video of her serving a class-A beat/kick down to her brother-in-law Jay Z leaked. See the cutesy pics of her man comforting her when you go inside…
On the heels of Beyonce, Jay Z and Solange releasing a joint statement about the elevator showdown, Solo was spotted yesterday for the first time since ElevatorGate.
The statement didn't go into detail as to why the "Losing You" singer went off the way she did, but they did say all of that is behind them now and are moving forward...together as a family.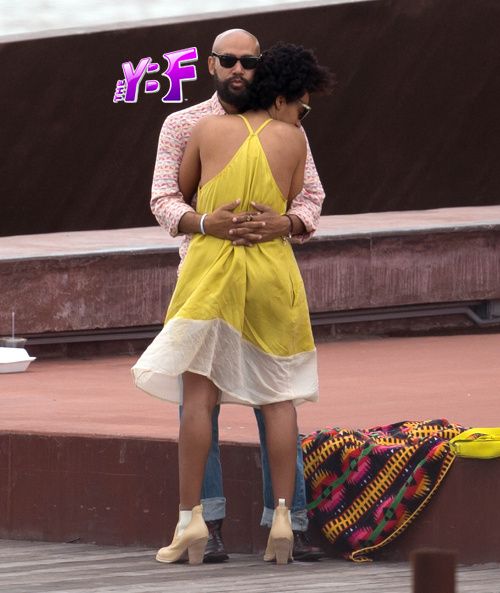 Chilling at a riverfront park near their home in New Orleans, Alan is seen comforting Solo with his arms firmly wrapped around her waist as they enjoyed the scenery around them. The two were probably discussing all the media scrutiny she has gained since the brawl, but it seems all is well in the arms of her man.
Sweet.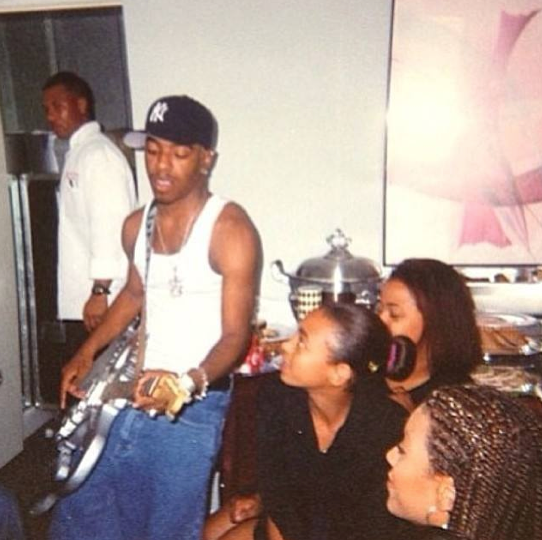 And in another effort to help ease her mind, Solo took to her Facebook page on yesterday to post some "Throwback Thursday" photos of herself when she was a child. She captioned the throwback pic above of she and Bey watching Sisqo play the guitar saying, "#tt The sock [bun]. Best thing since sliced [bread] . (This will be deleted tomorrow, and it's not because I don't love sisqo's awesome guitar)".
Hmm...
And one of her dancing with a friend saying, "Been doing that bestieees Nae Nae since 92. Fake Cross Colours from Kings Flea and all.... @x___ib"
Cute.
Photos: Deano / Breedo / Splash
FOOLISH ACTIVITIES: NFL Player Greg Hardy ARRESTED For Allegedly Beating Up His Girlfriend Over Nelly + Trey Songz FINALLY Speaks On August Alsina "Beef"
Posted: 16 May 2014 09:37 AM PDT
Nelly's name is in the middle of yet another love triangle that escalated to a domestic violence situation between Carolina Panthers baller Greg Hardy and his girlfriend. Plus, Trey Songz finally broke his silence on the August Alsina beef. Get the deets inside…
Lordt…It seems Nelly can't keep his name out of relationship drama.
Charlotte Panthers defensive lineman Greg Hardy was arrested on Tuesday after he allegedly assaulted his girlfriend Nicole Holder (above with Greg) and threatened to kill her. It's being reported that the two were laying in bed and "he just snapped" suddenly… picking her up and slamming her on a pile of guns. She said her NFL baller boyfriend "threw her around several times" and "beat the (expletive) out of me."
According to tweets from the Charlotte Observer's sports reporter Joe Person, Greg got upset over his girlfriend's previous relationship with rapper Nelly. And if you didn't know…Nelly is a minority owner of Michael Jordan's Charlotte Bobcats NBA team.
Check the tweets:
According to court documents, Nicole Holder stated Greg Hardy was angry b/c of her short-lived relationship w the rapper Nelly.

— Joe Person (@josephperson) May 15, 2014
Holder states her relationship w/ Nelly took place after she broke up w/ Hardy in March.

— Joe Person (@josephperson) May 15, 2014
Holder says she and Hardy had been trying to work things out recently.

— Joe Person (@josephperson) May 15, 2014
Her short-lived relationship with Nelly took place in March, which is around the same time the "Hot In Herre" rapper was being linked to Ashanti and Tae Heckard. This guy….
The Hardy's girlfriend requested a restraining order, but it was dismissed after she didn't show up for the hearing. Hmm…wonder if they have kissed and made up already. Seems to be the usual order of events with atheletes and their chicks....
Greg was arrested and released on a $15,000 bond for assault and a $2,000 bond for threats. He now has to hand over all of his guns to the authorities. This guy is scheduled to appear before a judge on June 27th. Chile…
And in other news…
Trey Songz is finally speaking on the "beef" between himself and new R&B crooner August Alsina. August made it known a few months ago that he doesn't "f*ck" with Trey Songz but he never really explained WHY he had a problem with Trigga. He even popped off on "106 & Park" host Keisha Chante after she asked him about his beef with Trey.
Trey has remained mum on the situation, until now…saying,
"August is like a little brother to me. I took him in early on in his career and we had a discrepancy and he didn't know how to deal with it."
Trigga said he really cares about August and he didn't feel the need to speak out against him.
Check it:

Photos: Trey Songz's IG/@BlkSportsOnline