---
RED HOT: Jada Pinkett Smith FORCED To Leave "Gotham" Set After Fire BREAKS Out!
Posted: 10 May 2014 08:23 AM PDT
Yesterday, Jada Pinkett Smith was putting in work on the set of her new television series "Gotham" before a fire broke out and she was forced to leave. Find out what happened inside…
Days after speaking her piece on her daughter's controversial bed photo, "Gotham" actress Jada Pinkett Smith was spotted on set in NYC for the taping of the prequel story of the Batman comic for FOX's new TV show.
Things got heated after a fire broke out in a building next door and everyone was asked to leave the set.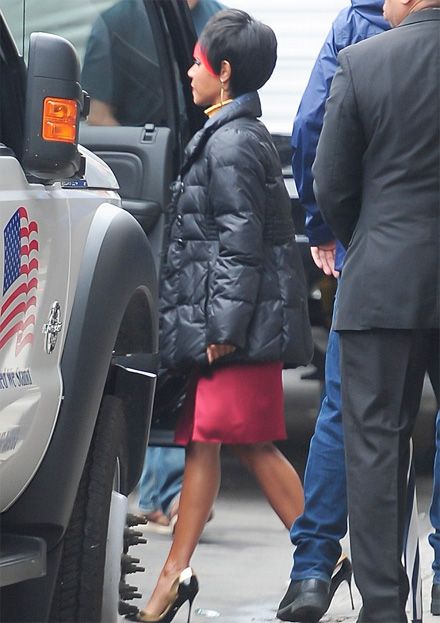 Donning her fire red tips for her role as a sadistic gangster boss, the 42-year-old actress, along with the cast, was ushered off of the set while the production crew shut down filming. Fire crews were called to douse the flames.
No word on what caused the blaze.
Photos: Splash

PICS & VIDEO: Diddy Delivers Howard University Commencement Speech, Nabs Honorary Doctorate + Brings Daughters Along For The Big Day
Posted: 10 May 2014 07:32 AM PDT
Doctor Diddy arrived on Howard University's campus on Friday and documented almost every part of his trip back to what he calls "home". Find out what the commencement speaker is up to while preparing for today's big speech inside, plus video of his commencement address.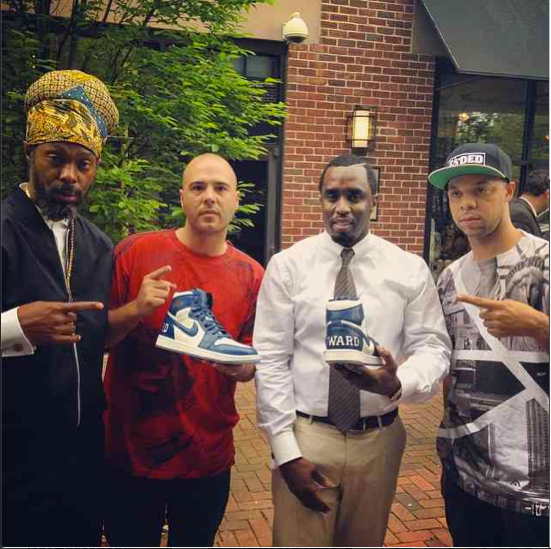 This morning when Diddy walked out of his hotel room, he was gifted with a surprise pair of custom Howard University-themed AirForce Ones. So he gave the creative fellas who surprised him a little shoutout on his IG saying, "I walked out the hotel and #GrooveyLou @richandfaded @relevantcustoms had these AH-MAZiNG Custom #HowardUniversity Air Jordan 1's #DiddySpeechHU".
Nice!
And the momentum is building before the speech goes down soon. Diddy posted himself pulling up to the scene with Mama Combs just minutes ago saying, "Pulling up to one of the most important moments of My Life with The LoVe of My Life #MamaCombs #DiddySpeechHU."
And it looks like he's still putting the final touches on that speech he's been stressing over. He posted video the other day of himself pulling an all-nighter like his own college days at Howard trying to get everything perfect saying, "Up late still working on my speech for Howard's commencement tomorrow at 10am. I feel like I'm back in school up late doing homework lol!!! I can't and won't stop until it's perfect! I wish you all could be here but if you can't, watch it live tomorrow on REVOLT.TV at 11am est #DiddySpeechHU"
But he's got his daughters, mom and supporters by his side. At yesterday's banquet before meeting up with fellow Doctorate recipient Wolf Blitzer (they are both copping honorary Doctorate degrees!), Diddy posted pis with his girls, sound check...and reminiscing around campus: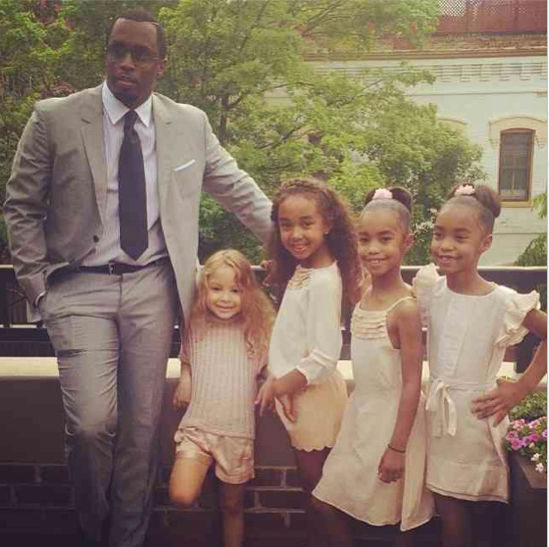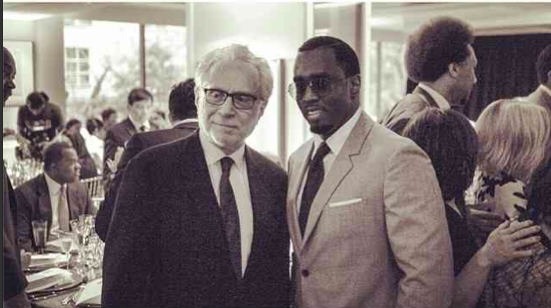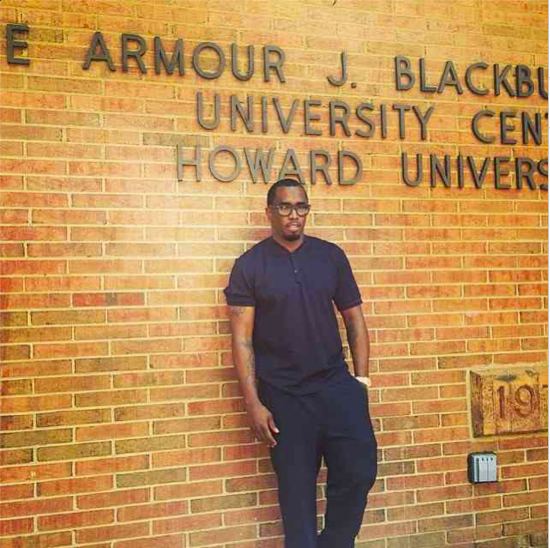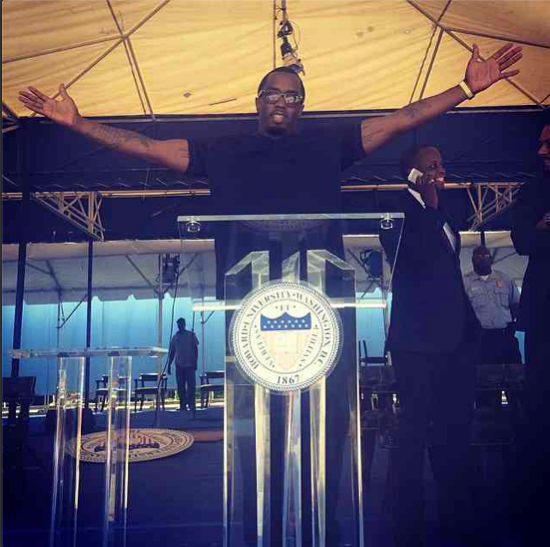 He said about it all, "It's an Honor to share the stage tomorrow with fellow Doctorate recipient #WolfBlitzer #DiddySpeechHU #HUclassOf2014 FEELS SO GOOD TO BE HOME!!!!"
Keep it locked here for Diddy's speech soon!
Photos/Videos: Diddy's IG/@yani_rich
EVENT FAB: Brandy, Laz Alonso, Kyla Pratt, Maxwell & More Hit Lexus' "VERSES AND FLOW" In Hollywood
Posted: 10 May 2014 05:59 AM PDT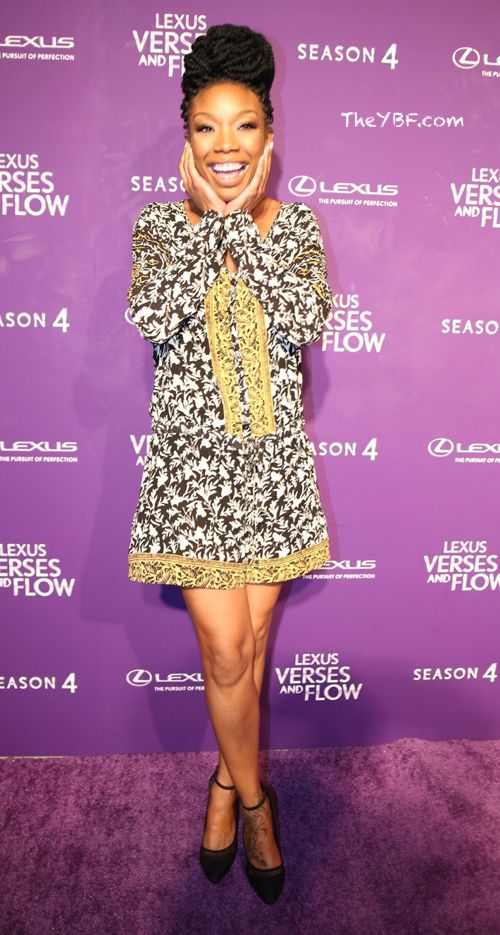 It was a purple carpet affair at the Lexus "Verses and Flow" event at Siren Studios in Hollywood this week. Brandy, Laz Alonso, Kyla Pratt, Maxwell, Malcolm Jamal Warner and more hit the carpet to view the taping of the show's new season. See the pics inside…
Lexus and TV One teamed up to announce season four of the hit series "Verses and Flow," which will feature performances by award-nominated/winning artists and sexy new host Laz Alonso.
Created by Lexus to reach African-Americans on a broader level, "Verses and Flow" is expected to bring great music and phenomenal poetry to its audience. We can catch the eight-show series on TVOne starting in August.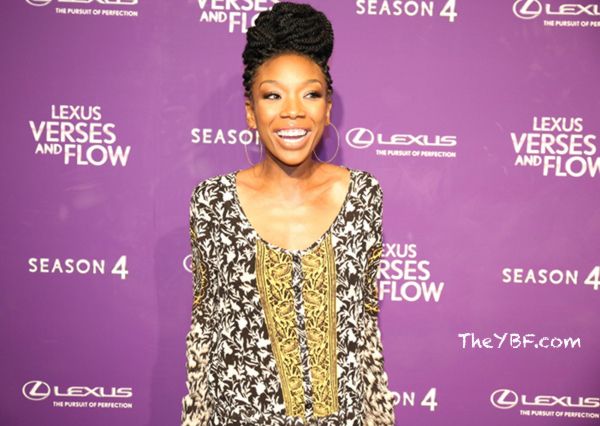 Although she may have recently called it quits with her fiancé Ryan Press, Brandy seems to be enjoying the new single life, hitting up events looking absolutely fabulous. And last night was no different. "The Game" actress hit the purple carpet in a black, white and gold printed frock with her braids swept up into a bun.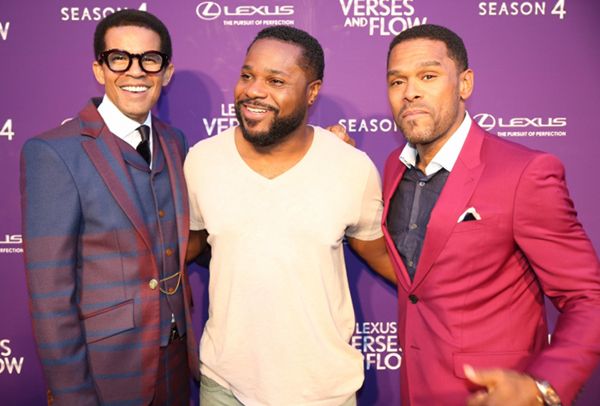 Actor Malcolm Jamal Warner and soul singer Maxwell (looking fine in his red suit) posed on the purple carpet.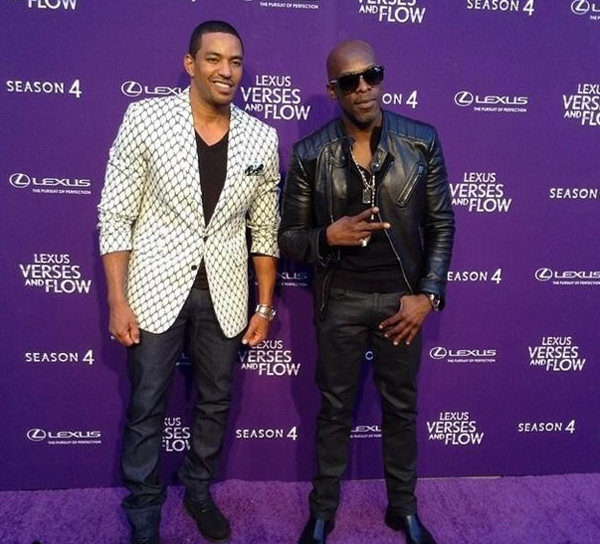 The show's new host Laz Alonso and R&B singer Joe got sexy for the ladies on the carpet.
Laz and Malcolm were all smiles as they stopped for a pic with legendary artist Johnny Gill from New Edition. Laz posted the picture to his Instagram with the caption, "Last nights show was INSANE!!! Poet/Actor @Malcolmjamalwar & the legend @realjohnnygill #versesandflow"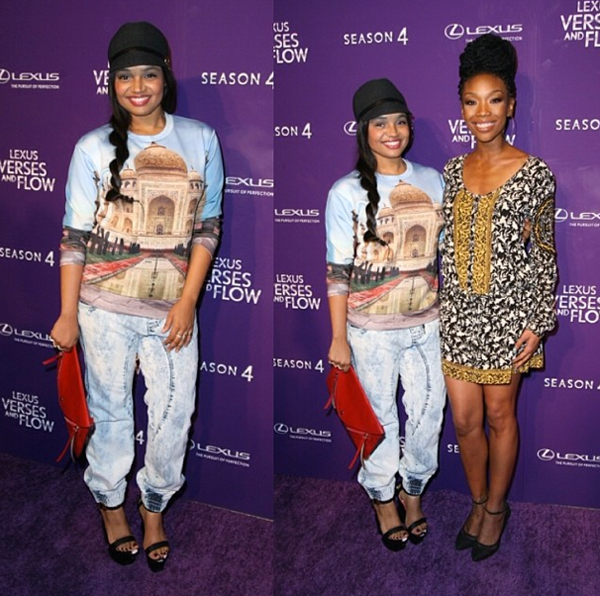 "Recovery Road" actress Kyla Pratt was casually cute as she posed next to Brandy on the purple carpet.
Torrei Hart posed it up alongside Brandy and Bresha Webb of "Love That Girl."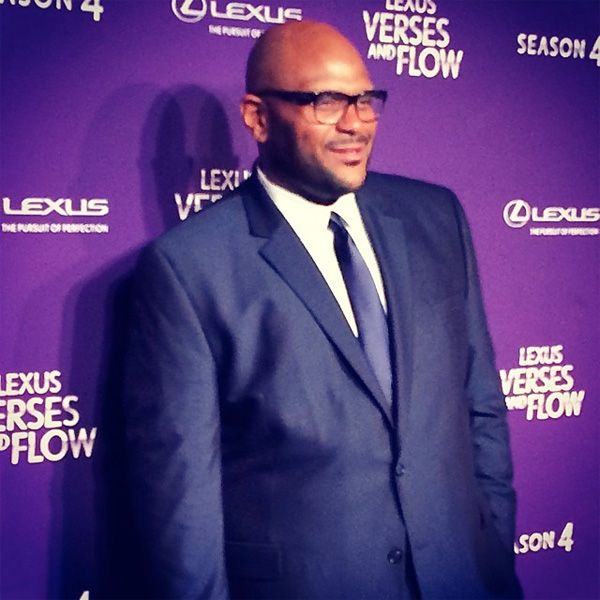 Ruben Studdard came out for the taping of the show. Looking like "The Biggest Loser" really paid off.
Laz and Brandy flashed a smile.
And the "Wldest Dreams" singer was spotted inside the venue walking hand-in-hand with her publicist Kita Williams. Loving this dress.
Fun times!
Photos: WEEN/Laz Alonso's IG/Torrei's IG/@dawsonink
JAIL UPDATE: Chris Brown SENTENCED To Additional Four Months After Probation Violation, But MAY Get Out Earlier For Good Behavior
Posted: 10 May 2014 05:57 AM PDT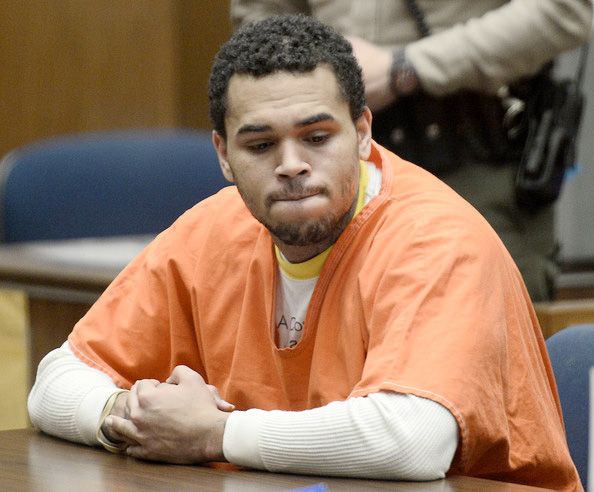 Yesterday, Chris Brown admitted he violated probation after getting into an altercation with a man in Washington D.C. The judge sentenced the R&B singer to additional time in jail…but he might get out sooner rather than later. Get the deets…
Chris Brown (who has been behind bars since mid-March) went before a L.A. court judge yesterday, where he admitted violating his probation by getting arrested in Washington D.C.
You'll recall the singer's D.C. triAl was delayed after his bodyguard was found guilty and wanted to appeal his own conviction. Chris' lawyer, Mark Geragos, hopes that by Breezy making the admission that he will get a 'get out of jail sooner' card and can once and for all settle the case.
Breezy (pictured above in court) was sentenced by Superior Court Judge James R. Brandlin to an additional 131 days in jail, although his sentence could be shortened on the account of good behavior. The judge originally sentenced the "Loyal" singer to a full year, but he was given a credit for serving 234 days (the time he spent in rehab and jail), leaving 131 days left to serve.
Breezy's attorney told CNN he expects Chris to get out of jail by Monday saying,
"I would expect that Chris should be out of jail before the weekend's up or before Monday," Geragos said after the hearing. "If he isn't out by Monday, then I would expect he's getting special treatment. He's got over 230 days credit on a 365 (day sentence) and generally the sheriff is releasing on a lot less than that."
No sign of his on-again, off-again girlfriend Karrueche during his court hearing, but his mom and other family & friends were there for support.
Once Chris is a free man, he is expected to complete community labor at least three days a week until he reaches a total of 700 hours.
Unfortunately, Breezy had to celebrate his 25th birthday behind bars on May 5th, but Karrueche didn't let his day go by without showing a little love. She posted the older picture above with the caption, "Happy Birthday Christopher I love and miss you.. Can't wait to give you a big kiss and hug."
Sure she's happy to hear he's coming home soon...
Photos: Getty/Karrueche's IG
Rihanna Snaps Selfies & Drinks It Up Courtside At Clippers Game + Floyd Mayweather & Future Hit The Game
Posted: 10 May 2014 05:01 AM PDT
Rihanna is on a mission not to miss a playoff game this year. She jetted back to L.A. after hitting the Heat vs. Nets game in Miami on Thursday night, for Friday night's big Clippers vs. OKC game at the Staples Center. Check out the fun gal tossing back drinks and snapping some selfies with her fellow courtside basketball fans inside, plus Floyd Money Mayweather and Future also sopped by the Staples Center...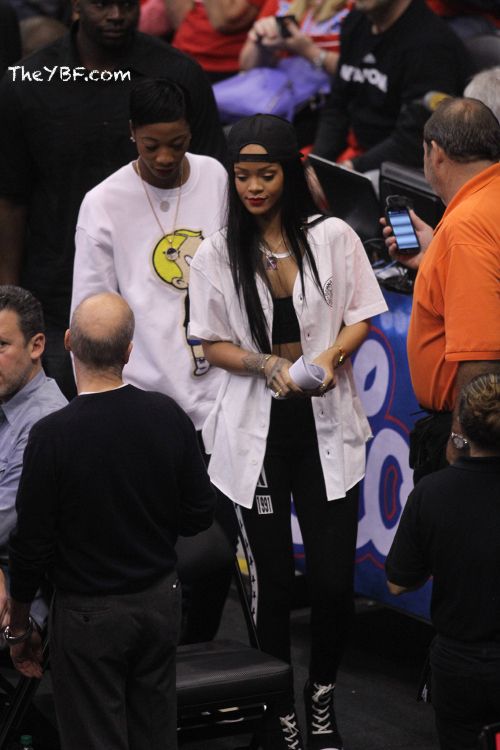 Now that she's got a break from touring before she goes back out on the road for the Monster mini-tour with Eminem in August, RiRi is quickly becoming a big basketball fan. She's always hit up games here and there, but lately she has barely missed a playoff game.
Last night was no different as she and her bestie Melissa strolled into the Staples Center to watch the Clippers take on the OKC in a super heated match up. But she had a drink or two to calm her nerves:
And then, there's always selfies to take: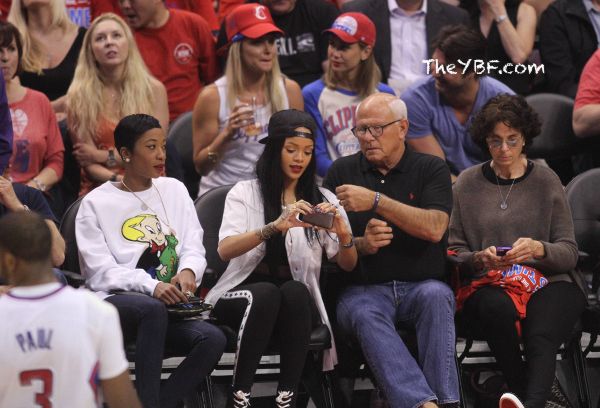 Ha!
Future was spotted arriving to Staples to catch the game...in this super creepy tee:
And Floyd Mayweather is still basking in his recent boxing match win: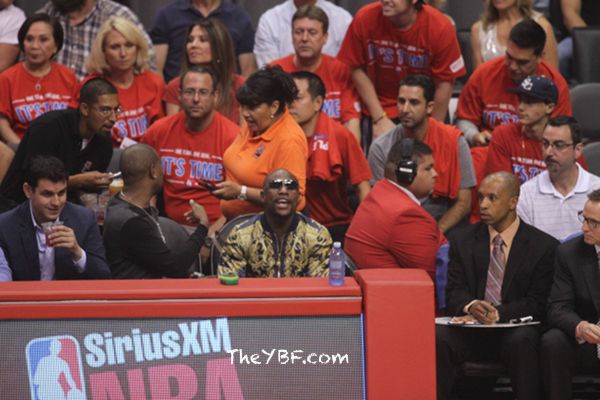 Fun times. The Clippers lost to OKC 112-118.
Photos: Splash/WENN
MOTHER'S DAY 2014: TheYBF SALUTES "NEW" MOMS!
Posted: 10 May 2014 04:09 AM PDT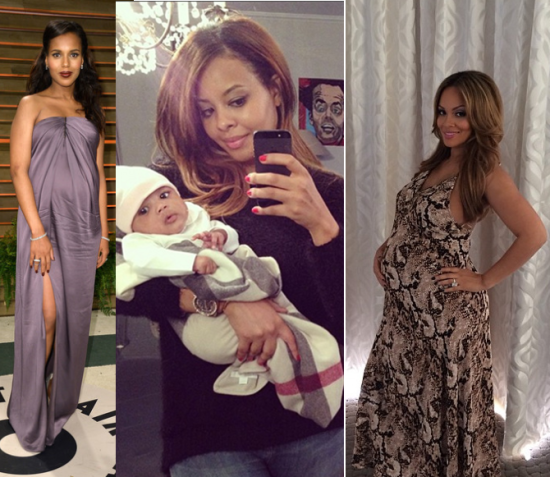 In honor of Mother's Day Weekend 2014, TheYBF.com would like to salute ALL YBF ladies celebrating Mother's Day this weekend. It's a celebration of motherhood! See fab pics of Tamar Braxton, Ciara, Kerry Washington and more inside the gallery.....
For Mother's Day 2014, we're acknowledging the ladies who are first time moms, those who are still waiting on their bundles of joy to arrive and those who made it happen once again.
NEW MOMS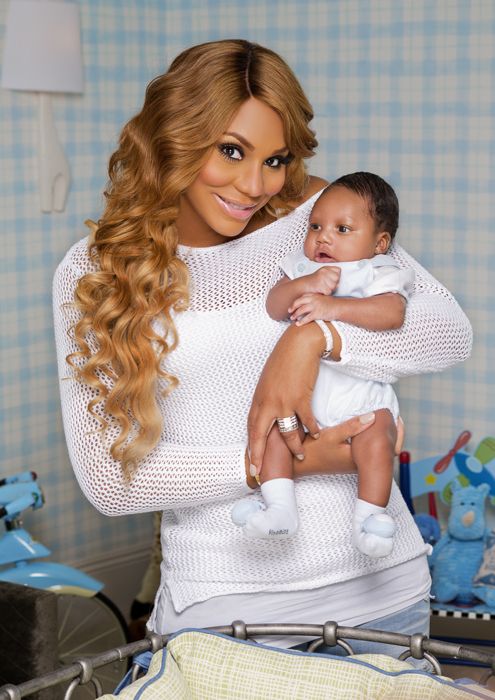 Tamar Braxton joins Kerry Washington (baby girl Isabelle Amarachi), Eva Marcille (baby girl Marley Rae) and Vanessa Simmons (baby girl Ava Marie) in the "NEW MOMS" class this year. Each of the ladies gave birth to her first child and THEYBF.com was on top of following their baby bumps, updates, doctor visits and celeb-studded baby showers.
On "Braxton Family Values", Tamar Braxton allowed fans to join her on her journey to motherhood. We watched her deal with everything from fertitlity isses to learning to connect with her newborn.
Now...we see Tamar and baby Logan are an inseparable unit and they've got tons of cutsie "mommy AND me" posts On TheYBF.com to prove it. In a new Instagram video, we see Tamar's taught Logan her infamous "lip smack."
Adorbs.
MOMS TO BE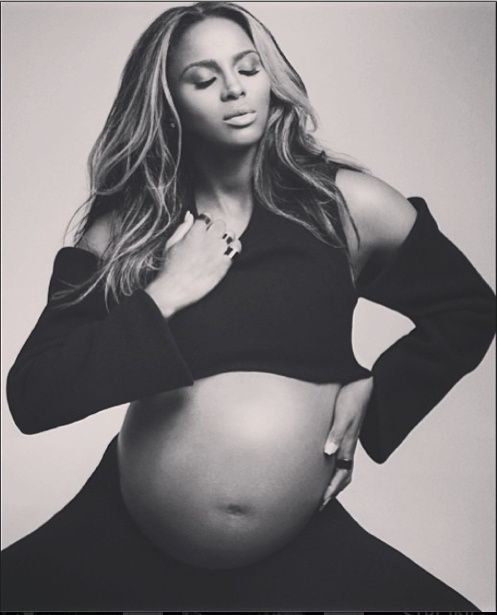 Pop star Ciara (expecting a boy) joins Lil' Kim (expecting a girl) in our "MOM TO BE" group. The sultry starlet celebrated her pending mommyhood with a sizzling pictorial in W Magazine this year, truly capturing the essence of motherly glow. She looks amazing!
MOMS AGAIN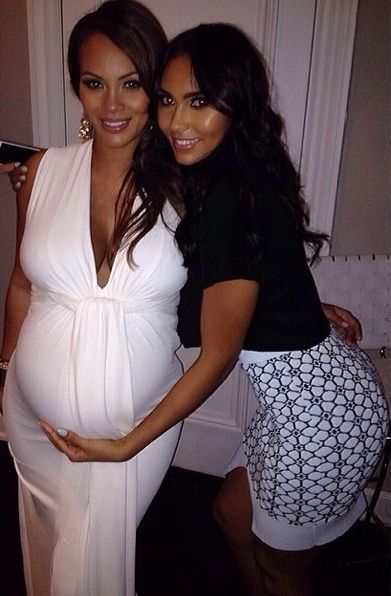 Some moms are celebrating motherhood for the second time around. Former reality star and fitness expert Evelyn Lozada joins rapper RaSheeda (baby boy Karter) in this group of ladies who've done motherhood before...and now they're doing it again! Ev and big sister Shaniece (above) welcomed home bay boy Carl Leo Crawford this year.
Enjoy pics of Kerry, Vanessa, Eva, Ciara, Evelyn and lots more in our gallery below...
Photos via FameFlynet/Instagram
WHOA: Sherri Shepherd's Husband Calls Marriage A FRAUD....And He Wants Custody Of Unborn Baby (By A Surrogate)!
Posted: 09 May 2014 07:04 PM PDT
Well...this escalated quickly. Sherri Shepherd's husband not only filed for divorce (well, legal separation to be exact) last week, with us just finding out today, but docs have revealed they also have a baby on the way! And dude wants full custody....and is also calling the marriage a fraud!
Deets inside...
After three years of marriage and about four years of Sherri gushing about her husband on "The View", Lamar Sally (Sal) dropped a bomb on her.
We already told you Sal's the one who filed the divorce papers. Now TMZ is saying they are technically "legal separation papers", but that's only because Sal doesn't meet the proper 6-month residency requirements in Cali in order to file for divorce...but he will indeed file for divorce in three months, according to the site.
According to the court docs, Sal revealed that he and Sherri have a baby on the way....via a surrogate. He or she is due at the end of July. And, you guessed it, he wants FULL custody and only wants to give Sherri visiting rights.
He's also asking for spousal support, of course. Oh, and about that prenup they signed, he wants it tossed out! Why? He's claiming the prenup is invalid due to FRAUD.
Say what now?
So...there could be a few scenarios at play here. Sal COULD be propositioning for full custody as a strategic move to make Sherri want to give him MORE spousal support in exchange. He also could want full custody in order to get child support in addition to spousal. Or, he could just really want to raise a baby solo dolo. Hmph.
And that FRAUD claim is about to be some ish.
Any way it goes, there seems to be nothing amicable about this here split. Sherri has remained silent about it all (and so has her bestie Niecy Nash who set up the twosome).
Things are getting ugly....
Photo: Pacific Coast News
Teyana Taylor DROPS "Maybe" Cover Art & Snippet + KeKe Wyatt's "Fall In Love" Video + Michael Jackson's "Xscape"
Posted: 09 May 2014 05:13 PM PDT
In new music, Teyana Taylor drops the "Maybe" snippet from her long-awaited GOOD Music debut and KeKe Wyatt releases her "Fall In Love" video. Check it out and listen to Michael Jackson's "Xsape" single....
Teyana Taylor's name popped up in the headlines a few weeks ago after her ex-fiancee Brandon Jennings downplayed their relationship over social media (and started dating her friend Tae Heckard), but beyond the messy gossip, Teyana wants you to remember how she got in the game in the first place: her music.
She's released the official cover art and snippet for her new single "Maybe" Featuring Yo Gotti and Pusha T. "Maybe" was produced by hitmaking duo The Order will be available on iTunes Tuesday, May 13th. Listen to it below...
In new music videos....
Just in time for Mother's Day, KeKe Wyatt releases a performance video for "Fall In Love", a track from her newly released EP Ke'Ke which features appearances from Pusha T and Nitty Scott. The R&B Divas Atlanta star is hopping to grab a broader fanbase with her new EP which features music from a number of genres including country & western, R&B and Hip hop. Enjoy....
In other new music....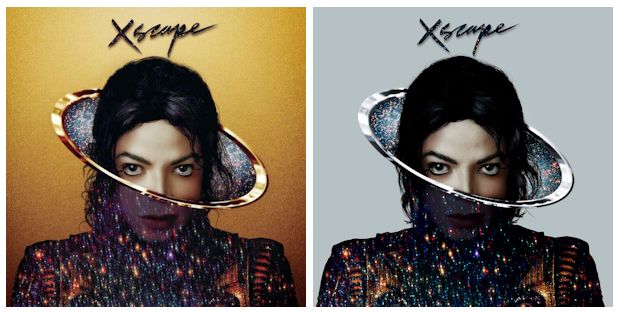 MTV has the exclusive premiere of "Xscape" the title track from Michael Jackson's upcoming album (May 13th). The semi-gritty-song was produced by Rodney Jerkins and originally conceived during the 1999 Invicible sessions. Listen to the exclusive on Michael Jackson's MTV page.
Zoe Saldana REVEALS She's In The Mile High Club & Got It In Between Train Cars + T.I. Says Jhene Aiko's "The Worst (Remix)" Was NEVER Suppose To Get Out
Posted: 09 May 2014 05:10 PM PDT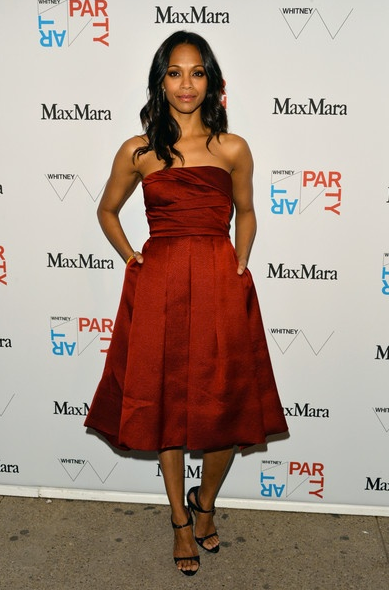 Zoe Saldana was very open and honest about her sexcapades which involved getting down and dirty between train cars (gasp!). Plus, T.I. revealed his remix of Jhene Aiko's "The Worst" was never suppose to get out. Get the deets inside…
Her name is Zoe…but it's Ms. Saldana is ya nasty! The Rosemary's Baby actress (above at the Whitney Art Party in NYC yesterday) hit up "Sway In The Morning" satellite radio show recently to promote her new NBC television series remake. And the interview got really…in depth to say the least.
During the interview, sexy Avatar star was asked to name the craziest place she's had sex thus far, and she left nothing to the imagination with her response.
"The craziest place…I am apart of the Mile High Club. Ok this is ghetto, but I'm from Queens so whateva. There is a train from Coney Island all the way back into the city, and it was between two train cars, it was super ghetto. "
She added,
"But I'm a lady now, I'm a lady."
Mmhmm…
Check it:
And in another interview…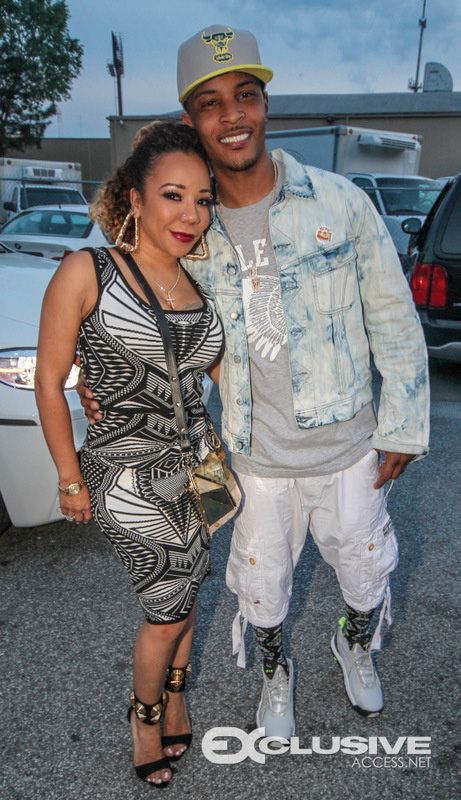 T.I. stopped by Atlanta radio station V103 for "The Big Tigger Show" and of course he asked about Tip's verse on the remix to Jhene Aiko's "The Worst."
You'll recall, the Kang (pictured above with his wife at last night's S2S's "Ladies Night" event) got real personal on the track, detailing he and Tiny's marital issues.
When asked if this was art imitating life he responded,
"I always speak from the heart. I was venting on momentary frustrations. "
So are they in a better place?
"We always in a better place. We among the living, among the free. I don't got a lot to say about it. It's so self explanatory. And it wasn't really meant to be out there like that."
Check it at the 5:15 mark:
So there you have it.
Photos: Wire/ExclusiveAccess.net
Is THIS The Dream's NEW Chick He's Dating AFTER His Baby Mama Drama? + The Dream SPEAKS After Assault Arrest
Posted: 09 May 2014 02:42 PM PDT
Does The Dream have a new chick? It's clear he and his baby mama Lydia Nam have called it quits. Find out who his alleged new boo is inside…
Right before producer The Dream turned himself in to police for allegedly attacking his baby mama Lydia Nam...he posted a picture (below) of whom we thought was his ex-Lydia.
It's possible that they could have kissed and made up (i.e. Ray Rice & Janay Palmer) since their physical altercation, but it seems the super producer has a new lady in life.
We have learned he's possibly in a new relationship with a young lady named LaLonne Martinez (above).
LaLonne seems to be the mystery woman in the picture since she also posted the exact same pic on her IG two weeks earlier: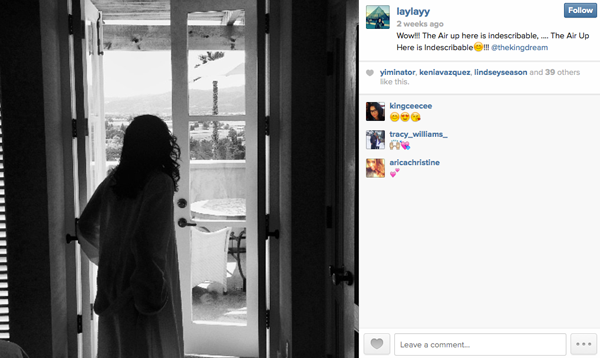 And there's more...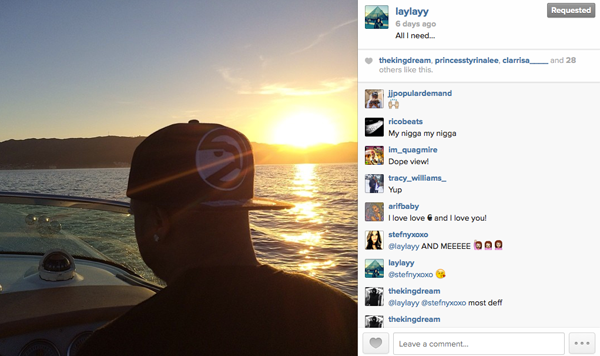 Lay Lay also posted the picture above of what looks like the back of Dream's head (y'all know he loves a hat) as they admired the sun setting on a boat captioning, "All I need..." Also note The Dream 'liked' and commented on her pic as well. He also "Liked" all of her pics of the flowers her secret boo--very likely The Dream--sent her at work.
Wonder if his new chick is current on the details behind his recent arrest and his collection of ex-wives and baby mamas (Christina Milian, Nivea, etc.)...
Also…
The Dream is speaking out after turning himself in on the alleged allegations from his baby mama Lydia Nam.
He took to his Instagram and posted a picture of the definition of the word "con" with the caption,
"As my mother would say "you've taken my sweetness as a weakness" I feel sorry for whoever has to live without Love in their heart. Yet I might smile to keep from crying, that hurt isn't caused by one thing or one person it's caused by the others who choose to speak at me as if I am worthless. I gave my whole life to all of you through myself and others. I have sang you to sleep, I have sang at your weddings, I've empowered women through words and through others, on top of that my LOVE for the woman period is infinite, my only fear I carry is my Mother Reva M Nash looking down on me and being a shame of me. If I have no life outside of music it's because I've given almost everything to you, I would give any and everyone the shirt off of my back. Retain the sympathy I picked this life so I am fine with the non sympathizing , I am blessed and I have seen things others can only dream of and I know I am fortunate. My mind and heart is clear and I will not retreat and I will not Kneel to the face of Injustice .When the light shines on these days in the near future I will welcome you all back with open arms so you can understand what love is. I've already forgiven you. #FreeDream #black #under-attack #CONSIDERTHESOURCE #LOYALTY #PROONYX"

Thoughts?
Photos: LaLonne's IG/The Dream's IG

OH SNAP: Sherri Shepherd's HUSBAND Files Official Divorce Papers!
Posted: 09 May 2014 02:08 PM PDT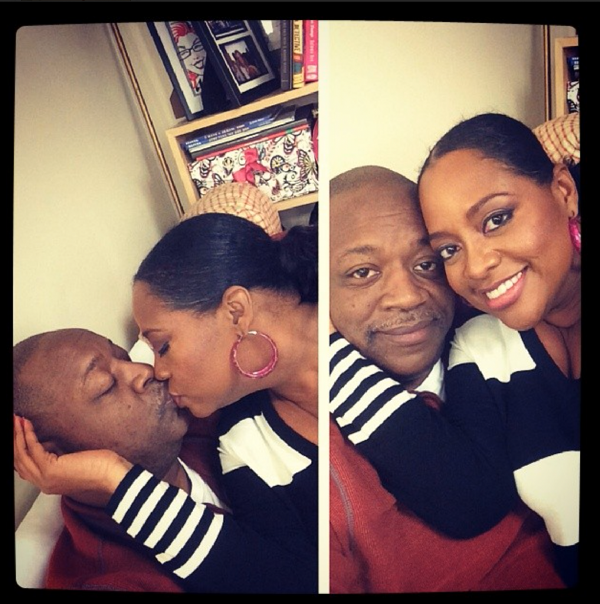 Well....here's a development for you. It's Sherri Shepherd's HUSBAND who officially filed those papers, just a day after the separation news leaked. Deets inside...
After cheating rumors flew yesterday saying Lamar Sally allegedly cheated on "The View" co-host Sherri Shepherd, it was alleged they had recently separated.
Today, a report surfaced that Sal actually filed for divorce...and back on May 2nd.
He reportedly has already moved from NYC back to L.A. And we gotta wonder...what made him file so quickly and first? Is alimony in play? Well...his lawyer IS Mark Vincent Kaplan ... who famously represented Kevin Federline during his divorce from Britney Spears.
We'll be watching "The View" on Monday twiddling our thumbs to hear Sherri's side...
SPORTS FAB: NBA ASSIGNS Dick Parsons As Interim CEO Of The L.A. Clippers
Posted: 09 May 2014 01:43 PM PDT
There's a new sheriff in town….and he goes by the name of Dick Parsons. The NBA just named one of the pretty powerful black men in the business world as its new interim CEO for the Los Angeles Clippers. Find out the deets on the new man in charge inside…
After the NBA banned owner Donald Sterling for life over his racist comments and Clippers' president Andy Roeser stepped down indefinitely, there's a new man in charge.
Effective immediately, former Citigroup and Time Warner CEO Dick Parsons will become the interim CEO of the Los Angeles Clippers. Dick will now oversee the day-to-day operations of the Clippers.
NBA Commissioner Adam Silver is excited about the Clippers' new chief executive saying,
"I believe the hiring of Dick Parsons will bring extraordinary leadership and immediate stability to the Clippers organization," Silver said. "Dick's credentials as a proven chief executive speak for themselves and I am extremely grateful he accepted this responsibility."
Dick also commented on his new position, committing to bestow the values and principles of the organization saying,
"Like most Americans, I have been deeply troubled by the pain the Clippers' team, fans and partners have endured," said Parsons. "A lifelong fan of the NBA, I am firmly committed to the values and principles it is defending, and I completely support Adam's leadership in navigating the challenges facing the team and the league."

"The Clippers are a resilient organization with a brilliant coach and equally talented and dedicated athletes and staff who have demonstrated great strength of character during a time of adversity. I am honored to be asked to work with them, build on their values and accomplishments, and help them open a new, inspiring era for their team."
Nice.
Dick currently sits on the board of directors for the Commission on Presidential Debates and is also a senior advisor at Providence Equity Partners.
Based on his credentials, it seems he would be a good fit for the team. Congrats!
Photo: Getty

Tiny & T.I. REUNITE At S2S's "Ladies' Night" +Toya, Memphitz, Kandi, Rasheeda, Mike Epps & Apollo Come Out (Plus T.I. CONFRONTS Apollo About Snitching Claim!)
Posted: 09 May 2014 11:54 AM PDT
Tiny & Toya hosted Ladies' Night in Atlanta in conjunction with Sister 2 Sister magazine. The besties brought their husbands, T.I. and Memphitz, along. Plus their homies Kandi Burruss, Mike Epps, Rasheeda and more. And T.I. was caught on tape letting Apollo Nida know not to throw his name in the "snitching clause" pot.
It was Ladies' Night in Atlanta yesterday! And Toya Wright and Tiny Harris brought out fans and friends to a secret spot that hosted vendors for the ladies to shop with and food from Nancy's of Buckhead.
And look who else showed up:
T.I. popped up to support his wife Tiny, despite their rocky relationship issues that have played out in social media lately.
Toya's husband Memphitz was there looking good.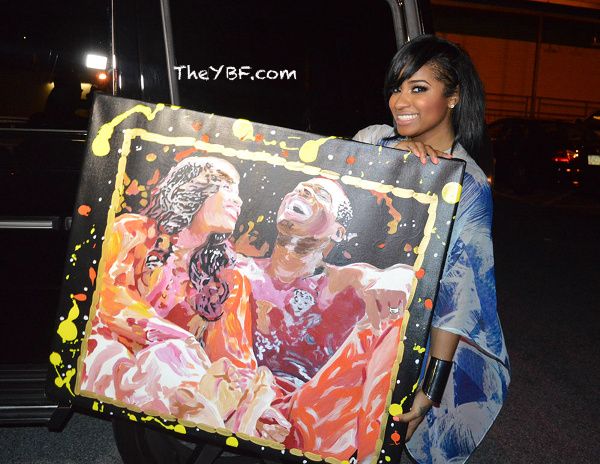 Somebody even gave Toya a piece of art inspired by one of their magazine spread pics.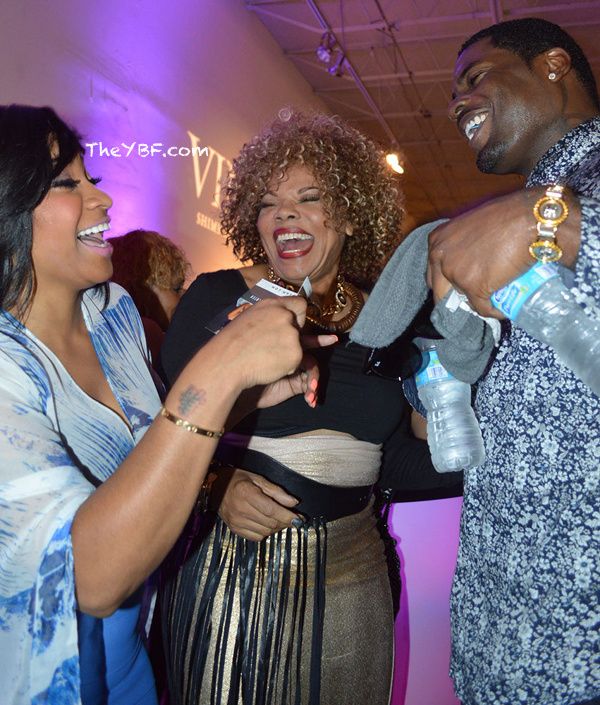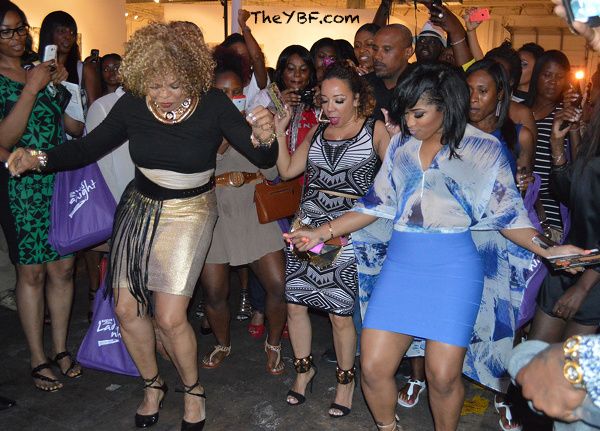 And the girls had some fun dancing it up with S2S mag's Jamie Foster Brown.
Q Parker and his wife were there to support.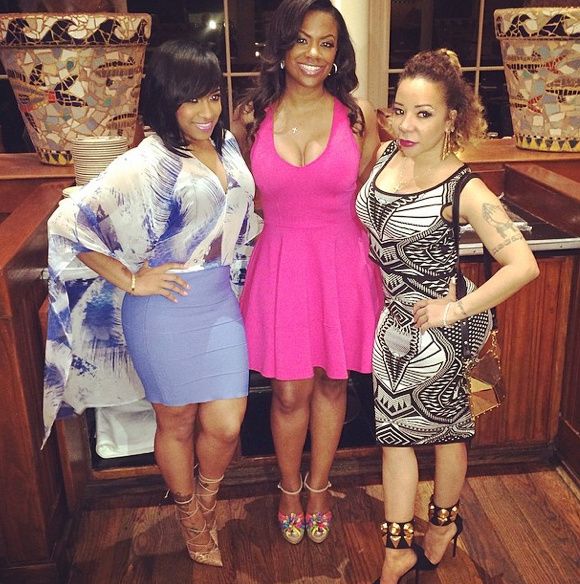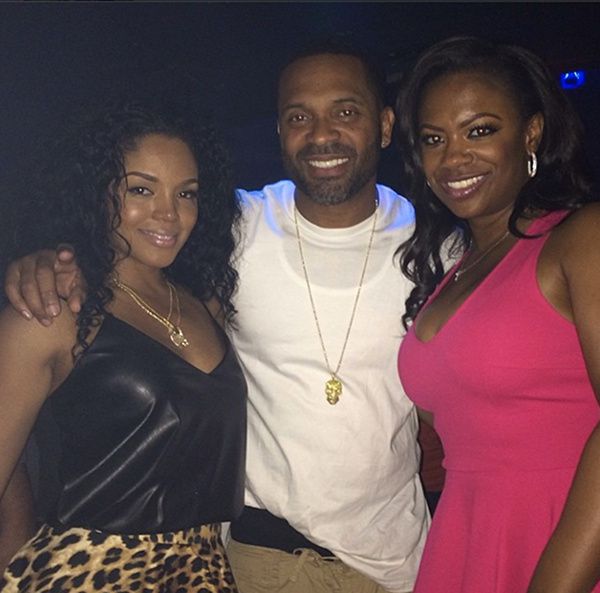 Kandi Burruss was there to support her girls.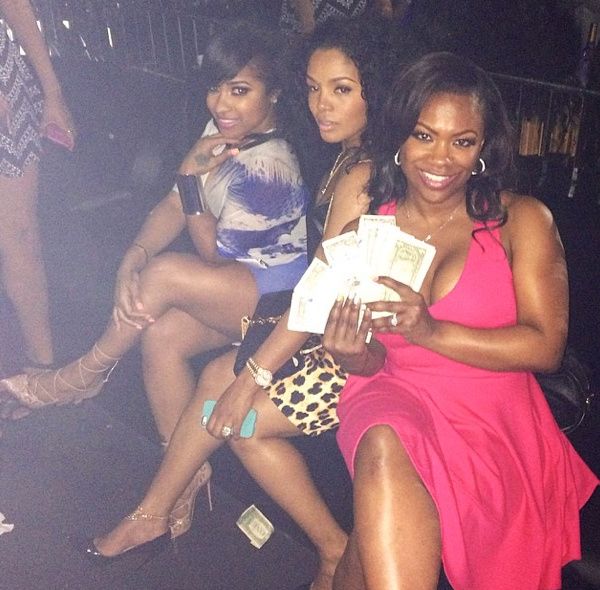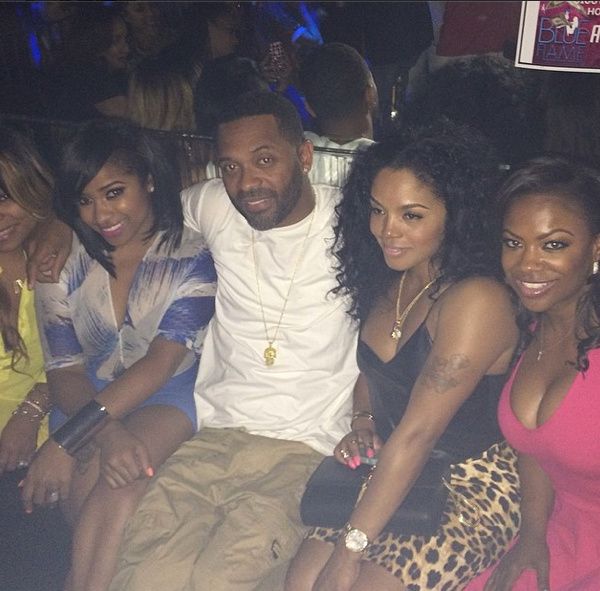 And so was Rasheeda and Mike Epps.
Look who else showed up....peddling his Phone Body workout vids: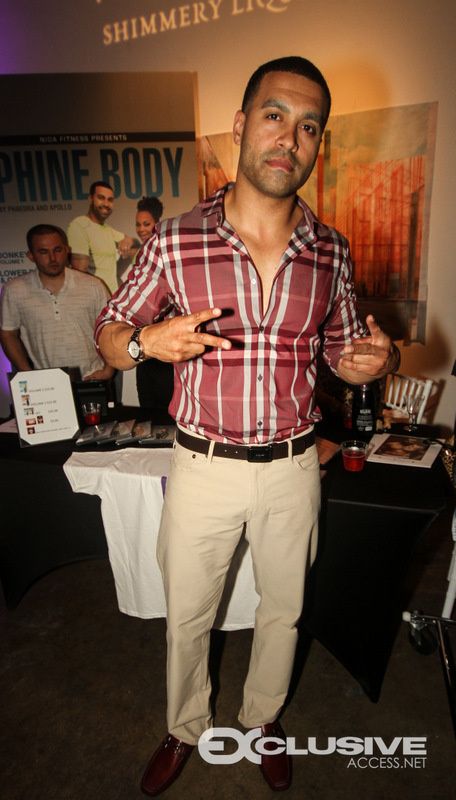 Yep, Apollo. Dude has zero cares it seems that he's embroiled in a major federal case right now.
T.I.'s sister Precious was there too: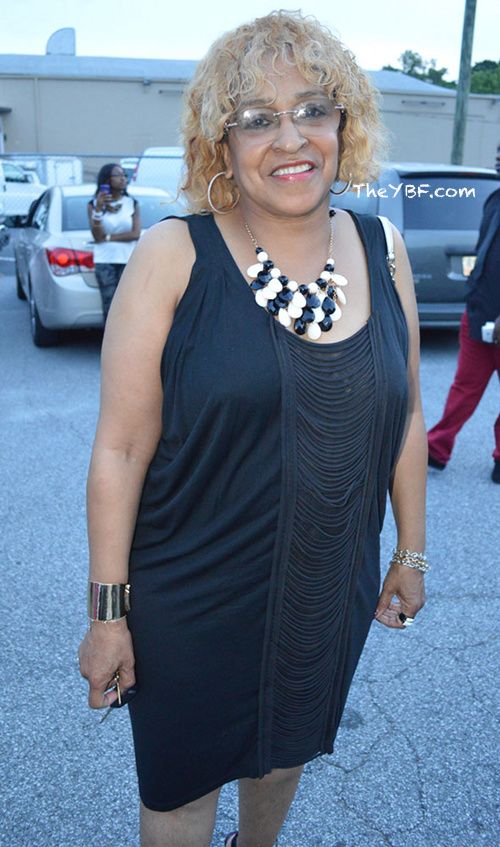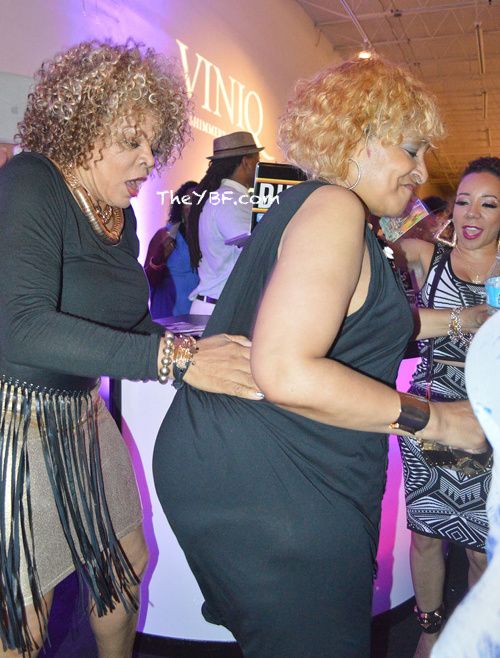 ....
And Dr. Heavenly of "Married To Medicine" made her way to the event and posed it up with Bob Whitfield. Yeah, THAT Bob Whitfield: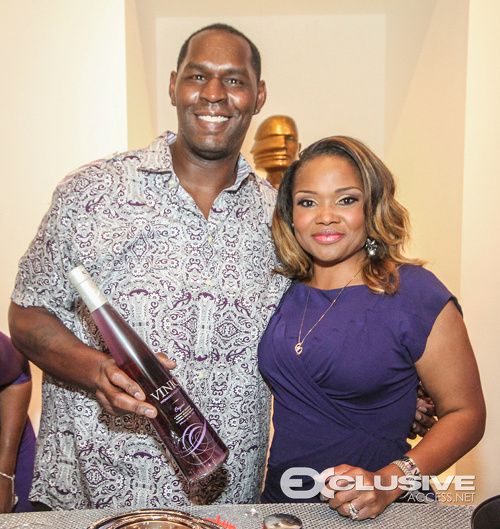 By the way, T.I. wasn't feeling that ish Apollo tweeted (and then snatched down) saying that EVERYONE has "snitch" clauses in their plea agreements. He namechecked T.I. and a few others saying they also promised to work in an undercover capacity with the Feds to help catch other criminals. And The Kang wasn't having it.
Their convo at the event was caught on video. T.I.P. let him know that that language was NOT in his contract (and based on the actual paperwork, it really wasn't) and we bet Apollo never makes that mistake again.
Photos: ExclusiveAccess.net/Sister 2 Sister
VIDEO FAB: Michelle Williams Drops "Fire" Video + Common Stars In "Because Of Her I Can" Mother's Day Special
Posted: 09 May 2014 11:11 AM PDT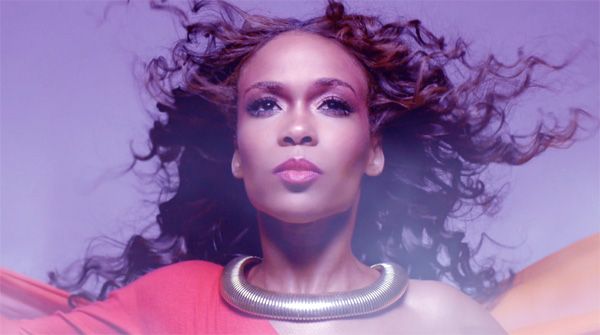 Michelle Williams is back with her 2nd video from her upcoming gospel album. Plus, Common teamed up with the Because Of Them We Can creator Eunique Jones Gibson for a Mother's Day Special. Check out Michelle's new vid and the trailer for the Mother's Day special inside…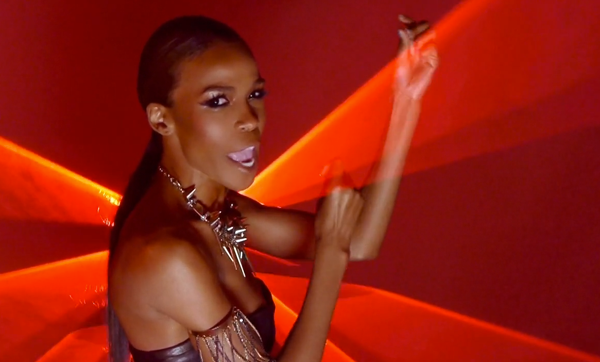 Following her inspirational "If We Had Your Eyes" video, former Destiny's Child member turned gospel singer Michelle Williams gets fired up for the Lord with her new video "Fire."
Michelle (who's set to play Mary Magdalene on tour with the rock opera) turns up the heat on the Derek Blanks directed vid, with a message of triumph over all obstacles.
The Harmony Samuels produced track is the second single from the songstress upcoming fourth studio album, Journey to Freedom, which is expected to drop sometime this Fall.
Check out Michelle's fiery new video HERE.

Also...
Common teamed up with Because Of Them We Can creator Eunique Jones Gibson for a Mother's Day special, "Because Of Her I Can."
Just in time for Mother's Day, the special will air on Centric TV tomorrow night at 10pm/EST as a tribute to mothers everywhere who inspired their children to become dreamers.
Common shared on how his mother inspired him to be the man he is today along with Carol's Daughter creator, Lisa Price, who shared how her mother continued to encourage her throughout life.
Check the trailer below:
Nice!
BONUS:
Idris Elba hopped on British recording artist Mr. Hudson's new track "Step Into The Shadows."
Mr Hudson (who's signed to Kanye's G.O.O.D. Music) welcomed Idris on his new track for a few bars. The sexy new dad (for the 2nd time) rapped:
"I wish we never met/I wish I never saw you standing there," he said. "Your silhouette turned a switch in my head/a trick in my bed."
Check out the lyric video above.
Photos: Yahoo/Eunique's FB
FIT & FABULOUS: Cynthia Bailey REVEALS How She Lost 20 Pounds & Dropped Two Dress Sizes
Posted: 09 May 2014 09:48 AM PDT
Trim and toned "RHOA" star Cynthia Bailey has dropped a few pounds and she's sharing her weight-loss secrets in the latest issue of "L&S" Magazine. Find out what she did inside...
Fans of "RHOA" watched catwalk-veteran Cynthia Bailey go through some fluctuations in her weight due to her battle with fibroids this season. And while the medical issues were totally understandable and we were sympathetic, her husband peter seemed to be...focused on the wrong things.
But now, at 148 pounds, the 5-foot-10 star fabulous model has beaten the fibroids and is focusing on staying in shape and maintaining a healthy lifestyle.
In the latest issue of "Life & Style" the reality star revealed how she shed 20-pounds and dropped two dress sizes thanks to the GenoVive diet plan, a meal-delivery system that creates weight loss programs customized to an individual's DNA. She said, "I lost more inches than actual weight. And I went from a size 10 back to a size 6!"
Cynthia said her genetic profile showed that her body responded best to a mix of macronutrients that was low in fat and higher in carbohydrates. And here's the good news..."I got to eat pasta!"
The accompanying article also breaks down Cynthia's customized diet and exercise plan, including a breakdown of her meals and exercise routine.
Hmmmmm....it actually sounds like Cynthia's might be a spokeswoman for GenoVive. We're not mad at her....get those checks Cynthia! It's about time she steps out and show former friend NeNe Leakes that she can make power moves too.
The Randomness:
1, Openly gay NFL player Michael Sam signed an endorsement deal with VISA, but is still waiting to be drafted by the NFL. Story.
Photos via Cynthia Bailey's Instagram