---
50 Cent Allegedly Responds -- I Wasn't INVITED To Marquise's Graduation!
Posted: 20 May 2014 09:23 AM PDT
50 Cent is allegedly repsonding to his son's cry of sadness over the rapper missing his high school graduation. Check out what he's supposedly tellng friends inside...
While it was supposed to be a joyous occasion of graduating from his private school in Atlanta this past weekend, Marquise Jackson took to social media to show his emotional breakdown over his alleged absentee father.
About a year after their huge fallout via text message, also involving mother Shaniqua, Marquise was expecting his father, 50 Cent, to come to his graduation. But Fif wasn't there. He hit up a charity event in NYC instead.
So Marquise posted this:
Now, 50 is responding and telling his friends, allegedly, he simply wasn't invited. He said he wasn't told when and where the graduation was taking place. And he didn't purposely blow off the big day.
Please keep in mind, he's the one who pays Marquise's tuition!
Curtis Jackson even went as far as allegedly saying that it was Shaniqua who intentionally blocked him from attending.
Well, Fif, since you love texting your son so much, why didn't you just ask him the details? You knew he was graduating at SOME point this spring.
This guy...
Photos: Marquise's FB page
RECEIPTS: Bambi Proves She Miscarried "LAHH ATL" Star Lil Scrappy's Baby, And Did Not Have An Abortion
Posted: 20 May 2014 08:38 AM PDT
Lil Scrappy's new boo Bambi has something to prove and she came with her receipts. Find out what she had to say about her losing her baby with Scrappy inside…
If you watched the latest episode of ratchetry that is "Love & Hip Hop: Atlanta" you saw Lil Scrappy's current girlfriend Bambi go through an emotional situation. She claims to have lost her baby with Scrappy to an unfortunate miscarriage.
Apparently, no one believes she was even pregnant in the first place, saying she faked a miscarriage for television. You know how desperate some can get to keep an entertaining storyline. So, she's setting the record straight with hospital pics and discharge documents.
In a statement released by Bambi via her rep she said:
"This incident was life changing and it is hard for me to watch this tragedy replay over again! I was in love with the idea of being pregnant and an abortion was the last thing on my mind. I had a miscarriage and now I have to relive it with the world to watch! I would appreciate it if everyone would allow me and Scrappy to deal with the lost of our baby and not make speculations as to what happened. I am healing from this and Scrappy has been by my side during this process."
She also provided pics of herself laying in a hospital bed--with her phone--and her official discharge documents (Yes, really):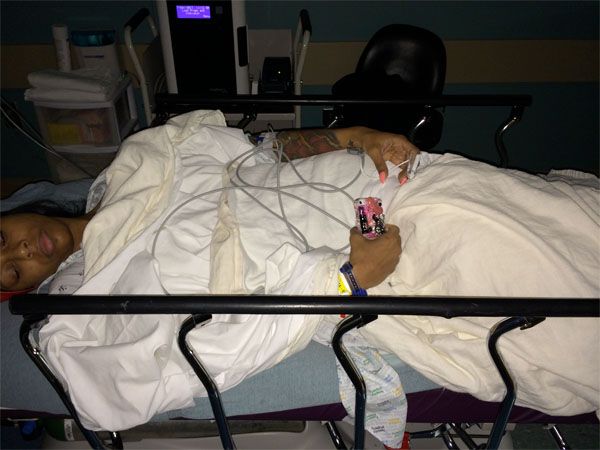 Sighs...
Not sure why she felt she had to prove to everyone she actually had a miscarriage, but we're sure Momma Dee and Scrappy are reviewing these documents for actual proof to keep the "throne" safe.
Photos: Chris Mitchell

ADORABLE ALERT: Alicia Keys' & Swizz Beatz's Son Egypt Dean Makes Fashion Show Debut For Ralph Lauren Kids!
Posted: 20 May 2014 07:57 AM PDT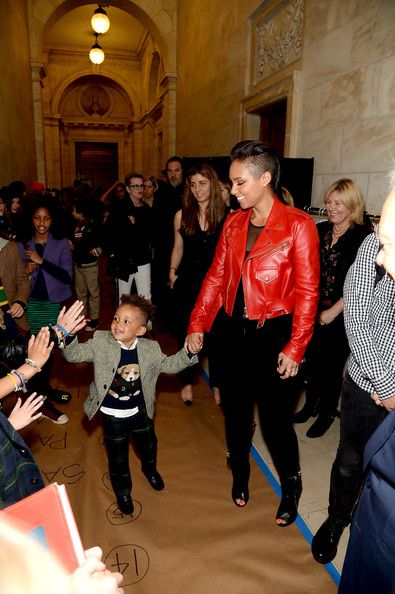 Guard your ovaries! They may get a bit jumpy after seeing the utter adorableness that is Egypt Dean is his very first runway show. Check out Mr. Ralph Lauren and kiddie Egy inside...
How cute is this?! Recently at the New York Public Library, Alicia Keys and Swizz Beatz's 3-year-old son Egypt hit the runway at the Ralph Lauren Fall '14 Children's Fashion Show in Support of Literacy. It's his fashion show debut, and his mom and dad were super proud parents.
Egypt rocked the runway alongside M. Ralph Lauren himself and fellow swaggy kid model Angela Wang.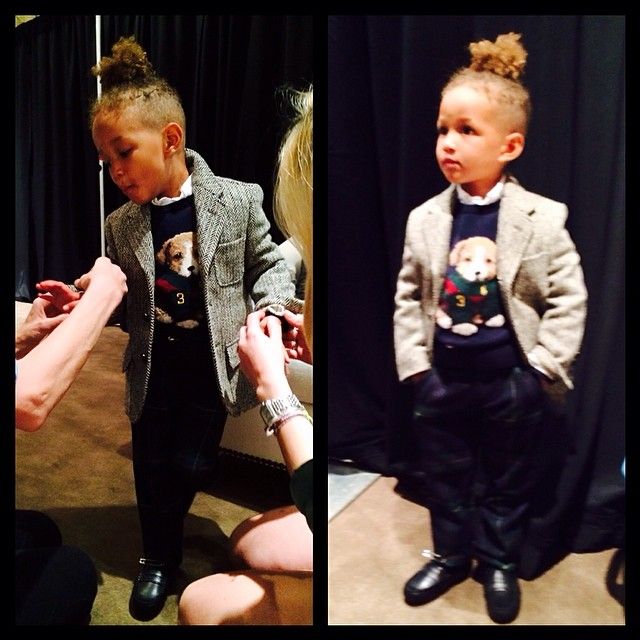 Ha! His mom and dad said on IG: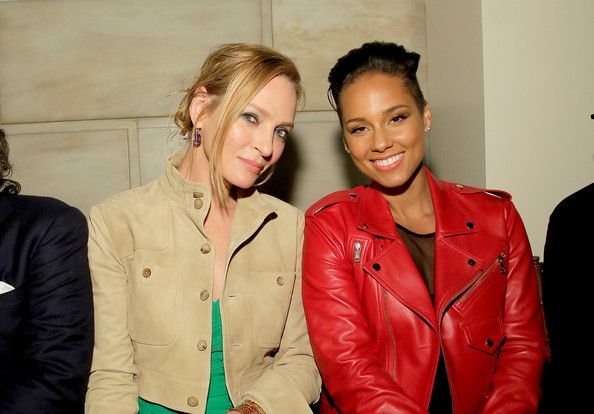 While pops is away at Harvard University Business School, Alicia was on site with her baby boy and posed it up Uma Thurman.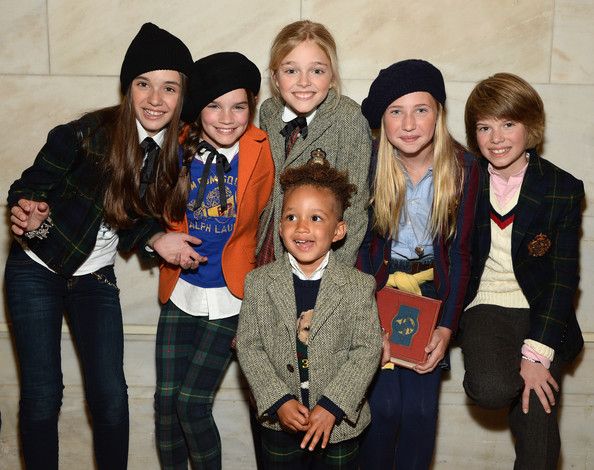 Cool kid Egypt is clearly becoming a little star. Check the video below:
Congrats to Egy!
Photos: Jamie McCarthy/Getty Images North America/Swizz's IG/Alicia's IG
MANUFACTURED DRAMA? Master P REPORTEDLY Shooting Reality Series About Family Turmoil
Posted: 20 May 2014 07:35 AM PDT
Drug abuse. Amber alerts. Bitter Divorce. Is this Master P's "reality" or manufactured drama for a "reality show" he's planning? More inside.....
You'd think that life for Master P got easier once he left the projects of New Orleans for the California sun...but it didn't. Although he reportedly worth hundreds of millions of dollars (via the not-always-credible CelebrityNetworth.com) and lives in Beverly Hills, life ain't easy by Sunset Boulevard.
In the past few months, we've "learned" about a nasty divorce, his wife's alleged drug abuse and welfare claims and one of his daughter's went missing. Again....this all happened in the past five months. Is his life really that drama filled? Especially since we've rarely heard of any type of drama from this family before now?
That question might be answered once he finds someone to snap up his proposed reality series. Yes....a reality show. And according to reports, he's planning to shop the already captured footage to VH1, BET and more.
Now that word is out about Master P filming a docu-series, we have to ask if all of this drama is being manufactured for the camera. Seriously....who shoots a YouTube video of their kids questioning their mother's parenting skills?
Is the entire family thirsty for fame? They wouldn't be the first...
Photos via FameFlynet
BREAKING: "The Shield" Actor Michael Jace CHARGED In The Shooting DEATH Of Wife April
Posted: 20 May 2014 06:59 AM PDT
This morning, "The Shield" actor Michael Jace was arrested in connection with the murder of his wife April Jace. And HE'S the one who called 9-1-1! More shocking details inside...
Michael Jace, famed for roles in "The Shield" and "Southland", was taken into custody in the wee hours of this morning and booked for homicide in connection with the death of wife, April Jace. TMZ reports that Michael called LAPD late last night saying, "I shot my wife." He stayed on the phone with them until they arrived at his home in the Hyde Park area of LA.
Cops told TMZ that Michael's two kids, both under the age of ten, allegedly saw him pull the trigger and kill their mom. Horrific.
Officer Sara Faden told the LA Times, "It looks to have started as a domestic-related incident."
In another shocking piece of the unfortunate story, it took Children's Services 4 hours to arrive at the police station and take the kids to the home of a family member. See video of the arrest here.
Story developing......
Photos via Fred Brown/Getty/AP
REPORT: Ciara & Future Welcome Bouncing New Baby!
Posted: 20 May 2014 06:25 AM PDT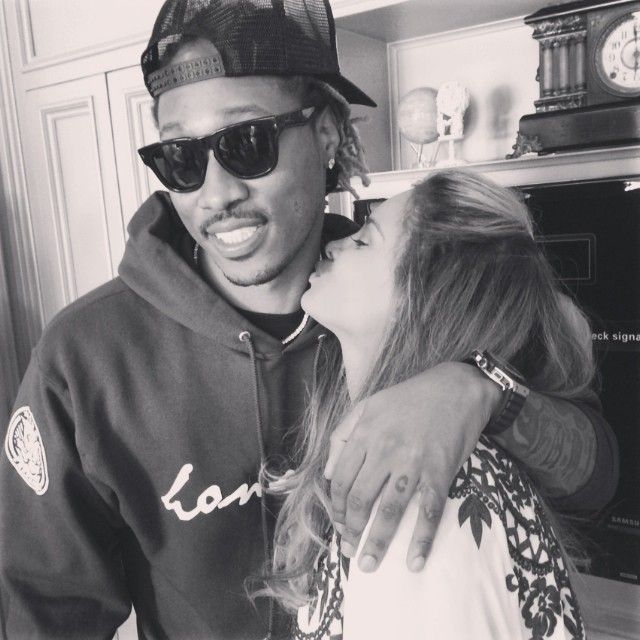 Future and Ciara are the new parents of a brand new bundle of joy, this according to Page Six. Deets inside...
Three days ago, she was crip walking. And this AM, reports state that Ciara is officially a new mommy! The "Body Party" chick supposedly had a little "party" of her own early Monday morning in the delivery room as she and her fiance Future welcomed their brand new baby to the world.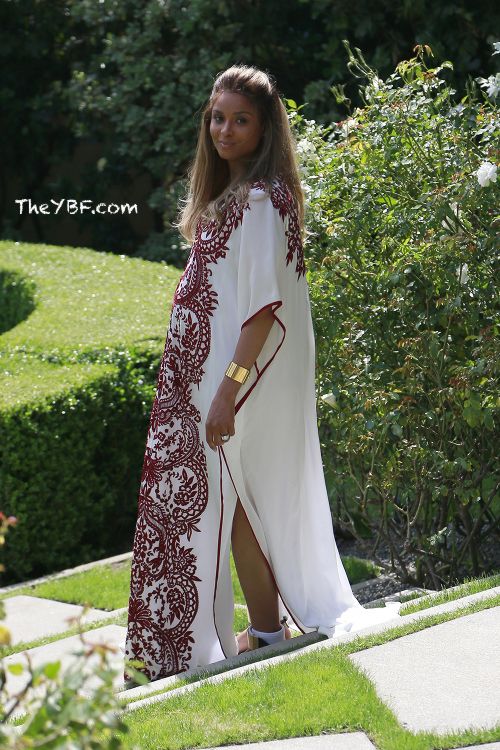 While Ciara's rep has yet to officially comment, it's believed the couple had a boy (based on all the blue and white decor at the recent baby shower hosted by besties LaLa Anthony and Yolonda Frederick).
According to the report, baby Wlburn (Future's last name) was born in Los Angeles. Future has (at least) three other children from previous relationships, and Ciara and the rapper are planning to marry next fall.
Congrats to the couple if true! It's about time that cutie popped out into the world!
We know who won't be at Kim & Kanye's European wedding this weekend...
The Randomness:
1. Nicki Minaj responds to ex-hairstylist Terrence Davidson's lawsuit...and requests the suit to be thrown out. She hints that he can't be famous without her, so he's just bitteR he lost his most famous client. STORY
2. Donald Sterling vote set for June 3. STORY
3. Kim & Kanye have put out a joint statement that they're giving wedding guest a private tour of the Palace of Versailles on the eve of their wedding, in case you care. STORY
Photos: Ciara's IG/Splash
CANCELLATIONS: Janelle Monae CANCELS Australian Tour Dates Due To Mystery Illness + OWN Postpones Planned Michael Sam Docu-series
Posted: 19 May 2014 03:00 PM PDT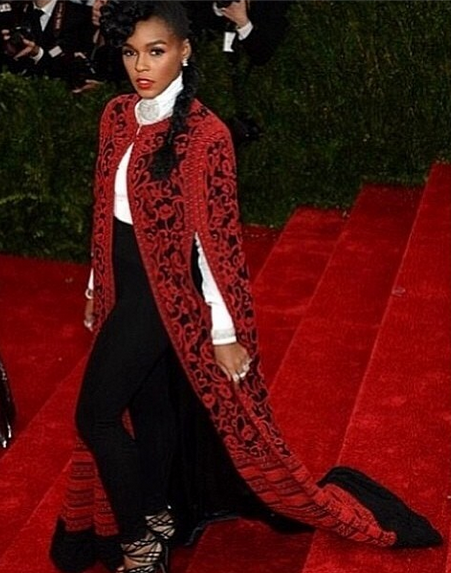 Janelle Monae is battling a mystery illness in Australia. Get the deets inside and find out why Michael Sam will have MORE time to focus on football this season.
Janelle Monáe's Australian tour has been cancelled as she battles a "sudden illness." According to BILLBOARD, promoters Live Nation Australasia, issued a statement saying Janelle's been required to stay in Melbourne under medical supervision to assess her recovery and will not appear at tonight's scheduled show at Sydney Opera House Concert Hall.
We first learned about Janelle's sickness after she failed to hit the stage for a sold-out show at Melbourne's the Forum last Saturday. Live Nation says it's working to secure rescheduled performance dates later this week.
In television cancellations...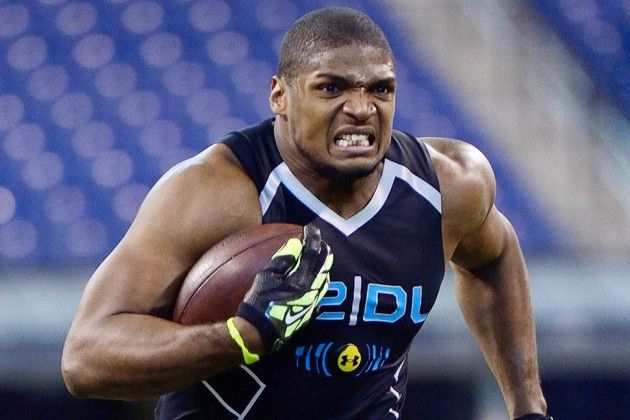 Remember Michael Sam's planned OWN docu-series? It's been postponed...indefinitely. The announcement can directly from The Oprah Winfrey Network (OWN) and Michael Sam's representation. OWN president Erik Logan said,
"After careful consideration and discussion with the St. Louis Rams, 'The Untitled Michael Sam Project' has been postponed, allowing Michael the best opportunity to achieve his dreams of making the team...OWN is about elevating and empowering people to achieve their best. It's clear that we, along with the world, recognize the opportunity that Michael has in this moment. We will continue to support him in his journey to earn a spot playing for the Rams."
The statement also included a comment from Michael's agent, Cameron Weiss who said,
"After today's meeting with the Rams, we felt it is best to postpone the project....This will allow for Michael to have total focus on football, and will ensure no distractions to his teammates. Everybody involved remains committed to this project and understands its historical importance as well as its positive message."
Well...there's that.
In other entertainment cancellations.....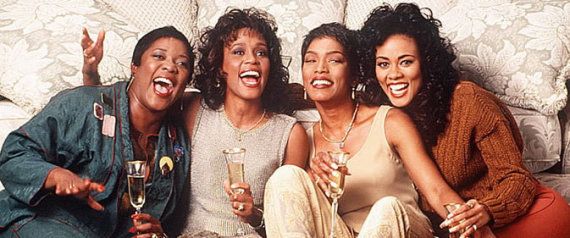 Don't expect a Waiting 2 Exhale sequel either. Author Terry McMillan told S2S, "I don't think that's going to happen. I really don't. It's been horrible since Whitney [Houston] passed away for a whole lot of reasons. Fox wanted to basically eliminate that character altogether from the story. How they thought that was going to work, I don't know."
Terry, who seemed disappointed at the failed attempts, went on to suggest that someone else (e.g. Viola Davis) could have played Whitney's character.
"As much as I loved Whitney and I loved her in that role…any time they can have seven different 007s, as iconic as Whitney was and still was, it was a role. It wasn't Whitney Houston; it was Savannah; you know what I mean. I still think that Viola Davis would have done and could do a great job playing Savannah."
SMH....Let's all collectively exhale...
Photos via David Drapkin/AP Photo
BUMP WATCH: LeBron's Wife Savannah James' BELLY Is Growing
Posted: 19 May 2014 01:56 PM PDT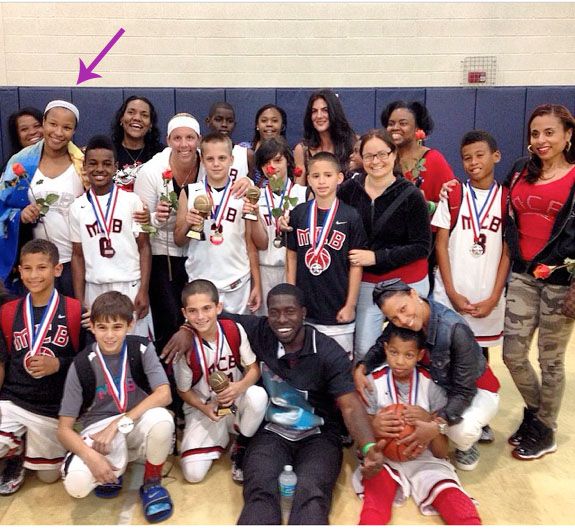 While Lebron James gears up for playoff Game 2 against the Pacers tomorrow night, Savannah James is performing her motherly duties to their two sons. Savannah recently hit up a basketball game for their son Lebron Jr. and in a group shot with the team, we get our first look at her protruding belly. Peep her bump inside…
Baby bump watch is in full effect! Back in March, TheYBF.com exclusively told you that Miami Heat star LeBron James and his wife Savannah James were expecting their third bundle of joy (joining big brothers LeBron James Jr. and Bryce Maximus James). We were also the first to report that she was about 4 months along at the time.
Fast forward to a brand new photo of Mrs. James has surfaced where we get our first peek at her every growing baby bump.
In the photo posted by Baller Alert, Savannah is spotted in a group shot with her son LeBron Jr. and his basketball team (along with their moms) as they happily held up their trophies and medals after a game. We're assuming they defeated the other team based on those smiles (like father, like son).
And if you look closely, you will see Savannah's little baby bump making its first cameo. Most of the Miami Heat WAGS (wives and girlfriends) know about Savannah's new edition and are doing an exceptional job at keeping it under wraps.
No official word on if she's having a boy or a girl, but some sites are reporting that "sources" say she and LeBron WANT a baby girl. As soon as we scoop the real deal, we'll let you know. Congrats again to the couple!
Photos: BallerAlert.com

LOVE IS THE KEY: John Legend DELIVERS UPenn's 258th Commencement Address, RECEIVES Honorary Doctorate Of Music, CREDITS His SUCCESS To FINDING LOVE
Posted: 19 May 2014 12:52 PM PDT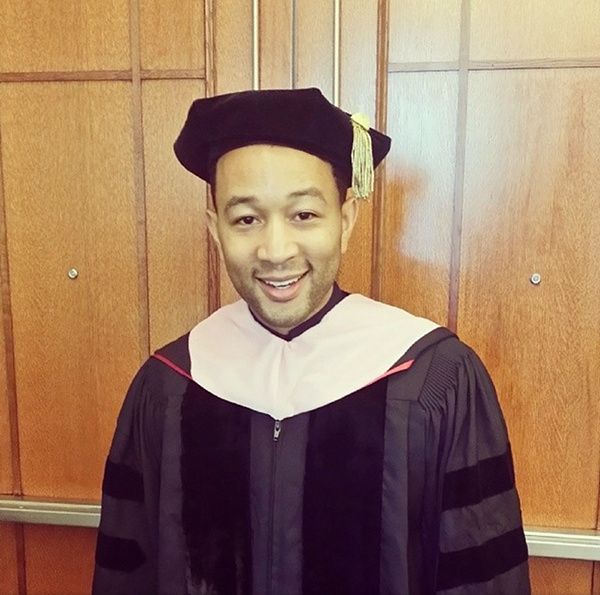 John Legend received an honorary Doctor of Music from UPENN earlier today and delivered the university's commencement address. Watch his message of "Love" inside...
John Legend (aka John Stephens) who performed his number one single "All 0f Me" at the 2014 Billboard Awards, returned to UPENN today where he delivered the university's 258th commencement address and received an honorary Doctorate of Music.
John, who graduated in 1999 from UPENN with a degree in English and a concentration in African-American literature and culture, had one message for the grads....LOVE. John credits his success to finding love and told the grads, "The key to success, the key to happiness is to open your heart to love. Spening your time doing things you love and with people you love."
Meanwhile, John's wife Chrissy Teigen tweeted, "my baby got another honorary doctorate! I have a bunch too I just don't brag about all the time."

Watch John's commencement address:
Photos via John Legend's IG
JUST MARRIED: Kenneth "Babyface" Edmonds WEDS Longtime Girlfriend Nicole Pantenburg!
Posted: 19 May 2014 12:00 PM PDT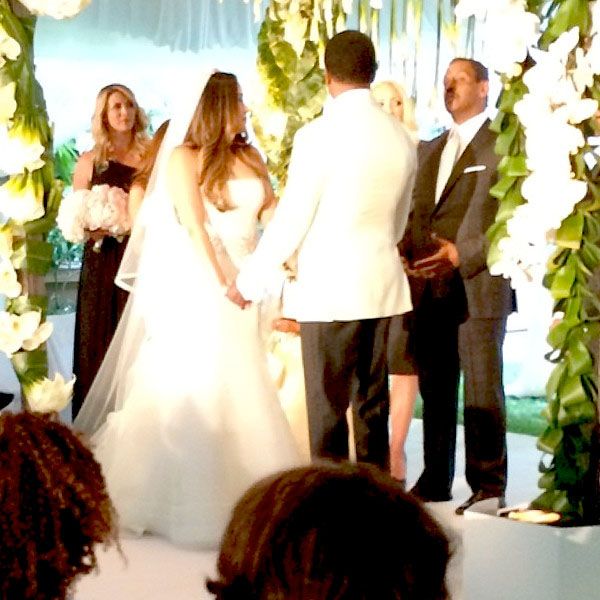 On Saturday, Babyface headed down the aisle to marry his longtime girlfriend/daughter's mother Nicole Pantenburg. Get the deets on their weekend wedding inside…
It's a celebration!
Over the weekend, Kenneth "Babyface" Edmonds met his girlfriend of seven years Nicole Pantenburg at the altar to exchange their "I Dos."
The couple tied the knot in Southern California in a beautiful ceremony before family and celebrity guests such as Oprah and singer-songwriter Carole B. Sager (above).
A little back story...Nicole was a former backup dancer for Babyface and the two hooked up in 2007 after he divorced his former wife Tracey Edmonds in 2005. The newlyweds share a cute five-year-old daughter Nicole Peyton and Babyface has two older sons from his marriage with Tracey.
The twosome got engaged in February of this year (along with releasing a duet album Love, Marriage & Divorce with Toni Braxton) and now they're ready to spend the rest of their lives together in marital bliss.
Congrats to the couple!
Photos: Carole's IG
SPOTTED: Rihanna Still PINK & BRALESS As She Leaves Dinner In Cali
Posted: 19 May 2014 11:38 AM PDT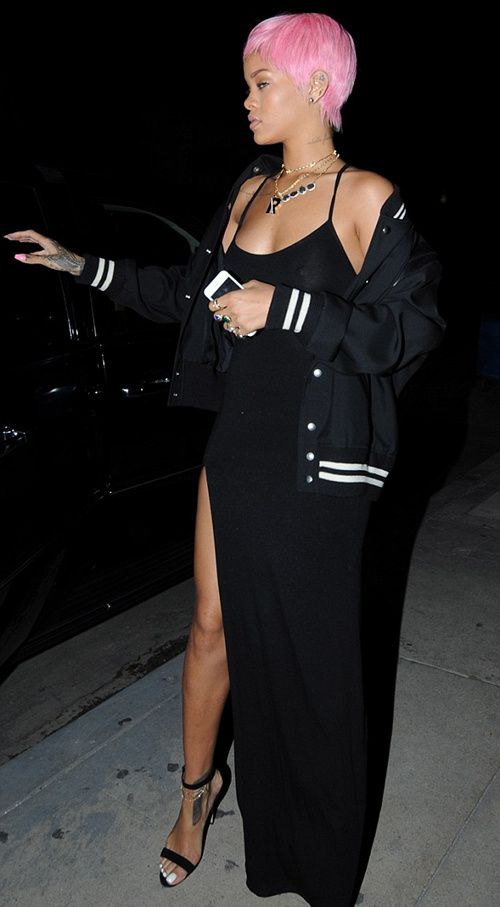 Rihanna was still channeling the old Nicki Minaj with her pink wig and (as only she can do) exposed nips as she left dinner last night. See candids of the pink pop princess inside…
Nipple alert! Rihanna is still rocking out in her pink wiggery, spotted braless as she walked out of one of her fave restaurants Giorgio Baldi in Santa Monica.
In a sheer black high-split maxi, Rih (along with her exposed nipples) hit the streets after enjoying an Italian dinner with her bestie Melissa Forde.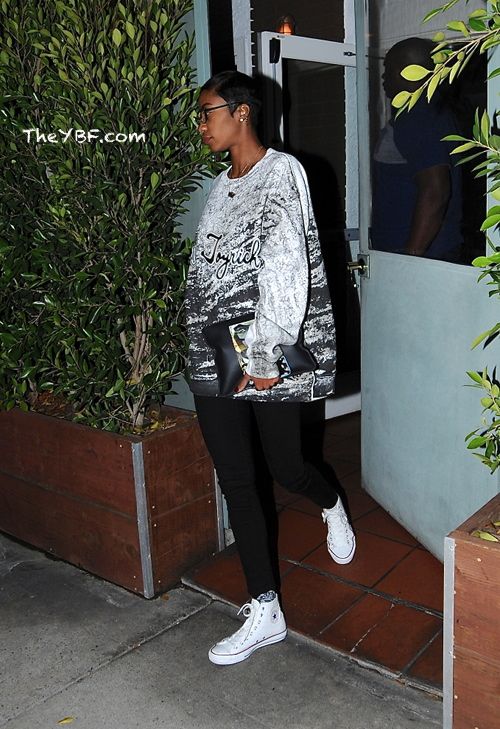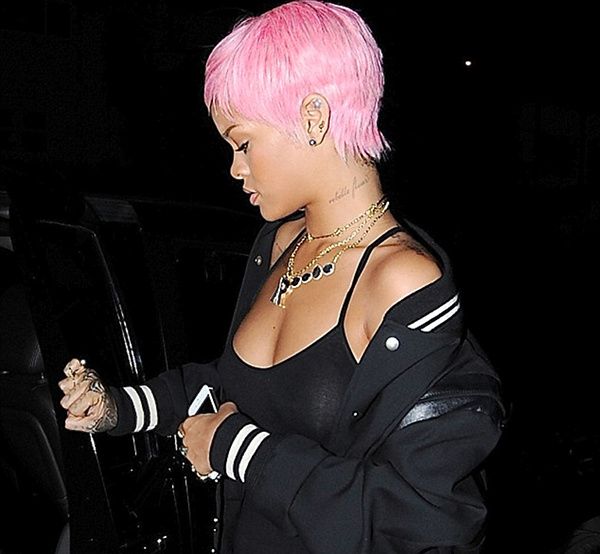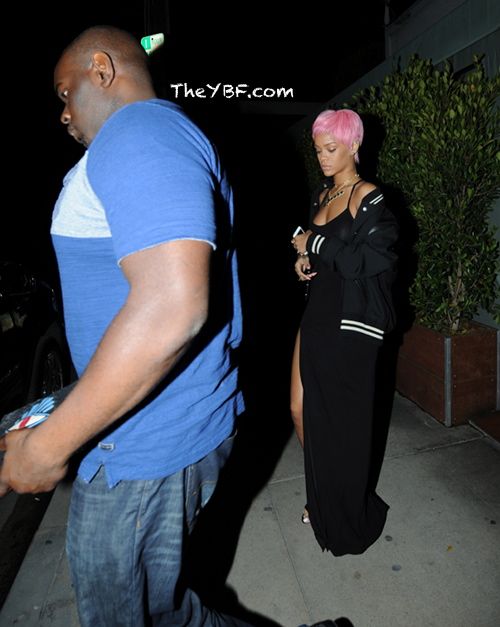 In between hitting up NBA playoff games and mocking her fans on social media, Rih confirmed she still does not have an Instagram account after a fake popped up, pretending to be her.
She announced:
#PHAKE !!!! Let's be clear, I do NOT have an IG account! pic.twitter.com/Rbx8EnyY5X

— Rihanna (@rihanna) May 19, 2014
Although RiRi didn't take home any Billboard Awards last night, the Bajan beauty nabbed the #11 spot on the annual MAXIM Hot 100 list, beating out Beyonce at spot #21. Nice.
Photos: Vladimir Labissiere/Splash News
FAMILY AFFAIR: Beyonce, Jay Z, Solange & Family DINE Together In New Orleans
Posted: 19 May 2014 11:28 AM PDT
Seems all is well in the Carter-Knowles clan after CARTERGATE put the world on pause last week. See the seemingly happy family photos inside…
After the release of their Bonnie & Clyde fake "RUN" tour trailer, The Carter-Knowles clan got together to lunch it up in New Orleans, right after Bey showed some sisterly love posting a new pic of herself and her baby sis Solange (above with the May 17th date) days earlier.
In an attempt to convince everyone that everything is back to normal, Beyonce, Jay Z, Solange, Mama Tina, Blue Ivy, Juelz and Solange's boyfriend Alan Ferguson all got together for some quality family time as they enjoyed good eats together in New Orleans (where Solange resides) over the weekend.
The Carter-Knowles clan have been in PR overdrive after releasing their joint statement saying they have put the the elevator scandal at the MET Ball afterparty behind them and that they are moving forward together as a family. Solange Knowles was spotted in New Orleans getting comforted by boyfriend Alan Ferguson days earlier, while Solo posted throwback pics of she and Bey when they were young on her Facebook.
And now we've got pics of the entire family all smiles as they hangout together for some afternoon fun.
Check out more pics of newly reunited family here.
Photos: Beyonce.com
MUSIC FAB: Cover Art For Nicki Minaj's "Pills N Potions" + Mariah Carey ft. Wale "You Don't Know What To Do"
Posted: 19 May 2014 09:14 AM PDT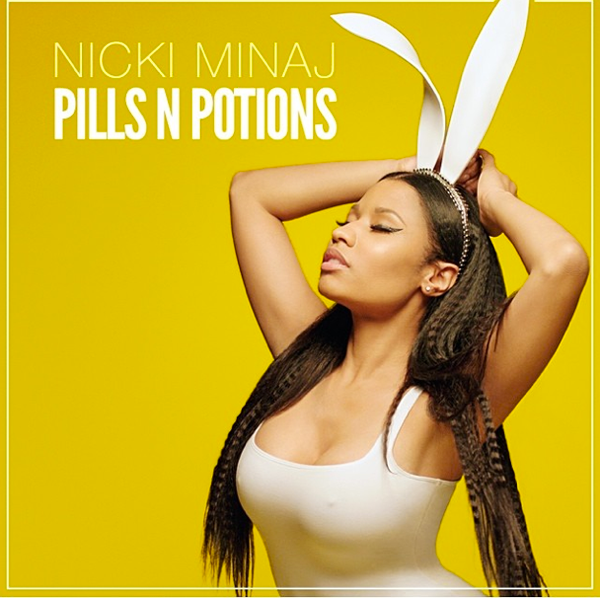 Nicki Minaj is gearing up for the release of her newest studio album, The Pink Print. Find out the deets on her new single, plus check out Mariah Carey ft. Wale on her new track "You Don't Know What To Do" when you go inside…
As she prepares to release her new studio album The Pink Print, Nicki Minaj has revealed the cover art to her first single titled, "Pills N Potions." She has been teasing her barbs with new music "Yasss B*tch" featuring Soulja Boy and "Chi-raq" featuring rapper Lil Herb and now the official single is ready to drop.

The "Yasss B*tch" rapper said her new single is very uplifting & soulful and it will foreshadow how her whole album will feel. The new track is expected to drop on Wednesday via iTunes.
During an interview with Rap-Up, Nicki dished on her new album saying this album will remind people why they fell in love with her in the first place. As you can see with her transformation from pink wiggery and outlandish outfits to a more subdued natural looking Nicki, her music will likely go back to her gritty, gangsta lyrics that she use to spit when she first hit the scene.
Check it:
Still no word on when the album will drop but according to Nicki, it will drop once it's complete.
And in other new music...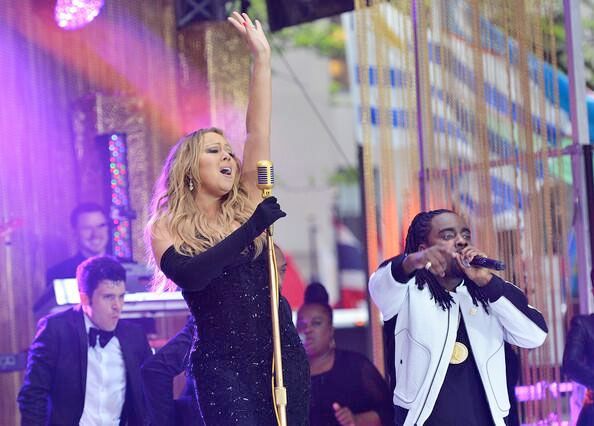 Mariah Carey and Wale debuted the Jermaine Dupri-produced track "You Don't Know What To Do" to kick off the "TODAY Show's" summer concert series. Thanks to the Russ Parr Morning Show, the full studio version has surfaced.
Mimi's new album Me. I Am Mariah…The Elusive Chanteuse is expected to drop May 27th with features from "Dem Babies," Nas, Fabolous and Miguel.
Hear Mimi's vocals and Wale's lyrics below:
We feelin' it?
Photos: Splash/Nicki's IG