---
Nicki Minaj HOSTS Las Vegas Pool Bash, PARTIES With T.I. Prior To Mayweather BRAWL + Pharrell GETS FELT UP In Glasgow
Posted: 25 May 2014 07:10 AM PDT
Nicki Minaj partied with T.I. moments before his fight with Floyd Mayweather. See pics from Nicki's party and concert pics from Pharrell's show in Glasgow inside....
"Pill N Portions" rapper Nicki Miniaj hosted a Memorial Day celebration at Liquid Pool Lounge at the ARIA Resort & Casino in Las Vegas yesterday.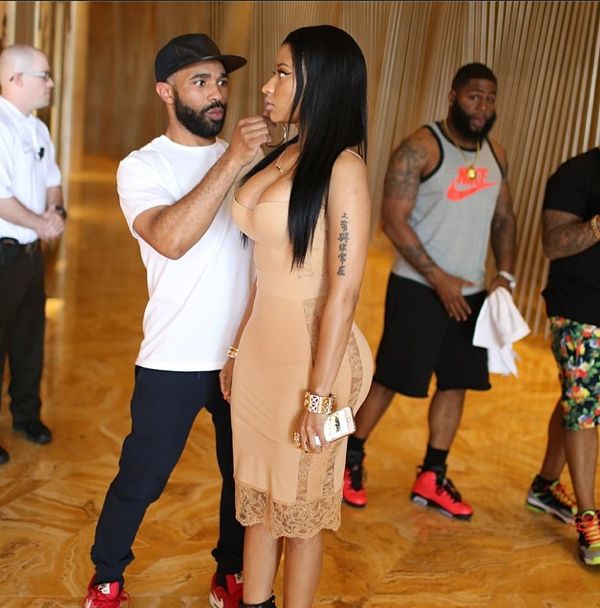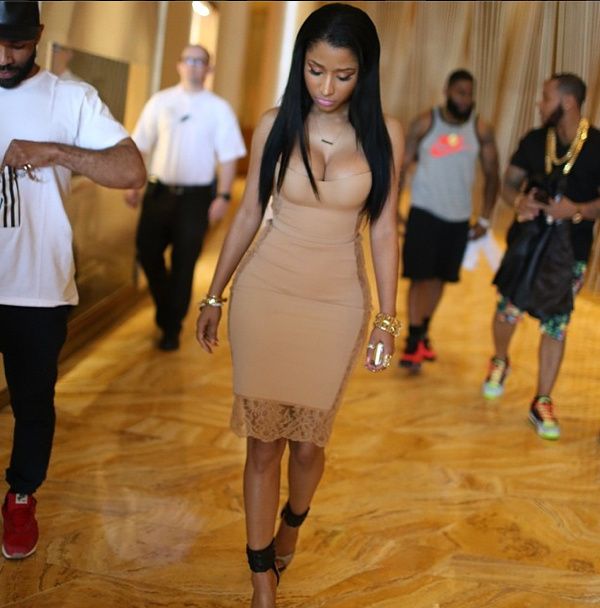 As she readies her next album, The Print Print, Nicki's "Pill N Potions" record has already hit #1 in 8 countries around the world.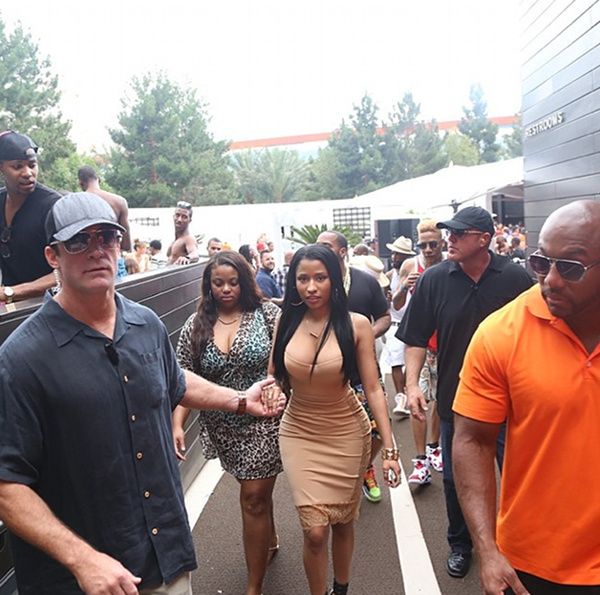 Wearing La Perla and Cavalli, Nicki bragged about the party saying, "my pool party was nthn but bad btchs. lol. Sorry if u missed it."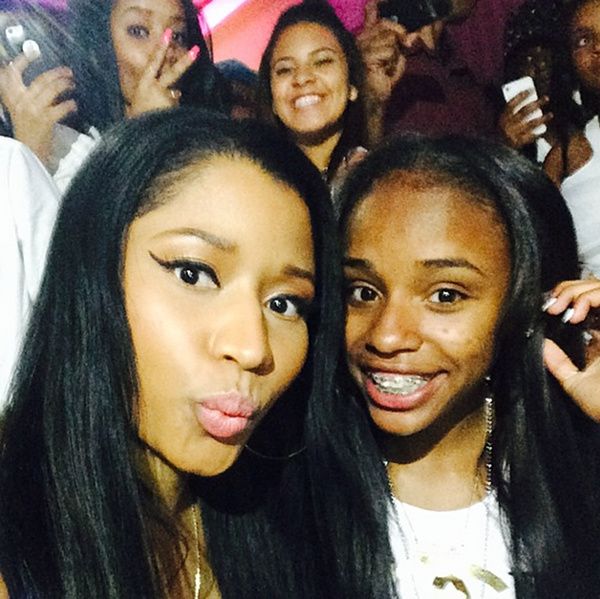 And Floyd Mayweather's daughter was a special guest at the party. Nicki wished her a happy birthday. "HAPPY 14th BIRTHDAY IYANNA!!!!!!!!!!"
Also, T.I. partied with Nicki moments before his Fatburger bash with Floyd Mayweather. Nicki posted the pic below (AFTER the alleged fight between Tip & Floyd) with the caption, "BringEmOut BringEmOut ~ It's hard to yell when the baRREL's in ya mouth" Possible shot at Floyd or nah?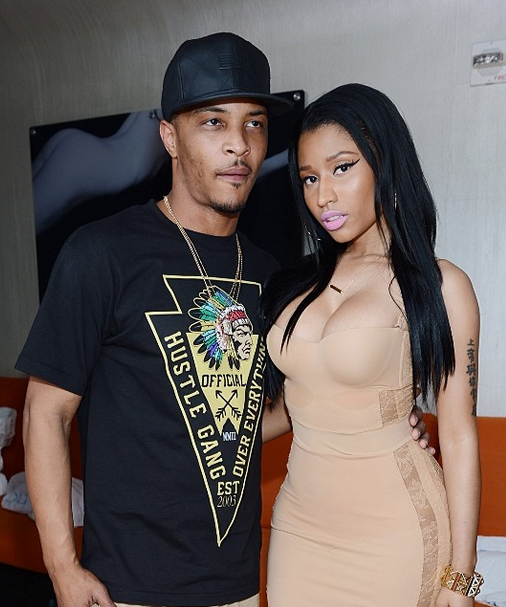 We wonder if someone at the party mentioned to Tip that Tiny had partied with Floyd the night before?

Across the pond.....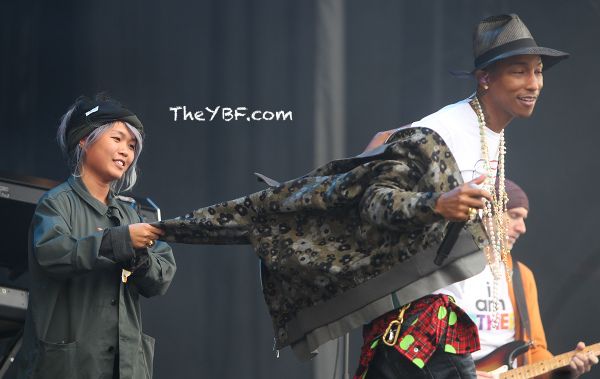 Skateboard P hit the stage in Glasgow, UK for day 2 of Radio 1's Big Weekend Glasgow yesterday. The fashionable rapper needed a little assistance as he "changed clothes" onstage.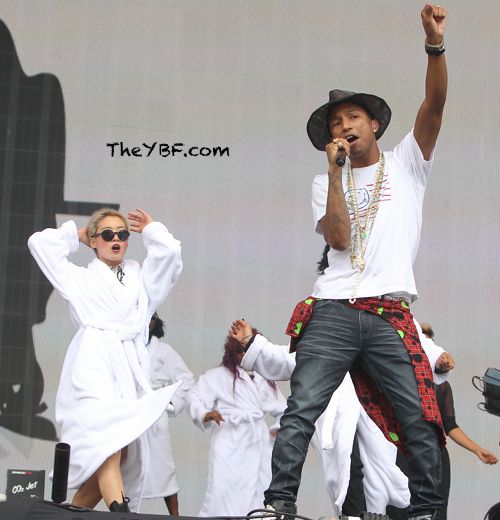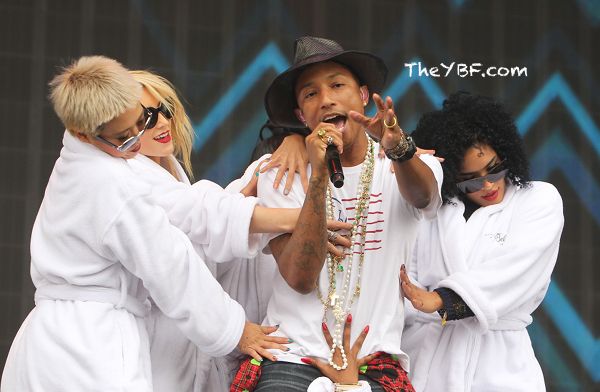 And there were no "Blurred Lines" as his sexy dancers copped a feel during his performance. "Come Get It Bae" indeed....
Photos via WENN/Nicki's Instagram

FIGHT NIGHT: Floyd Mayweather & T.I. Involved In Alleged BRAWL In Vegas + Did T.I. POP OFF On Floyd Over Tiny?! [PICS & VIDEOS]
Posted: 25 May 2014 06:32 AM PDT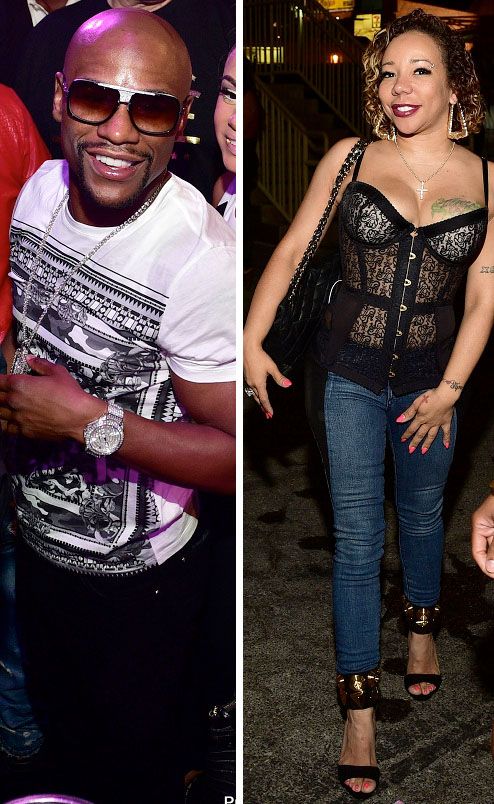 This Memorial Day weekend has been quite eventful in Las Vegas. Friday night, Floyd Mayweather brought his new "main chick" and other ladies to party with him at Prive. One of those ladies just so happened to be Tiny. Fast forward to Saturday night, T.I. and Floyd are involved in a brawl! Hmm…did Tiny have something to do with it? Find out inside…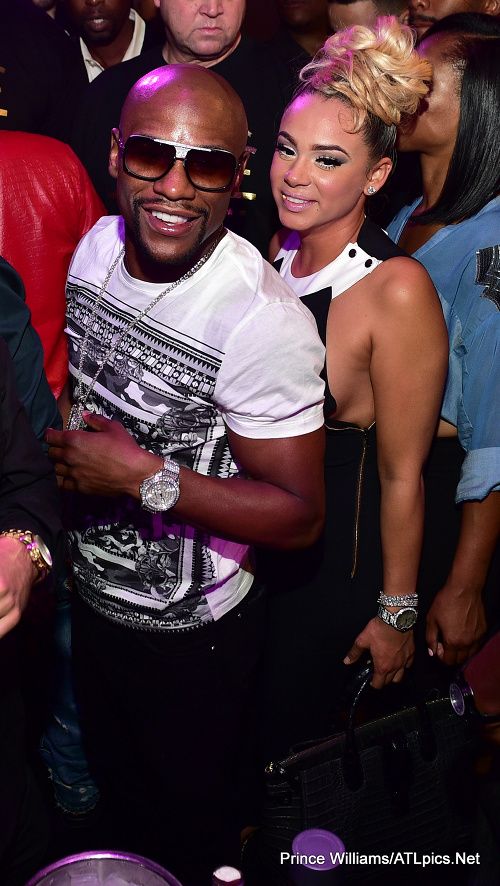 Floyd Mayweather is still basking in his victory over Marcos Maidana bringing the party to Prive nightclub in Las Vegas Friday night.
Pretty Boy Floyd bought his new girlfriend Doralie Medina (above) along (after blasting his ex-fiancee Shantel over aborting their twins) and turnt up to kick off their Memorial Day weekend.

Also in the building…Tiny! Mrs. Harris and her girls hit the scene to party it up in Vegas.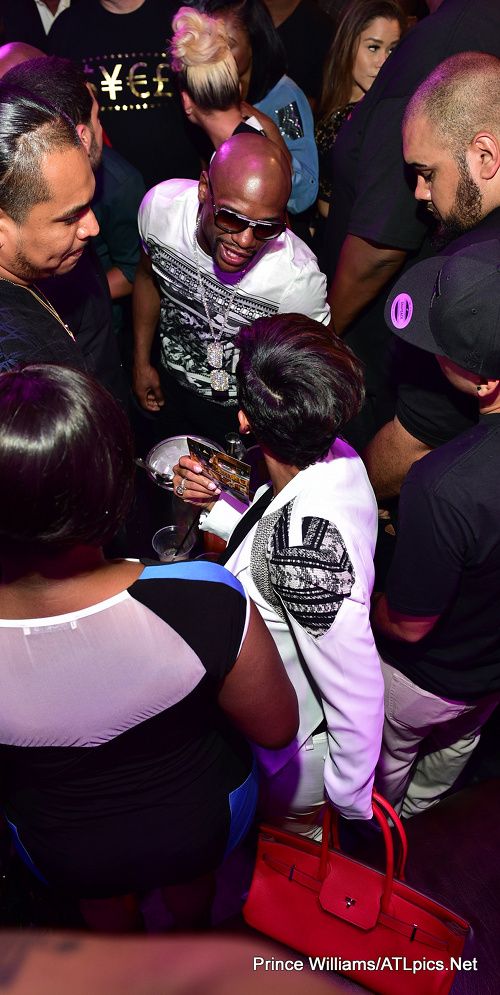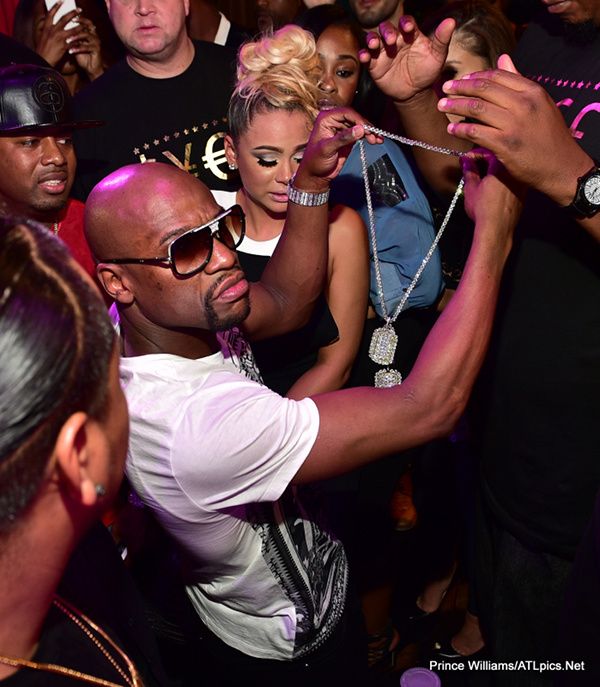 Floyd was typical Floyd, flossing his jewels and popping bottles.
Hey Shekinah!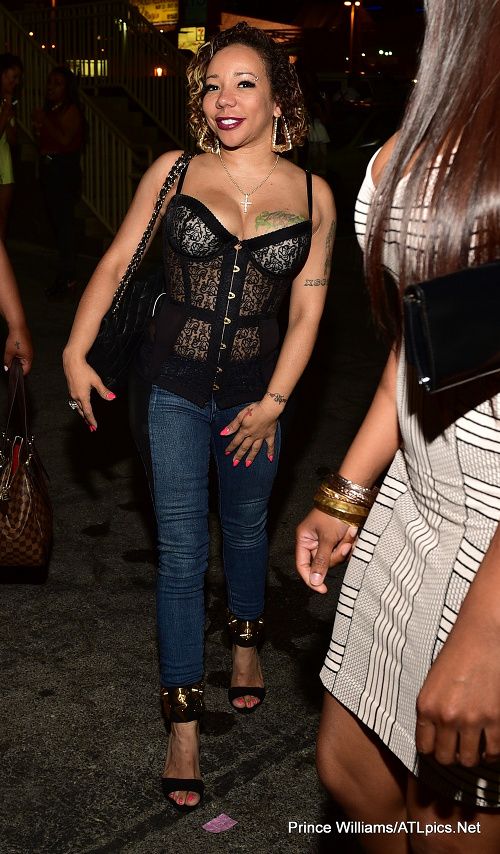 Chick got a break from her mommy duties for a night out on the town with her girls.
But...it came with a huge consequence...
Grand Hustle vs. The Money Team!
After partying it up at Prive Friday night, Floyd hit up Fatburger Saturday night on the Vegas Strip and ish went totally left. T.I. (who was tapped to host at Prive Saturday night) and Floyd Mayweather reportedly got into a huge brawl which resulted in chairs being thrown and chaos ensued.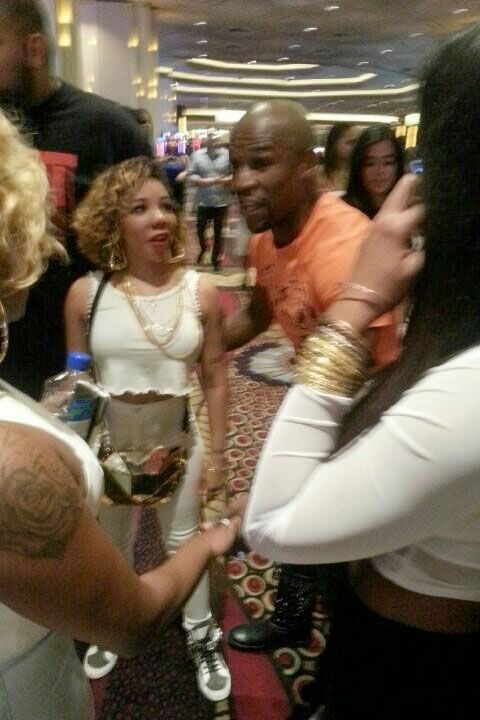 Was Tip mad his wife was hanging out in Prive with Floyd the night before AND last night (above & below) at his daughter Iyanna's birthday bash at MGM? Possibly...
According to TMZ sources, T.I. allegedly walked up on Floyd as he ate inside of the restaurant, flying off at the mouth with some slick ish. Then, Tip supposedly swung on Floyd and a fight broke out. Bodyguards jumped in, separated the two and then all hell broke loose. Lord…
Cops were called to the scene…Tip dipped as Floyd made his way out of there. A Fatburger employee was hurt but refused treatment.
More footage of the fight:
And then Floyd is caught on video yelling, "You need to control yo b*tch, muthaf*cka!":
Sighs...
Tip needs to have a seat somewhere. He was just involved in a run-in with the LAPD alongside The Game last month over club security guards assaulting his friend. And with both of them serving time in jail in the last few years...neither of them want those types of problems.
And you KNOW 50 Cent had to give his take on the fight:
Wonder how he found out about their fight so quickly but didn't know his own son was graduating...
Photos/Videos: ATLpics.net/TMZ/50 Cent's IG/Tiny's IG/@dilemme_bnw/HHNMblog/@iamdasituation
Ashanti & Sister Shia Floss Their Bikini Bods In Aruba
Posted: 24 May 2014 11:28 AM PDT
Ashanti is spending the Holiday weekend chillin' on the beaches of Aruba. And, as usual, she brought her little sister Shia and fam along for the fun. Check out the ladies flossing those bikini bodies inside...
Ashanti and those curves are back in a bikini. After showing off in Vegas recently, she hit the beach in Aruba and gave her fans a peek at what's going down.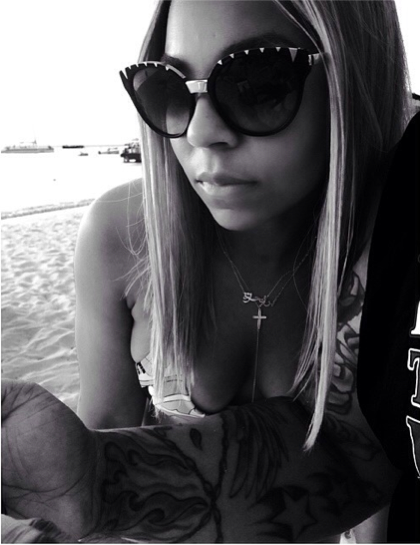 And Shia's showing off her fitness progress too: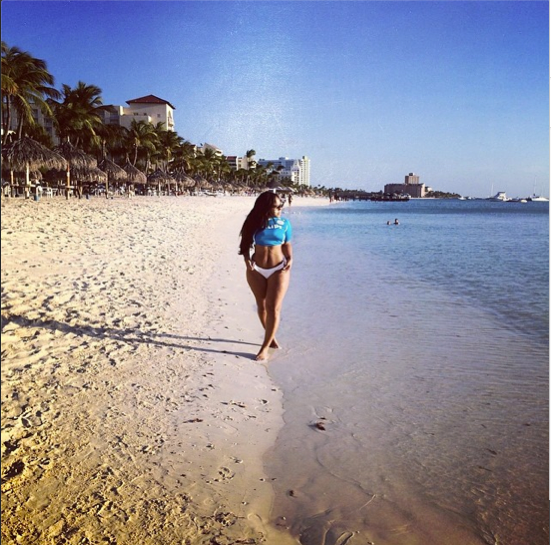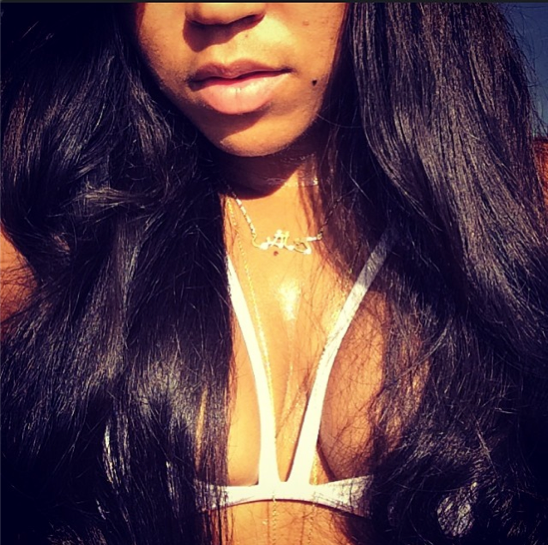 She posted the pics saying how her beach is better. Everyone's slogan this season it seems, thanks to Hov.
Peep the cute video above of the sisters have some fun.
Photos: Ashanti's IG/LilTuneshi's IG
JUST MARRIED: Kanye West & Kim Kardashian West Tie The Knot At Forte di Belvedere In Florence, Italy [UPDATED With Wedding Pics]
Posted: 24 May 2014 11:20 AM PDT
It's official! Kanye West and Kim Kardashian just said their "I Do's" and they are now Mr. & Mrs. West. Get all the deets inside…
UPDATE [5/25/14 11:00am EST]: And look who else was at the wedding...Mos Def! Luckily, the wedding was in Italy because if it had been in the U.S., Mos Def most likely wouldn't have been able to attend.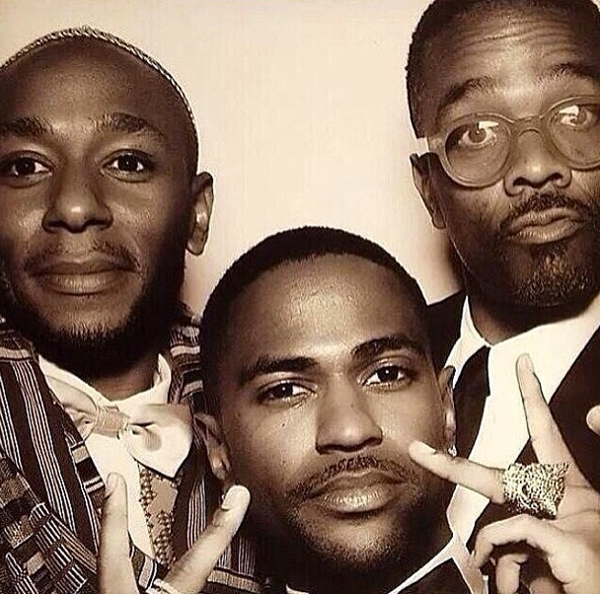 UPDATE [5/25/14 8:30am EST]: More photobooth pics from the reception have surfaced: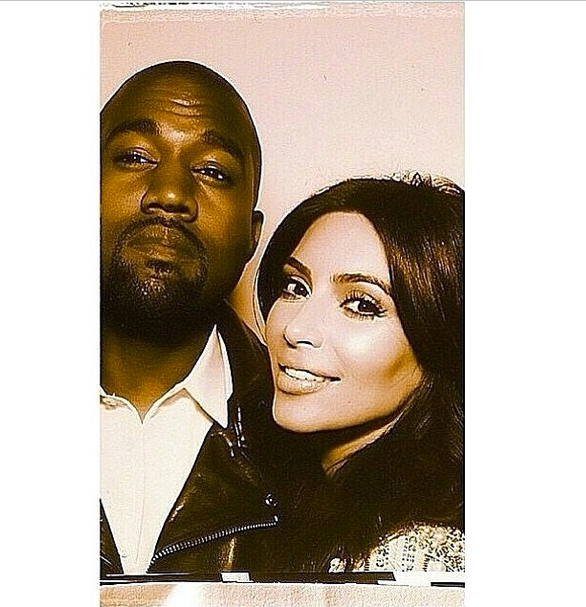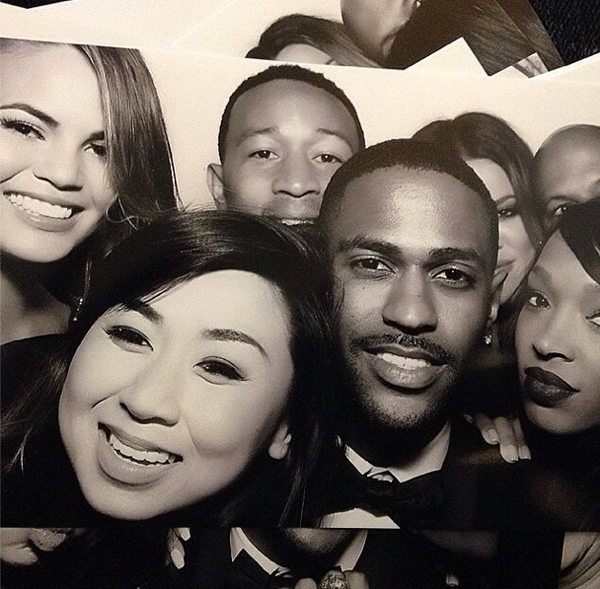 UPDATE [9:00pm EST]: The Carters appear to have skipped out on the wedding festivities, but Beyonce mailed this in via IG Saturday: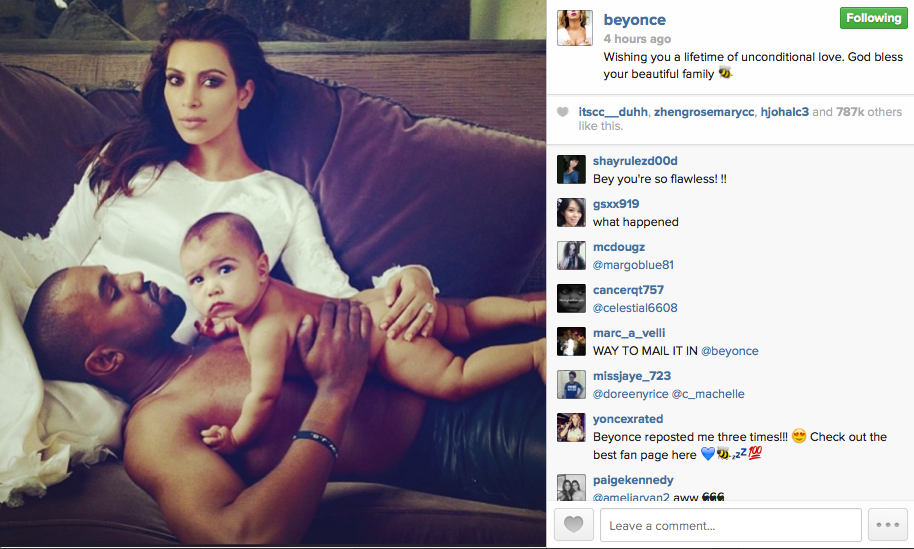 UPDATE [8:50p EST]:
-Photobooth pics from what looks like the reception have hit the net. Blac Chyna & Tyga posed with the newlyweds and John Legend & Chrissy Teigen also posed it up.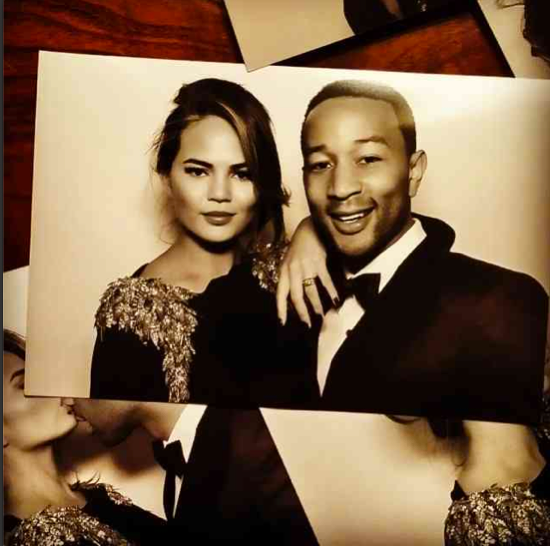 Adorbs. By the way, John reportedly performed "All Of Me" at the wedding for the couple.
UPDATE [8:25pm EST]:
-According to Extra, "The Italian city [of Florence] holds a special place in the couple's hearts because they conceived their almost 1-year-old daughter North there."
-Rob Kardashian was spotted arriving back at LAX from Paris...around the same time as the wedding. According to Daily Mail, he was upset about what he called "superficial B.S.", and left. Well damn.
-Kim pictured at the altar:
UPDATE [6:15pm EST]:
The entire West family was dripping in Givenchy for the big day. Kim took Kanye's hand in marriage in a white lace Givenchy Haute Couture gown (above). Yeezy was also in Givenchy, rocking a custom-designed tuxedo and little North West wore a Givenchy dress similar to her mother's. Nice.
......
After wreaking havoc in Paris all week, Kanye West and Kim Kardashian-West are finally married. Let us all breath a sigh of..."Finally Jesus".
The couple exchanged their vows in a "private" ceremony in front of family and friends at the historic Forte di Belvedere in Florence, Italy.
According to E!, 'Ye and Kim (pictured above in their April 2014 VOGUE issue) headed down the aisle today (Saturday) towards a massive wall of flowers (similar to what he copped her for Mother's Day) at the 16th-century-era fortress atop a hill near the Arno river. Kim's sisters Kourtney, Khloe, Kylie and Kendall made up her bridal party, while her step-dad Bruce Jenner walked her down the aisle as Andrea Bocelli sang.
Celebrity event planner and longtime Kardashian family friend Sharon Sacks coordinated the couple's wedding (who also planned Kim's baby shower and wedding to Kris Humphries) while a pastor from Miami, Rich Wilkerson Jr. performed the ceremony.
A source revealed to PEOPLE that Kanye became nervous before the ceremony saying,
"It was funny how nervous he was. He clearly knew the gravity of what he was about to do. This morning he was all smiles, but as it got closer, you could see that the nerves were kicking in. It's common for most grooms. I've seen it all before."
The wedding attendees applauded the couple twice during the ceremony, once when they shared their kiss and again when they were presented as Mr. & Mrs. West. Of course, Kris Jenner was seen wiping away tears of joy, but everyone was all smiles at the end.
All is finally said and done...at least for now.
Congrats to the Wests.
**KEEP it locked to this page as we will continuously update you with new details from the wedding ceremony!**
Photo: VOGUE/bklynunicorn_baby's IG/Kimye.Daily's IG/Blac Chyna's IG/John's IG/Elliot Wilson's IG