---
TWITTERIFIC: Erykah Badu Offers Up SEX Advice On Twitter + Did Mike Epps Try To Flex On Twitter About Being At Heat vs. Pacers Game?
Posted: 19 May 2014 08:42 AM PDT
Erykah Badu is dishing sex secrets while Mike Epps is flexing on about being at the Heat vs. Pacers playoff game. See their Twitter activities inside…
If you're wondering what Erykah Badu does to keep the men in her life sprung (i.e. Andre 300, Common, etc.), you're questions have been answered. The newest face of Givenchy is offering up tips for men and women to use in the bedroom.
Dr. Badu hit up Twitter to offer up her home remedies to keep your "cookie" sweet and offered up a reminder to men about making women wait before jumping in the bed for sex.
She tweeted:
Ladies..For a SWEET vagina I Drink raw cranberries often. Now the secrets out. (Reluctantly) ALSO promotes healthy,strong WOMB &bladder.

— ErykahBadoula (@fatbellybella) May 18, 2014
IMPORTANT Note to MEN: Women really don't dig guys who give it up too easy. Respect yourself. Make us wait. :-b

— ErykahBadoula (@fatbellybella) May 18, 2014
U feel me?

— ErykahBadoula (@fatbellybella) May 18, 2014
Well alright...
Also on Twitter....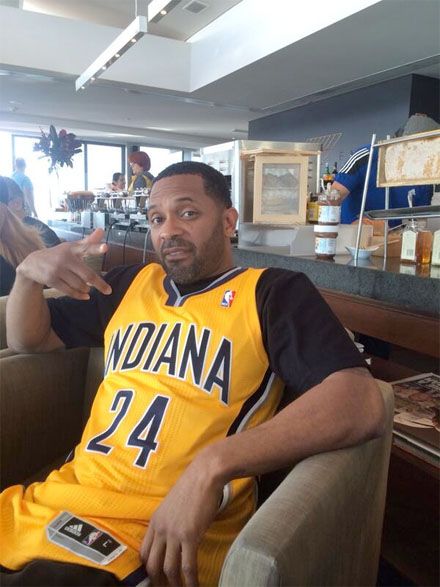 Comedian Mike Epps was caught flexing on Twitter yesterday after he posted a photo of the Heat playing the Pacers. Only problem is…the photo he tweeted a "fake" pic. WHile his pic showed black uniforms, the Heat actually played in their red uniforms. Sighs…
He tweeted: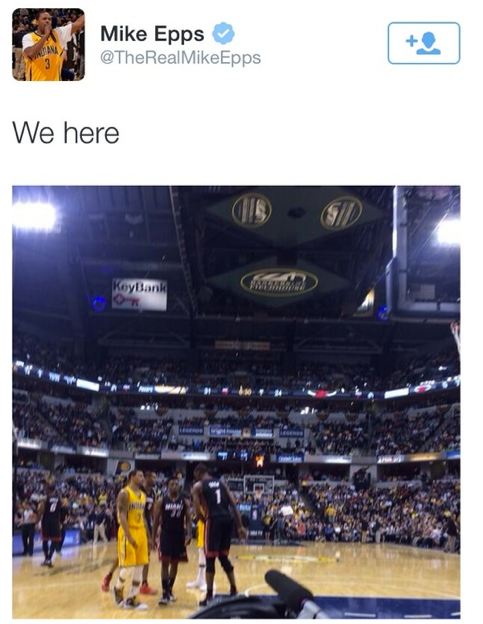 Once people caught on to Mike's fake pic, he quickly deleted it from his timeline. He then tried back track his mistake, posting a new photo of him in Australia saying he hit the playoff game last night but is now in Australia.
I was at the pacer game last nite but now iam in Australia pic.twitter.com/4mqu6QUfFG

— Mike Epps (@TheRealMikeEpps) May 18, 2014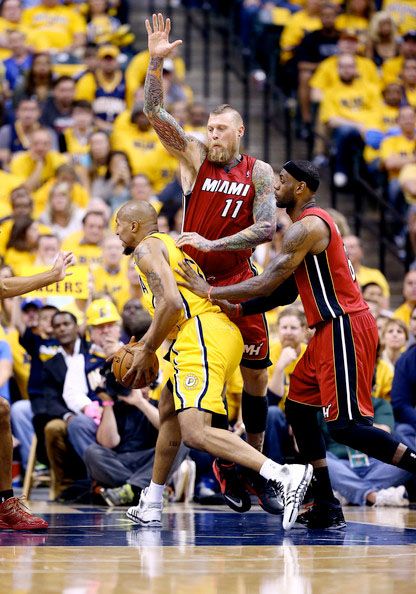 He still is lying. The Heat and the Pacers played on Sunday, May 18th (above). As you can see, he posted his pic on May 18th and said he was at the game last night. Ummm…yea. You can also see the Pacer fans have on the yellow t-shirts passed out before the game (in the real photo). Hardly anyone in Mike's photo has on yellow. Luckily for Mike, the Pacers defeated the Heat 107-96. Game 2 goes down tomorrow Indiana at 8:30pm/EST.
This guy...
Photos: Getty/Erykah's Twitter/Mike's Twitter

YBF EXCLUSIVE: Gabrielle Union STYLED By Kim Kimble For A New Wine Ad On The "LA HAIR" Season 3 Premiere
Posted: 19 May 2014 08:33 AM PDT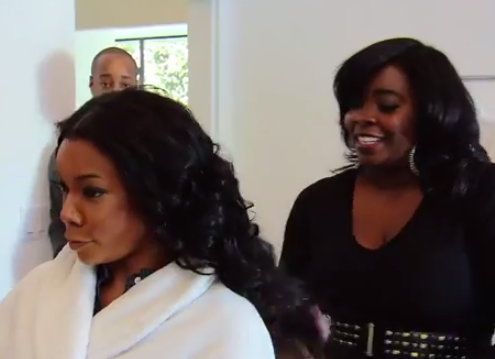 Gabrielle Union and Rocsi Diaz are among the notable Hollywood ladies who'll appear on the third season of LA HAIR. Watch an exclusive scene from the season premiere inside...
During the season three premiere of WE tv's L.A. HAIR, airing Thursday, May 22 at 9PM ET/PT, Kim Kimble styles "Being Mary Jane" star Gabrielle Union for a new wine ad while a full-scale brawl erupts between Anthony, and Kim's newest addition to the salon – a barber named Lisa with a celebrity roster a mile long and a bad attitude to match.

Watching Gabrielle Union's appearance here:
Anthony and Lisa's confrontation:
Posted: 19 May 2014 07:40 AM PDT
This "brave" singer bared her assets before a sold-out crowd in Phoenix, Arizona over the weekend. Guess that booty inside....
She's a bad mama jama....
Braveheart songstress Ashanti hit the stage at the Celebrity Theatre in Phoeniz, AZ over the weekend to headline the UrbanAZ Grown & Sexy concert.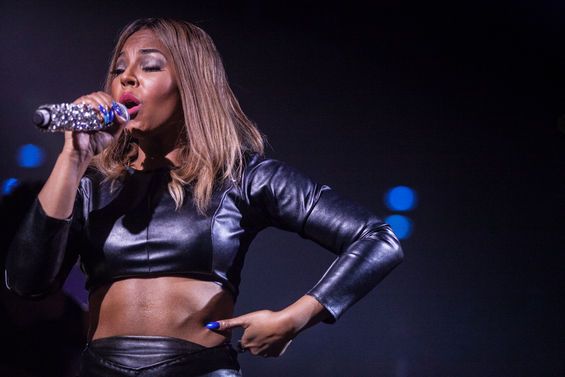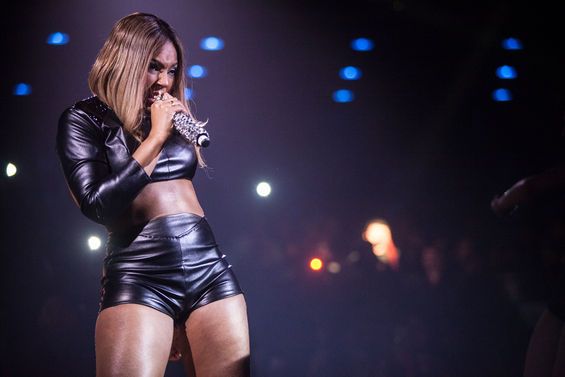 In a newly published profile by the Chicago Tribune, Ashanti opened up about the long road it took to record her latest album.
"I'm a Libra, so it literally takes me twenty-five minutes to pick out a shoe. So when I have to make decisions that are crucial to my career, that affect me and everyone around me, it's really hard. I happen to have been an artist that made some extremely expensive mistakes."
Braveheart, which Ashanti put out on her own label, Written Entertainment, debuted at #1 on the Billboard Independent Chart. Ashanti told the Tribune, "There's not a lot of females in this male-dominated industry who are able to do what I'm doing. ... And it is hard, I'm not going to sugarcoat it. But you feel good when you put so much work into something."
Also in concert......
Ginuwine co-headlined the show with Ashanti.
His set included "Same Ol' G"/"Hell Yeah"/"Trouble"/"Only When Ur Lonely"/"When Doves Cry"/"I Know" and I'll Do Anything/I'm Sorry."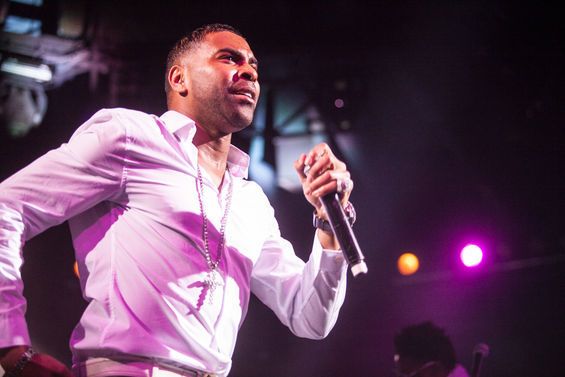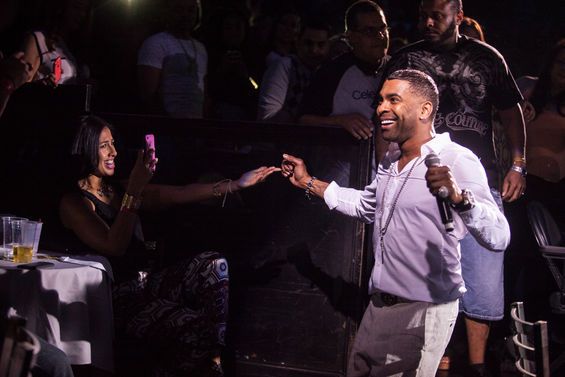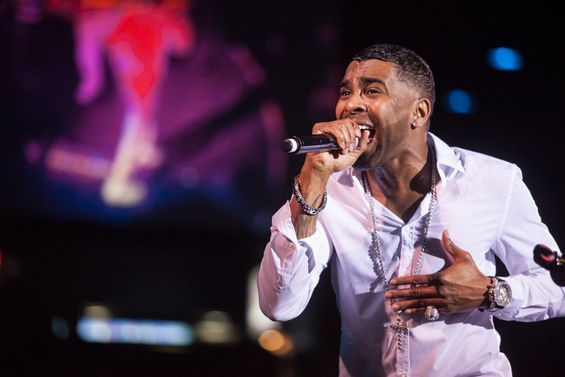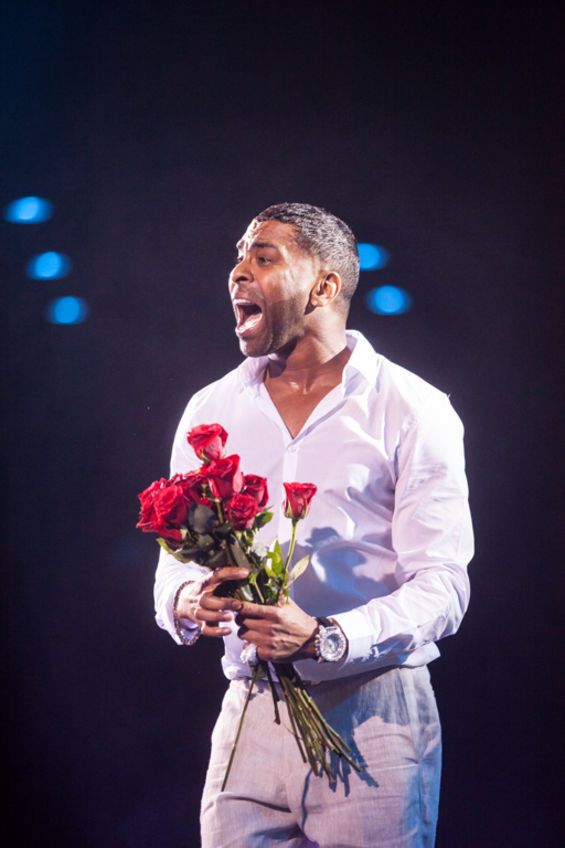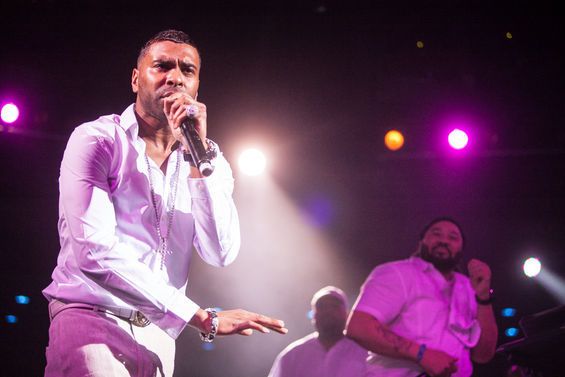 In addition to touring, Ginuwine also performed "Pony" on the season finale of "Park & Recreation."
Photo via Jom Louvau
RUMOR CONTROL: Apollo Nida CONFIRMS He Never Called T.I A Snitch & Explains Why He Committed FRAUD!
Posted: 19 May 2014 06:45 AM PDT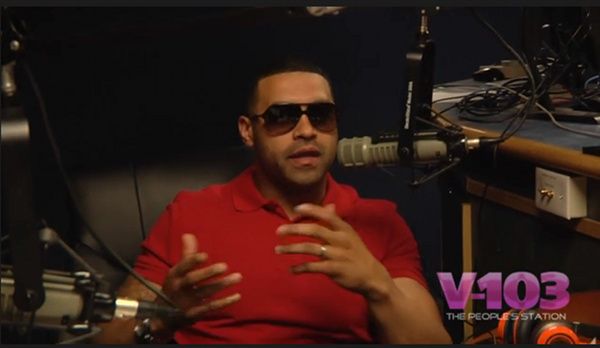 Apollo Nida is speaking out about T.I. and those "snitch" tweets. Find out what he said about his run-in with the ATL rapper and his guilty plea inside…
Since T.I. checked "RHOA" husband Apollo Nida on his "snitch" tweets, Apollo is speaking out about the ordeal, confirming he never meant to insinuate that T.I. or Michael Vick were snitches.
You'll recall Mr. Nida took to his Twitter after he entered his guilty plea to fraud and explained everyone has "snitch" clauses in their plea agreements. Then, for whatever reason, he thought it would be a good idea to name check T.I. and Mike Vick, saying they too had "snitch" language in their federal plea agreements. Tip was pissed so he confronted Apollo about his tweets and things looked as though they were going to get ugly. But they didn't...Apollo deleted the tweets and apologized.
Now Apollo wants to clear up any rumors about T.I. being a snitch and rumors that he is working with the government as an informant. During an interview with The Ryan Cameron Morning Show, Apollo broke down why he tweeted (then deleted) what he said about T.I., explained his guilty plea to mail/bank/wire fraud and informant speculations and whether or not he slept with Kenya Moore.
Here are the highlights:
On his T.I/Mike Vick tweets.:
Apollo admitted he was wrong for posting the tweet about T.I. and Michael Vick. He said he NEVER said Tip or Mike were rats.

On his run-in with T.I.:
Apollo said when T.I. first approached him he thought he was coming to offer him support. He soon realized Tip wasn't there to offer support and was a little hostile so he jumped back and put his phone up in case he had to do something.

Tip's friend/rapper Killer Mike recorded the confrontation and Apollo said he didn't like the "ploy" they used because he KNOWS T.I. and he could have just called him. He said, "You don't do that."

On his paperwork having "snitch" language:
Apollo said he would want to work with fraud prevention to "help" authorities with preventing fraud. He's not currently working with authorities but if he does, that's what he would be doing.

On why he committed fraud:
Apollo explained he grew up without a mother and father so he didn't want his actions to keep him absent in his own children's lives.He said reality TV can bring on a lot of stress so he felt pressured to sustain a certain lifestyle. He said he is not a thief and never took money out of people's account. [Ummm…]

On if he did it:
He confessed he did it and now he has to lay in the bed he made. He said, "Things happen in life." He's remorseful for his actions and he hurts tremendously. When asked why didn't he just get a regular job he revealed it wouldn't have been enough money to sustain.

On his sentencing:
He said his sentence is not 30 years. He said it could range from 0-30 years. He revealed although he has no clue how long he's going to be away, he's in high spirits and believes in a higher power.

On if Phaedra knew anything about his dealings:
He confirmed Phaedra didn't know or do anything. They made an announcement in court saying she was exonerated.

On if he and Phaedra are still together:
Yes. He said he woke up to his wife this morning. He explained if they were to separate, the prenup outlines that she would keep what she has and if the checks are not distributed equally--he has to do what he has to do.

On Phaedra's mother living with them:
He said Ms Bell (Phaedra mom) lives in their home Tuesday thru Friday. He admitted she has been a big help around the house and that he goes to her for guidance.

On if he slept with Kenya Moore:
Apollo said he never slept with her.

Apollo will have his day in court on Tuesday, July 8th at 2pm.
Thoughts?
Photos: V103
SPOTTED: Kanye West And Kim Kardashian GRABBING Ice Cream In Paris, Days Before ALLEGED Wedding Ceremony
Posted: 19 May 2014 06:03 AM PDT
Kanye West and Kim Kardashian are in Paris now, fueling rumors that they'll wed at the end of the week. See pics inside...
Kim Kardashian and Kanye West were seen getting ice-cream at Haagen Dazs and making a trip to Jean Touitou's in Paris, France yesterday. Kim, rocking a white top and blue jeans, and Kanye are expected to get married on May 24th (according to some reports).
Though their wedding is one of the most talked about events of the year.....the mystery surrounding the nuptials continues. While its being alleged that Kim will wear Vera Wang, the actual site of the wedding is up for grabs.
Some suspect that the ceremony will happen at the Chateau Louis XIV, a Parisian palace because Radar reports Kanye has requested the pool be filled with pink water. In addition to Paris, some reports claim the wedding will go down in a 16th-century fortress in Fort Belvedere near Florence, Italy. And guests will be transported there upon arrival in Paris.
Never fear....whether it is in France or Italy, we will have all the deets for you as they happen.....
Photos via INF, Pacific Coast News and Splash
IN CASE YOU MISSED IT: Michael Jackson Resurrected....Via Hologram For The 2014 Billboard Music Awards
Posted: 18 May 2014 07:45 PM PDT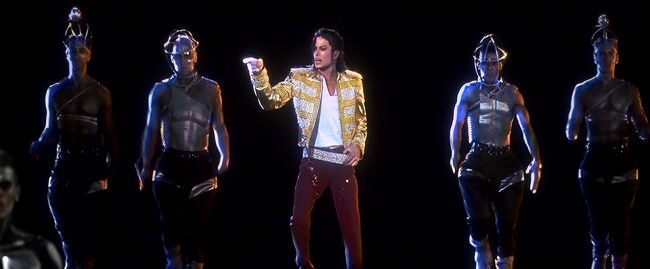 If you missed Sunday night's return of Michael Jackson at the 2014 Billboard Music Awards, we've got it for you inside. Some folks were amazed and moved to tears, while some folks took to social media to express their disapproval. Watch and give your own take inside...
Watching the holograms of Eazy E and Tupac were odd enough. But this Michael Jackson Hologram was probably one of the best we've seen. Yet and still, that made it more difficult to watch. And we've gotta ask, should MJ's image be resurrected in this way, even if the performance was visually beautiful?
A five-piece band and 16 dancers appeared live onstage with a hologram image of Michael Jackson for a performance of the new track, "Slave tot he Rhythm" off the late icon's new album, Xscape.
The moves, the outfit, and the mannerisms were very MJ-like, while the lip synching was slightly off. It was amazing to watch, but we're still a bit torn.
Check it below and chime in with your take:
Get more info about the making of the Hologram HERE.
Photo: Getty
BATTLE OF THE CUT OUTS & HIGH SLITS: Kelly Rowland, Nicki Minaj, J.Lo, Rocsi Diaz & More On The 2014 BILLBOARD MUSIC AWARDS Red Carpet
Posted: 18 May 2014 07:05 PM PDT
Summer is just around the corner, and these ladies are giving everybody some motivation to get it right and get it tight. Check out the fab chicks showing some major skin in cut outs and high slits, plus everyone else, on Sunday night's 2014 Billboard Music Awards red carpet inside...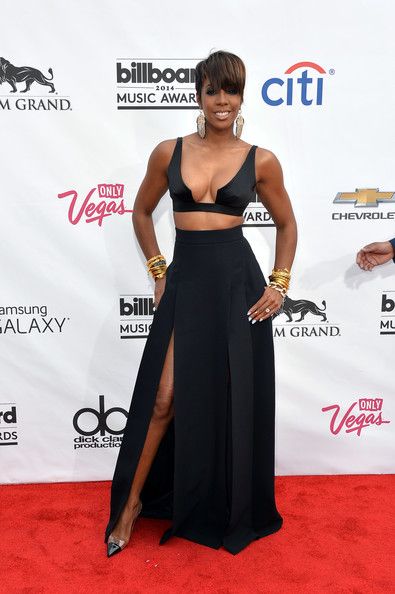 Sunday night at the MGM Grand in Las Vegas, a few of your faves hit the red carpet for the 2014 Billboard Music Awards. And Kelly Rowland was one of those celebs who served up some major sexiness.
Her two piece look was comprised of a black barely-there bralette and a high waisted high slit full skirt. Easily our favorite look of the night. And it doesn't hurt that she's got that newlywed glow going on!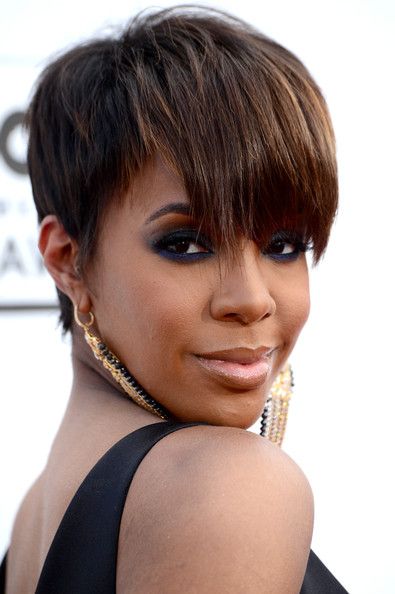 Gorge!
Also showing some major skin in a chic way: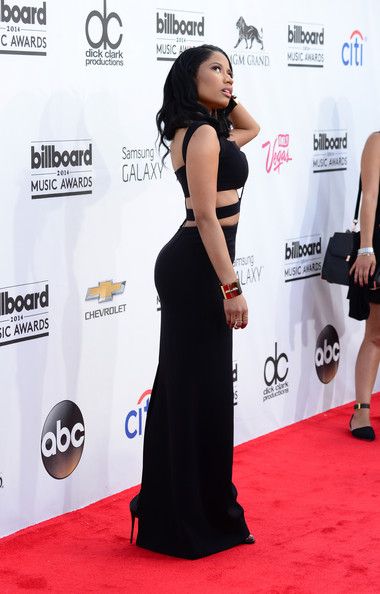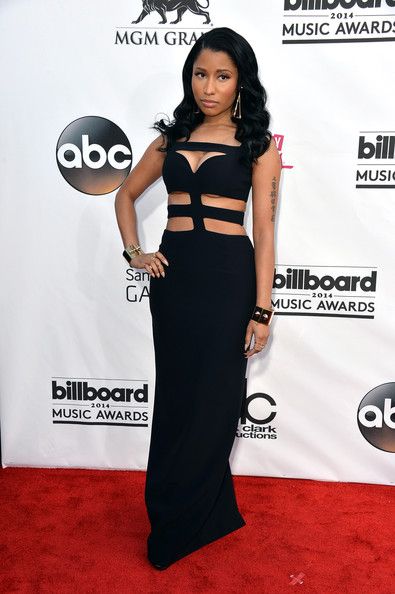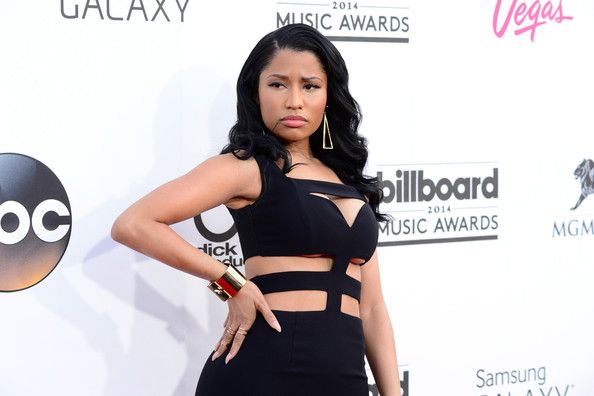 Yep, even Nicki Minaj is pulling off "chic" these days. Underboob and all. The rapstress and The Other Woman star rocked an Alexander McQueen multiple cut-out gown from the Spring 2014 collection. And she's still on her understated-is-more tip with her natural hair, natural makeup and demure jewelry. We likey.
"Entertainment Tonight" correspondent Rocsi Diaz went backless with a few cutouts and a top bun for her red carpet appearance. Lovely look for her.
And we know what she and Nicki were saying to each other: "Yassss Bish Yassss".
Amber Rose showed up with visor shades: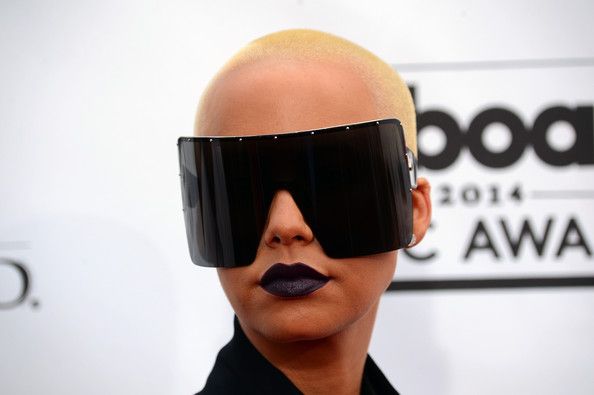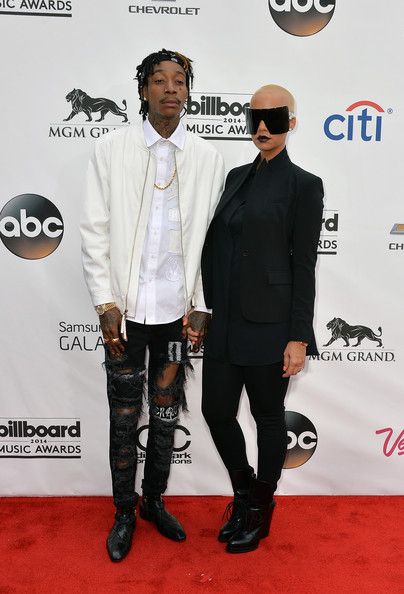 She and her hubby Wiz Khalifa held hands on the carpet. If they switched outfits, no one would even notice.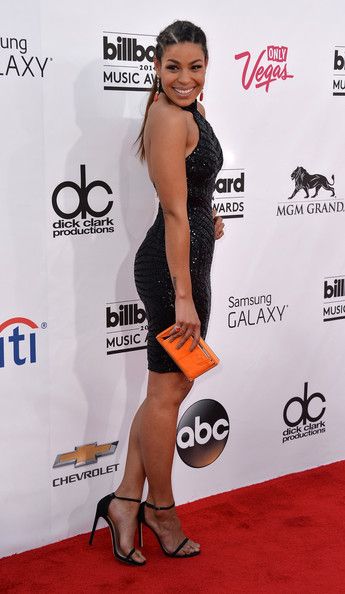 Jordin Sparks kept it pretty in a Michael Costello dress, a Beirn Lucite neon orange box clutch, and Stuart Weitzman 'Nudist' sandals as she hosted the red carpet with Lance Bass.
She made sure to pose it up with her boyfriend Jason Derulo. How cute are they....
Host of the night, Ludacris, rocked a spring vibe with his suit.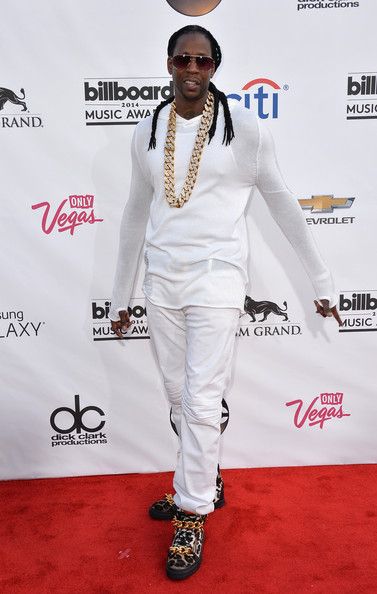 2 Chainz and his cheetah print and gold chain shoes hit the carpet in all white.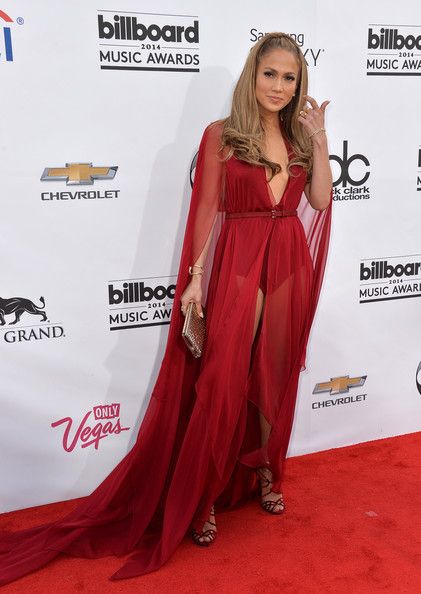 Jennifer Lopez pulled triple duty at the BBMA's. The Icon Award is going to the lady in this daring red Donna Karen look. And after slaying the red carpet, she also helped Pit Bull open the show.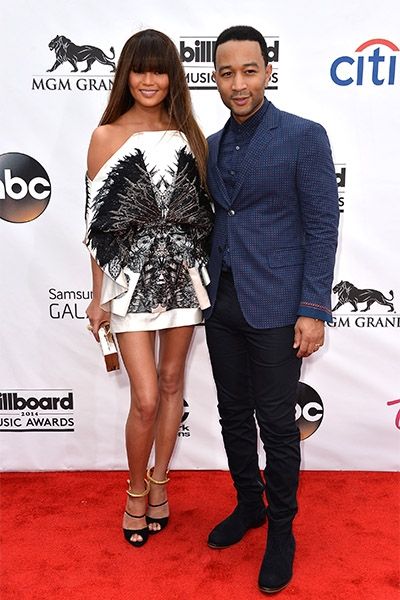 And Chrissy Teigen debuted a new bang-heavy look. She rocked a black and white satin, off the shoulder Fyodor Golanmini dress alongside her husband John Legend. And she topped off the look with Giuseppe Zanotti heels and a box clutch from JustFab.
Photos: Getty/Rocsi's IG
WACK ASS BABY DADDY FILES: 50 Cent's Son Marquise Allegedly Breaks Down Over 50 Being A NO-SHOW At His Graduation
Posted: 18 May 2014 04:42 PM PDT
Well, this is sad. 50 Cent's son Marquise Jackson allegedly told the world how hurt he is about his father being a no-show at his high school graduation this weekend. Check out the emotional breakdown inside...
Wow. Looks like that beef from last year between 50 Cent and his baby's mother Shaniqua never blew over. That beef resulted in 50 telling THEIR SON...by text...that he's disowning him. And lots of horrible language was aimed at Shaniqua through Marquise. 50 tried to cover up the horrific tirade by claiming Shaniqua is always playing on Marquis' phone so he "knew" he was talking to her, and not Marquis. (We're not buying that.)
Fast forward to this weekend and Marquis' high school graduation. Apparently, he was expecting pops to show up for him (just like that day that the horrible text message tirade occurred). But 50 was a no-show (just like that day of the horrible text tirade).
Marquis posted the pic above of himself hugging his sister while crying. He said:
Yea I broke down , I was really excited to see my pops at my graduation today but he never showed up smh. My sister and mama is always there for me just know that you wasn't. I did it without you
But he did have support from his mom, Shaniqua, his sister, family members, and his "uncle" Jim Jones who posted the below: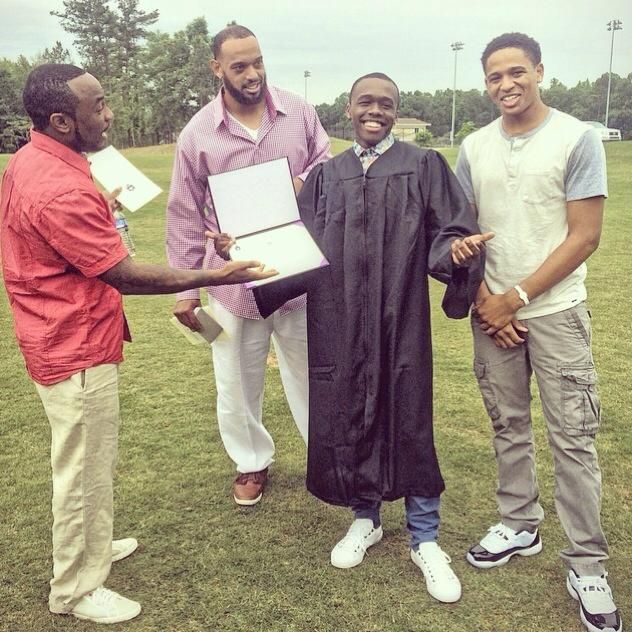 Well, congrats to this young man for keeping his head up despite certain adults in his life not stepping up to do their job as a parent.
Photos: Marquise's FB