---
DEADBEAT EXES? Terrence Howard OWES Ex-Wife Michelle Over $325K In Alimony And Legal Fees, DUMPED By Legal Team
Posted: 29 May 2014 08:56 AM PDT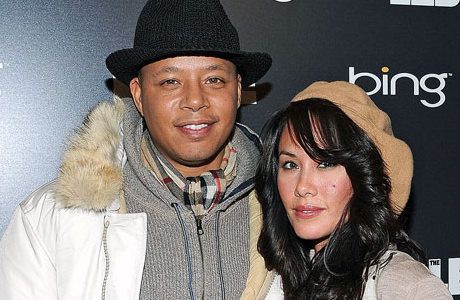 Troubled actor Terrence Howard is being dragged back to court by his ex-wife, who claims he's late on all of his alimony payments. Get the lawsuit deets inside and find out why Terrence's own legal team wants out.
Michelle Howard, the ex-wife of upcoming "Empire" star Terrance Howard who's accused him of violence in the past, is taking him to court for missed alimony payments.
According to new legal documents, Michelle claims Terrence owes her $325K in spousal support and another $106K for her attorneys and accountant fees. She says he's missed 49 spousal support payments since the divorce became final over 2 years ago. Sheesh.
But here's the catch. Terrence may have a hard time finding legal representation since his own lawyers want off the case. He reportedly owes them too! They've filed their own docs asking a judge to relieve them of their duties because of "a total and complete break down in communications."
SMH........
Photos via Getty/Pacific Coast News
LASER CUT CHICK: Beyoncé Flaunts Sexy White-On-White Look In NYC
Posted: 29 May 2014 08:08 AM PDT
Beyoncé is all about the laser cut trend these days. Check out the sexy yet simple white-on-white look the "Partition" chick stepped out in NYC rocking inside...
The braided Bey made her way out of her Manhattan office for the second night in a row Wednesday in a white laser cute see-thru blouse and a matching skirt, both by Rare London. And she rocked her new fave belt again as well after cinching her waist and Topshop look with it the previous day: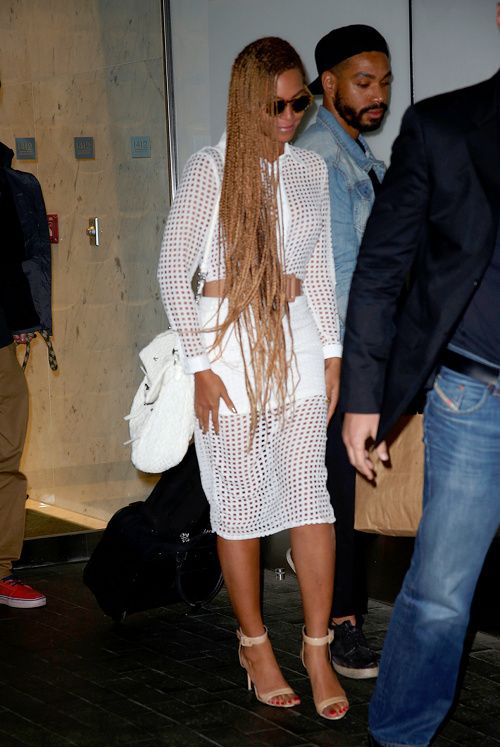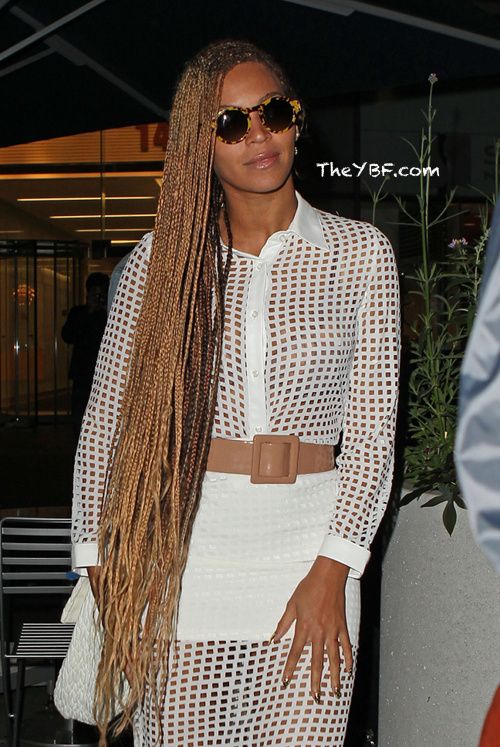 Looks like she and Jay (who was also there but not pictred here) are hard at work on those final "On The Run" video and tour touches.
Fab.
The Randomness:
1. Columbus Short is falling on comedy these days after getting fired from "Scandal". STORY
Photos: Splash/Bey's Instagram
DO GOODER: Nas INVESTS In Higher Education With "The Nas Scholarship Fund"
Posted: 29 May 2014 07:25 AM PDT
"I know I can…be what I wanna be" Nas wants to help college grads transition to the real world successfully. Get the deets on how he's making it happen inside….
Well here's some good news. You know how hard it is for a college grad to land their first job after graduating and now it just got a little easier.
Nasir Jones is all about street dreams..and now he's about college dreams. He's making a huge investment in higher education by offering college graduates The Nas Scholarship Fund. Nas' investment company Queensbridge Venture Partners has teamed up with educational company Koru to assist graduates in making the transition into successful careers. Koru is a program that helps grads with landing their career goals, providing job training and placement. And with the backing of Nas' investment company, the program plans to expand to reach more students.
The Nas Scholarship Fund will grant chosen students with financial aid. And not only that…select grads will also have the Queensbridge rapper as their very own real-world coach.
In a statement, Nas (who dropped out of school in the 8th grade) expressed how anxious he is to work with students saying,
"I'm inspired to support Koru participants because I know how hard it can be to carve out your path and purpose in life. It takes conviction, hard work and the right network. The young people going through Koru are gritty, book smart and street smart. The Koru program gives them an opportunity to put those smarts to work. I can't wait to work directly with them and share what I've learned through my own life experiences.
More deets are on Koru's official website.
And in other Nas news…his music documentary "Time Is Illmatic" will premier globally soon. In the meantime, U.S. viewers can expect to see the film in theaters in October. Nice.
The World Is Yours…
Photos: Nas' IG

THAT'S MY BABY'S DADDY! Indiana Pacers Star Paul George SLAM DUNKED With PATERNITY SUIT From Ex-Stripper
Posted: 29 May 2014 06:59 AM PDT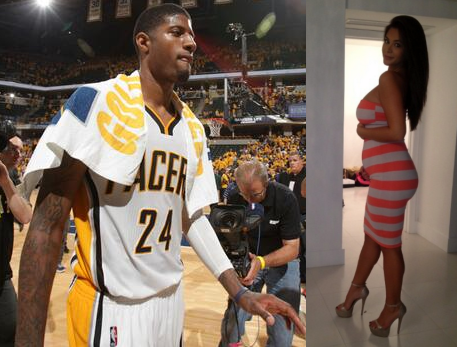 As he preps for one of the biggest games of his career this Saturday, Indiana Pacers small forward Paul George has been hit with a paternity suit by a former stripper he "dated". More inside....
While Indiana Pacers baller Paul George gives the Miami Heat a run for their money in the NBA conference finals, the good folks down at Manhattan Family Court are looking to get some one-on-one action with the baller.
Former Tootsie's Cabaret stripper Daniela Rajic, 24, claims her daughter Olivia (born May 1st) is the child of Paul. She recently filed a paternity suit and has moved to Manhattan where she is now a full-time mom.
A source told Page Six, "Paul and Daniela saw each other a number of times over the course of a few months in Miami last summer. She became pregnant, and their daughter was born on May 1. She has already undertaken a paternity test, and there's no question he is the father. The court is still expected to order an official DNA test."
For his part, Paul is not denying the child or giving Daniela a hard time. At least not in public. You'll recall that there were reports he offered her $1 Million to have an abortion. A claim he denies. In a previous statement, he said, "If and when there is legal confirmation that I am the father, I will fully embrace my responsibilities."
And now that the baby is born....it looks like he may get the confirmation he needs once tests results are in.
The case is currently before Family Court Judge Matthew Cooper and we will keep you posted.
The Randomness:
1. Jay Z splits with longtime business Rocawear/Roc Nation partner John Meneilly. Story
Photos via NBA Twitter/Blacksportsonline.com
WTF? Pilar Sanders APPEALS Pre-Nup RULING, Says AMERICAN LAWS Don't Apply To Her - She's Now Moroccan!
Posted: 29 May 2014 06:05 AM PDT
Pilar Sanders tried to get her pre-nup tossed out of court - claimng American laws don't apply to her. Get the deets on her creative legal move inside...
Remember the nasty legal battle between sports personality Deion Sanders (now engaged to Tracey Edmonds) and Pilar Sanders? It's still raging on....at least for her. As Deion has moved on with his life (and their children), Pilar is still attempting to get a few more coins out of their former marriage.
Her latest legal move may have your scratching your head. Pilar, who now goes by Pilar Biggers Sanders Love El-Dey, filed docs to appeal a judgment that upheld the prenup in her divorce. She claimed she is now a Moorish National Aboriginal, Indigenous Natural Person who should not be governed by any laws or courts in the United States of America. Did you catch all that?
Yet...she's appealing the document in the same US court where she claims the laws don't apply to her. Though Pilar's docs claim she's now affiliated with the Moorish Divine and National Movement of the World, US courts were not swayed and her appeal was dismissed.
If at first you don't succeed......
Photo via Pilar's Instagram
SIDE CHICK WHO?!: Karrueche RESPONDS To Being Labeled A "Side Chick"
Posted: 28 May 2014 08:25 PM PDT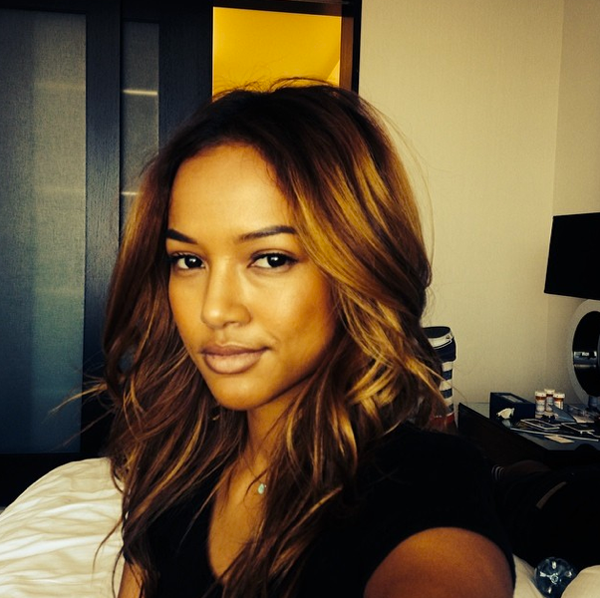 Chris Brown's main chick (we believe...for now) Karrueche Tran has responded to those who label her his side chick. Find out what she had to say inside…
While Chris Brown sits behind bars, Karrueche is defending her reputation after being labeled a side chick.
As we all know, Karrueche has been stanning for her on-again/off-again R&B singing boyfriend, attending court hearings with Breezy's mom and accepting his jail calls while he professes how much he loves her. But, their relationship has always been one we questioned. One minute Breezy wants Rihanna then the next he's boo'd up with Kae.
Although she has had to deal with her fair share of public humiliation (after Breezy released an intimate docu-video expressing his love for Rihanna & Kae and the strees it causes), we didn't exactly look at Kae as being a "side chick."
But VH1 conjured up a list of Hip Hop's most notorious side chicks and Karrueche was at the very top of their rankings. Joining her on the mistresses of Hip Hop list were rapper Lil Kim, "LAHH ATL" star Joseline Hernandez, video vixen Karrine Steffans, one of Diddy's baby mamas Sarah Chapman and Ludacris' baby mama Tamika Fuller, to name a few.
Kae took to her Instagram to express how embarrassed she is by making this list, but confirmed she's happy with herself, flaws and all. She posted,
when no one understands you.. they misinterpret you.. judge you.. label you.. this is embarrassing to see, but I can do nothing but laugh because at the end of the day you can say whatever you want about me.. Label me however you please.. Your words do not define who I am. I'm happy with myself.. Flaws..wrong choices..mistakes and all and that's all that matters. I usually don't speak up on shit like this but whatever. I have family that has to see shit like this. I don't even think we're all on the same page as to what a "side chick" really is.. Either way
We have our thoughts…but do you agree with Kae?
Photos: VH1/Karrueche's IG

Usher & Girlfriend Grace Miguel Party It Up At Wedding In NY + T.I. POSTS Rant About Going To JAIL For His Family
Posted: 28 May 2014 08:22 PM PDT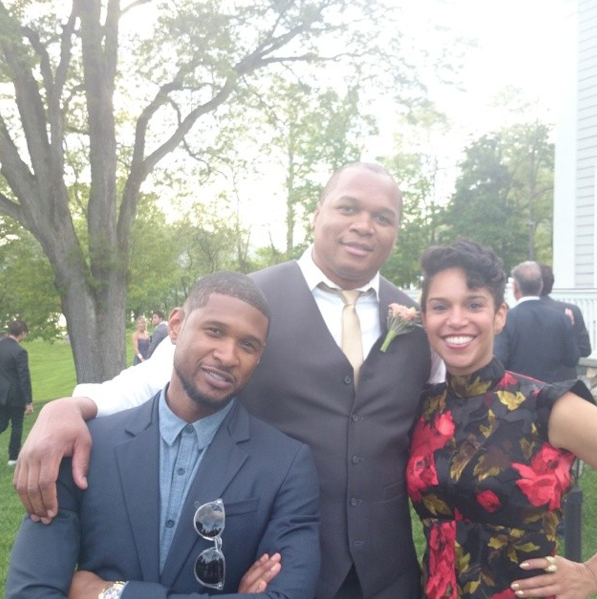 Over the weekend, Usher hit the dance floor at a wedding in NY and who does he bring along with him? His manager turned girlfriend Grace Miguel. Also, T.I. posted a threatening message on his Instagram…then quickly deleted it. Find out what it said and peep the pics of Usher cutting a rug inside…
Looks like things are getting serious between Usher and his manager turned girlfriend Grace Miguel. Grace accompanied Usher at Justin Bieber's manager's (Scott Braun) brother's wedding in New York over the weekend. Must be getting serious when you +1 at a friend's wedding.
And of course, Biebz was there.
You'll recall Scooter Braun is the guy who received a verbal lashing from Lil Wayne days ago, over rumors that Scooter was talking negatively about his YMCMB artist Lil Twist.
"The Voice" judge (who's Team Usher contestant recently won the competition) hopped on the dance floor to bust some of his signature moves, as wedding guests cheered him on.
It even looks like he busted out a throwback dance move, the Macarena.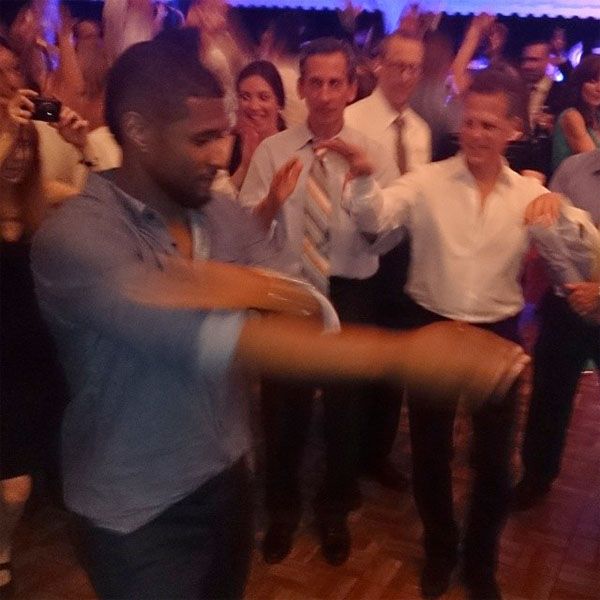 Ursh also posed it up with the wedding party:
And sang off key with Scooter to LMFAO's hit track, "Party Rock Anthem":
Ha! Good times.
And in new rap foolery news....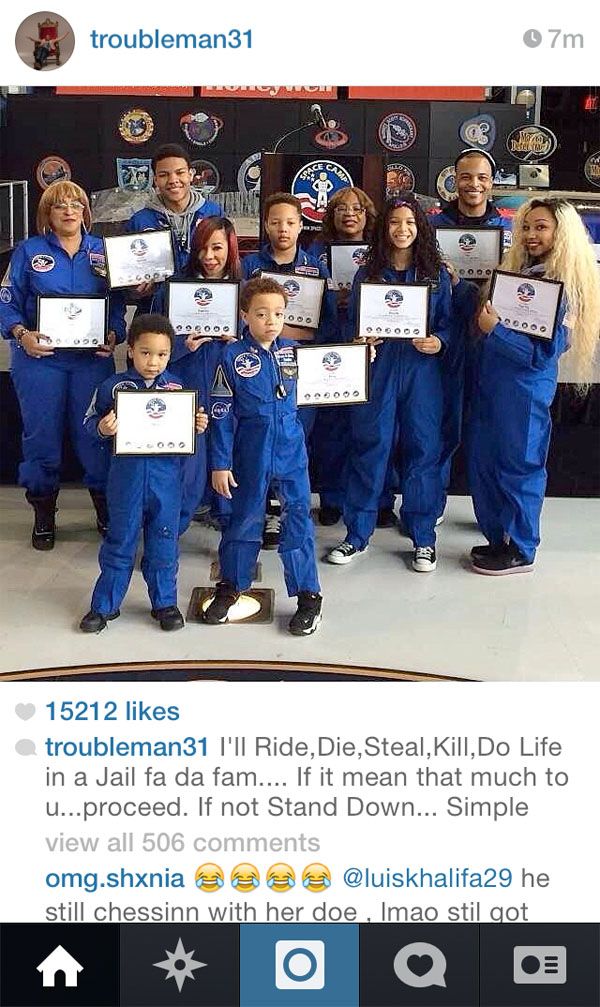 Right after T.I. posted the video to his Instagram to prove he didn't have any black eyes after getting into a scuffle with Floyd Mayweather, he posted the above picture of the Harris clan with a eye-brow raising caption.
Tip said, "I'll Ride,Die,Steal,Kill,Do Life in a Jail fad a fam…. If it mean that much to u…proceed. If not Stand Down… Simple."
He quickly deleted the post and put a picture of a friend's baby congratulating him on his new arrival.
With everything that Tip has gone through you would THINK he would make better choices when it comes to those decisions possibly putting you BACK behind bars.
Photos/Videos: Usher's IG/Justin Bieber's IG/Scooter Braun's IG/@smanhanga

IT'S OFFICIAL: Apple Announces BEATS Acquisition For $3Billion...So Will New iPhones Have BEATS Headphones?
Posted: 28 May 2014 08:06 PM PDT
Apple has confirmed their acquisition of "BEATS Electronics" for $3 Billion. Get the deets on co-founders Dr. Dre and Jimmy Iovine's revolutionary deal inside…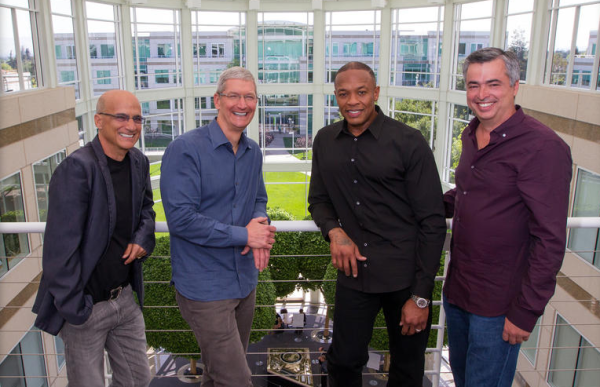 In what some industry experts have called their "biggest" idea since the iPad, Apple spent $3 Billion to acquire Beats in a sweet deal signed by co-founders Dr. Dre and Jimmy Iovine (shown above with Apple CEO Tim Cook, and Apple SVP Eddy Cue). You'll recall that we first learned about the deal via a boozy video posted on Tyrese's Facebook page. While some techs feared in unconfirmed reports that the deal may have been sabotaged by the video, Apple released an official statement earlier today confirming the sale.
"Apple announced it has agreed to acquire the critically acclaimed subscription streaming music service Beats Music, and Beats Electronics…As part of the acquisition, Beats co-founders Jimmy Iovine and Dr. Dre will join Apple. Apple is acquiring the two companies for a total of $3 billion, consisting of a purchase price of approximately $2.6 billion and approximately $400 million that will vest over time."
Co-founder Jimmy Iovine said, "I've always known in my heart that Beats belonged with Apple," said. "The idea when we started the company was inspired by Apple's unmatched ability to marry culture and technology. Apple's deep commitment to music fans, artists, songwriters and the music industry is something special."
Now that the deal is official, will we all be getting BEATS headphones with the iPhone 6?
The Randomness:
1. LeVar Burton creates KickStarter fund to bring back "Reading Rainbow." Story.
2. Donald Sterling vows he'll "…fight to the bloody end" for his team. Story.

Photos via Getty/Pacific Coast News
IT'S OFFICIAL: Stacey Dash Inks A Deal With FOX News As A Cultural Contributor
Posted: 28 May 2014 07:43 PM PDT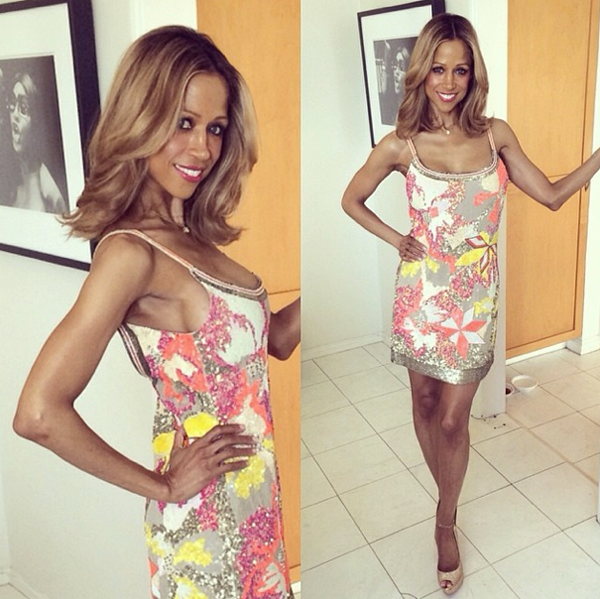 Outspoken conservative Stacey Dash has inked a new deal right up her alley. Find out what she will be doing on the Fox News network inside…
After celebrating the 20th anniversary of the 1995 cult classic, former "Clueless" star Stacey Dash has landed a new gig. Rumors circulated last week that the 47-year-old actress would be joining what many may call, a politically biased news station. And now The Hollywood Reporter has officially confirmed the news.
Not going out of the box for new hires, the FOX News network has tapped former "Single Ladies" star to offer up cultural analysis and commentary across daytime and primetime.
FOX News Network executive Bill Shine is pleased with their new addition saying,
"Stacey is an engaging conversationalist whose distinctive viewpoints among her Hollywood peers have spawned national debates – we're pleased to have her join Fox News."
Stacey has received a lot of backlash on social media for her outspoken conservative views. She once verbally attacked President Obama in an interview on FOX News, endorsed presidential candidate Mitt Romney with her vote for the 2012 presidential election and showed love to disgraced Food Network host Paula Deen on Twitter after news surfaced of her use of of the N-word and other racial slurs.
Needless to say, many people have their own opinions of the newest FOX News contributor:
Fox News signed Stacey Dash as correspondent. The actress is best known for her role in "Clueless," a title making her perfect for FOX News.

— Ben Siemon (@BenjaminJS) May 28, 2014
Stacey Dash joins Fox News. Because Fox News needed to be more clueless

— Jesse LaGreca (@JesseLaGreca) May 28, 2014
I'm not surprised Stacey Dash is now a Fox News contributor. She's already famous for being clueless.

— Travon Free (@Travon) May 28, 2014
Thoughts?
Photos: Stacey's IG
BAD BEHAVIOR: "Basketball Wives LA" Star Sundy Carter BUSTED For DUI, Blew TWICE The Legal Limit!
Posted: 28 May 2014 11:11 AM PDT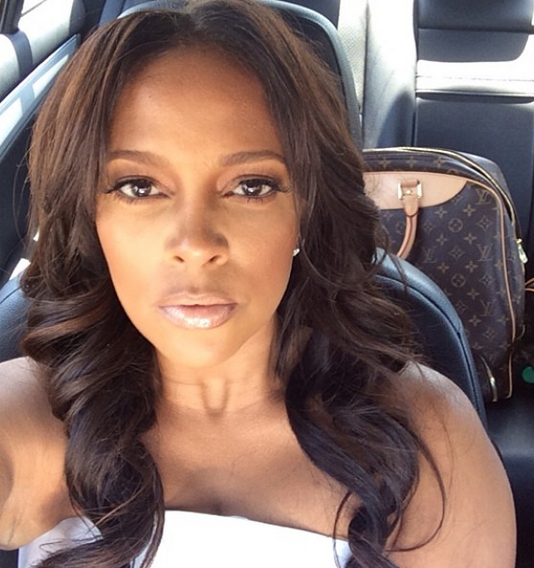 "Basketball Wives LA" star Sundy Carter can't handle her Holiday liquor! Get the deets on the Philly reality chick spending Memorial Day behind bars inside....
Early Monday morning, around 1AM PST, reality star Sundy Carter was pulled over for crossing a double yellow line, said Glendale Police Department spokeswoman Tahnee Lightfoot. During the stop, Sundy allegedly slurred her words (how could they really tell though?) and had breath that reeked of alcohol. Maybe she sipped a little too much of that Jackie Christie Cognac?
Most famously known for a fistfight with co-star(s) Draya and/or Malyasia, being the baby momma of married/retired NBA player Larry Hughes, and having a strained relationship with her teenage daughter, Sundy was booked for a DUI and for suspicion of being an unlicensed driver after her breath test yielded a result twice the legal limit.
The "BBW LA" starand former State Property star doesn't seem to be too strapped for cash because she easily posted the $10,000 bail on Tuesday and was released. She returns to court on Thursday.
Photo: Sundy's IG
LOLLIPOP GAL: Beyoncé Steps Out Solo In NYC -- Cinched & Snatched
Posted: 28 May 2014 10:28 AM PDT
Heeeey Mrs. Carter. The braided up Beyoncé Knowles was spotted back in NYC Tuesday evening rocking a chic and stylish summer-ready look as she stepped out out of her Manhattan office.
Check the pics inside...
After spending Memorial Day weekend not at the West wedding, but bike riding and more in the Hamptons with husband Jay Z and baby Blue instead, Beyoncé was spotted leaving her office after getting some late night work done yesterday. She was likely putting the finishing touches on the upcoming On The Run tour and upcoming video for her and Jay's "On The Run" track.
She rock a Topshop pink & white floral blouse and a Burberry white lace peplum pencil skirt, cinched at the waist with a wide nude belt and her topped off with her fave metallic pumps.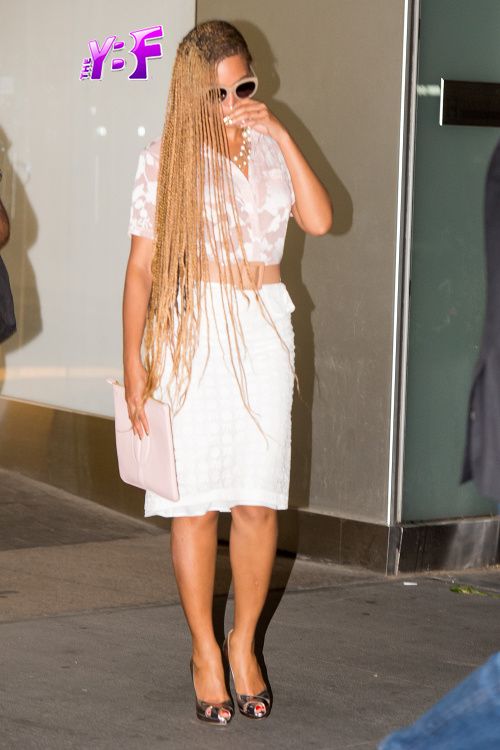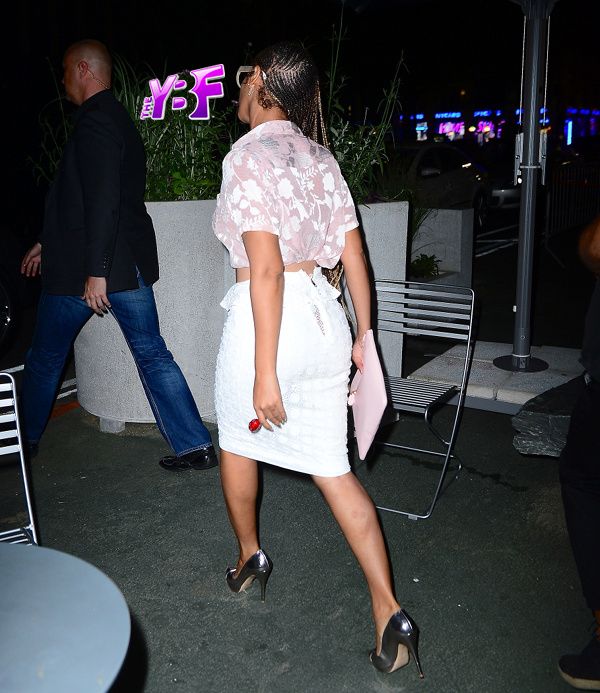 Not sure what's up with her lollipop obsession as of late, but she's looking cute--and snatched--as usual.
Work Bey.
Photos: Splash

PUT A RING ON IT: Mr. Papers REVEALS He Wants To Marry Lil Kim, Laughs Off Floyd Mayweather Dating Rumors
Posted: 28 May 2014 09:40 AM PDT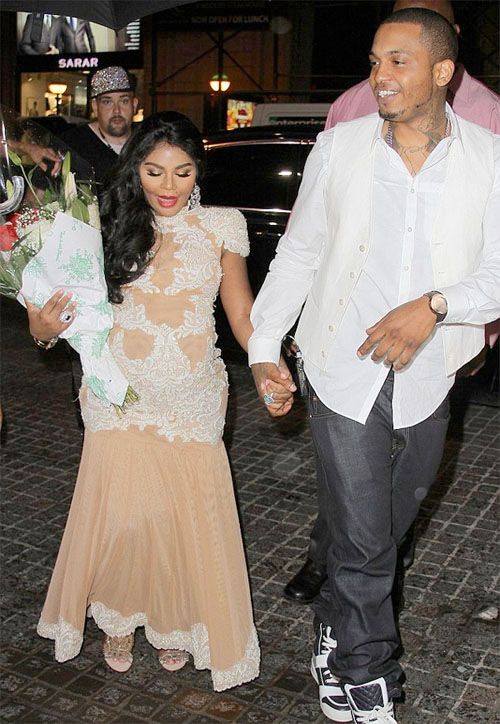 Mr. Papers likes it…and is ready to put a ring on it. Find out what he had to say about marrying his pregnant girlfriend Lil Kim and rumors that the raptress was "dealing" with boxing champ Floyd Mayweather when you go inside…
Lil Kim shocked us all when she showed up at the The Blondes Show at MILK Studios during Fashion Week back in February rocking a baby bump. There was no question whether or not chick was pregnant.
But the million dollar question was…who knocked up the Queen Bee? We heard she and her on-again/off-again boyfriend Mr. Papers had broken up so we weren't sure who the father was. Soon after Kim revealed her bump, Mr. Papers stepped up and said he was the father of the Brooklyn raptress' unborn child.
The up-and-coming Bronx rapper has been very supportive of Kim as she maneuvers through pregnancy. He was right by her side at her royal baby shower in NYC for their baby girl a few weeks ago. And now the soon-to-be-dad wants to make it official and marry the rap queen.
In an interview with The Home of Hip Hop, Papers dished on wanting to tie the knot with Kim, how the raptress is handling being pregnant, their baby's name, how they met and more.
Here are the highlights:
On how Kim's pregnancy is going:
"She's good, she's fat. Yea…we're having a girl. "

On if they have a name picked out yet:
"We're not revealing the name yet. You know, everybody asking about it."

On how long he and Kim has been together:
"Like two years…two and some change. I met her two…two years and like, five months. I met her, and that's been my girl ever since then

On marrying Lil Kim:
"Yea..yea..all that. We going to do that soon."

On how they kept her pregnancy a secret for so long:
"We just stood out of the light. The funny part…we was around everybody but she's small so you didn't see it."

On rumors that Kim was dealing with Floyd Mayweather:
"What that mean? [laughs] Ay yo listen, shout out to Floyd Mayweather. They gotta talk about me…I like it when they talk about us. Make sure it's good. He's getting money, so make sure to keep that that type of level where it's at. But it ain't nothing though…they friends. I f*ck with him."

Check it:
As long as Kim and her bridesmaids don't bust out with THIS ISH at the Surfboardt-filled wedding reception that has now gone viral, we're good:
Foolywang material.
Photo: Splash