---
Shaniqua Tompkins BLASTS 50 Cent For BLOWING OFF Their Son's Graduation, DISOWNING Him + Djimon Hounsou Gives Son Kenzo A Ride In LAX
Posted: 27 May 2014 08:45 AM PDT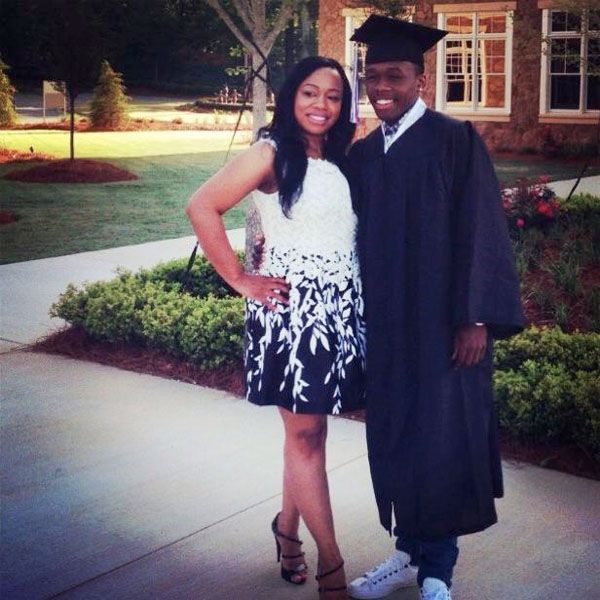 50 Cent's son's mother Shaniqua Tompkins is breaking her silence about 50 being a no-show at their son's graduation. Also, peep cute pics of Djmon Hounsou pushing his son Kenzo around the airport inside…
If you're wondering how 50 Cent can give you play by play on other people's situations but not know his own son's graduation date, his ex-girlfriend/son's mother Shaniqua Tompkins seems to be just as confused as we all are.
In her first interview since 50 was a no-show at her son's graduation, Shaniqua stopped by V-103's Ryan Cameron Morning Show to shed some light on who the real 50 Cent is. She talked about how 50 blocked her from being on a reality show, how he could have gotten the information about their son's graduation the same way she did and she also touched on 50 "disowning" his son via text message.

Here are the highlights:
On if she invited 50 Cent to his son's graduation:
"I didn't know a parent needed an invitation to the graduation. I think you make time for what you want to make time for. You know your son is in the 12th grade. You know that children graduate May-June-ish."

She added,
"He is privy to the same information that I am privy to as a parent. You can call the school, you can ask. Or have your assistant call. There were no tickets. It was on the lawn of the school. And being that he says he pays tuition, which he doesn't, he should have had a first class ticket. He doesn't pay tuition, he pays child support."

On if she wants 50's lifestyle:
"We all want the finer things in life but I left him. I knew when I left him I was leaving a lifestyle so it's not like he left me, I left him."

On her not working since 2000.
"I had a job with TLC network and [50] came and stopped that. I had a deal with a reality show. The show was canceled but everyone got paid their full contract but me. So you say, 'Get a job' but I had one. TLC sent me a 1099. I filed taxes. I had one."

On why she doesn't answer 50 Cent's phone calls now:
"Prior to those calls (and thank God for screenshots) I spoke with him and we spoke for a couple of hours on the phone. And when you feel like you can't get through to a person, I feel like I know how to set boundaries…I'm not going to waste my time. And he's always going in what happened in the relationship, Marquise is never the main focus. He never takes responsibility for his actions."

On why 50 is lashing out and "hurting":

"I think me leaving him reinforce all those abandonments issues he suffered as a child. I think that's why he's so angry."

On the last time he has seen his son:
"You haven't seen your son in almost two years. Matter fact, this month makes two years. He hasn't seen his son since May 2012. He hasn't spoken to Marquise since the text messages where he told him 'F*ck you,' 'I have another child,' 'Lose my number' and Marquise hasn't spoken to him since. "

On 50 being abusive:
"He [Maruqise] saw I left an abusive situation." She said Marquise saw 50 hit her and when her daughter saw him hit her she decided to leave. She said he was hitting her one minute and then crying like a baby in her lap the next.

On why she left 50:
"I can't say money changes a person. I was the girl that was on his grandmother's stoop when he got shot. He went to my mother's house to heal. I went to work when my son was four months old while he was sitting home being daddy day care, watching Sesame Street and Little Bill. He has created this persona. This 50 Cent character. I don't know this person. It reminds me of CB4. No I don't know this person."

Check the full interview:
Thoughts?
And in other daddy news...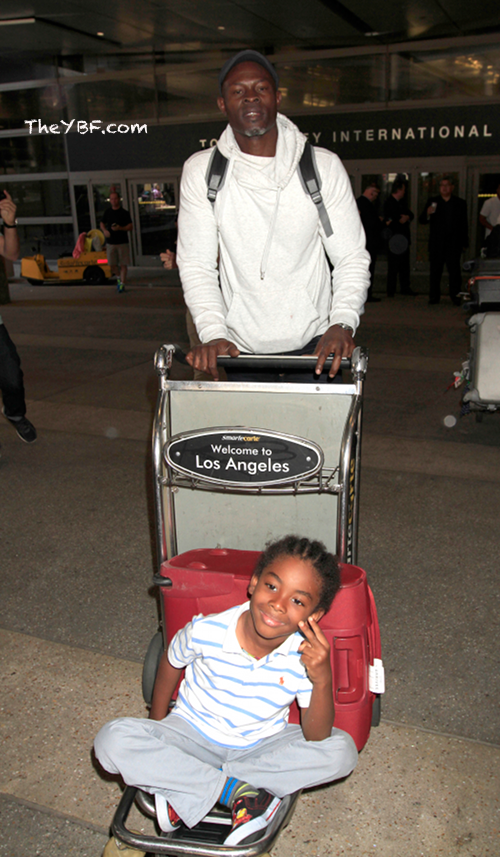 Kimora Lee Simmons' ex-Djimon Hounsou was spotted at LAX with his son Kenzo.
The proud dad pushed little Kenzo around on a luggage cart as they made their way through the airport.
In an interview with E!, Djimon dished about having to explain to his son that he's playing a villain in his new movie How to Train Your Dragon 2 saying,
"I kind of have to prep him," the Blood Diamond star told me yesterday while promoting the movie at the Carlton Hotel. "He's not quite aware that I'm playing a bad guy. He hasn't seen me playing a bad guy. That's going to be interesting."
Cute.
Photos: Sharky / Splash News /Marquise Jackson's IG/ Shaniqua Tompkins' Twitter

ART FAB: Pharrell Williams LAUNCHES 'Girl' Exhibition In Paris + Ne-Yo's "Money Can't Buy" Featuring Jeezy
Posted: 27 May 2014 08:14 AM PDT
Pharrell Williams hosted a Parisian gallery opening featured pieces inspired by his latest album. See some of the works inside and listen to Ne-Yo's latest single....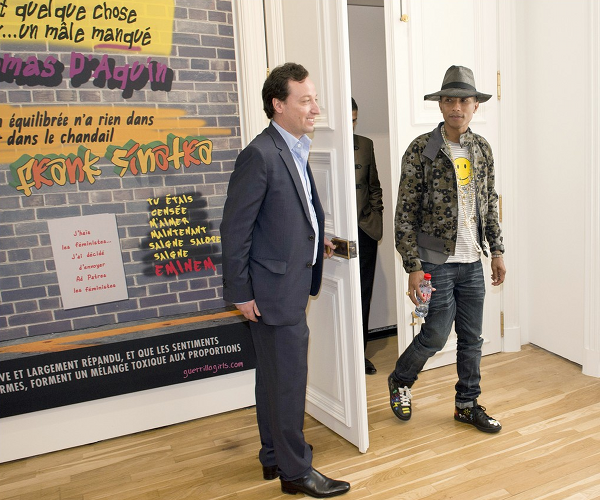 Grammy-winning producer Pharrell Williams was spotted at Galerie Perrotin's New Art Space in Paris yesterday.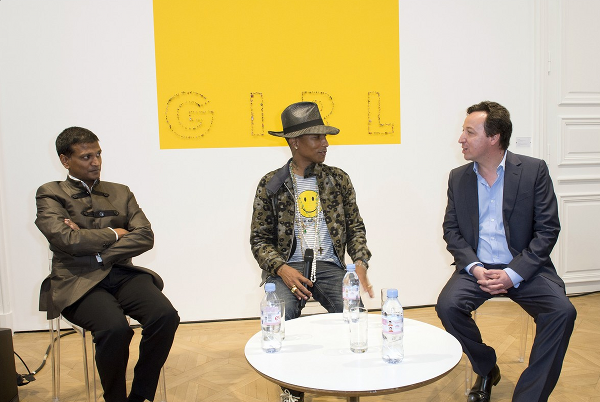 He was there to take part in a new exhibition titled "G I R L" which was inspired by his hit album which features the singles "Happy" and "Marilyn Monroe."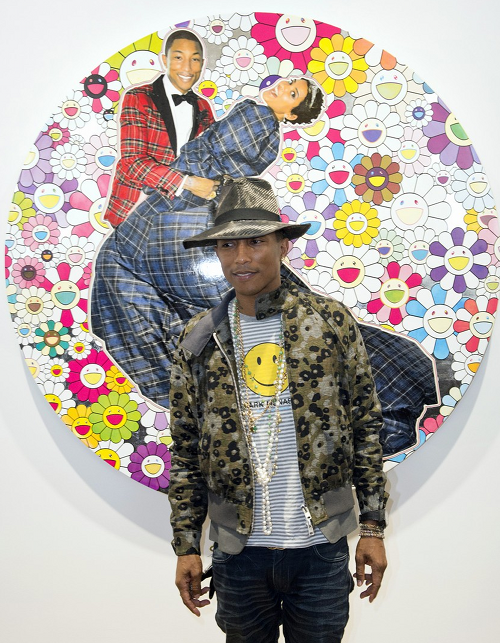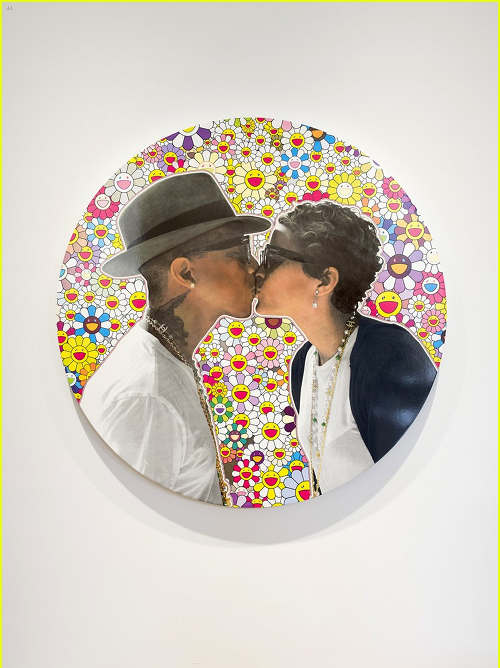 The exhibit featured number pieces from Takashi Murakami and working inspired by Pharrell's wife Helen Lasichanh.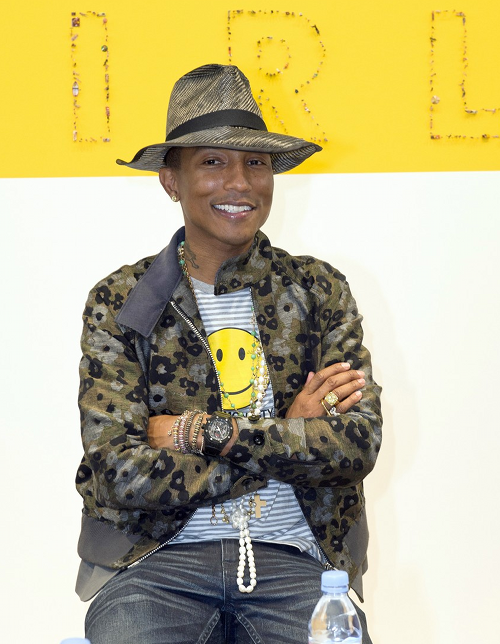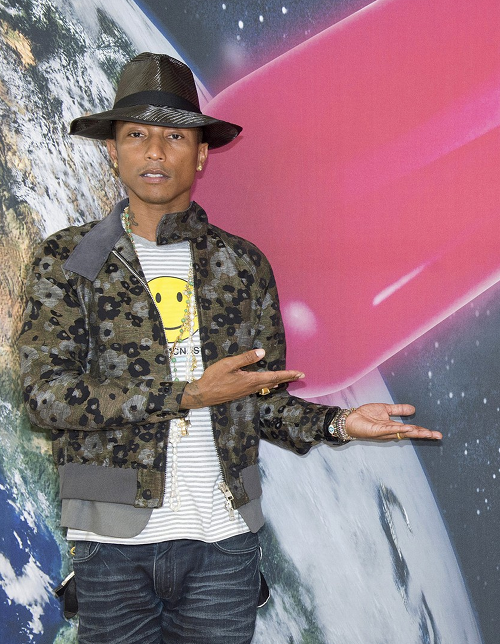 The super-producer also shared the bottle design of his new unisex G I R L fragrance (below), created in collaboration with KAWS and COMME des GARÇONS. He captioned, "My G I R L fragrance bottle was designed by my good friend @kawsstudio. Coming soon... @commedesgarconsofficial"
Skateboard P is currently on tour with Bruno Mars and plays the Hollywood Bowl on Saturday.
In new music.....
Ne-Yo is set to release his sixth album, Non Fiction, on September 30th and we have one of the buzz singles, "Money Can't Buy." On the track, which relies on Jeezy for assistance, Ne-Yo croons about finding a lady who's not into material things. Also, Ne-Yo partied in South Beach with Kevin Hart for Memorial Day.
Listen to "Money Can't Buy"
Photos via CHP/FAMEFLYNET PICTURES
MORE WEDDING PICS: Inside Kanye West & Kim Kardashian's Italian Ceremony
Posted: 27 May 2014 07:50 AM PDT
New pics from Kanye West and Kim Kardashian's wedding at Forte di Belvedere have surfaced. Peep the new shots inside...
After wedding guests shared photobooth pics from the reception, new pics of the media hungry couple have surfaced as they said their "I Do's" in front of a massive wall of flowers at the historic Forte di Belvedere in Florence, Italy. If you look closely in the top picture, you can see little North watching her parents all smiles as they trekked down the aisle.
In a first look from inside the ceremony, Kanye and Kim share a kiss at the altar after being announced as Mr. & Mrs. West. In another look, Kim shows off the front and back of her white lace Givenchy Haute Couture gown.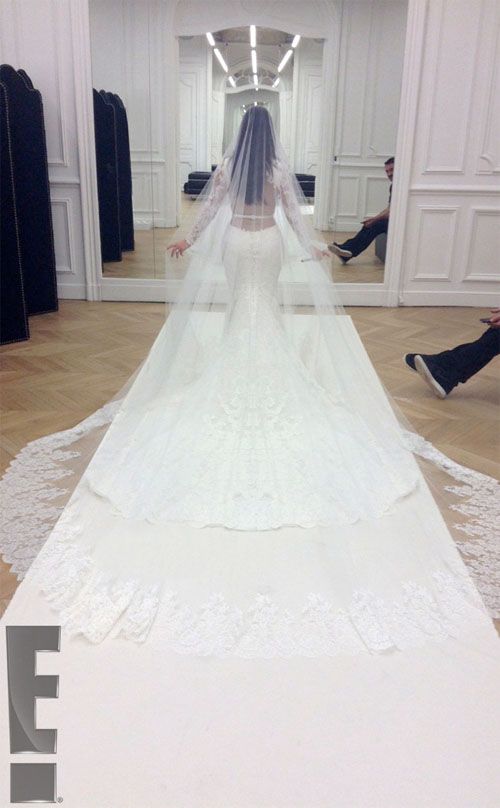 Mr. & Mrs. West got kissy in the photobooth during their reception: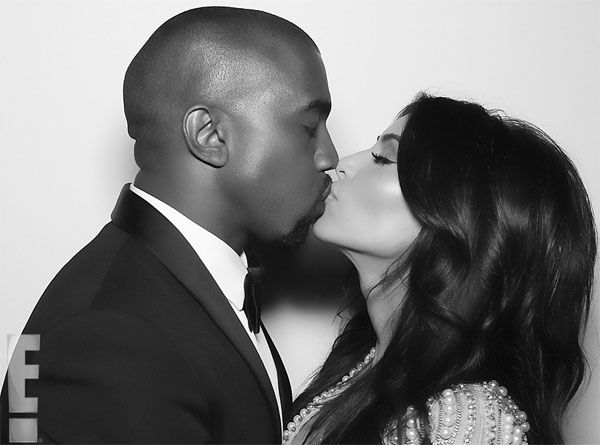 And even copped "Just Married" jackets and posed it up in the booth: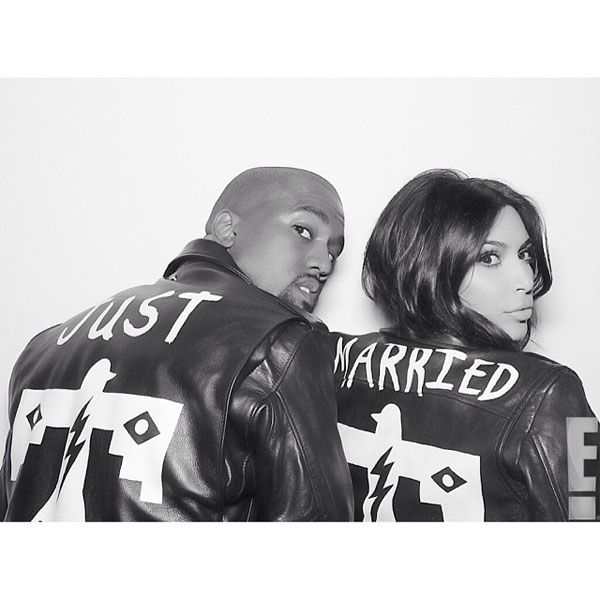 The newlyweds' reception came complete with a four-course meal and 7-tiered wedding cake. According to E!, Kim did a wardrobe change at the reception, slipping into a short cream-colored Balmain dress.
During the reception, Yeezy stood in front of family and friends for nearly 20 minutes to gush about his new wife. Kris & Bruce Jenner also gave speeches during the reception and it was reported Bruce got teary-eyed as he spoke. How nice.
Just hope they didn't do all of this for nothing...
Photos: E!

SPOTTED: Kevin Hart & Eniko Parrish COURTSIDE At The Heat Vs. Indiana Game, SPENT Memorial Day On A Yacht
Posted: 27 May 2014 06:57 AM PDT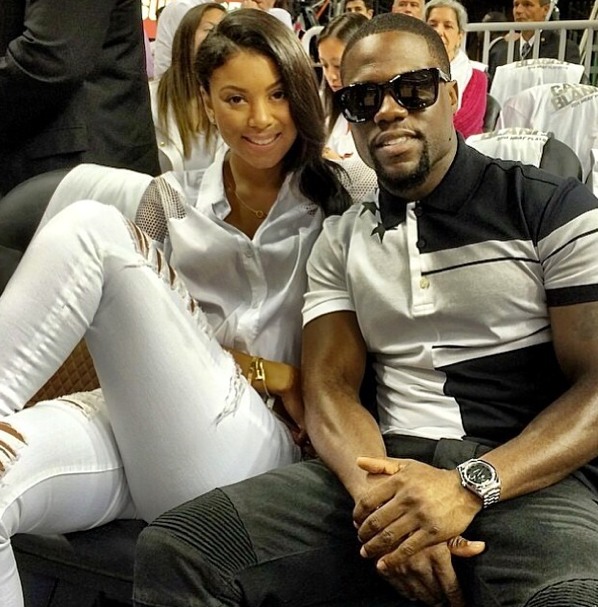 Funnyman Kevin Hart headed to South Beach for Memorial Day Weekend where he hosted a yacht party and sat courtide for the Heat vs. Pacers game. See pics....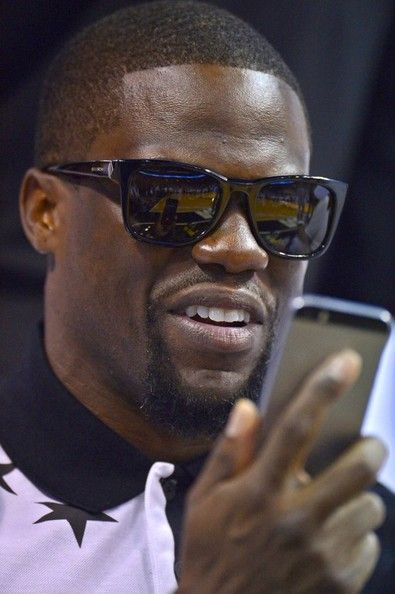 Kevin Hart spent Memorial Day in Miami where he played nightlife party host and spents his days soaking up the Florida sun with Eniko.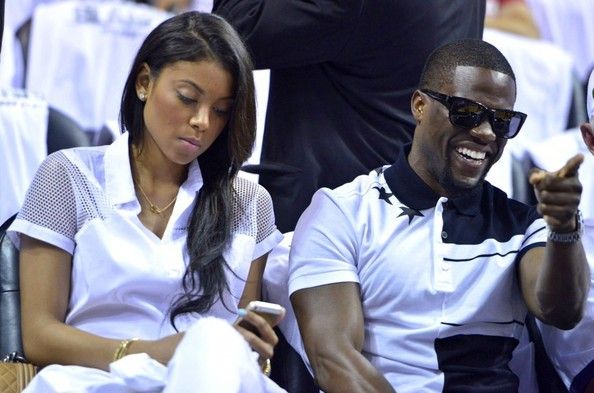 Last night, Kevin took advantage of his celebrity status and scored courtside seats to the Heat vs. Pacers playoff game (the Heat won 102-90). He captioned, "Miami vs Indiana.... The energy in this building is ridiculous!!!! #ImPullingForTheHeat #PlayoffBasketBallisUnbelievable #NBAisFantastic #CourtsideSwagWithMyLady"
Meanwhile.....Eniko appeared unfazed Torrei Hart's claims that she ruined her marriage to Kevin.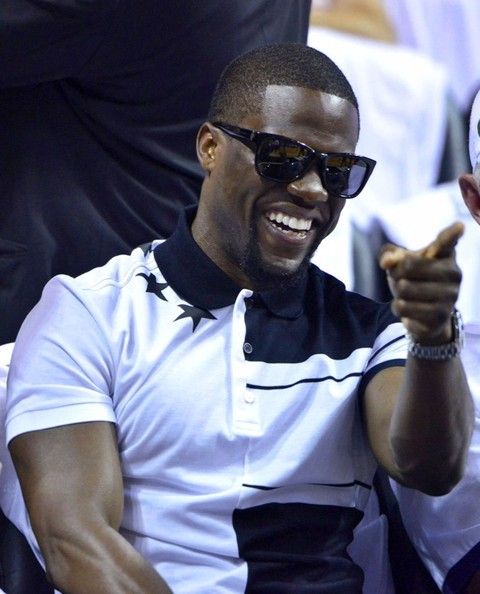 Fans of Kevin know he's really into social media, so it doesn't come as a surprise that Netflix lists his comedy special "Seriously Funny" as their highest rated stand-up concert. Congrats!
Over the holiday weekend.....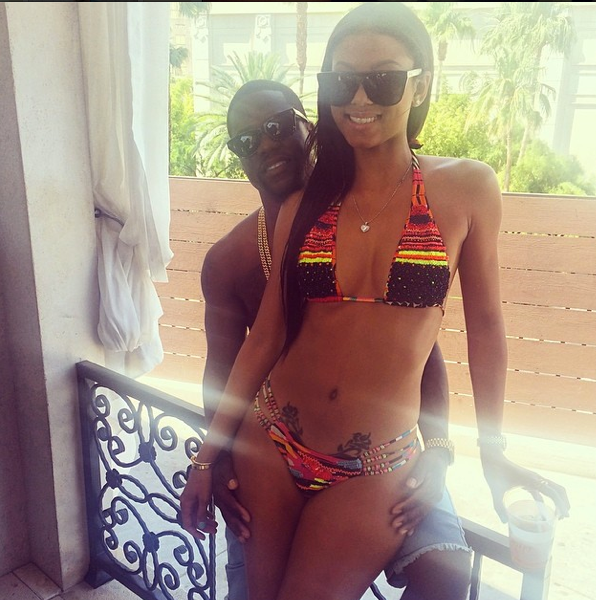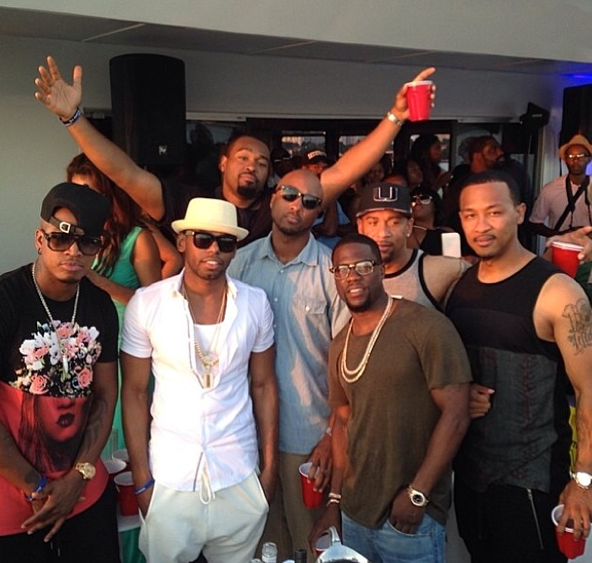 Kevin also hosted a yacht party that brought out Ne-Yo.
"Good times with great people.... My yacht party was a huge success. Happy Memorial Day people!!! #VonsShirtWasWayToTight #NeyoWasDressedForaDanceBattle #HarryHasMajorSideBoob #iLookTheBest #WaynesArmsLookLikeaFatWomansThighs #JohnWasWayToCloseToMyNeckInThisPhoto #NeyoAndVonShouldOfSwitchedHats"

Then......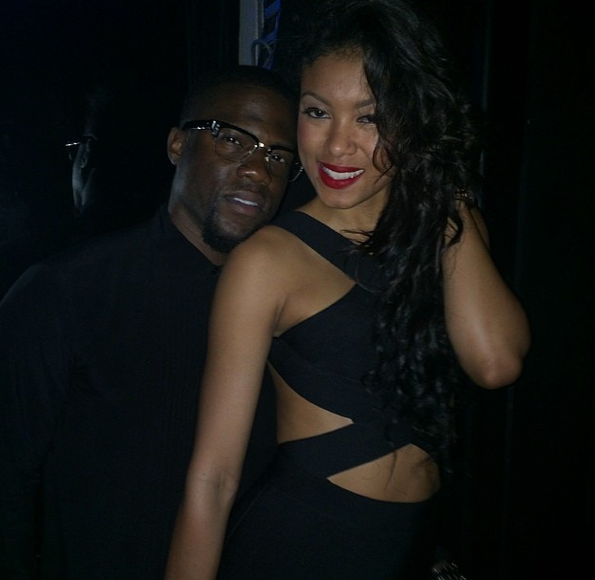 Kevin and Eniko spent their evenings enjoying the nightlife that South Beach has to offer.
Photos via FameFlynet Pictures/Kevin's Instagram
CAUGHT ON TAPE: Lil' Wayne THREATENS Justin Bieber's Manager OVER Lil' Twist GOSSIP + Tyrese Calls Taraji P. Henson His "KINDRED SPIRIT", But RULES OUT Romance
Posted: 27 May 2014 05:57 AM PDT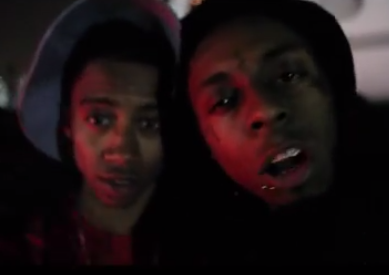 Lil' Wayne hopped off a private plane and had a few heated words for Justin Bieber's manager Scooter Braun this week. Find out what set him off inside and see what Tyrese said about his friendship with Taraji P. Henson.
Don't come for Lil' Wayne's brother Lil' Twist! The YMCMB leader takes issue with Scooter Braun, the manager of Justin Bieber, whom he blames for spreading rumors in the press about Lil' Twist's bad influence on his client. His harsh words for Scooter ended with a threat.
"N—a this my motherf—in' brother, anything you got to say, when you see me say it to my motherf—in' face....And if you do happen to say it to my motherf—in' face, I ain't gonna make you eat them words n—a, I'ma put them bitches on your tombstone."
Just so there is no misinterpretation, he ends with "F— you Scooter!"
Watch the scene play out...
SMH.....Lil' Wayne, don't you have children who look up to you?
In other news...
Social media fans of Tyrese and Taraji P. Henson have been going crazy over pics Tyrese posted on his Instagram timeline. With fans romanticizing their friendship, it forced Ty to address the elephant in the room. Though they cannot deny their chemistry (check out their appearance on "Arsenio") Ty concluded that he and Taraji are kindred spirits...but will never be lovers. He posted,
Kindred spirits ..... Y'all know the movie "The NoteBook"...?? We all wanted them to be together so bad right.??? That's what this is..... We're friends for life...... Even when I go 7 months without seeing her.... We're still friends for life.......... Goodnight @tarajiphenson what's moving in LA tomorrow we tryna make moves......"

Here's one of the vids that got fans excited...
Photos via Tyrese's IG