---
Mariah Carey Brings "The Elusive Chanteuse" To Kick Off The 'TODAY Show' Summer Concert Series [Pics & Videos]
Posted: 16 May 2014 09:22 AM PDT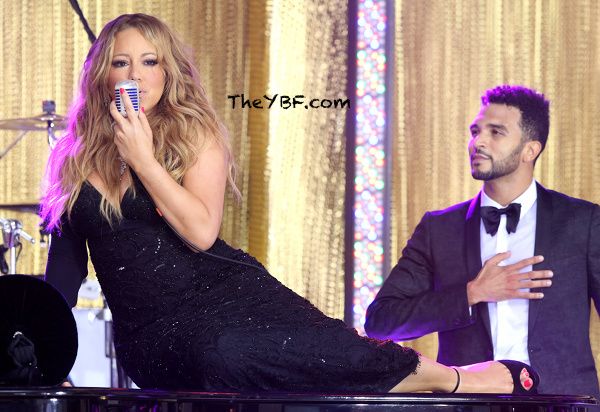 Mariah Carey kicked off the "TODAY Show's" Summer Toyota Concert Series this morning in NYC. We've got videos of her performances in case you missed them, when you go inside…
As she puts the final touches on her new album, Mariah Carey brought "The Elusive Chanteuse" to the Rockefeller Plaza in NYC this morning.
Glammed up in a black sparkling evening gown and one long-sleeved fingerless glove, you know--her usual--the diva hit the stage perched on a Baby Grand piano for a live outside performance in front of hundreds of her adoring fans.
Mimi opened her set with her chart topper "Touch My Body", then debuted a new track featuring Wale titled "You Don't Know What To Do" from her upcoming 14th studio album Me. I Am Mariah…The Elusive Chanteuse. Wale took the stage with Mimi to perform his verse on the new track.
The mother-of-twinsies chatted with "TODAY" co-host Tamron Hall about "Dem Babies" and what inspired her new album. The diva closed her set with her throwback classic "Always Be My Baby."
Peep the vids:
"Touch My Body":
"You Don't Know What To Do" ft. Wale:
Mimi is still...Mimi.
Photos: Christopher Peterson/Splash News
LOOK WHO'S BACK: NeNe Leakes, Kandi Burruss, "Blood, Sweat & Heels" Stars & More Hit The NBCU Upfronts!
Posted: 16 May 2014 07:58 AM PDT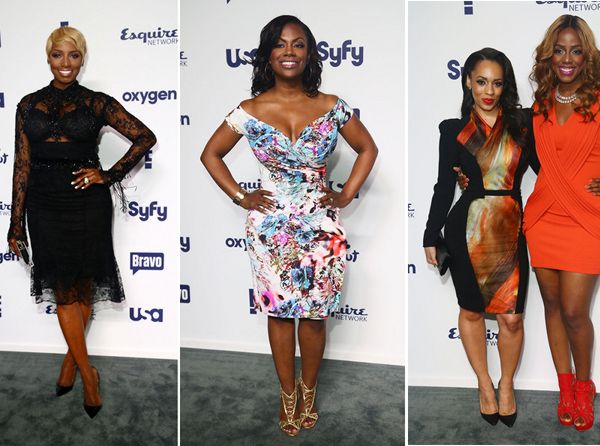 The NBC Universal Upfronts popped off last night in NYC at the Jacob Javits Center. And all the stars from NBCU companies like Bravo, E!, USA and more were there for their closeups.
Check out who showed up (which gives us a major hint at who's returning to their respective shows) inside...
NeNe Leakes was front and center in a sexy black look as she repped for the "Real Housewives of Atlanta":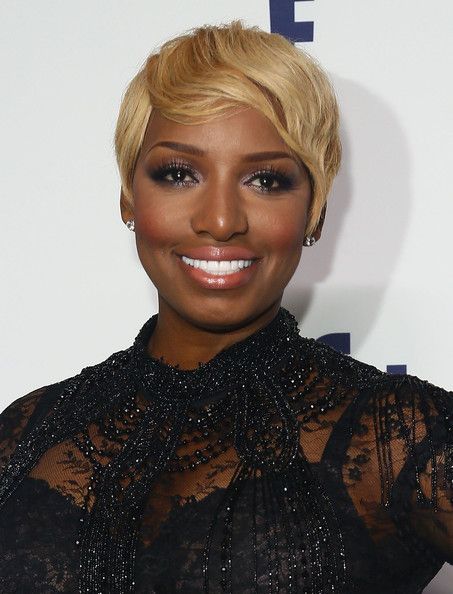 Pretty look for her. She even snapped some pics with the Jersey Housewives like Melissa Gorga, Andy Cohen and "RHONY" star Sonja Morgan:
Fun times.
Newly married Kandi Burruss was there in a floral waist cinching dress: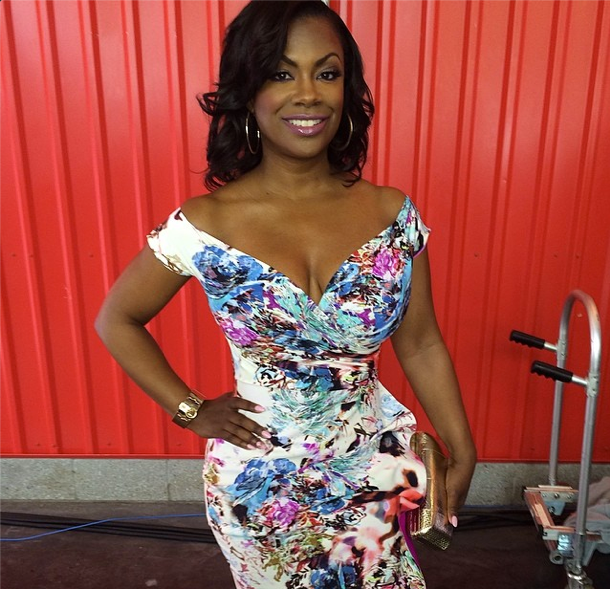 Work it out with that hourglass then Kandi. Her new spinoff, "Kandi's Wedding", starts soon. So she was there to help promote.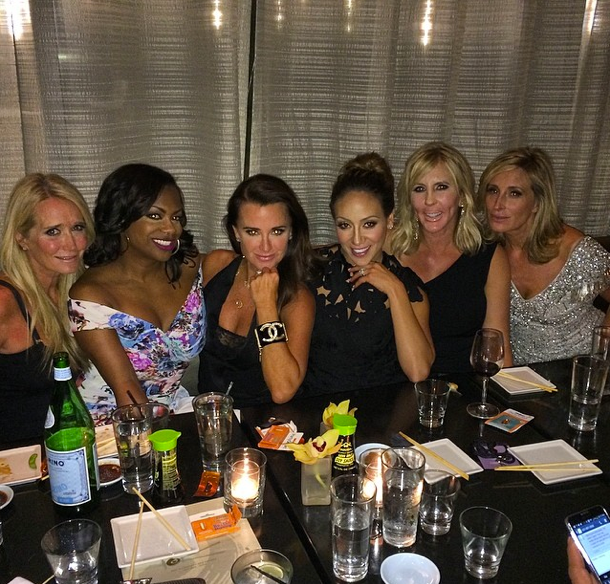 And Mrs. Burruss Tucker posed it up with fellow Housewives from Jersey, O.C., Beverly Hills and NYC -- Kimberly & Kyle Richards, Melissa Gorga, Vicki Gunvalson and Sonja Morgan.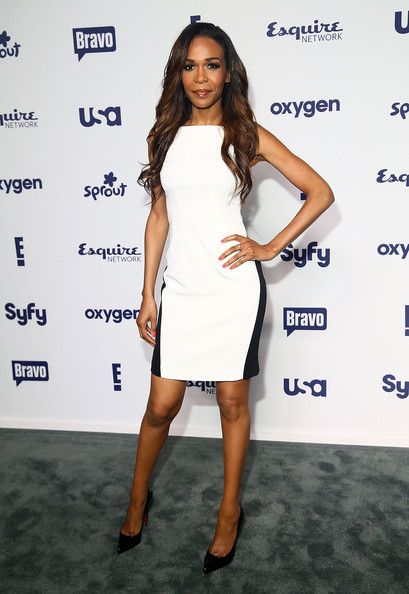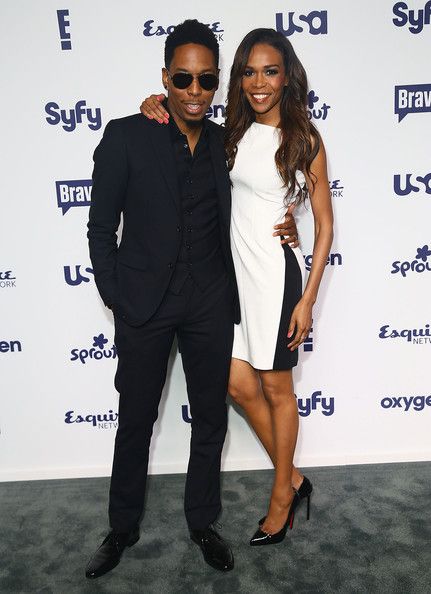 Michelle Williams and Dietrick Hall of "Preachers of L.A." were there for the Upfronts. She's heading out on her Jesus Christ Superstar tour this summer and is also gearing up for an EOne reality show called "My Sister's Keeper".
The ladies of Bravo's "Blood, Sweat & Heels" were there:
Well, not all of them. Melyssa Ford and Daisy pose it up together. And it seems they're still at odds with co-star Geneva Thomas, who snapped her own pics in a curve hugging dress.
Bevy Smith was the lady in red as she posed with "Fashion Queens" co-stars Miss Lawrence and Derek J.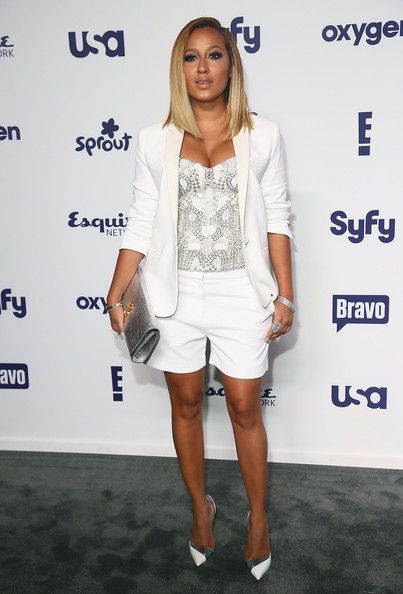 Adrienne Bailon kept it white hot in this look. Loves it.
E! News host Terrence J and correspondent Alicia Quarrels made their way to the carpet: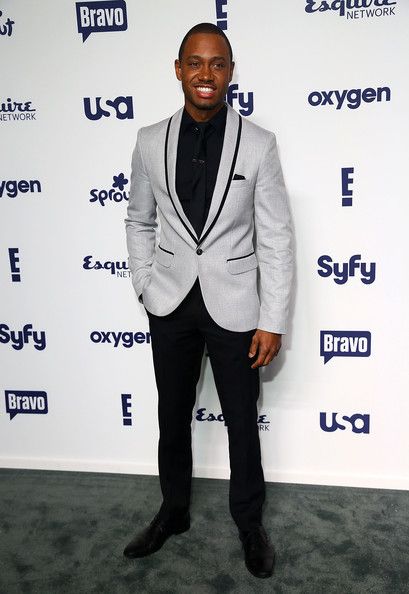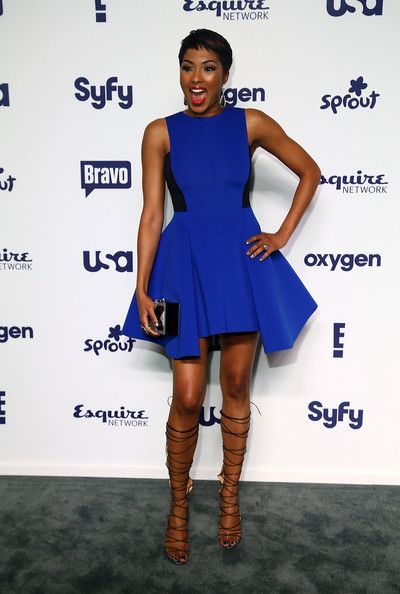 Also at the Upfronts:
Hill Harper promoted "Covert Affairs" on USA and Omar Miller and Andres Izquieta were there as well.
Photos: Alberto Reyes/WENN.com/Getty/NeNe's IG/Andy Cohen's IG/Kandi's IG
COUPLEDOM: Ludacris & Eudoxiee Hit 1Oak + Sherri Shepherd's Ex Husband Calls Her A HORRIBLE Mother, Gunning For Full Custody Of Jeffrey
Posted: 16 May 2014 06:50 AM PDT
Sherri Shepherd is getting the business from both ends. Not only is her soon-to-be ex husband Sal trying to take their unborn baby, but her ex-husband Jeff Tarpley is now gunning for full custody of their son Jeffery!
Deets inside, plus Ludacris & Eudoxiee showing that their coupledom is still in tact....
Ludacris & Eudoxiee seem to be still on track in their relationship, despite Luda's 'break baby' and the rumors that he and his girlfriend were actually never on a break.
The twosome live in Miami together in addition to their home in ATL. But last night, they hit the streets in L.A. after hitting 1Oak: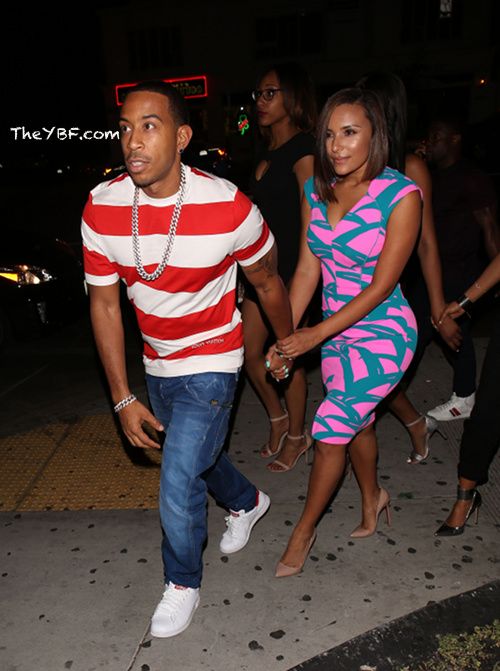 Luda rocked his stripes while Eudoxiee looked gorgeous in a pink and green tropical dress and new hair cut. Fab.
And then there's this: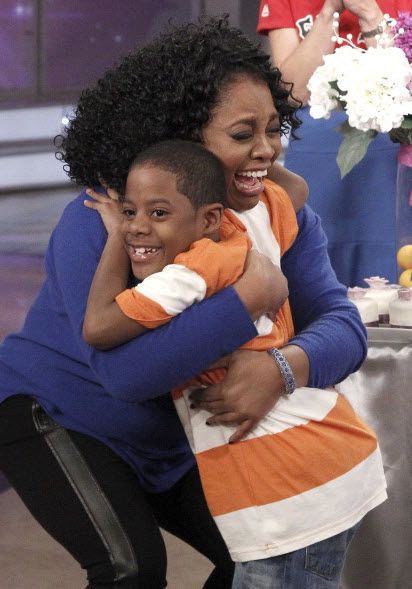 Poor Sherri. She's having a bad week, while her boss Barbara Walters is having the best week ever. The news leaked that she filed for divorce from her current husband Lamar Sally (he also filed for separation), and he's now gunning for full custody of their unborn baby. And today, it's being revealed that her EX husband is gunning for full custody of their son Jeffery.
Why does it seem everybody's trying to take Sherri's kids from her? Well, if you listen to ex Jeffery Tarpley, it's because she's a "horrible mother" who is neglecting their 9-year-old boy. Daddy Jeff says his son is only reading on a second grade level, doesn't know how to tie his shoes, and can barely write.
Sherri has spoken many times about their son having developmental delays due to being born several months premature, so it's unclear if that has an effect on Jeffrey's situation, or if Daddy Jeff is taking that into consideration.
According to TMZ's report:
Jeffrey Tarpley -- Sherri's ex-husband -- filed an emergency request in April to modify the couple's current custody arrangement ... specifically, Tarpley wants full physical custody of their son, Jeffrey Jr.

Tarpley claims Sherri's non-stop work schedule -- "The View," "The Newlywed Game," various TV acting roles, book tours, films -- has caused her to neglect their son completely.

Jeffrey claims Sherri regularly leaves their son with "unskilled nannies" ... as a result, he's falling way behind in school, suffers from low self-esteem, and has to use Velcro shoes because he can't tie laces.

It doesn't end there ... Jeffrey says Sherri also hasn't taught their son how to properly care for himself, so hygiene has become an issue.
Jeffrey says he desperately wants to help, but his hands are tied because he lives in California and Sherri lives with their son in Jersey. He says he has no time during his short visits to undo all of Sherri's bad parenting ... so he wants Jeffrey Jr. with him full time.
Jeffery filed the emergency order BEFORE Sal and Sherri filed for divorce and separation, by the way.
Sherri's response? She called him an absentee dad who doesn't deserve any part of their son's life.
While the emergency request got denied, the two will head to court in July to continue to duke it out.
Photos: The View/Pacific Coast News

LUPITA GOES TO CANNES: Calvin Klein's Darling Sparkles At Women In Film Celebration
Posted: 16 May 2014 06:08 AM PDT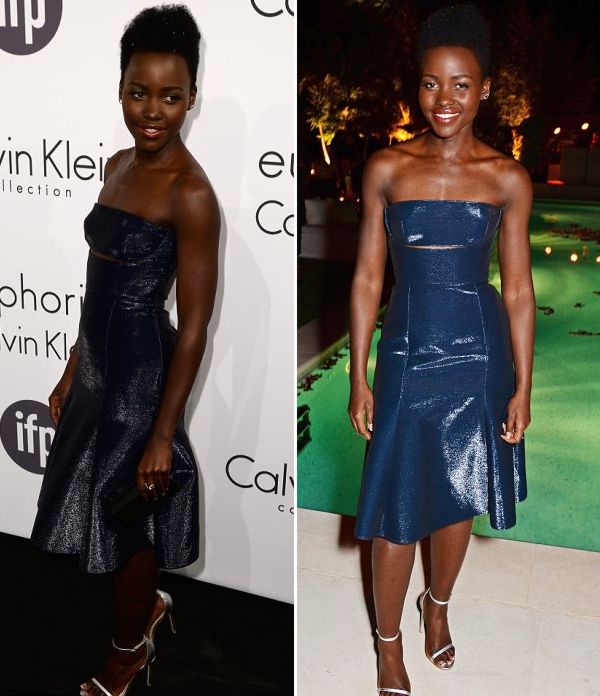 Lupita Nyong'o jetted to the south of France for the Cannes Film Festival. And she looked radiant in a shimmering Calvin Klein frock at the designer's Women In Film party.
Check the pics inside...
She can do no wrong. In the gorgeous Cannes, the equally gorge Oscar winner, Lupita Nyong'o, was honored at the Calvin Klein Euphoria Celebration of Women in Film.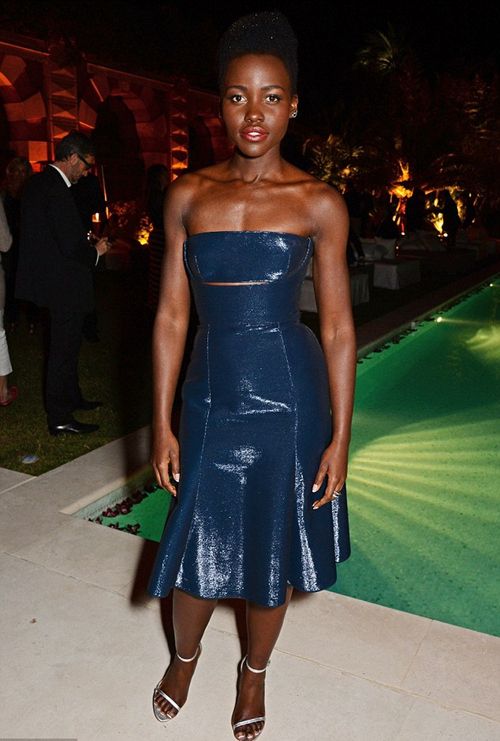 Rocking a cut-out shimmering navy Calvin Klein dress, Lupita kept it regal as she partied it up with her fellow A-list actresses: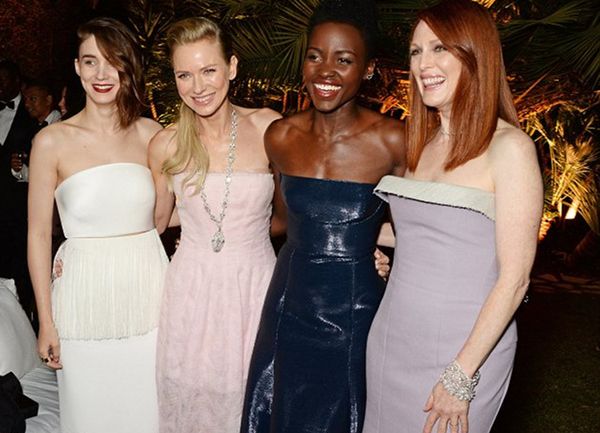 All decked out in Calvin Klein Collection, Rooney Mara, Naomi Watts and Lupita's Non-Stop co-star Julianne Moore all posed it up with the fab chick.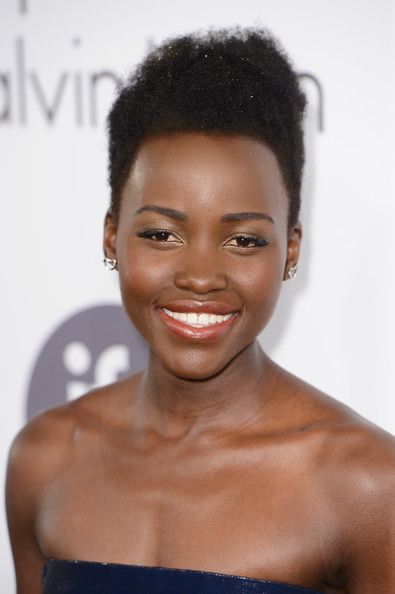 Stunning as usual.
Ever wondered how she snaps perfect red carpet pics, check out the video from the party's red carpet below:
Photos: Getty
PINKY: Rihanna Debuts New Pink Wiggery For The CLIPPERS PlayOff Game
Posted: 15 May 2014 09:27 PM PDT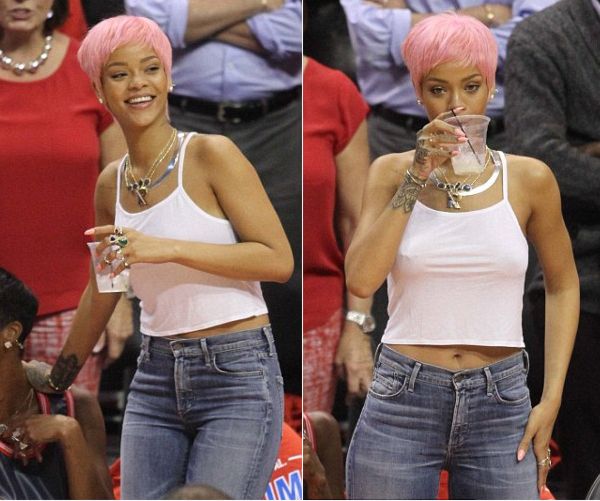 Rihanna debuted a new style today. And she took it (and her nipple rings) to her courtside seats at the NBA playoffs. Check out her pink wiggery inside...
Now that she and Drake have reportedly broken up...again...Rihanna is back to playing dress up with wild looks like this: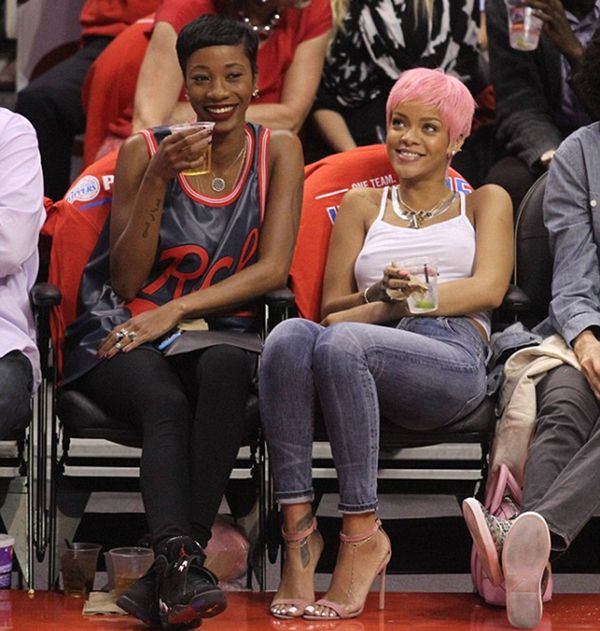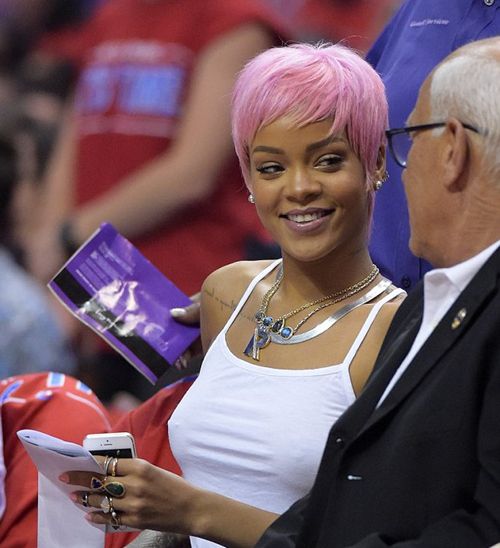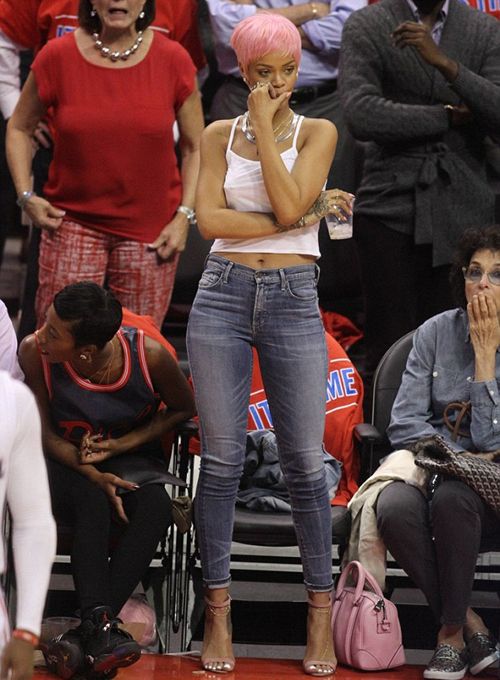 The pink beauty was SUPER into the game as it was a WIN OR GO HOME situation for L.A. But despite Ri cheering on Chris Paul and co., they lost to OKC 104-98.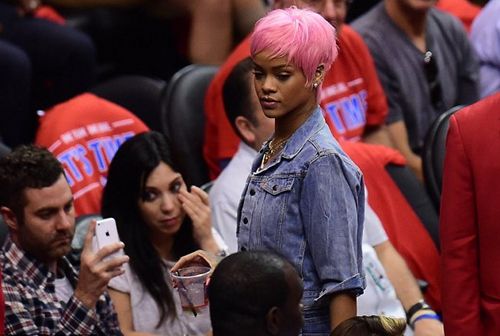 Looks like she's beating the 100+ degree heat in L.A. with braless tanks and drinks. The usual.
She tweeted pics of her and bestie Melissa riding along with this pink pixie wig on: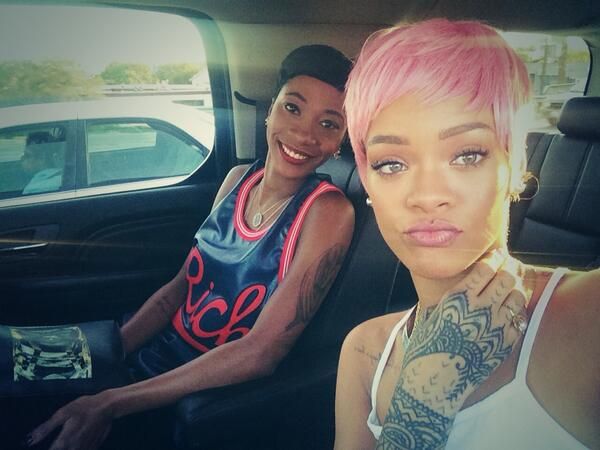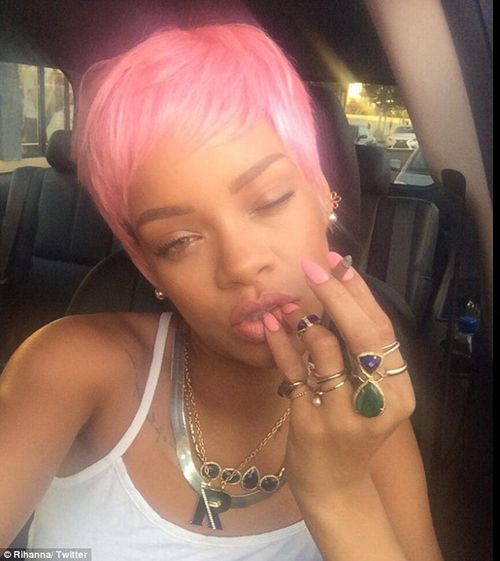 She said about her girl Nicki Minaj, "We raided Nicki's wig closet for the summer! Bad gals just wanna have fun!"
Nicki responded with an emphatic, "YASSS bitch yasssssssss!!!!!!!!!"
The "Pour it Up" chick even has matching pink nails. It could all be for a video or just for fun. It's no telling when it comes to RiRi. But either way, she knows how to get some attention...and the look is, dare we say it, kinda cute on her...
Rih may or may not be hitting up the Billboard Music Awards this Sunday, where the 49-time nominee is a finalist in five categories.
Photos: Rihanna's Twitter/Splash/Getty/AP
FIX MY (BROKE) LIFE: Flex Alexander & Shanice NAB One-Hour Special On OWN After Financial Downfall
Posted: 15 May 2014 04:28 PM PDT
Remember 90s R&B singer Shanice and her actor husband Flex Alexander? Well the couple will be returning to the spotlight in an OWN special "Flex & Shanice" chronicling the couple's financial downfall. Who knew? Get the deets and check out the trailer inside…
Grammy nominated 90s R&B singer Shanice and her husband Flex Alexander were on top of the world at one point in their lives. Shanice was climbing the charts with her hit single "I Love Your Smile" and her husband was the star of a hit scripted series "One on One" (also starring Kyla Pratt). And then it all came tumbling down.
Flex wasn't booking any gigs and Shanice wasn't recording any music so they decided to move into a rental home with five other family members, along with their two children (12-year-old Imani and 10-year-old Elijah) to make ends meet. Yes..nine people under one roof, including Shanice's demanding and controlling mother/manager Crystal.
"It's hard being a broke celebrity," said Shanice.
We're sure. And you gotta do what you gotta do.
Now things are starting to look up for the troubled couple with Flex finally getting work and Shanice returning to the studio. The duo seek advice from their celeb friends such as Kym Whitley and Babyface to help figure out their next steps to financial freedom.
Check out the trailer below:
Catch the hour-long special "Flex & Shanice," premiering Saturday, May 31st at 10 p.m. on OWN.
Will you be watching?
Photos: OWN
The Randomness:
1. Video footage of college quarterback standout Jameis Winston walking out of a grocery store with crab legs he didn't pay for has been released. STORY

Sevyn Streeter SURPRISES Cleveland Teen With A Shopping Spree For Prom + Columbus Short Pleads NOT GUILTY To Battery Charge In L.A. Bar Brawl
Posted: 15 May 2014 03:42 PM PDT
Sevyn Streeter was in the do-gooder spirit. So she surprised a Cleveland teen with a shopping spree for prom and also shocked his peers with a surprise performance at their school. See the priceless look on the young teen's face and hear new music from Columbus Short when you go inside…
Just in time before the most memorable night in his high school career, R&B songstress Sevyn Streeter surprised a Cleveland high school student with a shopping spree to get him extra dapper for prom.
Unbeknownst to him, the "It Won't Stop" singer walked into Cleveland Heights High School to personally greet him with the good news as he sat in class. Soon as Sevyn walked in, the young man quickly grabbed all of his things so they could make their way to the mall.
Sevyn personally picked out pieces for the teen, took him to get a fresh cut and bought him along for a radio interview. Cute.
After hanging out with the prom winner for a day, Sevyn came back to his high school and shocked all of his peers with a surprise performance. Nice.
Sevyn surprises teen during class:
Sevyn's surprise performance:
Also...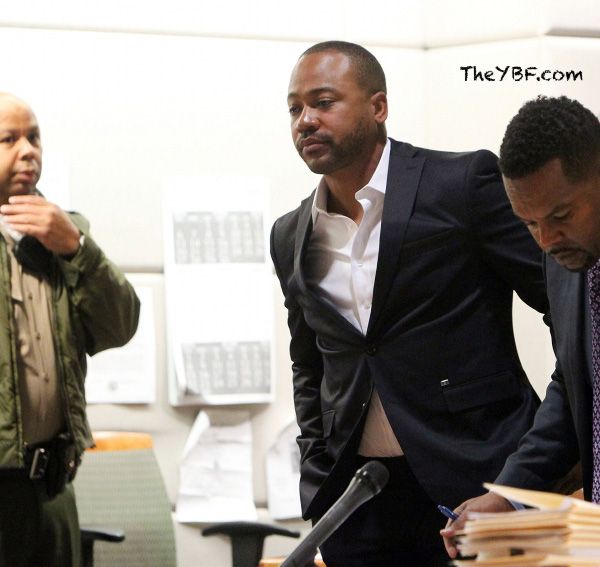 Former "Scandal" star Columbus Short went before a judge today (above) and entered a not guilty plea on a felony battery charge after allegedly going straight B-613 style on a man in a bar this past March.
You'll recall that brawl in L.A. went down after the man allegedly insulted him during a couple's engagement party. Columbus left the guy with a broken nose and knocked him unconscious for several minutes…supposedly.
The "Got Ya" singer's attorney tried to fast track the case but since the man's injuries were so severe, his request was rejected. Had his case been eligible, he could have kept all of the messy details under wraps and settled the case.
Columbus will head back to court on June 5th for the preliminary hearing of his case. And let's not forget, his wife has filed for divorce and a restraining order against him after he allegedly threatened to kill her and himself. Wonder if this will come into play when he heads back to court.
But, the actor turned singer isn't letting his recent public drama stop him from pursuing his other passion…music. After releasing his single "Gave Ya," Columbus is currently working on new material for his new album. We got our hands on a secret recording of a new track, tentatively titled, "Mumble."
In the raw and uncut recording, the former gladiator is heard freestlying lyrics as he plays the piano to create the new R&B track. No word on where this song will end up on his album or even if it will actually become a song, but it doesn't sound half bad.
Hear Columbus' "Mumble" below.
Photos: Splash/Sevyn's IG
THE CARTERS RELEASE STATEMENT: Beyonce, Jay Z & Solange Say They Are "Moving Past" Elevator Incident, Love Each Other
Posted: 15 May 2014 02:28 PM PDT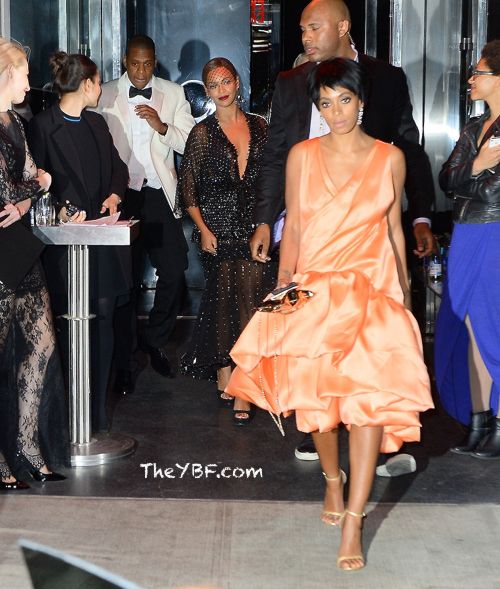 As Cartergate 2014 rolls on, Jay Z, Beyonce and Solange Knowles have released a statement about the elevator scandal at the MET Ball afterparty.
Check out what the family has to say inside....
On the heels of The Standard Hotel claiming to have fired the employee guilty of leaking the footage of Solange physically attacking Jay Z, the family has released a statement of their own.
As told to the Associated Press exclusively today:
"As a result of the public release of the elevator security footage from Monday, May 5th, there has been a great deal of speculation about what triggered the unfortunate incident. But the most important thing is that our family has worked through it,"

"The reports of Solange being intoxicated or displaying erratic behavior throughout that evening are simply false," the statement continued. "At the end of the day families have problems and we're no different. We love each other and above all we are family. We've put this behind us and hope everyone else will do the same."
They did not go into detail about the reason behind the altercation. And in true Carter family form, we'll likely never know. Unless audio from that now infamous elevator ride mysteriously becomes available.
*Twiddles thumbs in anticipation*
Photo: Splash
DIVA BEHAVIOR?! Nicci Gilbert SUES TVOne Over New Spinoff!
Posted: 15 May 2014 01:59 PM PDT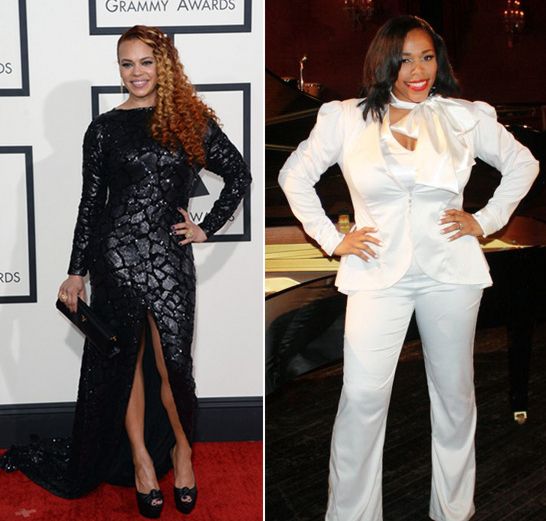 The R&B Divas are being...divas! Faith Evans and Nicci Gilbert are slapping TvOne with a major lawsuit over an upcoming spinoff. Check out why the ladies are claiming to be wrongfully left out inside...
In a recent lawsuit filed in Fulton County in Georgia, Nichole (Nicci) L. Gilbert and NOEGO Entertainment, LLC are suing ThinkFactory Media, Inc and TVOne LLC over the Divas franchise.
Nicci, who starred in and Executive Produced the first 2 seasons of "R&B Divas" in Atlanta, claims she and former co-star/Executive Producer Faith Evans are being left out of the new TVOne spinoff "Hollywood Divas", airing on TvOne soon. And she's not having it!
Interestingly, neither Nicci or Faith returned for season 3, which is currently airing. But now that "Hollywood Divas" has been announced, Nicci is PISSED.
The former Brownstone singer is filing on 15 counts (yes, 15!), including breach of contract, defamation, fraudulent and negligent misrepresentation, emotional distress, breach of contract and plenty more. And she wants to collect punitive damages and attorney's fees.
But that's not all. Nicci claims, via a rep, that the bigger picture is the 'white male production companies' impacting the image of black women on tv:
A discussion is needed NOW to address the images of African American Women that white male production company's are portraying on Reality TV and changing things in the editing room . They can't be allowed to continue to destroy Brands & families & friends!
We checked, and three of the seven Executive producers (not counting Faith or Nicci), are black men. The showrunners of the last couple seasons of "R&B Divas" are black. And we're told the crew is mostly comprised of black workers. We're also told that TVOne has final sign off on all content, not the production company.
We have a feeling Nicci's going to come with some receipts though, so we shall see...
Photos: TVOne/Getty
Outkast HITS The Stage For Adult Swim's Upfront Event + Film Director Of Nina Simone Biopic FILES Lawsuit Against Production Company
Posted: 15 May 2014 11:33 AM PDT
As they travel the country for their 20th anniversary festival tour, Outkast made a stop in NYC for an intimate performance at Adult Swim's Upfront event. Also, the director of the Nina Simone biopic is suing the production company for trying to cut her out of decision making for the film. Get the deets inside…
After rocking out the stage for an epic comeback at the 2014 Coachella Music & Arts Festival, Big Boi and Andre 3000 stormed the stage at New York's Terminal 5 for Adult Swim's Annual Upfront event.
In between dates of their epic 20th anniversary festival tour, Outkast hit the stage to perform some of their classic tracks such as "B.O.B.," "ATLiens," "So Fresh, So Clean," "Skew It on the Bar-B" and "Rosa Parks," to name a few.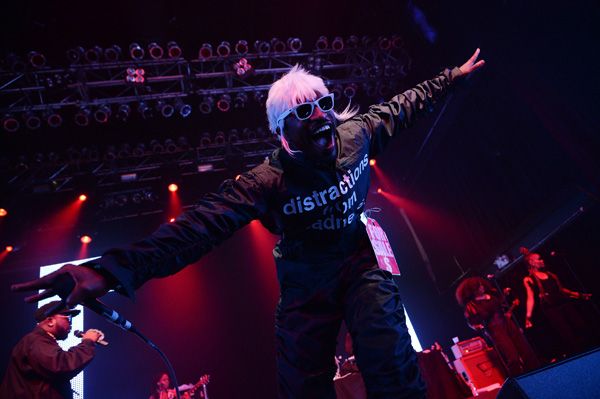 In front of a packed audience, the ATLiens also performed their solo sets including Andre's "Prototype" and Big Boi's "The Way You Move." Celebs such as Mike Tyson, Nick Cannon, Questlove and Tyler the Creator were all there to rock out with the dynamic duo.
Tomorrow, Outkast will take the stage in Gulf Shores, AL to headline the Hangout Music Festival.
And in movie news...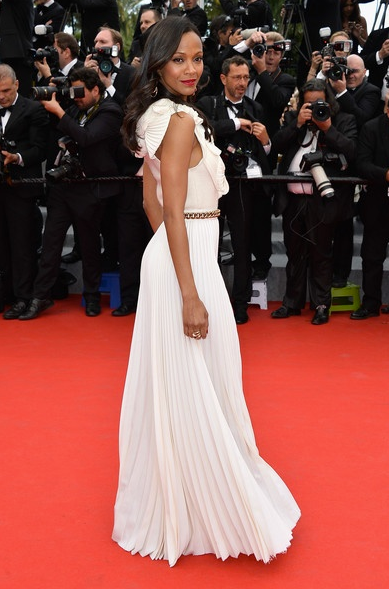 Film director Cynthia Mort is taking legal action against the production company behind Nina Simone's biopic. Zoe Saldana (above at this week's 'Grace of Monaco' Premiere during the 67th Annual Cannes Film Festival) will play the late jazz singer.
The Hollywood Reporter reports, Cynthia filed a lawsuit in the Los Angeles Superior Court alleging that Ealing Studios Enterprises Ltd. (the UK producer behind Nina) has breached the terms of her director deal. The film director decided to hit the production company with the lawsuit after claims that she was cut-out of the decision making process regarding the film.

According to legal documents,
"She worked tirelessly to prepare the Film for a wide and successful commercial release," says the lawsuit. "Yet, throughout the course of the Film's production and post-production, Defendants consistently acted to frustrate Mort's involvement in the Film, thereby breaching the Director Agreement. These breaches by the Defendants include, but are not limited to: taking complete control of editing the Film in June 2013 and failing to consult with Mort about subsequent cuts and changes; abandoning Mort's previous cuts of the Film; failing to disclose the Film's financials, finishing budget, and financing deals; and failing to keep Mort informed of other crucial creative and budgetary developments and decisions throughout production and post-production of the Film."

Today, a new photo (above) of Zoe made up to look like Nina Simone hit the net. You'll recall, Zoe was ambushed with criticism after it was announced that she would be playing the late singer.
During an inteview with Hip Hollywood, Zoe spoke her piece about the criticism saying,
"What kept me from getting stressed and being hurt by the negative comments is that I'm doing it for my sisters and my brothers and I don't care who tells me I'm not this or I'm not that. I know who I am and I know what Nina Simone means to me."

"I did it all for love. Out of love for Nina, my people and who I am and my pride of being a Black woman and a Latina woman and an American woman. That's my truth."
Amidst all of the drama, the film will premiere today at a screening at the Cannes Film Festival. We're interested in hearing the reactions to Zoe's performance in the film. Because this is getting MESSY....
Photos: Wire/Getty/Twitter

Persia White Is ENGAGED + Did Danity Kane REALLY Lose Another Member? (Plus DK's New "Lemonade")
Posted: 15 May 2014 09:53 AM PDT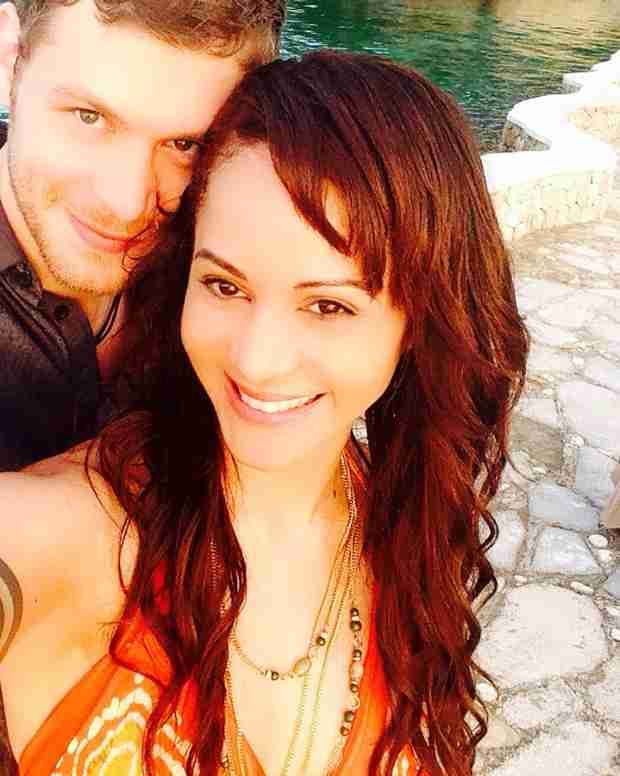 Remember Lynn from "Girlfriends"? Well, now she's engaged in real life! Deets inside on Persia White's new fiancé, plus Danity Kane's new music "Lemonade" and why the rumors of them dropping ANOTHER member may not be true....
Persia White, our fave hobochic "Girlfriend", is now engaged! Her fiancé is 33-year-old "The Originals" actor Joseph Morgan. The 37-year-old actress and her hubby-to-be released a joint statement to Wetpaint saying:
"We really appreciate those of you who have supported our wild, creative, passionate and unlikely relationship. We have found a rare and precious thing; true love. We wish you all the same."
The twosome met ont he set of "Vampire Diaries" when they were both on the show during season 3. And it looks like Persia's man loves gushing abut her. He said on HuffPost Live recently:
"You know, I'm very happy. It's great," he said. "I'm lucky enough [that] she came with me to New York to enjoy a little bit of the city. I get the weekend off so we get to experience a little of that. But that's all I'm going to put out there — I'm going to keep the rest for myself."
Meow. Congrats Persia!
And in new music:
When the ladies of Danity Kane released the artwork for their new song "Lemonade", it raised a few eyebrows as it only featured kid versions of 3 of the members. So, where's the fourth?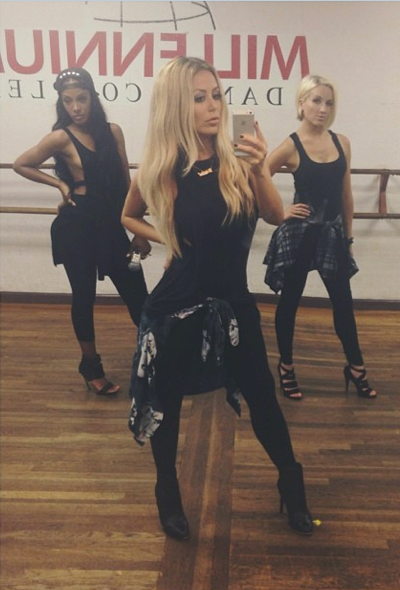 Aubrey O'Day posted pics of the girls during rehearsals before their upcoming tour. And Aundrea Fimbres was noticeably missing. So rumors stirred up saying Aundrea was leaving the group--after the tour--and fans were pissed.
Immediately after the firestorm, a Danity Kane account posted all four ladies at rehearsals:
And Aubrey showed off 4 sets of legs at their rehearsal day today. So it looks like it was a false alarm. As usual.
But Aubrey's caption for that pic above said:
"DK. The girl group that isn't always on their back"
Not sure who THAT shade was for but um, yeah...
Check out the "Lemonade" track below ft. Tyga, which samples The Clipse's "Grindin'":
Our take: Not mad at this track at all. Music in general has taken on a more basic style, so we weren't expecting any deep lyrical and life changing music. But this track is definitely something we can crank in the car...especially during the summertime.
Ooooh these haters got a sour look up on they face....Lemonade lemonade....
Photos: Aubrey's IG, Joseph's IG
PREVIEWS: VH1's "Hit The Floor" Season 2 Clip + Preview of Lil Wayne's New Track "D'Usse"
Posted: 15 May 2014 09:35 AM PDT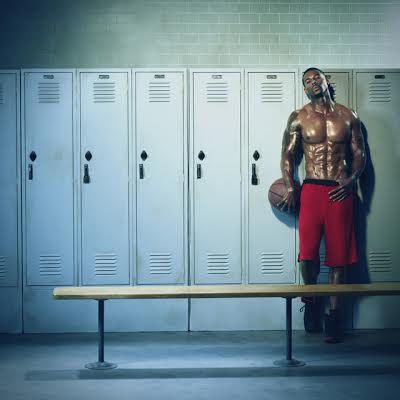 "Hit The Floor" fans rejoice! The new season premieres in a few weeks and we have the sneak peek of the first episode. Also, Lil Wayne has released a snippet of his new track "D'Usse." Check out the sneak peeks inside…
VH1's scripted series "Hit The Floor" is back for a 2nd season and we're so here for it. The hit television show follows professional basketball and their dancers as they dibble and dabble in fame, adrenalin, money, sex and power. Robert Christopher Riley, Dean Cain, Kimberly Elise, Taylour Paige and Charlotte Ross are all returning for the new season. It was def our summer guilty pleasure last season.
According to the press release, this is what we can expect from the new season:
Now that Ahsha is single, there's room for her and Derek to explore a relationship. Sloane has taken the job as Devil Girl Director, adding tension to an already strained mother-daughter relationship. Jelena, team captain, keeps a close eye on Ahsha and Sloane, watching for any opportunity to get rid of them both.
There are love triangles galore as new characters join this spicy soap including Lionel, Coach Davenport's estranged, starlet wife; Zero, a God-loving superstar player who is immediately drawn to bad girl Jelena; and Jude, an ambitious junior agent who's come to Devils Arena with a very big agenda.

Everyone has a secret to protect, until a big mystery threatens to expose them all. Hit The Floor season two gets amped up with cliff-hangers in each episode leaving viewers constantly guessing what will happen next. This hot new season brings more sex, drama, secrets and excitement as well as twelve new jaw-dropping dance routines choreographed by the legendary Michael Rooney.
In a sneak peek from the first episode of the new season, Derek's rival Zero surprisingly invites Derek and star player Terrence to join him for a Sports Center interview…leaving the guys confused.
Check it:
The first episode will premiere Monday, May 26th at 9/8c on VH1.
And in new music…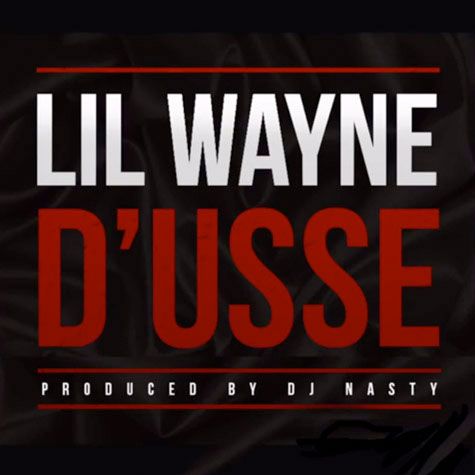 Lil Wayne has released a snippet of his DJ Nasty produced track titled, "D'Usse." It's interesting that Weezy chose to endorse Jay Z's cognac considering how they "beef" on wax from time to time. But we guess it's all in good rap competition. He even shouts out Hov on the track saying, "Hov, f*ck wit' your boy."
Following his first single "Believe Me" featuring Drake from his upcoming album Tha Carter V, the YMCMB honcho gives us a quick snippet of his newest song as a teaser of what's to come.
Get a sip of Tunechi's "D'Usse" below:
Photos: VH1
UPDATE: Does Sherri Shepherd's Husband Want Prenup THROWN Out....Due To Custody Clause Of Their Unborn Baby?!
Posted: 15 May 2014 08:42 AM PDT
New details have surfaced in Sherri Shepherd's divorce from her estranged husband Lamar Sally. There's a clause in the couple's prenup that says the unborn baby (via surrogate) would live with Sherri, giving her full physical custody of the baby. Is THIS why Sal wants that prenup thrown out? Get the deets inside…
Now it's starting to make sense why Sal wants that prenup thrown out!
Though he still hasn't given any details on why he wants out of his marriage, Lamar Sally (Sal) wants the prenup he signed before he married "The View" co-host Sherri Shepherd tossed...on the basis of "fraud".
Why? He hasn't said. But it's now being reported that there's a custody clause in the prenup, which would award Sherri full physical custody of their unborn child via surrogate.
You'll recall Sal filed for a legal separation from his wife in California (how interesting that he chose CALI...a state where he has the most chance of being awarded all his spousal support and more) and also filed for custody of their unborn baby, who is due at the end of July.
Sherri fired back at her husband, filing her own divorce documents in New Jersey but she never filed for custody. Which makes sense being that their prenup already addressed the custody issue.
According to TMZ, there's another reason Sal is claiming their marriage is a fraud and wants the prenup axed…more money! Under their prenup agreement, Sal would only be awarded a lump sum of $60,000. Since Sherri makes more money than him, if he's able to get the prenup terminated, he could get a lot more money in spousal support. Just as we figured.
Chile...
Photo: Pacific Coast News