---
WHAT ELEVATOR FIGHT?! Beyoncé & Jay Z Laugh It Up Courtside At The Nets Game + Solange REPORTEDLY Yelled At Rachel Roy Too!
Posted: 12 May 2014 07:14 PM PDT
Just as we expected, The Carters are about to act like nothing ever happened...as if little sis Solange didn't just go all Miss Third Ward on her brother-in-law in a damn elevator last week with the footage now up for public consumption.
Check out Beyonce & Jay Z laughing it up courtside at tonight's Game 4 playoff game in BK, plus sources claiming that Solange also popped off on designer Rachel Roy before her elevator fight with Jay...
The Carters appear unfazed and unbothered by the events that transpired on the internet streets today. Surveillance video of Solange Knowles going HARD on Jiggaman and physically attacking him inside the elevator of a MET Ball after party at The Standard Hotel last week leaked today. And since there's no sound, it's almost impossible to fully confirm exactly what they were fighting about.
But context clues tell us SOMETHING occurred to piss off Solange--whether it was Jay or somebody (or something) else that caused it. After Beyonce, Jay, Julius and Solo all hopping in the elevator, the "Losing You" singer tapped into her Houston 3rd Ward roots. She swung on her own brother-in-law and kicked him several times. Bodyguard Julius had to intervene, restrain her, and stop the elevator...while Beyonce sunk into the wall and every now and then positioned herself in between the two.
You would think all that family drama leaking out would have you in the house for a few days. Nah, the Carters are right there at the Barclays Center cheering on the Nets during Game 4 of the playoffs tonight: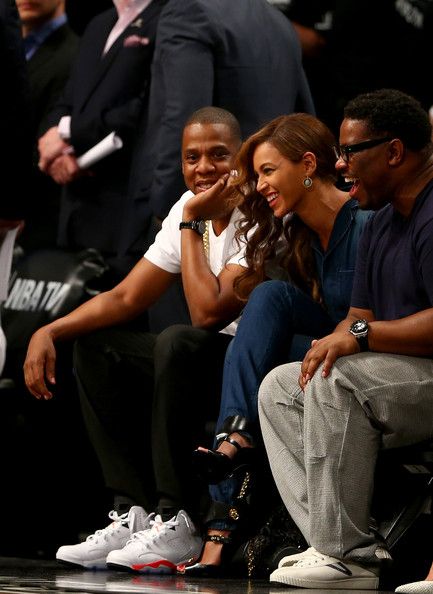 Beyoncé & Jay Z at the Nets game tonight pic.twitter.com/mt4hDSoxn5

— Beyoncé Lite (@BeyonceLite) May 13, 2014
And looking WAY happier doing so than they did at Saturday night's game.
By the way, a new report from Us Weekly is claiming that whooping up on her brother-in-law in the newly leaked video was NOT Solange's first altercation of the night. Apparently, designer Rachel Roy was also at the MET Ball and afterparty inside The Standard at The Boom Boom Room. And Solo had some words for her as well, allegedly.
A source tells Us Weekly that Beyonce's younger sister had yelled at designer Rachel Roy earlier at the after party, which was held at the Boom Boom Room in the Standard Hotel.

The source added that, during the disagreement, Beyonce "got in the middle of it," though it remains unclear what it was about. According to another insider, Solange was yelling at a number of people; Roy, it turns out, was included in that group.
Sounds like Solo was possibly on 'that brown'....or something...MET Ball night. Y'all know brown liquor causes you to act out. A source tells Us Weekly the fight with Jay was all over Solange taking something he said the wrong way:
One source told Us, "Solange flipped out over something Jay had said, that she took the wrong way. She took it too hard or too far. Not sure what it was, but she greatly overreacted.

Once the trio departed the elevator, Solange walked ahead of Beyonce and her husband, who was photographed touching his face with a stunned expression. "Beyonce tried to stay out of it," another source told Us. "She does not approve of violence. They are trying to put the situation past them now."
But something tells us this foolywangery was FAR from the first time....
And that alleged tweet from Solange floating around talked about "hitting a hoe who hits her", it's very likely a fake. Check out the fake tweet below: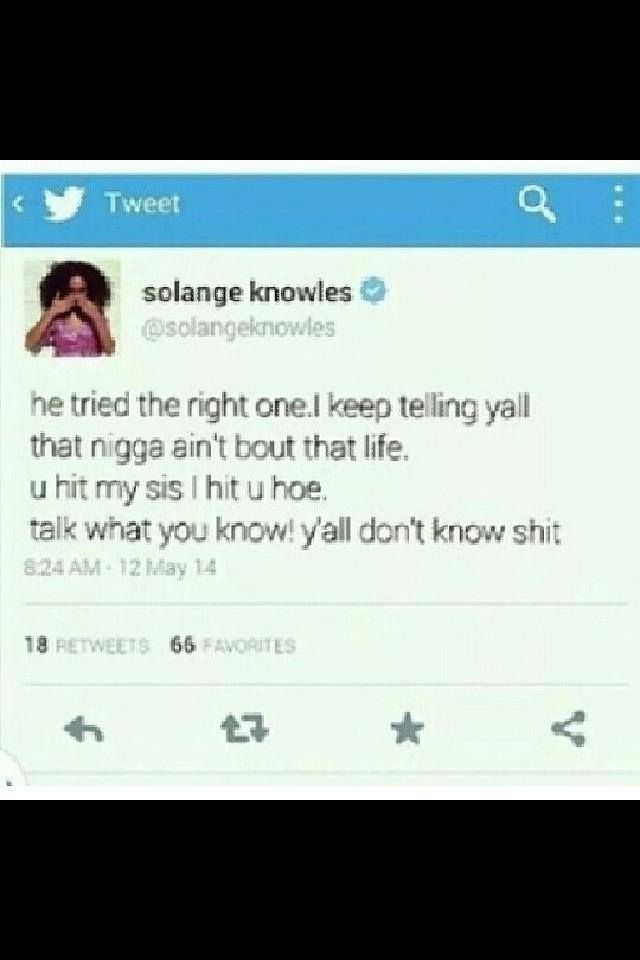 Her current tweet about Delta airlines has the exact same timestamp:
lol, no they've just been extra kind to everyone who walked on board:) "@MeJill: @Delta let me guess…they gave you extra Biscoff cookies!"

— solange knowles (@solangeknowles) May 12, 2014
So someone likely used that tweet to flex their photoshop skills.
Photos: Getty/TNT
UPDATE: Sherri Shepherd FIRES BACK At Husband With Divorce Papers, STILL Rocking Her WEDDING Ring On "The View"
Posted: 12 May 2014 03:56 PM PDT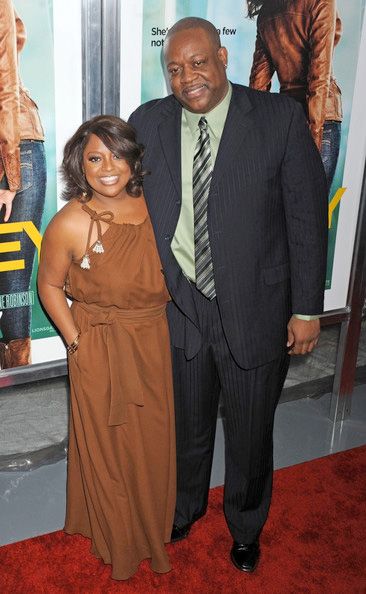 Sherri Shepherd is firing back at her estranged husband Sal, filing her own divorce papers. But this morning on "The View" she was seen…still wearing her wedding ring on her ring finger. Get the deets inside…
"The View" co-host Sherri Shepherd is trying her damnedst to keep quiet about her marital issues that are flooding the Internet. During today's live showing of "The View", Sherri had on her wedding ring and she still didn't address the elephant in the room...she's headed for divorce!
She hasn't worn her wedding ring in months, so it was interesting to see her wear it now in the midst of divorce rumors. TMZ is now reporting Sherri has filed her own divorce papers from her husband Lamar Sally (Sal) in New Jersey, claiming irreconcilable differences.
We were shocked to learn that Sal is demanding custody of their unborn child via surrogate and claims their marriage is a sham. He also filed for legal separation papers (since he doesn't meet the proper 6-month residency requirements in Cali to legally file for divorce) but plans to file for divorce once he's eligible in 3 months.
Oh...and let's not forget he's also filing for spousal support, hoping to get their signed prenup tossed out. He claims the prenup is invalid due to fraud.
Messy…
Photos: Pacific Coast News/ABC

Funniest CARTERGATE Memes + The Standard Hotel Issues Statement Regarding Fight, Investigating Security Video Leak
Posted: 12 May 2014 03:21 PM PDT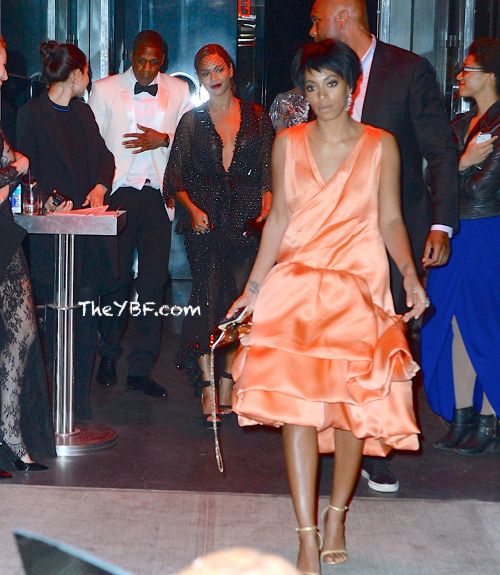 We have rounded up the top funniest CARTERGATE memes floating around on social media. Check out the funnies inside…
After the initial shock of Solange pummeling on Jay Z in an elevator as Beyonce looked on, now comes the flood of funny memes.
We have rounded the top funniest CARTERGATE memes from your timelines and Tumblrs for your afternoon laugh.
Decide which are your favorites below: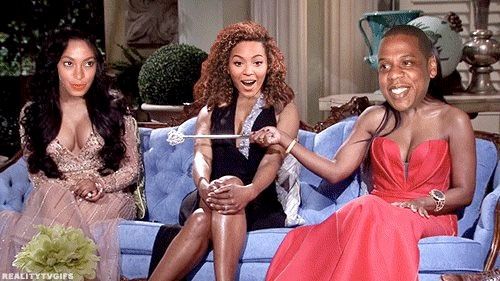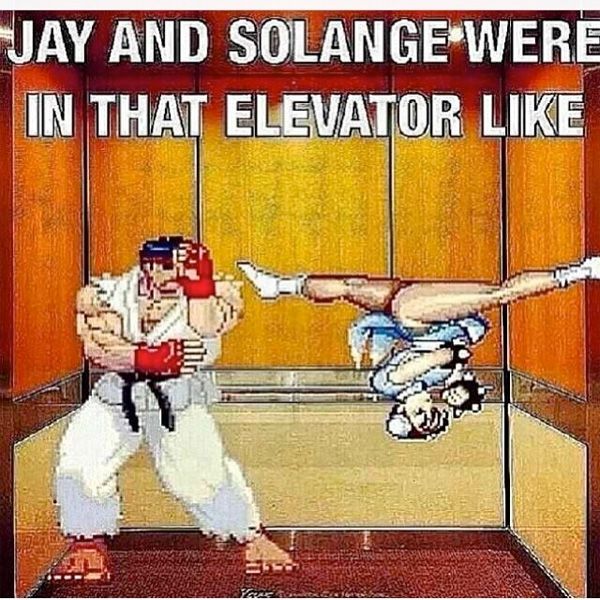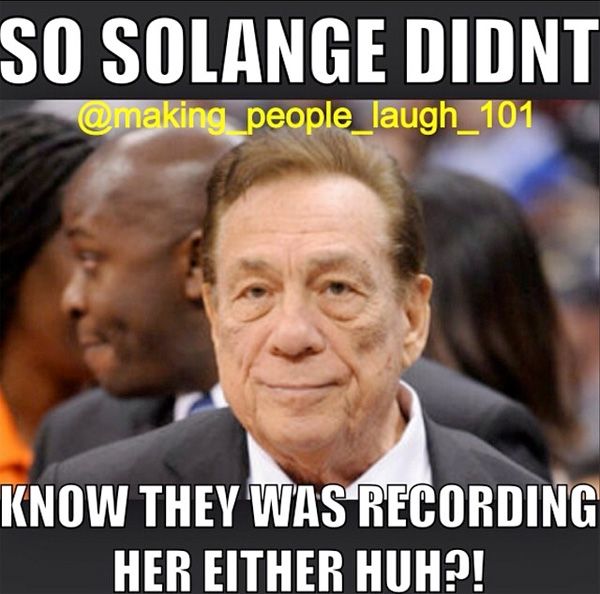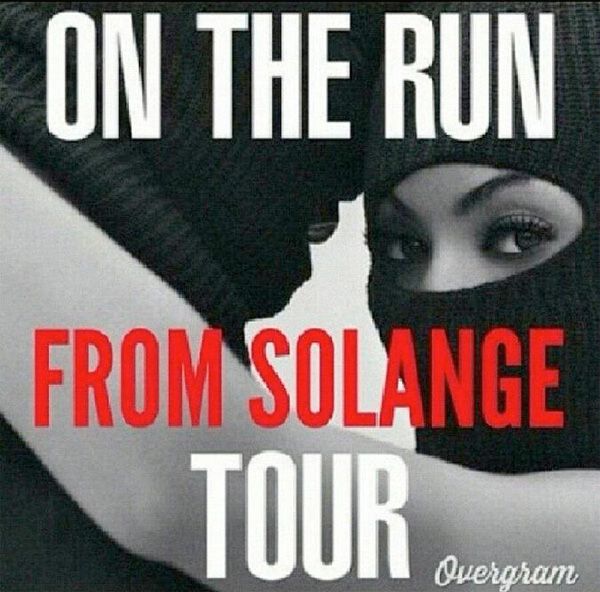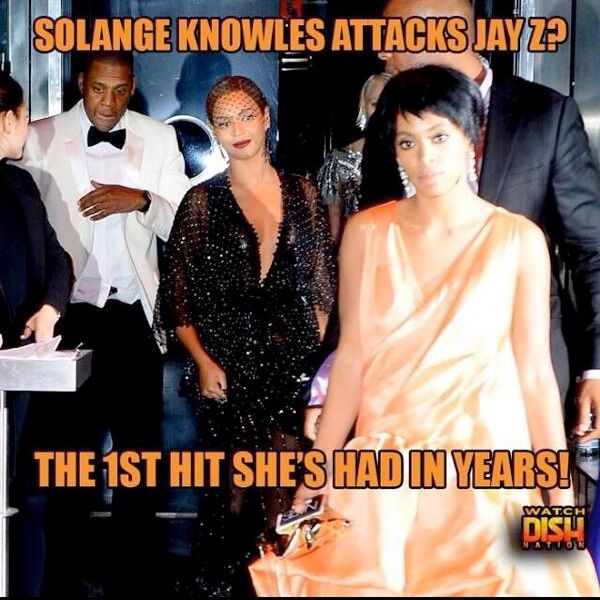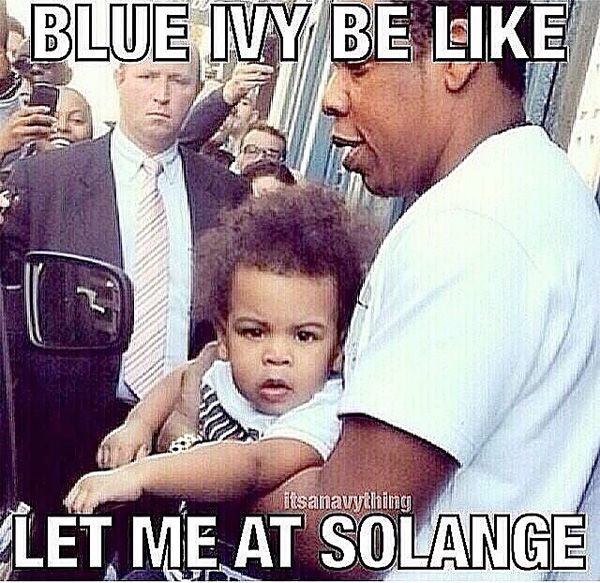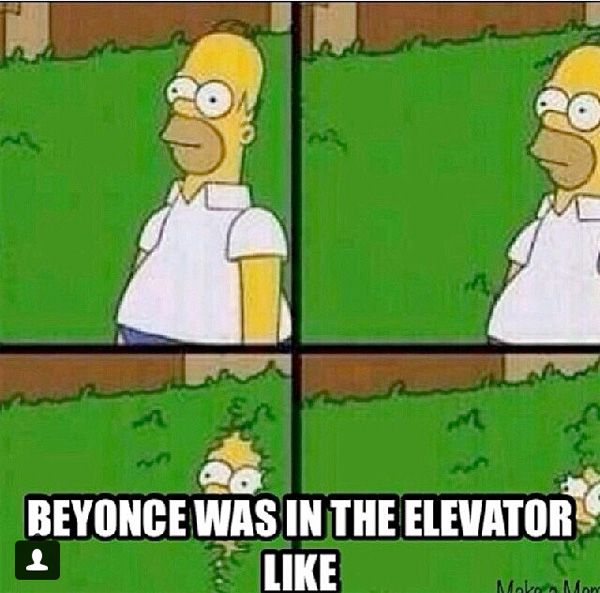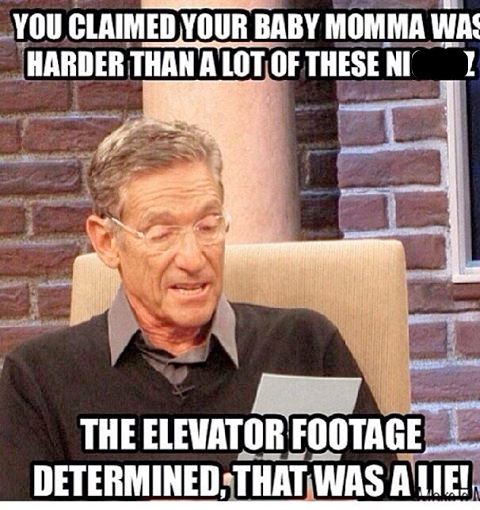 Jay-Z's gonna be at the next family reunion like.. #WhatJayZSaidToSolange pic.twitter.com/zomKweu55u

— Mikeaveli (@Mikeaveli) May 12, 2014
#WhatJayZSaidToSolange how many hits you got? pic.twitter.com/WBWYv6giN2

— JAY-Z & Solange (@JAYZSolange) May 12, 2014
Funny voice reenactment of what was said in the elevator:
And 50 Cent joined in with a hilarious reenactment of what Solo & Jay were saying in the elevator:
Meanwhile...
The Standard Hotel has issued a statement regarding the Solo vs. Jay elevator showdown. The luxury hotel is "shocked and disappointed" that there was a breach in their security system and is investigating the matter, promising to prosecute the individuals involved.
The statement via the AP reads:
"We are investigating with the utmost urgency the circumstances surrounding the situation and, as is our customary practice, will discipline and prosecute the individuals involved to our fullest capacity."

There you have it...
Photos: @vavavavroom/@making_people_laugh_101/@thephotomanlife/@belladreamhair/@teamotoya/@baddieblair/@bigb48214/@ladyshears/@SoloChills/@WatchDishNation
Will And Jada Pinkett Smith LUNCHING In New York City + Jaden Smith POSES For Shirtless Pic With Kylie Jenner
Posted: 12 May 2014 02:37 PM PDT
Will and Jada Pinkett Smith was spotted in NYC over the weekend. See their candids inside and see Jaden's shirtless pic with rumored girlfriend Kylie Jenner.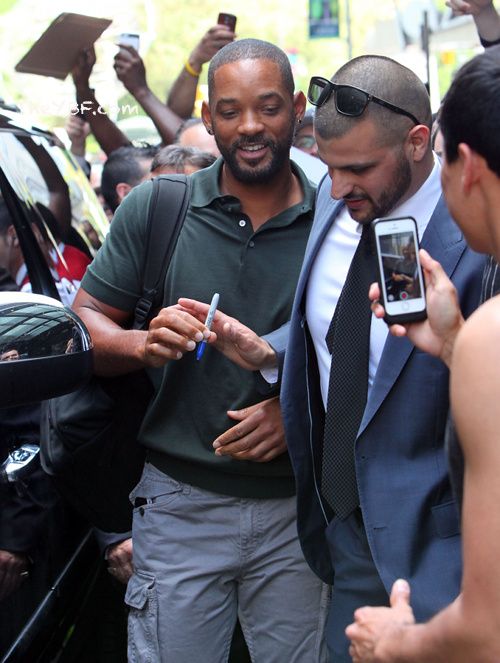 Will Smith was seen leaving his hotel in NYC earlier today.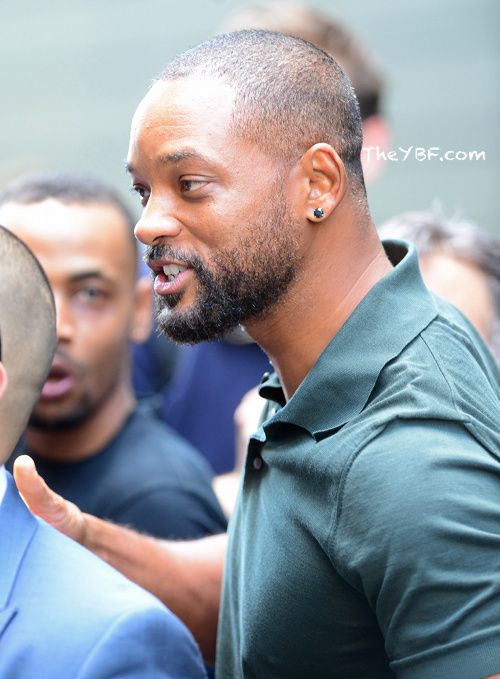 Will, who recently wrapped filming the action flick FOCUS in New Orleans, was in NYC to celebrate Mother's Day with wife Jada.
42-year-old Jada walked out of the hotel looking drop dead gorgeous.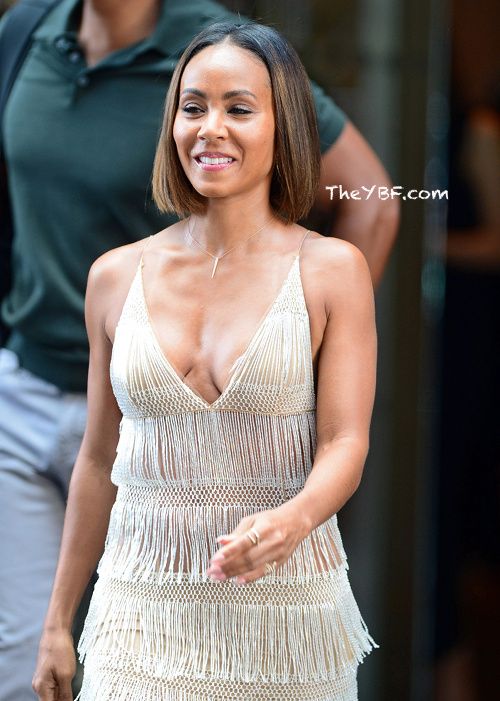 She's currently voicing the "Gloria" character in The Penguins of Madagascar.
In other Smith news....
Kylie Jenner posted a pic of herself with a shirtless Jaden Smith. The photo came with the caption ""*Ksss* Ahhh… 2014," and we think the pic was a response to the public outcry over Willow's pic with friend Moises Arias.
Are the kids making a statement? Is this innocent fun? Hmmm.....if you're thinking dirty thoughts, maybe you should stop projecting your stuff onto them (as Jada would say).
Photos via Justin Steffman / Splash News / INF Photo / US Weekly
REFLECTIONS: Kerry Washington On Her First Mother's Day, "I Am Filled With Gratitude!"
Posted: 12 May 2014 01:35 PM PDT
Kerry Washington celebrated her first Mother' Day over the weekend. See her tweet of gratitude inside....
Emmy-nominated actress Kerry Washington and her husband Nnamdi Asomugha welcomed the birth of their first child Isabelle Amarachi Asomugha a few months ago. Now that Kerry has celebrated her first Mother's Day, she's tweeted her "gratitude" and offered fans a rare peek into her life.
Kerry said.....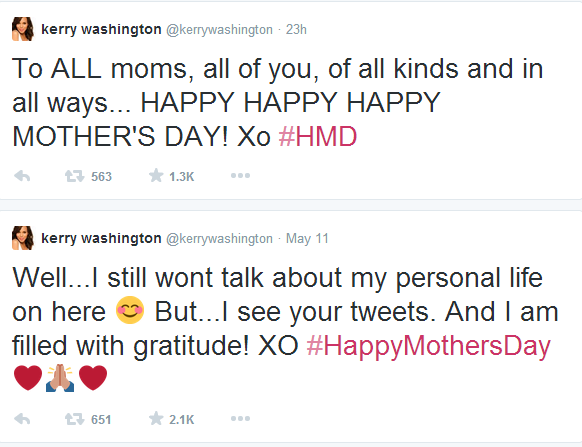 Congrats Kerry. We can't wait to meet baby Isabelle!
Photo via Kerry's Instagram
SIGNS OF TROUBLE AFTER THE FIGHT? Beyonce Posts Prayer About Relationships AFTER Solange Attacked Jay Z
Posted: 12 May 2014 11:16 AM PDT
Seems Beyonce posted a subliminal prayer possibly referring to the fight between her husband Jay Z and sister Solange before we all saw it all unfold in the elevator earlier today. See what Bey posted inside…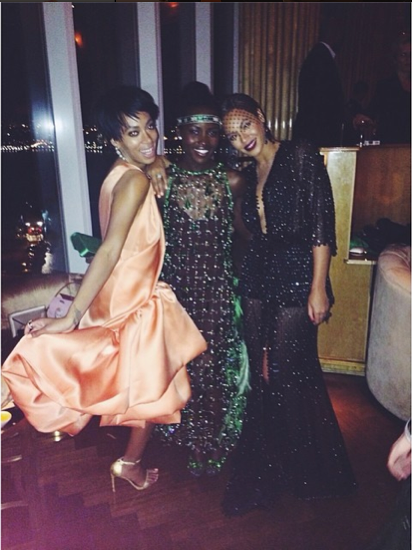 Although everything seemed fine during the Met Ball afterparty, with Beyonce and Solange snapping pics with other celebs all smiles, things clearly weren't fine between Solo and Jay Z AFTER the party.
After we were all shocked seeing video footage of Solange going ape sh*t on her brother-in-law in a Standard Hotel elevator after the 2014 MET BALL, Bey's recent Instagram about praying for her relationships all seems to make sense. Two days AFTER the elevator fight, she posted: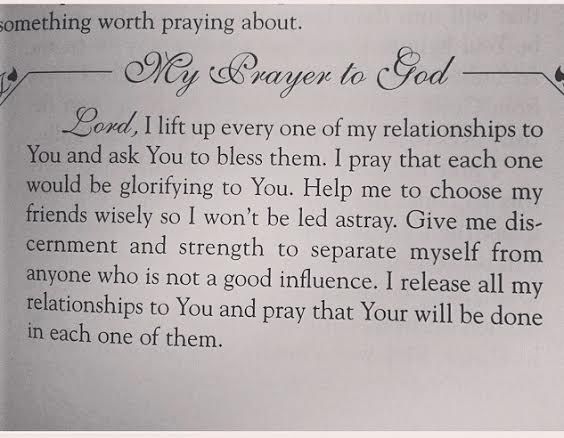 The fact that the prayer mentions relationships is eyebrow raising. And as you can see at the Nets vs. Heat game at the Barclays Center (atop, taken five days after the fight), Bey seemed unfazed and like she really didn't want to be there.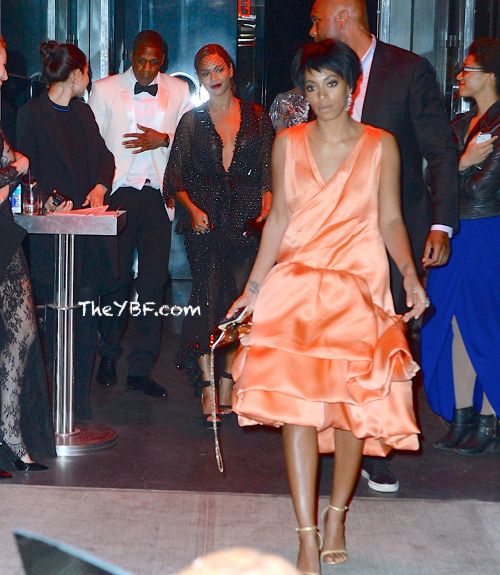 And Solo was already over it as soon as she walked out of the Met Ball afterparty.
Be sure to watch the new extended version of the elevator confrontation here.
Photos: Getty/Splash/Lupita's IG
WORST BEHAVIOR: Brandon Jennings Advises Teyana Taylor To "Let It Go" + Teyana UNLEASHES Her Receipts
Posted: 12 May 2014 09:45 AM PDT
It's always hard to endure a break up and even harder when you have to deal with your ex-friend getting engaged to your ex-fiancee…and everyone knows it! Brandon Jennings issued some advice to his ex-fiancée Teyana Taylor while Tey unleased her Tae Heckard text receipts. Find out the new happenings in this love triangle inside…
Brandon Jennings, Tae Heckard and Teyana Taylor have been on their worst behavior on social media lately.
After Teyana hit up Power 105's The Breakfast Club where spilled the dirty details of how she and Tae's friendship crumbled and the hurt she felt when she found out they were dating, it has now spilled over to social media.
Brandon took to his Twitter (probably after hearing Teyana's interview) and fired off some subliminal tweets to Teyana, basically telling her to let it go and move on. He tweeted: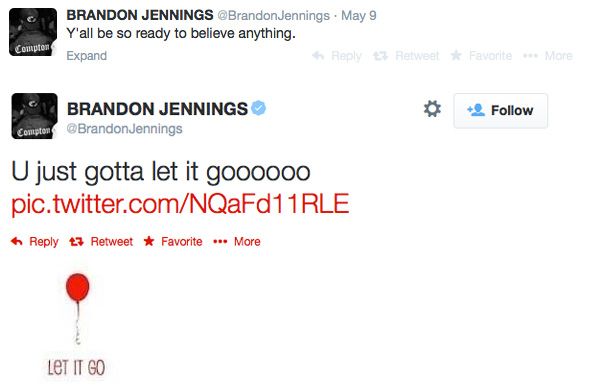 He then advised Tey to keep Tae's name out of it and blame it on him if that's what she needed to go to feel better: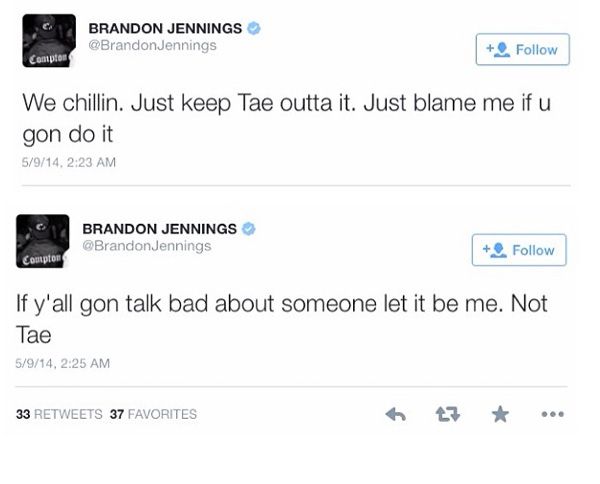 Tae then tweeted her own subliminal message with her new fiancé co-signing it:

And she posted a picture (below) partying with her bestie Olori and her beau with the caption, "#answersplease"
Teyana must was tipped off on what Tae and Brandon were tweeting, so she produced the receipts she referred to during her Breakfast Club interview (which she quickly deleted) about Tae reassuring her that they were always going to be family and nothing was going to change that:
Damn! Who needs enemies when you have friends like this?
Photos: Tae's IG & Twitter/Brandon's Twitter/Teyana's IG

WTF!!! Solange CAUGHT ON TAPE, Physically Assaulting Jay Z...In An Elevator...At MET Ball After Party! (EXTENDED VIDEO)
Posted: 12 May 2014 09:42 AM PDT
We're not sure what set Solange Knowles off after the 2014 MET BALL, but she was caught physically attacking her brother-in-law Jay Z in the elevator as he and Beyonce were leaving the Standard Hotel. Watch the shocking video inside....
Some clear cracks are emerging in the "happy" facade the Knowles/Carter family have projected to the rest of us. While we've become aware that the Knowles sisters are estranged from their dad, Mathew, but who knew that Solange harbored some resentment towards Jay Z?
We're not sure what caused her physical outburst, but Solange got a good piece of her brother-in-law once they got inside an elevator at the Standard Hotel (during the Met Ball afterparty).
In the grainy video (click here if you can't view the video), you'll see Bey, Jay, Solange and a bodyguard enter an elevator. Then...Solange attacks Jay - kicking him. Jay grabs her foot, but never retaliates. Bey stands by (too shocked to move or intervene?). You'll also notice that the bodyguard presses the emergency stop button...likely to contain the action from the public and to calm everyone down.
Hmm....how did the private video emerge? It looks like someone (perhaps a surveillance company employee) possibly recorded the video footage onto a separate device and sold it. Maybe. Perhaps. Allegedly.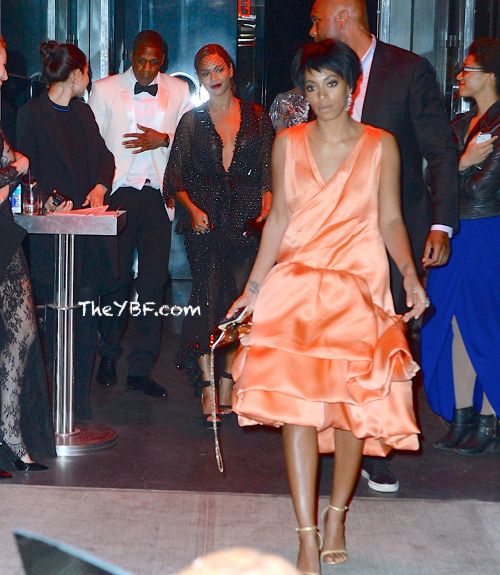 A second video (seen here) shows them exiting the hotel (following the elevator incident) as if nothing happened. Beyonce follows Solange (who looks a little pissed) to a waiting car. Jay leaves in a DIFFERENT car. Clearly....Solange was not up for riding in the same car with Jay.
We're not going to hold our breath for an explanation....it's the Knowles/Carters. This NEVER happened. You didn't see what you saw.
We still have our questions:
1. Was the attack Solange's way of defending Beyonce?
2. Does Solange have her OWN beef with Jay Z that boiled over that night?
3. Was alcohol involved?
4. Why did Beyonce seem unfazed? Has this happened before?!
5. Was this a totally random outburst by Solange....due to possible mental or emotional stability?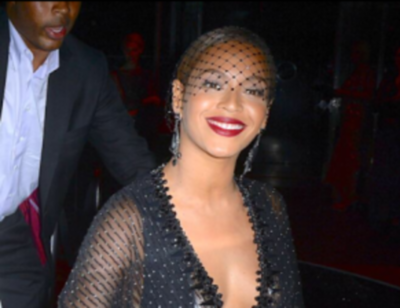 6. Why does it look like Beyonce's bodyguard Julius has a bloodied lip? Did he take one for Jay?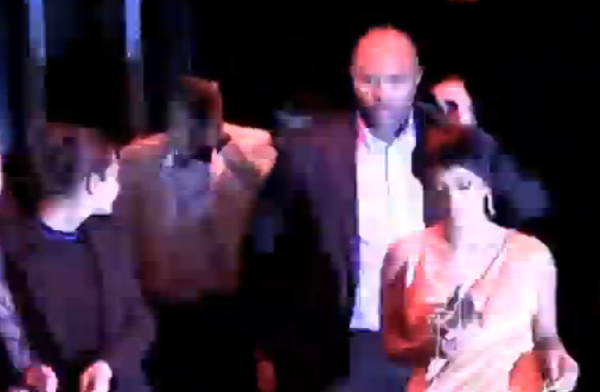 7. Why did Jay Z wipe his face after they exited the hotel. Did Solange spit on him in the elevator?
Photo/Video via TMZ/Splash News Online/Splash