---
GUESS WHO'S EXPECTING??!! Ludacris Has A Baby On The Way......But It's NOT With Longterm Girlfriend Eudoxie!
Posted: 01 Jan 2014 06:29 AM PST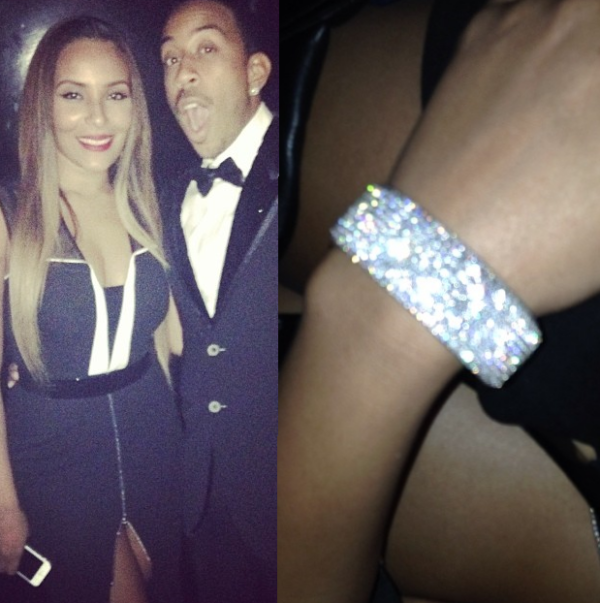 News that Ludacris is expecting a baby "outside" of his relationship with longterm girlfriend Eudoxie has come to light through a new child support lawsuit. Get deets on the awsuit and see the expensive gift Eudoxie got for NYE inside....
We've been holding onto this nugget of information for a little while and now we can reveal that rapper Ludacris (aka Chris Bridges) is expecting a baby with Tamika Fuller (someone who's been described as a "friend" from high school). The news of Tamika's pregnancy was confirmed through court documents Ludacris filed in Georgia where he's asking the courts to cap his child support payments.
According to TMZ, Luda claims he makes $25,842.41 a month so his monthly child support payments should be capped at $1,754. Hmmm....$2K a month doesn't seem like much from a man who's allegedly worth $12M. Maybe that's why Tamika had to "register" at Target....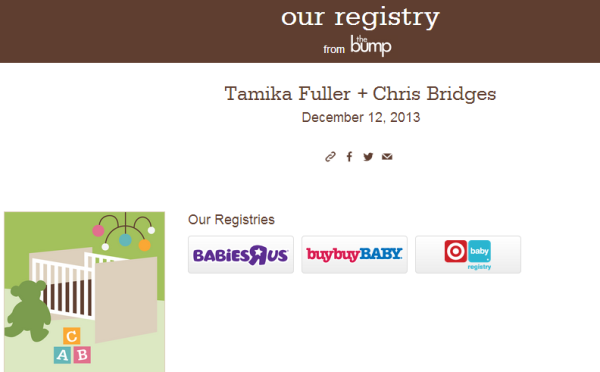 Coming on the heels of Dwyane Wade's revelation about his newborn son, Luda is the second high profile celeb to have news about a "love child" surface this week. While Dwyane and Gabrielle Union claimed they were on a "break" during the conception of his son, we've never known about Luda and Eudoxie taking a "break" (they've been together for years!). Hmmm.....
But don't cry a river for Eudoxie....Luda gave her a very expensive gift for NYE to make up for his indiscretion. He posted this pic on his Instagram with the caption "#art #happynewyear" Would you forgive him?
Photos via Ludacris's IG
Jennifer Hudson Gifts Her Assistant A New House + Quvenzhane Wallis EARNING $1.5 Million For 'Annie' Remake
Posted: 31 Dec 2013 11:40 AM PST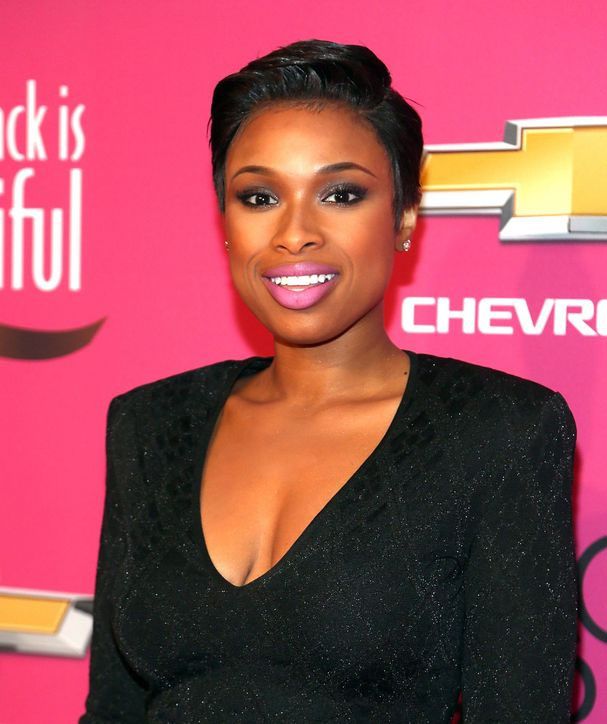 Jennifer Hudson played Santa Claus for Christmas by giving her assistant a new house! Meanwhile, 10-year-old actress Quvenzhane Wallis is earning a reported $1.5 Million to star in Annie. Read the deets inside...
Black Nativity star Jennifer Hudson was in the Christmas spirit when she surprised her assistant, Walter, with his own house. Walter and Jennifer have been friends since they met in the 6th grade and Jenny considers him her closest friend.
She videotaped his reaction to the news and it is hilarious.
Check it out below:
Congrats to him.
In movie news....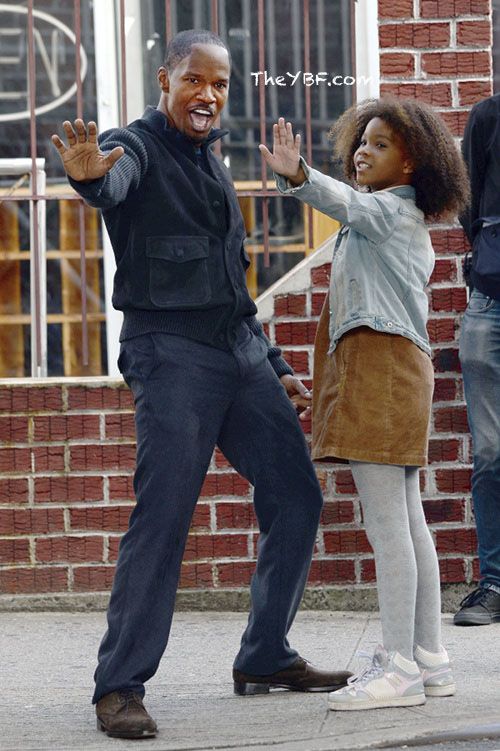 Meanwhile, Beasts of the Southern Wild star Quvenzhane Wallis, will reportedly earn $1.5 million for starring in the movie remake of Annie. Just a year ago, the 10-year-old actress became the youngest female star to ever be nominated for a "Best Actress" Academy Award.
She'll play the orphan character alongside Jamie Foxx (playing Daddy Warbucks) and Cameron Diaz. Will Smith and Jay Z will be producing the movie which is set for a Christmas 2014 release.
TMZ reports the producers for the show had to get approval from a judge for Q to star in the movie since she is a minor. She will be getting paid:
-- $750,000 base salary
-- $750,000 bonus if the movie does super good
-- 5% of profits
-- 5% of all merchandising
-- 10% of sound track album royalties
And get this....according to her contract, her name can NOT be listed lower than second position, so it's likely her name will appear before Cameron Diaz. Ha!

Congrats to this YBF young lady.
Photos: Pacific Coast News/Splash
Beyonce & Jay Z Out And About In Miami, No Longer Eating VEGAN
Posted: 31 Dec 2013 10:53 AM PST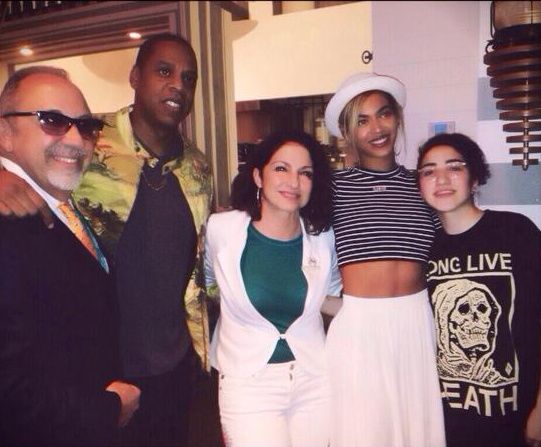 Beyonce and Jay Z ended their 22-day vegan diet and opted to dine on some good seafood in Miami. Find out where they dined and who they bumped into inside....
Now that they've completed their 22-Day Challenge, Beyonce and Jay Z are free to dine as they please. The pair hit up Seasalt and Pepper on Sunday where they bumped into Gloria Estefan and her family. Gloria tweeted, "Ran into the incredible @Beyonce & @Jay-Z post Dolphin game @ Sea Salt on the Miami River, sweet, Em was catatonic!"
Sources tell PageSix, that the restaurant's chef, Alfredo Alvarez, paid a visit to the stars' table and asked them what they'd like to eat. Beyoncé and Jay Z requested pappardelle, lobster risotto and seafood casserole.
Yum.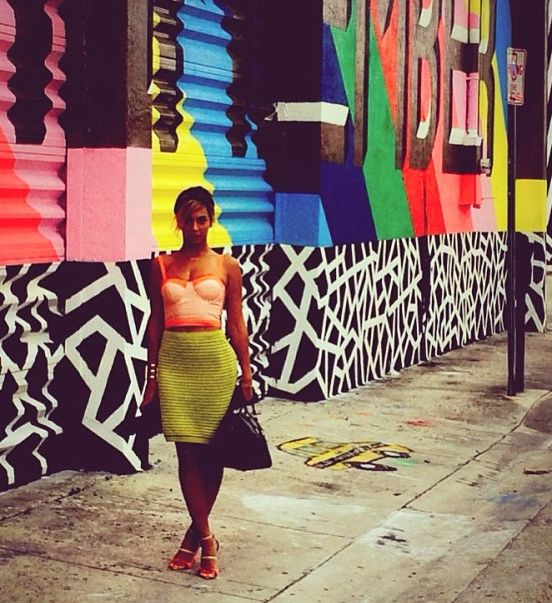 Bey then hit the Wynwood Art District in Miami, Florida for a mini photoshoot.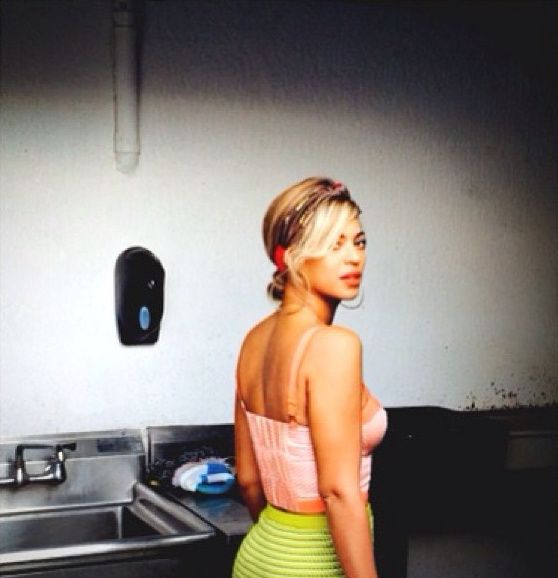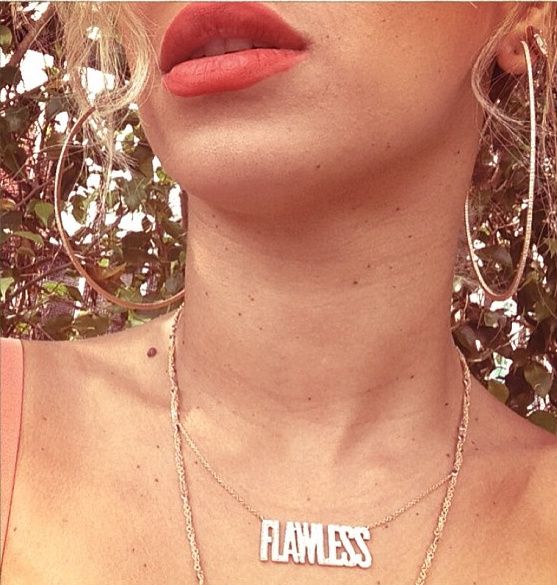 Bey has stirred up some controversy on social media with the pic she posted on her Instagram (above). Bey is seen in the middle of what closely resembles Leonardo DaVinci's painting, The Last Supper. What do you think about it?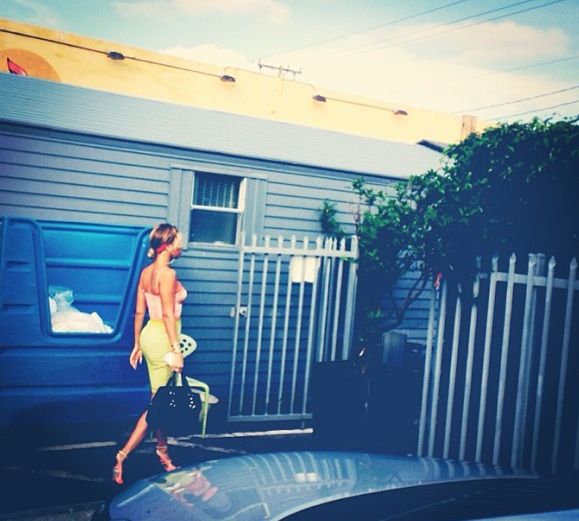 Maybe these are shots for a new video? *shrugs*
Speaking of The Carters...
With all the talk around Beyonce's sexually-charged self-titled album, there are now rumors that "Peaches" and her hubby Jay Z spent $6,000 on sex toys in Babeland, a luxe sex toy shop in NYC.
An insider said the "Drunk In Love" couple bought all top-of-the-line toys, including toys from "Real Housewives of Atlanta" star Kandi Burress' toy line, Bedroom Kandi.
Mrs. Carter wasn't playing when she said she gets a little filthy. We love it.
Photos: Beyonce's IG/@GloriaEstefan Twitter
Dwyane Wade CONFIRMS He Fathered A One-Month Old Baby Boy + ALLEGED Birth Certificate REVEALS Baby's Name "Xavier Zechariah Wade" & Baby Momma
Posted: 31 Dec 2013 10:14 AM PST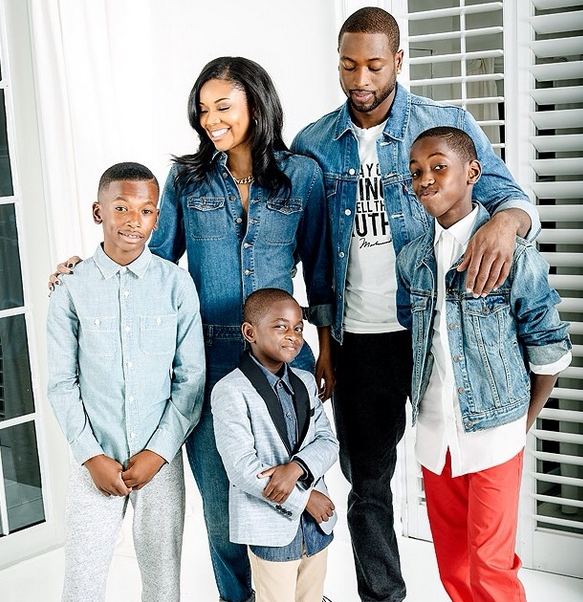 Dwyane Wade confirmed that he fathered a one-month old infant during a press conference held on Monday. Find out what he said about the birth inside and see the alleged birth certificate....
Earlier this week, we told you about reports that claimed newly-engaged Miami Heat All-Star Dwyane Wade had fathered a son outside of his relationship with fiancee Gabrielle Union, and he's now confirmed the birth!
During a press conference held on Monday, before the Miami Heat's game against the Denver Nuggets, Dwyane told reporters,
"I'm in the public eye, so obviously that's a part of it. It comes with the territory. But, it's kind of … as I've always done my whole life … is always focus on what's most important to me and my family, and that's being a great father. I've always tried to show my importance in my kids' lives and it doesn't change now."
He went on to describe the birth as a "blessing."
"But, yeah, I had a time ... in our pain and our hurt, (but) a blessing came out of it in my life, having a son that was born healthy. So, I'm moving on."
Though Dwyane has not revealed the identity of the child's mother, he told reporters that he's seen the child and will be a part of his life. "You know me. I'm involved in my kids' lives. When my kids were living at home with me, or wasn't living at home with me, I tried to do everything I could to see them."
He insists the birth won't compromise his engagement to Gabby or affect his ability to be a good father.
"I'm always going to be a father first. That doesn't change. If you decide to when you can be a father, that's when it compromises. But, like I said, this is something, obviously, private for my family that we will continue to deal with as a family but we have a blessing to the bloodline, to the Wade bloodline. And from that standpoint, it doesn't, to me, state anything differently from what I've always shown."
Meanwhile on Instagram.......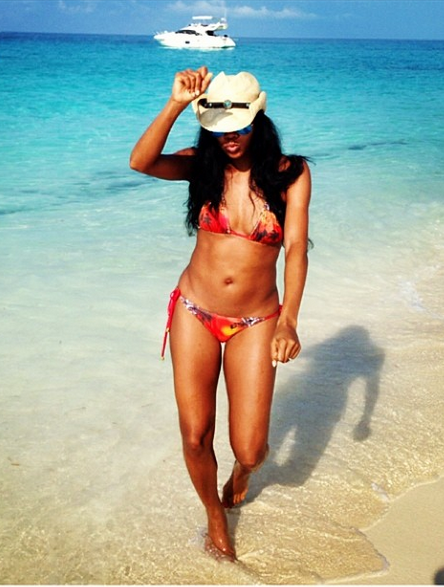 Gabrielle (who's been dragged on Black Twitter) posted a sexy bikini pic from Bimini with the caption "Dance like no one is watching... #islandliving livingmybestlifeonmyowndamnterms".
Thanks To TMZ Sports,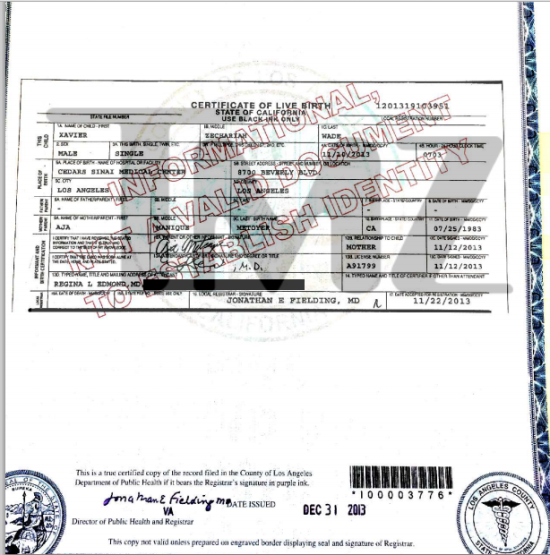 A copy of the "alleged" birth certificate reveals that Xavier Zechariah Wade (father unnamed) was born last month to 30-year-old Aja Metoyer. Aja has two other children (one with Daman Wayans Jr.)
That means.....Xavier was born 6 weeks before Dwyane popped the question to Gabrielle. Messy.
Photos via Dwyane Wade's IG/Gabrielle Union's IG/BlackSportsOnline/Twitter/TMZ/Instagram
WINTER BREAK: Kanye West & Kim Kardashian Hit The Ski Slopes In Park City, UT + Khloe Kardashian & Lamar Odom Selling $4 Million Home
Posted: 31 Dec 2013 08:54 AM PST
Kanye West, Kim Kardashian and her older sister Kourtney, were spotted on the slopes in Park City, UT and looked quite... interesting. Check out Yeezy being "incognegro" inside...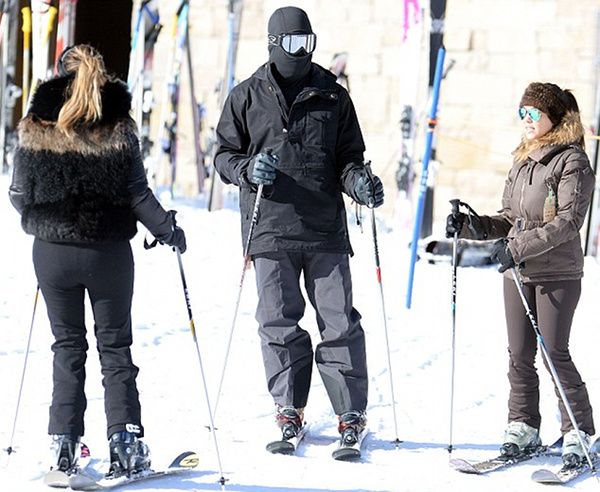 Some of the Kardashian Klan, including baby Nori, flew to Park City, UT on Friday, Dec. 27th via a private plane. Following their arrival, Kanye, Kim & Kourt hit the snowy slopes for some family ski fun after Yeezy and Kim did some ski shopping over the weekend.
Kim looked warm and comfy wrapped in her faux fur vest and fitted snow pants while Kanye completely covered himself, not showing his face or body. Oddly, his ski mask and goggles looked like they were ripped right from the costume department of the Yeezus tour.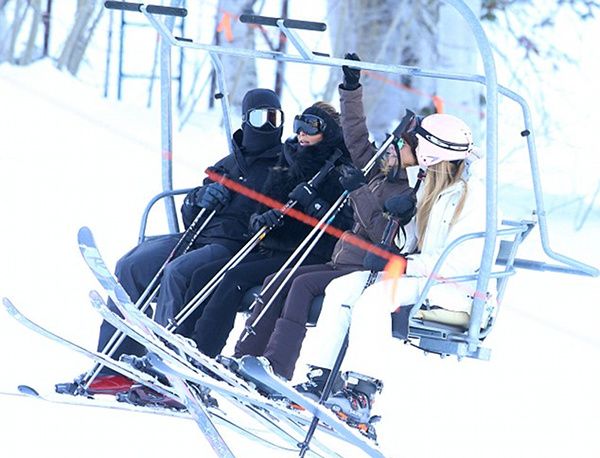 This "look" could have something to do with the "vow of silence" he will be taking for the next 6 months. He ranted, "Everything I'm saying that's not allowed, soak it in right now. This might be the last time y'all hear me talk s*** for a long time. Might be another like six months. At least. You're just gonna have to run back the interviews and sh*t if you wanna hear some realness!"
Speaking of the Kardashians...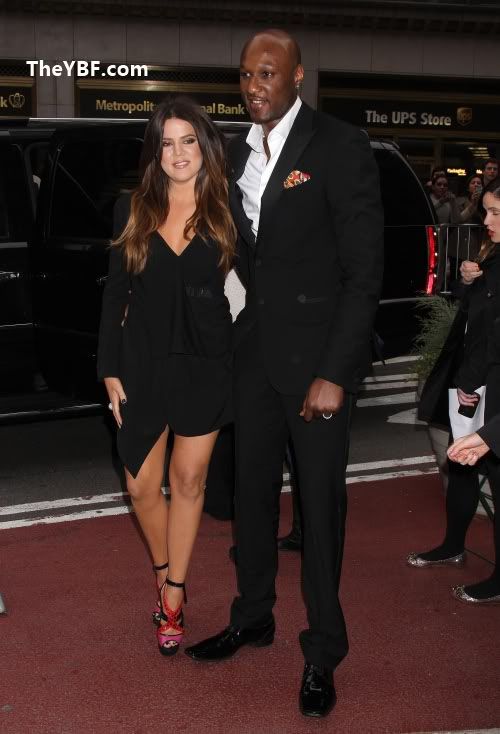 Khloe Kardashian and Lamar Odom are selling their $4 million Tarzana home. E! News reports the two put their home up on a private market but no other details have been disclosed. A source close to the couple is saying that the two have been quite friendly towards one another and that "they are still working out some logistics" of their divorce.
Not mad.
BONUS:
Kim tweeted this adorable tribute video to "KimYe."
Photos via Jackson Lee/Splash News