---
BRONZED BOMBSHELL: Teyana Taylor Switches Her Hair Up....DO WE LOVE IT?!
Posted: 24 Jan 2014 09:29 AM PST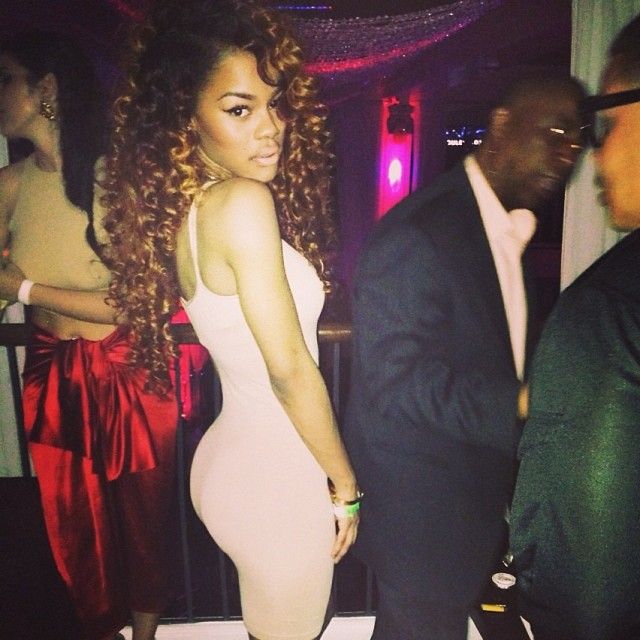 If Teyana Taylor doesn't do anything else...chick does a picture RIGHT. The singer/rapper/model showed off her new bronzed locks today. Decide if we love 'em inside....
After a long night of partying, Teyana Taylor showed off her new look for her IG followers. She went from those huge black curls we've loved for years, to an early Mariah Carey-vibe of bronzed and dirty blonde curly locks: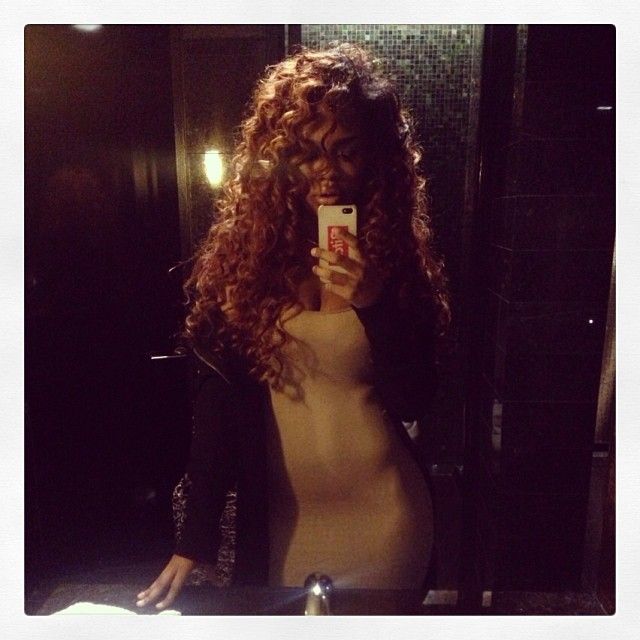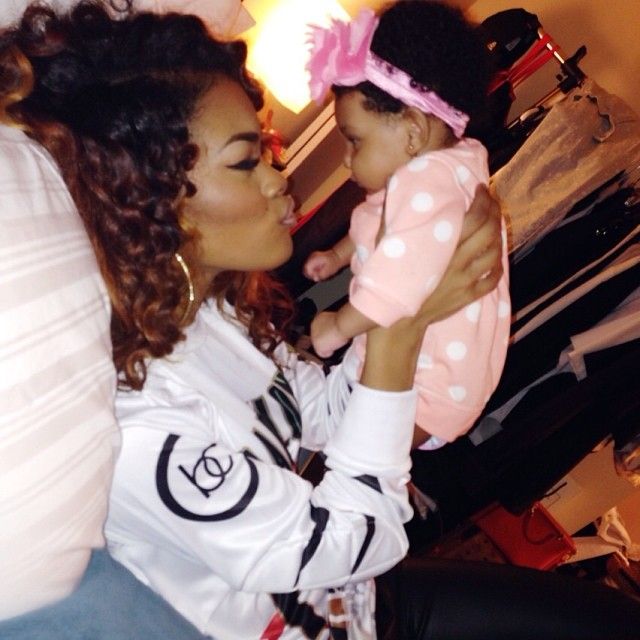 The G.O.O.D. Music chick even posted a pic with her super adorbs niece Dayci.
So, about Teyana's new look...
DO WE LOVE IT?!
PARTIES: Keyshia Cole HITS A Pre-GRAMMY Party + Draya CELEBRATES 29th Birthday With Boyfriend Orlando & Friends In L.A.
Posted: 24 Jan 2014 08:57 AM PST
Keyshia Cole kicked off the weekend with a pre-Grammy party while Draya celebrated her 29th birthday at a swanky dinner with Dallas Cowboys cornerback Orlando Scandrick. See photos inside....
Last night, "Trust and Believe" singer Keyshia Cole was seen leaving 1 OAK Night club in West Hollywood rocking denim on denim and her fave pink ostrich bag.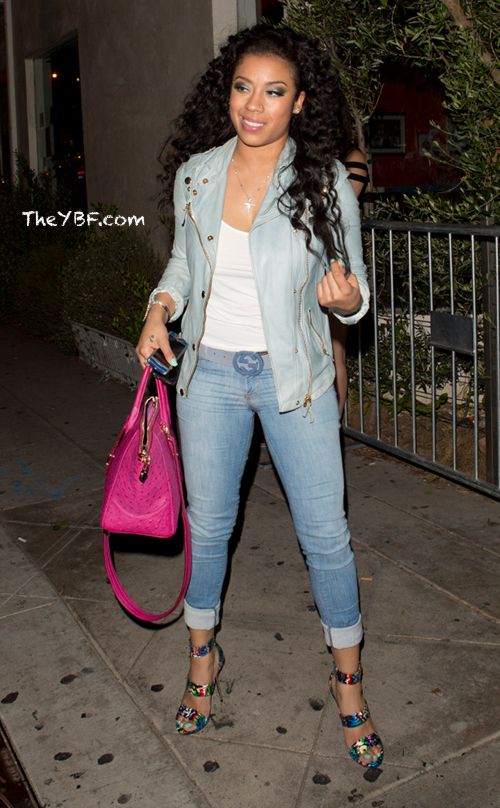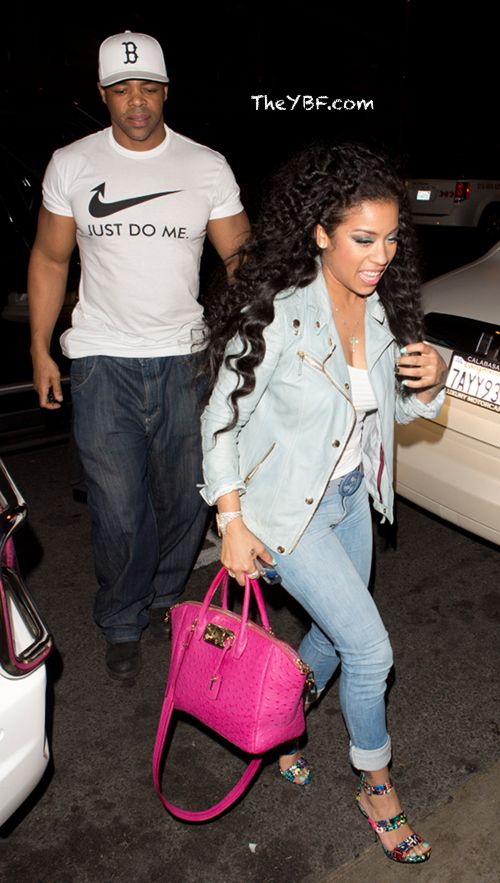 Keyshia, who's busy working on a new album and mixtape, attended a pre-Grammy party inside the venue.
Her hubby, Daniel "Boobie" Gibson did not attend the party with her. Surprise surprise. The two are rumored to be going through a split, and he posted a cryptic message saying an "imperfect love".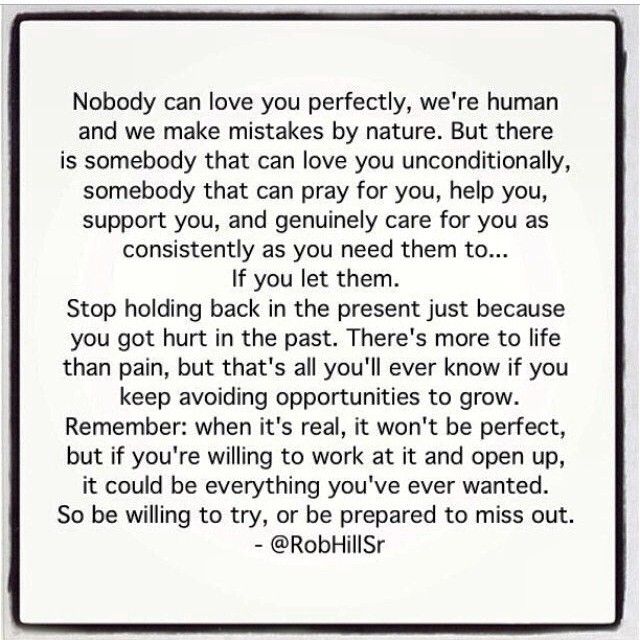 We're still keeping an eye on those two.....
Also in West Hollywood....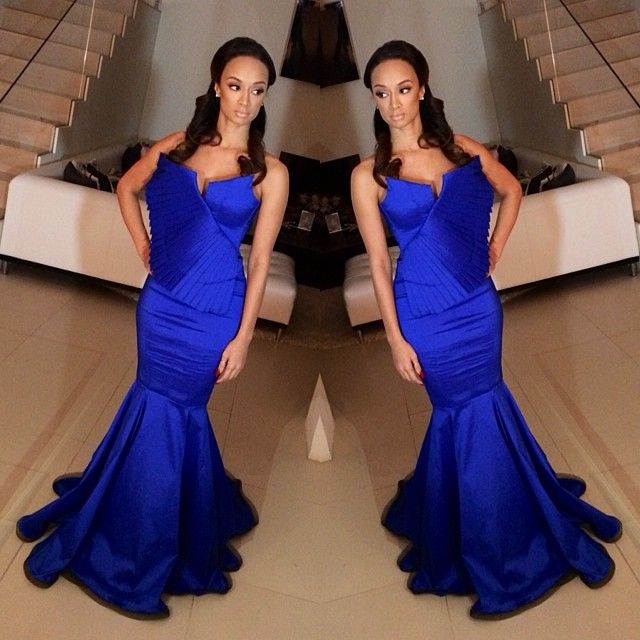 "BBW LA" star Draya Michele celebrated her 29th birthday last night at Philippe Chow.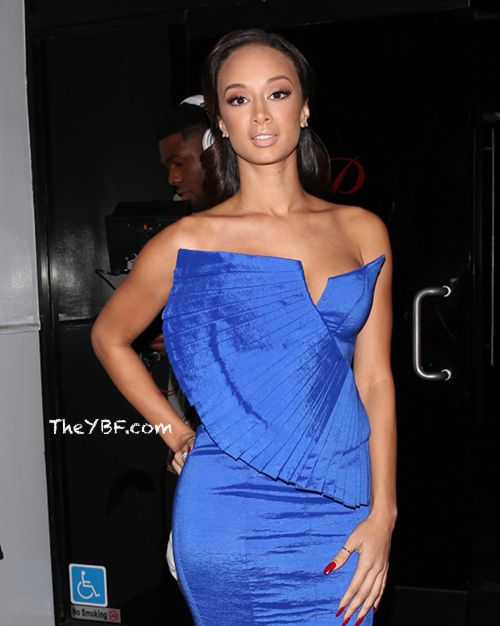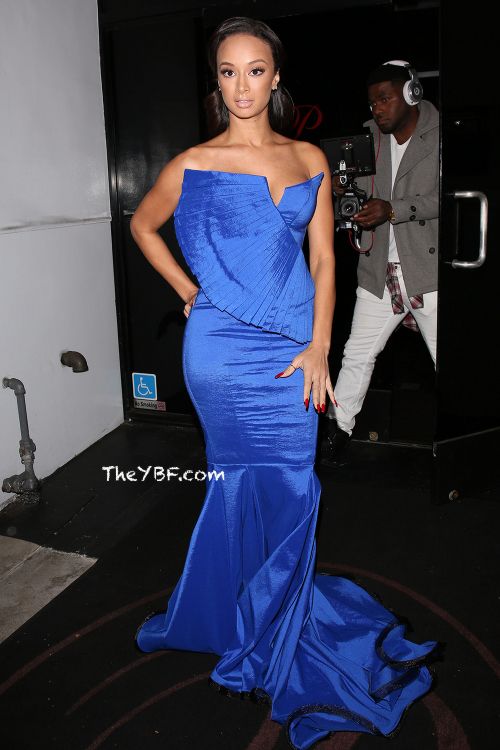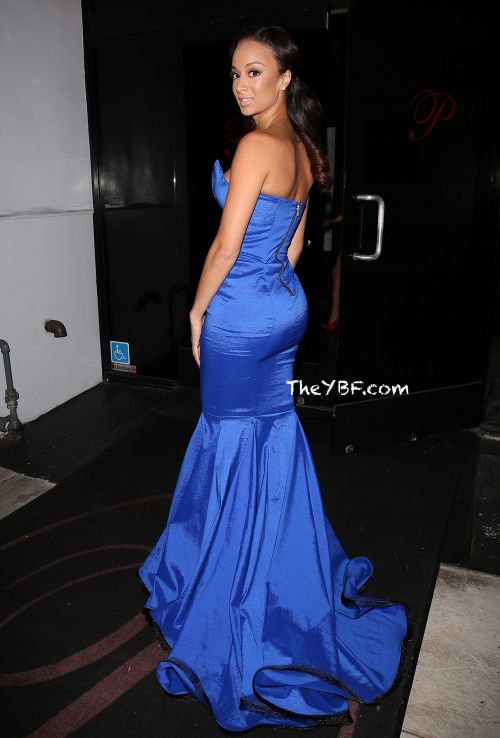 One of Draya's looks was a strapless bold blue gown by Michael Costello. "You've seen my birthday dresses, but this is my birthday gown."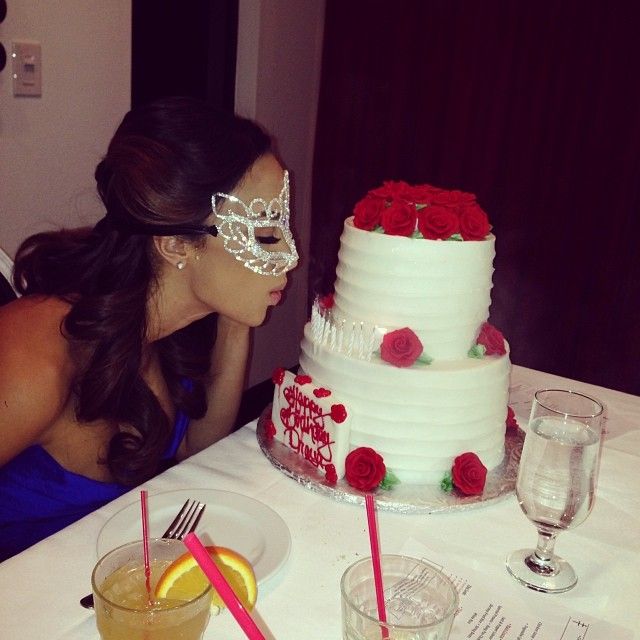 And the night before, she hit the town with her girls and her man: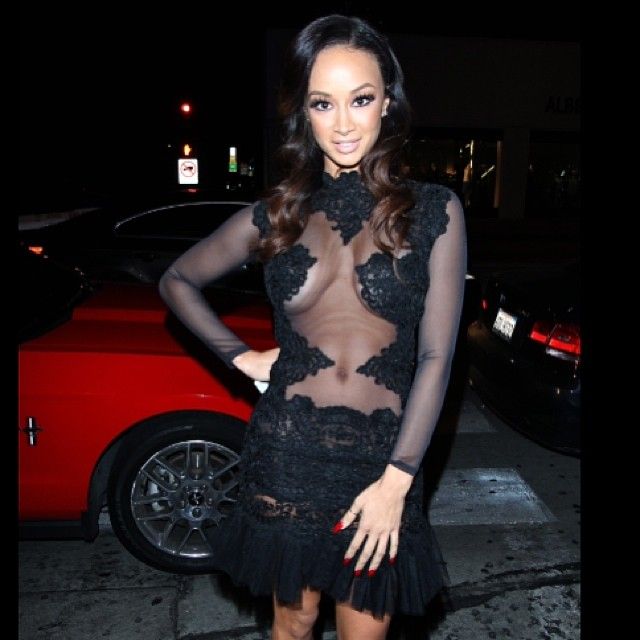 She rocked a sexy dress from Houston-based designer Dominique Vinae.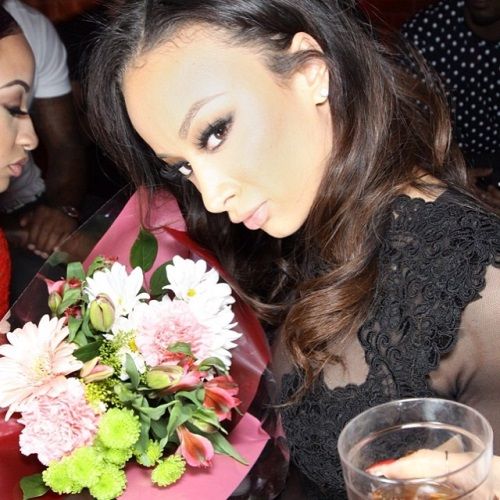 Her boyfriend, Dallas Cowboys cornerback Orlando Scandrick, kept it cozy with her all night and posed for a few photos.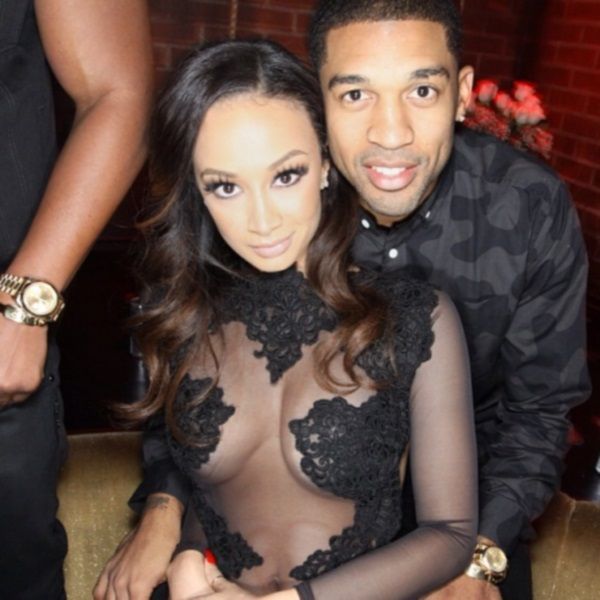 We noticed that Chantel Jeffries, one of Draya's Fine Ass Girls models, was not at the party. We suspect she's still in Miami dealing with the Justin Bieber fallout.

Photos via Devone Byrd/PacificCoastNews/Splash/Draya's Instagram/Daniel Gibson IG
COUPLES NIGHT At 1OAK: Russell Simmons & His New Boo Shannon Elizabeth + Christina Milian & Jas Prince
Posted: 24 Jan 2014 08:20 AM PST
It looks like Russell Simmons is working on his next model boo. Check out pics of him and actress/model Shannon Elizabeth, along with Christina Milian and Jas Prince, as they made their way to 1OAK inside....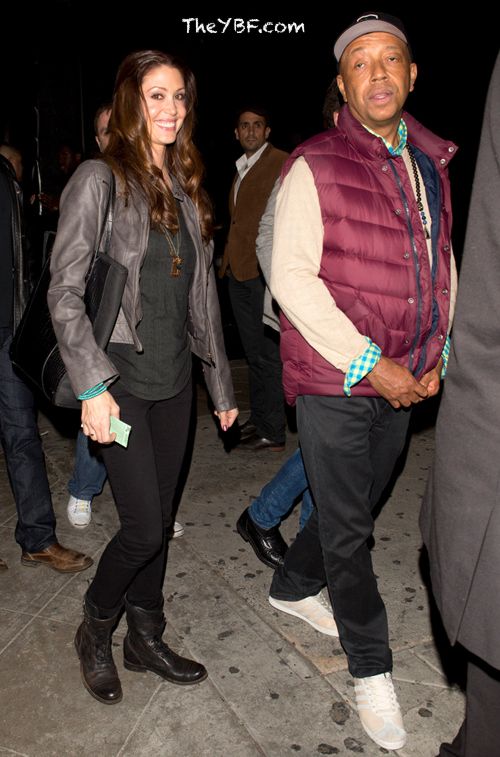 As the pre-GRAMMY parties roll on, Russell Simmons is hitting the scene with his new chick of the moment, American Pie star Shannon Elizabeth. The twosome hit the Golden Globe afterparties earlier this month. And things seem to be carrying on....
And Christina Milian rocked this sexy orange Shop Fashion Therapy dress as she hit the party with her fiance Jas Prince: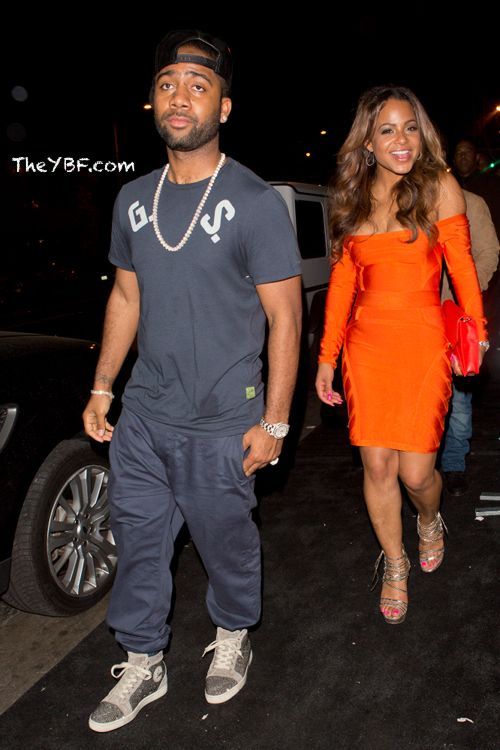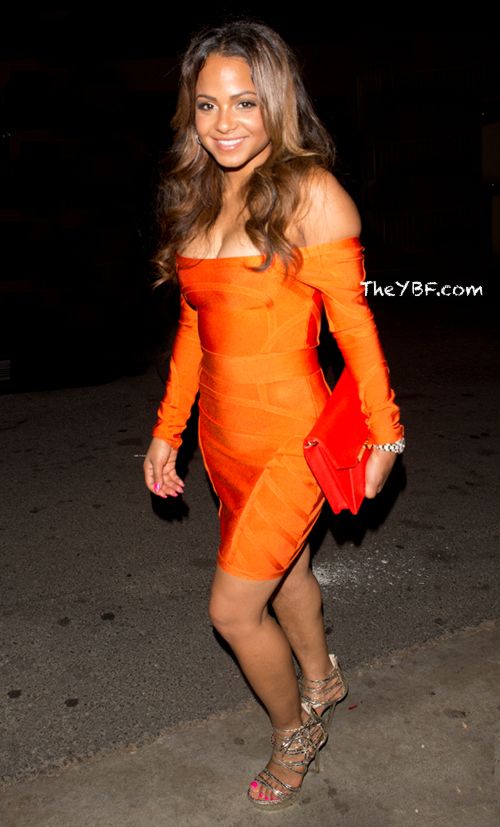 Chick is effortless fab as always.
Photos: SPLASH
DO WE LOVE IT?! Solange Knowles BUGGIN' OUT At Pre-Grammy Party In L.A.
Posted: 24 Jan 2014 07:15 AM PST
Only Solange Knowles could pull off some creepy crawler ish like this. Or did she? Decide if we love her look last night inside....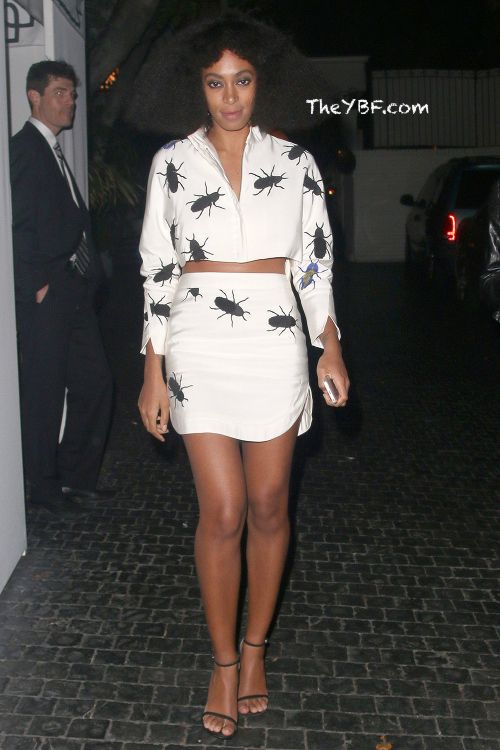 Saint Records head honcho Solange headed to a pre-Grammy party at the Chateau Marmont in L.A. Thursday night rocking this Azede Jean Pierre bug covered crop top and matching skirt.
And while our skin is still itching from looking at these six-legged big creepy crawlers, there's something so interesting about this entire look.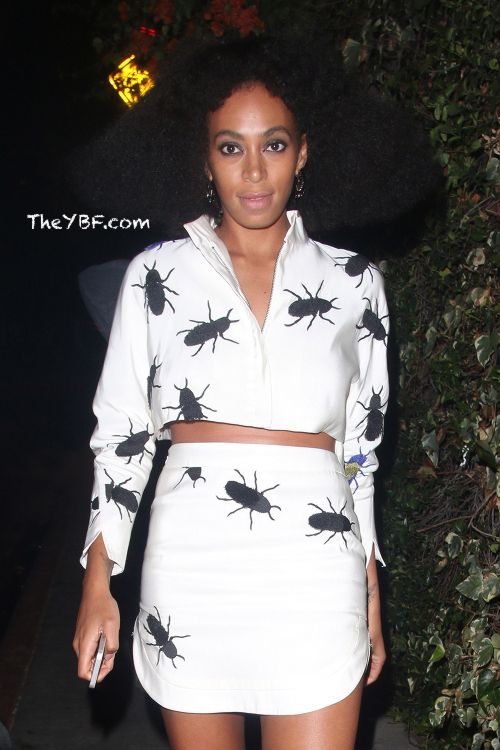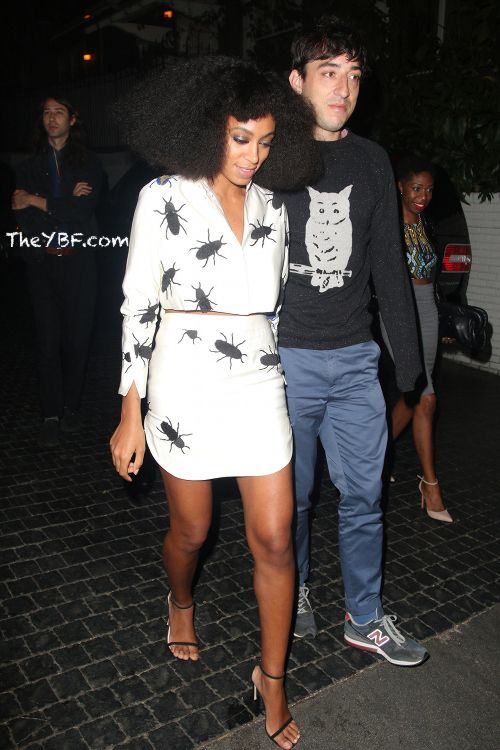 The "Losing You" singer popped her collar and threw on a sexy pair of black sandals and her blunt cut afro wig to complete the look. And we must say, the look is kinda....crawling on us.
But, you decide.
DO WE LOVE IT?!
Photos: Pacific Coast News

Posted: 24 Jan 2014 06:32 AM PST
This 11-month old tot is the adorable son of a couple that seems perfect for each other. Guess the gold-chain rocking baby inside.....
He's not even a year old, but he's got more chains and sneakers than plenty of rappers. So who's this ridiculously adorable baby boy?
Wait for it.......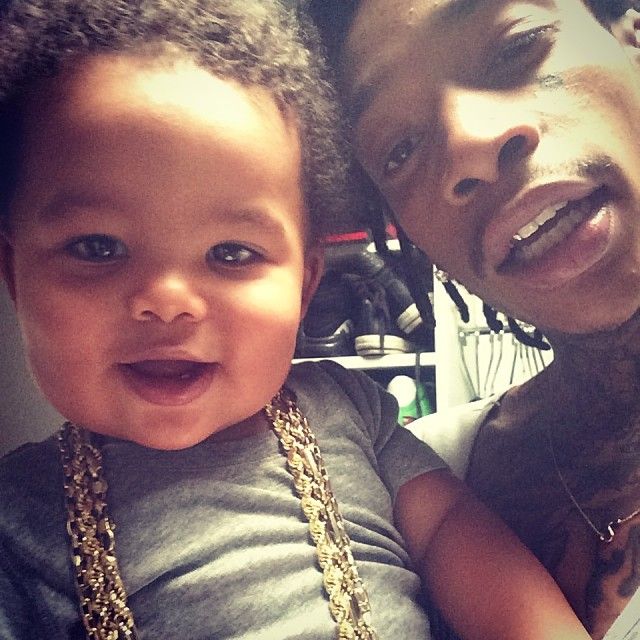 Those chubby cheeks belong to Sebastian Taylor Thomaz, the son of Wiz Khalifa and Amber Rose. Bash will celebrate his first birthday next month.
His proud mama recently tweeted a pic of him and his dad, saying "My babies!"
On Instagram, Amber has revealed that she's very close to her post-baby goal weight.
She offered advice to weight-conscious mothers saying, "...losing baby weight the natural way takes longer but it's much healthier for ur body and helps u stay strong to carry another baby. So don't put ur life at risk for societies standards of when ur suppose to lose ur pregnancy weight. Take ur time & don't take the easy way out."
Lookin' good Amber!
Photos via Amber Rose Instagram
Lupita Cheers On The Knicks Courtside + MJB's Father Reportedly STABBED By His Girlfriend
Posted: 23 Jan 2014 04:31 PM PST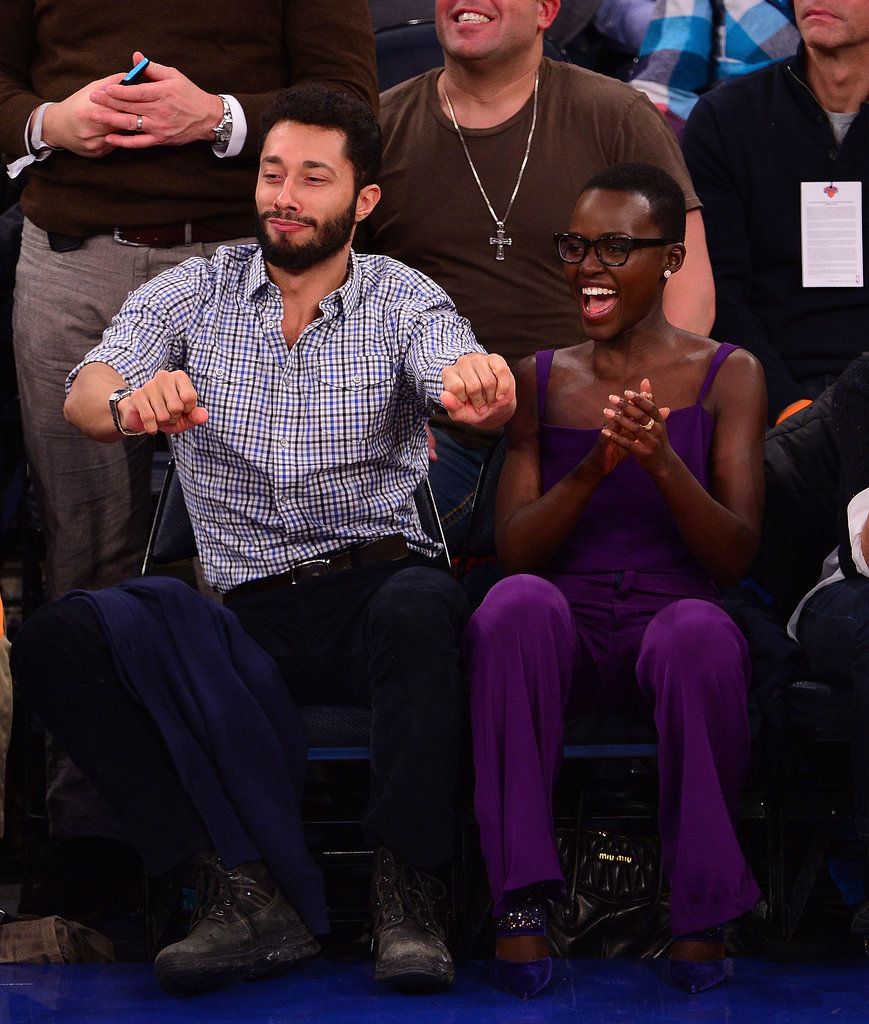 She doesn't just slay red carpets every single day....she can also look like polished perfection while kicking back courtside (and with a mystery guy) at her very first NBA game. Check out Lupita Nyong'o having some fun at Madison Square Garden, plus sad and frightening news about Mary J. Blige's dad....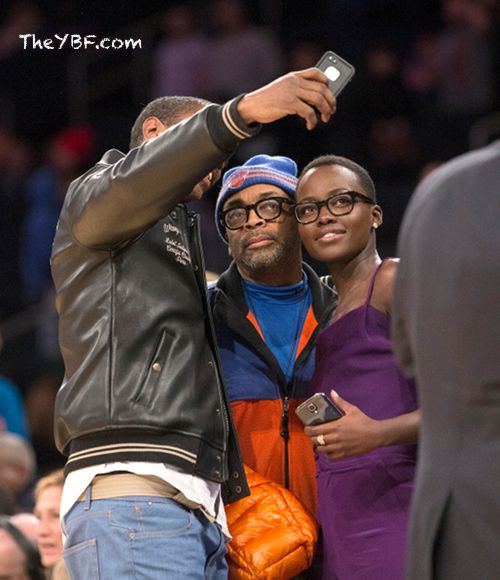 Lupita's been getting all the perks of being this Award season's It-Girl. The 12 Years A Slave star was spotted laughing it up courtside next to Spike Lee, actress Edie Falco, her son and actor John Leguizamo yesterday at MSG. Oh, and this was her first game...ever. She posted video of the action on the court saying, "First basketball game. #knicks vs #sixers. I could get into this. #nymade"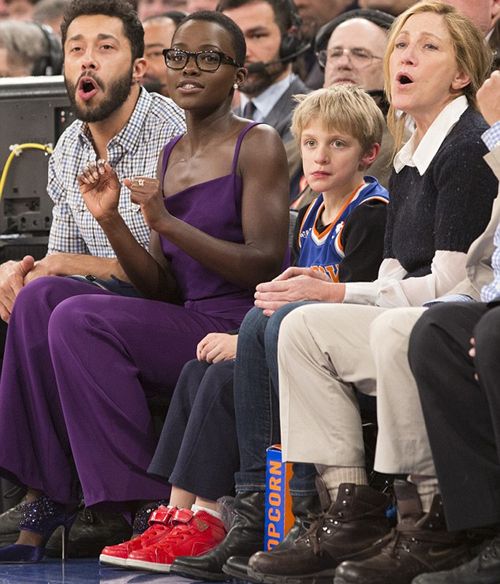 She was fresh from a taping of "Jimmy Fallon", but still made this purple on purple Cushnie Ochs look a casual chic one for the game. And yes, we're digging around to see who that mystery man she seemed pretty chummy with is exactly....
The gorgeous SAG Award winner is set to co-star in the upcoming Liam Neeson thriller Non-Stop on February 28th.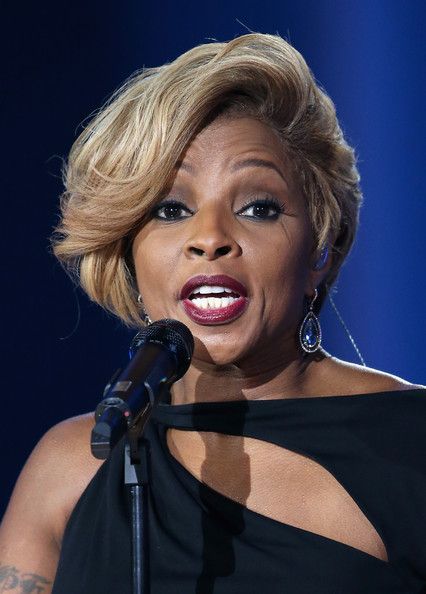 And in sad news, news reports state that Mary J. Blige's father, Thomas Blige, is now in critical condition after being stabbed in the neck with a knife. The incident happened outside of Detroit in the city of Battle Creek...and his girlfriend (who is currently possibly an estranged lover) is the prime suspect.
The Battle Creek Enquirer reports:
Police said they were called to the Arbors of Battle Creek, an apartment complex at Rambling Road and Capital Avenue Southwest, at 6:58 a.m. Thursday.

They said they found Blige in his apartment at 200 Oakbrook Boulevard with three stab wounds, including one to his neck.

He was taken to Bronson Battle Creek and then to Bronson Methodist Hospital in Kalamazoo where he underwent surgery for his injuries.
And how the stabbing went down:
Detective Sgt. Jim Martens said officers went to the scene and found blood in the snow near the entrance drive to the apartment complex and more blood in Blige's apartment. Police also found a knife in the apartment that they believe was used in the attack.

Martens said officers then went to [his girlfriend's] nearby apartment at the Arbors and found the woman in blood-spattered clothing.

She was taken into custody, taken to Bronson Battle Creek for treatment of a cut, questioned by detectives and arrested.

The woman was taken to the Calhoun County jail and was expected to be arraigned Friday in Calhoun County District Court.

Martens said police believe Blige saw the woman deflating the tires on his Ford SUV in the parking lot outside the apartment and went out to confront her.

The couple argued and Blige was stabbed.

He returned to his apartment and she went to her apartment, police said. She was arrested without incident.
Wow.
Interestingly, the Detective said police have handled seven domestic violence complaints between Blige and his 50-year-old former girlfriend since August!
One of these complaints involved the woman getting charged this past October with aggravated domestic violence after she hit Blige in the head with a glass candlestick. She entered a no-contest plea to the charge and on Jan. 10 was placed on six months probation.
Even though she was ordered since then to have "non-assaultive" contact with Blige, we see that she likely didn't abide by that rule.
Photos: Splash
Oprah Winfrey GETS FAB For February 2014 'O' Cover + SIGNS ON To Produce Ava DuVernay's Civil Rights Drama "Selma"
Posted: 23 Jan 2014 01:53 PM PST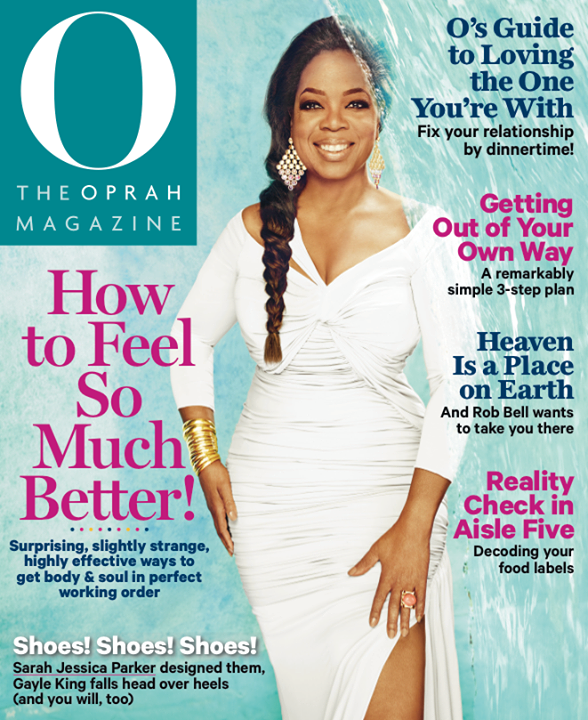 Oprah Winfrey has signed on to produce Ava DuVernay's civil rights project, "Selma." Find out about the project inside...
When this magazine cover hit our inboxes, we couldn't help noticing the level of snatchery Oprah Winfrey is on for the February cover of "O" Magazine.
While the OWN Network founder was snubbed by Hollywood for her performance in The Butler, she hasn't allowed that to curtail her film endeavors. She's recently signed on to produce Selma, a new drama about the historic civic rights marches that will be directed by Sundance Film Festival winner Ava DuVernay.
Brad Pitts' Plan B production company will also work with Oprah on the film, which has already cast David Oyelowo as Martin Luther King Jr. According to THR,
"Selma details the attempts of black marchers to walk from Selma to Montgomery, the capital of Alabama, in 1965 in order to gain voting rights, only to be beaten back by police. It took the organizers three attempts to make the journey as marchers swelled in numbers each time. It was also a critical time in King's life"
Ava, who recently directed an episode "Scandal", told THR, "It's a subject matter close to her heart. The producers are behind some of the most forward-thinking movies of last year, and they are all coming together."
In other Oprah news, her famed condominium in Chicago's Water Tower Place is on the market for $7.75 million. Nice!
The Randomness:
1. Web series "The Couple" signs HBO deal. Story.
Justin Bieber Had Baller DeSean Jackson's Chick (Or Ex Chick) Chantel Jeffries Riding With Him During His Drag Race & Arrest?! (UPDATE)
Posted: 23 Jan 2014 01:09 PM PST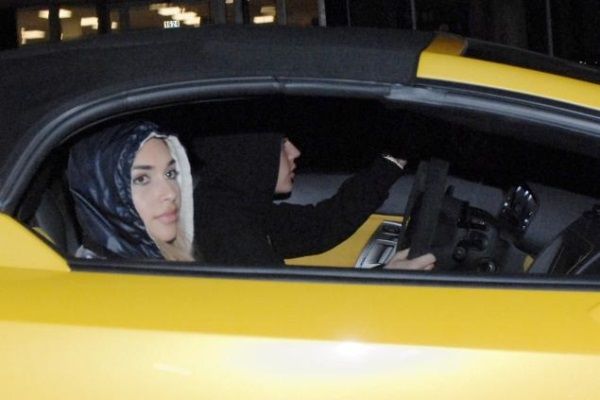 The chick who went on a "Ride Along" with Justin Bieber has an interesting "Hollywood" resume of dudes that include Lil Twist and NFL star DeSean Jackson. More inside.....
Shortly before Justin Bieber got arrested, the girlfriend (or recent ex) of an NFL baller and a rapper--Justin's bestie actually-- Chantel Jeffries tweeted, "Something about the shock factor." Well...that was an understatement.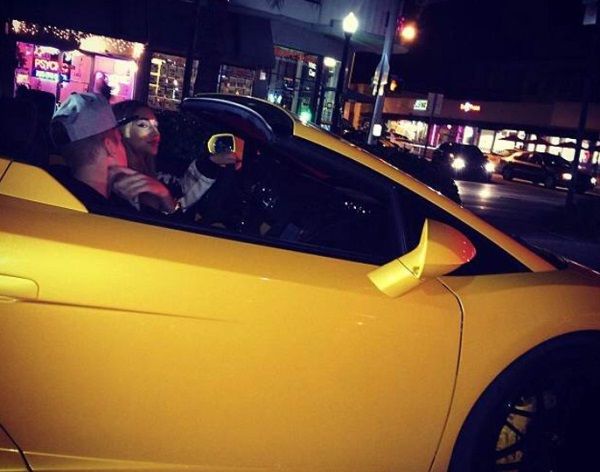 If Chantel craves the spotlight, she hit the jackpot this morning. Now that Justin is finally behind bars, folks are scrambling to get more deets on the semi-Kim K-clone who went on a "Ride Along" with Justin before he was busted for drag-racing against Def Jam recording artist Khalil Sharief (above).
Earlier in the evening, Justin and Chantel partied together at SET nightclub in Miami with Justin tweeting "@chanteljeffries taking me for a ride in the lambo." Oh? That pass-the-chick game is very real in the industry...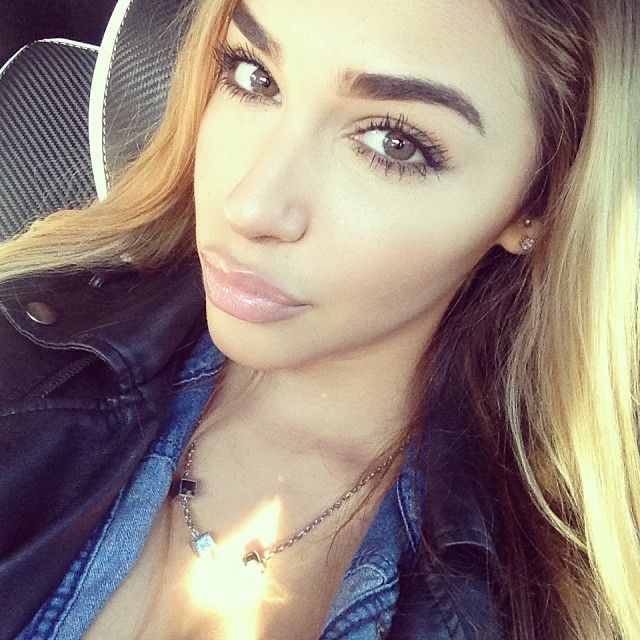 Like most attractive 19-year-old on "the scene", Chantel is a model (signed to Wilhelmina) who is often spotted on the Miami/LA party scene with athletes and celebs. She's one of Draya Michele's besties and often poses for her Fine Ass Girls line. Also.....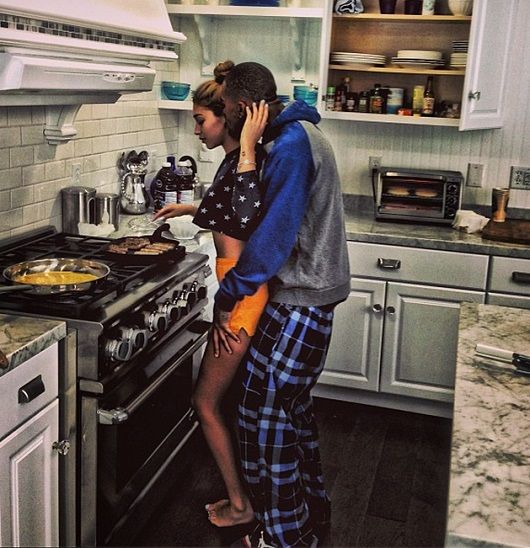 She was apparently boo'd up with Eagle's wide receiver DeSean Jackson (above) before he "allegedly" dumped her for former BBW LA star Brooke Bailey. Chantel has also been linked to Diddy's son Justin Combs, and Bieber's friend Lil Twist.
UPDATE: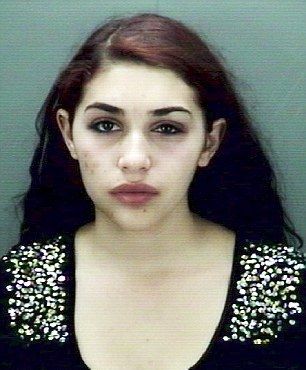 Now that she's (in)famous, Chantel Jeffries' past is coming to light....along with her mugshot. She's actually 21-years-old, originally from Jacksonville, North Carolina, and has had five run-ins with the law, including a misdemeanor assault with a deadly weapon charge in 2011. That case was dismissed when her alleged victim refused to press charges.
There was also the time she allegedly stabbed another woman in the left forearm 'during a physical altercation'. In that case, the victim 'did not want to proceed with the matter' so the charge was dropped. SMH....
BONUS: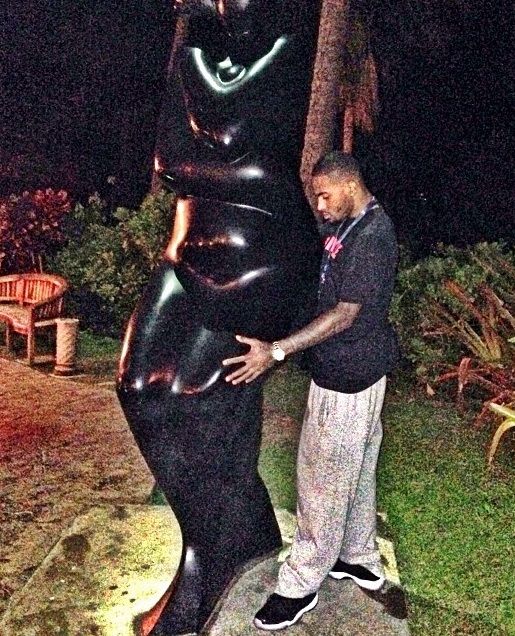 There is no love lost with Desean as he posted this pic on Instagram around the same time Chantel was joyriding with Bieber. "Late night wit my Hawaiian chic !!"
Ha.
Photos via PCN/Splash/Chantel Jeffreis IG/Desean Jackson IG
Kelis, Michelle Williams, Emeli Sande, SWV & More GET GORGE For The ESSENCE Black Women In Music Event
Posted: 23 Jan 2014 11:45 AM PST
The 2014 ESSENCE Black Women in Music celebration honored emerging artist and songwriter Emeli Sandé. And we've got all the fabulous folks who came out to celebrate last night in Hollywood.
Check the pics inside....
Singers Chrisette Michele and Michelle Williams put on a few cute looks to hi up 1Oak in West Hollywood for the big ESSENCE Black Women In Music event, one of the most important events leading up to the annual GRAMMY® Awards.
Kelis is looking fabulous as usual these days as she made her way to the event in a red shaggy fur--like only she can.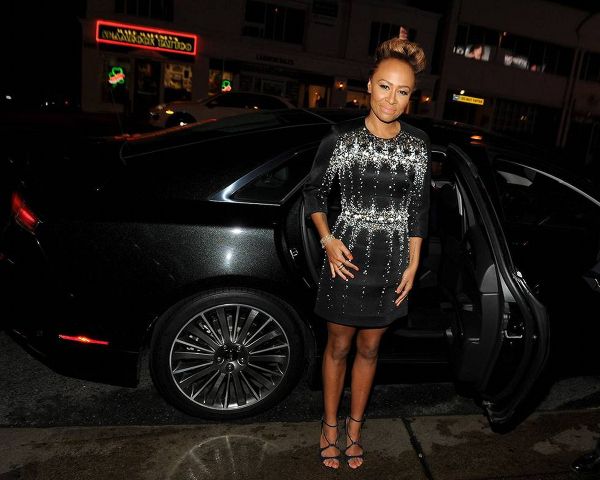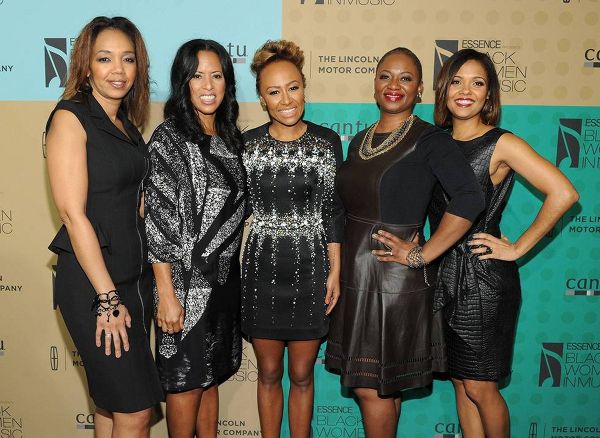 Singer Emeli Sandé, who's also featured in Lincoln Motor Company's "Journey" campaign, arrived in the 2014 Lincoln MKZ.
And celebs posed it up in front of sponsor Lincoln's all-new Lincoln MKC: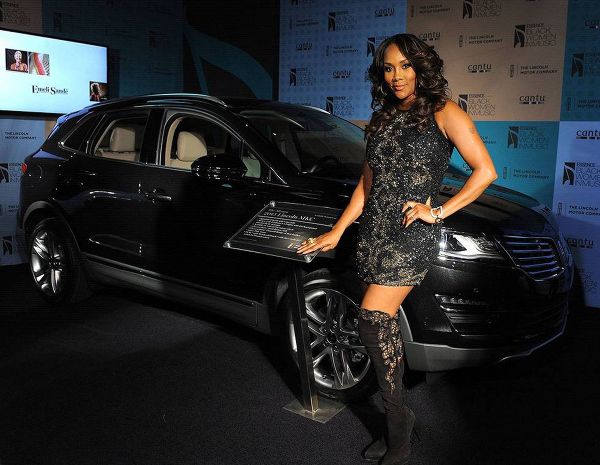 Vivica Fox put on her sparkling best and thigh high boots for the occasion.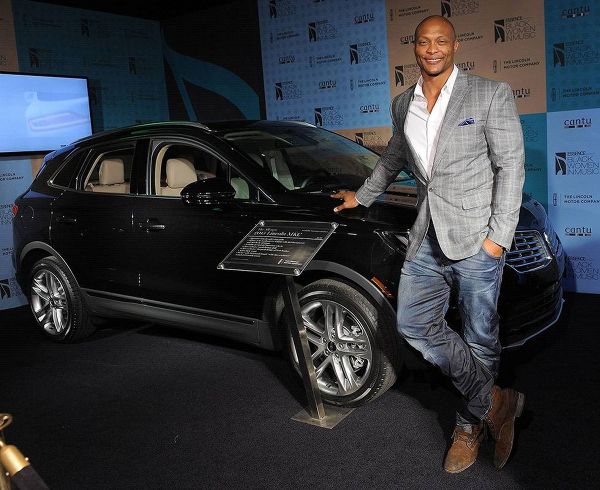 Eddie George, who was there with his wife Taj of SWV, looked pretty damn good.
Tank and his blue dress shoes popped up.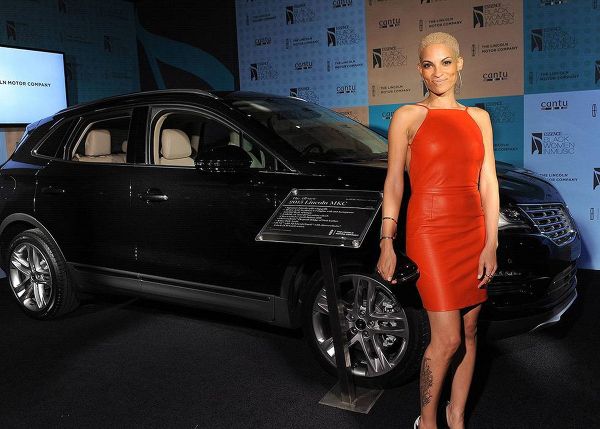 Goapele served up some major face in this red dress.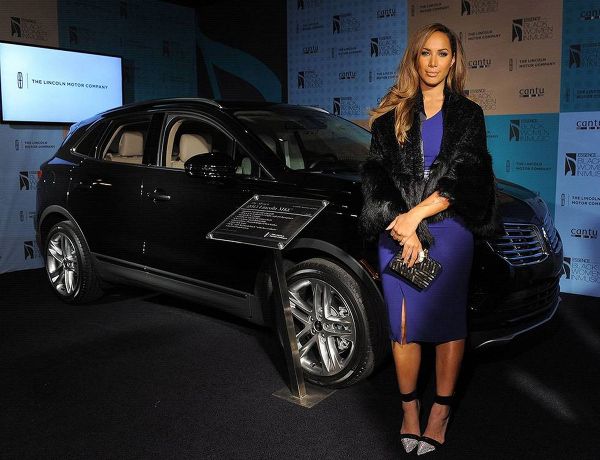 Leona Lewis made an appearance.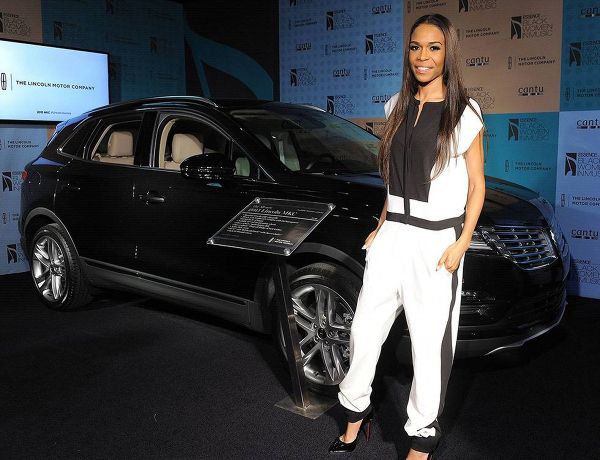 Michelle Williams rocked a cute black and white jumpsuit.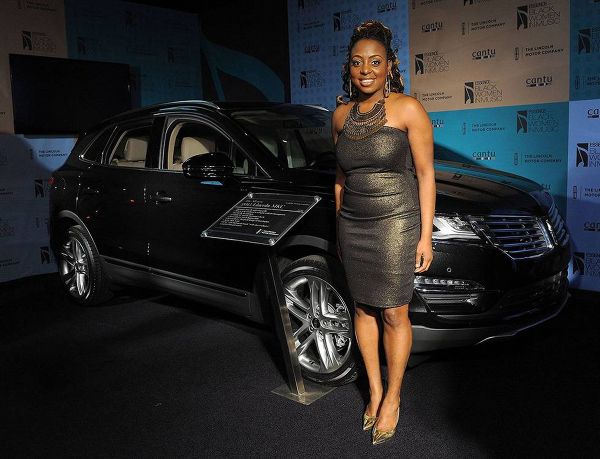 And Ledisi brought her mirrored gold pumps to the carpet.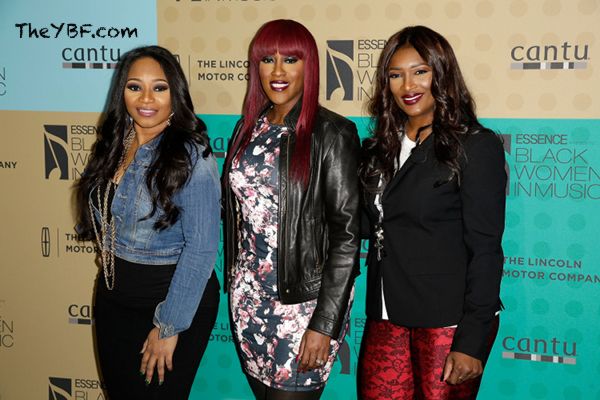 SWV posed it up--and hopefully showed a few of these chicks what true music is.
Sevyn Streeter took a bold risk with matching red shadow with her sexy red gown look.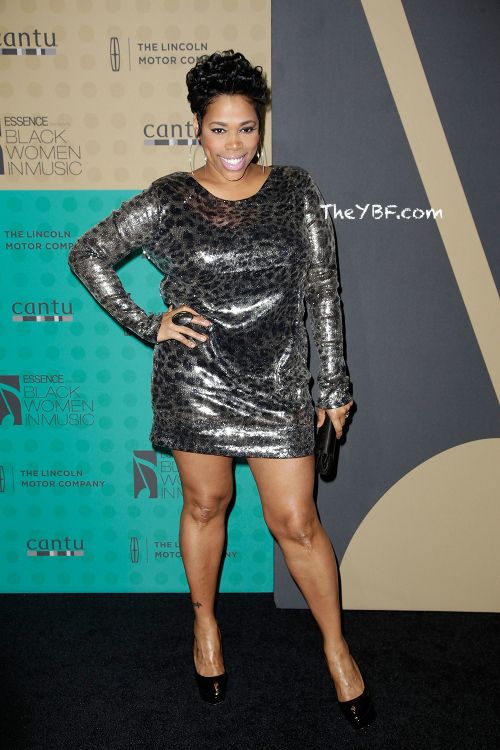 Former "R&B Diva" Nicci Gilbert was there to shine....in her own way.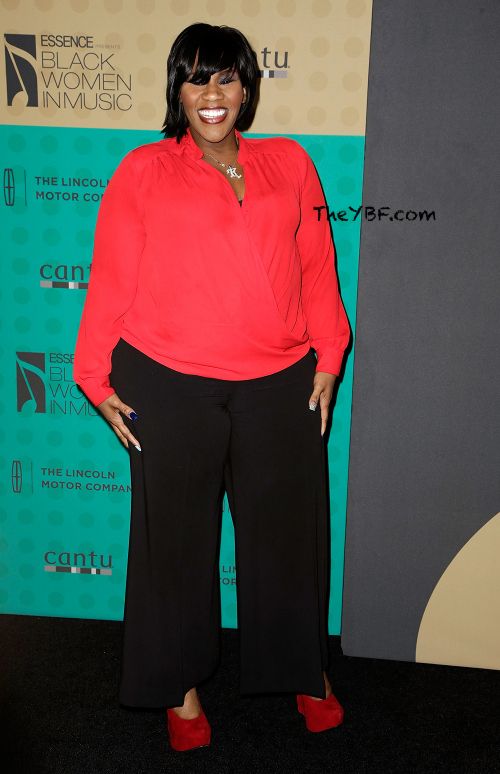 The sangin' Kelly Price hit up the event.
Is Eugenia Washington from "Top Model" Chef Roble's new chick? Hmmm. He posted plenty of pics of them together--with kissy faced emoticons--on his IG last night. And he does have a thing for models...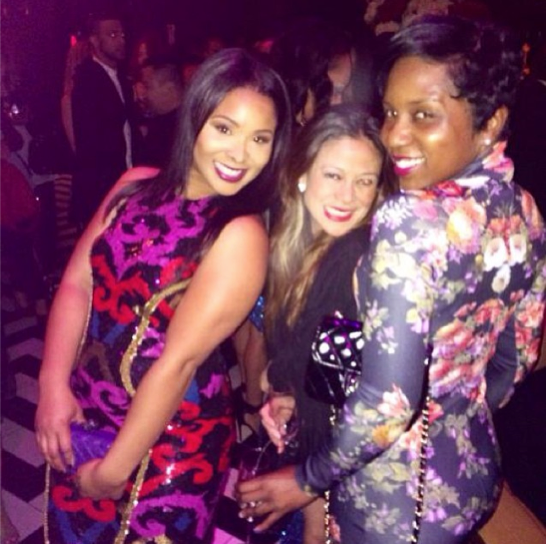 Fab chick Mechelle Epps (comedian Mike Epps' wife) showed off how much fun she had at the event.
Bridget Kelly, Malinda Williams and Kelly Price all snapped a cute pic together.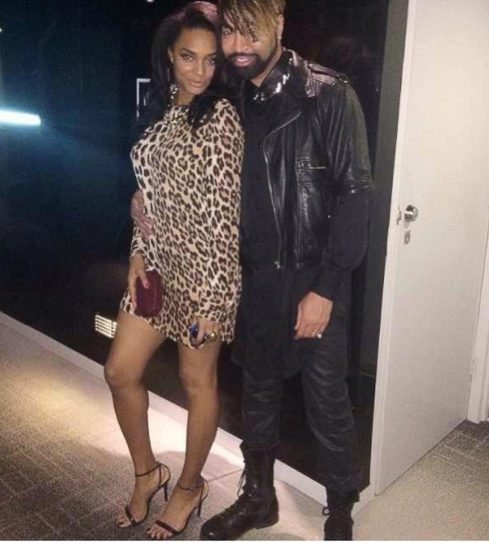 And the H-Town homies "Girl Code" chick Alesha Renee and Beyonce's stylist Ty Hunter posed it up before heading out. Looking great guys!
Photos: ESSENCE/WENN