---
Jennifer Hudson, Alicia & Swizzy, Rihanna, Paula & Robin, Fantasia & Plenty More Hit Clive Davis' Annual Pre-Grammy Dinner
Posted: 26 Jan 2014 08:55 AM PST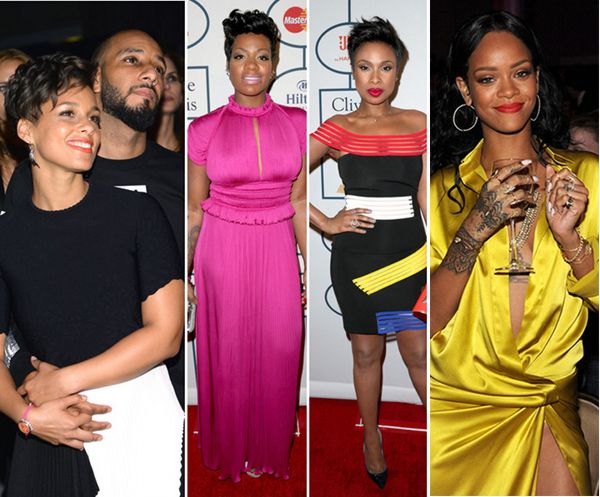 It's the biggest Pre-Grammy celebration of the weekend: Clive Davis' Pre-Grammy Gala. Tons of folks turned out for the posh, star-filled dinner and party. And we've got all the pics inside....
Last night, plenty of celebs hit the Beverly Hilton to salute industry icons and honor Lucian Graing. Rihanna showed up looking sexy in a yellow deep plunging and thigh high slit gown: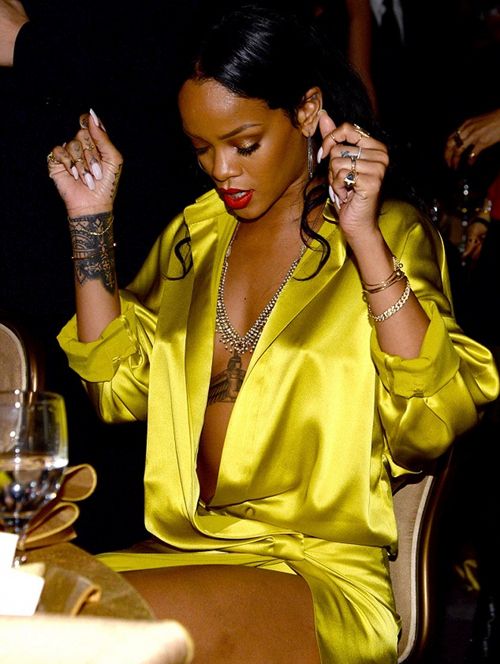 And chick had her drink in her hand--of course--and was spotted dancing around in her seat while folks performed.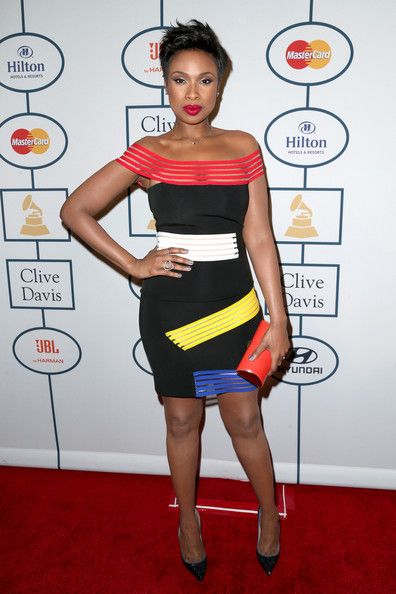 Jennifer Hudson looked svelte in a black dress complete with multi-colored bandage stripes. And she looked amazing.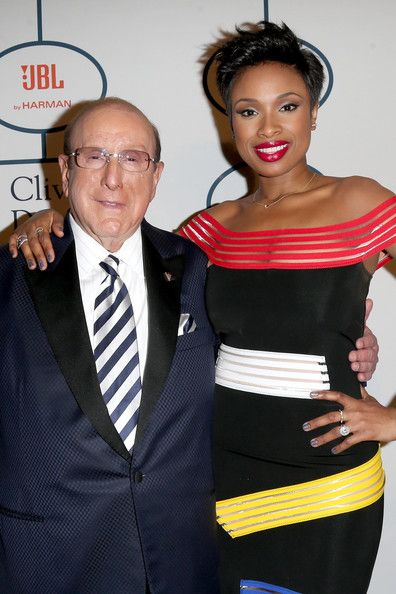 Jenny posed with Clive Davis and Smokey Robinson.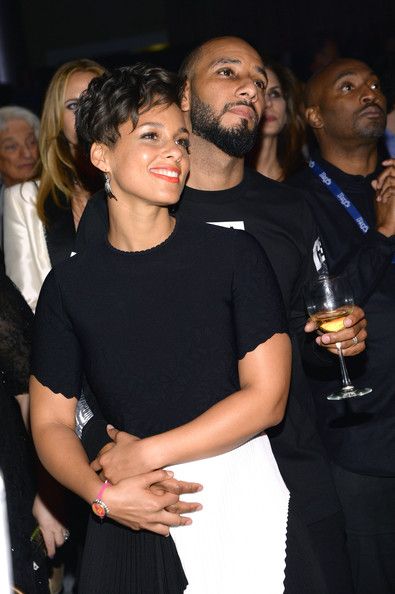 Swizz & Alicia Keys were spotted hugged up while watching all the performances.
Paula Patton and Robin Thicke got all cutesy on the carpet: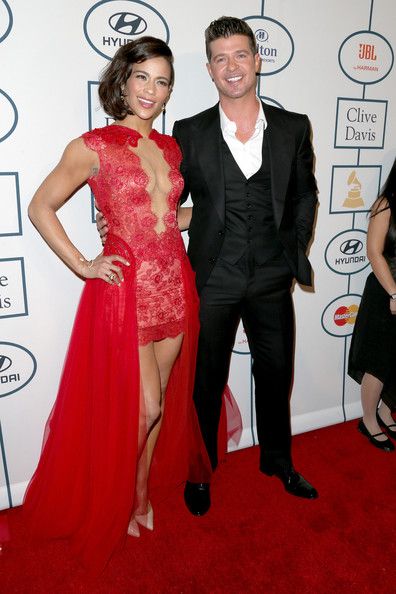 Not feelin' this dress though. A little to 80's for our taste...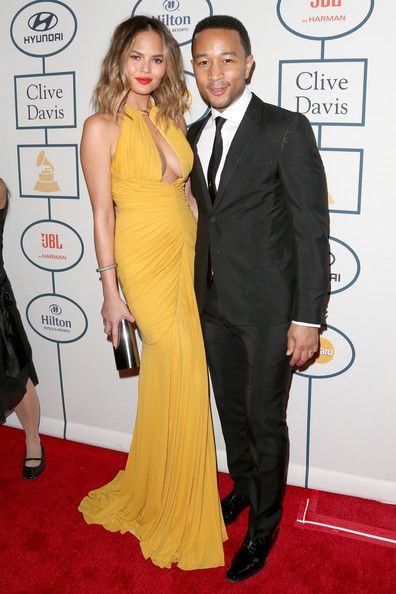 John Legend and his new wife Chrissy Teigen hit the carpet. Loving her look this time around.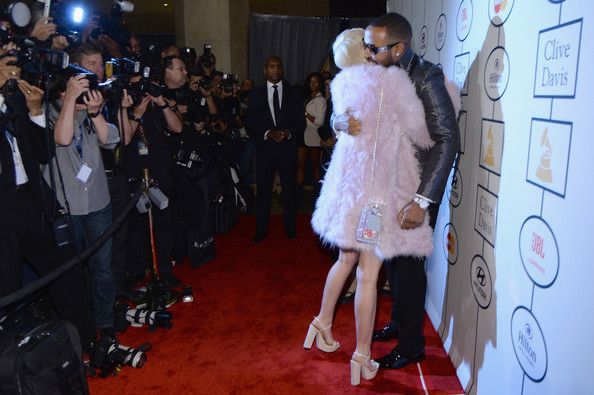 Miley Cyrus crashed her producer/reumored jump-off at some point Mike-Will-Made-It's red carpet time since she was craving some attetion from the cameras. She ran up to him to hug it out--closely--in front of everyone.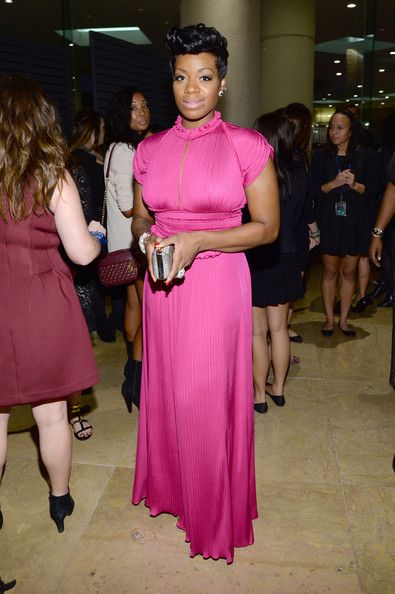 Fantasia looked great in hot pink. She was there to perform and J-Hud said she was her fave of the night.
T.I. saluted everyone....as usual...on the carpet.
Gayle King brought her daughter Kirby on the carpet.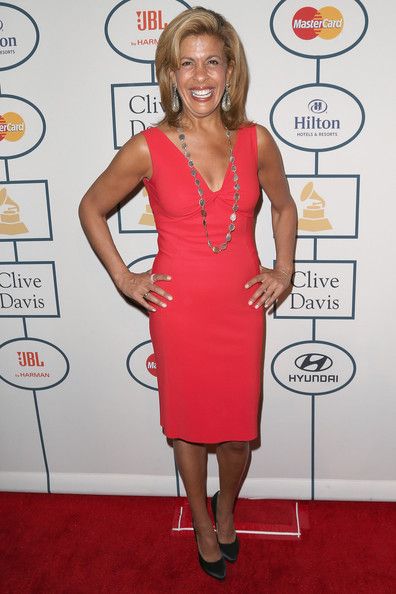 Hoda Kotb looked extra happy to be there.
MC Lyte kept it hot as usual.
Pharrell and his wife made their way to the event.
Kelis rocked her bun and red lip for the Gala.
Smokey Robinson and Berry Gordy reunited on the carpet.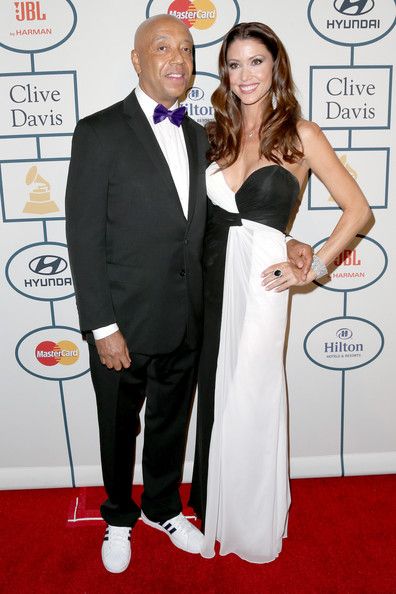 Russell Simmons brought his new boo-of0the-moment Shannon Elizabeth on the carpet.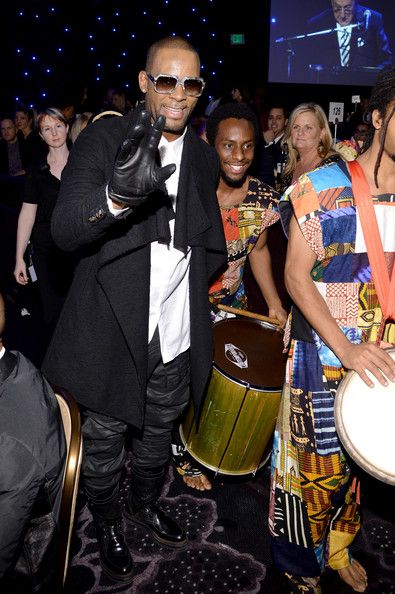 R.Kelly showed up....and looked like he had to sneak in or some ish.
Miguel and his fave ripped jeans were there.
Anthony Hamilton seems to have gotten over that recent DUI drama.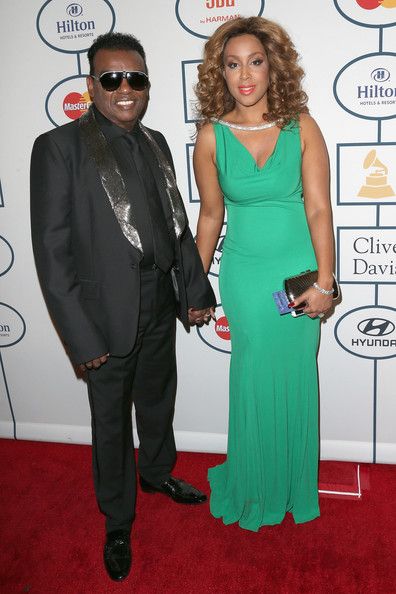 Ron Isley (this hair though...) and his wife Kandy were there.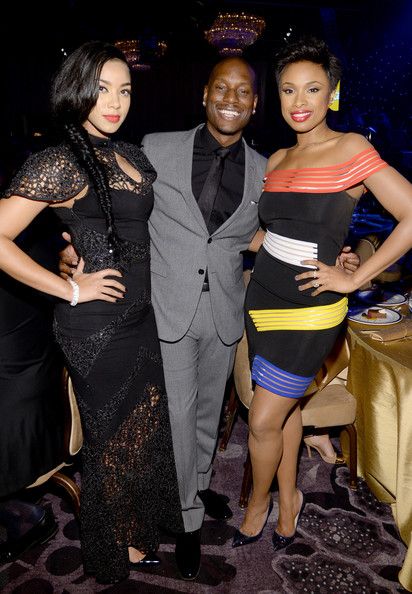 Tyrese and J-Hud and shared a moment it seems.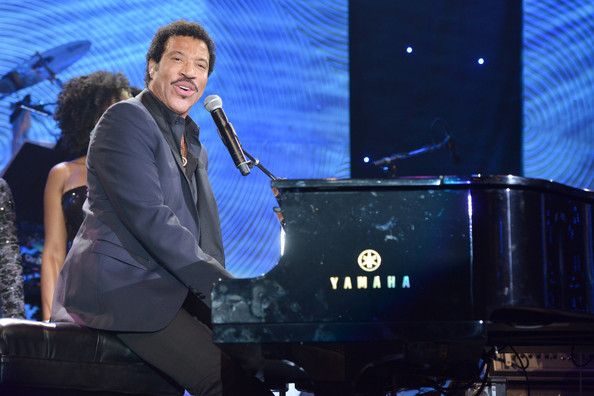 And Lionel Richie, J-Hud, Pharrell and Robin Thicke all performed as well. Fun times.
Photos: Wireimage
GLOWING GAL: Kerry Washington Dons Oscar De La Renta At The DGAs
Posted: 26 Jan 2014 06:12 AM PST
Kerry Washington took her baby bump for another spin on the red carpet last night. Check out the glowing actress at the Director's Guild Awards inside...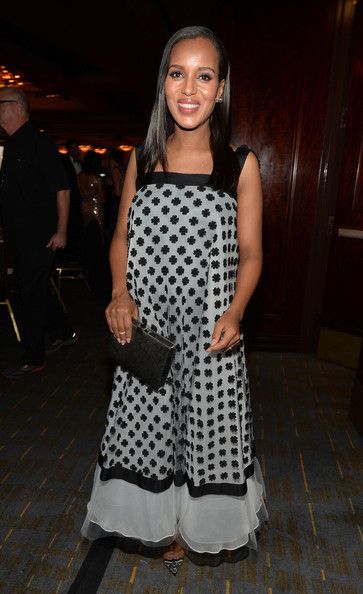 Well isn't she lovely. The star of "Scandal" was on hand at the 66th Annual Directors Guild Of America Awards at the Hyatt Regency Century Plaza yesterday. And she was there to present present the Diversity Award to "Scandal" creator Shonda Rhimes and executive producer Betsy Beers.
Kerry rocked this black & white forgiving Oscar de la Renta dress, Neil Lane earrings, and is still thuggin' it out in these high heeled Christian Louboutin pumps.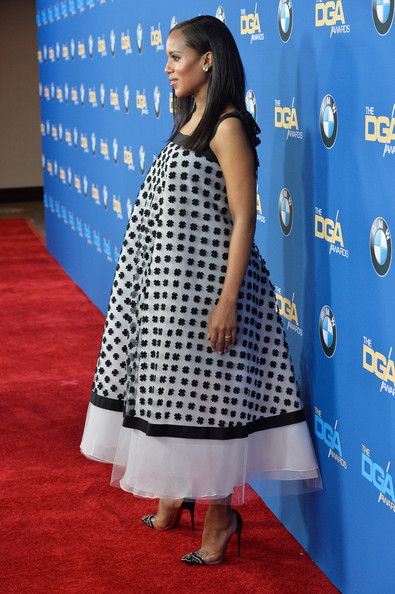 She seems to be wearing pregnancy well. Looking fab Kerry!
Photos: Getty
Rihanna, The Carters, Willow Smith & More Roll To The Roc Nation Pre-Grammy Brunch
Posted: 25 Jan 2014 07:04 PM PST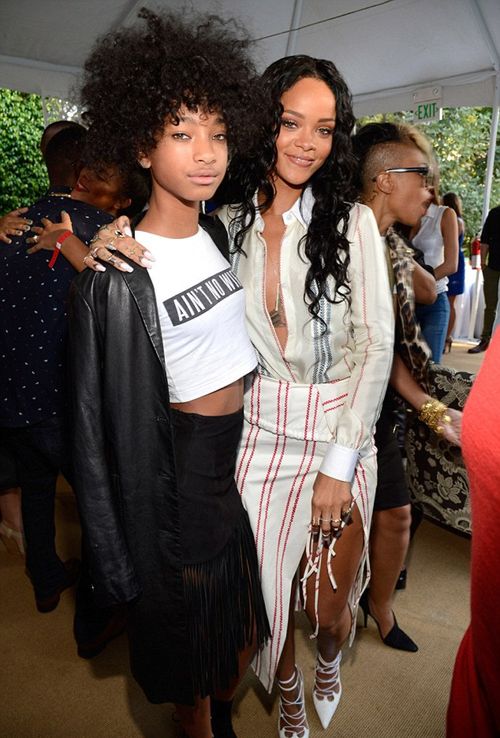 ;
Rihanna knows how to make an outfit look hot that wouldn't look even half as hot on most others. Check out her Altuzzara Spring 2014 collection top and skirt (that Joan Smalls JUST rocked on the runway) as she partied it up at Saturday's Roc Nation Pre-Grammy brunch with The Carters, Willow Smith and more....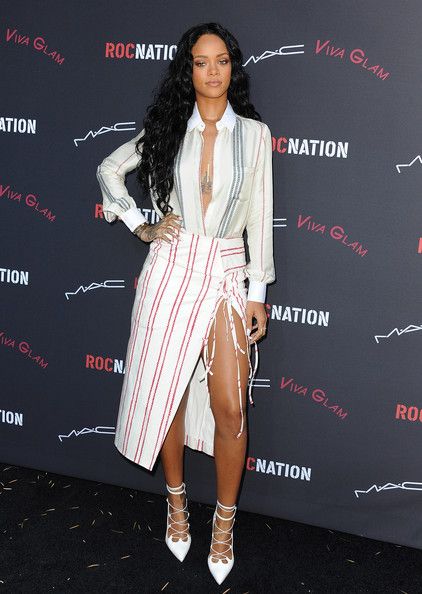 On most people it would look like a kitchen towel. Bit Rih managed to look chic at Roc Nation's annual Pre-Grammy brunch today at a private residence in Beverly Hills.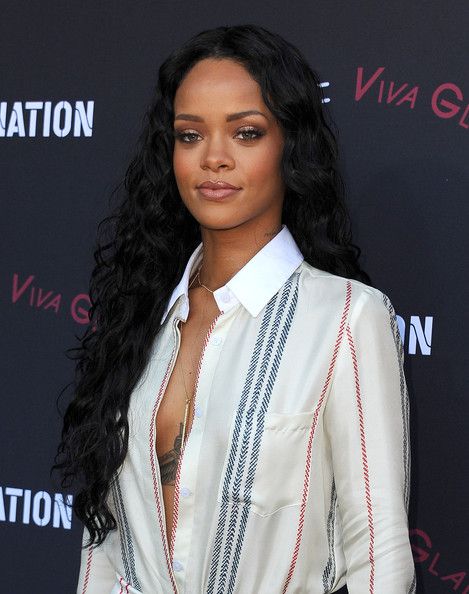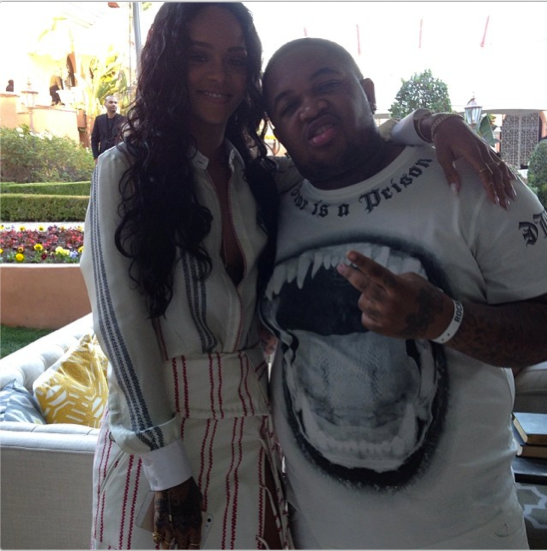 She was spotted chopping it up with Willow Smith, her boss Jay Z and DJ Mustard.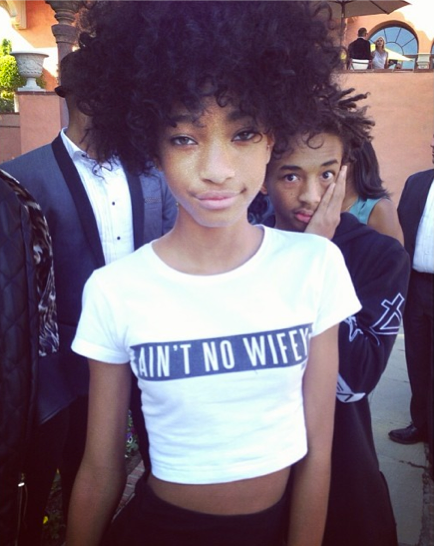 A curly haired Willow rocked an "Aint No Wifey" tee from Dimepiece & Urban Outfitters.
Kelly Rowland were spotted chillin' around the party.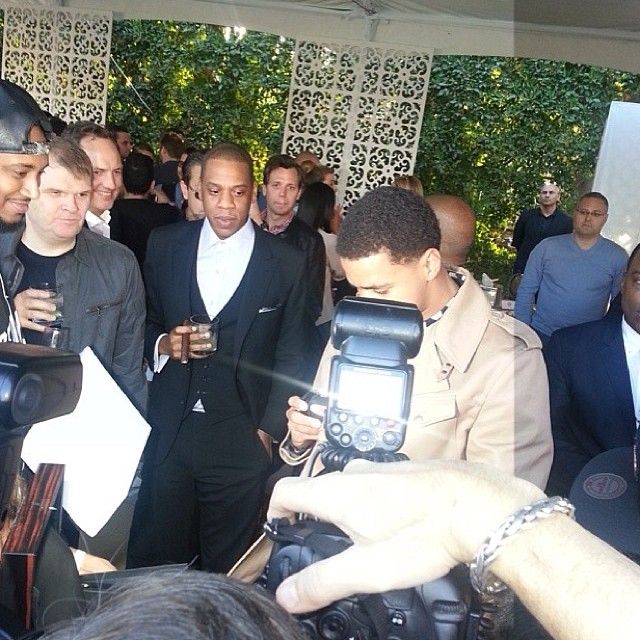 Jay made his rounds in a 3-piece suit and was pictured with J. Cole.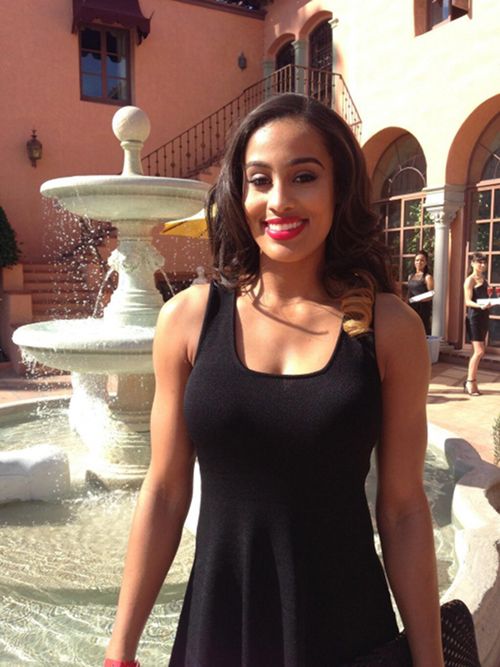 Roc Nation Sports signee Skylar Diggins showed up looking cute.
And newlyweds Denise Vasi of "Single Ladies" and director Anthony Mandler made an appearance.
Rita Ora and her boyfriend DJ Calvin Harris hit the party as a couple.
And right before the Roc Nation brunch: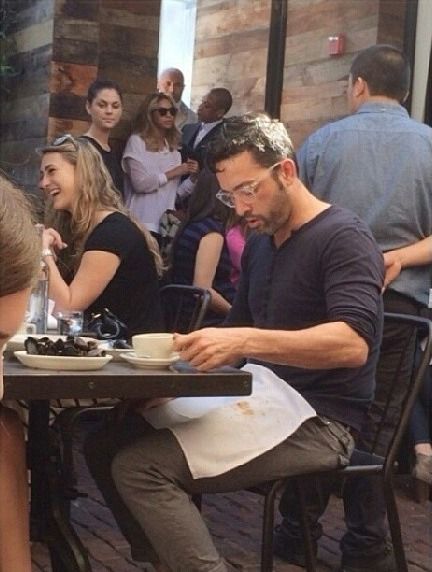 Beyonce was spotted tucked away in the cut chillin' with her hubby at a restaurant in Venice, CA.
The Carters are rumored to be opening The Grammys show Sunday night. We shall see....
Photos: Skylar Diggins' Twitter/Emil Wilbekin's IG/IAmTheRealBeyonce4's Tumblr/DJ Mustard's IG/Getty
Michael B. Jordan & His Mystery Boo Have A Miami Beach Date
Posted: 25 Jan 2014 05:45 PM PST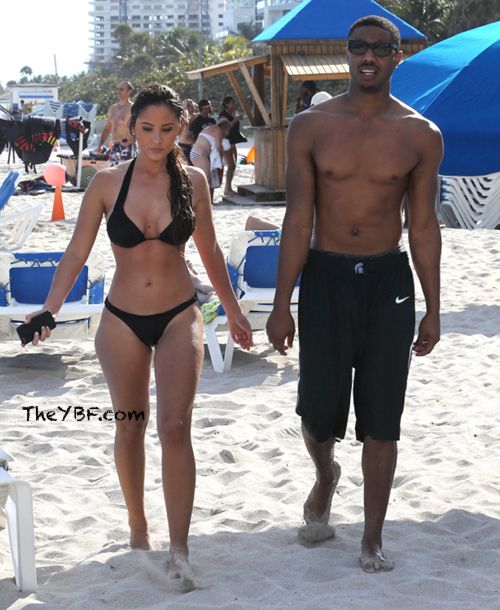 After landing on everyone's radar with his powerful role in Fruitvale Station, Michael B. Jordan is on to the next movie...and on to some relaxtion with a mystery boo.
Pics of the shirtless actor soaking up the sand and sun on a beach date today in Miami....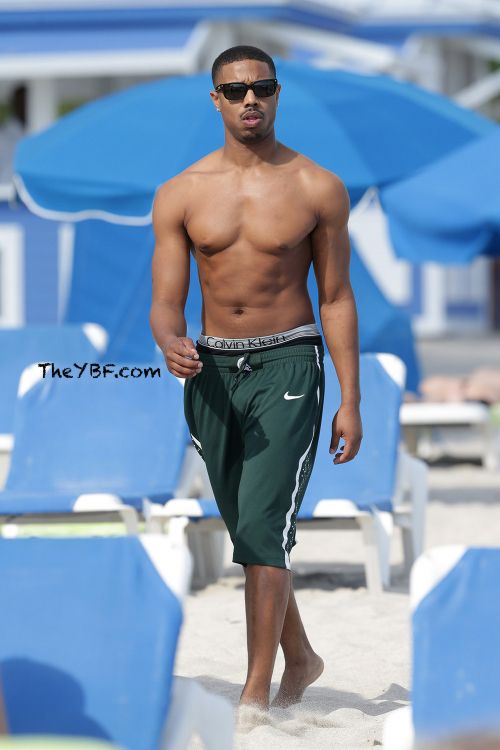 While vacaying and doing promo rounds with his That Awkward Moment co-stars, hottie Michael B. Jordan seemed to break away for a minute to chill with a mystery brunette chick. And they seemed to be having lots of close fun on jet skis and on the beach: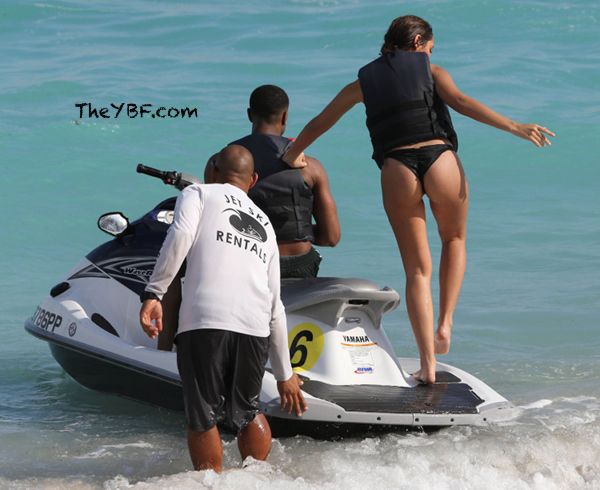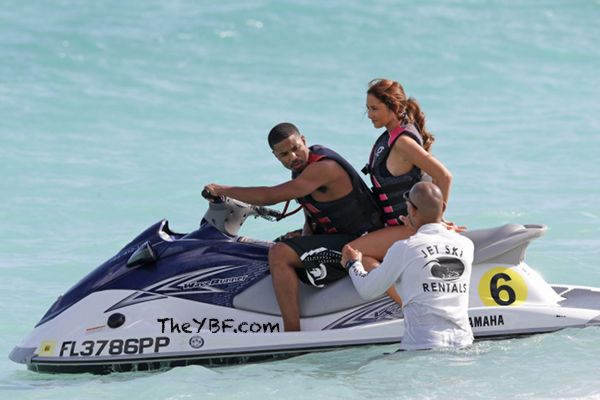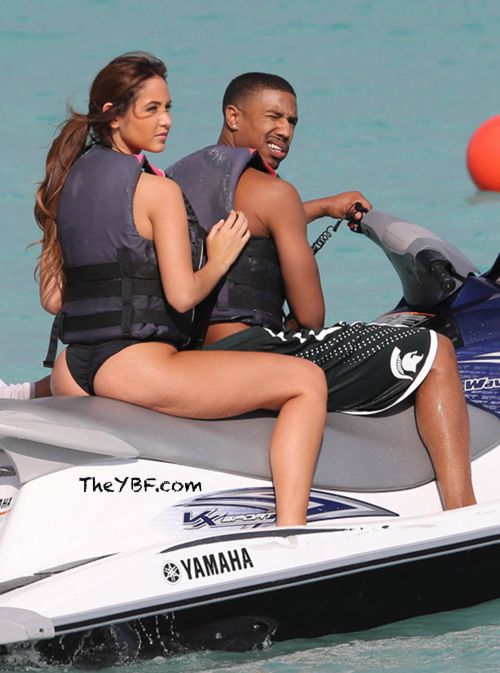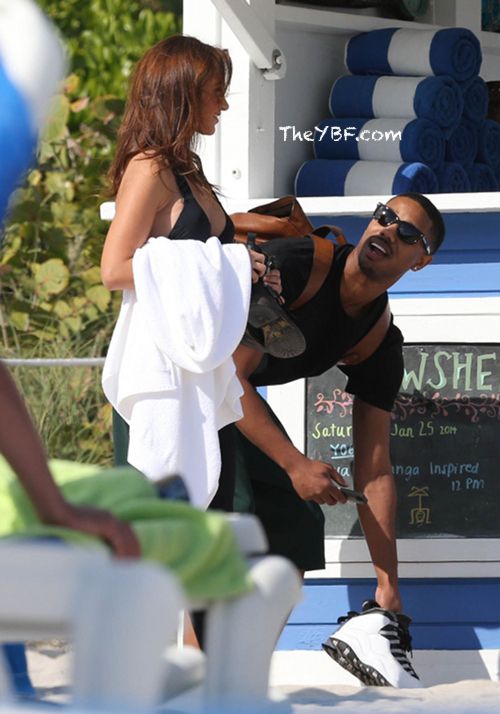 He may have told Oprah on a recent special that he's single and never had a girlfriend, but something tells us he defines "girlfriend" a little bit differently than most...
Photos: FAME/Pacific Coast News
MORE MESSY DETAILS: Woman Snitches On Apollo In Federal Docs + Names Him "Mastermind" Of The Fraud Scheme
Posted: 25 Jan 2014 04:24 PM PST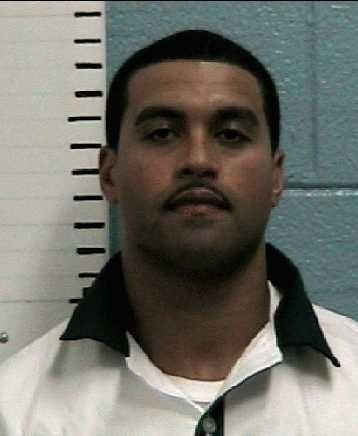 Ish just got (more) real. The full details surrounding Apollo Nida's arrest (pictured above in an older mugshot) on bank fraud and auto title fraud charges have been put on blast. And it's all messy. Deets inside....
Phaedra Parks' husband Apollo Nida is in deep ish after being arrested on some major charges (and released on bond) recently. Especially since he's still on probation after his previous jail stint from 2004-2008.
According to the AJC, who obtained the federal court docs, a woman named Gayla St. Julien was arrested for criminal activities related to fraud in September 2013. And as soon as that arrest went down, Gayla started talking. And she implicated Apollo E. Nida as the mastermind to this complicated ass scheme involving fake bank accounts, depositing stolen checks and creating fake businesses.
Trying to paraphrase this mess would be an epic fail, so we're giving you exactly what Rodney Ho dug up below:
Alexandre Herrera, a U.S. Secret Service Agent in the Counterfeit and U.S. Treasury Check Squad, in a written affidavit, charged that Nida created fake companies, enabling him to access databases to find individuals to rip off. He opened fake bank accounts under those real names and funneled stolen U.S. Treasury checks and auto loan proceeds into those accounts.

The agent in February 2012 began investigating alleged criminal activities of Gayla St. Julien, who he said was opening bank accounts under stolen identities to commit bank and check fraud. The investigation ran until September, 2013. At that point, they found 40 bank accounts tied to her. The complaint provided a sampling of bank accounts totaling about $3 million tied to alleged fraudulent activities.

The office also identified two fake debt-collection businesses used to "illicitly obtain personal identifying information of individuals." The companies used LexisNexis and Equifax database inquiries to steal identities. St. Julien was arrested on Sept. 11, 2013 by the Secret Service. She implicated Nida as the man who orchestrated many of the alleged fraudulent schemes. She had worked with Nida since 2009.

St. Julien "described herself as NIDA's 'right hand b****' in executing the legwork of his fraud schemes," Herrera wrote. She told him she received "scraps" compared to how much he pocketed.

Nida would allegedly steal real people's identities and have St. Julien pretend to be them to open bank accounts. She would then deposit fraudulent auto loan checks, stolen U.S. Treasury checks, stolen retirement checks issued to Delta Airlines employees, and checks in the names of real people that were owed unclaimed property from various state and federal government agencies, according to the criminal complaint.

He also opened a fake auto dealership (such as Ferrari Autohaus) and apply for auto loans in the names of stolen identities. After the arrest, the agents had St. Julien tape record conversations with Nida in which he explained many of his schemes. At one point, they obtained a federal search warrant of Nida's vehicle and seized evidence, including a bank debit card in the name of Ferrari Autohaus Inc., cell phones and a laptop computer.
Phaedra....you in danger girl. Whether you were knowingly involved in this mess or not. It will never cease to amaze us how adamant criminals are to be on reality television where they will become an even bigger target. The thirst, delusion and narcissism is very real.
The folks over at Stoopid Housewives posted the actual documents that you can read at your leisure. It's a doozy. And if Apollo is this much of a "mastermind", it's confusing why he doesn't put this much effort into a legal gig--aside from this Phine Body Workout DVDs.
Phaedra has yet to comment on the arrest, but Apollo has surely started talking back to his followers who have something to say about it. Some are supporting him for "doing big things" (whatever that means) and others are railing him for such ignorant alleged activities. And Apollo is popping back.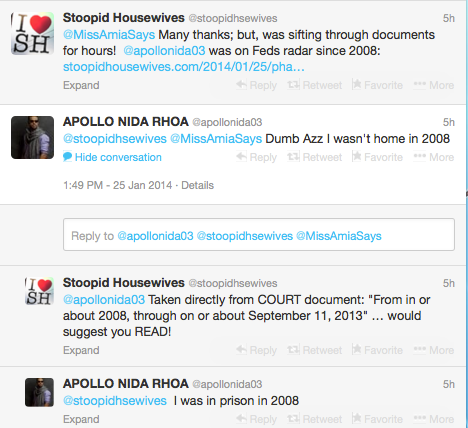 This guy...
Photos: Stoopid Housewives
YBF Folks Honor NAS At VIBE's Impact Awards In L.A.
Posted: 25 Jan 2014 03:14 PM PST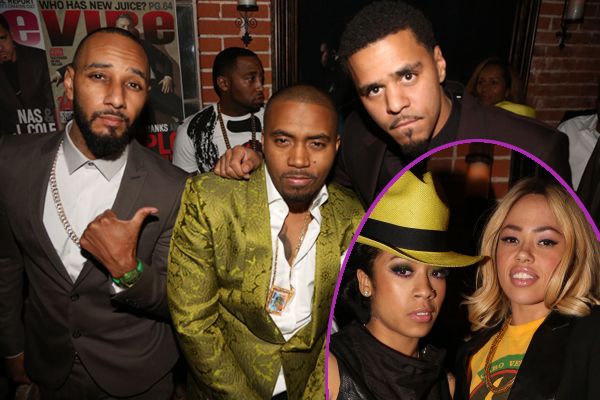 Friday night, celebs flocked to VIBE's second annual Impact Awards to honor the man of the night, Nasty Nas. Peep who all came out to celebrate with the sexy rapper inside...
Nas kept it dapper in a lime green Tom Ford jacket while being honored as an entertainer whose accomplishments have changed pop culture. Swizz Beatz and J. Cole, who recently rocked a cover of VIBE with Nas, were at the event taking pics and noshing on esushi. And Malibu Red was also flowing.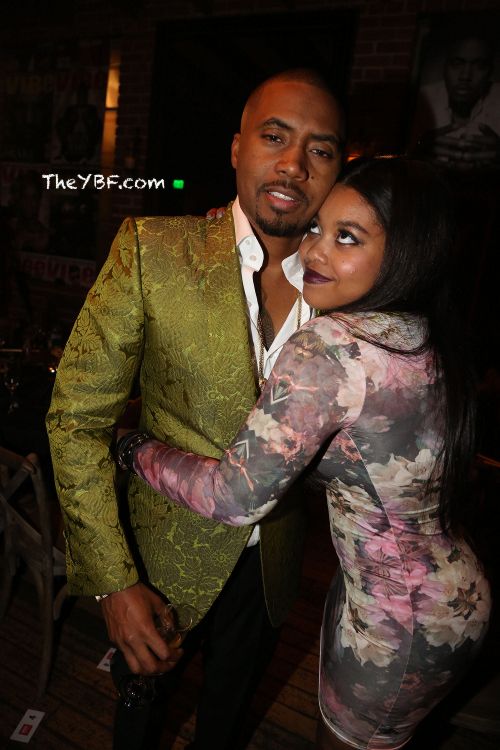 Nas' fab daughter Destiny Jones was there for her Pops.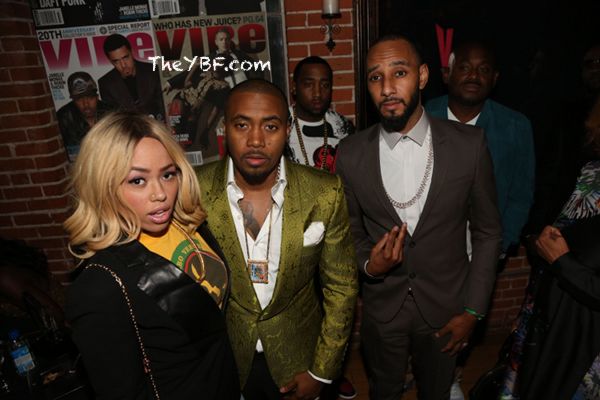 Elle Varner and her blonde wiggery were there for the event.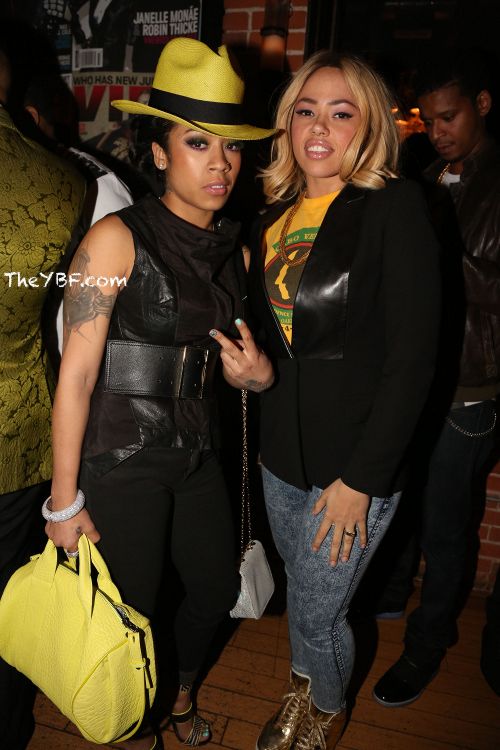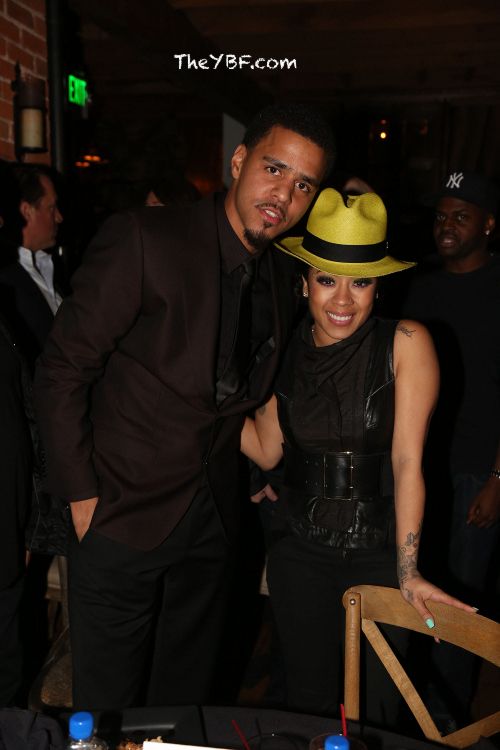 And so was yellow hat wearing Keyshia Cole, who was posing it up with everybody like Chrisette Michele.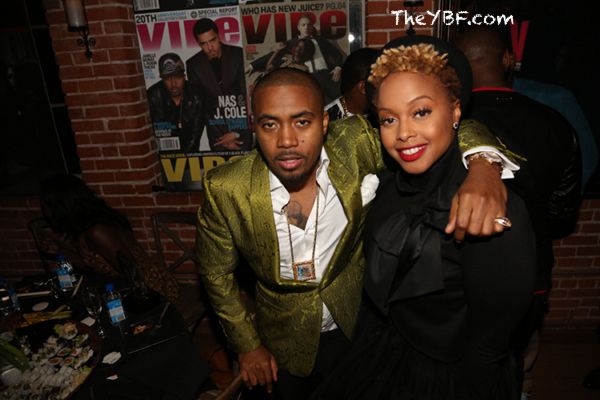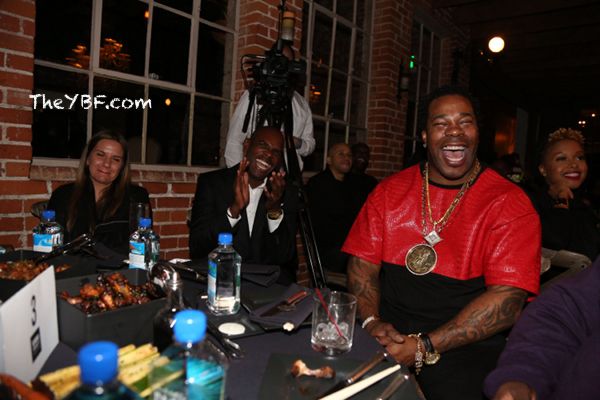 VIBE Editor in Chief, Jermaine Hall and his wife Leslie Hall were spotted at a table with Busta Rhymes.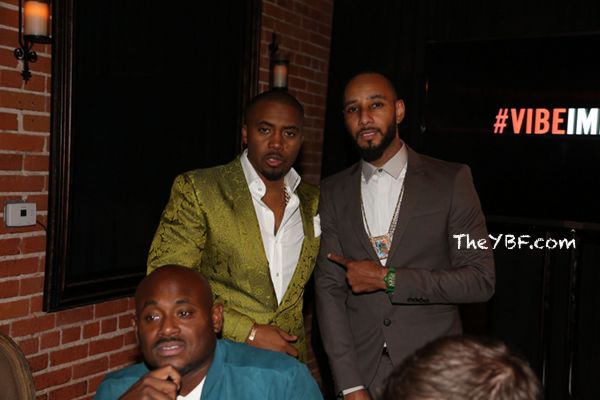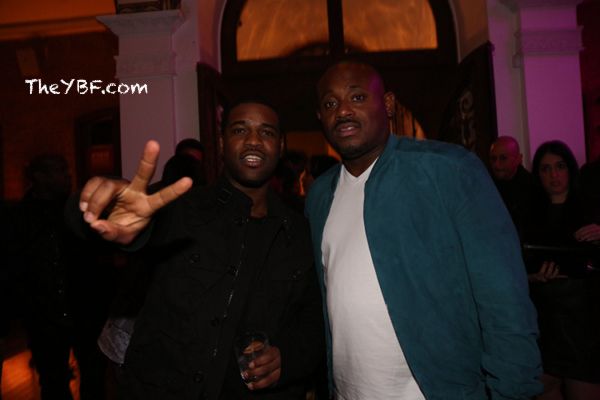 Steve Stoute was spotted chillin with A$AP Ferg.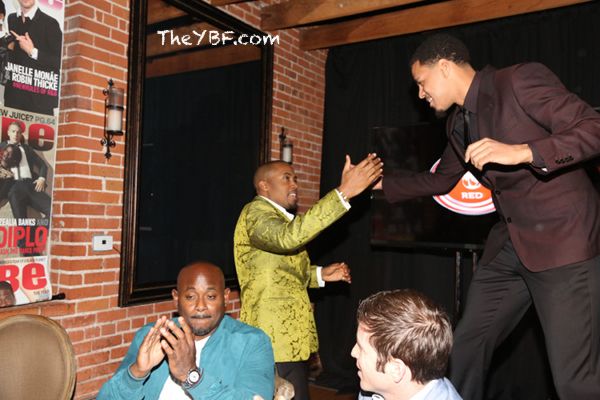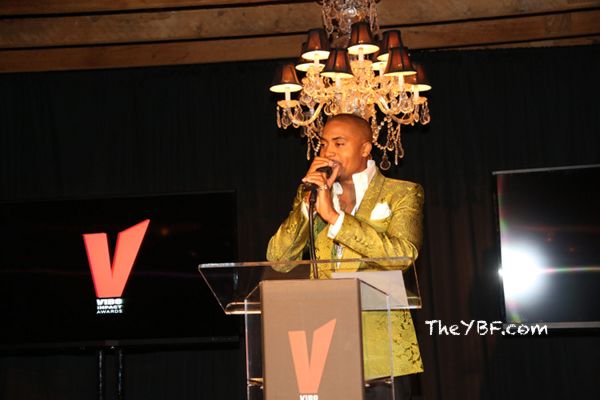 And you can check out the tribute video below:
Photos: Johnny Nunez
BRAXTON FAMILY OUTING: Tamar, Vince, Logan, & The Sisters Spotted On The NYC Streets
Posted: 25 Jan 2014 11:46 AM PST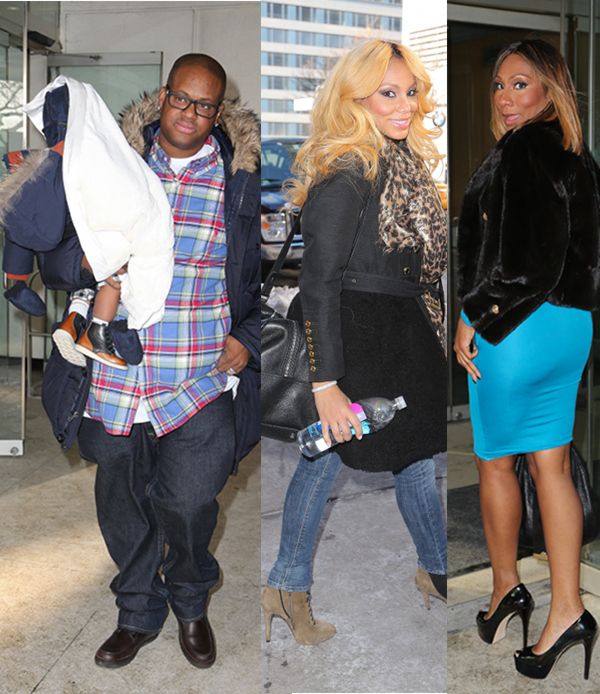 The Braxtons hit the NYC streets after a busy week of promo. Check out pics of our fave sisters (and Vincent & Logan) out and about inside...
Fresh off their Gain Flings! promotional event, the "Braxton Family Values" stars hit up the CBS building to do some promo on Friday. Tamar looked cute leaving out and heading into her car: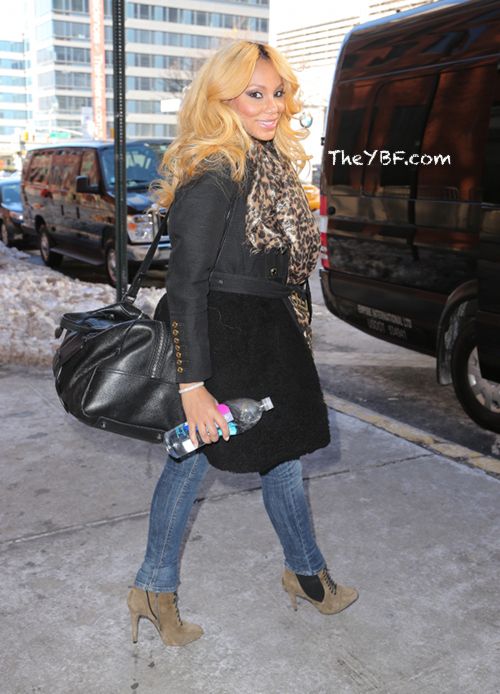 Her hubby Vincent Herbert was spotted carrying cutie Logan out.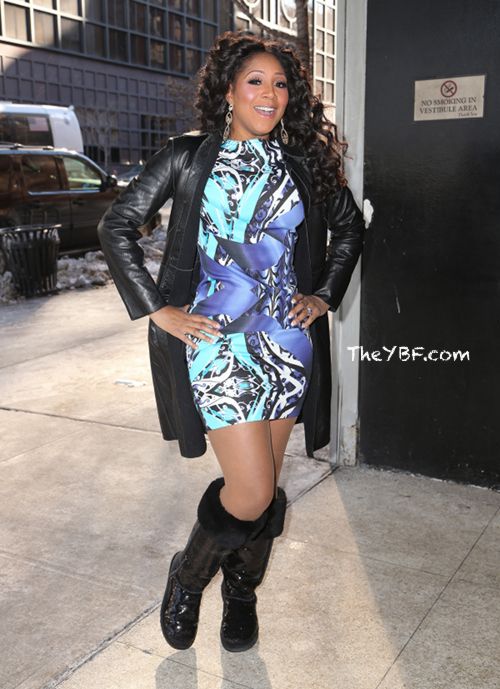 Trina Braxton showed off her snatched bod...and snowboots.
Towanda is making 40 look ridiculous tight and toned.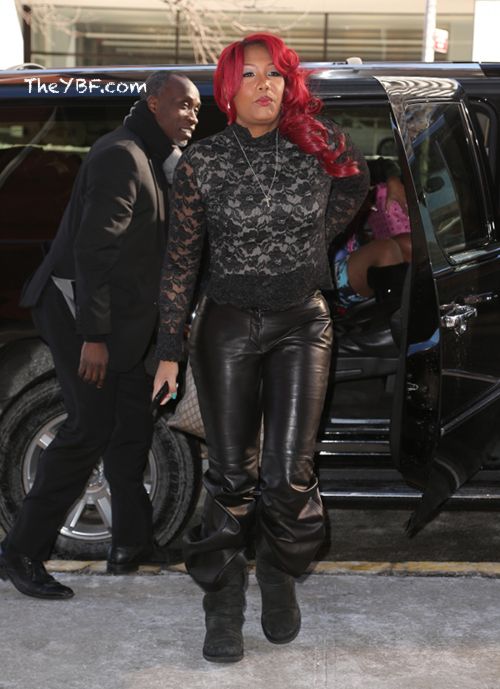 And Traci showed off her fire engine red new 'do for the occasion. And this leather & lace look....gotta love Traci.
Photos: Splash