---
OPENING UP: Bobbi Kris And Nick Gordon Speak On Secret Marriage -- "We Have A Force Field...S**t's Just Bouncing Off"
Posted: 31 Jan 2014 08:55 AM PST
Bobbi Kris and Nick Gordon gave their first interview since revealing their secret nuptials. They told EXTRA that they've grow closer...thanks to their critics! More inside....
In their first joint interview since we learned about their marriage (via social media) Bobbi Kris and Nick Gordon talked to EXTRA about the strength of their love and they haven't let naysayers tear them apart. Nick explained, "It put a fire in us. It lit a fire up under our ass and we went haulin'. The critics can say whatever they want to say… it's like we have a force field and that s**t's just bouncing off of it." Here are highlights:
On how the "brother/sister" confusion started:

Nick: Me calling [Whitney] mom, this where everybody gets the…" Bobbi: Brother and sister…
Nick: We were young. Krissy looked at me as an older brother, and I looked at her as a little sister. She [Whitney] just treated me like she gave birth to me. She treated me like a son. Excuse me for saying this… she treated me better than my birth mother. I owe everything to her.

On what Whitney Houston told them:

Nick: She made me promise several times to look after Krissy… and, Mom, I will never ever, ever break that promise.
Bobbi: She wanted this. This is something she wanted to see.

On Cissy Houston:

Bobbi: She told both of us that she loved us very, very, very much, and Nick came up and he said 'Grandma, I want to marry her. Is it okay? I need your blessing to do this, if I don't have your blessing I won't feel right,' and she looked at him and she smiled. She smiled very wide and said, 'Yes, son, you have my blessing."

On Bobby Brown:

Bobbi: We have a relationship. It's a good one right now. At a point in time, we didn't even have that… I love my father more than anything.
Also, we're happy to know that Bobbi Kris has her father back in her life....
But.....we're still uncertain about her conversations with Cissy Houston. You might chalk it up to old age, but Cissy says she NEVER gave her blessing!
EXTRAS:
1. Anna Gordy Gaye, the ex-wife of Marvin Gaye's and older sister to Motown founder Berry Gordy died this morning in Los Angeles of natural causes. She was 92. Story.
2. George Zimmerman signs up for Celebrity boxing match...say's he'll fight anyone! Story.
Photo via Bobbi Kris' Twitter

SCHOOLIN' LIFE: "Politicizing Beyonce" Black Feminism Class To Be Offered At Rutgers University
Posted: 31 Jan 2014 08:19 AM PST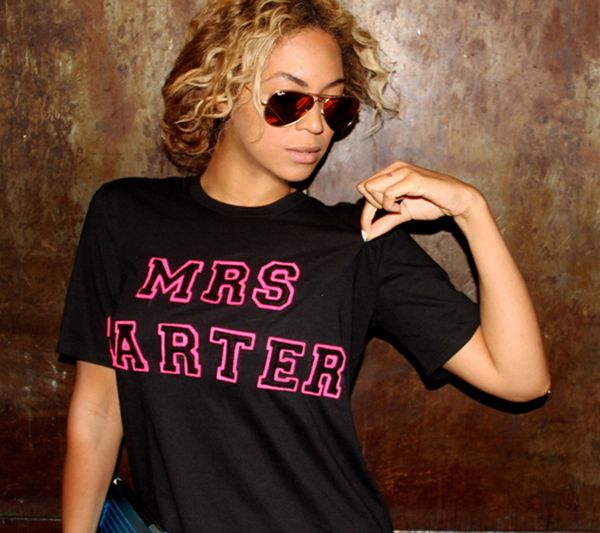 Class is in session! While Beyonce is getting criticized by a few folks (and called every "whore" style name in the book) for her ultra sexy GRAMMYS performance...with her husband...she's abut to be the subject of a collegiate academic course.
Deets inside...
Beyonce Knowles Carter has been the subject of black feminism and feminism in general lately She's spoken out about gender equality and equal pay, and people have had in depth debates about whether she is a true feminist or simply profiting off of sex appeal.
Now, college students will get the chance to debate all that and more and analyze the effects King Bey has had on our culture.
Rutgers University will offer a course called "Politicizing Beyonce", which will reportedly focus on the entertainer's career to "explore American race, gender and sexual politics."
Kevin Allred, a PhD student who lectures for the Department of Women's and Gender Studies at the New Brunswick, New Jersey college, will be teaching the course. He explained:
"This isn't a course about Beyonce's political engagement or how many times she performed during President Obama's inauguration weekend."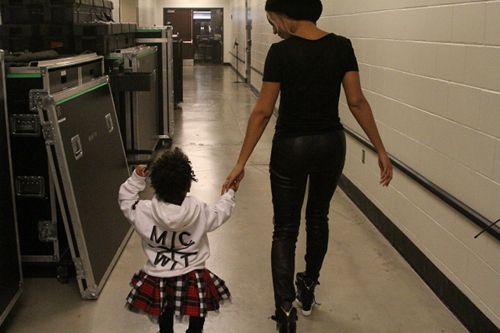 It could be an interesting case study of a 32-year-old mother and wife who also balances being one of the biggest superstars in the world.
Would you sign up?
By the way, Bey returns to her Mrs. Carter Show World Tour Feruary 20th in the UK.
The Randomness:
1. Whitney Houston and Dionne Warwick have been inducted into the New Jersey Hall of Fame. STORY
Photos: Beyonce's Tumblr
STILL ROCKING THE STAGE: TLC Perform Their Hits For VH1 Super Bowl Blitz
Posted: 31 Jan 2014 07:13 AM PST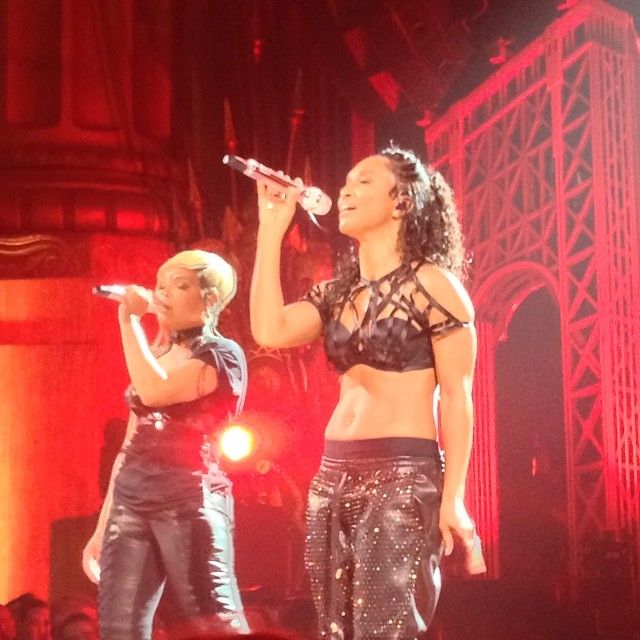 TLC performed at NYC's Beacon Theater as part of VH1's Super Bowl last night. See clips T-Boz and Chilli singing their classics inside...
All week long, VH1 has been gearing up for the Super Bowl with some of music's biggest stars hitting the stage for "VH1's Super Bowl Blitz". Already, we've seen Janelle Monae and J. Cole hit the stage, and last night, TLC performed at the Beacon Theater.
The concert series is hosted by Nick Cannon and Stacy Keibler and each concert will be streamed live in the VH1 App and made available at Super Bowl.VH1.com the following day.

Watch TLC perform "Waterfalls", "What About Your Friends" and more:
Photo via Miss Nyle Instagram/Michael Loccisano/Getty Images North America
Kelly Rowland & Her Tattoo'd Ring Finger Burn Down Bergdorf's
Posted: 31 Jan 2014 06:30 AM PST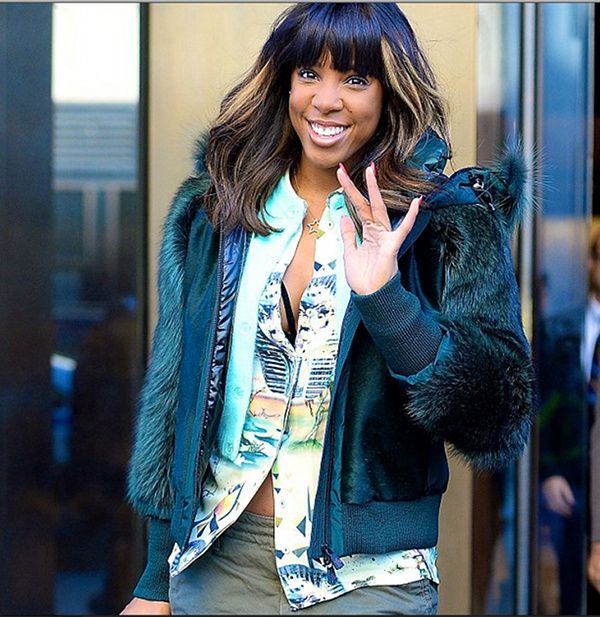 Kelly Rowland rocked a cute fur look while shopping in NYC yesterday. Check out pics of her leaving her hotel after her shopping trip inside...
Kelly Rowland was spotted leaving out of the Trump Soho hotel after hitting up the luxe Bergdorf Goodman department store. And she kept it super cute in her platform boots, a fur jacket, cargo pants and her Chanel bag:
And just because her fiance Tim Witherspoon wasn't physically with her, she always keeps him close with her personal tattoo on her ring finger. She said last April it was to "represent their friendship", but we're pretty sure it was more than that....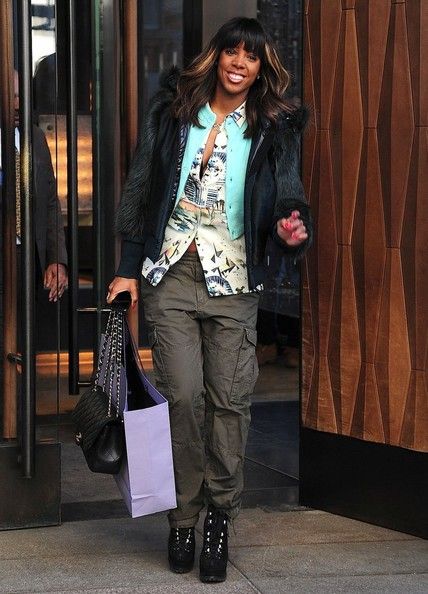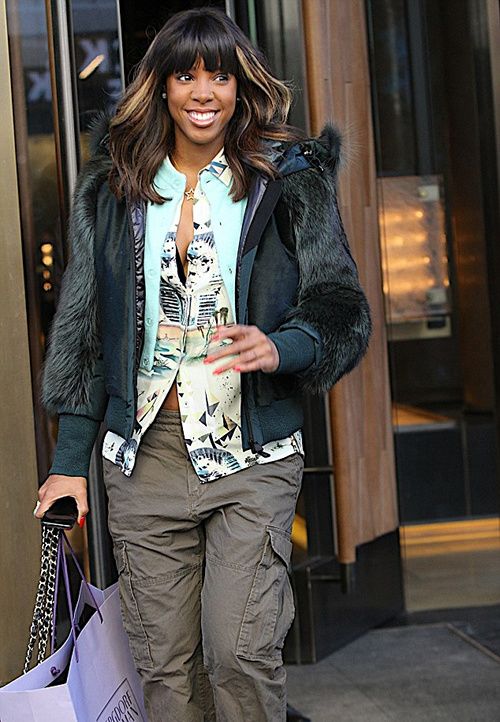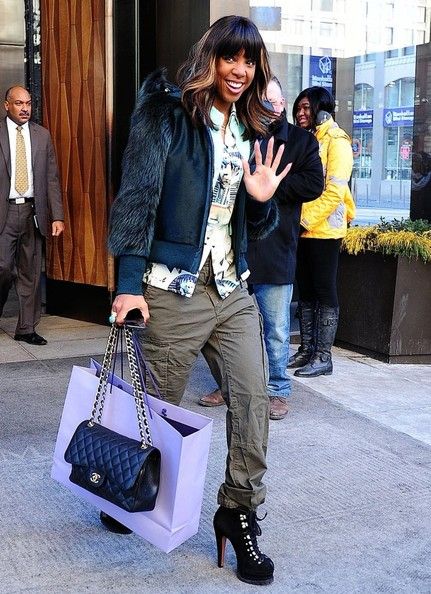 Kelly also hit up her girl LaLa Anthony's book signing this week in New York. Looking fab Kel!
Photos: Splash
VIDEO FAB: Shakira Ft. Rihanna -- "Can't Remember To Forget You"
Posted: 30 Jan 2014 06:15 PM PST
Rihanna is grinding it out with Shakira in their new video for "Can't Remember To Forget You". Check out the full vid inside that just premiered...
Shot in a luxurious mansion in L.A., 25-year-old Rihanna and 36-year-old Shakira are going pound for pound with the sexiness in their saucy new video.
Colombian-born Shakira explained in the Making The Video footage about why she chose the Bajan pop princess:
"This song Can't Remember To Forget You combines both the reggae and the rock spirit. That's why I thought that Rihanna was perfect and thought that she was the other half for this."
The track will appear on Shakira's upcoming album. And she clearly has a thing for sexy R&B stars who look in some way like an extension of herself (remember her hot video with Beyonce for "Beautiful Liar"?).
Check out the dual sexiness below:
BONUS: In case you were wondering why RIhanna didn't go to the GRAMMYS, she posted this pic below saying "Grammy Night #TBT".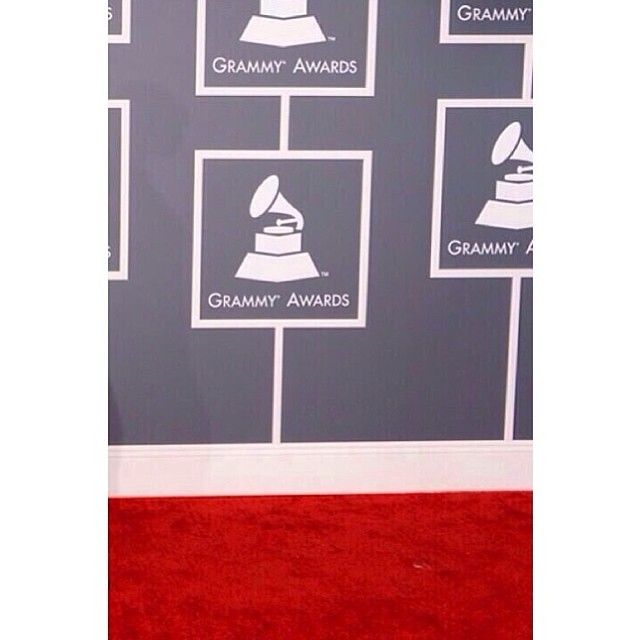 Teehee.
Photos: Rihanna's IG
HOTTIES: Misty Copeland's FLAWLESS Legs In New Under Armour Ad + Betty Adewole Is TOM FORD BEAUTY's Newest Face
Posted: 30 Jan 2014 03:10 PM PST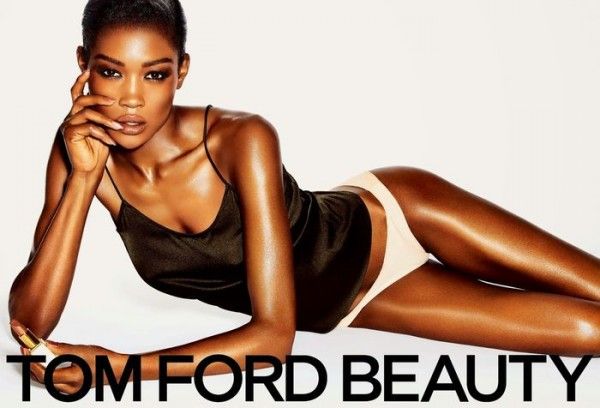 Tom Ford just nabbed a YBF beauty as the new face of its own Beauty line. Meet Betty Adewole inside, plus ballerine Misty Copeland's new leggy Under Armour ads....
For the Tom Ford Beauty Spring 2014 campaign, the luxe American design house has chosed a YBF chick as its face. And a gorgeous face it is. 21-year-old Betty Adewole is an English born Nigerian model who's already rocked campaigns for Emanuel Ungaro, Issey Miyake, and Maison Martin.
The Spring-Summer '14 makeup collection will hit stores this March. Gorgeous photo!
And speaking of hot YBF chicks, ballerina Misty Copeland is flexing those killer gams for her brand new Under Armour campaign: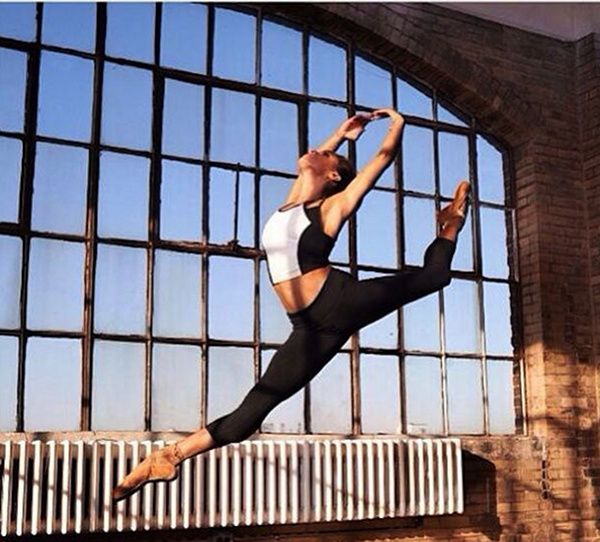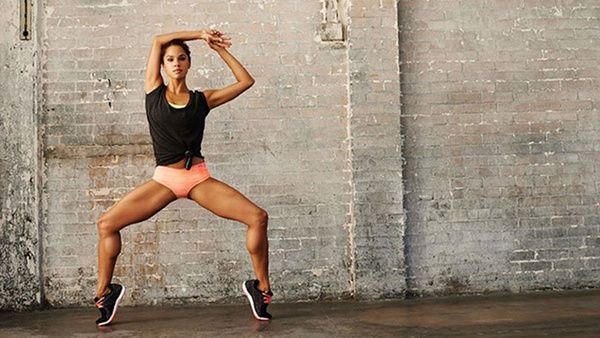 The 31-year-old American Ballet Theater star is also set to release her book March 4th called LIFE IN MOTION: An Unlikely Ballerina. Hot.
SUPERBOWL ISH: Jordin Sparks & Jason Derulo COUPLED UP At WIP + Rihanna's #MCM Mychal Kendricks Puts Her On Notice That He's In NYC...So Come & Get It!
Posted: 30 Jan 2014 11:31 AM PST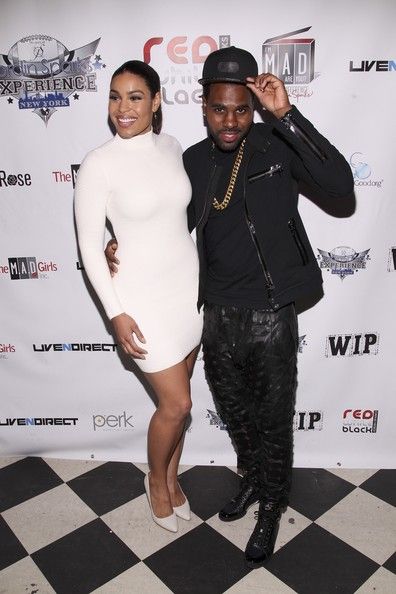 Jordin Sparks and her boyfriend Jason Derulo are hitting up the Super Bowl parties in NYC. Check out the twosome looking cute inside plus NFL baller Mychal Kendricks telling Rihanna to come and get it...
Singers Jordin Sparks and Jason Derulo hosted a Welcome to New York Red, White and Black Super Bowl Party at WIP nightclub. And since Jordin's dad is an ex-NFL player, she's a big football fan and was partying hard.
And our of our fave goody two shoes rocked a sexy white Torn by Ronny Kobo turtleneck Moria dress to show off those curves she's been working so diligently on:
Work.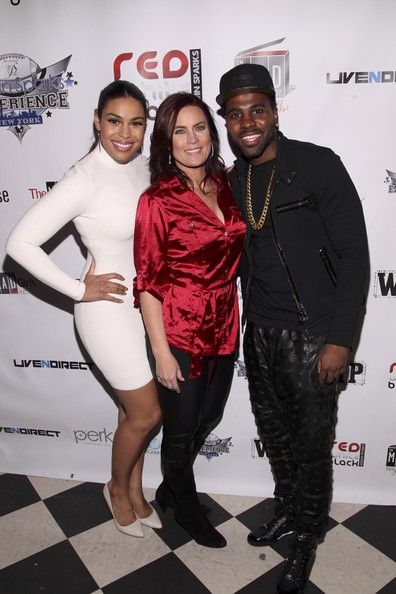 Her mom Jodi was there.
And she even serenaded her man with "No Air: during the party:
Sweet!
In other Super Bowl news:
Remember when Rihanna posted Philadelphia Eagles baller Mychal Kendricks as the subject of her Man Crush Mondays? Well, last night, cutie Mychal visited "106 & PARK" to talk about what he'll be participating in this Super Bowl weekend. And he sent a special message to Rihanna.
He took the stage to let her know that he's in New York...and seeing that she is too....you know....
IG hookups....the dating norm in 2014.
Photos: Getty, Video: FuseTV's IG

VIDEO FAB: J.Lo Is Back On The Block In "Same Girl" Vid
Posted: 30 Jan 2014 10:19 AM PST
She's still Jenny from the block. And Jennifer Lopez is giving herself and her fans another reminder in her new video for "Same Girl." Check out the first single off her upcoming album inside....
J.Lo is about to release her 10th studio album she's been working on with Future, French Montana, Chris Brown, Robin Thicke, Big Sean and more. And it seems like she's giving us that On The 6 tease from 1999. And we're kinda here for it.
Her first single is called "Same Girl" and she described it saying:
It's important to know where you're from so you can see where you are going. #samegirl #BX #thebronx #roots
Check out the guerrilla style video shot back in the Bronx on the 6 train, Castle Hill and other places. And it's directed by the celeb visual team fave Gomillion & Leupold:
She's had 15 years in the game by the way. How time flies...
Photo: Jenny's IG
"RHOA" Husbands Apollo, Peter & Gregg Reveal They DO NOT Get Paid For The Show + If Hitting Strip Clubs Is CHEATING
Posted: 30 Jan 2014 09:29 AM PST
The husbands of "RHOA" made their way to "Bethenny" to talk about their paychecks (or lack thereof), strip clubs and cheating. Check out what Apollo Nida, Peter Thomas and Gregg Leakes had to say inside...
It's a shame Apollo didn't talk about his latest arrest (this could have been taped before it happened), but we did find out a few other nuggets.
"When asked how much the husbands of "RHOA" got paid, Apollo, Peter and Gregg revealed that they get paid zip, zero, zilch. They said this is more of a "part time" gig where they get paid in perks and benefit."
And when asked if they are paying high price themselves for fame, Apollo said:
"I think so coming from prison, doing six years in prison and then being thrown into a TV show was kind of difficult and I think for the first time coming off I was very quiet and kind of shy, it was just a difficult transition for me."
So all of us thinking that they were AT LEAST getting a check from Bravo, even though no one seems to have an actual job, is actually a moot point.
And remember that discussion about the strip club at that pajama party from hell....well the men said they don't think hitting those places is cheating. Gregg explained how he find his wife NeNe there:
I picked mine up, I tell it like it is baby....She used to work there and when I went there and saw her....I knew she used to do that but I didn't realize that's where you met her...That's not where I met her. She invited me to her job and I graciously accepted.
Oh. Apollo's wife Phaedra joined in the convo and said:
Well anyone who knows me I represent some of the hottest adult entertainers in Atlanta and have been for almost twenty years now so I have no problems with it. I actually frequent them myself to visit my clients as well. Atlanta is really a strip club city. It's not considered sleazy in Atlanta to go to a strip club because it's probably 50/50 men and women there at all times as patrons, not as dancers.
Check out the video clips below:
Photos: Bethenny