---
Ciara "GLOWS" And Shows Off Midsection + Solange SHARES More Pics From Australia
Posted: 04 Jan 2014 08:28 AM PST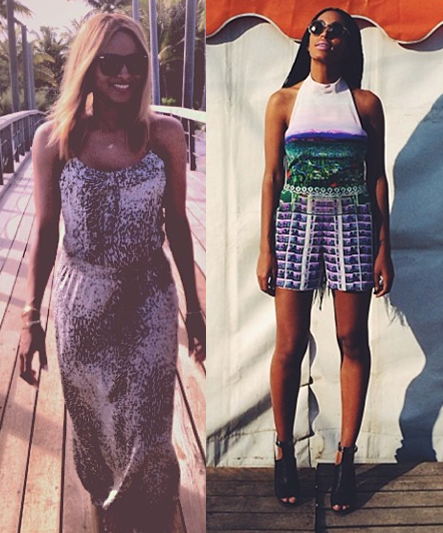 Ciara and Solange have both shared new pics from their travels on social media. See the photos inside....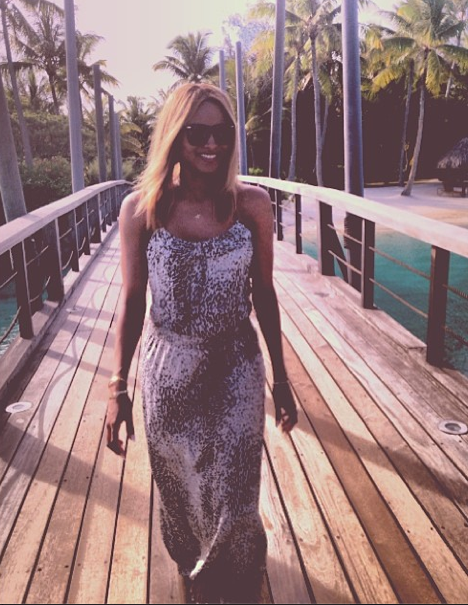 CIiara shared more photos from her vacay in Bora Bora with her fiance Future. While Cici hid her midsection in previous pics, she proudly showed off her full figure in her most recent set of pics.
We think there's something "different" about Cici.......maybe a baby?
She also showed off her pedicure and trusted Gucci sandals. "Old Faithfuls. 8 Years Old. Best Vacation Sandals:)"
Down under.....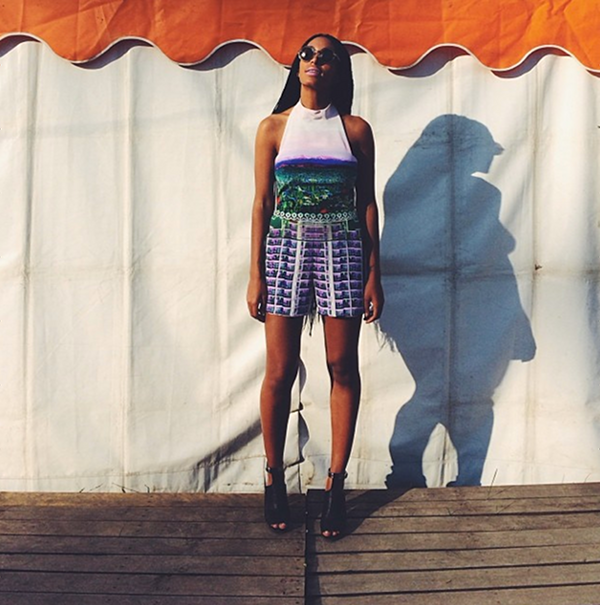 Saint Records founder Solange added more pics from her jaunt through Australia.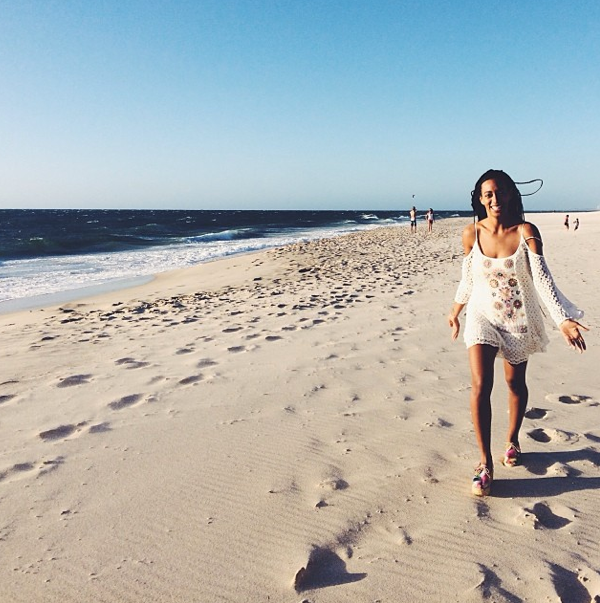 The "Losing You" singer headed to Australia to perform at Falls Festival where she posed with Wiz Khalifa and shared top-billing with The Roots, Vampire Weekend, MGMT, and others.
Juelz seemed to enjoy himself as he juggled both football and soccer on Cottesloe Beach. Today is Tina Knowles birthday. Happy Birthday Miss Tina.
Photos via Solange IG/Ciara IG
Jay Z's Barneys Collaboration NETS Over $1 Million In Profits + Beyonce OPENS About SEXUALITY And Making "ROCKET" In "Self-Titled" Part 5: Honesty" (VIDEO)
Posted: 04 Jan 2014 07:06 AM PST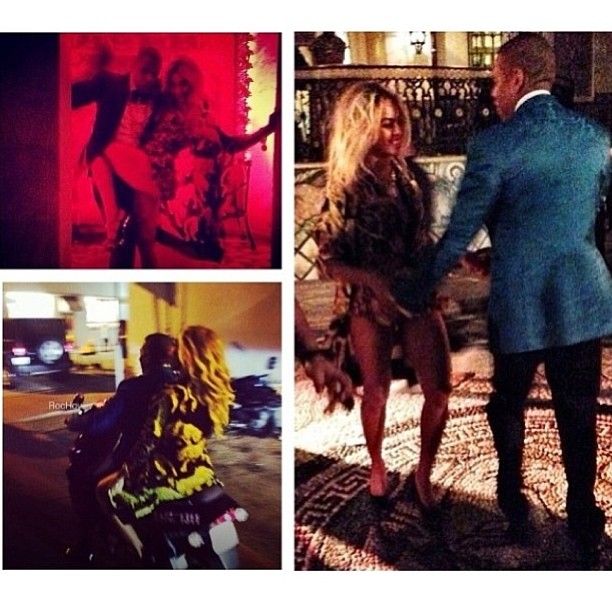 Jay Z's Barneys collaboration has provided a financial windfall for The Shawn Carter Foundation. Find out how well the collaboration performed inside and watch the latest video from Beyonce's docu-series.
In spite of the negative press Barneys received after a racial profiling lawsuit went public, the store's holiday collaboration with Jay Z was an overall success. According to the NY Daily News, The Shawn Carter Foundation will collect OVER $1 million in profits thanks to sales fom the luxury clothing line Jay Z helped launch six weeks ago.
Back in October, Jay discussed the project and what he planned to do with proceeds saying, "This money is going to help individuals facing socio-economic hardships to help further their education at institutions of higher learning."
Congrats to the SC Foundation....they'll be able to bless many college students this year.
In other news about the Carters.....
Beyonce has released Part 5: Honesty, the fifth installment in her "Self-Titled" mini art feature series about the making of BEYONCÉ. In this clip, she discusses making "Rocket" with Miguel and Justin Timberlake. Bey said she realizes that she has very young fans, but she's also earned the right to express herself wholeheartedly....and that includes talking and singing about sex.
Bey and Jay are also gearing up for Blue Ivy Carter's 2nd birthday. We look forward to seeing what they have planned....
Photo via Beyonce
SHOE BRIEFING: Kanye West And A MAKEUP-FREE Kim Kardashian MEET With Adidas Execs
Posted: 03 Jan 2014 04:39 PM PST
Kanye West and his makeup-free fiancee Kim Kardashian were spotted out and about in Los Angeles. Find out what they did inside.....
Kanye West was spotted having a meeting with Adidas execs in Los Angeles today. You'll recall that he revealed the deal last month during a series of high profile media rants about consumerism and classism.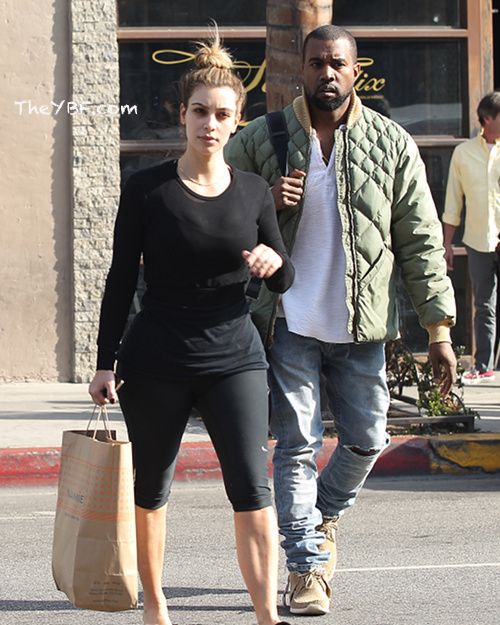 Yeezy's fiancee, Kim K, who was surprisingly makeup-free, was spotted by his side. Kim carried a shopping bag from Naimie's Beauty Center where we supposed she replenished her beauty supply.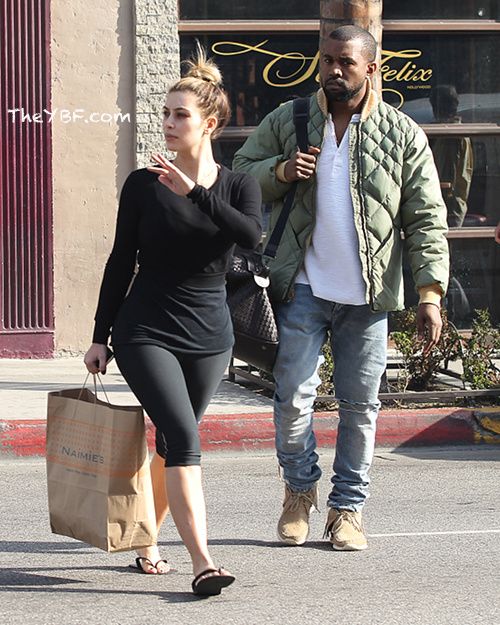 The couple were most recently spotted on a ski vacation with the rest of the Kardashian clan in Park City, Utah. Due to his "vow of silence", Ye didn't have any words for the photographers.
BONUS:
On Instagram, Kim posted a pic of North holding her engagement ring with the caption "It was an amazing year!!!"
It really was.....
Photos via Clint Brewer / Splash News
SPOTTED: Shayne, Zola & Bella Murphy OUT AND ABOUT In Beverly Hills + Kelly Rowland Soaks Up Some Sun In Miami
Posted: 03 Jan 2014 01:28 PM PST
Eddie & Nicole's daughter's Bella, Zola & Shayne Murphy were spotted in Beverly Hills while Kelly Rowland soaked up some sun in Miami.
Check the pics inside...
Bella Murphy (the youngest of the Eddie/Nicole clan of 5 and on the left) hung out with her big sisters Zola Murphy (middle) and Shayne Murphy (on Zola's right) in Beverly Hills.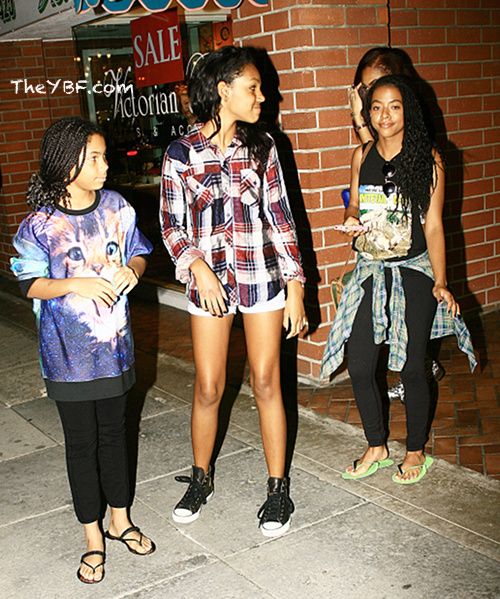 For the holidays, the Murphy clan (including their mother Nicole) hit the slopes for a fun day of skiing and snowboarding:
Bella Murphy (left) & Zola Murphy (middle) pose with two friends.
Shayne Murphy takes a spill.
Zola & Bella Murphy smile for a pic.
Fun times.
Speaking of fun times...
Kelly Rowland was spotted soaking up some sun on the beach in Miami in a itty, bitty, purple bikini.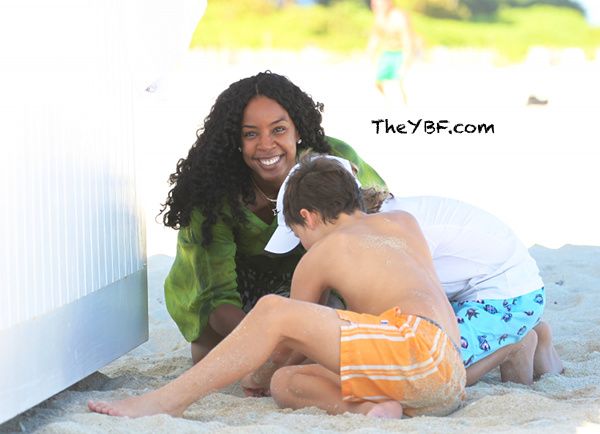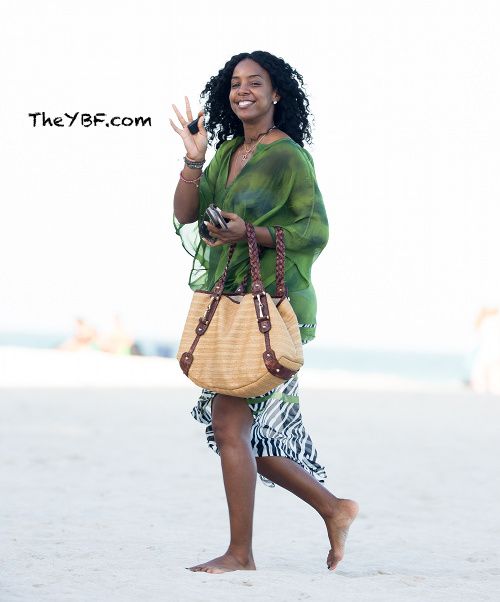 Smile.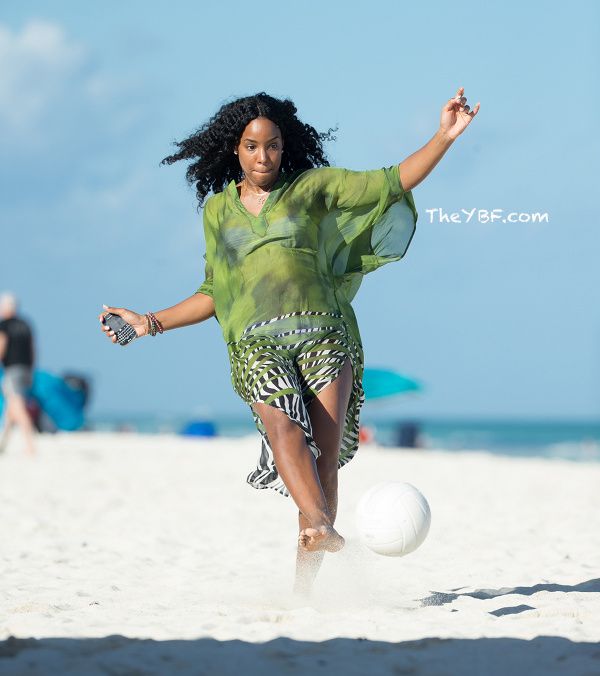 Kelly then opted for some fun in the sun with her green, tribal print cover up and Blackberry in tow.
Photos: KDNPIX/Splash News/MCGM & JD's Pht BX/Nicole Murphy's IG/Zola Murphy's IG/Shayne Murphy's IG
I'm STILL HERE! Fantasia RESPONDS To "SUICIDAL" Rumors + Mama Joyce Says She Doesn't Need Kandi's Money...She Gets Social Security!
Posted: 03 Jan 2014 12:50 PM PST
Fantasia recently responded to reports that she is suicidal because of her break-up with Antwaun Cook. Read what she said inside and see how Mama Joyce responds to her "RHOA" critics...…
Fantasia has been focusing her energy on the Broadway musical production After Midnight, but her nightly performances have done little to stop rumors that she's become suicidal since ending her relationship with baby daddy Antwaun Cook. She addressed the rumors on Instagram.
Lol!!! Who keeps this stuff Going?? It's becoming a Lil questionable lord lord lord. It's almost been a Year and this is still going on. Lol!! He and I are not together. I'm not going anywhere so stop trying to make me Dead.. Lmao!!! I'm just getting started.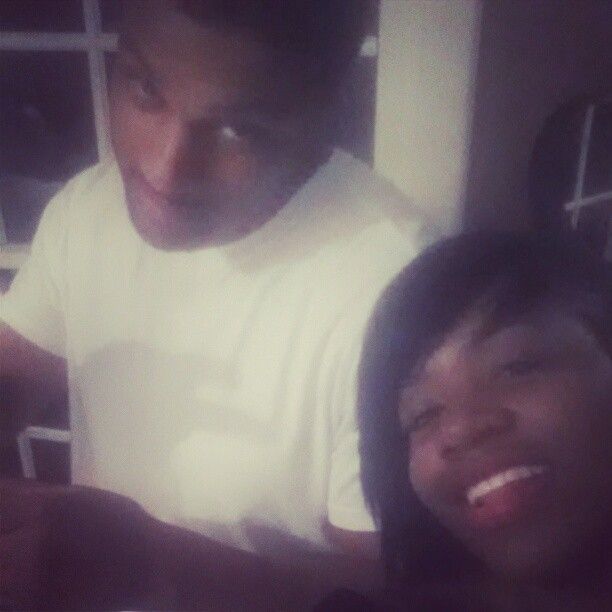 Fanny was just poppin' off on Antwaun's family back in November, after receiving some scathing messages from an alleged aunt of Antwaun. She posted the pic above of she and 'Twaun cuddled up on Thanksgiving saying, "RUN and TELL THAT."
But by December....things had changed. When Antwaun announced via Instagram that he and his estranged wife were getting back together, stories about "suicidal" Fanny started.
Fanny assures us that she's fine and she's NOT dead! Good for her.
Meanwhile...
"Real Housewives of Atlanta" co-star Mama Joyce is responding to critics due to backlash for her behavior towards Kandi's fiance Todd Tucker. During a talk with Ebony, Mama Joyce opened up about NOT depending on Kandi for money, NOT being paid by Bravo, and her relationship with Kandi and Todd.
On her being financially dependent of Kandi:

"Cynthia knows that Kandi don't take care of me," Mama Joyce clarifies. "I've been on disability, Social Security, and plus I have rental property. And anybody that knows me knows that I've always had my own money."

On Bravo NOT cutting her a check:

"I haven't gotten a penny from Bravo. They got me [as] the main person and I done trended on [Twitter] two weeks in a row and every damn thing. People keep saying 'You're a celebrity,' and I ask, 'How the hell am I a celebrity?' I'm the most unpaid celebrity there is. I'm looking in the Us Weekly and I have a picture and I say, 'How am I getting all of this attention? I'm not a celebrity!' "

On her relationship with Kandi & Todd:

"If he makes her happy, I'm happy," she adds. "I just want the best for her. And if he's the best for her, well then I'm happy. All I want her to do is be happy. God knows that's all I want."
SIDEBAR: Mama Joyce spent New Year's with Kandi and Todd and revealed they "kind of make up" in an upcoming episode pf RHOA.
Guess we will just have to wait and see......
Photos via Fantasia's IG/Kandi's IG
Rihanna GOES TOPLESS For MAC VIVA GLAM + 50 Cent FACING LAWSUIT For Posting SEX TAPE Of Rick Ross's Baby Momma!!
Posted: 03 Jan 2014 12:27 PM PST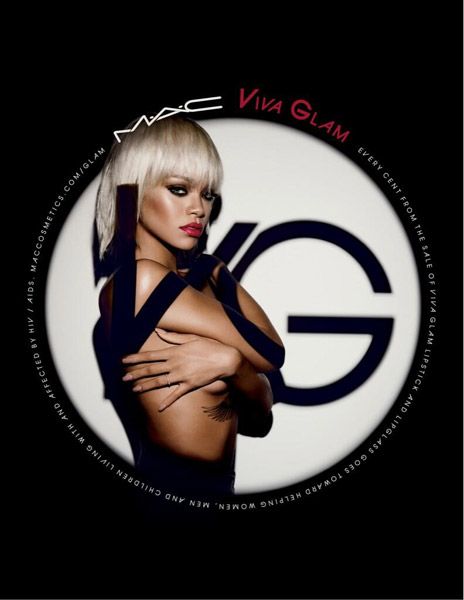 Rihanna posed topless for MAC VIVA GLAM's latest campaign. See the pic inside and find out why Rick Ross' ex-girlfriend is suing 50 Cent for posting a sex tape.....
Today, Rihanna teased her 33-million Twitter followers with a topless photo from her latest campaign with MAC. She tweeted, "Here's my new AD Campaign with @MACcosmetics for #VIVAGLAM !!! Coming soon #staytuned"
The racy pic was shot by Inez and Vinoodh with proceeds from the sale of VIVA Glam lip products benefiting women, men, and children living with HIV/AIDS.
The campaign is the latest development in the long-standing relationship between Riri and MAC. You'll recall that she also developed a holiday collection for the company.
In other Rihanna news, she and Eminem continue their chart-domination with "The Monster", landing at #1 on the Billboard singles charts for a 4th straight week.
In legal news...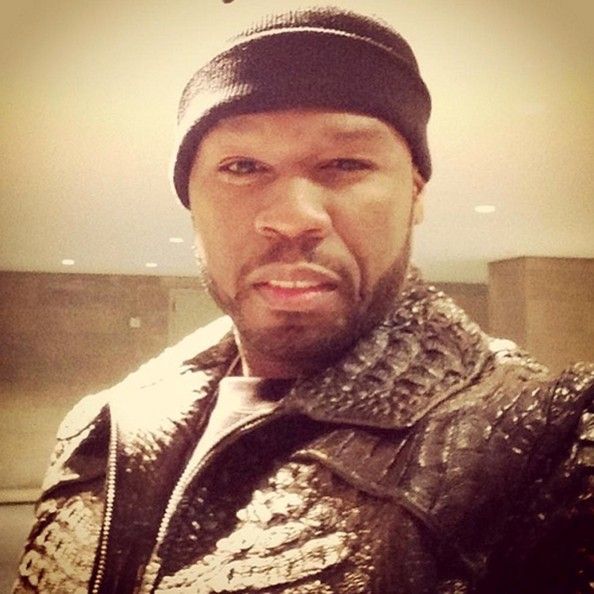 Rapper 50 Cent may be facing a big lawsuit from a womon who claims a sex tape he posed on his website made her suicidal. On Thursday in NYC, Judge Paul Wooten cleared the way for Rick Ross' ex-girlfriend and baby mama Lastonia Leviston to continue with a 2010 lawsuit she filed claiming emotional distress. Here the messy backstory:
Back in 2009, during the height of his "'beef" with Rick Ross, 50 Cent posted a video of Lastonia having sex with her ex-boyfriend Maurice Murray (who allegedly sold the tape to 50) on his website. The clip clocked 4 MILLION views and featured 50 aka "Pimpin Curly" referring to Lastonia as "Brooke" and inferring that she was a prostitute. Did we mention that messy 50 blurred Maurice's face but kept Lastonia's face un-blurred and recognizable?
In her lawsuit, Lastonia says she became suicidal and dealt with severe depression and anxiety. Now....Lastonia will be able to take her case before a jury....and she's asking for an unspecified amount in damages. WE HOPE SHE GETS MILLIONS.
It's amazing how "Curtis" (the father of two impressionable sons) would embarrass and attempt to destroy Lastonia's life just get back at Rick Ross. SMH. #karmaisreal
Photos via Rihanna Twitter/50 Cent's Instagram
IN CONCERT: Rick Ross, Diddy, DJ Khaled & More Join Jay Z On His Magna Carter World Tour, Jay & Rick PERFORM "F*ckWithMeYouKnowIGotIt"
Posted: 03 Jan 2014 12:00 PM PST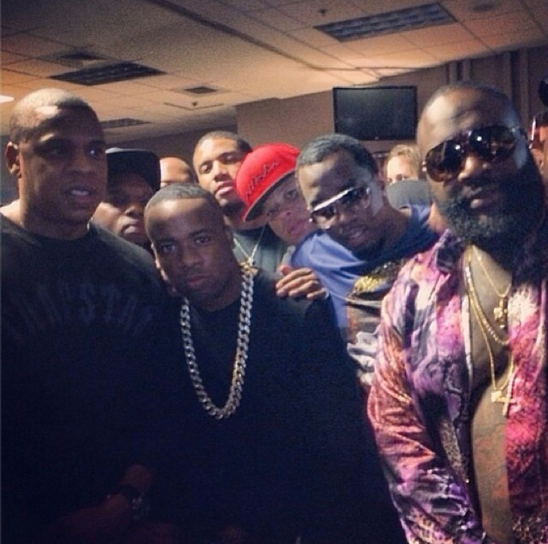 Jay Z is still traveling with his Magna Carter World Tour and for his first show of 2014, he performed in Ft. Lauderdale and bought out the Florida Boss Rick Ross. Check the pics inside...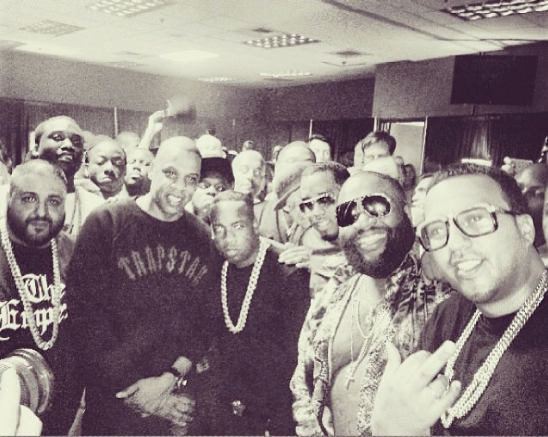 Jay Z brought his Magna Carter World Tour to the BB&T Center in Ft. Lauderdale, Florida last night. A few celebs, including Rick Ross, DJ Khaled, Meek Mill, Diddy & Yo Gotti all posed back stage.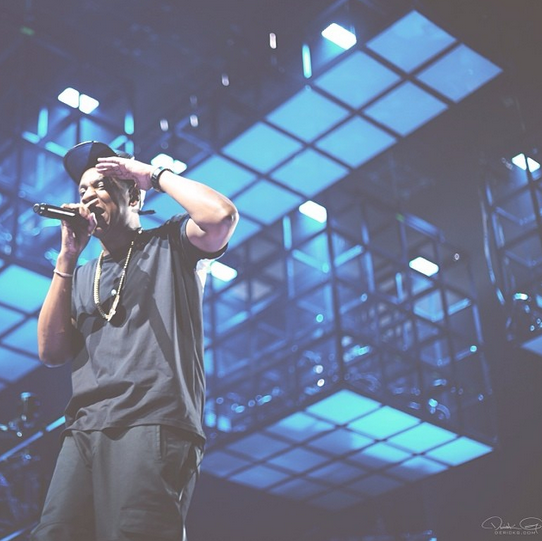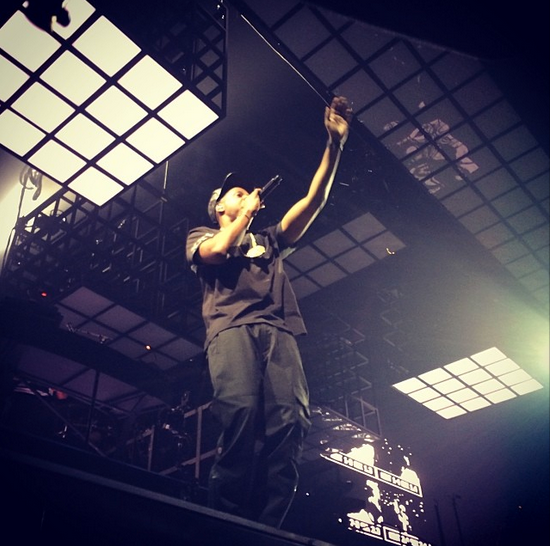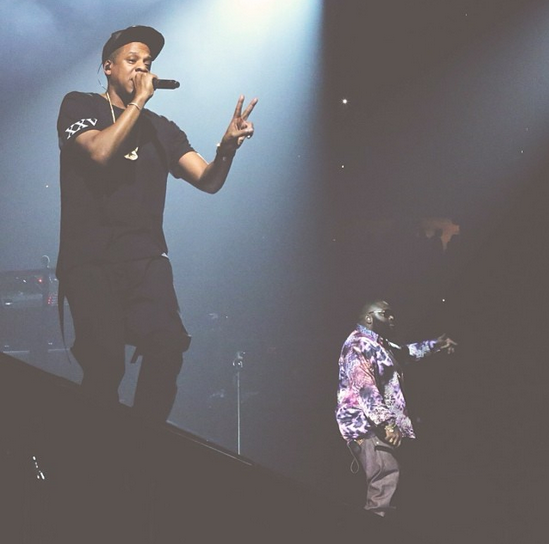 Rozay hit the stage with Hov to perform their hit "F*ckWithMeYouKnowIGotIt." Unfortunately for the concert-goers, that was the only song they performed together. They didn't perform their recently released track "Devil Is A Lie."
Check out footage of Jay Z & Rick Ross perform "F*ckWithMeYouKnowIGotIt" below:
Photos: Derick G's IG/Elliot Wilson's IG
EXCLUSIVE: LisaRaye DISHES On "Single Ladies 3" Fashions And REVEALS She Wants To MARRY Again!
Posted: 03 Jan 2014 11:01 AM PST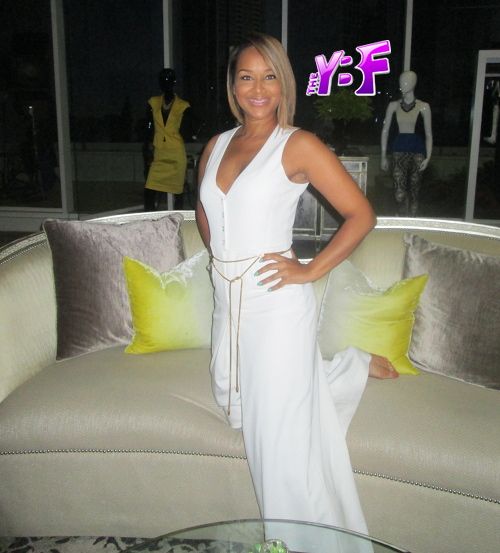 Famed actress and "Single Ladies" star LisaRaye sat down with TheYBF.com for an exclusive conversation about the third season of her hit VH1 show, the sensational fashions she'll be wearing and whether marriage is in her future or not. More inside....
As fans of VH!'s dishy-original series, "Single Ladies" prepares for a third season (premiering Monday, January 6, 2014 at 9PM ET/PT), TheYBF.com caught up with leading actress LisaRaye, a single lady herself, and dished on the changes her character Keisha will go through this season (including a new romance) and her spicy wardrobe. Lisa also opened up about her failed marriage and not wanting to grow old alone. Here are highlights from our intimate conversation.
LisaRaye on her character Keisha:

She is finally in a solid relationship with Malcolm. They are together and they have confessed their love for each other. She broke him and he broke her and they finally are on even territory so there is a sense of true love. Malcolm does go through some things this season... something major and it takes Keisha to really hold his hand. I am your support.. I am your woman. There is something that happens to a family member that will either tear them apart or make them closer. Also…this season she is helping Raquel in the boutique this season. She has a rich man so she has the time to help her friend out.

On "Single Ladies" fashion and her personal style:

As a character I wear all kinds of colors, and it allows me to keep up with fashion. How you can put different colors together? Although LisaRaye wears white…..I enjoy seeing to see the combination of what blouse will go with what pant (for my character). As LisaRaye, my accessories are essential. Purse. Shoes. Those are the only parts that are color (that I wear) so they have to be on point.

On Anthony (the "Single Ladies" stylist):

Anthony is doing the clothes this year and he is doing a wonderful job. He is getting to do what he does and that is playing dress up with 3 Barbie dolls. We are all shaped differently and we all bring something to the table. He puts all different labels on us and just play. I enjoy it... it is a fantasy thing for me.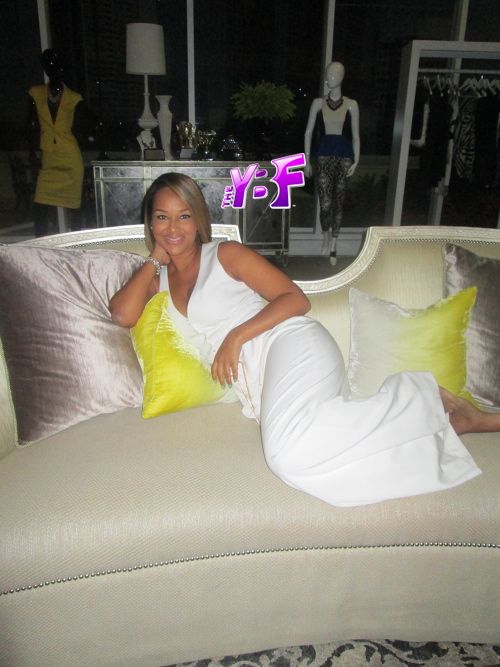 On dating and wanting to get married again:

No I am not dating. I want to be married again... I cannot wait to get in a committed relationship. It is just easier to fight life with a life partner. And then I don't want to grow old by myself. I want to explore life with someone. I want to start dating the man I am supposed to marry too. But I am not "over" excited about it. I am waiting for him to come ... patiently. I know that when I was looking for my significant other (she is divorced from Former Turks and Caicos Islands Premier Michael Misick) I didn't do it right… cause if I did ….I would still be with him now. I got my list like everybody else but whomever God puts in my life and I get that feeling... that "ahhhhhh" feeling….I am waiting for that feeling. A real friend.

On romance and rumors:

People are always putting me in a relationship with anyone they just see me with. I am not going to make my relationship a secret. That will be a happy time of my life.

On interracial dating:

I went to Italy and fell in love with EVERYTHING about it.

On returning to reality tv:

I am in talks right now for a new reality show that I am going to do! It is different and it is positive of course. Everything I do is going to be positive. No info on any deets yet.

On her daughter:

She is always going to be my baby. I still get sensitive. When I think of her as a baby. She was my best friend. She changed my life for the better. She made me more of a woman. More responsible. She made me want to do more. She gave me a second chance at life.
Season 3 premieres Monday, January 6, 2014 at 9PM ET/PT. Check out the extended first look HERE.
BONUS:
In honor of season three, VH1 has launched an eBook series set between the finale of season two and the premiere of season three. The eBook will bring you up to speed on what April, Raquel, and Keisha have been up to, preparing you for what's to come.
In addition to launching the eBook, VH1 will also be hosting a sweepstakes giving away the new eBooks and "Single Ladies "inspired Beauty Boxes. The Single Ladies eBook is on sale now on iTunes, Amazon.com and Barnes & Noble.
Photo: TheYBF.com
VH'1s first hour-long scripted series, Single Ladies, returns for a third season on January 6th at 9/8c. This romantic comedy stars LisaRaye McCoy (Keisha), Denise Vasi (Raquel) and Charity Shae (April)- Three best friends with different philosophies on love, sex and relationships, proving not all women have the same sex drives. The modern, sexy series set in the world of Atlanta fashion, music and celebrity explores the women's different approaches to relationships.
*Compensation was provided by VH1 via Glam Media in regards to the eBook. The opinions expressed herein are those of the author and are not indicative of the opinions or positions of VH1.