---
SPOTTED: Janet Jackson's TOUCHDOWN At LAX!
Posted: 27 Jan 2014 08:26 AM PST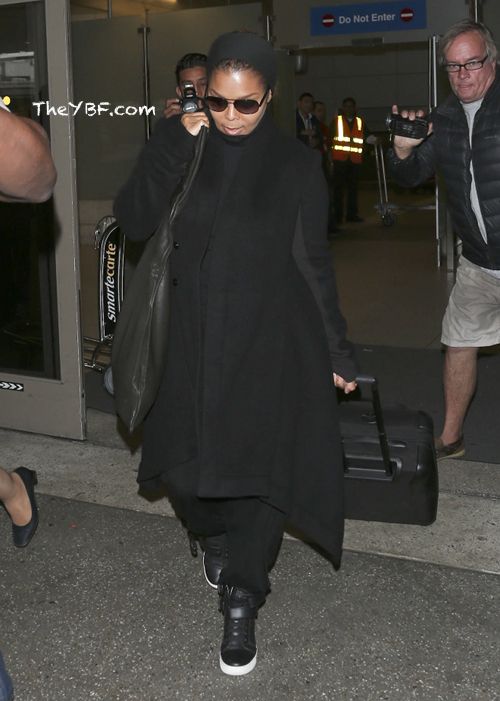 Janet Jackson was spotted arriving at LAX yesterday. And we've been wondering what she's been up to. See the candids inside...
We haven't seen much of Janet Jackson since she married Wissam Al Mana and moved to the Middle East (though she did attend a few amFAR events last year), but she steppe dout of her love bubble and arrived back on US soil yesterday.
Photographers caught her coming out of LAX trying to hide her face. And she was fully covered in the type of clothing she said she would now wear, now that she has reportedly converted to Islam.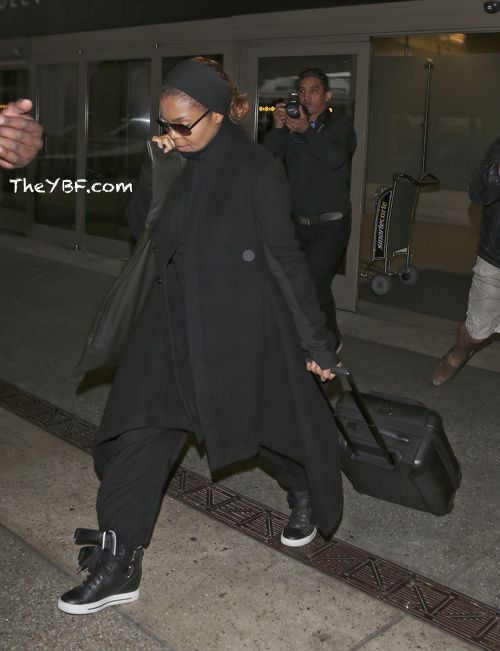 Also......in ESPN The Magazine's "Music Issue," ex-FCC chairman Michael Powell admitted that he and his colleagues overreacted and owed Janet an apology for "Nipplegate". Umpteen years later....
"I think we've been removed from this long enough for me to tell you that I had to put my best version of outrage on that I could put on. Part of it was surreal, right? Look, I think it was dumb to happen, and they knew the rules and were flirting with them, and my job is to enforce the rules, but, you know, really? This is what we're gonna do?"
Too little too late?

Photos via INFPhoto
DRAMA: "RHOA" EPIC Pajama Fight Showdown! + Cynthia Bailey BLAMES Kenya For The Fight On "WWHL"
Posted: 27 Jan 2014 07:29 AM PST
There was an epic showdown on last night's "RHOA." Watch the full episode inside and see whom Cynthia Bailey blamed for the fight on "WWHL."
During a pajama party hosted by Nene Leakes (in lingerie), the question of Christopher Williams marriage to Natalie what put on the floor...and it led to a huge fight between Kenya's BFF Brandon and Phaedra's husband Apollo.
Why grown ass people are ohysically fighting...in pajamas...is beyond us. We're also baffled on why people (messy ones at that) who are not a part of a couple...were at a Couple's Event. But that's neither here nor there. Brandon wasn't feeling how Christopher Williams grabbed Kenya's arm, and things went awry after that.
There's a lot being said about who or what started the fight (from Nene posing the question to Kenya jumping out of her seat), but we'll let you draw your own conclusions. And is it just us, or was Apollo just WAITING on an opportunity to fight somebody? Dude seems REAL unhappy with Phaedra and his life....based on how he's been speaking to her lately. Especially at this riridculous party for baby Dylan last night.
Watch the episode here and view the fight at (35:00):
Part two will air next week.
After the -ish hit the fan on "RHOA" with accused fraudster/ex-con Apollo Nida battling Kenya Moore's BFF Brandon Deshazer, Cynthia Bailey appeared alongside LaLa Anthony on last night's "WWHL" episode. She shared her views on the fight (apologizing on behalf of the cast) and ended by saying Kenya started the fight when she got out her seat. Hmmm....not Nene and her messy questions? Not Apollo who snapped after trying to break up the fight? Not even Christopher Williams who touched Kenya first? EVERYBODY had a part in this messy, messy "party".
LaLa joined in the laughter and giggles while promoting her book The Love Playbook: Rules for Love, Sex, and Happiness (in stores January 28th).
She revealed she and Carmelo never have sex before games because she would WEAR HIM OUT. Ow!
Cynthia blames Kenya Moore for the "RHOA" fight:
LaLa and Carmelo do not smash before games:
BONUS:
Apollo shared his side of the story with Phaedra, and she blamed Kenya too!
Photo via Cynthia Bailey's Instagram
IN CASE YOU MISSED 'EM: 17 Of The Best 2014 GRAMMY MEMES (And Other Funny Ish)
Posted: 27 Jan 2014 06:36 AM PST
We typically don't do MEME round ups around these parts...but since these MEMES and GIFS were on another level during last night's 2014 GRAMMY Awards, it needs to be done.
Check 'em out inside for a morning-after laugh....
Here's 17 of our fave things we came across last night. Twitter and IG had zero chill as usual, so don't get mad at us. Blame THEM. (Whoever "them" is). Check it.
Beyonce: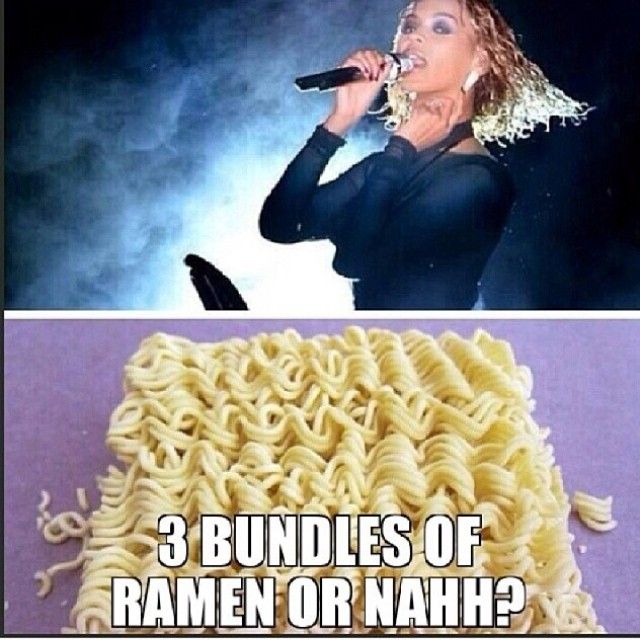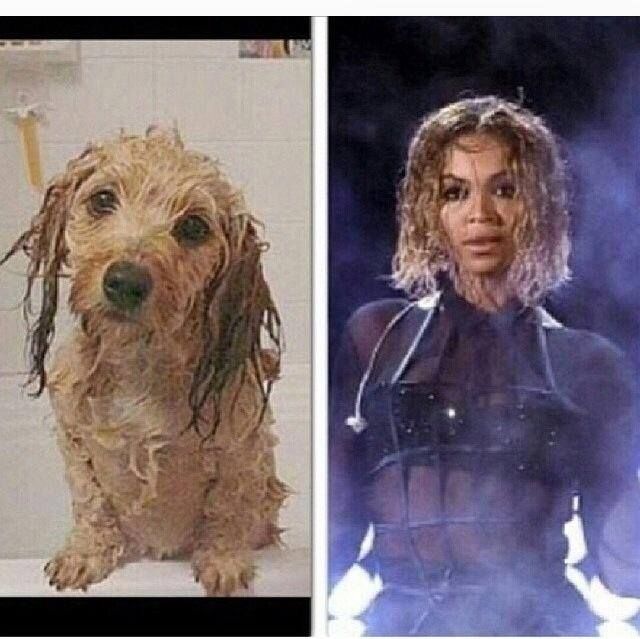 Pharrell: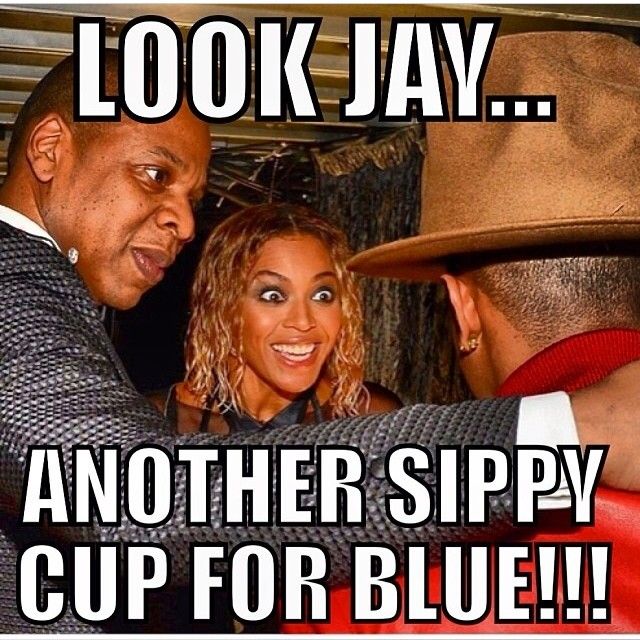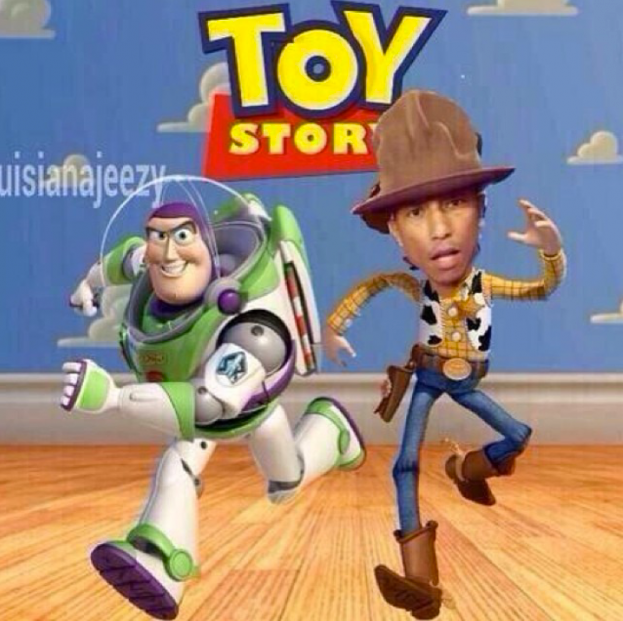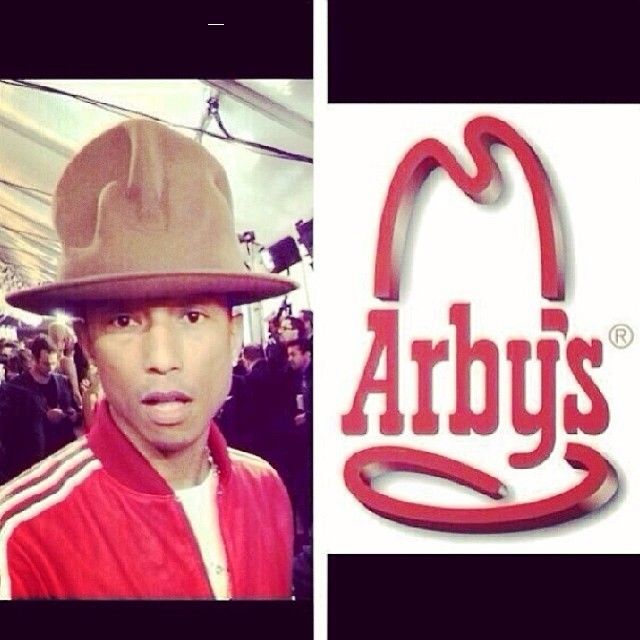 Madonna:
Ashanti: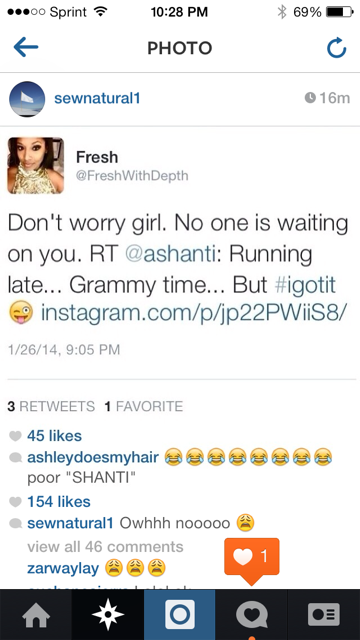 Kendrick Lamar: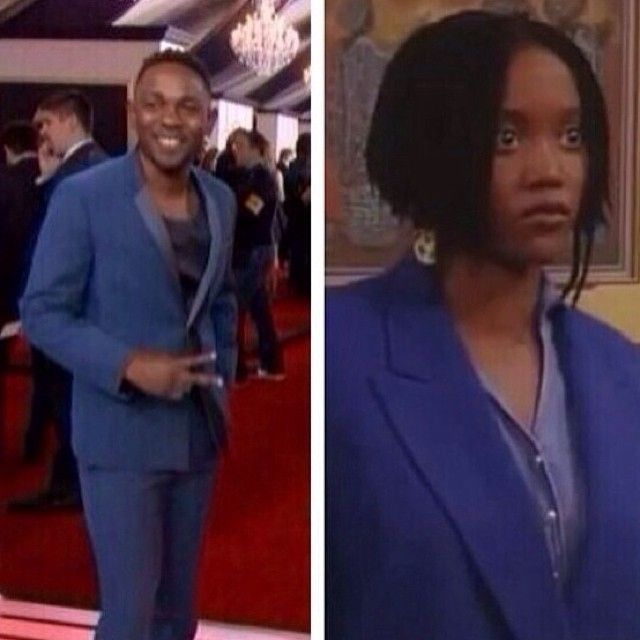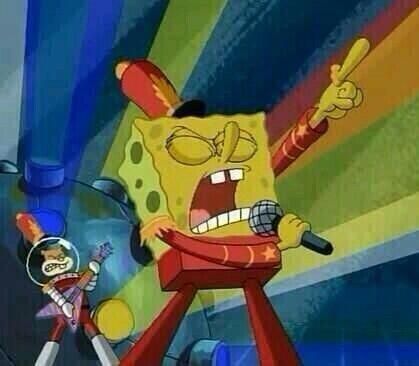 (Kendrick was on stage with Imagine Dragons like....)
(Did Macklemore REALLY need to post this for everyone to see though?)
Keyshia Cole: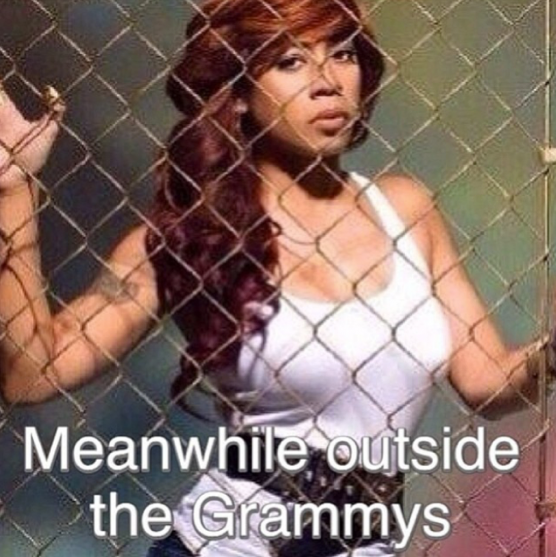 Ciara: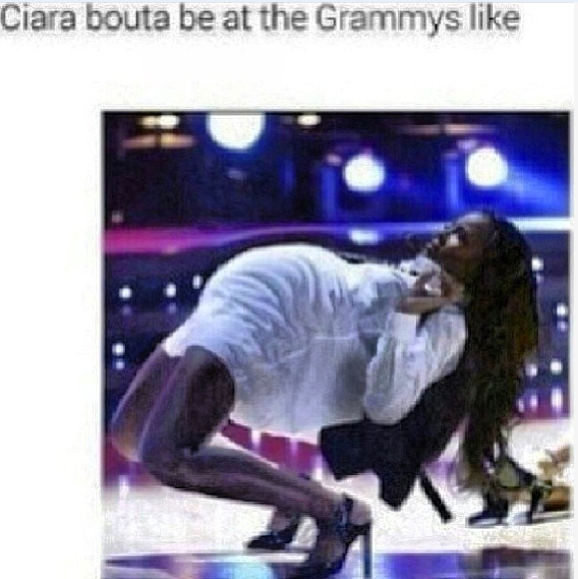 Rihanna: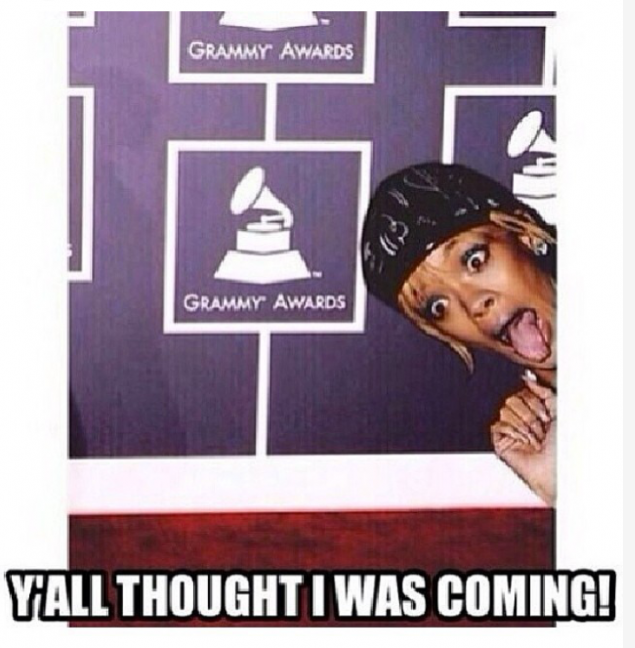 BONUS:
We tried to ignore it, but who can ignore Taylor Swift really thinking she just won for album of the year when it really went to Daft Punk whose album also starts with an R: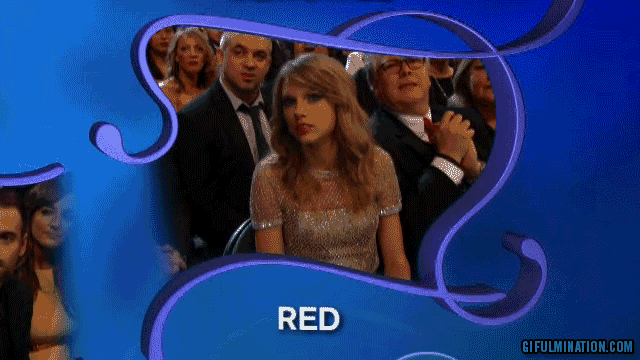 Teehee.
Photos: Twitter/IG
GRAMMY PERFORMANCE: Queen Latifah OFFICIATES Over 30 Weddings During Macklemore & Ryan Lewis' "Same Love" Performance Ft. Madonna
Posted: 26 Jan 2014 09:42 PM PST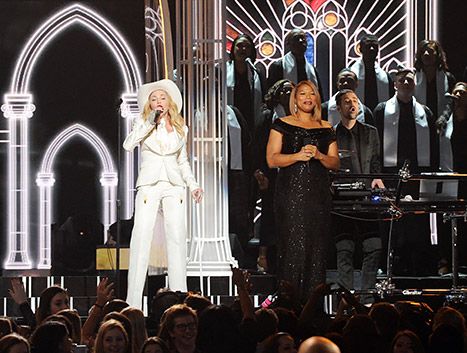 Queen Latifah wed 33 couples and Madonna, Macklemore & Ryan Lewis performed "Same Love/Open Heart."
The Grammys ended with an all-out bang as talk show host Queen Latifah officiated the weddings of over 30 couples. And it all went down while Madonna took the stage with rapper Macklemore, his producer Ryan Lewis and featured vocalist Mary Lambert to sing the marriage-equality anthem "Same Love."
The couples were same sex, heterosexual, older, younger and other variations. And we're not sure if Latifah is formally ordained....but she surely made this an interesting never-seen-before performance.
SIDEBAR: The biggest rap act in the world right now is Macklemore & Ryan Lewis. They SWEPT the hip hop/rap categories. But not everyone is happy about it....
Photos via Kevork Djansezian/Getty
GRAMMY PERFORMANCES: John Legend SINGS "All Of Me" To Chrissy Teigen + Daft Punk, Pharrell Williams, Nile Rodgers, Stevie Wonder Perform 'Get Lucky'
Posted: 26 Jan 2014 09:16 PM PST
John Legend performed "All Of Me" for his new wife Chrissy Teigen at the GRAMMYS and Nile Rodgers, Stevie Wonder, Pharrell Williams and Daft Punk performed "Get Lucky." Watch the performance inside....
Tonight at the GRAMMYS, the lights dimmed low and John Legend tickled the ivories while belting out "All Of Me", the balled he wrote for his wife Chrissy. Throughout the performance, the director of the telecast dropped a spotlight on Chrissy as John sang. How sweet...
Also.....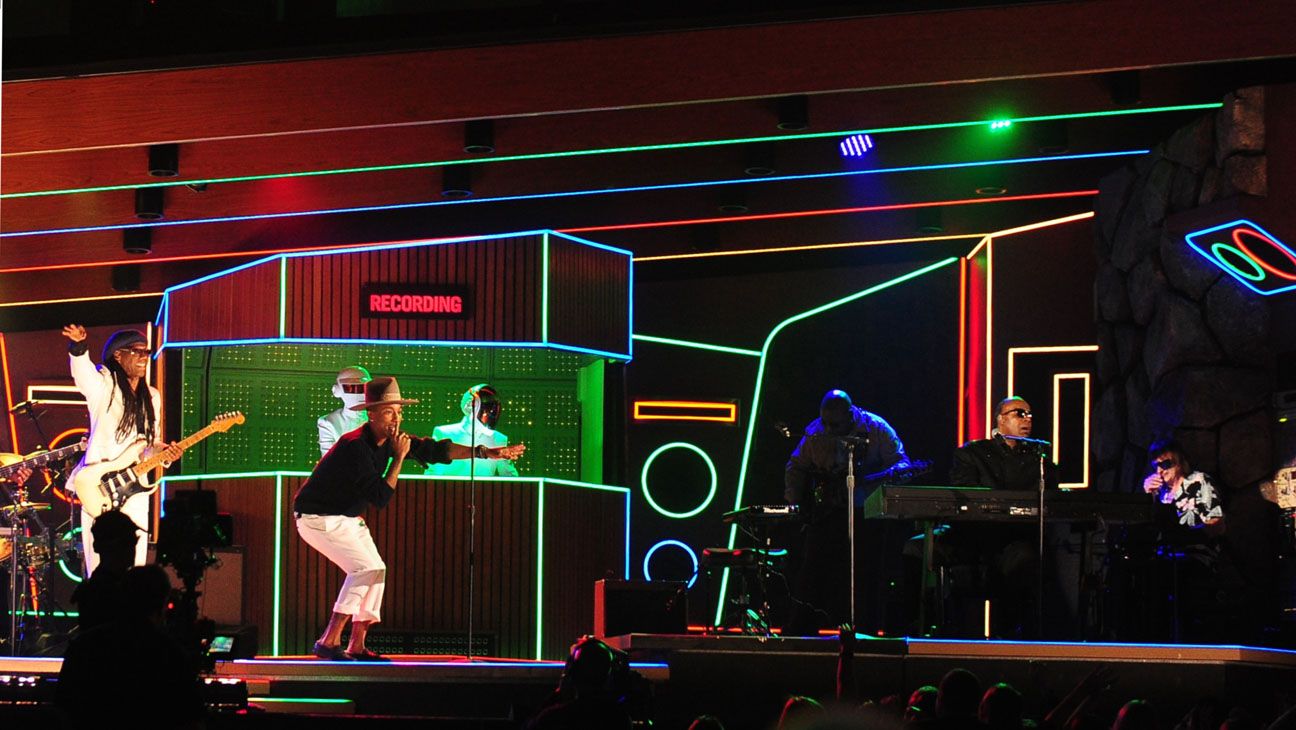 Record of the year went Daft Punk Ft. Pharrell Williams & Nile Rodgers for their track "Get Lucky", which they performed with Stevie Wonder.
The hit song also earned a GRAMMY for Best Pop Duo/Group performance and Daft Punk copped Best Dance/Electronica album & Album of the Year for Random Access Memories.
But the big winner of the evening was Pharrell's hat.....

Ha!
Watch the performance below...
Photo via Getty/FREDERIC J. BROWN/AFP/Getty Images
GRAMMY (SURPRISE) COLLABO PERFORMANCES: Kendrick Lamar & Imagine Dragons' "Radioactive/M.A.A.D City" + Katy Perry & Juicy J "Dark Horses" + Robin Thicke & Chicago "Blurred Lines"
Posted: 26 Jan 2014 08:23 PM PST
Kendrick Lamar hit the stage with Imagine Dragons for a mashup of Juicy J "Radioactive/M.A.A.D City", Katy Perry and Juicy J sang "Dark Horses" and Robin Thicke & Chicago performed "Blurred Lines" during the Grammys. And we expected none of it. Watch them inside....
Kendrick Lamar hit the stage with new Grammy winners Imagine Dragons (Best Rock Performance for "Radioactive") to perform a mash-up of "m.A.A.d city" and "Radioactive." And it was EVERYTHING. Easily one of our fave performances of the night. Check it out above.
BONUS:
Right after their stage performance, Imagine Dragons unleashed the studio version of their single "Radioactive" featuring Kendrick Lamar. Enjoy!
Earlier in the show.....
"Stay Trippy" rapper Juicy J hit the stage with Katy Perry for a dark and gothic performance of Ms. Perry's "Dark Horse". She tried to pop a lil something to that breakdown beat....it was watchable. And during her visually appealing performance, in addition to a little pole dancing, Katy was apparently burned at the stake!
Also.....
Robin Thicke hit the Grammy stage to perform his hit song "Blurred Lines" (which grabbed two nominations for Record of the Year and Best Pop Duo/Group Performance) with the legendary band Chicago. They even threw in a medley of Chicago's music, including "Does Anybody Really Know What Time It Is?"
Peep Robin rocking the stage above.

Photos via CBS
The 2014 GRAMMY Awards Red Carpet!
Posted: 26 Jan 2014 07:14 PM PST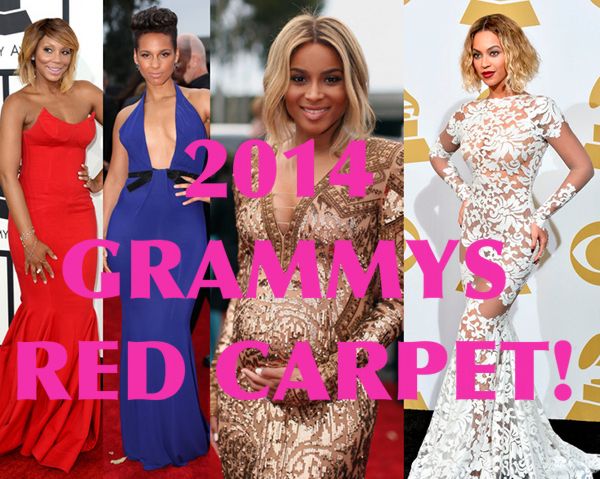 Celebs flocked to the red carpet at the Staples Center for the biggest night in music. We're rounding up all the YBF celebs who showed up and showed out for the 2014 Grammys, and we've got some ish to say about everyone.
Our full red carpet coverage is inside (and will be updated constantly)....
Roll up your partitions. Because Beyonce Knowles Carter hit the carpet in the press room after her performance with the full intent to shut it down. And she kept it sexy in this Michael Costello Couture white lace and sheer gown.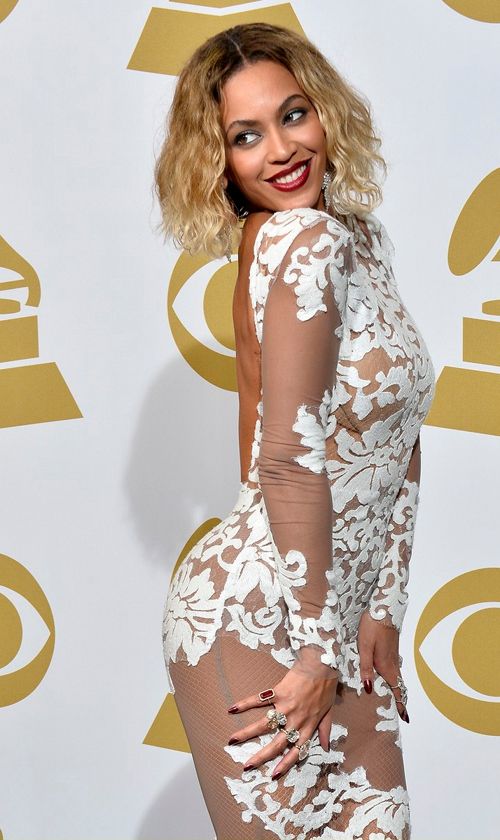 She dried out her wig from earlier, tossed on a ridiculous amount of rings, and slapped on her fave red lipstick to complete her look.
Ashanti was mad late (according to her tweet) and running on CP time. So she almost missed the official red carpet, but posed it up anyway and posted her own snap:
Loving her hair. And it stops about there. (She's wearing a Dar Sara dress by the way.)
Pharrell, who hit the carpet with his wife Helen, stirred up the red carpet with his choice of a hat. Some folks wondered if he jacked the Arby's logo...while others asked if he was trolling for forest fires. SMH.
Jamie Foxx was there to present...and apologized to Jay Z on stage for lusting after his wife during her "Drunk In Love" performance. Jamie brought his gorgeous daughter Corinne Foxx on the carpet. Corinne revealed she'll be 20 in February. And when asked if Jamie's the protective daddy, she said that Mr. Foxx pretends to be strict in the beginning with guys she dates, but then becomes friends with them soon after. Ha!
Ciara is making this baby bump work for her...and it's giving her more publicity than even she probably expected. And she's looking more gorgeous than ever thanks to these new baby curves: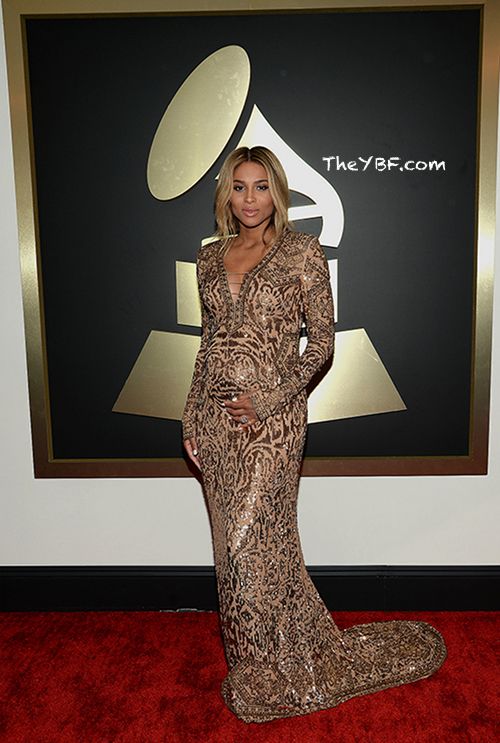 CiCi showed up with her reportedly 7-months-pregnant belly perfectly tucked under a custom gold embellished Pucci dress.
She revealed on the red carpet that it took 3 fittings to get it perfectly right, and one fitting went down in Milan.
On what she said she was happy about this go round while hitting her first MAJOR carpet with a baby bump: "I got to eat a club sandwich and friend and didn't have to worry about it. The bigger the bump the better!"
Speaking of hot mommies....Amber Rose showed off what all her hard work has been going toward this past year. The mommy of Sebastian and wife of Wiz Khalifa showed up in a gold Naeem Khan gown that gave us a peek at her bangin' post-baby bod.
Just one year ago, she was on the GRAMMYS red carpet about to pop with Baby Bash. And tonight, she's stepped into that bad ass snapped-back Housewife role quite nicely. She's looking like Wiz's very own Grammy in this sexy gold number. Oh, and she covered up her tattoos for a clean look. Thank 'ya Jesus.
Wiz rocked YSL on the carpet. And when both were asked if more babies are in the future, Amber gave an ecstatic YES, because she loves being a mom: "Definitely, 100%. I want more babies."
Tamar Braxton looked red hot in a Michael Costello creation. The pointed & strapless, fishtail hem number fit her post-baby body like a glove. And it looks like either a spray tan or some time in somebody's sun happened between Friday and tonight. This wig and bronzed hotness is definitely working for her.
WORK Tamar!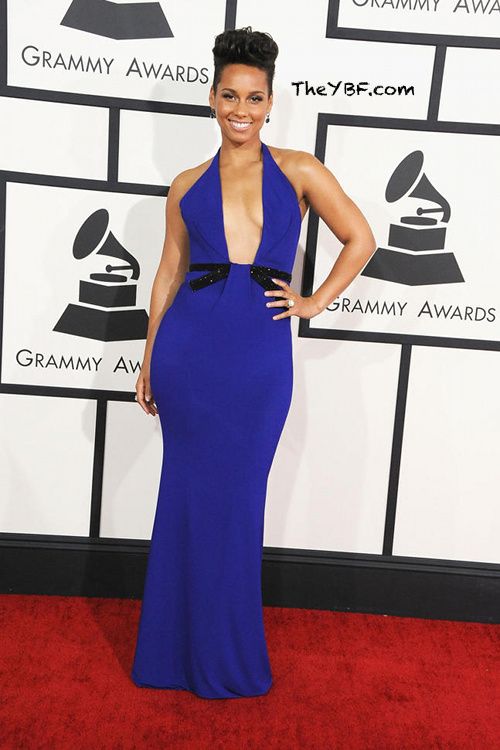 Alicia Keys had a busy year of touring and performing. And after copping her 15th Grammy in today's pre-show, Mrs. Beatz hit the carpet with her husband Swizzy in this royal blue, plunging neckline Armani Prive gown. She knows what works for her. Great look.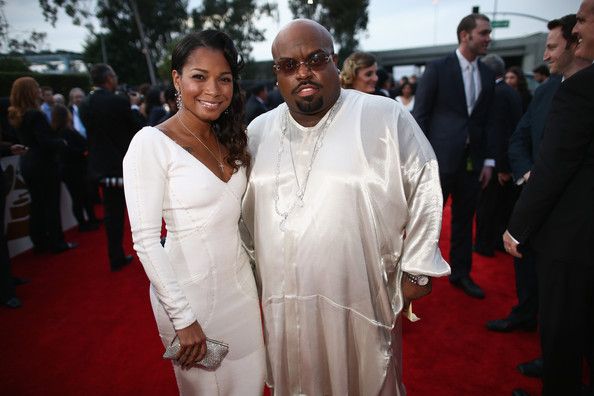 CeeLo Green brought his daughter on the carpet. All white everything? Or is a baptism occurring? Who knows...
Tyrese hit the carpet with his "artist" Kristal Lyndriette.
Miguel hit the carpet with girlfriend Nazanin. And he revealed that his sexiest moment of 2013 involves the mirrors above the bed in the home he and his hot girlfriend just moved into together. Oww!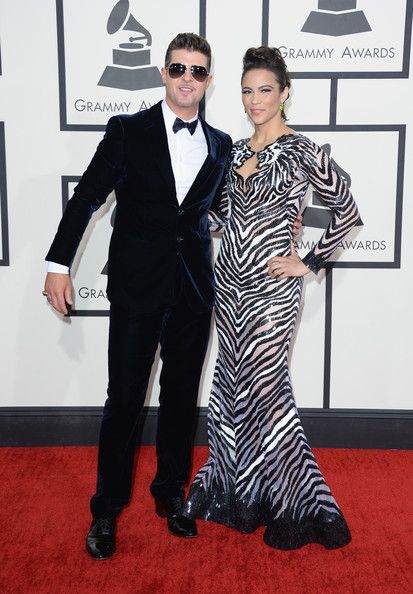 Paula Patton and Robin Thicke....appeared at least somewhat sober on the carpet. Robin, rocking Armani, was a performer tonight. And his wife Paula was another miss for us. This see-through zebra number reminded us of something a hood chick would wear to the prom. #SorryNotSorry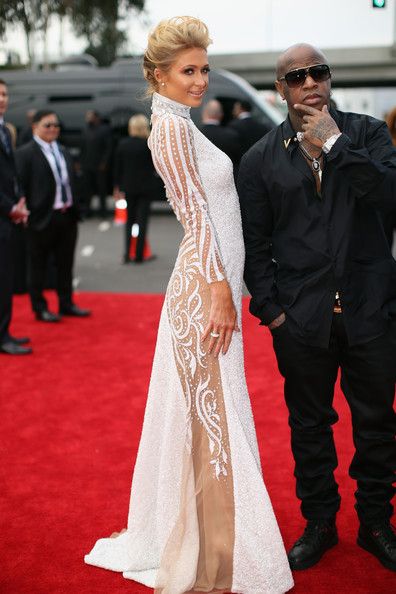 Birdman showed up with his Young Money artist Paris Hilton. Sigh. Paris showed off what she shows off best...not her music...but her body. In a revealing House of Milani dress, the socialite showed up to talk about her album that she, Baby, and Wayne are still working on. You know, in case you were twiddling your thumbs just waiting on an update...
Mack Wilds popped up on the carpet--in his Dwayne Wayne flip shades. He grabbed his first Grammy nomination for his first project as a singer/rapper.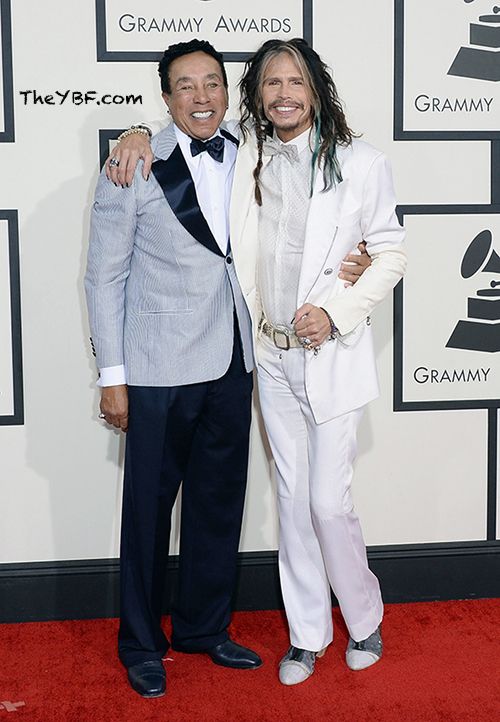 Smokey Robinson found a face to put on today and hit the carpet with Aerosmith's Steven Tyler....who found a wig to throw on today (at least we hope that's a wig).
Roc Nation's Rita Ora took a risk and didn't wear a long gown this time around. She opted for a knee length sexy Lanvin dress made up of greenish gold metallics. Loves it.
Not sure if Madonna called herself doing damage control after calling her OTHER son the N-Word on Instagram recently. But, she brought her adopted son David on the red carpet tonight...in a semi-matching tux. Oh.
Fanny Fanny Fanny. Thought she had on two different dresses at first glance. At second glance, realized it was just one badly designed dress by Isabel Toledo. Or maybe it's one of those dresses that look hot on the runway...but not so much in real life.
Not feeling the concoction of black mesh, lace and embroidery with red cleavage straps she's got going on here. But we kinda see what she was going for....
Meanwhile, Chrisette Michele nailed the chic print on print complete with multi colors look. Both her jacket and pants are from the eclectic design house Etro, and we're loving that she rocked pants on the carpet. The risk paid off. White pumps (which we usually hate) topped off the look perfectly.
Ziggy Marley brought his woman on the carpet.
And our fave correspondents kept it pretty chic on the carpet: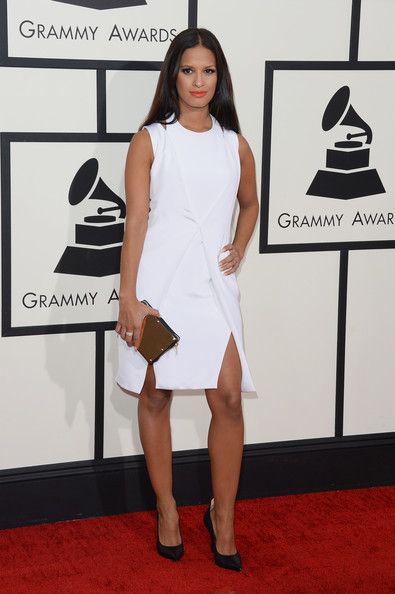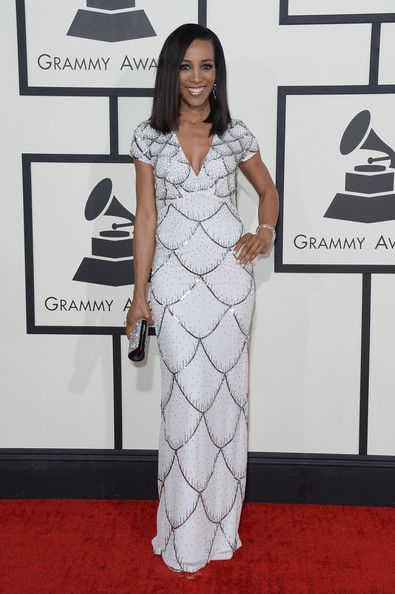 Rocsi Diaz took a page out of Lupita's book and rocked an edgy white Cushnie Et Ochs dress. E!'s Alicia Quarrels went for a sparkly fringed look. And Shaun Robinson looked polished in a white sheath dress with a scalloped design.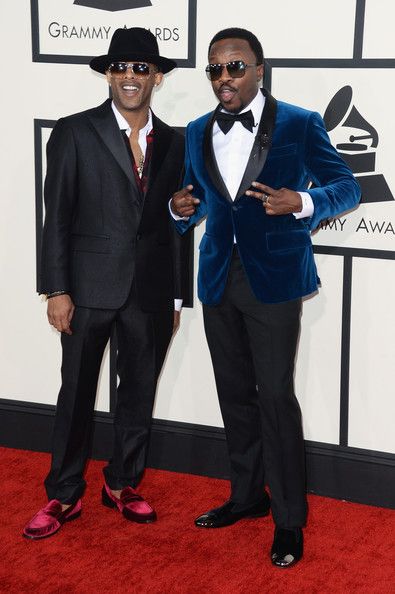 Anthony Hamilton hit the carpet with hip hop artist Ed D. Kane.
And it looks like Faith Evans slipped on her cougar paws for tonight's red carpet. She's looking FAB: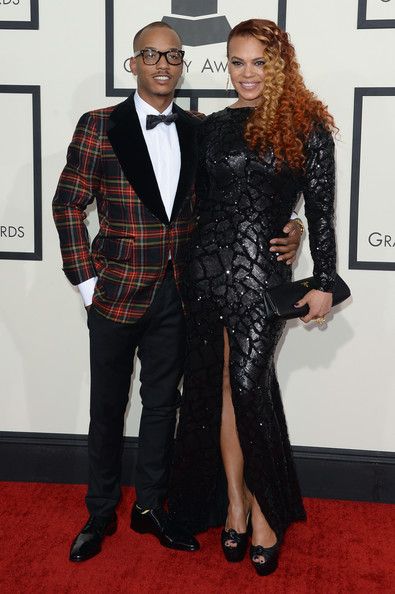 And she rocked a stunning black, front slit, curve hugging dress and showed 40 is totally the new 20. Well, maybe the new 30. She hit the carpet with her producer who goes by My Guy Mars.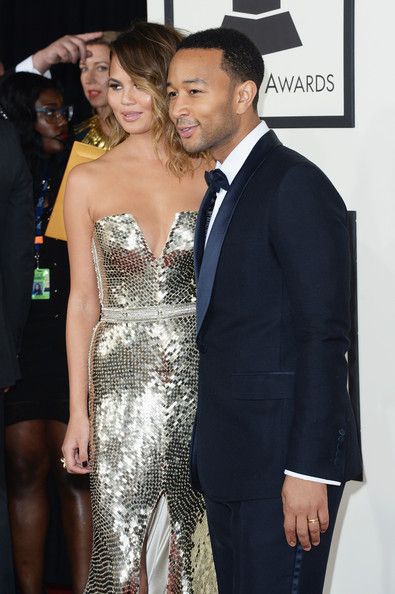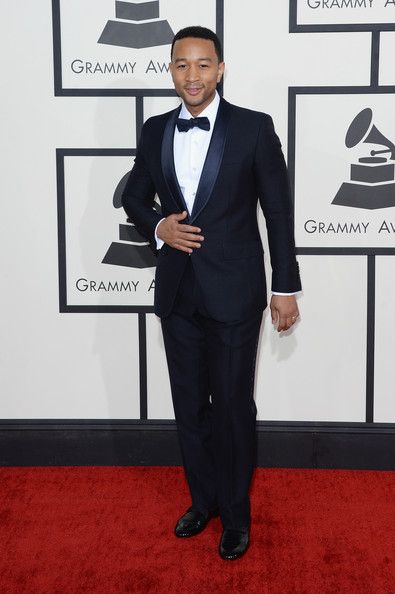 John Legend, dressed in Gucci, was there to perform "All Of Me" on the GRAMMY stage. But first, he hit the carpet with his wife, Chrissy Teigen, who looked amazing in a strapless & sparkling Johanna Johnson creation.
Nelly looked uncomfortable, yet dapper, as he hit the carpet in Dolce & Gabbana.
And Dionne Warwick randomly hit the carpet with Billy Ray Cyrus. If you're asking, 'WTF is going on here?'...don't worry. It's all for the sake of music. The two just recorded a song together called "Hope Is Just Ahead" and it will be out soon.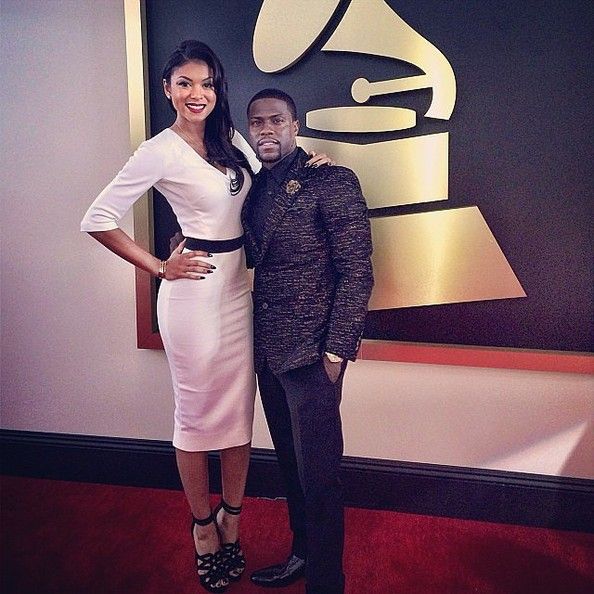 And About Last Night star Kevin Hart hit the carpet with his hot bodied girlfriend Eniko. He stopped by the E! booth and was hilariously singing Beyonce's "Flawless".
Photos: Anthony Tilghman/Wireimage/Ashanti's IG

GRAMMY PERFORMANCE: Beyonce & Jay Z SURFBOARD On That Wood For "Drunk In Love" Opening Performance
Posted: 26 Jan 2014 05:57 PM PST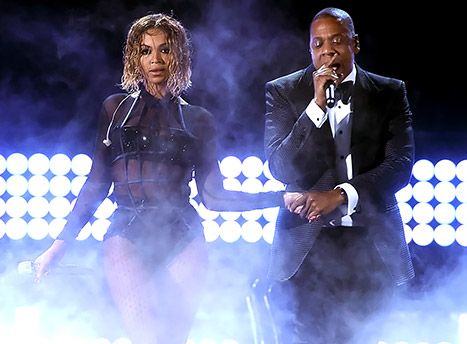 Beyonce and Jay Z kicked off the 2014 Grammys with "Drunk In Love." See their sexy performance inside....
Mr. and Mrs. Carter opened up the 2014 Grammys Sunday night with a seductive and slightly raunchy (we loved every bit of it too) performance of "Drunk In Love."
With short wet curls reminiscent of the "Drunk In Love' video, some sexy lingerie and a chair (which she straddled), Bey gave us Basic Instinct meets the cabaret tease.
Watch 'Yonce ride her "surfboard" and grain all on that wood below:
In addition to performing, Jay Z is also up for nine nominations for "Suit & Tie" and Magna Carta ... Holy Grail.
Photo via Kevin Winter/WireImage
IN CASE YOU MISSED IT: Macklemore & Ryan Lewis Sweep GRAMMY Rap Categories, Twitter Is Pissed + Justin Timberlake, Jay-Z, Alicia Keys & Rihanna Win Early
Posted: 26 Jan 2014 04:50 PM PST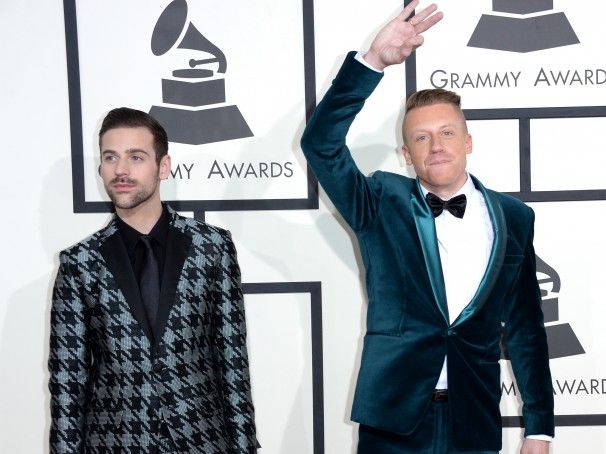 The Grammys main telecast hasn't even started yet, and there's already drama in the Twittersphere. Macklemore & Ryan Lewis swept the rap categories (which only aire din the pre-telecast) and Justin Timberlake beat out some major folks in an R&B category.
Deets inside, plus who else copped some awards in the pre-show...
Macklemore & Ryan Lewis are nominated for 7 GRAMMYS tonight. And they've already copped 3 in the pre-telecast. They swept the entire RAP category. The besties won Best Rap Album for The Heist and Best Rap Performance & Best Rap Song for "Thrift Shop".
Needless to say, Twitter is pissed. Here's a snapshot of folks saying GRAMMYS is simply showing favoritism--for a few reasons--if they chose Macklemore over Kendrick Lamar (or really anyone else in those categories). Just a few tweets we came across within the trending topic:


Yes, they are a hard working duo who were intent on going the independent route. And they usually have a great message. But winning all rap categories over Kendrick and others just isn't sitting right with plenty of folks.
Meanwhile, Macklemore actually said that Kendrick deserved the award for Best Rap Album. And he tweeted out his text convo with him from this morning: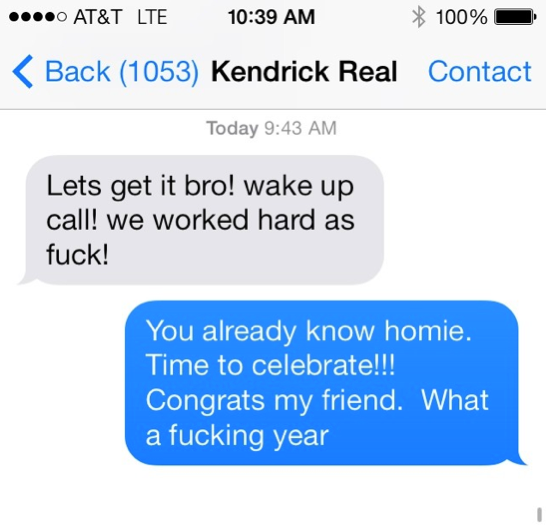 Well....
By the way, word has it during Macklemore & Ryan Lewis' performance tonight of "Same Love", Madonna will be making a cameo and Queen Latifah will be officiating 34 weddings...on stage!
In other news, Alicia Keys won in the pre-show for Best R&B album for Girl On Fire. And her husband Swizz Beatz gave her a salute on IG with the pic above he snapped right before she hit the carpet tonight.
Rihanna copped a Grammy earlier tonight for Best Urban Contemporary Album for Unapologetic. She's up for Best Pop Duo/Group Performance for "Stay" as well.
And Justin Timberlake has already racked up two Grammys. He and Jay Z nabbed Best Video for "Suit & Tie" and Justin grabbed up "Best R&B Song" for "Pusher Love Girl". He's up for 5 more tonight, 2 of those are with Hov.
Photos: Twitter/Swizz's IG
LIVE RED CARPET: 2014 GRAMMY AWARDS
Posted: 26 Jan 2014 03:06 PM PST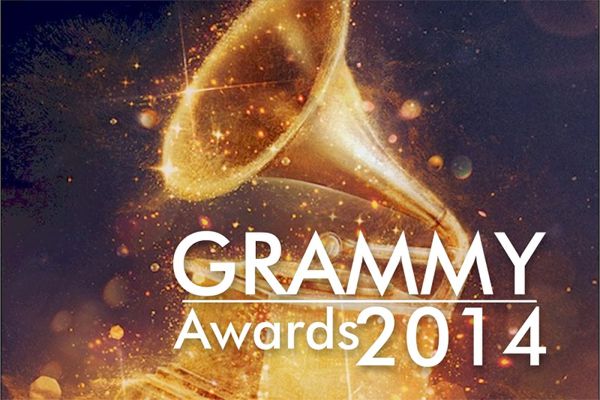 Check out a live red carpet stream from the 2014 Grammy Awards inside...
It's about that time. The biggest night in music has officially kicked off with a red carpet we're sure won't disappoint.
We've got a red carpet live stream from MTV with the uber funny Nicole Byer of "Girl Code" and Sway Calloway.
Keep it locked on TheYBF.com for full red carpet coverage!
YBF Folks Hit The Carpet At The 2014 Trumpet Awards
Posted: 26 Jan 2014 01:21 PM PST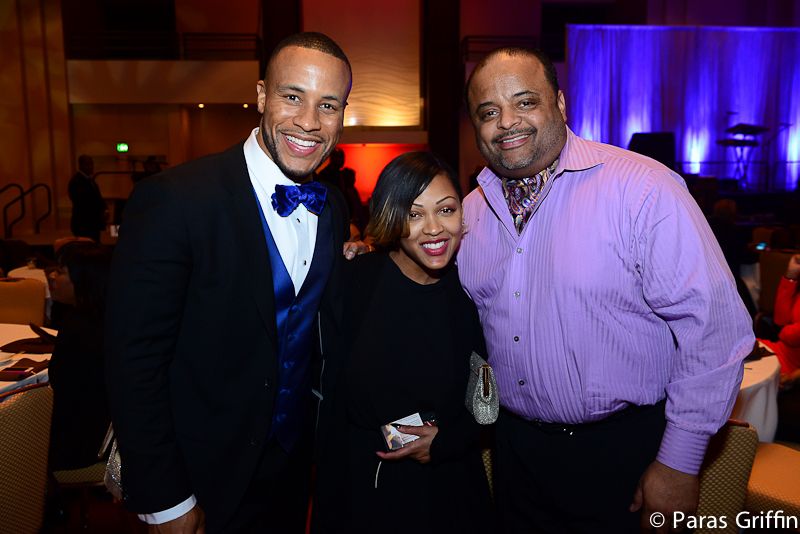 The celebs who weren't at all the Pre-GRAMMY festivities last night were likely down in Atlanta for the 2014 Trumpet Awards. Check out who hit the carpet before the feel-good Award shows and who was honored inside....
Last night at the Cobb Energy Performing Arts Center, YBF folks came out to the Trumpet Awards to honor the accomplishments of African Americans who have succeeded against insurmountable odds.
Senior Vice President of Columbia TriStar Pictures Devon Franklin was an honoree of the night and he was spotted looking happy as pie with his wife Meagan Good and their friend Roland Martin.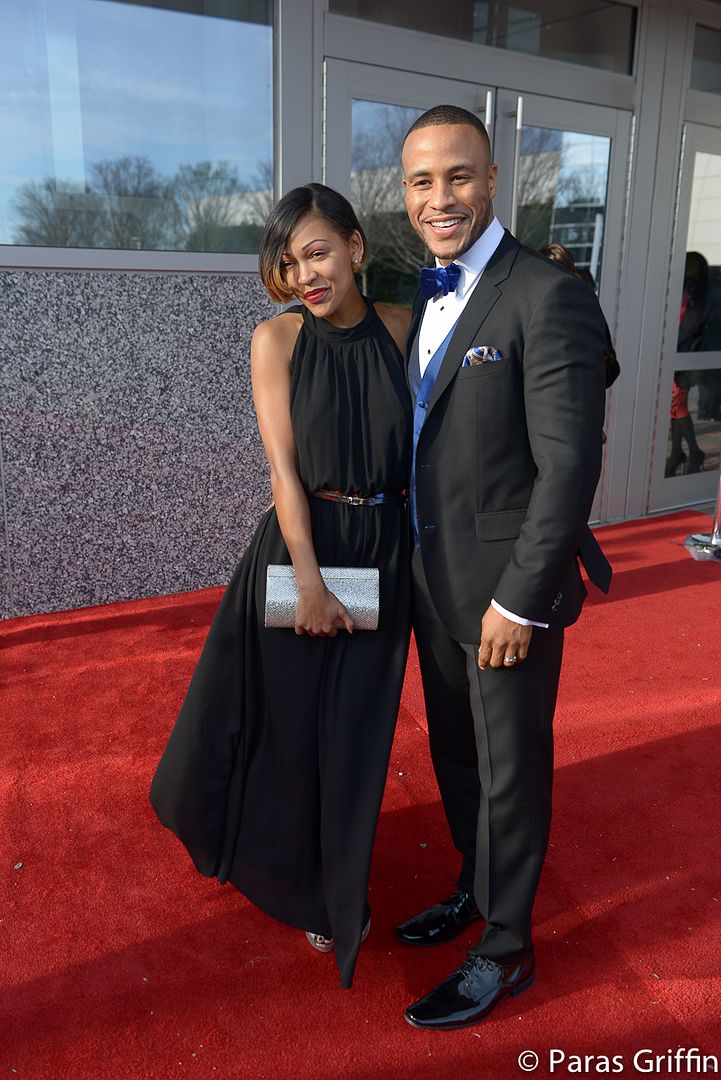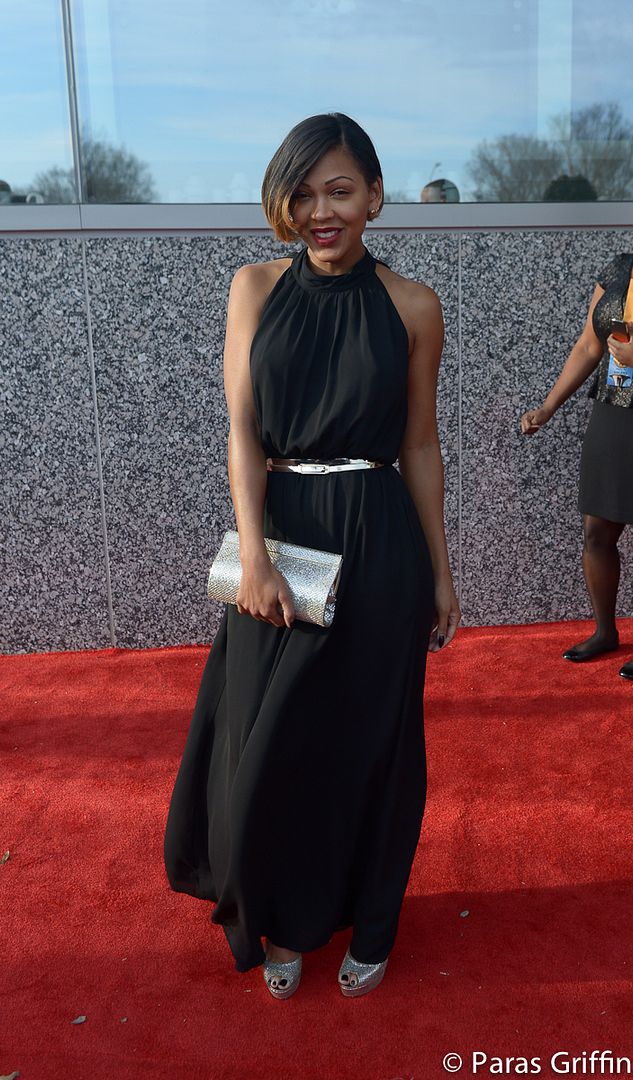 Pretty yet simple look for Meagan.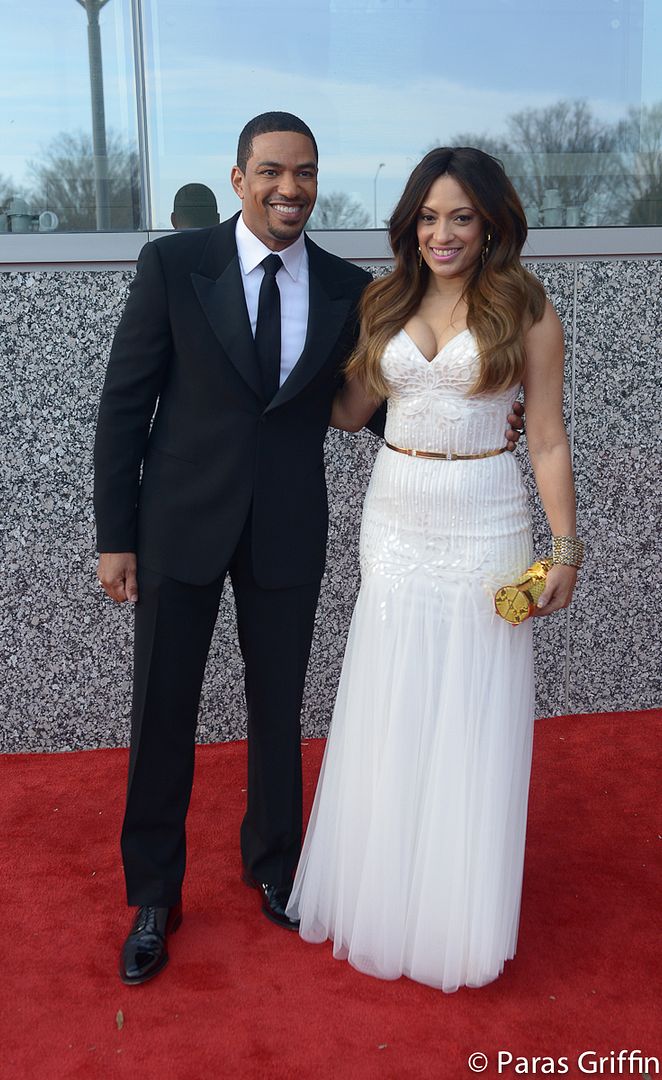 Meagan's former "Deception" star Laz Alonso caught up with Best Man Holiday star Melissa DeSousa. *One eyebrow raised to see if anything is going on there...*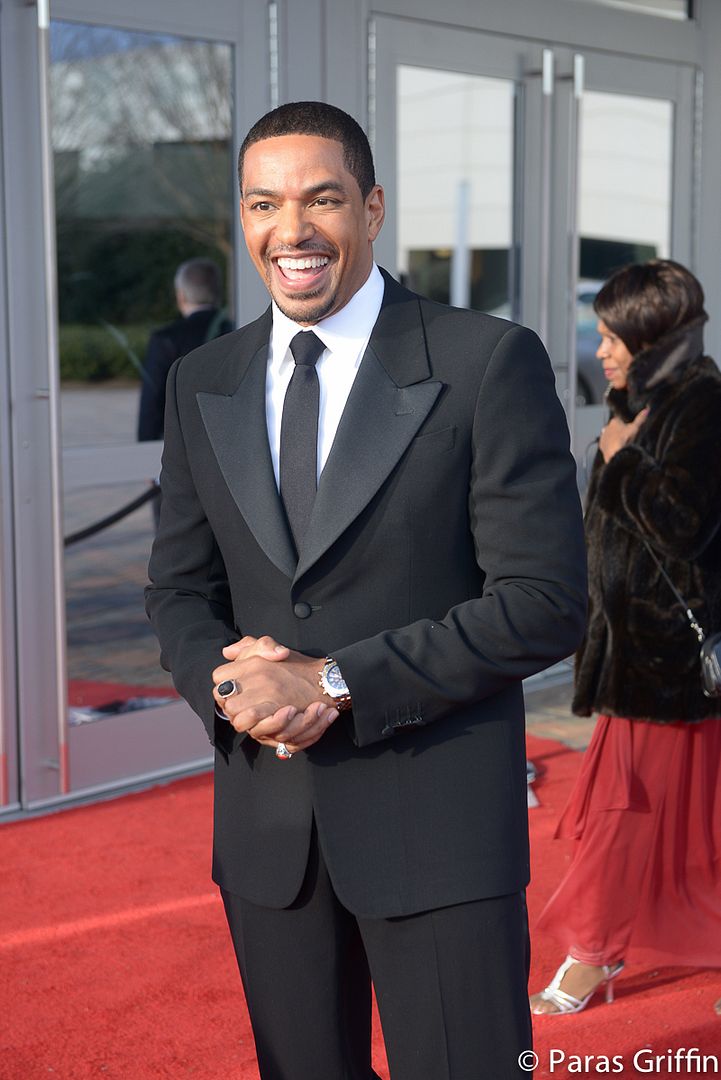 Heeey Laz.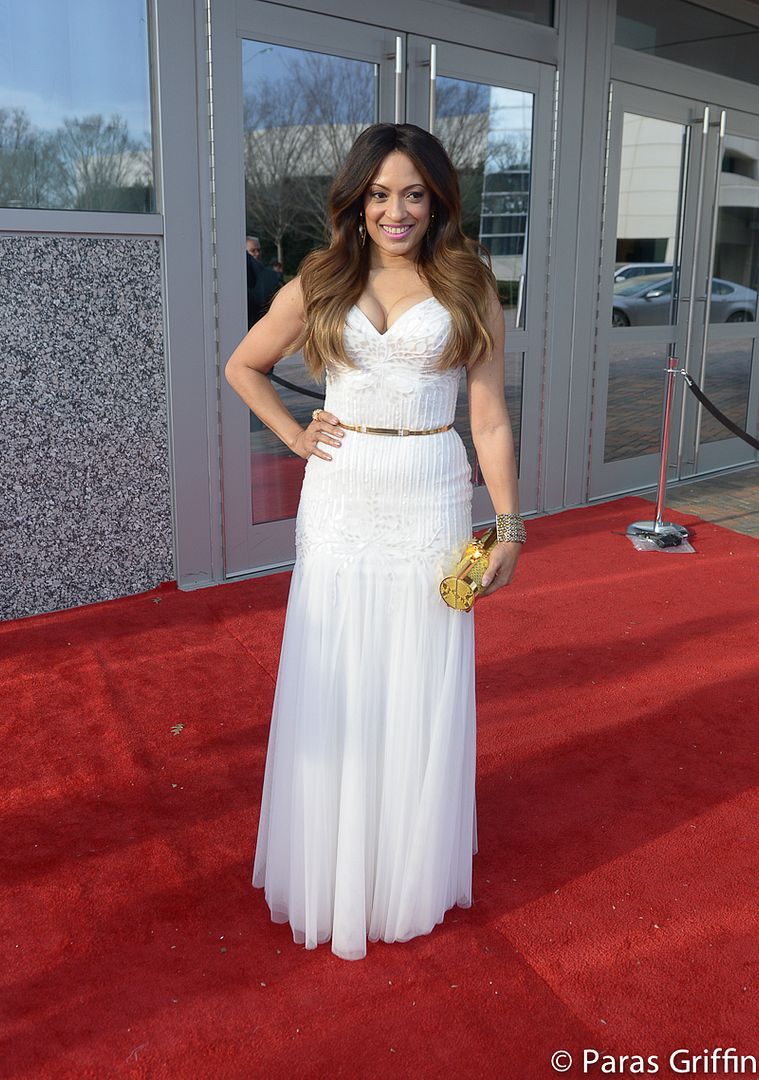 And Melissa is looking absolutely gorgeous these days.
Actress Amber Riley was there to sing her face off on stage.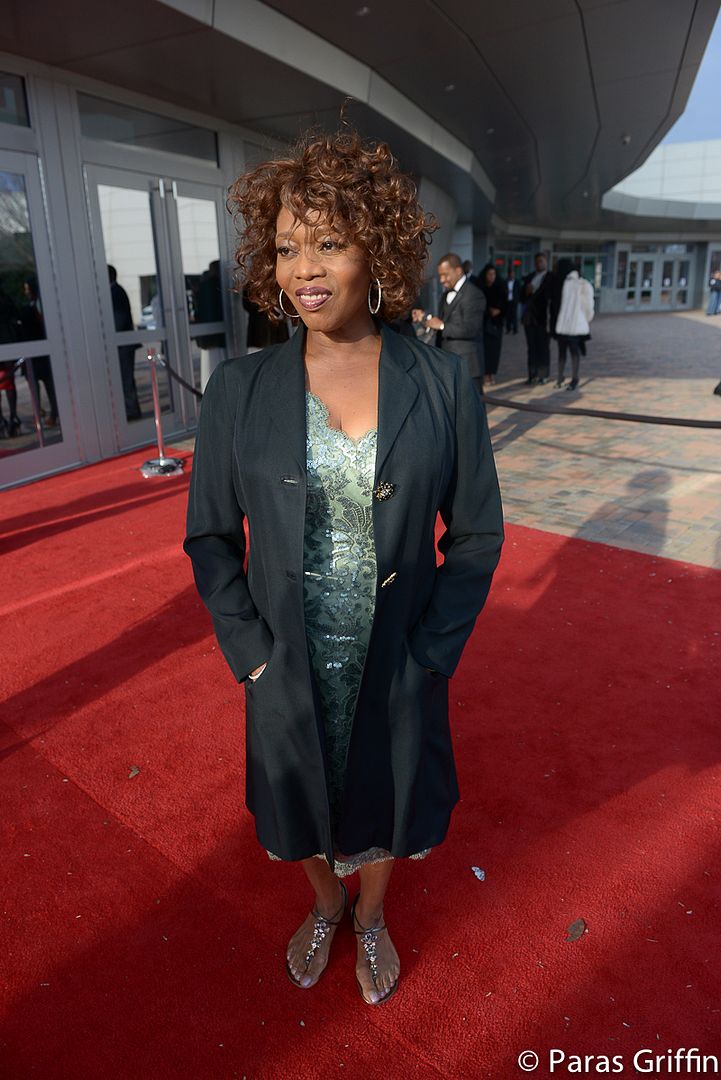 Alfre Woodard has zero f's to give when it comes to shoes. Can't remember the last time she rocked some heels on a red carpet. She is totally over the pain and torture.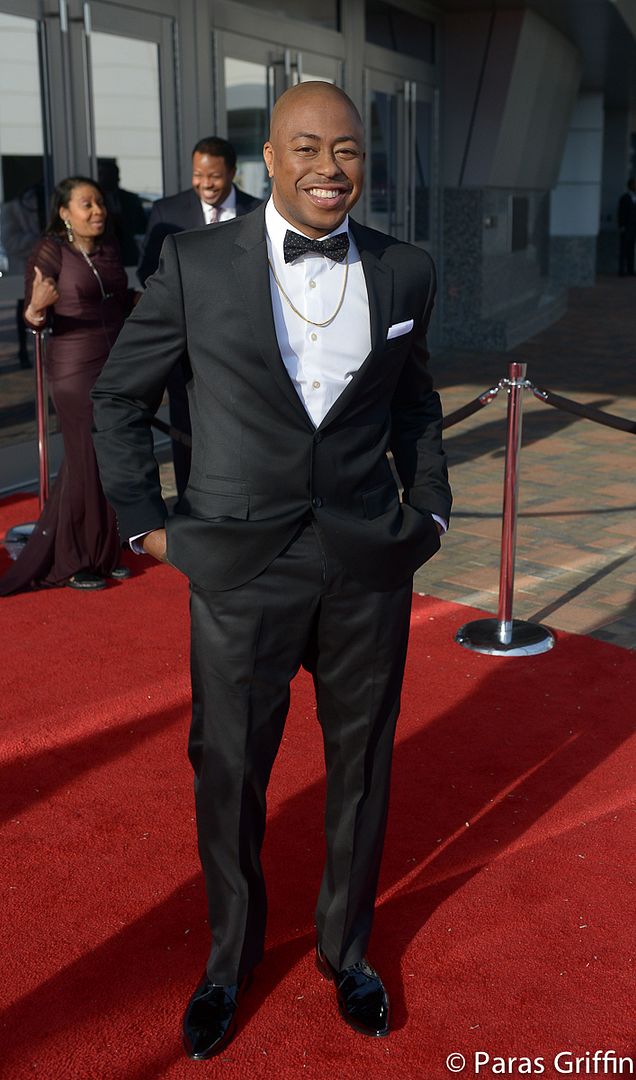 We barely even recognized Raheem DaVaughn. Must be the clean shaven face...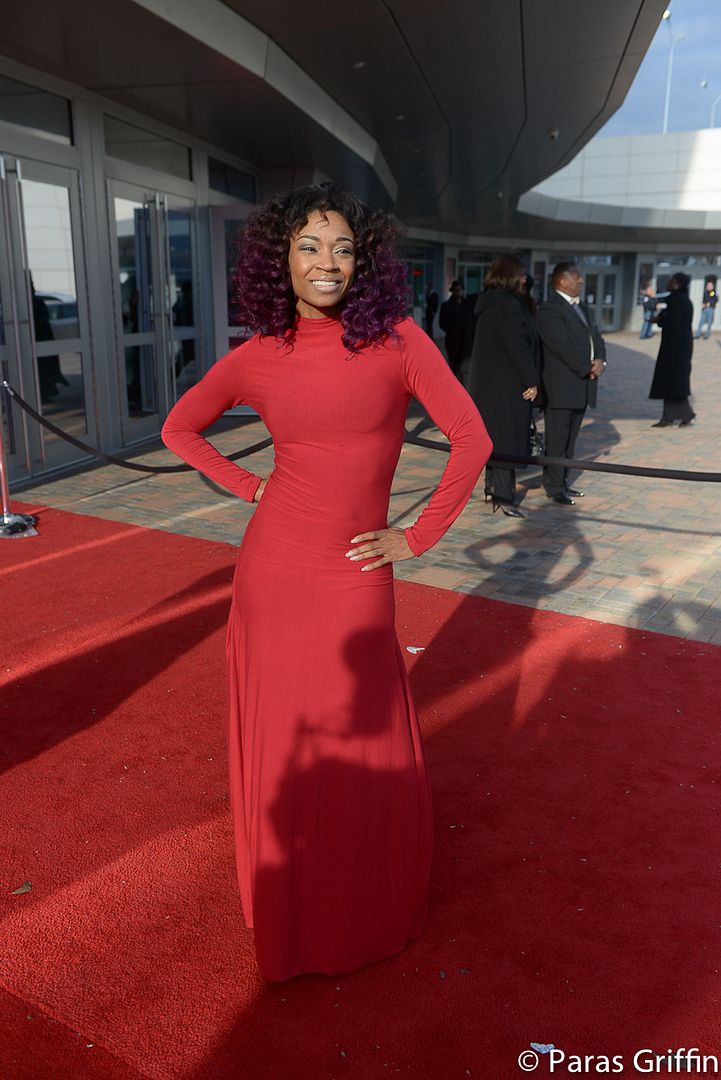 D. Woods showed up in a curve hugging red dress. And she seems unbothered that she's not part of the Danity Kane re-up.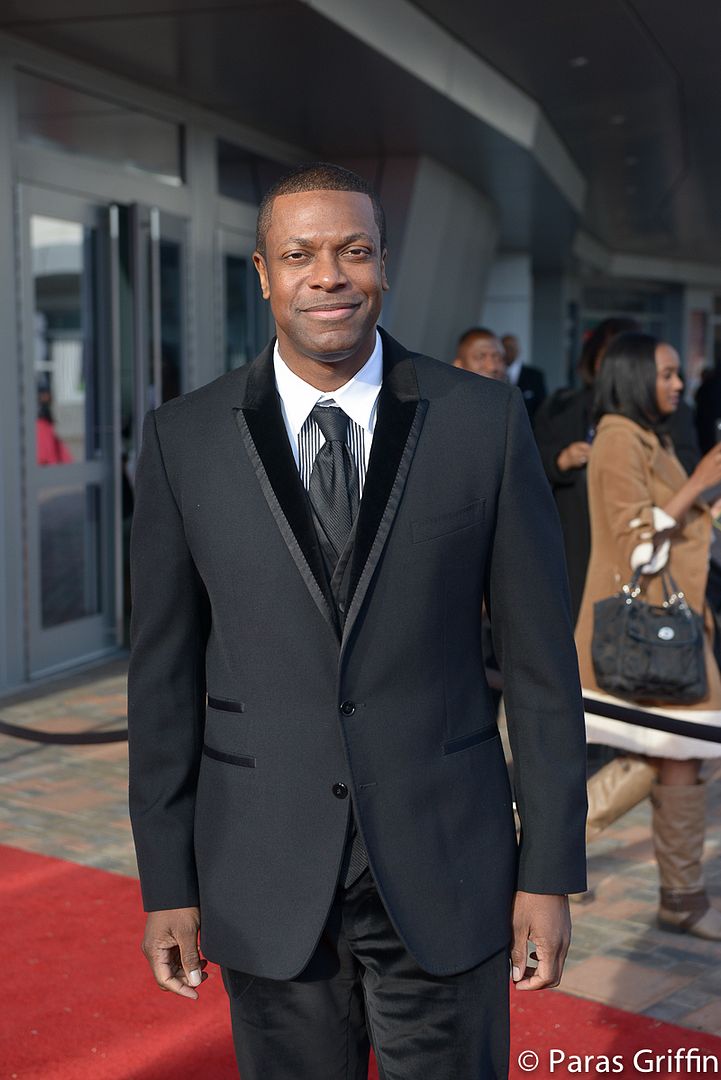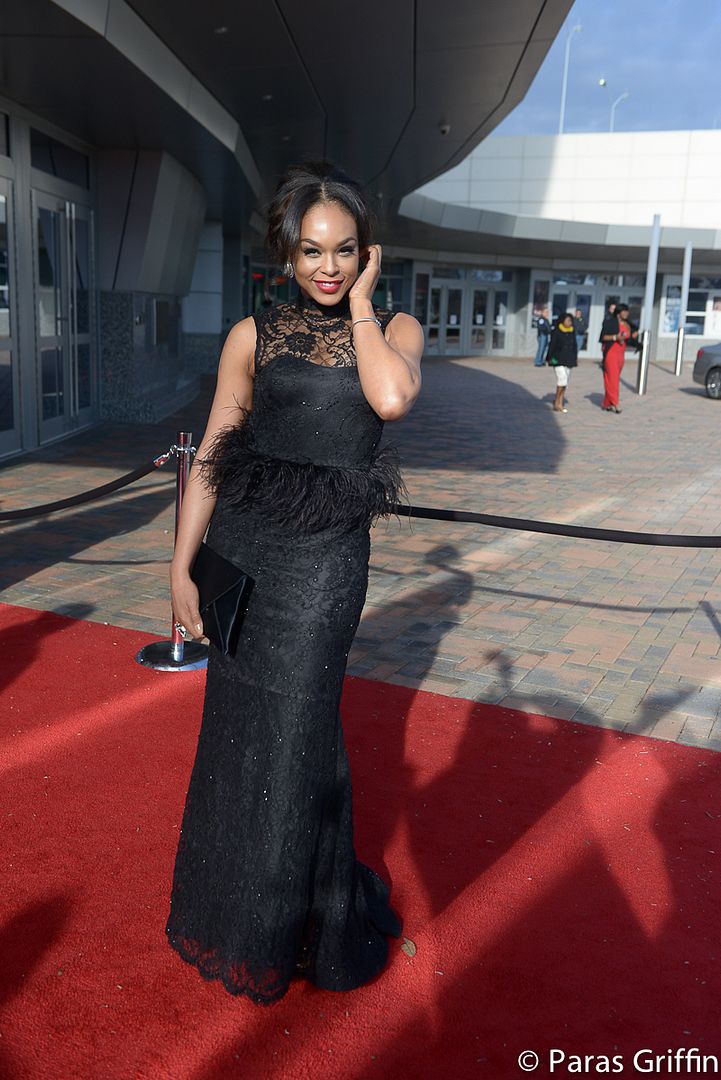 Chris Tucker and Demetria McKinney hit the carpet.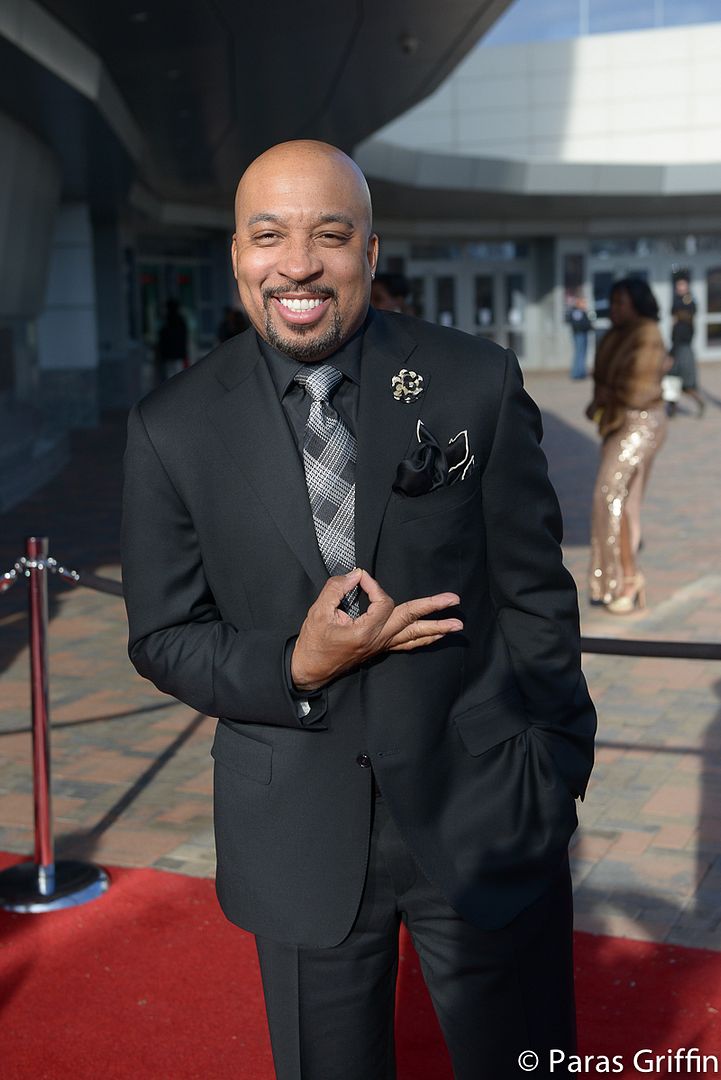 Nephew Tommy repped for the Kappas.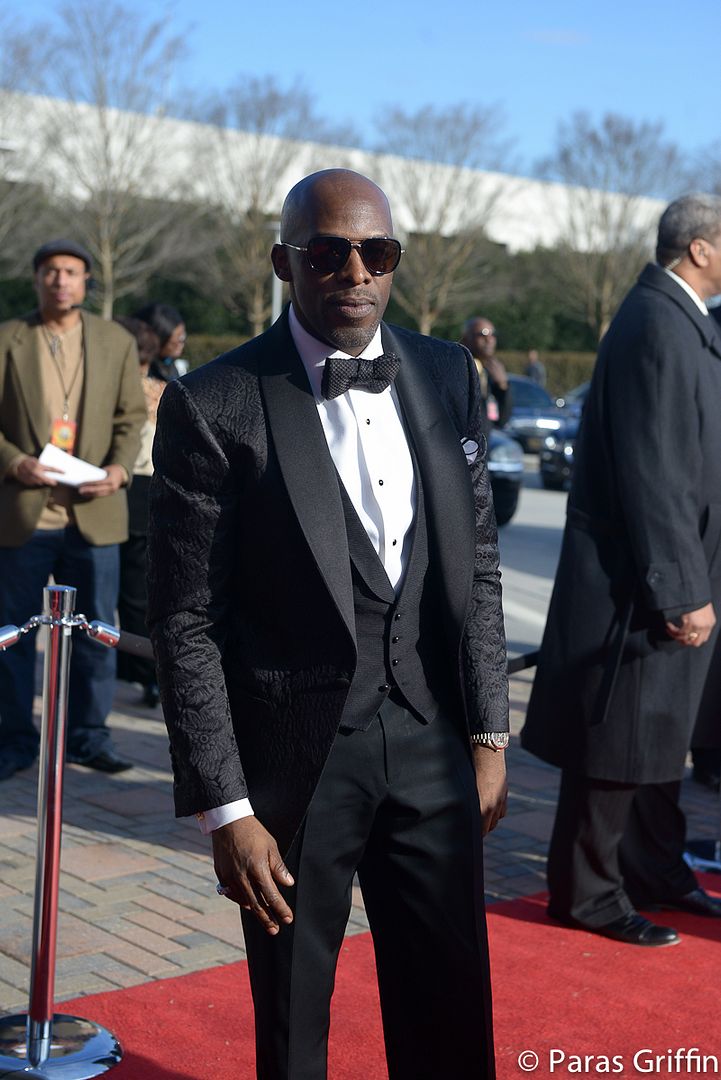 Where have YOU been Joe?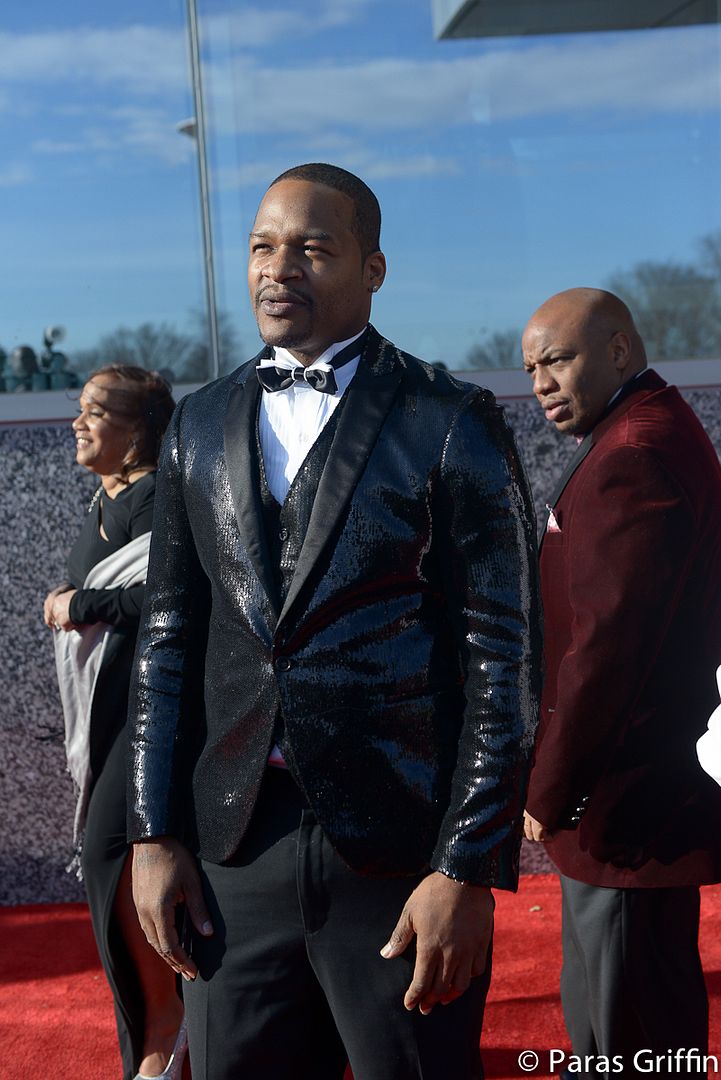 Oh Jaheim. At least this time he left the purple suit at home.
Carl Thomas and ths scarf....why?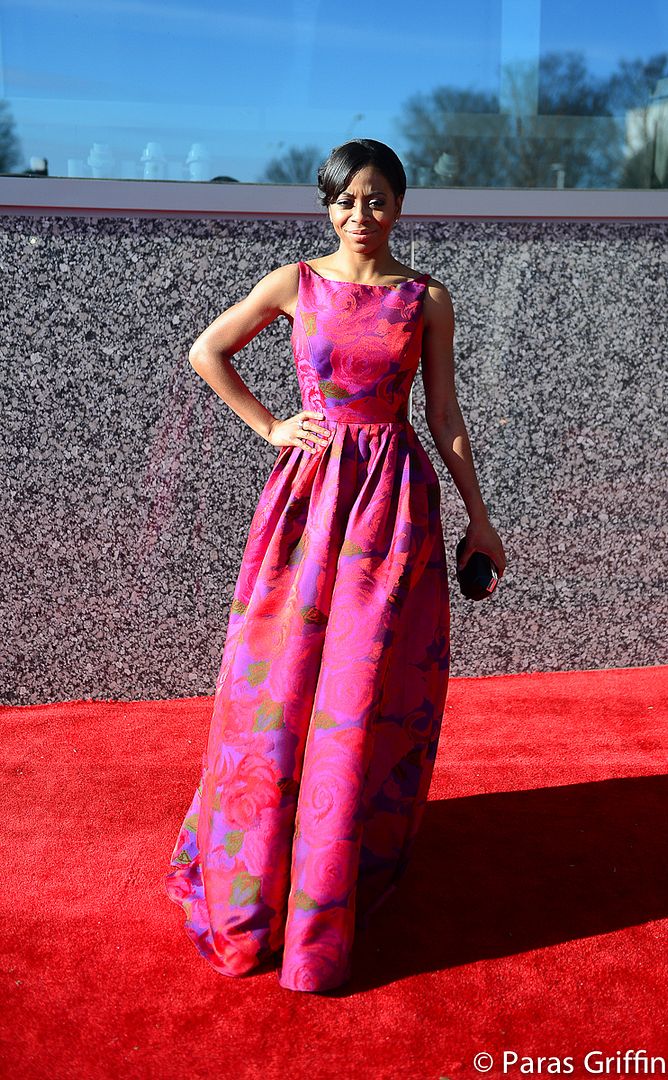 Bresha Webb of "Love That Girl" kept it colorful on the carpet.
SWV's Coko showed off the results of her recent tummy tuck.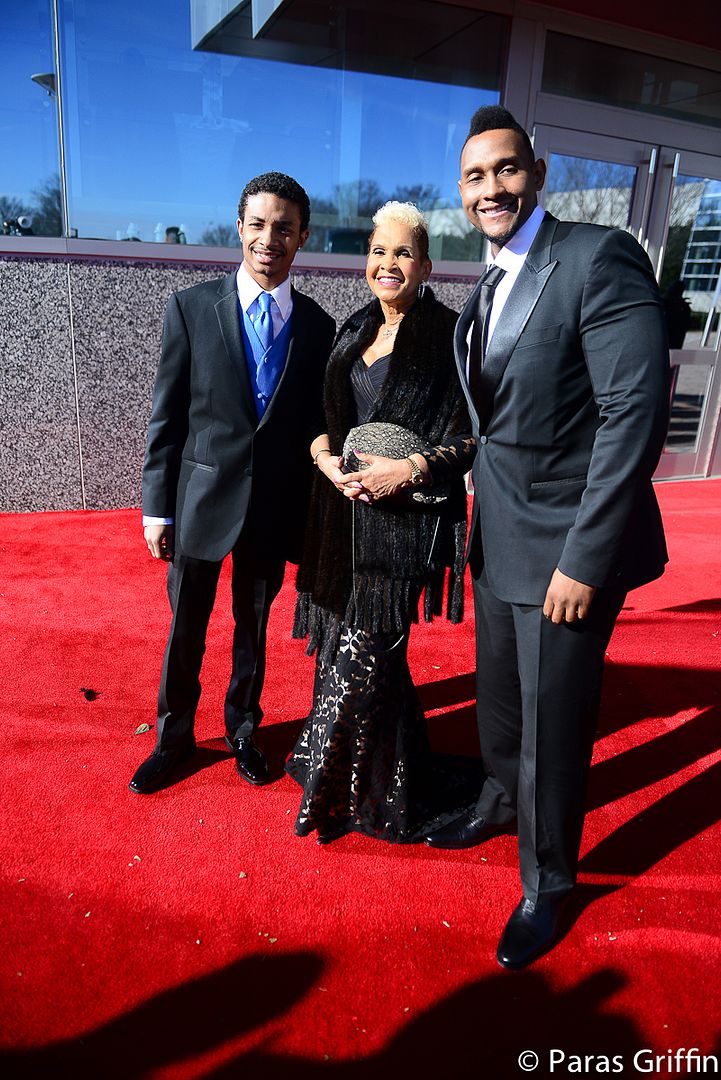 And the cast of "Sweetie Pies" traveled to ATL for the big night.
Fab times!
Photos: Paras Griffin/G Paras Photos
GRAMMY PARTY ROUND UP: Ashanti, Ne-Yo, T.I., Nelly & More
Posted: 26 Jan 2014 11:07 AM PST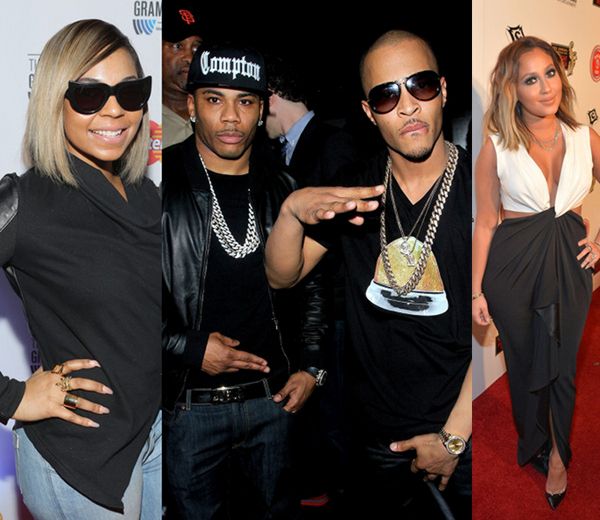 Celebs have been taking over L.A. all weekend partying hard before tonight's 2014 GRAMMY Awards. Check out more pics from a few random parties inside...
The party didn't stop at the Roc Nation brunch....Nelly & T.I. and others hit up the afterparty at 1Oak nightclub last night.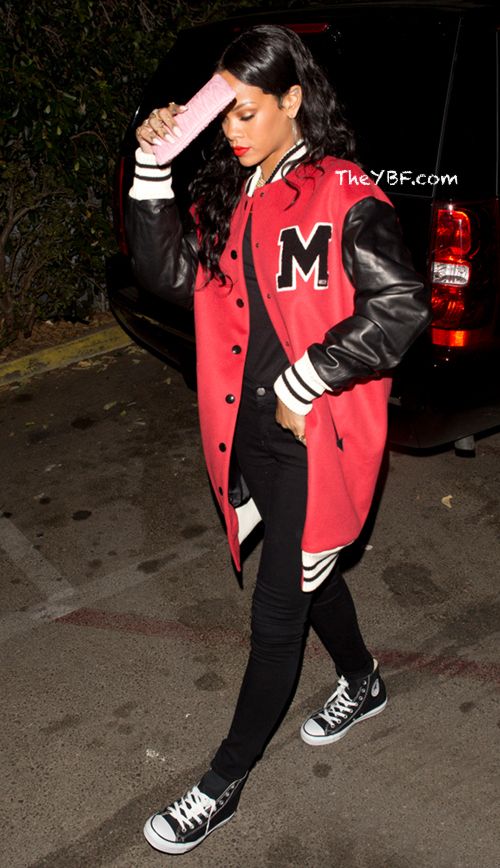 Rihanna changed clothes after all the events last night into something more casual. And Drake was also spotted walking into 1Oak. Mmmhmmmm.....
Ne-Yo and DJ Cassidy hit up the annual Midnight Grammy Brunch hosted by Ne-Yo and Malibu Red at Lure Nightclub last night in Hollywood.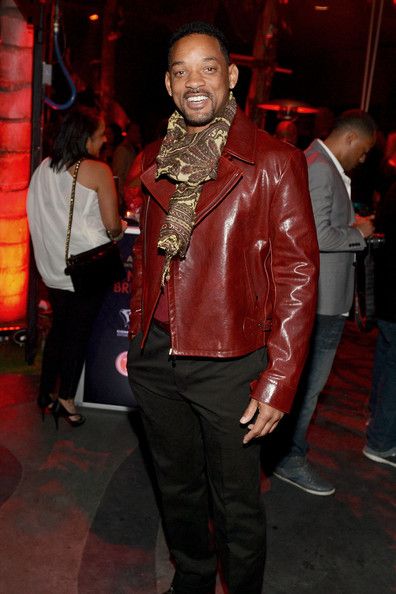 Even Will Smith stopped by in his cognac leather jacket.
Singer Marsha Ambrosius threw on her glasses and a cute flirty dress for the brunch.
Compound artist Adrienne Bailon was there showing off her fave assets.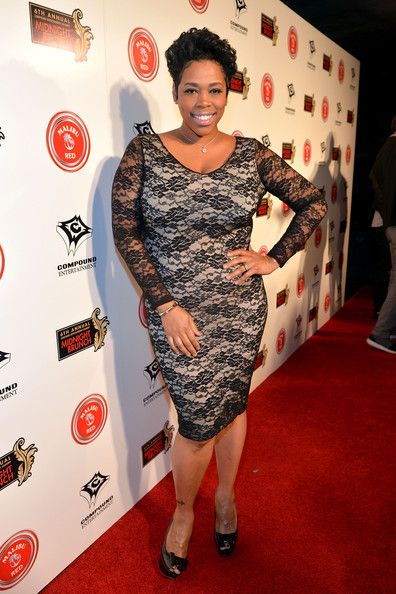 Nicci Gilbert was there chillin' with fellow reality star Tami Roman.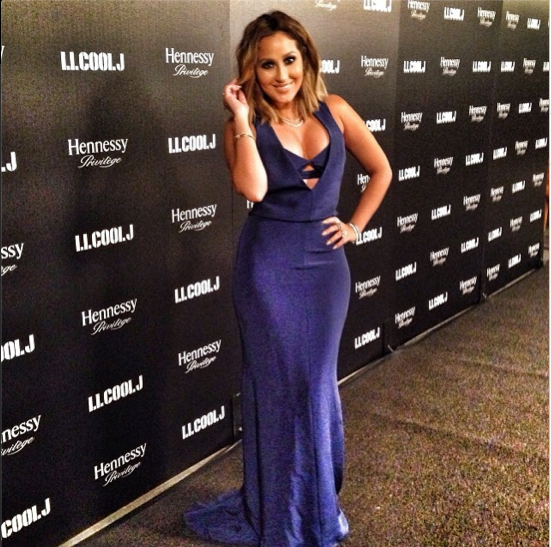 And speaking of Adrienne Bailon, she also made her way to LL Cool J's official Pre-Grammy Dinner. How many wardrobe changes did this chick do this weekend?!
And earlier this weekend:
Ashanti showed off her blonde bob at the MasterCard #PricelessSurprises Backstage At The GRAMMY'S event.

And fab chick Tatyana Ali was there as well.
Sevyn and Bridget Kelly were spotted at the BET Music Matters Showcase at Creative Artists Agency.

And Mack Wilds was also there at the BET Music Matters Showcase to perform. He just nabbed his first Grammy nomination as well.

And Diddy launched his Revolt Studios this weekend. The mogul had all his celeb friends on hand to celebrate the huge accomplishment for his tv network. Check out video footage from the fun night above.
Photos: Wire/Nicci's IG/Adrienne's IG/WENN/Splash