---
PARTIES: Keke Wyatt's "Fan Appreciation" Party With "R&B DIVAS ATL", Mimi Faust, Da Brat & More..... (Are We Feeling KeKe's New Hair?!)
Posted: 15 Jan 2014 09:17 AM PST
Keke Wyatt, who showed off a new 'do, hosted a "Fan Appreciation" Party in Atlanta that brought out her fellow "R&B Divas ATL" castmates, Carl Payne, Bobby V and more. See the pics inside....
Last night, Keke Wyatt (pictured above with her husband/manager Michael Ford) threw a "Fan Appreciation" Party at 200 Peachtree in Atlanta.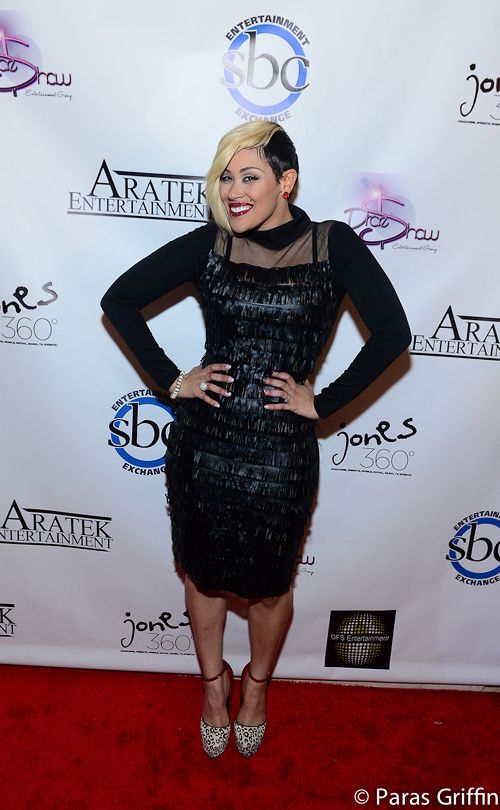 Partygoers were treated to new tracks from her upcoming album as well as some of her classics.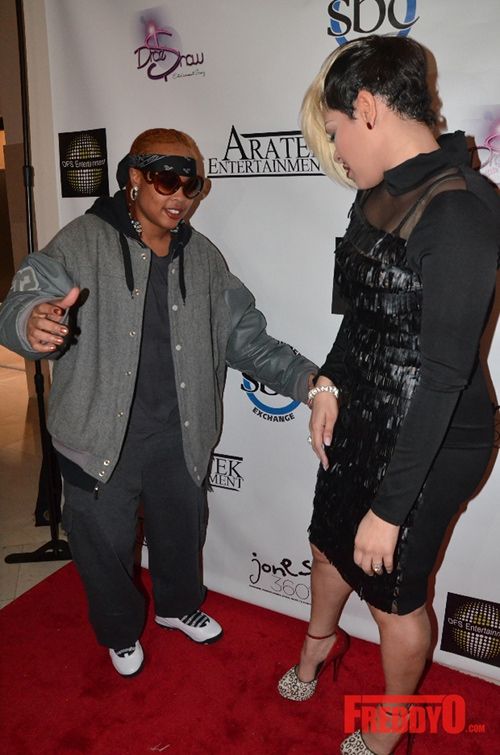 Rap legend Da Brat came out to show Keke some love and support. And to check out her new look....
Keke's "R&B Divas ATL" co-stars also came out to support her.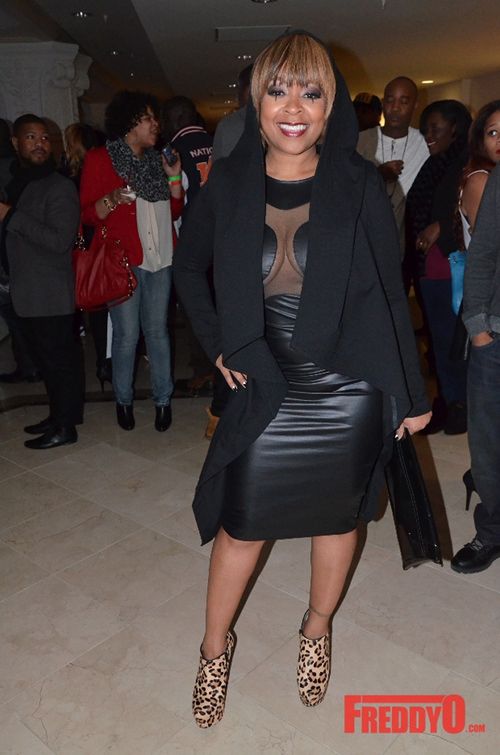 Monifah rocked a pair of leopard-print booties.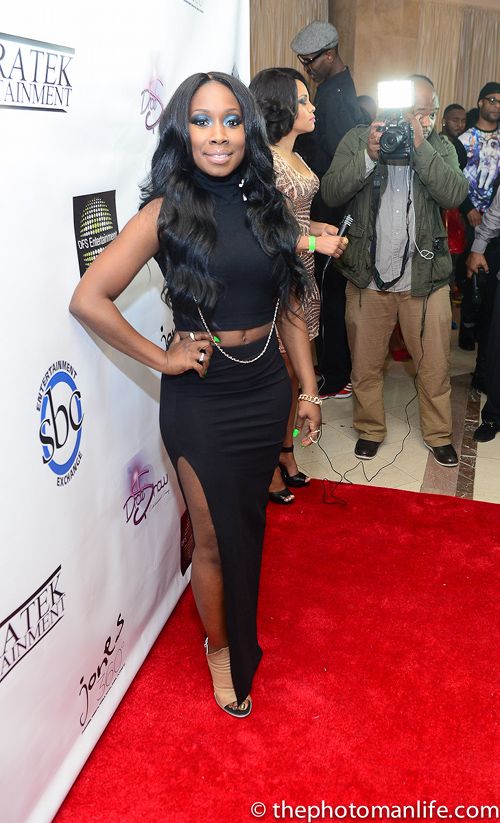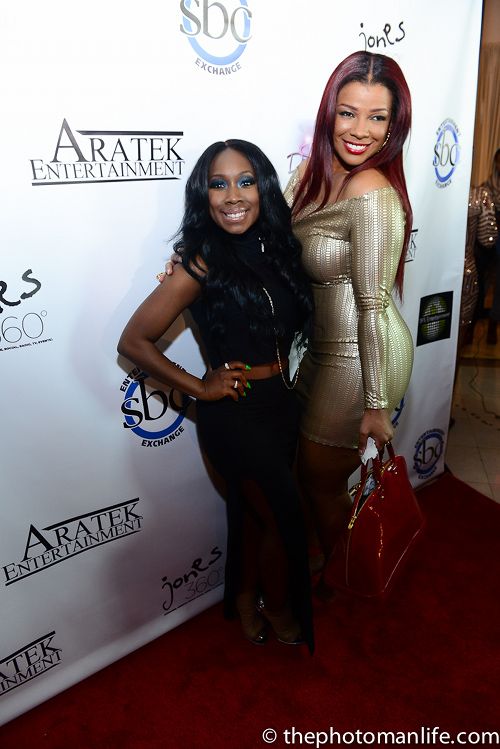 Meelah and Syleena Johnson struck a few poses together showing off their fab bods.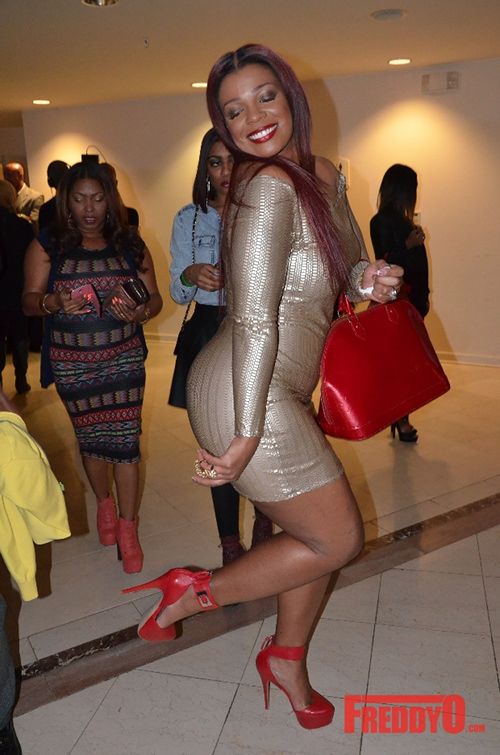 Syleena showed off her curves in a sexy gold dress.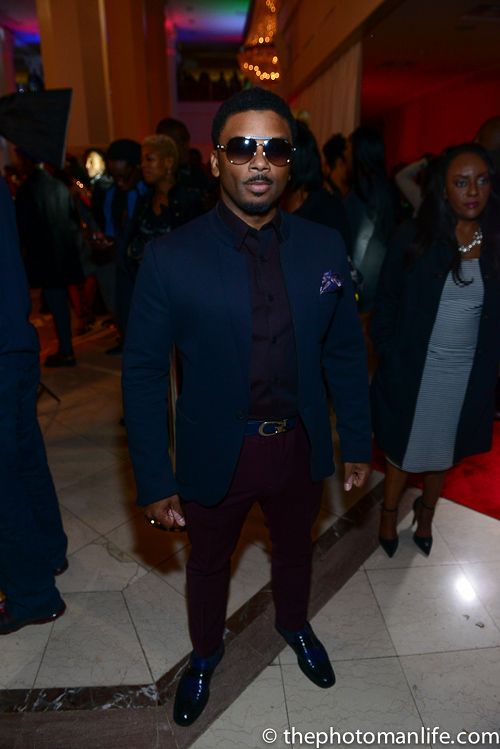 Actor Carl Payne posed with Mimi Faust. Wonder what she's been up to lately....
"Fly On The Wall" singer Bobby V was spotted backstage.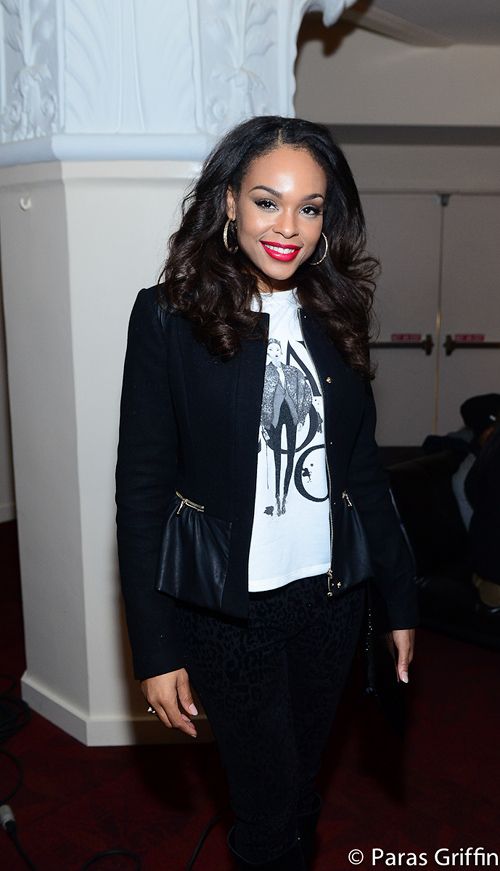 Demetria McKinney smiled for the cameras.
Radio personality Egypt introduced Keke onstage.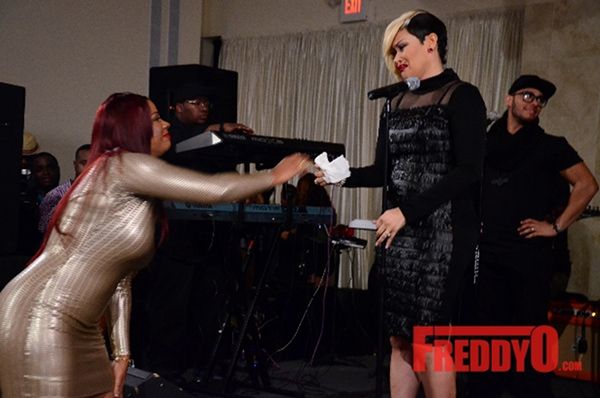 Syleena handed Keke a Kleenex during an emotional moment. Because you know those ALWAYS happen when these chicks get together....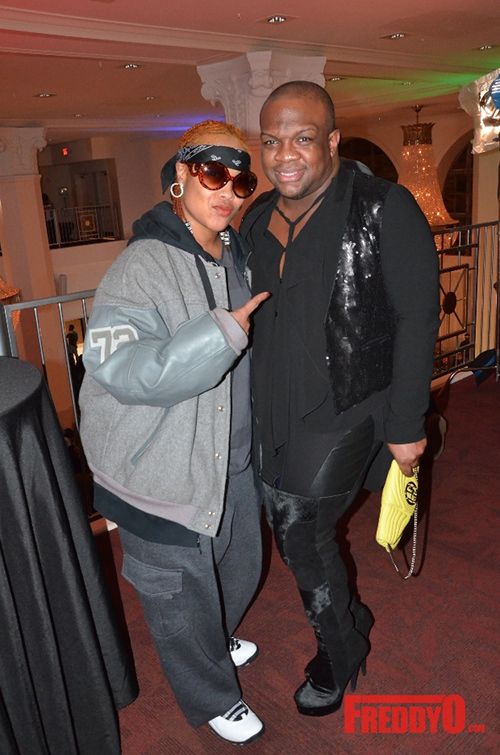 And Da Brat posed with "Fashion Queens" host Derek J.
Photos via Paras Griffin/Freddyo.com
Beyonce Takes Us Inside Blue Ivy's Jungle Bash + New Year's Eve Bash With Jay, Kelly, Michelle & More
Posted: 15 Jan 2014 07:54 AM PST
Beyonce is giving us a major peek inside Blue Ivy's recent birthday bash and how the whole fam spent New Year's Eve (it involved wild times at the Versace mansion in Miami).
Blue Ivy's 2nd birthday bash went down at Jungle Island in Miami recently--where her parents rented out the entire place for family and friends including Kelly, Michelle, Angie Beyince and more. And now, we get a glimpse at all the face-painting, balloon animal, tiara wearing fun the crew had. All thanks to a series of photos Mrs. Carter posted.
Here's some of our faves:
Cute!
And inside that fabulous ass NYE party at the Versace mansion that the Carters threw in Miami:
It loked like nothing but fun.
Blue Ivy stayed up late to watch the fireworks and her parents party it up.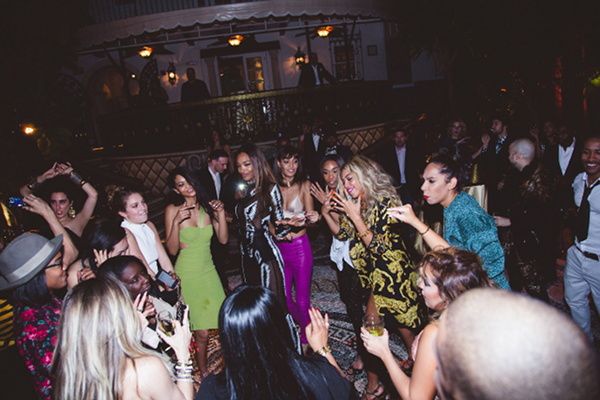 We spy our fave models from Bey's "Yonce" video...
And we spy Angie dancing it up with The Dream.
Awww.
And MaMa Bey is looking effortlessly hot.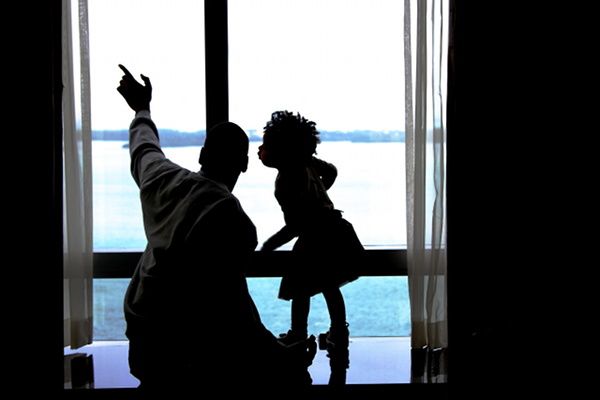 And a little glimpse into the New Orleans fun for her mom's swanky birthday: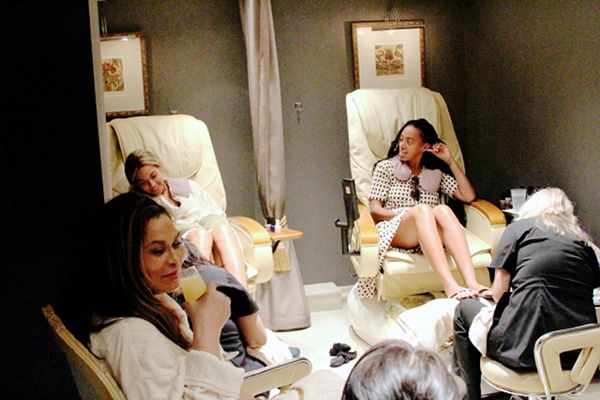 Mani pedi time with sister Solange and Mama Tina.
Fun times all around!
BONUS: Word has it (and we're not fully convinced it's true yet but it's possible) that Beyonce & Jay-Z will be "Drunk In Love" opening the GRAMMYS later this month. Kontrol magazine sent out a press release saying:
Today Kontrol Magazine was the first to report that everyone's favorite King and her hubby will be this year's opening act for The Grammy's. Yes that's right, Beyoncé and Jay Z will be the opening act for this year's Grammy Awards show and you heard it first from Kontrol Magazine. Today the staff has begun to arrive at the Staples Center in preparation for this year's Grammy's and our sources have told us that Jay and Bey are rumored to open the show!
We shall see...
The Randomness:
1. Javaris Crittenton -- the former NBA star who was famously involved in a locker room gun standoff with Gilbert Arenas -- was arrested on drug charges in Georgia. STORY
Photos: Beyonce's Tumblr
TV FAB: Towanda Braxton "SORTA" Confirms A FEW Dates With Kordell Stewart, Trina CONFIRMS She's A "Trisexual"
Posted: 15 Jan 2014 06:41 AM PST
On a recent episode of "Arsenio" the Braxtons opened up about "dating". Inside, watch Towanda talk about Kordell Stewart and Trina admit that she's open to "batting for the other team". Watch it inside....
The rumor mill has been buzzing about Towanda Braxton and retired-NFL player Kordell Stewart (who she recently met), so Arsenio Hall attempted to get to the bottom of it.
While remaining very coy and demure, Towanda admitted that she and Kordell have been out on a few dates and he's a nice guy. We're not getting anything serious from it though. At least not yet.
Meanwhile, Trina told Arsenio that if things don't work out with her estranged husband Gabe, she may start batting for the other team. Watch it above.....
BONUS: The Braxton sisters sang Happy Birthday to Mama Evelyn at "The Insider". Sweet!
"Braxton Family Values" airs on WeTV on Thursdays at 9p EST.
ON DECK: E-V-E Nabs Starring Role In New ABC Interracial Romantic Comedy
Posted: 14 Jan 2014 11:56 PM PST
E-V-E is on her way back to television. Find out about the newly engaged rapper's new starring role on deck, plus a few other projects, inside....
She may be getting ready to marry a British multimillionaire, but the former "Single Ladies", Barbershop and "Eve" star is not abandoning her acting career. Eve was just tapped to star in a new network television show for ABC. It's a romantic comedy involving an interracial relationship, and she's also serving as Executive Producer. Maybe slightly based on her own life (hmmm...)?
Deadline reports:
ABC has closed a deal for a multi-camera comedy project to star actress-rapper Eve, from Aaron Kaplan's Kapital Entertainment and ABC Studios. The project, which is eyed for the 2014-15 development season, is looking for a writer.... Kaplan approached Eve (full name Eve Jeffers) with the idea for a multi-camera interracial romantic comedy. The two pitched it to ABC, which bought the project with penalty.
And that's not all. She's got a new movie called Animal with Keke Palmer, directed by Drew Barrymore. And she'll also be making an appearance on this upcoming season of "Re Paul's Drag Race" and the new ABC show "Bounty Killer".
Work!
Photo: PCN
2013 NBA Champion Miami Heat (...And Their WAGS) Visit President Obama At The White House + LeBron James Pens OPEN LETTER To His Mom, "She's My Champion"
Posted: 14 Jan 2014 03:58 PM PST
The 2013 NBA Champion Miami Heat made a return trip to the White House where they were praised by President Obama today. See photos and video inside and read LeBron James' open letter praising his mom as a "champion."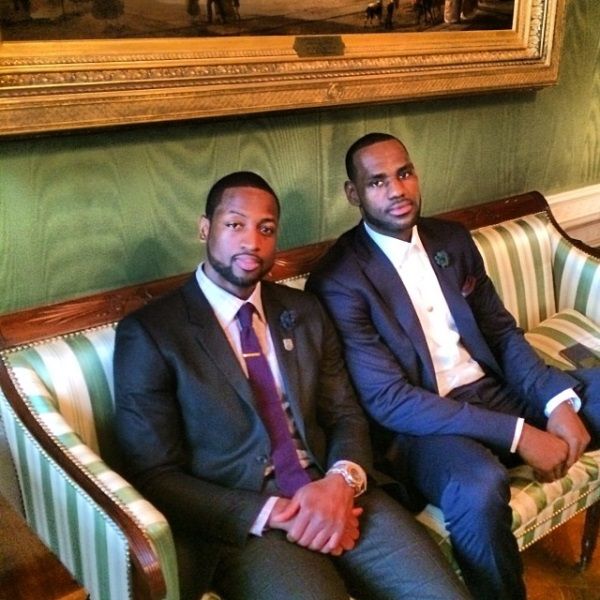 Dwyane Wade, LeBron James and the rest of the 2013 NBA Champion Miami Heat made a triumphant return to The White House, earlier today, where President Barack Obama honored them during an event in the East Room.
Before the event, Gabrielle Union and Dwyane took a selfie in the hallway.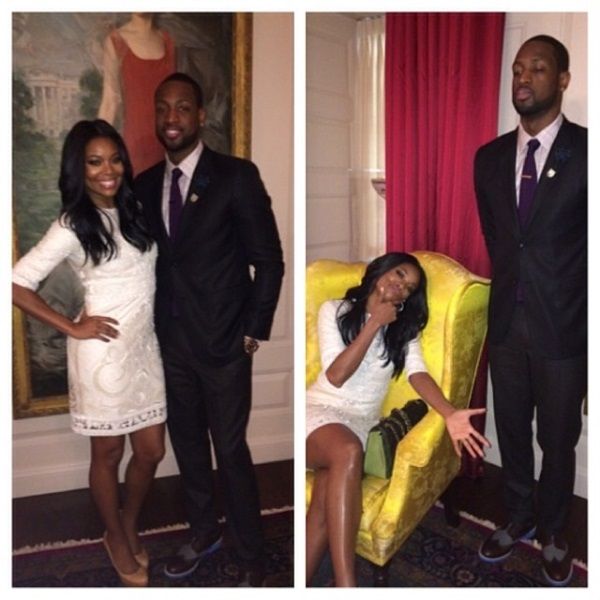 Later, they struck a few funny poses.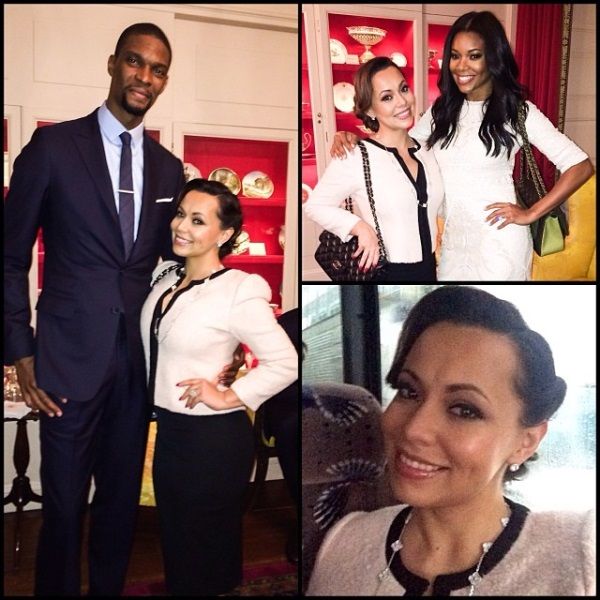 Adrienne Bosh (in Chanel) enjoyed her time at the White House. "It's that time of year again...annual White House Visit Feeling very blessed and proud of my Husband and the whole HEAT team and organization!! This could be very easy to get used to! #TeamBosh #GoHEAT."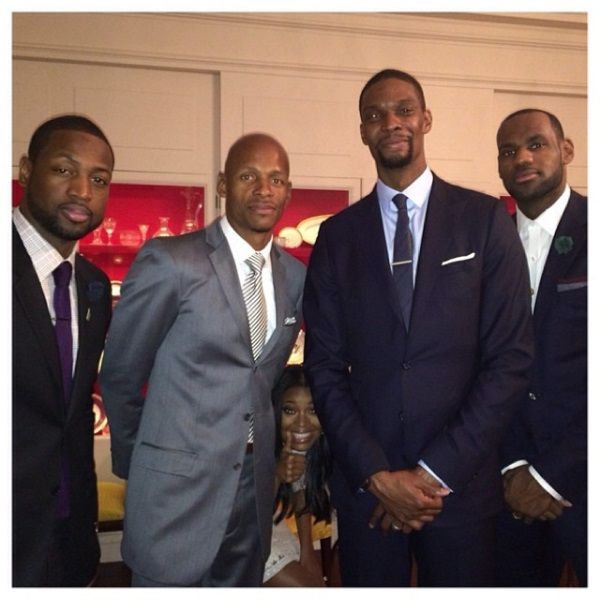 Gabby photobombed Dwyane, LeBron, Chris and Ray Allen!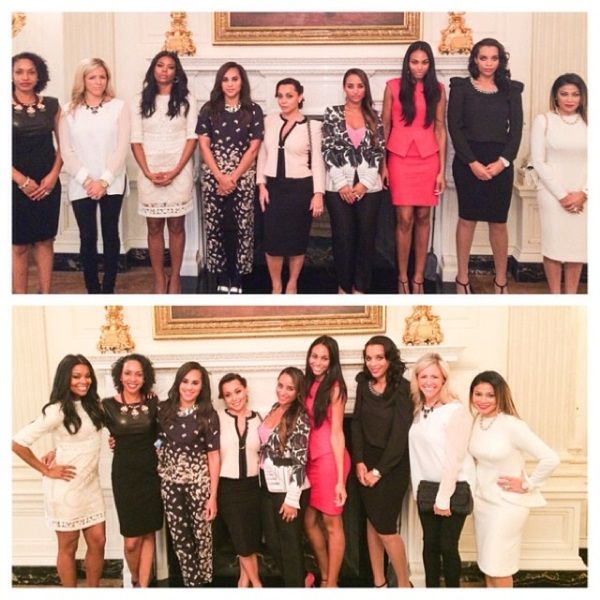 Gabby joked "then we got in trouble ... #BadGirlsWhiteHouseEdition ".
Cute!
Watch President Obama's remarks here:
From the desk of LeBron James.....
The MVP penned an open letter to his mom, Gloria James, calling her his "champion". The essay was written for TODAY as a part of Maria Shriver's partnership with Center for American Progress and the newly launched "The Shriver Report: A Woman's Nation Pushes Back from the Brink." Here's an excerpt:
You think LeBron James is a champion? Gloria James is a champion too. She's my champion. My mother really struggled. She had me, her only child, when she was just 16 years old. She was on her own, so we lived in her mom's great big house in Akron, Ohio. But on Christmas Day when I was 3 years old, my grandmother suddenly died of a heart attack, and everything changed. With my mom being so young and lacking any support and the skills and education necessary to get ahead, it was really hard for us.

The truth is that everything I've learned about being a parent to my boys—9-year-old LeBron Jr. and 6-year-old Bryce—I learned from my mother. Everything I know about being loving and caring, and sacrificing and showing up and being present in my children's lives—I learned all of that from her example.

Gloria James was a working single mother who struggled and got the job done.

And for that, I say, "I love you, Mom. Thank you."
Read the full letter here.
Photos via Adrienne Bosh Instagram/Gabrielle Union IG/King James IG/Chris Bosh IG/Dwyane Wade IG/LeBron James
Willow Goes Wild For V Magazine + Ciara Gushes About Her Baby-On-The-Way & GIRL POWER On "Huff Post Live"
Posted: 14 Jan 2014 02:41 PM PST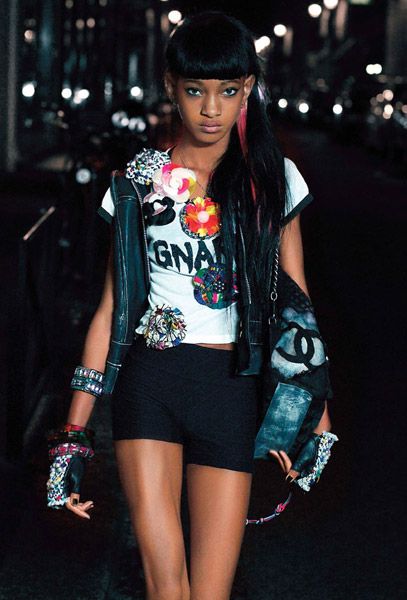 Willow Smith is doing what she does best...putting her wildchild free spirit persona on display. Check out the teen rocking the pages of V magazine inside, plus Ciara talking more about her pregnancy, her Future and more...
Now this is the way we like see 13-year-old Willow Smith putting herself on display: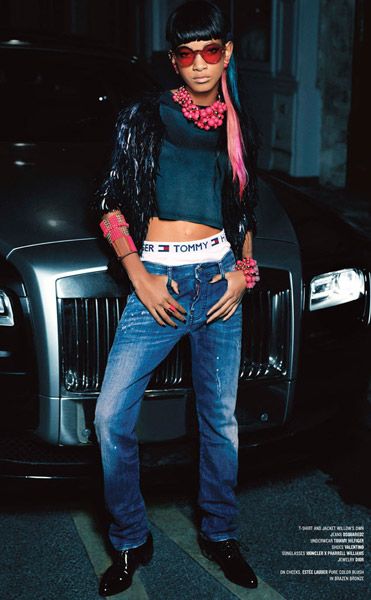 The youngest of the Smith clan is covering the pages of the V magazine, shot by Mr. Karl Lagerfeld himself. For the spread, she's seen rocking Chanel, her flower petal-covered tee, short shorts, rose colored glasses, and Hilfiger boxer shorts (giving us an Aaliyah vibe). And she did it all in front of a Rolls Royce Phantom.
Willow did the shoot well over a month ago with her mom and fam on the set. And she's also been busy putting out music that we're loving. Cute!
And after Ciara's big reveal on "The View" this morning, she's bringing her preggers news on the road. The mom-to-be was glowing while she hit up "Huff Post Live" to talk about mommyhood, her upcoming wedding, and her upcoming performance for the official GRAMMY afterparty.
Check out the video above.
The Randomness:
1. Rapper Lil Za, the bestie of Justin Bieber, was just arrested on felony drug possession in Justin's home. STORY
RUMOR CONTROL: Keke Palmer BLASTS Cyber Bullies Over FAKE Sex Tape -- "I've Done Too Much Good...To Deserve That Treatment"
Posted: 14 Jan 2014 11:54 AM PST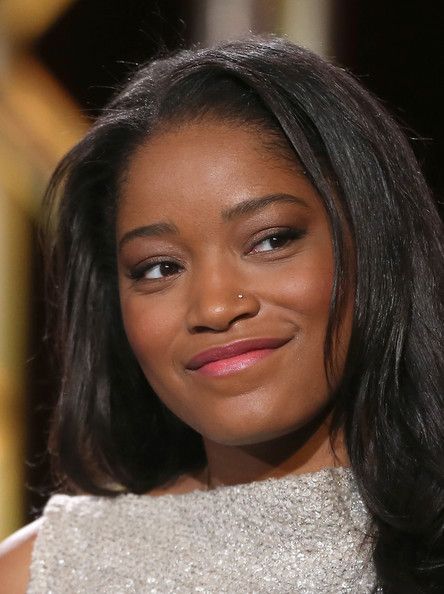 Crazy Sexy Cool: The TLC Story star Keke Palmer is blasting the cyber bullies who peddled a fake sex tape, claiming it was her. Find out what she said inside....
20-year-old actress, Keke Palmer, who's currently filming Brotherly Love with Quincy Brown, is blasting the people who tried to tarnish her image through social media. In a new interview with The Jasmine Brand, Keke addressed an alleged oral sex video that was circulated online and attributed to her.
And no, we hadn't paid attention to rumors about an alleged KeKe Palmer sex tape.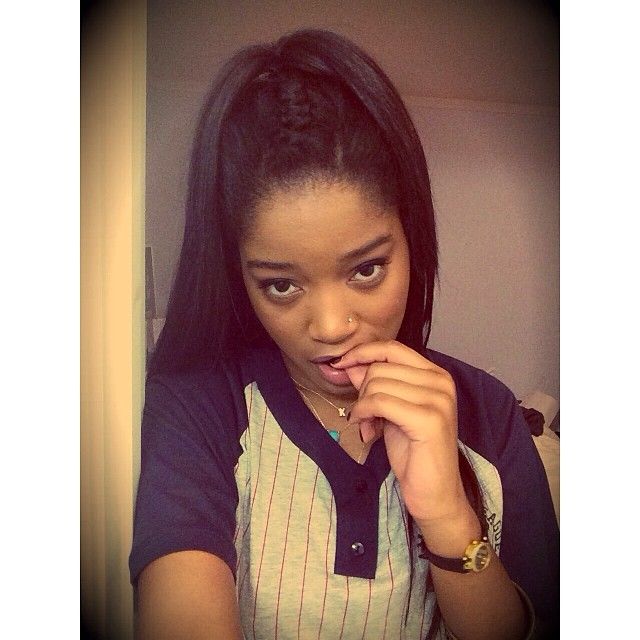 During the interview, the upcoming Brotherly Love star explained how she's patterned her life around being a role model and that she was hurt by the attack on her character.
"When we get something going, and when we get something cooking we should be lifting each other up, and holding each other's hand. And the moment we get one it's like tearing them down....My thing is, I always try to use myself as an example. I realized at a young age, ok I have a platform. People know me because of my work. Let me use it for a good thing. And I never want young girls to think that is ok. Every now and then there are some things you can throw over your shoulder. But that, that was too much and I've done too much good in my life to deserve that type of treatment. Everything that I do, I always think about the young women who are like me out there, that want to be heard, that want to be seen, that want more positivity, that want more things to feed their mind. And then to come back and see my own people try to take me down like that, it kills my heart because it's like everything I do, I do for us.

Anytime you see Beyonce, Jay Z, Kanye West. Anytime a young black person's doing good that's motivation for everybody else. Anytime, anytime, it's motivation. Use that fuel to push you forward. That's what I did. With Raven [Simone], with Kyla Pratt, with Sanaa Lathan, with Gabrielle Union. All of those were unconscious examples of what I can be and what I could do. So it just kills me…it just killed me because I felt like why? Why? What did I do to deserve it? All I did was take a picture with a fan, and now you turning it into something terrible. I didn't understand it. I literally was at a loss. But I did want to set the example, it's ok to stand up for yourself. It's ok to stand up for yourself. I don't give a damn about being no celebrity. At the end of the day, this is not right. This is not right for you to do this to me and I won't allow it. I won't.

There you have it.....our lil Keke DOES NOT have a sex tape. But she is starring in the upcoming TV Movie The Trip To Bountiful on Lifetime February 22nd at 8p.
Photo via Keke's Instagram
Tika Sumpter, Keri Hilson, Ice Cube & More Hit The 'RIDE ALONG' Red Carpet Premiere In Hollywood
Posted: 14 Jan 2014 10:08 AM PST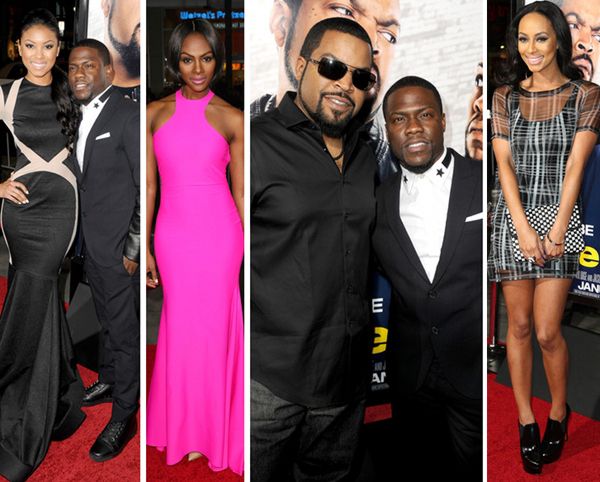 The YBF crowd showed up for last night's Hollywood premiere and afterparty for Ride Along at the TCL Chinese Theater. Check out the fabulous folks inside...
Kevin Hart and Ice Cube are gearing up to take over Hollywood with a hilarious comedy all about how far a man will go to prove his love for his almost-fiancee....to her cop brother.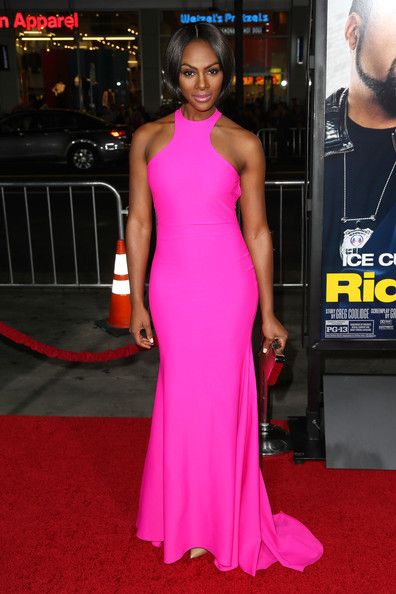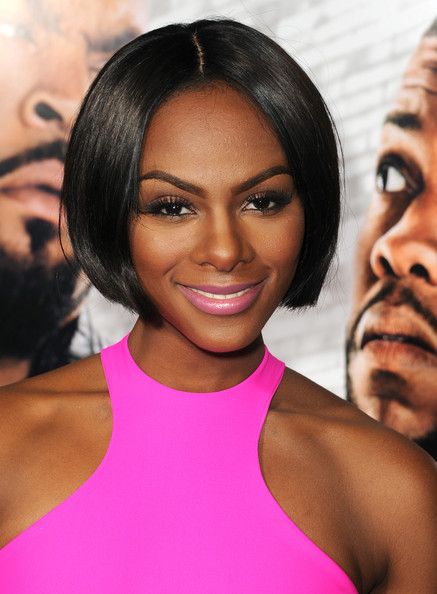 Leading lady Tika Sumpter kept it HOT in a Michael Costello pink halter dress. The curve hugger was paired with an LL Bennett clutch and Jimmy Choo shoes. And she's also been serving it up on the small screen as the leady lady of OWN's hit show "Haves and Have Nots".
Fabulous. Loves her!
The fellas posed it up on the carpet.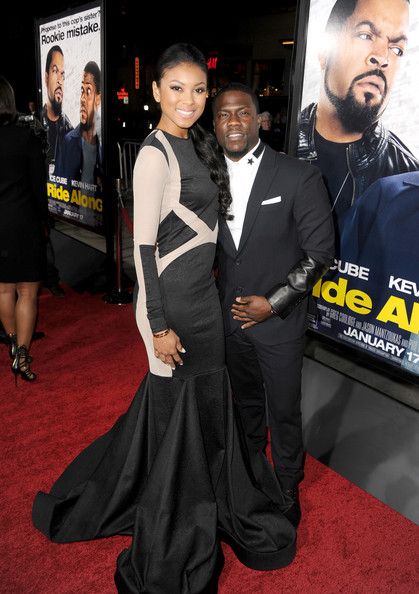 Star Kevin Hart kept it stylish in a partial leather sleeved suit and posed it up with his gorgeous model girlfriend Eniko Parrish.
Good look for Kev.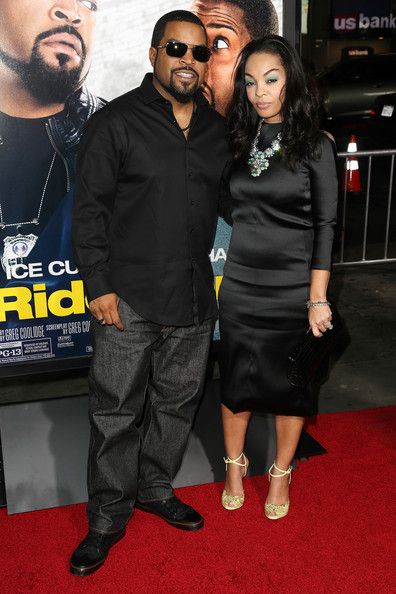 Cube had his fab wife Kimberly on his arm.
Singer Keri Hilson showed off the results of her hard core gym time and dieting: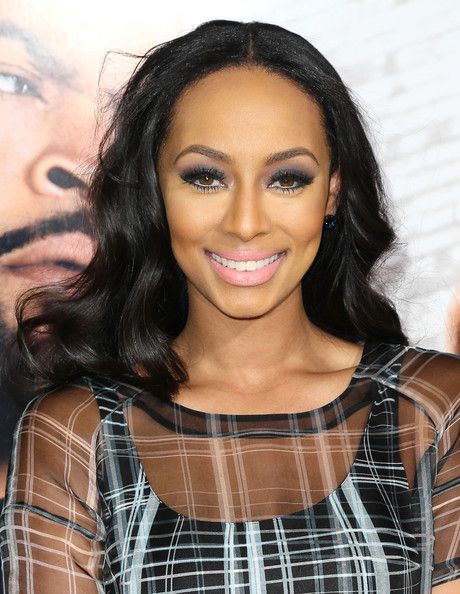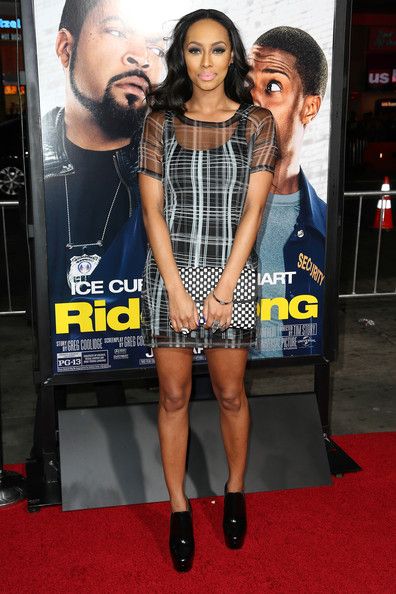 The girlfriend of OKC baller Serge Ibaka looked cute in plaid. And we know she was mad at that wind and what it did to her hair....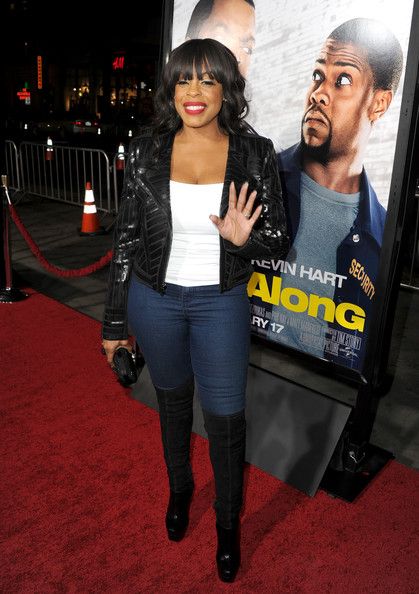 HBO's "Getting On" star Niecy Nash hit the carpet to support the flick.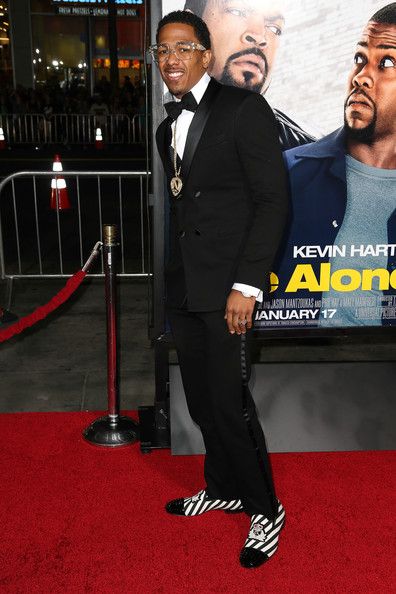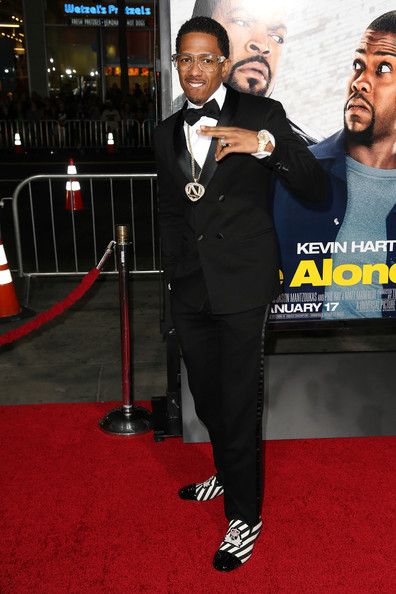 Nick Cannon decided to go geeky chic for the occasion. You feelin' this? Feels like we just went back to the "Love Don't Cost A Thing" days.
And producer Will Packer was there for the party.
And over at the after party at OHM Nightclub: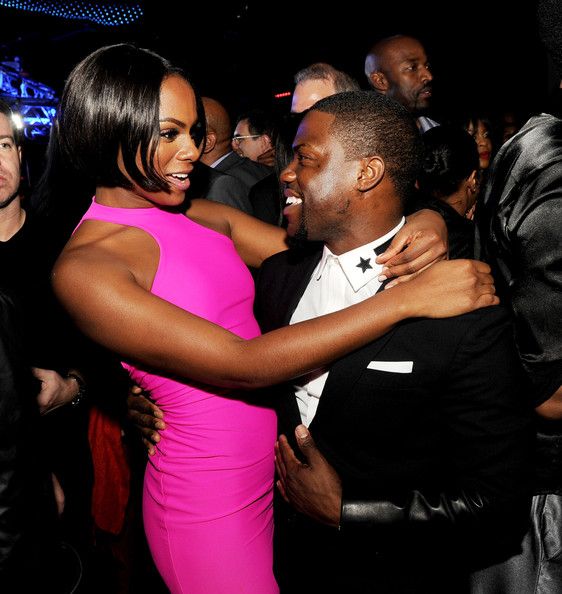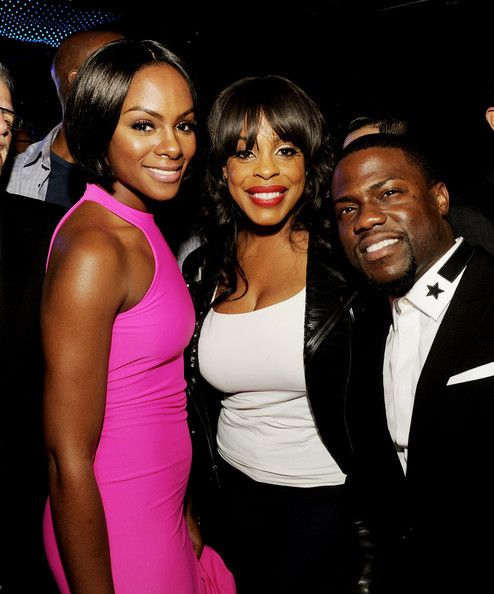 Tika chopped it up with her co-stars, Niecy and Director Tim Story. Fab times all around.
Ride Along premieres this Friday. We're so there!
Photos: Wireimage