---
Tika Sumpter DEFENDS "The Have And Have Nots" & "Negative" Black Characters on TV In ROLLING OUT
Posted: 09 Jan 2014 10:06 AM PST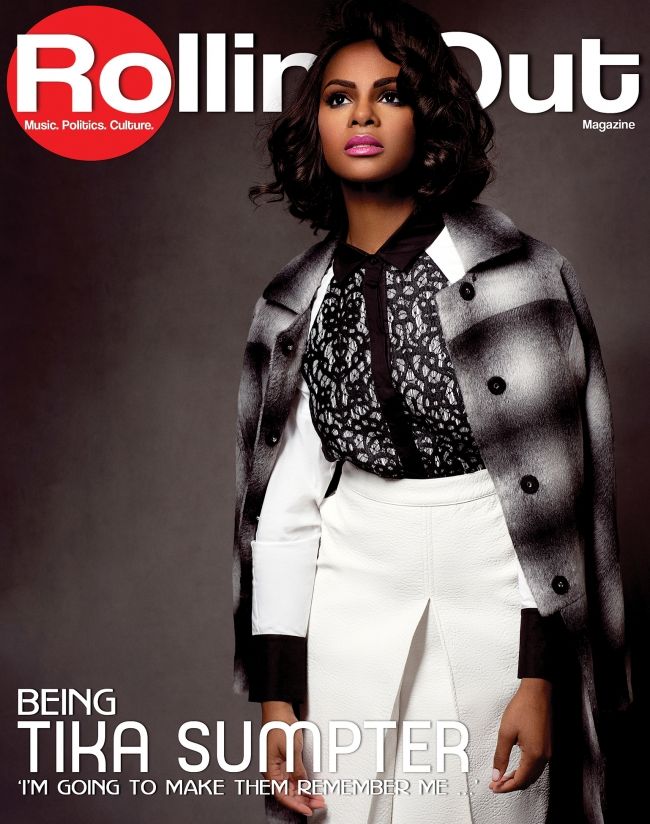 Adultery. Lies. Schemes. Murder. In the latest issue of ROLLING OUT, Tika Sumpter defends her herself and other Black actresses who've been attacked for their controversial Hollywood roles. And she looks damn good while doing so. Get more inside.....
'I'm going to make them remember me …'

-Tika Sumpter
"The Have And Have Nots" leading lady, Tika Sumpter, posed for a flawless photoshoot for the latest ROLLING OUT issue where she talks about her breakout year of success on both the television and the silver screen. As she readies for her newest role in Ride Along (January 17th) with Ice Cube and Kevin Hart, she opened up about becoming a "recognizable" face, having the doors of Hollywood opened to her and getting love from fans.
Also, with shows like "Scandal" and her own series drawing fire from critics because of their portrayals of Black women, Tika defends her series and other Hollywood roles saying, "If you want to put a perfect person on TV, you will have no show. In life, sometimes you see yourself in these characters and sometimes it's not pretty. Life is messy."
Here are more highlights:
On attaining success:

"I think one of the most important lessons that I've learned is to put your head down and work. Don't look at other people and compare yourself. Just do the work. Because when the opportunity is there, you have to be ready. Make sure your craft is refined and you're constantly working on it. Plow through the weeds. Go to the auditions and go to the meetings and be on time. Stop looking to the left or the right. Keep your head down and keep moving."

On surviving failure:

"When you don't get a specific job and you've worked really hard on it; [or] when you read a really good script and you're so close to getting a part and you don't get it, it's always hurtful. But what is for me is for me. My path is my path and it's no one else's. That's how I've survived and it's been in my head forever. You have a lot of disappointments as an actor. It's a very tough business to get into and to be able to work [without being] a waitress on the side. You think 'Oh, of course I can do that right now.' But it's definitely a wake-up call when you start out."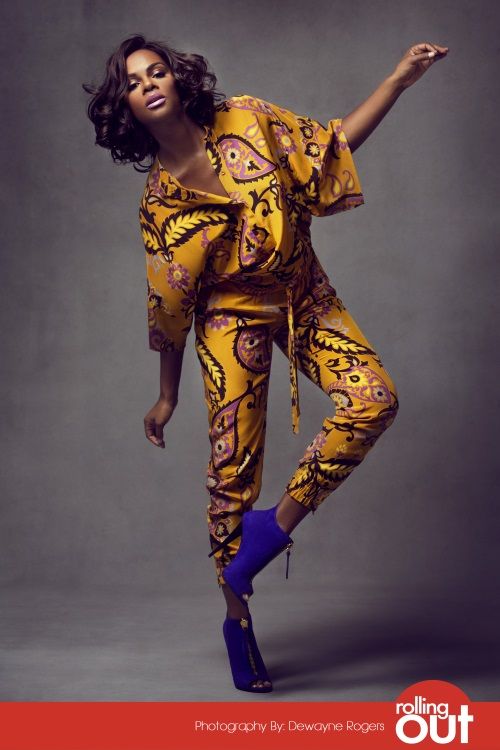 Perfection.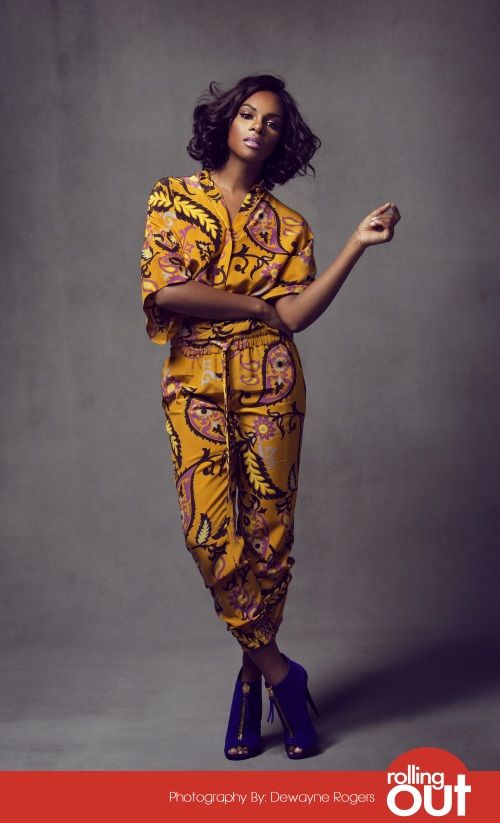 On being recognized in public:

"It definitely helps [you get into] the room when you become more visible. You get more opportunities and different scripts to read. It's definitely a small change. I enjoy it and I appreciate the people who do follow me and have been following me for a while. But I'm in no way satisfied. I don't feel there's an arrival point."

On showing love to fans:

"My fans are really awesome. I haven't had to do anything crazy yet [laughs]. I respect them, they respect me. I can still walk around freely. People are very respectful. If they want to take a picture, they can sit down and we can chat. I'm not on that Brad Pitt/Angelina Jolie level yet. It's always nice when men are like 'We love you.' I love it. Women as well. I'm just grateful for their support and love.
On the supposedly negative portrayal of Black women on tv:

"I think sometimes, because we haven't been on TV that much, and [because] this is all relatively new; people want to be represented differently and they feel like one person is speaking for the masses. But if the character has no challenges or isn't a bit messy — there's no show. There's a reason why people love [ABC's prime-time hit] 'Scandal' or 'The Haves and Have Nots' or 'Being Mary Jane' on BET. It's because these characters aren't perfect. If you want to put a perfect person on TV, you will have no show. In life, sometimes you see yourself in these characters and sometimes it's not pretty.

Life is messy. People make decisions. Sometimes art imitates life. And I think, as people of color, we have to understand that we have stories, too, that need to be told. And real or not, that makes a good show and good characters and makes people watch."
Fans of Tika can watch her in Ride Along, in theaters January 17th, and on "The Have And Have Nots" on OWN, Tuesday 9/8c.
Photos via Dewayne Rogers
Shakira & Rihanna Release Their "Can't Remember To Forget You" Cover + Keyshia Cole Goes In On Non "Loyal" Folks On New Freestyle
Posted: 09 Jan 2014 09:44 AM PST
Rihanna and Shakira are gearing up to release their new single "Can't Remember To Forget You". Check out their brand new single cover inside, plus Keyshia Cole letting y'all know she has no love for non loyal folks....
January 13th, Rihanna will appear on Shakira's brand new song "Can't Remember To Forget You". And the two released the official cover artwork today. Sexy.
The track will appear on Shakira's upcoming album. We already have some thoughts on how this one will sound....
And Keyshia Cole, who is still "allegedly" on the rocks with hubby Daniel Gibson, dropped some new music yesterday. And the Steve Madden shoe designer went off about non loyal folks in her life.
She freestyled it on the track, which is called "Loyal" Taking shots at her man? Time will tell.
Lil Wayne and Sean Kingston also appear on the track. Check it below:
OH? Gabrielle Union Serves Up Relationship DO's & DON'Ts For GLAMOUR Magazine
Posted: 09 Jan 2014 08:30 AM PST
The gorgeous Gabrielle Union is giving the do's and don'ts when it comes to relationships. Before you lose your wiggery from laughing so hard, peep what the divorced turned newly engaged "Being Mary Jane" star told GLAMOUR magazine inside....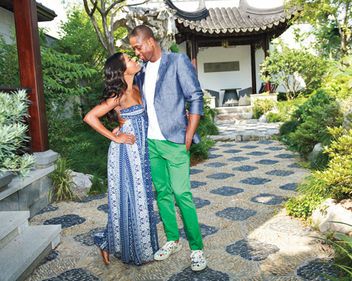 In a new feature for GLAMOUR, Gabby Union is serving up her best relationship advice for what ladies should look for in a man and what she shouldn't be doing to get/keep one.
And the irony wasn't lost on ANYONE. The GLAMOUR commenters and folks around the net are giving epic shade and side eyes, and Dwyane Wade's newest baby's mama probably was as well.
But we must say, the advice doesn't seem so bad. Like most "relationship expertise", most of it is common sense. But at least Gabby's giving us an inside look--with personal examples--of what may or may not work for the single ladies out here.
The advice article, which was likely done up to 3 months ago when we're sure Gabby was aware of Dwyane's "baby on a break that didn't actually happen on a break" situation, was prefaced with the below:
Gabrielle...says she'd give herself an S for "satisfactory." "I'm divorced!" she exclaims. "So I can't exactly give myself an O for 'outstanding.'" But she has gathered a whole lot of wisdom from her failed marriage, kick-ass girlfriends, and long-time romance with Miami Heat superstar Dwyane Wade.
Here's her Do's and Don'ts:
DO forget your "type."
"It worked for me. When I met Dwyane, his 'résumé' looked like crap: athlete, going through a divorce, nine years younger than me. None of that screamed, 'Let's have a lasting relationship.' Then, after I had a heart-crushing breaking with yet another immature jerk, I thought, it can't be any worse if I date a fetus. Let's just see what happens. Turned out he'd been on his own since he was 15. He had wisdom that comes with facing an insane amount of adversity. He's sweet, funny, honest about his shortcomings. When I put my preconceived notions to the side, I found someone cool."

DON'T put up with a friend-versus-boyfriend tug-of-war.
"Some friends act possessive and say, 'You're not spending enough time with me.' Huh? Remember when we made our vision boards and the dude was in the middle? You're sup- posed to be happy for me. Thankfully, my girls are like, 'High-five!' And D likes to be around them too. If there's weirdness, either something's wrong with the friends—or the boy. Investigate. And sift accordingly."

DO show him your feelings. Daily.
"Dwyane generally gets up before I do to go to the gym, and he's never left without kissing me and telling me he loves me. As for me, I am complimentary to the point where I am almost a little Chester the Molester-y. I think he's so delicious. Watching him get out of the shower never gets old. Never. It's not like he ever wonders what I'm thinking, but usually he's thinking, She needs a cold shower!"

DON'T write off an ex (or get back together) without really thinking it through.
"When you're debating whether to go backward or forward, you have to look at the original issue. [When Dwyane and I broke up briefly in 2013], it was because of distance and scheduling. I finished filming the show, then I flew to Vegas right away to start shooting Think Like a Man Too. I couldn't take time off, and I missed some quality togetherness we desperately needed. Over the summer, I reassessed priorities. I'd always wanted an awesome career with back-to-back projects, but I realized I wasn't willing to sacrifice my relationship for it. Moving forward, I decided my work schedule has to make sense for our family. Bottom line: If an issue's a deal breaker, it's a deal breaker. If your relationship isn't something you're willing to give up and you can compromise, do so."

DO let your partner off the hook.

"I play Words With Friends at night, and often I'll fall asleep before I've had a chance to say good night. In the morning Dwyane will say, "If you're falling asleep, say good night. I don't like how it makes me feel when you don't." Then he's like: "But we're not going to make this a 'thing.'" He lets me off the hook, and I do the same: Is it annoying that he refuses to put the cap back on the toothpaste? Yes. But at the end of the day, I just screw it back on myself. It's a give-and-take."

DON'T rush into marriage out of fear of dying alone.

"I got married at 28 because my friends were getting married, starting to have kids—and, in my mind, 26, 27 was old. I thought, I'd better jump on this because soon I'll be 30 and an old maid. And I chose wrong. You can't go by what your friends are doing or your family is influencing you to do. Think about this: Worst-case scenario, do you want to give this fool half of your money? As the person who had to write the check at the end of my marriage, had I thought about that, I'd have put more time into choosing the right person. And, yes, the wait can be scary—that feeling of "Am I always going to be watching TV alone, cooking for one; is my best friend my only real soulmate?" But the right person is worth the wait."

DO indulge your inner freak.

"Sometimes my girlfriends will mention sexting or certain positions as something they'd do only with a guy on spring break. They'll say, "You don't do that with someone you love." And I'll say, "That's who you're supposed to do it with." If I can do this awesome, amazing thing with some dude I met at a bar, why wouldn't I be able to do it with the person I love? If you're into it and he's into it and it's legal enough that the police aren't going be involved—then go for it! Do it. A lot."
Thoughts? Check out more over at GLAMOUR.
Photos: GLAMOUR
MUSIC & DRANK: Outkast Kicking Off 6-Year REUNION At Coachella 2014 + Diddy Finally Gets Married...To DeLeon Tequila
Posted: 09 Jan 2014 07:32 AM PST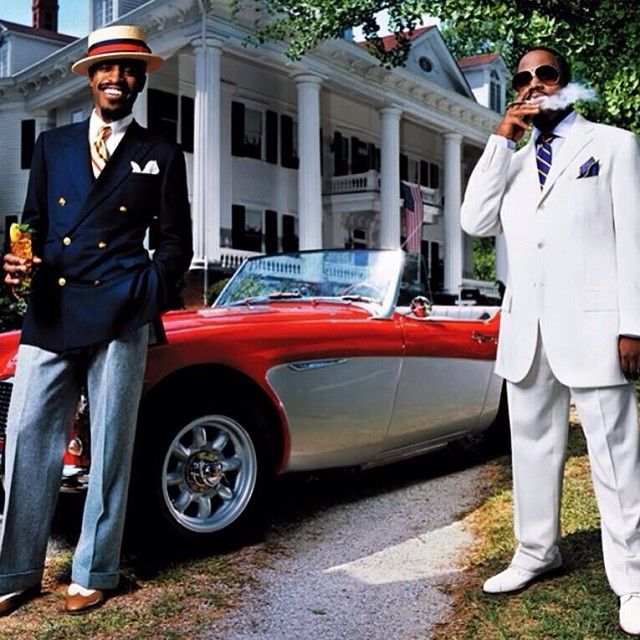 Newly-reunited band Outkast will end their 6-year hiatus at Coachella this year. Get the deets inside and find out about Diddy's latest wine & spirits venture......
We hinted at a possible Outkast reunion a few weeks ago and it's FINALLY official! On Instagram, Big Boi tweeted a pic with Andre 3000 saying, "Outkast will be Headlining #Coachella 2014 ! Stank You Smelly Much ! And stay Tuned !!!"
Coachella 2014, set for April 12-14 and April 19-21 in Indio,CA, will also feature Arcade Fire and Muse alongside breakout star Lorde. Other YBF faves include A$AP Ferg, Pharrell Williams, Nas, Solange, Chance the Rapper and Trumbone Shorty,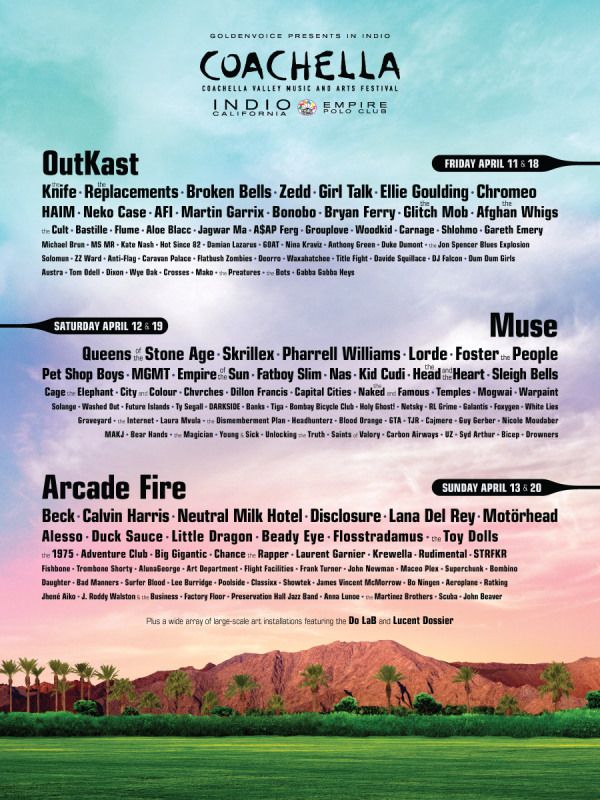 Festival passes for both weekends go on sale Friday, January 10th at 10AM PST.
In new business ventures...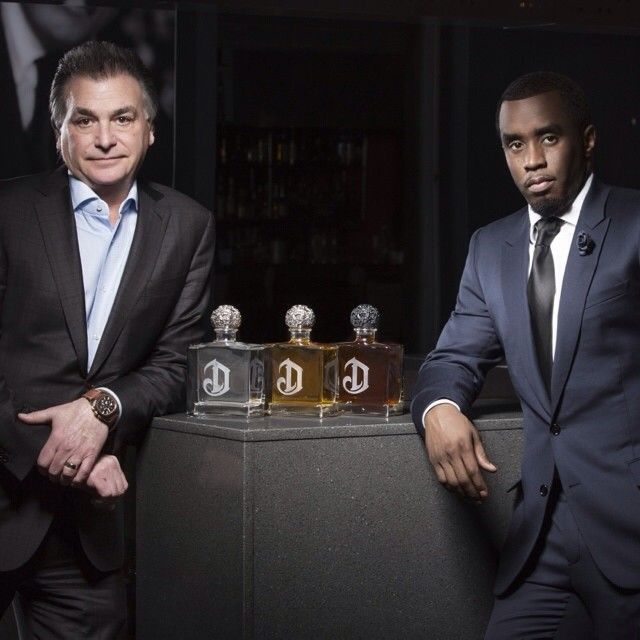 Mega-mogul Diddy has acquired the DeLeon Tequila brand. He announced the deal via Instagram saying,
"It Was All A Dream, and Now It's A Reality... Ladies and Gentlemen we are proud to announce the Combs Wine & Spirits newest acquisition @DeleonTequila #DeleonTequila #LiquidLuxury #DreamBig #rp"
What can tequila lovers look forward to? One of Diddy's captions captured the oral essence of it all....and what he's calling "liquid luxury".
"ANEJO: Aged a minimum of one year, with undertones of Butterscotch, Mild Wood and Black Cherry it is stunningly round and smooth! I personally enjoy Anejo with a robust Cuban cigar. #DeleonTequilaAnejo #DeleonTequila @DeleonTequila #LiquidLuxury #TheArtofAgave #Rp "
During a recent interview with FORBES, Diddy, who helped turned Ciroc into a 2-million bottle per year force in the Vodka industry, hinted that the DeLeon deal will be even bigger.
"With Ciroc, we tested the waters—or, I would say, we dated, "Now, with this joint venture, we took this step and we got married. I think it's organic, I think we work together so well, we have a proven track record, and I wouldn't want to do it with anybody else."
Also, Diddy's new deal differs from Ciroc (from which he earns profits and proceeds from any potential sale) because he invested his own money (through the newly formed Combs Wines & Spirits) and is an equal partner with Diageo North America. So this time around, he's got true ownership. Nice!
Also....the liquid luxury liquor isn't priced for the average consumer. FORBES revealed the five variants of DeLeon will range from $120 to $1,000 a bottle. Get into that.
One of the first folks to congratulate Diddy was Kris Jenner. Of course.
She tweeted, "Congratulations Sean @iamdiddy on an amazing Dream come true!! Love this....#DeleonTequilaAnejo #FabulousFollow"
Are you ready for luxury?

BONUS: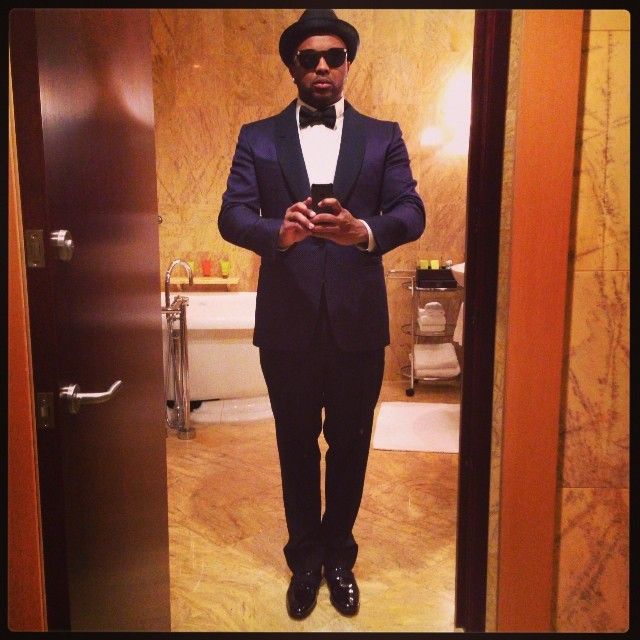 After seven years with Def Jam, The-Dream announced to his fans that he's parting ways with the label. On Instagram he shared,
"I will miss this logo. It all started here! Love Everything that I achieved there, EXODUS THE-DREAM #exodusthedream."
Though he was named Executive Vice President of A&R at Def Jam in 2012, he hinted that he has far more to do in the music industry,
"Let the New Tides bring The Things not yet seen! There's more where those came from!"
We'll let you know where he washes ashore.....
Photos via Diddy's Instagram/BigBoi's Instagram
So...50 Cent Allegedly Hasn't Seen His Teenaged Son Marquise In Over A Year?!
Posted: 09 Jan 2014 06:22 AM PST
50 Cent is being accused of abandoning his 16/17-year-old son Marquise. Check out what his child's mother is saying inside...
Just a couple months after reports of 50 Cent having a new baby boy Sire (with Daphne Joy) hit the net, his first child's mother is saying he's abandoning his oldest son.
Shaniqua Thompkins--whom 50 seems to STAY at odds with--says that Mr. Jackson hasn't seen their son Marquise since May 2012. Coincidentally, that's also only a few months before Sire was born.
And remember that insane text conversation last July where 50 and Marquise (50 claims it was actually Marquise's mother on the other end though) had the worst father-son fight ever?
Looks like things haven't smoothed over yet. Because Shaniqua told media that not only has 50 abandoned his son and has been doting on his new son, Marquise didn't even find out about his half brother Sire until he read it on the net.
50 denies the allegations....kinda. His rep spoke today saying:
"50 is saddened by the attention-seeking tactics of his son's mother. He remains a proud and supportive father and feels blessed to have two sons."
Reports also state Shaniqua hasn't worked since 2002...and this is all allegedly a money grab.
Just a mess.
Photos: Getty/Facebook
RED CARPET FAB: Jennifer Hudson, Rocsi Diaz, Queen Latifah & More Hit The 2014 People's Choice Awards
Posted: 08 Jan 2014 07:54 PM PST
Wednesday night at the Nokia Theater in L.A., celebs hit the carpet before the 2014 People's Choice Awards. The Awards are totally based on fan vote....and fans and the public get to attend.
Check out Jennifer Hudson looking white hot, Rocsi Diaz keeping it colorful, big winner Queen Latifah and more...
Well hello there J-Hud. The fab chick, rocking a white shortened and wrapped Kaufmanfranco Spring 2014 dress, was at the PCA's to accept the Favorite Humanitarian Award for her charity work in her hometown of Chicago.
She and her sister Julia, who was also in attendance, began the Julian D. King Foundation in honor of her slain nephew. And every year, the Foundation gives out an incredible amount of products for a huge Christmas Toy Drive and an annual school supply drive for the children of Chicago.
The singer is looking happier than ever these days. Her hubby David was by her side as well.
And she accepted the award beside her sister and said, "Look what God can do!" Congrats Jen!
"Access Hollywood" host Shaun Robinson and "ET" host Rocsi Diaz posed it up together on the carpet.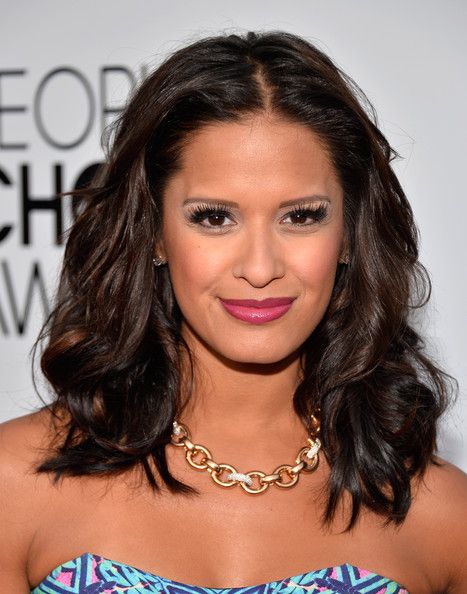 Rocsi kept it cute in a brightly colored strapless Nicole Miller frock, mint green Manolo Blahnik pumps and a Rina Limor necklace. Loving the makeup.
"Glee' star and Big Sean's fiancee Naya Rivera is serious about this transformation to look like a replica of a certain somebody. She's rocking a Michael Kors colorblocked dress by the way.
"Criminal Minds" star Shemar Moore hit the carpet looking good. He went off script and flirted extra hard with his co-presenter Malin Ackerman too.
And Queen Latifah, who looked fabulous with her makeup perfected by Sam Fine, Sutra emerald and diamond earrings, and a dress by Angela Dean, copped the Best New Talk Show Host award. Congrats!
Photos: Getty/Jennifer's IG

TV FAB: Gabby Union's "Being Mary Jane" Premiere Nabs 5 Million Viewers! + Tamar Braxton Rocks "Ellen" + Zoe Saldana BOOKED To Lead NBC's "Rosemary's Baby"
Posted: 08 Jan 2014 05:52 PM PST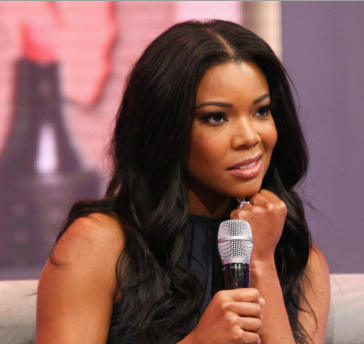 Gabby Union helped "Being Mary Jane" rake in a whopping 5 million viewers for that #1 slot on television last night. Deets inside, plus Zoe Saldana's new leading role on NBC and Tamar Braxton burning up the stage on "Ellen"....
Good news! The first original scripted drama series for BET, "BEING MARY JANE", just became the #1 original drama series debut on ALL cable for the 2013-2014 season among Adults 18-49 & Women 18-49. The premiere drew in 3.3 Million total viewers, followed by an encore performance with 1.8 Million total viewers.
Creator Mara Brock Akil has 7 more episodes in store for this premiere season...so get ready for the ride.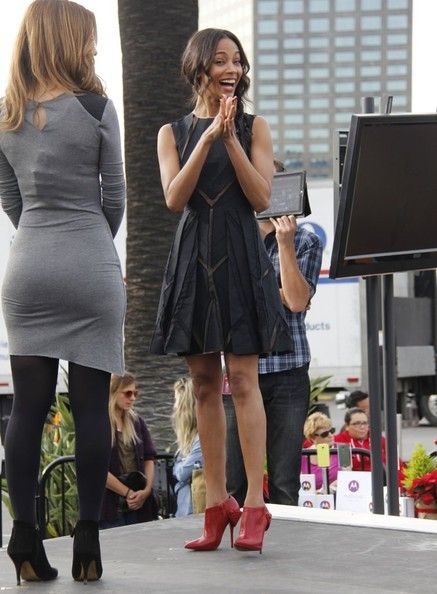 Another YBF chick is heading to television with a leading role. And this time it's network television. Zoe Saldana was just announced as the star of NBC's upcoming miniseries, "Rosemary's Baby", based on the original suspense novel and classic horror flick from the late 60's. Mia Farrow played the original leading role of Rosemary Woodhouse. And if you've seen the original, you know this will be a dramatic and intense situation all around.
Deadline reports:
The mini centers on Rosemary (Saldana), a young wife and would-be mother who, with her husband, moves into a Paris apartment that has a darkly storied past. After finally getting pregnant, she becomes increasingly suspicious that both her husband and their mysterious neighbors have ulterior motives about the future of her child. The role was played by Mia Farrow in Roman Polanski's 1968 feature adaptation.

"Zoe has proven that she is one of our most gifted actresses, and we think she has the perfect combination of spirit and gravitas to take on the title role from Ira Levin's infamous novel," said NBC's head of longform Quinn Taylor. "With Zoe leading the cast under the direction of Agnieszka Holland, this reimagined event miniseries is off to a great start."
A leading role on network television, even if it's just a 4 hour mini series remake, is definitely major. Congrats Zoe!
Tamar Braxton rolled to "Ellen" today to perform her single "All The Way Home". And she also chatted about her talk show "The Real" getting picked up for Fall 2014, her baby boy Logan, and that big ass new ring she got for Christmas.
Peep that video below:
Tamar's up for 3 Grammy nods as well.
The Randomness:
1. Ray Allen and Spike Lee Considering 'He Got Game' Sequel STORY
2. Chris Brown Rejects Plea Deal in Washington D.C. Assault Case.
Photo: Bennett Raglin/BET/Getty Images for BET

HA! Beyonce, Kelly & Michelle PHOTOBOMB & Surprise Drunken Karaoke Chicks
Posted: 08 Jan 2014 01:36 PM PST
So...here's one of those times when you determine if your friend is really your friend. Whether or not they wake your drunken self up....when Beyonce is in your face.
Check out Bey, Kelly, and Michelle's hilarious drunken photobomb at a Miami karaoke club inside...
Beyonce, Jay Z, Timbaland, Kelly and Michelle walk into a bar. In Miami. For karaoke. And what went down at Sing Sing Miami that night was funny as hell.
The owner of the karaoke bar, Kellie Pilicer, says that last night, the whole crew came in looking extra casual (same night as Blue Ivy's second birthday). They came super late when only two of the 17 booths were occupied.
And after Kellie was shocked to see it was Beyonce who was the woman who walked in asking her where the bathroom was, shenanigans went down after that.
Bey reportedly asked where the other two occupied rooms were--not because she thought they would be a bother--because she wanted to go surprise them.
So Bey and Kelly were caught on video entering the booth of 3 chicks who were reportedly there singing and drinking away for 6 hours. The girls were dancing it up with the D-Child chicks without even recognizing who they were. And when they finally did, they were shocked for their lives. Too bad one of the three was passed out asleep.
So what did Yonce and Kelly do? A drunken photobomb pic with the passed out chick. Ha!
The owner told the Miami Times:
"A big security-looking guy walked in and asked us what time we closed," said Pilicer. "I'm thinking he's going to come in with maybe a couple of other people and then all of a sudden a couple of people wearing hoodies do start trickling in and one woman comes up and asks me where the bathroom is and I look up and it's freaking Beyonce."

"There's no way we could have planned it. No one had any idea. I didn't even know anything," said Pilicer.

.....

"Beyonce follows the sounds, she just walks right in, and there are two girls sitting and one of their friends had fallen asleep on the lounge chair...I'm standing there watching this whole thing and the other people in their party started walking in and cracking up because they were singing Beyonce."

Although, they didn't quite immediately recognize who either of them were, the two girls invited Beyonce and Kelly in. "They start dancing together, but they have no idea who it is, said Pilicer. "And all of a sudden one of the girls looks at kelly and says, "Oh, you look like Kelly Rowland" and then she looks at Beyonce and goes "Oh my god!"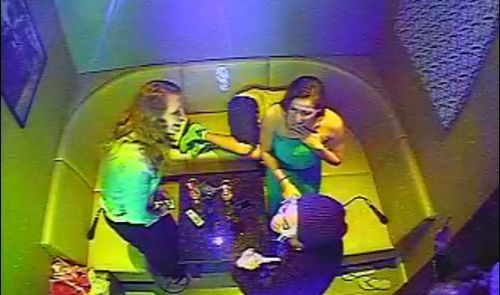 Gotta love it.
Photos courtesy of Sing Sing Miami
FUNNY BUSINESS: Kevin Hart Takes Over ATL's Weather Report + SNL Adds 2 Black Writers + Tyga Shows Off His $2 Mill Maybach
Posted: 08 Jan 2014 12:12 PM PST
Kevin Hart is on his promo tip for his upcoming flick Ride Along. So he decided to Fox 5 in Atlanta to give the news report. For real. Check the pics inside, plus "SNL"'s newest moves with black folks....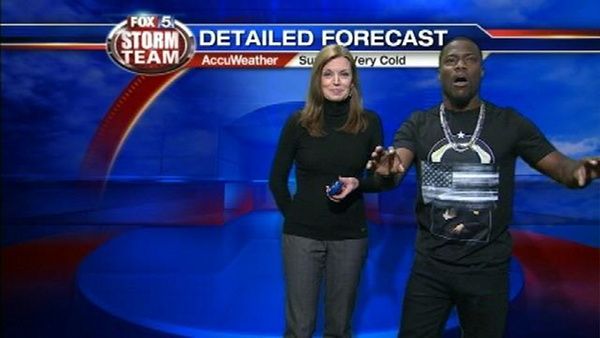 Ha! Kevin Hart & Ice Cube's film Ride Along is hitting theaters January 17th. So the comedian thought it would be pretty damn funny to roll up in Fox 5 News this morning to tell Atlanta just how cold it would be for the day. Yep, he took over the weather report.
He and Cube also rolled to HLN to take over Robin Meade's Morning Express. Ha!
In other funny business, "SNL" is keeping "let's finally add blacks to the mix" party going.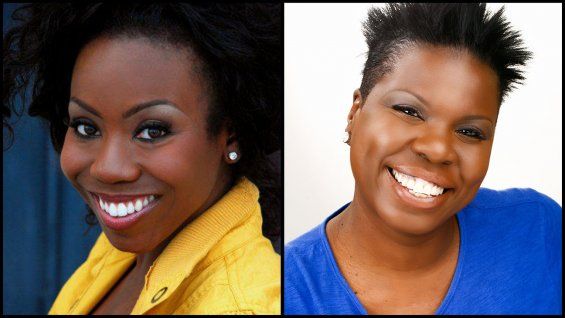 After officially hiring the first black female cast member in 5 years this week, Sasheer Zamata, the sketch comedy show has just hired two black female writers.
According to the Hollywood Reporter, LaKendra Tookes and Leslie Jones, who were discovered during the sketch show's recent auditions, will join SNL's writers' room starting Monday. They are both comedians, but as of right now, are not scheduled to appear in front of the camera.
Sasheer's first night will be January 18th...with musical guest & host Drake.
And in other funny business: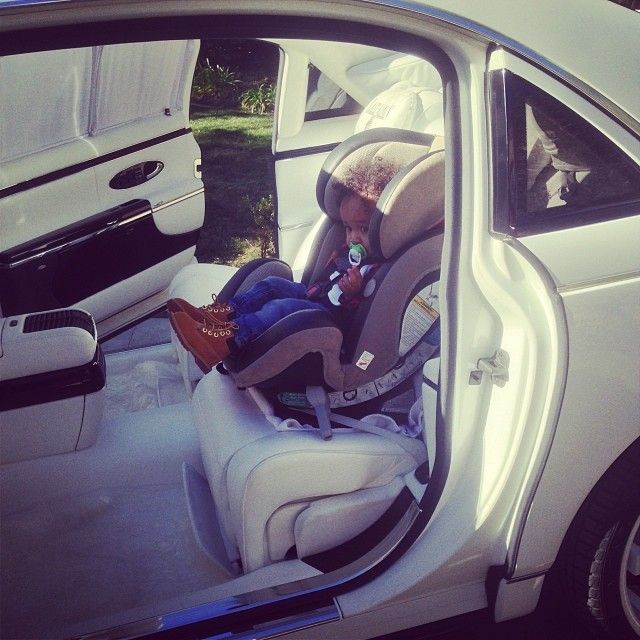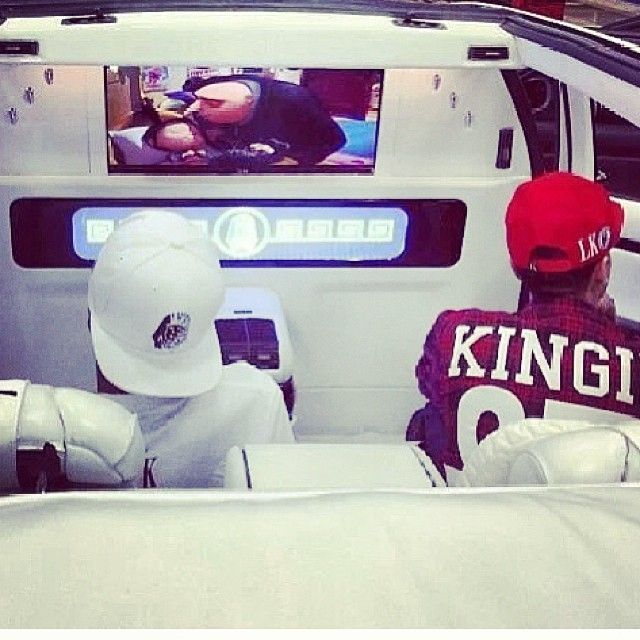 Tyga decided to cop a $2.2 mill Maybach. The car itself actually costs a little over a million, but he tricked it out--ith things like a 40 inch TV--for another mill. The car is a convertible white 2014 Mercedes Maybach 62 S Landaulet. And very few people have this model. Jay Z and Birdman are two who do though. Peep all the pics of his custom ride that his baby boy King Cairo has already experienced HERE.
Whether Tyga actually has the money for this is the funny part. But when you've turned a stripper/video vixen into a housewife who paparazzi get called to follow....you do think you're invincible and can rule the world.
Photos: Tyga's IG
SPEAKING OUT: Ludacris' Baby's Mother/Jump Off Tamika Fuller "Clears Up" Rumors, Says Luda STILL Hasn't Met His Baby
Posted: 08 Jan 2014 09:52 AM PST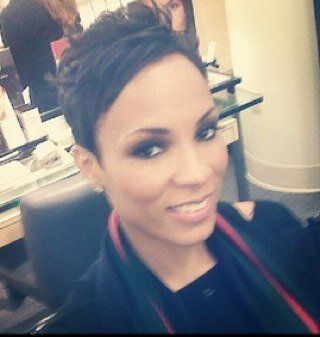 Tamika Fuller, the woman who Ludacris stepped out on his longtime girlfriend Eudoxie with, is speaking out about the baby girl she recently had with the rapper. And she's attempting to clear up rumors about her relationship with Luda and her past.
Deets inside....
With reports circulating that Tamika has attempted to extort money and a car from Ludacris, is a former stripper and more, she's now speaking out. It was also believed she is attempting, or will be attempting, to get child support from Luda.
Luda has already filed papers of his own for preventative measures (he doesn't deny the child), saying what his child support SHOULD be. And he paints a picture of Tamika being a gold digger.
So Tamika, who is disputing ever being a stripper like rumors state, has some things to say in regards to baby Cai Bella Bridges. She says:
It saddens me that it has come to this. I did not file on him. Nor would I ever try to attempt to extort my child's fathers.Ive never asked him 2 buy me a car. I had engine trouble. I asked 2 borrow one of his during my pregnancy so that I could continue 2 get 2 work. I have never been a stripper. I did waitress there in my past. I have since moved on from that. Some of the best people I know are dancers.

She has yet to meet her father and it's unfortunate because I would never keep him from seeing her. Let's not lose focus that an innocent child is involved and her best interests come before any of all of this foolishness. In spite of all that has already happened I just ask that the negativity stop towards him and I. We have a child to co parent. Be blessed.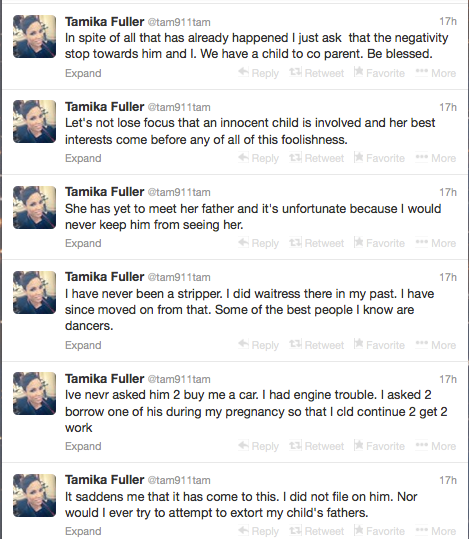 Alrighty then. Rumors swirled that Tamika attempted to keep the baby from Lida and his girlfriend, but she says otherwise. And that Ludacris hasn't even met his baby. Sad.
Photos: Tamika's Twitter