---
CONCERT FAB: Jay Z & Beyonce Get "Drunk In Love" On Stage In London
Posted: 01 Mar 2014 07:46 AM PST
The Carters are steaming things up overseas. Check out Bey's new Tumblr pics and video of the couple performing inside…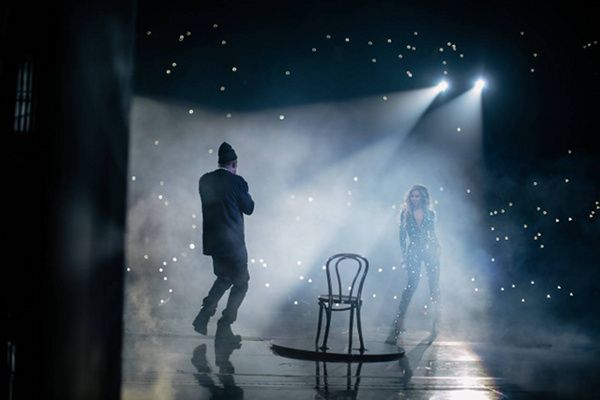 Last night, Beyonce bought her Mrs. Carter World Tour to London for her second of six shows in the O2 arena and her hubby Jay Z joined her on stage to perform their hit "Drunk In Love."
Mrs. Carter uploaded a few shots from her show last night to her Tumblr: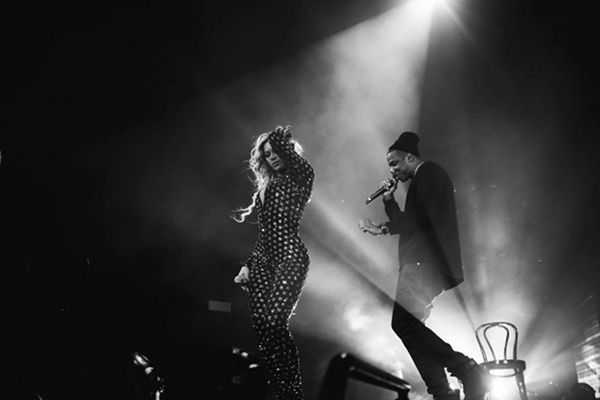 Bey kept it sexy rocking a sparkly Vrettos Vrettakos jumpsuit alongside Jay in his typical black shirt, black jeans and boots. Last week Bey rocked the 2014 Brit Awards in an emerald Vrettos Vrettakos dress. Chic loves Vrettos Vrettakos.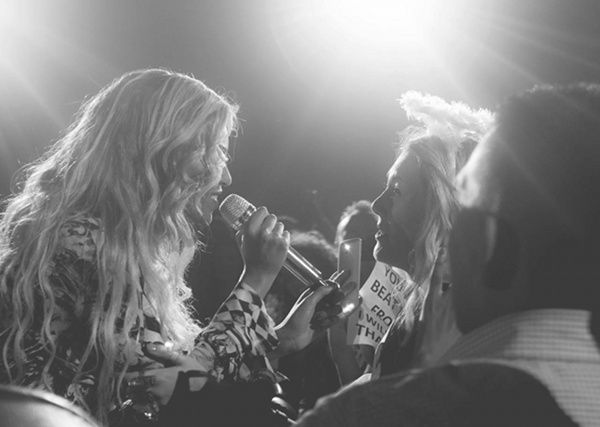 Earlier this week, Bey surprised a fan during her tour stop through Birmingham where she sang "Happy Birthday" to one of her biggest fans during her show.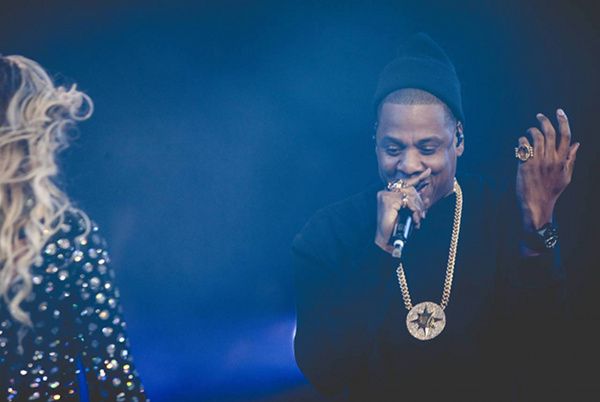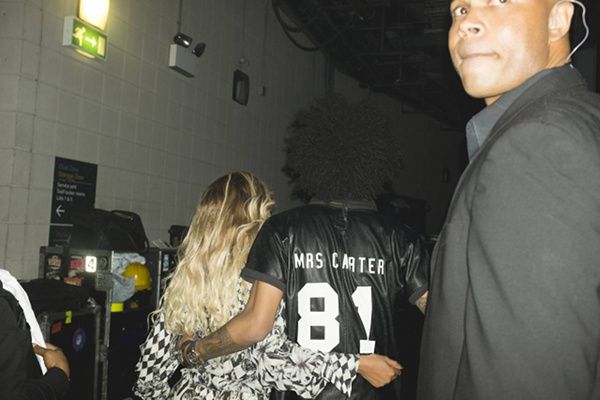 Bey will be hitting the London O2 arena stage until March 6th and then she travels to Dublin, Ireland.
Check video of the couple's performance below:
BONUS:
One fan attending Bey's concert last night just couldn't contain theirsevles and got their wig SNATCHED by the Queen. As she's singing "XO" a wig is tossed in front of Bey as she's walking. She stops during her song and said "You got me snatching wigs"
Literally!
Photos/Video: Beyonce's Tumblr/@justjoan_xo
Chris Brown Diagnosed With BIPOLAR DISORDER + VH1 "Single Ladies" Cancelled!
Posted: 01 Mar 2014 06:55 AM PST
Chris Brown was back in court yesterday while VH1 cancelled their "Single Ladies" series. Find out what's going on with Breezy and his mental health and the deets on "Single Ladies" being cancelled inside …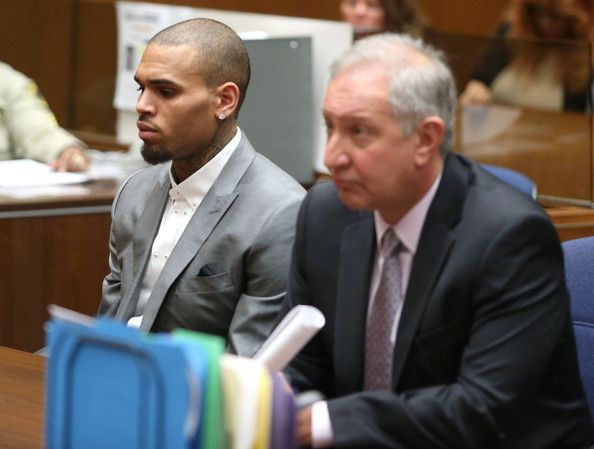 Now it's starting to kinda make sense. Chris Brown has reportedly been diagnosed with bipolar disorder, severe insomnia and Post Traumatic Stress Disorder, which may explain his anger issues.
Breezy recently completed his 90-day rehab visit (which he voluntarily adding 5 extra days to his visit) and was due to appear in Los Angeles Superior Court for a progress hearing in his Rihanna case.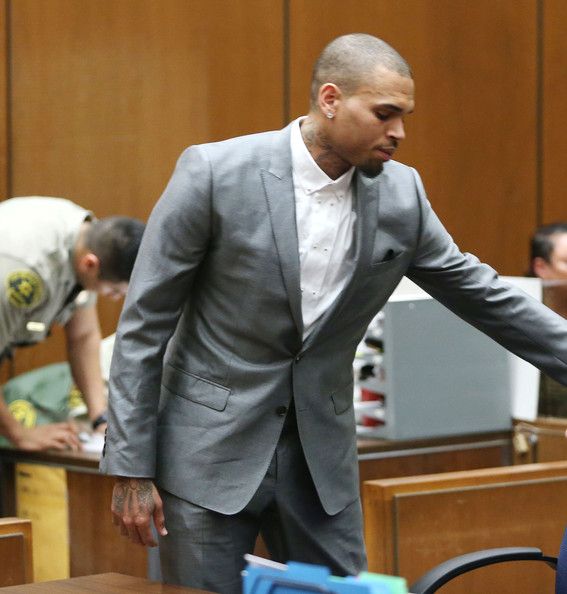 TMZ reports:
In the legal docs -- obtained by TMZ -- an official from the rehab facility wrote that ... in addition to his diagnosis ... Chris was self-medicating inappropriately.
The facility writes, "Mr. Brown became aggressive and acted out physically due to his untreated mental health disorder, severe sleep deprivation, inappropriate self-medicating and untreated PTSD." They never explain the cause of the PTSD. The letter also says Chris was diagnosed with Bipolar II.

The letter says Chris is on meds for the bipolar and other conditions.

Chris has learned various relaxation exercises, according to the letter, and he's tested negative for drugs, including weed, during his stay.

The facility says he's doing really well. It says he gets up at 5 AM and works hard. They say he's been especially good with community service, saying, "Mr. Brown's attitude has been beyond exemplary in regard to his community service responsibilities."
Hopefully, this diagnosis will offer him the help he really needs and keep him on track.
Chris and his bodyguard are facing misdemeanor simple assault charges after a man says Chris punched him in the face outside the W Hotel in D.C. back in October. Breezy's camp says the man was trespassing on their tour bus and they were simply reacting to his trespassing.
We'll keep you posted on how that all pans out.

In TV news...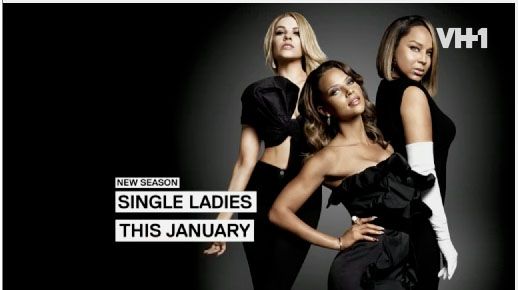 VH1's scripted series "Single Ladies" has been cancelled after 3 seasons.
Executive producer Queen Latifah and her Flavor Unit Entertainment company created VH1's first hourlong scripted series for the network but now the network is pulling the plug.
VH1 released a statement to the Hollywood Reporter saying:
"We've been proud to deliver three seasons of the drama, romance and style that engaged viewers in each episode of Single Ladies," VH1 said in a statement. "Although we've decided not to move forward with another season, we hope to work again with the talented cast, creatives and producers as well as our partners at Flavor Unit Entertainment in the near future. We also thank the show's fans for their support since the premiere in 2011."
TheYBF.com caught up with LisaRaye earlier this year where she dished on the changes her character Keisha will go through and the sensational fashions she will be wearing in season 3.
LisaRaye McCoy, Charity Shea and Denise Vasi are currently wrapping up their third season on the network and will soon be on the job hunt for their next role.
Good luck to those ladies.
Photos: David Buchan/Getty Images North America/VH1
IN CASE YOU MISSED: Robin Thicke & Paula Patton's Son Julian Involved In Accident + Paula Addresses Split!
Posted: 01 Mar 2014 05:52 AM PST
Robin Thicke and Paula Patton's son Julian was involved in an accident with the paparazzi recently. Find out the deets inside…
Three days after they announced they were divorcing, Robin Thicke and Paula Patton's 3-year-old Julian was involved in a minor car accident after being chased by the paparazzi.
The accident happened on Feb. 27th on Sunset Boulevard in L.A. Paula's mother, Paula's assistant and Julian (who was riding in the back seat) were all in the actresses' black Range Rover when the accident occurred.
Luckily, no one was hurt.
Glad little Julian is ok.
Speaking of Paula….
She recently addressed her split with her estranged husband on her Instagram.
She expressed how she's feeling about the divorce with the picture above saying, "Everything happens for a reason. If you love something let it go, if it comes back it's yours, if it doesn't, it was and it's not meant to be."
Robin has desparately been trying to win Paula back and revealed during his concert in Fairfax, VA, "For those of you who don't know, my wife and I separated a few days ago. But I want y'all to know, I'm trying to get my girl back."
Good luck with that.

Photos: Splash/Paula Patton's IG
Happy Birthday Lupita Nyong'o!
Posted: 28 Feb 2014 04:22 PM PST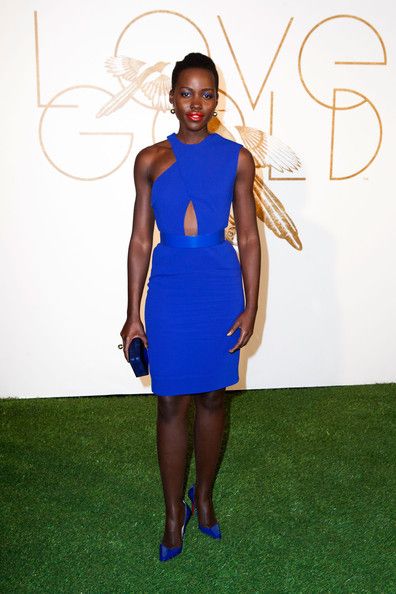 Oscar nominated Lupita Nyong'o is 31 today! Come inside and celebrate Lupita serving up bold colors and fabulousness in the gallery...
"IT" girl Lupita Nyong'o went from being an unknown actress to this year's red carpet queen in a matter of weeks.
The "12 Years a Slave" actress has been looking flawless on the red carpet during this year's awards season. Her choice of bold colors, funky prints and radiant skin captured all of our attention with her impeccable style and grace.
The Yale-educated Kenyan beauty is days away from possibly accepting the best supporting actress Academy Award and we are DYING to see what she's going to wear on Sunday.
Revisit some of Lupita's best red carpet looks in the gallery…
EVENT FAB: Malinda Williams, Monica Calhoun, Joy Bryant & More Honor Director Malcolm D. Lee At UPTOWN Magazine's Pre-Oscar Gala
Posted: 28 Feb 2014 03:39 PM PST
Award winning producer and director Malcolm D. Lee was honored last night in L.A. for his accomplishments and YBF celebs came out to honor him. See Malinda Williams, Tasha Smith, Monica Calhoun and more inside…
"The Best Man Holiday" director Malcolm D. Lee was honored yesterday at the 2014 annual UPTOWN Magazine's pre-Oscar gala presented by Lexus.
The swanky dinner and reception was held at the Sadie Supper Club in Los Angeles with celebs in attendance such as Malinda Williams, Monica Calhoun, Kenny Lattimore, Tasha Smith and Joy Bryant just to name a few.
The honoree has directed some of our fave flicks such as "The Best Man Holiday," "Roll Bounce," "Undercover Brother," and "Welcome Home Roscoe Jenkins." He's set to direct and produce a new movie titled "Girls Trip" which is expected to drop this summer.

Malcolm told the crowd after accepting his award:
"I am honored to be recognized by Uptown magazine for my body of work. The publication, like the stories I am so passionate about telling, represents the complexity that is us. I am gratified and humbled to join the likes of previous recipients of this honor."

Actresses Malinda Williams showed up in a purple printed bodycon dress looking cute in her signature pixie cut.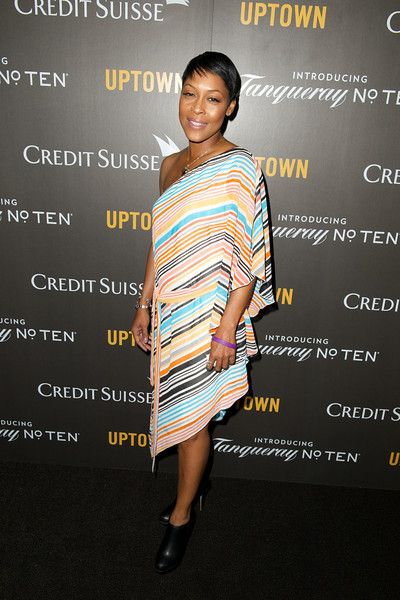 "The Best Man Holiday" star Monica Calhoun hit the carpet in a one-shoulder stripped frock. Good to see her out and about since we rarely got to see her during BMH promo.
YBF chic Joy Bryant attended the event dressed in all black. Cute.
Actress Robinne Lee from "Being Mary Jane" kept it simple in a teal laced knee-length dress.
Singer Kenny Lattimore posed for a pic with Co-Founder/Co-CEO of Uptown Magazine Len Burnett.

Actress Tasha Smith (middle) looked hot in a blue dress paired with pointed red shoes. Style lifestyle expert Tai Beauchamp (left) looked white hot in a long-sleeved white floor lengthed dress with gold accents.
Vanessa Williams hit the carpet in a printed two-piece number.
Cutie Laz Alonso flashed his sexy smile.
CEO of Black Girls Rock Beverly Bond kept it cute in a black one-piece with black statement necklace standing alonside her husband Bazaar Royale.
Monica Calhoun hit the podium to honor director Malcolm D. Lee.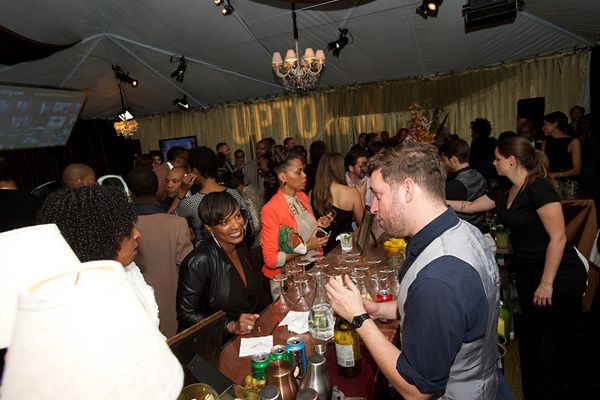 And Vanessa Bell Calloway was captured trying to flirt her way to some drinks. Not mad....
Fun times.
Photos: Earl Gibson III

GETTING CLOSE: Chris Brown & Ariana Grande Get Close At Mystery Rehearsal + Drake Parties With Rihanna's Half-Sister Samantha!
Posted: 28 Feb 2014 01:25 PM PST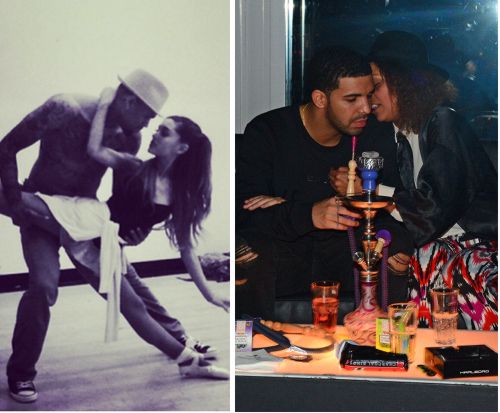 Well, what do we have here? Chris Brown is coming out of rehab with a strong start by teaming up with pop princess Ariana Grande. Check out their thisclose pic from a mystery rehearsal, plus Drake was spotted partying it up with Rihanna's half sister named Samantha in Berlin...
Oh, hey Breezy. Way to come back to the music scene. Chris Brown posted this pic of himself and 20-year-old pop starlet and Nickelodeon actress Ariana grande, aka Mini Mariah with no details. He simply said, "Coming Soon."
It looks to be a pic from rehearsals for an upcoming project that requires them to do some ballet together. Word has it they're working on a major duet together.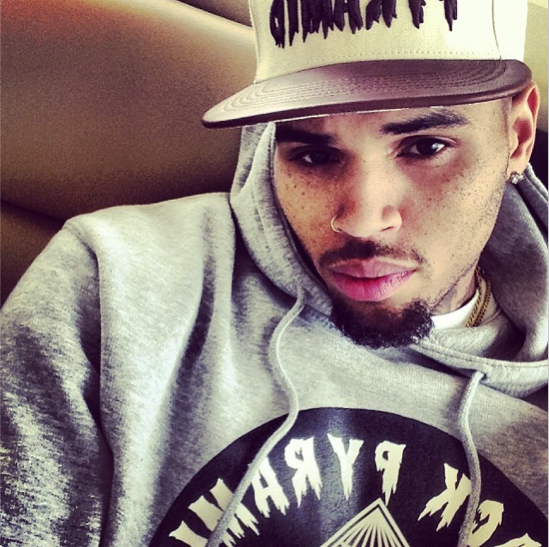 Now that Breezy's back on Instagram, he's dishing out the selfies of himself again. Glad he's looking better these days!
And over in Berlin: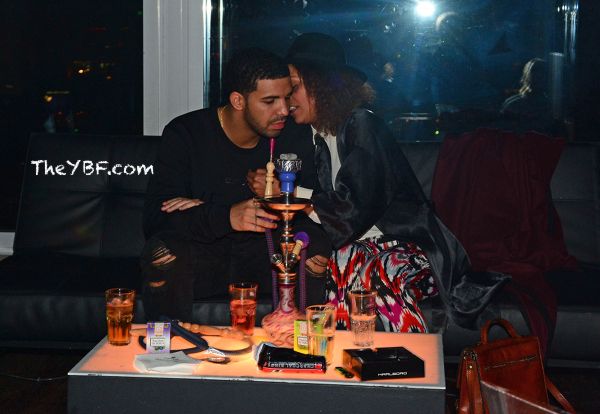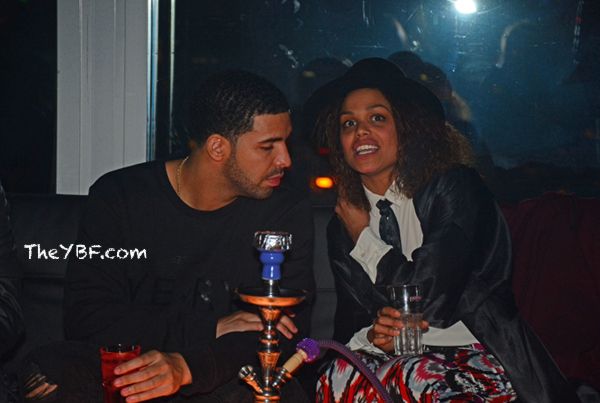 After hopping off the stage with Kanye West at the O2 World, Drake trekked it to the 'I love you but I've chosen disco' party at Puro Sky Lounge. And he was spotted getting pretty close to a chick at his hookah table.
But...it's actually the half-sister of his rumored booty buddy/boo Rihanna! Her name is Samantha and she was there to party it up with Drizzy as Rihanna was hitting the fashion week shows in Paris.
Photos: WENN/Chris' IG
INTERVIEW: Pharrell Opens Up About Why He Made 'G I R L,' Unreleased Songs With Beyonce, And Viral Instagram Pics!
Posted: 28 Feb 2014 12:18 PM PST
Superproducer & Oscar nominee Pharrell Williams spoke with TheYBF.com this week about his upcoming album G I R L, the "black girl controversy" behind his album cover, how and why he decided to make a sophomore album, working with the Queen Bey and more. Check out our chat inside...
With his sophomore album dropping March 3rd and his "Happy" record being nominated for an Oscar, Skateboard P talked with TheYBF.com about why he decided to come out with a new album 8 years after his debut album In My Mind. Yes, 8 years!
P also shared his thoughts on his music leaking before the official release date, going #1 on the Pop charts and if we can expect new music from him and Beyonce. And we must say, we learned a lot. And the baby-faced talent is also a great conversationalist.
On if it bothers him when his music leaks before the release date:
"No, I think it's a function of the times of where we are. I make music from the perspective of the fan because I've always been a fan since I was young. As a fan you want it early. You know when it goes to the plant (i.e. iTunes), you know it's probably going to leak. It is what it is. When you have a fan base that rides with you and understands you then you know you're going to be good. Especially if you continue to be loyal to the craft of making stuff that feels good and doing what you do best, they'll ride with you."

On his album being a "gift" to women:
"It's not a gift because who am I to give a gift. It's an ode. It's from me. I have all types of fans in terms of demographics, but women have been distinctively a strong force and huge inspiration for me, so it kinda makes since. Essentially they're my bosses. They have been so good to me. One can not argue that they have paid for everything I have. They've been so good to me and consistent. I'm totally imperfect but they have never left my side."

On his label (Columbia Records) coming to him to do a solo album:
"I was overwhelmed with shock because a label doesn't call you to make a record, you're usually pitching one and I wasn't looking to make another solo record. I was just fine with producing and just doing N.E.R.D. and score stuff. I'm so honored. They're the coolest guys in the game and they came to me and said they wanted me to make an album. They signed Daft Punk, two robots who refuse to take their helmets off and Adele, who comes out and sales more than anyone and does it her way. It's a label filled with different kinds of people not textbook record industry artist, it's such an eclectic place. They're very different people like Jack White, Odd Future, London Grammar, Juciy J, and Beyonce.

Given the opportunity, I knew instantly I would make G I R L. I didn't know exactly what it would be called but I felt like it was going to be called G I R L. I knew it was going to be this broad spectrum of my appreciation for women. Is it perfect? No. But it's my ode and I think what is very clear is my intention when you hear it."

On music he has worked on with Beyonce:
"I did 'Blow' and 'Superpower' with Beyonce."

On if he's working on Bey's new music she's rumored to already be working on:
"We have some other songs we have recorded but I don't know if they are going to use those or not. "

On his Oscar nominated track "Happy" going #1 on the Billboard Hot 100 (his first as a solo artist):
"I'm freaking out. If you're black and from the south you know what that is. It's like me trying to imitate the Mighty Clouds of Joy with Curt Mayfield singing it with some Stevie Wonder chords. You know what that is. So to see that record come what it has become, where everybody takes it on as their own and makes their own videos, it's just so humbling. I'm a little black boy from Virginia Beach, VA. I never dreamt in a million years that my music would be seen on such a large scale and that people can find joy in it and do what they're doing."

On the controversy following the release of his G I R L album cover:

"Well, they're ill informed. The woman I'm standing closest to, she is black and she's been a friend of mine for a long time. You know, I'm confused by it. Then they're going to ask me do I not have an Indian woman on there or a Pakistani woman on there? But meanwhile, I do. She is African American and I feel sorry for her that people will look her dead in her face like she ain't black but she is black. It's a girl I use to date years ago."

"It's just unfortunate because it's 2014 and we have a President [who's black]. Is this what it is? Is it because she's not brown? I don't feel funny about our President because he is what he is. Meanwhile, has anybody forgotten that I'm black myself? I wake up everyday and I wave the black flag. Everything that I'm doing. You know, this "Happy" song going #1. What is the guy that's singing the song? What do you mean?"

"I'm standing by a black woman. My business is run by a black woman. My mom partially looks after my business and she's a black woman. I'm married to a black woman. I'm confused. I guess once you get the album you will look inside and see she's a black woman. I'm sorry that from that vantage point you can't look at her hair and tell that she's black."

"My intentions are…this album is an ode to woman. It's not necessarily an ode to a shade, it's an ode to women. And to people who are confused by that, you have got to know me better than that. Look at the "Frontin" video."

"And here I am trying to put ordinary, beautiful girls on the cover…not no models. I didn't go to 29 agencies looking for runway models. I wanted ordinary people because I don't think celebrities or models are the stars anymore. I think pedestrians are the stars. And I think beautiful pedestrians will run the world and that's what I consider myself, like a pedestrian."

"I understand it. Hopefully when they see, they'll see."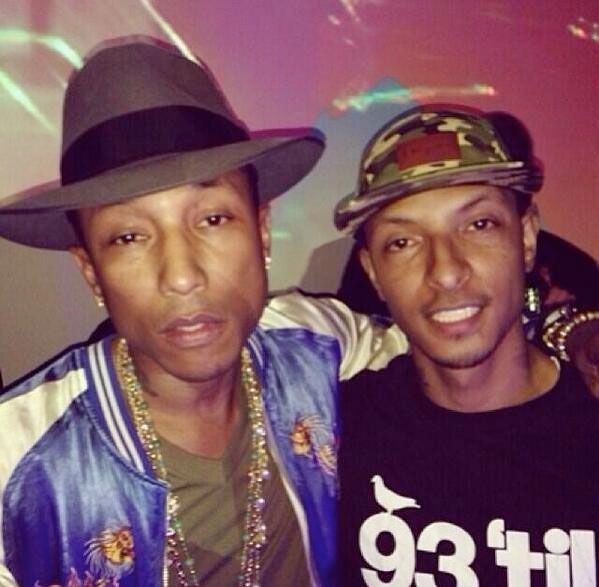 On rumors that the picture above, which has gone viral on social media, is a picture of himself and his dad:
"No, it's not my dad. My father is a brown skinned man and he doesn't look anything like that guy. I'm like a blend of my mom and my dad. "

On another beauty secret he has adopted:
"My mama. My secret is my beautiful black mama."

On his childhood growing up in Virginia Beach, VA:
"When I was around 16-17, I was never at home, I was always hanging out. I was a regular guy. I just liked different things. I was into music, all of my friends were. Some of us skated. Some of my other friends were hustlers. Some of them got into trouble, but I was always too scared. You didn't get into too much trouble skateboarding. You might get arrested here and there but I never got arrested."

On how his parents feel about his success:
"My parents are over the moon. The state of Virginia, Virginia Beach, and the Tidewater area has been super kind. I don't even know what to say because I consider myself a child of Tribe Called Quest and for me that's what I do it for and why I do it…to make music that feels good."

On how he juggles being a father, an entertainer, a new father, and husband:
"I'm going to be 41 in April. No I don't hang out all the time but I spend most of my time working and with my family."

Pharrell is scheduled to perform during the Oscar's this Sunday, so be sure to tune in. His new album G I R L drops Monday, March 3rd.
Photo: Dimitrios Kambouris/Getty Images North America

Kyla Pratt Birthed A SECOND Baby Girl...Last August!
Posted: 28 Feb 2014 11:30 AM PST
Kyla Pratt is a mom for the second time around. And, much like the birth of her first daughter, Lyric, she gave birth with virtually no one knowing! Find out about her brand new baby girl inside...
Yesterday, we posted pics of "Let's Stay Together" actress Kyla Pratt at L.A.'s Inside Jokes comedy night with her man and her celeb friends. And we noticed a protruding belly that looked VERY much like a baby bump.
So, we reached out to Kyla this morning to find out if she and her boyfriend/baby's father Danny Kilpatrick are expecting number 2. Or...if she recently gave birth without us knowing.
And we were hit with a nugget. Child star-turned-grown woman indeed ulled a sleuth move and became a mom again...this past August!
Her rep Ernest Dukes tells TheYBF.com:
"Kyla gave birth to a healthy baby girl in August 2013 and is currently enjoying motherhood for the second time around."
We're not sure of the six-month old's name, but 3-year-old Lyric is officially a big sister.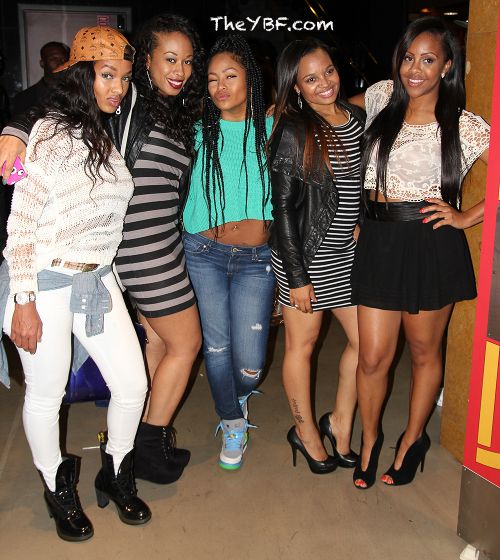 Congrats Kyla!
PRE-OSCAR FAB: Tia Mowry, Rochelle Aytes, Draya & More Hit OK! Magazine's Pre-Oscar Party
Posted: 28 Feb 2014 11:20 AM PST
The pre-Oscar parties and events have begun and we have pics of the YBF celebs hitting the red carpet. YBF chics Tia Mowry, actress Rochelle Aytes, reality TV star Draya and more joined in on the pre-Oscar festivities last night and it looks as if the ladies had a good time. Look inside…
Celebs hit the red carpet last night to attent OK! Magazine's pre-Oscar party at Greystone Manor Supperclub in West Hollywood.
"Tia & Tamera" star Tia Mowry Hardrict kept it colorful on the red carpet in a blue Herve Leger dress and yellow Christian Louboutins.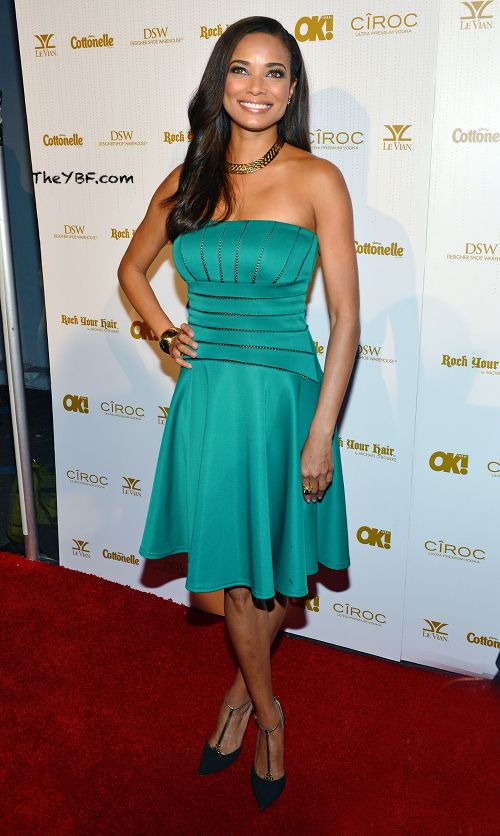 "Mistresses" star Rochelle Aytes hit the red carpet in a strapless teal dress with eyelet cut-outs. Love the color.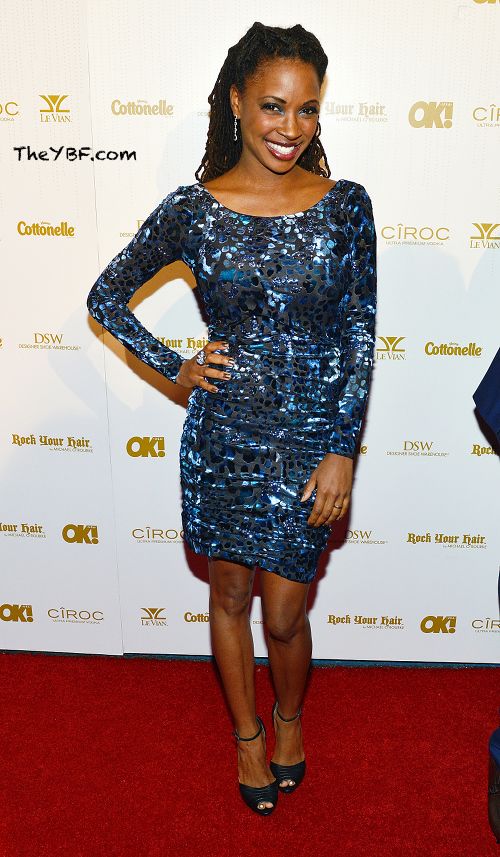 "Shameless" star Shanola Hampton is looking great in a long-sleeved printed dress to have just had a baby last month.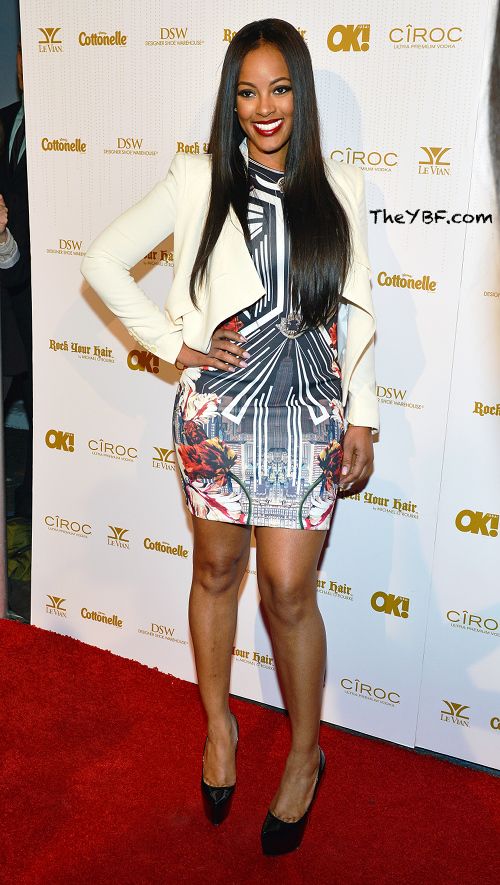 And "Basketball Wives: L.A." star Malaysia Pargo kept it cute in a printed bodycon dress with an ivory blazer. Nice.
Draya shared with her followers on Instagram flicks of her hanging out with Malaysia and Chris Brown's girlfriend Karrueche at the party: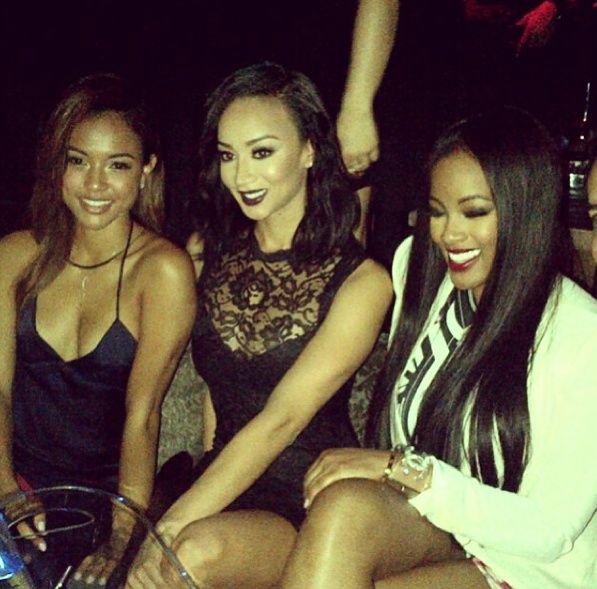 Looks like Draya and Malyasia remain cool this season on "BBW: LA".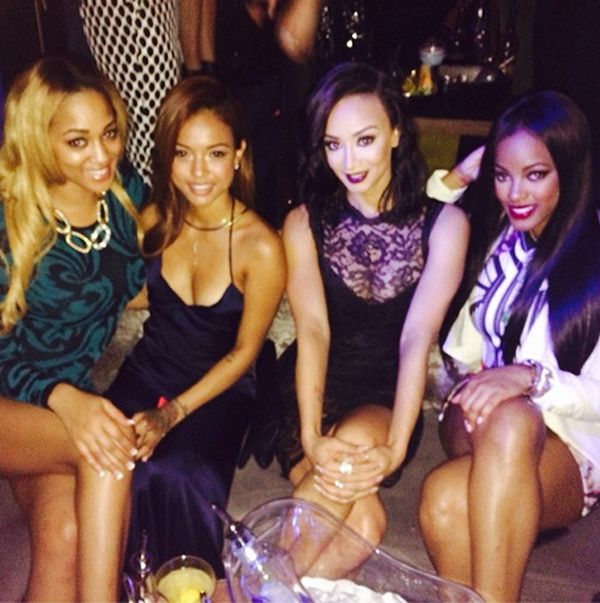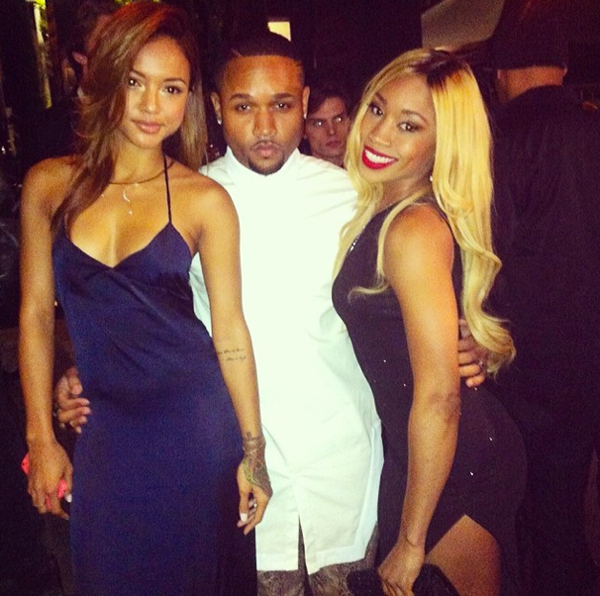 And Karrueche and her bestie caught up with "Total Divas" star Ariane for a pic.
Fun times.
Photos: AdMedia / Splash News/Tia Mowry Hardict's IG/Karrueche's IG/Draya's IG
Monica Brown Chills With Basketball 'Wives' Adrienne Bosh & Gabrielle Union At The Heat/Knicks Game + Vanessa Simmons' Daughter Is Living The LUXE Life!
Posted: 28 Feb 2014 10:18 AM PST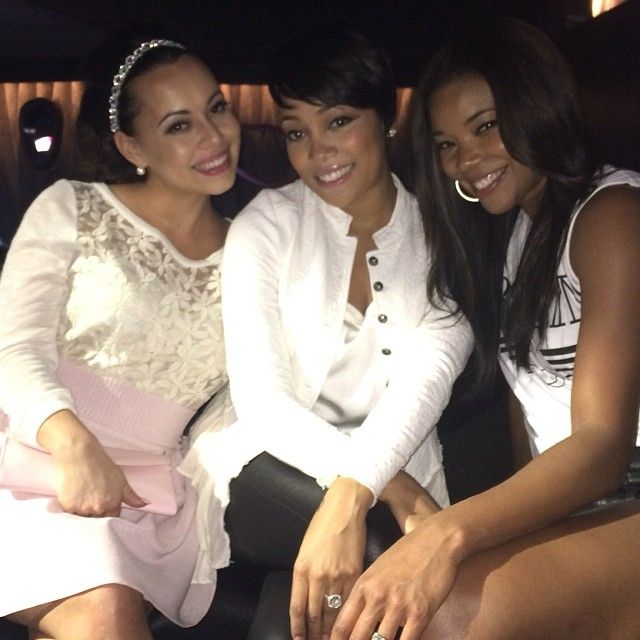 Future basketball wife Gabrielle Union joined Monica Brown and Adrienne Bosh for the Heat/Knicks Game in Miami. See pics inside and photos of Vanessa Simmons with daughter Ava Marie Jean Wayans already living the posh life. See pics inside...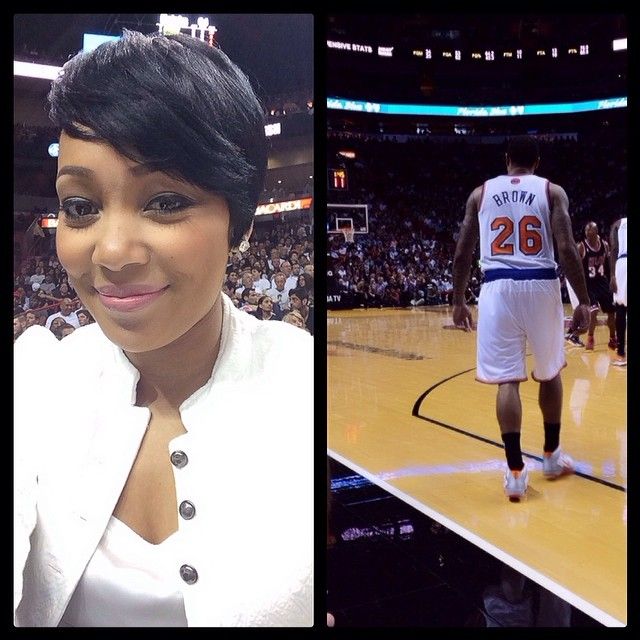 Last night, Monica Brown watched her husband Shannon Brown and the NY Kicks take on the Miami Heat in Miami, FL. Unfortunately for Monica, the Knicks lost 108-82. But there was a bright side.....Shannon recently signed a 10-day contract with the Knicks so she gets to be in Manhattan for a bit.
While at the game, Monica caught up with her friend, reality tv star Chrissy Lampkin who was rocking her man Jim Jones' Vampire Life hat.

She also caught up with fellow b-ball wife Adrienne Bosh and wife-to-be/"Being Mary Jane" star Gabrielle Union. Well aren't they cute...
In baby news......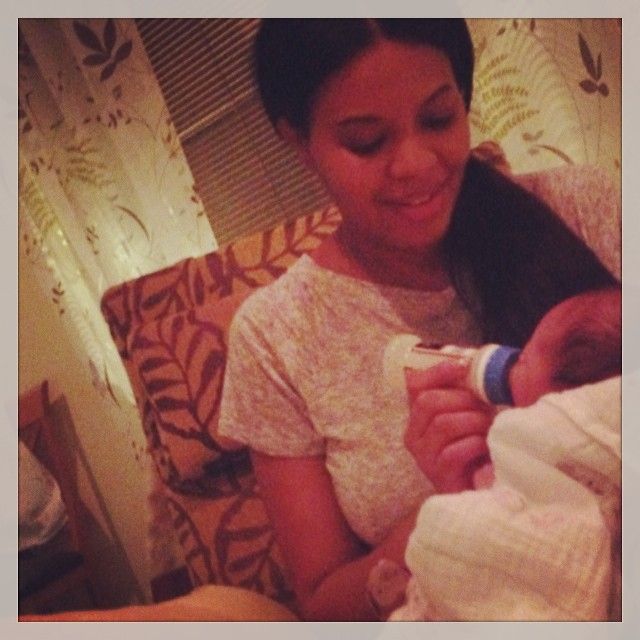 From the first announcement Vanessa Simmons and Mike Wayans made about their pregnancy, to their celebrity-filled baby shower, we've been watching out for the first peek at baby Ava Marie Jean Wayans. Now, Vanessa is opening up about her first few weeks as a mom and tweeting pics of their feeding time saying, "MommyMode #nosleep #nomakeup"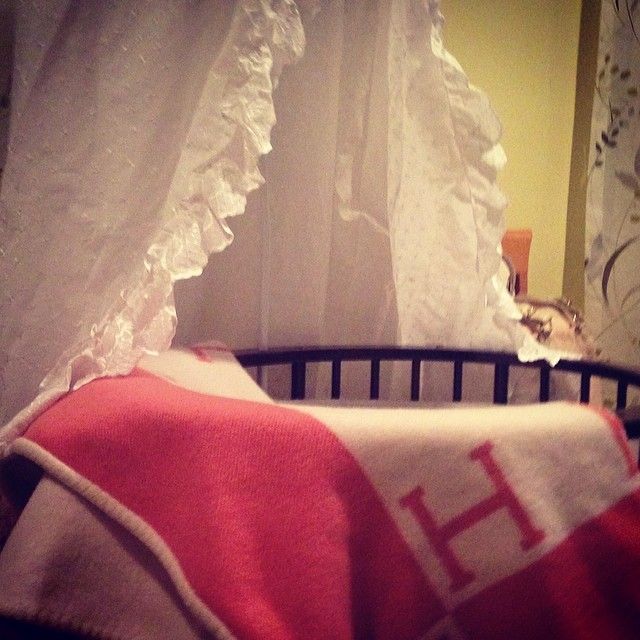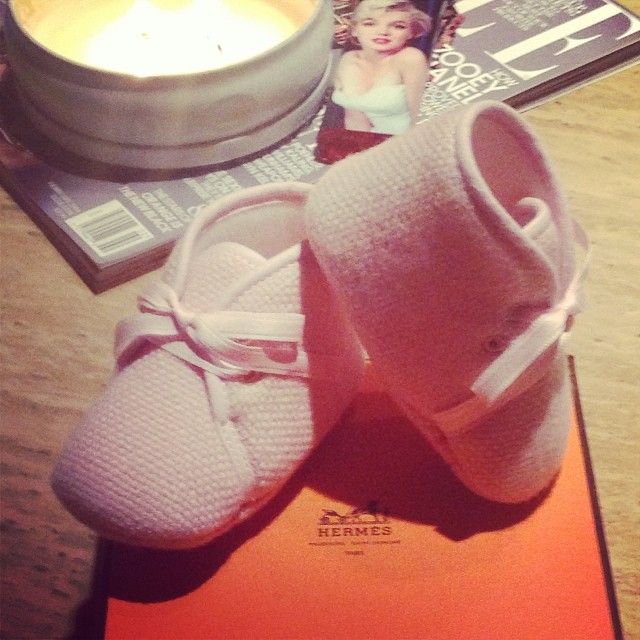 We see from photos taken inside the nursery, Ava Marie Jean has already become a fan of Hermes! It looks like she'll grow up to be a fashionista like her mom and auntie Angela. Adorbs!
Photos via Vanessa Simmons Instagram/Monica Brown's Instagram