---
IN CASE YOU MISSED IT: Wyclef Jean Is BROKE, Accountant Claims...Says "There Ain't No Money"
Posted: 27 Mar 2014 09:30 AM PDT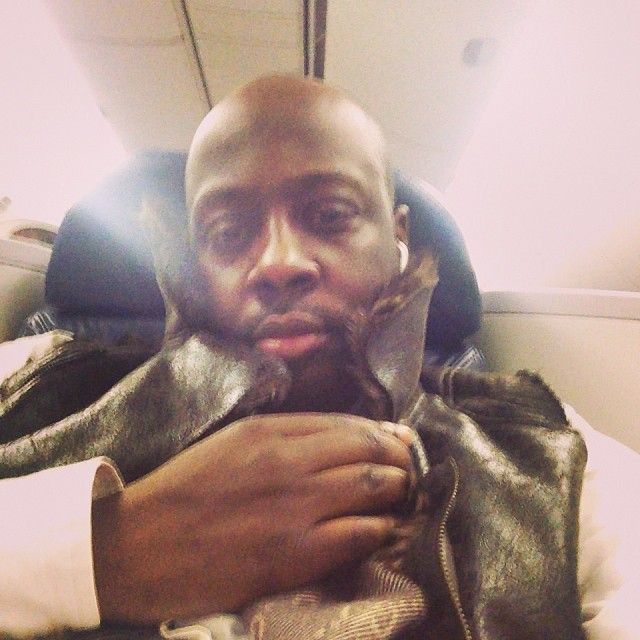 Despite producing mega-hits for The Fugees and Whitney Houston, accountants for Wyclef Jean say he's flat broke! More inside....
If you're one of Wyclef Jean's creditors, don't hold your breath on the 1st and 15th because he won't be making payments! The famed hip hop producer ("Hips Don't Lie", "911", "Gone Til' November") is flat broke....so say his accountants. In documents obtained by The Smoking Gun, Clef's former lawyers have filed a six-figure legal judgment against him for failing to make agreed-upon payments to reduce his debt.
Based on what we've read, Clef owes:

$2.9 million in tax liens to the IRS (which remain outstanding)

$133,000 to the law firm Shukat Arrow Hafer Weber & Herbsman
Now...here's where it gets funny and/or sad. When the law firm told Clef's accountant, David Levin, that they planned to file a lawsuit, he said, "File it. In my most professional verbiage…there ain't no money."
DAMN! Hmmm.....You'll recall that Clef was also under scrutiny over funds donated to his Haiti relief effort a few years ago.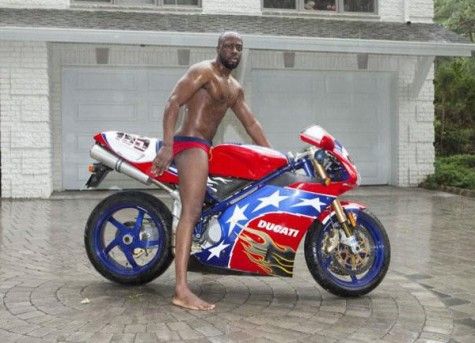 He might be bad with money, but he looks good in a speedo.
Photos via Wyclef's Instagram
CONVENIENT? Columbus Short Spotted Spending The Day With Wife & Daughter At The Grove...Amidst The Reveal Of Alleged Violent Streak
Posted: 27 Mar 2014 08:42 AM PDT
It looks like Columbus Short has put on his 'Harrison' hat to fix this alleged violent scandal he's going through. And his FIX appears to include convenient paparazzi shots of him and his family looking like all is well...
Yesterday, 'Scandal' star Columbus Short was seen strolling through The Grove with his wife Tanee and their daughter in Los Angeles. And while we rarely, if ever, see the family out and about....they were front and center in the paparazzi cams amidst Columbus' violent past coming to light.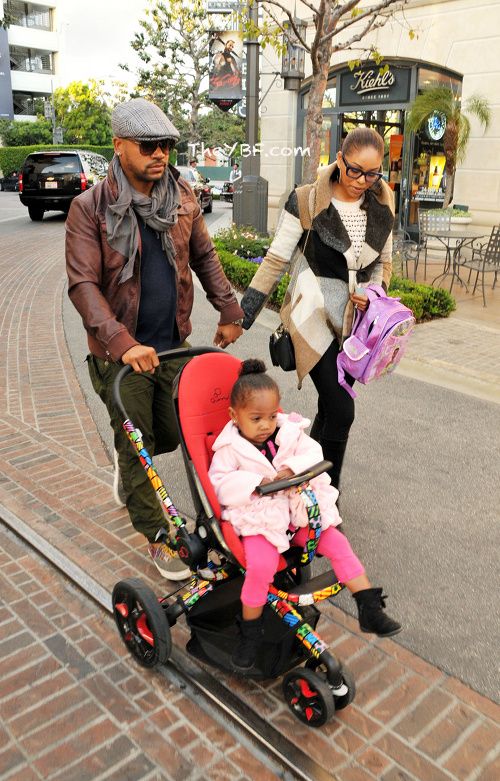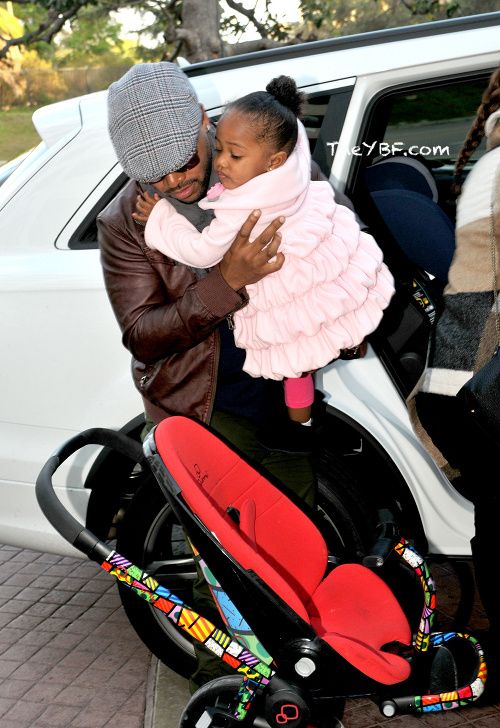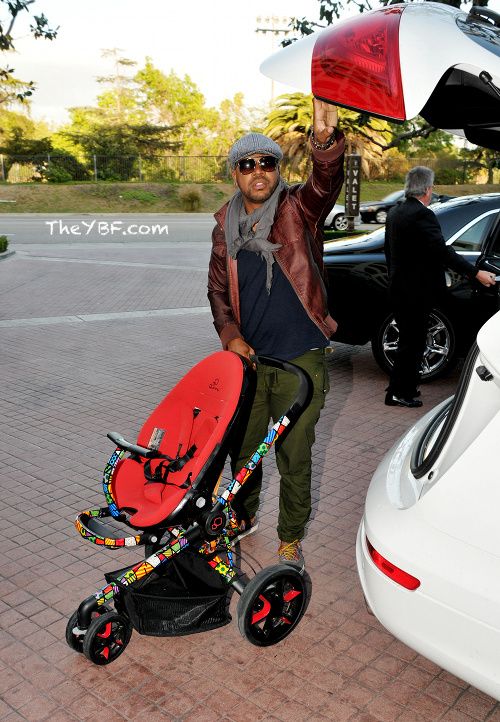 Now that we're all aware of the bar brawl foolery where Columbus has been accused of beating up a patron, more of Columbus' violent past has come to light. TMZ reports that he was arrested for physically attacking his wife in front of their kids this past February, had a police report filed on him 2 weeks later for allegedly pushing his wife during an argument, and back in 2010 he was prosecuted for beating up a dude on the basketball court.
By the way, Columbus was also spotted on the "Scandal" set earlier this week, seemingly unfazed by the bar brawl situation.
Photos: PCN
Drake (And His Fur) & Rihanna Party In London...Separately
Posted: 27 Mar 2014 07:53 AM PDT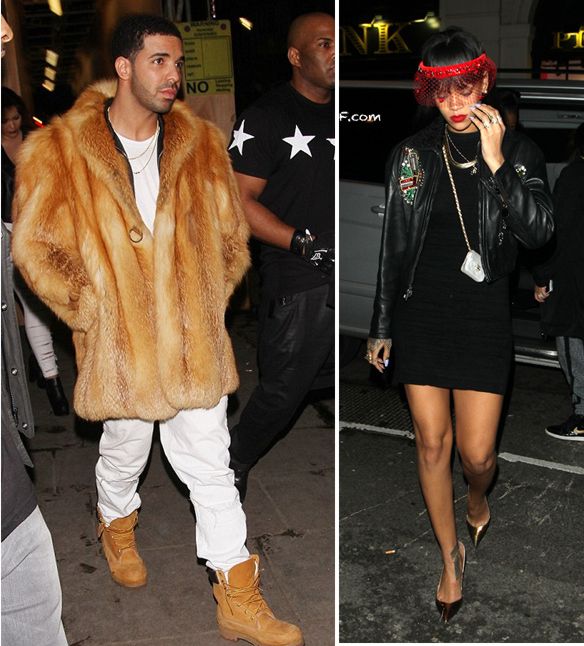 While Drake fans were getting knocked down as he entered his after party in London, his newest boo Rihanna was partying elsewhere away from Drizzy...which hasn't happened much this last month or so.
Check the pics inside...
After hitting up Drake's first London tour stop Monday night, Rihanna and her red veil trekked it to Tramp nightclub in London for the second evening in a row Wednesday night: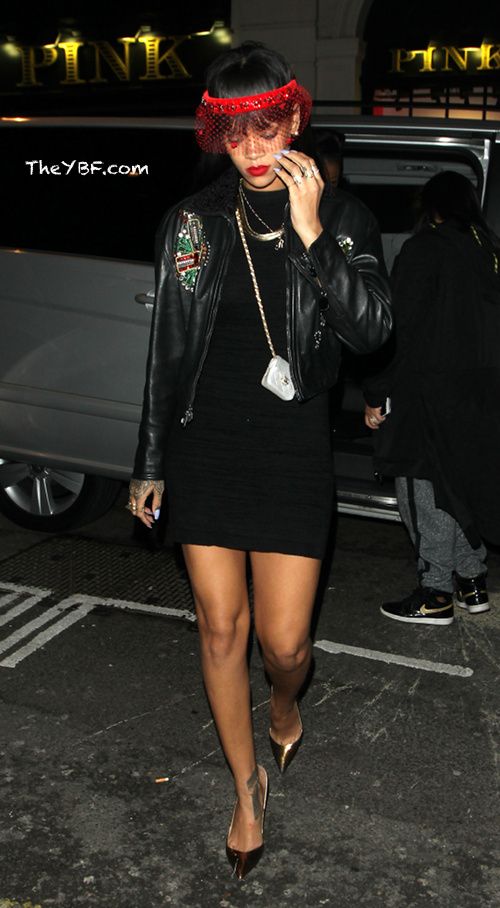 The "Pour It Up" singer flossed her killer legs in a black mini dress and gold metallic Louboutin pumps. And even though she wasn't partying with Drake like she usually has been recently, she was right down the street from where he was partying it up.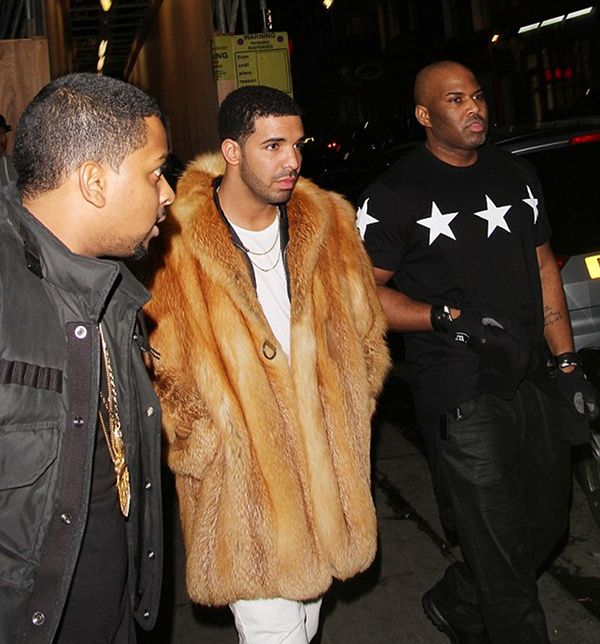 Drake and this Joe Namoth fur made his way to his tour afterparty at DSKRKT.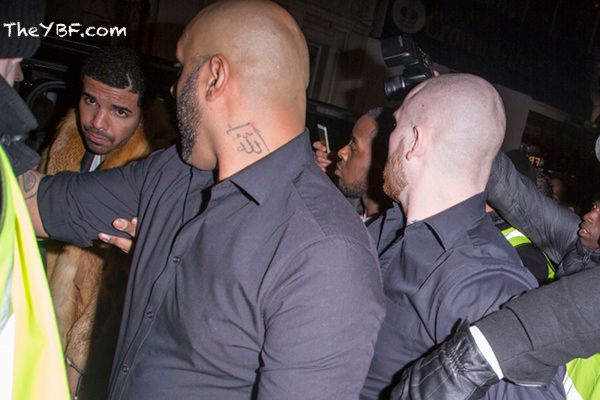 Apparently, the rapper's security had to protect him from fans who were losing their minds and clamoring to get at him....so there are reports of fans getting knocked down as he entered the party.
Maybe that's why Rih stayed a safe distance away that night...
The Randomness:
1. Oprah launches self help tour. STORY
2. James Debarge appears to possibly be ill as he was spotted at lunch with Conrad Murray yesterday. STORY
3. Chief Keef claims to be part of another shooting in Chicago...and even foolishly instagrammed his weapon. STORY
Photos: PCN/WENN
LET THE CHURCH SAY........ Mase's Congregation BLASTS Him For Living Double Life
Posted: 27 Mar 2014 07:28 AM PDT
Members of Mase's congregation is speaking out about their pastor's double life as man of God/gangsta rapper and now they may stop tithing! Oh no! More inside.....
Mase is back. We're talking about the REAL Mase. Not Mason Betha....the pastor of El Elyon International Church in Atlanta. We mean Murda Ma$e...the dude who ran Harlem with Cam'ron. He's about that life (again) and his Instagram proves it. Or whatever.
So.....how does a Pastor go from the scripture to the club? Hmmm.....the members of his congregation would like to know too. Things started to fall apart after those reported "secret" divorce proceedings, which he NEVER told his church about. Members began to question how he could preach the virtues of marriage while secretly heading off to Divorce Court (especially if it was with Judge Lynn or Judge Mablean).
Then, his verse on "Tricky Situation" hit the web. Does your pastor rap about banging women with husbands or fiancès? If you're a member of El Elyon....your answer would be "YES."
Now......TMZ reports that things are not well with the congregation and there's talk of de-funding the church (no mo' tithes).
It's a situation indeed...
Photos via Instagram
CELEBRATING DIVA STYLE: Happy 44th Birthday Mariah Carey!
Posted: 27 Mar 2014 06:48 AM PDT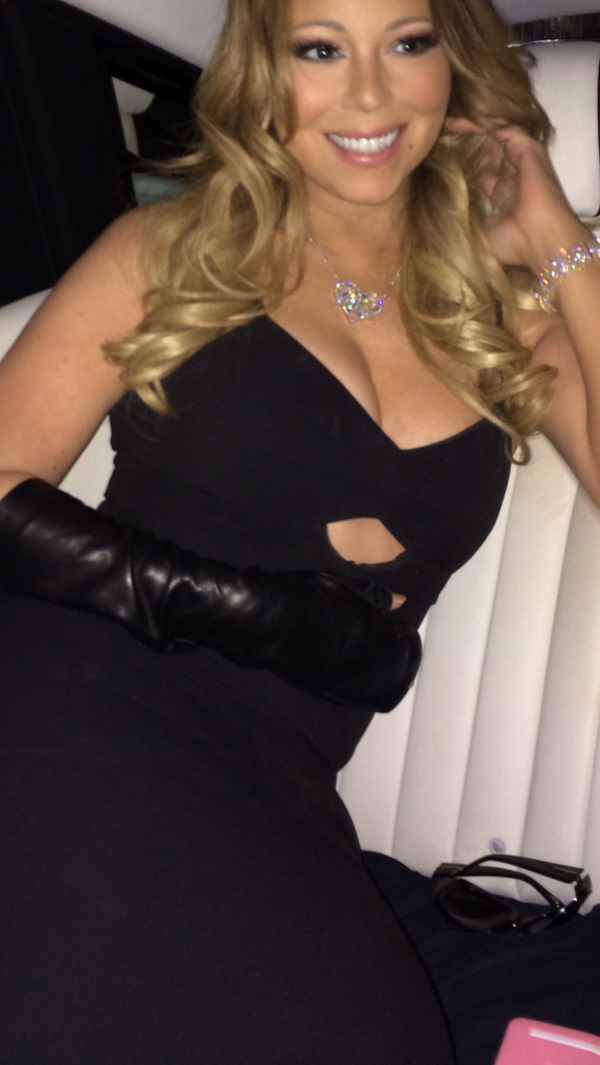 Mariah Carey turns 44 today. But she doesn't want anybody believe she's a day over teenage years with her girly girl persona. Celebrate with the diva inside....
Mariah Carey, writer and singer of some of pop music's most classic songs, welcomes her 44th year today. "The Diva Next Door", who has always maintained a close relationship with her fanbase, recently tweeted, "Lambily, #YoureMineEternal ️ Thank you for all the nice messages and eternal support. Love always, MC #L4L."
As the Lambs eagerly await Mariah's next album and project with Jermaine Dupri, we hope she, Nick and Roc and Roe enjoy her special day.
Celebrate Mariah's birthday in the gallery below!
Photo: Mariah's IG
Jada Pinkett Smith & Her Red Tips On The Set Of "Gotham" + Sevyn Streeter's "Being Mary Jane" Inspired "nEXt" Video
Posted: 26 Mar 2014 07:02 PM PDT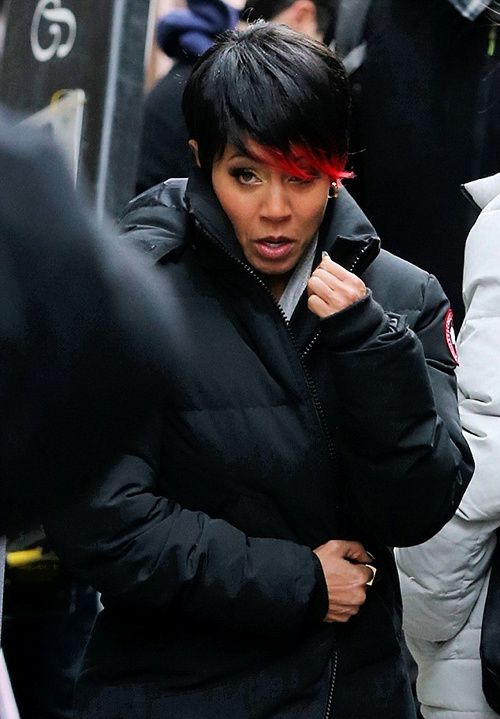 Jada Pinkett Smith's extra serious about her new role in the upcoming USA TV movie Gotham. Check out the red tipped actress inside on the set, plus Sevyn Streeter's brand new "Being Mary Jane" inspired video....
In a prequel story for the Batman comic, USA network is releasing its Gotham tv movie. For all you Batman fans, the movie serves as the origin story behind Commissioner James Gordon's rise to prominence in Gotham City in the years before Batman's arrival.
And Jada Pinkett Smith will play the sadistic gangster boss and nightclub owner. Check her out on the NYC set below: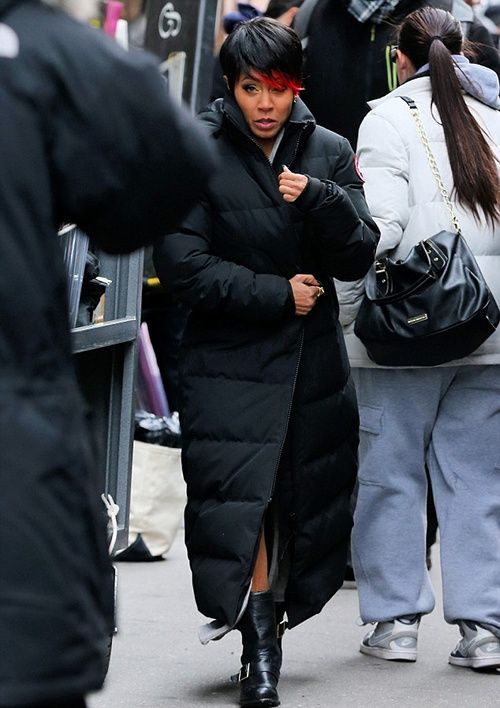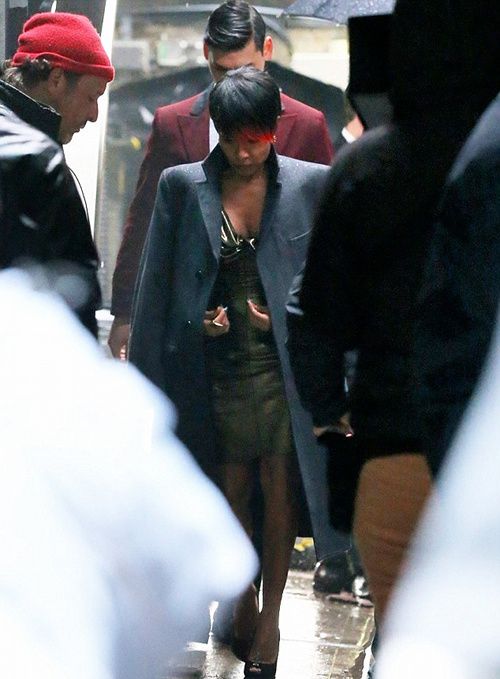 This should be interesting...
Sevyn Streeter just released her brand new video for "nEXt" featuring Kid Ink. The vid, directed by Derek Blanks, is clearly inspired by Mary Jane Paul and all those damn sticky notes.
The track appears on her solo EP "Call Me Crazy, But…" which debuted at number 5 on Billboard's Top R&B/Hip-Hop Albums chart.
Check it out above.
Photos: Splash
Tami Roman HOSPITALIZED After Fainting!
Posted: 26 Mar 2014 05:47 PM PDT
Tami Roman was rushed to the hospital this morning. Find out what happened to the "BBW" star inside…
"Basketball Wives" star Tami Roman was rushed to the hospital this morning in Houston after she passed out. She apparently fainted due to stress and dehydration related to her diabetes diagnosis.
Tami's publicist released a statement saying:
"Tami is rehabilitating at a private hospital in Houston and is expected to make a full recovery. Tami is currently filming two TV shows, traveling back and forth between Houston & Los Angeles so her body became overwhelmed."
The reality star and model has been rather busy lately, since the release of her lip glosses and nail polishes in Walgreens. She is currently working on her reality TV spin-off series "Roman Empire" and working on a new self-help book titled "Mistresses 101."
Tami is also co-starring alongside Halle Berry on a new TV show titled "Extant." The show will be produced by Steven Spielberg and will premiere this summer on CBS.
Get well soon Tami!
CARESS THIS: Kelly Rowland Becomes The Fresh Face Of Caress + Leaves Her Record Label
Posted: 26 Mar 2014 05:13 PM PDT
Since she slays with gorgeous skin on a daily basis, it's only right Kelly Rowland has become the official celebrity Fabulista for Caress. And since she's homeless when it comes to a record label home, this new venture is right on time...
Caress has announced the "Kisses Down Low" singer Kelly Rowland as their celebrity Fabulista today in NYC.
Her job...other than being a walking billboard for flawlessness: To inspire women to enjoy every day experiences in a fresh way.
Kelly said during her campaign that she knows how important it is to kick off every morning feeling fabulous, so Caress' Emerald Rush is what she lathers up with. If only that was ALL we needed to look like THAT.
Peep her first promo pic above.
Meanwhile, she's working on new music with a totally fresh sound. But new music...for a different record label.
After rumors circulated that Kelly was leaving Universal Republic after two solo albums, it's officially official. She told Huff Post Live:
"I feel like right now, I just needed something new and I've earned the right to make my own choices and make my own decisions," said Kelly. "I wish them well, they wish me well. No hard feelings, I just needed a fresh, new start."

She hasn't decided on her next move. "There are different offers on the table," she said. "I just want to see what it feels like. I'm just in the studio on my own and just having a really good time just being creatively free."
She also spoke about being influenced by the Queens like Diana Ross...and reading movie script roles. Work Kelly!
TV FAB: "The Real" Announces Fall Premiere Date + Christina Milian Nabs Her Own Reality Show On E!
Posted: 26 Mar 2014 03:30 PM PDT
"The Real" has announced their official premiere date while Christina Milian's life will be showcased in her new reality TV show. Find out the deets inside…
After a super successful test run this past summer, "The Real" is set to premiere on daytime television Monday, September 15th!
The one-hour daily talk show will return with their fabulous hosts Tamar Braxton, Tamera Mowry-Housley, Loni Love, Adrienne Bailon, and Jeannie Mai. It will air on FOX television stations and rebroadcast daily in primetime on BET (similar to the set up for "The Wendy Williams Show" and "The Queen Latifah Show").
"The Real" has been cleared in 98% of the country, so expect these five amazing ladies to be serving up their opinions on a television near you. Loves it!
And in other TV news…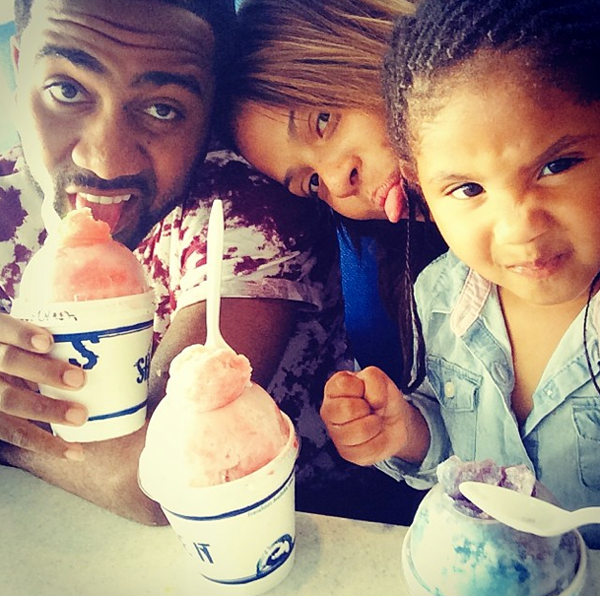 Singer/actress Christina Milian landed her very own reality TV show that will debut on E! Surprise, surprise...
Cameras will follow Christina around to capture her juggling her career, a relationship with her fiancé (producer/record label CEO Jas Prince), her relationship with her business partner mom and being a mother to her adorable 4-year-old daughter with The Dream, Violet.
Banca Studio and G3 Productions are producing the show in association with Lionsgate Television and Christina is listed as an executive producer.
No word yet on when the show will premiere.
Will you be watching?
BONUS: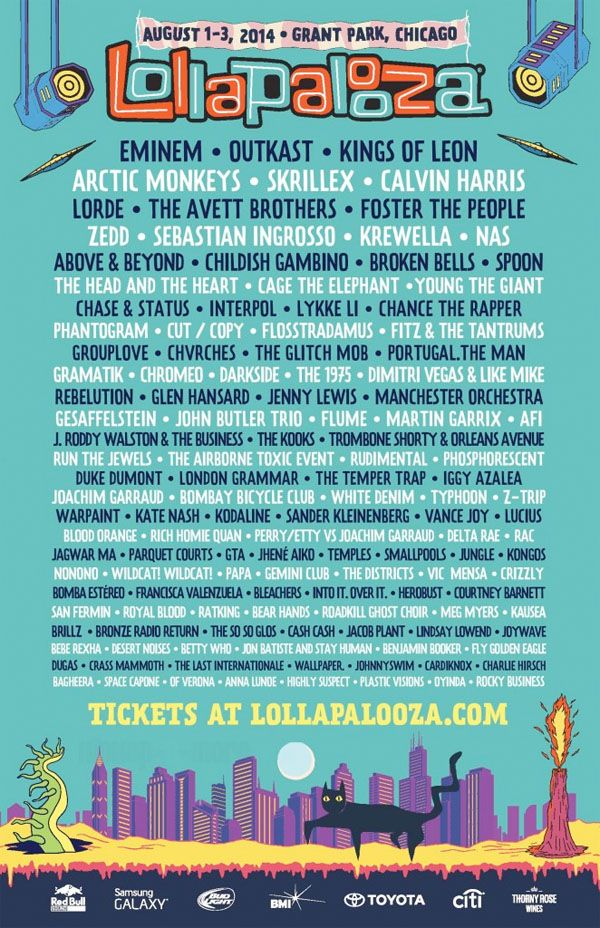 Outkast is teaming up with Eminem to headline this year's Lollapalooza music festival.
Lollapalooza is celebrating its 10-year anniversary at Chicago's Grant Park on August 1-3. In addition to Outkast and Eminem performing, Lollapalooza fans can expect performances from Nas, Jhene Aiko, Childish Gambino and Chance The Rapper.
Who's going?
Photos: The Real's IG/Christina Milian's IG/Lollapalooza's IG

Evelyn Lozada READS Wendy Williams For CHEATING FILTH After Wendy Called Ev's Son A "Cash Register"
Posted: 26 Mar 2014 01:00 PM PDT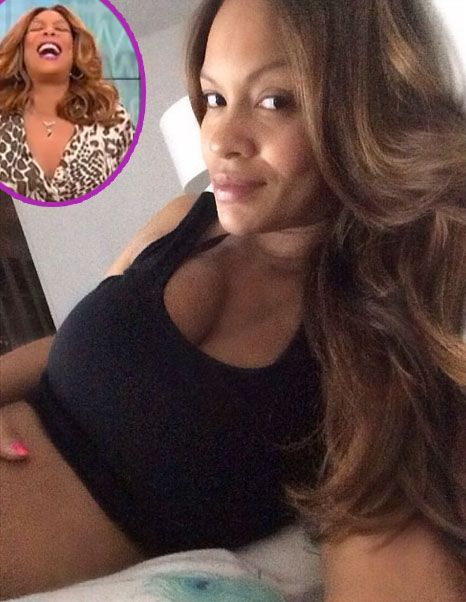 Wendy Williams seems to have ruffled Evelyn Lozada's feathers and Ev fired shots right back at Wendy. Find out what Wendy said that got Ev's panties in bunch inside…
Evelyn Lozada was a "hot topic" on the Wendy Williams' show on Monday and it has Ev extremely pissed off.
During the show, Wendy congratulated Evelyn on the recent birth of her baby boy Carl Jr. (whom she shares with fiance LA Dodgers baller Carl Crawford) but she threw in a bit of shade while doing so.
Wendy said, "Evelyn gave birth to a cash register…I mean… a baby boy with her fiancé, the $142 million Carl Crawford. I didn't mean to make that cash register joke, but you see why it's easy to be said."
She added, "Here's what I'm thinking, Ev. You should become involved in a lot of charity work. And also talk to your man about opening you up another Dulce…except Dulce Beverly Hills, not Dulce Miami."
Ev must have gotten wind of Wendy's comments and went on a Twitter rant exposing Wendy's husband. According to the "BBW" star, Wendy's husband purchased shoes from her store in Miami for another woman! She even named the designer shoes he bought.
Read from the bottom up: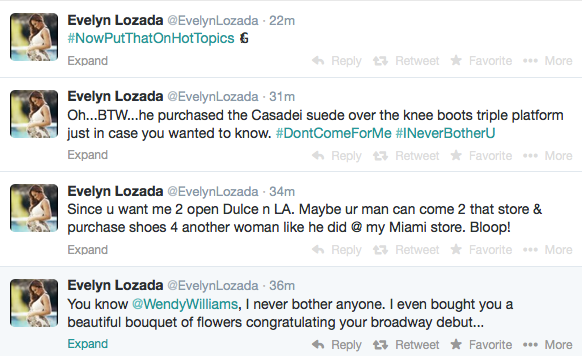 Chiiiiiiile...
Check out Wendy throwing shade at the 5:53 mark:
Bloop!
Photos: Evelyn's IG

FAMILY FUN: Ciara & Her Dad DANCING To Future's Latest Single + North West Peed On Kanye During VOGUE Shoot!
Posted: 26 Mar 2014 12:03 PM PDT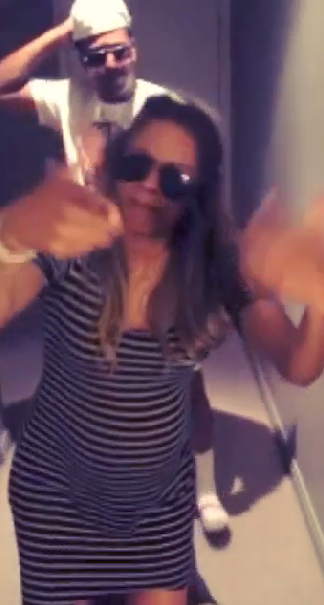 Ciara and her father posed a few funny videos of themselvs dancing to Future's latest record. Watch the clips inside and check out Kim Kardashan joking about North's "accident" during the VOGUE shoot.
In her latest series of Instagram uploads named "#PregnantLadyChronicles", Ciara celebrates the success of Future's "Move That Dope" single by dancing with her father.
Now we know where CiCi got her moves!
In other baby news......
Last night, in addition to her celebratory dinner with Kanye and Anna Wintour at the Waverly Inn, Kim Kardashain stopped by Late Night with Seth Meyers where sis dropped a very interesting BTS tidbit. During her cover shoot with Kanye for VOGUE, North West peed on Kanye!
"North peed on him right at that moment. And he was trying to tell me, and I couldn't really hear him, but I had to get up and get her, clean her off, clean him off. It's a good memory."
She also shared why the cover is such a big deal.
"I know it's a first of a lot: They were telling us that Kanye is the first rapper to be on, and I'm the first reality person to be on and the first interracial couple, so all of this just means so much I think to Kanye and I. Every girl I think grows up dreaming they could be on the cover of Vogue, and I collected vintage Vogue's forever, and it's just honestly the biggest dream come true, and I'm so honored to be on the cover."
Photos via Ciara's Instagram
Beyonce, Jay Z & Blue Ivy Get Stylish In Spain, Wraps Up 'Mrs. Carter World Tour'
Posted: 26 Mar 2014 10:37 AM PDT
Beyonce, Jay Z and Blue Ivy were spotted in Barcelona, Spain as Bey wraps up her final shows for The Mrs. Carter World Tour. Check out the pics of the stylish family inside…
After touring the Roman Catholic Church La Sagrada Familia a few days ago, Beyonce, Jay Z and daughter Blue Ivy were spotted leaving the upscale Restaurant Windsor following her concert in Barcelona on Monday night.
Bey was in full mommy-mode as she held Blue close, kissing her cheek as they walked out of the restaurant. B.I.C. was dressed in a super-cute leopard-print fur vest and black leggings.

Bey was casually chic in a black and white striped shirt paired with checkerboard slacks, while Jay kept it cool in a gray sweater, black jeans and Brooklyn fitted cap. Love them.
On her Tumblr page…

Mrs. Carter shared a few photos of one of her many fashionable looks and pics of she and Jay, decked in all black, hanging out overseas.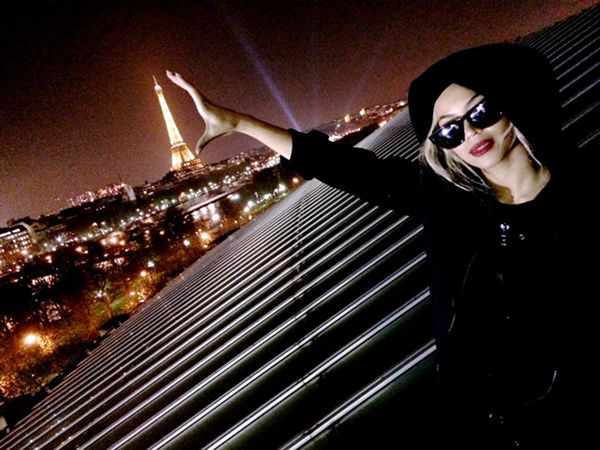 Cute.
Tonight, Bey will hit the stage at the MEO Arena in Lisbon, Portugal. The Mrs. Carter World Tour will end tomorrow in Lisbon for her final show.
Photos: SolarPix/PacificCoastNews/Beyonce's Tumblr