---
Kanye West & Kim Kardashian Enjoy A Movie Date In Calabasas
Posted: 15 Mar 2014 08:20 AM PDT
Kanye West and Kim Kardashian left baby North at home to spend some quality time with one another. Check the pics of the couple catching a movie inside...
Kanye West and his fiancée Kim Kardashian got some down time and hit up a movie in Calabasas on yesterday.
North's parents were arm-in-arm as they talked and walked inside the movie theater.
Kim glammed it up in a skin-tight red mini dress paired with gold embellished gladiator heels while Kanye was really casual and laid back in jeans and a sweater.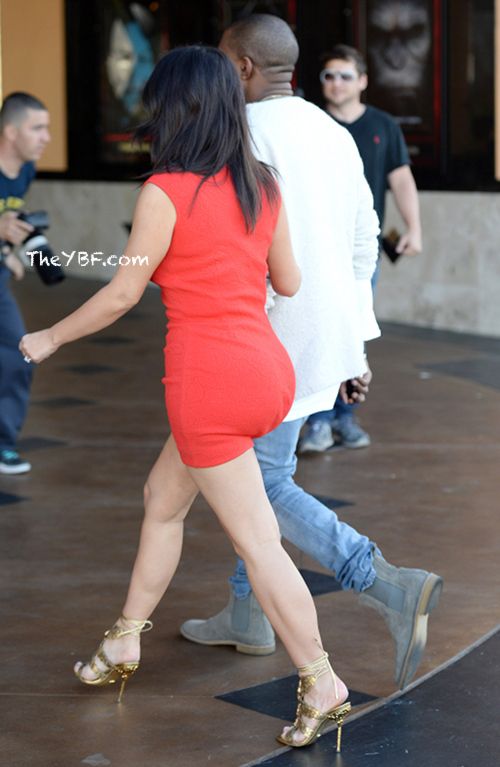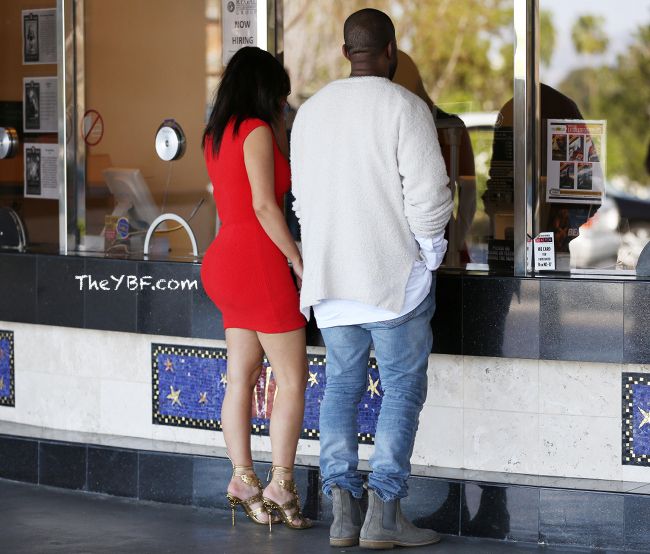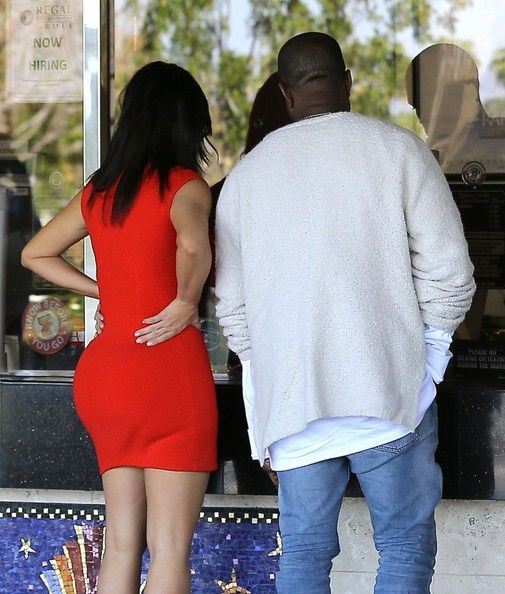 The reality star announced her baby clothing line Kardashian Kids is now available at Babies R' Us and available to order online.
She tweeted, "Today is the day! @kardashiankids launches today and in @babiesrus stores tomorrow!!!!!!"
She then took questions from fans on Twitter and responded to one question, "We wanted to start out with a line for little girls first but would love to release one for boys, too!"
Nice.
BONUS:
Young Money rapper Tyga owes nearly $100,000 in taxes.
According to TMZ, in 2009 he owed $11,201, in 2010 he owed $4,437 and for 2011 he owes a whopping $76,008. That equals to $91,646 in back taxes.
Guess he should take a trip to "Rack City" for a loan.
Photos: Splash/Fame/Tyga's IG

Emily B Is The Creative Director For Bebe's Fall Footwear Collection + Eric Benet & Wife Expecting Second Baby
Posted: 15 Mar 2014 07:52 AM PDT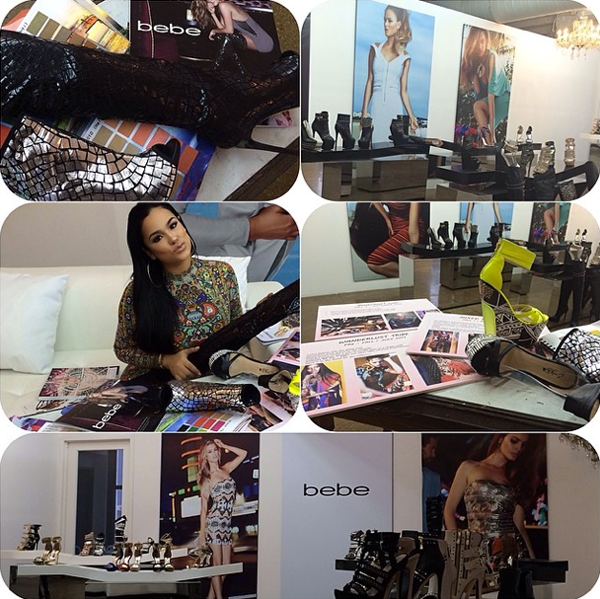 Emily B has a new job while Eric Benet and his wife are expecting a new baby. Find out the deets inside…
Stylist and shoe designer Emily B has a new job, apparently. She is the new creative director for Bebe's footwear fall collection, according to her new IG revelation. She was spotted inside Bebe's showroom working on designs.
Fab's current chick (for now since this happened) posted the picture above on Instagram:
In the #bebe footwear showroom working on designs for their fall collection #creativedirector #Iloveshoes
Em has already partnered with Zigi NY creating a line of urban chic shoes and now she's taking her talents to Bebe.
Congrats Em!
Meanwhile…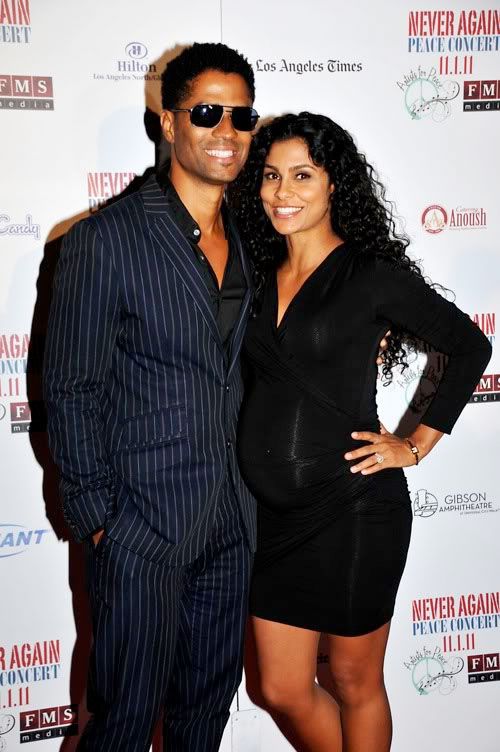 R&B singer Eric Benet and his wife Manuela Testolini are expecting another bundle of joy.
Their 2-year-old daughter Lucia Bella has upgraded to big sister while singer India (Eric's daughter from a previous relationship) has upgraded to big, big sister.
A rep for the couple tells US Magazine:
"She is due this summer," Benet's rep confirms.

Sweet!
The proud parents shared a cute photo of their daughter Lucia (above) with a to-do list of tasks she needed to complete with "Become a big sister" unchecked and 'Summer 2014' below it.
Back in 2011, he tweeted about his daughter Lucia's birth on Twitter saying, "Best thing in the world..sending your 3 day old baby back to sleep w lil kisses on her head at 3:20am :) so happy!!"
Now Eric & Manuela is ready to welcome a new baby to their family:
"She is perfect in every way, and as expected, Manuela is truly proving to be the world's best mother," Benet told Us at the time. "She is so attentive, nurturing and loving."
Congrats to them!

Photos: Emily B's IG/Eric Benet's IG
Jennifer Hudson No Longer Ambassador For Weight Watchers After 4 Years + Lupita Nyong'o RUMORED To Star In Lead Role In 'Star Wars: Episode VII'
Posted: 15 Mar 2014 07:31 AM PDT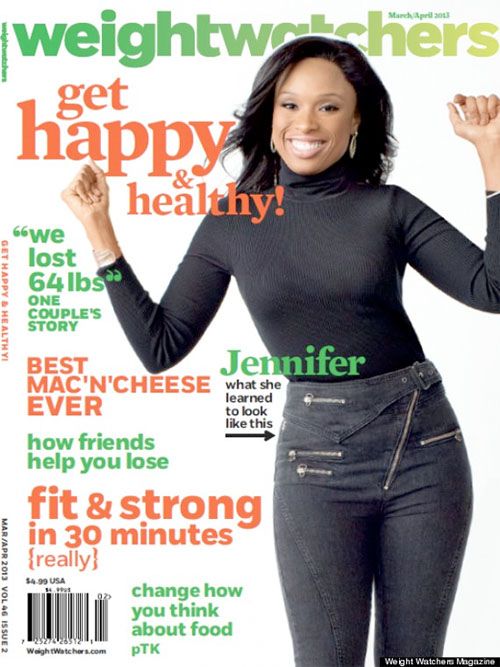 Jennifer Hudson is no longer an ambassador for Weight Watchers and Lupita Nyong'o is rumored to have landed a lead role in a new movie. Read the deets inside…
Jennifer Hudson has Weight Watchers to thank for her dramatic weight lost and new silhouette but now it seems the two have parted ways.
J-Hud is no longer the face of Weight Watchers and they both released statements announcing their split after 4 years.
Jennifer tells E! News:
"My experience with Weight Watchers has truly been life changing," Hudson said in a statement Friday. "I am grateful for what I have learned throughout the process and will always take it with me. I have chosen to step away from my role as ambassador and I am excited for the year to come, with many new projects and lots of new music."

Weight Watchers also released the following statement:
"After four years of a successful and rewarding partnership, Weight Watchers and Jennifer Hudson are ending our official partnership, though we're confident Jennifer will remain a Lifetime Member," Weight Watchers said in a statement to E! News. "Jennifer's healthy lifestyle and successful weight loss has inspired so many—from her friends and family to our members and staff, as well as people around the world—and we know that inspiration lives on. We will continue to support Jennifer in maintaining her healthy lifestyle and wish her the very best in her personal and professional life."
There were also reports that the split may not have been a friendly one after J-Hud fired off a tweet which allegedly said "Sometimes you have to step back and let your work speak for you, and when that doesn't work you walk away knowing you did your best...It's been fun and a pleasure good luck to you all. @WeightWatchers."
The tweet has since been deleted.
Its possible J-Hud had a certain number of years in her contract to begin with.
And in movie news…
Academy Award winning actress Lupita Nyong'o may possibly have landed a new lead role.
Sources tell The Hollywood Reporter that the "12 Years a Slave" star met with director J.J. Abrams a few weeks before the Oscars. She's supposedly in talks for the female lead role in the highly anticipated sci-fi film "Star Wars: Episode VII."
There aren't any details on the actual role but one possibility is that of a descendent of Obi-Wan Kenobi, described as a role for someone of color.
Lupita and her stylist Macaela Erlanger graced the cover of The Hollywood Reporter for their 25 Most Powerful Stylists list. Macaela found herself at the top of the list and she dished on working with Lupita during Awards season, which was nothing short of amazing.

Photos: Getty/Jennifer Hudson's IG

BREAKING NEWS: Chris Brown GETS BOOTED From Rehab, LANDS In Jail
Posted: 14 Mar 2014 03:44 PM PDT
Chris Brown was kicked out of rehab earlier today and is headed to jail. More inside...
According to TMZ, Chris Brown is heading to jail because he violated a judge's order by getting kicked out of rehab. Although he successful completed his original 90 day sentence, a judge extended his "treatment" last month while his Washington D.C. assault case runs its course. Now...things are messy.
What happened? We don't know "why" he was kicked out (yet) but a source said he violated some "internal rules" (sidebar: it had nothing to do with fighting or drugs). Chris was picked up by L.A. County Sheriff' a short while ago and will be locked up. SMH....
Story developing....
Photos from Getty
NEW MUSIC: Keyshia Cole PREVIEWS "Boss A$$ B*TCH", Elle Varner's "Cold Case", Future's "Covered N Money"
Posted: 14 Mar 2014 02:03 PM PDT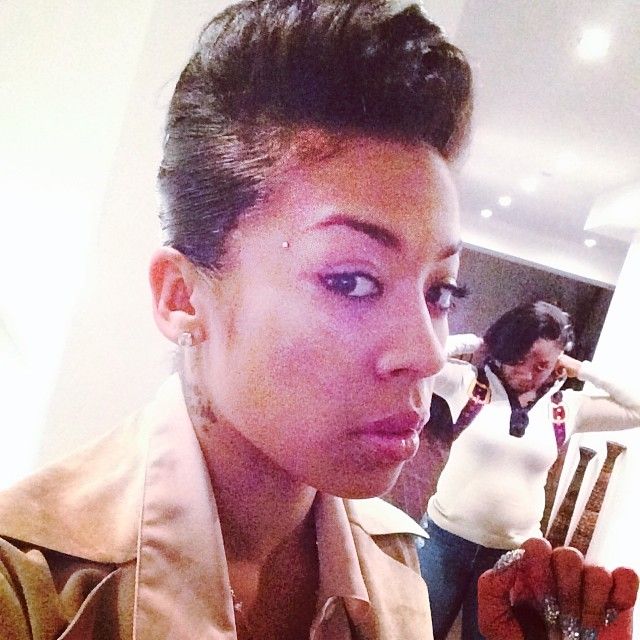 Keyshia Cole released a preview of a new song off her upcoming album. Listen to "Boss A$$ B*tch" inside along with Elle Varner's "Cold Case" and Future's "Covered N Money."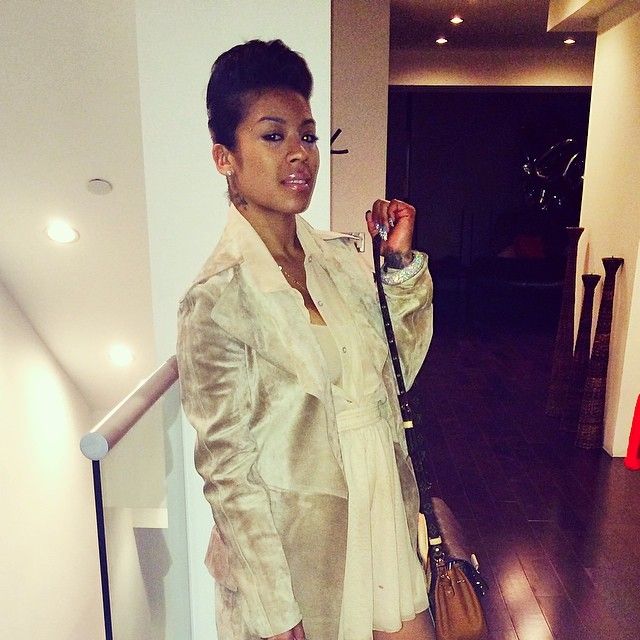 Keyshia Cole used Instagram to preview a new song called "Boss Ass Bitch." She kicks it off by saying, "If you hos didn't know, my name is Keyshia Cole and I'm a boss ass b*tch."
On Twitter, she told fans that the first single will drop next week and will include 15 tracks including three "sexy records." One follower asked if the theme of the disc is male bashing and she said, "Sadly sorta." Well....her husband did embarrass her with a stripper. It makes sense...
Listen to the preview "Boss A$$ B*tch"
In other new music....
Elle Varner will release her sophomore LP, 4 Letter Word later this year. Each of the LP's tracks will be dedicated to a different four letter word that expresses the sentiment of the song. The first track, "Cold Case" (below) focused on the all important word, love. Speaking about the upcoming album, Elle said,
"The album is a beautifully gut wrenching body of songs that I went to a very vulnerable place to create. The title is open to interpretation, hence the symbols used in the campaign – ">$a!" It's whatever you feel when you experience the album. Does ">$a!" stand for love? Pain? Life? That's for the listener to decide. 4 Letter Word has the kind of range that can't be embodied by a single word or phrase."

4 Letter Word is executive produced by hitmaking duo, Pop & Oak (Nicki Minaj, Big Sean).
Listen to "Cold Case" here:
Fans can see Elle perform at the following upcoming shows:
March 14th – Chicago, IL – The Shrine
March 21st – Syracuse, NY – The Carrier Dome w/ Kendrick Lamar & J. Cole
April 12th – San Leandro, CA – Historic Bal Theater
Also......
Future recently released the Sonny Digital-produced track "Covered N Money" as the next tune from his HONEST disc (in stores April 22nd).
Speaking about the upcoming project, Future said, "I started going in another direction after I made the 'Shit' record. It just flipped the whole album. I got in a whole other mood when I went in the studio."
Listen to the streaming track here.
Photos via Keyshia Cole's Instagram/Elle Varner's Instagram
MOMMY & ME: Eva Marcille Share More Adorable Pics Of Marley Rae + June Ambrose Gives An Intimate Look At Her Life As A Mother In 'The Glow'
Posted: 14 Mar 2014 01:01 PM PDT
Model/actress Eva Marcille showed off more pics of herself, make-up free, and her adorable bundle of joy Marley Rae. See pics inside and get an intimate look at June Ambrose and her kids.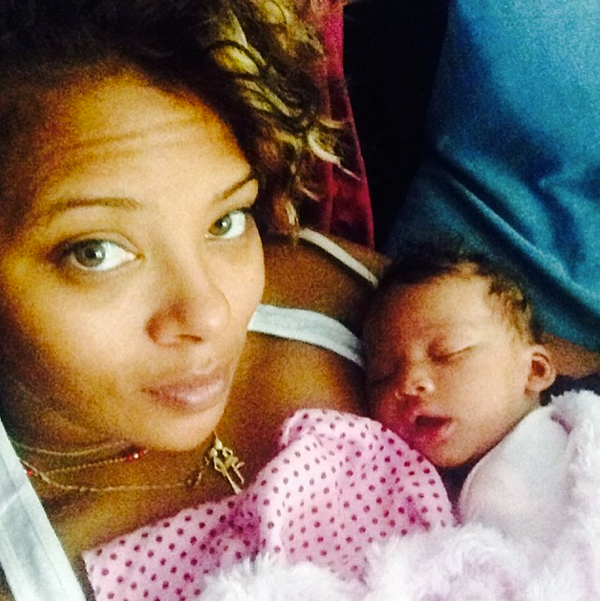 Kevin McCall and Eva Marcille's 2-month-old is too adorbs for words! On Instagram, Eva shared the cutest pics of them bonding recently.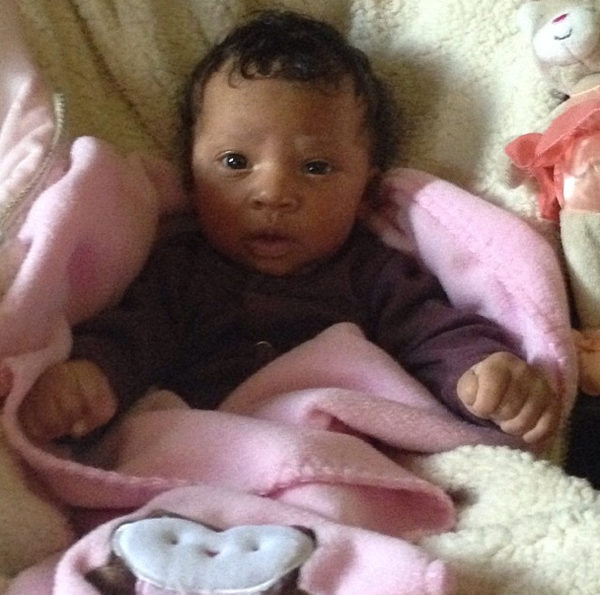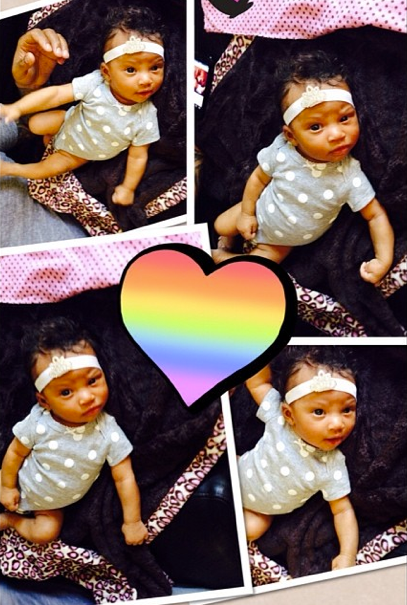 Eva revealed that she she returned to work just one month after giving birth to baby Marley. Too cute!
Speaking of mothers…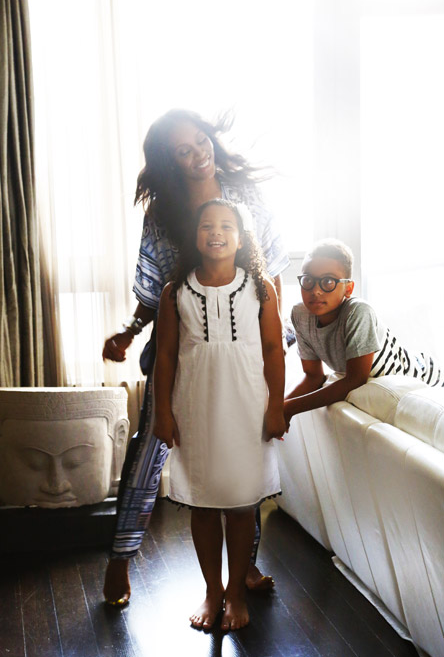 Celebrity stylist and mother of two June Ambrose dished to The Glow about discovering her children's style and how her son Chance and daughter Summer (whom she shares with her husband Marc Chamblin) keep her grounded.
According to June, becoming a mother allowed her to discover a different side of herself saying, "My children have allowed me to discover a side of myself I never knew existed."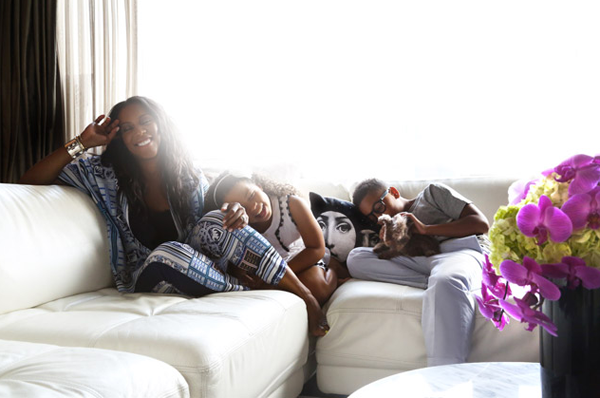 June revealed when it comes to living, her family is very minimalistic and her home is decorated with kid-friendly décor:
"Since having kids, the style of my home has become less contrived—the decor is kid friendly and livable! We are minimalist when it comes to living."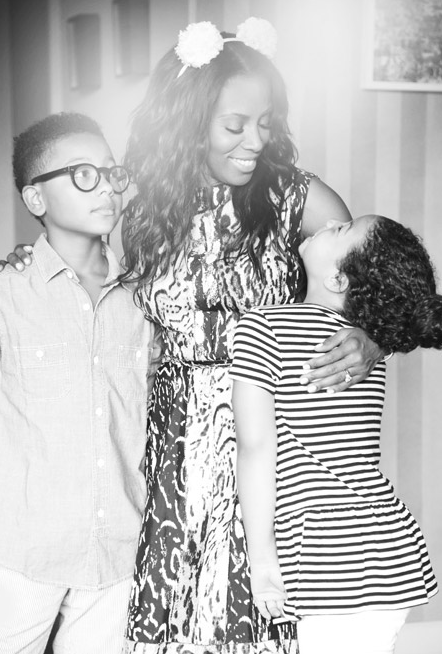 The "Rock Mom" also talked about her children's personal style and revealed their love for her over-the-topness when it comes to fashion:
"Both my kids love neutrals and nautical colors. As far as cuts go, Chance loves a retro cut and Summer prefers loose fitting silhouettes over anything tight. I pick my battles when it comes to their clothing and what they want to wear. I'd rather win the healthy eating battle."
"They love when I'm over the top! Their favorite things for me to wear are gowns and leather jackets."
The celeb mom also disclosed her beauty essentials and her three favorite things, "My essentials are a hat or scarf, big glasses, bold lip and sunblock!" Her favorite things are meditation, tea, hot baths. The Ambrose Family's tender moments will be published in The Glow's debut publication on April 15th.
Check out the full spread of June and her beautiful children here.
Photos: The Glow/Black Celeb Kids/Eva Marcille's IG

SPOTTED: "Braveheart" Ashanti SQUARES OFFS With Manny Pacquiao At Wild Card Box Club
Posted: 14 Mar 2014 11:04 AM PDT
Ashanti was spotted with champion boxer Manny Pacquiao. Find out where they were inside....
Ashanti got in a good workout at trainer Freddie Roach's Wild Card Boxing Club in Hollywood, California yesterday.
The "Braveheart" singer was there to step into the ring with world champion fighter Manny Pacquiao.
Ashanti (shown above with her mom Tina Douglas) recently accepted Manny's invitation to sing the national anthem during the HBO Pay-Per-View broadcast of his April 12 rematch with Tim Bradley at the MGM Grand in Las Vegas. Manny also gave her an autographed t-shirt.
During an earlier interview with boxing site The Ring, Ashanti said, "I'm such a huge fan of Manny Pacquiao. I can't wait. I actually love boxing. Manny's such a champion and I can't wait to cheer him on."
Photos via Getty
TV FAB: Zoe Kravitz DISHES On Drake, Tattoos And The Advice She Gives Lenny Kravtiz
Posted: 14 Mar 2014 09:36 AM PDT
Zoe Kravtiz stopped by "106 & Park" to promote her new film Divergent and dish on Drake rumors and offer her take on fashion. More inside...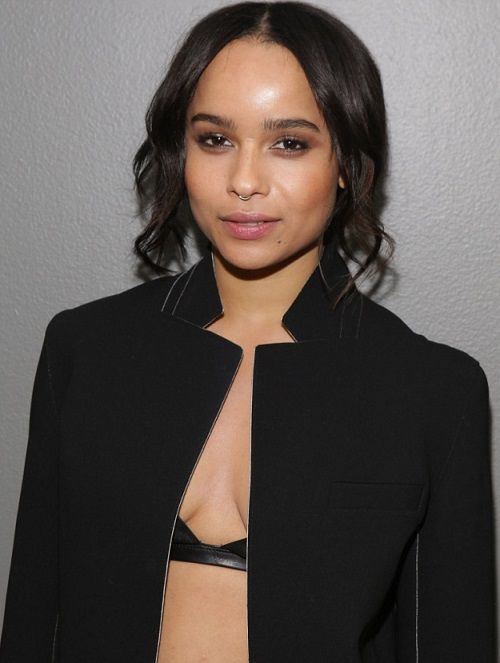 Divergent star Zoe Kravtiz appeared on "106 & Park" yesterday to promote the film's release (March 21st) and to dish on her famous parents Lisa Bonet & Lenny Kravtiz, her fashion sense and to shoot down/dodge rumors that she's hooking up with Drake.
On her scent:

She wears Vanillla Oil. She prefers oils over perfume.

On her style sense:

Says she likes being comfortable. It's not sexy to be uptight.


Who she listens to:

She loves Beyonce's lastest album and listens to it everyday. She said it makes her a better person.

On Lenny Kravtiz:

She gives her Dad advice and even joked that she told him to stop wearing shirts that were see-thru.

On being too honest:

She says she trying to learn to put her foot in her mouth so she won't hurt anyone's feelings.

On tattoos:

She has 20 tattoos.

On Drake:

She says "He's a funny Canadian guy." When ask if there is anything she wanted to say about Drake and the rumors that they're dating, she said "He's Canadian."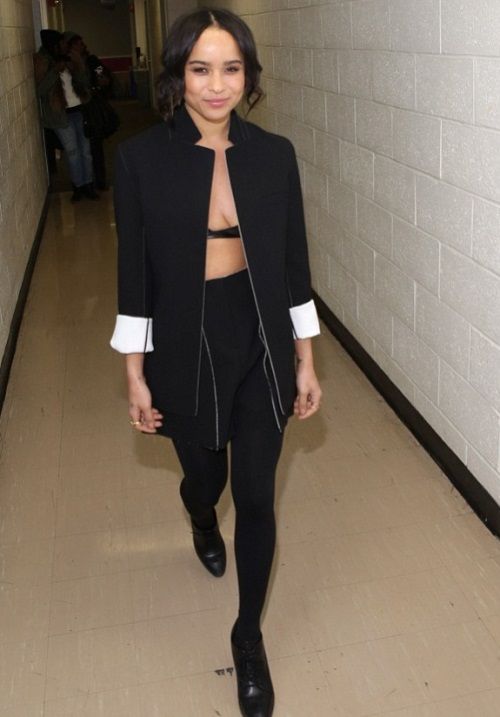 Watch the interview here:
Photos via Getty