---
PAY THOSE BILLS: Lauryn Hill Smacked With ANOTHER IRS Lien For $867K + Frank Ocean's "F*CK OFF" Message Was A Stunt!
Posted: 21 Mar 2014 09:52 AM PDT
Uncle Sam is after Lauryn Hill once again for owing them MORE back taxes. Plus, Chipotle claims Frank Ocean didn't really write "f*ck off" on the check he sent them. Read all the deets inside…
Former Fugees singer Lauryn Hill (shown above leaving a recent taping of "Late Show With David Letterman") has been hit with yet ANOTHER lien from the IRS. This time, it's for a total of $867,000!
Lauryn served a 3-month sentence last year for owing Uncle Sam nearly $970,000 after claiming she had "left society" and was no longer in the music business...but had always intended to fix her situation.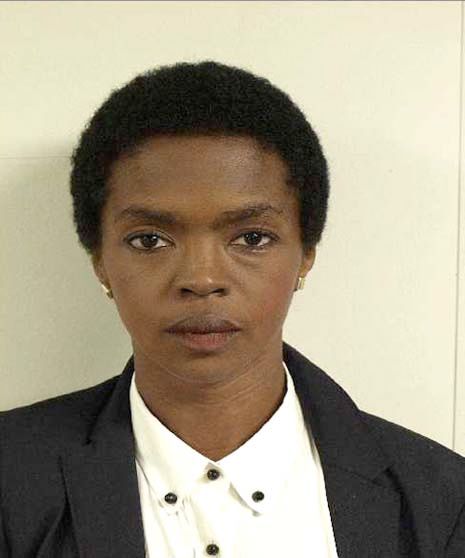 Although Ms. Hill paid off her debt (at the last minute), she was still sent to jail and was housed in general population.

After her 3-month stint, she celebrated her freedom releasing a track titled, "Consumerism" which talked about the effects of egotism, television, satanism and more. And she's been allowed to travel and perform in order to make some cash to pay back the government.

NOW…Uncle Sam is BACK to collect the rest of his money.
RadarOnline reports:
According to tax documents filed on January 14 and obtained by Radar, the IRS has served Hill with seven separate liens for a grand total of $866,868.05.

The IRS claims that in 2005, Hill failed to pay $422,008.26. For 2006, she owes $19,838.75; 2007, $61,158.50; 2008, $58,405.71; 2009, $30370.91; 2010, $13,247.73; and 2011, $261,838.19.

Damn Lauryn. We really hope she doesn't have to go back to jail AGAIN.
And in other money issues…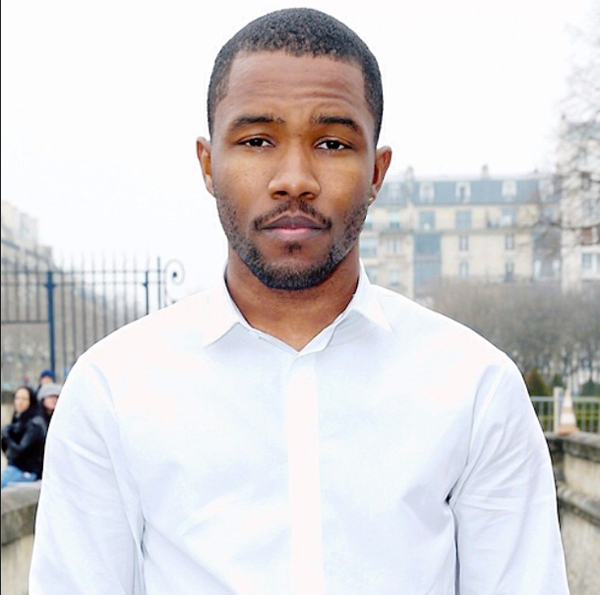 Frank Ocean was hit with a nasty lawsuit from Chipotle after he backed out of an ad campaign for the burrito gurus.
The "Novacane" singer was paid a $212,500 advance, but Frank backed out after he was upset about the company not removing THEIR logo from THEIR ad. Chipotle wasn't having it and brought on a lawsuit against the singer for the advance money they paid him.

Frank then posted the $212,500 check he wrote to Chipotle (above) with the phrase "F*CK OFF" written in the memo line.
Chipotle is now revealing they did receive their money and have dropped the lawsuit, however, "F*CK OFF" was NOT written on the memo line.
"We received a check, yes (and have dropped the suit)," Chris Arnold, Communications Director for Chipotle, tells E! News. "It, however, did not say 'f--k off' on the memo line as it did in the photos he posted."

Arnold added, "Nice stunt, though, Frank."
Ha! That damn Photoshop tool....
Photos: Getty Images/Splash News/ United States Marshals Service/Frank Ocean's IG
SAY CHEESE! FLOTUS, Sasha & Malia Obama Get FLAWLESS & OFFICIAL With Chinese President Xi Jingping & Wife
Posted: 21 Mar 2014 09:08 AM PDT
After arriving in China this week, First Lady Michelle Obama, First Daughters Sasha & Malia, and First Granny Marian Robinson had an official meeting with President Xi Jingping and his wife, Peng Liyuan. Check out the Obama ladies keeping it flawless while mixing it up with the Head of State inside...
The Obama ladies saluted China and their supreme symbolic color of red (symbolizing health, wealth and good wishes) by rocking the bold shade in various ways on Friday while meeting with the country's President and his wife.

And, by the way, Mrs. O is making history as the first U.S. First Lady to visit China independently. Work!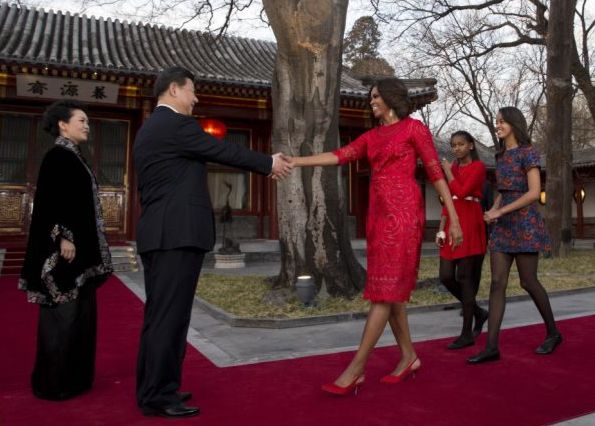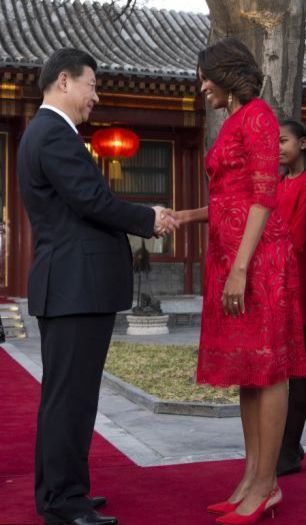 FLOTUS Michelle brought her daughters (they're so tall now!) and mom along to the Diaoyutai state guesthouse in Beijing to do some diplomatic duties in strengthening relations between China and the USA--the world's two top economies. And they looked gorgeous while doing so.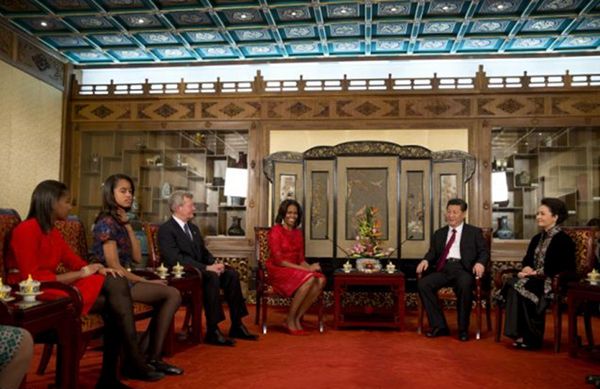 And after their big meeting, it was playtime around Beijing as FLOTUS visited a couple schools: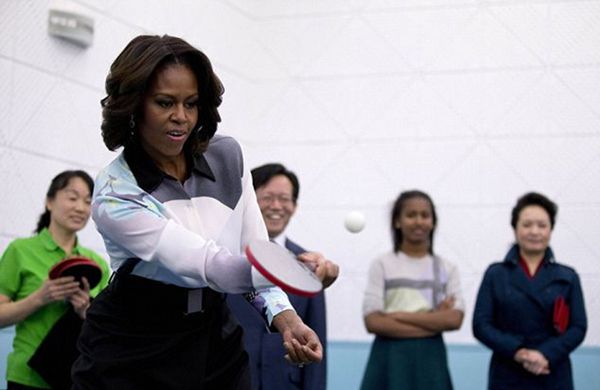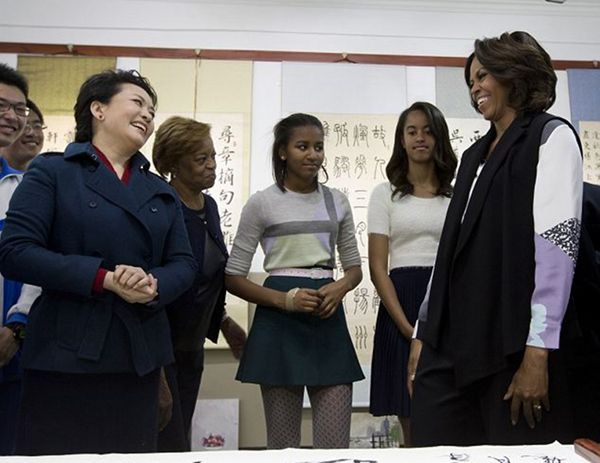 FLOTUS took on a student at the Beijing Normal School in a game of ping pong, she greeted students who were building robots and she learned some Chinese calligraphy at the Second School attached to the Beijing Normal School, and the fam (and China's First Lady) hit the former Imperial Palace.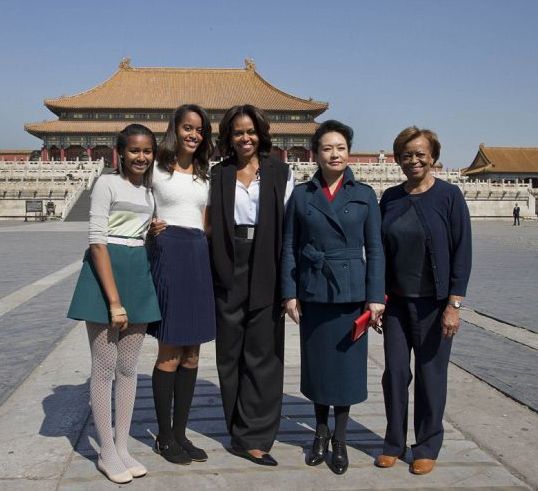 Fab times! Check out video below of First Lady Michelle recaping her fab first day in China:
Photos: Getty/AP/Reuters
LOOK AT ME: Nicki Minaj Posts Booty Shots During 5 Pound Weight Loss Journey + Ray J & Joan Rivers Shoot A XXX SEX TAPE?!
Posted: 21 Mar 2014 08:11 AM PDT
Nicki Minaj and Joan Rivers want attention! Find out what lengths they went to keep their fans "looking" inside.....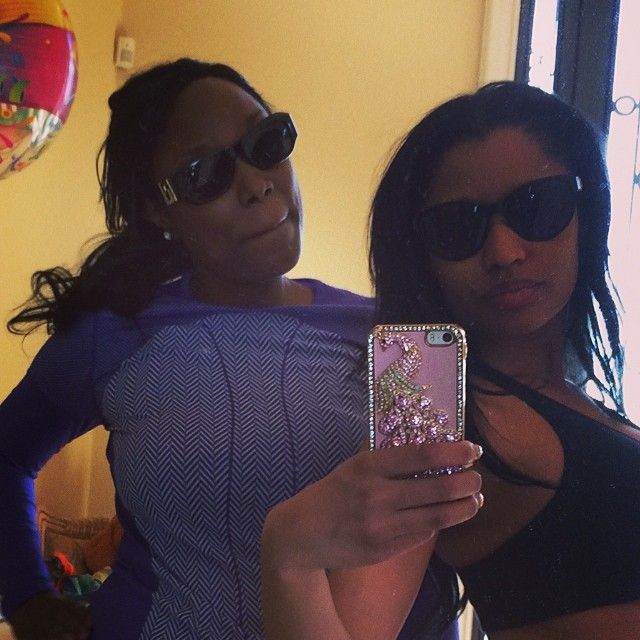 Nicki Minaj is famous for her selfies. Whether she's showing off her real hair or her enhanced boobs, she wants fans to know she works hard for her body. Recently, she's been on a fitness kick and posted some post-workout selfies with her childhood bestie Thembi for all her "Looking A$$ Fans."
We know what you're thinking. Yes...Nicki is about to make her big screen debut with Cameron Diaz, but that is NOT enough attention. Did you forget she's got an Ass that's "Finally Famous"? Well....just in case you forgot, she posted pics saying, "5 more lbs to go....Cuz it's finally famous."
One less silicone shot may take care of that....

Other attention seekers...
Funnywoman Joan Rivers is prepping for the return of her WeTV "Joan & Melissa: Joan Knows Best?" reality show with a new XXX sex tape with Ray J. He knows how to make chicks famous off sex tapes afterall.
While Ray J tells Joan "Once you go Black, you never go back" she counters with "Once you go Jew, you know how to screw."
Check it out above. FUNNIEST joke? Joan told Ray J "I'm happy I took my Boniva."
Photos via Nicki's Instagram
SPOTTED: Blake Griffin Lunches With 'Mystery Woman' At Tavern
Posted: 20 Mar 2014 05:57 PM PDT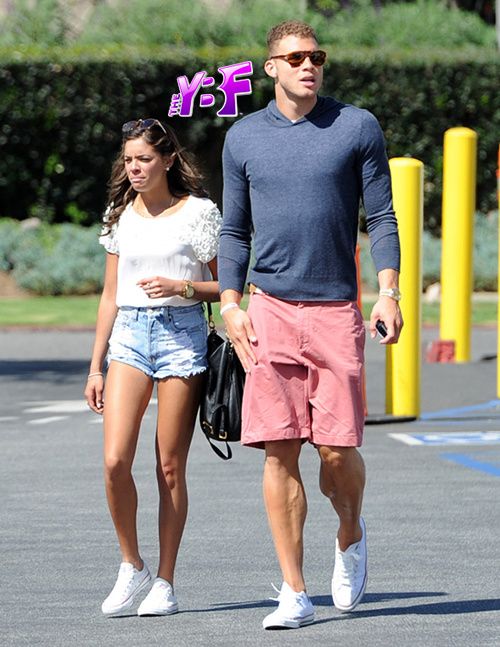 Blake Griffin was spotted leaving a restaurant today in Cali with a woman who isn't his child's mother, Brynn. Check out the pics inside…
LA Clippers star Blake Griffin was spotted leaving Tavern restaurant on a sunny day in Brentwood, California with a mystery woman.
The NBA baller (who was recently named the Western Conference Player of the Week for the third time this season) looked pretty laid back in a gray long-sleeved shirt, pink shorts and sunglasses as he walked out of the restaurant alongside a female friend.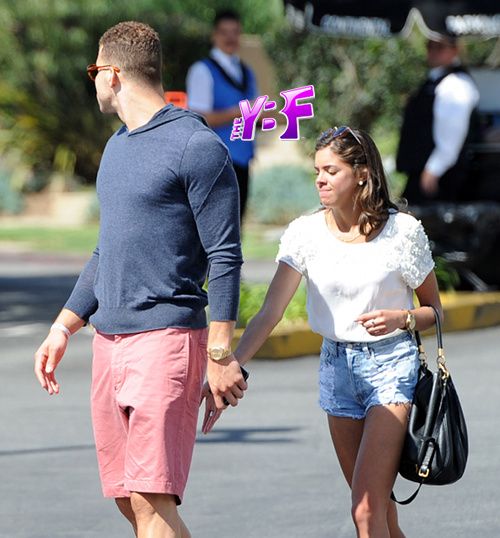 The mystery chick must be someone rather close to him after what looks like her attempting to smack his butt. Mmmhmm…
The Clippers' forward welcomed a baby boy named Ford Wilson Cameron-Griffin back in August with former USC basketball player Brynn Cameron. Brynn also shares a son with current free agent Matt Leinart.
Looks like he and Brynn are simply co-parenting now...
Photos: Pablo/FAMEFLYNET
Skylar Diggins COVERS "MARK" Magazine + Nicki Minaj In "The Other Woman" NEW TRAILER
Posted: 20 Mar 2014 05:10 PM PDT
Tulsa Shock baller Skylar Diggins covers the latest issue of MARK. Get Skylar's beauty secrets inside and watch Nicki Minaj in the new "The Other Woman" trailer.
Our fave WNBA baller Skylar Diggins is the newest cover girl for the beauty mag Mark's 10 to Watch Campaign. During an interview with PEOPLE, she discussed the campaign saying,
"Being a point guard is all about empowerment. My team relies on me to run the show. I'm really proud to partner with a brand that encourages young women like me to get in the game and give it our all."
While discussing her fab cover photo, she added, "I would describe my personal style as tomboy chic. I love to be comfortable, but I love to have a little pop in there. This dress couldn't be more me. It's got a fun, sporty vibe and with its great body-con shape, it's really feminine too."
So.....what's her biggest beauty secret? "If I could share one of my beauty secrets it would be washing my face before I go to bed. " love waking up with a clean face."
Watch behind-the-scenes here:
At the movies....
Watch Nicki Minaj in a new extended scene from her big screen debut with Cameron Diaz in The Other Woman (in theaters April 25th). She's actually FUNNY! Check out her advice for dating married men.
Photo via Skylar Diggins Instagram
RELATIONSHIP WOES: Is Tiny THROWING SHADE At T.I. On Instagram AGAIN?!
Posted: 20 Mar 2014 04:27 PM PDT
Another day, another tweet. Is Tiny sending out subliminal shots at T.I.? See what Tiny is saying (or not saying) inside...
Are they divorcing? Why is she mad? Did he cheat? What really happened at the Grammys? These are all questions fans ask about the marriage of Tiny and T.I., stars of VH1's "The Family Hustle", which returns March 31st at 8/CT.
For the past few months, we've documented several subliminal spats that played out on social media and it makes us wonder, when is a tweet "just a tweet" or something else?
Tiny recently posted this gem about dudes and their "temporary hoes":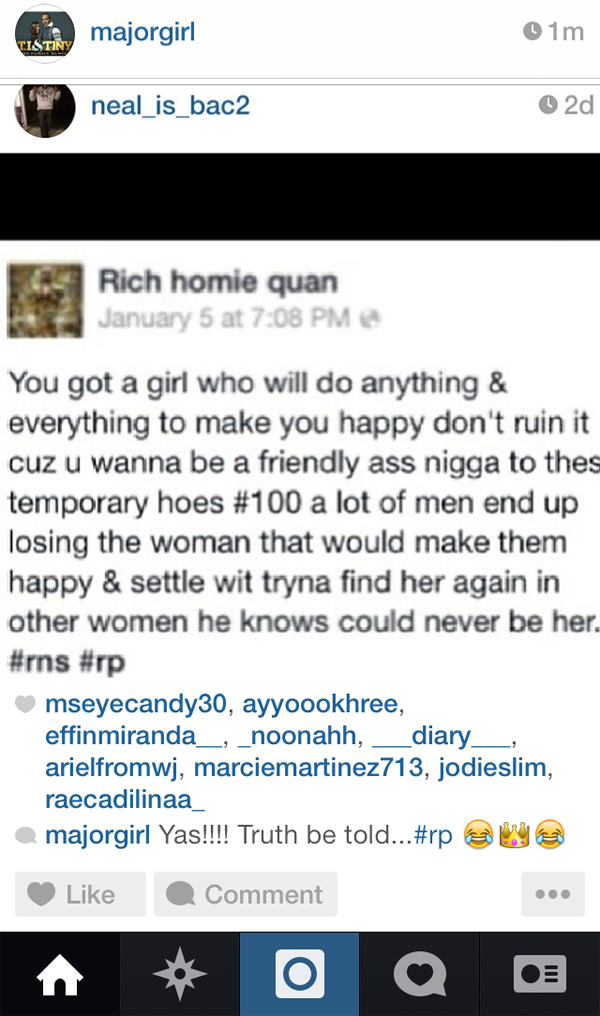 Following the post, fans WENT OFF in the comment section. Tiny combated the backlash with this ish....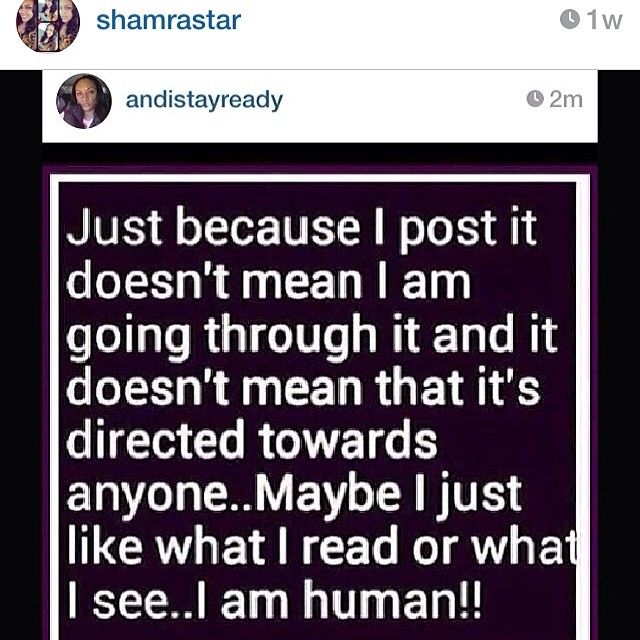 So.....was this a simple FYI "repost"...or something more? We're not so sure. It could be a manufactured feud to promote their reality show. But we won't know for sure unless we tune in right? Right.
Mmhmm....
Photos via Tiny's Instagram
BIKIN' & LUNCHIN': Beyonce, Jay Z & Blue Ivy Spend A Family Afternoon In Amsterdam
Posted: 20 Mar 2014 03:54 PM PDT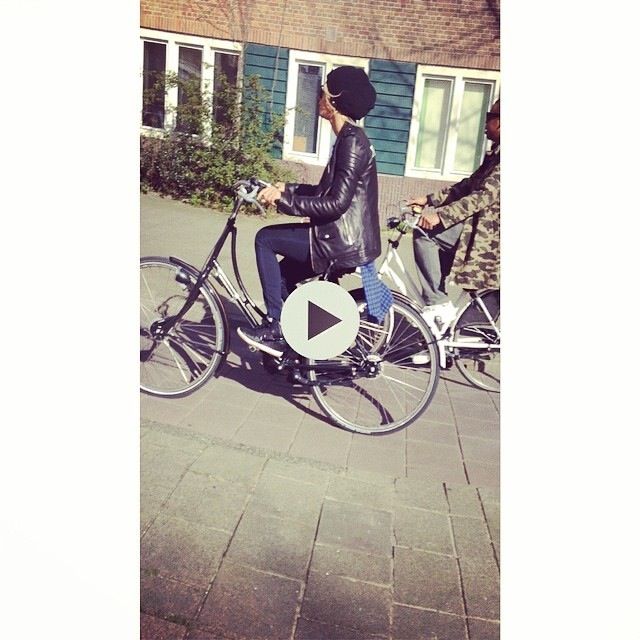 In today's edition of Celebs Are Just Like Us...
The Carters know how to live it up, chill style, in every country they visit. And their stint in Amsterdam is no different. Check out Beyonce, Jay Z and Blue taking a bike ride and having a lovely lunch inside...
While bringing the MCSWT to the Ziggodome in Amsterdam on Tuesday and Wednesday, Bey & Jay made sure to take in the history and culture of the Netherlands. And yesterday, before they left town ahead of tonight's performance in Antwerp, Belgium, they were spotted grabbing lunch along the water at the Harbour Club.
Beyoncé and Jay Z were spotted at the Harbour Club in Amsterdam earlier today pic.twitter.com/SJpyxM842I

— Beyoncé Info. (@Beyonce_Info) March 20, 2014
The locals even caught the fam bike riding down the street, all nonchalantly with their security in tow:
The person who snapped the video said (loosely translated), "PEOPLE I'M IN SHOCKKK. YES THIS IS MY DOOR AND AND YES THIS IS WITH BEYONCE JAYZ AND BLUE IVY. I WAS SO SURPRISED THAT I CAUGHT THEM ON FILM AND THEN I BURST INTO TEARS."
Fun times!
Photos/Video: @Beyonce_Info's Twitter/@sorayasophiaaveiro_'s IG
D'Angelo's "I'm Glad You're Mine" + Rick Ross' "The Devil Is A Lie" Video
Posted: 20 Mar 2014 03:14 PM PDT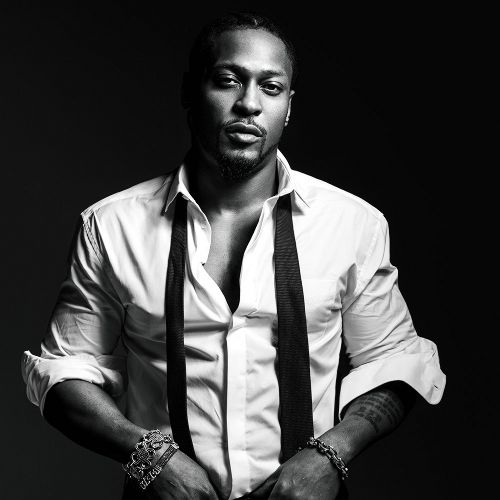 Here's something from D'Angelo you haven't heard--unless you were at his London show at the Jazz Cafè on September 14, 1995. But for the rest of us, we can now here his live (partial) cover of Al Green's "I'm Still In Love With You" on his own track called "I'm Glad You're Mine."
Check it inside, plus Rick Ross' new "The Devil Is A Lie" video...
The sexy D'Angelo has been gearing up for a comeback for a while now. And as he preps to release his upcoming Live at the Jazz Café, London: The Complete Show album, he and his Virgin/UME label dropped something today that's music to our ears.
On "I'm Glad You're Mine", Mr. "Brown Sugar" covers Al Green's classic in a way only he can.
This track, along with 10 others, will be featured on the Live album out Tuesday, March 25. Six of the tracks are from this same live Jazz Cafè gig. And five of the tracks are labeled as "unheard rarities".
Check it below:
And in other music news, Rick Ross--sans Hov--debuted his "The Devil Is A Lie" video today.
While the big homie was riding high at the top of the Billboard charts with his new album Mastermind during its opening week, it's now fallen to #3. Still not bad for Ricky.
Check out Ricky rapping in front of bonfire and luxury cars above.
Porsha Williams Debuts Her "Flatline" Performance, Gives "Beard" Talk, And CONFIRMS Plastic Surgery Rumors On "106" + Drives To Interview In A Rolls Royce?
Posted: 20 Mar 2014 12:42 PM PDT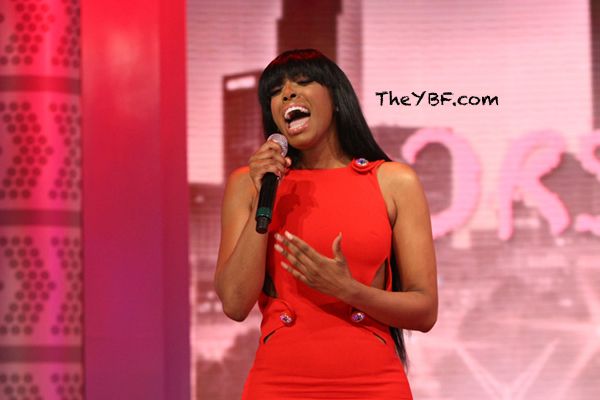 Porsha Williams is taking her "Flatline" performance on the road. The "RHOA" star hit "106 & Park" to debut her new single. Check her out inside, plus what she pulled up to her interview driving....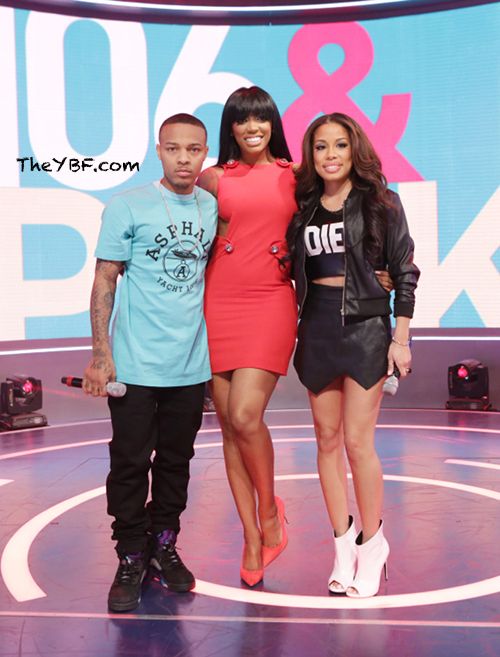 Porsha Williams is soaking up all the pub she can now that she's dropped her debut single "Flatline."
The "Real Housewives of Atlanta" star made it clear from the time she stepped into the Bravo world that she wanted a singing career. And now that she's supporting herself after her divorce from Kordell Stewart, she's gotten pretty serious about this singing thing.
You heard her full "Flatline" track earlier this week. And now, Porsha's actually performing it on television. The pretty chick stopped by "106 & Park" to chat it up with Bow Wow and Keshia Chantè, throw a little shade at fellow "housewife" Kenya Moore, and to belt out her track.
Kenya also threw lots of shade and info in her sit down. Porsha revealed she in Nelly's "Tip Drill" video and Luda's video back in the day. (Go figure.) And she spoke about Kenya's colored contacts...and that SHE is to blame for Kordell being called "gay".
As for those plastic surgery rumors, she confirmed she DID have plastic surgery recently, but played coy about what kind. It's obvious it's those boobs though (and possibly a few a$$ shots)!
Oh, and she says she's "single"...because she's not married.
Check out videos below:
As for how she's doing on money, since she got nothing out of the divorce, she seems to be doing just fine. At least she wants us to think she is: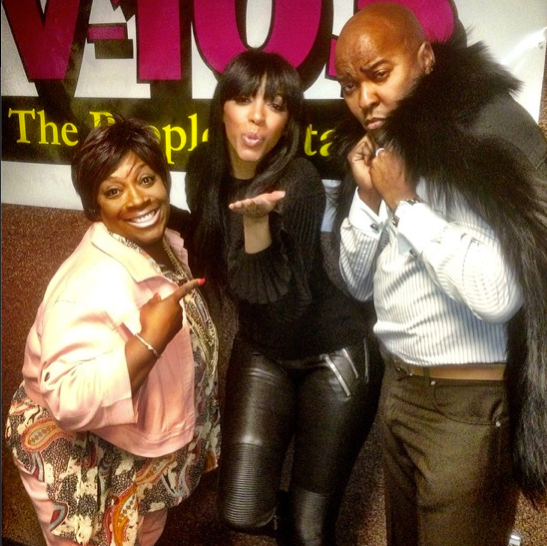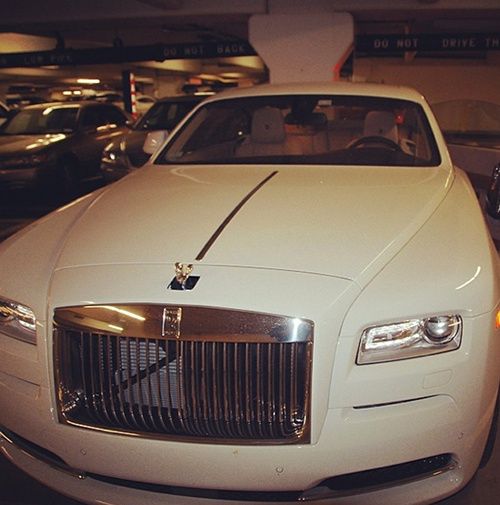 Porsha hit up Ryan Cameron's morning show in Atlanta...and pulled up in a Rolls Royce. Not sure if she was driving it herself, being driven in it, or on the same leasing plan as some of her castmates...but either way...Ryan made sure to point out her new whip on his IG.
Interesting..
The Randomness:
1. WeTV has renewed "Braxton Family Values" and "SWV: Reunited" for new seasons! STORY
2. Oprah has created her own tea, Oprah Chai Tea, for Starbucks & Teavana. Proceeds will go to Oprah's Leadership Academy For Girls, of course. STORY
Photos: Getty Images / Courtesy of BET Networks/Porsha's IG, Ryan Cameron's IG
DO WE LOVE IT?! Keyshia Cole's "Next Time (Won't Give My Heart Away)"
Posted: 20 Mar 2014 11:57 AM PDT
Keyshia Cole just released her second single in two days. This one is very telling of her heartbreak in a certain relationship...which is safe to say is very likely about her estranged husband Daniel Gibson.
Check out "Next Time (Won't Give My Heart Away)" inside...
As the Bay area native gears up to drop her sixth LP, Keyshia Cole is spilling all in her latest single.
The track, which gives us that heartbroken R&B feel Keyshia has come to be known for, gives us an inside look on what went wrong with Keyshia and her man. And we can't help but think the story is actually about the real-life break down of her marriage.
She sings:
"The fightin' and the arguin' and the cussin' all loud/Sometimes I think you do it so you can walk out.

Then I say some foul sh*t just so I can hit back/But I don't mean it/We done went we're too far/Damn I think it's over."
In her interview with The Breakfast Club this week she revealed:
"I just want to put out my music and sit in my own craziness. I don't even know what I want to do right now. I don't want to talk about it."
Check it out below and decide if we love it:
Check out her other new single "Rick James" HERE in case you missed it.
WELCOME BACK: JADE Ditches The Box Braids, ADDS Spanx - PREPPING For Comeback!
Posted: 20 Mar 2014 10:38 AM PDT
JADE, who helped usher in the successful wave of 90s girl groups, is back! Check out the ladies' return inside...
Now THIS is a Throwback Thursday for that a$$!
After a 20-year haitus (yes...20 years!) the 90s R&B group Jade, whose hits include "Don't Walk Away" and "I Wanna Love You" are back on the scene with a new song "Baby Luv." Returning with original members Tonya Kelly and Joi Marshall and new addition Myracle Holloway (replacing Di Reed), the ladies have a new style (no more box braids and combat boots, but they seem to have added foundation garments) and are hoping to reach a new generation.
They recently appeared on a new promo pic (above) and also sat with YouKnowIGotSoul and talked about their comeback. Here are the highlights:
YouKnowIGotSoul: Talk about this comeback you guys are making. It's been a long hiatus and you guys are working on a new album now. What caused the decision to come back with new music?

Jade (Joi): Our fans actually. We have been getting walk ups, drive-byes, e-mails, and social media messages forever asking us to come back. We just made the decision that we should. Even though we have busy lives and we're doing other things now, we can still comeback and now would be a good time because so many other groups are making their resurgence. So we feel we'll just continue our journey and come back out with some new music.

YouKnowIGotSoul: Is it true that you guys have also added a new member?

Jade (Joi): Yes, Myracle is her name. Di is touring with Rod Stewart and she wanted to stay on that journey. So we thought we'd come out and get a fabulous and beautiful singer, and she was available. I met her through a producer friend of ours, Def Jeff, and she fit right in. We worked it out.

YouKnowIGotSoul: The new album is called "Continuum". What can we expect to hear on there.

Jade (Tanya): We are actually doing singles right now. You are going to hear some classic r&b, some pop, some uptempos. Lyrically, content that is sticking on love, on relationships, and life and trials and tribulations; growing up. Stuff that will touch your soul.

YouKnowIGotSoul: When you guys were in the group originally, you were successful. The first album was Platinum, the second album went Gold. What caused the hiatus?

Jade (Joi): How much time do you have? *Laughs* To tell you the truth, it's a heck of a reality show. When you go and generate 10s of millions of dollars for people, and you turn around and you've got what you came in with. Being an artist, our job is to make it look easy and fun and to entertain people. It's a lot of hard work. It's a blow to everything you know when you look around and they've got money and you don't. It can take a toll. Then life happens. You just spend the time doing other stuff. Of course our label folded.

Jade (Tanya): They really had a rough time. The president of Giant Records never really was quite able to plant his seed the way he wanted to with Warner Bros. which was the subsidiary. I remember every time we would come off of the road, we'd come back and there was new staff. That's why you've gotta start the engine over and over again, and eventually it floods out. In addition to us having our own individual issues with the record labels amongst ourselves, the foundation was never strong with the record label. It was like everybody was throwing projects out there and seeing what hit, and ours happened to hit, so they ran with us.
Read more here.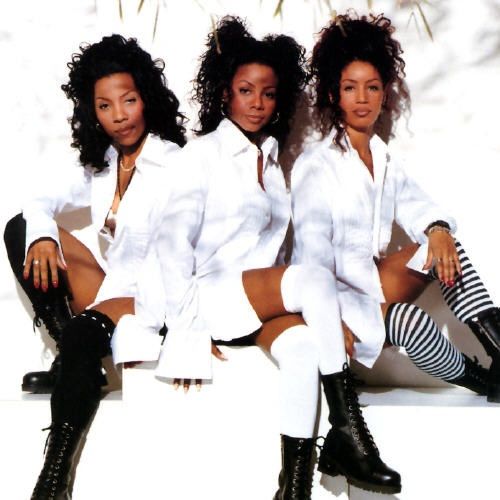 Listen to "Baby Luv" and watch the promo:
Blast From The Past:
Don't walk a-waaaay boooy!
Photos via JADE's Facebook