---
HEALTH & WELLNESS: First Lady Michelle Obama DEBUTS Honey-Colored Highlights, Talks Health & More At Miami's BET's LWD Summit
Posted: 06 Mar 2014 08:56 AM PST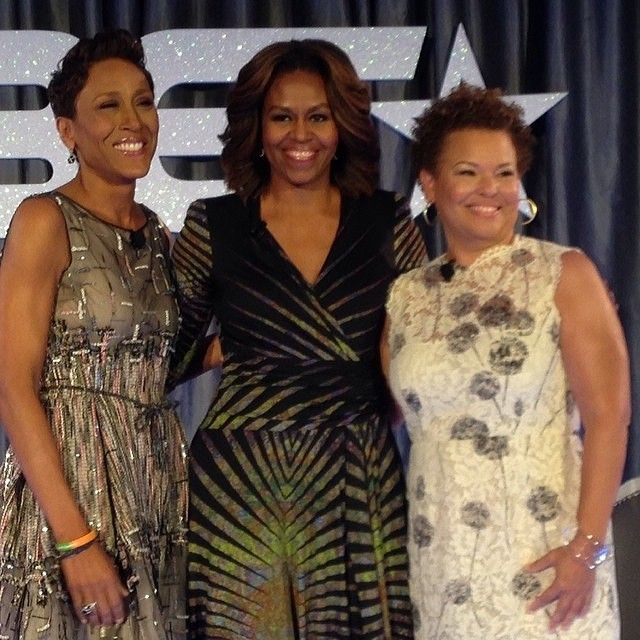 Michelle Obama debuted new highlights during a recent appearance in Miami,FL where she touted the Affordable Healthcare Act. See pics inside.....
FLOTUS Michelle Obama, shown above with Robin Roberts and BET CEO Debra Lee appeared at the Leading Women Defined Summit (LWD) in Miami on Wednesday. LWD is the vision of Debra Lee to bring together the nation's most prominent African American women to help set a national agenda in the black community surrounding health and holistic well-being.
Comprised of several events, "Good Morning America" anchor Robin Roberts received the Butterfly Award at the Dorothy Height luncheon for her extraordinary courage and unwavering commitment to service and leadership in her community.
And at yesterday's luncheon attended by a few of our faves, Robin Roberts sat down to chat with Mrs. O herself.
In a press release from BET, Debra said,
"We are so excited to have the First Lady join us for this important and much needed discussion on health and well-being. Leading Women Defined allows participants to engage in constructive dialogue to help set actionable solutions for a national agenda aimed towards positively impacting the Black community."
"Being Mary Jane" star Gabrielle Union (wearing a Copper Canyon outfit) and director/creator/writer Mara Brock Akil were among the attendees who enjoyed the First Lady's chat with Robin Roberts during LWD.
In addition to LWD, the First Lady stopped to chat with folks at the Jessie Trice Community Health Center in Miami.
First Lady Michelle (shown above in photos taken at the Jessie Trice Community Health Care Center) told those gathered at the center, "No one in this country should have to go without insurance and now you don't have to."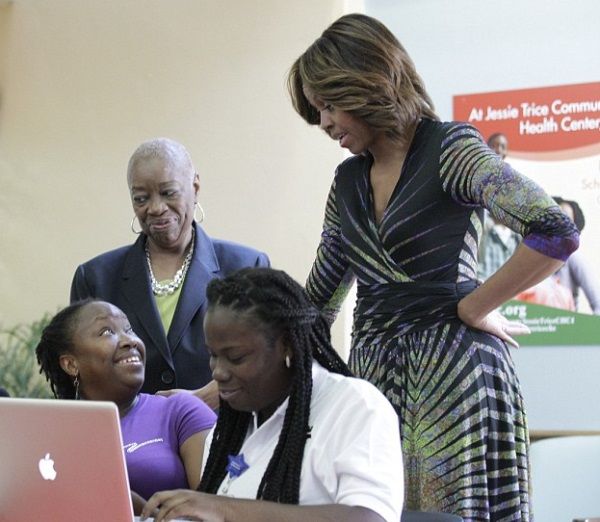 During the appearance, she walked around speaking with four certified application counselors (who helped enroll attendees) and talked to several people who had yet to enroll. "In the African-American community, unfortunately, 1 in 5 of us are not insured and the numbers are no better in the Hispanic community," she said.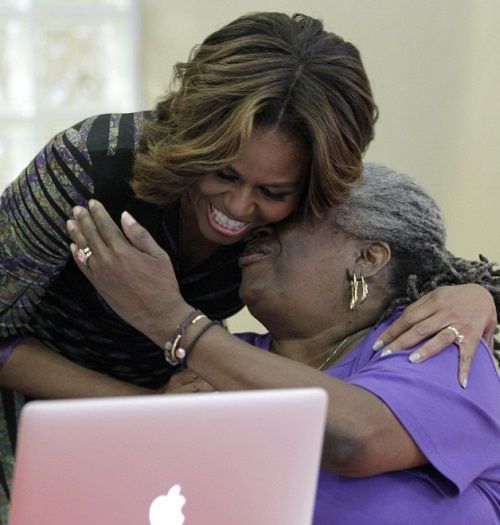 Is Obamacare a success? For FLOTUS, the answer is yes. She added, "Because of your work we've got four million people who have signed up for healthcare and that is a milestone."
Love a First Lady who goes out and actually walks the walk with the PEOPLE.
Get into it, and get insured!
Photos via kizzykingston/Valeisha Butterfield Jones' Instagram/AP
DATE NIGHT: Beyonce & Jay Z Hit The Arts Club In London + Ludacris BEGS Judge To Seal Custody Battle Case Because His "Reputation Is Getting Ruined"
Posted: 06 Mar 2014 07:36 AM PST
The Carters had a cutesy hand-holding date night in London yesterday. And Ludacris is begging a judge to seal the documents to his "break" baby custody battle. Check out the pics of the stylish couple and find out what Ludacris is mad about inside…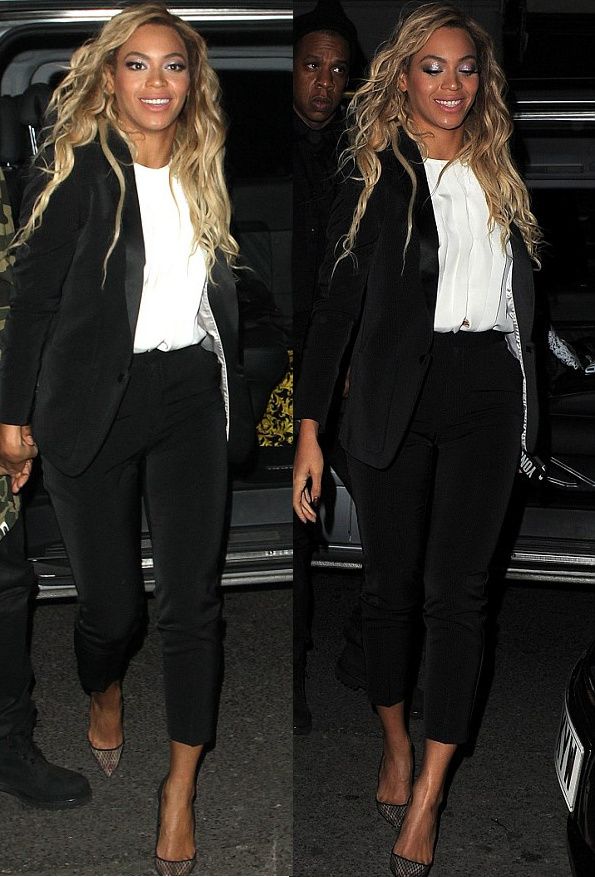 As Beyonce slays the stage over in London, she and her hubby Jay Z don't miss a moment to enjoy the chic city after hours. The Carters spent some quality time together last night after her fifth of six shows at the O2 Arena.
Bey & Jay hit up the fancy members-only Arts Club in London, which is a private members club where creative and entrepreneurial patrons meet and eat. Nice!

Blue Ivy's parents were also spotted a few days ago leaving London nightclub Mason House at 3AM. Hope Bey is getting her rest. Because Jay looks like he's totally...not.
And an update in the Ludacris "baby mama drama" series...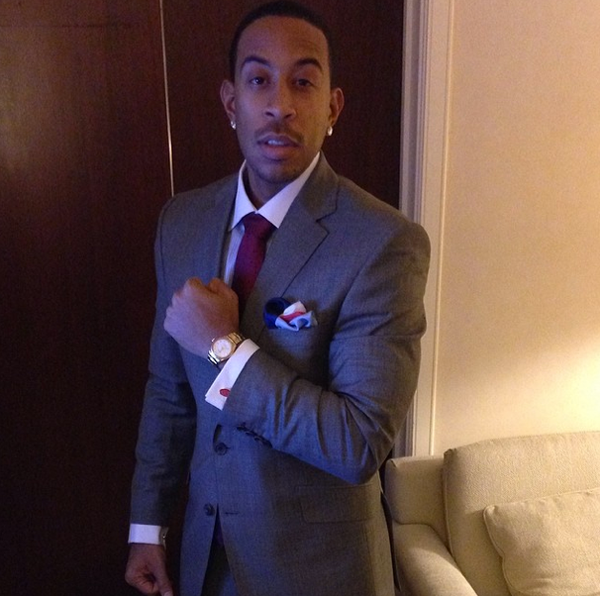 Luda is begging a judge to seal the documents in the custody battle he's involved in with his newews baby's mother Tamika Fuller.
Ludacris had a "break" baby, or so he says, while still in a relationship with his girlfriend, Eudoxie.
Now he's saying the public case is ruining his reputation and brand.
According to RadarOnline, Ludacris claims he has been "publicly humiliated" because his baby's mother isn't happy with the small amount of child support he was forced to pay after claiming he only made $55,000 last year.
Ludacris even filed for full custody of the baby girl and requested Tamika pay HIM child support. This guy:
"Because the media is able to read and misinterpret the documents in the Court's file in this case, every day since Jan. 1, 2014, I have been publically humiliated and called a deadbeat dad, who does not want to see or support his minor child. Nothing could be further from the truth," the entrepreneur, born Christopher Brian Bridges, said.

"In the event that an ex parte Order is not granted, and people are able to continue to read and misinterpret the documents in the Court's file, my name, reputation, character, goodwill and brand will continue to suffer irreversible harm and damage, which may eventually jeopardize my earning potential," he said.
Maybe next time Ludacris will take his reputation into consideration before going raw....
Photos: FameFlynetUK/FAMEFLYNET PICTURES/Splash News/BOTTOMEARNER/Ludacris' IG

SINGLE LADIES CLUB? Karrueche Tran Says "I'm Not Dating Anyone" -- Is She DONE With Chris Brown?
Posted: 06 Mar 2014 07:06 AM PST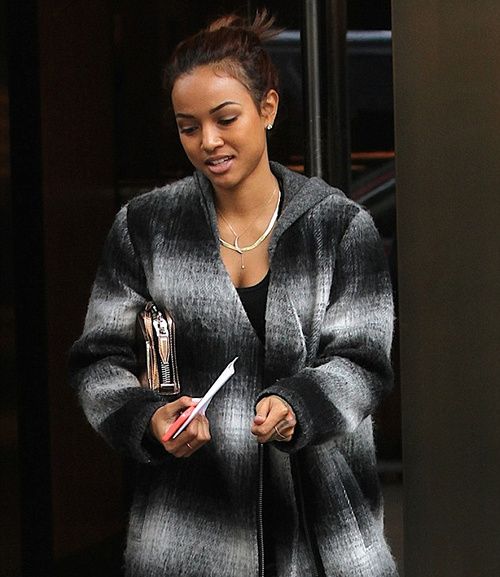 Karrueche Tran posted a tweet that "might" confirm a split from Chris Brown. Again. See what she said inside....
Karrueche Tran, shown above leaving her hotel in SoHo to catch a taxi, "might" be a new member of the Single Ladies Club.
KT has been partying and clubbing in NYC for a few days and she seems to be living the life of a high-flying single gal. As Chris Brown deals with his bi-polar diagnosis and pulls his life together, KT tweeted,
We could interpret her tweet a few ways. Maybe she's not dating anyone because she's already with someone. Or, maybe she's not "dating" because her man is fresh out of rehab and needs to be alone. Either way, she seems peturbed by people thinking she's still dating Chris...despite the fact she's recently posted pics of them cuddled up and she's been a fixture by his side at his court hearings.
Oh, and she also followed up this little announcement by posting a picture holding the sign, "treat your girl right".
Just in case the mean IG comments keep coming at her (people drag her often for various hateful reasons), she rolled out of Soho in a pair of Jordans, black tights and a black sports bra with her red hair tied up in a bun. In case somebody gets cray IRL? We doubt she's a rumbler....but you know, a chick has to stay prepared...

Photos via Blayze/Splash
DON'T TOUCH MY HAIR! Prince Takes Over "Arsenio"
Posted: 06 Mar 2014 06:05 AM PST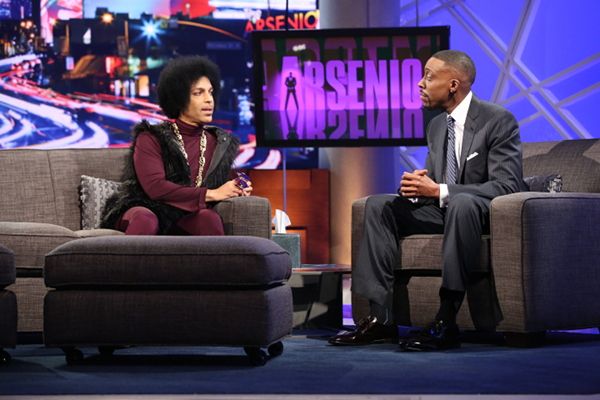 In a rare television appearance, Prince took over "The Arsenio Hall Show" Wednesday night as the one and only guest. Pics and video of the Purple One kicking the show off with a debut performance of FUNKNROLL, a track off his upcoming album....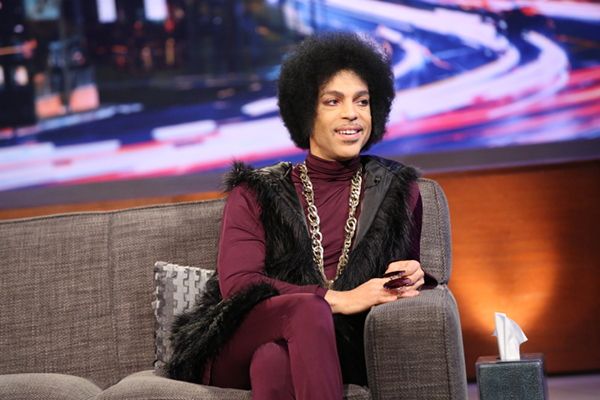 Pop icon Prince had an interesting and non-traditional interview last night as he took a moment to answer questions from Arsenio's audience, revealing his biggest pet peeve and what got his blood boiling at a recent Oscar party. Prince also performed his classic hit, "She's Always in My Hair," and debuted a new cut of "Mutiny" with the help of a 30-piece band that included 3RDEYEGIRL and The New Power Generation.
Check out pics and a video clip below: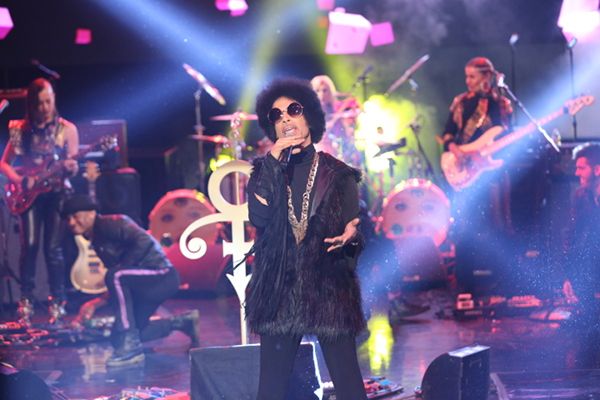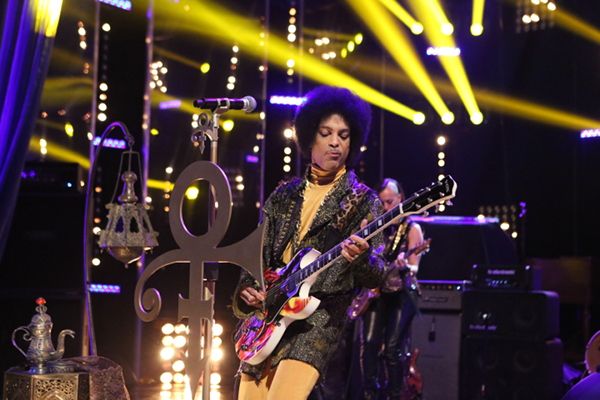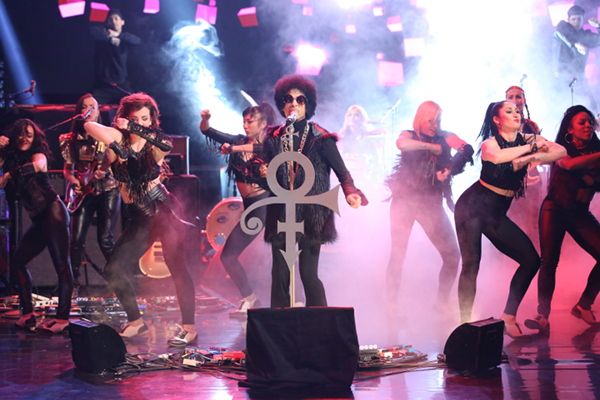 The Randomness:
1. F-R-E-E! Rapper Lil Boosie was released early from Angola State Penn in Louisiana last night. STORY
Photo Credit: The Arsenio Hall Show / Courtesy CBS Television Distribution

"BBW:LA" Star Brittish Williams Facing $1800 Tax LIEN Against Her House + Isn't Proud About Her Reality TV Behavior
Posted: 05 Mar 2014 07:42 PM PST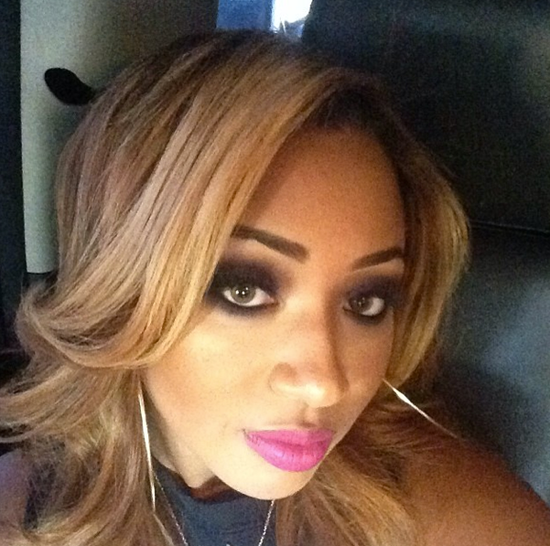 Looks like Brittish Williams owes taxes on her house in Missouri and she is addressing her behavior on the latest episode of "BBW: L.A." Find out what she had to say inside…
"Basketball Wives: L.A." newbie Brittish Williams makes claims to be a "business woman" with many businesses but one good rule to follow when handling your business is to pay your taxes!
Brittish owes the state of Missouri $1,816.84. for personal property taxes she skipped out on paying. Now, a lien has been placed against her property as a result of unpaid taxes. As of today, the lien is still present via the department of taxation website.
(CLICK DOCUMENTS ABOVE FOR FULL SIZE)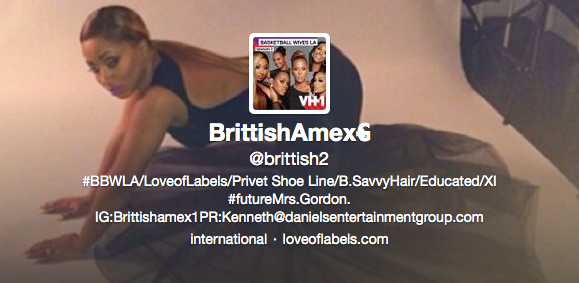 Also, her online clothing store (which she promotes on her social media pages daily) Love of Labels Boutique has received an "F" rating by the Better Business Bureau!
The company has received 30 complaints over the last 8 months including shipping issues, problems with the product and failure to respond.
According to the BBB, factors that lowered Love of Labels Boutique's rating include:
23 complaints filed against business
Failure to respond to 7 complaints filed against business.
Business has failed to resolve underlying cause(s) of a pattern of complaints.
BBB does not have sufficient information to determine how long this business has been operating.
BBB does not have sufficient background information on this business. BBB made two or more requests for background information from the business. BBB has not received a response from this business and/or has not been able to verify information received from this business.
BBB does not have sufficient information to determine size of business. BBB evaluation of business is based on rating formula's smallest size classification.

Customers have complained on Twitter and Instagram: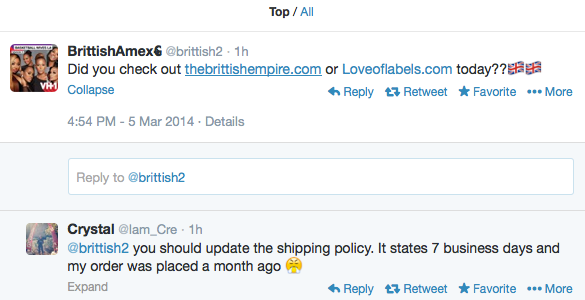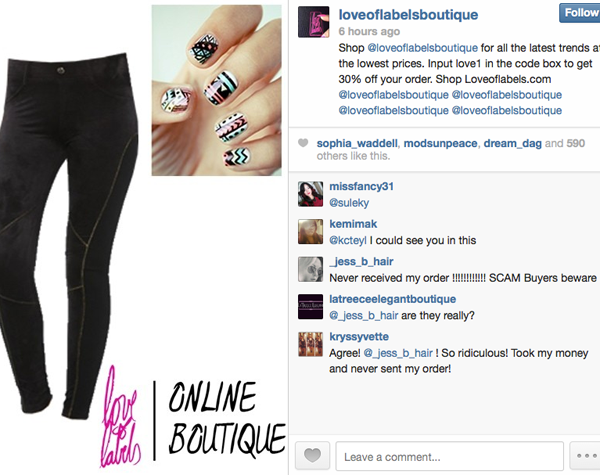 Brittish claims she had issues with her distributor and that business grew faster than she could expand.

She released a statement to Fox 2 Now on her iffy business practices saying:
"I would like to sincerely apologize as the founder/creator of Love of Labels to all those who were affected by the delay in items shipped. Love of Labels takes this matter very seriously, which is why we have switched to a larger manufacture that allows us to ship ALL orders the next business day. I can assure you that your concerns are not being overlooked and that we are working effortlessly to accommodate every request."

Do you think she really had distribution issues or do you think some shady business going on?
Also…
Brittish and "BBW: L.A." newbie Brandi Maxiell have been at each other's necks since the first episode.
The two got into a heated argument during Brittish's Turkish themed tea party, which has prompted Brittish to publicly speak on her actions.
Brittish took to her blog and said:
Tonight was a very interesting episode, if I must say so myself. I was embarrassed by the way I behaved last episode. I didn't even want to discuss it. But sometimes we all have bad days that we aren't proud, so it's time to let go and move on.

She threw in a little shade towards Draya:
In other scenes, I see I am the topic of discussion tonight: Aunty D (Draya), Brandi and Malyashia. I was amazed that Aunty D had the nerve to give me advice about how to be mature and last episode she expressed that she had just started wearing underwear??? MMMMMM . . . And why does she care if I hang out with Jackie??! Everyone in the group is AT LEAST 6+ years older than me. And we all know Jackie isn't 50. . . Stop it.
Funny. Hope Brittish realizes being a business woman actually means handling your business.
Thoughts?

Nicki Minaj GOES Topless In Shower To Show Off Her Natural Hair + Dwyane Wade ADMITS To His "Life Mistakes" To Tribute Gabby Union
Posted: 05 Mar 2014 04:15 PM PST
Nicki Minaj reminded her fans that she has long hair, side burns, and baby hair. Check out Nicki's "natural" hair inside and see the loving tribute Dwyane Wade posted about Gabrielle Union and his "life mistakes"...
Who is the woman behind the wigs? The weaves? The extensions? The tracks? The heavy makeup?
Nicki Minaj wants her fans to see her for who she really is....so she took off her top, hopped in the shower and got her hair wet.
It was honest....it was vulnerable. It was...attention grabby.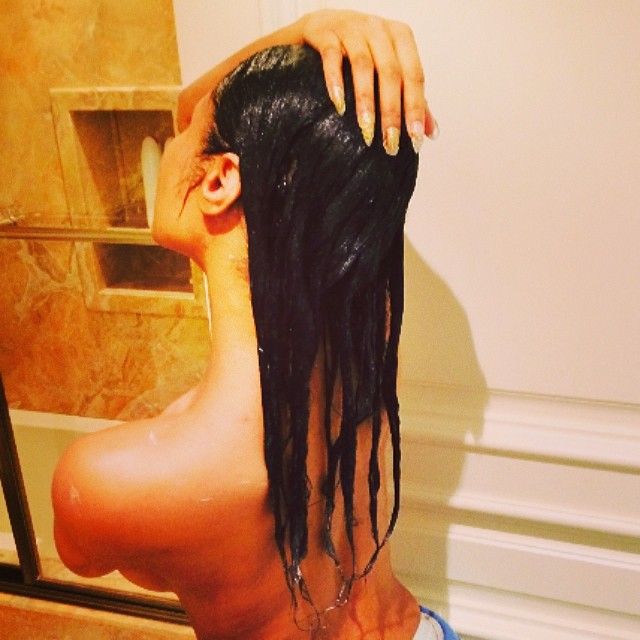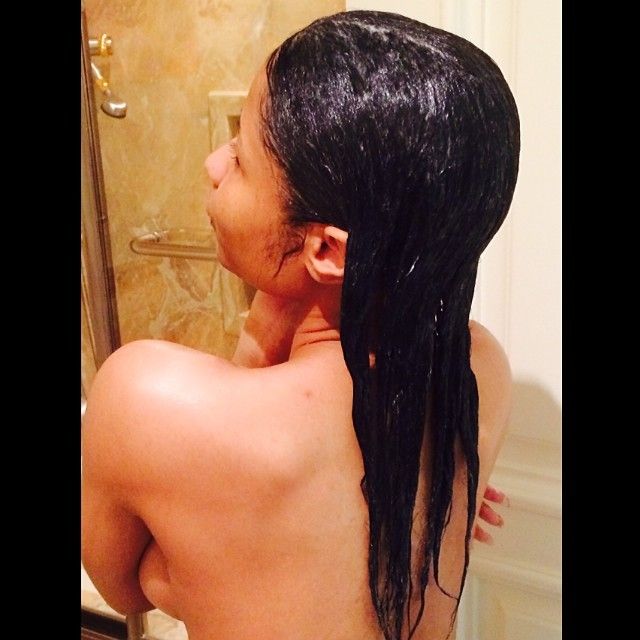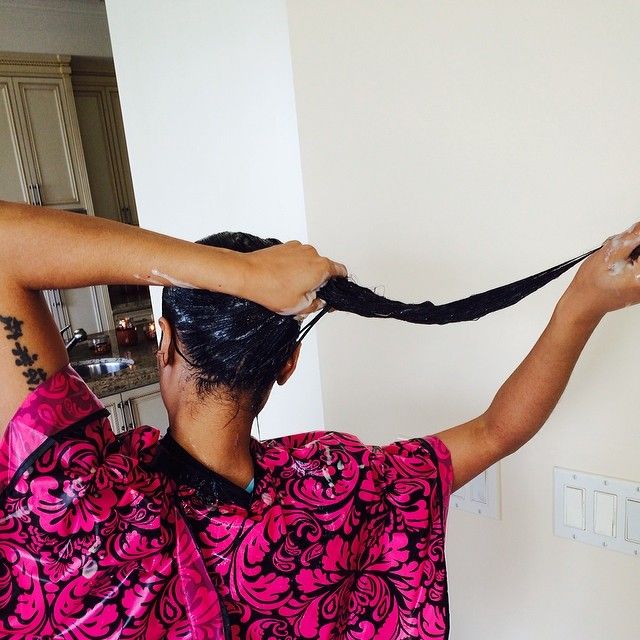 We're sure she posted it for, as she would say, any hater who thought Nicki Minaj was bald-headed.....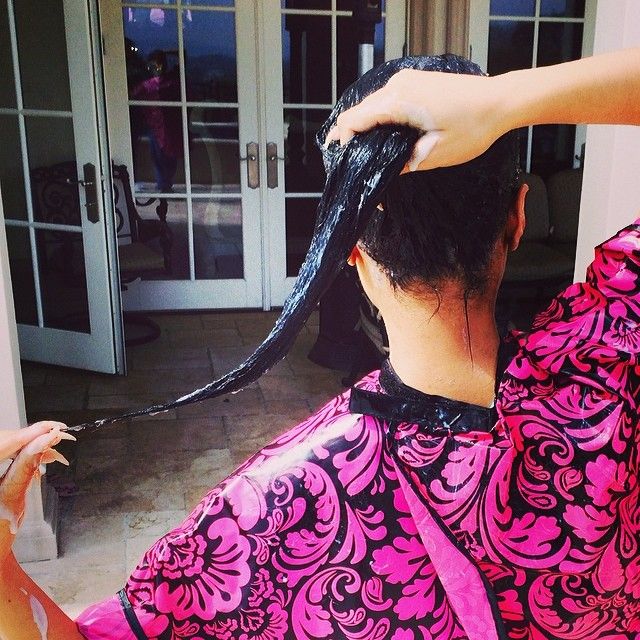 Oh. Guess we won't be expecting Nicki's mom to be invited on Bobby Jones' Gospel anytime soon after these topless pics...
Also.....
In honor of #WomanCrushWednesday, Dwyane Wade posted a long tribute to fiance Gabrielle Union where he admitted his mistake(s) and professed his love and admiration.
"My #WCW my #beautifulblackqueen…My Life mistakes gave me you and my life mistakes almost made me lose you but your love has conquered all and I hope to spend the rest of my life with you"

Well isn't that special....
Photos via Nicki Minaj Instagram/Dwyane Wade Instagram
Did Future Reveal That He & Ciara Are Having...A BOY?!
Posted: 05 Mar 2014 03:25 PM PST
Future hit up the Tim Westwood show in the UK today to chop it up about being on Drake's sold out tour which is currently trekking it through Europe. And he may have accidentally revealed the sex of his and fiancee Ciara's baby. Check it inside....
While avoiding questions about the sex of the baby, and just talking about how excited he and Ciara are about welcoming their bouncing bundle of joy, it seems Future inadvertently revealed the sex. While chatting about decorating the baby's room and Ciara making Future get rid of his clothes to make room for the baby:
"The baby listening to music already now. She sent me a video while I was over here with the headphones on her stomach. She said 'the baby just listened to 'Turn On The Lights,' the version with me and you. I said 'He gotta play...YOU gotta play that Anytime for him, the new one you did. Let him hear that. Se how he kick.' She played it for him. he started kicking like crazy."
Once he realized he had just spilled the beans, he said, "See you got the sex outta me and you don't even know it."
At the end of their convo, Future said he and Drake "faked out" the media and the people making them think Future wasn't going on tour. But he's currently out with Drake for the second time. So, he said the media believes anything you put out there, and knows if he was really telling the truth about the sex.
He said, "That's why I can't tell you what sex I'm having. If it's a girl or a boy. I might say it's a boy, but it might be a girl. Because I really love girls. I always said I wanted two girls and I already have one. So.."
Mmmhmm. We think you spilled the beans daddy! Check out the video below:
Photo: Future's IG
GETTIN' FIT: Blac Chyna HITS BOOTCAMP With Kim K. In West Hollywood Without Make-up!
Posted: 05 Mar 2014 02:30 PM PST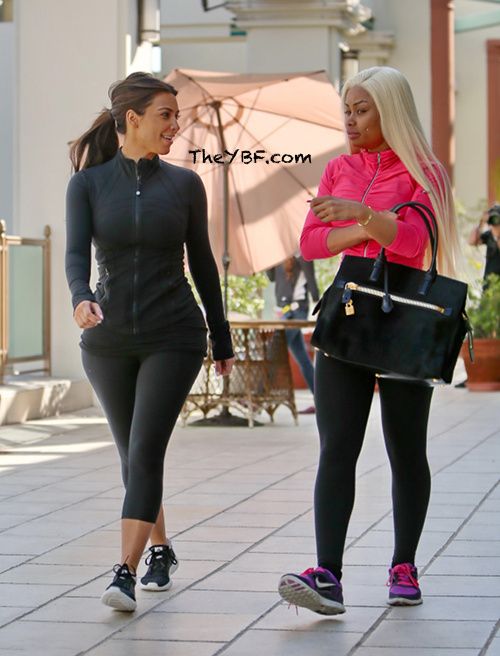 Kim Kardashian and Blac Chyna showed off their "natural" curves and beauty during their outing in West Hollywood today. And we use that term "natural" loosely. Find out what they did inside.....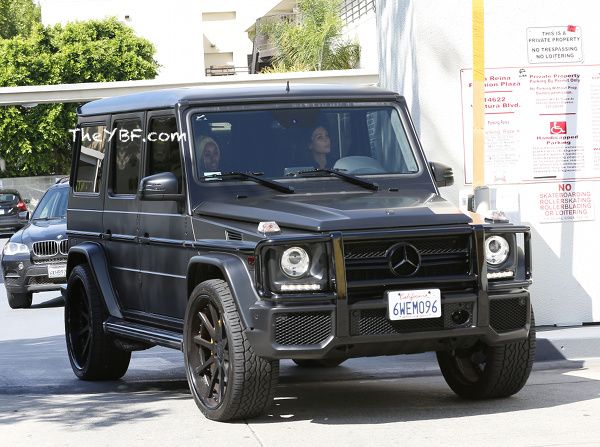 Blac Chyna, with her diaper booty trailing behind her, was spotted filming scenes for 'Keeping Up With The Kardashians' earlier today with her new bestie Kim K.
It looks like Kim will show viewers how she lost all her baby weight on this season of "KUWTK" as she and Blac Chyna spent the day getting in shape at Barry's Bootcamp.
Kim, who reportedly set a wedding date with Kanye West recently, is very weight-conscious, often tweeting about her progress. Recently, she said "I still have weight to lose. Anyone who has had a baby knows how hard it is to lose weight(especially the last bit of weight) & your body totally changes!"
Well, there's always the option of getting less ass shots if you want to look smaller all over.
But, looking good ladies...
Photos by: Splash News/ INFphoto.com
Vanessa Williams Has Got A NEW MAN At Home + Naomi Campbell Dishes On Her Past Drug Use
Posted: 05 Mar 2014 01:51 PM PST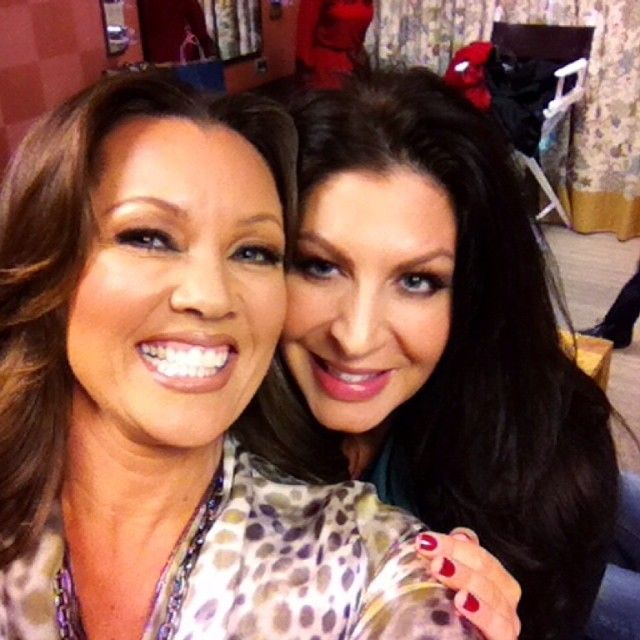 Vanessa Williams revealed how she met her new man on vacation while Naomi Campbell dished on her past drug use when you go inside…
Actress Vanessa Williams and Blair Underwood stopped by "The View" this morning to talk about their new Broadway-inspired movie "The Trip to Bountiful," but we were shocked when Vanessa open up about her personal life.
The 50-year-old actress, who snapped a pic backstage with friend and comedienne Tammy Pescatelli, revealed for the first time that she was seeing someone and opened up on how they met.
She said she and her daughter went to Egypt recently and while on one of their pyramid tours, a handsome man caught her eye. At first she thought he was a part of their tour group, but it turns out he was there on vacation himself.
The two talked it up a bit and she found out that he was from Buffalo, NY. She eventually asked him out on their first date and they have been dating ever since. Love it.
"The Trip to Bountiful" premieres on Lifetime Saturday, March, 8th at 8pm/EST.

In another recent interview...
Supermodel Naomi Campbell, pictured above chopping it up with Rick Ross, is still doing her promo rounds WITH her new afro wig look and she stopped by The Breakfast Club yesterday to promote her new show "The Face".
The 43-year-old supermodel talked about having diversity on her show, supporting black models in the industry and how she feels about models getting plastic surgery. Naomi was asked about allegations about one of her show contestants having to get therapy after being on the show and she said that rumor is NOT true.
Naomi also talked about if social media bothers her. Charlamange asked her about social media going in on her about having NO edges. She responded: "It doesn't really bother me. Social media is like press. I have gotten thick skinned. I actually like social media."
NaNa talked about cocaine in the modeling industry and her own past drug use:
"It's all over the world. Addiction is addiction. Drugs is drugs. I think everyone has their psychological issues and I think it's wrong to say it's just because of a weight issue. If you pick it up you're responsible for it. I believe in recovery and I think recovery is the healthiest place to be. And I'm in recovery. It's something I respect and something that's in my mind everyday. I'm a work in progress."
She addressed video vixens calling themselves models, "Everyone has their job. I did some videos, are you going to call me that? I don't want to criticize what people's jobs are when they call themselves models. The word 'supermodel' is used loosely these days. "
We agree Naomi!
And she also dished on her relationships with boxer Mike Tyson, actor Robert De Niro, her beauty secrets and more.
Check out the interview below:
Season 2 of "The Face" premieres tonight at 10pm/EST on Oxygen. If you haven't peeped it yet, you should.
The Randomness:
1. Dr. Conrad Murray is making the most of his freedom. He was spotted in Trinidad at Carnival this week! STORY
Photos/Video: Vanessa Williams' IG/Angela Yee's IG
ATTENTION STARVED? Is 50 Cent USING SNARKY Gay-Themed Instagram Comments To Get Noticed By Snoop Dogg, Diddy & Rick Ross?
Posted: 05 Mar 2014 12:04 PM PST
50 Cent has a lot of free time (since folks aren't checking for his music) and he's not using it wisely. See the shenanigans he's been up to on social media inside....
Rapper 50 Cent (yes...he still raps) is back in the headlines...or at least TRYING to make headlines. Lately, he's been sitting at his computer attempting to stir up trouble with a few "popular" rappers. Sadly.....it's a fail.
First,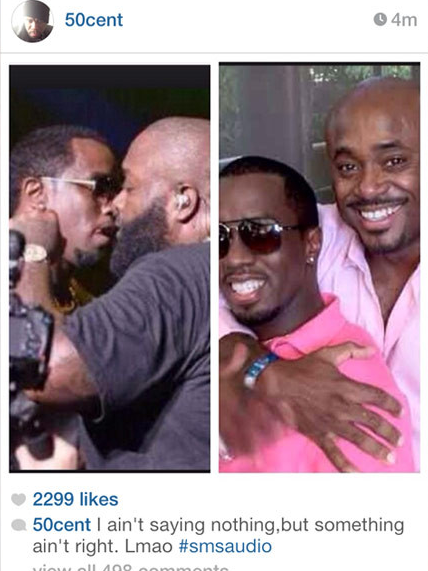 He posted pics of Rick Ross, Diddy and Steve Stoute with the caption "I ain't saying nothing, but something ain't right." Hmmm....why is 50 attacking these dudes?
You'll recall that 50 and Rick Ross had a nasty feud going a few years ago and rumor has it 50 was pissed at Steve for saying his music was not relevant. As far as his feelings toward Steve, his ill will also spilled onto YouTube.
Unfortunately for 50, this ain't the 90s and no one cares about rappers having "beef." But that won't stop him from trying!
Then,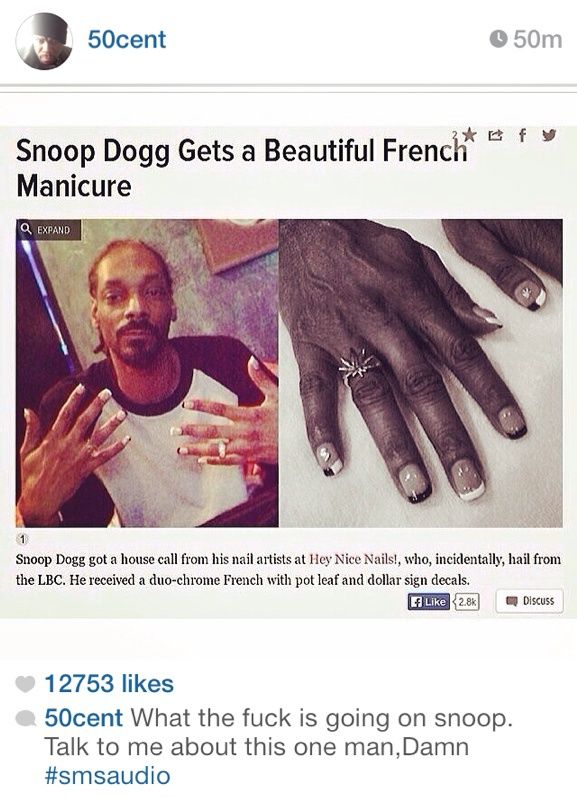 He went at Snoop Dogg for getting a French manicure (by the way, Snoop's been getting French tips for months). He said, "Talk to me about this one man, Damn."
Let's all rember that 50 Cent is 38-years-old! Despite his age, he's on Instagram posting pics of other grown men and making catty comments. While we understand that he's filthy rich and doesn't need to work, we do see a need for a hobby.
Dear Curtis, GET offline - STEP away from the computer - PUT down your phone - BE productive. You've been out of high school for a very long time. Act like it. President Obama's "My Brother's Keeper" Initiative could use you. Or, actually....
The Randomness
1. Common is heading to Broadway. STORY
Photo via Adrian Sydney/50's Instagram
BABY FAB: Thandie Newton And Ol Parker Welcome Son Booker Jombe Parker!
Posted: 05 Mar 2014 11:49 AM PST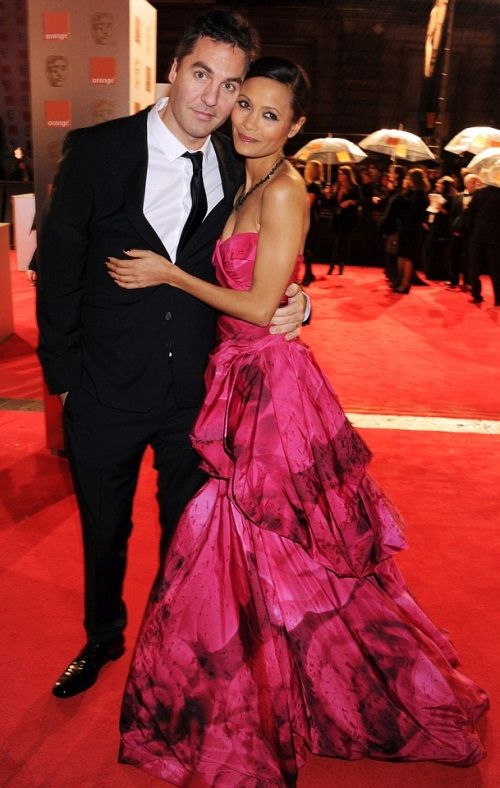 Actress Thandie Newton and her husband Ol Parker proudly announced the birth of their son Booker Jombe Parker via Twitter. See the baby news inside....
Good Deeds star Thandie Newton and her husband Ol Parker are the proud parents of a bouncing baby boy...Booker Jombe Parker! We almost forgot she was pregnant!
Thandie had a home birth, her third one, and both mommy and baby appear to be doing well.
The glowing mom tweeted the good news saying: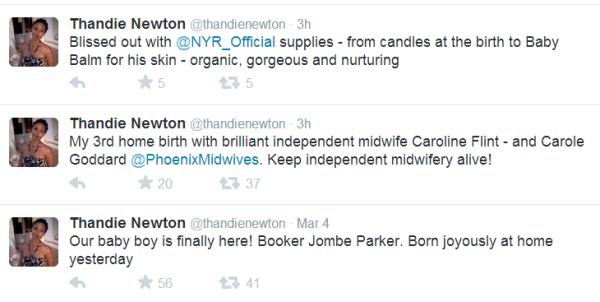 Our congrats go out to Thandie and Ol! Little Booker will also be welcomed home by his two big sisters Ripley, 13, and Nico, 9.
Photo via Getty
YBF PREMIERE: Omarion's "Work" Video
Posted: 05 Mar 2014 11:07 AM PST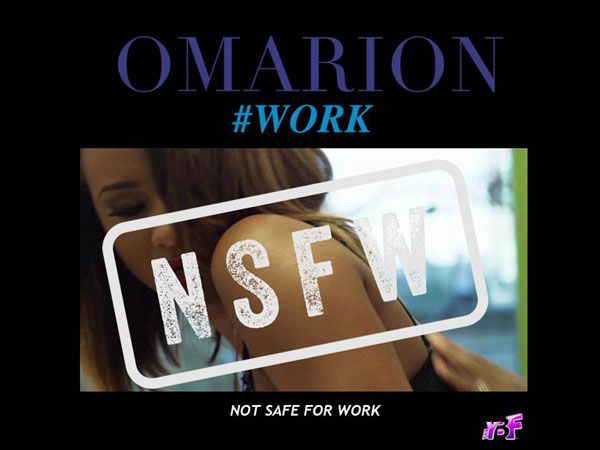 Maybach O is back with his first video from his upcoming album and TheYBF.com has the official premiere. Watch Omarion "Work" inside…
MMG singer Omarion is serving up some sexy in TheYBF.com's premiere of his new video "Work."
The racy Topshelf Junior-directed visuals are from Omarion's album Sex Playlist.
For the track produced by Eric Husdon, the visuals show Omarion giving his girl that "work" almost anywhere...including the shower, the bed and her desk at work.
O has clearly has been putting in "work" with his girlfriend Apryl Jones as they recently announced they are expecting a baby boy!
Watch "Work" below:
;
Omarion's Sex Playlist is expected to drop this summer.
FIRST LOOKS: "Annie" Remake Starring Jamie Foxx & Quvenzhane Wallis Sneak Peek + Andre 3000 In Jimi Hendrix Biopic + New VH1 New Reality Shows With K.Michelle & Hot 97 Get Premiere Dates
Posted: 05 Mar 2014 10:45 AM PST
Here's the first look at the "Annie" remake starring Jamie Fox and cutie Quvenzhane Wallis along with a first looks at the new Jimi Hendrix movie and VH1 reality show inside....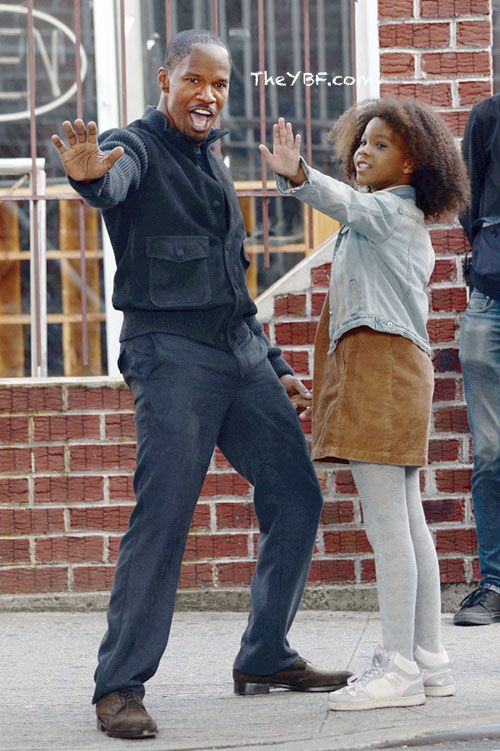 Quvenzhane Wallis, the Oscar-nominated 10-year-old star of Beasts of the Southern Wild, was cast to play the title role in the upcoming remake of Annie.
She will be joined by Jamie Foxx who plays the New York mayoral candidate, Will Stacks, who takes Annie in after her parents abandoned her. Cameron Diaz will be playing Annie's mean foster mom, Miss Hannigan.
The film will be directed by Will Gluck and co-produced by Jay-Z, Jay Brown & Ty Ty Smith through Marcy Media in addition to the Smith's Overbrook Entertainment.
Jamie & lil Q were spotted on the set back in September while filming Annie under the 7 train line on Roosevelt Avenue in New York.
And now, you can check out the first look of the film below:
The film is expected to hit theaters December 19th. Looks great!
In other movie news:
The first video sneak peek at Andre 3000 portraying musician Jimi Hendrix in his biopic All Is by My Side has been released. ANd finally, we get to see 3 Stacks in all his Hendrix glory.
The film made its World Premiere at the Toronto International Film Festival last fall. It's expected to make its USA premiere at the upcoming SXSW Film Festival this month.
But when it hits the screen, don't expect to hear Jimi's original music. Apparently, the estate is not on board with the biopic.
The estate released a statement saying:
"Experience Hendrix CEO Janie Hendrix, sister of Jimi Hendrix, and the EH board have not ruled out a 'biopic' in the future though producing partners would, out of necessity, have to involve the company from the inception of any such film project if it is to include original Jimi Hendrix music or composition."
The music used in the film will be covers of other musicians' songs Hendrix performed.
The feature film is written and directed by John Ridley, who won the Oscar for screenplay adaptation of 12 Years A Slave. John has been the center of a feud between him and director Steve McQueen lately, by the way.
Still no date on the actual release date of the film. But we've got the first 1:30 sneak peek below:
And in TV news...
VH1 is lining up new shows for the network. Singer K. Michelle will be featured in a new reality series "Untitled K.Michelle Project" which will follow the "Love and Hip Hop" star's music career. And she's been given a summer 2014 premiere date.
And the new VH1 show titled "White Girls Of Rap" that we recently told you about, which will feature female rappers striving for success in a series produced by Ryan Seacrest Productions, is officially green lit. According to press release:
[The show] will follow five up-and-coming white female rappers (Yep, we said it, white female rappers) as they hustle to establish credibility in an industry that isn't known for being the most welcoming. These girls are facing near-impossible odds and will do anything to break into the rap game and establish a name for themselves.
Oh. It's set for a late 2014 premiere with 6 half hour episodes.
And VH1 is keeping the ball rolling with reality tv. NY's hip hop station Hot 97 has its own reality show called "This is Hot 97". It's executive produced by Mona Scott-Young (of course) and will also feature cameos from the well-known celebrities who regularly visit HOT 97 as on-air guests including Kanye West, Macklemore, Rick Ross, Mack Wilds, Wale and more.
Each episode will draw upon the ambitions, rivalries and quirky personalities of the cast to capture all of the comedic and sometimes straight up awkward moments that happen at the station on a daily basis. It premieres Monday, March 31 at 10:30 PM ET/ PT.
You watching any of this?
BONUS:
Jay Z hit the stage last night with his wife Beyonce at The Mrs. Carter Show World Tour in London to perform their hit "Drunk In Love" again. Bey will hit the stage at the O2 Arena last night for her fourth of six performances in London. She leaves London March 6th and will travel to Dublin, Ireland.
Photos/Video: Pacific Coast News/Splash/ET/Beyonce's Tumblr
MESSY: "Basketball Wives: L.A." Cast Draya, Malaysia & Brandi Call New Co-STAR Brittish "The Chubby One" On "Arsenio"
Posted: 05 Mar 2014 09:52 AM PST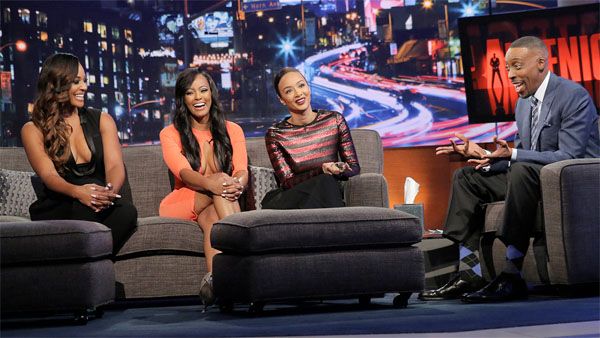 Draya, Malaysia Pargo and Brandi Maxiell hit up The Arsenio Hall Show last night and the ladies wasted no time throwING shade at their new cast mates on the show, Sundy Carter and Brittish Williams, or as they named Brittish--"The Chubby One." Messy!
Check out the interview inside...
Apparently, the ladies of "BBW:L.A." aren't getting along because Arsenio Hall said it was suggested to him to have the ladies come on the show in two different groups. We could have told him that...
The first group -- Jackie Christie, Sundy Carter and Brittish Williams -- stopped by the show a few weeks prior.
Draya, Malaysia and Brandi hit the show last night and wasted no time throwing shade at the other ladies. They said they don't even know their new cast mates that well so they don't understand why the other ladies are doing TV shows and interviews discussing them in a negative way. Draya then named Brittish "The Chubby One", as she did on a recent episode. Very mean-girl of her, seeing that Brittish isn't calling her "The Stripper One"....
Draya said:
"It's a big shady tree we all rest under. We all can't really fit, so we just try to do our own thing over here and we try to let them do their thing over there."
Draya says she's friends with Malaysia and Brandi, and who the other ladies are friends with (referring to Jackie Christie) is NOT something to brag about.
Draya revealed her and her boyfriend Dallas Cowboys cornerback Orlando Scandrick are doing well and will be celebrating their one-year anniversary. All despite his alleged cheating ways.
Arsenio asked Draya did Orlando offer her money to leave the show and she responded:
"In a jokingly way, he said 'We're not doing this anymore, it's a set up for you to be sabotaged and God has a different plan for us and me and my relationship and my family.'"
Or...he didn't want anymore chicks coming forward claiming he cheated with them....
Check out the BBW ladies on the show below:
So does this mean this is Draya's LAST season on "Basketball Wives: L.A.?"
BONUS:
Peep this clip from the last episode of "BBW: L.A." when Jackie tells Draya that her boyfriend is CHEATING on her...with her daughter Chantel. And by cheating, Chantel meant he was atempting to get at her by saying things no "taken" man would say:
Womp!
Photo: Arsenio Hall Show