---
Ashanti Talks About Breaking Up And Making Up With Nelly, "Dating" DeSean Jackson & Having "Good Hair"
Posted: 04 Mar 2014 08:46 AM PST
Ashanti, spotted above heading to a private event in NYC last night, chatted with The Breakfast Club about her album Braveheart, her "seemingly" on-again relationship with Nelly and rappers making fun of her sideburns. More inside....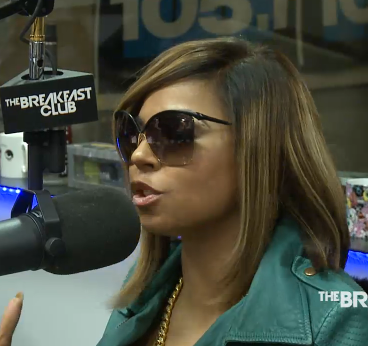 Now that Braveheart is FINALLY in stores, Ashanti is out and about promoting the album and that included a stop by The Breakfast Club. She talked to the hosts about going independent, her relationships and revealed what "gossip bit" really hurt her feelings. Here are the highlights:
On Nelly: "There was a space where it was bad. Are we cool? Yea." She said that they BOTH did each other wrong (this seemed to refer to "cheating" and stepping outside of the relationship). She added that their biggest issue was that men and women handle "hurt" differently. "There were things said and done publicly that should not have been."

On seeing Nelly with other women: "Im very smart and I know him. I knew what the facade was."

On DeSean Jackson: When asked if they were dating, she said "No." Moments later, she admitted to going to a game with him. "I can't go to a game? I went to the Knicks game."

On other celebrities trying to get at her for sex: She says after her breakup with Nelly, she had a LOT of admirers. "Being single, it was surprisingly to see who came after 'it.' Pun intended."

On rapper Prodigy: Although they took a dance class together when they were kids, she did not release a photo of him wearing a tutu.

On going independent: She says she was offered seven record deals between 2009-2012, but they each "dug" into her pockets too much. She went independent so she could keep a higher percentage of her earnings.

On Irv Gotti: She insists they were NEVER lovers and didn't speak for 6-7 years after she left Murder Inc. She says they are in a better place now.

On baby hair: She talked to Angela Yee about having "good hair" and said when G-Unit started making fun of her sideburns/baby hair, it really hurt her feelings. So she paid extra attention to making sure her baby hair looked nice in videos and in pictures.
Watch the interview here:
The Randomness:
1. Bobby Brown says he DID NOT know Bobbi Kris married Nick. Story.
Photos via Santi/Splash News
Robin Thicke Sings Al Green's "Let's Stay Together" For Paula While Still Wearing His Wedding Ring...And Paula's Seen WITHOUT Her Ring
Posted: 04 Mar 2014 08:02 AM PST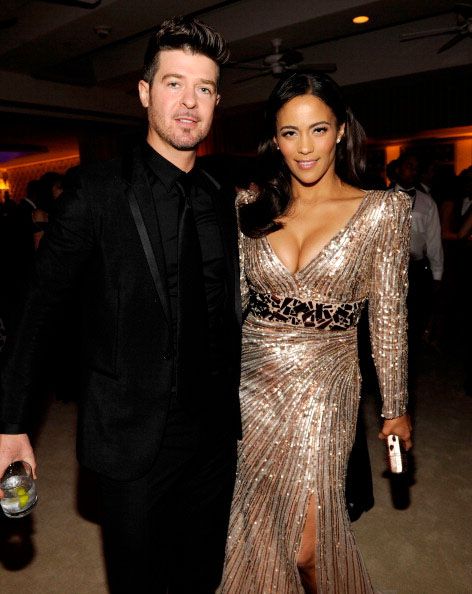 Robin Thicke is still trying to sing his wife Paula Patton back into his life. Find out what Robin did at his last show inside…
Robin Thicke is still laying it on thick to try and win his wife Paula Patton back.
Last week, Robin Thicke took the stage in Fairfax, VA and professed his love for his wife Paula Patton telling the audience "For those of you who don't know, my wife and I separated a few days ago. But I want y'all to know, I'm trying to get my girl back."

This past Sunday, Thicke hit the stage at the Borgata Hotel Casino & Spa in Atlantic City, when someone in the crowd yelled out "I love Paula!" Robin replied, "I do too" and began singing his rendition of Al Green's "Let's Stay Together."
The 36-year-old singer was spotted STILL wearing his wedding ring as he performed.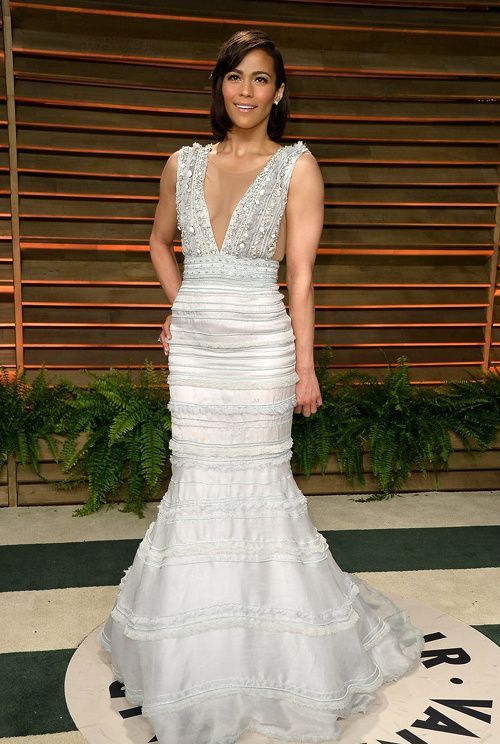 Unlike Robin, Paula was seen WITHOUT her wedding ring at the Vanity Fair Oscars afterparty Sunday night and arrived solo in a white Celia Kritharioti dress.
Check it:
Looks like Robin is going to have to do a little more than sing a few songs on stage to win his woman back. Do you think she will take him back?
Photos: WENN/Wire
SUPERMARKET CHANEL: Rihanna Dons Head-To-Toe CHANEL For "Supermarket Inspired" Paris Show + Gets Wild With Joan Smalls & Cara Delevingne!
Posted: 04 Mar 2014 07:07 AM PST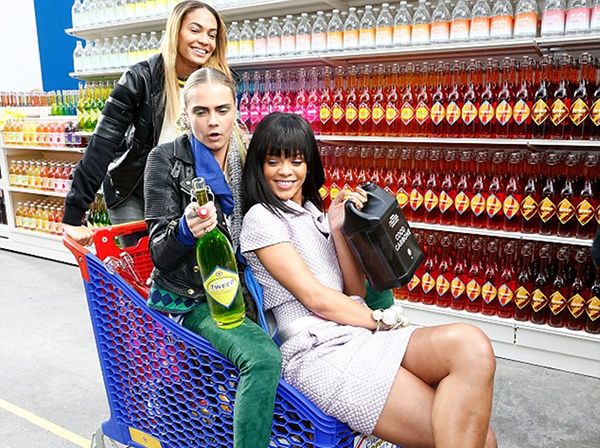 Leave it to Chanel to bring the most fashionable people in the entire industry...to a makeshift supermarket! Check out Rihanna hitting up Chanel's grocery store-inspired 2014/2015 Autumn/Winter ready-to-wear show inside, and making a wild supermarket sweep with Joan Smalls & Cara Delevingne...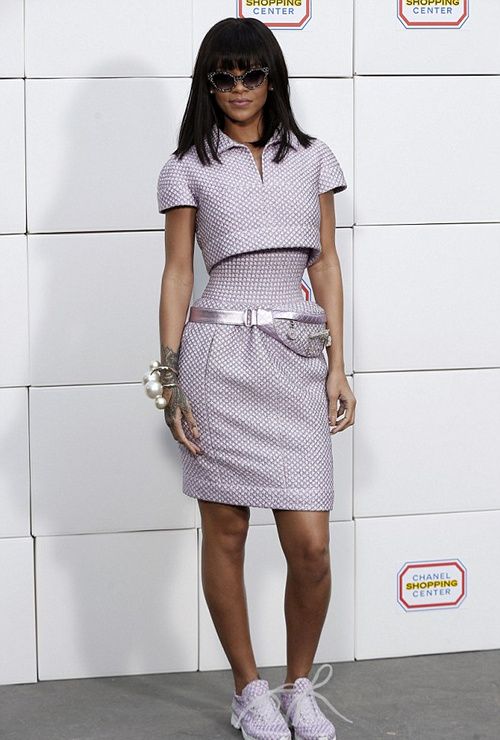 Hotties on aisle 3! Rihanna made her way to the 'Chanel Shopping Center' during Paris fashion week today. And she rocked a silvery lilac Chanel boucle ensemble, complete with the matching shoes and matching diamond encrusted fanny pack. And we adore it!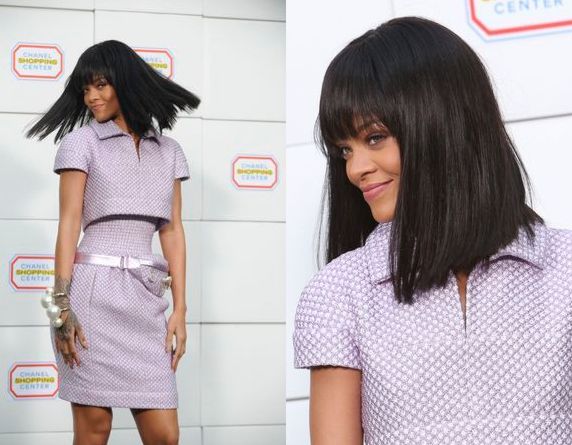 Karl Lagerfield and Chanel are known for super creative show themes, and this year is no different. There were grocery carts, actual groceries, and more. And Rihanna, Cara and Joan made their arrival look like an effortless photoshoot for some fashionable supermarket somewhere in the world: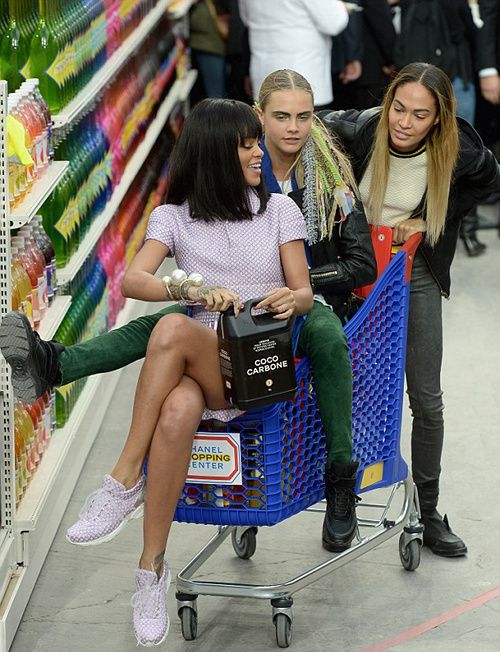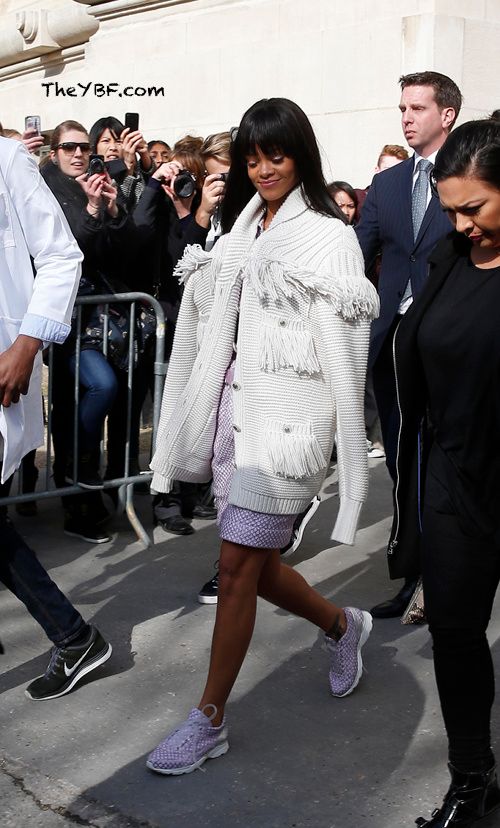 Rih made her exit in a fringed white sweater.
Loves it!
Photos: Wireimage/Getty/INF
"DWTS" Cast REVEALED! NeNe Leakes, Billy D. Williams Will Compete In Season 18
Posted: 04 Mar 2014 05:30 AM PST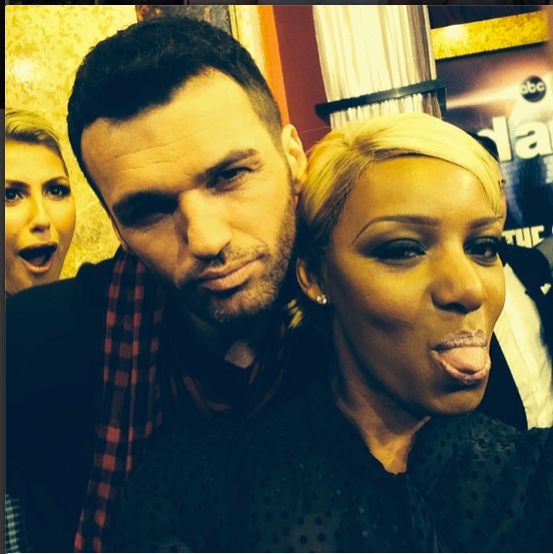 NeNe Leakes was just revealed as one of the newest contestants on the new season of "Dancing With The Stars". Find out who she'll be competing against inside...
NeNe came out the gate swinging on "GMA" this morning as she and the rest of the contestants were revealed as the Season 18 cast. After making her big reveal, she said, "I do NOT have two left feet, I can tell you that."
Was that shade?
Well, all those early "dancing" years in the strip club just may pay off...
NeNe, whose partner will be All-Star winner Tony Dovolani, said, "I'm so excited. I love clothes so I can't wait to wear one of those things those girls are wearing."
By the way, the author and actress is set to release her own clothing line (which will range from size 2-24) this July.
As for the rest of the contestants: Singer Billy Dee Williams (paired with Emma Slater), singer Cody Simpson, "Wonder Years" actress Danica McKellar, history-making swimmer Diana Nyad, James Maslow, Sean Avery, tv host Drew Carey, "Full House" star Candace Cameron Bure, Gold medal winning figure skating Charlie White, and Charlie's skating partner Meryl Davis. Also, Amy Purdy (US Paralympic Team Snowboarder) is dancing with Derek Hough.
Is it just us, or does it seem "DWTS" scrapped together half these people at the last minute. A whole lot of "Who?"'s were said...
By the way, this year there's a twist. At some poin in the season, contestants will be switching partners. And America will vote who their new partner will be.
BONUS: NeNe recently did a photoshoot that Naomi Campbell happened to be at as well. She posted pics on her site: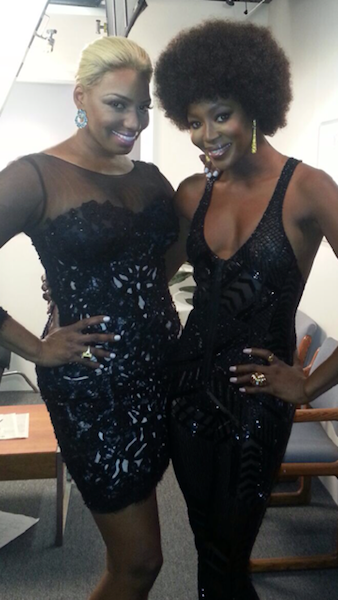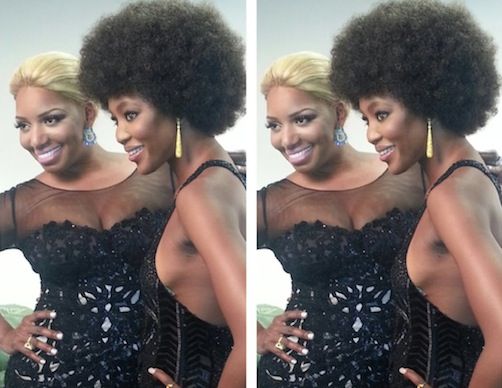 NeNe's Site
KID BIRTHDAY FAB: Keyshia Cole & Daniel "Boobie" Gibson's Son Daniel Turns 4! + Mike & Mechelle Epps' Party For Their Daughters' Birthdays
Posted: 03 Mar 2014 06:19 PM PST
Keyshia Cole & Daniel Gibson celebrate their 4-year-old son's birthday while Mike Epps and his wife Mechelle threw a party for their daughters' birthday. Check the pics of the cute kids inside…
R&B singer Keyshia Cole and her estranged husband Daniel "Boobie" Gibson celebrated their son, Daniel's 4th birthday. It looks like the parents both shared little Daniel for his birthday posting individual pictures with him. Keyshia Cole posted the cutest picture of her giving her now 4-year-old a kiss (atop).
She also shared this picture of Daniel being surrounded by Winnie the Pooh.
Boobie posted a bathroom "ussie" with his son saying, "Special Day for my Jr. Dam time flies.. This day 4 years ago my life changed forever. God blessed me with his greatest gift. What Unconditional love looks like.. This lil guy is my everything. #TrulyBlessed "
Keyshia and Boobie have not been getting along lately (mainly due to rumors of Boobie cheating and Keyshia tweeting to his stripper side chicks). Messy. But were glad little Daniel had a happy 4th birthday.
And on another celeb kid's birthday...
Yesterday, Comedian Mike and Mechelle Epps threw an elaborate birthday party for their two daughters, Moriah and Maddy.
The party was held at an exclusive estate in the Encino neighborhood in Los Angeles. Laura Govan (with her children) and Torrei Hart (with her and Kevin's children) both attended.
Fun times.
Photos: Keyshia Cole's IG,/Daniel Gibson's IG/@faireytales
SPOTTED: Rihanna ROCKS A Green And Black Wool Coat At Stella McCartney
Posted: 03 Mar 2014 03:01 PM PST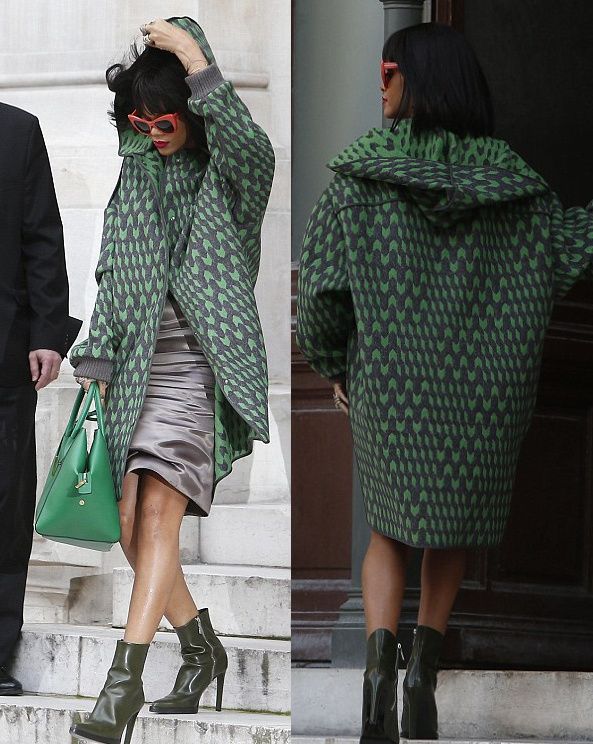 Rihanna sat front row at Stella McCartney's Paris Fashion Week Womenswear Fall/Winter 2014-2015 show and was SURPRISINGLY covered up. See her "conservative" coat inside....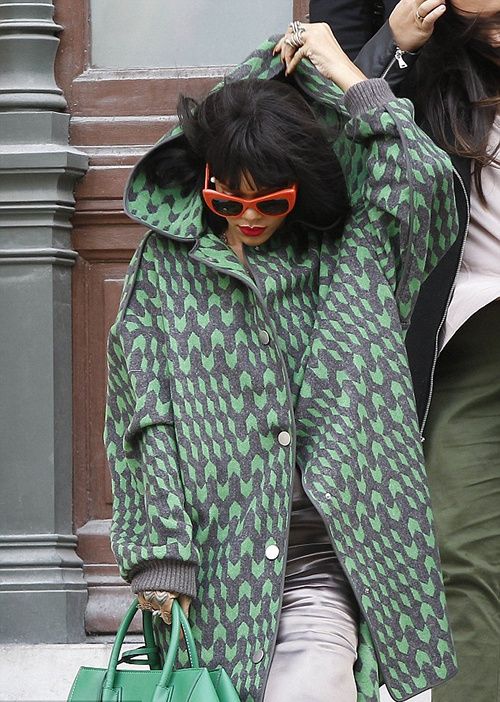 In her first conservative "look" at Paris fashion week....
Rihanna was spotted on her way to Stella McCartney's show at the Opera yesterday. She wore red cat-eye sunglasses and an oversized green and black wool coat from Stella's collection.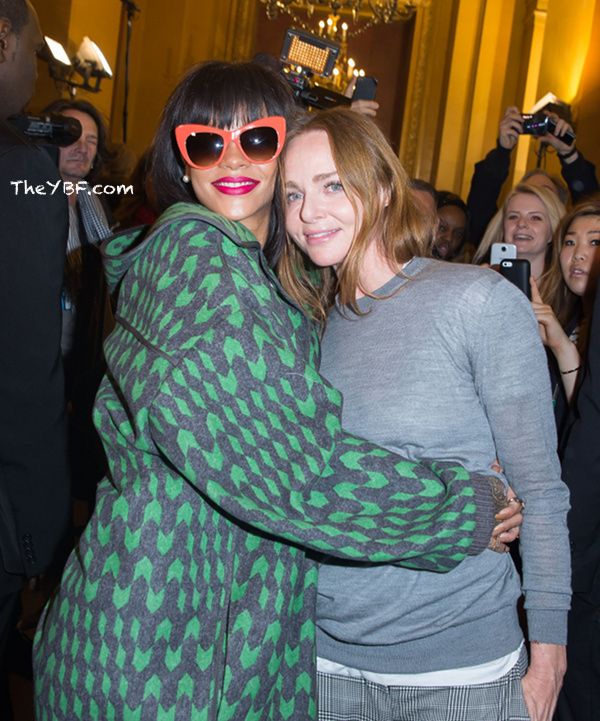 Inside, she posed with designer Stella McCartney.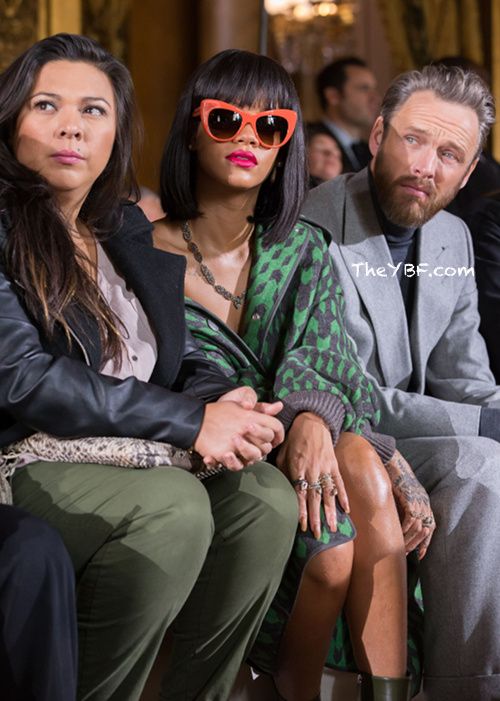 She and bestie Jen Rosales sat next to Stella's dreamy husband Alasdhair Willis on the front row.
Photo via Oraito / Splash News and FameFlynet
WHAT'S BEEF?: Chaka Khan APOLOGIZES To Beyonce On Twitter For Allegedly Calling Her A "B*tch", Then DELETES The Tweet
Posted: 03 Mar 2014 02:38 PM PST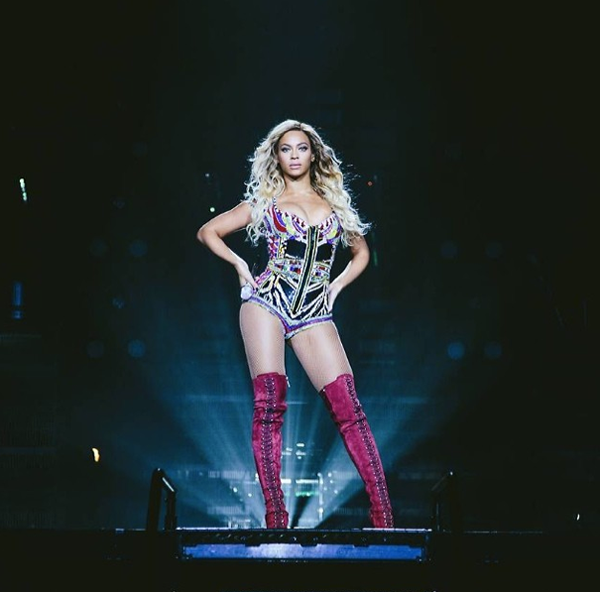 Iconic singer Chaka Khan recently addressed rumors of her calling Beyonce a "b*tch." Find out what she said inside…
Singing legend Chaka Khan has apologized to Beyonce after an interview of her at the 7th Annual Essence Black Women in Hollywood luncheon went viral.
Chaka was stopped on the red carpet by Hollywood Today and after the reporter said Chaka was "flawless like Beyonce's song," Chaka was caught rolling her eyes and mumbling something under her breath.
Some assumed the music icon called Beyonce a "b*tch" under her breath; but, we can't really make out exactly what she said.
See Chaka's reaction below:
Then…Chaka apologized to the Queen for being a target of a slow news day:

Chaka has since DELETED her apology to Bey, which makes us wonder if she was sincere in her public apology. Although she claimed she wasn't throwing any shade…why did she delete the tweet?
Questions that need answers...

Photos/Video: Hollywood Today/@beylite

INTERVIEW FAB: Lupita Nyong'o Discusses GRATITUDE And Her "Overwhelming" Oscar Win On 'Live With Kelly & Michael' + Naomi Campbell Hit's 'The View' Rocking An AFRO!
Posted: 03 Mar 2014 11:55 AM PST
Academy Award winner Lupita Nyong'o hasn't been to sleep since winning her Oscar and supermodel Naomi Campbell stopped by The View with a brand new look. Check out Lupita's interview and Naomi's new hair inside…
Best Supporting Actress winner Lupita Nyong'o was still riding high off her Oscar win when she appeared on Live with Kelly and Michael for her first post-Oscar interview this morning. The Kenyan beauty revealed to Kelly & Michael that she has NOT slept since winning her Academy Award!
"It is overwhelming but at the same time this is what I've trained for, this is what I've availed myself for. I'm just trying to allow myself to absorb it all. It has happened. 12 midnight came and this did not disappear."
How does Lupita prepare for an awards ceremony? She told Kelly and Michael that she spends time thinking about how she wants to express her gratitude. "Gratitude is an emotion which is hard to articulate anyway, so I try to do my best to prepare."
After she got her Oscar, Lupita says she became very territorial. "Well for the first half of the night I was being very, very selfish. I wouldn't let anyone even take a picture with it. No. No one was holding it. And then…it's really heavy." Then, Michael asked to hold her Oscar and she allowed him to hold it…but only for 3 seconds. Ha!
Lupita then thanked those whom she forgot to thank when accepting her award which included her management, her agent, her publicist and others.
On a related note, Chelsea Handler is being slammed for a "racist" tweet aimed at Lupita.
Check out the full interview below:
Congrats Lupita!
In another interview…
Supermodel Naomi Campbell stopped by The View this morning with a totally new look. Naomi ditched her usual straight weave and donned an afro wig.
Naomi talked about the basic requirements to get into professional modeling. She suggested you needed to be 5'8" or taller, with Kate Moss being the exception. She said that if you are a shorter model, you basically have to have a certain "look" which will make up for your height.
"The Face" coach also said in terms of size, none of the models of her era were sickly or unhealthy looking. She said they all had bodies and she does NOT condone starving yourself to be thin. Naomi then talked about this week's season 2 premiere of her show "The Face" on Oxygen (Wednesday, March 5th at 10/9c on Oxygen).
Are we feelin' Naomi's new do?
Photos: ABC/@jemasbury
SLOW CLAPS AND SIDE EYES: INSIDE Steve McQueen And John Ridley's Oscar FEUD + Kanye West's DONDA Music Partners With Roc Nation (UPDATE)
Posted: 03 Mar 2014 11:19 AM PST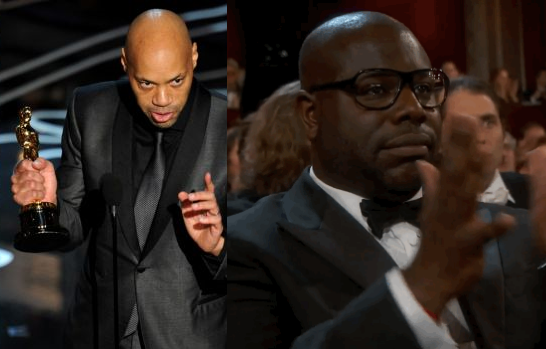 Some serious shade was thrown between 12 Years A Slave director Steve McQueen and Oscar-winning screenwriter John Ridley. Get the deets inside and read about Kanye West taking DONDA Music to Roc Nation.
In case you didn't notice, 12 Years A Slave director Steve McQueen (who won for Best Picture) gave a very slow clap for 12 Years A Slave screenwriter John Ridley (who won the Oscar for screenplay adaptation).
The next thing you may not have noticed was the NASTY side eye John gave Steve as he walked to the Oscar podium. It screamed "I don't SEE you".
Two other things you may not have noticed, John's acceptance speech DID NOT mention Steve and Steve's acceptance speech DID NOT mention John.
Ummm.....big elephant in the room. In a sea of white nominees, the two most high profile Black men (who just happened to work on the SAME movie) must know each other. Clearly....they've met. So.......what's the beef? Hollywood insider Nikki Finke tweeted....

Hmmmm. Have either Steve or John spoken out? Nope.
It's called being professional.
UPDATE:
TheWrap has published an insider's look at the feud between John and Steve. And it's juicy....
McQueen tapped Ridley to work on a separate slavery-themed project that eventually led to "12 Years a Slave" after McQueen's wife discovered the book, which Ridley subsequently agreed to adapt on spec. McQueen had a hand in shaping the script that Ridley turned in, but when he asked the writer for shared credit — not uncommon in Hollywood — Ridley politely declined.....

McQueen was nonplussed and appealed to Fox Searchlight, which ultimately sided with Ridley. Brad Pitt, who produced "Slave" and plays a small role in the film, was even forced to step in at one point and mediate.
Wait....it gets better (or worse)....
At the BAFTA Awards, Steve allegedly "berated Ridley's wife while the writer was in the bathroom, trying to snatch up her BAFTA souvenirs and leaving her in tears" And, Steve "insisted that the writer be seated at separate tables at awards shows late in the season, including the BAFTAs."
Read more about the feud here.
Check out the side-eye:
In other entertainment news....
Kanye West (shown above at Celine show this weekend in Paris) and his creative house DONDA have entered into a partnership with Roc Nation to manage all DONDA Music.
The partnership will focus on Mr. West's international recording brand and worldwide touring ventures. DONDA has created a 2009 footwear collaboration with fashion house Louis Vuitton, and numerous fashion and apparel brands around the globe, including Nike and Adidas and Parisian brand A.P.C.
DONDA is also responsible for the YEEZUS Tour and album packing, the short film Cruel Summer, and the "New Slaves" projections.
The Randomness:
1. Shots fired at Diddy's CIAA Party in CHarlotte, NC. Story.
Photos via Getty