---
SPEAK ON IT: Nick Cannon In Whiteface + Dencia's "Whitenicious" Skin Bleaching Crime & Unapologetic Response About Lupita Nyong'o....Humor Or Self-Hate?
Posted: 25 Mar 2014 10:18 AM PDT
With all the "Blackface" controversy we've seen in recent months, it's interesting to watch Nick Cannon and Nigerian popstar Dencia put their stamp on "Whiteface"....but is it comedy or self-hate? Speak On It......
For many months, we've seen numerous fashion mags use Blackface to promote products. Now, there are products being promoted via Whiteface. Over on Instagram, comedian/tv host Nick Cannon donned Whiteface and renamed himself Connor Smallnut to promote the release of his next cd White People Party Music (due April 1st).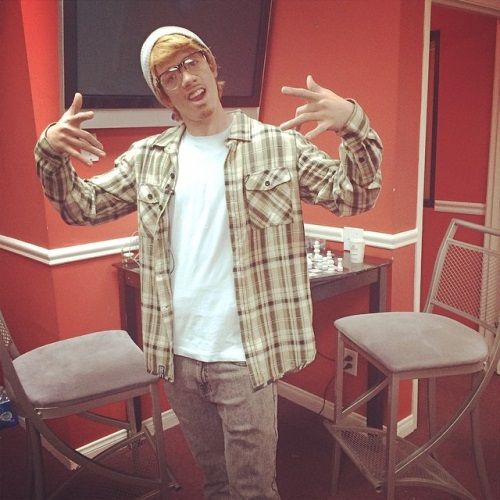 He captioned, "It's official... I'm White!!!" Cannon captioned the pic. "#WHITEPEOPLEPARTYMUSIC #Wppm in stores April 1st!!!!!!Dude Go Get It!!!Join The Party!!!! #GoodCredit #DogKissing #BeerPong #FarmersMarkets #FistPumping #CreamCheeseEating #RacialDraft 'Bro I got drafted!!'"

Meanwhile......
Dencia, a Nigerian-Cameroonian pop-star has been raising eyebrows for promoting a new skin bleaching cream named "Whitenicious." SIDEBAR: When Dencia began her career, she was the same complexion as Lil' Kim .#noshade. Dencia first come to our attention when she and Whitenicious were mentioned in the open letter Lupita Nyong'o read about her dark skin during the Essence luncheon. In her own defense, Dencia responded,
"I was not selling that message, the media are selling that message. I didn't say, buy the cream and look like Dencia…I said seven day, fast acting dark spot remover. It's called reading comprehension. If people missed that class then it's not my fault. If they think that their whole body is a dark spot then fine, because that's not how I feel."
But it seems--based on her current look--that's exactly how she feels.
While many people of color are upset by "Blackface", what about "Whiteface"? Is it funny when Nick Cannon does it? Is Dencia solely promoting self-hate?
SPEAK ON IT!
Photos via Nick Cannon's Instagram/Whitenicious ad
Pharrell Gets Colorful For The Cover Of GQ + Talks Race, Buffalo Hats & The Oscar Snub
Posted: 25 Mar 2014 08:42 AM PDT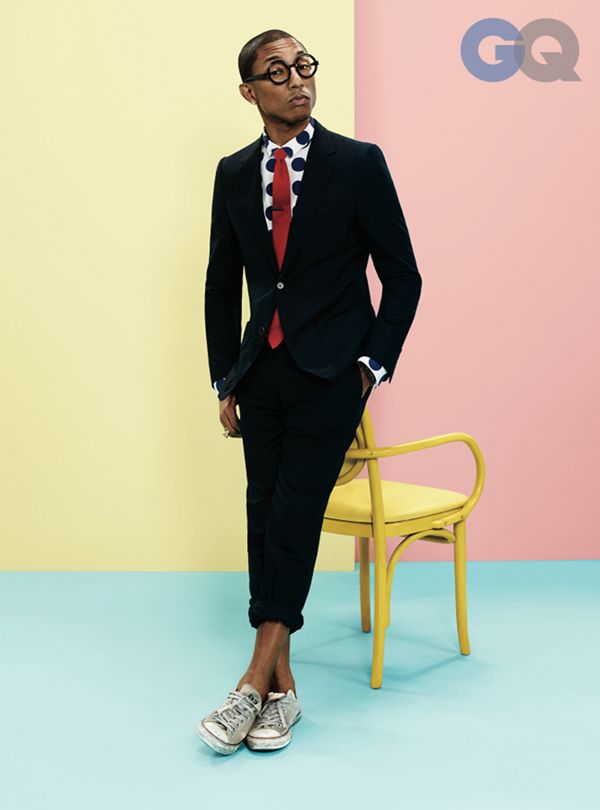 The uber stylish Pharrell kept it colorful and "Happy" for the new cover of GQ magazine. Check out everything he had to say from race to those hats to losing the Oscar race inside....
For GQ's April cover, Pharrell chops it up with writer Zach Baron about politics (he's says Hillary will take it all!), the Tea Party, twerking, race, that much-discussed hat-collection, and losing the Best Song Oscar.
Here are the highlights:
On the Oscar snub:

"Well, trust me: when they read the results, my face was…frozen. But then I thought about it, and I just decided just to…let it go."

On the criticism his album cover for G I R L received :

"It's insecurity. You can be anything that you want to be, and what I chose to do is put my friends on the cover. The girl that was closest next to me is black, but they didn't know that, so they jumped the gun. And it's like: 'Yo, you don't need nobody to represent you. You represent you. You represent the best version of who you could be. You go out there and change the world.' Because I'm black, and I wouldn't trade my skin color for nothing. But I don't need to keep wearing a badge that tells you that I'm black every time I do something! I'm black! My mother's black, who's a big part of my business; a black woman runs my business; and I'm married to a black woman. What more do you want?"

"It doesn't make sense to me. That kind of divisiveness is not necessary at a time when we're supposed to be unifying. That's what happiness is all about, and if you look at my 'Happy' video, I had everybody in there: fat, skinny, gay, straight, purple, polka-dot, plaid, gingham print, houndstooth, alien. I fuckin' had dogs in there! I had children in there! I had kids in there! I'm the most indiscriminate person that there is! I believe in equality."

"Black ain't a color: black is a spirit, and it is ubiquitous. In fact, there's more black out in space than there is stars. We have nothing to be insecure about."

On Hilary Clinton being the next president:

"Let me tell you why Hillary's going to win. Everywhere you go in this country, you have red and blue. You got the Democrats; you got the Republicans. You got the Bloods; you got the Crips. You know what else is red and blue? Blood. Blood is blue in your body until air hits it, and then it turns red. That means there's unity. There's gonna be unity. So when you think about a night where there's late-night talk-show hosts and it's mostly women, that's a different world. Right? A world where 75 percent of the prime ministers and the presidents were women: that's a different world. That's gonna happen, and it's gonna happen when Hillary wins. Because you know what? No matter how staunch of a supporter you are of no-abortion, whatever you are: you're a woman, and there's no way in the world you're going to vote for somebody that's going to try to tell you what to do with your body. Hillary's gonna win. Listen, I'm reaching out to her right now. She's gonna win."

On the Tea Party:

"The Tea Party guys? The guys with the n***er jokes in 2014? They're all trying to learn how to do the Dougie. Please. While their daughters are all twerking. Trust me: Miley tells me all the time. Not saying that about Billy Ray, but I'm saying Miley tells me all the time: all those little girls, all those girls with their Republican daddies, they're twerkin' somewhere listening to Jay Z and Beyoncé and doin' the 'Happy' dance. And that's black."

On being misunderstood:

"I'm not a renaissance man. What I am is a maverick, and I don't want to be put in a box at all."

On when he moved out of his parents house:

"Uh, when I finally got tired of sneaking girls in. And it was more than one girl, you know, coming to hang out with me. So it was kind of like—you know, I didn't want to do that to my mom."

On his infamous buffalo hat (which he previously explained was a salute to the Buffalo Soldiers):

"Anything different, people are going to look at and go, 'Ha ha ha ha, what is that??' Then, after a while, they do a little bit of research; they realize it's Vivienne Westwood, an ode to her boyfriend at the time; they had a store together called World's End. The guy who went on to sign the Sex Pistols, Malcolm McLaren."

On if he regrets the trucker hat:

"No. Uh-uh. I always did the same thing. I've dressed like I make my music. With the trucker hat, it was just a different time. And it was just N.E.R.D. time for me, you know? And that's what we represented—like, the anti-media image. We represented the real: black kids that skated."
Loves him!
P's G I R L album debuted at #2 on the Billboard charts, and he's set to perform on "SNL" April 5th.
Kanye West Prepares For Take-Off With Kim + Naomi Campbell Offers Up Polite Shade About That VOGUE Cover
Posted: 25 Mar 2014 07:50 AM PDT
Fresh off debuting their April 2014 VOGUE cover, Kanye West and his fianceè Kim K. are jetting off to NYC. Pics of the couple pushing through the paparazzi at LAX, plus Naomi Campbell's slight shade about their cover....
Mr. West arrived at LAX with Kim in tow last night as they jetted off to New York City. And, of course, they had the paparazzi waiting there for their arrival: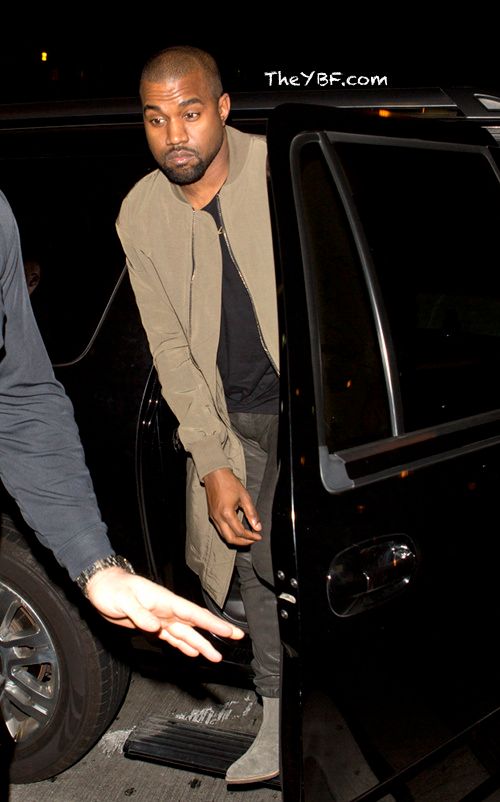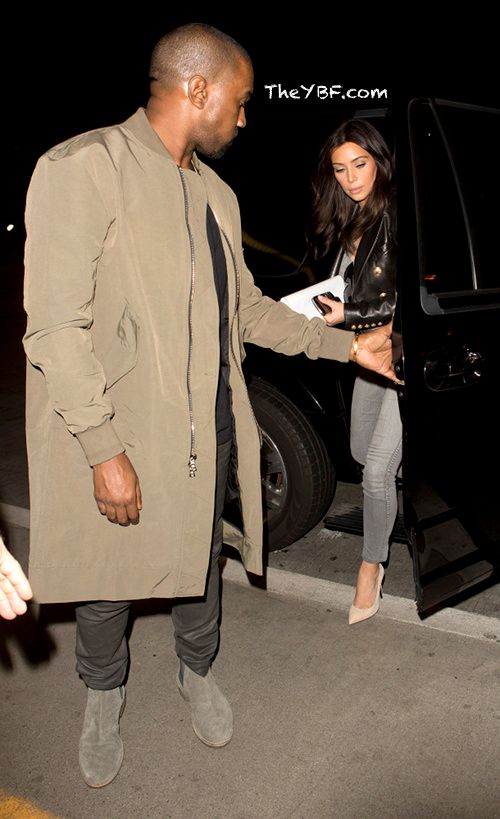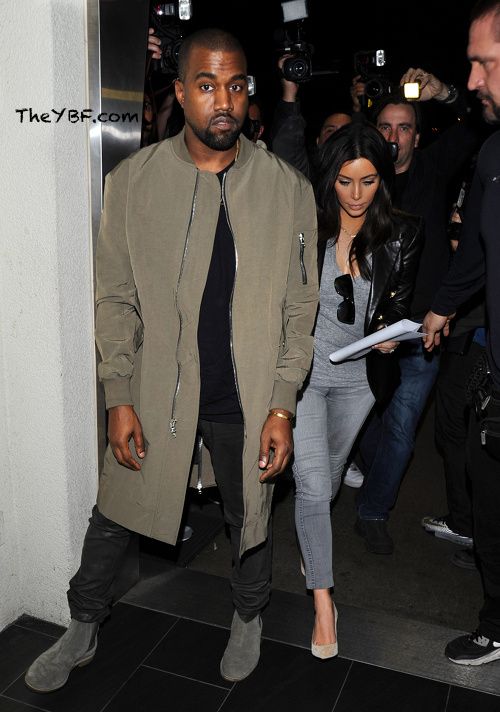 Meanwhile, celebs continue to chime in about the cover. And supermodel Naomi Campbell expressed her opinion--with that polite shade we love--on an Australian TV program called "The Morning Show".
When asked how she felt about it all, given that she's covered VOGUE numerous times in her almost 30-year career, she said:
"I do not want to comment." Ha!
But she did continue saying, "I'm a fashion model and I've been working for 28 years. When you get a VOGUE cover, it's a build in your career. It's a stepping stone to achieve that. I'm a fashion model, so, what more can I say."
When asked, "So you think Kim and Kanye haven't earned the right to be on the cover?" Naomi offered up an answer like only she can:
"Those are your words, I'm being politically correct. That's Anna's choice to put them on the cover of her magazine, who's to question it."
Bloop. Check the video below:
OH LAWD! LAPD INVESTIGATING Columbus Short's ALLEGED Involvement In SCANDALOUS Bar Fight
Posted: 25 Mar 2014 06:59 AM PDT
LAPD is investigating whether Columbus Short put his "Gladiator" skills to work on the face of a bar patron who ended up unconscious AND with a broken nose. Deets on the bar fight inside....
"Scandal" star Columbus Short may really have some gladiator skills when it comes to "laying hands." Eyewitnesses at Gabe's Bar and Grill in L.A. told TMZ that Columbus went all-HUCK on a dude who insulted him at the bar. The two started arguing during a couple's engagement party after the bar guy said something to him like, "You might be richer than me but I get my girls to buy me everything I want including your wife."
Fighting words, obviously.
At that point, an eyewitness said Columbus came up from behind (real Quinn-like right?) and sucker punched the guy leaving him with a broken nose was and unconscious for several minutes...B-613 style. Cops are now investigating a criminal battery.
We don't expect this to make it to trial however....because we know how folks can keep things like this off the books....

Here's video of the alleged victim. EYEWITNESSES claim he additionally had a broken nose. We also reached out to Columbus' reps for comment.
DAMN!
Photos via Getty
STANNING FOR HER MAN: Rihanna Pops Up At Drake's Tour Stop In London
Posted: 24 Mar 2014 07:10 PM PDT
Rihanna rolled into London today and her first stop was her boo Drake's concert. Check the pics inside...
After spending over a week earlier this month traveling around Europe with Drizzy on his "Would You Like A Tour?" tour, Rih is right back with Drizzy in London.
The singer, who was just named the 2014 CFDA Fashion Icon, was spotted with besties Melissa and Jennifer in the sound booth at the O2 Arena drinking and rocking out as Drake performed: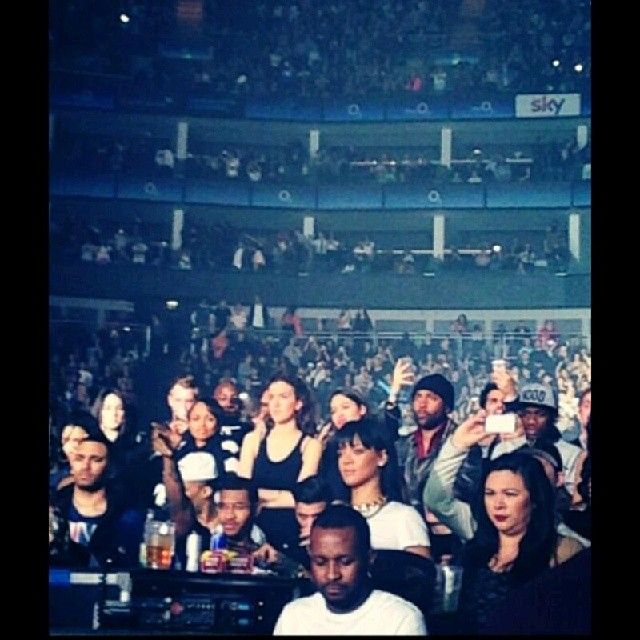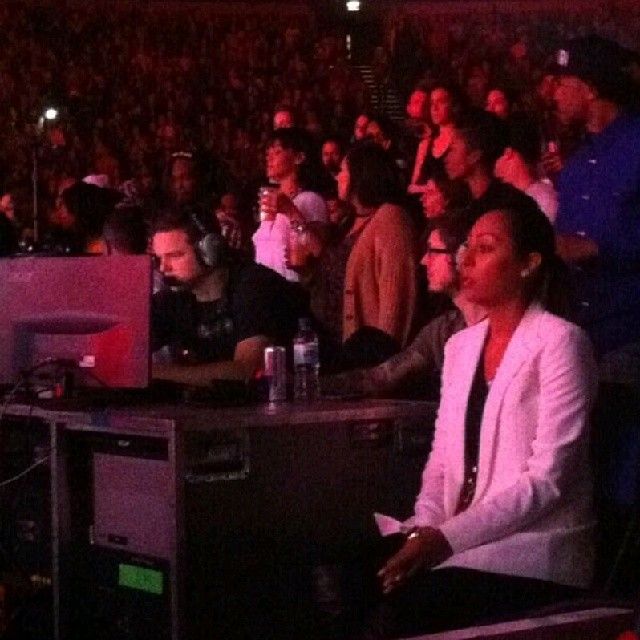 Hot. The twosome haven't addressed their new status publicly, but seeing that they've been pretty much inseparable for weeks now--sneaking in and out of restaurants and hotels together--it's safe to say they're making a serious go of a relationship. And we're not mad at it.
We shall see...
The Randomness:
1. VH1's "Hit The Floor" promo for season 2 is out. VIDEO
Photos: Rihanna-Diva's Twitter
BACK IN TIME: Jay Z & The Late B.I.G. Cover New York Magazine's Yesteryear Issue
Posted: 24 Mar 2014 05:00 PM PDT
In honor of New York Magazine's annual yesteryear issue, Jay Z and the late Notorious B.I.G. nab two of the eight covers. Check out the throwback pics inside…
In celebration for 100 years of pop music in New York, Jay Z and the late Biggie graced two of the eight covers (including Billie Holiday, Bob Dylan, Barbra Streisand, Frank Sinatra, Madonna, and Lou Reed) for New York Magazine's annual yesteryear issue.
Hov's cover (above) shows a baby-faced rapper from a 1997 cover.
In the Encyclopedia of New York Pop Music, hip-hop icon Rick Rubin described working with Jay Z on "99 Problems":
Jay-Z asked me to work on a song with him. He was retiring, and he was making what he thought was his last album. He wanted one song from each of his favorite producers and asked if I would do it. That was my first hip-hop song since the early days, and that was "99 Problems." It was really fun. He was incredibly inspiring as a lyricist. We worked on a lot of ideas, and then he honed in on the track that felt most exciting to him. Actually, Chris Rock had the idea for the chorus. It's based on an Ice-T song called "99 Problems," and he said, "Ice-T has this song, and maybe there's a way to flip it around and do a new version of that." And I told Jay-Z the idea and he liked it. The Ice-T song is about "got 99 problems and a bitch ain't one," and then it's a list of him talking about his girls and what a great pimp he is. And our idea was to use that same hook concept, and instead of it being about the girls that are not his problem, instead of being a bragging song, it's more about the problems. Like this is about the other side of that story.

And the late Brooklyn rapper Notorious B.I.G. was also featured:
There never was a New York hip-hop season quite like the autumn of 1994, when 22-year-old Bed-Stuy native Christopher Wallace, a.k.a. the Notorious B.I.G., released his debut album. Biggie, who signed with Sean "Puff Daddy" Combs and later joined Bad Boy Records, had been popping up in guest spots.

The songs on Ready to Die gave gangsta rap a New York spin. Like Mickey Spillane, he was a virtuoso teller of hard-boiled street tales, and he was a thugged-out Woody Allen, a classic New York neurotic, stressed by the squad car on the corner, by other hustlers eyeing his loot, by the "everyday struggle." Ready to Die wasn't just a personal triumph, it was a municipal one: a New York reclamation of rap, whose center of gravity had shifted to Los Angeles. Of course, the East Coast–West Coast feud was far more serious than anyone believed; soon, it would claim the lives of both Tupac Shakur and Biggie. But for a glorious long moment, New York hip-hop felt reinvigorated, even utopian.

Check out the complete list of artist profiles in the Encyclopedia of New York Pop Music including, Public Enemy, Wu-Tang Clan, Mary J. Blige, 50 Cent and more here. Also, read Jody Rosen's The Town That Put the Pop in Music: A Look Back at 100 Years of New York Sounds here.
Photos: NY Magazine's Twitter
Lauryn Hill's Publicist Says Lauryn Is NOT In Trouble With Uncle Sam AGAIN + Anita Baker ADDRESSES Arrest Warrant & Avoids Going To Jail
Posted: 24 Mar 2014 03:22 PM PDT
So it seems Lauryn Hill is NOT in trouble with Uncle Sam again and Anita Baker dodged going to jail after an arrest warrant was issued. Find out what Lauryn Hill's publicist had to say about her tax situation and why Anita Baker wasn't arrested inside…
There were reports that former Fugees singer Lauryn Hill was in trouble with the IRS once again, but apparently those reports are false…according to Lauryn's publicist.
Lauryn was sentenced to jail last year and served 3-months for owing Uncle Sam nearly $970,000. She claimed she had "left society" and was no longer in the music business...but intended to fix her tax situation.
RadarOnline reported that they had new tax documents that Ms. Hill still owed a total of $867,000 for tax evasions from 2005 to 2011 and that the IRS had filed another lien against the singer.

NOW…Lauryn's publicist is speaking out against those reports and confirms the tax documents are old and that Lauryn does NOT owe any more taxes.
Kathryn Frazier of Biz3 Publicity (Lauryn's publicist) confirms:
Contrary to media gossip (fact checking seems to be a dying art-form) there are no changes in Ms. Hill's legal status. Ms. Hill has finished her sentence, has been fulfilling her agreement with the IRS, and is taking care of all outstanding matters in regards to this situation. She is not in jeopardy of any further charges. The press is reporting on paperwork that had recently been filed, and has now become public record.
Good news!
And in other legal woes…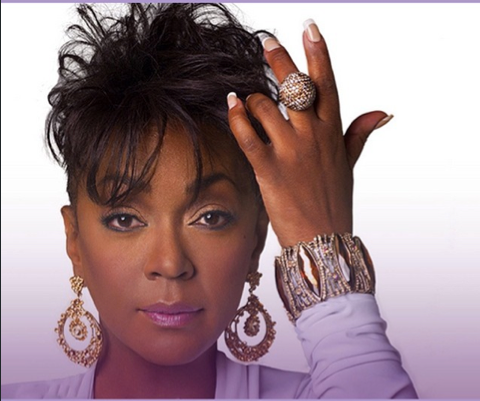 Legendary singer Anita Baker was reportedly issued an arrest warrant after she allegedly skipped out on a court hearing over a lawsuit filed against her by a house painter.
TMZ reported a Detroit judge withdrew a warrant, which would have sent Anita to jail, after her lawyer pleaded on her behalf that she was never served legal documents regarding the lawsuit.
Apparently, a house painter filed a lawsuit against the singer after he claimed she did not pay him for the work he had done. Anita allegedly didn't pay him because his work didn't meet her expectations, so he sued.
The Grammy Award winning singer missed the first court hearing for the lawsuit, which resulted in a default judgment in the painter's favor. A second hearing was scheduled in which Anita was a no-show and an arrest warrant was issued.
The "Caught Up In The Rapture" singer took to her Twitter to address the lawsuit drama tweeting:
As of 11am this morning. The Fraudulently Obtained Warrant??? ... is Gone. Dismissed. sO Many. Held me sO Close..."SO Grateful :)" ab

Grateful to Judiciary & Law Enforcement, who waited for "The Facts" before proceeding.
Anita's lawyer will fight for her in court next month in an attempt to reverse the default judgment based on the fact that Anita never received the lawsuit.
Good for her.
The Randomness:
1.Judge Joe Brown was ARRESTED for contempt of court! STORY
Photos: Chad Batka/The New York Times/Anita Baker's Twitter


Keyshia Cole POSTS Bikini Pics From Miami, SWEARS OFF Interviews + Future CONFIRMS "It's A Boy" On WENDY
Posted: 24 Mar 2014 03:20 PM PDT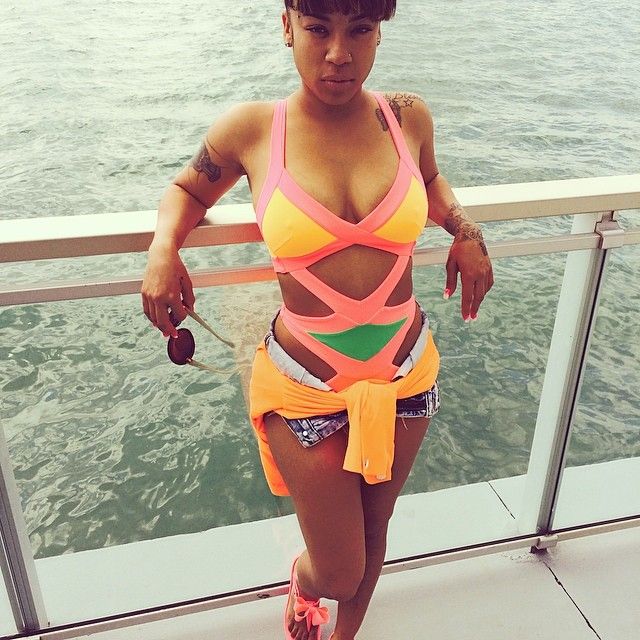 Keyshia Cole shared new photos from Miami over the weekend and decided to cut back on interviews after a nasty encounter with V103 Atlanta's "The Ryan Cameron Morning Show." Find out what happened inside and see Future on "WENDY."
Over the weekend, Keyshia Cole headed to down to Miami to relax and promoted her new singles "Rick James" and "Next Time." She tweeted, "My trip to Miami is just about over. Just turnt up on the jet skies."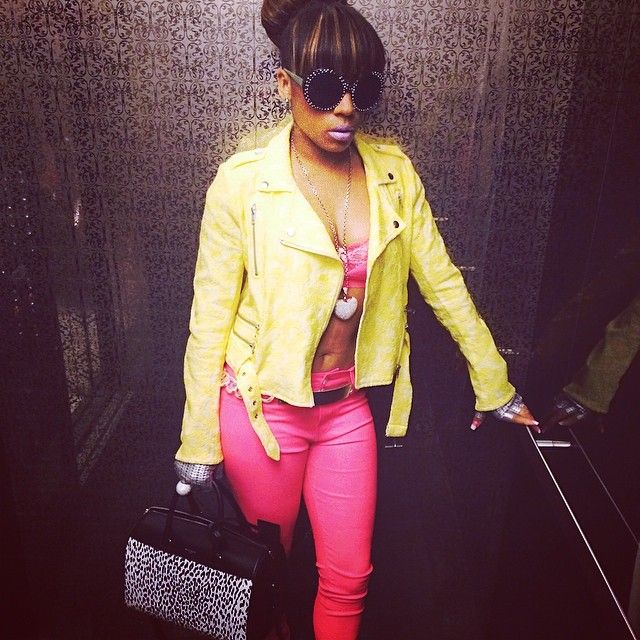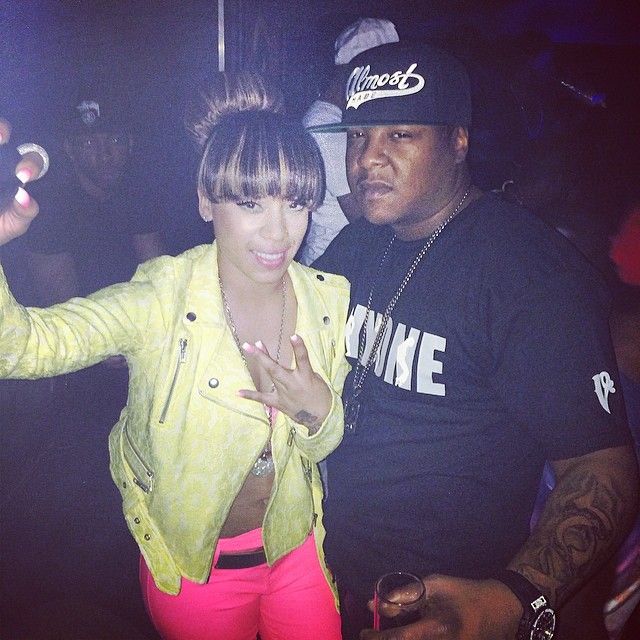 While out at the club one night, she bumped into Jadakiss. "I'll tell u what! Kno man/woman has ever been perfect! But I thank GOD, I've made it this far! All u Suckas that wanna act REAL. Fuk U! Respect to my REAL NICCAS holding it down! Jada! Will always have ️ and respect for u! God Bless #believetht"
Although Keyshia had a great weekend, she ran into a few issues this morning. During a call-in to V103 Atlanta's "The Ryan Cameron Morning Show," Keyshia was offended by the co-hosts after they began prying into her strained marriage with Daniel "Boobie" Gibson. As things started to get left, she said, "Ya'll really fu**ing with my shit right now...I got some other shit going on."
Keyshia really got upset when "Wanda" asked if she put her career before her marriage and if she was really "wifey" material. Keyshia said "Are you trying to insinuate that I was one-dimensional?" The interview DID NOT end well.
Keyshia got on Twitter and said,

She continued,
"Y'all can kiss my ass! With that phony shit. … Y'all should be ashamed of ya selves! Not cool. Never another interview from me!. I'm done wit interviews for a minute! That interview with V103 left a very bad taste. And to be honest, I don't deserve that kinda treatment."
Listen to the heated interview here.
On morning television...
Future stopped by "WENDY" this morning where he performed a medley of his hits and confirmed to Wendy that he and Ciara are expecting a baby boy! Check out the highlights, interview and performance (above):
On his wedding: "The wedding plans are going great. I'ma let [Ciara] handle the wedding. I'm doing my album. The album's coming out April 22, so she's coordinating [the wedding]. Very well. She's doing a great job at that. I'm just approving everything."
On settling down with Ciara: "For me, it just gave me balance. You're doing so much so you can just focus on your career, not chasing girls, chasing different women or whatever."
Photos via Keyshia Cole's Instagram
MUSIC VIDEOS: Kelis "Rumble" + Fefe Dobson "In Better Hands"
Posted: 24 Mar 2014 12:36 PM PDT
New videos from Kelis "Rumble" and Fefe Dobson "In Better Hands" have been released. Watch them inside...
Kelis has released "Rumble" as the second visual from her forthcoming studio album Food (Apr. 22). In the Christian Lamb-directed video, she perches atop an upholstered chair, in the middle of a lake, while surrounded by men straight out of "Duck Dynasty." As she contemplates taking her lover back, she always returns to the refrain, "I'm so glad you gave back my keys."
Watch "Rumble" here:
In other new videos...
Today is the global premiere of Fefe Dobson's brand new music video for the single "In Better Hands." The Aaron A directed music video showcases unconventional vignettes of love and an edgier side of Fefe Dobson. The song is the second official single from Fefe's forthcoming album Firebird.
BONUS:
Here's another track from the "FOOD" sessions, produced by BassHitter.
KIM, KANYE & NORTH: MORE Pics From 'VOGUE' Spread Released
Posted: 24 Mar 2014 12:00 PM PDT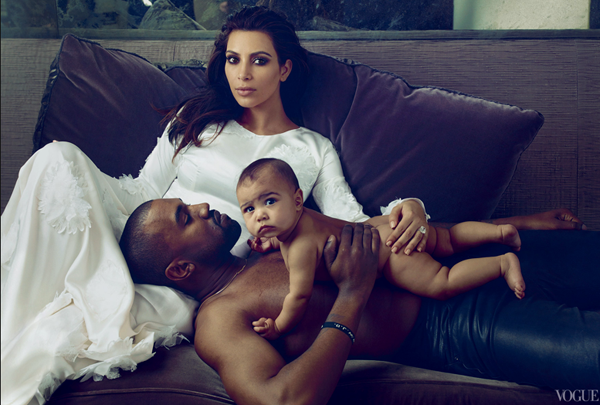 After shocking us all with the KimYe cover of VOGUE, new pics of the West family (including North) have been released. Check the cute family photos inside…
After the many dinner parties and rumors of Kanye begging Vogue's editor-in-chief Anna Wintour to put Kim on the cover of VOGUE, Kim Kardashian and Kanye West finally landed top billing in the April 2014 issue of VOGUE magazine's Shape issue.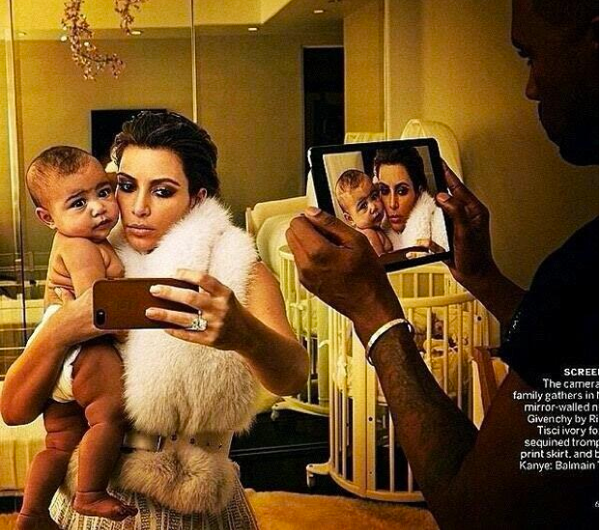 Their adorable 10-month-old baby North is also a part of the VOGUE fabness which was captured by Annie Leibovitz. Kim talked to VOGUE about dressing up North like her father saying "I put Kanye's big chains around her, and I put a little Louis bag and some Jordans, and I was like, 'What up, Daddy?'
After receiving negative backlash over KimYe's cover, Anna Wintour defended her choice in the Editor's Letter, saying it was entirely her idea.
She said:
Part of the pleasure of editing Vogue, one that lies in a long tradition of this magazine, is being able to feature those who define the culture at any given moment, who stir things up, whose presence in the world shapes the way it looks and influences the way we see it.

I think we can all agree on the fact that that role is currently being played by Kim and Kanye to a T. (Or perhaps that should be to a K?)

'As for the cover, my opinion is that it is both charming and touching, and it was, I should add, entirely our idea to do it; you may have read that Kanye begged me to put his fiancée on Vogue's cover.

He did nothing of the sort. The gossip might make better reading, but the simple fact of the matter is that it isn't true.

'There's barely a strand of the modern media that the Kardashian Wests haven't been able to master, and for good reason: Kanye is an amazing performer and cultural provocateur, while Kim, through her strength of character, has created a place for herself in the glare of the world's spotlight, and it takes real guts to do that.'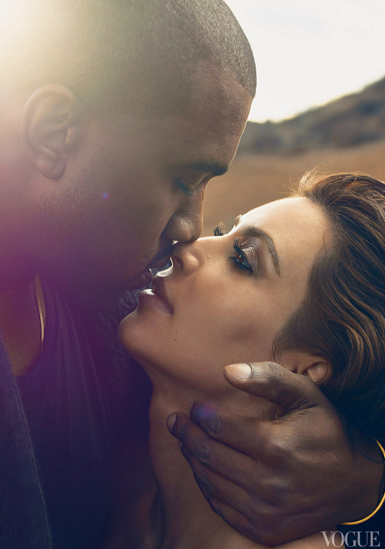 Well alright.
Photos via VOGUE/Annie Leibovitz
THE CARTERS ON THE MOVE: Beyonce, Jay Z & Blue Ivy Sightsee In Barcelona
Posted: 24 Mar 2014 11:13 AM PDT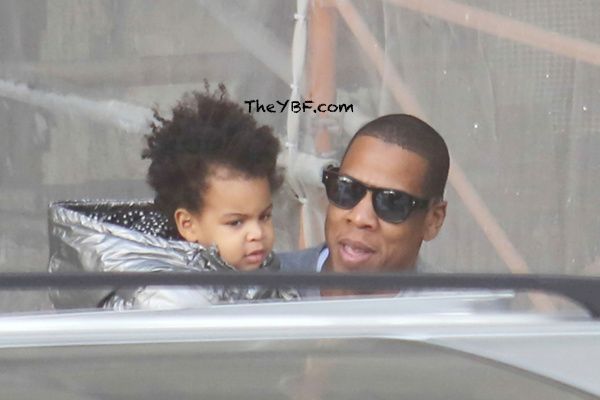 Jay Z, Beyonce & Blue Ivy were spotted in Barcelona where they walked around and toured a Roman Catholic Church. Check the pics of the family inside…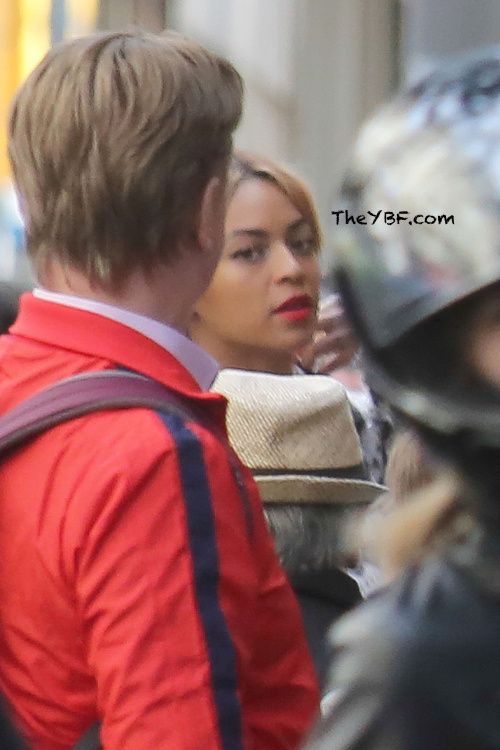 As the end of The Mrs. Carter World Tour approaches, Beyonce, Jay Z and Blue Ivy were spotted out and about in Barcelona, Spain. On Sunday, Jay held on tight to Blue as Bey, who recently made an impromptu stop at Anne Frank's House, snapped photos at the La Sagrada Familia before her show.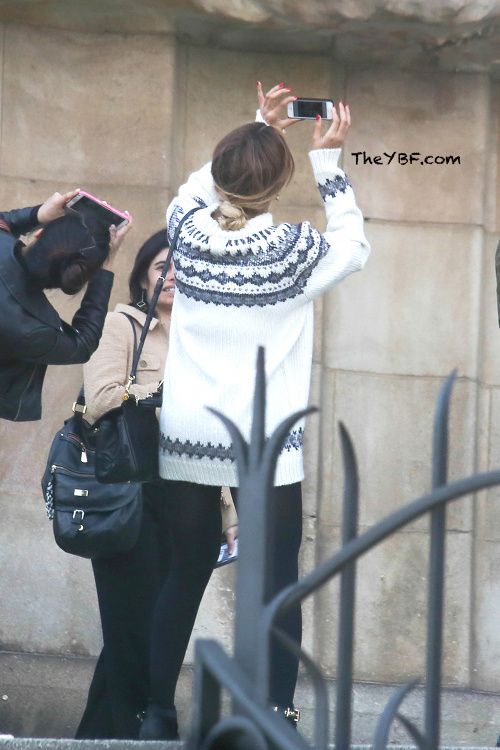 Art enthusiasts from all over gather in Spain to see beautiful buildings designed by architect Antoni Gaudi.
The Carters have been trekking all over the world as Bey slays the stage overseas. The happy family-of-three were also spotted lunching along the water at the Harbour Club in the Nederlands and before lunch, Bey & Jay enjoyed a nice bike ride.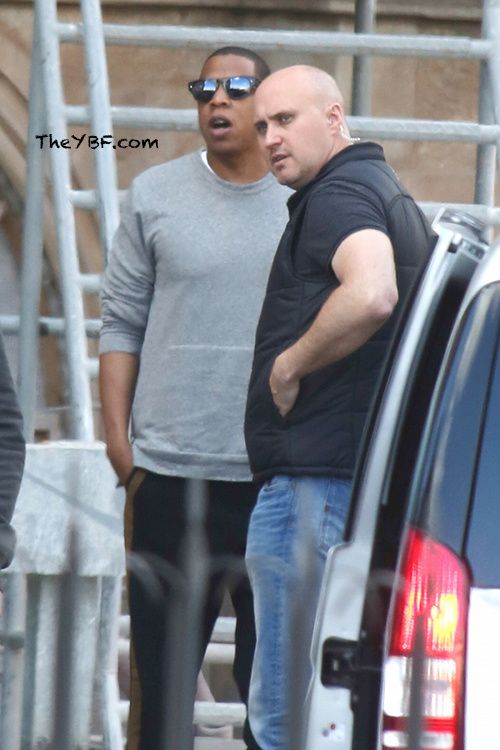 Mr. Carter recently went in on Drake on Jay Electronica's "We Made It" remix after Drake expressed to the Rolling Stone about his annoyance of Jay always rapping about art. He rapped:
"Sorry Mr. Drizzy for so much art talk. Silly me, rappin' 'bout sh-- that I really bought / While these rappers rap about guns that they ain't shot / And a bunch of other silly sh-- that they ain't got."
Ha! As we can see, Jay really is about that art life.

Bey will perform tonight at the Palau Sant Jordi in Barcelona before heading to Lisbon for her final two shows on March 26th & March 27th. When it's all said and done, Queen Bey will have performed a total of 132 shows on The Mrs. Carter World Tour. Werk Bey!
BONUS:
Check out this behind-the-scenes look at Bey's custom costumes for her tour:
Photos: SolarPix/PacificCoastNews

NEW MUSIC: Chris Brown's "Loyal" Featuring Lil' Wayne & Tyga (VIDEO) + Jay Electronica & Jay Z "We Made It" (REMIX)
Posted: 24 Mar 2014 09:51 AM PDT
Chris Brown debuted the "Loyal" video featuring Lil' Wayne & Tyga. Watch the clip inside and listen to Jay Electronica & Jay Z's "We Made It" (Remix).
While Chris Brown sits in jail, the show (aka the music) must go on. He recently dropped the video for his latest single "Loyal" featuring Lil Wayne and Tyga.
Chris directed the clip, which he shot on the Universal CityWalk, and it features cameos from Trey Songz, Usher and Ty Dolla $ign. The dance moves were choreographed by Flii Stylz. SIDEBAR: We're still waiting on a release date for his album "X."
Watch "Loyal" here:
In other new music....
Jay Electronica (aka Erykah Badu's baby daddy) teamed up with Jay Z for a remix to Soulja Boy's "We Made It." Jay used his verse to respond to Drake's ROLLING STONE article saying,
"Sorry Ms. Drizzy for so much art talk. Silly me, rappin' 'bout sh-- that I really bought / While these rappers rap about guns that they ain't shot / And a bunch of other silly sh-- that they ain't got."
Listen to "We Made It (REMIX)" here"
SPOTTED: Nicole Murphy & Michael Strahan Hanging Out In St. Barts + Cory & Tia Mowry Hardrict Have Dinner In Hollywood
Posted: 24 Mar 2014 09:30 AM PDT
Nicole Murphy and her boo Michael Strahan were spotted on the beach in St. Barts while Tia Mowry Hardrict was spotted at dinner with her husband Cory Hardrict in West Hollywood. Check the pics inside…
Retired NFL star and "Live With Kelly & Michael" host Michael Strahan and his fiancée "Hollywood Exes" star Nicole Murphy spent their weekend in St. Barts.
Nicole, who was spotted flaunting her amazing body in Maui last month, is currently taping the third season of VH1's reality series "Hollywood Exes."

In other couple spottings...
Actress Tia Mowry Hardrict was spotted dining out with her husband Cory Hardrict at Madeo in West Hollywood.
Leaving little Cree behind, the couple smiled as they were photographed leaving. Tia was in all black with a rather interesting pair of pink booties while her hubby rocked a stripped button-up and slacks.
Looks like they enjoyed their alone time.
Photos: FameFlyNet