---
Mack Wilds Rocks "Own It" On "GMA" + Keyshia Cole Debuts New Single "Rick James"
Posted: 19 Mar 2014 10:11 AM PDT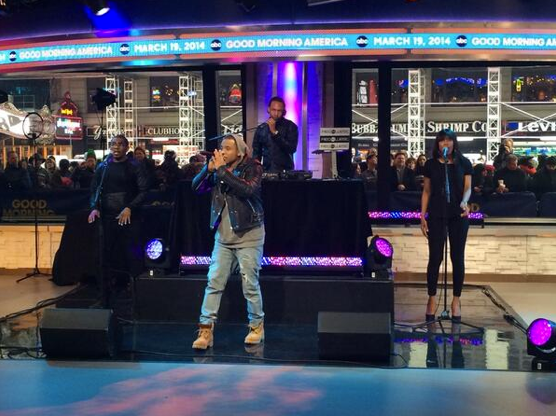 Cutie Mack Wilds performed on "Good Morning America" for the first time and Keyshia Cole released the full track to her single with Juciy J, "Rick James." Check out Mack's performance and take a listen to Keyshia's new music inside…
Singer/actor Tristan "Mack" Wilds took the stage this morning on ABC's "Good Morning America" for his national morning television debut.
The Grammy nominated singer rocked the stage as he serenaded the ladies with his hit single "Own It" in Times Square. "Own It" is the lead single from his debut album, New York: A Love Story.
Check out Mack's performance below:
The former "90210" & "The Wire" cutie will hit the road tomorrow to kick off his 9-city tour, beginning in Las Vegas at Haze Nightclub and ending in June at the 100 Black Men Youth Party in Hollywood, Florida.
Below are the dates for Mack's upcoming tour:
3/20 — Las Vegas, NV, Haze Nightclub
3/27 — Willington, DE, World Café Live at The Queen
3/29 — Baltimore, MD, Oxygen
3/30 — Washington, D.C., Howard Theater
4/1— Boston, MA, Middle East
4/2 — New York, NY, Highline Ballroom
4/26 — Alfred, NY, Alfred University
5/31 — Richmond, VA, WCDX Stone Soul Picnic
6/12 — Hollywood, FL, 100 Black Men Youth Party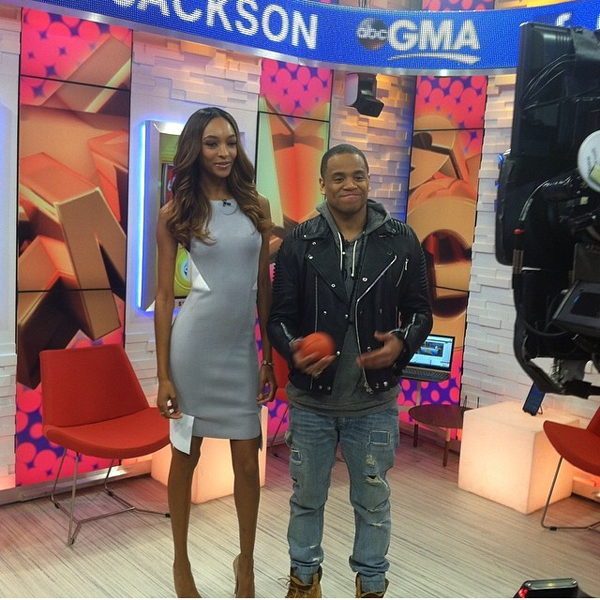 British supermodel Jourdan Dunn also joined Mack on "GMA" this morning. The "Yonce" model talked about her third season of her online cooking show, "Well Done With Jourdan Dunn," featured on Jay Z's Life+Times website.

And in other music news...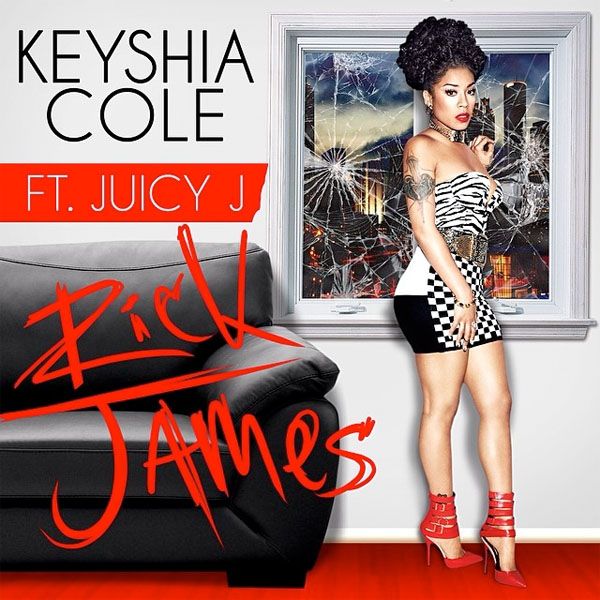 Keyshia Cole released her new track "Rick James" featuring Juicy J from her sixth studio album.
Over the weekend, Keyshia Cole dropped two cover art photos for "Rick James," showing off her shoes from her Steve Madden collection. And a few days ago, she released a preview of another single titled, "Boss A$$ B*tch" on her Instagram.
When asked on Twitter if the theme of her new album would be male bashing she said, "Sadly sorta." Well....her husband did embarrass her with a stripper so it makes sense...
Check out Keyshia's track "Rick James" below in full:
Are we feelin' it?
Photos/Video: ABC/@GMA/@simonesmalls/Keyshia Cole's IG

Taraji P. Henson, Gabourey Sidibe, Lee Daniels Have Some Fun At "EMPIRE" Table Read, Celebrate Terrence Howard's 45th Birthday!
Posted: 19 Mar 2014 09:41 AM PDT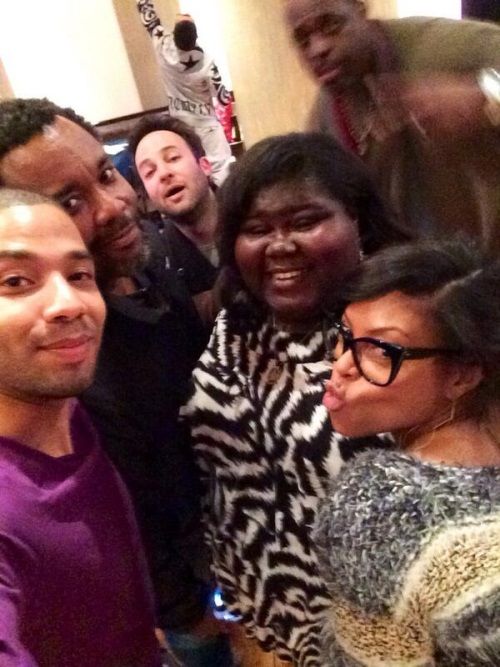 Lee Daniels met with his A-list team of actors from the new FOX series "Empire" yesterday. See pics of Oscar nominees Terrence Howard, Gabourey Sidibe, and fab chick Taraji P. Henson inside....
Oscar-nominated director Lee Daniels was spotted on the Chicago-based set of his latest tv project "Empire" recently. A few weeks ago, we told you about the new FOX series which is billed as a music-heavy family drama set in the world of hip hop. Lee has definitely lined up some A-list talent including Taraji P. Henson, his Precious star Gabourey Sidibe, Jussie Smollett, Malik Yoba and Macy Gray (not pictured).
And the cast has already kicked things off with a big table read of the script.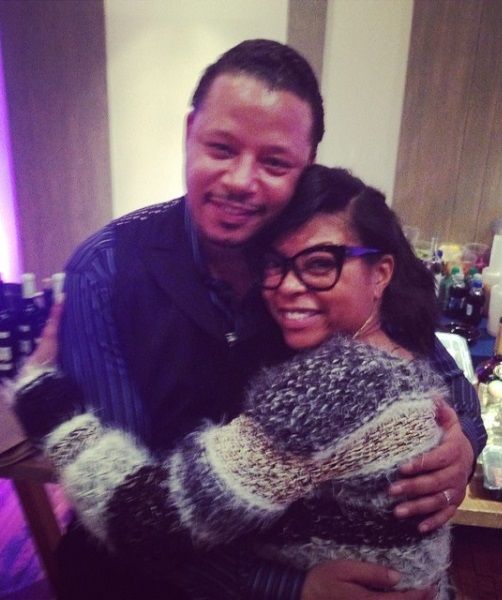 During their table read, the cast also celebrated the 45th birthday of her former Hustle & Flow co-star Terrence Howard who plays the series' lead character Lucious Lyon. Taraji, who will play Cookie Lyon, said, "Happy birthday to my boo!!!! #TerrenceHoward #Empire is going to be #EPIC!!!!!!!! So glad to be working with this talented man again!!!!!"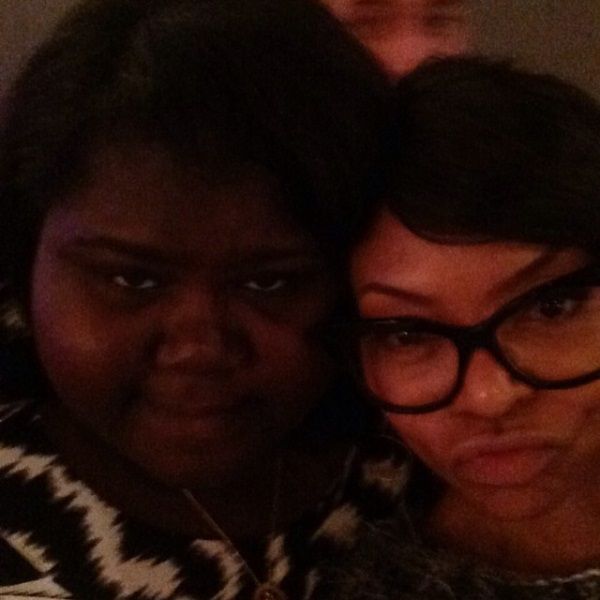 Taraji and Gabby are already hitting it off and becoming friends. She tweeted, "Me and my bish!!!! @gabby2shabby #Empire It's going DOWN!!!!!! I adore her!!!!!! #talentedAShelll"
"EMPIRE" will also feature original music with Timbaland on board as a songwriter/music producer. It premieres on FOX later this year.
Photos via Taraji P. Henson's Instagram/Gabby Sidibe's Twitter
Zoe Kravitz, Lisa Bonet & Jason Momoa, Mekhi Phifer, A$AP Rocky & More Hit The "Divergent" Hollywood Premiere
Posted: 19 Mar 2014 08:59 AM PDT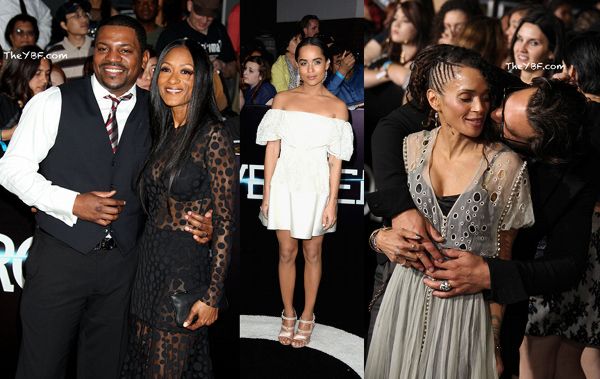 The premiere for the soon-to-be box office hit Divergent went down last night in Hollywood. Check out stars Zoe Kravitz and Mekhi Phifer and more on their big night inside...
Zoe Kravitz and Mekhi Phifer are starring in what's expected to be the next HUGE box office trilogy Divergent. Much like its fellow novel-to-big screen flick Hunger Games, there's a huge following. So tons of fans turned out for the big premiere last night at the Regency Bruin Theatre.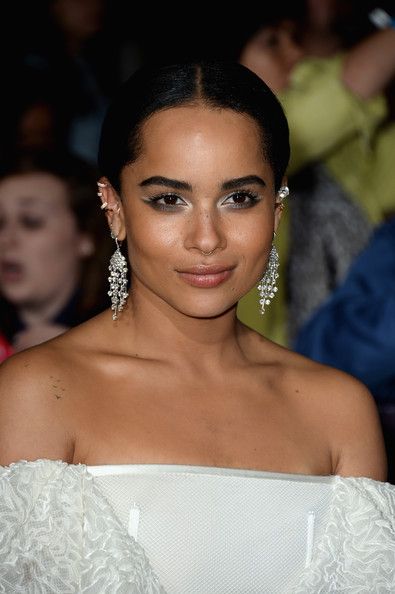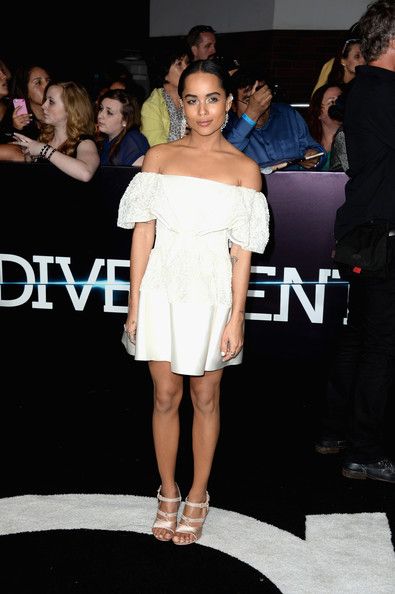 ASOS cover girl Zoe Kravitz kept it girly and cute in a white flirty dress and blush satin sandals.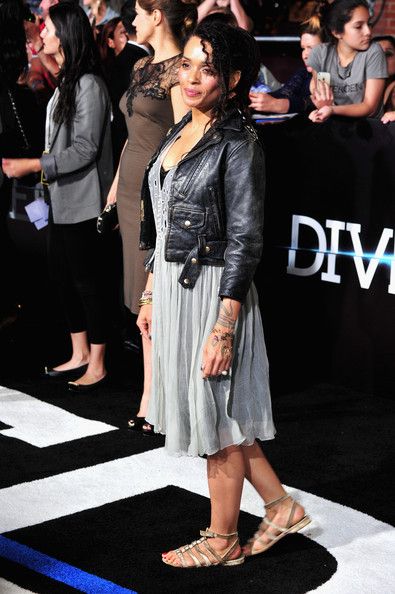 Zoe's mom Lisa Bonet showed up looking like her usual hippie self...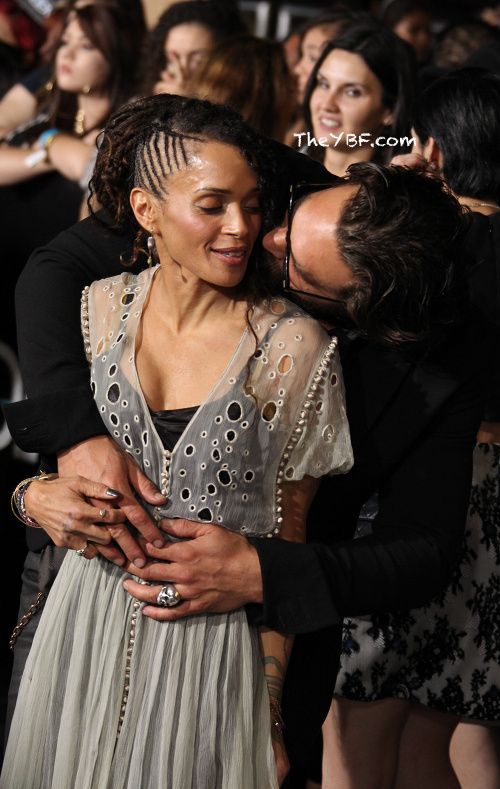 And she brought her husband/Road To Paloma co-star Jason Momoa along as well.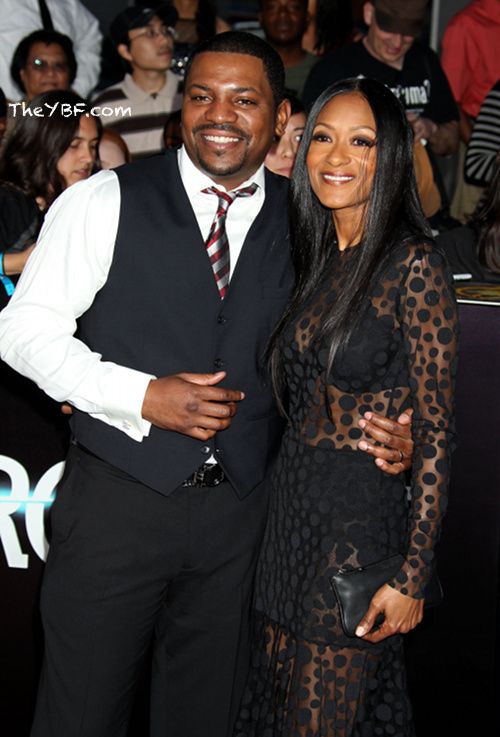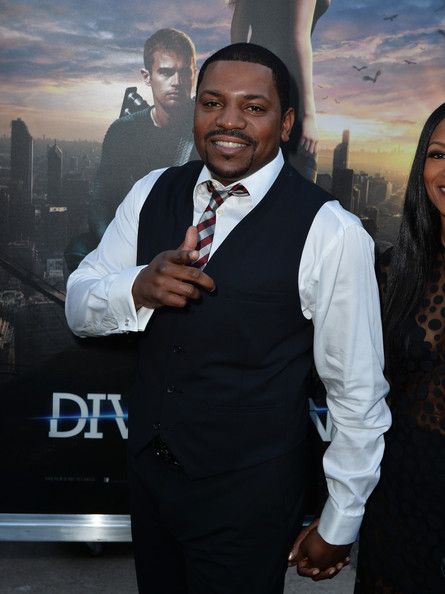 Divergent star Mekhi Phifer hit the carpet with his wife Reshelet Barnes. But she wasn't the only woman in Mekhi's life there to celebrate his big night: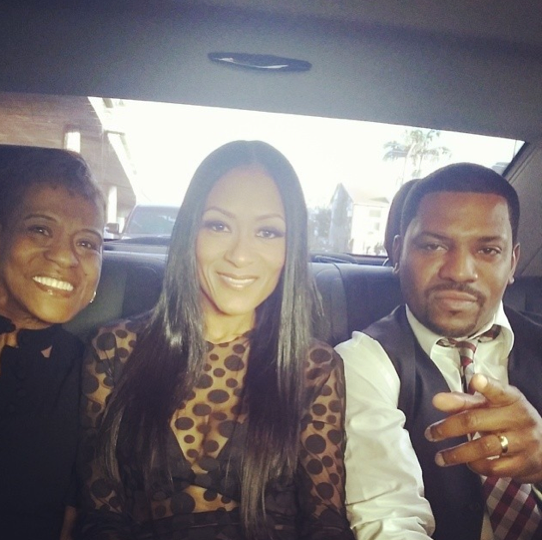 He brought moms along too. Cute!
A$AP Rocky, who is featured on the movie's soundtrack with his song "In Distress", hit the carpet sans his model girlfriend Chanel Iman.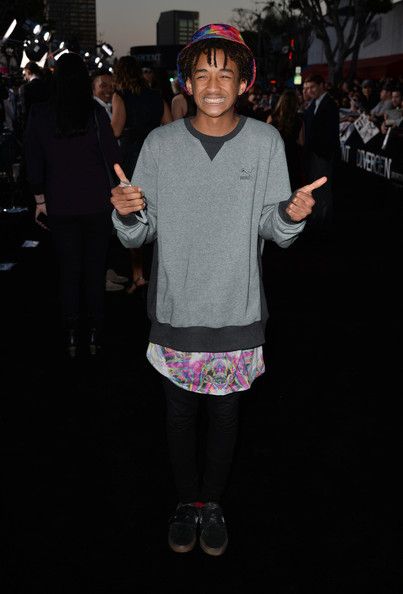 And Jaden Smith, who's no stranger to sci-fi flicks himself, hit the carpet to support the movie. This whole outfit...
Divergent opens this Friday, March 21st.
Photos: Getty/Splash
Eudoxiee Hints She & Ludacris Have Taken The Next Step....And Checks A Commenter About The "Baby On Break" Drama
Posted: 19 Mar 2014 07:57 AM PDT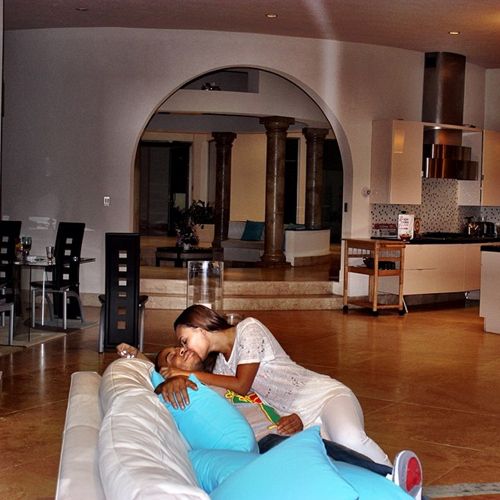 Love is (still) in the air for Ludacris and girlfriend Eudoxiee! The twosome appear to have moved to Miami after finishing the decor on a new home. And is Eudoxiee also hinting that an engagement went down?
Deets inside...
After posting a cutesy pic of her and her man Ludacris last night, Eudoxiee hinted that the twosome are beginning a "new chapter" of their lives saying:

She confirmed via social media she now lives in Miami. So...either they've purchased/rented a home together, got engaged, or both.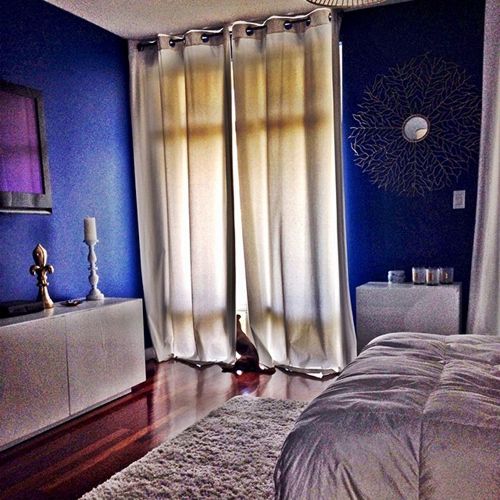 Eudoxiee has been talking about "living the Miami life" for the last week or so. And she posted a pic of her newly decorated home (above) saying:

And while Luda's cousin and Eudoxiee's friend Monica Brown had nothing but love for the two:

There's always that one person who comes with the shade about his cheating ways, or should we say "his having a baby on their fake break":

Bloop. But Eudoxiee didn't hold her tongue with the response:

Oh...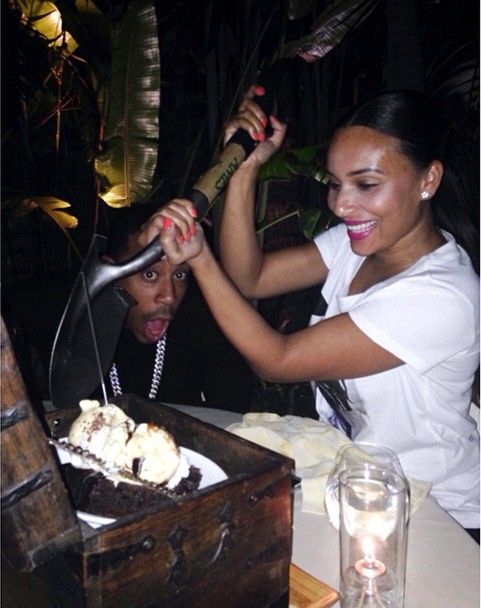 The twosome have been eating good and living it up in the M-I-A for a while now, so it looks like they're moving on VERY much together, despite the side baby. And despite the financial woes Luda claims he has when it comes to paying child support for his new baby.
The Randomness:
1. Lamar Odom has supposeldy told In Touch Weekly that he now wants to make it work with ex-wife Khloe Kardashian. STORY

Photos: Eudoxiee's IG
STAYING TOGETHER?! Mase WITHDRAWS Divorce Petition, Working It Out With Wife & Co-Author Twyla Betha
Posted: 19 Mar 2014 07:14 AM PDT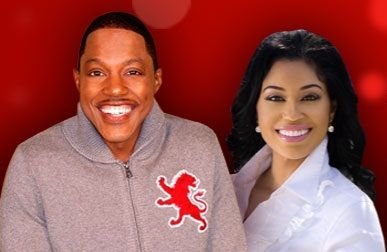 Rapper/Pastor Mase is giving his marriage to Twyla Betha a second chance. In the name of Jesus. More inside....
Parishioners and fans were shocked to learn that Mason Betha aka Mase filed to divorce his wife of 12 years, Twyla Betha in January. In the original divorce filing, he requested full custody of their kids AND wanted spousal support! But it seems the two are giving their marriage a second chance.
TMZ reports that Mase withdrew his divorce petition the day before Valentine's Day and now wants to work it out.
While folks get divorced all the time, Mase's situation was shocking because he and Twyla co-authored a book series called "What Do You Do After I Do?" (Mason and Twyla Betha share keys to build a marriage that will last a lifetime) and co-pastored the El Elyon International Church for several years.
It looks like the two pastors are in a better space now...and we're happy that they're working on their marriage.
Still can't believe Mase is somebody's Pastor....
Photo via Lightsource.com
Posted: 19 Mar 2014 06:48 AM PDT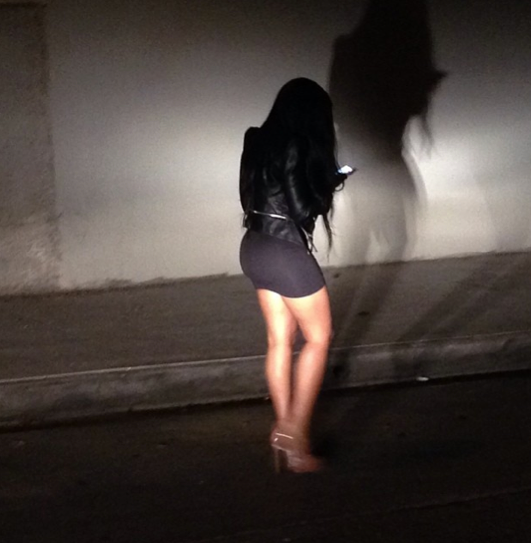 This YBF chick is all about her fitness...and building her own empire. Guess who flossed her cakes last night in L.A. inside!
Who's whipped her ASSets and legs into killer shape recently?
It's.....
Hottie Angela Simmons!
On the streets of L.A. last night, she did an impromptu photoshoot...probably after seeing just how great she looked in the fitted mini dress and heels.
Angela's been going pretty hard lately with her fitness journey she constantly shares with fans, and she's pushing her new IAM fashion website to put her eye for style to great use.
Hot!
Photos: Angela's IG
DINNER & THE SHOW: Eva Marcille & Kevin McCall Hit "BBW LA" Star Sundy Carter's Screening
Posted: 18 Mar 2014 06:59 PM PDT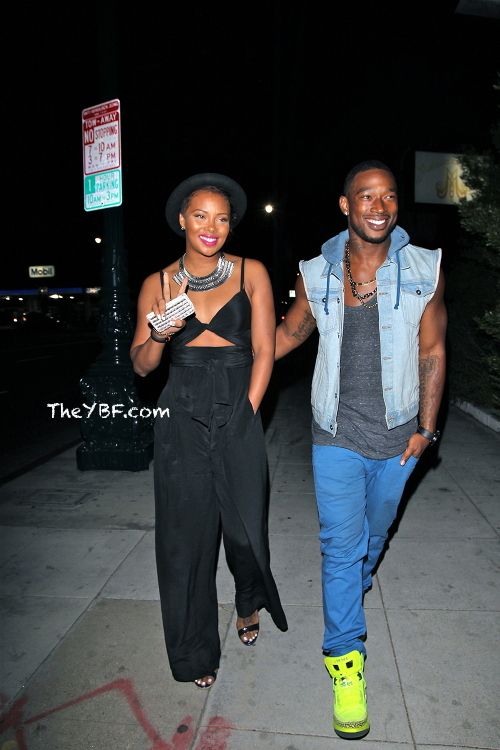 New parents Eva Marcille and Kevin McCall took a break from baby duty to have a dinner & show date...with "Basketball Wives: LA" star Sundy Carter. Check the pics inside...
We're unclear about the friendship between Eva and Sundy, but even though Sundy has a history of having babies by VERY taken men, it seems Eva is unfazed by it. Because she and her man were in full throttle Monday night supporting Sundy at Philippe Chow's in L.A. at her party for the new episode of the show.
"Top Model" chick Eva, in a hot jumpsuit, and rapper/singer Kevin looked cute arriving to the restaurant Monday night, sans baby Marley.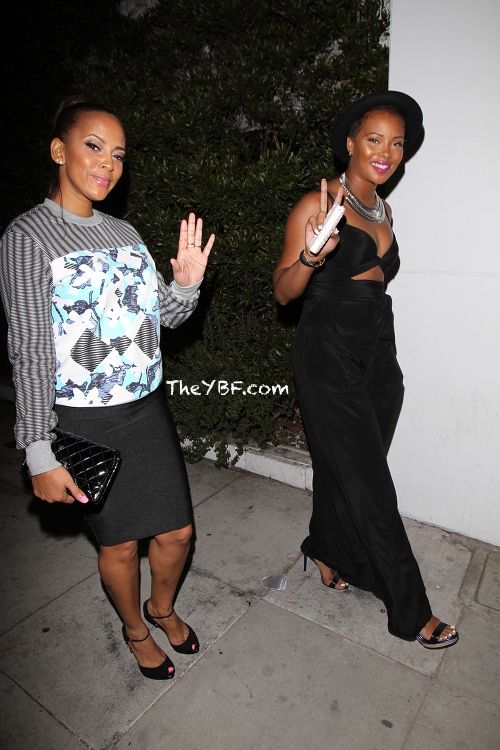 Sundy rolled up to her event in a sexy black pencil skirt and mixed print sweatshirt by Peter Pilotto for Target for a cute look.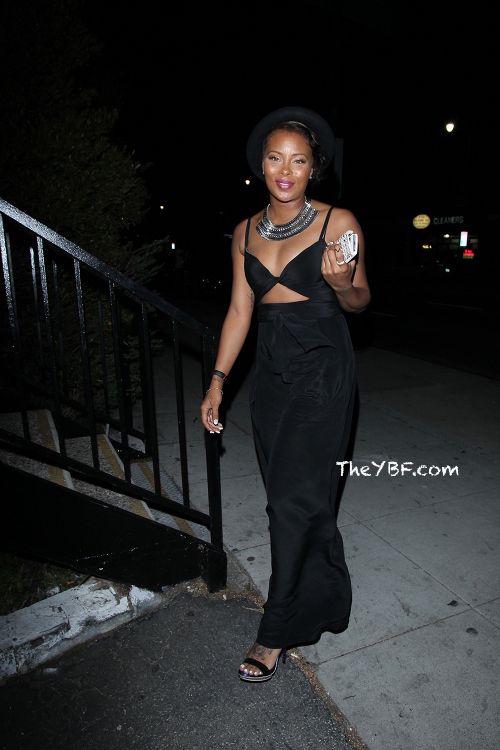 Eva's looking absolutely fab post baby. Fun times!
BONUS: Sundy and Eva also hit up another event together a few days ago:
Photos: PCN/Sundy's IG
NEW TOYS? Beach Pics of Big Sean & Fiancee Naya Rivera Spark BOOB JOB Rumors
Posted: 18 Mar 2014 06:29 PM PDT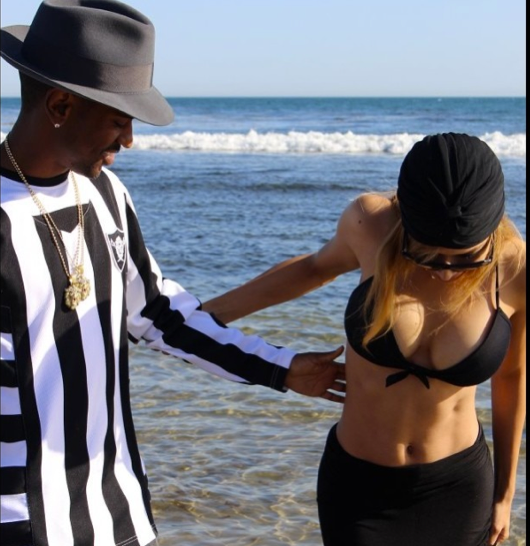 It's no secret rapper Big Sean is a fan of T & A. So has his "Glee" star of a fiancee given him even more toys to play with? Check the pics that are sparking boob job rumors inside...
Oh, hi Naya's boobs. The actress and "Sorry Not Sorry" singer posted the above pic today after a day on the beach with her husband-to-be Big Sean. And those floatation devices are looking extra new.
But are they?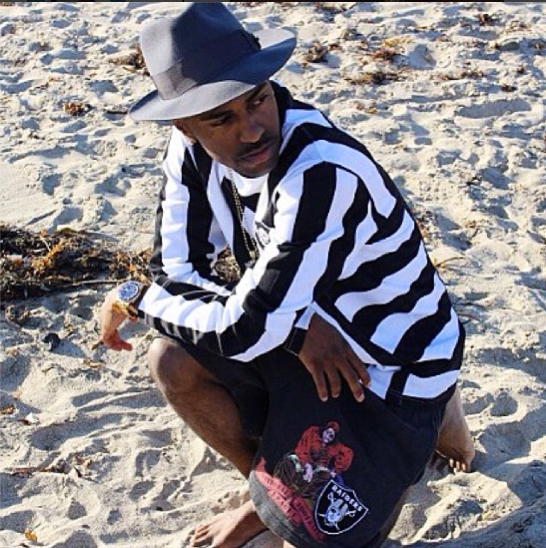 Sean was fully dressed and posed it up with Naya's younger brother Mychal. And the "Clique" rapper seemed to love what he saw.
Lots of commenters on Naya's pic called her out for clearly getting an enhancement done.
But Naya flosses her chi chis often, in pics as recent as the last couple months: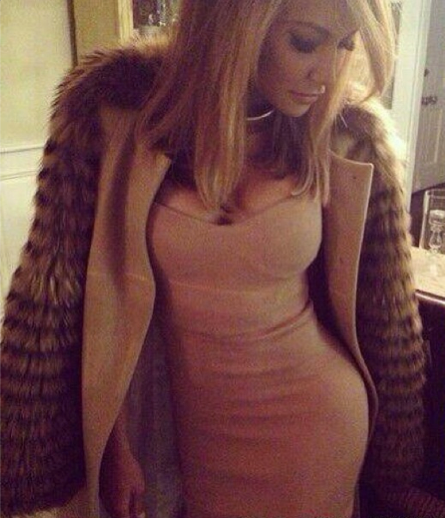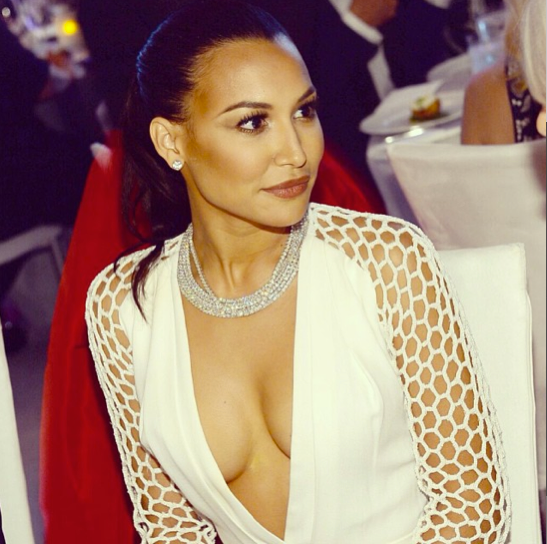 But when she covers them up, like several months ago, they seem to be a different size: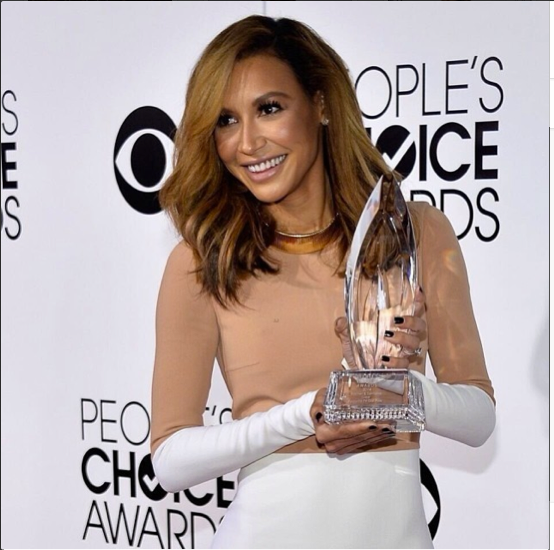 Not sure when she would have had time to have the procedure and recover...seeing that's she's been out about about very often these last couple months. But who knows...
Photos: Naya's IG, Big Sean's IG
"BBW: LA" Star Ariane Williams' Ex DeShawn Stevenson Popped The Question To Girlfriend Jessica Marie
Posted: 18 Mar 2014 06:04 PM PDT
"BBWLA" star Ariane's ex-fiance has a new fiancée! NBA star DeShawn Stevenson popped the question to his girlfriend Jessica. Read the deets inside…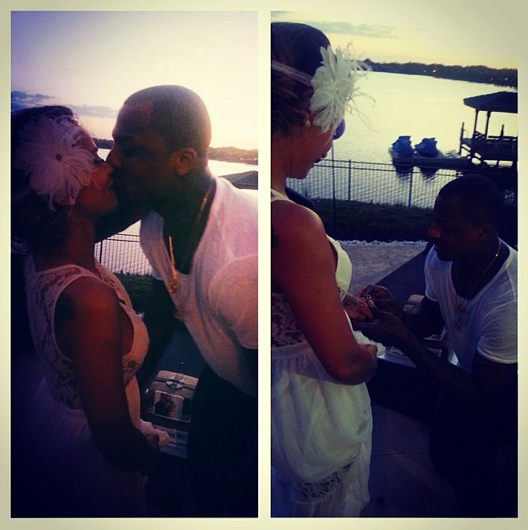 In his socks, sandals and a white tee, former Atlanta Hawks player DeShawn Stevenson popped the big question to his girlfriend of four years Jessica Marie over the weekend.
Jessica took to her instagram and shared," All I could say was yes....#4years #MyFiance' #MyLove #MyFuture #Us #Together #forLife".

The twosome appeared to be at a waterfront setting, with the bride-to-be well prepared in a white dress.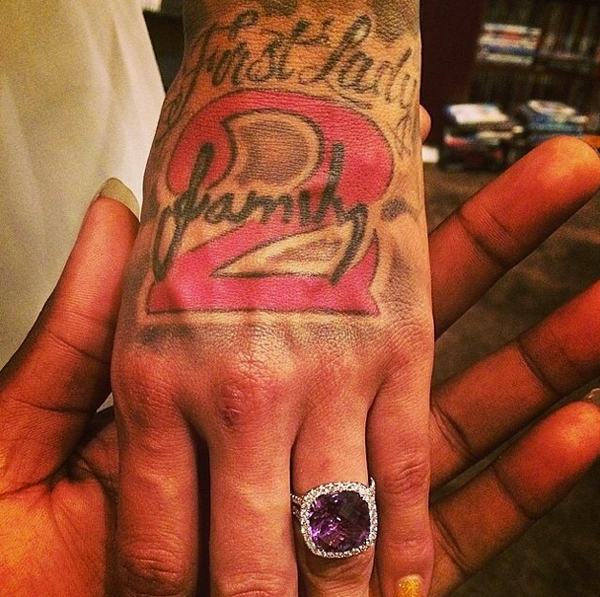 The bride-to-be, who is a fitness guru, proudly showed off her 7-carat rock...and that ghastly hand tatt...and seems over the moon that they are about to become one.
His ex/baby mama Ariane Williams will probably have plenty to say. She was once engaged to him, had two of his children and then they ended up calling it all off.
Ariane was real extra in the first episode of this season when she confronted Draya about sleeping with Deshawn years ago while she was in a relationship with him. She mentioned he had a fiancée on the show, but DeShawn seems to have just made it official this past weekend.
Wonder how Jessi's going to act now that she knows it's real.
Congrats to the couple!
Photos: @firstlady2family/@misstashaevans/@tonykhuu

OH: Jamie Foxx, Trey Songz, Kelly Rowland & More Rock The Stage At Jazz In The Gardens
Posted: 18 Mar 2014 04:52 PM PDT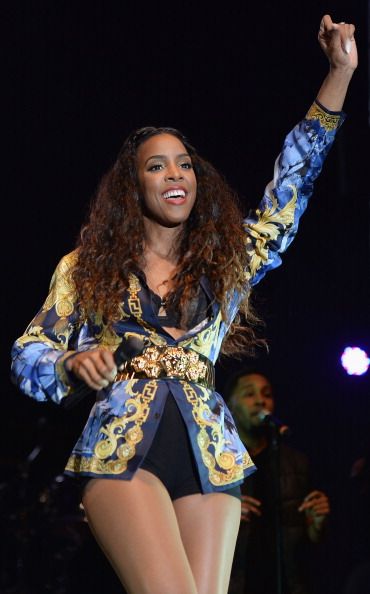 Jamie Foxx, Trey Songz, Kelly Rowland, L.L. Cool J and a few others hit Miami Gardens for their annual jazz festival. Check out the pics inside…
The City of Miami held its 9th Annual Jazz in the Gardens festival last weekend and a few of our YBF faves took the stage.
L.L. Cool J, Jamie Foxx, Trey Songz, Kelly Rowland, Doug E. Fresh and Maze featuring Frankie Beverly performed at the Sun Life Stadium in front of a packed audience.
A day after Kelly and her fiancé Tim Witherspoon were spotted on the beach in Miami, she rocked the stage looking her usual fabulous self. Get it Kelly!
But the most interesting performance was by Jamie Foxx…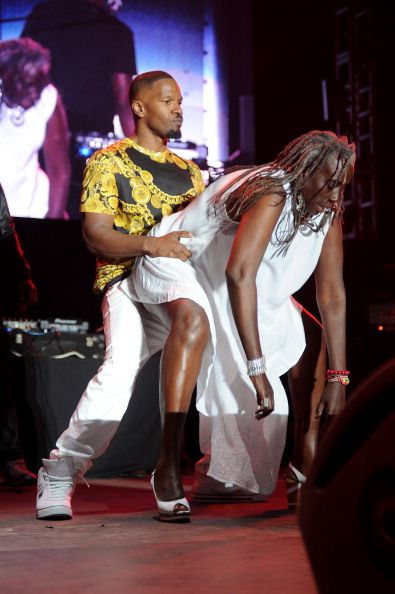 Looks like he called a fan on stage and she showed him exactly what she was working with...on all fours and all.
Oh Jamie...
Trey Songz and his Calvin Klein boxers sexed up the stage.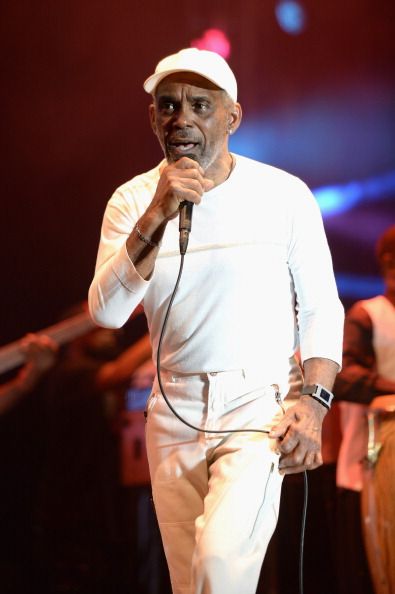 Legendary band Maze featuring Frankie Beverly tore down the stage.
Hip-Hop legend Doug E. Fresh took the stage and shared with the audience that he is currently working with the White House and our First Lady Michelle Obama on the Partnership for a Healthier America Summit. He then performed an impromptu beatboxing rap about the Obamas.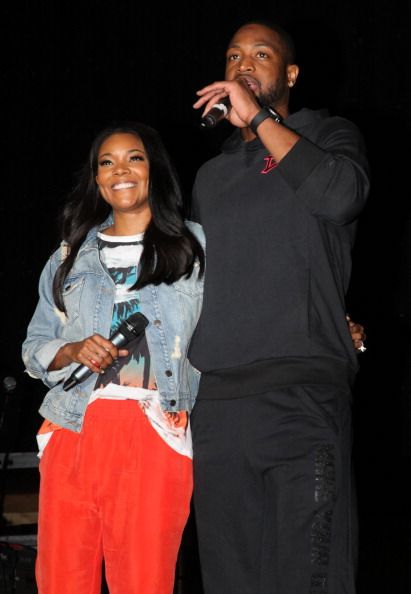 Engaged couple Gabrielle Union and Dwyane Wade extended their engagement celebration enjoying the festivities.
And LL Cool J hit the stage...and had roses thrown at him.
Fun times.
Photos: Getty
COMING SOON: Whoopi, Mekhi Phifer, Tichina Arnold & More In "A Day Late And A Dollar Short" TRAILER
Posted: 18 Mar 2014 04:07 PM PDT
We have the trailer for the upcoming Lifetime movie A Day Late and a Dollar Short starring Whoopi Goldberg, Mekhi Phifer and Kimberly Elise. Watch it inside....
On Saturday, April 19, at 8pm ET/PT, Lifetime will air the Original Movie, 'A Day Late and A Dollar Short,' based on The New York Times bestseller by Terry McMillan.
Starring Academy Award and Golden Globe winner Whoopi Goldberg, Golden Globe winner Ving Rhames, Mekhi Phifer, Kimberly Elise, Anika Noni Rose and Tichina Arnold, we're pretty sure this will be good.
Here's the synopsis:
In A Day Late and a Dollar Short, when irascible matriarch Viola Price (Goldberg) learns that her next asthma attack will likely kill her, she is determined to fix her fractured family before she leaves this world, from her relationship with her husband (Rhames), to the lives of her four children and grandchildren. While on this quest, she must contend with sibling rivalry, teen pregnancy and prescription drug addiction – and that is only one child. Additionally, her jailbird son (Pfifer) needs to learn how to be a better father, her granddaughter is in bigger trouble than her daughter is willing to admit and her estranged husband needs saving from his scheming younger girlfriend. It's the kind of meddling that the Price family hasn't experienced from Viola in decades, and she won't have an easy time bending her loved ones to her will.
Peep the trailer below:
Is it just us or is Lifetime on a roll with the movies full of black star power? Nice!
The Randomness:
1. Former NBA star Ben Wallace sentenced to one year in jail for leaving the scene of a February car crash. Story.
Photos via BlackFlim.com/Lifetime
"LUCKY" BIKINI BODS: Ashanti Goes For A Dip In Malibu + Mariah Carey Gets Shamrock Happy In Her Bikini
Posted: 18 Mar 2014 03:30 PM PDT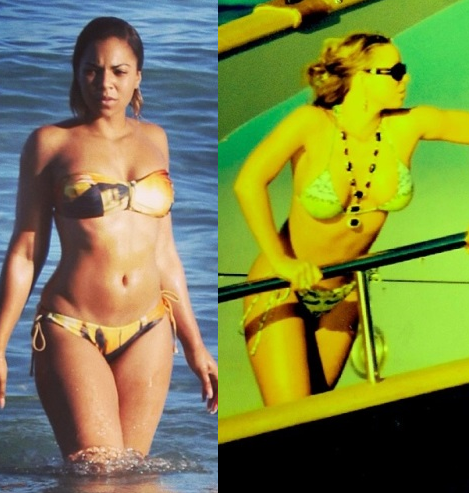 R&B & Pop divas Ashanti and Mariah Carey posted new bikini pics for their "lucky" fans celebrating St. Patrick's Day. More inside....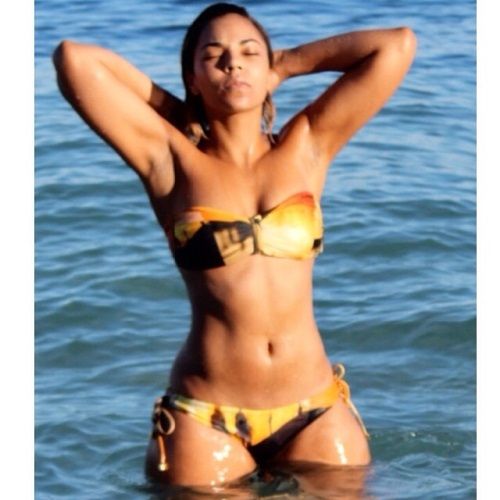 Braveheart songstress Ashanti took a dip in the waters of Malibu, California this week. And um, that body though. Ashanti is on a mission to MAKE everyone pay attention.
As her latest album continues to rack up impressive sale numbers, Ashanti showed off her toned bod in an alluring two-piece bikini. She said, "'Soaking up this Cali Sun... #Malibu #braveheart', before adding on another, 'Be U. #BeBrave #braveheart #malibu.'
During an exclusive chat with TheYBF.com, Ashanti explained why she chose to release Braveheart independently on her own Written Entertainment imprint saying, "To be completely honest, I couldn't fathom the idea of a 360 deal. I walked away from 7 offers from majors. At the time, the ink was over here. And it was just me. But this time, I get to be the Captain of the ship. Regardless of whatever happens, I'm happy about the music."
Looks like it worked out just fine for her. She could sell her workout routines and maybe a workout DVD or two and make some extra coins...
Another bikini pinup....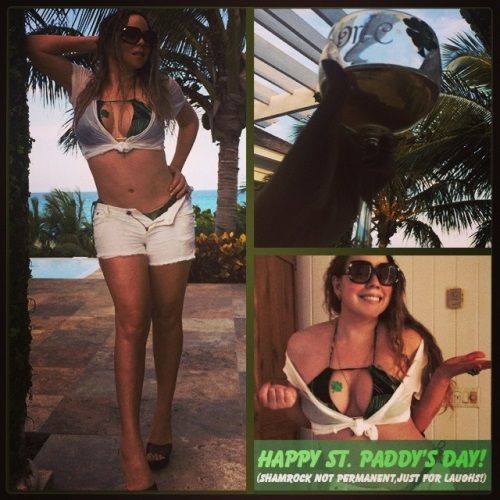 Mariah Carey celebrated the luck of the Irish by pasting a shamrock on her boobs.
While Mimi was busy going "green" on a yacht at some undisclosed exotic location, the lobby of her Tribeca building was full of St. Patrick's Day balloons that had been delivered yesterday for her penthouse. We're sure the doorman felt "lucky" having to carry all those arrangements upstairs...
Photos via Ashanti's Instagram/Mariah Carey's Instagram
"R&B Divas: Atlanta" Season 3 Preview + Lil Mo CONFIRMS She's Going To MARRY Her New Man Karl Dargan (+ Both Casts' PROMO PICS)
Posted: 18 Mar 2014 03:24 PM PDT
Check out a preview for the upcoming new season of "R&B Divas: Atlanta" plus find out what Lil Mo said about getting married to her new boyfriend inside…
The third season of "R&B Divas: Atlanta" is a month away and a preview for what's coming up this season has been released.
We told you earlier, Former Destiny's Child member LaTavia Roberson and former 702 lead singer Kameelah "Meelah" Williams are the newest cast members to join TV One's hit reality TV series. And so are their children's fathers!
They will be joined by original cast mates Syleena Johnson, Keke Wyatt, Angie Stone and Monifah Carter.
This season looks as if it will bring all types of he drama we love...and we are so here for LaTavia's "truth." Y'all know why....
Check it:
"R&B Divas: Atlanta" Season 3 premieres Wednesday, April 23rd 10/9c.
Speaking of R&B Divas…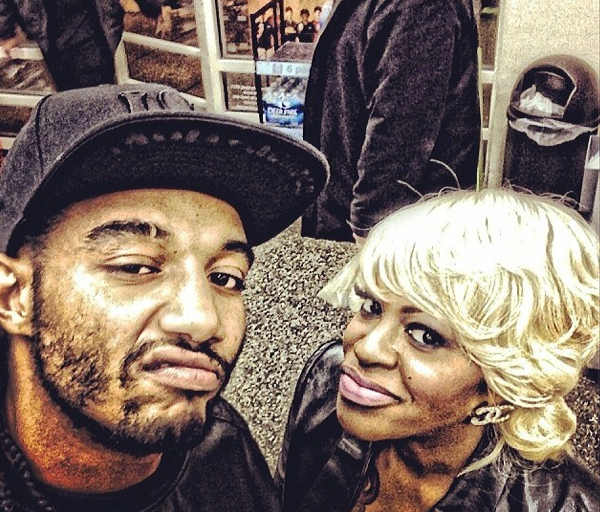 "R&B Divas: L.A." star Lil Mo hit up Philly's Hot 107.9 Morning Show with Shamara and Laiya and dished on her new relationship with professional boxer Karl "Dynamite" Dargan.
We told you earlier this month that Lil Mo had split from her gospel-singing husband Phillip Bryant and moved on with her new boy toy from Philly.
Now, Mo is dishing on being a cougar (since Karl is only about 28), clapping back to the backlash she receives on social media about dating while still technically married, and saving face for family.
When asked if she was going to marry Dynamite she said:
"I'm like the hood Kim Kardashian and the ratchet Elizabeth Taylor. I will get married 10 times cause I always believe in love. I'm not going to just be his girl. We are GOING to get married. It's not a game."

Really though?
Check out Mo's interview below:
We are interested to see how this will play out on the upcoming season of "R&B Divas L.A." Because...yeah...
And peep the ATL cast's new promo pic below with newbies Chrisette Michele and Leela James (no Dawn or Kelly Price this go-round).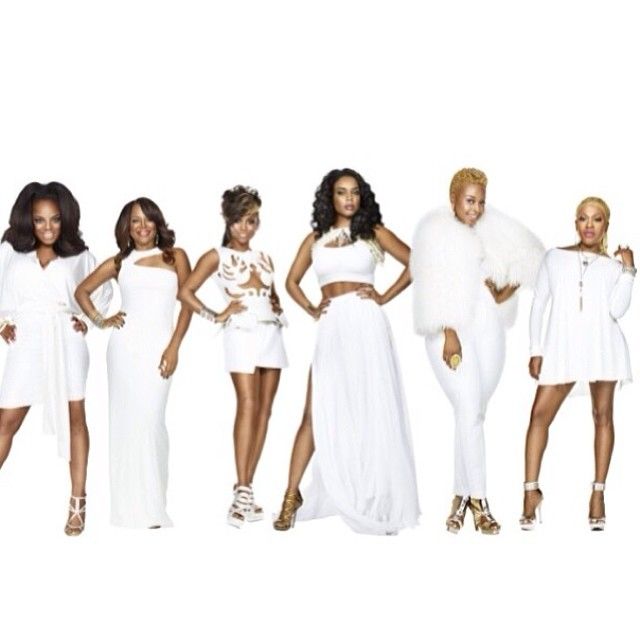 Photos: TV One/ Lil Mo's IG
FAMILY LUNCH: Wiz Khalifa, Amber Rose & Sebastian Keep It Cute In Cali
Posted: 18 Mar 2014 03:18 PM PDT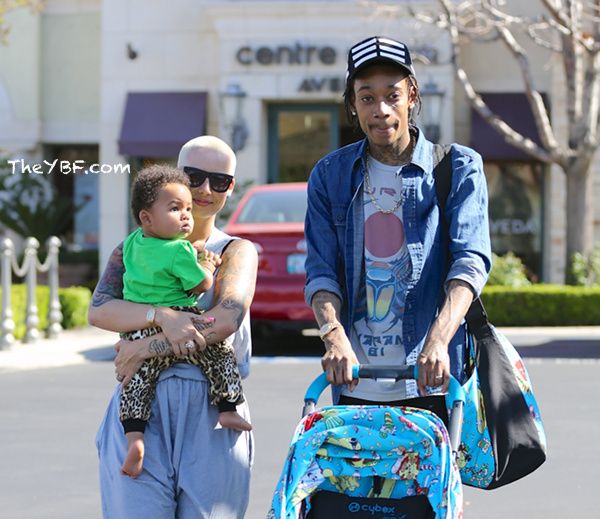 Wiz Khalifa was spotted out on an afternoon stroll with Amber and Bash. More photos inside....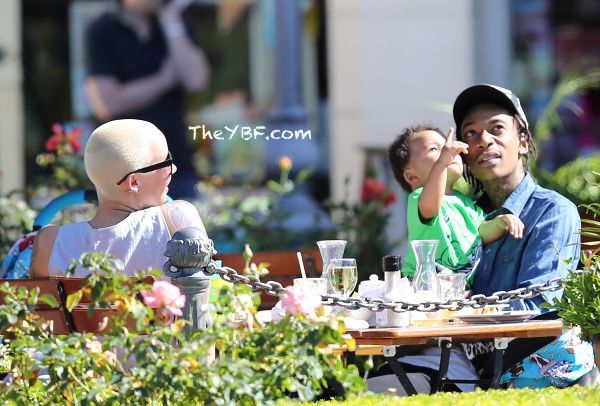 After an afternoon stroll through the Commons, a upscale shopping center in Calabasas, Wiz Khalifa, wife Amber Rose and their adorable son Sebastian lunched at Le Pain Quotidien.
Those cheeks! Amber and Wiz got into the St. Paddy's spirit by dressing up Bash in a green t-shirt and leopard print pants. Taking after his daddy...
Wiz recently tweeted about Bash, "My son is so handsome." We agree! And we're loving Mommy-mode Amber these days as well.

Photos via Splash
Rihanna DITCHES Her Bob For A LONG Ponytail + Sneak Peek At Her New Animated Movie "Home"
Posted: 18 Mar 2014 03:14 PM PDT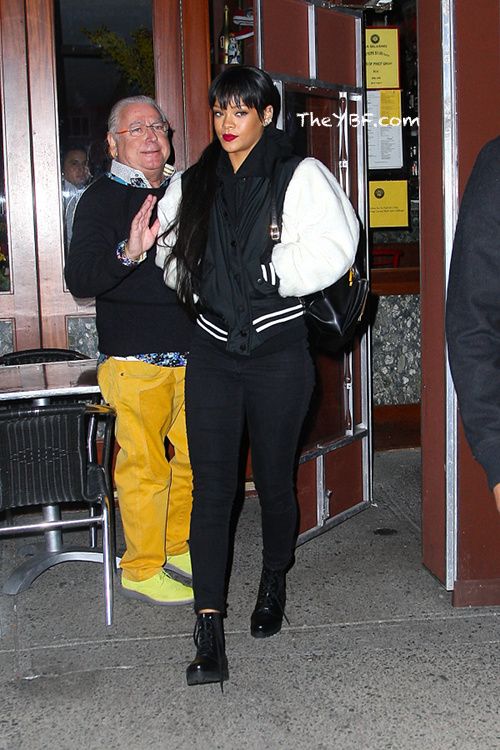 Rihanna is back in the U.S. and was spotted with a new look. Check the pics and catch a sneak peek at the new animated movie she's starring in…
After trekking across the UK with her "boo" Drake, RiRi was spotted in NYC hitting up her fave place -- Da Silvano restaurant -- after dinner with some friends.
The "Diamonds" singer changed up her look, ditching the black bob and opting for a long silky ponytail with a fringed bang. She wore a black and white varsity jacket paired with black jeans and black combat boots, her usual.
The effortlessly fab chick is gearing up for the release of a 3D movie she's starring in. Rih will lend her vocals for an upcoming animated DreamWorks film titled Home and she's also working on a concept album for the film.
Jennifer Lopez, Steve Martin and Big Bang Theory's Jim Parsons will also star in the movie.
Rih tweeted the sneak peek to the film saying, "My new @DWAnimation film Home is coming #Navy! #sneakpeek"
Check it out below:
Home is expected to hit theaters on Nov. 26th. Cute!
BONUS:
Rihanna didn't waste any time getting back to the party life on her first day back in NYC since being overseas with Drake. She hit up the chic VIP Room nightclub and got in a quick grind session with some random guy. No worries Drake. It was all in fun.
Check it above.
Photos/Video: Sharpshooter Images/Splash/INF/@rihplays