---
Ashanti & Her "Braveheart" Album Take Over Dubai With Party & Performance At Supper Nightclub
Posted: 23 Mar 2014 10:00 AM PDT
Ashanti trekked it to the middle east for another Braveheart album release celebration this weekend. Pics and video inside of the singer and her fam soaking up the fabulous life in Dubai...
Ashanti brought her momager Tina, her little sister Shia and friends along to Dubai for her big album release party at Supper nightclub for Chocolate Nights.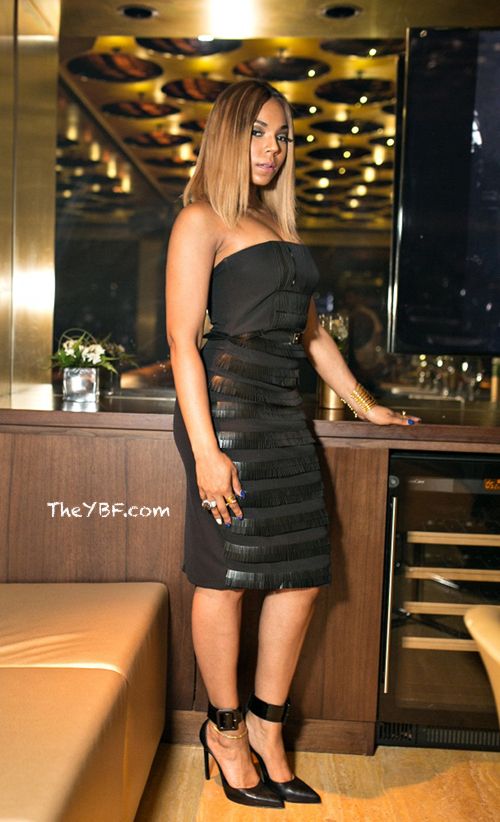 And the blondie kept it sexy in a strapless black fringed Elisabetta Franchi dress and black Saint Laurent heels for the big night.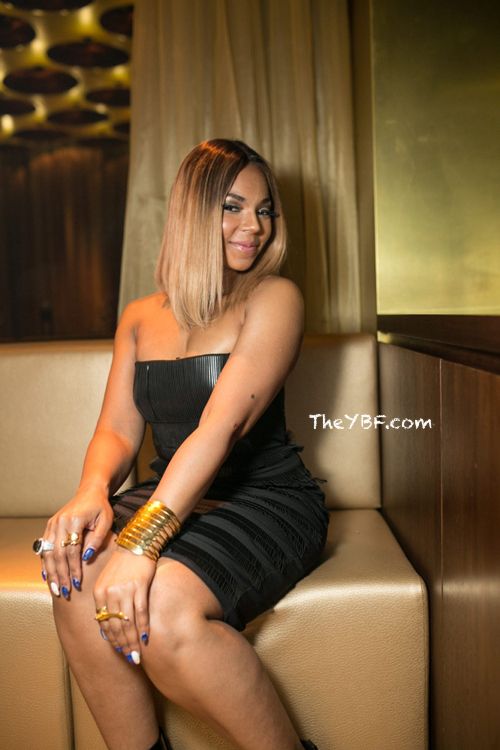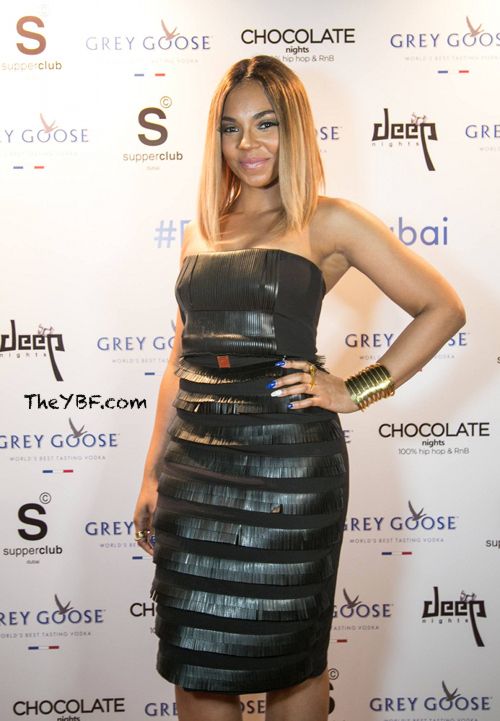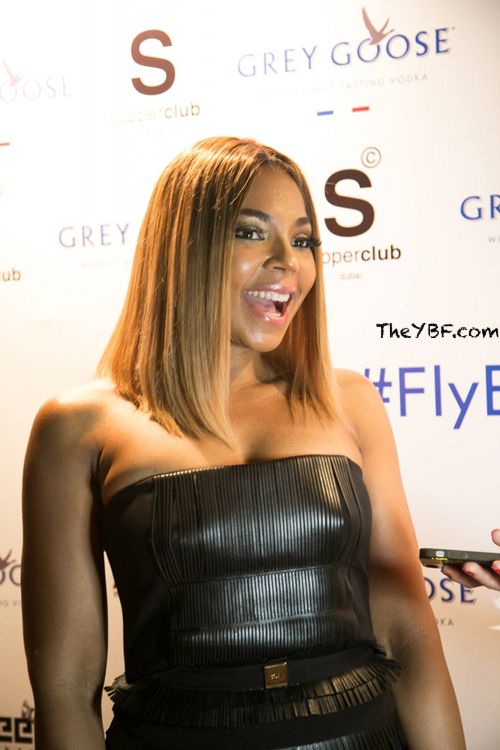 Ashanti hit the club to party it up, and also took the stage to perform a few tracks from her brand new Braveheart album.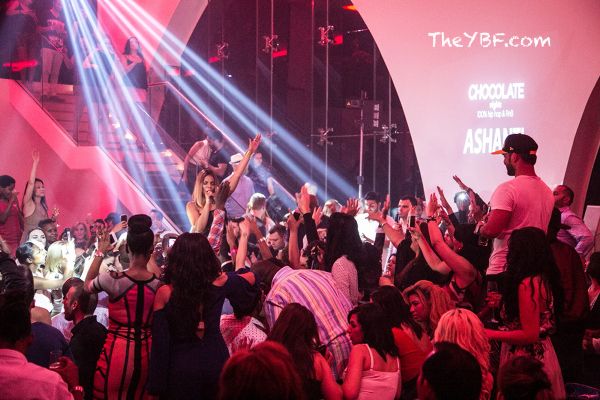 And when she wasn't partying, she was having some car-singing fun with her little sis and riding camels and dune buggies in the desert:
Fun times!
Photos/Videos: Supper Nightclub Facebook/Ashanti's IG
OH BABY (BOY): Ciara & Future's Beverly Hills Baby Shower With LaLa, Kim & More
Posted: 23 Mar 2014 08:47 AM PDT
Saturday was mommy-to-be Ciara's big day! The day where she gets a boatload of fabulous gifts and an extra fabulous Beverly Hills baby shower. Check out pics of CiCi, her besties LaLa and Kim K., and her fiancè Future celebrating inside...and that blue cake.
Fresh-faced Ciara was absolutely glowing in a burgundy and white Naeem Khan caftan at her big baby shower Saturday afternoon in Beverly Hills. Her besties LaLa Anthony & Kim Kardashian were front and center for the festive occasion.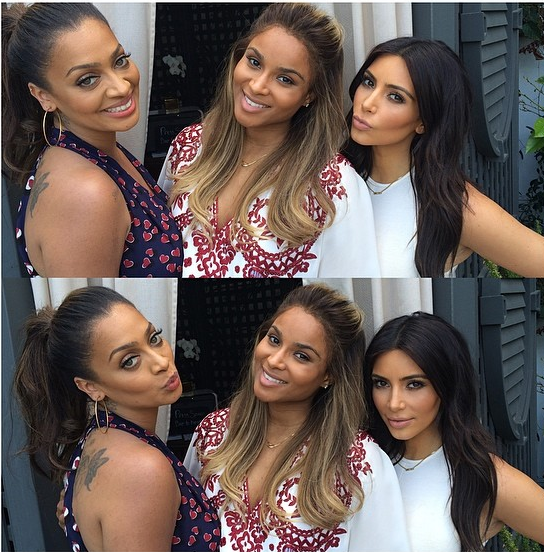 Ciara went on about her girls saying:
CKL:). It's So Cool 2 Look At Our Pics Over The Years and Reflect On Our Journeys As Women! The Journeys Have Been Great!! Nothing Like Hanging 2Gether on The Days That Count The Most. Friends For Life. Love You @LaLa. @kimkardashian. XXX!!
The "Promise" singer showed up looking gorge, happy and carefree: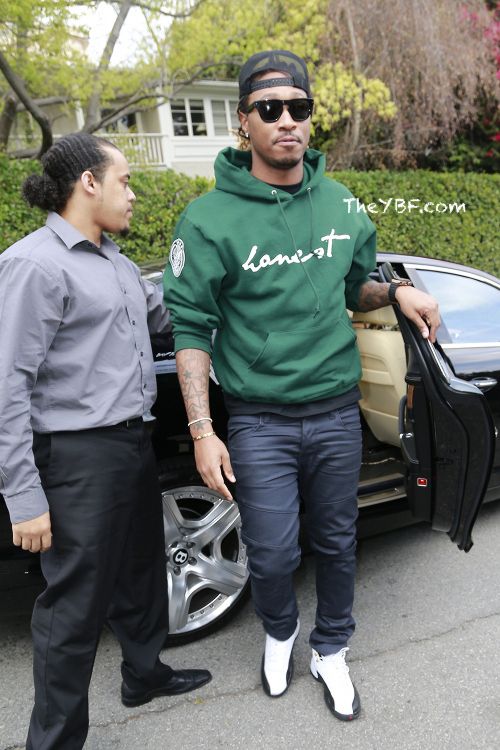 And her fiancè and baby's father rapper Nayvadius "Future" Cash showed up for the big day as well, showing off his C tattoo.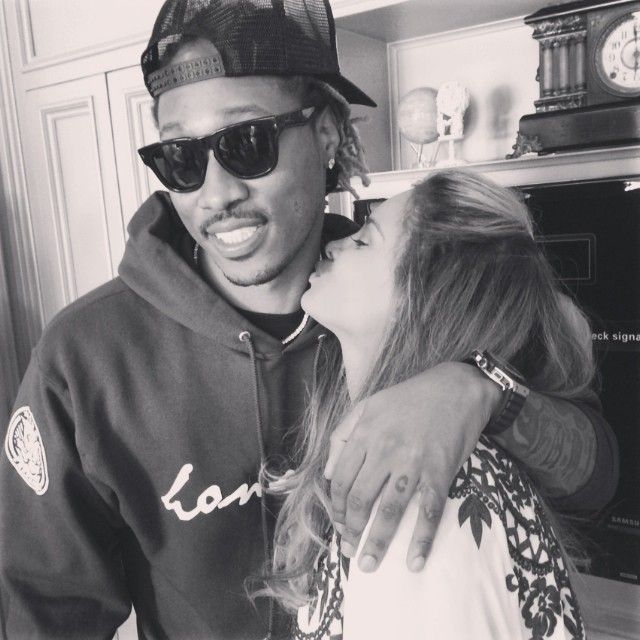 CiCi gushed about her boo saying:
This Man Right Here!:)..... #TodayWasAnotherOneOfTheSweetestDaysEver! Surrounded By Nothing But Love! GoodNight:)
Well isn't that sweet.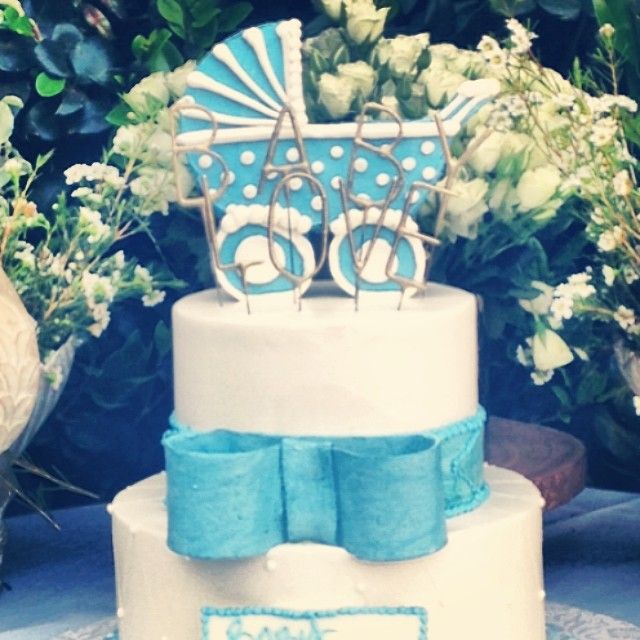 And about that cake....looks like it's definitely a boy, even though Future tried to cover up spilling the beans a few weeks ago.
Ci posed it up at the outdoor celebration with La, her mom & Future's mom, and Kris Jenner who you already know was all up in the mix: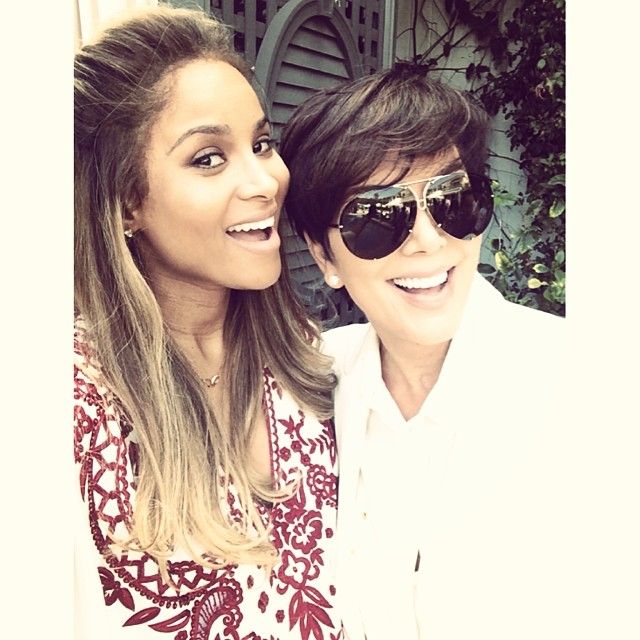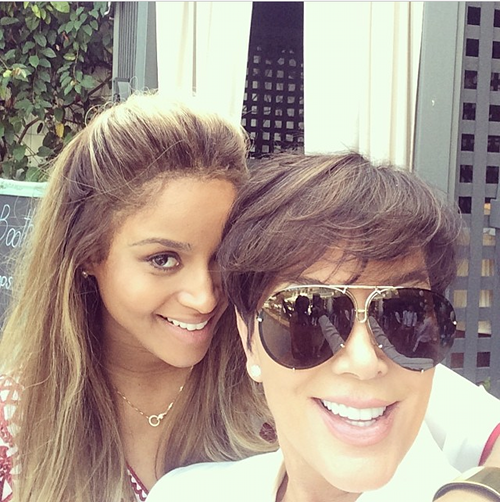 And look what Baby Cash already has in his arsenal: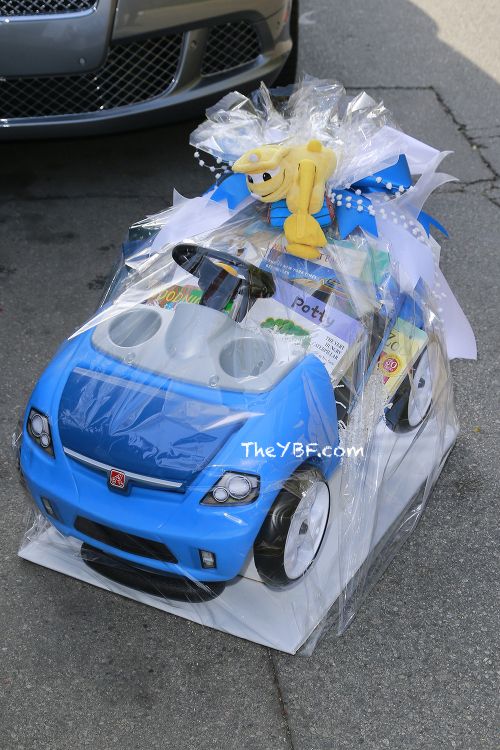 And the mom-to-be was spotted leaving the party looking fab: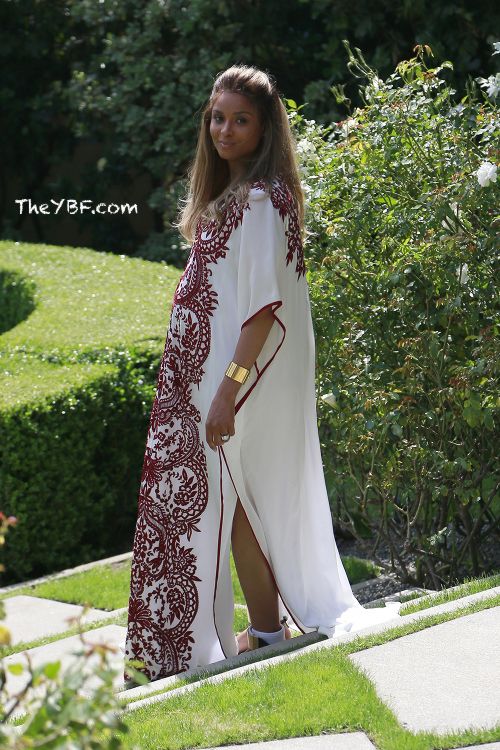 Congrats Ciara!
Photos: PCN/Splash/Kim's IG/Ciara's IG/LaLa's IG/Kris' IG
FIERY: Beyoncè GETS GOING In New TOYOTA Ad
Posted: 22 Mar 2014 05:21 PM PDT
Beyoncè is featured in a brand new commercial for the auto giant Toyota. Check out the red hot blonde bombshell telling the world how to GET GOING...and make their own decisions.
She's already participated in major beauty and fashion campaigns. So it's only right the Queen Bey lands her own automobile campaign.
In Toyota's brand new GET GOING campaign, Mrs. Carter tells the story of making her own decisions and facing the world with bravery, ever since she was a little girl.
We see her penning the lyrics to her hit "Survivor", recording her newest hit "XO" with The Dream, hitting the tour stage and telling the rest of her success story. Check it out below;
ALICIA KEYS & SWIZZ BEATZ -- NO Problem Making Out Next To Ex-Wife Mashonda....On St. Barts Family Vacay!
Posted: 22 Mar 2014 11:56 AM PDT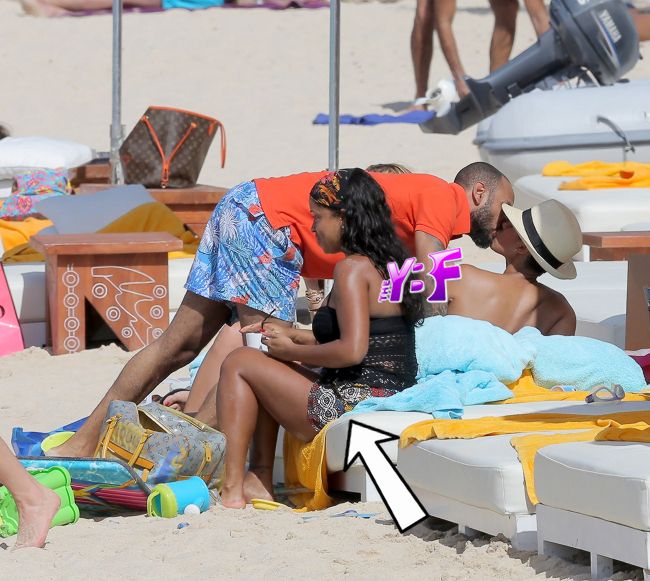 If it works for Kimora, her men Djimon & Tim, Russell Simmons and all the kids....it can also work for Swizz Beatz and his blended family. Alicia Keys, her husband Swizz, and their kids Egypt and Kasseem are all on family vacay in St. Barts....with Swizz's ex-wife Mashonda Tifrere.
Check the pics & video of everyone getting along like one big happy family...
The Deans took a page out of the Simmons' annual St. Barts vacay book and made the trip they are curently on a bundle of big blended family fun.
Alicia & Swizz were spotted at Nikki Beach in St. Barts today sneaking a mini-makeout session on the beach beds while the kiddies played in the sand. But also on that beach bed...was Swizzy's ex-wife Mashonda! Hey, Alicia is his wife now....so it's to be expected, right?
Mashonda is also on the vacay since she and Swizz share little Kasseem. Gotta give it to them...they know how to make co-parenting trump all things. And the trio seem to have left the cheating and mistress "situation" in the past. Everybody appears to be chummy chummy now...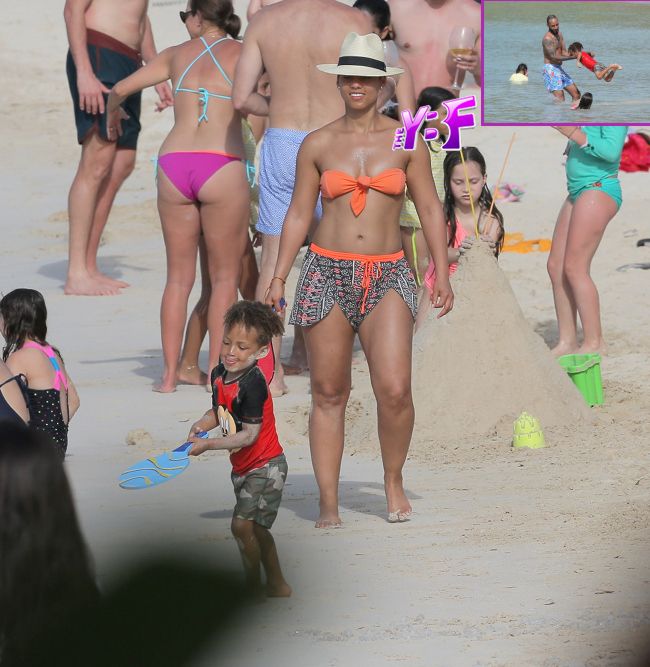 Alicia put her curvy bikini body on display in a neon orange bandaeu top and matching bottoms while chasing little Egypt on the beach. And Papa Swizz took off his shirt to hop into tthe ocean with his youngest.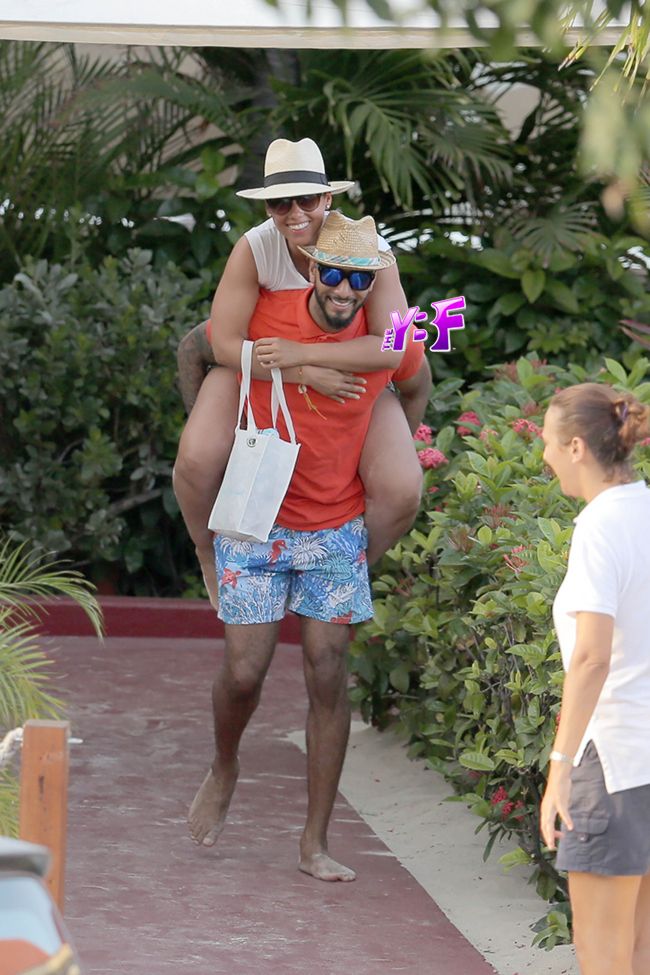 Alicia, who is currently working with Pharrell on her new album, and Swizzy were also spotted having some fun while the Mr. gave his Mrs. a lift to their car.
Mashonda posted her own pic on the beach with cutie Kasseem as well. And she's not hiding her banging swimsuit body either. She posted a montage of pics of herself flossing at the Todds house in front of their yacht and toys:
As for the fine family fun, handstands for everyone!
Fun times!
Photos: Splash/Mashonda's IG, Videos: Mashinda's IG, Kasseem's IG
HE'S HERE: Evelyn Lozada Welcomes Bouncing BABY BOY!
Posted: 22 Mar 2014 11:11 AM PDT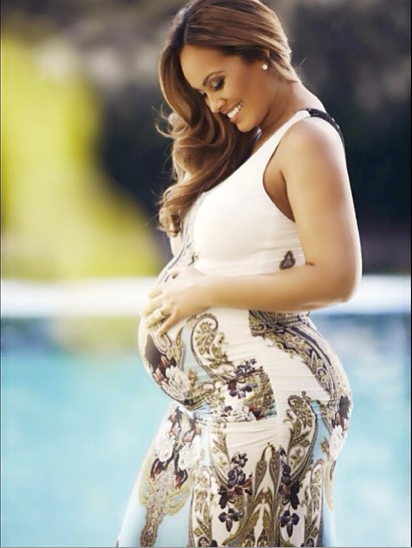 Evelyn Lozada just gave birth to her brand new bouncing baby boy! Deets about the "Basketball Wives" star's very lucky addition inside...
Evelyn Lozada said HELLO to her and fiance LA Dodgers baller Carl Crawford's new baby boy at 3:55MST this AM, likely in Arizona.
While the baby's name has yet to be revealed, OK! Magazine reports the healthy bundle weighed in at 8lbs and is 21 inches long. And Ev reportedly delivered by natural birth.
The little one is already set with a gorgeous older sister (pictured above kissing mom's tummy), Ev's 20-year-old daughter Shaniece.
And Ev seems well prepared for the new phase of having a baby and very rich husband-to-be. She copped a cutesy mani in honor of meeting her baby boy for the first time, and already got him started with a closet full of shoes: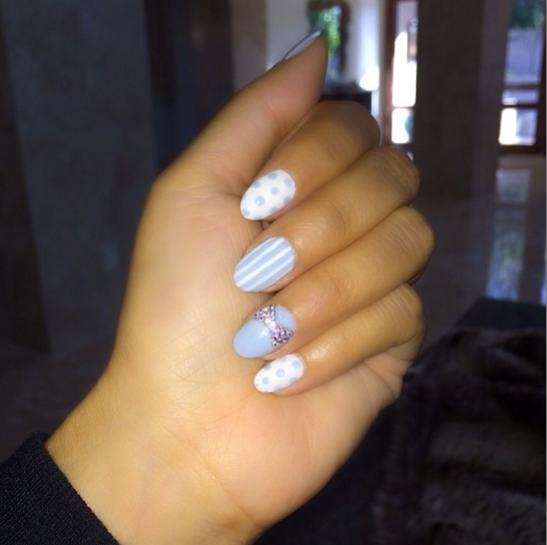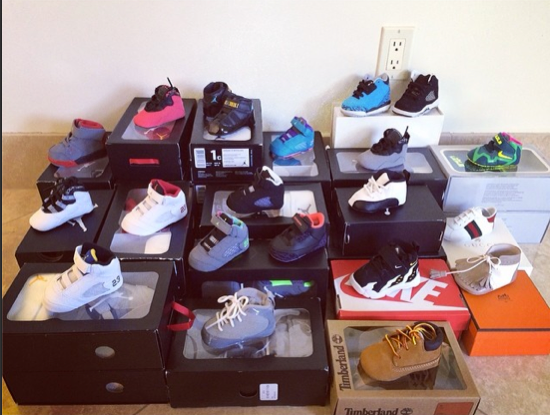 She said, "#ShoeGame #BabySwag #ShoeAddictLikeMommy #BabyBoy #BabyJordan #Hermes #Gucci #Nike #Timbaland."
Congrats Evelyn!
Photos: Evelyn's IG