---
RUMOR CONTROL: Porsha Williams CONFIRMS African Dictator's Son Is NOT Her New Man!
Posted: 14 Mar 2014 09:13 AM PDT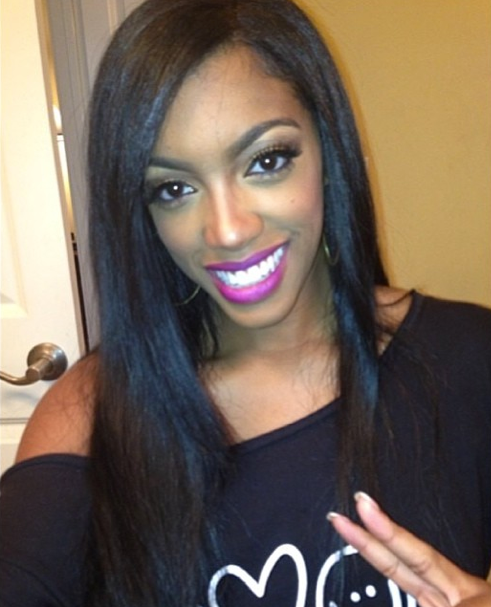 Porsha Williams is speaking out against the rumors that an African dictator's son is her new man. Find out what she had to say about the rumors inside…
"RHOA" star Porsha Williams is addressing rumors that she's dating 42-year-old Teodoro Nguema Obiang Mangue, son of Teodoro Obiang Nguema Mbasogo, President of Equatorial Guinea. He was also linked to rapper Eve back in 2005.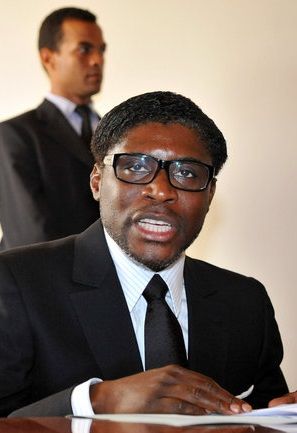 The "Flatline" singer tells E! News the African dictator's son (above) is NOT her new man and that she's never even met him before.
"The TMZ report is completely false! I do not know Teodoro Nguema Obiang Mangue, nor have I ever dated him. When there is someone special in my life whom I wish to share I will let you all know. It has been rumored that I am dating many people."

"I am not focused on dating at the moment but rather the debut of my new single, "Flatline" available on Itunes on March 17th."
Now that she's cleared that up, news about Porsha and her ex-husband Kordell Stewart's divorce settlement were revealed recently. She got next to nothing out of her 2-year marriage from the former NFL quarterback: no alimony, no house, no NFL retirement money, no health insurance and NO cash. Not only that, she's forced to pay off her own credit card balances!

In other news, it appears Porsha has been getting over her divorce by flirting with former football player Chad Ochocinco on Twitter. We're just glad to hear Porsha isn't dating the possibly very dangerous Teodoro.

Photos: Porsha Williams' IG
WIFE WOES: Master P's Estranged Wife Says She & Her 4 Children Are On Public Assistance + New Orleans Saints Darren Sproles' Wife BLASTS The Saints For Cutting Her Husband
Posted: 14 Mar 2014 08:03 AM PDT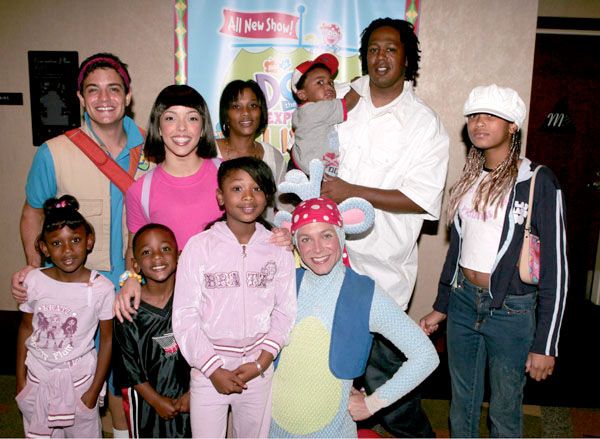 Master P's wife claims she's on welfare while N.O. Saints running back Darren Sproles' wife is bashing the Saints organization. Find out why Master P's wife is on public assistance and what Darren Sproles' wife had to say about her husband getting cut…
Master P's estranged wife, Sonya Miller, says she's on welfare while her husband is reportedly worth $200 million. P and Sonya are still legally married but Sonya filed for divorce last year after nearly 24 years of matrimony.
TMZ reports Sonya moved in with her oldest son, Lil Romeo (seen above with two of his little brothers), and has been forced to get public assistance to get by. She claims Master P isn't helping her at all financially and that she and her 4 minor children are impoverished.
Sonya's resentful for the way her husband is handling their situation because she helped him build an empire including clothing manufacturing, sports management, toy manufacturing and production for film and TV projects. She even helped him start an adult phone chatline.
A judge fined the "No Limit" rapper $10K for not responding to the divorce petition but that seems to be the least of his worries.
And in other wife woes news…
New Orleans Saints running back Darren Sproles' wife, Michel Sproles, went on Instagram to express how furious she was after she found out her husband was traded to the Philadelphia Eagles. Following a backlash, Michel deleted the profanity-laced rant, which included a few praises to God, but we have it for you!
She said:
If you follow football at all, you KNOW NOTHING is guaranteed. There is no such thing as loyalty in professional sports.
Photos: Lil Romeo's IG/Michel Sproles' IG/Rolling Out

Jennifer Lopez RECREATES Her Iconic Moments In "I Luh Ya PaPi" Featuring French Montana + James Brown Biopic "Get On Up" Trailer
Posted: 14 Mar 2014 05:48 AM PDT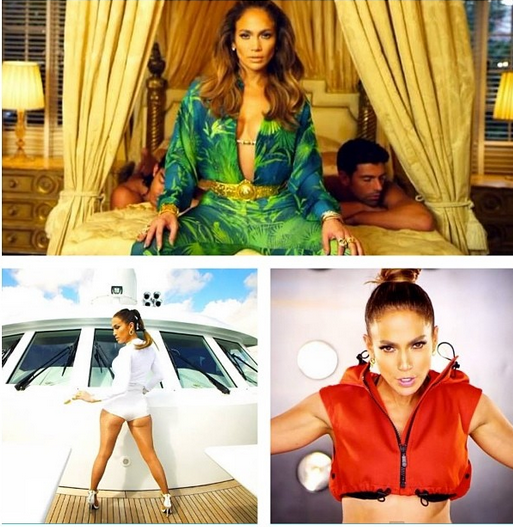 Jennifer Lopez has released the "I Luh Ya Papi" video ft. French Montana. Watch the new video and the trailer for the "Get On Up" James Brown biopic inside...
In her new "I Luh Ya Papi" video, directed by Jessy Terrero, Jennifer Lopez shamelessly objectifies men and recreates some of her most iconic fashion moments. Alongside French Montana, JLo proves she can keep up with the boys on the club-ready lead single off her 10th studio album. Her most famous looks (On The 6 album cover, the Versace-dress, Jenny From The Block) are all here. Enjoy!
Watch "I Luh Ya Papi"
At the movies:
Universal has released the first official trailer for its upcoming James Brown biopic "Get On Up". The film stars Chadwick Boseman as the Godfather of Soul, Octavia Spencer plays his Aunt Honey and Viola Davis as his mother and Tika Sumpter, Jill Scott and Dan Aykroyd. Famed Rolling Stones frontman Mick Jagger is a producer (with Brian Grazer). The movies hits the silver screen on August 1st.
The Extras:
1. Dancehall artist Vybz Kartel was convicted of murder (along with three other men) for the murder of 27-year-old Clive "Lizard" Williams, who was beaten to death at Vybz's house over two missing guns in 2011. Story.
The Randomness:
1. Lil Boosie's 4 baby mamas are shopping a reality tv show pilot.
Kelis' Food Truck Brings SXSW To The Yard + Solange Unveils PUMA Girl Of Blaze Disc Shoes
Posted: 13 Mar 2014 06:39 PM PDT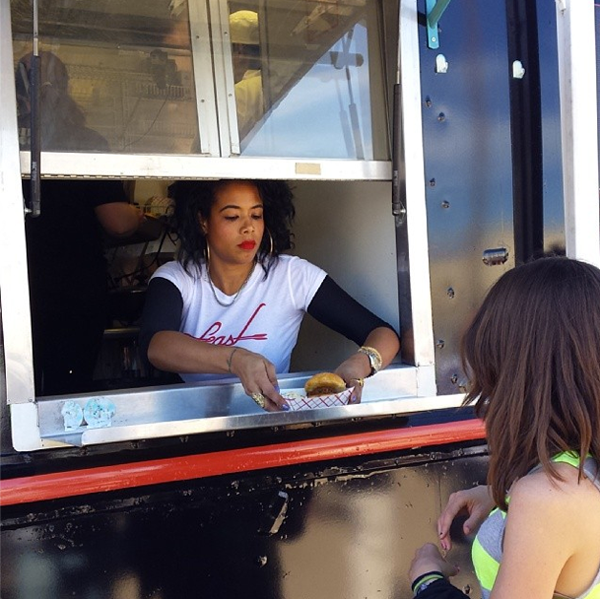 Instead of performing at SXSW, Kelis rolled through with a food truck to feed the music heads. Check out Kelis' food truck and Solange's new shoe she designed for PUMA…
Le Cordon Bleu Culinary School graduate Kelis hit up SXSW to personally serve up meals out of her new food truck!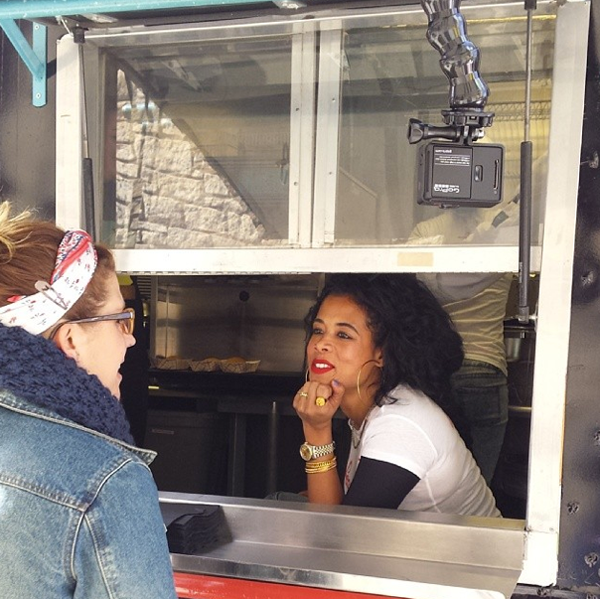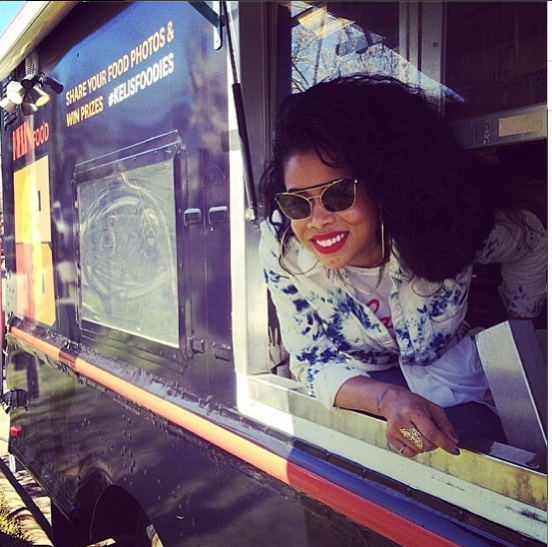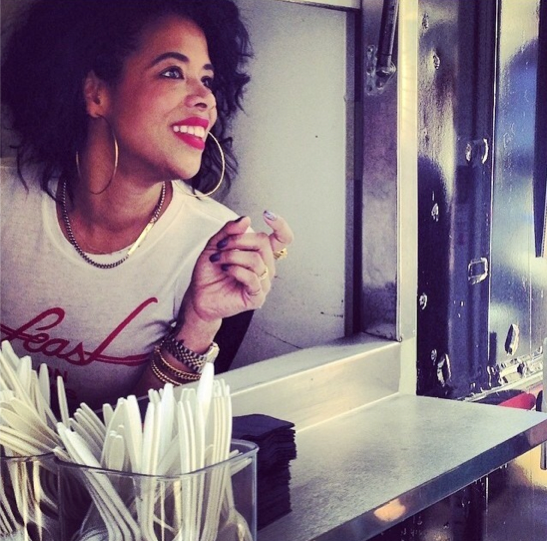 The "Jerk Ribs" singer handed out jerk ribs, tacos, and more personally to foodies in Austin, TX today....and it loked damn good!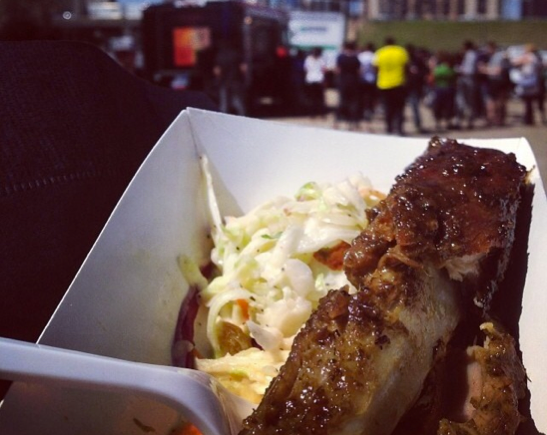 Kelis is really getting into this "foodie" life. Her upcoming sixth-studio album titled FOOD will drop April 22th.
And in other "moms who rock" news...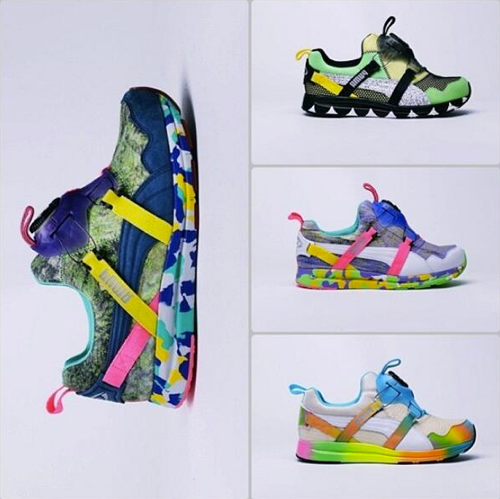 Solange unveiled her colorful custom designed sneaker for PUMA's Girl of Blaze Disc Collection.
The shoes definitely reflect one of our fave chick's funky, eclectic style.
Are we feelin' 'em?

Photos: Kelis' IG/ Solange's IG/Ebony Mag's Twitter
CHICKS ROCK MENSWEAR: Rita Ora & Alicia Keys Hit The Streets Of NYC
Posted: 13 Mar 2014 05:55 PM PDT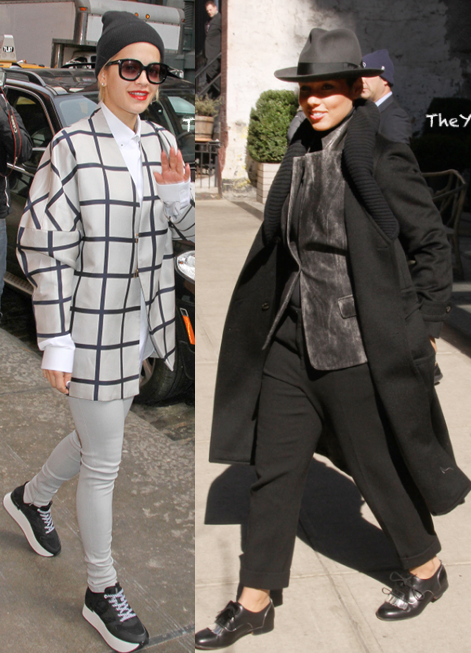 Rita Ora and Alicia Keys got their "Annie Hall" on as they strolled through NYC in blazers and fedoras. See the candids inside....
Alicia Keys stepped out in a blazer, fedora and black trench coat during a stroll through NYC today. We love the way Alicia put a feminine touch on this otherwise masculine look.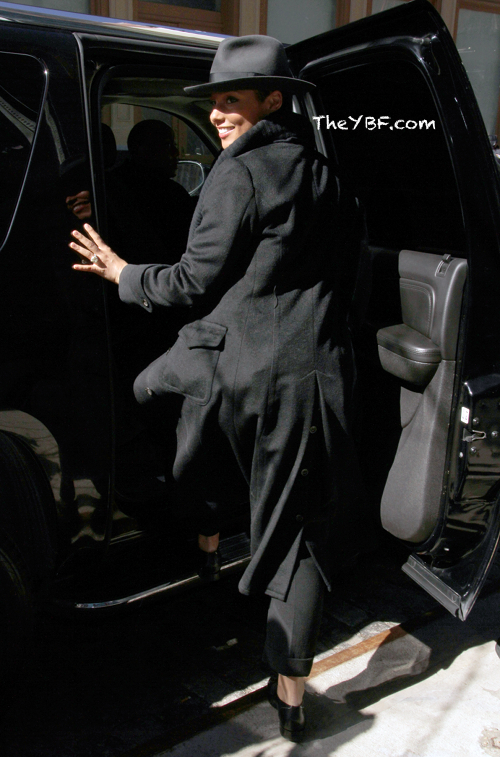 In recent press release, Alicia revealed that she's teamed up with Kendrick Lamar and Pharrell for a new song on the Spiderman 2 soundtrack called "It's On Again." She said,
"I'm very excited to be a part of such a powerful collaboration with Kendrick Lamar, Pharrell Williams and Hans Zimmer. This is the next chapter in the 'Spider-Man' legacy and we really feel 'It's On Again' captures the experience, the story -- and most importantly -- the meaning behind the film, which is that we all have the potential to be extraordinary. There's a little bit of a super hero in all of us."
Chick knows how to make her menswear chic.
Also in NYC....
Singer Rita Ora was also spotted on the streets of Manhattan looking stylish in a pair of grey leggings and a window-paneled oversized blazer. The oversized mens coat look is popular for the season: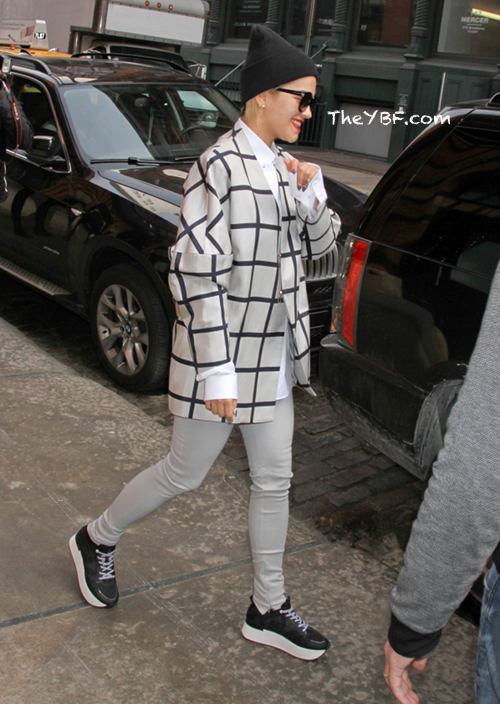 The British singer also recently announced a new make-up line with cosmetics giant Rimmel. "I love make-up. It exaggerates what's great about you and can totally pick up your whole face if you're having an off-day."
You feeling their looks?
Photos via INF
Nicki Minaj Goes WILD For Moschinco At "Senile" Video Shoot With The Young Money Squad
Posted: 13 Mar 2014 04:52 PM PDT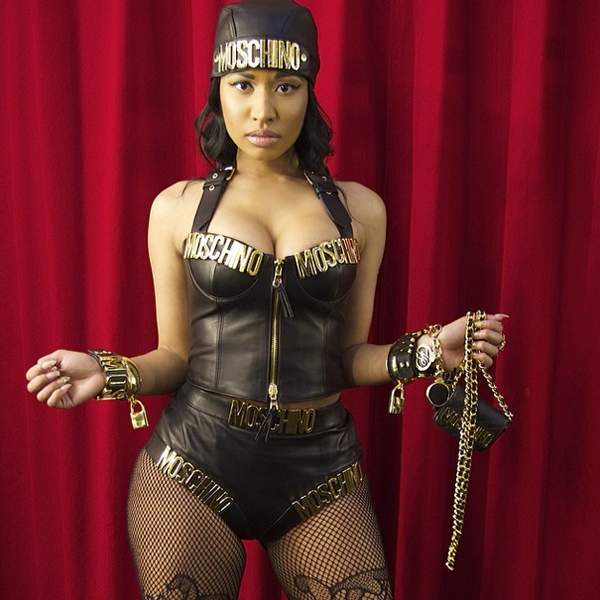 Nicki Minaj is taking over Instagram again with an inlux of pics, and this time, she shared some behind the scenes flicks on the set of the "Senile" video shoot. Check out Nicki drenched in Moschino with her YMCMB fam Lil Wayne, Birdman and more…
Nicki Minaj and the Young Money crew are on the set for the video of their new track titled "Senile," which will be featured on Young Money's second compilation album.
Nicki chose to rock a Moschinco leather custom-made shorts outfit with the designer logo plastered all over her body. She pulled this look straight off the runway (above) of the Moschino Fall 2014 Ready-to-Wear collection...well kind of. Nicki revealed she had to get her shorts custom made for her "ass"ets....not surprisingly.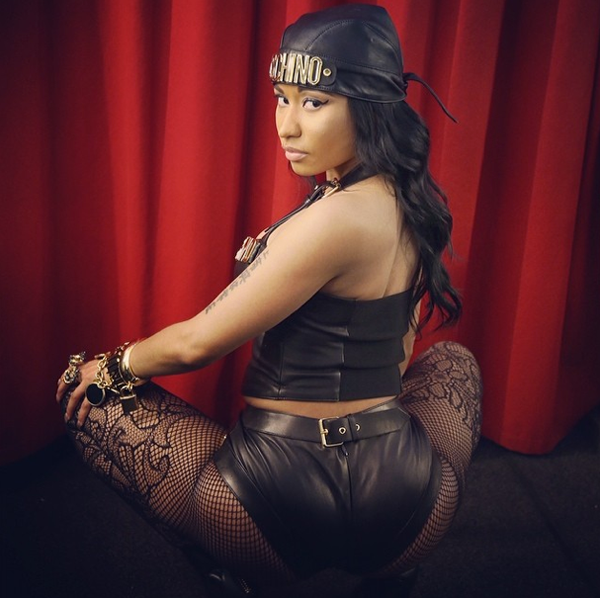 Oh Nicki...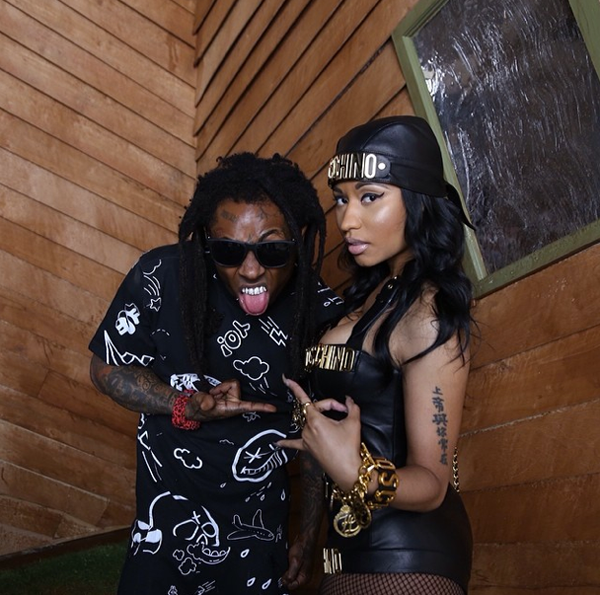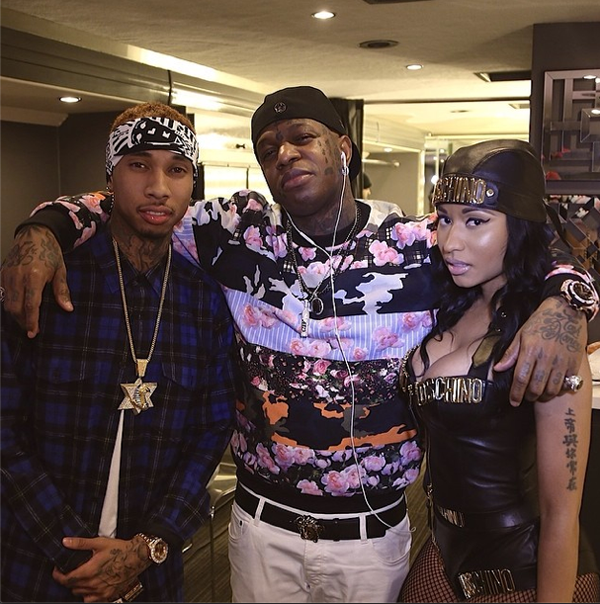 The Pink Lady was joined by the captain Lil Wayne, her mentor Birdman, rap mate Tyga and Young Money president Mack Maine.
Are we feelin' this look?
Photos: Nicki Minaj's IG/Style.com
CONFIRMED! LeBron's Wife Savannah James Almost 4 Months PREGNANT With Baby #3
Posted: 13 Mar 2014 03:08 PM PDT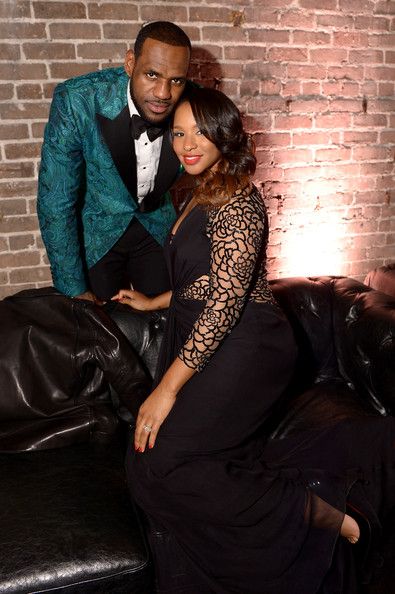 The suspicions are true, according to our source...Savannah James is indeed expecting her and her Heat star husband LeBron's third child!
Just in time for their 6 month wedding anniversary, LeBron & Savannah James are expecting baby #3!
An extremely reliable source in the couple's circle tells TheYBF.com that Savannah is approximately 15 weeks along. And most of her fellow Miami Heat WAGS (wives and girlfriends) have already been told.
We're told Savannah, who appeared at last month's NBA All Star GQ Magazine event (above) honoring her husband with a rounder belly, has missed a few events hosted by Heat wives due to all-day morning sickness. But that's to be expected.
Just a few weeks ago, Savannah went back home to Akron to help out with her friend's charity event. And Bump Watch went into overdrive:
The new Baby James will be joining big brothers LeBron James, Jr. and Bryce Maximus James.
Congrats to the couple!
Photos: Kamron Khan Photography/@melt324/@ms_deidre/Getty
SEPARATE...OR JUST SEPARATE WORK SCHEDULES? Halle Berry (Where's The Ring?) & Olivier Martinez REPORTEDLY Living Separately
Posted: 13 Mar 2014 02:29 PM PDT
Hollywood sources say Halle Berry and husband Olivier Martinez are living separate lives...or maybe they're just busy? More inside.....
Gossips in Hollywood told the NY Daily News that the marriage of Halle Berry and Olivier Martinez is in trouble...big trouble. Despite both being in LA, (Halle is filming the CBS series, "Extant"; Olivier is filming ABC's "Revenge") the couple have drifted apart....some say.
We can only speculate about why the drift may have happened (work-related issues, postpartum stress) but you'll recall the couple married in 2012 and welcomed son Maceo in October 2013, shouldn't they still be "honeymooning"? Or maybe Halle and Olivier are the type of couple who enjoy giving one another space?
It's also worth nothing they haven't been seen together for months (but they DO have a newborn). Halle was spotted around town, without her wedding ring, during the Oscars (above). But......
The clip above (shot this week) shows Olivier is STILL wearing HIS wedding ring.
SMH.....we hope these "reports" are misguided. We've been a part of Halle's romantic journey since the Wesley Snipes/Christopher Williams days. and had hoped that time it was for real.
The Randomness:
On March 25th, Virgin/UMe will release D'Angelo's Live At The Jazz Café, London: The Complete Show. The concert was taped in London in 1995 and features a pre-fame D'angelo singing six songs and five more previously unreleased performances. By the way...his baby momma Angie Stone is singing background vocals! Here's the track listing:
1. Introduction
2. Fencewalk (Mandrill cover)
3. Sweet Sticky Thing (Ohio Players cover)
4. Jonz in My Bones
5. Me and Those Dreamin' Eyes of Mine
6. Sh*t, Damn, Motherf*cker
7. Cruisin' (Smokey Robinson cover)
8. I'm Glad You're Mine (Al Green cover)
9. Lady
10. Announcement
Encore:
11. Can't Hide Love
12. Brown Sugar

Photos via Getty/DOMINIQUE CHARRIAU/Wireimage
"THE EDIT" Cover Girl Zoe Saldana On Her Secret Wedding, Fashion Choices And NOT Working Out!
Posted: 13 Mar 2014 12:29 PM PDT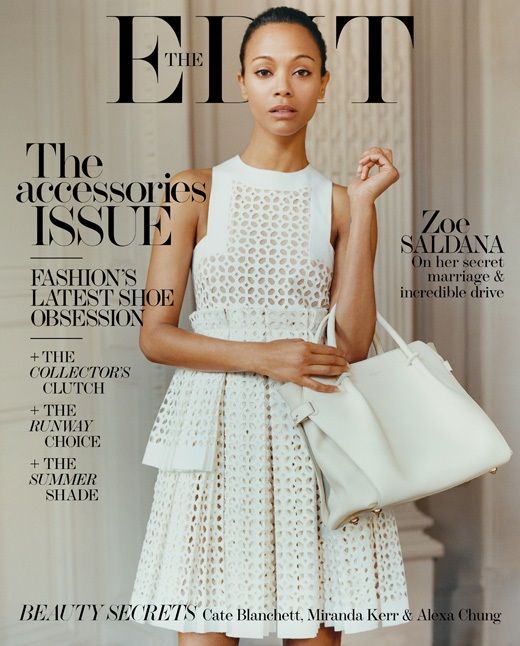 Zoe Saldana covers the latest issue of Net-A-Porter's "The Edit." See what Zoe said about her marriage and constantly challenging herself inside..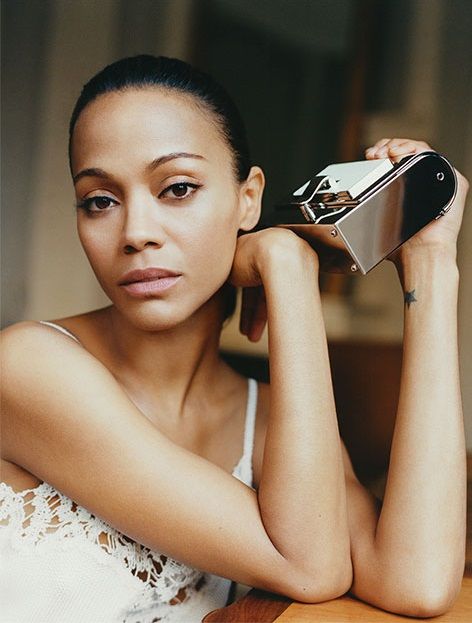 Dressed in a white Thakoon dress (above) and an Alexander McQueen dress on the cover, Rosemary's Baby star Zoe Saldana covers Net-A-Porter's The Edit's "Accessories Issue" where the latest accessories are paired with the season's hottest fashions.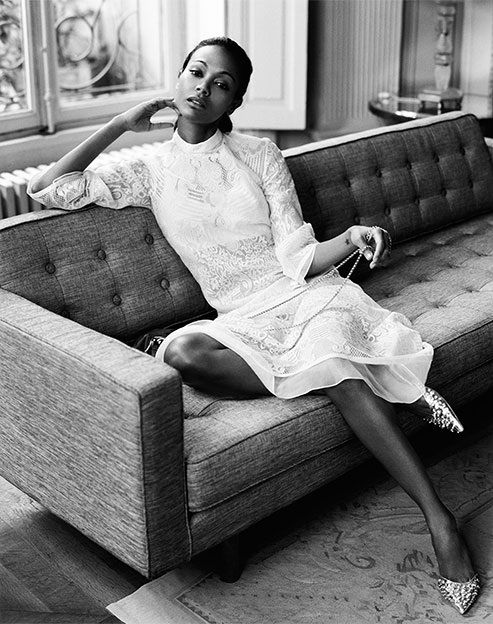 Inside the accompanying profile called "The Woman Within", Zoe is keeping it chic and sexy in the season's IT colors of neutrals and metallics. And the newlywed opens up about her wedding (she wanted it to be discreet), staying in shape (she hasn't worked out in a year!) and reveals why she's so ambitious (she loves a challenge). Here are the highlights:
On keeping her body fit:

"I've been an active person my whole life. The past year has been the only time in my life that I haven't been to the gym. I've been lazy instead of training for something and pushing myself." That inbuilt vigor, she says, is "not because I am trying to be skinny. I just like to know how much endurance I have. But this past year I've let myself go," she continues, with pride rather than guilt. "I've been eating a lot of Chinese, pasta, rice, beans..."

On her under-the-radar wedding:

"I'm not a private person, but I am discreet, so it felt right."

On fashion police:

"I don't care what people think. If I did, I'd be at a different place in life, but I don't. I can't fake it. I follow my heart or my friends' advice. Petra Flannery, my stylist is paramount when it comes to my fashion radar; she pushes me to evolve."

On her career ambition:

"I have ADD, I'm a Gemini and I get bored quickly. So my next challenge is to direct, because I'm getting tired of just being a particle in the whole telling of the story. I want to be more. I want to be there from its conception."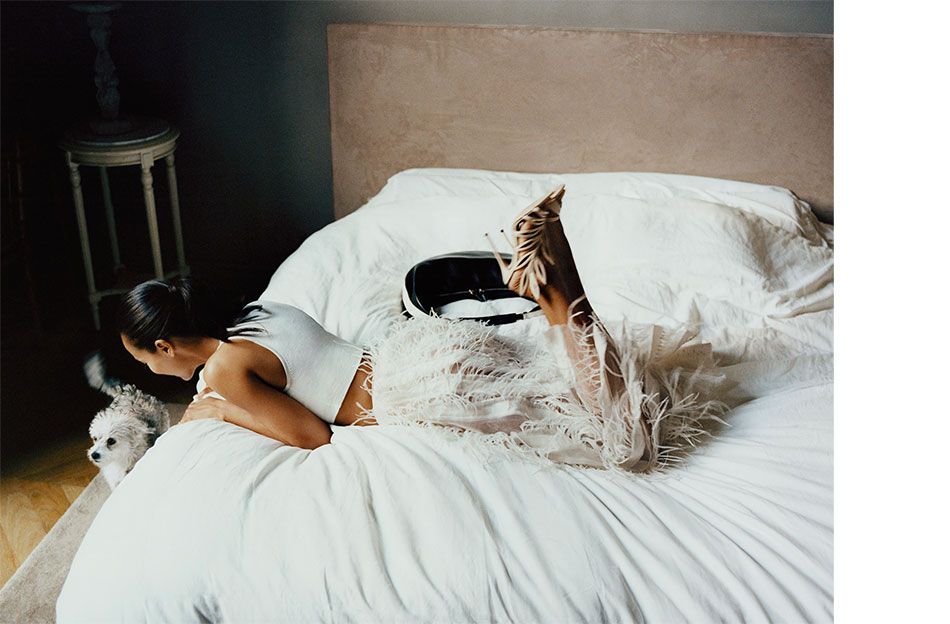 Gorge.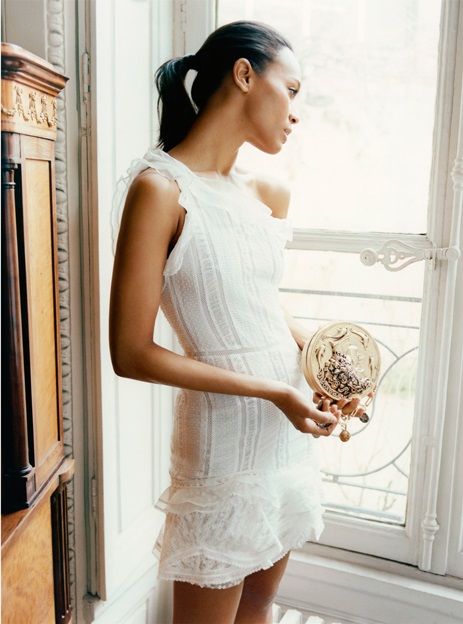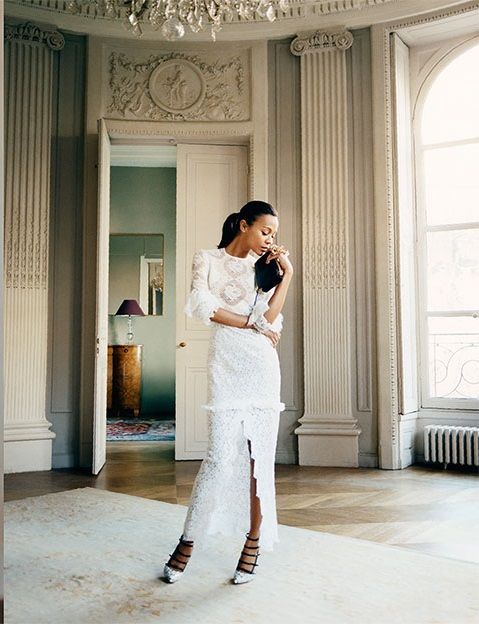 In addition to the upcoming biopic of Nina Simone, Hollywood is buzzing that Zoe might also play Eartha Kitt in a forthcoming movie.
Watch BTS video here:
)
Photos via MATTEO MONTANARI
Big Sean, Pusha T & Teyana Taylor Hit The Stage For G.O.O.D. Music Showcase At SXSW + Lil Wayne CONFIRMS He's Retiring After 'Tha Carter V'
Posted: 13 Mar 2014 11:43 AM PDT
G.O.O.D Music hit the stage last night at SXSW and Lil Wayne says he's retiring…foreal. See the pics and find out what Weezy said about his last album inside…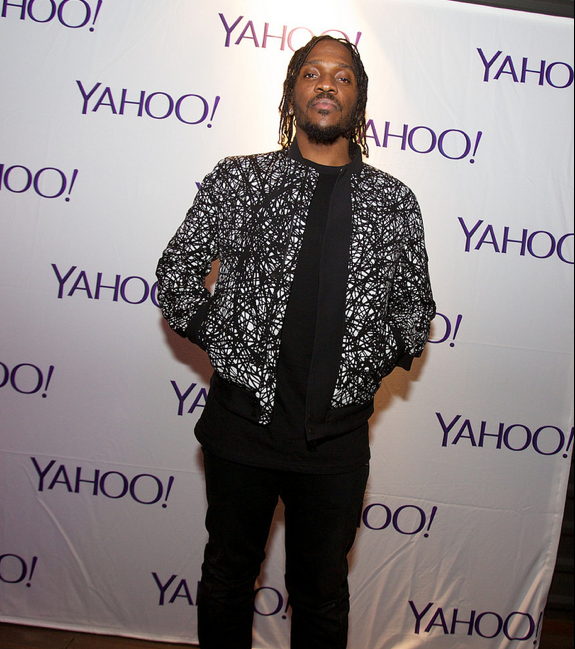 G.O.O.D. music fam hit up the Yahoo Presents G.O.O.D Music Showcase at Yahoo's Brazos Hall in Austin, TX last night.
Big Sean, Pusha T and Teyana Taylor all took the stage to perform in front of a packed audience.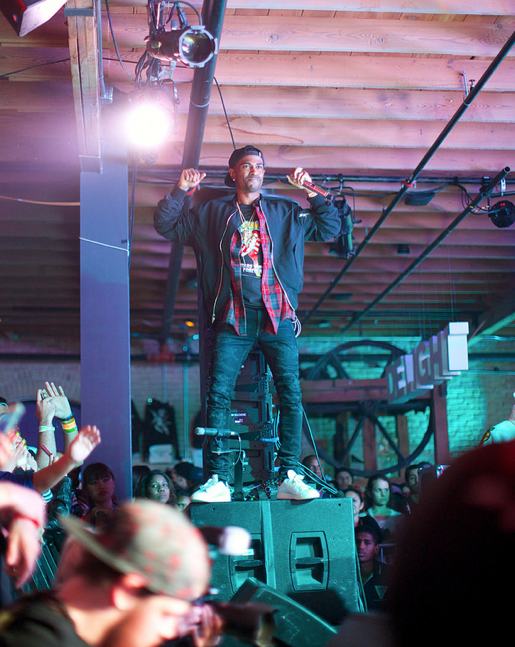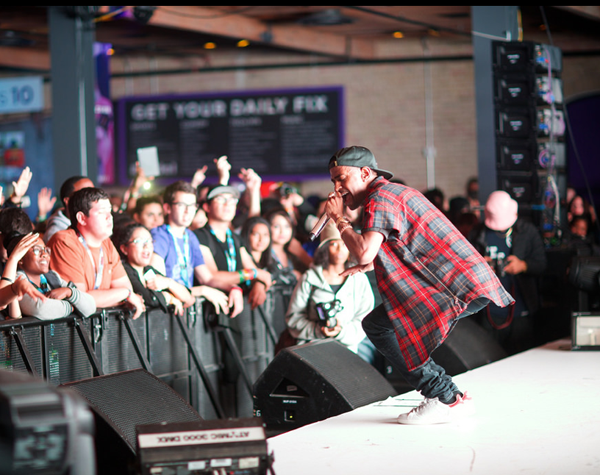 Wonder if Big Sean performed his track "Ashley" during his set...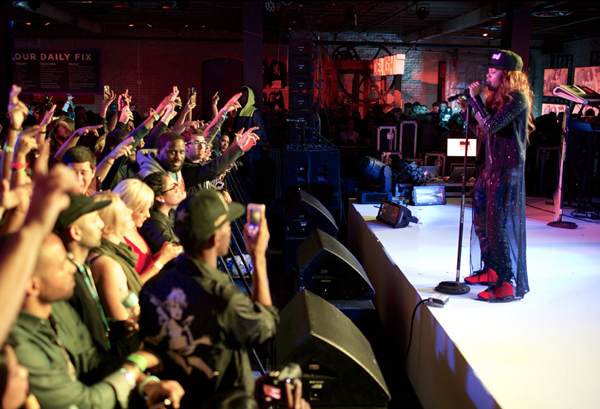 Glad to see Teyana Taylor working after Adidas dropped her over her Twitter war with bad gal Rih.
In other music news…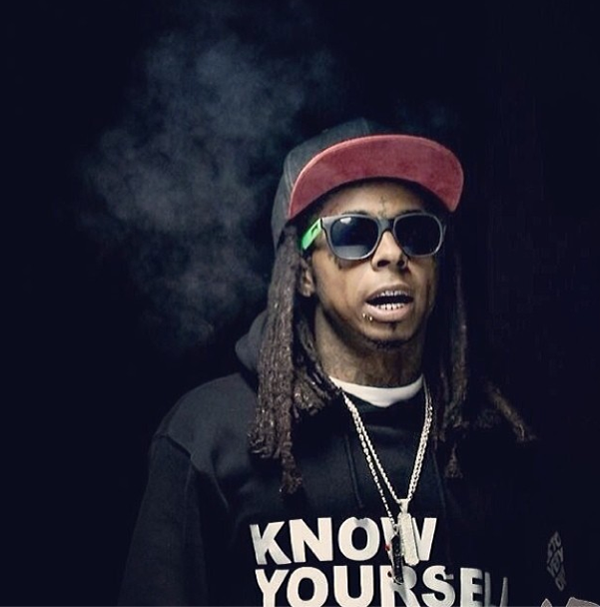 Lil Wayne has announced he plans to retire after releasing his upcoming album Tha Carter V. He hinted he was going to retire when he appeared on Jimmy Kimmel last summer, and now he's officially confirming he's hanging up his mic soon.
Weezy told MTV, Tha Carter V will be his last solo LP but his presence will still remain in music through collaborations with other artists.
"I personally plan on this being my final solo album, yes and it's definitely the final Carter album. It's the final Carter album. It's stopping at five."

"Whenever I have to pitch in for a Young Money album, a Like Father, Like Son album and something like that and maybe something out the blue."
The YMCMB rapper's upcoming album is scheduled to drop May 5th, but according to MTV sources, the date may change.
Photos: Yahoo/Lil Wayne's IG
Sundy Carter & Brandi Maxiell Exchange Nasty Tweets + Draya & Orlando's Courtside Date Night
Posted: 13 Mar 2014 10:53 AM PDT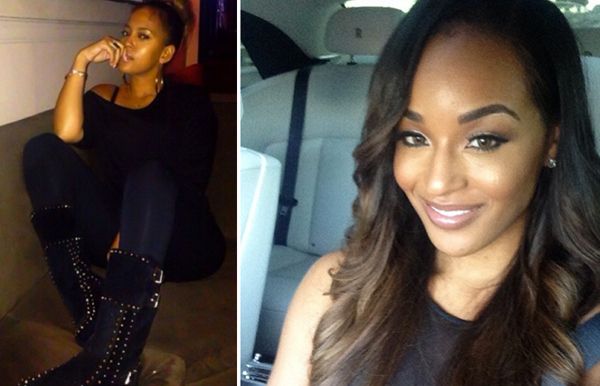 Sundy Carter hit Twitter at 4AM the other morning virtually swinging on "BBW: LA" co-star Brandi Maxiell. Apparently she wasn't feeling what had just gone down on this week's episode. So Sundy tossed some fiery tweets Brandi's way about some pretty sensitive things. Check it inside, plus Draya's courtside date night with Orlando (apparently those cheating accusations aren't stopping Draya's mission to get wifed)....
After this week's episode of "Basketball Wives: LA" ended with a fight at a charity event, you know--the reality show usual--Sundy Carter took to her Twitter account to blast Brandi. Needless to say, the two newbies have not hit it off so well since the season started. So Sundy is accusing Brandi, who is a cancer survivor, of MANY things. And even alluded to her friends smashing Brandi's husband!
@BrandiMaxiell fuck u bitch! Ur a bitter mad hater! Ima tell my friends to stop fuckn ya hubby! Struggln 2 do what I can with ease bitch bye

— SUNDY CARTER (@SUNDYCARTER) March 11, 2014
@BrandiMaxiell please ur a poor excuse 4 an illiterate pity party! Any body can take ur man look at u & look at me Brittish said it 1st

— SUNDY CARTER (@SUNDYCARTER) March 11, 2014
@SUNDYCARTER @BrandiMaxiell and again i did not know cancer patients act upon this way #ijs

— Cheekies (@CheekyCheek_) March 11, 2014
@CheekyCheek_ @BrandiMaxiell surviving cancer patients at that shouldn't u be more humble but u mad at me 4 what again? oh we know y

— SUNDY CARTER (@SUNDYCARTER) March 11, 2014
I don't play the victim role them pop shit! Who does that n what world? Shut ya fuckn mouth period!

— SUNDY CARTER (@SUNDYCARTER) March 11, 2014
@ITALIAN_WINNER right she ain't abt no kinda life all she do is talk! I have nothing else 2 say! Let her insecure fragile ass gtfoh!

— SUNDY CARTER (@SUNDYCARTER) March 11, 2014
Brandi popped back with this:
I really shouldn't belittle my self to childish behavior. But I promise you will all see at the end why this old lady is dead to me.

— Brandi Maxiell (@BrandiMaxiell) March 11, 2014
No one should ever talk about anyone health or children. You all will see what I'm speaking if later.

— Brandi Maxiell (@BrandiMaxiell) March 11, 2014
Goodness gracious!
But elsewhere in L.A., Draya was busy convincing herself and the rest of the world all is just dandy with her and boyfriend Orlando Scandrick. Yep, despite him getting caught having inappropriate communication with with Jackie Christie's daughter, Chantel. And didn't she also say in her confessional that she's caught him slipping up SEVERAL times?
She posted pics of him "taking her out on a date" to the Clippers game: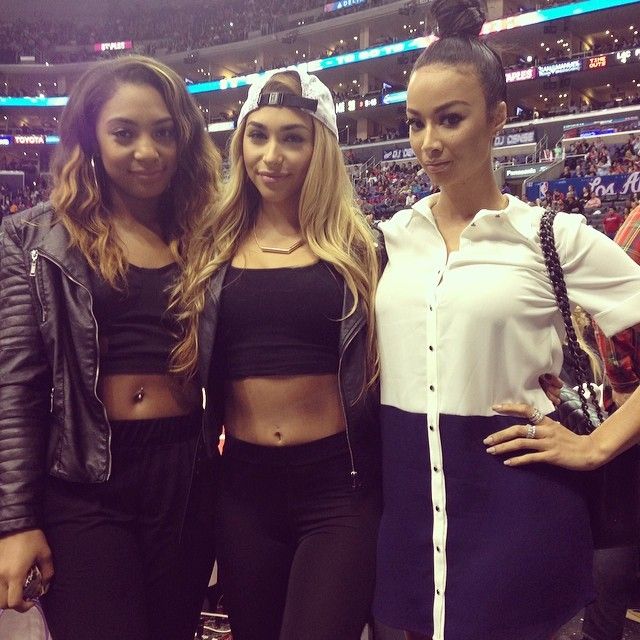 She brought along her friends like Chantal Jeffries.
And any thoughts on both Draya and Orlando belittling Chantal saying she's "brown skin, chubby and has a mole"? Orlando saying "None of that is my type" and Draya responding by essentially calling herself "better" because she's the "model type"....was a bit much. But not surprising.
Thoughts?
Photos: Chantal's G, Draya's IG, Sundy's IG, Brandi's IG