---
UPDATE: Chris Brown Sentenced To ONE MONTH In Jail Until D.C. Trial + Kanye West Pleads NO CONTEST & Receives PROBATION In Photographer Assault Case
Posted: 17 Mar 2014 05:10 PM PDT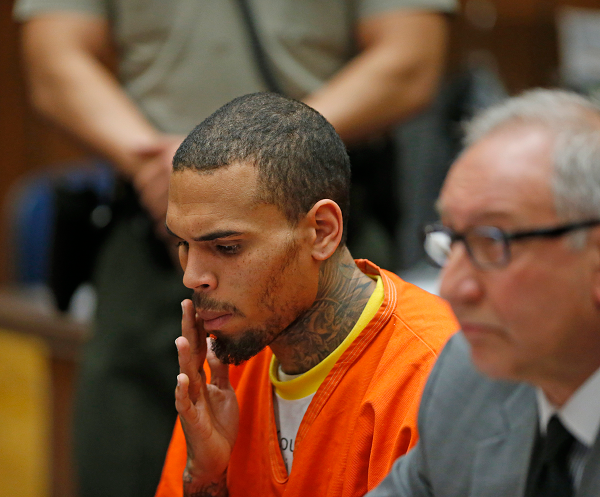 Chris Brown appeared in court today and the judge sentenced him to a month in jail until his D.C. trial plus Kanye West was sentenced to probation for assaulting a photographer. Read the deets inside…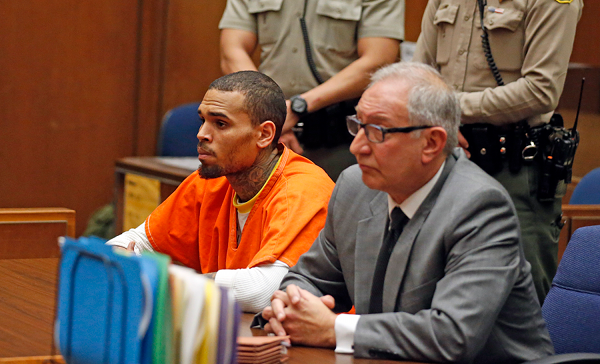 Troubled R&B bad boy Chris Brown appeared in court today after he was kicked out of rehab (for multiple reasons) and arrested for violating his probation in the Rihanna case.
TMZ is reporting Breezy will sit behind bars until April 23rd which is when a judge will hold a probation violation hearing. The judge decided to keep Breezy behind bars due to his "inability to stay out of trouble."
Chris appears in a D.C. court on April 17th in an unrelated case after he was accused of assault outside of a hotel.
If Chris is convicted in the D.C. assault case, he could possibly be facing 4 years in prison.

Stay tuned for more updates...
And in other legal woes...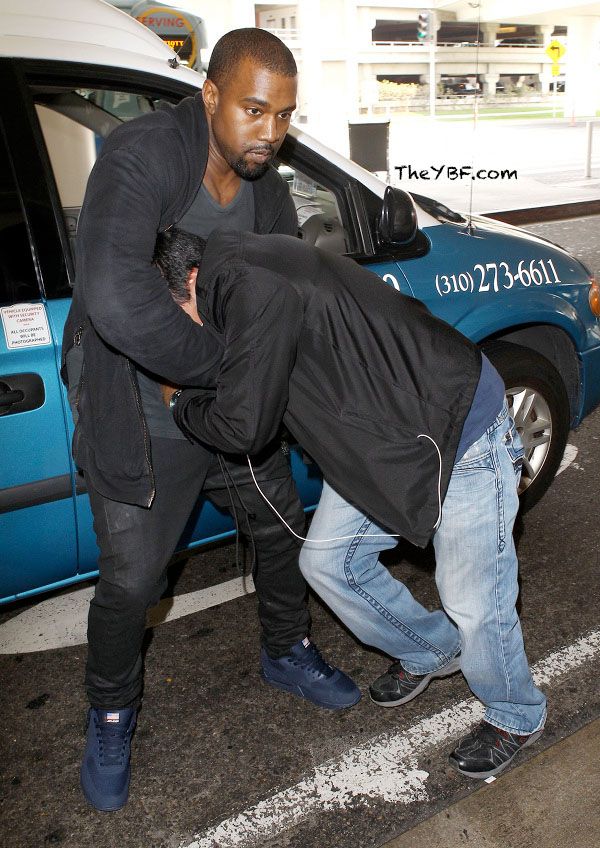 Kanye West has been sentenced to probation after he pleaded no contest to misdemeanor battery. In return for a no contest plea, the attempted grand theft charge was dropped.
Kanye West attacked a photographer at Los Angeles International Airport last July and the photographer pressed charges.
The photog expressed to the judge he wanted Ye' to be sent to jail and he also said he felt like Kanye attacked him to promote his album, Yeezus.
According to TMZ, Yeezy was sentenced to 2 years of informal probation, 24 private therapy sessions for anger management, he has to complete 250 hours of community service AND he has to stay away from the photographer.
Kanye must also pay for any damage done to the photog's equipment and any hospital bills he acquired.

Photos: Pool Photos / Splash News
YBF KIDS: T.I.'s Son Domani CELEBRATES His 13th Birthday With An Egyptian Themed Party
Posted: 17 Mar 2014 04:41 PM PDT
T.I.'s son Domani is officially a teenager! And what better way to celebrate than with a big birthday bash. Check out the pics of Domani's birthday celebration inside…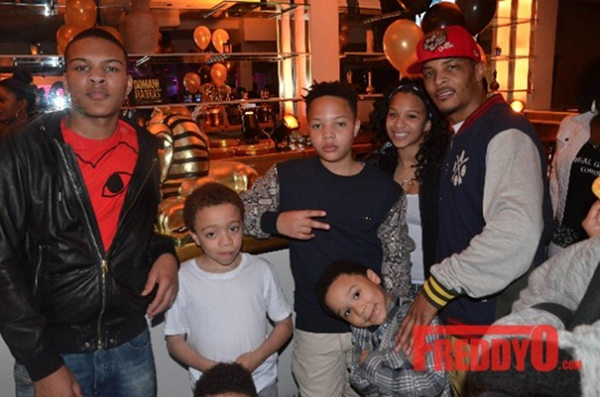 Last year, T.I. threw a big birthday bash for his son's Messiah's 13th birthday, so it was only fitting to throw another memorable party for his other son Domani, who recently turned 13.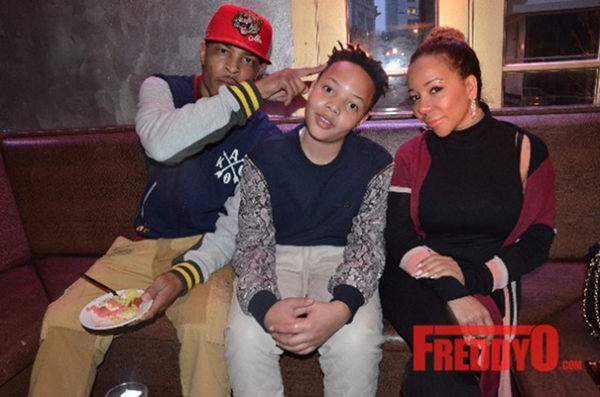 Over the weekend, Tip hosted an Egyptian themed party in Atlanta at Krave Lounge complete with a sphinx cake, Egyptian tomb and Egyptian throne chair.
The entire Family Hustle Harris Gang were all there including Domani's mother Shon and his step-mom Tiny.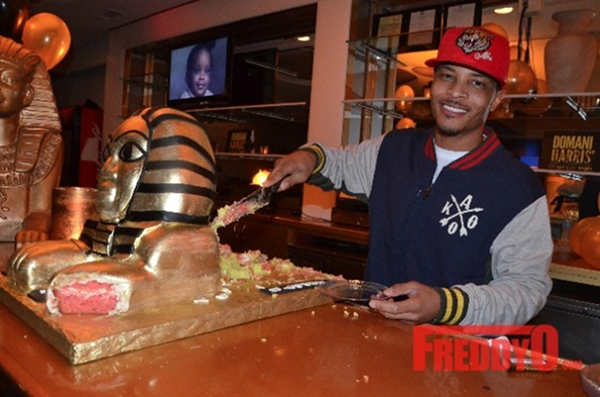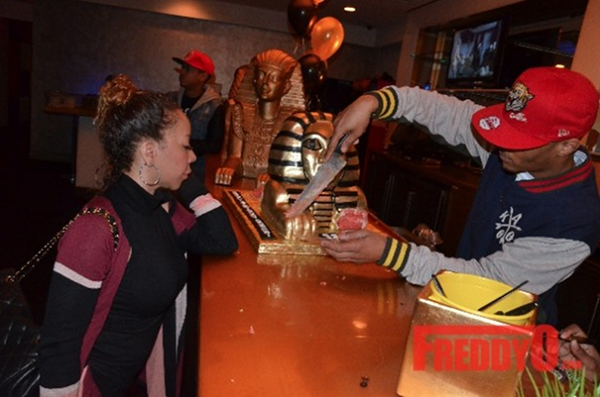 The King of the South got to work cutting and passing out pieces of cake for his prince.
Domani's big sis Zonnique was there to celebrate.
His younger sister Dejah was there. She is growing into a lovely young lady.
Of course his two younger brothers King & Major were there for the celebration.
Tip's sister Precious helped celebrate her nephew's 13th birthday.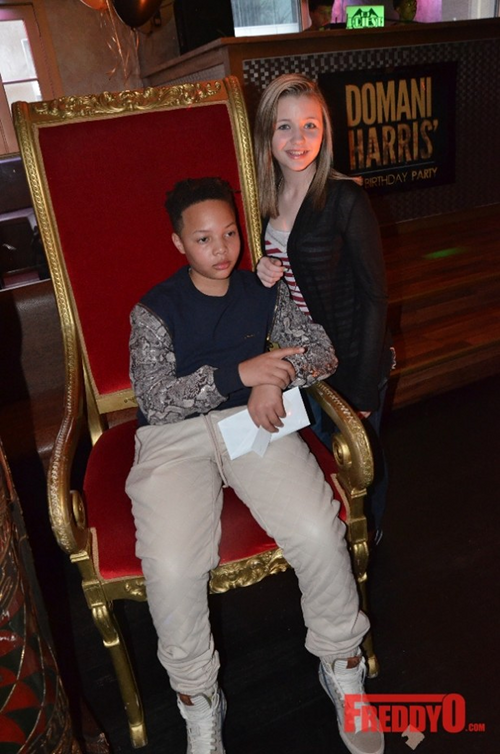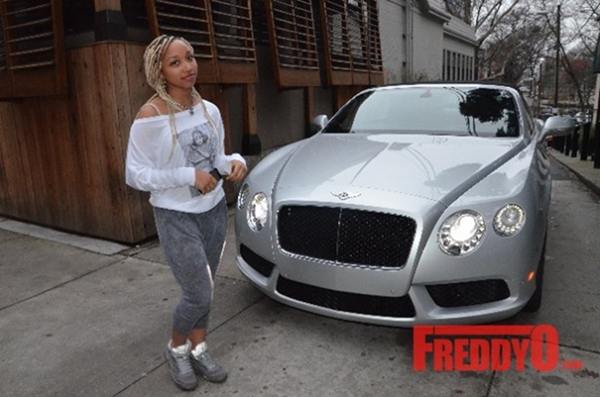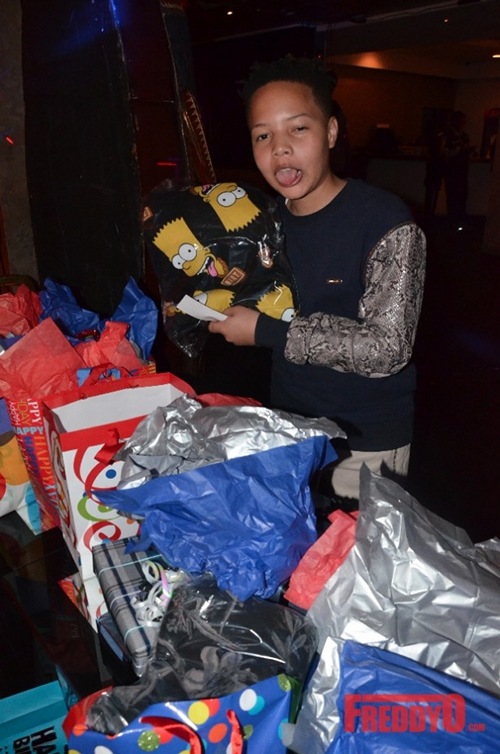 And Domani had plenty of presents to rip open before the day was over.
Happy Birthday Domani!
"T.I. & Tiny: The Family Hustle" season premieres Monday, March 31st at 9/8c on VH1
Photos: Freddy O
IN CASE YOU MISSED: Are Kenya Moore & Keshia Knight Pulliam Going To Be On This Season's "Celebrity Apprentice?" + Countess Vaughn Says She Developed A Scalp Infection Wearing Lace Fronts!
Posted: 17 Mar 2014 04:23 PM PDT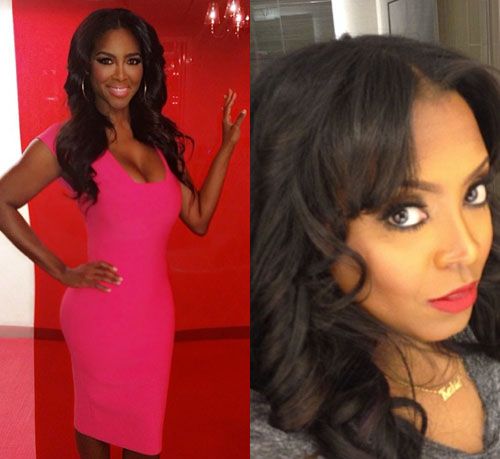 Kenya Moore and Keshia Knight Pulliam are rumored to be joining the cast of this upcoming season of "Celebrity Apprentice." Countess Vaughan reveals she contracted a scalp infection from wearing lace fronts! Read the deets inside…
Rumors are circulating that "RHOA" star Kenya Moore and former "Cosby Show" star Keshia Knight Pulliam are among the new cast members for the upcoming season of Donald Trump's "Celebrity Apprentice."
Sources tell TMZ Kenya and Keshia will be joined by former talk show host Geraldo Rivera, "RHOBV" star Brandi Glanville and "Jon & Kate Plus 8" star Kate Gosselin.
IF the rumors are in fact true, will you be tuned in?
Also…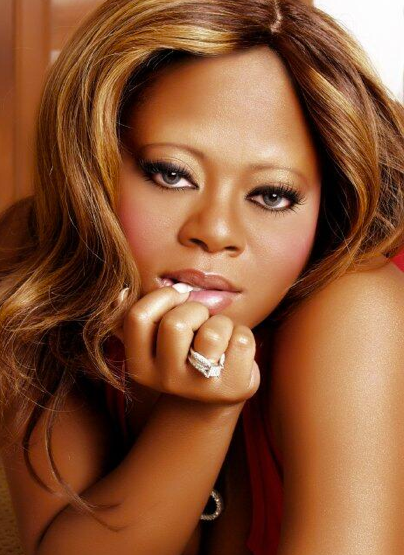 Former "Moesha" star Countess Vaughn revealed how she developed a severe scalp infection after she constantly wore lace front wigs.
Countess admitted she wore a lace front wig 24-hours a day almost everyday. She recalled the oozing of puss from her head and an awful smell she let go on for 6 months before she sought treatment. She found out she was allergic to the glue she used to apply her wigs which caused severe skin discoloration and dramtic hair loss.
Check it:
Wow! Ladies, be careful with these lace fronts!
Photos: Kenya Moore's IG/ Keshia Knight Pulliam's IG/Countess Vaughn's Twitter

Tyler Perry REVEALS His Mom LIED About His BIOLOGICAL Father's Identity + Oprah Winfrey SELLINGS Harpo Studios In Chicago
Posted: 17 Mar 2014 03:39 PM PDT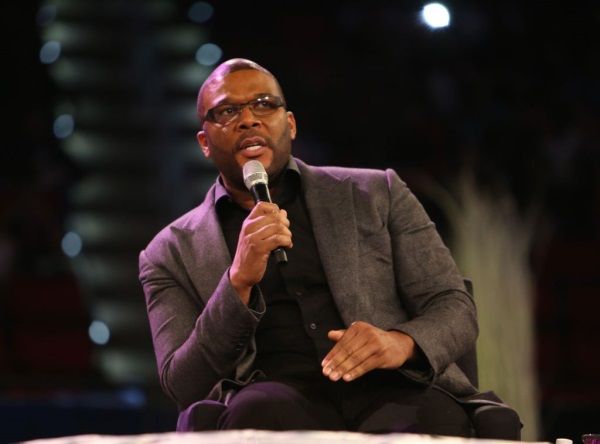 Tyler Perry revealed a shocking family secret over the weekend that will make you gag. Find out about his mother's lie inside and get the deets on Oprah Winfrey selling Harpo studios.
During the Women's Empowerment 2014 event in Raleigh, NC, Tyler Perry made a shocking revelation during an interview with Cathy Hughes, the founder of Radio One. He said, "I love my mother to death, but she lied to me."
He told the audience that he took a DNA test with his brother and found out that the man who raised him (who was also very abusive) was not his father. He encouraged women in the audience not to keep secrets from their children. Now.....he's trying to find out who is his biological father.
In other news, his latest film Single Mom Club took in $8M this weekend at the box office. It opened at #5 and is Tyler's lowest opening weekend ever.
In other entertainment news.....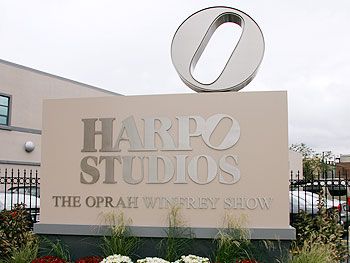 Oprah Winfrey plans to sell Harpo Studios in Chicago to Sterling Bay developers. If you haven't had a chance to take a photo on the sacred ground, you have about two years left. That's how long they expect the studio will remain on the property.
A Harpo spokesman said, "We have entered into a purchasing agreement with Sterling Bay for the four-building Harpo Studios campus in Chicago's West Loop...We expect the transaction to be closed in 30 days. The property will be leased back to Harpo for two years and the studio will continue to produce programming for OWN."
Photos via Tonya Jameson
Solange Talks Relationships & Fashion In Harper's Bazaar + Karrueche & Kyla Pratt Attend "A Brighter Future For Children" Benefit In Beverly Hills
Posted: 17 Mar 2014 03:06 PM PDT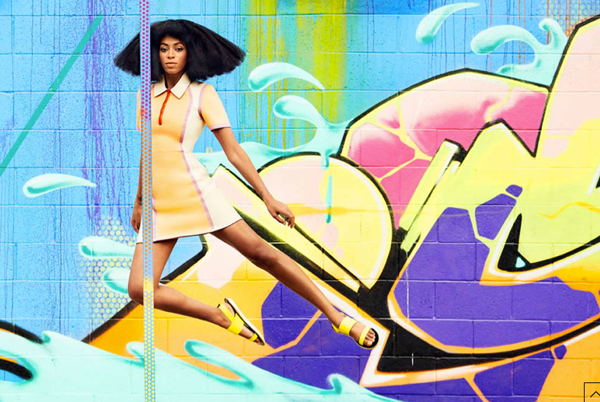 Solange splashs an array of colors in fashion magazine Harper's Bazaar while Karrueche and Kyla Pratt hit up a charity event. Check the pics when you go inside…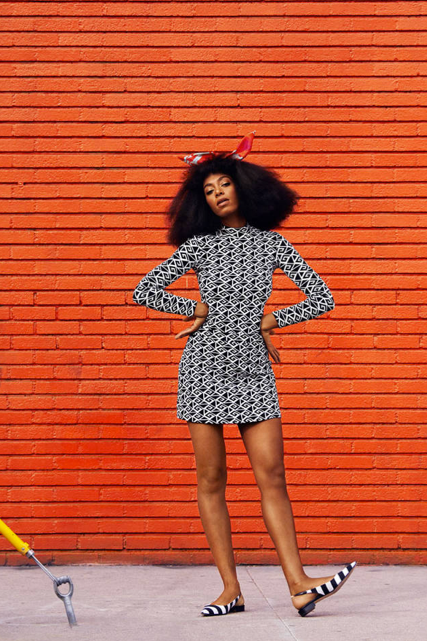 Solange Knowles shows off her funky, eclectic style in fashion magazine, Harper's Bazaar this month. The New Orleans resident (after leaving her brownstone apartment in Brooklyn) kept it cute in a $12,500 Chanel dress, a Moshino jumpsuit and Ralph Lauren sweater dress shot by Julia Noni.
Bey's fab little sister has isolated herself in Cajun country as she works on a new album.
"I figure there's no better way to buckle down and finish it than to be as far away from everyone as possible, cell phone and computer behind. I'm not very good at writing songs when I have a lot of clutter in my mind."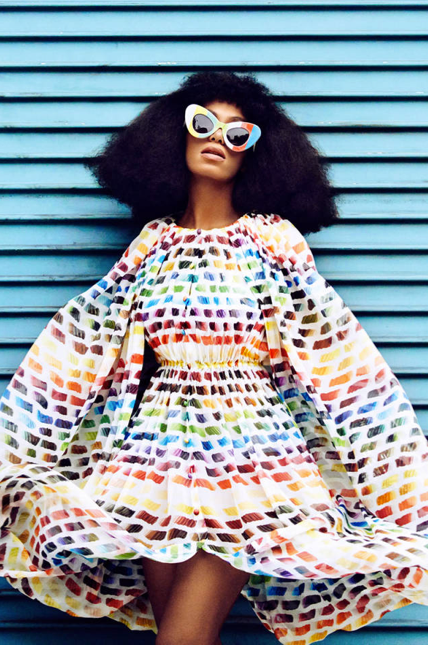 The 27-year old fashionista dished on following in her big sis Beyonce's footsteps, her failed marriage with her childhood sweetheart Daniel Smith, her current relationship with video director Alan Ferguson and revealed whether she would let her son Juelz enter the entertainment industry.
Here are the highlights below:

On her following Beyonce's footstep to become an entertainer:
"My parents constantly tried to talk me out of being an artist," she says. "They had gone through the whole journey with my sister and just wanted me to have a normal teenage life."

On her failed relationship with her ex-husband Daniel Smith:
"In a lot of ways, emotionally and mentally, I feel far older than 27," she says. "Just going through a marriage and a divorce—which I essentially did by 21—will give you an insane amount of perspective on life."

"We co-parent really well," she says. "I'm able to say, 'I need to finish this album, can you step up and take care of the boy?' "

On her fashion sense:
"You can pull images of me from seven to 14 years ago and I was absolutely nuts," she says. "I have always been drawn to interesting pieces and colors, but I didn't quite know how to limit myself and make those statement pieces work. It sounds silly, I know, but having space for my clothes made a huge difference. I was able to get organized, free myself of clutter, and develop a style that felt like me."

On if she'd let her son Juelz get into the entertainment industry:
"It's certainly not what I have in mind for him," she says with a laugh. "I'm constantly trying to push him to work at the U.N., or be a diplomat. I try to convince him by explaining that he wouldn't have to wait in lines at the airport, and that he can park anywhere."

On her relationship with video director Alan Ferguson:
"Luckily, I dated all of the losers ages ago. My love life has been stable for a while," she says, adding wryly, "It's a fucked-up thing—without conflict it's a lot harder to write interesting songs."
Check out the full interview here.
Also...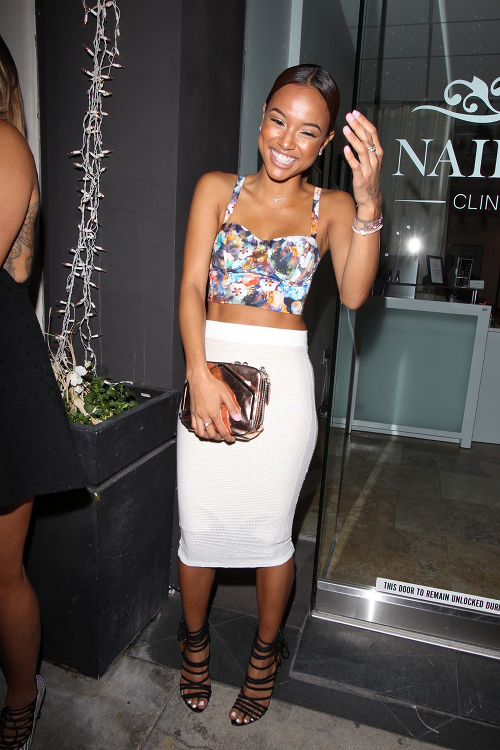 Karrueche Tran, Kyla Pratt and Kat Graham hit up The Dream Builders Project's "A Brighter Future For Children" Benefit at H.O.M.E. in Beverly Hills on yesterday.
A nicely tanned Kae was all smiles on the red carpet in a cute printed cropped bustier. Sunbathing really has her glowing.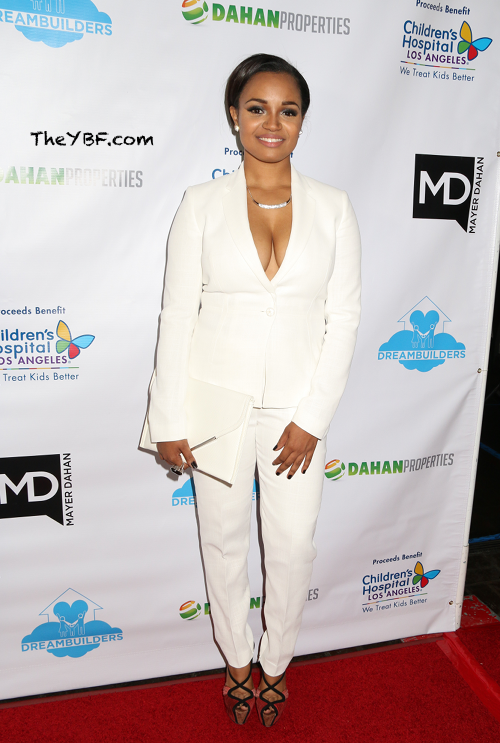 "Let's Stay Together" actress Kyla Pratt (who became a mother for the 2nd time around in August) looked hot in an all white pants suit.
And actress Kat Graham kept it interesting in her pink and black ensemble.
Photos: Julia Noni/Harper's Bazaar/PCN/Parisa
Gabrielle Union & Dwyane Wade Sneak Out Of LeBron James' Award Ceremony To Celebrate Their Engagement In Miami
Posted: 17 Mar 2014 12:07 PM PDT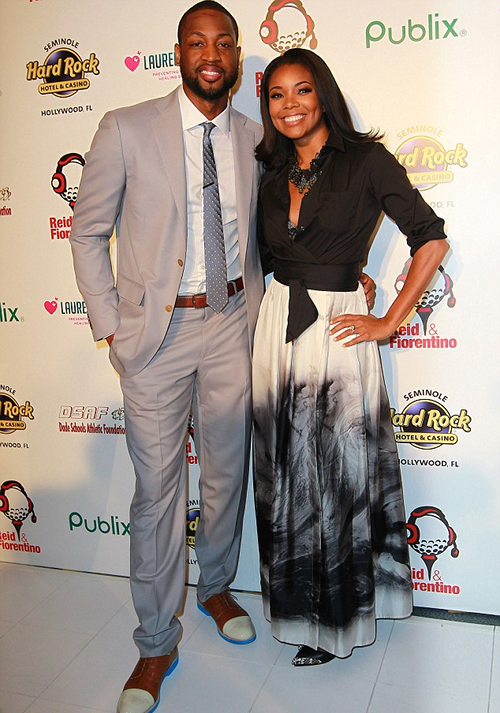 Gabrielle Union and Dwyane Wade attended an award ceremony for LeBron James then snuck out to their own engagement party. Check out the pics and deets inside…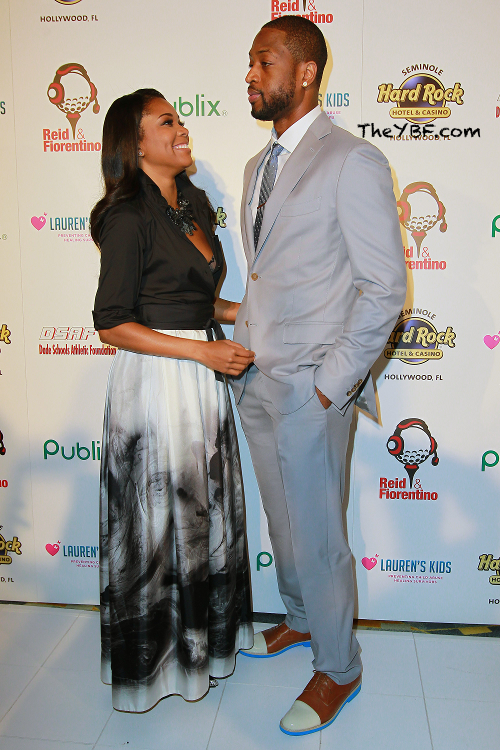 Gabrielle Union and Dwyane Wade attended The Annual Reid and Fiorentino Call of The Game dinner at the Seminole Hard Rock Hotel and Casino hosted by Gabby.
Dwyane had on a gray Ferragamo suit while Gabby wore a smoke print Sara Roka exclusive gown and EK Thongprasert statement necklace.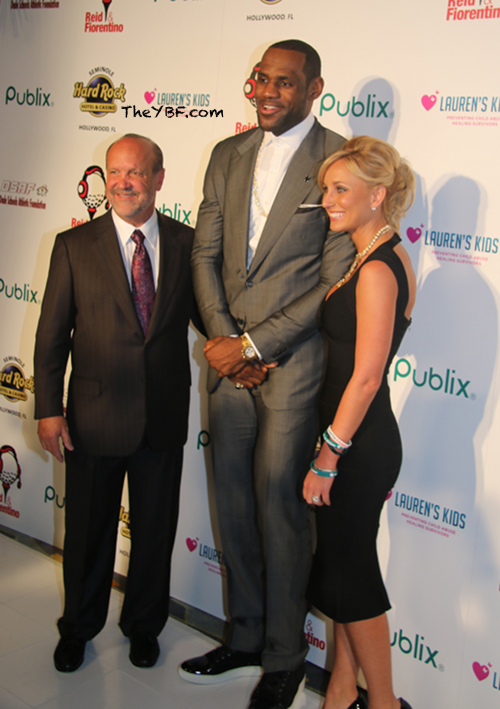 D. Wade's teammate LeBron James (pictured above with Florida attorney Ron Book and his daughter Lauren Book) was being honored the Don Shula Sports Legend Award during a dinner awarded by the Miami Dolphins' legendary coach Don Shula.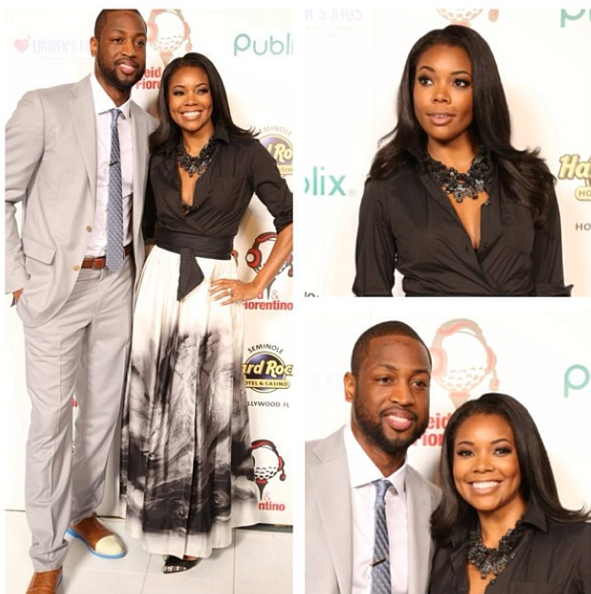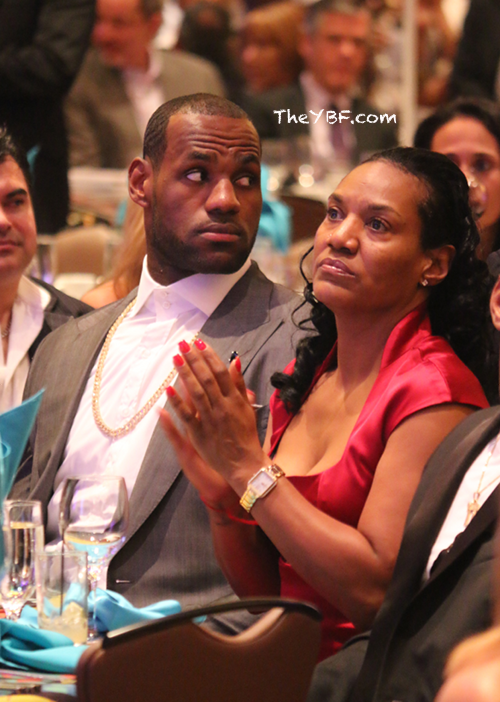 LeBron sat next to his mother, Gloria James, during his dinner ceremony. We told you last week his wife Savannah is almost 4 months pregnant expecting baby #3, which would explain why she wasn't present for the dinner honoring her husband.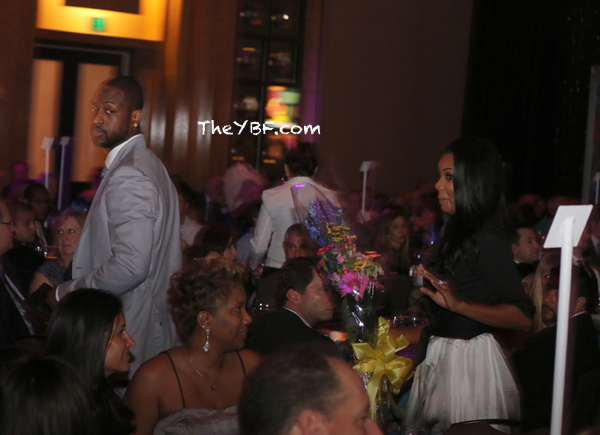 And Gabby & D. Wade were busted as they tried to sneak out of the event, missing Lebron's award ceremony.
And they were in a hurry to leave because…
They had an engagement party to get to!
Although Gabrielle Union and Dwyane Wade got engaged back in December, the couple hosted their engagement party at Pearl at Nikki Beach in Miami on Saturday. They were surrounded by family and friends including Kelly Rowland, Kevin Hart & Jamie Foxx.
The "Being Mary Jane" star's parents were also in attendance. She shared on Instagram:
"You know it's a good time when Pops is turnt is the club... #pearlchampagnelounge#ohmyleg#noYOUtellmydadhesbeencutofffrombottleservice."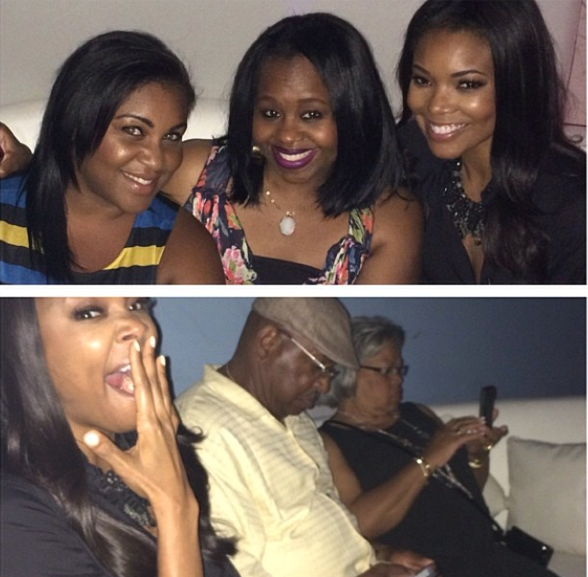 She posted this funny picture above of her parents glued to their cell phones saying:
While me @telltell_heart @dauniedaune were busy havin fun... Those youngins were very busy chile on their phones #settinuplatenightmoveswithoutthekids

Ha! Still no word on an official date for their actual wedding.
Now it's back to the grind as D. Wade and the Miami Heat head to the Quicken Loans Arena in Cleveland, Ohio (LeBron James' hometown) tomorrow in a game against the Cleveland Cavaliers.
BONUS:
Gabrielle Union is set to star in Chris Rock's upcoming film "Finally Famous," which Chris wrote and will be directing.
Gabby landed the female lead role and will play Chris Rock's popular reality TV star fiancée. Gabby's role will be trying to convince Chris' character to have their wedding filmed on her reality TV show. Chris plays a comedian (how fitting) who wants to be taken seriously as a professional actor.
Rosario Dawson also landed a role as a journalist who ends up falling for Chris Rock's character.

Photos: Charlie Ans /Splash News /Gabrielle Union's IG

DO WE LOVE IT?! Porsha Williams' "Flatline"
Posted: 17 Mar 2014 11:50 AM PDT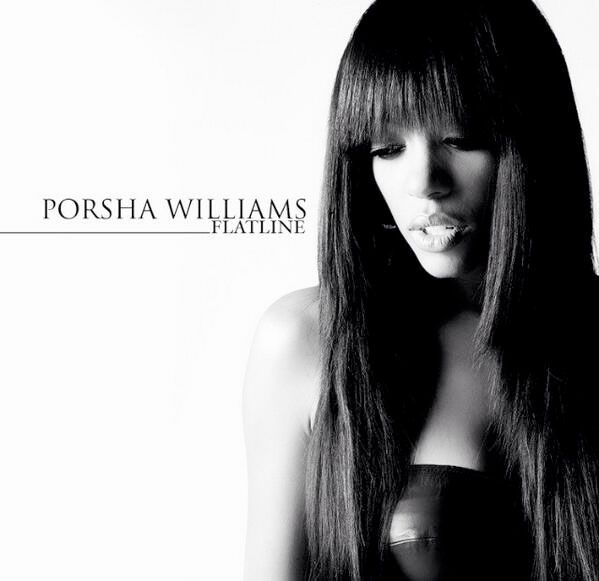 Porsha Williams is launching her music career with her first song, "Flatline." Check out her new track inside…
"RHOA" star Porsha Williams has been on a roller coaster of emotions lately. First, she went through a nasty divorce from her ex-husband Kordell Stewart and virtually got next to nothing in the divorce settlement. Then, there were rumors she was dating the son of an African dictator, Teodoro Nguema Obiang Mangue, whom she confirmed she isn't dating.
Now she's dropping her debut single "Flatline" (available on iTunes) from her upcoming five-song EP.
Porsha explained to The Dish how the song came about:
I've been working on this song throughout the whole divorce and the whole season [of RHOA], mapping out my emotions and putting in things that I've gone through. It's really kind of a documentary of everything that I went through to become who I am now."
Check it below:
No word on when her EP is expected to drop.
So...
DO WE LOVE IT?!
REVEALED: REASONS Chris Brown Got BOOTED From Rehab + Chief Keef Busted For DUI....Only Two Weeks After Rehab!
Posted: 17 Mar 2014 11:16 AM PDT
We now know why Chris Brown was kicked out of rehab. Find out what landed Chris in jail and get deets about Chief Keef's DUI inside.
Over the weekend, we told you about Chris Brown heading back to jail and getting kicked out of rehab. Now...we know why. According to TMZ, Chris violated 3 internal rules:
1. He was order to stay at least 2 feet away from women (he violated it by touching the elbows and hands of a woman).
2. He went on an authorized outing BUT refused to submit to a drug test when he returned.
3. He made harsh comments during a group session.
On another note, TMZ also reported that he "hooked up" with a woman at the facility (but that was not a factor in him getting the boot).
Now that we've cleared that up....he's still in jail and is expected in court today.
In other arrests.......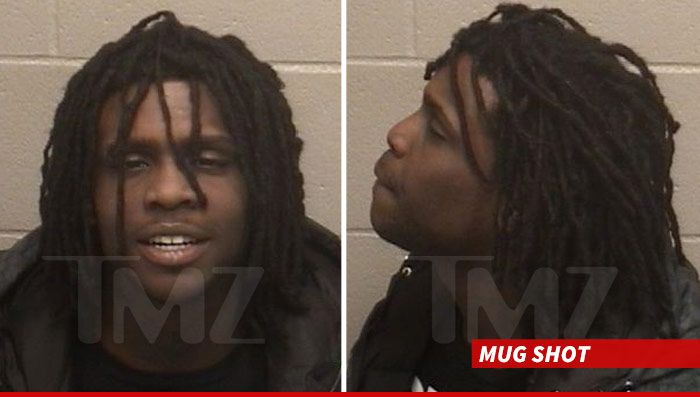 We've just learned that rapper Chief Keef was arrested two weeks ago (March 5th) for a DUI. What happened? Keef was arrested for driving under the influence of marijuana. Sidebar: he was in rehab for weed shortly before his arrest! He was also charged with driving on a suspended license and cited for having no proof of insurance. He was later released after posting $300 bail.
BONUS:
Retired NBA player Eric Williams, who appeared alongside estranged wife Jennifer Williams on "Basketball Wives", was recently served with a court summons over back child support. According to TMZ, Eric owes the mother of his 13-year-old son around $24K and he's ignored a court order to pay off the amount. Now that he's been served, he must appear before a judge or face jailtime. We'll keep you posted....
Photos via Getty/VHI/TMZ