---
OSCAR AFTER PARTIES: Lupita Nyong'o, Halle Berry, Paula Patton, Kerry Washington And MORE CELEBRATE!
Posted: 03 Mar 2014 09:10 AM PST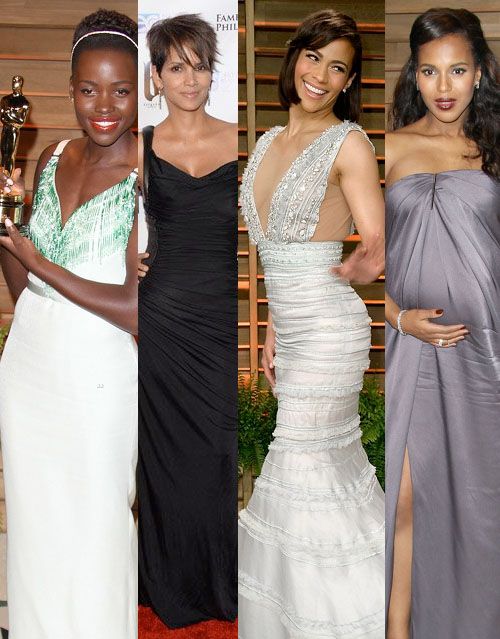 It seems the Oscar after parties are just as big as the actual ceremony! We've gathered pics of our fave celebs at the Oscar afterparties for you inside....
The Elton John AIDS Foundation Oscar viewing party went down last night to help raise money for AIDS reseach.
The foundation's viewing party is a very successful fund-raising event in Hollywood on Oscar night and Kelly Rowland and Mel B were there to lend support.
Kelly Rowland kept it elegant and sexy in a long black silk gown that featured an open back and a tad bit of side boob.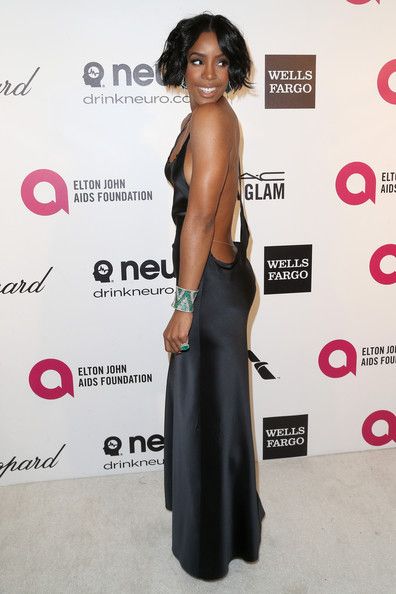 Gorge.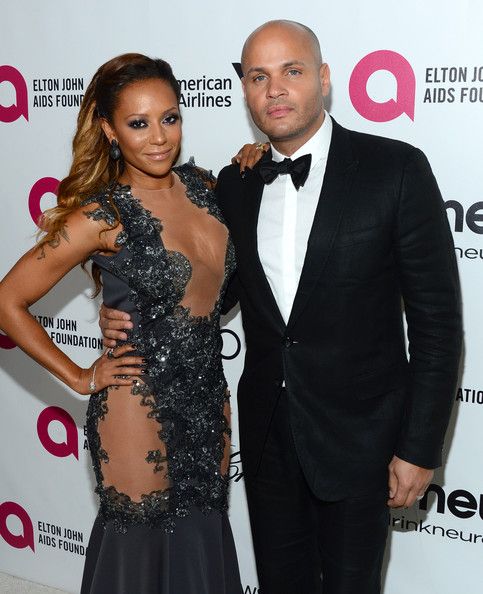 Mel B hit the carpet with her husband Stephen Belafonte in a grey cutout dress exposing quite a bit of skin.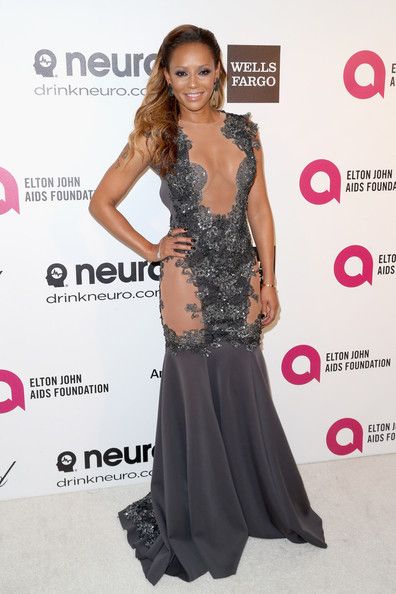 Over at the Vanity Fair Oscar afterparty:
Best Supporting Actress Lupita Nyong'o switched it up for the Vanity Fair afterparty in a Miu Miu white and green silk gown with beaded fringe along the neckline.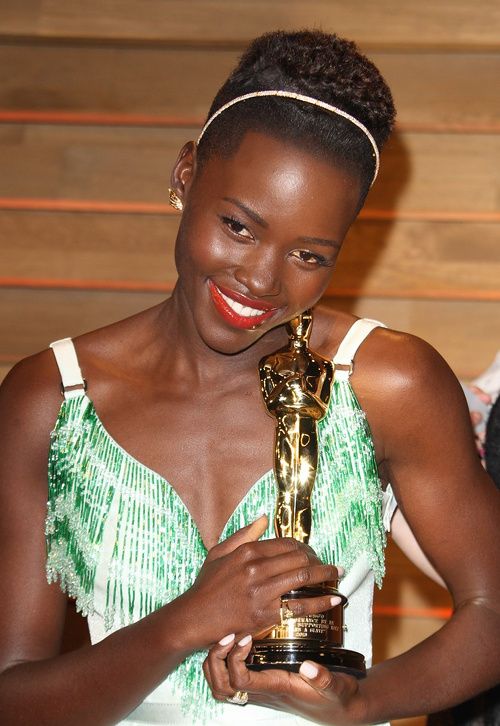 Loves it.
"Scandal" star Kerry Washington and her baby bump glowed in a Jason Wu creation.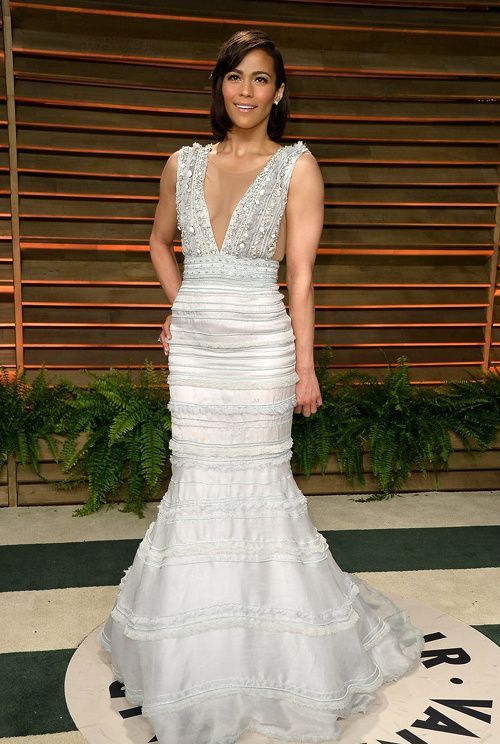 Paula Patton looked beautiful in a white Celia Kritharioti dress. She paired her look with Yves Saint Laurent shoes, a Helmer clutch and David Yurman jewels. She is really putting on a brave face.
"Being Mary Jane" star Gabrielle Union looked hot in a long v-cut sparkly black gown.
John Legend & his wife Chrissy Teign looked nice in all black. Chrissy changed from her floral Monique Llulhier gown, which we loved, into a strapless long black silk dress with a split.
Will Smith & Jada Pinkett Smith always look great. Jada changed into a beautiful Cavalli dress and is simply stunning.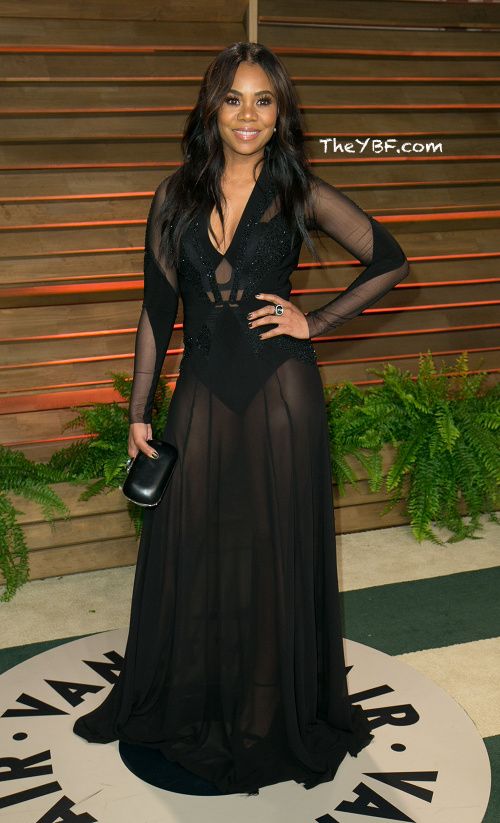 Regina Hall sexed it up in a sheer black flowing gown. Not mad.
Rita Ora was there in an ivory Miu Miu sleeveless column dress. The neckline was embroidered in Swarovski crystal with a peplum style flare at the hip. Cute.
LL Cool J looked dapper as he gave a salute walking in.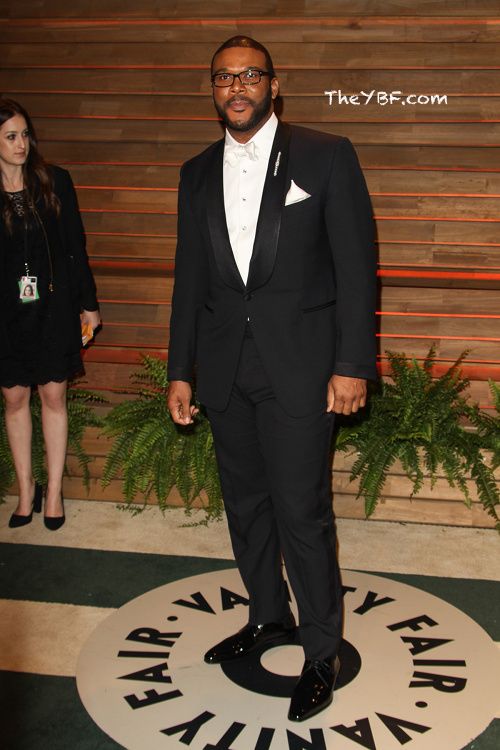 Tyler Perry looked nice.
And "E News" correspondent Alicia Quarles looked beautiful in a Lela Rose dress and Le Silla shoes.
Over in Beverly Hills...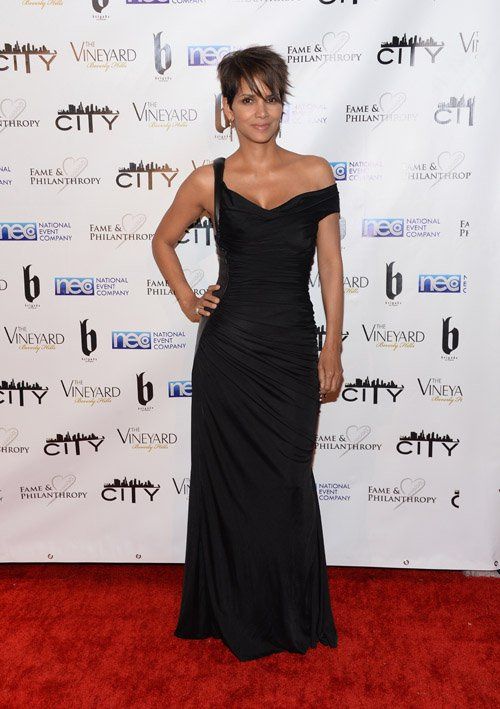 Celebs Halle Berry, Ne-Yo Rev Run, Tyrese and more gathered for the Fame and Philanthropy Post-Oscar Party at The Vineyard.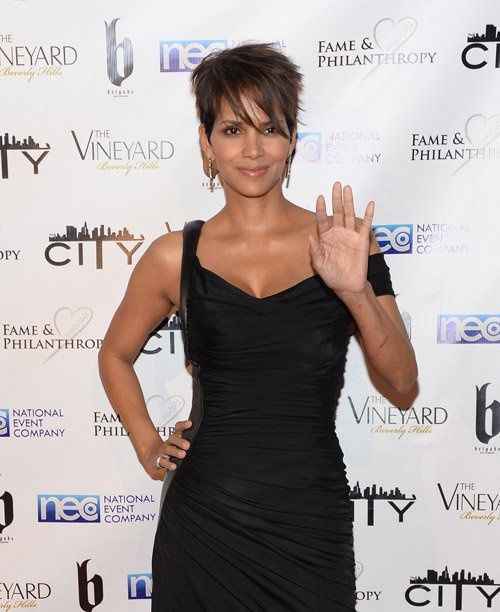 Halle Berry didn't attend the Oscars awards but she did make an appearance on the carpet for the Fame party. She looked her usual stunning self.
Ne-Yo looked handsome as he gave a big smile for the camera.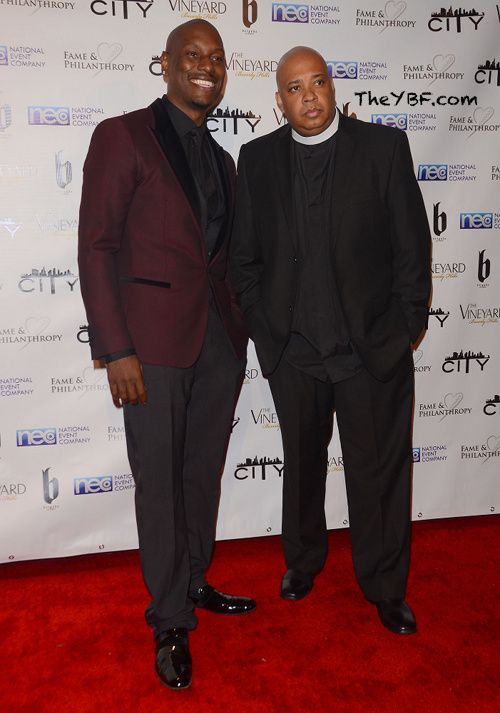 Tyrese and Rev. Run hit up the red carpet looking dapper.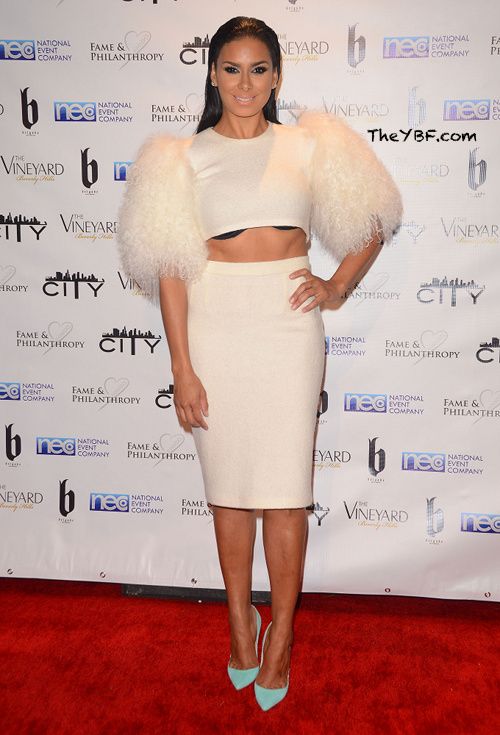 And Gloria Govan was there with a cream colored cut-out dress with shaggy shoulders.
Fab times!
Photos: Frederick M. Brown/Getty Images North America/ WENN/ Ad Media/Splash
THE TAX MAN COMETH: Lil' Wayne GIVES Uncle Sam The MIDDLE Finger, OWES $12 Million In TAXES!
Posted: 03 Mar 2014 07:06 AM PST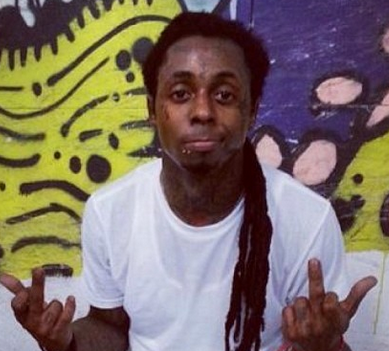 Lil' Wayne has been socked with a $12 Million tax lien. Get the deets on Weezy's tax woes inside...
The federal government has hit rap superstar Lil' Wayne with a $12 Million tax lien. In documents obtained by TMZ, Uncle Sam alleges that Weezy gave the Feds the middle finger and skipped out on his taxes in 2011 ($5,843,952) and 2012 ($6,311,132). And this isn't the first time Wayne's been late with paying his taxes. In 2008, he owed $7 Million (he's paid it off).
Obviously, his money management team has been slacking off because FORBES says Wayne made $16 Million in 2013 alone! He's got the dough!
Get it together CASH MONEY Records! SIDEBAR: They've probably dropped $12 Million at King Of Diamonds over the past few years...the FEDS should start there....Just sayin'.....
Photo via Lil Wayne's Instagram
DO WE LOVE IT: Beyonce's ALL GOLD EVERYTHING Catsuit
Posted: 03 Mar 2014 05:23 AM PST
Beyonce's added a new ensemble to "The Mrs. Carter Show World Tour" and it's ALL gold. Decide "Do We Love It" inside...
Beyonce debuted a new outfit during the UK outing of The Mrs. Carter Show World Tour and it appears that she's been inspired by the Oscars....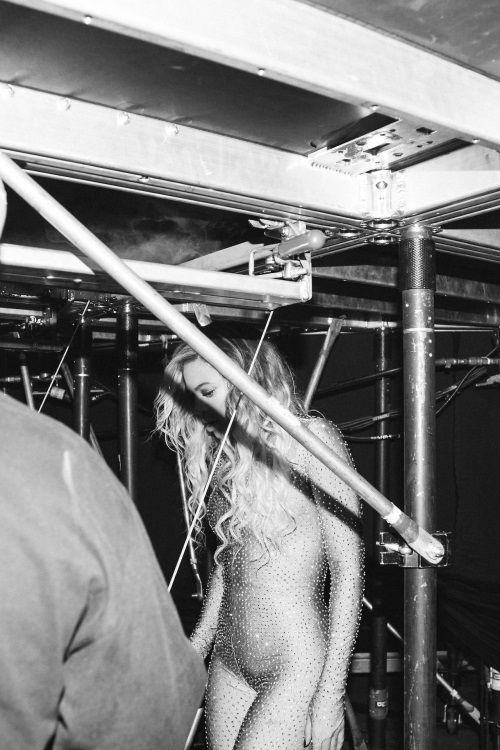 or maybe the Golden Globes.....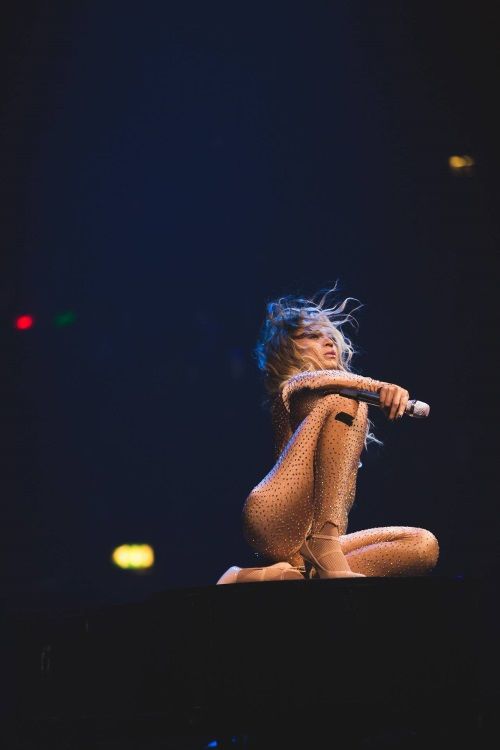 So....Beyonce's gold catsuit......
DO WE LOVE IT?
BONUS: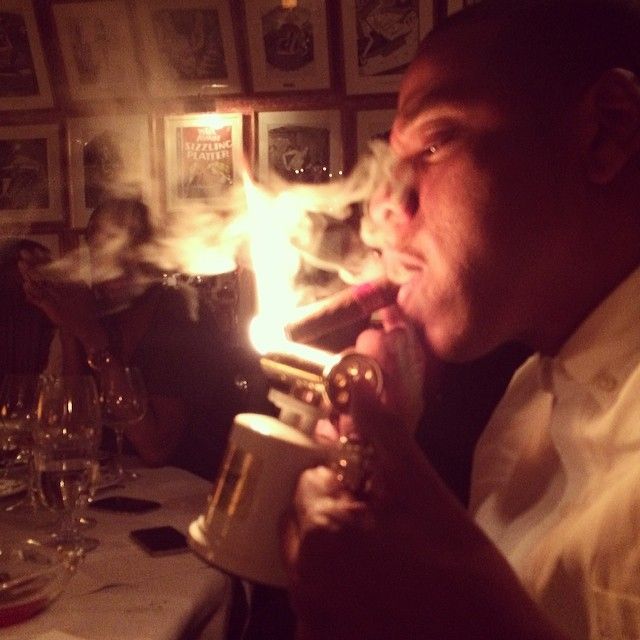 Bey also posted a pic of Jay Z puffing on a cigar. While on tour, he travels the world with an employee whose sole responsiblity is to roll cigars. Nice.
Photos via Beyonce's Tumblr
OSCAR-GRAMS: Celeb Selfie Round-Up!
Posted: 02 Mar 2014 10:31 PM PST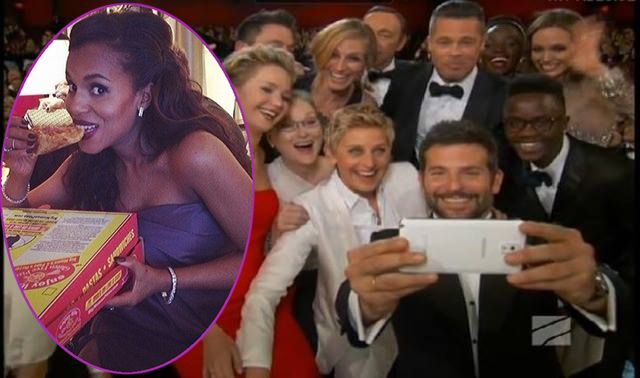 While the red carpet is pretty much major event of the Oscars, celebs and their own selfies are also something we look forward to. Because that's when you see the real fun they're having.
Check out a round up of celeb Oscar-gram pics inside...
So THIS hilarity happened mid-show Sunday night at the Oscars: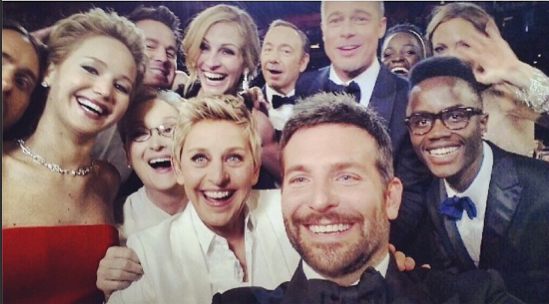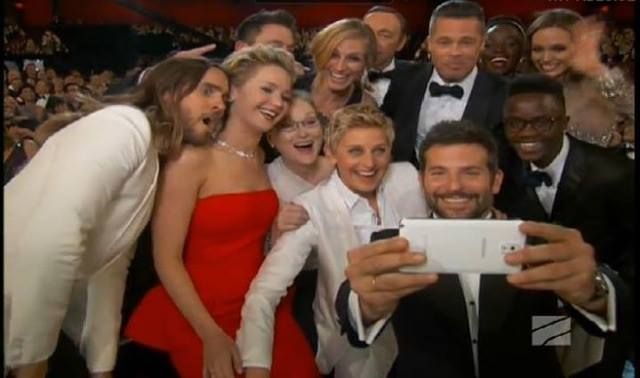 Host Ellen Degeneres had the bright (and funny as hell) idea to get the A-list celebs on the front few rows to randomly hop in a group selfie pic...during the live telecast.
So with Bradley Cooper snapping the pic, Ellen, Meryl Streep, Lupita and her little brother, Jared Leton, Julia Roberts, Angelina Jolie, Brad Pitt and Kevin Spacey did some ish we've never seen. Snap a star studded group us-sie. Ha!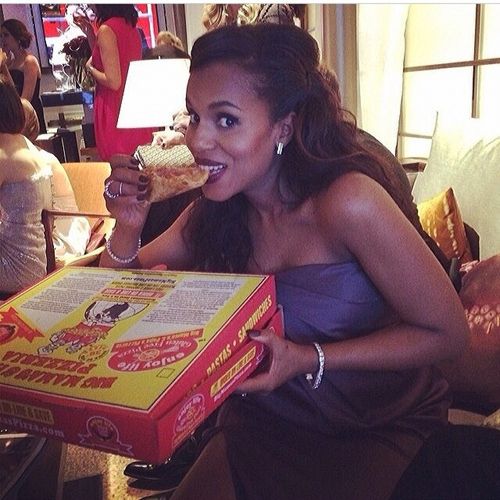 And if you thought Kerry Washington turned down that pizza Ellen handed out during the show, think again. She just wanted to check to make sure it was gluten-free first. She posted a pic of herself diving in on a slice saying:
Yes! @TheEllenShow There IS gluten-free pizza!!!! #OSCARS #greenroom
Baby's hungry!
Kerry also snapped a pic backstage with her former TV husband Jamie Foxx. Cute!
And speaking of Jamie, he IG'd his own pics of himself and daughter Corinne leaving out for the awards. And he was the uber proud dad gushing abut how absolutely beautul his grown-up baby girl is. We agree.
E! News correspondents Alicia Quarels and Terrence J got dolled up for the Vanity Fair party and the post-show:
Alicia showed off her self-styled look of a Lela Rose strapless artsy gown, Le Silla shoes, and a ring and bracelet by Cantamessa Odessa. She topped off her look with a Kara Ross purse and earrings.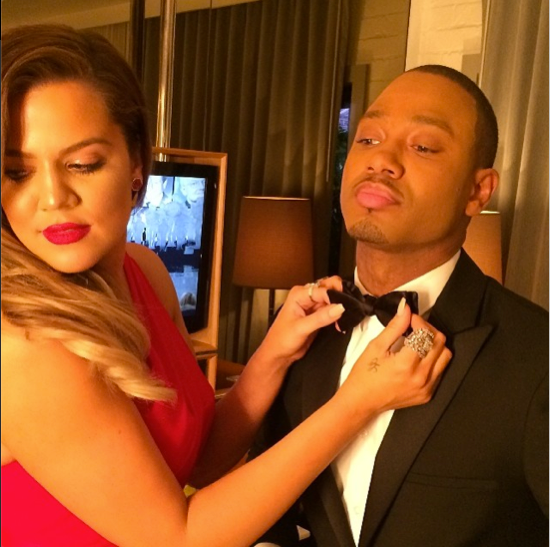 And Terrence called Khloe Kardashian "family since day 1" as she helped him out with his bow tie before they started shooting the aftershow.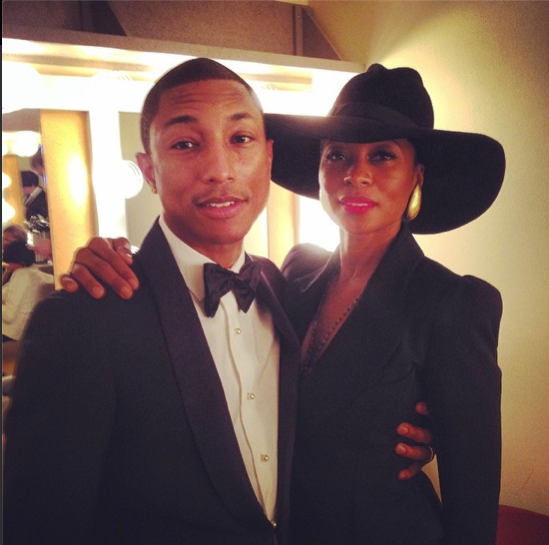 And Pharrell snapped a pic with his choreographer Fatima, who was the genius behind P's super fun "Happy" Oscar performance.
Fab times!
Check out ALL of TheYBF.com's 2014 OSCARS coverage from the red carpet to the stage to the aftrparties HERE!
Photos: IG's of Kerry/Terrence J/Pharrell/Ellen/Alicia Quarels/Jamie Foxx
AND THE OSCAR GOES TO....."12 Years A Slave" Wins OSCAR For 'Best Picture'
Posted: 02 Mar 2014 09:15 PM PST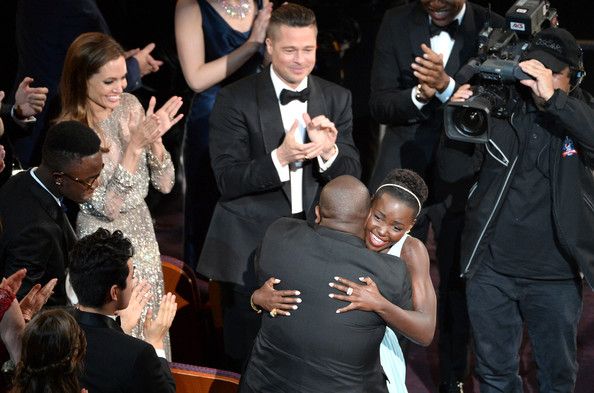 Steve McQueen's film 12 Years A Slave won the Oscar for "Best Picture"! More inside....
12 Years A Slave was chosen as "Best Picture" during this evening's 2014 Academy Award broadcast. Directed by Steve McQueen, produced by Brad Pitt (atop), the film was both a critical and box-office success, winning the award for best director from the New York Film Critics Circle and the Golden Globe Award for Best Motion Picture. And the film introduced "Best Actor" nominee
This is the first Best Picture winning film with a black director.
Chiwetel Ejiofor to a worldwide audience of admirers.
Chiwetel spoke earlier in the evening about his love for the film:
"I was stunned by it. You always have a hope when you're making films, when you get to see them and they've gone off and gotten edited that when they come back they meet your hope and expectation of what they should be. This time it exceeded my expectation. I found it unbelievable what Steve McQueen had done."
Earlier in the evening, Lupita Nyong'o won the Oscar for "Best Supporting Actress" for her role in "12 Years A Slave."
Also, screenwriter John Ridley won the Oscar for adapted screenplay for "12 Years A Slave", which was based on the the 1853 memoir of the same name by Solomon Northup.
Congrats all around! Much deserved.
Photos via Getty
OSCARS 2014: Will Smith & Jada Pinkett Smith + Jamie Foxx & Corinne Foxx STUN On The Red Carpet
Posted: 02 Mar 2014 08:39 PM PST
Even though Jamie Foxx looked quite ashy in the face while presenting the musical Oscars on tonight's big stage, he looked pretty dapper beforehand on the red carpet with his daughter Corinne.
Check out how they stunned on the carpet (and ate pizza during the show) inside, plus Will & Jada Pinkett Smith keeping it hot...
Talk about shutting it down as a couple! Jada Pinkett Smith went for a pale salmon Atelier Versace gown which was easily one of our fave looks of the night.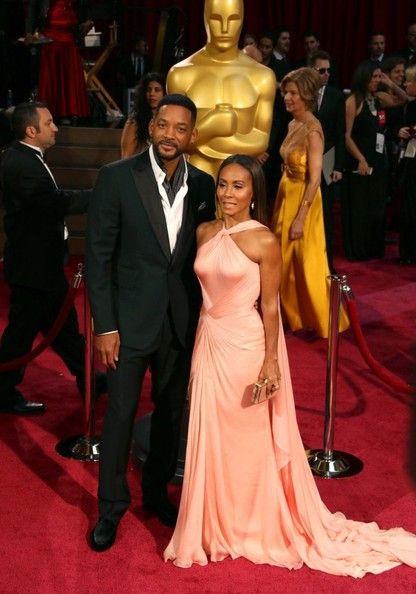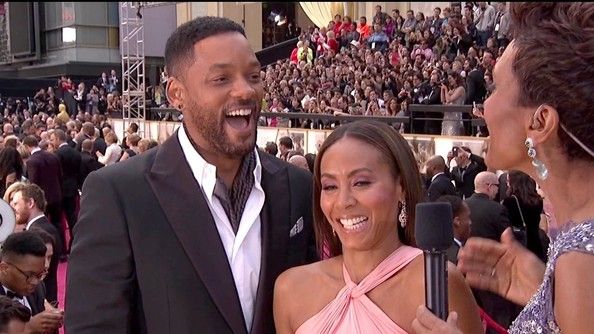 Will Smith made an ascot look sexy and we're actually loving his look. As for Jada, she topped off her already stunning red carpet look with Cartier jewels and chopped it up with ABC's red carpet host Robin Roberts.
Also looking amazing:
Presenter Jamie Foxx's daughter Corinne is totally grown up and looking like a red carpet darling in white. We're loving how Jamie always brings his oldest baby girl as his date to the big shows like this. How sweet!
And by the way, Corinne tweeted a pic of herself, dad Jamie, Channing Tatum and his wife Jenna Dewan chomping on that pizza host Ellen Degeneres hilariously passed out to the celebs during the show. Ha!
Photos: Getty/Corinne's Twitter
OSCARS 2014: Gabourey Sidibe + Alfre Woodard Get Detailed On The Red Carpet!
Posted: 02 Mar 2014 07:58 PM PST
Gabourey Sidibe is back on the Oscars red carpet after being a nominee herself in 2010. She rarely rocks anything that will stand-out on a red carpet, but she broke out of her shell tonight. Check out her and Alfre Woodard's looks inside...
Actress and presenter Gabourey Sidibe attended the Oscars Sunday night wearing a custom THEIA gown by Don O'Neill. And while she usually keeps it simple, this time, she went for the risky eye-catcher. And it works for her.
Her deep orchid gown was hand embroidered with laser cut habotai petals secured with glass seed beads. And she paired the dress with a sparkling gold clutch.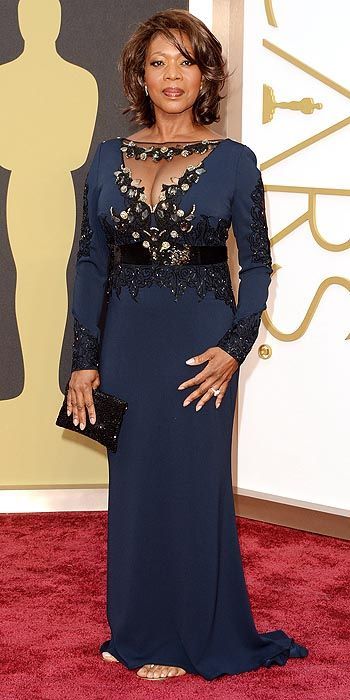 12 Years A Slave actress Alfre Woodard put her girls on display in a navy Badgley Mischka couture gown with ornate embellishments around the waist, bust and arms. Gorgeous dress. Even with the flat sandals Mrs. Woodard Spencer notoriously wears.
Photos: Getty
AND THE WINNER IS....Lupita Nyong'o WINS 2014 OSCAR For 'Best Supporting Actress'!
Posted: 02 Mar 2014 07:28 PM PST
Tonight, Lupita Nyong'o made the history books by becoming the sixth black actress to win the Academy Award for "Best Supporting Actress"! Celebrate with the exceptionally talented beauty inside....
Lupita Nyong'o took home the "Best Supporting Actress" 2014 Oscar for her role in 12 Years A Slave! The stunning actress accepted her award in a pale blue custom-made gown by Prada.
During her emotional speech, she thanked director Steve McQueen for selecting her for the film saying, "Its been the joy of my life."
And she ended by telling children all over the world, "No matter where you're from...your dreams are valid."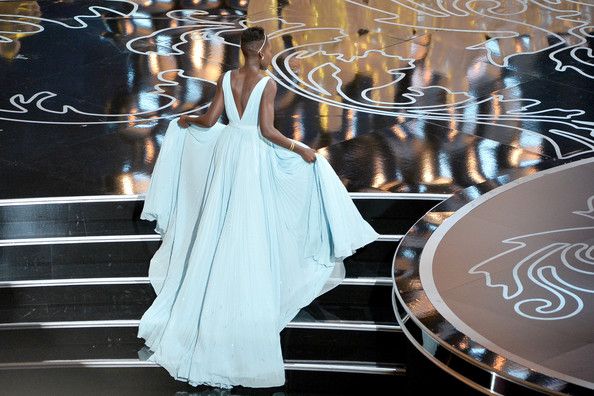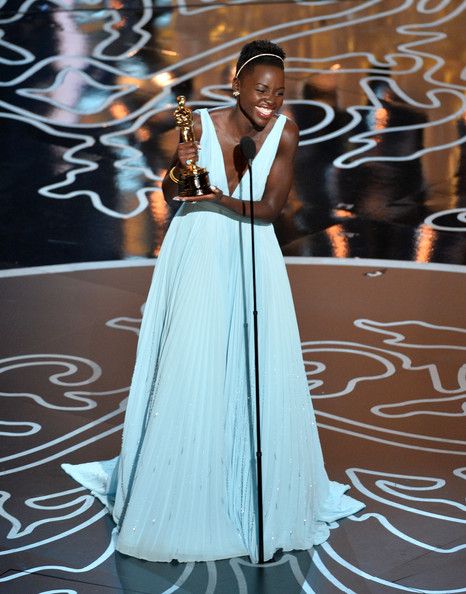 It's been an amazing year for the Yale School of Drama alum who has also won the Independent Spirit Award, a Screen Actors Guild award and the Critics' Choice Award for Best Actress in a Supporting Role. Now twirl on that!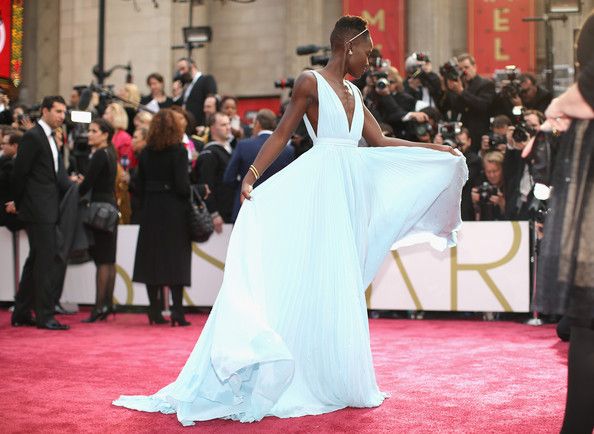 CONGRATS LUPITA!
Check out her emotional acceptance speech below:

FUN FACT: Lupita also celebrated her 31st birthday over the weekend and her second film Non-Stop opened at the top of the box office, making $10M.
Photos via Getty
OSCARS 2014: Pharrell Williams Gets "Happy" With Performance, Dances it Up With Lupita Nyong'o, Meryl Streep & More
Posted: 02 Mar 2014 07:12 PM PST
Pharrell Williams performed his international hit song "Happy" during tonight's broadcast of the 86th Academy Awards. Watch the "Happy" Oscar-nominee take the stage and get some help from Lupita Nyong'o and Meryl Steep along the way...
Earlier tonight, Grammy winning producer Pharrell took the stage at the 2014 Oscars to perform "Happy", the hit-tune he penned for the film Despicable Me 2. The song is nominated for best original song and has reached #1 on the Billboard Hot 100.
After an introdcution by Kerry Washington, Pharrell emerged with a performance that was choreographed by Fatima Robinson and included a group of dancing kids and a few impromptu contributions from fellow nominees Lupita Nyong'o, Meryl Streep and Amy Adams. And he killed it.
Most importantly, he brought back the Vivienne Westwood "Buffalo" hat (in black) and paired it with red sequined sneakers! We love it!
Photo via Lupita Nyong'o's Facebook, AP

OSCARS 2014: Hollywood Men Take Over The Red Carpet -- Chiwetel Ejiofor, Tyson Beckford, Barkhad Abdi (And His 'Broke' Revelation), Michael B. Jordan & Tyler Perry
Posted: 02 Mar 2014 06:39 PM PST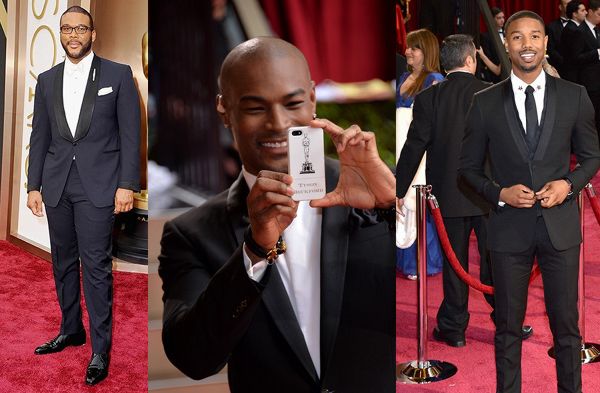 It's a round-up of the dapper fellas who made their way to Sunday night's 2014 Oscars red carpet. Get into their looks that took at least some eyes away from the beautiful ladies of the night...
Fruitvale Station star Michael B. Jordan kept it debonair (ugh, we have such a secret crush) in a Givenchy tux with a collar from the Gentlemen Collection of Dave Thomas of Jason of Beverly Hills: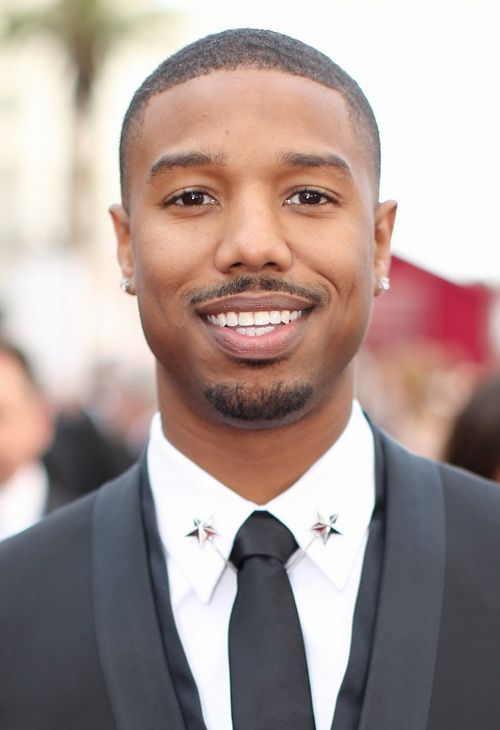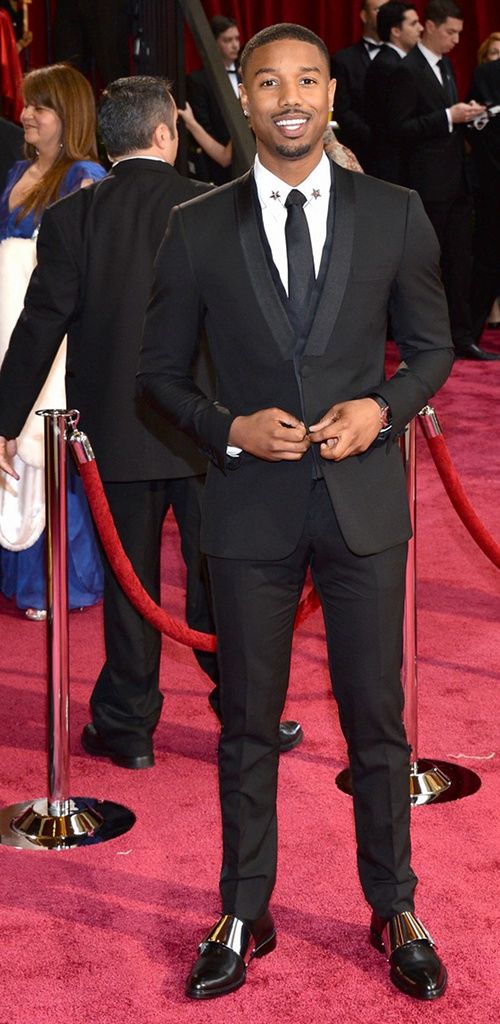 And he topped off his perfectly tailored look by flashing his Piaget watch and Forevermark diamond earrings. By the way, he's now confirmed to play the Human Torch in the upcoming super hero Fantastic Four installment. Congrats to him!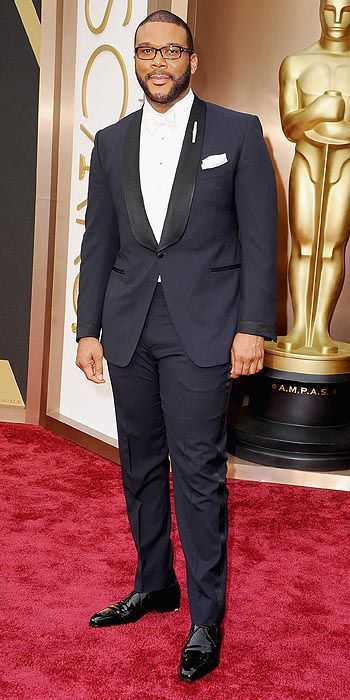 Tyler Perry showed up looking nice in a black tux and a white bow tie.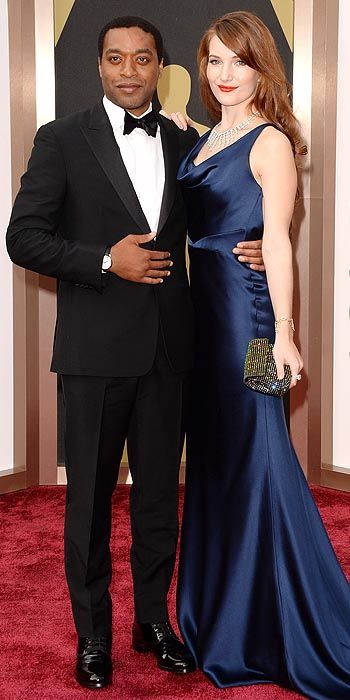 Chiwetel Ejiofor's big night as the Best Leading Actor Oscar nominee is off to a great start in his all black tuxedo look. And he has his girlfriend on his arm for support.
As for the haircut, or lack thereof, we're going to assume it's for an upcoming movie role since he's been in New Zealand recently filming his next project. If it's not, his co-star Lupita should should hand over her barber's info so he can get that shaped up in a heartbeat.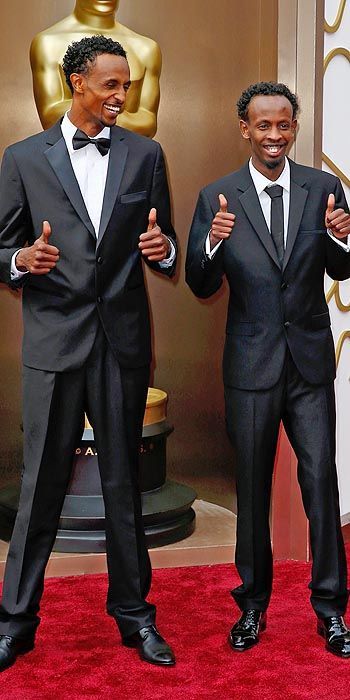 Barkhad Abdi, in a Calvin Klein collection tux, may have lost his Best Supporting Actor category, but he's totally winning this Award season with all this exposure. And he's going to need it. Because in a recent interview with the New Yorker, he revealed he's pretty much broke after getting paid only $65,000 for Captain Phillips two years ago.
He revealed that he started working in his brother's mobile phone store in Minneapolis before the movie, but quit right after.
"How I thought about it was, like, When the movie came out, reviews either gonna be good or bad. Either way, I cannot be working here."
Reportedly, he's now taking scripts and looking for his next role. Oh, and he cited Jay-Z's Reasonable Doubt album as his teacher as he was learning how to speak English after coming to America from Somalia. Gotta love it!
And model Tyson Beckford had some fun on the carpet in a Ralph Lauren Black Label tux: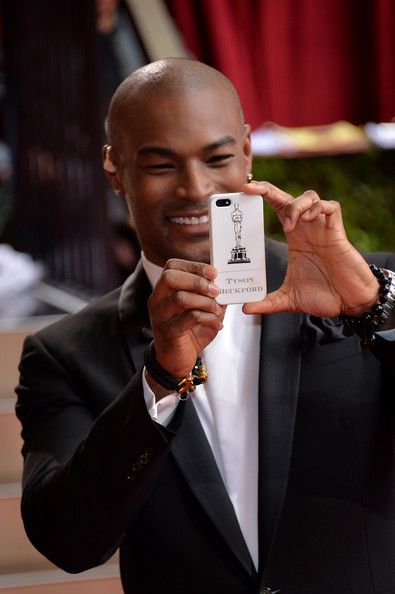 And a phone with his name & Oscar logo on the case. Cute!
Photos: Getty
OSCARS 2014: Kerry Washington Flaunts Red Carpet GLOW In Custom JASON WU
Posted: 02 Mar 2014 05:59 PM PST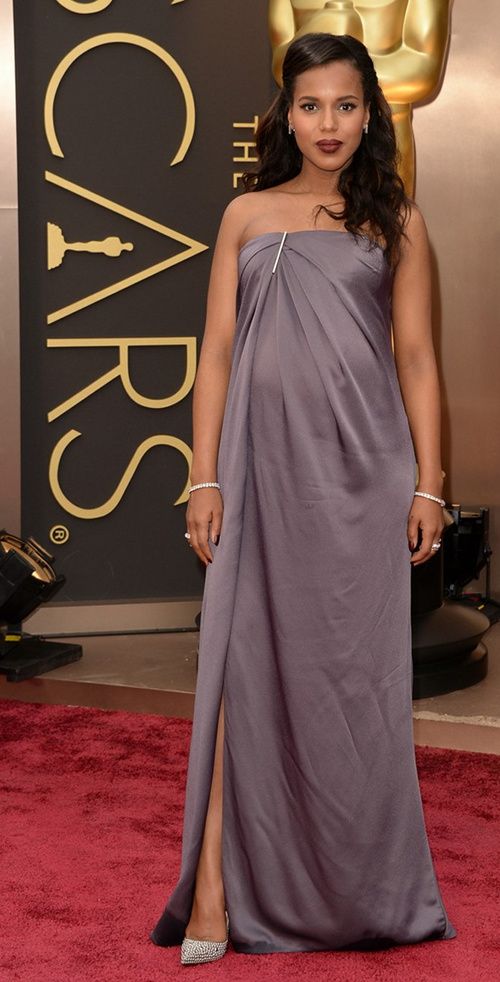 Kerry Washington just gave hot designer Jason Wu his Oscars red carpet debut! Check out the mommy-to-be keeping it simple and classic on the Oscars 2014 red carpet...
As expected, "Scandal" star Kerry Washington hit the carpet without her husband Nnamdi Asomugha. But she wasn't totally solo dolo. She draped her baby bump with a custom Jason Wu gown which had a silver-meets-eggplant tone, and accented her look with Jennifer Meyer jewels:
Kerry braved the soggy red carpet with a dark lip and tussled waves, both of which we loved.
But the dress, which was Jason Wu's first Oscar creation, left something to be desired. While she's always one of the most beautiful woman on any carpet, this dress wasn't our fave look of the night as it drowned her out with an ill-fit and was a bit of a bore. However, nailing a red carpet moment while very pregnant isn't the easiest feat.
Kerry was on hand to introduce performer Pharrell.
Beautiful YBF chick nonetheless.
Photos: Getty
OSCARS 2014: Pharrell Williams & Wife Helen + John Legend & Wife Chrissy Teigen Make RED CARPET Statements
Posted: 02 Mar 2014 05:26 PM PST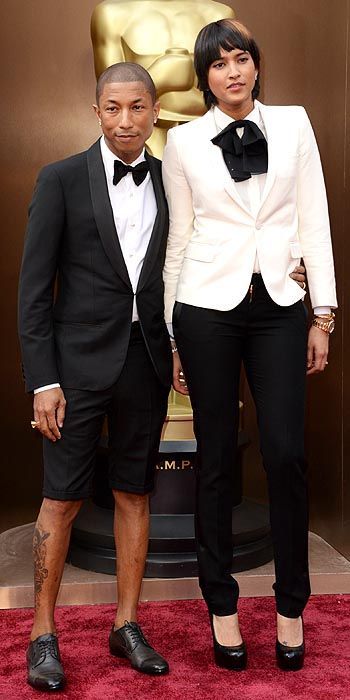 Newlywed couples Pharrell Williams & Helen Lasichanh and John Legend and Chrissy Teigen were front and center for tonight's Oscars 2014 red carpet. Check out their statement looks the musicians and their wives brought to the carpet inside...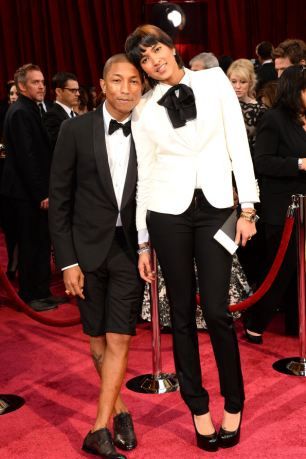 Just when you thought Pharrell was keeping it typical in an all black tuxedo, the camera panned down to those shorts! Only P.
The 2014 Oscar nominee rocked a Lanvin look composed of a tuxedo jacket, bow tie and tailored shorts with a pair of patent oxfords. And his wife Helen also took a risk in a menswear look composed of a white tuxedo jacket and a luxe pair of tailored black pants, topped off with oval-toe pumps.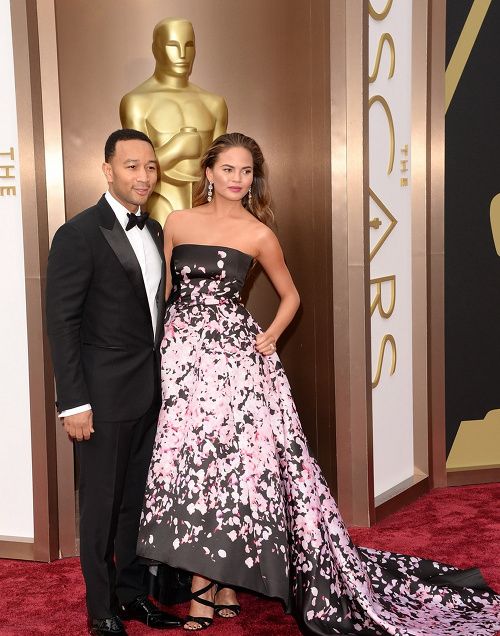 John Legend, who did music for the 12 Years A Slave movie, rocked head to toe Versace and looked pretty dapper. He's set to rock out at one of the after parties as well.
And his wife gave their united look a punch of color with her floral Monique Llulhier gown, which we're loving.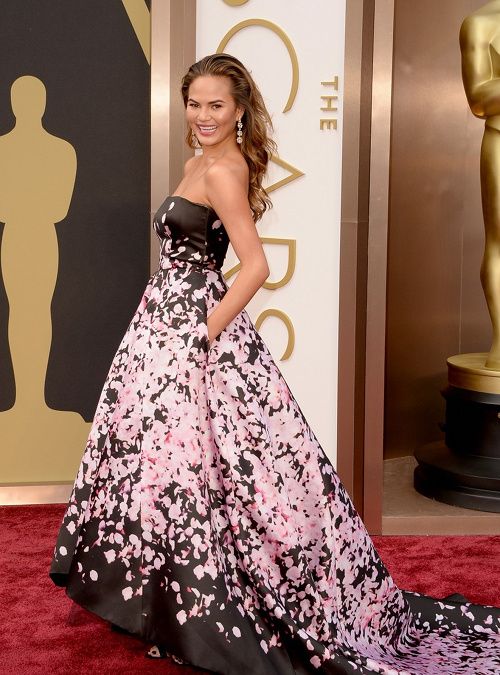 The 50th Anniversary Sports Illustrated Swimsuit Edition cover girl said she chose this look because it's nothing like she's ever worn previously.
Nice!
Photos: Getty
OSCARS 2014: Lupita Nyong'o Slays With RED CARPET Princess Moment In Custom PRADA!
Posted: 02 Mar 2014 04:54 PM PST
All Hail! Red Carpet Queen Lupita Nyong'o arrived to the Oscars 2014 red carpet Sunday night with a major princess moment. Take in her gorgeous custom Prada look inside...
Never one to disappoint, Oscar nominee Lupita Nyong'o was on point again with a pale blue, pleated and semi-full gown that was custom made for her by Prada. The Kenyan beauty revealed her inspiration for the dress saying, "It's a blue that reminds me of Nairobi....I wanted to have a little bit of home."
And we fell totally in love as soon as she hopped out of her limo: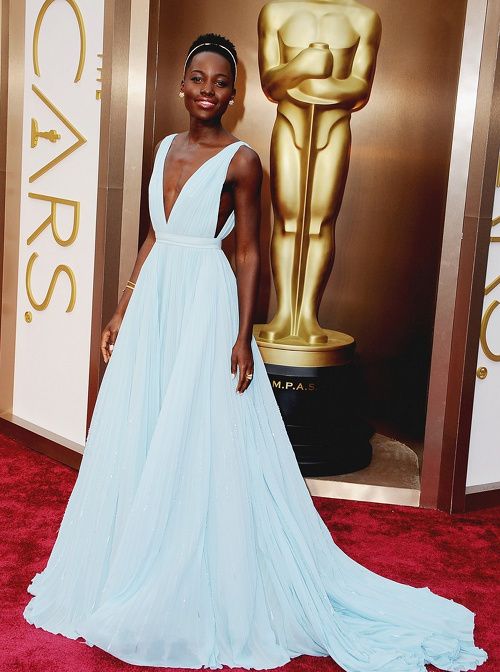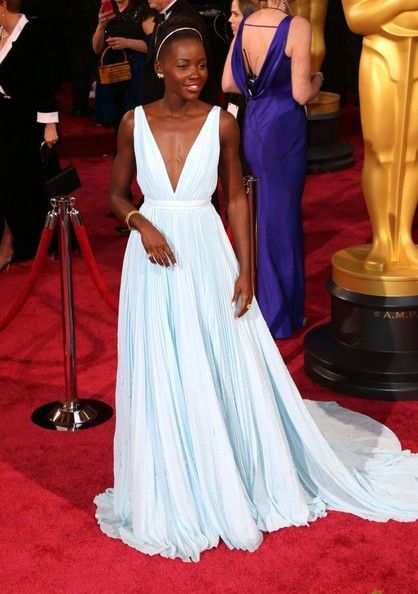 The 31-year-old, who just celebrated her birthday yesterday, made sure to keep topping herself this Award season by pulling a few new tricks out of her stylish bag. This is the first time we've seen her with a full skirted look that starts at the hip, and she's showing more skin for a sexier edge to her princess moment.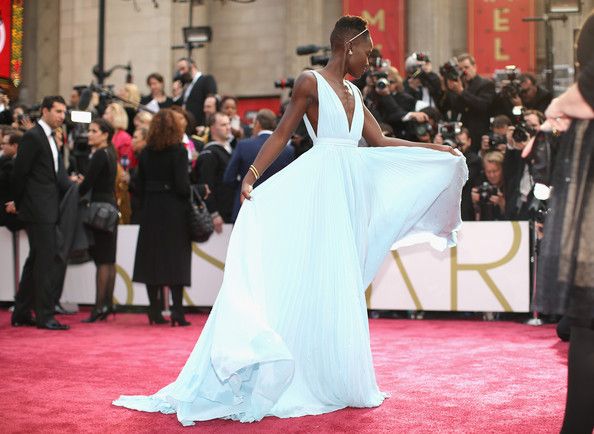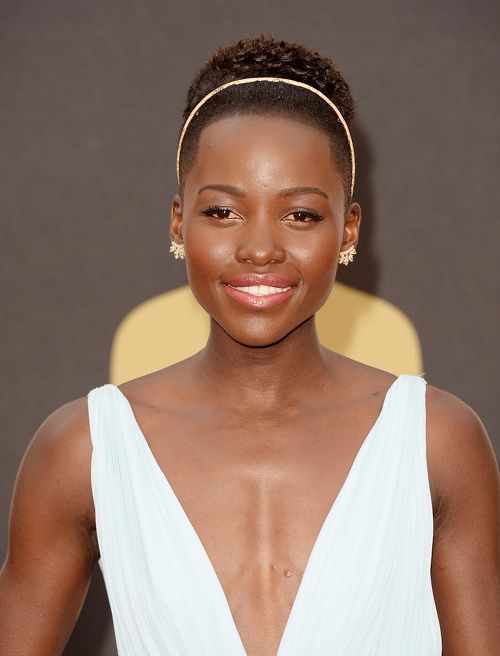 Lupita, who brought her little brother Jr. as her date, topped off the whimsical look with a Fred Leighton jeweled headband. Beautiful.
Photos: Getty
OSCARS 2014: Viola Davis Gets Regal In Emerald ESCADA On The RED CARPET!
Posted: 02 Mar 2014 04:27 PM PST
Viola Davis gave us emerald fabness in an Escada gown on the Oscars 2014 red carpet. Get into her beauty inside...
With chestnut fingerwavs and a asymmetrical strapless gown, Viola Davis returns to the Oscar red carpet this year as a guest after rocking another fabulous green dress as a nominee in 2012. And she looked fabulous as she explained why she chose this dress, "I put it on and it fit," she said. "Green is my go-to color man!"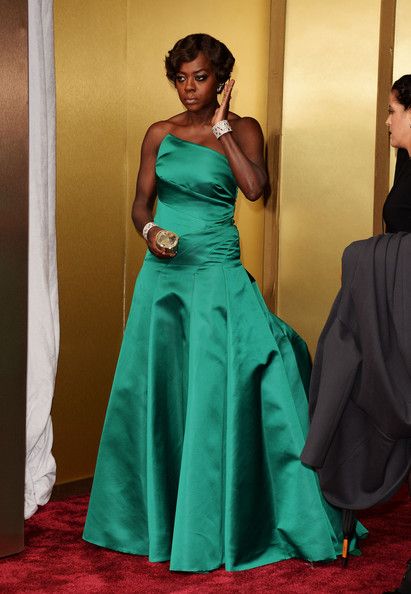 As she gears up to play the leading lady in Shonda Rhimes' upcoming ABC show 'How to Get Away With Murder', Viola told media on tonight's red carpet that she hopes the days of saying "this is a great year for African American films" are behind us. because every year should be full of African American films. She said on the carpet:
"It has to continue, [blacks] have to be a part of the ongoing fabric we call cinema."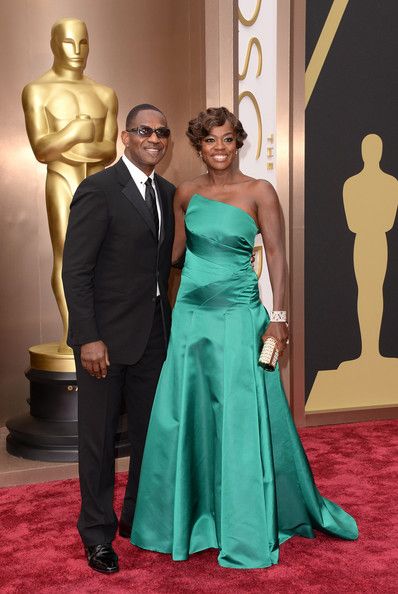 Viola hit the carpet with her two best accessories, her husband Julius Tennon and her Lorraine Schwartz diamond cuffs.
Photos: Getty
OSCARS 2014: Robin Roberts + Michael Strahan Hit The RED CARPET
Posted: 02 Mar 2014 04:03 PM PST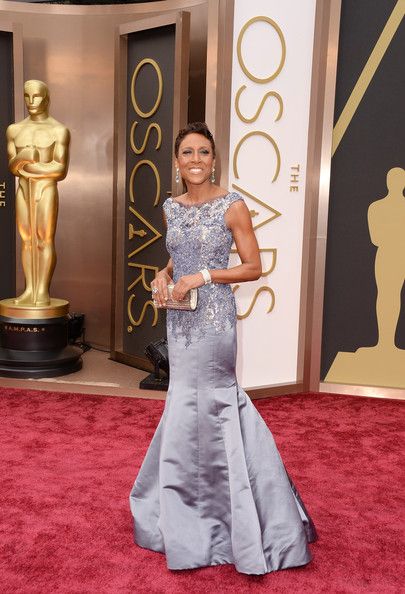 Robin Roberts and her fellow ABC colleague Michael Strahan hit the carpet early Sunday night at the Dolby Theater. Check out the hosts' Oscar 2014 looks inside...
In a pale purple Dennis Basso jewel embellished gown and Stuart Weitzman shoes, "Good Morning America" host Robin Robert is looking healthy and gorgeous as she makes another triumphant red carpet return to do correspondent duties on the red carpet for ABC: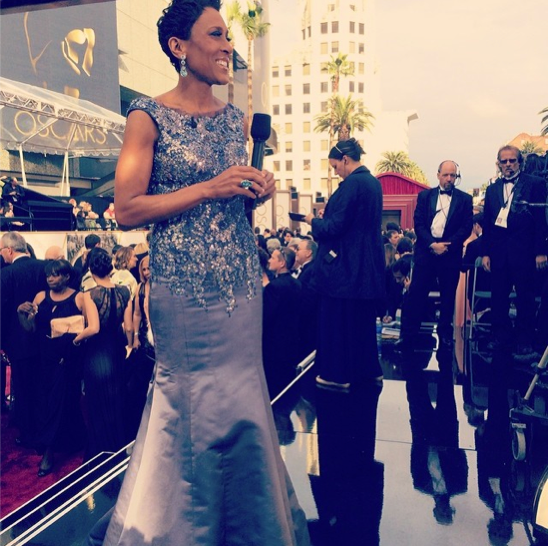 After battling cancer and several other complications these last few years, Robin didn't let the moment miss her as she took in the scenery. She told her fans, "For all fellow #overcomers...this is for you. Oscars Red Carpet. #grateful."
Sweet! Robin topped off her look with earrings and a ring by Tamsen Z and a bracelet by Martin Katz.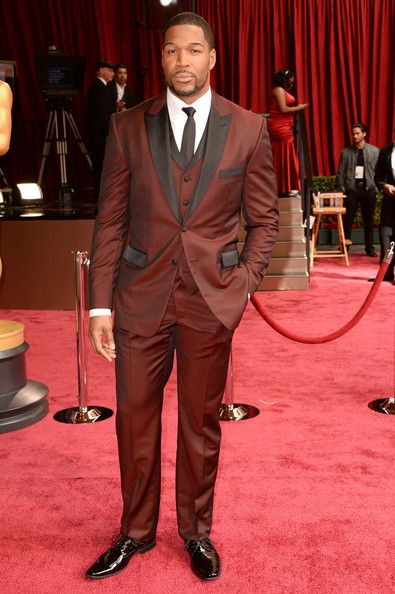 And "Live" co-host Michael Strahan put on an oxblood (extra starched) tuxedo with black lapels and trim as he was spotted chopping it up with "Extra" host Maria Menunos.
You feeling it?
Photos: Getty/Robin's IG