---
Rihanna KISSES A Baby At Heathrow Airport, LANDS In London To See Drake?
Posted: 24 Mar 2014 09:19 AM PDT
Rihanna landed at Heathrow Airport today where she kissed an adorable "little" fan. Find out why we believe she's across the pond inside....
Earlier today, Rihanna boarded a flight at LAX bound for Heathrow Airport. Once she touched down, she was greeted by fans and she even took the time to kiss one of her youngest Navy members on the cheek (above).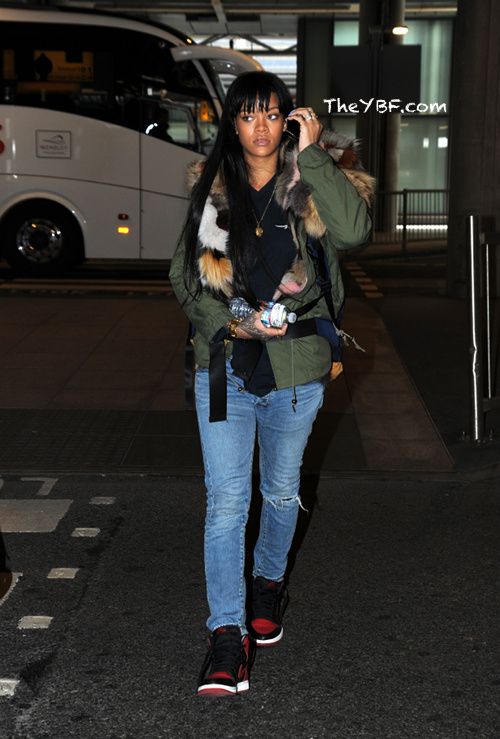 Later, photographers spotted Riri walking through the airport terminal on the way to her car (looking slightly jet-lagged).
So....why is RIhanna in London today? We checked Drake's schedule and his "Would You Like A Tour?" show rolls into town tonight with a sold-out show at O2 Arena.
We're sure there will be pictures of them sneaking out of a hotel/club together later on tonight. Stay tuned....
BONUS: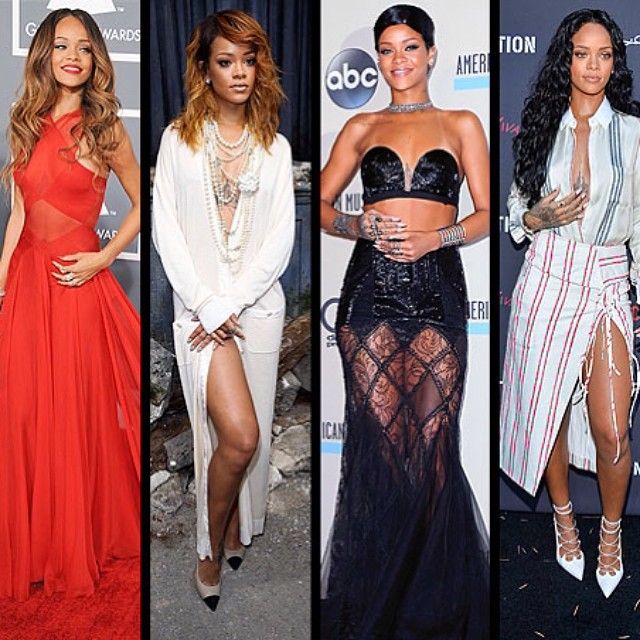 Rihanna was named 2014 Fashion Icon for the upcoming CFDA Fashion Awards. "We are proud to present Rihanna with the CFDA Fashion Icon Award for her impact on the industry as fashion's most exciting ambassador in recent memory," Steven Kolb, CEO of CFDA, said in a statement. The awards will be held on June 2nd at Alice Tully Hall at Lincoln Center in NYC.
Photos via Splash/CFDA Instagram

PARTY PEOPLE: Chris Bosh CELEBRATES His 30th Birthday With Adrienne Bosh, LeBron James, Gabrielle Union, Dwyane Wade & More In Miami
Posted: 24 Mar 2014 08:00 AM PDT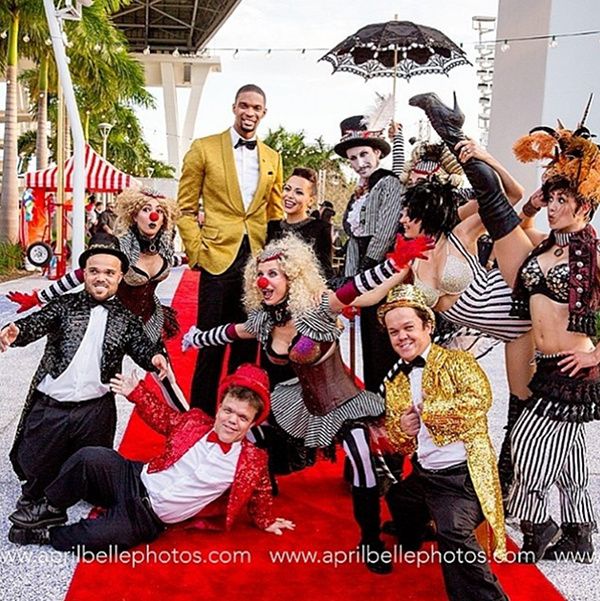 Miami Heat star Chris Bosh celebrated his 30th birthday last night with a huge star-studded event. See pics of LeBron James, Dwyane Wade, Gabrielle Union and more celebrating and find out where the NBA baller partied inside…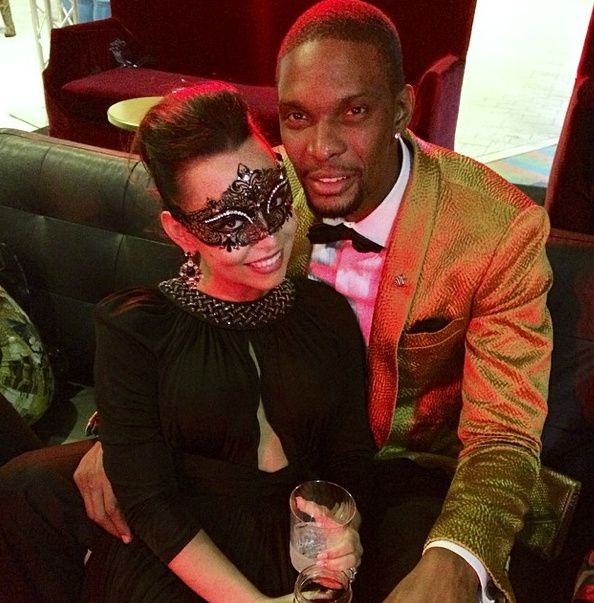 Known for throwing extremely lavish parties, Adrienne Bosh threw a Cirque du Noir themed party last night to celebrate Chris Bosh's 30th birthday at the Marlins Baseball Stadium.
Bosh's teammates LeBron James with his wife Savannah (expecting baby #3), Dwyane Wade, Gabrielle Union, Jeanette Jenkins, Emily B, lifestyle consultant Amaris Jones and more all came out to party.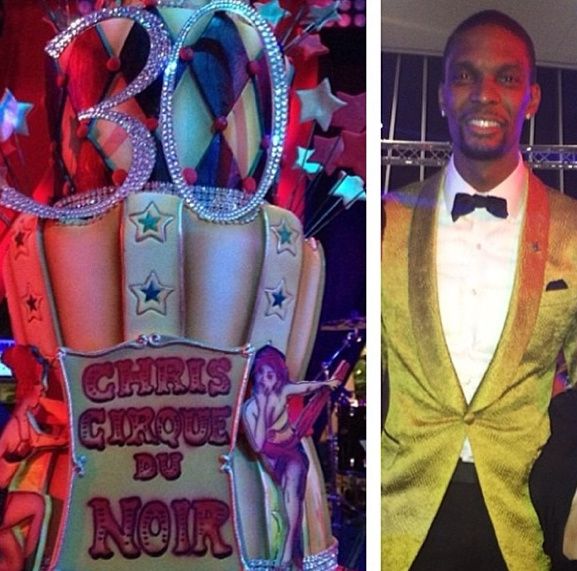 The Cirque du Noir party came complete with carnival games, fire jugglers, palm readers, balancing performers and a dunk tank! Miami Heat players got the chance to "dunk" their head coach Erik Spoelstra, assistant coach David Fizdale and former Heat player Juwan Howard.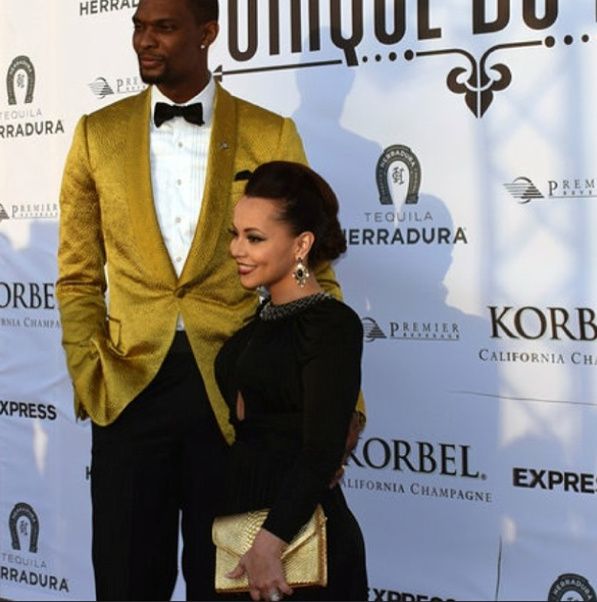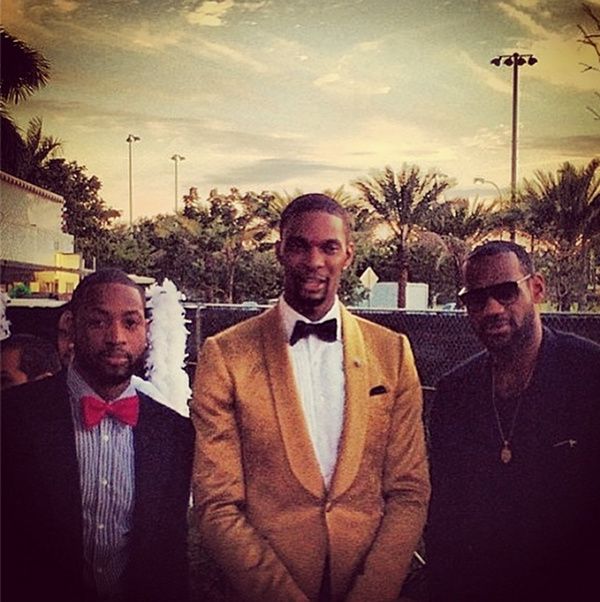 As for the menu, party goers munched on custom branded Chris Bosh burgers, chicken & waffles, snow cones, cotton candy and tons of other edible goodies. Adrienne got real creative with this one.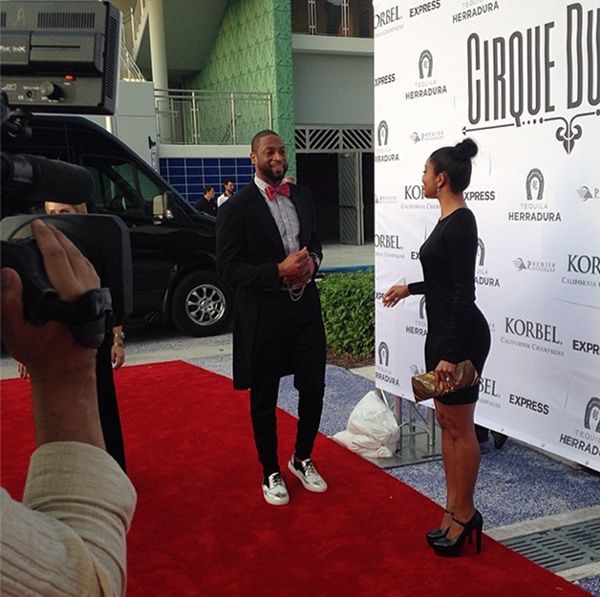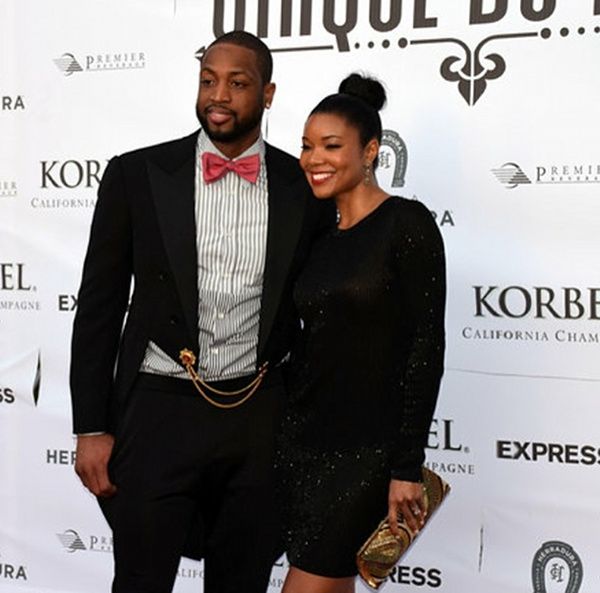 D. Wade & Gabby got real close and affectionate as they enjoyed the festivities.
Savannah and LeBron got cutesy as she covered her growing belly.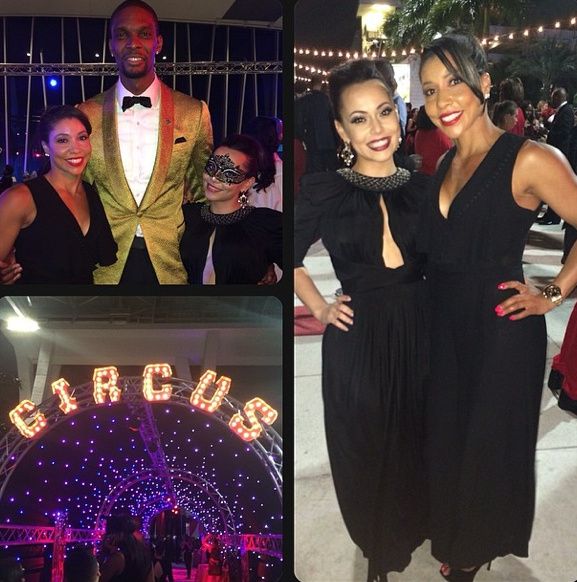 Adrienne and the WAGS (wives and girlfriends) snapped a cute group photo.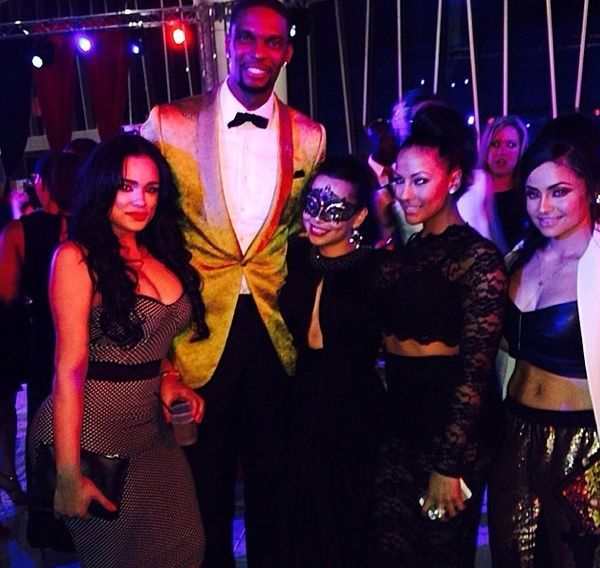 And Emily B was in the mix to party with the birthday boy.
Bone Thugs-N-Harmony hit the stage to perform alongside rapper Ty Dolla $ign and stand-up comedian Gary Owens hosted the posh event. LeBron and D. Wade got on stage to deliver speeches to their teammate wishing him a happy birthday.
During D. Wade's speech, he said when he finally has a daughter one day, he wants her to grow up and be with/marry a man like Chris Bosh. Oh.
And a teary eyed Adrienne gave a speech to her husband as well.

The man of the hour got a chance to dunk former Heat player Juwan Howard:
D. Wade tried his hand dunking Miami Heat head coach Erik Spoelstra:
Ha!
Gabby and D.Wade went head-to-head at the Derby:
The attendees were gifted with Chris Bosh bow ties, Nike sunglasses, and custom made I Got Game Brand socks and Carols Daughter products.
Fab times! Happy Birthday Chris Bosh!
Photos/Videos: @upscaleeventsct/@gabunion/@chrisbosh/@adriennebosh/@kingjames/@jeanettejenkins/@alli_leee/ @aprilbellephotos/ @jasonbinn/@lyfebrand/@mio_myo
Lance Gross And Rebecca Jefferson Get Some RETAIL THERAPY + Lance PHOTOGRAPHS Draya Michele
Posted: 24 Mar 2014 06:44 AM PDT
"Crisis" star Lance Gross was spotted shopping with his girlfriend Rebecca Jefferson. Find out where they were inside and see a still from Lance's latest photography shoot....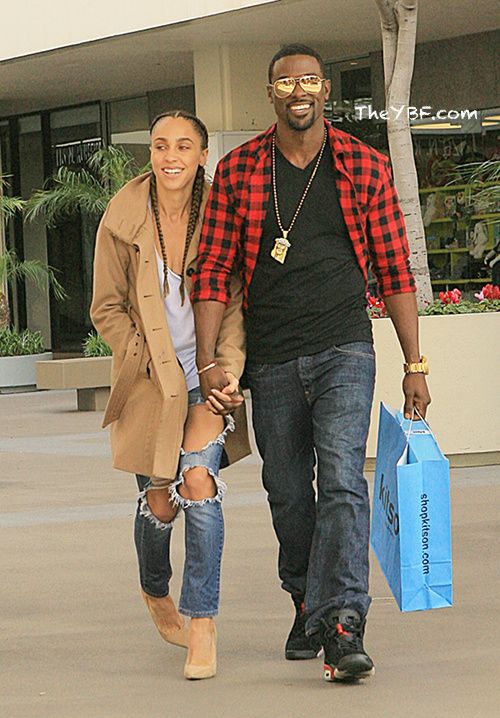 Sexy actor Lance Gross (currently starring on the NBC drama "Crisis") was all smiles as he and girlfriend Rebecca Jefferson spent Sunday afternoon shopping in Beverly Hills.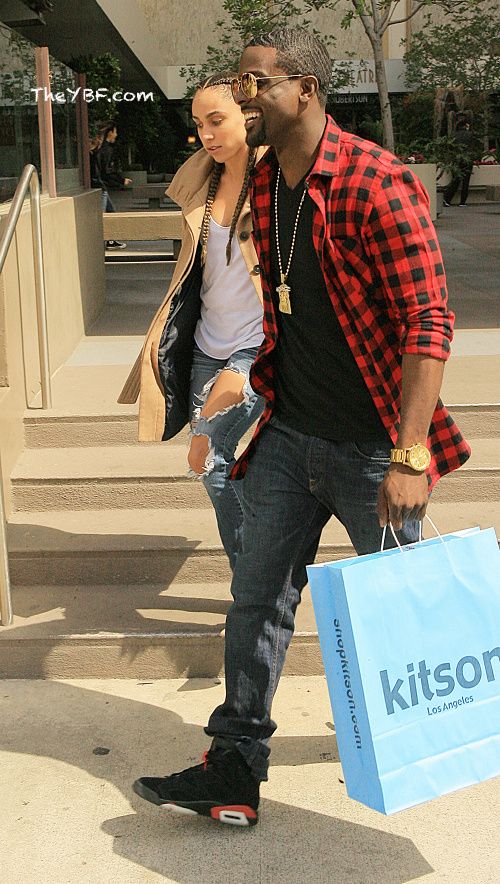 It's great to see that Lance has found happiness with Rebecca while his ex-Eva Marcille has also gone on to find happiness with Kevin McCall and baby Marley.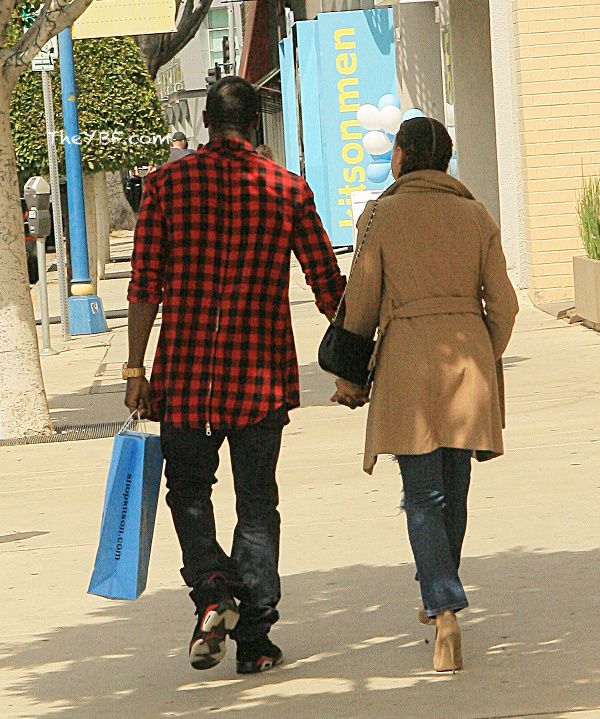 Recently, Lance stopped through Houston, Texas where he participated in the Toyota Green initiative (TGI). TGI is a program Toyota created with HBCUs to promote simple ideas that can make an environmental impact. During the event, he shared a few of the personal changes he made to go green.
" I started off with electronics; I was the person that would leave TVs and lights on. I travel a lot so I would even leave appliances on while I was away. I started by unplugging everything, even the TV. I recently bought a condo when I started the Toyota Green Initiative so I replaced all of my appliances with Energy Star appliances. Not only was I doing something good for the earth, I was also saving money on my electric bill."
In other news about Lance.....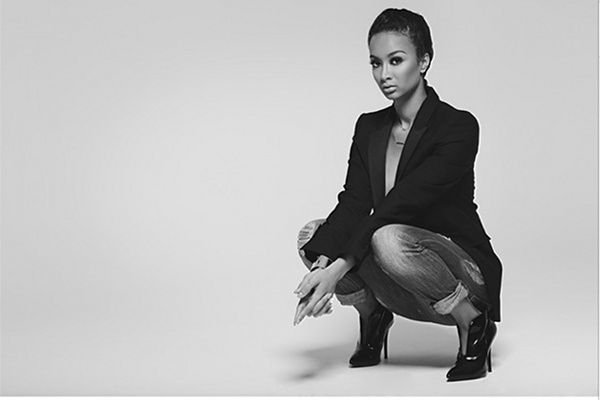 Outside of acting, Lance is also a well-known photographer and his latest subject is "BBW LA" star Draya Michele. He tweeted, "I Turned my Camera on @sodraya."
Photos via : MCGM / Splash News/Lance's Instagram
INTERVIEWS: Kandi Burruss & Tiny DISH On Why There WON'T Be An Xscape Reunion + Kevin Hart ON Infidelity, Loving Eniko & Lessons From His Mother
Posted: 24 Mar 2014 06:02 AM PDT
"RHOA" star Kandi Burruss and her former Xscape bandmate Tiny Harris stopped by "WWHL" last night. Get the deets on why Xscape is still beefing and see Kevin Hart on "Oprah Prime" inside....
Last night, Kandi Burruss and Tiny Harris chatted it up with Andy Cohen on "WWHL" where they dished on "RHOA" (Mama Joyce is still unhappy about her upcoming wedding to Todd), the "Family Hustle" (Tiny said she and T.I. are "cool" and have relationship ups and downs like other couples) and their old band Xscape (Kandi said she's still mad about a "lie" one of the ex-member told about her and SHE IS NOT interested in a reunion).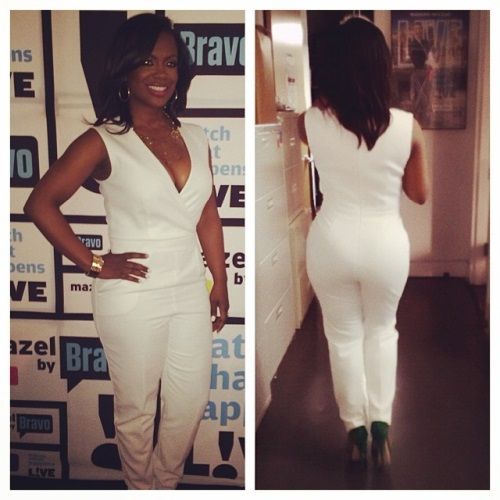 During the show, Kandi wore a Trina Turk jumpsuit and Jimmy Choo shoes while Tiny rocked an Alexander McQueen dress and Christian Louboutin shoes.
Here are the highlights:
On why there won't be an escape reunion:
On Nene calling Peter the "B" word:
In other interviews....
Kevin Hart sat down with Oprah Winfrey for "Oprah Prime" where he shared the lessons he's learned from his Mom (she hid money in his Bible), what he learned from his first marraige, and how he handles his new relationship (five years with Eniko). He also shared what he's learned along the way about friends, money, taxes and being successful.
YBF KIDS: Jamie Foxx On Daddy-Duty Poolside With Daughters Corinne & Annalise + YaYa Dacosta Posts Breast Feeding Pics For "Solidarity"
Posted: 23 Mar 2014 11:12 AM PDT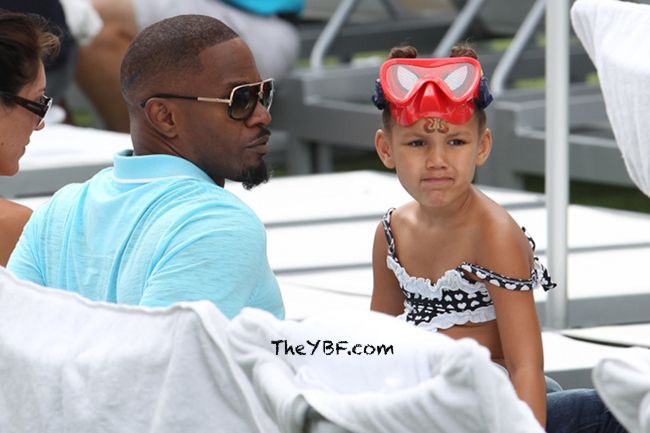 Jamie Foxx took time out from promoting his new movie, Rio 2, to spend time with his daughters and a mystery woman poolside in Miami. Check the cute pics inside, plus YaYa Alafia (previously Dacosta) serving up beautiful breastfeeding pics in the face of critics....
While Jamie is currently in Miami for the premiere and interviews for the new animated film Rio 2, he decided to bring his gorge daughters, 20 year old Corinne and 5 year old Annalise, along for some quality time.
Annalise looked to be having fun in her cute swimsuit before sitting on her fathers knee and playing on a cell phone. As for who Jamie's mystery woman is....she seems like more than just a nanny.
Corinne was spotted grabbing a Pepsi before laying out in the sun.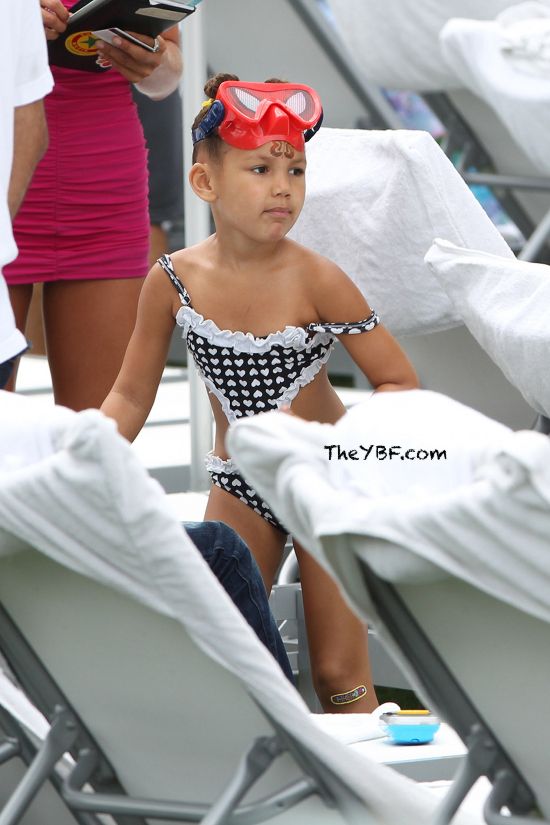 And little Annalise put on her goggles and took a dip. How cute is she!
And speaking of YBF kids:
Actress and model YaYa Alafia (from "Top Model" and The Butler) posted a few pics of herself breastfeeding her newborn baby boy. And she did it as a salute to the controversy surrounding NFL wife Ashley Nicole who received tons of unnecessary backlash after she shared a pic of herself breastfeeding her baby.
YaYa said:
"I know i'm mad late, but i haven't been on the computer much lately. just heard about the uproar over @ash3nicole pic & had to post a copycat photo in solidarity. hope you don't mind, beautiful sistren. i'm so proud of you and stand by you! #breastisbest #whattheyaremadefor #getoverit #mamasunite #movement"
Sweet!
Photos: Splash/YaYa's IG
DAY DATE: Kelly Rowland & Fiancè Tim Return To The Sony Open To Cheer On Serena Williams
Posted: 23 Mar 2014 10:44 AM PDT
Kelly Rowland is spending the weekend hitting up her good friend Serena Williams' tennis match in Florida. And her man Tim Witherspoon was spotted right by her side canoodling with his boo and snacking away.
Pics inside...
After hitting up the Sony Open on Thursday, Kelly Rowland returned to Crandon Park Tennis Center on Saturday in Key Biscayne, Florida for Day 6 of the Open.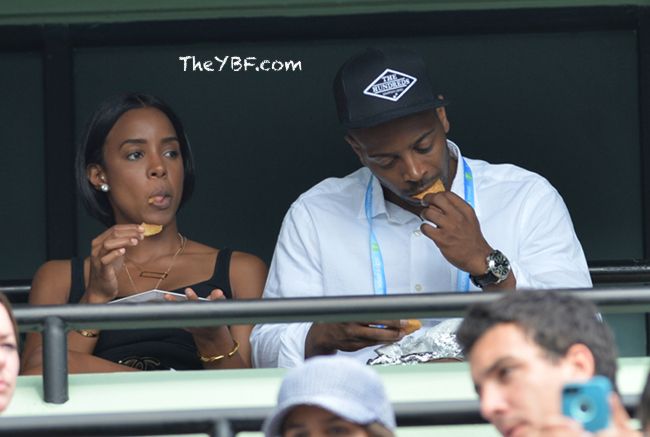 The flawless chick and her boo Tim cheered on Serena Williams in between snacking on some treats.
And they were spotted hugged up outside while waiting for their car. Cute and casual!
Also spotted in the stands was Serena's 72-year-old dad Richard Williams, his new wife Lakeisha Graham and their 1-and-a half-old kid Dylan:
Photos: Splash