---
Lupita Nyong'o Gets SURPRISED At "12 Years a Slave" Dinner + Rihanna Gets Fiercely Furry For The Jean Paul Gaultier Show
Posted: 02 Mar 2014 09:19 AM PST
Lupita Nyong'o celebrated her 31st birthday with her cast mates while Rihanna is exposing a bit of nipple at another Paris Week fashion show. See Lupita and Rihanna pics inside…
YBF chic Lupita Nyong'o turned 31 on yesterday and her "12 Years a Slave" cast members surprised her last night at the "12 Years a Slave" Dinner hosted by Grey Goose with a birthday cake. The pre-Oscar dinner went down at Sunset Tower in West Hollywood which was Lupita's last outing before her big day at the Oscars.
Brad Pitt and Angelina Jolie joined Lupita at her celebration of life last night.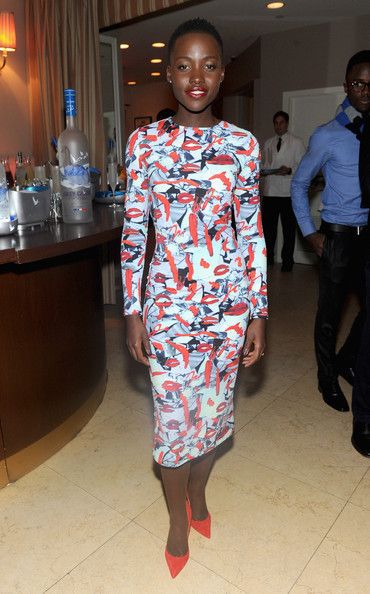 Lupita was simply stunning in a Johnathan Cohen Fall 2014 lipstick print midi dress paired with her Pedro Garcia pumps.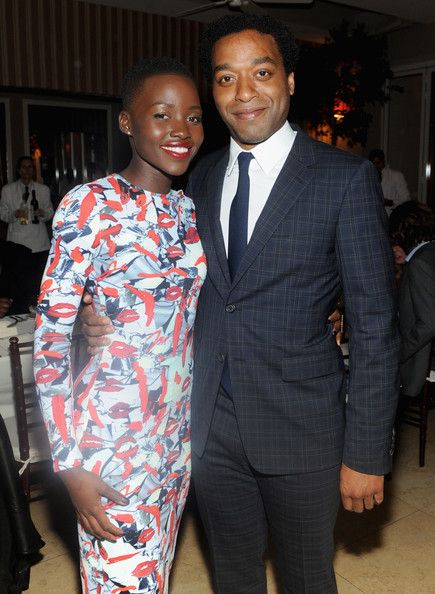 Lupita is nominated for best performance by an actress in a supporting role while her co-star Chiwetel Ejiofor is nominated for best performance by an actor in a leading roll. Good luck to the both of them.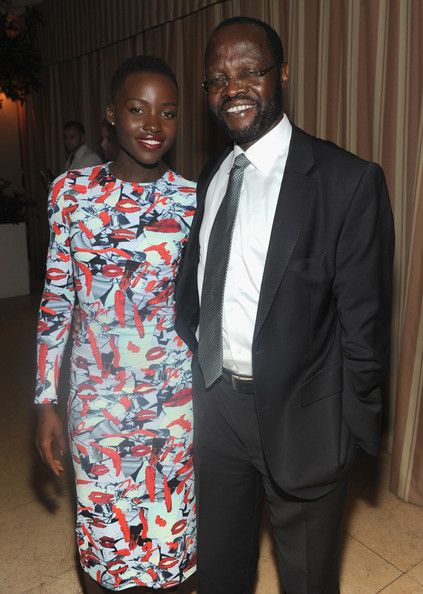 Lupita and her father Kenyan politician Peter Anyang'Nyong'o.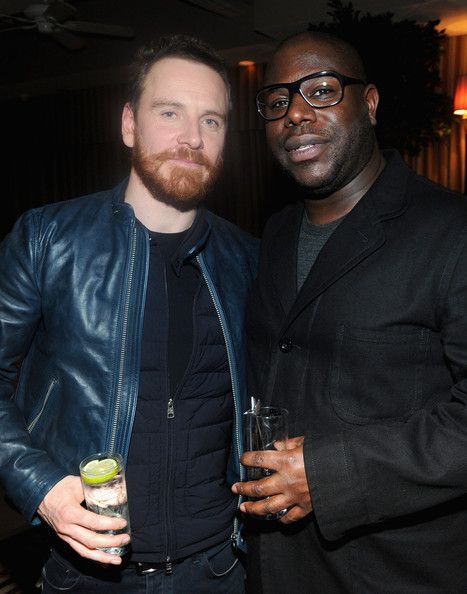 Actor Michael Fassbender (left) and director Steve McQueen were all smiles at the dinner. Michael Fassbender is up for best supporting actor and "12 Years a Slave" is nominated for best picture.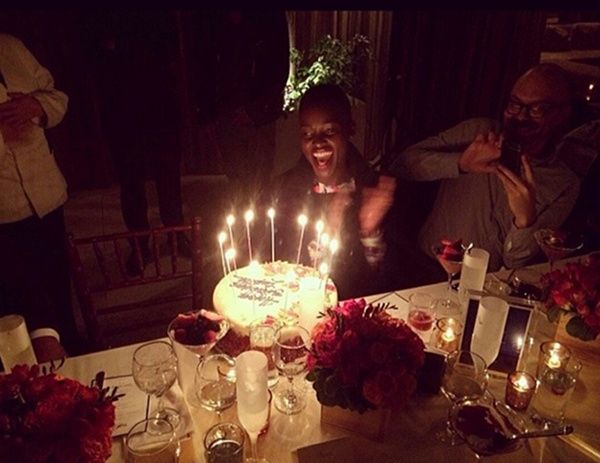 Surprise!
Lupita is thankful for her cake, "Froggie birthday cake from my #Oscars team! #FamilyTotem. Thank you!!!"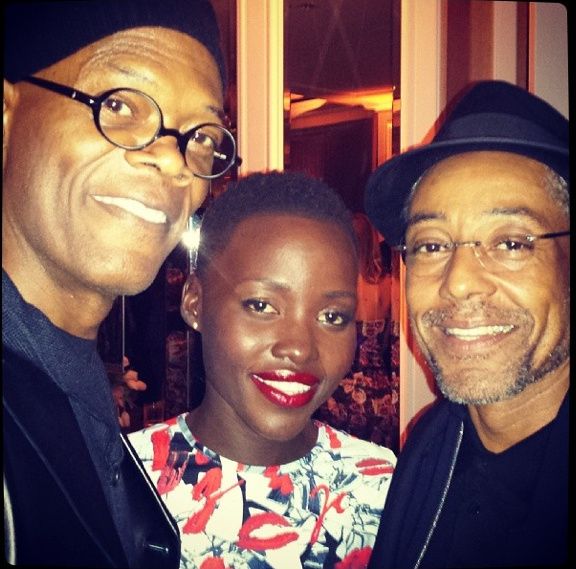 And she also poses for a pic with Samuel L. Jackson and actor Giancarlo Esposito.
Fab.
Overseas at Paris Week...
That Rihanna rain just won't let up. Once again the official "Bad Girl" of fashion is still wreaking havoc at Paris Fashion Week with her fierce selection looks along with a little more nipple action.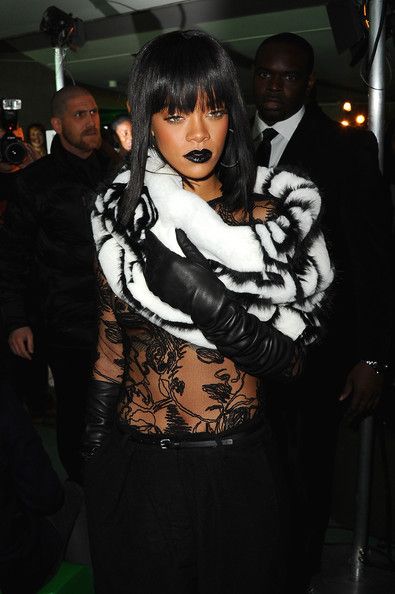 Rihanna rolled into the Jean Paul Gaultier fashion show with a sheer lace top, blank trousers and a black & white fur around her neck with a peek of nipple peeking out from under it. This isn't RiRi's first time exposing her nipples ovearseas. She was spotted Friday night at the Balmain afterparty at Crazy Horse with her boobs completely exposed.
And she also can't put down her white furs. Yesterday she wore a white VFiles faux fur with the word "FEAR" written on it and looked ridiculously fab doing so.
She even snapped a pic with fashion designer Jean Paul Gaultier.
Nice.
Photos: Jamie McCarthy/Getty Images North America/KCS Francois Durand/Getty Images Europe/Presse / Splash News/Lupita Nyong'o IG
Kobe Bryant, LeBron James, Dwyane Wade, & Carmelo Anthony React To Allen Iverson's Jersey Being Retired
Posted: 02 Mar 2014 07:30 AM PST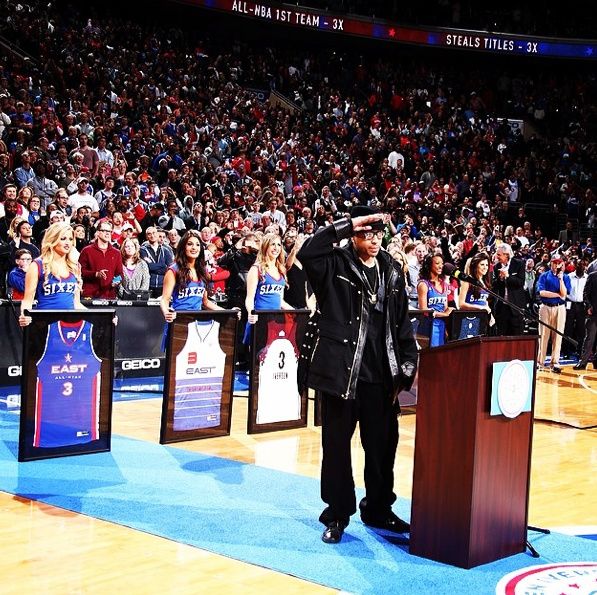 Last night, Allen Iverson's No. 3 jersey was retired. Find out what Kobe Bryant, LeBron James, Dwyane Wade and Carmelo Anthony had to say about the basketball great inside…
Philadelphia 76ers honored 11-time All-Star point guard Allen Iverson with a ceremony retiring his No. 3 jersey at the Wells Fargo Center last night.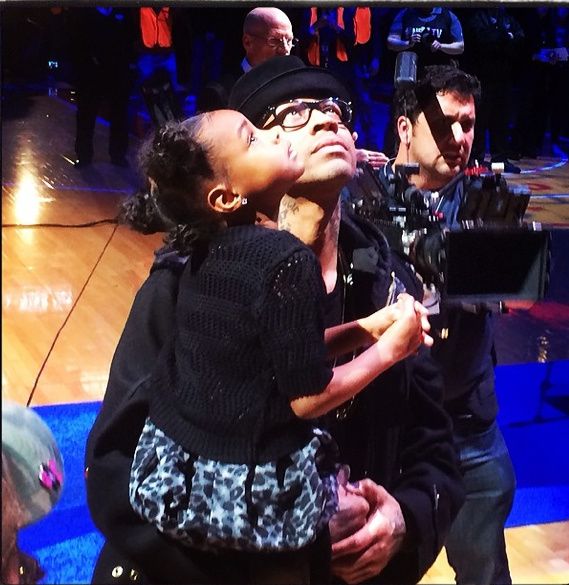 He was joined by ex-wife Tawana and his kids, Tiara, Duece, Isaiah, Messiah and Dream. During his speech Iverson thanked basketball star Michael Jordan, his ex-wife Tawana (which is shocking after all the divorce drama and kid kidnapping claims), his kids, his family, the 76ers' organization, and most importantly, his fans.
So what does A.I. plan to do upon reitiring (although he hasn't played since 2010)? Fishing! Iverson received a boat as a gift named 'The Answer.' Is this the answer Kanye was referring to Sway about? Ha!
Many fans gave their praises to A.I. on social media and so did his fellow NBA mates:

Kobe Bryant: "Time has wings my brotha. Your game pushed my then 21 year old self to play beyond my years. Your impact on the game will be felt for generations. #salute #respect #96 #AI"
Dwyane Wade: "Pound for pound... I had a pleasure of competing against and playing with one of the greatest to do…"
LeBron James: "Pound for pound!! Congrats homie. What a pleasure to complete against u and also become a friend in the process. U the reason why I got tattoos, wore a headband and arm sleeve. Thanks for everything!! #AITheGoat #BubbaChuck #HOFNext"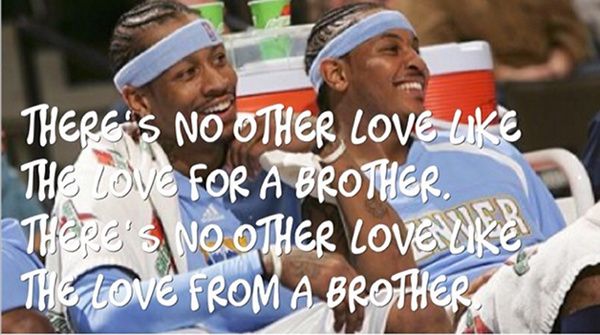 Carmelo Anthony:"Congratulations to one of the greatest to ever do it. Proud to call him a friend and my brother. Peace God. There will never be another Bubba Chuck. Love you King"
Check out video of A.I.'s retirement ceremony below:
Congrats to him.
Photos: NBA IG/Kobe Bryant's IG/Carmelo Anthony's IG/LeBron James' IG/@azekone
FADE TO BLACK: Jay Z & Beyonce Party At Mason House In London
Posted: 02 Mar 2014 06:13 AM PST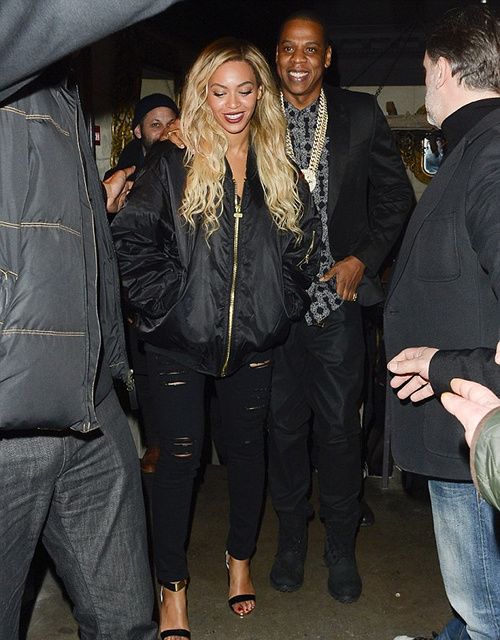 Beyonce and Jay Z hit the streets in London last night. See pics of the party couple inside…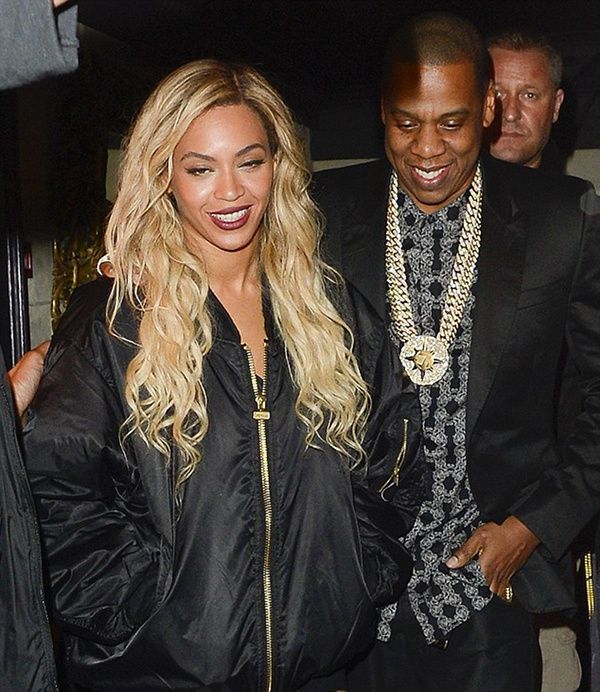 Last night, Jay Z and Beyonce were all smiles being bombarded by photogs as they left London nightclub Mason House at 3AM this morning. Hope Blue wasn't up waiting for them because Mrs. Carter looks a tad tipsy.
The Carters were dressed in all black with Bey wearing a black bomber jacket and black ripped jeans while Jay wore a black and gray button-up, black blazer and black jeans.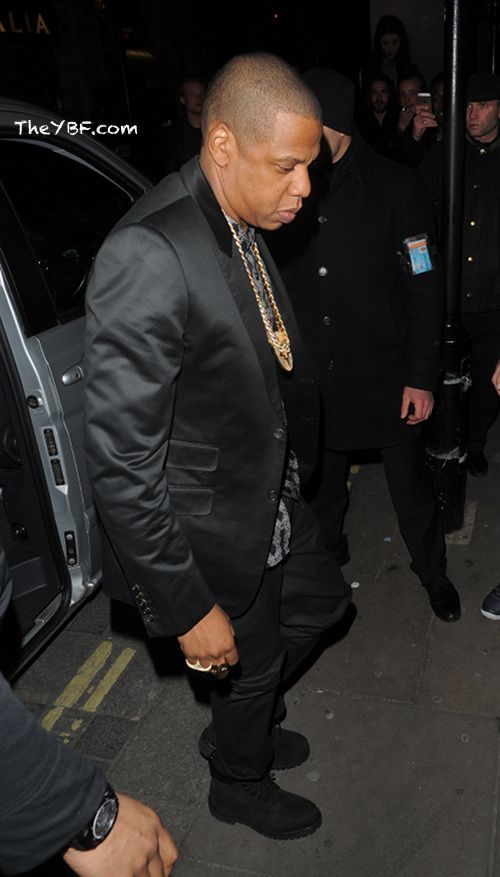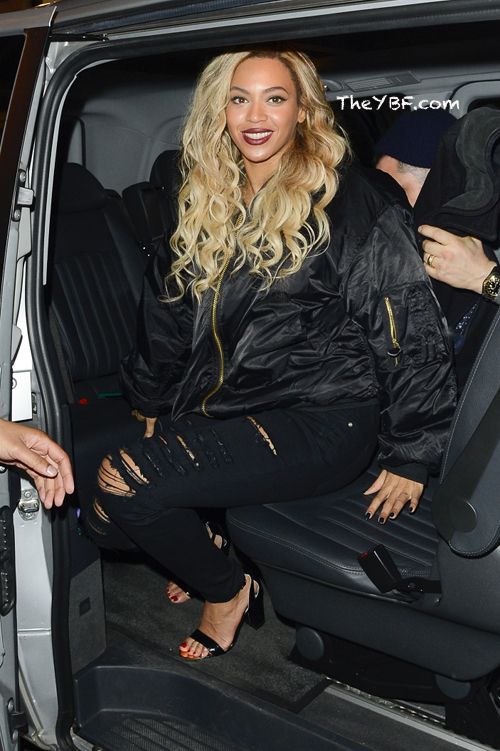 Queen B is still in London on her Mrs. Carter World Tour where she knocked out her second of six shows at the O2 arena last night. Jay joined Bey on stage Friday night where the power couple performed their hit "Drunk In Love." She's scheduled to perform four more shows at the O2 in London and then she will travel to Dublin, Ireland.
Get 'em Bey.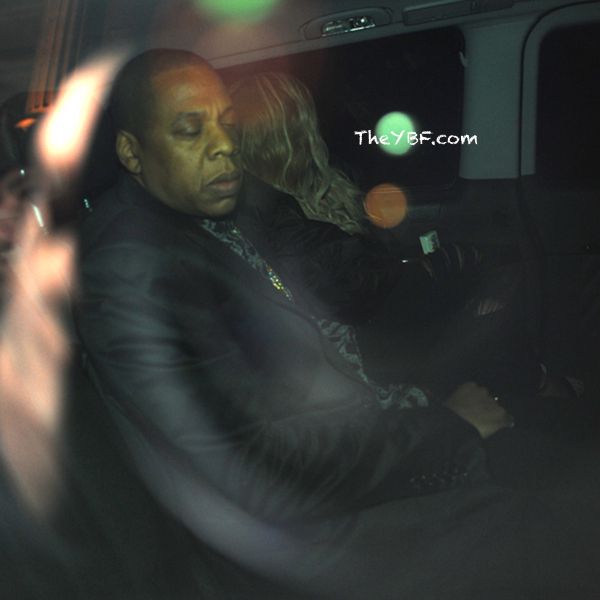 Jay looks BEAT! Go get some rest to do it all again tomorrow.
Photos: WENN.com/Splash/PCN
NOT SO MELLOW YELLOW: Paula Patton Makes First Post-Split Appearance At The 2014 Independent Spirit Awards + More
Posted: 01 Mar 2014 03:52 PM PST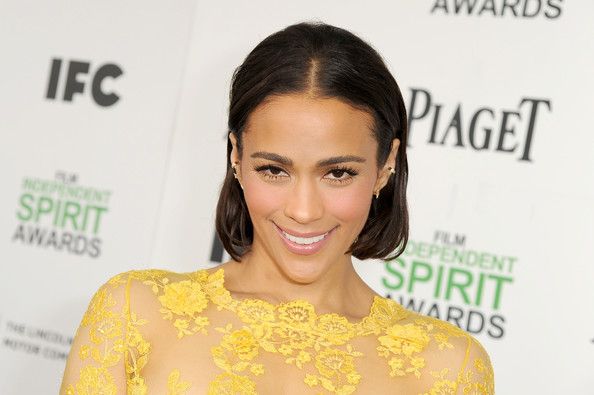 Paula Patton was looking not so mellow in lacy yellow as she made her first post-split appearance at the 2014 Film Independent Spirit Awards in Santa Monica Saturday afternoon. Check out the almost-single actress looking great inside, plus the YBF folks who were there for the big event before the Oscars....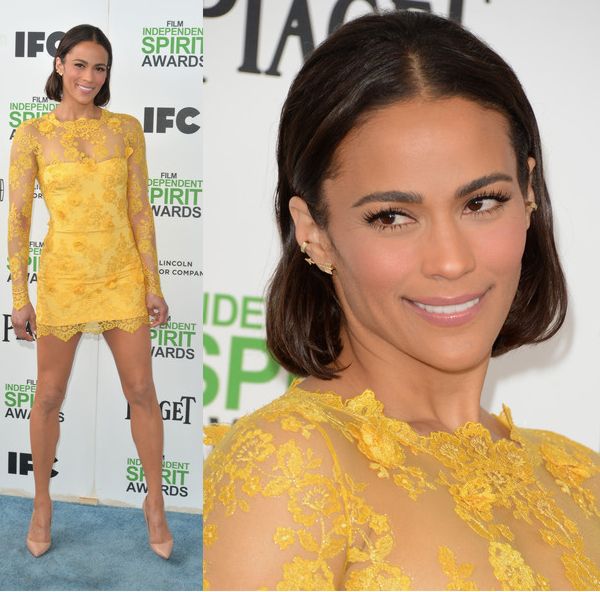 In a likely attempt to brighten up her rough week, Paula Patton showed up to Saturday's 2014 Film Independent Spirit Awards at Santa Monica Beach in a bright yellow lace mini Lorena Sarbu dress.
She threw on her nude heels and a smile to brave her celeb colleagues just days after she and husband Robin Thicke announced their split. And after a car crash her son Julian was involved in this past week.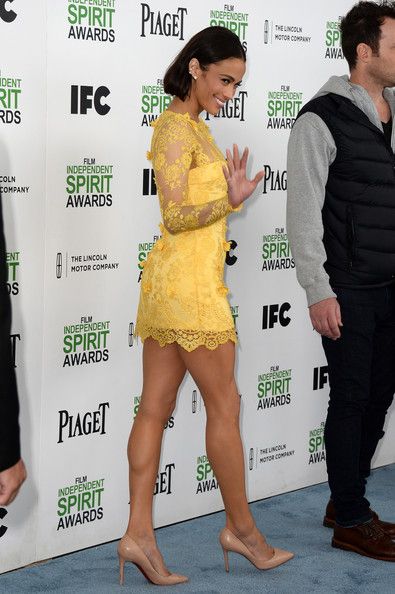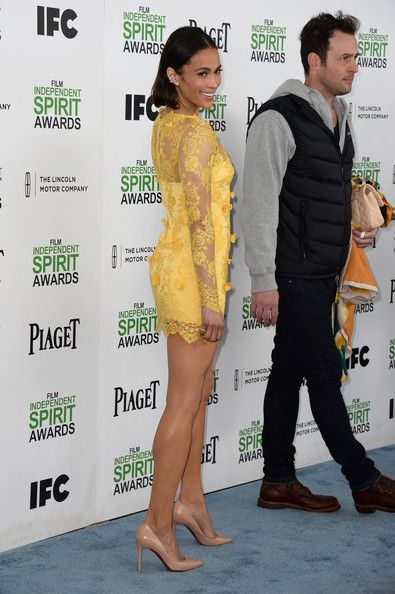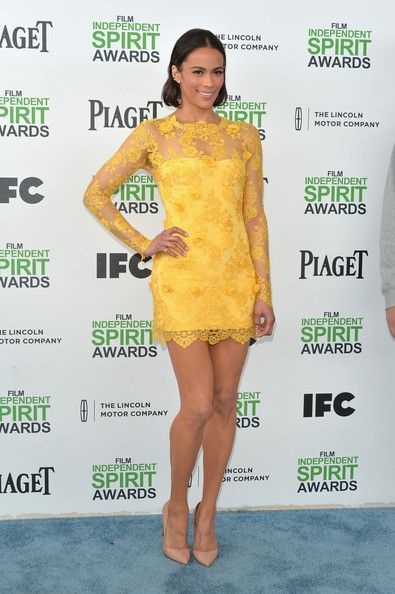 She looked like her usual self and in good spirits, but she IS an actress. Nothing wrong with acting brave when you need to, and when you're brokenhearted. Paula actually had a response a few days ago to the news about Robin trying to get her back. And she revealed she is broken hearted.
On a lighter note, Lupita Nyong'o slayed once again with a fashion forward look at the Awards Saturday. And she went home with the award for Best Supporting Female: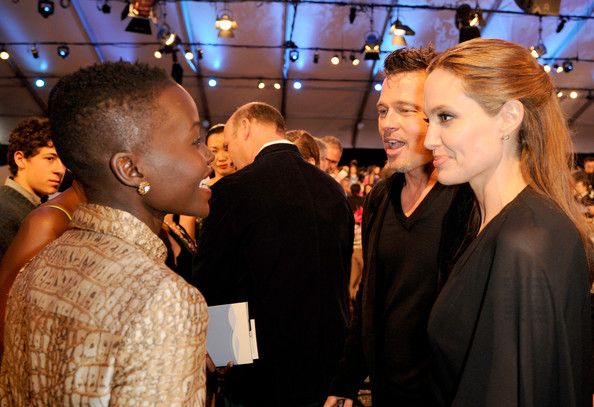 In a golden textured Stella McCartney Spring 2014 jumpsuit and Casadei heels, the golden girl caught up with her 12 Years A Slave co-star Brad Pitt and his wife Angelina Jolie.
Zoe Kravitz kept it fun in a Balenciaga Spring 2014 black floral on white shorts and off-the-shoulder peplum top look.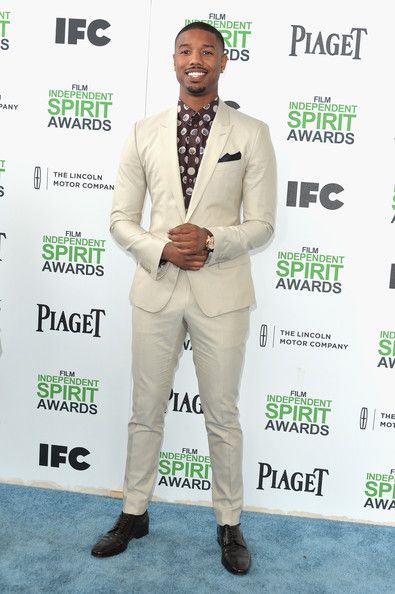 Michael B. Jordan dipped into spring early with his cream colored suit.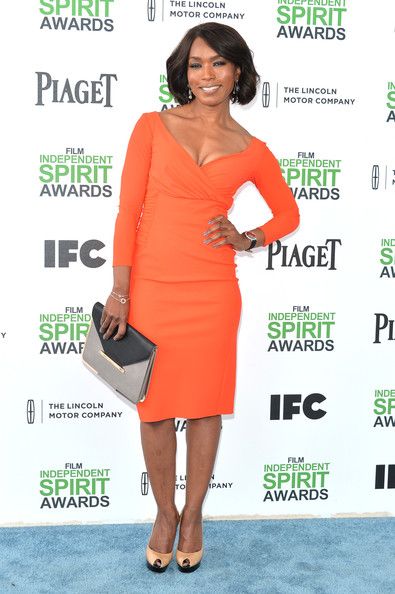 Angela Bassett caught our eye in this bright orange number.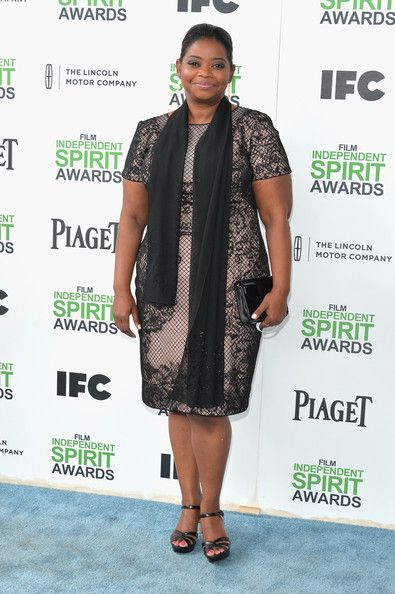 Octavia Spencer kept it simple.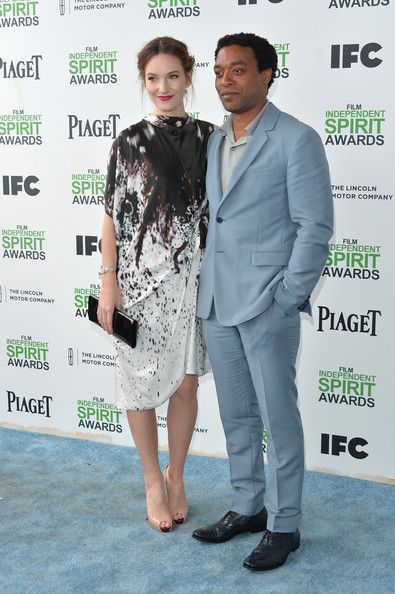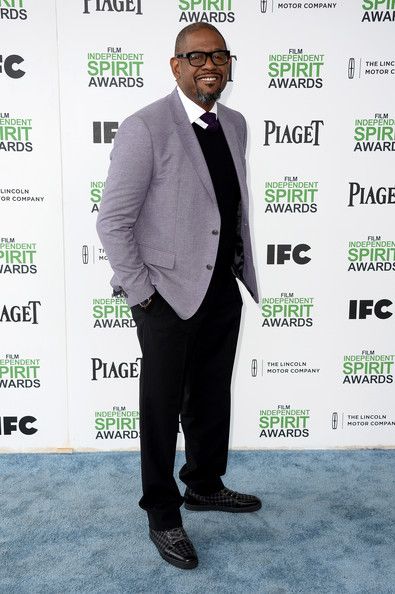 And the fellas--Chiwetel Ejiofor (with his girlfriend) and Forest Whitaker--kept it dapper in their suits as well.
As for the rest of the winner's circle: Fruitvale Station won for BEST FIRST FEATURE and 12 Years A Slave won for BEST FEATURE, BEST SCREENPLAY, and BEST CINEMATOGRAPHY, and Steve McQueen won for Best Director.
Photos: Getty
Rihanna "FEAR"LESSLY Rolls Up At COMME des GARÇONS Fashion Show + Serena Williams Shoots Nike Photoshoot In The Rain
Posted: 01 Mar 2014 12:06 PM PST
Rihanna is making her rounds at Paris Fashion Week while Serena Williams was spotted in the rain for a photoshoot. Check the YBF chics inside…
Rihanna is making her rounds at Paris Fashion Week and does NOT disappoint.
RiRi rolled up to the COMME des GARÇONS fashion show carrying a VFiles faux fur with the word "FEAR" written on it.
She paid homage to the designer rocking a bunny eared COMME des GARÇONS hat which was prominent in the designer's Fall 2013 men's collection.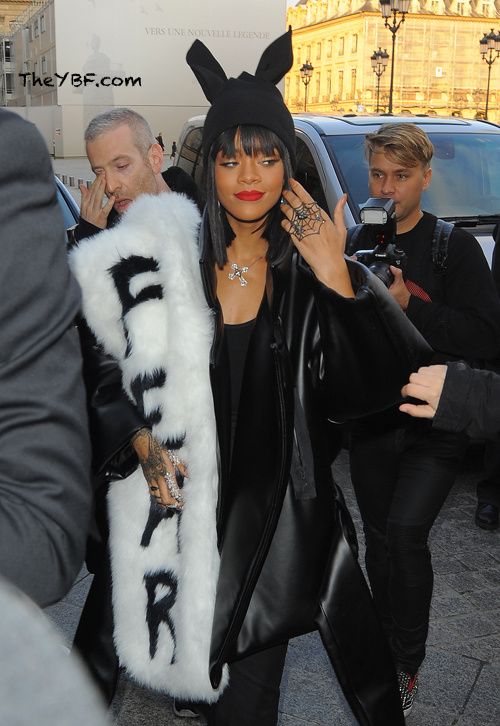 No worries. PETA won't be at RiRi's neck since it's faux fur.
Meanwhile in the states...
Tennis star Serena Williams was spotted in the rain during a Nike photoshoot in L.A.
She looked comfortable and cute modeling athletic wear for Nike.
Nice.
Photos: VS/PacificCoastNews/TGB/Splash News
Chris Bosh, Adrienne Bosh & Their Kids Spend The Day With Thomas The Train + Kendrick Lamar Reacts To Macklemore's "GRAMMY Text"
Posted: 01 Mar 2014 11:11 AM PST
The Boshs' enjoy a day with Thomas The Train and Kendrick Lamar reacts to Macklemmore's "Grammy text." Check out the cute family photos and how Kendrick felt about the "GRAMMY text" inside...
Miami Heat star Chris Bosh, his wife Adrienne Bosh, daughter Trinity and son Jackson participated in the Day Out With Thomas: The Thrill of the Ride Tour 2014 event at the Gold Coast Railroad Museum in Miami on yesterday.
Chris and family teamed up with Sir Topham Hatt and Read2Elevate for a full day of fun and reading.
Cute.
3-month-old Dylan Skye Bosh didn't join the rest of the Bosh clan. Maybe she's still too young to hang with the big kiddies.
Adrienne shared her excitement on Twitter tweeting, "#DayOutWithThomas was a success for the #BoshFamily I def recommend this as a fun outing for other families!"
BONUS:
And we all know Adrienne loves to throw a party. She posted the picture above tweeting, "I LIVE 4 our Dinners!Always a great time #EverythingIsBetterInThrees"
In music news...
After Kenrick Lamar was snubbed for best rap album and best rap song at GRAMMYs, Macklemore made it known (via a text convo which went viral) that the wrong rapper won. Kendrick responded to his GRAMMY snub but never responded on how he felt about Macklemore's personal message to him.
Now Kendrick reveals he was shocked after receiving Macklemore's "GRAMMY text":
"That text surprised me, but Macklemore is a genuine dude," reflects Lamar. "However it panned out, I wish him much success. He touched people's souls, and no one can take that away. Really, the whole Grammy moment was incredible. Not everyone gets that shot."
No beef there.
Photos: John Parra/Getty Images North America/Billboard
PRE-OSCAR FAB: Zoe Kravitz, Lupita Nyong'o, Nicole Richie And More Hit Pre-Oscar Events
Posted: 01 Mar 2014 09:48 AM PST
The pre-Oscar parties and events are in full swing. Find out which celebs hit the red carpet last night inside...
Zoe Kravitz, Rocsi Diaz and Kat Graham hit the red carpet last night for Vanity Fair's Campaign Hollywood at Sadie Kitchen and Lounge in L.A.
Zoe rocked a green maxi style dress for the occasion.

"ET" correspondent Rocsi Diaz hit the carpet in a cute blazer and pants look.
And "Vampire Diaries" actress Kat Graham looked stunning a strapless blue hip hugging dress and sandals. Nice.
In West Hollywood...
Lupita Nyong'o, Mel B and Gabourey Sidibe attended the Women in Film pre-Oscar cocktail party at the Fig & Olive Melrose Place.

Lupita continued her red carpet fabulousness rocking an indigo and white Michael Kors cut away panel dress paired with blue Pedro Garcia Rosette pumps and a Calvin Klein silver metal clutch.
Lupita was joined by her mother Dorothy Nyong'o on the carpet.
Hey Gabby!
Mel B kept it cute and simple in all black with a pop of color.
Mel B and actress Helen Mirren smiled for the camera.
We know her mother is proud.
Lupita was being honored with actress June Squibb, producer Cathy Schulman and actress Helen Mirren onstage.
Go Lupita.
And in Beverly Hills...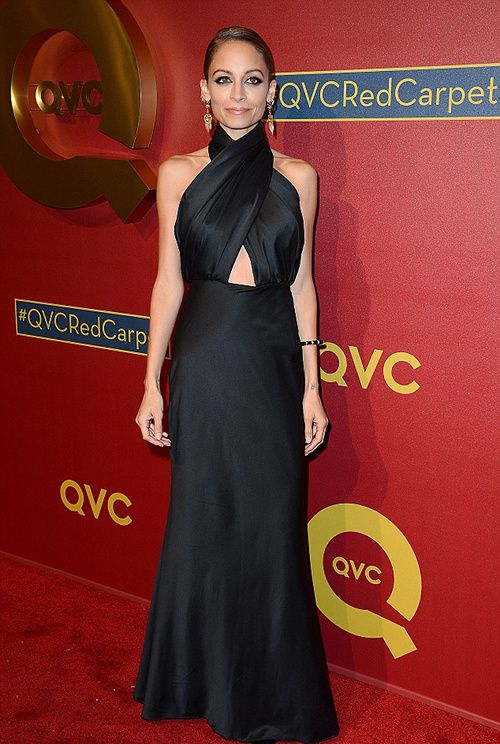 Nicole Richie, Bianca Lawson, Nick Cannon, Kendra Wilkinson and her husband Hank Baskett hit the red carpet for the QVC 5th Annual Red Carpet Style event at The Four Seasons Hotel. Gabby Sidibe skipped the red carpet but attended the event as well.
Rock mom Nicole Richie wore a black criss-cross flowing satin gown flowing black satin gown
Fab.
Nick Cannon hit the red carpet in red and black with his matching red tablet.
Actress Bianca Lawson showed up in a cute floral printed dress.
And Kendra Wilkinson looked like she was ready to pop posing alongside her husband Hank Baskett.
Fab times all around.
Photos: Buckner/ John Sciulli/Getty Images North America