---
Blac Chyna Heads BACK To The Strip Club…To HOST This Time
Posted: 20 Mar 2014 09:52 AM PDT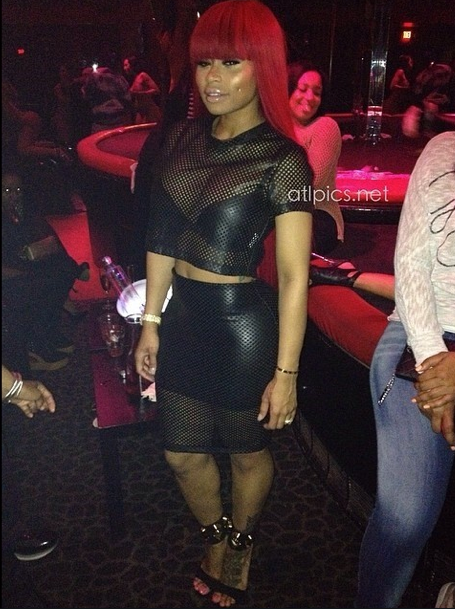 Blac Chyna went back to her roots last night to work…but not how you may think. Find out what Tyga's baby's mother was up to in an Atlanta strip club inside…
Ex-stripper Blac Chyna hit up Diamonds of Atlanta last night, but instead of twirling around a pole, she was tapped as a special guest.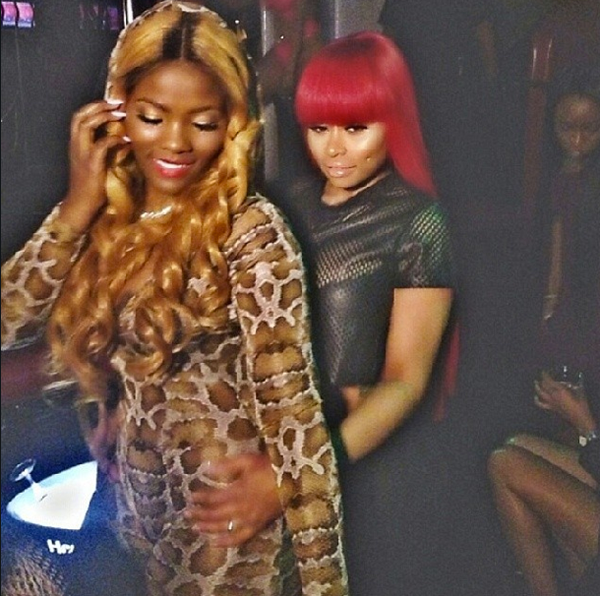 When Tyga's baby mother isn't snapping booty selfies or working out with her new bestie Kim Kardashian, she's working (and we use this term loosely) on building up her bank account by opening make up bars and making club appearances.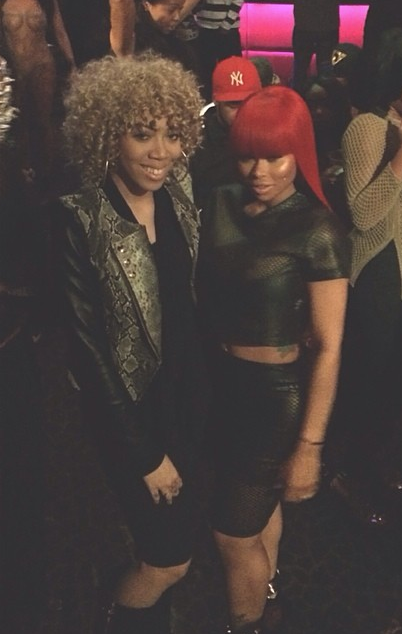 Chyna danced (minus a pole) and snapped pics with "fans" during the night:
Do you think she was there to give motivational speeches to the "working" chicks on how to get a rapper to snatch them off a pole too? She seems to have it all figured out....
With all that said, we're kinda feeling her perforated outfit. Surprisingly...
The Randomness:
1. Chris Brown could possibly get out of jail early by paying off the victim in the D.C. assault case. STORY
Photos: ATLpics.net/@slimbarbiie/@moneyymitch/@chynaagurl/@premadonna87

Keyshia Coles Talks Leaving Daniel "Boobie" Gibson, BEEFING With Beyonce & Michelle...And SLAPPING A Dude!
Posted: 20 Mar 2014 08:56 AM PDT
Keyshia Cole stopped by The Breakfast Club to open up about her marriage, male-bashing on her new album and she even revealed the last time she had to smack a dude! More inside....
This morning, Keyshia Cole appeared on Power 105 with The Breakfast Club where she talked about a possible reconciliation with her husband (don't hold your breath), her relationship with Frankie and Neffe (she's cut them off), strippers attacking her on social media (she's not going to be disrespected) and the last time she had to smack a dude (a few months ago). Here are the highlights:
On Charlamagne Tha God calling her a "B*tch":
Things became tense at the 1:48 mark when she confronted Charlamagne about the "b" word. He apologized.

On the last time she smacked a dude (1:10):

A few months ago...and she fled the scene before the cops arrived. (She didn't say whether the dude was her estranged hubby Daniel or not).

On Beyonce and Michelle beef (2:57):
She said the "Bow Down" record hurt her feelings. [A hit dog will holler chile....]When speaking about Michelle, she said Michelle's tweet hurt her feelings. She feels like fans jumped on her because, "I'm from Oakland, I'm the ghetto chick."

On male-bashing, possible divorce, strippers and issues with Daniel (4:52):
"I just want to put out my music and sit in my own craziness. I don't even know what I want to do right now. I don't want to talk about it."

On the belief that she makes BETTER music when she's angry or depressed:
"That's cool. It's a business. I don't take none of it personal. It's up to me as a human being, as a mother, as a person to get my stuff right personally."

On maturing at age 30 (6:10)
"I've grown a lot. I'm 30. Ain't the same way I used to do it. Take my anger out and just go ahead and approach you and do something about it. I'm a mother. Whatever I do from here on out, I want my son to be proud of."

On her relationship with Daniel (her husband):
We co-parent. He's a great father. At 8:30am he comes to take DJ to school every morning. [Oh.]


On relationships (9:00):
She says she doesn't feel like men can be honest with her.

Can she and Daniel work it out? (11:41):
I'd just like to avoid questions like that for my son's sake. We'll know it as the time goes by. No matter how much I dislike this man, it will never be to the point where he can't see his son. Period.

On Frankie and Neffe (13:04).
When asked if Frankie and Neffe are around her and her son she said, "Mmm. Mmm. It's just chaos. And I don't want that around him." She says she has not spoken to Frankie and she doesn't have her number. [Damn!]


Will she ever do reality tv again:
"I don't know yet."

On "Rick James" and the new album:
"I freestyled six songs on the album."

Is she happy? (22:01):
"I don't know."
Listen to the interview here:
Photos via Keyshia's Instagram
Now THAT'S A Spring Break: First Lady Michelle, Sasha & Malia Obama Make MAJOR Arrival Into China!
Posted: 20 Mar 2014 08:00 AM PDT
When you want to build a bridge between two countries, let the ladies handle it! First Lady Michelle Obama and the fab First Daughters made their major arrival into China yesterday for their week-long visit that will be centered around all things education and community. They are meeting with China's First Lady, Peng Liyuan, and will focus on developing a better relationship between the U.S. and China.
See our gorge First Family kicking off their big trip inside...
Here's one way to spend Spring Break. While plenty of kiddies their age are sending the week watching tv, sleeping in and maybe hitting a beach, Sasha & Malia Obama are flying on Air Force 1 all the way to China!
The Obama women, as well as First Granny Marian Robinson, were spotted hopping off of the Presidential air craft in Beijing on Thursday to meet with the wife of China's President Xi Jinping.
The ladies are scheduled to visit plenty of schools, universities, and participate in discussions and events with Peng Liyuan, who is also regarded as a super stylish First Lady.

Bringing the whole family along was also a strategic move and show of support of traditional family culture. In China, and in much of South-East Asian countries, families have multi-generational households and grandparents are seen as secondary care providers, much like Mrs. Robinson has been in the White House.
FLOTUS' chief of staff Tina Tchen said in a press release, "I think they understand the significance as well of family and of three generations of family traveling together, which I think the Chinese will appreciate, and will appreciate the ties and the bonds that the Obama family have with one another across generations,'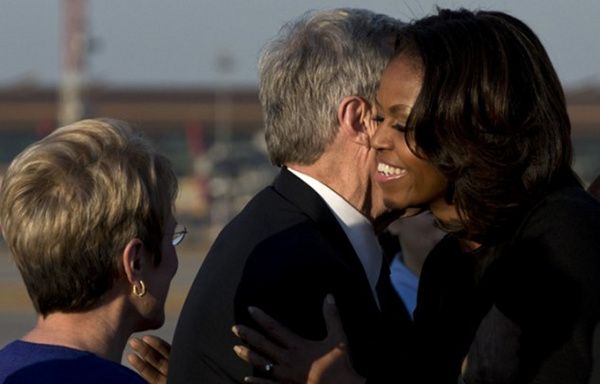 FLOTUS was spotted greeting Max Baucus, the US' new ambassador to China, as everyone hopped off the plane.
And it seems like President Obama is missing his fave women. He said to NBC News yesterday, "Michelle and the girls are on their way to China, it's very lonely at home."
Awww!
Photos: Getty/AP
Pharrell Set To Perform On "SNL" & Breaks Out "International Day Of Happiness" + Describes Alicia Keys' New Album As A "Meteor"
Posted: 19 Mar 2014 04:44 PM PDT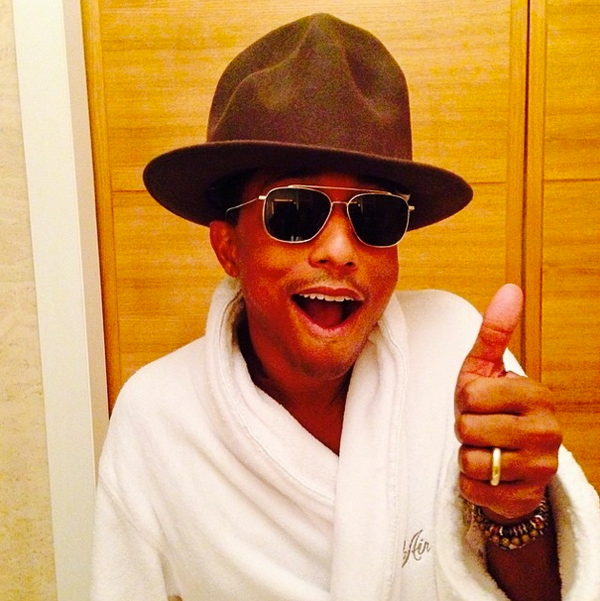 "Clap along if you feel like happiness is the truth!" Pharrell is marking March 20th as International Day of Happiness and speaks on working on Alicia Keys' new album when you go inside…
Super producer Pharrell Williams has joined forces with the United Nations Foundation to mark March 20th as International Day of Happiness.
The International Day of Happiness is an official UN day that "recognizes the pursuit of happiness is a fundamental human goal and the need for a more inclusive, equitable and balanced approach to economic growth that promotes sustainable development, poverty eradication, happiness and the well-being of all peoples."
The campaign will help raise money for the United Nation's Central Emergency Fund (CERF) which you can donate to here.
Get "Happy" on Twitter and share #HappyDay tweets on tomorrow to recognize International Day of Happiness.
And in other Pharrell news...
Skateboard P is also working with Grammy Award-winning singer Alicia Keys on her sixth studio album. Although Alicia Keys has yet to drop a single from the album, Pharrell has already labeled it as a force to be reckoned with.
P told REVOLT:
"I'm telling you right now, you're not ready for the new Alicia album. You know what it is? It's a meteor, coming out of nowhere out of the sky. It's just emitting and radiating just a force and I've never seen her so comfortable, ever."
Alicia and Mr. "Happy" have already worked together on his album G I R L for their track "Know Who You Are" and he seems to be just as excited about her new project.
"I'm just telling you, it's coming like a tidal wave. Harlem is gonna be very proud and so is New York City."
Still no official release date for Alicia's album but it's rumored to be released before the end of the year.
Also, look out for Pharrell performing on Saturday Night Live on April 5th.
Photos: Anthony Tilghman/Wireimage/Pharrell's IG
Tae Heckard Flaunts Her HOT Bikini Bod On The Beach + Iggy Azalea Dishes On Working With Her Man Nick Young In GQ Spread
Posted: 19 Mar 2014 04:14 PM PDT
Tae Heckard serves up a little bikini competition while Iggy Azalea dishes on her boo Nick Young. Check out Tae's super hot bod and Iggy talks about her relationship with her man inside…
Vixen/actress Tae Heckard hit a foreign beach on a surprise vacay and of course she showed off that bangin' body of hers.
Nelly's ex-girlfriend shared on Instagram, "Texas flexin' in foreign waters. #ilovesurprises #surprisesloveme #teamcococrispay"
As she laid out in the sun in a tiny, teal bikini she clearly had no worries about the Nelly & Ashanti rumors of them possibly getting back together sharing, "Love and happiness...."
Love? Is there a new man? Hmmm…she hastagged "#heyhandsome" in one of her pics, which could imply she's vacationing with a new boo, but we aren't insinuating anything. Plus, we do know her bestie's birthday is also this week.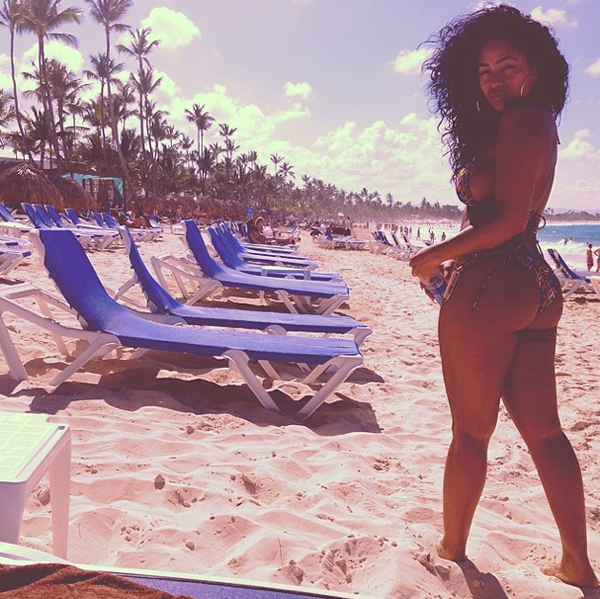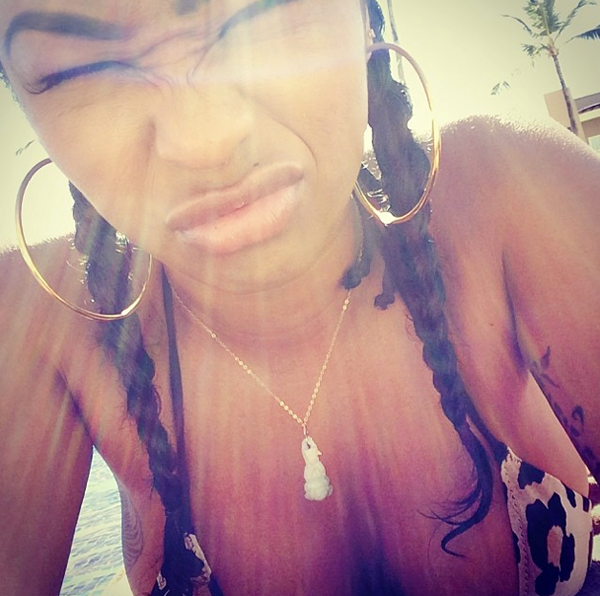 With Ashanti flaunting her bikini-ready bod on Instagram a day before, we wonder if Tae is serving up a bit of bikini competition.
Either way, Tae is looking hot!
And in music news…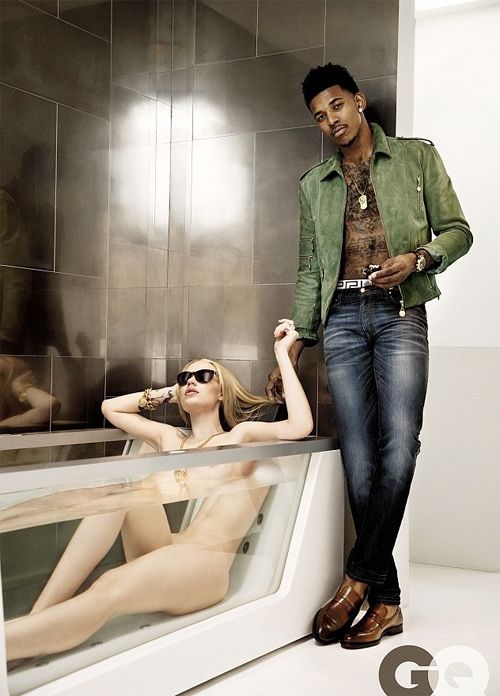 Raptress Iggy Azaela sat down with Nessa from Wild 94.9 and dished on her relationship with her boyfriend, LA Lakers baller Nick "Swaggy P" Young.
Iggy and her man were featured in the March 2014 GQ magazine where she posed totally nude in a bathtub with him right by her side.
Iggy dished on her "big booty," how she deals with Nick's groupies, on who has better hair, their pet peeves about one another and how Nick gave her a hard time during their GQ shoot.
Check it below:
Photos: Tae Heckard's IG/Iggy's IG
REPORT: Karrueche Tran ALLEGEDLY Dumped Chris Brown Because He Was TEXTING Other Chicks
Posted: 19 Mar 2014 03:53 PM PDT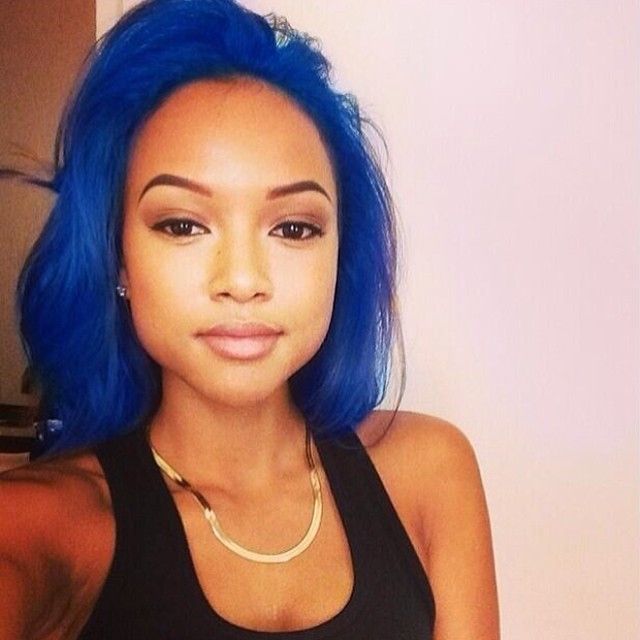 Sources close to Karrueche Tran are speaking about her breakup with Chris Brown...and they do not blame Rihanna. Find out why KT walked away inside...
As Chris Brown sits alone in a jail cell, friends of Karrueche Tran are speaking about the couples' breakup and spilling the deets about what FINALLY made her leave him. Surprisingly, it had nothing to do with Rihanna's alleged secret trip to visit him in rehab.
Sources told TMZ that Karrueche visited Chris last month and saw some inappropriate texts from other girls on his phone. That was her breaking point.
Of all the things we've learned about Breezy over the past few years, you'd think she would have walked away long BEFORE she read some dirty texts.
Show of hands...who thinks she'll be back in Chris' bed within 6 months?
By the way, shortly after their breakup, Chris allegedly hooked up with a woman at the rehab facility.
Chile...
Photos via Karrueche Tran's Instagram
SPOTTED: Beyonce & Jay Z Make A Stop At Historic Anne Frank Museum In Amsterdam
Posted: 19 Mar 2014 02:37 PM PDT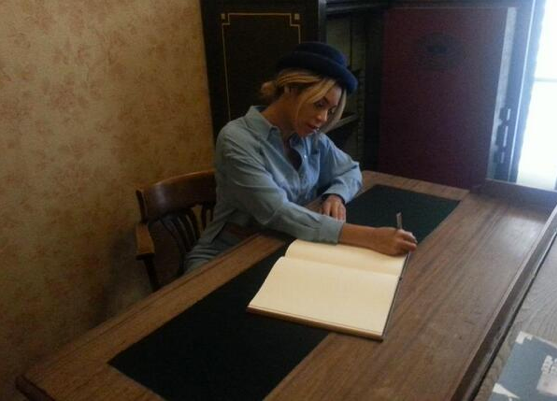 With The Mrs. Carter World Tour trekking across the world, Beyonce & Jay Z took the opportunity to take in the culture of Amsterdam by visiting the Anne Frank Museum. Check the pics and deets inside…
Beyonce is expected to hit the stage tonight at the Ziggo Dome in Holland, Amsterdam. But before she slays the stage, Queen Bey and hubby Jay Z were impressed with a history lesson as they made a stop at the historic Anne Frank Museum, which is the house Anne Frank hid from Nazi persecution.
Beyoncé and Jay Z spotted at the Anne Frank Museum in Amsterdam http://t.co/0aUfP0Ijdc pic.twitter.com/LYTk03P63T

— Beyoncé Lite (@BeyonceLite) March 19, 2014
The Carters have been enjoying many main attractions in their down time during their travels, including taking their daughter Blue Ivy to the Phoenix Park Visitors Centre's playground in Dublin.
Known for being interested in other countries' cultures, it's no surprise the couple stopped by the notable museum. Bey even took a moment (shown above) to write in Anne Frank's visitors book.
Wonder what she wrote...
Tomorrow, the Carters travel to Belgium so the Mrs. can rock the stage at the Sportspaleis Arena.

Photo: @annefrankhouse/BeyLite's Twitter

SISTER ACT: LisaRaye & Da Brat Hit The Club To Celebrate YG's Album Release
Posted: 19 Mar 2014 02:00 PM PDT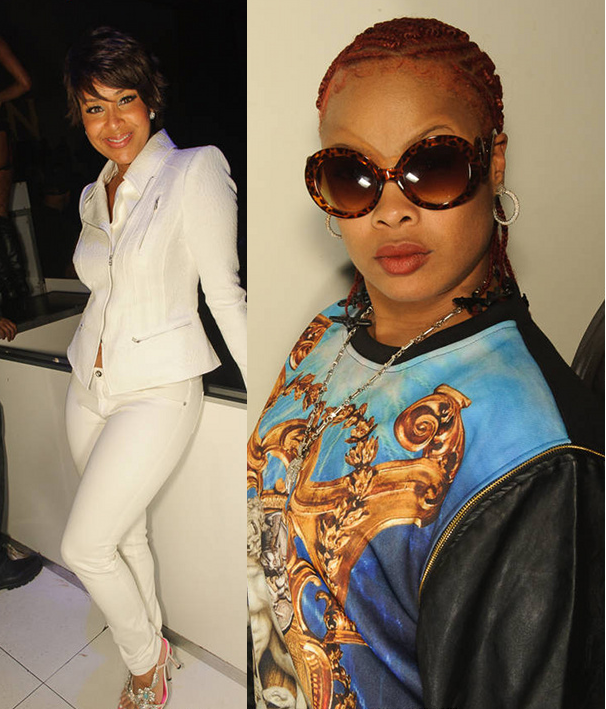 Da Brat, LisaRaye, Gloria Govan and a few others celebrated the release of YG's latest album. See pics inside...
The "guest list" for YG's "My Krazy Life" release party included a few celebs who must have been "released" from witness protection programs (since we rarely see them and all).
Among the bold-faced regulars at the party was ATL's own Young Jeezy who hopped on the mic at LA Supperclub to congratulate "My N*gga" rapper YG.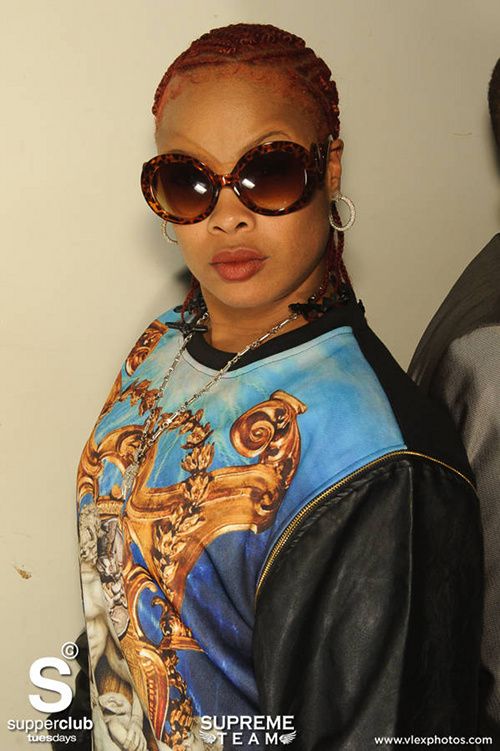 Da Brat made a rare appearance on the party scene. We wonder if she's made a dent in that $6.4M settlement she's been ordered to cough up.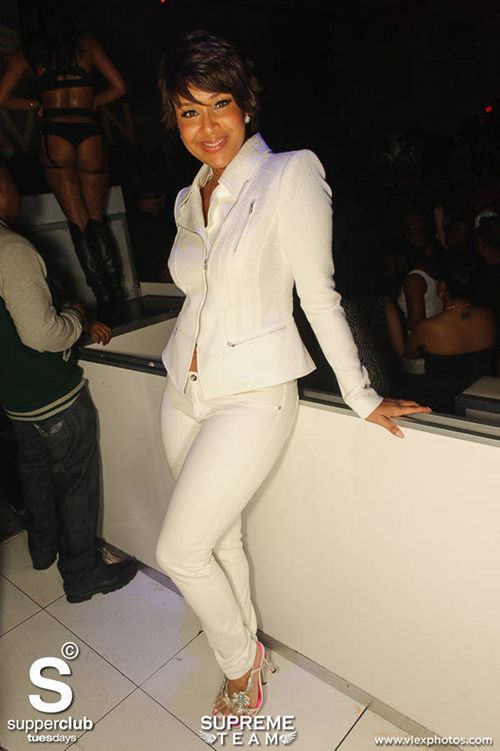 Her half-sister LisaRaye was spotted there as well wearing all white as usual. We don't suspect LisaRaye will be loaning Da Brat any money since "Single Ladies" got cancelled. SIDEBAR: Is the half naked chick in the back a bottle waitress/stripper/something? We all know Brat doesn't like those kind...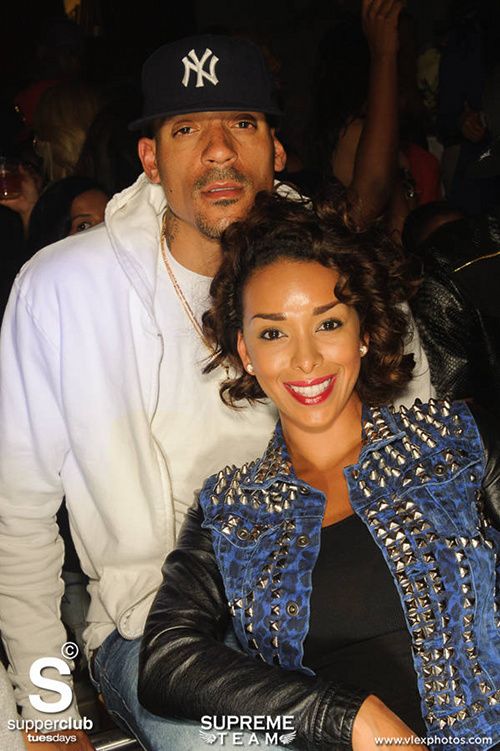 Now that she's no longer on reality tv, we rarely see Gloria Govan. But she came out with her NBA hubby Matt Barnes.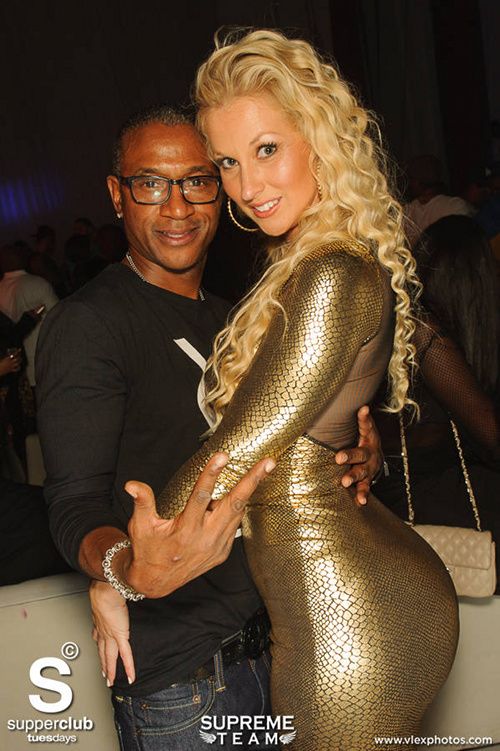 Where has former "In Living Color" star Tommy Davidson been? He was there boo'd up with a chick who looked really happy to pose for a pic.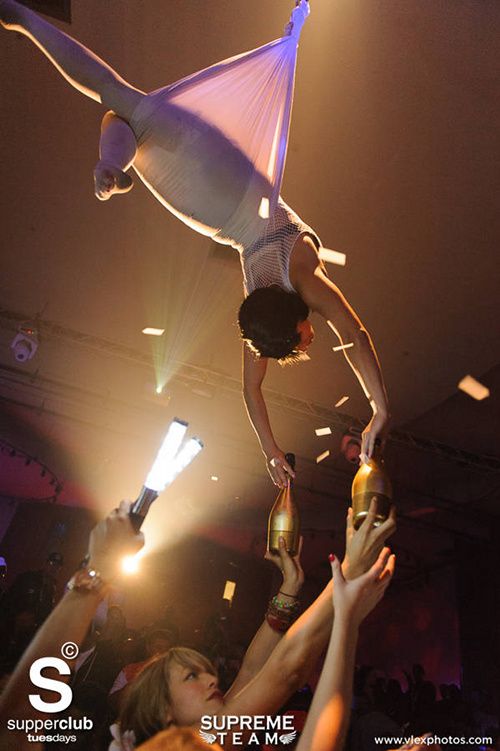 In case you were wondering, ACE of Spades Champagne rains from the sky when you order it.
Photos via Vlex Photos/Supreme Team/Six 27 Branding
Naomi Campbell Gets Sexy For SHAPE Magazine, Dishes On Keeping That Body Tight
Posted: 19 Mar 2014 12:07 PM PDT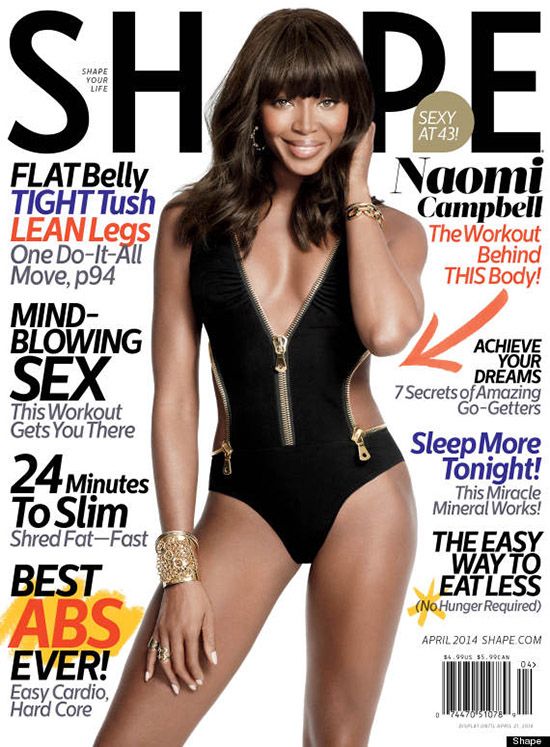 For the first time ever (surprisingly!), 43-year-old supermodel Naomi Campbell is SHAPE magazine's cover girl. Check out her effortless fabness on the April 2014 cover and spread, and what she dished about her fitness regimen...
This chick is still slaying all over the place.
As she treks along in season 2 of Oxygen's "The Face", Naomi Campbell is serving up that famous body that's covered every catwalk EVER (it seems), and pretty much every magazine cover as well, for SHAPE magazine.
She said about her first SHAPE cover:
"I've been on almost every magazine in existence, but this is my first time posing for Shape, and I'm thrilled. Of course. I wish I had done it when I was younger, but it's an honor to be here at any age."
Indeed NaNa.
Now how does she keep her skin and bod looking like perfection? She credits it all to copius amounts of green juice (blended and juiced green vegetables). But she's not starving herself:
"I don't believe in starving myself. I've never done it, and I never will. I'm even more active when I'm juicing, doing both yoga and Pilates every day."
And she also revealed she kicks off every day with hot water and lemon, and includes lots of veggies, teas and salads with fish or steak.
Her workout routine includes at least an hour of yoga most days. And a power 10 minute workout on days she's short for time.
She's even finaly kicked that nasty smoking habit...with the help of the nicotine patch.
"People told me that cigarettes are harder to quit than alcohol. I didn't believe it, but you know what? It is harder."
Check out more over at SHAPE. The new issue hits newsstands and iPads nationwide on March 24.
Photos: Shape
44-Year-Old Kim Fields Shares "Miracle" Baby Boy Quincy Xavier With The World + Kevin Hart Talks Success & Failed Marriage On "Oprah Prime"
Posted: 19 Mar 2014 11:20 AM PDT
Fabulous 40+ mom, Kim Fields, reveals the first pics of her baby boy Quincy and shares some precious moments of the day he was born. Read the deets inside…
Actress Kim Fields has revealed the first photos of her 4-month-old "miracle" baby boy Quincy!
Back in December, the 44-year-old former "Living Single" star became a mommy for a second time, welcoming baby Quincy Xavier Morgan with her husband Christopher Morgan and big brother Sebastian. Kim shared little Quincy was named after legendary music producer Quincy Jones.
In the newest issue of Closer Weekly, Kim talked about how much of a blessing baby Quincy is to her and her family after suffering two miscarriages.
"I know it sounds like a cliché, but it's a blessing. There was so much gratitude that he was here and healthy."
The couple was trying to have another baby before Quincy, but was unsuccessful.
"He [Christopher Morgan] thought I might be dehydrated, then I find out I'm two months pregnant! I was stunned out of my mind," Kim says. "We were both overjoyed," adds Chris.
Little Quincy was born on December 3, 2013 in Atlanta after a C-section. Kim shared the precious moments of them singing as Quincy entered the world:
"Turns out the anesthesiologist was totally into singing, so we were doing three-part harmonies and holding hands! We were singing 'Family' from Dreamgirls when Quincy came out."
And big brother Sebastian is totally smitten with his little brother:
"They look a lot alike. Sebastian loves bragging about his little brother. He tells his teachers at school everything he does. He is Quincy's publicist at this point," Kim jokes to Closer.
At her age, will Kim decide to add another addition to their family?
"Never say never. Being a mom is really the greatest role in my life."
Too cute! And pretty much a miracle indeed.
And in another interview…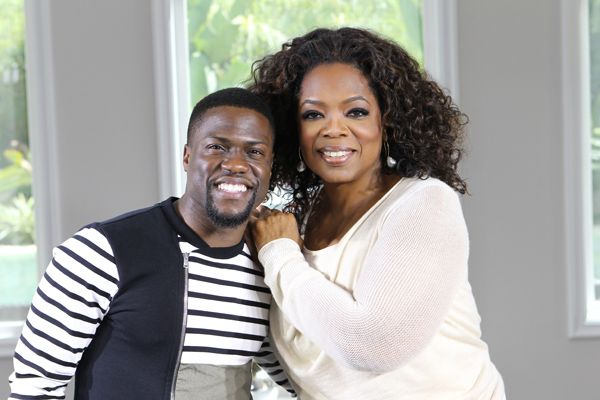 Funnyman Kevin Hart sat down with Oprah Winfrey for the media queen's new show "Oprah Prime."
In the candid chat, the "Ride Along" star talked about his huge box-office success, his aspiring career and taking home the NAACP Image Award for "Entertainer of the Year."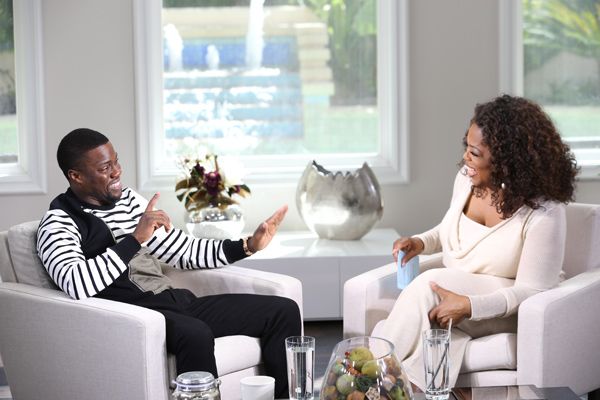 Kev also discussed how social media has been a vital component in his success and shared his comedic influences.
Oprah got Kevin to open up about personal issues he has had to deal with including growing up with a single mother & drug addict father, his infidelities and raising his kids with his ex-wife Torrei Hart.
Check out the first look from the sit-down below:
After denying they were an item, the twosome share their life with fans as Deion tackles being a single father of his own five kids (plus helping to raise five other children that he's opened his home to) and juggling a new relationship with Babyface's ex-wife/mother of his children, Tracey.
In the clips below, the couple meets Oprah for the first time and Deion meets with Babyface to establish a good relationship between them:
"Deion's Family Playbook" airs Saturdays at 10pm ET/PT on OWN. Part of us really wants to watch this. We'll see if we remember...
Photos: Closer Weekly/OWN
YBF KIDS: Tiny CELEBRATES Zonnique's 18th Birthday With A Girls Trip To HAWAII!
Posted: 19 Mar 2014 10:45 AM PDT
Well it must be nice. Tameka "Tiny" Harris' daughter Zonnique celebrated her 18th birthday with a fab girls trip to Hawaii. Get the pics inside....
While most 18-year-olds get cash for college or clothes/gadgets they love for their birthdays, Zonnique Pullins, T.I.'s stepdaughter, is living it up thousands of miles away. And she's looking fab in an Allusions by A.Lekay swimsuit.
Mommy and daughter were spotted striking a pose at the airport in Atlanta before jetting off.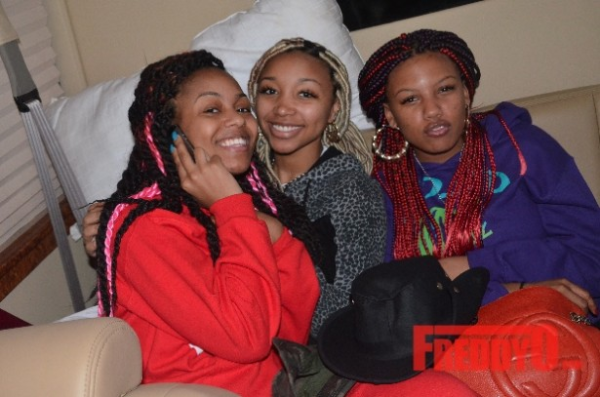 The OMG Girlz were a part of Zonnique's girls trip.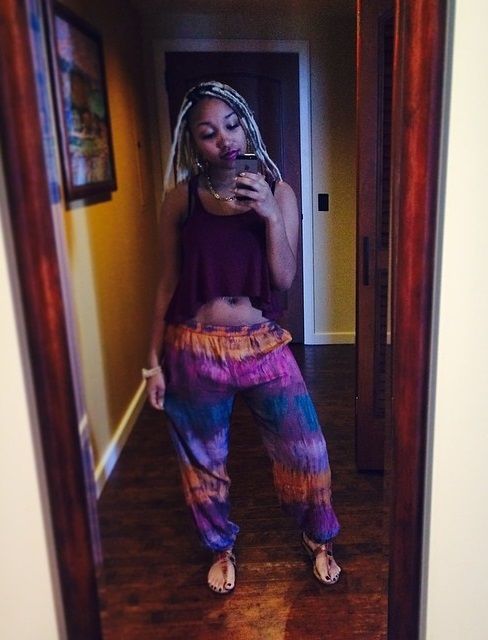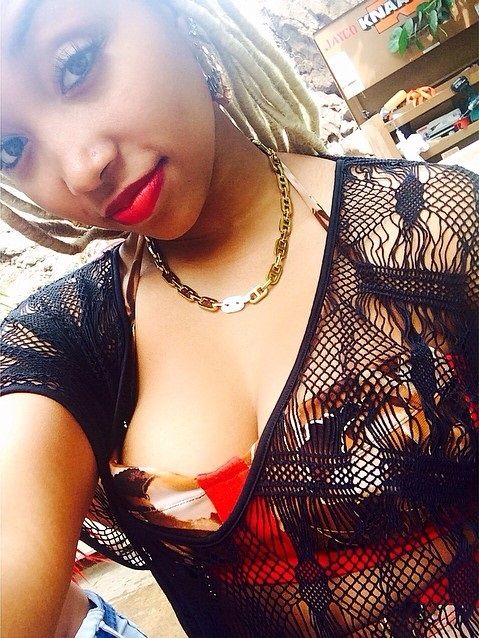 And Zonnique, rocking a new blonde look, snapped plenty of selfies to share with her friends.
Goofy was also in the mix. Fab times!
Photos via FreddyYo.com/Tiny's Instagram/Zonnique's Instagram