---
Rick Ross Talks 50 Cent Beef On "Chelsea Lately" + Janelle Monae Brings Carnival To "Idol" Performing "What Is Love"
Posted: 28 Mar 2014 10:29 AM PDT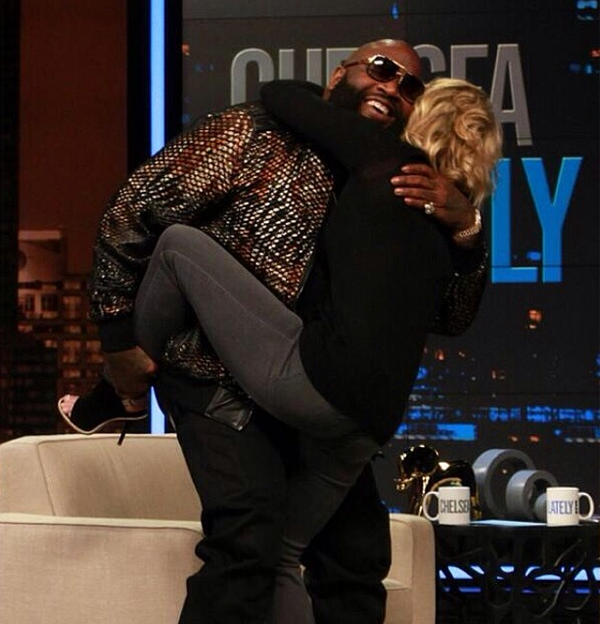 Rick Ross hit up late night television last night appearing on "Chelsea Lately." Check out their funny interview inside…
We know Chelsea Handler loves her some black rappers (i.e. 50 Cent), so it was no surprise Chelsea was all over Rick Ross as he came out on stage. Chelsea greeted Ross with a quick hump before they sat down for their chit chat. Possibly trying to make 50 jealous?Not sure if he would care… So it's probably just her usual black-rapper-flirtatious-stunts she keeps up...

Rozay made a stop on "Chelsea Lately" last night to promote his fifth #1 studio album Mastermind, his franchise chicken restaurant (he's opening up 25 new Wing Stops), his "beef" with 50 Cent (said he's done with talking about 50) and how he has a personal assistant whose sole job is to roll his blunts. Somebody's got to do it...
Check it:
That damn Chelsea…
And another musician on television last night…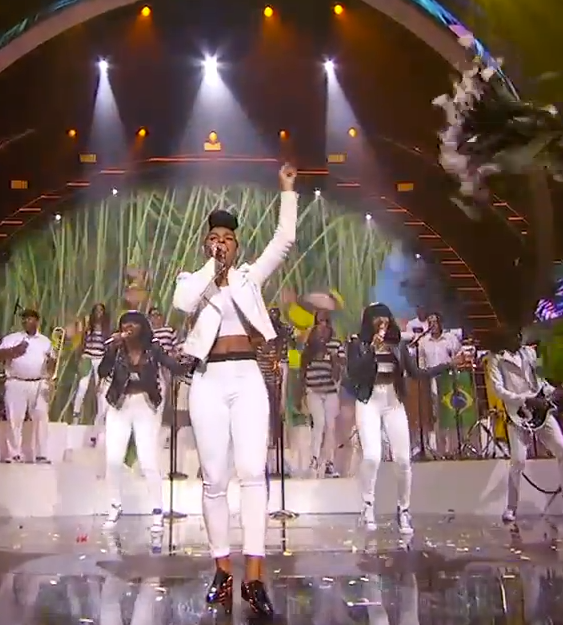 Singer Janelle Monae bought the Rio Carnival to "American Idol" last night performing her new hit "What Is Love," featured on the Rio 2 soundtrack.
Choreographed by Fatima Robinson, The "Electric Lady" danced it out to the vibrant beat in her usual black and white ensemble complete with carnival dancers.
Check out Janelle's electric performance below:

Photos: American Idol / FOX
POWER COUPLE: LaLa Anthony Signs Her "Playbook" In Atlanta + Carmelo Anthony COVERS "Haute Time"
Posted: 28 Mar 2014 09:39 AM PDT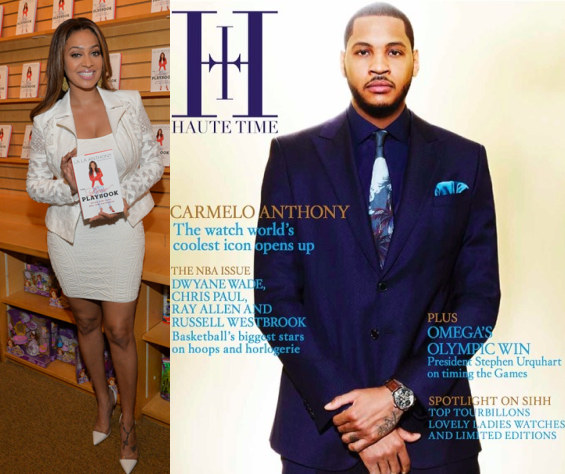 In "Power Couple" moves, LaLa Anthony hit Atlanta to sign copies of her NYT Best Seller advice book while her hubby Carmelo covers "Haute Time." See pics inside....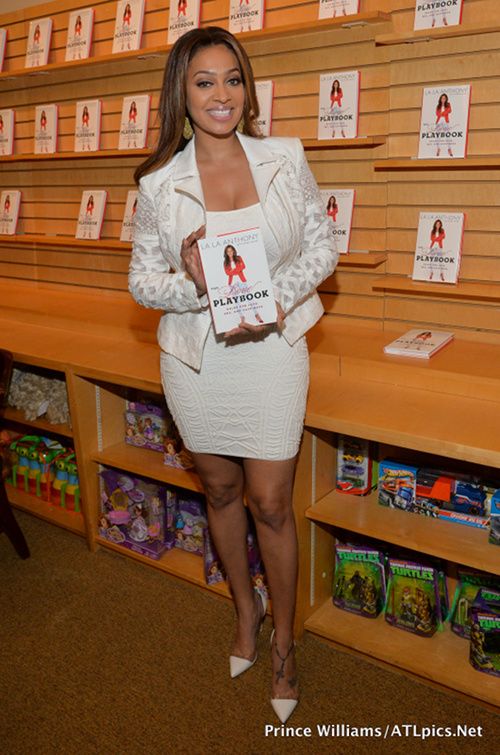 Last night, LaLa Anthony kept it cute while signing copies of her NY Times bestseller "The Love Playbook: Rules for Love, Sex, and Happiness" in Atlanta.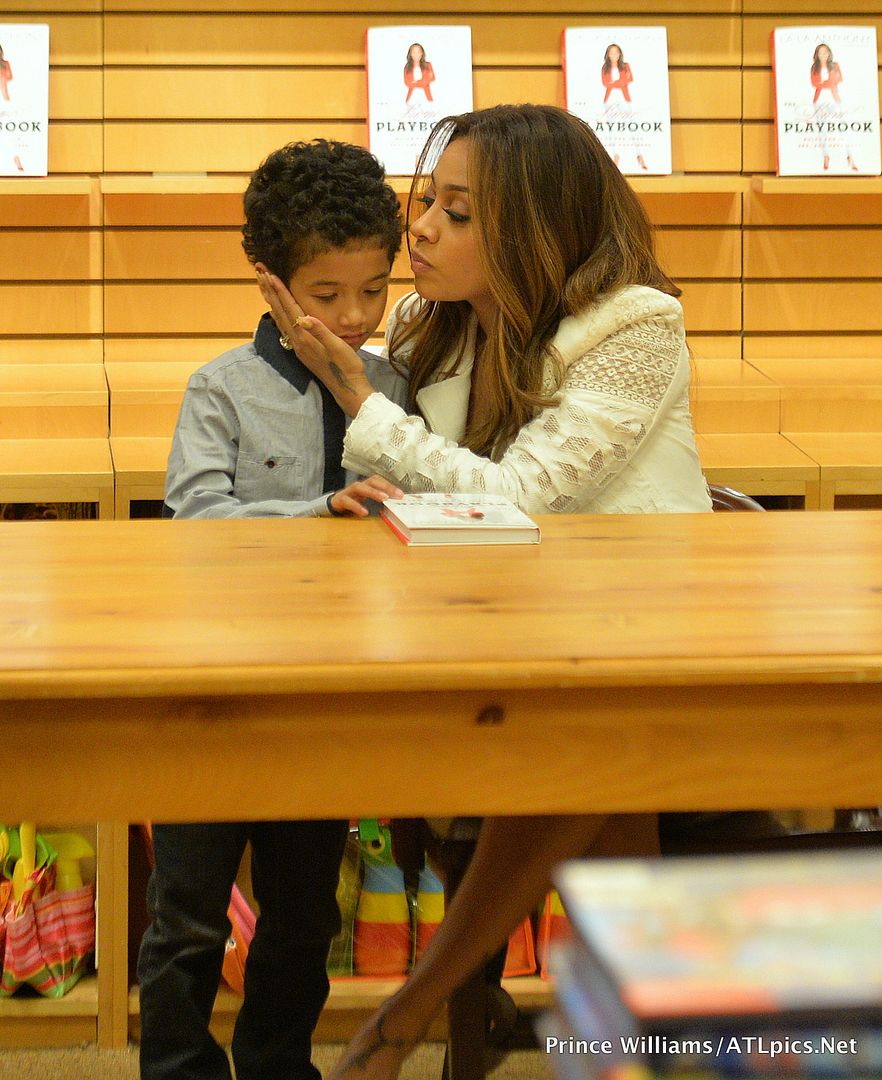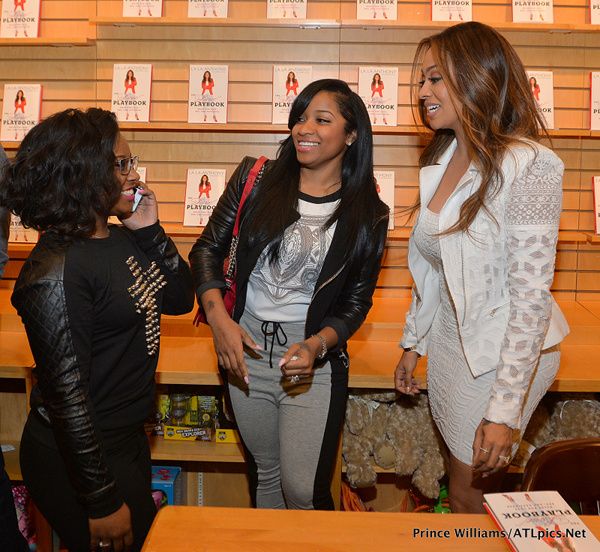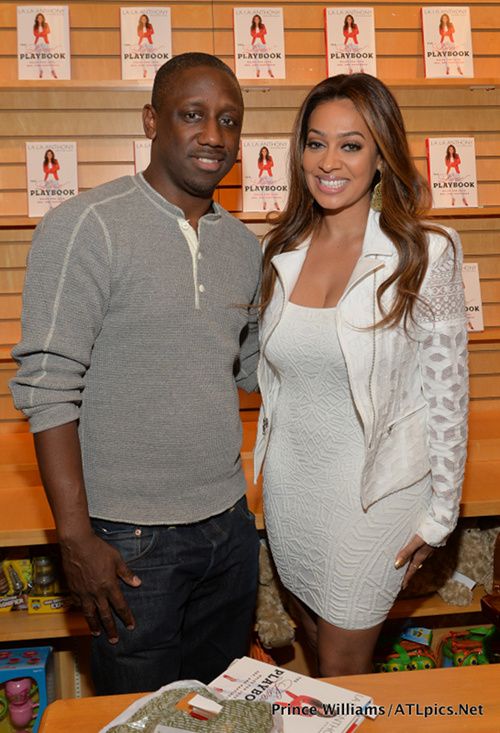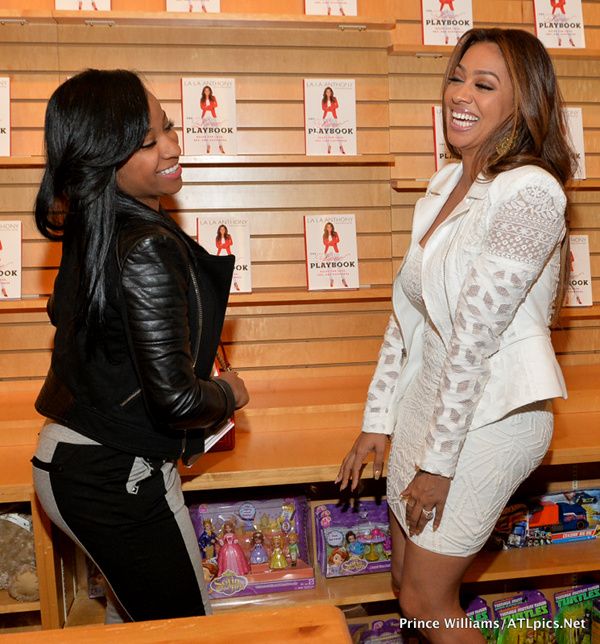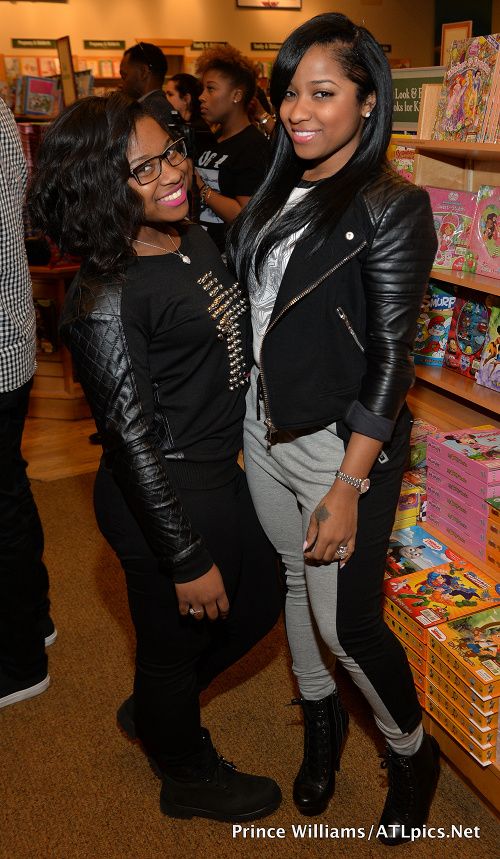 While in Atlanta, LaLa received a special honor from Mayor Kasim Reed. She tweeted, "So amazing to be honored by The Atlanta City Council today! #pricelessmoments #grateful #blessed #theloveplaybook"
The reality star's son Kiyan was there to support this mom.
In magazines.....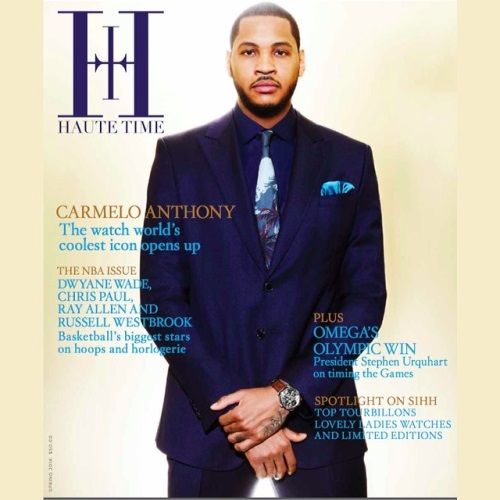 Carmelo didn't have a great season with the NY Knicks this year, but he's looking sexy on the cover of Haute Time magazine.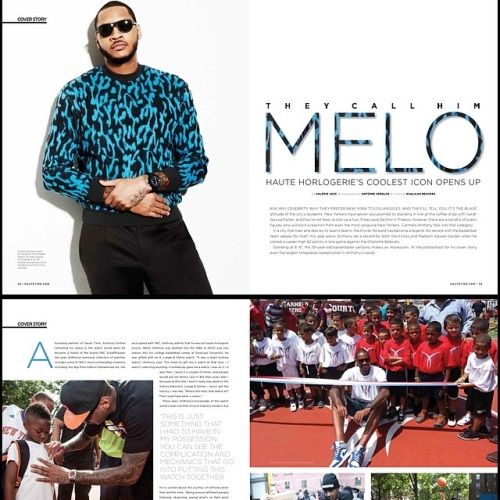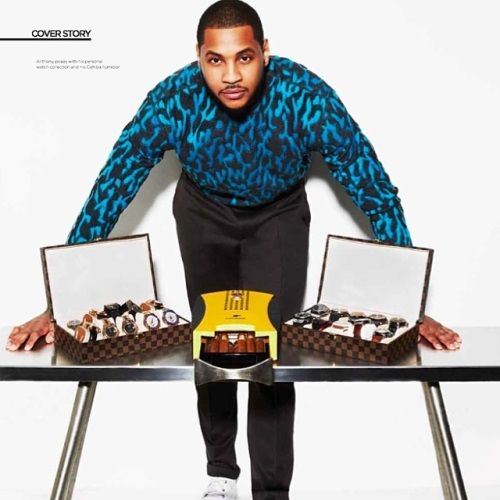 Haute Time is an offshoot of Haute Living Magazine and focuses on fancy timepieces.
Photos via Haute Time Instagram/ATL Pic.net
THERE GOES MY BABY: Drake And Rihanna Hit Their Fave Club & Hold Hands After Night Out In London
Posted: 28 Mar 2014 08:41 AM PDT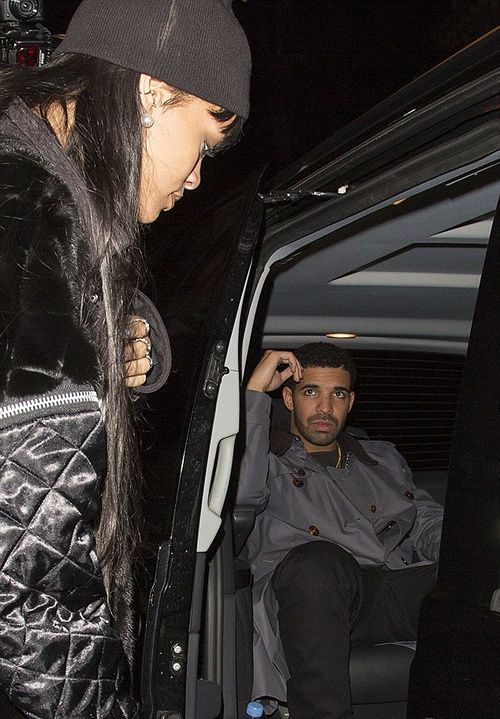 Either Rihanna and Drake are becoming more "public" about their relationship or the paparazzi are just getting better. See new candids of Drake and his pop star boo inside.....
After a string of sold-out shows at the O2 Arena all week, Drake was spotted walking into the Mayfair restaurant Novikov.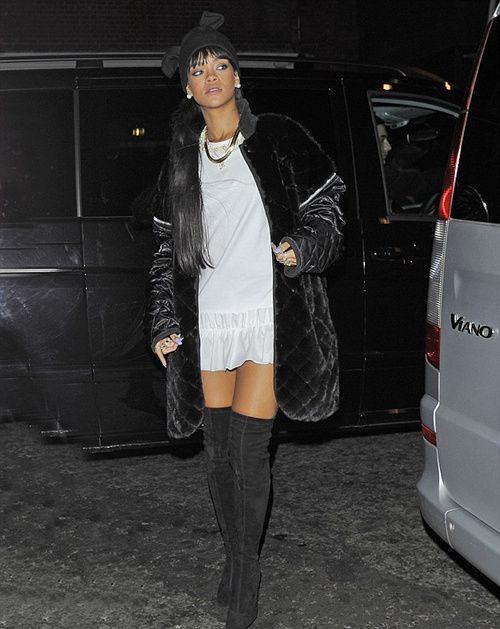 Though the two partied at different venues the other night, Rihanna was just a few steps behind Drizzy Thursday night.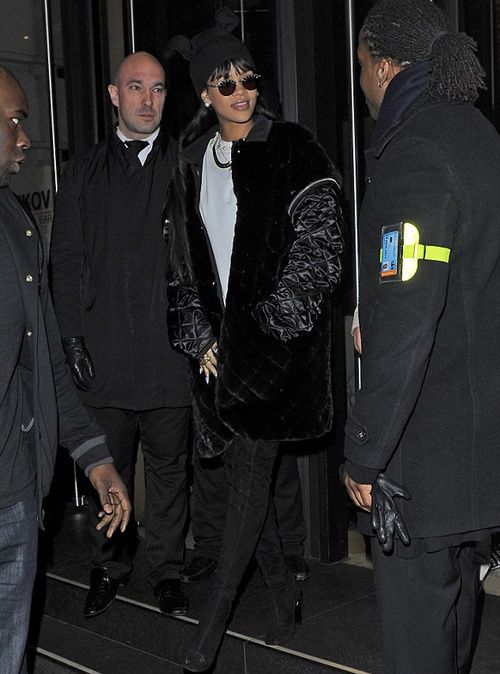 After dinner, the pair walked out of the restaurant and heading over to the posh-members only club Tramp....for the third night in a row.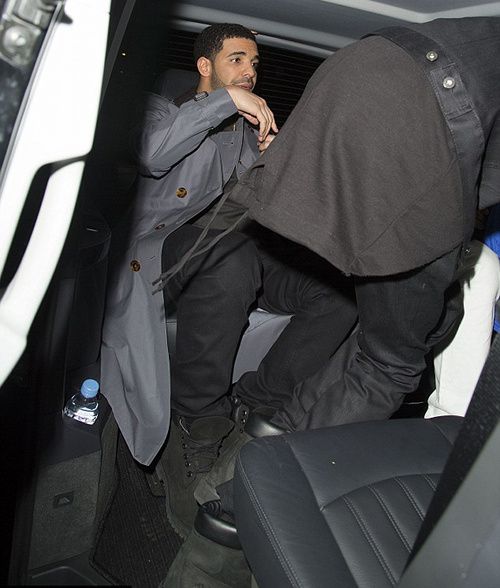 Once Rihanna entered their car, we got a very discreet confirmation of their closeness. Two the held hands as the car drove away. Check that pic here.
Photos via Splash/PCN
Nick Laces Mariah With A Diamond Butterfly Bracelet For Her Birthday, Reveals They Waited Till Their Wedding Night To Have SEX
Posted: 28 Mar 2014 07:50 AM PDT
Mariah celebrated her 44th birthday yesterday. And her husband Nick Cannon knew exactly what to cop her. Diamonds! Check out her shiny butterfly inspired b-day gift inside, and what he revealed about their sex life...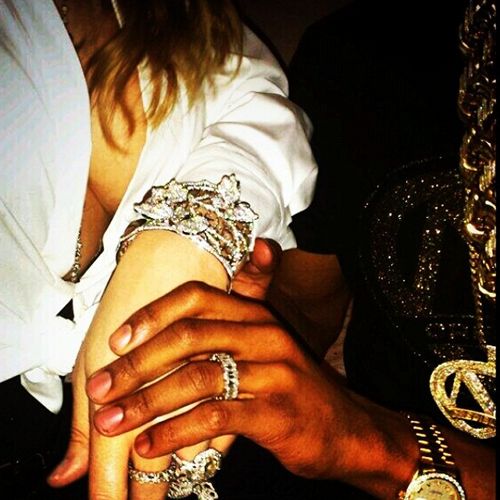 Wel, hello DIAMONDS. Mariah Carey has an eternal love for butterflies it seems, so her hubby got her a few that sparkled...in bracelet form. So THIS is why dude works so hard and keeps 10 jobs. (Just kidding.)
They showed off the present on Instagram, and gave us a peek inside the private birthday party with bubble gurus (their twins) Roc & Roe: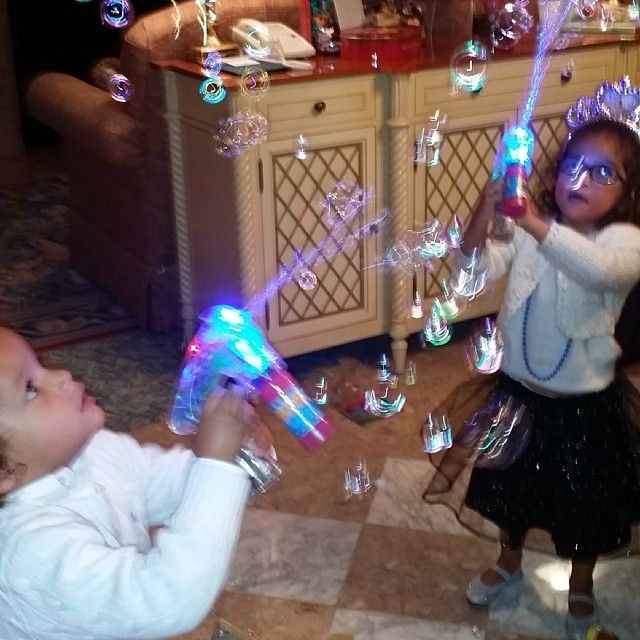 How cute!
Nick and MiMi spent her b-day in Tampa to help the Hard Rock Hotel & Casino celebrate their anniversary. She also donated a dress from her "Obsessed" video: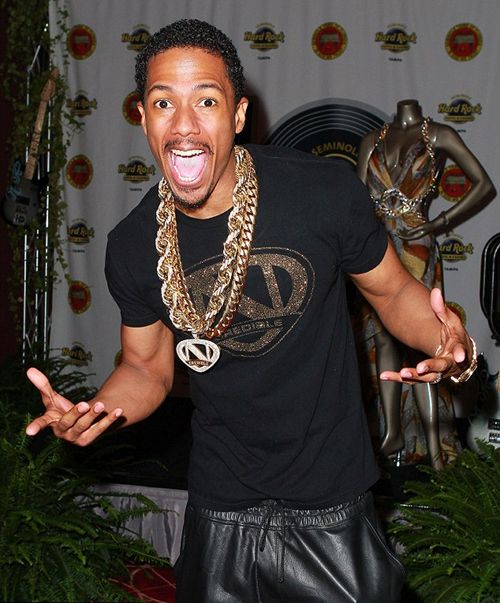 And a few days ago, Mr. Cannon got pretty cheeky about his past celebrity sex list. While visiting Big Boy's Neighborhood, he was asked to dish on his sex list. Nick said there were too many to name (Oh?), but said he could do 5:
When told he could just name five, the star had his list ready: 'That's easy. OK, Mariah Carey, Christina Milian, Nicole Scherzinger, Selita Ebanks, oh, Kim Kardashian.'

Once people had their memory jogged about he and Kim (we sorta forgot ourselves), Nick said about her: 'You just forgot because there's been a lot of people since me. She's a great girl though!"
Bloop. As for his intimate reveal about wife & soul mate of 6 years MiMi, he said about them sexing for the first time on their wedding night:
'[The first time was] on our wedding night, honeymoon style in a house in the Bahamas. That's a real woman right there to make you wait.'

'I'm a pleaser. I went in going, ''She going to love this''.... I f****d the s**t out if her.'
Sheesh! Check out his full interview below. Mariah's gonna flip!
Photos: Nick's IG/Splash
Beyonce Breaks Down On Stage At Last Tour Stop, Gives Fans The "Ugly Cry"
Posted: 28 Mar 2014 07:14 AM PDT
Beyoncè wrapped her Mrs. Carter Show World Tour Thursday night with an emotional salute to her fans. Check out Bey breaking down into the "ugly cry" inside...
When the MCSWT rolled into Lisbon, Portugal last night for its last stop after a year of touring, King Bey showed the audience her emo-side.
Right before her closing number she said on the mic:
'When I first started the tour, my baby was not even walking yet. I just want you to know that I am so lucky.'
Awww. She continued:
'I want a spot[light]. I want them to see me. If you all don't know, tonight makes 132 shows.

'Tonight is the last show of the Mrs. Carter Show. We started a year ago and I want to say this has been such a journey.

'In the past year, we've been through so much together. The Super Bowl, shooting the videos, all of these shows.
No word on any extra US dates, but chick seems to be done for now. She raked in over $100 million in ticket sales, so chick deserves a break.
And...Is it time for baby #2?
Peep the vid below:
She and Jay rocking out with "Drunk In Love" on the final night:
Cute.
BONUS: Bey's stylist Ty snapped a pic of them right before going out on the last night: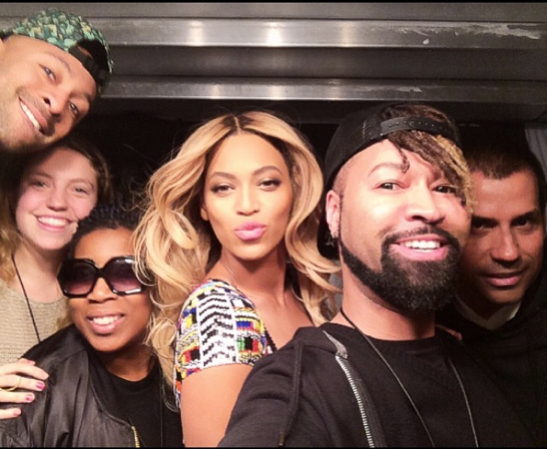 Cute!
Photos: Wireimage for Parkwood/Ty's IG
REUNION BRAWL! Porsha & Kenya Moore Reportedly SCRAP At The "RHOA" Taping?!
Posted: 27 Mar 2014 08:37 PM PDT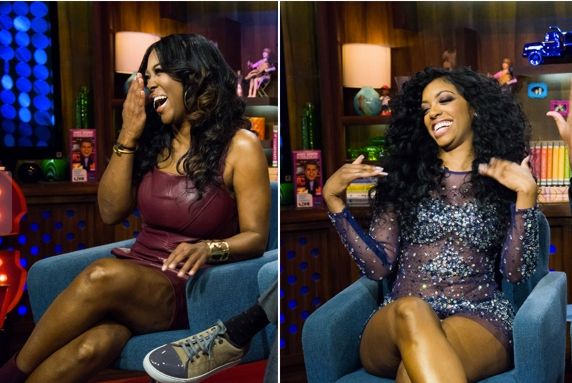 The "Real Housewives of Atlanta" filmed their reunion show today....and reports are pouring in that a brawl went down. Like, a serious physical DRAGGING and beat down occurred. And it was between the two princesses of the show: Porsha Williams and Kenya Moore.
Deets inside...
It was only a mater of time before Porsha put aside her goody-two-shoes-sweet-innocent persona and let her arch nemesis on the show HAVE it. You can tell that ever since that Mexico trip she's been ITCHING to get at Kenya.
So it's no surprise reports are confirming that is was little Ms. Porsha who set it OFF on Kenya Moore at Thursday's "RHOA" reunion show taping in Atlanta.
Us Weekly reveals:
"There was a major physical altercation between Porsha and Kenya," an insider tells Us. "To the point that Porsha beat the crap out of Kenya, dragged her across the stage by her hair, and gave her a major beatdown."
Porsha beating the crap out of somebody? Only semi-believable. But throw in the factor of how much she and Kenya obviously cannot STAND each other, and the extra factor of how EXTRA Kenya tends to be on reunion shows....it's a pretty damn plausible story.
We reached out to Kenya for confirmation and are awaiting a response. The reunion show is always combative, but we have a feeling Kenya's side of the story will include her feeling totally unfazed by the situation.
At least the ladies tried to keep it non-physical all season. But it looks like ish boiled over at this reunion, unfortunately. And we're sure Bravo will NOT go out of its way to cut out this fight either.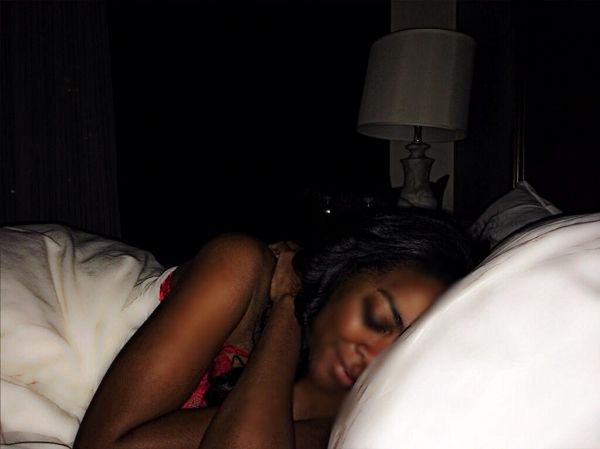 Good night!
Photos: Bravo/Kenya's IG
NEW DEVELOPMENT: Baltimore Ravens Running Back Ray Rice INDICTED For Allegedly Knocking His Fiancée Unconscious
Posted: 27 Mar 2014 05:21 PM PDT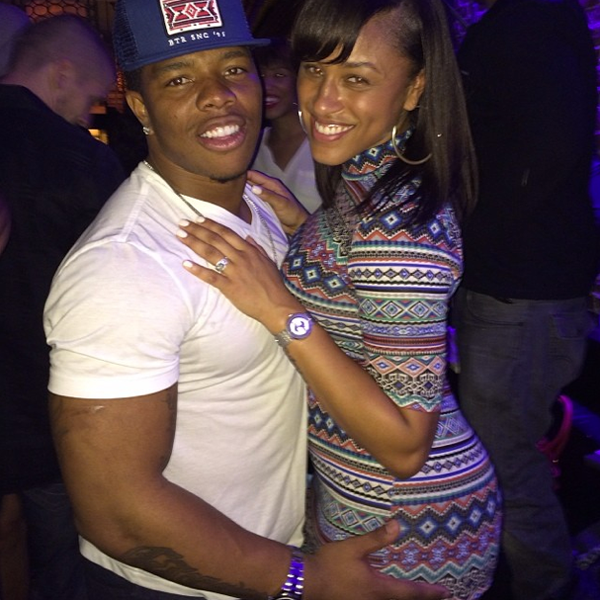 Baltimore Ravens RB Ray Rice has been indicted for allegedly beating his fiancée unconscious. Find out the shocking details inside…
Another story of a successful athlete who can't keep his hands to himself. Allegedly. Baltimore Ravens running back Ray Rice has been indicted on third-degree aggravated assault charges after he got into a huge brawl with his fiancée/child's mother Janay Palmer.
According to ESPN, Ray & Janay got into a physical altercation attacking each other at the Revel Casino and Hotel in Atlantic City, N.J., where he allegedly knocked Janay unconscious.
TMZ obtained video footage of the 27-year-old NFL player allegedly dragging his fiancée's lifeless body by her arms and laying her down outside of an elevator at the hotel. But it was unclear of what lead up to this exactly. But dragging a seemingly lifeless body this way...of someone yu love...is simply problemnatic in itself.

Check it, in case you missed it:
In February, Ray was arrested and charged with simple assault-domestic violence and his fiancée was charged with simple assault. Now he faces a third-degree crime conviction, which could land him in jail for a minimum of three years and a fine up to $15,000.
As of right now, Ray doesn't look like he will be kicked out of the NFL. Ravens owner Steve Bisciotti revealed Ray will still have a spot on the team, despite his recent arrest saying, "This is part of the due process for Ray. We know there is more to Ray Rice than this one incident."
ESPN reports Ray's attorney Michael Diamondstein told The Press of Atlantic City that the couple, sadly, does NOT want to move forward with the case.
Love is blind…
Photos: Janay Palmer's IG
BAD GIRLS DO IT WELL: Ashanti Drops $10,000 At The Strip Club + Keyshia Cole Reveals New Album Title...
Posted: 27 Mar 2014 04:28 PM PDT
Well, they're not totally bad. They just act like it sometimes. Ashanti put on her bad girl hat and dropped $10,000 at the strip club this week. And Keyshia Cole is done with putting up with people coming at her sideways.....and she's released her album title that shows she's no longer playing games.
Check it all inside....
Still fresh off celebrating her new Braveheart album, Ashanti hit up Perfections strip club the other night with DJ Envy. And she dropped stacks of cash on the skrippers. Envy said:
@ashanti at Perfections!!!!! Crazy 2night!!! She threw 10k.....
Looks like she's still got her money after going independent. Do you boo.
And Keyshia Cole wants everyone to know she's only about her music these days. The 32-year-old (almost) divorceè revealed her sixth album title, Point of No Return:
#PointOfNoReturn RT @aliyforever1: @KeyshiaCole what will the name of this album will be !

— Keyshia Cole (@KeyshiaCole) March 26, 2014
In between working on her new shoe collection with Steve Madden and swearing off all interviews after that ishstorm with V103 in Atlanta...Keyshia's getting back to what she knows best. You ready for those painful emo-ballads we've come to love her for?
Photos: Keyshia's IG/Envy's IG
MOMMY & ME: Amber Rose Takes Baby Bash For A Sunny Breakfast
Posted: 27 Mar 2014 03:45 PM PDT
We're always in the mood for an adorable baby post! So check out Baby Sebastian Thomaz and his mom Amber Rose having a cutesy mommy-and-me breakfast date in L.A.....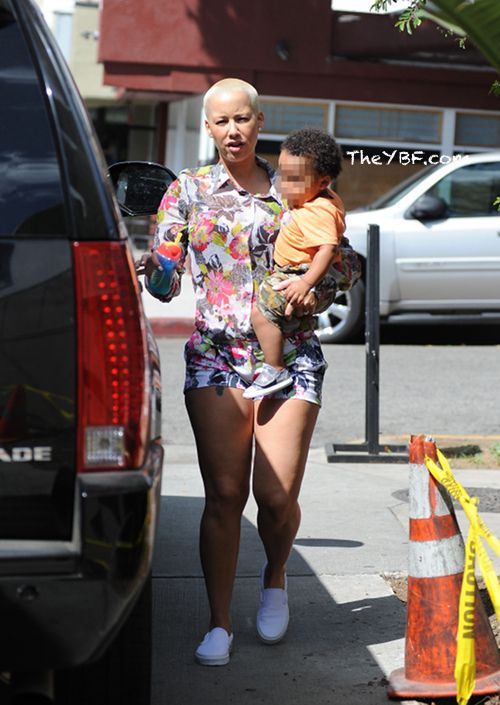 How cute! In the sunshine of L.A., Amber Rose, sans her hubby Wiz Khalifa who performed in Houston yesterday, threw on a floral Marciano playsuit to take the couple's baby boy out to breakfast yesterday morning. Even though the paparazzi who snapped the pics blurred out his face, Baby Bash and his camo pants give off the most adorable vibe...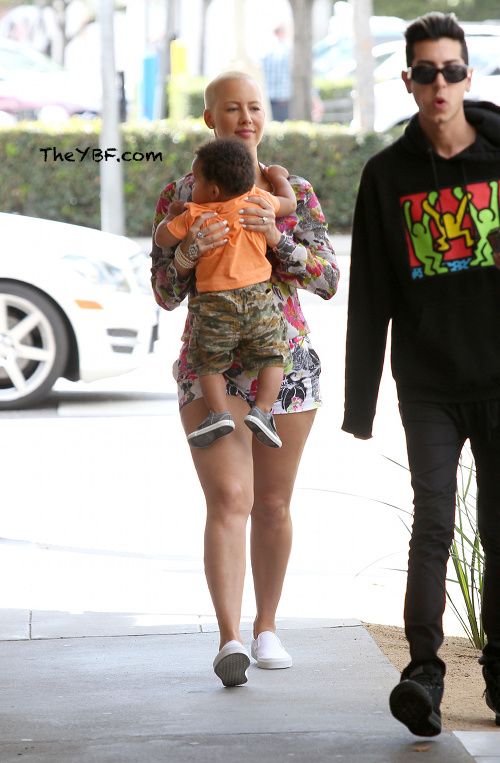 And mommy Amber gushes over him constantly, as any mom would. She posted the below pic recently saying, "He's passed out. Clearly Sebastian has a drinking problem."
Aww.
Photos: PCN/WENN
THE DRAMA CONTINUES: Pat Houston Fears For Her Life, FILES Restraining Order On Bobbi Kris' Husband Nick Gordon
Posted: 27 Mar 2014 03:14 PM PDT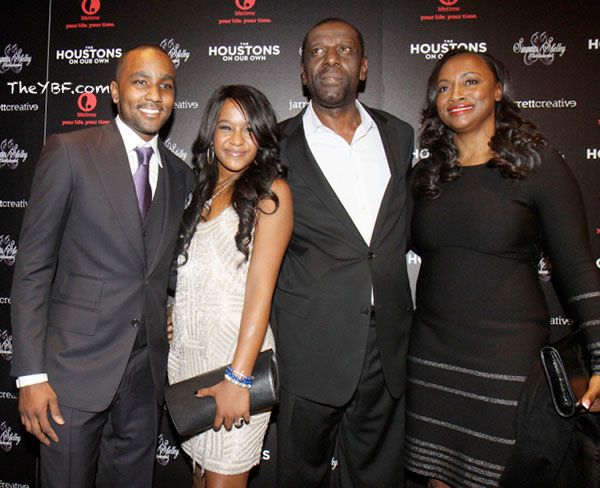 Stay away! Pat Houston is scared for her life, so she filed a restraining order on Bobbi Kristina's husband Nick Gordon. Find out the deets on the latest Houston family drama inside…
The Houston family drama continues! Bobbi Kristina's aunt Pat Houston (above on the right) has filed a restraining order on Krissi's husband/adopted brother Nick Gordon.
Can't say that we blame Pat for filing a protective order against Nick after his recent antics. Nick has already fought Whitney's rapper nephew Gary Michael Houston at Pat's daughter's Sweet 16 party. Months after the fight, Nick hopped on Twitter and went completely nuts on Gary calling him a "b*tch" and said Pat started "acting fake" after the death of Whitney Houston.
NOW… Nick is posting pictures of machine guns and pistols all over his Twitter account. Not to be left out, Krissi is riding for her man and has joined in on his Twitter activity.
Check the tweets: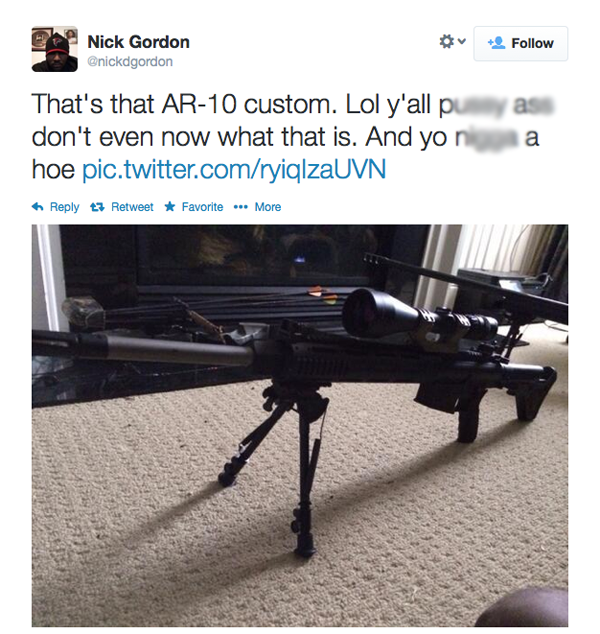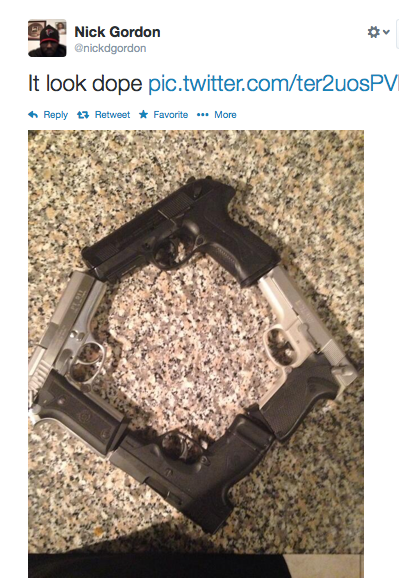 Bobbi Kris added then deleted:

Then retweeted Nick's comment and implied "their lady" use to call Pat the same:
Goodness!
TMZ reports Pat filed the protective order claiming she felt threatened and feared for her life after seeing Nick's Twitter posts. He has been ordered to stay 200 yards away from Whitney's sister-in-law. Nick allegedly told TMZ he was served the order on Monday, but he "doesn't give a f***."
Craziness!
The Randomness:
1. Terrell Owens' estranged wife has admitted to some "leaked nudes"....and still seems VERY attention grabby. STORY
Photos: Michael Carpenter/WENN.com/INF/Nick Gordon's Twitter/Bobbi Kris' Twitter

TV FAB: Cast of LeBron James' "Survivor's Remorse" REVEALED, Set To Debut This Fall!
Posted: 27 Mar 2014 02:06 PM PDT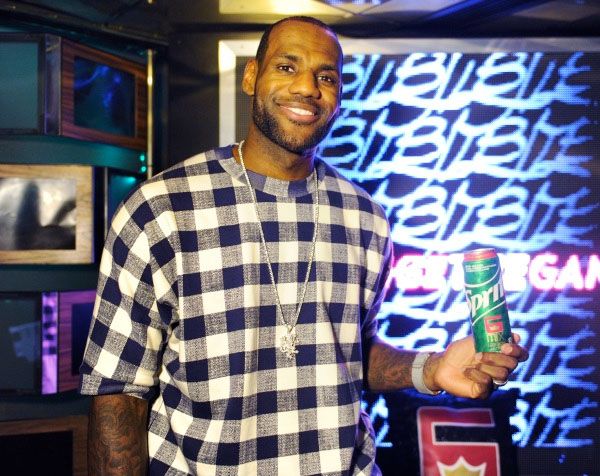 STARZ will be debuting a comedy series executive produced by LeBron James. Find out who will be starring in the new series inside…
Miami Heat star LeBron James is steadily reaching mogul status. He just launched his own Sprite 6 Mix drink and now he's producing his own cable show.
Taking his basketball life to the silver screen, LeBron will executive produce a new comedy series titled, "Survivor's Remorse" which will make its debut on the STARZ network.
We told you previously that the half-hour scripted series will follow fictional character 'Cam Calloway' in his journey through a very real subject--how pro athletes deal with navigating their new & huge life with their family and old friends from around the way. Cam and his cousin move from Georgia into their new life in Atlanta (where the show is being shot) where Cam has a multi-million dollar basketball contract, and have to navigate relationships with opportunistic family members and those still living in the poor community they came from.
And now, the cast has been revealed: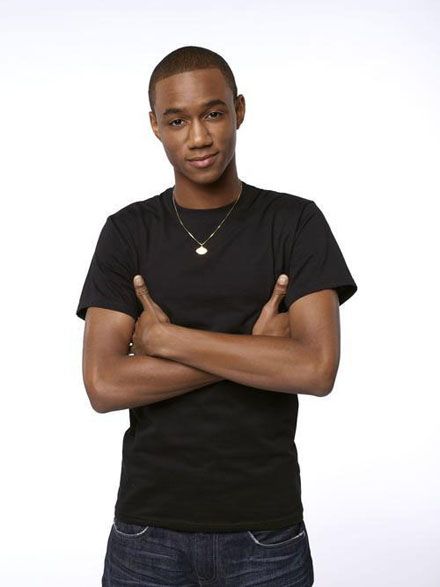 "Level Up" actor Jessie T. Usher will play the lead role of Cam Calloway.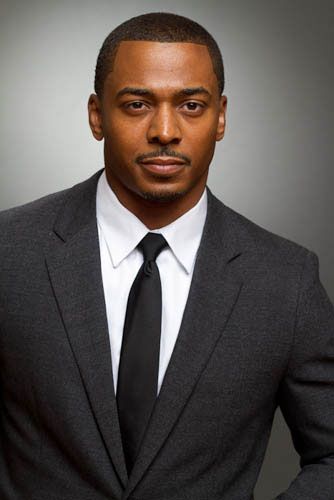 Cutie Ronreaco Lee ("Let's Stay Together") has been casted as Cam's cousin and confidant, Reggie Vaughn.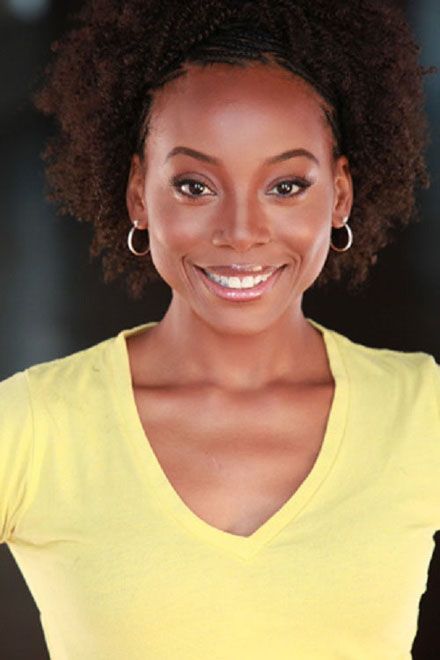 "The Real Husbands of Hollywood" actress (starring as Kevin Hart's ex-wife) Erica Ash will star as Cam's sister, M-Chuck.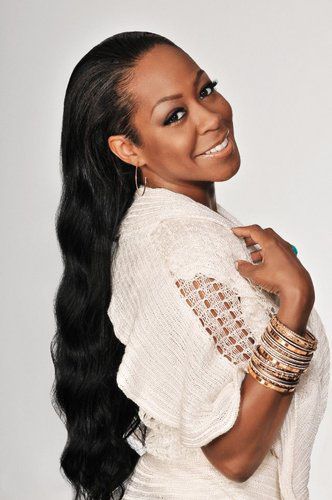 YBF fave Tichina Arnold will play Cam's mother, Cassie.
And "Mad Men" star Teyonah Parris will play Reggie's wife, Missy.
Sweet!
"Survivor's Remorse" is expected to debut this fall with six-episodes. Will you be tuned in?
Photos: Getty
"T.I. And Tiny: The Family Hustle" (EXTENDED TRAILER) + Pharrell's Bionic Yarn SIGNS Deal With Adidas
Posted: 27 Mar 2014 01:38 PM PDT
We have the extended trailer from the upcoming season of "Family Hustle" and deets on Pharrell's new deal with Adidas inside....
Are you read for the return of "T.I. & Tiny: The Family Hustle"? Watch the extended trailer above of all the family shenanigans and tune in Monday, March 31st at 9/8c on VH1.
SIDEBAR: Their new puppy is adorbs!
In other entertainment news...
Music producer and fashion designer Pharrell is taking Bionic Yarn (a company in which he is an investor) into a partnership with Adidas. For those who don't know, Bionic Yarn is a sustainable material that is spun from recycled plastic bottles. Pharrell, who also serves as the company's ambassador, plans to use BY to design a collection for Adidas. Of course his creative genius self would do this...
In a statement, Dirk Schoenberger, Adidas' sport style division global creative director, said:
'I am truly thrilled to work with Pharrell. He is a pop-culture icon who never fails to inspire, not just through his musical talent and craft, but through his many other interests. He is the perfect fit for the multi-faceted company that is Adidas."
Pharrell, who also operates the Billionaire Boys Club, has previously designed collections for G-Star, Comme des Garcons, Moncler, Uniqlo, and Louis Vuitton on limited-edition products.
Work!
Photo via Pharrell's Instagram
SNAPSHOTS: Happy Couple Evan Ross & Ashlee Simpson Celebrate At Engagement Party
Posted: 27 Mar 2014 11:44 AM PDT
Love is in the air! And so are furs on men, apparently. Evan Ross and his fiancée Ashlee Simpson are ready to walk down the aisle and say "I Do!" Check out the pics of the happy couple at their engagement party last night inside…
"CrazySexyCool" actor Evan Ross is gearing up to marry his "singer" fiancée Ashlee Simpson, throwing an engagement party to celebrate. On Wednesday, family and friends came out to celebrate the future Mr. & Mrs. Evan Ross, in which they're both super excited about.
The couple dressed alike in matching gray/silver outfits. Not sure why Evan decided to wear that short-sleeved shaggy fur coat, but it's rather interesting to say the least.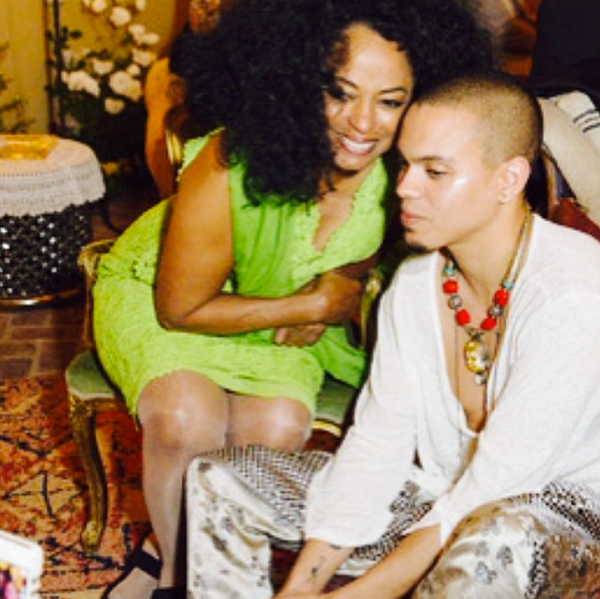 Evan's mother, Diana Ross was there and was simultaneusly celebrating her 70th birthday, making the party extra special. Happy Birthday Diana!

Evan shared the picture above of him kissing his future wife with his big sisters, Tracee Ellis Ross and Chundney Ross looking on saying, "Stealing a kiss from @missbananahammock while she is hanging with my sister @traceeellisross and #chudneyross . We know how to celebrate"
Wondering what Tracee really said though...
Sweet. Congrats to the couple!
Photos: Evan Ross' IG
LOCKED UP: NeNe Leakes' Criminal Past REVEALED, ARRESTED At LEAST 4 Times!
Posted: 27 Mar 2014 10:32 AM PDT
Although NeNe Leakes has been open about certain parts of her past (even though she denied, then admitted to being a stripper), there are skeletons in her closet that have been locked away…until now. Find out the deets on NeNe's criminal past inside…
It seems NeNe Leakes and ex-pal Marlo Hampton have more things in common than we know. Known for "keeping it real", "RHOA" star NeNe Leakes has a criminal past that has pretty much stayed under the radar...until now.
In her autobiography, Never Make the Same Mistake Twice, NeNe admitted she was pulled over by the police after her friend shoplifted from a mall. She revealed she and her friends spent the weekend in jail and she was released, after she told authorities it was her friend who lifted the merchandise and not her. She didn't mention her other arrests though....
Star Magazine has obtained documents from the Athens-Clarke County Superior Court in Georgia. And according to the docs, the "DWTS" star (whose maiden name is Linnethia Johnson) was arrested in 1992. She was charged with one misdemeanor and three felony counts of "theft of services" from a phone company.
NeNe pleaded guilty to all four counts and settled on a plea agreement. She was ordered to serve two years probation and had to refund the phone company $2,650. While being on probation, she continued to violate the terms and was arrested an additional three more times.
We did a little digging ourselves and found where she violated her probation three times:


(CLICK DOCUMENTS ABOVE FOR FULL SIZE)
Will this revelation hurt her chances on "DWTS?" We hope not since everyone has some type of past. NeNe has definitely come so far, so we'll see…
BONUS:
And to add insult to injury, "RHOA" star Kenya Moore talked to In Touch magazine and had a few choice words about her co-star.
Although NeNe likes to see herself as being on a "different level" than the other ladies on the show, Kenya feels NeNe is nothing more than a "former stripper", according to In Touch.
When asked if she'll be watching her former friend on "Dancing With The Stars," Kenya replied, "I'll turn it on if I want to go to sleep."
Bloop...
Photos: Star Magazine/Kenya's IG