---
MUSIC FAB: Alicia Keys, Pharrell & Kendrick Lamar's "It's On Again" + Puff Daddy Releases "Big Homie" Video ft. Rick Ross & French Montana
Posted: 31 Mar 2014 09:34 AM PDT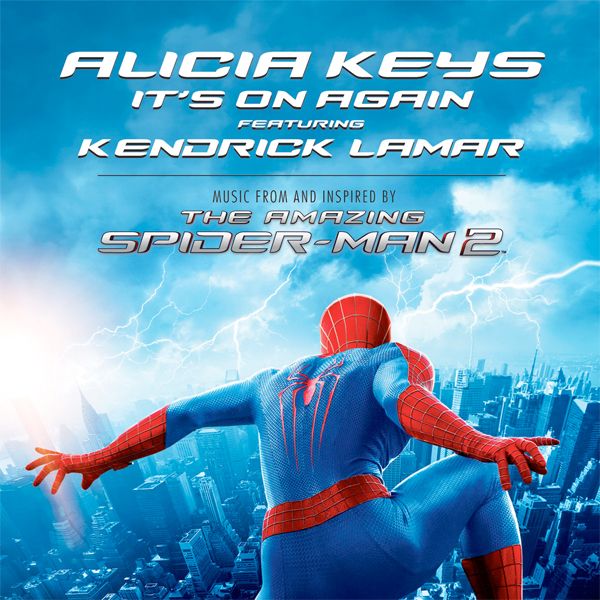 Alicia Keys, Pharrell and Kendrick Lamar have released "It's On Again" from The Amazing Spider-Man 2 soundtrack and Puff Daddy dropped a new video featuring Rick Ross and French Montana. Check out the new music and video inside…
Earlier, we told you about Alicia Keys, Pharrell Williams and Kendrick Lamar linking up to film the video for their new song "It's On Again," and now we have the full track.
The Amazing Spider-Man 2 soundtrack will be released on April 22nd and the movie will hit theaters on May 2nd.
BONUS: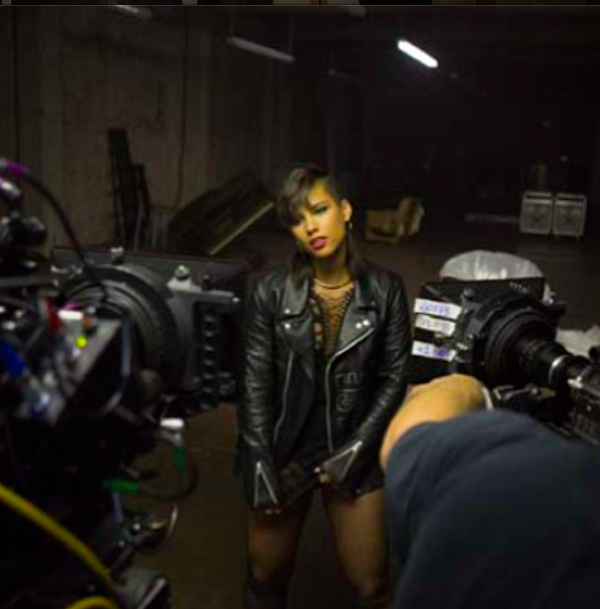 Alicia shared a new pic above from the video set and said, "It's On Again" w/ me, Kendrick Lamar, @pharrell & Hans Zimmer… turn it up!!!!!! ;-) #newmusic #spiderman"
In other music news…
Puff Daddy and his fur released a new video for his "Big Homie" track featuring Rick Ross and French Montana. Diddy went across the country to capture the visuals to his new track hitting hoods in Miami, Los Angeles and of course New York.
Diddy gathered a boatload of his big homies who made cameos in his new video including 2 Chainz, Snoop Dogg, Ashanti, A$AP Rocky, Wale, Meek Mill, Nelly, Bow Wow, and Jermaine Dupri.
Check out the "big homies" above.
Photos: Alicia Keys' IG
SPEAKING OUT: Benzino REVEALS Motive Behind Shooting, SHARES Intimate Photos From Hospital RECOVERY Room
Posted: 31 Mar 2014 09:08 AM PDT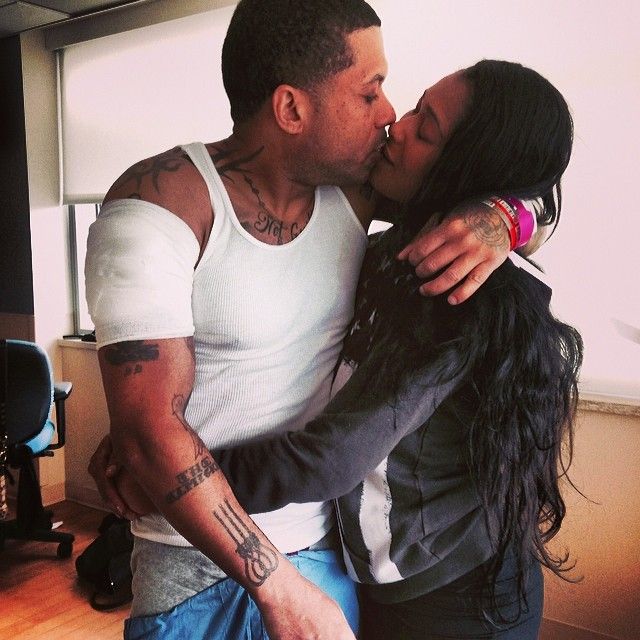 "LAHH ATL" star Benzino is speaking out for the first time since the shooting that sent him to the hospital. More inside....
Over the weekend, we reported about the shooting that sent "LAHH ATL" star Benzino to the hospital and now, he's speaking out and sharing what he thinks led to the incident.
When asked by WXIA in Atlanta about a motive for the shooting, Zino placed blame on his nephew, Gai Scott, saying
"In the past I felt like, yes, I felt like my sister and my nephew was taking advantage of my mother. Yes. I spoke up about it years ago. There had been loans taken out on her house."
In other new developments, Gai was taken into custody and charged with assault with intent to murder. He is scheduled to be arraigned today in the Plymouth District Court.
We also reached out to Dave Mays, Benzino's longtime friend and co-founder of The Source, who told us, "Zino is good. Thanks a lot for reaching out. He's resting now he will probably have surgery tomorrow (Monday). We really appreciate your thoughts and prayers."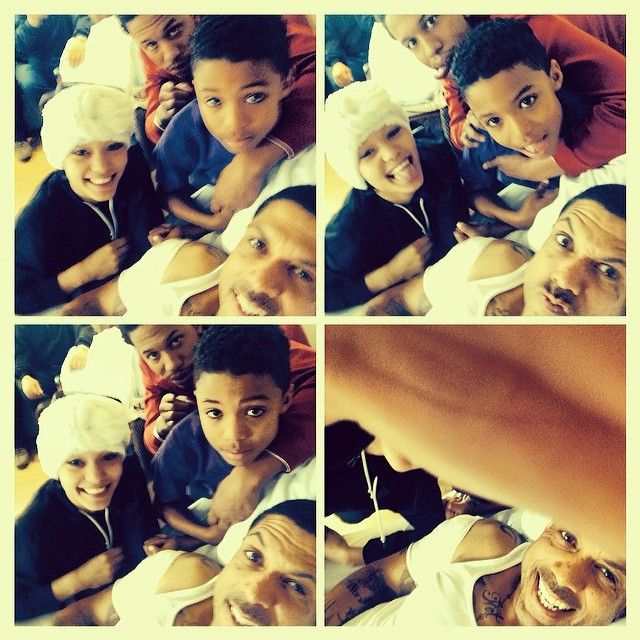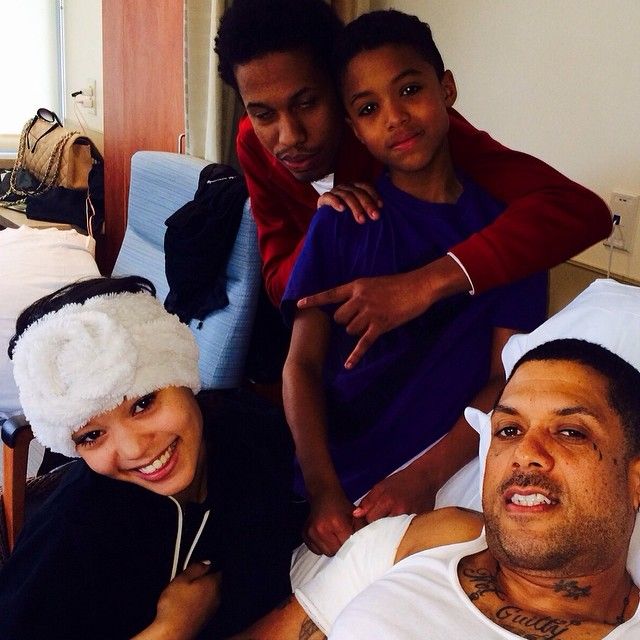 In the photo atop, Benzino was visited by singer Thi Thi (whom he refers to as the love of his life) and his kids. He captioned, "#familyfirst RAYRAY, COI LERAY, TAJ RAYMOND ALL ME!"
The Randomness:
1. Trina sued for bailing on Gary, Indiana concert. Story.
Photos via Benzino's Instagram
DO GOODER: Nicki Minaj Throws Her Little Brother A 16th Birthday Bash + Nicki DONATES A Pink Wig To Young Cancer Patient
Posted: 31 Mar 2014 08:13 AM PDT
Nicki Minaj is in the giving spirit. The Harajuku Barbie threw a birthday party for her little brother and she also made a young cancer patient's dream come true. Check out Nicki's "do gooder" acts for the kids inside…
On Saturday, Nicki Minaj threw a birthday party for her little brother Micaiah's 16th birthday. Surrounded by family, including her mother Carol, and friends, Nicki treated Micaiah to a New York Knicks' cake made by "Cake Boss" Buddy Valastro and his very own thrown.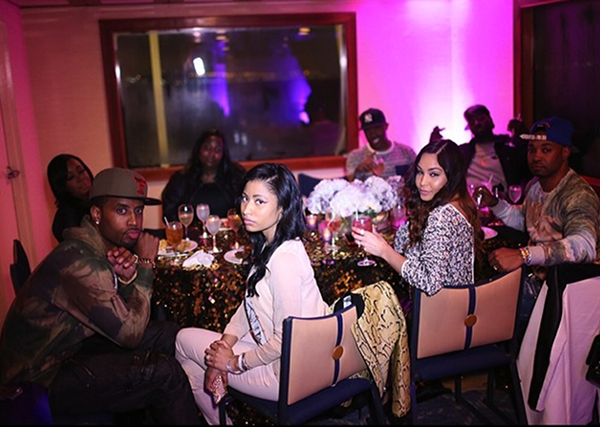 Nicki shared, "They can take it all. Just leave me with these two. Jelani, my big brother.... Love of my life. LOVE of my life. He's not flashy so him "casually" showing off a Rolex made me crack up. Nothing else matters if u don't have the ppl who hold your heart right by your side."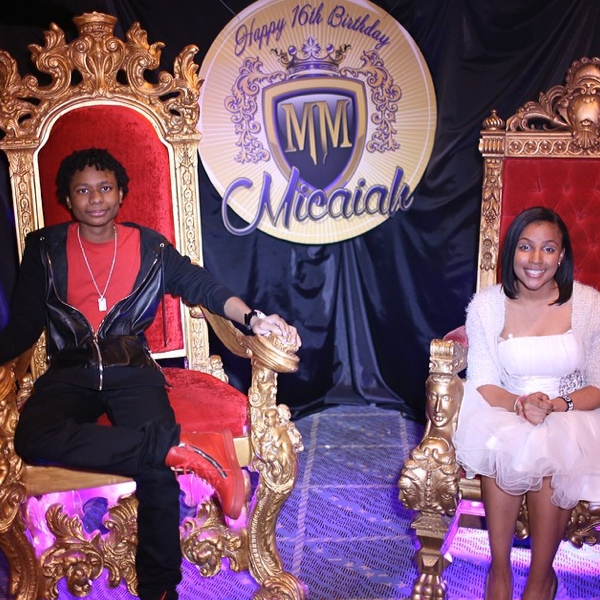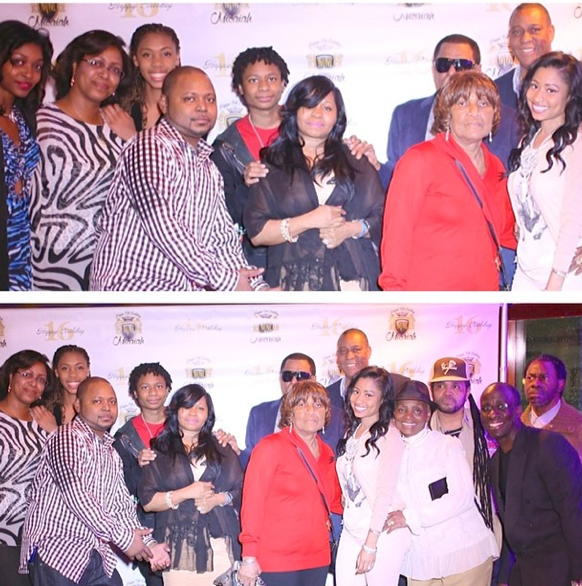 Nicki thanked her celeb friends for wishing her little brother a happy birthday saying, "Thank u to Lil Wayne, Baby, Carmelo Anthony, Lebron James, Diddy, Chris Paul, Fab, Tyga, Mack, Tez, Gee Roberson, SB, Scoob, LaLa and Sherika for helping to make Caiah's party even more special. U guys r simply amazing, humble and sweet. I'll never forget it. Sometimes I have to remind myself of what's "really" important. If u could only see how his face lit up when seeing these superstars. Lol. That's all a big sister could ask for. Thank u. Love"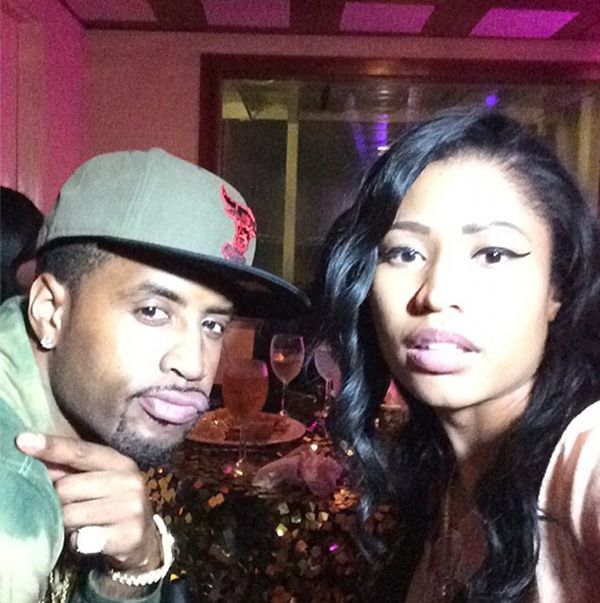 And of course, her man Safaree "SB" Samuels was there. Nicki and SB were spotted over the weekend rocking matching rings on their ring fingers (again). In case you forgot, Nicki & SB were caught wearing matching rings in Cabo celebrating "10 years." 10 years of what exactly? We're not too sure.
Also.....
Nicki is all about her young Barbs. On Sunday, Nicki granted a young cancer patient's wish. Damiyah was diagnosed with cancer recently and her one wish was to meet the YMCMB first lady and to get one of Nicki's pink wigs. SIDENOTE: Nicki looks gorgeous without all the wiggery and make-up.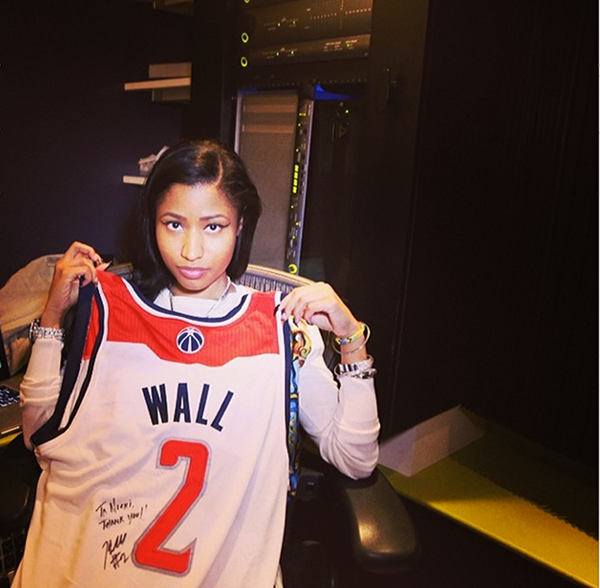 Washington Wizards point guard John Wall got wind of Miyah's wish and took to social media to make her dream come true. He tweeted, "Fans I need your help to get my buddy Miyah's wish granted. She's a 5 year old battling cancer and her wish is to meet @NickiMinaj and get one of her pink wigs! I need your help, comment on this photo. Let's get Miyah's one of Nicki's pink wigs!"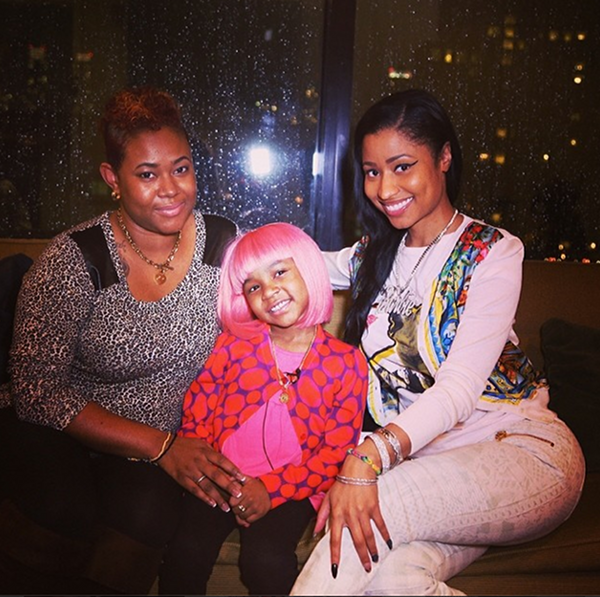 In the "do gooder" spirit, Nicki hung out with the little girl on Sunday and presented her with her very own pink wing. In return, the young Barb gave Nicki a bracelet. Cute.
Nicki reminded the adorable 5-year-old that she's beautiful without the pink wig and to stay in school:
Nice!
Photos: Nicki's IG
CELEBS GIVE BACK: "Atlanta Exes" Star Tameka Raymond HONORS Son's Memory With Torrei Hart, Monyetta Shaw & Christina Johnson
Posted: 31 Mar 2014 07:03 AM PDT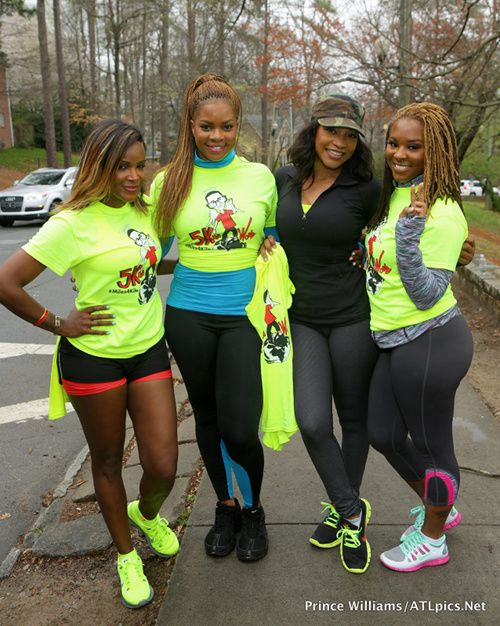 Tameka Raymond and her "Atlanta Exes" co-stars Torrei Hart, Monyetta Shaw and Christina Johnson honored the memory of Kile Glover with a 5K run. See pics inside....
Over the weekend, "Atlanta Exes" star Tameka Raymond hosted a 5K run and walk at Chastain Park to benefit Kile's World Foundation, which she established in memory of her son Kile Glover.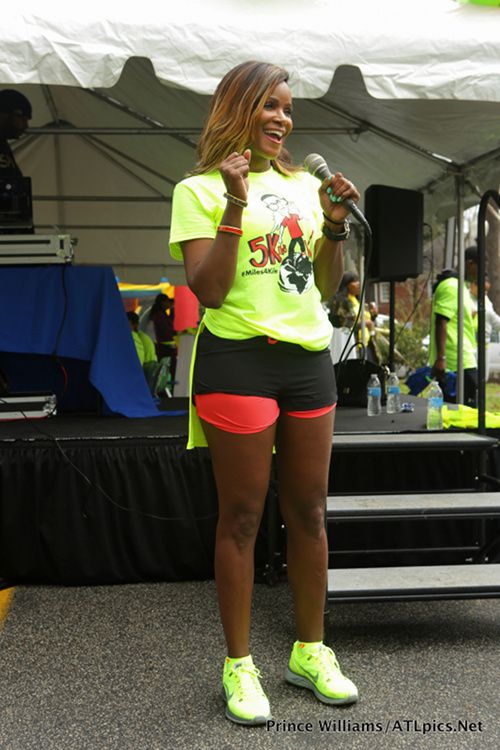 When speaking about Kile and the foundation (which offers art education to kids), Tameka told the Atlanta-Journal Constitution, "The first word to describe him would be angelic. Since I've lost him, I've been able to reflect on the fact that I had an angel in my life for 11 years and I didn't know it."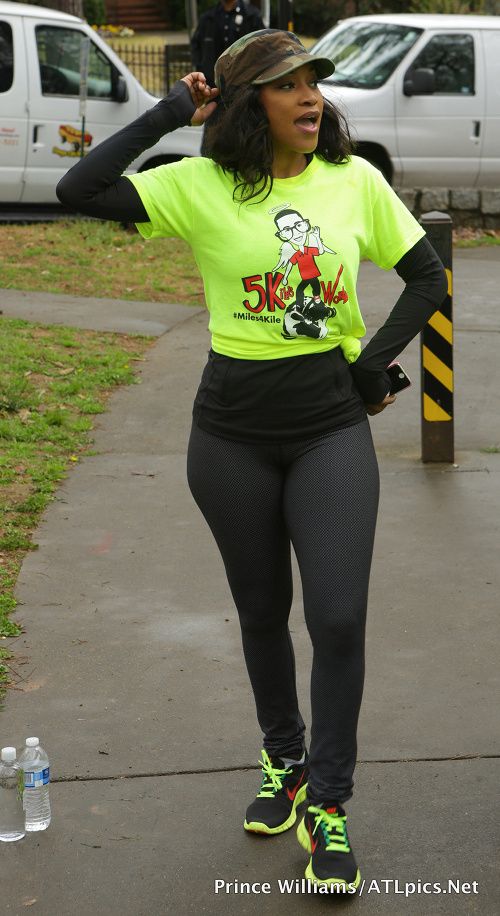 The event brought out Tameka's "Atlanta Exes" co-stars Torrei Hart, Monyetta Shaw and Christina Johnson.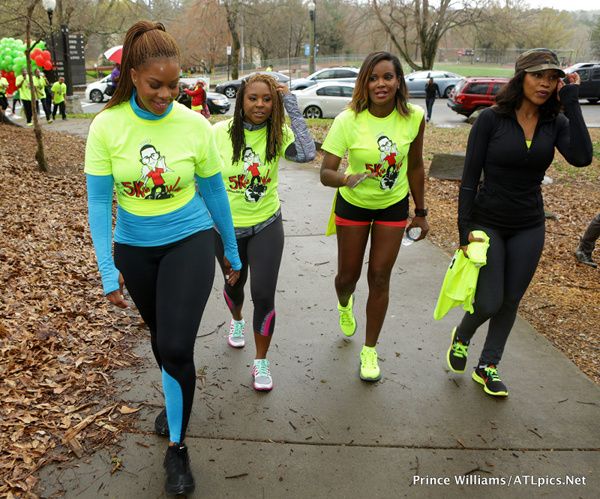 On Instagram, Torrei wrote "I did a 5k today for a great cause. What an amazing day. I was feeling really sluggish this morning but I am glad I pushed through and came out to support@tamekaraymond for her sons foundation Kile's World. Happy Birthday Kile may your legacy live on forever.#miles4kile #turnup"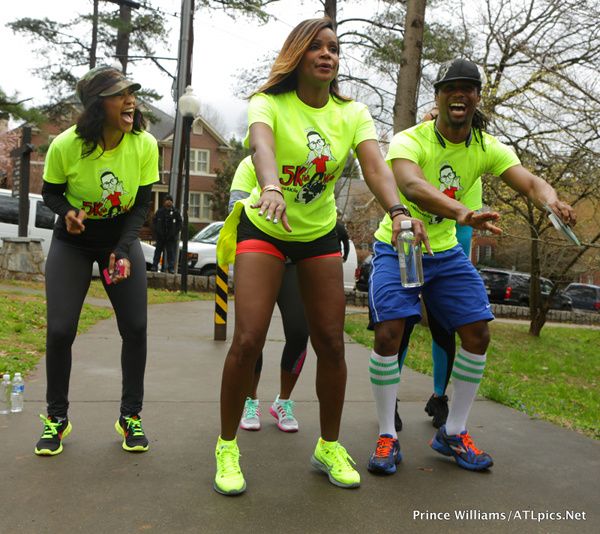 Tameka received an endorsement from Beyonce over the weekend when she posted the Kile's World flyer on her Beyonce.com site as part of #beygood. When she heard about the news, Tameka tweeted,
"Woke up smiling this morning. Thinking about what an impact my son Kile has made. I'm so proud that Beyonce.com is acknowledging my efforts that only come from a pure place. I'm just eternally grateful for the support. If you are in Atlanta area please come and join us for a 5k walk at Chastain Park 140 West Wieuca on Saturday morning. #miles4kile#KilesWorld #BeyGood"
Photo via Prince Williams/ATL Picsnet
REMEMBER HIM? "NEXT" Singer Raphael "Tweet" Brown ACCUSED Of Attacking Pregnant Wife
Posted: 31 Mar 2014 06:55 AM PDT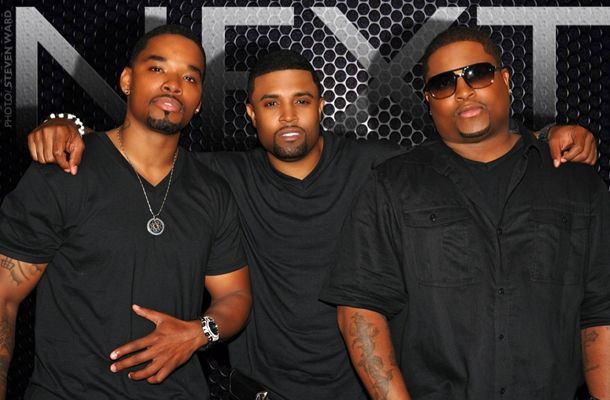 Raphael "Tweet" Brown, a singer with R&B group Next, is named in a restraining order. Find out what his estranged wife claims he did to her and their 4-year-old daughter inside....
NEXT singer Raphael "Tweet" Brown (far left) is accused of some shocking acts against his family. In a restraining order filed by estranged wife Juliette Gil-Brown, the "Too Close" singer is accused of:
Hitting, punching and shoving her on multiple occasions
Kicking her in the stomach while she was pregnant
Shoving their 4-year old daughter into a car set
Watching porn while their children were in the room
The report also included a stranger scenario where Raphael became enraged that his daughter wouldn't kiss him on the mouth and THEN started yelling about not having herpes...even though no one brought up herpes. SMH......
Mind you....Raphael HAS NOT been arrested and these are all ALLEGATIONS and things Juliette claims have happened. So far....Raphael has not spoken out about the restraining order or his wife's claims.
Photos via Steven Ward
BRUNCHIN' & YACHTIN': Gabby Union & Dwyane Wade + Chris & Adrienne Bosh's Luxe Ride
Posted: 31 Mar 2014 05:31 AM PDT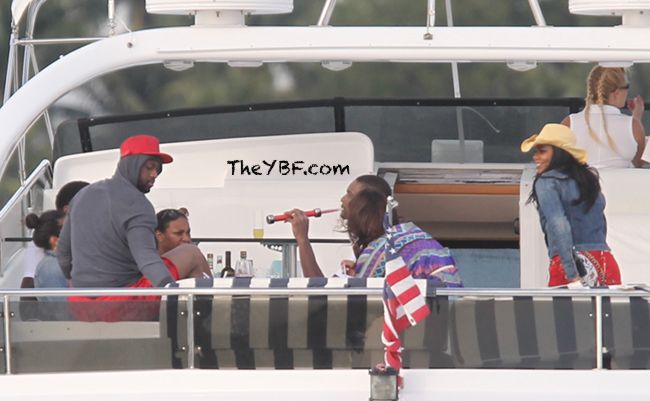 Gabrielle Union and her fiancè Dwyane Wade took a break from their hectic schedules to yacht around Miami with Heat teammates Chris Bosh and Udonis Haslem, and their wives Adrienne and Faith.
Check out the fabulous life of the trio inside...
Now that "Being Mary Jane" is on hiatus and she has a little while before the Think Like A Man Too promo kicks into high gear, Gabby Union is spending time with her man Dwyane as much as she can. And that includes yacht rides on Sundays...when he's not playing of course.
The twosome were spotted having brunch, chef'd up by friend Amaris Jones, aboard a yacht Sunday afternoon alongside the Boshes and the Haslems.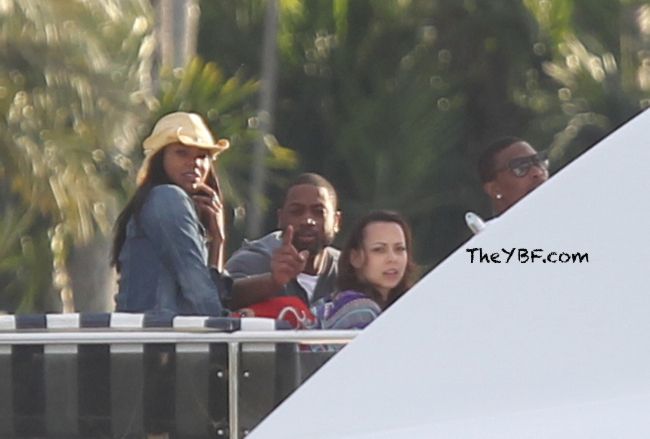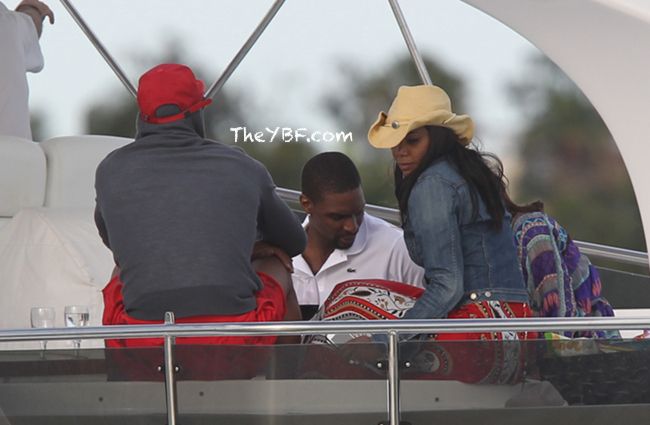 Dwyane spotted the paps snapping pics, but it didn't spoil their flow. The girls had some bikini fun with their men and their drinks: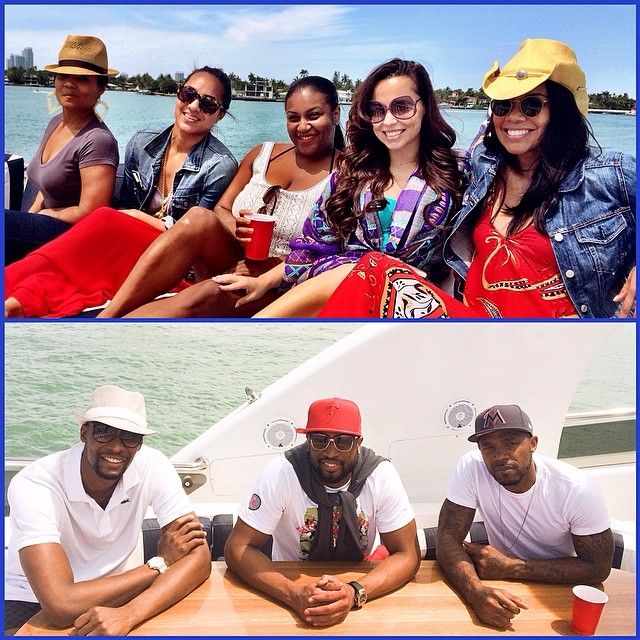 Fab times! The fellas take on the Raptors tonight at the American Airline Arena.
Photos: Splash/Adrienne's IG
HIP HOP GOES TO THE KENNEDY CENTER: Nas Wraps Up Two Nights Of "Illmatic 20" With The National Symphony Orchestra
Posted: 31 Mar 2014 01:53 AM PDT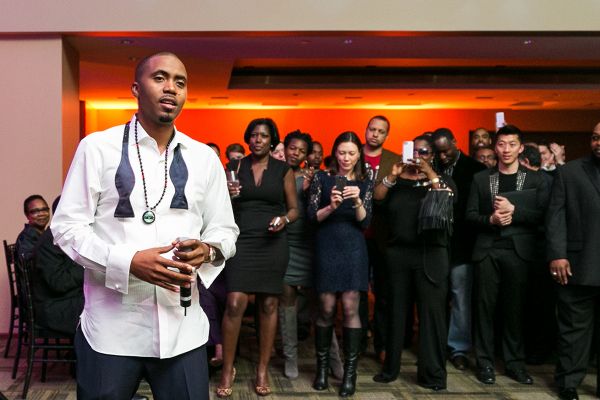 Who said hip hop couldn't make it this far?! Nas celebrated the 20th anniversary of his classic Illmatic album with back to back sold out concerts at the Kennedy Center in Washington D.C. And he slayed the stage with the National Symphony Orchestra.
Deets inside...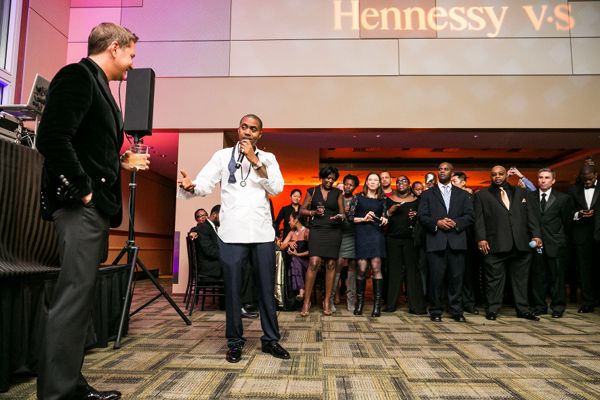 Keeping it dapper in a black tuxedo with his bow tie undone, Nas hit the Hennessy V.S afterparty at the KC Cafe Saturday night to chop it up with a few folks and the Symphony conductor, Christoph Eschenbach. He hopped on the mic and told the conductor he thought he would be "stuffy", but after only 1 day of practice before the big weekend, the NSO was anything but.
The 40-year-old was fresh off the stage after bringing some new ish to the Kennedy Center. He performed every track off his classic album with the Symphony backing him, and it was history-making HOTNESS.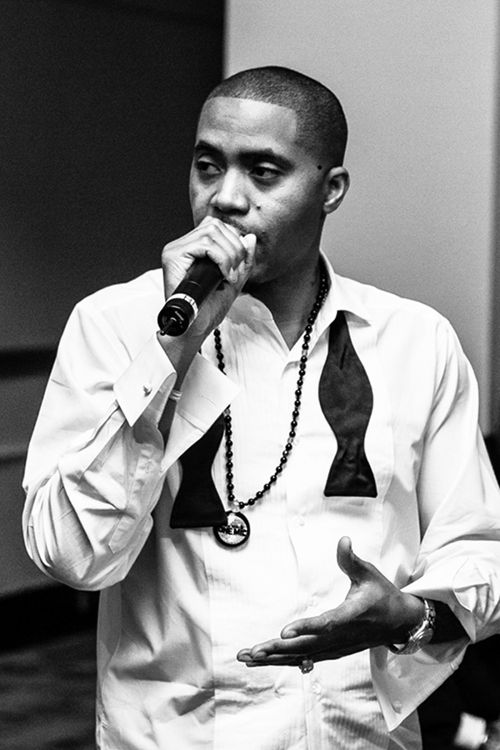 The weekend was all part of his One Mic: Hip-Hop Culture Worldwide Festival, in conjunction with the Kennedy Center, that he kicked off on the 25th and it runs until April 13th.
And, by the way, he's still making moves as a spokesman for Hennessy. He just embarked on year two of the "Wild Rabbit" campaign with the luxe cognac company. And his voice is currently being featured in "The Man Who Couldn't Slow Down," a 60 second television spot about the record breaking feats of Sir Malcolm Campbell.
Making major moves quietly is so sexy....
Check out the afterparty pics, with DJ Beverly Bond spinning, and few videos below with "I Can", "One Love" and "Represent"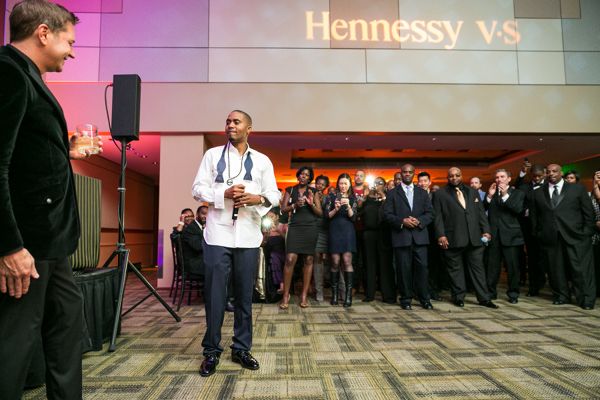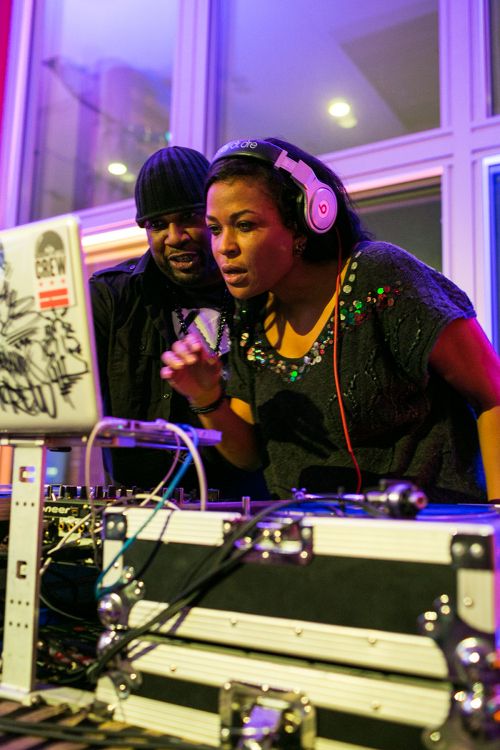 PHOTO CREDIT - Yassine El Mansouri
GAME-SET-MATCH: Serena WINS Her 7TH Sony Open + Kelly Rowland & Fiancé Tim Cheer Her On For Support
Posted: 30 Mar 2014 11:10 AM PDT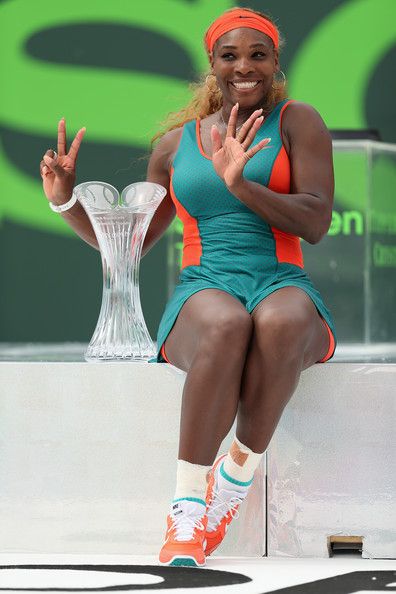 After hitting the Sony Open for the past week, Kelly Rowland and her fiancé Tim Witherspoon were cheering in the stands as Serena Williams took home her 7th (yes...7th) Sony Open title. Check the pics of the tennis champ and her BFF Kelly with her fiancé inside…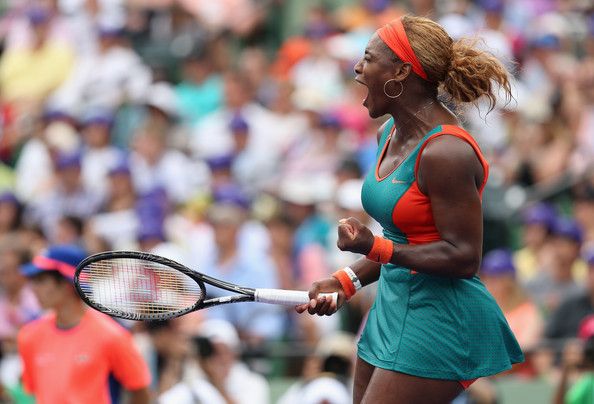 On Saturday, tennis champ Serena Williams was victorious over her Chinese component Li Na to win her 7th Sony Open title at Crandon Park Tennis Center in Key Biscayne, Florida. Serena took home the Sony Open title last year as well.

Serena now holds the record for the most Sony Open victories, surpassing tennis player Andre Agassi. The No.1 ranked tennis player gushed on how her fans helped her bring home the title saying, "It was like, 'Oh my gosh, if I can just hang in here and just try to enjoy myself. Honestly the crowd pulled me through. I heard some fans go, 'Go Serena.'"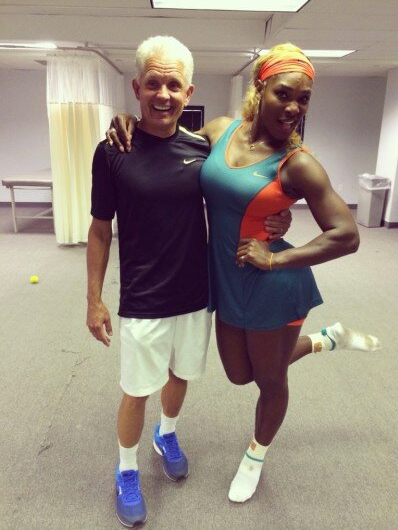 Serena was so appreciative of her fans, she gave one lucky fan her shoes after the match. She posted the picture above and tweeted, "With my trainer @mackieshilstone after the match. I gave my fans my shoes! #7"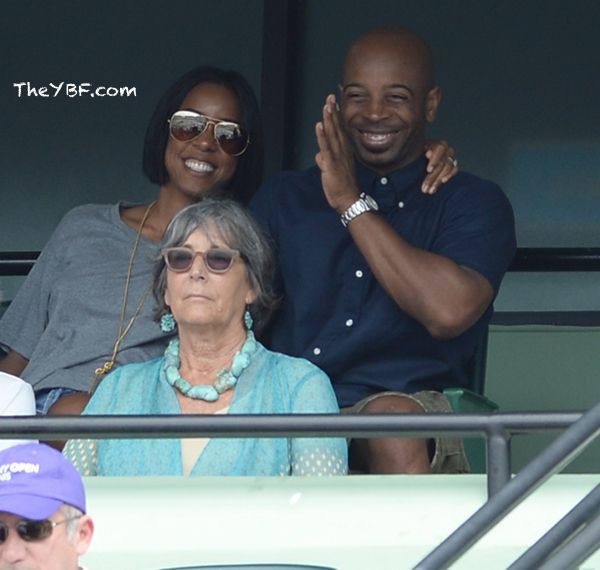 Serena was cheered on by her bestie Kelly Rowland and her fiancé Tim Witherspoon who were all smiles in the stands.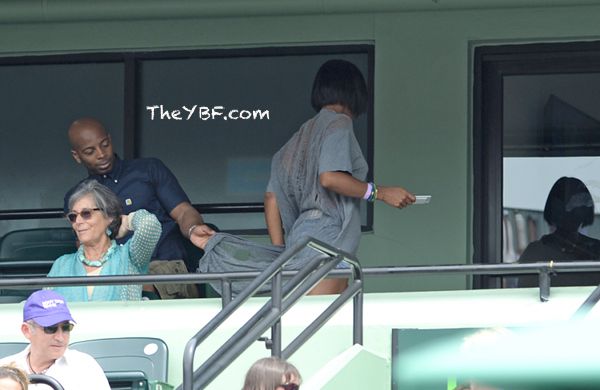 The couple got cutesy with their flirtatious interactions. We see you Tim…
And after the match, Serena hit the beach with her boyfriend/French tennis coach Patrick Mouratoglou.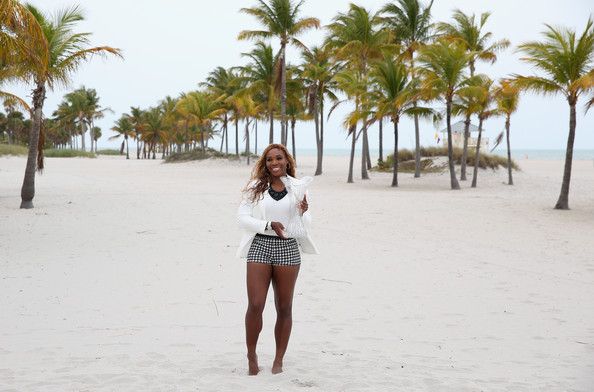 Serena was all smiles as she posed on the beach with her 2014 Sony Open trophy.
Sweet. Congrats Serena!
Photos: Clive Brunskill/Getty Images North America/Brock Miller/Splash News

Did Ray Rice Marry His Fiancée Janay Palmer So She Wouldn't Be Forced To Testify Against Him In Assault Case?!
Posted: 30 Mar 2014 10:02 AM PDT
On Thursday, Baltimore Ravens running back Ray Rice was indicted on third-degree aggravated assault charges after he got into a huge brawl with his fiancée/child's mother Janay Palmer.
Now there are reports that the couple got married on Friday, just one day after he was served the indictment. Coincidence? Find out the deets when you go inside…
We told you earlier about reports that Balimore Ravens running back Ray Rice and his fiancée (and now alleged wife) Janay Palmer got into a physical altercation at the Revel Casino and Hotel in Atlantic City, N.J., where he allegedly knocked Janay unconscious.
There was video obtained showing the NFL baller dragging Janay out of an elevator by her arms after the alleged attack. Ray was arrested and charged with simple assault-domestic violence on Feb. 15th. Janay was also charged with simple assault, but those charges have since been dropped.
NFL sources told ESPN NFL Insider Adam Schefter, that the couple got married on Friday and sources revealed the ceremony had been planned for a couple of weeks. Wonder if it was a couple of weeks before or AFTER their brawl. You decide.
Now that they're possibly married, Janay can claim a spousal privilege where she will not have to testify against her alleged husband. We told you earlier she didn't want to press charges.
"If the wife claims a spousal privilege, it is likely that she would not be forced to testify against him," ESPN legal analyst Lester Munson said. "The prosecution would face the prospect of proving the assault without any testimony from the victim. It is possible, but it would be extremely difficult. Unless a prosecutor has a burning desire to become famous in a case involving Rice, the prosecutor may be likely to invest his time in other, more productive activities."

Despite Ray's arrest, Ravens owner Steve Bisciotti said the running back still has a future with the team.
Ray's attorney issued a statement saying, "We vehemently deny that Mr. Rice committed an aggravated assault," he told the paper. "Both Mr. Rice and Miss Palmer are together, they are happy and they're in counseling."
Chile….
BONUS: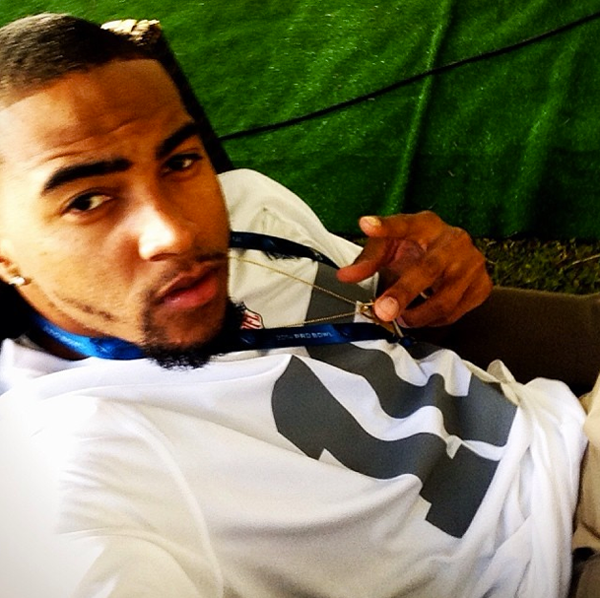 After the very unpopular decision to release wide receiver DeSean Jackson from the Philadelphia Eagles, there are reports that D Jac will be visiting the Washington Redskins on Monday.
It's speculated that the Eagles possibly released DeSean due to reported gang affiliations. DeSean released a statement denying he has any connections to a gang.
Now, one of the NFL's top wide receivers will be visiting the Redskins on Monday. Other teams interested in DeSean include the Raiders, Jets, Chiefs and Bills. Looks like the ball is in DeSean's court now...

Photos: Janay Palmer's IG