---
COMING HOME: Rihanna SWARMED By Paparazzi Walking Through LAX
Posted: 29 Mar 2014 09:45 AM PDT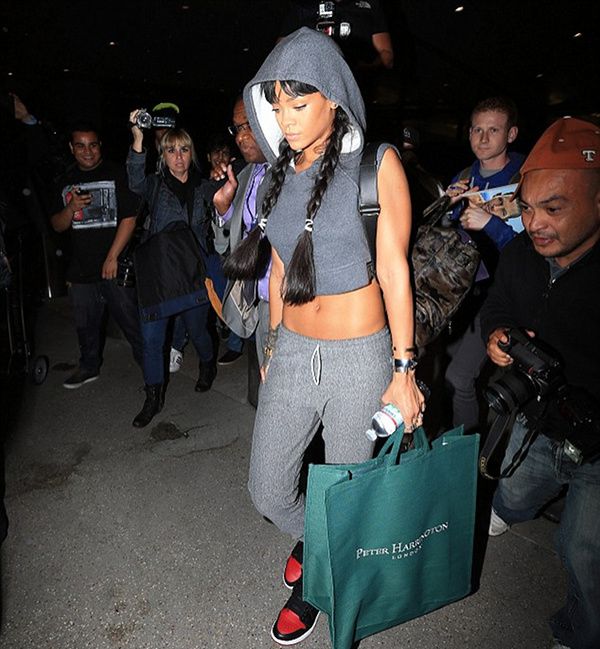 Fresh off a plane from London, Rihanna was swarmed by the paparazzi as she arrived in L.A. Check out the pics inside…
Rihanna landed in L.A. and was attacked by photographers as she made her way through the Los Angeles International Airport last night.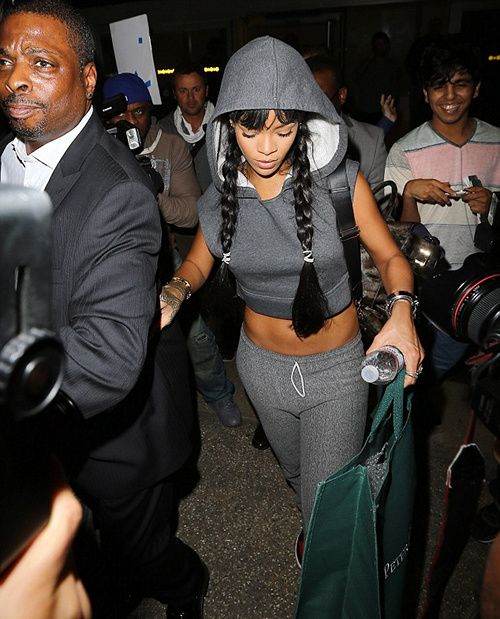 Earlier yesterday, RiRi and Drake were spotted separately (after partying/hanging out for days) at London Heathrow Airport after Drake's final "Would You Like A Tour" sold-out concert in London. Rih was seen wearing a jacket from Drake's clothing line, OVO.
Rih even got a picture of the madness posting to her Instagram, "find me. i dare you."
Can't even see her...
Photos: Vladimir Labissiere/Splash News/INF

EVENT FAB: Angela Bassett & Gabourey Sidibe Attend The Closing Night At PaleyFest + Michael B. Jordan Attends CinemaCon Big Screen Achievement Awards
Posted: 29 Mar 2014 09:18 AM PDT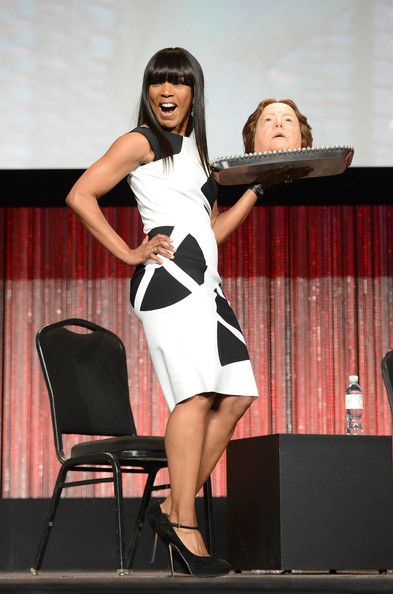 Angela Bassett & Gabourey Sidibe attended the PaleyFest TV festival in Hollywood, while Michael B. Jordan attended The CinemaCon Big Screen Achievement Awards. Check the pics inside…
Grammy nominated actresses Angela Bassett and Gabourey Sidibe attended the closing night of the TV fan festival PaleyFest in Hollywood last night.
The fab chicks star in the hit horror television series "American Horror Story" where Angela plays a character named Marie Laveau and Gabby plays Queenie in the third season. Totally explains why Angela walked on stage with a head on a plate (above).
Angela looked fabulous in a bodycon black and white dress and emerald green clutch. She makes 50+ look awesome.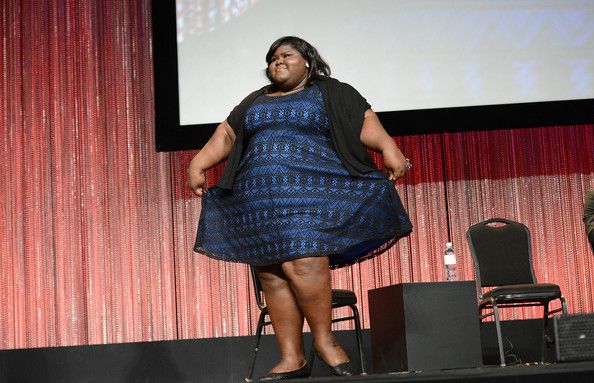 Gabby hit the carpet in a blue and black patterned dress and black flats. In addition to her role on "American Horror Story," she recently nabbed a role in Lee Daniel's television show "Empire." Work.
Hungry anyone?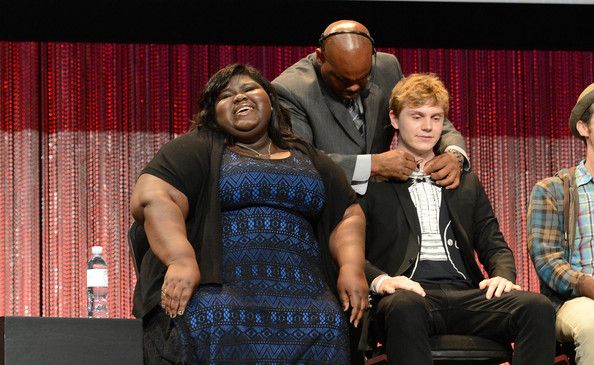 "American Horror Story: Freak Show" will premiere in fall 2014.
And another actor hitting up an event…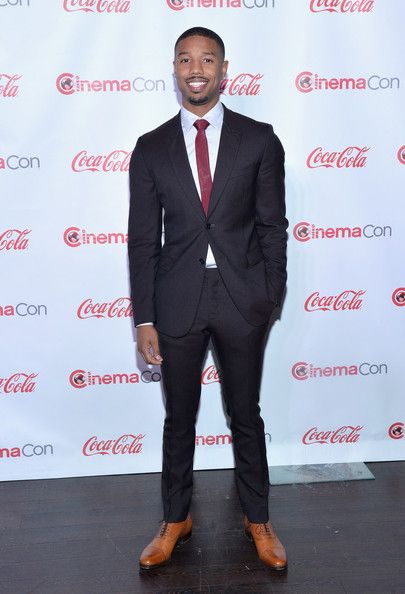 Cutie Michael B. Jordan cleaned up nicely for the 2014 CinemaCon Big Screen Achievement Awards held at The Colosseum at Caesars Palace in Las Vegas. He rocked an Ermenegildo Zegna suit and Christian Louboutin shoes. Hot.

42 actor Chadwick Boseman hit the carpet looking dapper as well. He's gearing up to play James Brown in the biopic Get On Up.
Sexy.
Michael was escorted on stage at the Big Screen Achievement Awards...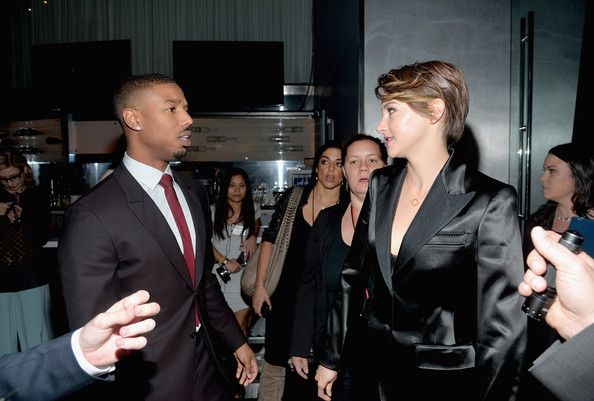 And was spotted backstage chatting with others.
Fab times.

Photos: Jason Merritt/ Ethan Miller/Getty Images North America
SPOTTED: Trey Songz, Christina Milian & Karrueche Tran PARTY In West Hollywood
Posted: 29 Mar 2014 07:48 AM PDT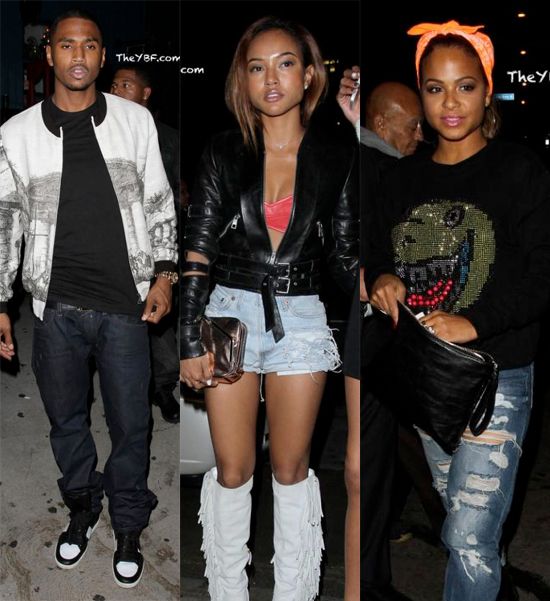 Trey Songz, Christina Milian and Karrueche Tran were spotted partying in Hollywood last night. Find out what they were doing inside…
Trey Songz, Christinia Milian and Karrueche Tran were ready to turn up last night as they were spotted arriving at Hooray Henry's in West Hollywood.
Before hitting up club Henry's, Trey Songz performed at a private event held at Greystone Manor in Beverly Hills. Karrueche was there front row with Nelly's ex-girlfriend Tae Heckard. Kae then hit up her bestie Christina Milian and they enjoyed a girls' night out.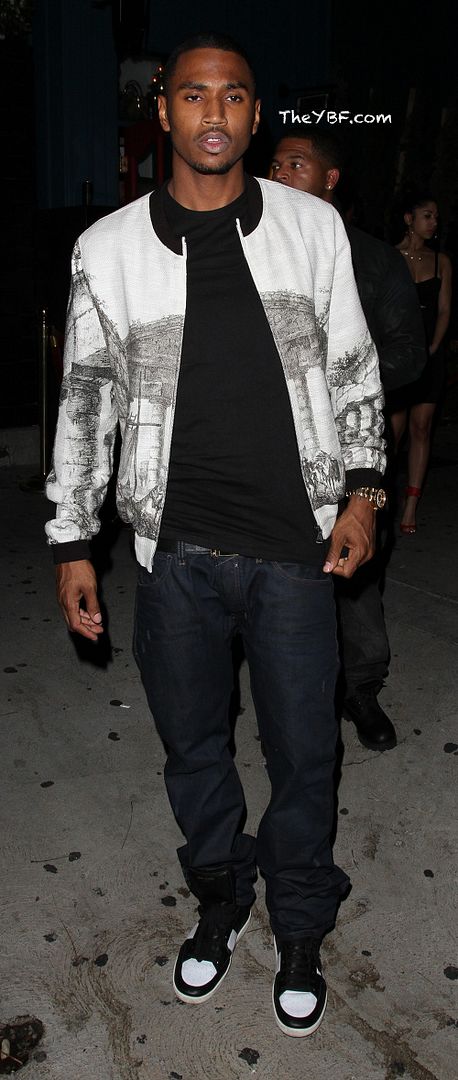 Trey looked a little tired.

As Chris Brown sits behind bars, Kae is keeping herself busy, attending twerk fitness classes and posing on magazine covers. Although she reportedly dumped Breezy for texting other chicks, Breezy expressed Kae will always hold a place in his heart, which could be enough for Kae to take him back…but for now she's enjoying the single life.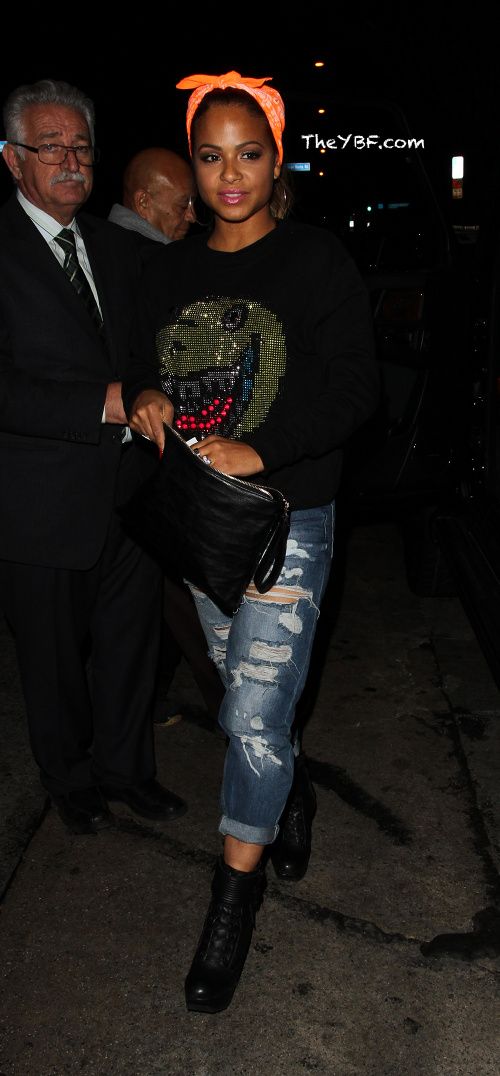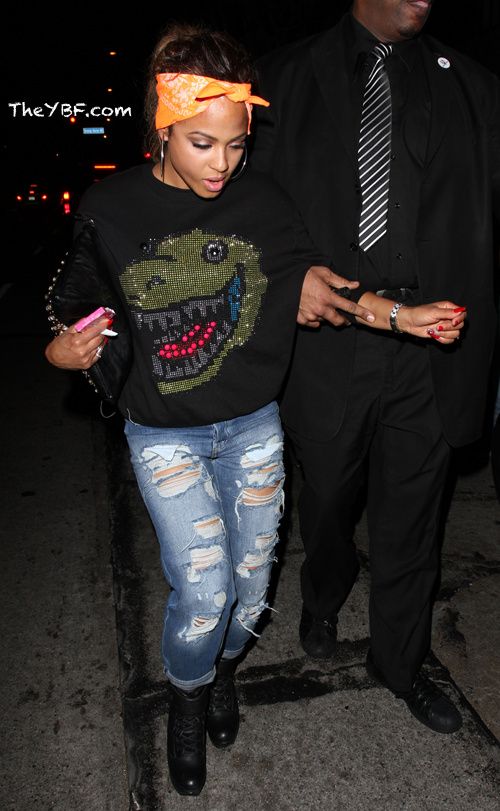 Christina Milian looked cute as she was escorted inside the nightclub.
And here's Trey performing at the private event earlier:
Fun times.
Photos/Video: JCalderon/Splash News/@oloriswank
Zoe Saldana Named NEW FACE Of L'Oréal Paris + Queen Latifah Talks Being A Boss In JET Magazine
Posted: 28 Mar 2014 05:14 PM PDT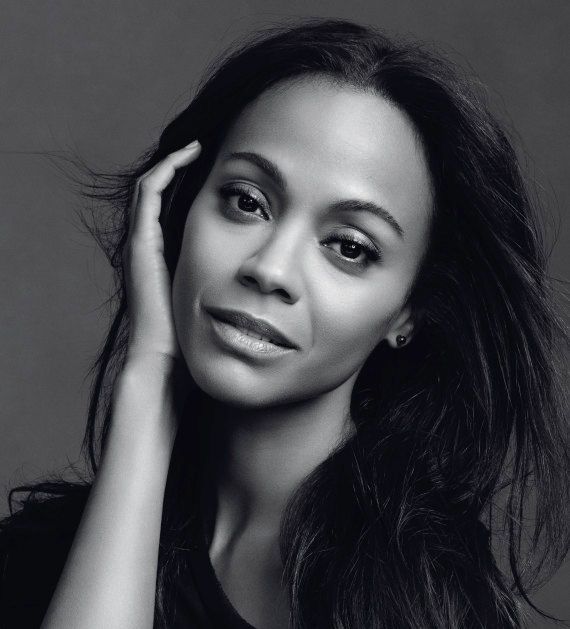 Zoe Saldana can add a new title under her resume as she was announced as the newest face for L'Oréal Paris. Plus, Queen Latifah talks being a boss in JET magazine. See Zoe's promo pic and Queen's cover inside…
Zoe Saldana has landed a new gig! L'Oréal Paris has announced the Rosemary's Baby star as their new celebrity spokeswoman.
The 35-year-old hottie dished to PEOPLE on how every woman can rock a rep lippie and having to go through trial-and-error when finding your perfect shade.
She said:
"In the years I've been on this planet, I've grown to believe that every woman on this earth can rock a red lip," she says. "It doesn't matter how big or how thin their lips are, how dark their skin is, or yellow or light or pink, there's so many shades of red, you can find the right shade. Women just look so beautiful and powerful when they're wearing red lipstick."
The newlywed is super ecstatic about her new title saying, "It puts the stamp on, like, 'Congratulations, you're finally a real woman!" She joins other L'Oréal spokeswomen Beyonce and Jennifer Lopez. Nice.
In the video below she talks about being an "ugly duckling" when she was younger and then owning her beauty:
And on a magazine cover…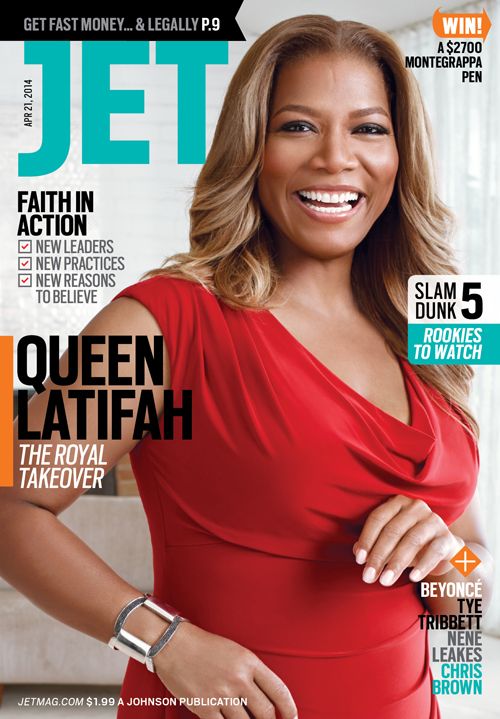 Queen Latifah looks gorgeous on the cover of JET magazine where she dished on how she capitalized on her career, going from a rapper to owning her own production company (Flavor Unit Entertainment), being a CoverGirl spokeswoman and hosting her very own television show.
"I never had a boss. When you are responsible for yourself you can do whatever you want—I took full advantage of that."
Queen also talked about adopting a kid one day, the influence of her mother, speaking up for gay rights and more.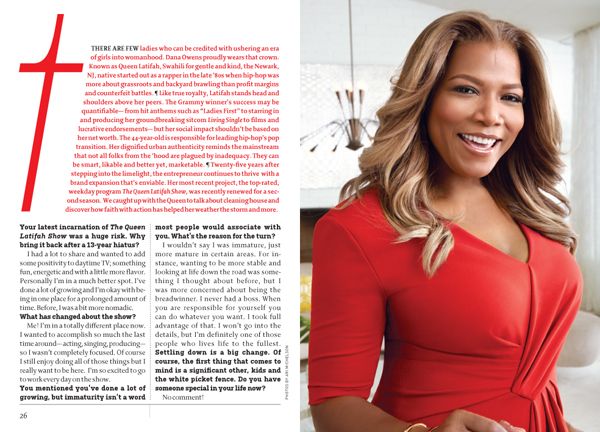 Here are the highlights:
Your latest incarnation of The Queen Latifah Show was a huge risk. Why bring in back after a 13-year hiatus?
I had a lot to share and wanted to add some positivity to daytime TV; something fun, energetic and with a little more flavor. Personally I'm in a much better spot. I've done a lot of growing and I'm okay with being in one place for a prolonged amount of time. Before, I was a bit more nomadic.

Settling down is a big change. Of course, the first thing that comes to mind is a significant other, kids and the white picket fence. Do you have someone special in your life right now?
No comment!

Okay, but what about kids? You've spoken about adoption in the past.
It's something I'm exploring. I've wanted to adopt since I was 18 because I grew up with friends who could've used good parents. Maybe it's my romanticism of after-school specials where someone would adopt a child and life would be great afterward. I have a lot of love to give.

You've spoken about the influence your mother has on who you've become. What's her best advice?
Thank God I was blessed to have the kind of mother she is. She taught me about how to be a lady, but also how to be independent. She taught me things I should never allow a man to do, like put his hands on me. She gave me everything a girl needs to inspire confidence.

You had a major coup this year with the Grammys' controversial same-sex marriage ceremony. What made you get involved?
It was a beautiful moment and not a political decision. It's a question of what's right and wrong. Two people who've been together should have the right to be married. I knew it would make a statement and I'm fine with the statement it made.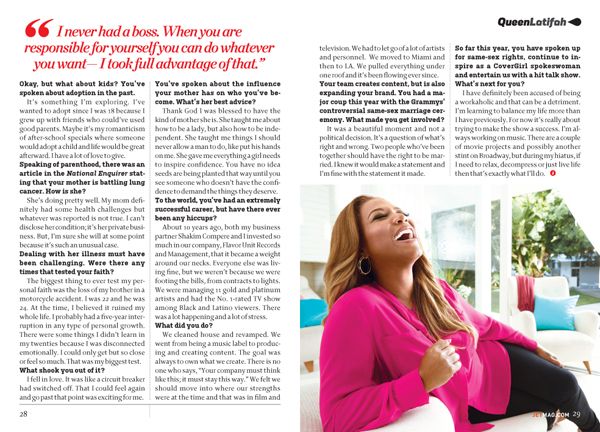 Check out Queen Latifah's full interview in the April 21st issue.
Photos: L'Oreal/JET
The Randomness:
1. Although Flo Rida admits to sleeping with the woman who's claiming to be carrying his child, he's CONVINCED he's NOT the father. STORY
Nas DISCUSS The State Of Hip Hop, PREPS For The Kennedy Center PERFORMANCE + Lil' Wayne Lands GUEST ROLE On "Boondocks", Aaron McGruder CONFIRMS His Departure
Posted: 28 Mar 2014 03:00 PM PDT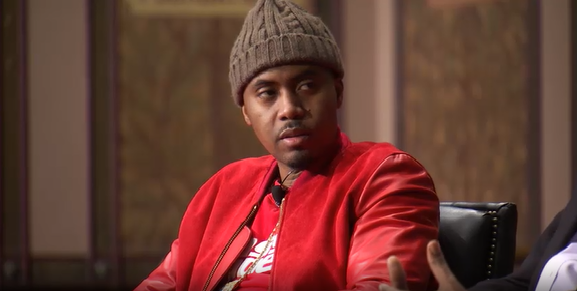 Nas appeared on a panel at Georgetown about the state of Hip Hop. Watch the discussion inside and get the deets on Lil Wayne's guest role on Adult Swim's "The Boondocks."
Last night, Nas and Georgetown professor Michael Eric Dyson sat down for a discussion about hip-hop at Georgetown University's Gaston Hall. The talk was moderated by James Peterson, director of Africana studies and associate professor of English at Lehigh University and explored Nas' Illmatic and its legacy 20 years later as well as the current state of hip-hop.
Also....Nas will be performing Illmatic in its entirety tonight and Saturday evening at the Kennedy Center in Washington D.C. for "One Mic: Hip-Hop Culture Worldwide." Illmatic XX, the 20th anniversary edition of Nas' debut album, will be released April 15.
In other music news...
Lil' Wayne will voice a character on season four on the "The Boondocks" starting on April 21st at 10:30PM EST on Adult Swim. While we're not sure if Wayne's voice will become a series regular, we know Wayne is very familiar with animation. In 2007, we appeared on "The Boondocks" in an episode titled "Invasion Of The Katrinians."
In other news, series-creator Aaron McGruder has confirmed that he has left the show to focus on his new project, BLACK JESUS. In a letter published in the LA TIMES, he said,
"As the world now knows, 'The Boondocks' will be returning for a fourth season, but I will not be returning with it," McGruder began. "I'd like to extend my gratitude to Sony and Adult Swim for three great seasons."
"I created 'The Boondocks' two decades ago in college, did the daily comic for six years and was show runner on the animated series for the first three seasons," McGruder wrote. " 'The Boondocks' pretty much represents my life's work to this point. Huey, Riley and Granddad are not just property to me. They are my fictional blood relatives. Nothing is more painful than to leave them behind.


"To quote a great white man, 'Hollywood is a business.' And to quote another great white man, 'Don't hold grudges.'
"What has never been lost on me is the enormous responsibility that came with 'The Boondocks' -- particularly the television show and its relatively young audience. It was important to offend, but equally important to offend for the right reasons. For three seasons I personally navigated this show through the minefields of controversy. It was not perfect. And it definitely was not quick. But it was always done with a keen sense of duty, history, culture and love. Anything less would have been unacceptable.


"As for me, I'm finally putting a life of controversy and troublemaking behind me with my upcoming Adult Swim Show, 'Black Jesus.' "
Photos via Lil' Wayne's Instagram
First Peek: "Love In The City" Coming To 'OWN' In April
Posted: 28 Mar 2014 01:11 PM PDT
A new docu-series is coming to OWN and it's giving us a little "Sex In The City" tease. Find out the deets and a video peek, plus check out the cast of "Love In The City" inside…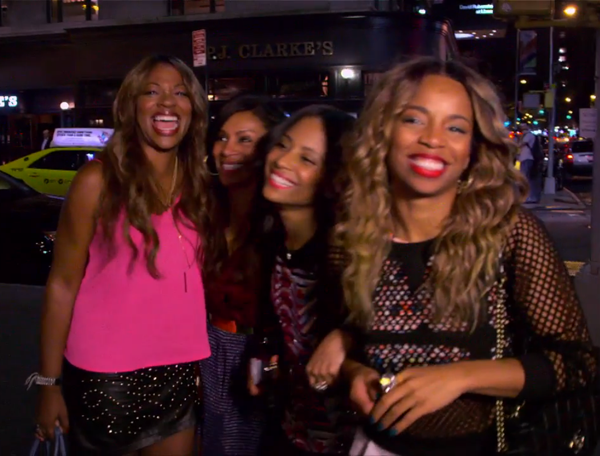 If you were a "Sex In The City" fan, you may be delighted to hear of this new series coming to Oprah Winfrey's Network premiering Saturday, April 12th. It's like a black girl version of "Sex In The City," centered around four professional working women.
Four fabulous friends living in fast-pace New York City will be followed in this new docu-series titled, "Love In The City." Kiyah (celebrity stylist and the one who brought the ladies together), Bershan (founder of social networking site URAWARRIOR), Chenoa (actresses) and Tiffany (founder of PinkChoseMe) will be followed as they tackle new romances, life struggles and success as they maneuver through the concrete jungle.

Friends for 10 years, the girls offer up inspiration, support, companionship and a little competition to one another as they overcome life setbacks and successes. Two of the ladies, Chenoa and Bershan, are married, while Kiyah and Tiffany are not, which will make for interesting conversations. Tiffany and Bershan are both breast cancer survivors, who have dedicated their lives to sharing their survival stories and helping others deal with the diagnosis.
The fierce four will be followed as they go through their own challenges and triumphs, but prove to always have each other's back in the end.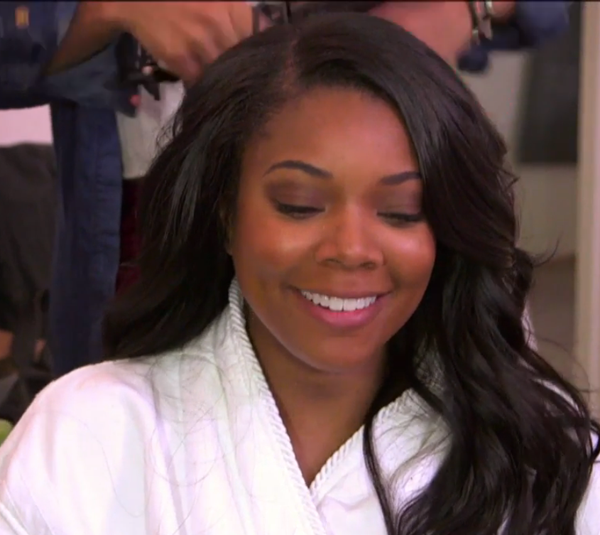 And Gabrielle Union will make a cameo in a future episode.
"Love In The City" premieres on the OWN Network on Saturday, April 12th 10/9c.
Will you be tuned in?
NEW MUSIC: Columbus Short's "Gave Ya"
Posted: 28 Mar 2014 11:35 AM PDT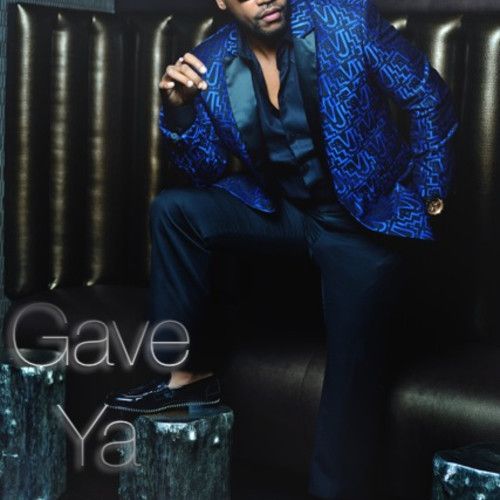 In an effort to change the conversation, Columbus Short has released a new music single, "Gave Ya." Listen to the track inside...
Columbus Short has had one helluva week. In addition to shooting "Scandal", a well-coordinated public appearance with his family, and an arrest for assault, he and his team found time to drop a new single, "Gave Ya." It's a pretty standard auto-tuned R&B track. No fireworks. No sparks. But we wouldn't dare tell him that.......he likes to lay hands.
Listen to "Gave Ya"